Are you looking for a payroll and human resources management software tool that can help streamline your work process? If so, you may wonder whether Gusto or Justworks is the better option.
To help you make a decision, we've put together this comprehensive guide that covers everything from the key differences between the two platforms to an overview of their features and pricing plans.
Read on to learn everything you need to know about Gusto vs. Justworks so that you can choose the best tool for your business needs.
Gusto vs. Justworks: Key Differences
Here are the key differences between Gusto and Justworks:
Gusto is an all-in-one HR solution, whereas Justworks is a Professional Employer Organization (PEO)
Gusto is more of a DIY solution where you can handle payroll, employee benefits, and taxes on your own whereas Justworks can take care of these activities for you
Gusto is more cost-effective
Gusto's compliance support is not as comprehensive as Justworks'
Gusto offers a wider variety of third-party integration options compared to Justworks
Now that we went over the basics, let's take a deeper look at what each platform does, go over their features, and discuss their pricing plans.
Learn more about Gusto here at its official website.
Learn more about Justworks here at its official website.
Gusto vs. Justworks: Overview
Gusto Overview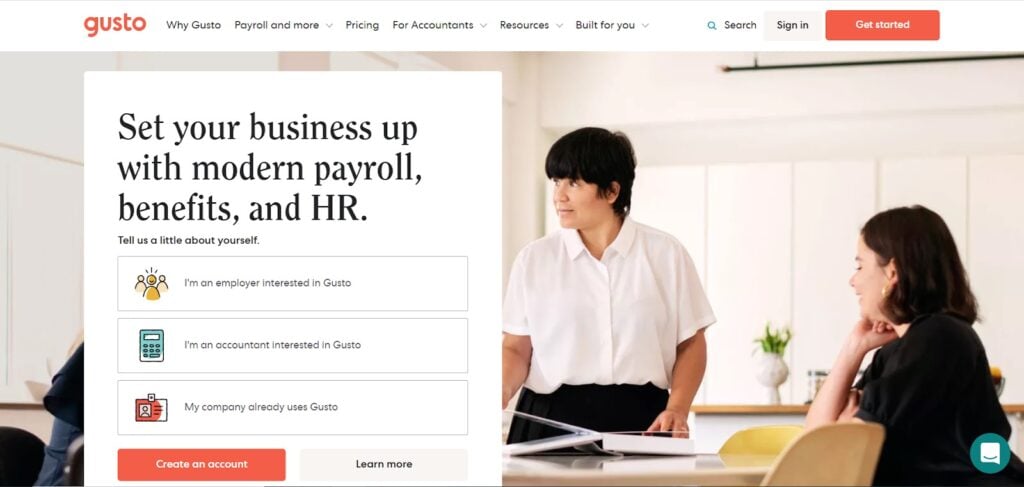 Gusto is a full-service payroll and human resources management software tool designed with small business owners in mind. The platform offers various features, including payroll processing, benefits administration, and online employee onboarding.
As mentioned earlier, Gusto is more of a DIY solution. The platform provides all the features necessary to handle HR activities by yourself and also saves plenty of time.
For instance, you can run payroll in a matter of minutes. Meanwhile, Gusto will calculate, file, and pay taxes automatically.
However, Gusto stands out from other similar platforms through its ease of use and affordability. Gusto includes an intuitive dashboard that makes processing payroll, onboarding employees, or managing employee benefits a walk in the park.
Moreover, the platform provides various guides that will teach you how to make the most out of the software.
Gusto is highly flexible in terms of pricing, making it perfect for small businesses. You can upgrade or downgrade your plan whenever you wish. Meanwhile, there are various extra add-ons, such as broker integration, 529 college savings, life and disability insurance.
Speaking of flexibility, Gusto's integration capabilities are one of the platform's strong suits. The platform offers plenty of collaboration and accounting software integrations, like Asana or Quickbooks Online, for instance.
You can read our detailed Gusto review here.
Justworks Overview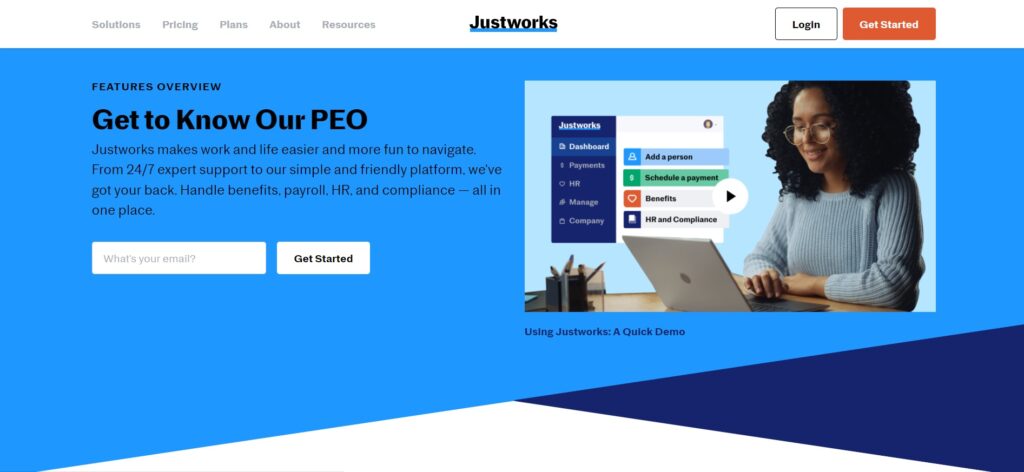 Justworks, on the other hand, is a cloud-based human resources management software tool that offers features such as compliance support, benefits administration, payroll services, tax management, etc.
In contrast to Gusto, Justworks operates on a PEO model. In other words, you'll enter a co-employment agreement with Justworks. That said, the PEO services strike deals with various benefits providers and offer them to you.
Consequently, businesses can use PEO services to access more comprehensive benefits at an affordable price.
Moreover, due to the co-employment relationship, Justworks will take partial responsibility for HR management, taxes, etc. Conversely, Gusto holds you fully accountable for your HR activities.
Aside from that, Justworks is IRS-certified. As such, the company meets IRS financial and operational standards, such as remitting taxes on time.
Gusto vs. Justworks: Features
Now, let's compare the features of Guso and Justwokrs in more detail.
Gusto Features
Payroll
In terms of payroll software, Gusto's AutoPilot feature stands out. It allows you to run payroll with just a few clicks.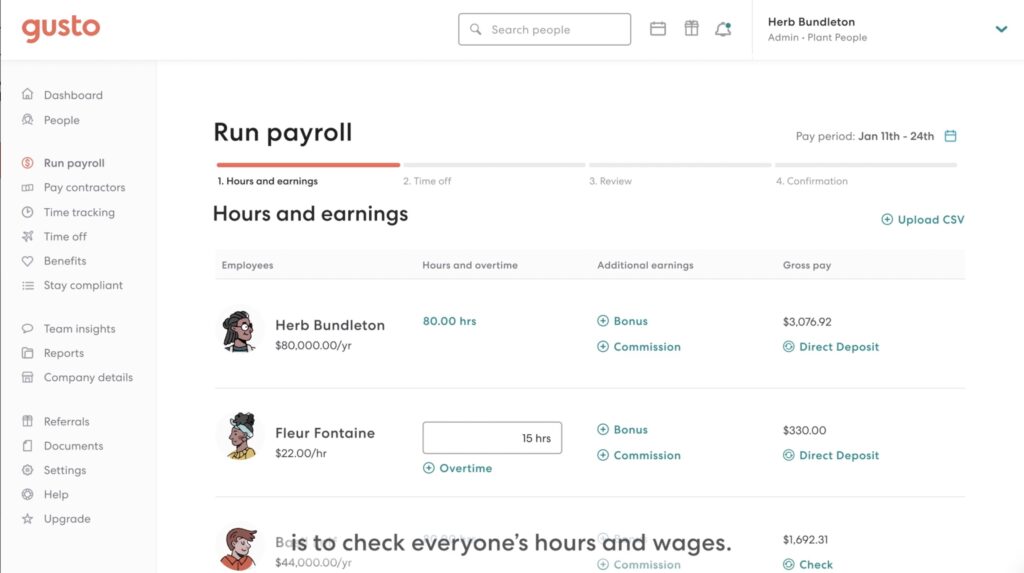 This functionality automates payroll processing, so it runs within specified intervals. All that's left for you to do is to fill in your employees' payroll information, enable AutoPilot, and that's it!
Aside from that, Gusto's payroll solution gives you plenty of options. You can run payroll weekly, monthly, bi-weekly, and bi-monthly. Gusto supports both hourly wages and salaries, while employees have the option to get paid through debits cards.
And the cherry on top, the platform will automatically calculate, file, and pay your taxes after each payroll, be it federal or state taxes.
As a bonus, Gusto will monitor changes in tax laws and adjust your payroll taxes so you'll remain compliant.
Other notable payroll features include unlimited payroll runs, reports, and contractor payments.
Benefits Administration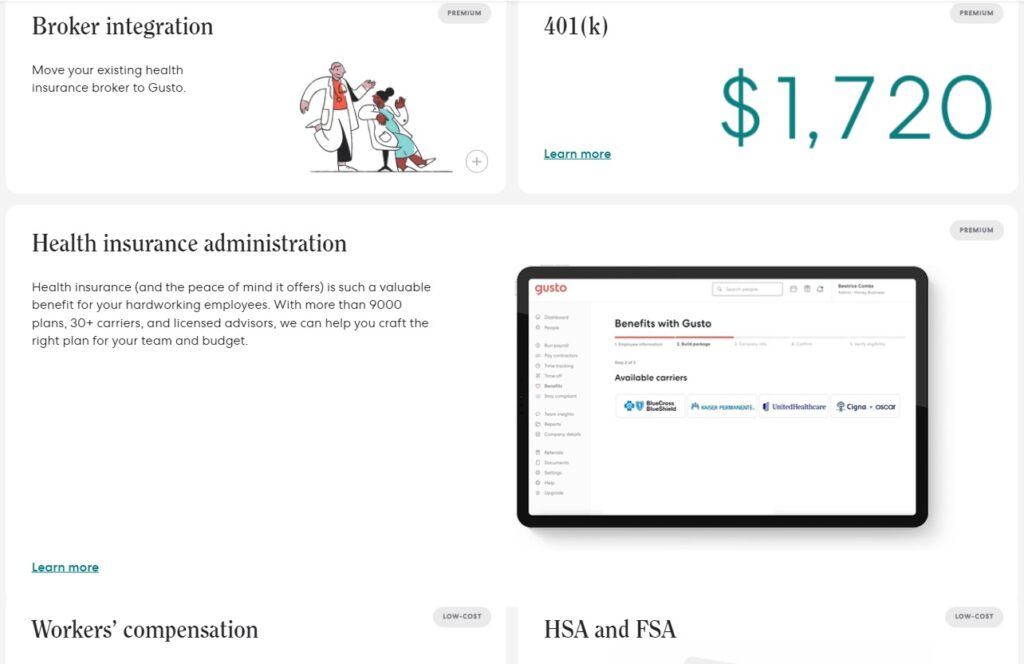 Gusto offers competitive benefits, to say the least. The platform offers over 3500 vision, dental, and medical insurance plans, while Gusto's team can help you identify the insurance provider that suits your business the most and brings the best value for money possible.
However, if you already have health benefits covered, Gusto allows you to import your existing providers to the platform. That said, you won't go through the trouble of switching providers and dealing with payroll deductions.
Besides health benefits, the platform also covers 401(k) retirement and 529 college savings plans, commuter benefits, workers' compensation, health savings accounts, and more. Note that most benefits require an additional monthly fee.
Gusto Wallet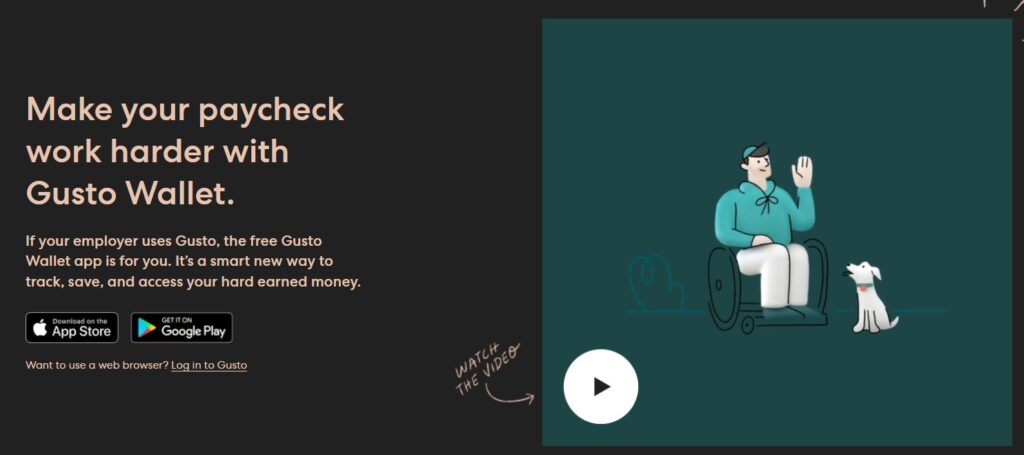 Gusto Wallet is designed with employees in mind. This mobile app allows you to pay team members and help them stay on top of their finances. In other words, employees can track their spending and create multiple savings accounts.
Most notably, with Gusto Cashout, employees can withdraw up to 40% of their salary ahead of time in case of any emergencies. This money will be returned upon payday.
Speaking of employee-centric features, it's worth mentioning that Gusto provides an excellent employee self-service portal. Team members can fill in personal information, track pay stubs, or request time off without bothering the HR department.
HR Tools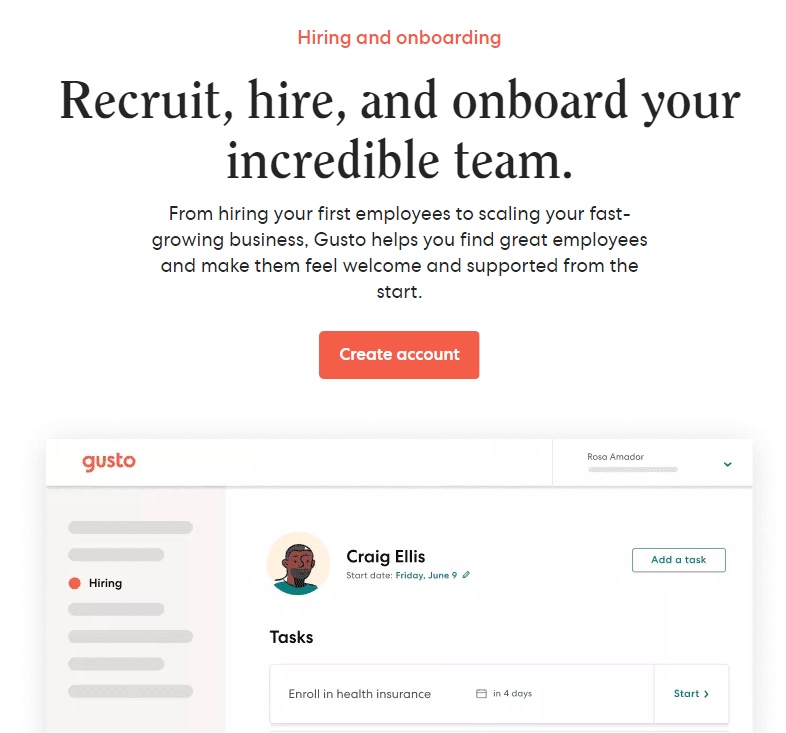 Gusto offers various HR functionalities, like time tracking, employee hiring, and onboarding tools.
On the one hand, employees can easily clock in and out of work, whereas work hours will automatically sync with payroll to eliminate any potential miscalculations.
The platform allows you to mark key tasks and dates on your Google, Outlook, or iCal calendar to easily keep tabs on your to-do list.
Lastly, the platform automatically tracks time off, calculates wages, and stores wage records.
On the other hand, Gusto's hiring and onboarding tools help you create and post job offers, develop custom onboarding checklists, and easily create or remove employee accounts for various tools.
Customer Support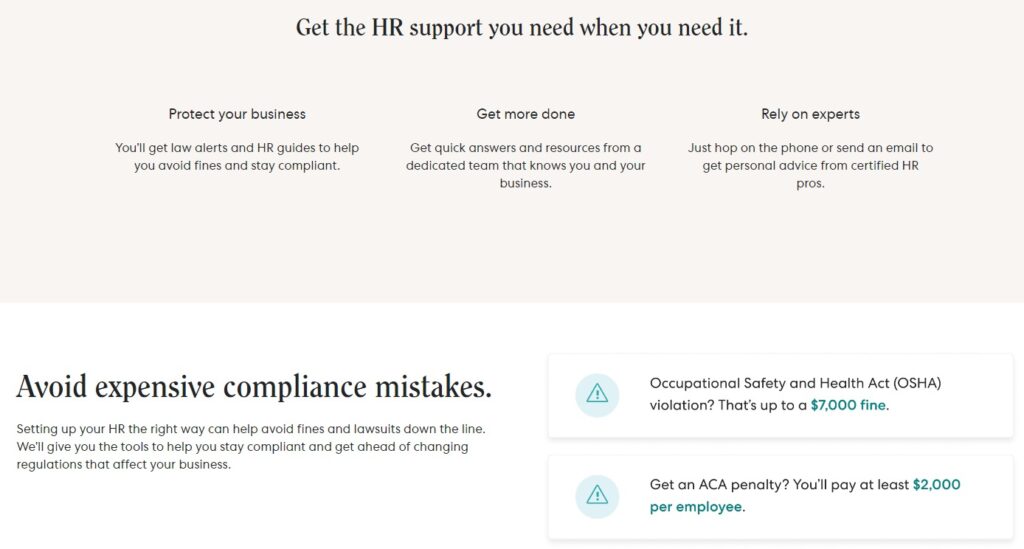 Gusto's customer support is pretty solid. The platform offers a help center where you can find a vast library of resources to help you fix potential issues or provide guidance on managing your business more effectively.
However, customer support quality varies depending on the pricing plan you choose. For instance, the starter plan's live support is only available during limited hours.
Conversely, Gusto's top-tier pricing plan gives you access to HRCI and SHRM-certified HR professionals, which can help you solve weak spots in your company's HR department and minimize compliance risks.
Besides that, Gusto's HR professionals can also offer guidance on strengthening employee relations.
In any case, customer support is only available on weekdays.
Justworks Features
Payroll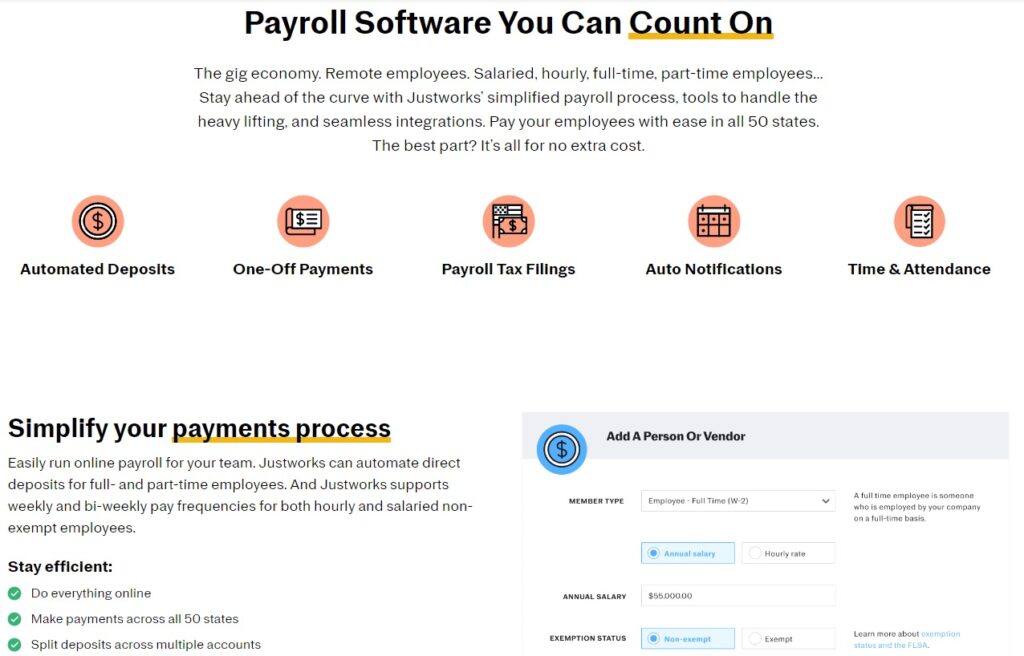 In terms of payroll services, Justworks is slightly lagging behind Gusto. Both platforms can automate payroll processing, calculate, file, and pay taxes, as well as support multiple payout options.
However, Justworks lacks Gusto's Cashout functionality, meaning employees cannot withdraw part of their salary before payday.
Furthermore, Justworks only allows you to pay employees through direct deposits. In contrast, Gusto enables you to pay employees by check or payroll cards.
Speaking of direct deposits, processing takes four business days with Justworks. With Gusto's upper-tier plans, you can conduct two-day or next-day deposits.
But still, Justworks' payroll software is solid. The platform allows you to easily pay full-time, part-time, or hourly employees as well as contractors and vendors.
In terms of compliance, Justworks provides all the tools necessary to file taxes, W2, and 1099 documents.
Benefits Adminstration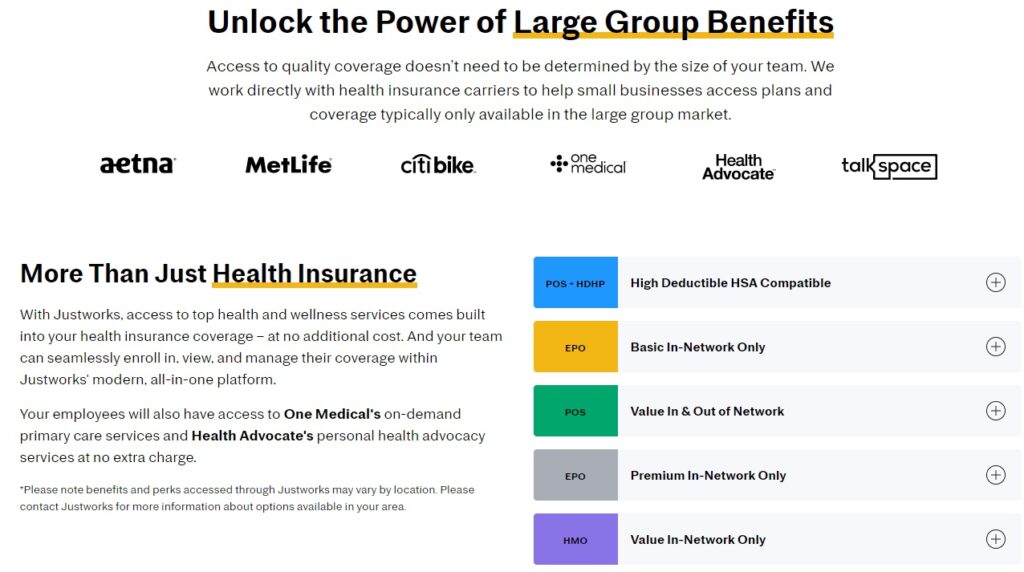 Health benefits are where Justworks shines. First, health insurance plans are available in all US states, while Gusto currently covers health insurance in 39 states.
Second, Justworks is a PEO. That said, you'll have access to enterprise-level benefits at a fair price. You can even access benefits that would otherwise not be available due to your company's size.
Aside from that, Justworks includes gym memberships and health advocacy services, something which Gusto lacks.
Justworks' workers' comp programs are also noteworthy. The platform provides online training for discrimination and harassment prevention and keeps you in touch with the latest changes in laws and regulations.
However, keep in mind that Justworks' workers' comp programs do not cover businesses involved in high-risk manual labor, like construction.
HR Tools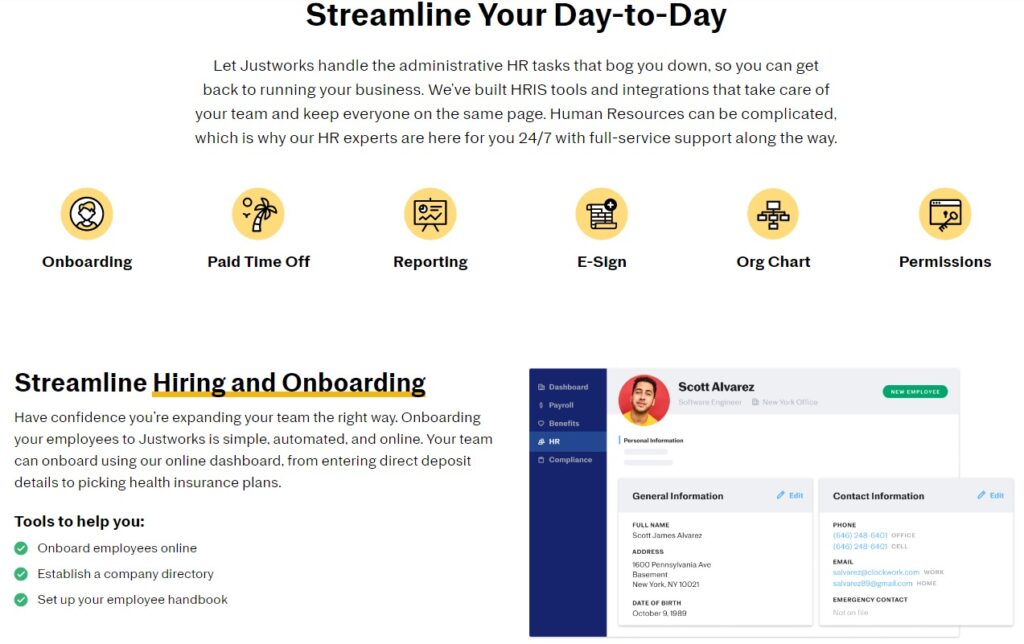 Justworks provides various HR-specific features. The platform helps you streamline the onboarding process, calculate, manage, and approve PTO requests via an easy-to-use online dashboard.
You can also create custom reports to track crucial metrics. Not to mention that you can easily create and store employee documents.
However, Justworks lacks the hiring tools Gusto offers, like the ability to create job offers.
Customer Support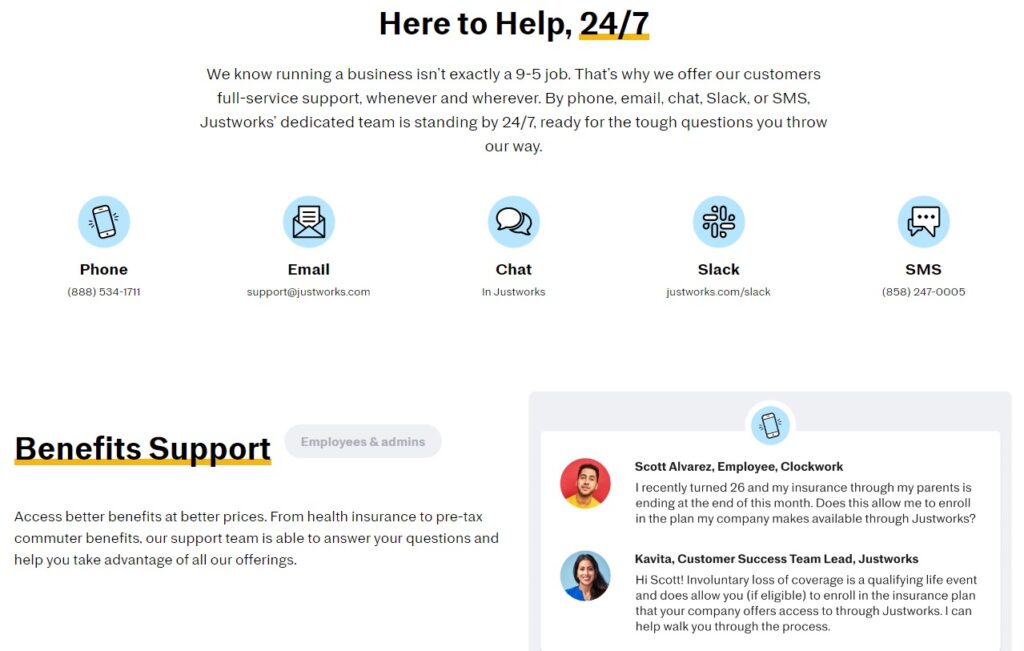 Justworks is excellent in terms of support. The platform offers full-service support, including HR, benefits, payroll, compliance, and onboarding support across all pricing plans.
Justworks' certified HR professionals will guide you in managing your employees more effectively.
The platform's compliance support covers unemployment insurance, workers' comp, ACA filings, and new hire reporting.
Moreover, benefits support helps you find better deals on benefits packages, while onboarding support assigns you a dedicated onboarding manager to help you get started with Justworks and set up your employees in no time.
Furthermore, the onboarding manager will aid you in closing your previous payroll account and setting up your benefits.
Its broad resource library includes blog posts and webinars that teach how to make the most out of the platform and improve your HR activities.
Most notably, customer support is available 24/7, unlike Gusto.
PEO Services

Keep in mind that Justworks is more than a software solution. It offers PEO services that get most HR administrative tasks off your hands. The company is responsible for handling payroll, taxes, and managing benefits on your behalf.
It also takes legal responsibility. Thus the company is obligated to help you maintain compliance with the latest laws and regulations and lend you a helping hand in case of any lawsuits.
Since Gusto is not a PEO, it does not share these responsibilities. That said, Justworks may be a better option if you're looking to use payroll and HR tools and spare yourself from some extra work.
Gusto vs. Justworks: Pricing
Now that we've seen each platform's key functionalities, let's find out if they're worth it.
Gusto Pricing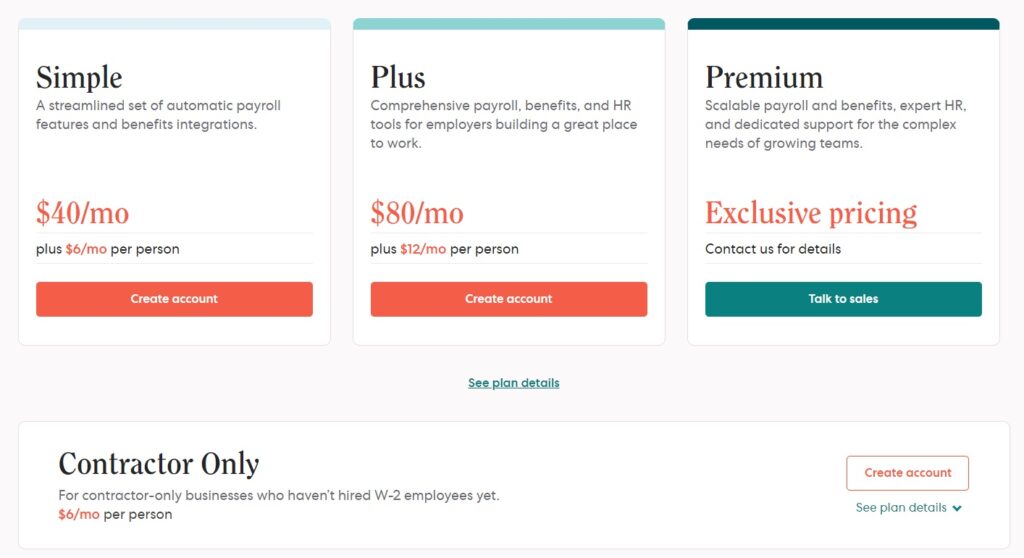 Gusto covers four pricing plans:
Simple: $40/month + $6/month/employee
Plus: $80/month + $12/month/employee
Premium: upon request
Contractor Only: $6/month/employee
Check Gusto Pricing at its official website here.
Simple
As the name suggests, Gusto's Simple plan offers the basics. You have access to the platform's full-service payroll software. This includes the platform's AutoPilot feature, unlimited payrolls, basic payroll reports, W-2 and 1099-NEC filings, and more.
However, note that this pricing plan restricts you to single-state payroll. In other words, if you have employees across multiple states, you might have trouble getting around local laws and regulations.
In terms of HR software, the Simple plan provides essential onboarding and hiring tools, like offer letter templates, onboarding checklists, and more.
Note that customer support is pretty restrictive, as you only have access to limited live support hours.
Plus
The Plus plan unlocks multi-state payroll and enables next-day direct deposit. Moreover, this pricing plan provides more in-depth HR functionalities.
For instance, the onboarding tools provide customizable offer letter templates and onboarding checklists.
Aside from that, you can create job posts and get access to the platform's applicant tracking system.
Other HR-specific features include team and PTO management tools and time tracking.
You have access to extended live support hours in terms of customer support. You also have the option to choose priority support and HR services, which come at an additional cost of $8/month/employee. This add-on offers a direct line to phone and email for faster service and access to certified HR experts.
Premium
With the Premium plan, you'll get help transferring payroll data to Gusto. Moreover, you'll have access to the platform's HR Resource Center, HR experts, employee surveys and reports, and dedicated support.
The HR Resource Center provides tips on handling HR activities and performance evaluations. It also offers a handbook builder along with labor law policy, termination, and job description templates.
Other notable features include compliance alerts and R&D tax credit discounts.
Contractor Only
The Contractor Only offers contractor payroll services. As such, this pricing plan offers 1099 filing and distribution, unlimited contractor payments, new hire reporting, and four-day deposits.
Lastly, you can choose international contractor payments, which come at an additional cost.
Learn more about Gusto Pricing at its official website here.
Justworks Pricing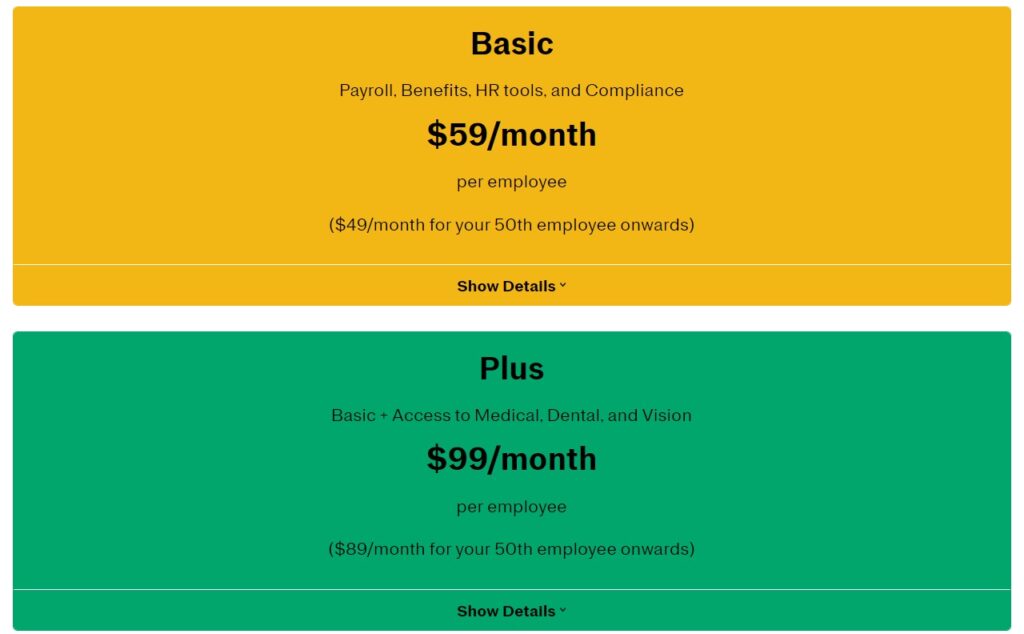 Justworks covers two pricing plans:
Basic: $59/month/employee (for up to 50 employees)
Plus: $89/month/employee (for up to 50 employees)
Check Justworks pricing at its official website here.
Basic
The Basic plan offers payroll for hourly and salaried employees, employer payroll, W-2, and 1099 tax filings, off-cycle payroll, as well as contractor and vendor payments. It also handles unemployment insurance filings.
Moreover, this pricing plan includes PTO management, HR consulting, and commuter benefits.
You can also access benefits like 401(k), gym memberships, health perks, workers' compensation, and life/disability insurance. Pricing for these benefits varies based on how many employees sign-up.
Plus
The Plus plan includes everything found in the Basic plan, with additional COBRA administration, health advocacy services, and One Medical care service membership where available.
You can also access medical, dental, and vision insurance and HSA/FSA accounts. Again, pricing depends on the number of registered employees.
Without a doubt, Gusto is the more affordable option. However, when you consider that Jusworks' PEO services are included within its pricing plans, this platform doesn't seem that expensive.
Not to mention that small businesses can offer employees benefits that would have otherwise been only accessible by larger companies or corporations.
Learn more about Justworks pricing at its official website here.
Gusto vs. Justworks: Pros and Cons
Gusto Pros
Two-day and next-day direct deposit for premium plans
Comprehensive integration capabilities
Excellent online payroll services
Unlimited payrolls
Highly scalable
Easy to use
Affordable
Gusto Cons
Since Gusto is not a PEO, it does not share compliance liability
Health insurance is only available in 39 US states
Customer support is limited in starter plans
Justworks Pros
Health insurance coverage available in all US states
Access to HR consultants in all pricing plans
Excellent full-service customer support
Affordable for a PEO service
Brilliant benefits coverage
Takes legal responsibility
Easy to use
Justworks Cons
The payroll software is not as advanced as Gusto
Limited integration capabilities
Four-day direct deposit only
Frequently Asked Questions 
Is Justworks legit? 
Justworks is a legitimate human resources and payroll management software tool used by businesses of all sizes.
Is Gusto a PEO? 
No, Gusto is strictly a cloud-based payroll and human resources management software solution.
The platform does not work on a co-employment agreement. Thus Gusto does not share legal responsibility in handling HR and payroll-specific tasks.
What is Justworks used for? 
Justworks is used for various payroll and human resources management tasks, such as benefits administration and employee onboarding.
Conclusion: Which is Better, Gusto or Justworks?
Here's the thing: There's no definite answer. Although these two platforms may seem similar initially, they are the opposite.
More specifically, Justworks is a Professional Employer Organization service offering payroll and human resource management software.
On the other hand, Gusto is a payroll and HR management software solution that provides PEO-like services in its upper-tier plans, such as HR consulting from certified HR experts.
That said, determining the better choice depends on how your business operates.
If you are a medium or small business owner and want to offer your employees enterprise-level benefits packages, yet you can't deal with running payroll or maintaining compliance on your own, you should go for Justworks. They'll handle all the work for you.
Sure, it's more expensive, but working with a PEO is a surefire way to stay out of legal trouble and get most HR administrative tasks done so you can focus on other business operations.
However, if you don't mind handling payroll and HR by yourself, but you're looking for ways to streamline your workflow, Gusto is the way to go. The platform is affordable, and its tools can get you a long way to work more efficiently.
Learn more about Gusto here at its official website.