In today's business world, many Customer Relationship Management software (CRM) options are available to businesses of all sizes. So why do businesses use CRMs? CRMs provide a streamlined way to track and manage all customer interactions across multiple channels.
HubSpot and Zoho CRM are leading CRM platforms, and each provides a range of capabilities to help you manage and grow your business. Both HubSpot and Zoho offer powerful features that can support various use cases, including marketing automation, sales, customer support, marketing, and project management.
The comparison below is designed to highlight the key similarities and differences between the two platforms and highlight the benefits of each platform. You will have the opportunity to evaluate the key features of each platform and determine whether the features meet your needs or the needs of your business.
HubSpot vs Zoho: Similarities
Both Zoho and HubSpot offer free CRM software solutions.
Both HubSpot and Zoho offer other products besides CRM.
Both platforms cover extensive integrations.
Both platforms cover solid automation tools.
HubSpot vs Zoho: Differences
Zoho caters to small businesses, whereas HubSpot can accommodate companies of any size.
Zoho's free CRM is limited to three users, while HubSpot's free version doesn't have a user limit.
Zoho covers slightly more in-depth reporting features.
HubSpot is slightly easier to use.
What is HubSpot?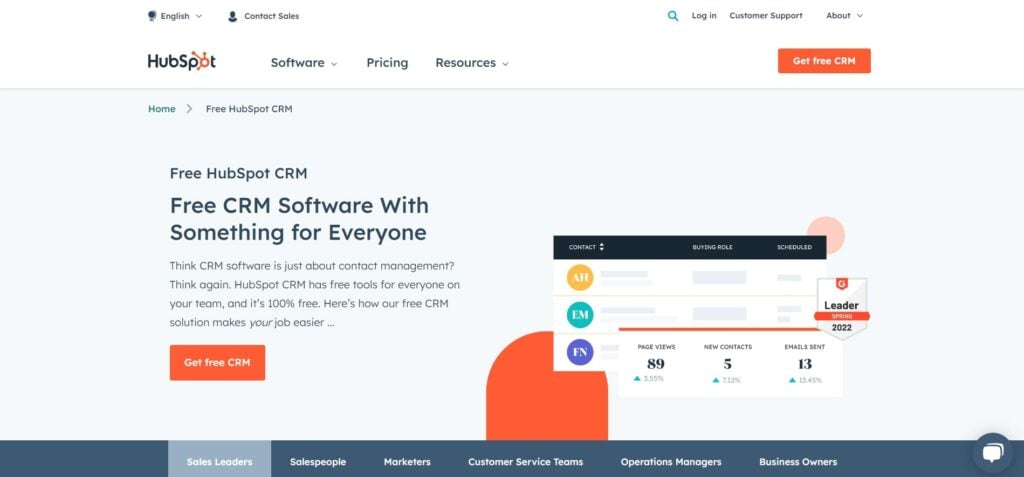 HubSpot is a platform that covers sales, marketing, customer service, CMS, and operations software solutions. Although each of these solutions can be used separately, you can integrate all these platforms seamlessly, allowing you to unify your business processes.
Found under the Sales Hub, HubSpot's CRM solution stands out due to its broad set of advanced features, ease of use, and pricing tiers suitable for any type of business, regardless of size. 
HubSpot | CRM & Marketing All-in-One
HubSpot is a powerful marketing, sales, and customer service software that helps businesses grow and manage their customer relationships. It provides a range of tools and features to help businesses attract, engage, and delight customers, including lead generation, email marketing, social media management, CRM, and more. With HubSpot, businesses can streamline their marketing and sales processes, improve customer engagement, and drive growth and revenue.
Pros:
Comprehensive suite of marketing, sales, and customer service tools, making it a one-stop-shop for businesses looking to streamline their operations.

User-friendly and intuitive, with a clean and modern interface that is easy to navigate.

Robust analytics and reporting capabilities, allowing businesses to track their performance and make data-driven decisions.

Integrates with a wide range of third-party tools and services, making it easy to connect with other systems and automate workflows.

Excellent customer support, with a knowledgeable and responsive team that is available to help users with any questions or issues they may encounter.

HubSpot Key Features
Email templates, scheduling, and tracking
Contact website activity tracking
Sales automation tools
Sales forecasting
Custom reports
What is Zoho CRM?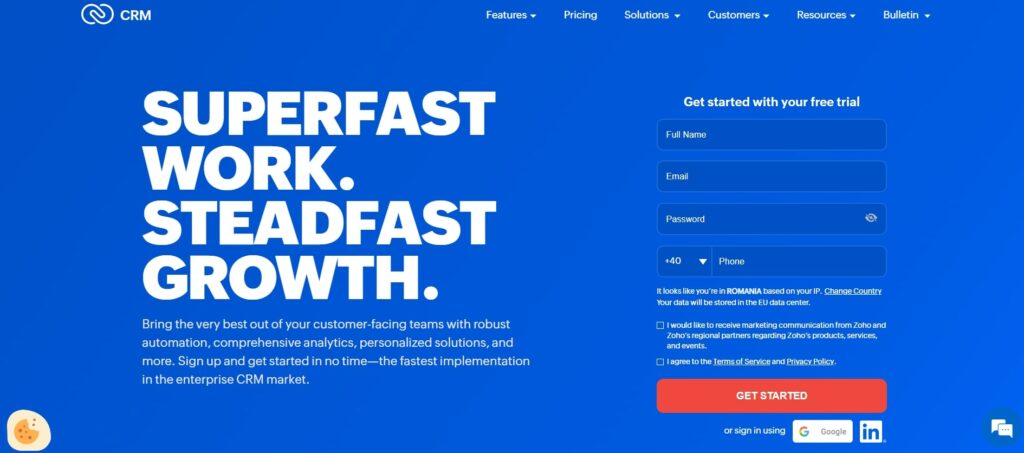 Much like HubSpot, Zoho also covers a wide range of products, each designated for marketing, customer service, project management, and more. Zoho CRM offers an extensive selection of advanced functionalities, reports, and customization options packed into highly affordable packages.
With prices starting from $14/user/month and going up to $52/user/month, this CRM solution is more appealing to small businesses.
Zoho CRM
Zoho CRM is a cloud-based customer relationship management software that helps businesses manage their sales, marketing, and customer support activities. It provides a centralized platform for businesses to store and manage customer data, track sales activities, and automate marketing campaigns. With Zoho CRM, businesses can streamline their sales processes, improve customer engagement, and increase revenue. The software offers a range of features including lead management, contact management, sales forecasting, email marketing, and social media integration. Zoho CRM is designed to be user-friendly and customizable, allowing businesses to tailor the software to their specific needs. The output of Zoho CRM is improved customer relationships, increased sales, and a more efficient sales process.
Pros:
Comprehensive customer management: Zoho CRM provides a complete view of customer interactions, including sales, marketing, and customer support.

Customizable: Zoho CRM is highly customizable, allowing businesses to tailor the software to their specific needs.

ntegration with other Zoho products: Zoho CRM integrates seamlessly with other Zoho products, such as Zoho Books and Zoho Projects.

Affordable pricing: Zoho CRM offers affordable pricing plans, making it accessible to businesses of all sizes.

Automation: Zoho CRM offers automation features that help businesses streamline their sales and marketing processes.

Analytics and reporting: Zoho CRM provides detailed analytics and reporting, allowing businesses to track their performance and make data-driven decisions.

Collaboration: Zoho CRM allows teams to collaborate on customer interactions, ensuring that everyone is on the same page.

Zoho CRM Key Features
Omnichannel communication
Marketing automation tools
Workflow automation
Sales forecasting
Lead scoring
HubSpot CRM vs Zoho CRM: Features
Reports and Analytics
HubSpot CRM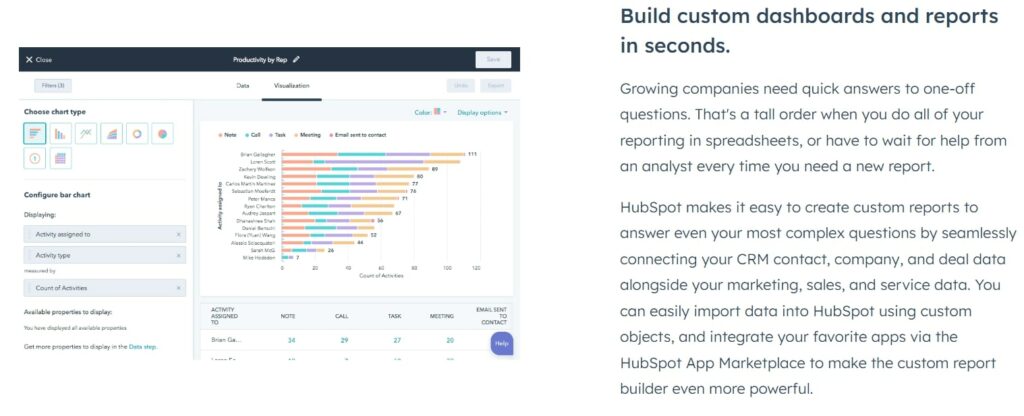 HubSpot offers solid reporting and analytics tools. However, the main issue is that the free and entry-level plans don't allow you to create custom reports. Unfortunately, this ability is only unlocked from the Professional plan and up, costing $450/month.
Email replies, open and click rate tracking, contact website activity, and pre-built reports are the default for all pricing tiers. However, HubSpot's reports and analytics reach their full potential in its top-tier plans.
These plans unlock sales forecasting, employee performance tracking, recurring revenue reports, and much more, with conversation intelligence being the stand-out here.
In short, this functionality leverages AI to analyze phone conversations and provide insights into where there's room for improvement. For instance, HubSpot will identify and track key terms to spot what potential customers are most interested in.
Zoho CRM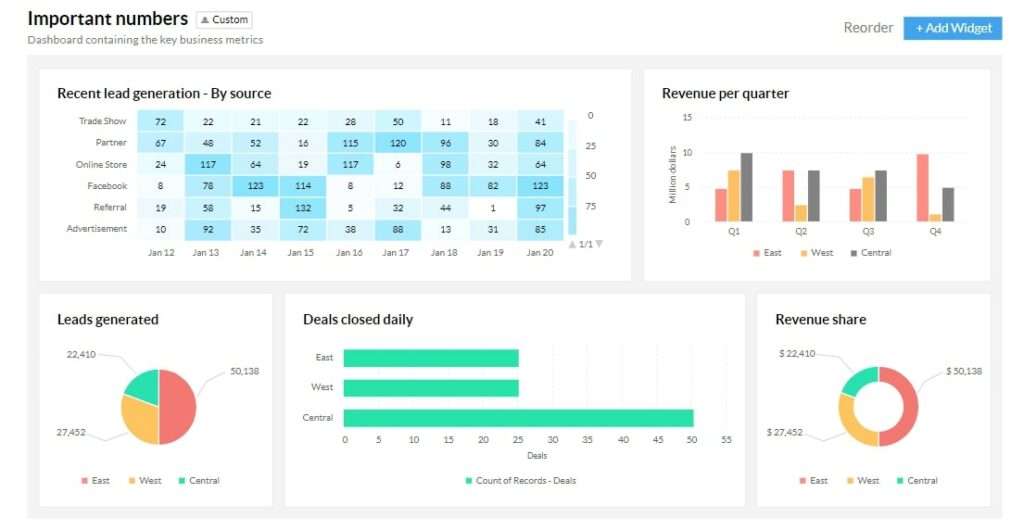 Zoho CRM offers outstanding reporting and analytics capabilities considering its price. For one, custom reports and sales forecasting are available from the platform's cheapest paid plan, which costs $14/user/month.
Other than that, the CRM platform can track various email marketing metrics, including open and click rates, opening times, and much more. Most noteworthy, Zoho brings some unique features to the table. More specifically, there's the Anomaly Detector.
This functionality aims to spot and notify you of any abnormal behavior within your sales pipeline. This could either be a sudden drop/surge in purchases or decreases/increases in web page views, for instance.
As such, this feature gives you the insights necessary to quickly capitalize on positive trends or address potential issues before they worsen.
Moreover, the Ultimate plan gives you access to Zoho Analytics. This analytics platform allows you to turn large amounts of complex data into comprehensive visual reports that you can then share with your team.
Other features include web form analytics, a wide variety of customizable report views, access to the platform's Analytics mobile app, and more.
Lead and Contact Management
HubSpot CRM
HubSpot's CRM software solution covers all the tools necessary to help you manage contact and leads effectively. For example, the platform can automatically identify and merge duplicate data. Additionally, HubSpot handles lead, deal, company, and opportunity scoring to help you identify and easily focus your efforts on high-value leads.
You can then use association labels to specify the correlation between multiple pairs of CRM records, such as contacts and tickets or leads and companies. This feature can help you avoid potential confusion and easily track multiple contacts linked to a specific company or deal.
Other functionalities include call logging, automatic lead assignment, and contact notes.
Zoho CRM
Zoho CRM is not much different in this regard. The platform also covers duplicate data merging and custom scoring rules. However, the difference is that this CRM platform offers duplicate data merging in the free plan, while custom scoring rules are available from the entry-level paid plan.
In contrast, the above features are only available in HubSpot's Professional plan and up. Thus, Zoho CRM offers much better value for money.
Additionally, companies with over 20 user licenses for the Enterprise and Ultimate plans will unlock Zoho's Zia – the CRM platform's AI-powered sales assistant. In terms of lead and contact management, this tool can automatically enrich contact data, predict which leads are most likely to convert, assign leads to the appropriate sales reps, and much more.
Marketing Automation
HubSpot CRM
HubSpot is excellent in terms of marketing automation tools. For one, the CRM system comes with plenty of out-of-the-box tools, like email scheduling, and chatbots which will collect contact data and qualify leads, email sequences, etc.
However, the platform's main advantage is that you can link the CRM software solution with HubSpot's other tools, like the Marketing Hub, specifically. What's even better, you can use Marketing Hub completely for free!
The free plan gives you access to form automation, the ability to automatically send personalized email marketing campaigns, ad management, and retargeting tools, a landing page builder, website SEO recommendations, and much more.
Zoho CRM
Regarding built-in email marketing automation features, Zoho CRM lets you schedule emails in bulk, set up autoresponders and opt-out forms, access various email templates, and more. It also enables you to manage email marketing campaigns directly within the platform.
Moreover, like HubSpot, you can link the CRM system with Zoho's dedicated marketing tool. This solution covers website activity tracking, webinar and event promotions, custom lead journeys, etc. Note that this platform doesn't include a free version.
Phone Calling Functionalities
HubSpot CRM
The HubSpot CRM platform allows you to make and receive phone calls via its built-in phone system from the Starter plan and up. However, you can also integrate the CRM software solution with various VoIP providers in the free plan.
Additionally, you have the option to use phone numbers provided by HubSpot. The amount of phone numbers you can use depends on your chosen pricing plan. Also, note that call minutes are limited based on the pricing package. For instance, the Starter plan is limited to up to 500 minutes per month, whereas the Enterprise package allows up to 12000 minutes per month.
As for the features, HubSpot offers call logging and recording, while up-tier pricing tiers unlock call coaching, transcriptions, and conversation intelligence.
Zoho CRM
Zoho allows you to integrate the platform with many telephony providers, including RingCentral, CloudTalk, Ring.io, and more. These integrations allow you to perform calls directly within the platform.
Meanwhile, Zoho features functionalities like single-click dialing, call reminders, and automatic call logging. The platform also offers call analytics with built-in charts to help you visualize your data more effectively.
Other functionalities include call scheduling, taking notes, purchasing both local and toll-free numbers within the platform, etc.
Verdict: Zoho wins in Features
Although both CRM tools offer extensive features, Zoho tends to go a little more in-depth in some aspects, like reports and analytics. You also need to take the pricing packages into account. More specifically, some features in Zoho's entry-level plans are only available in HubSpot's top-tier pricing packages.
For instance, you can merge duplicate data with Zoho's free CRM. Meanwhile, this feature is only available starting from HubSpot's Professional, which costs $450/month. That said, Zoho may bring you better value for money.
Zoho vs HubSpot CRM: Ease of Use
HubSpot CRM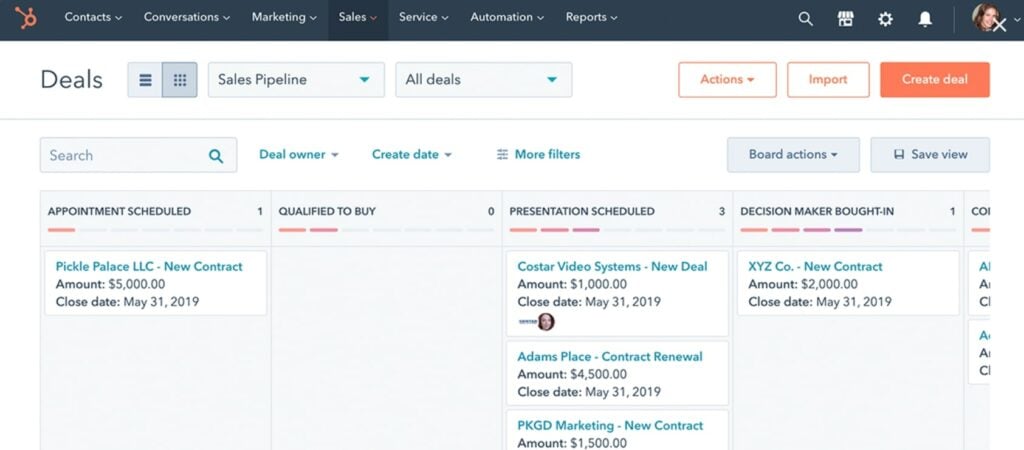 In short, the HubSpot Sales Hub is very easy to use. The platform includes a straightforward user interface that's easy to navigate and facilitates quick access to all key functionalities. In terms of customization, the platform mostly relies on a drag-and-drop editor, making it easy to tweak the platform to your liking.
HubSpot includes pre-made templates covering dashboard layouts, emails, reports, workflows, and more. Each template can then be easily customized to fit your business needs.
As for implementation, you can get up and running with HubSpot in no time. In addition, you can easily migrate your data to the platform, while HubSpot's minimal learning curve allows team members to feel right at home with Sales Hub.
Zoho CRM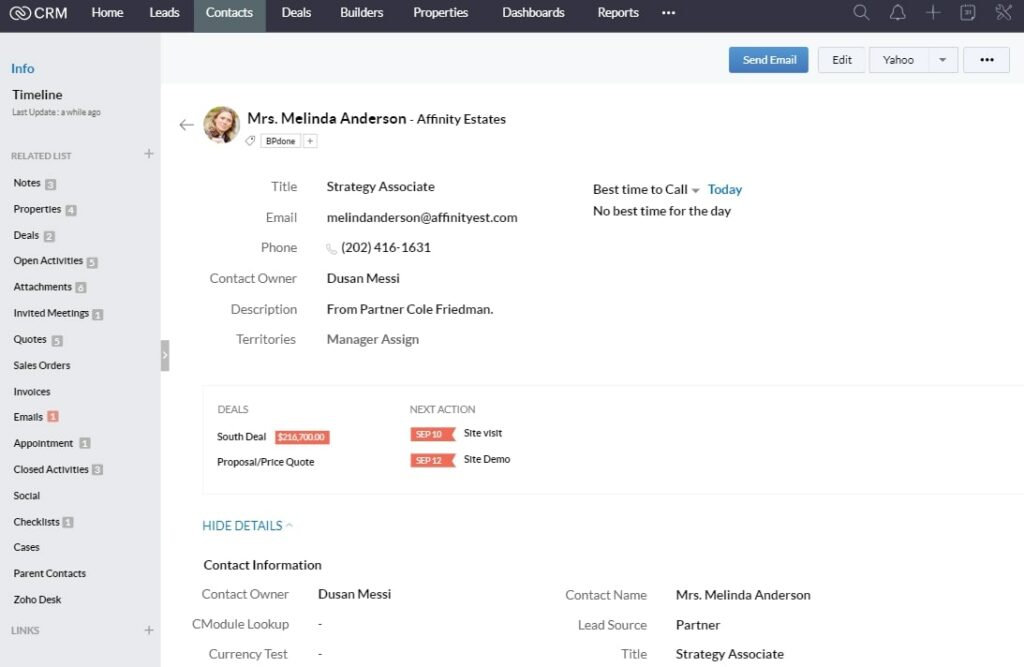 The story is slightly different for Zoho. Although entry-level packages are still easy to get into, higher-tier pricing plans turn Zoho into a more complicated platform. The wide set of advanced features and customization options may seem overwhelming for some users, while the UI can feel a little cluttered and outdated.
However, the implementation process is still relatively easy, especially if you opt for lower-tier plans.
HubSpot is Easier to Use
In contrast to Zoho, HubSpot maintains its ease of use and intuitive interface as you scale up and access more advanced functionalities.
Zoho CRM vs HubSpot: Integrations
HubSpot CRM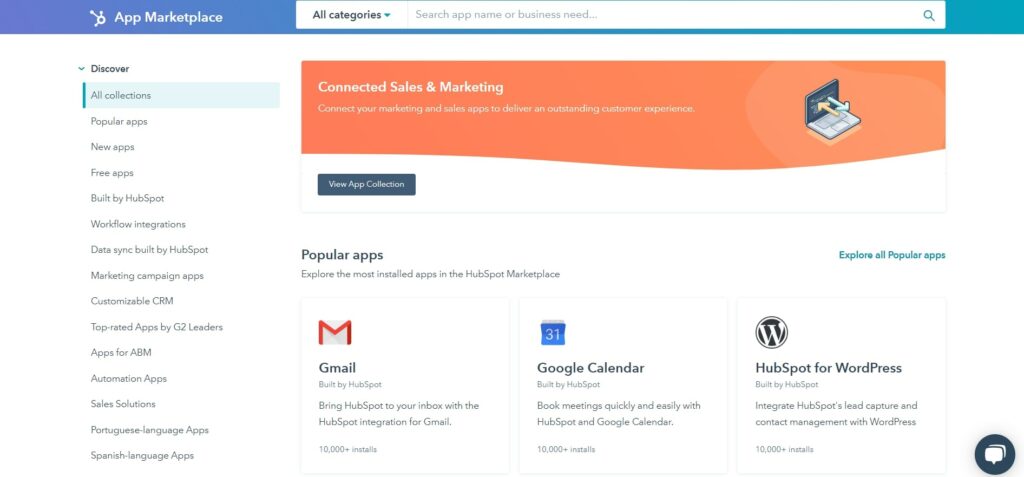 HubSpot offers a vast array of software integrations. For one, the Sales Hub integrates seamlessly with other products within the HubSpot ecosystem, like the HubSpot Marketing Hub, Customer Service Hub, CMS Hub, and more. This platform is excellent for unifying your business processes once the need arises.
Additionally, HubSpot Sales Hub integrates natively with Stripe, Outlook, Gmail, Microsoft Exchange, Slack, and more. There's also the App Marketplace, where you'll find integrations with 1000+ apps, like productivity tools, eCommerce platforms, data management apps, and much more.
Zoho CRM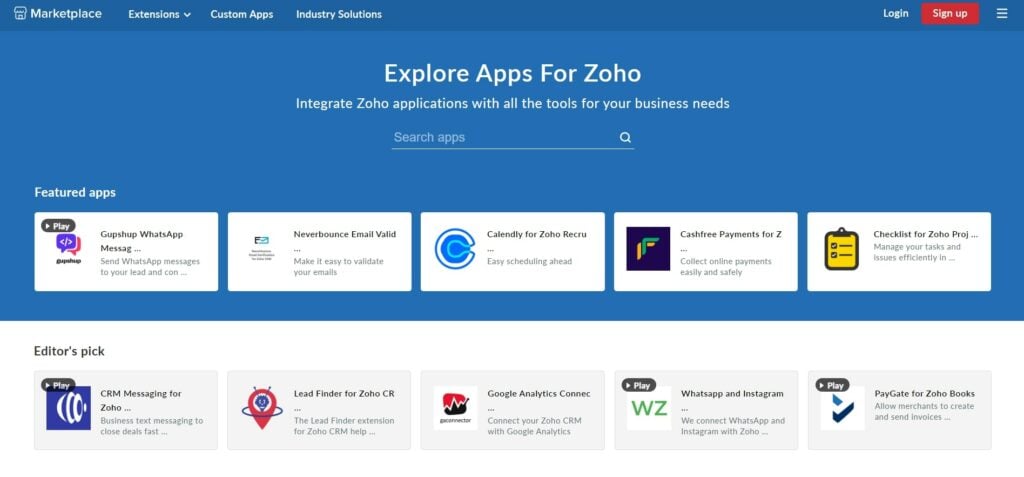 Zoho is not much different. Zoho integrates natively with other products within its offering as well. Similarly, there's also the Zoho Marketplace, where you can choose between 1000+ apps.
However, there's still a significant difference. More specifically, HubSpot covers five products in total. Meanwhile, Zoho has 10+ products under its belt. Zoho offers software dedicated to finance, HR, and IT Management. That said, Zoho may be a better option for larger companies looking to unify all of their business processes.
Zoho wins in Integrations
Although both HubSpot and Zoho offer excellent integration capabilities, Zoho covers more solutions in its product offering, which you then seamlessly link.
HubSpot vs Zoho CRM: Pricing
HubSpot CRM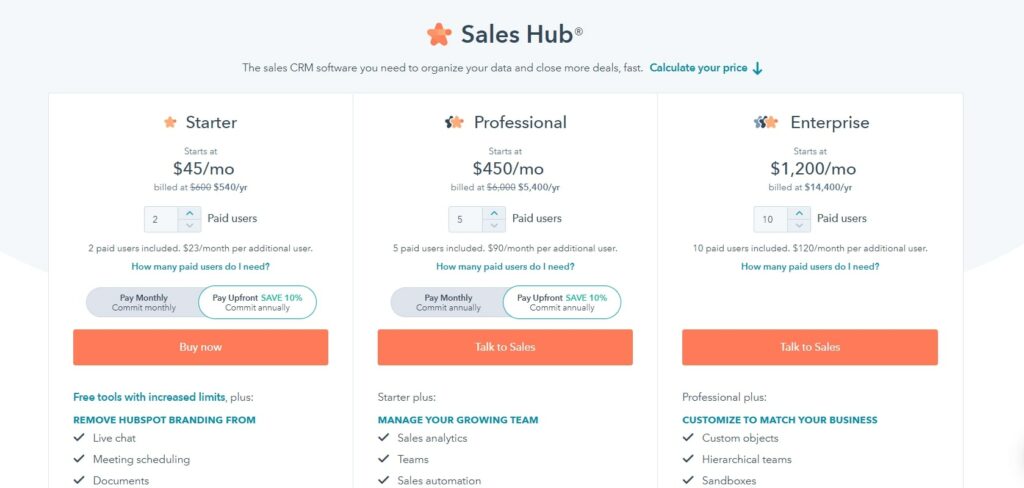 Free – Access basic features, like 5 email templates, reporting dashboards, deal pipeline management, and more.
Starter – From $45/month (yearly): Unlock 5000 email templates, the platform's phone calling features, goal tracking, sales, task automation, etc.
Professional – From $450/month (yearly): Create custom reports, team performance analytics, lead rotation, automatic email sequences, sales analytics, and more.
Enterprise – From $1200/month (yearly): Access predictive lead scoring, custom geals, conversation intelligence, recurring revenue tracking, etc.
Note that each pricing plan allows for up to two, five, and ten users, respectively. Each additional user will cost an extra $23, $90, or $120/month (yearly), based on your chosen pricing package.
Zoho CRM

Free (up to three users): Access ten custom email templates, duplicate data merging, workflow automation rules, and other basic CRM features.
Standard – $14/user/month (yearly): Unlock 100 email templates, custom reports, sales forecasting, scoring rules, and more.
Professional – $23/user/month (yearly): Access unlimited email templates, macros, SalesSignals, inventory management, customer support cases, etc.
Enterprise – $40/user/month (yearly): Use the Anomaly Detector, set up autoresponders, schedule emails in bulk, create segmented lists, and more.
Ultimate – $52/user/month (yearly): Get access to all of the platform's features, including A/B tests for 10 web forms/module, 20 custom schedules, 5GB of file storage with an additional 1GB/user, etc.
There's also a 15-day free trial available for all pricing packages.
Zoho wins in Pricing
Without a doubt, Zoho is the more affordable option here. It's not only significantly less expensive, but some features in HubSpot's high-tier plans are available in Zoho's entry-level and even free packages.
However, HubSpot may be better if you want a free CRM software solution. Its free HubSpot CRM is available for unlimited users, and you can use it along with other free tools within the platform. For instance, you can manage advertising campaigns, build landing pages, and access other marketing tools via the free version of HubSpot Marketing Hub.
Zoho vs HubSpot: Customer Support
HubSpot CRM

HubSpot offers access to live chat support across all of its pricing plans. There's also the HubSpot Community, where you can seek help and connect with other HubSpot users.
Moreover, the platform covers 24/7 email and in-app support for paid plans. However, the Professional package also offers one-on-one technical phone support. There's also the HubSpot Academy, where plenty of courses cover marketing, handling customer service, and more.
User reviews show customers are happy with HubSpot's customer support teams. They are generally responsive and offer helpful information.
Zoho CRM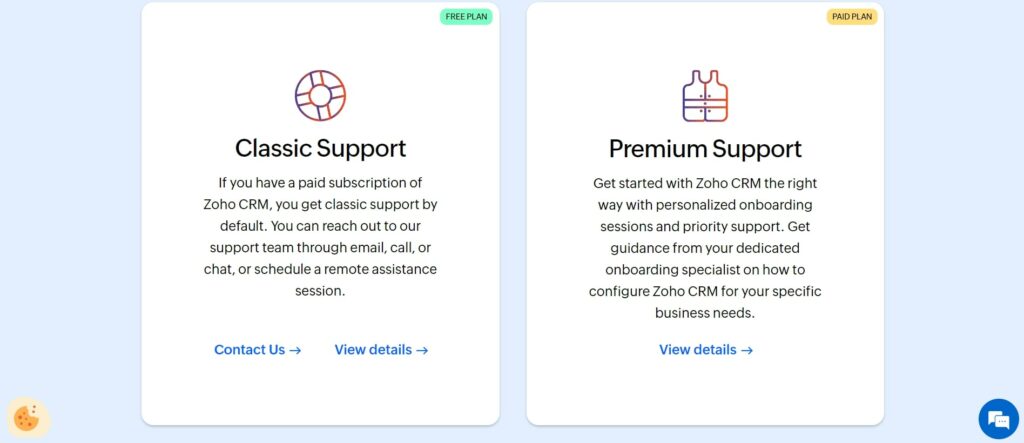 Zoho CRM offers a knowledge base for all users. However, paid plans get chat/phone/email support by default. There's also the option to opt for premium support, which costs 20% of your subscription fee. Premium support covers 24/5 customer service, faster response times, guided onboarding, and more.
There's also the Enterprise Support plan, which is available for 25 user licenses or more. This plan costs %25 of your subscription fee, and you'll get access to 24/7 customer service, a maximum of one-hour response times, a dedicated technical account manager, etc.
As for user reviews, customers generally report that customer support is limited and relatively slow, mainly because Zoho's support is put behind paywalls.
HubSpot wins in Customer Support
HubSpot takes the cake here. Support is fast and helpful, while paid CRM pricing plans offer much more customer support than Zoho. Meanwhile, Zoho designed customer support levels as extra add-ons. This is a major drawback, especially when considering that Zoho is slightly more difficult to use.
HubSpot vs Zoho CRM: Pros and Cons
Now that we covered the details of HubSpot and Zoho CRM, let's briefly summarize by taking a quick rundown of each platform's pros and cons.
HubSpot Pros
HubSpot's free version is available to unlimited users
You can use the CRM with other free HubSpot tools
The platform is excellent in terms of scalability
The platform is easy to use
HubSpot Cons
Some essential features are only available in top-tier plans
Steep pricing between paid packages
Zoho Pros
Include a wide variety of advanced functionalities
Excellent reporting and analytics capabilities
Access to a vast library of integrations
Affordable
Zoho Cons
Is slightly difficult to use in higher-tier pricing plans
Customer support is put behind paywalls
HubSpot vs Zoho: Conclusion
Overall, both HubSpot and Zoho are excellent Customer Relationship Management tools. However, HubSpot may be the right CRM for you if you seek ease of use and scalability. The platform is quick to set up and provides a highly user-friendly interface. Additionally, you can customize HubSpot according to your business needs via a straightforward drag-and-drop interface.
As for scalability, you can easily get started with the platform's free version and gradually upgrade to the paid plans as your needs expand. Not to mention that you can also link the CRM with HubSpot's other tools.
Although Zoho may be the best CRM in terms of value for money, this platform may be better suited for businesses that already have experience with CRM systems. In addition, the platform can get quite tricky once you scale up to high-tier pricing plans, while standard customer support can leave to be desired.
However, Zoho's low-tier package only provides a handful of features available in HubSpot's more expensive packages. As such, this might be the best CRM solution for those seeking solid functionalities at an affordable price without necessarily prioritizing ease of use.