The internet has revolutionized how people communicate. Gone are the days when people had to rely on landlines and traditional phone numbers. With the advent of the internet, people can now communicate with anyone they want through online platforms.
Today, there are many Internet phone number providers available on the market. In this article, we will discuss the best Internet phone number providers and compare and review their features and prices to help you get an Internet phone number quickly and affordably.
Why get an internet phone number?
If you are looking for a more affordable and convenient way to communicate with your customers or business partners, then an Internet phone number is the way to go.
Internet phone numbers are cheaper than traditional landline numbers, and they offer more features and flexibility.
In addition, with an Internet phone number, you can make and receive calls from anywhere in the world. You can also forward calls to your regular phone number, so you don't miss any important calls.
Now that you know the benefits of getting an Internet phone number, let's take a look at some of the best Internet phone number providers.
Best Internet Phone Number Providers
RingCentral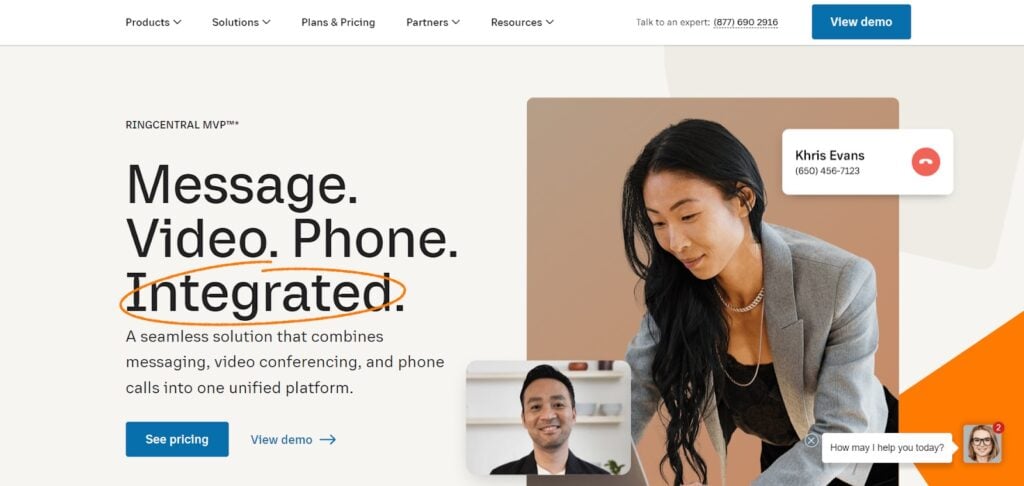 RingCentral is another popular Internet phone number provider where you can get an internet phone number at a cheap price.
It offers different features such as business phone or toll-free numbers, enhanced business SMS, voicemail-to-text, and more.
RingCentral Features
Call log reports
Document sharing
Team messaging
iOS and Android mobile apps
Extensive integration capabilities
Advanced analytics
Voicemail-to-email and visual voicemail
The RingCentral phone system has plenty of call management features. You can set up answering rules and notifications. You can also handle call forwarding, transfers, logs, etc.
Moreover, RingCentral has an app marketplace where you can find integrations with hundreds of other platforms. Some include MailChimp, Trello, Zapier, Microsoft Teams, and Marketo. Aside from that, you have access to APIs and SDK, so you can create custom apps via the platform's developer portal.
In terms of reports and analytics, the platform provides call log reports, quality-of-service reports, device status alerts, and more. Note that RingCentral's analytics capabilities depend on the pricing plan you choose.
Lastly, RingCentral offers apps for iOS and Android devices so team members can quickly answer calls, host conference calls, and tweak phone system settings regardless of location.
RingCentral Pricing
RingCentral's Essential plan starts at $19.99 per user per month, while its Standard, Premium, and Ultimate plans start at $27.99, $34.99, and $49.99 per user per month, respectively.
Check available RingCentral pricing discounts at its official site.
Nextiva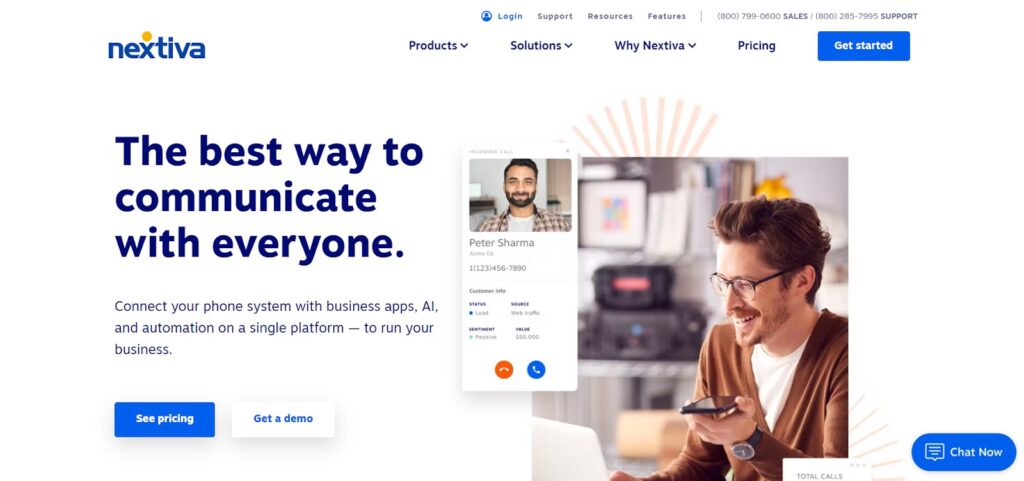 Nextiva is one of the best Internet phone service providers for small businesses. It offers features such as unlimited calling, auto-attendants, call forwarding, and more. What makes it stand out among other VoIP phone system providers is its versatility. For instance, the platform also includes a CRM platform in its up-tier pricing plan.
Nextiva Features
Text, voice, and video chat
Unlimited audio and video conference calls
Call recording
Automation tools
Team collaboration tools
Comprehensive integration capabilities
Call analytics
You can easily integrate Nextiva with platforms like Salesforce, Zoho, Microsoft Teams, HubSpot, etc.
Another noteworthy aspect is that the platform provides business owners with plenty of sales-oriented features.
For instance, the Call Pop functionality allows agents to quickly access customer information, like survey responses, previous interactions, and customer sentiment to deliver better a customer service experience. The platform also offers help desk tools, ticket management, customer surveys, etc.
In terms of automation tools, Nextiva can automatically suggest answers to your customers' questions, send personalized messages to leads in different pipeline stages, and more.
Aside from that, the platform provides solid analytics. A business owner can easily track essential metrics, like total talk time, outbound calls, inbound calls, etc. The platform's dashboard is easily customizable, making it easy for you to track the metrics that matter the most.
Nextiva gamifies employee performance reports, allowing you to create leaderboards and increase employee engagement. Lastly, the platform offers 24/7 customer support.
Nextiva Pricing
Nextiva's Essential plan starts at $23.95/user/month. The Professional and Enterprise plan starts at $27.95 and $37.95/user/month.
Check available Nextiva pricing discounts at its official site.
Dialpad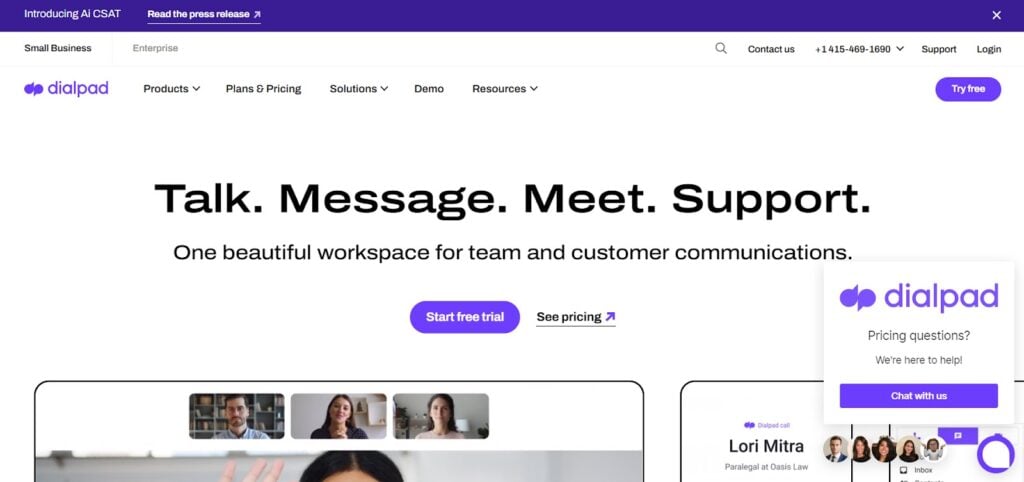 Dialpad sets itself apart through its AI capabilities. The internet phone provider can automatically transcribe video meetings, identify different speakers, and track keywords in conversation. Other features include unlimited calls and text messages, omnichannel support, and more.
Dialpad Features
Advanced analytics
Unlimited meetings
Comprehensive integration capabilities
File sharing
Multi-level auto attendant
Visual voicemail
Custom ring groups and on-hold music
The platform's AI can especially be handy in analytics. Dialpad automatically generates a report after each call. This report will display highlights, notes, and action items to show you where you can improve communications.
Additionally, there are also heatmaps that measure call volumes and answer times to help you spot call habits and monitor team performance. And most notably, the AI can track calls in real-time to spot any speech errors. The platform will then offer agents feedback on improving their communication skills.
In terms of integrations, a business owner can use Dialpad with Microsoft Office 365, Google Workspace, and CRM software like Salesforce, HubSpot, and more.
Dialpad's multi-level attendant can play custom greetings and route calls during specific business hours. Speaking of call routing, Dialpad allows you to route calls based on your agents' skill levels, idle times, etc.
Other features include call forwarding, contact syncing, spam detection, etc.
Dialpad Pricing
Dialpad's Standard plan starts at $15/user/month, while the Pro plan starts at $25/user/month. You'll need to contact the sales team to get a pricing quote for the Enterprise plan.
Check Dialpad pricing at its official site.
Ooma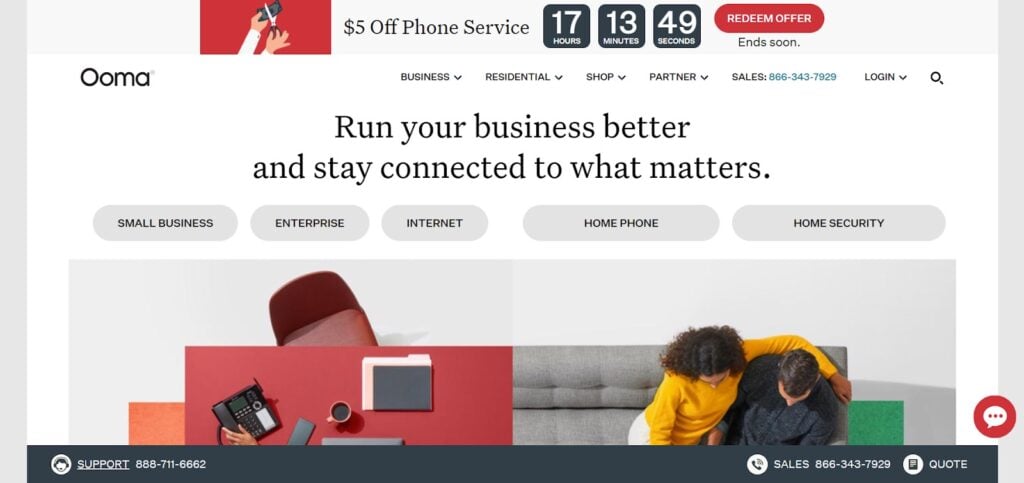 Ooma is a business phone system that is easy to set up. Its standard pricing plan includes over 50 features, offering excellent value. Some functionalities include a virtual receptionist, unlimited phone calls, call recording and forwarding, advanced call blocking, virtual fax, and more.
Ooma Features
Music on hold
Ring groups
Multi ring
iOS and Android mobile apps
Call analytics
Call queuing
Dynamic caller ID
Caller info match
Omma's virtual receptionist can direct incoming calls to the appropriate department, deliver personalized messages, and provide customers with key information while call agents are not available. Moreover, the platform's mobile app is perfect for field agents, as they can answer and manage business calls from a cell phone.
Another handy feature is ring groups. This functionality allows you to assign multiple employees to a single phone number or extension. That said, once a call comes in, it will ring to every member within the ring group. Consequently, you'll minimize the number of missed calls.
Aside from that, you can integrate Ooma with various business apps, like Salesforce, Google Workspace, and Microsoft Office 365. The platform's caller info match feature helps you identify callers by pulling out customer information from your CRM system, and social media platforms like Facebook or LinkedIn. Ooma can also identify a phone call by searching through Google.
Ooma's advanced call blocking automatically stacks up all incoming calls against a database with over two million known spam phone numbers. If phone numbers match, the caller in question will automatically be blocked. You also have the option to automatically block all private phone numbers.
The platform's video conferencing tools allow for up to 100 participants, screen-sharing, and integrations with Gmail or Google calendar. Note that video conference calling capacity might be restricted based on the pricing plan you choose.
Ooma Pricing
Ooma's Essentials plan costs $19.95/user/month. The Pro plan will set you back $24.95/user/month, and the Pro Plus plans costs $29.95/user/month. You also have the option to purchase pre-configured VoIP phones from their website.
Check Ooma pricing at its official site.
8×8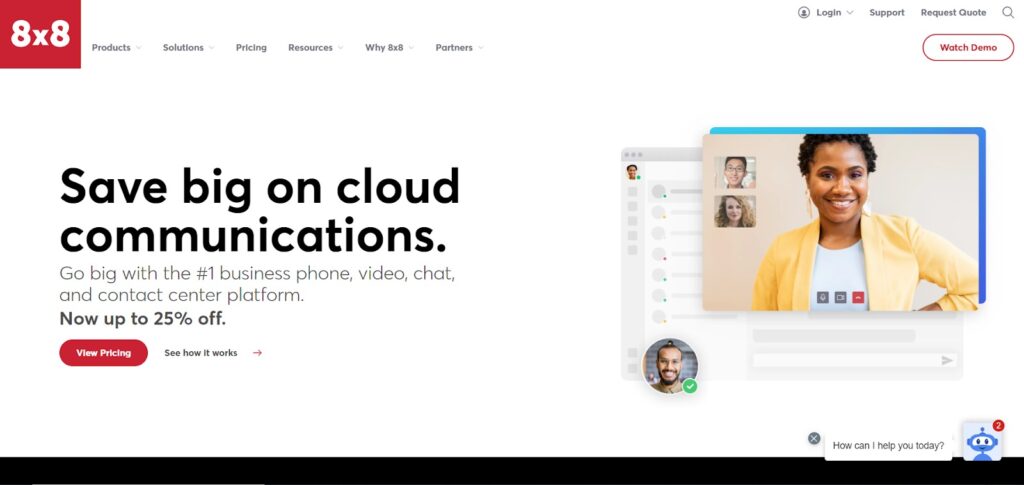 Like Ooma, 8×8 is an internet phone service designed for small businesses. Both platforms are easy to use and quick to set up. However, 8×8 allows you to mix and match pricing plans so you can get the best value for money. In terms of features, 8×8 offers unified communications, unlimited international calling for up to 48 countries depending on the pricing plan, and more.
8×8 Features
Advanced call management
Team collaboration tools
Meeting recording and transcription
Visual voicemail
Reports and analytics
Virtual receptionist
Extensive integration capabilities
Music on hold
8×8's advanced call management allows you to set rules for routing calls to the right agents during appropriate business hours, or route to voicemail when your business is closed.
Furthermore, this platform offers an IVR system where you can direct callers to the right department. You can also create personalized messages, custom menu prompts, and branded music on hold to add a more professional touch.
In terms of team collaboration tools, 8×8 offers a user-friendly dashboard with group or 1:1 chat. From there, you can easily elevate the conversation to a live meeting if needed. Aside from that, the platform provides unlimited text messages and MMS within the US and Canada. Again, you can easily elevate an SMS conversation to a live phone or video call whenever needed.
8X8 also integrates with a plethora of other platforms. On the one hand, you can integrate the platform with various team collaboration tools, like Microsoft Teams, Slack, Google Workspace, Office 365, and more.
On the other hand, there are also CRM integrations available, including Salesforce, HubSpot, Pipedrive, Zoho, SugarCRM, etc.
8×8 Pricing
8×8's Express plan starts at $15/user/month. The X2 plan costs from $24/user/month, while the X4 plan starts at $44/user/month.
Check 8×8 pricing at its official site.
Vonage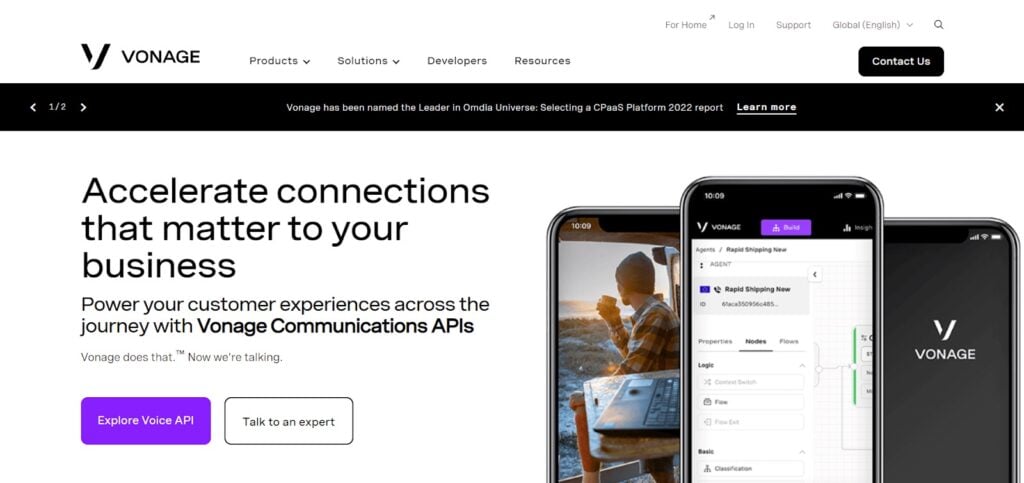 Vonage is a VoIP provider that highly emphasizes customization, as it offers a wide variety of APIs to help you build apps custom-tailored to your needs. For instance, there are APIs for reports, audits, in-app messaging, and emails. Aside from that, the platform includes all the features you could expect from a VoIP system, such as unified communications, CRM integrations, and more.
Vonage Features
Unlimited calls and SMS
Toll-free phone numbers
AI virtual receptionist
Visual voice mail
Call recording
Admin portal
Business inbox
Call blocking
The admin portal allows you to manage and customize your phone system from a single dashboard. You can easily monitor team activity in real-time or track and identify system trends via analytics. Moreover, you can tweak your phone system's features and view account updates.
Another handy feature is the business inbox. This functionality captures messages from SMS, MMS, and Facebook Messenger and puts them all under one roof. That said, you'll have a bird's-eye view over all of your messages and you'll be able to quickly respond to customers in their preferred channels.
Aside from answering calls and sending personalized messages, Vonage's AI receptionist can also understand a conversation's context and track keywords to identify customer sentiment. The AI receptionist will then provide relevant answers according to the information it has gathered.
The platform also integrates with dozens of apps, like Salesforce, Microsoft Dynamics, Google Workspace, and more. However, note that some integrations come at an extra cost.
Vonage Pricing
Vonage's Mobile plan starts from $14.99/line/month. Meanwhile, the Premium and Advanced plans start at $24.99 and $34.99/line/month, respectively. Also, keep in mind that each API comes at an additional cost.
Zoom Phone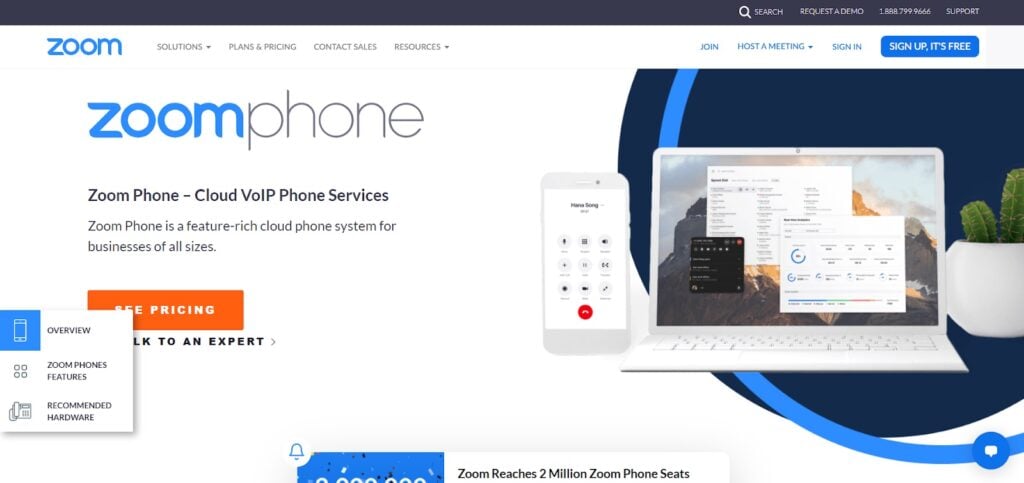 Zoom Phone is one of the best Internet phone number providers. It offers a wide range of features at an affordable price.
It offers a variety of features such as US & Canada phone numbers, call recording, call forwarding, voicemail, caller ID, and more.
Zoom Phone Features
Auto attendant
Toll-free number
Bring Your Own Carrier (BYOC) support
Manual and automatic call recording
Call monitoring
Emergency calling
Voicemail capabilities
Transfer calls to Meetings
Zoom Phone makes the setup process as easy as ever. Due to its BYOC support, you can use your existing PSTN phone provider when signing up. In other words, you won't need to deal with installing new hardware and the downtimes that come with that. As such, you can still maintain contact with your customers while transitioning to Zoom Phone.
Regarding call monitoring, Zoom Phone includes the following features: Whisper, Listen, Barge, and Take over. The Listen and Whisper functions allow you to listen to phone calls and give your agents advice without alerting the customer.
The Barge and Take over features enable you to participate in calls directly or take complete control of a conversation.
The auto attendant will automatically answer calls, route them to queues, and play personalized recordings. Most notably, if you have multiple websites, Zoom Phone will automatically create and assign bots for each site.
Lastly, there's Emergency Calling—a rather unique feature. It allows you to contact emergency services from your Zoom Phone account and route calls to internal safety teams.
Zoom Phone Pricing
With its Pay As You Go plan, Zoom Phone costs $120 per year per user ($10 per month). Its Pro Global Select plan costs $240 per year per user ($20 per month).
There are also plenty of extra add-ons, like international calls and additional phone numbers. These add-ons start at $120 per year.
Check Zoom Phone pricing here at its official site.
Google Voice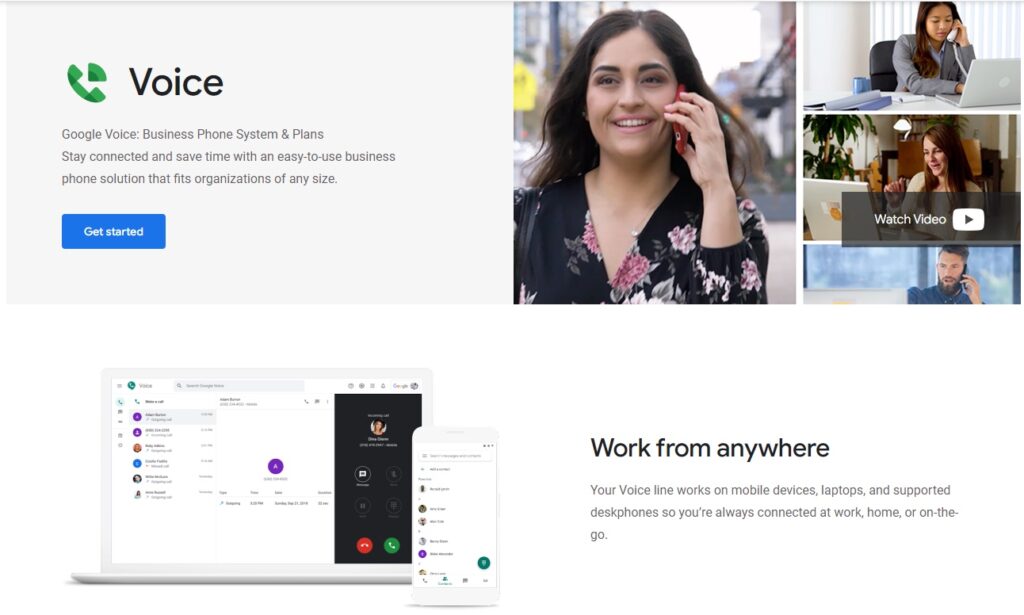 Google Voice is the most affordable option on this list—it offers a free version and accessible paid plans. Although the free version is not suitable for business operations, as it only offers a personal phone number, the paid plans offer convenient pricing and excellent value for money.
Some notable features include free calls to the US from any country, unlimited text messages in the US, 24/7 customer support, etc.
Google Voice Features
Mobile and desktop apps
Voicemail transcription
Integrations with Google Workspace apps
Call forwarding
Call transfer
Multi-level auto-attendant
Desk phone support
Ring groups
With Google, you could turn any device into a business phone, as you can access the platform on both a desktop and a mobile phone. The platform also supports desk phones. Moreover, you can set up a new business phone number directly within Google Voice in minutes.
It also covers some handy AI-powered features. For instance, the platform will automatically block spam callers. Furthermore, the AI can analyze your Google Meet and Calendar accounts to pinpoint urgent tasks.
Ring groups are another handy feature. Like with Ooma, you can assign multiple devices to the same Google Voice number, so incoming calls will not go unanswered.
In terms of reports, Google provides data on usage and calling activity. If you opt for the up-tier pricing plan, you'll get access to advanced reports through BigQuery. BigQuery uses Machine Learning technology, business intelligence, and geospatial analysis to help you manage your data more effectively and turn it into comprehensive insights.
Google Voice Pricing
The Starter plan costs $10/user/month. The Standard and Premier plans will set you back $20 and $30/user/month, respectively.
Frequently Asked Questions
What is an Internet phone number?
An Internet phone number is a telephone number that uses the internet to make and receive calls. It uses VoIP (Voice over Internet Protocol) technology to transmit voice calls over the internet.
How can I get an Internet phone number?
There are many Internet phone number providers on the market. You can get an Internet phone number from any providers we discussed above. The best ones are Zoom Phone, RingCentral, and Nextiva.
How do I get a free online phone number?
There are many ways to get a free online phone number. One of the best ways is to use a VoIP service like Skype or Google Voice.
Conclusion
Overall, Zoom Phone, Ooma, and Nextiva are excellent options for small businesses. These platforms are affordable, easy to use and provide plenty of features considering their prices. Not to mention that companies without prior experience in phone system solutions can quickly get accustomed to these phone service providers.
On the other hand, Vonage, Dialpad, and RingCentral are suitable for scaling or medium-sized businesses. These internet phone service providers are slightly more expensive but have the features to back them up. These platforms offer access to advanced AI capabilities, extensive customization options, in-depth analytics, and more.