Finding the best CRM software for your business is easier said than done. After all, there's no one-size-fits-all solution, and you'll need to find the CRM software that satisfies your company's needs the most.
If you're a small business owner, you're likely looking for CRM software that's easy to set up and use. In fact, 55% of sales representatives consider ease of use the most critical feature of a CRM solution.
In other words, picking an unintuitive CRM that requires you to train your team will likely cause you to lose out on sales and time.
Moreover, you'll need to find the CRM with the right features for your business. Sure, it's easy to find CRM software with all the bells and whistles, but is it worth paying for them if you'll only use a few of the available features?
And most importantly, the CRM solution of your choice should integrate with other applications you already use. This helps you streamline your workflow and spare you from a few headaches.
Given that there are plenty of CRM solutions available, picking the right one for your business can get that much more difficult. To narrow your search, we've compiled a list covering some of the best CRM software. They are:
Let's take a look!
Best CRM Software for Small Teams
Pipedrive is a sales platform built with small businesses in mind. It allows you to plan sales activities and monitor deals.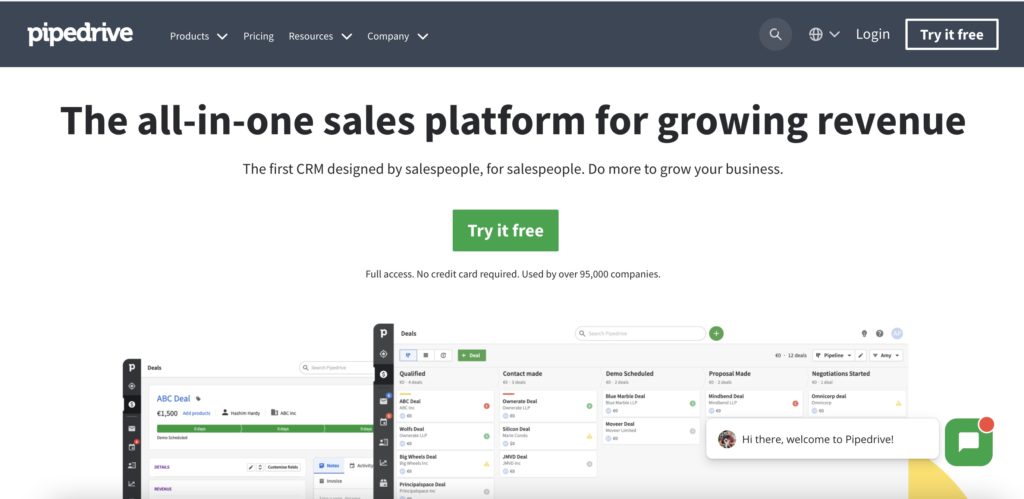 Moreover, this CRM software provides you with a visual sales pipeline to keep track of each stage of the deal.
Caratteristiche
Capacità di automazione
Integration with Trello, Zappier, Google apps, etc.
Customizable sales report
Email tracking
Android and iOS apps available.
In altre parole, Pipedrive allows you to streamline the sales process and focus more on generating sales rather than spending time on other low-priority tasks.
Professionisti
Intuitive User Interface
Easy to set up
Dashboard personalizzabile
Pipedrive stands out from other similar CRMs because of its ease of use. The dashboard is intuitive and enables you to customize it to your liking. You can get familiar with this CRM software in no time.
Prezzo
In terms of pricing, Pipeline offers the following plans:
Essential – $15/user/month
Advanced – $29/user/month
Professional – $59/user/month
Enterprise – $119/user/month
If billed annually, you'll benefit from a 17% discount. There's also a 14-day free trial available.
Try Pipedrive for 14-day free here!
Leggi di più:
Recensione Pipedrive: è il miglior CRM nel 2022?
Best Customizable CRM Software
lunedì.com aims to combine project management and CRM functionalities in one. This platform allows you to track projects, deadlines, sales, and collaborative client management processes. Consequently, you'll be able to manage your team and leads from one dashboard effectively.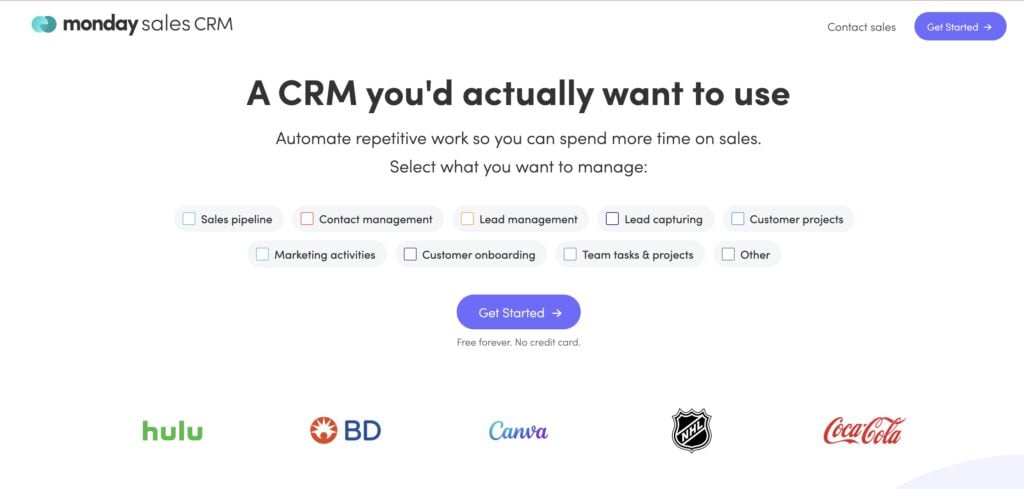 Moreover, its customization options make Monday.com CRM suitable for any business structure.
Caratteristiche
Seamless collaboration with team members
Integrazione con i social media
Capacità di automazione
Campaign analytics
Customizable dashboards
Da Monday.com CRM also has project management features, unlike Pipedrive, this tool is suitable for companies seeking more functionality. 
Professionisti
Di facile utilizzo
Versatile
Many integration capabilities
Just like Pipedrive, Monday.com CRM is also known for its user-friendly interface. It provides an easy-to-navigate dashboard and is designed so that any sales representative can quickly establish solid communication management and customer communication.
If you wonder how monday.com CRM helps you manage communication efficiently, here's a customer testimonial from Ray White.
"Our business development team can now send hundreds of emails a day directly (and automatically) from our CRM without lifting a finger. monday.com CRM has opened countless doors of opportunities that we never had before."

Kyle Dorman | Operations Department Manager | Ray White
See how monday.com CRM works here.
Prezzo
lunedì.com offers five pricing plans:
Individual – $0 for two users
Base – $10/utente/mese
Standard – $12/utente/mese
Pro – $20/utente/mese
Impresa
Check Monday.com CRM Pricing here.
To get a quote for the Enterprise plan, you'll need to contact the website. There's also a free trial available for every plan, excluding the enterprise one.
Try monday.com CRM for free here!
Leggi di più:
Monday CRM Software Review 2022: Best Pricing & Features
Best CRM Software for Medium and Large Organizations
forza vendita has been around for decades. Although it originally started as a SaaS CRM company, it now offers various services, like its Marketing Cloud, Service Cloud, Analytics Cloud, etc.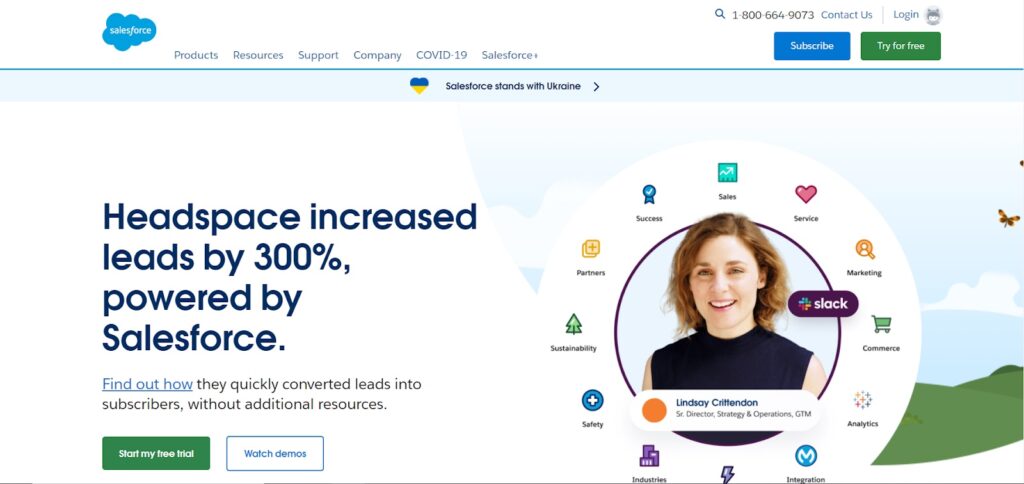 Its dedicated CRM platform, Sales Cloud, is an all-in-one software solution that provides companies with all the necessary tools for their CRM needs, including reporting, deal management, sales automation, and much more.
Caratteristiche
Previsioni di vendita
Strumenti di coinvolgimento dei clienti
Gestione dei compiti
Gestione delle opportunità
Strumenti di collaborazione
In altre parole, forza vendita's features allow companies to monitor their pipelines easily and forecast their sales, improve customer engagement by sending personalized messages, identify valuable leads to turn them into customers, and much more.
Professionisti
Mobile app
Appeals to various business needs outside of CRM
Technical and training support
Due to the platform's complexity, forza vendita emphasizes its customer support. Moreover, you can access the Comunità pioniere to get help, exchange ideas, and connect with other forza vendita users.
Prezzo
Sales Cloud covers the following pricing plans:
Essenziale – $25/utente/mese
Professional – $75/utente/mese
Impresa – $150/utente/mese
Illimitato – $300/utente/mese
C'è anche una prova gratuita di 14 giorni disponibile per tutti i piani sopra elencati.
Controlla i prezzi di Salesforce qui.
Complessivamente, forza vendita is a great platform that can cover more than your CRM needs. However, this software solution can be challenging to manage and maintain due to its size.
That said, forza vendita is a suitable option for medium and large organizations with the IT capabilities required to handle this platform.
Scopri di più su Salesforce qui.
Leggi di più:
What Is Salesforce & What Does Salesforce Do (2022)
8 Reasons Why Salesforce Is The Best CRM
Best CRM Software for Automation
Tieni is an all-in-one marketing and sales solution that provides marketing automation, reporting, and other CRM functionalities. Due to its versatility and ease of use, Tieni is an excellent option for companies that want to get most things done using a single platform.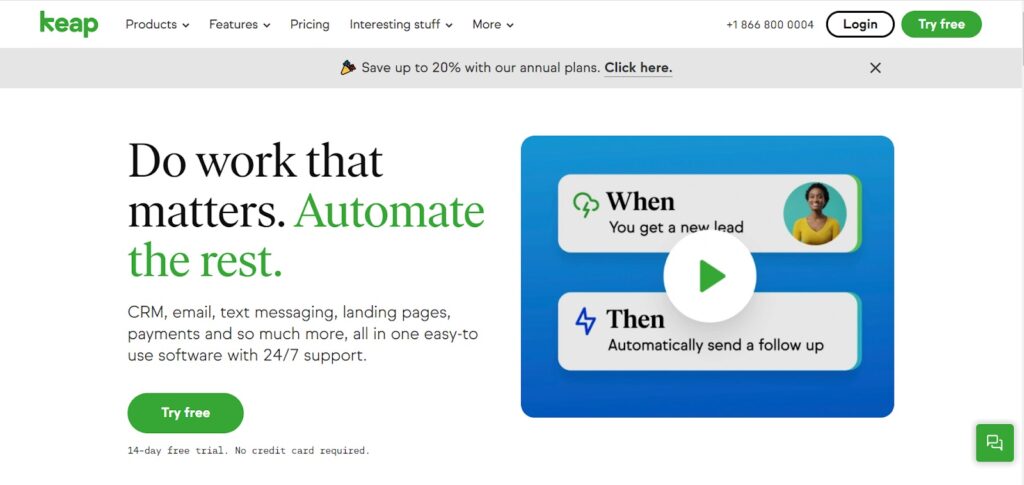 Caratteristiche
Capacità di automazione
Gestione dei compiti
Gestione dei contatti
Email A/B testing
Checkout forms
Tieni's strength lies in its automation capabilities. The platform provides you with two automation options: Easy automation, available at the cheapest plan, and advanced automation, available at the other plans.
With the advanced automation options, you can automate your sales and marketing processes from top to bottom, covering landing pages, emails, etc.
Professionisti
Versatile
Facile da usare
Eccellente assistenza clienti
Another stand-out aspect of Tieni is its ease of use. For instance, you could automate processes via an easy-to-follow visual drag-and-drop interface and use "when" e "then" parameters.
In terms of customer service, Keap offers 24/7 chat support and provides a community center filled with videos and articles to help users fix any potential issues.
Prezzo
Tieni covers three pricing plans:
Lite – $79/month
Pro – $169/month
Max – $249/month
If you choose to pay annually, you'll benefit from a 20% discount. Overall, Tieni offers good value for small businesses looking for an all-in-one platform.
Best CRM Software for Team Management
ClickUp is a project management and collaboration platform suitable for sales, development, and CRM activities. With ClickUp, you can centralize your spreadsheets, emails, calendars, to-do lists, and workflows to improve your teams' productivity and save more time.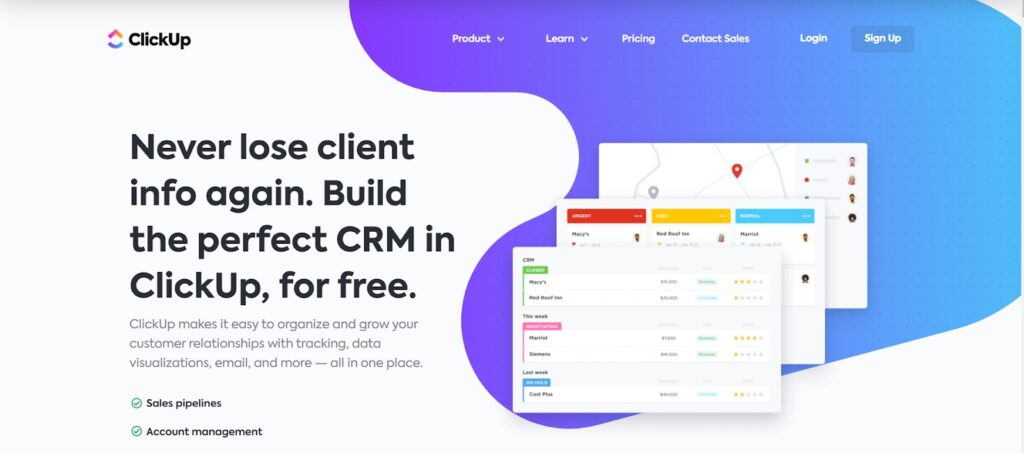 Caratteristiche
Sales KPIs tracking
Ampia personalizzazione
Email project management
Capacità di automazione
CRM views (Tables and Kanban boards)
One stand-out feature of ClickUp is its customization. More specifically, you can customize your projects by categorizing tasks to make them more accessible, assigning custom color themes to differentiate your teams, assigning privacy options for particular team members, and much more.
Although this platform is similar to lunedì.com, with ClickUp, you can manage your team more effectively, as you've got more customization options and access to more features like time management, for instance.
Professionisti
Time management
Ability to create different views for tracking multiple projects
Extensive integration options with other platforms
Complessivamente, ClickUp is an excellent option for businesses looking for an all-in-one tool to assist them in most of their companies' activities and to improve their teams' productivity.
Prezzo
ClickUp offers five pricing plans:
Gratuito
Unlimited – $9/user/month
Business – $19/user/month
Business plus – $29/user/month
Impresa
Just like lunedì.com, ClickUp also offers a free plan. On the same note, you'll need to contact the website to get a quote for the Enterprise plan.
Usa ClickUp gratuitamente qui!
Leggi di più:
Revisione del clic
Best CRM Software for Lead Management
Zoho is a CRM platform that prioritizes speeding up the sales process, monitoring performance, and improving lead generation.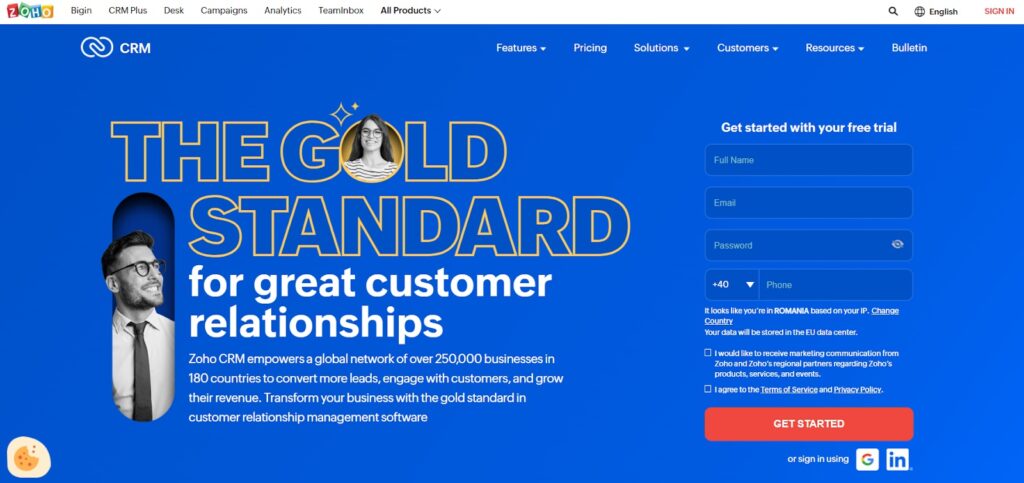 Furthermore, this CRM software solution is designed with remote workers in mind. Its mobile apps allow employees to access and edit CRM data offline, plan their activities, communicate with one another, and more.
Caratteristiche
Predictive sales capabilities
Social media integrations
Gamification
AI assistant
Marketing automation
With Zoho's gamification, any closed deal, call made, or generated lead turns into a badge or trophy, creating a fun and competitive sales atmosphere that boosts productivity.
Also, its automation capabilities coupled with AI can turn the lead management process into a powerhouse. For instance, Zoho looks into the behaviors and activities within the pipeline to identify the most valuable leads.
Professionisti
Ampia personalizzazione
Great integration capabilities
Solid mobile app for managing tasks while on the move
Zoho provides plenty of customization options so you can make the platform match your business's needs. For instance, you could customize forms, buttons, layouts, etc.
Prezzo
There are five pricing plans:
Free – for up to three users
Standard – $20/user/month
Professional – $35/user/month
Enterprise – $50/user/month
Ultimate – $65/user/month
If you choose to pay annually, you'll benefit from a discount of up to 34%.
Use Zoho CRM software for free here!
Best CRM Software for Scaling Businesses
Although HubSpot is better known for its marketing automation capabilities, HubSpot CRM also offers a dedicated CRM platform. You can use it to organize your contacts, track your sales pipelines and tasks, and monitor each conversation with your contacts.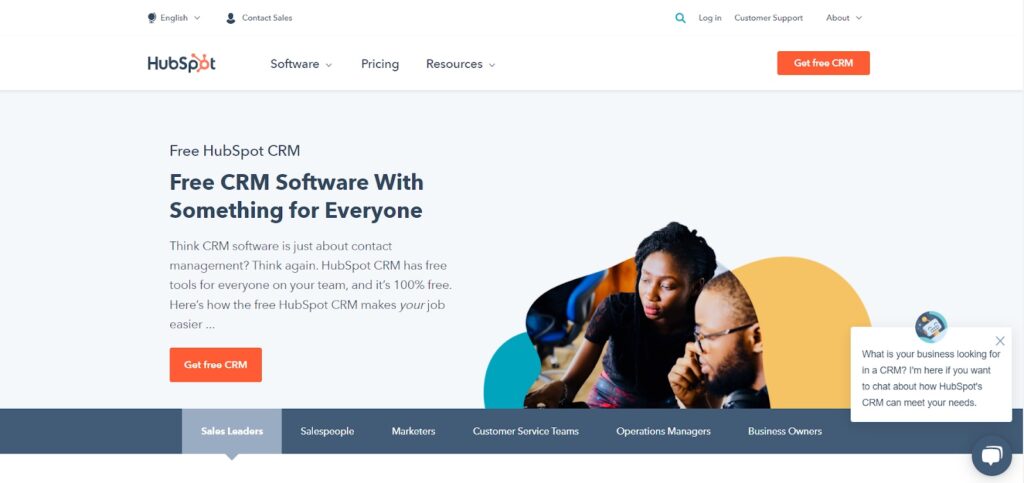 Caratteristiche
Gestione dei contatti
Gestione dei compiti
Email tracking and notifications
Prospect tracking
Gmail and Outlook integration with email templates
What makes HubSpot stand out is its scalability. For instance, if you're running a small business, you can use HubSpot's free CRM to access the essential features.
As your business grows, you can also opt for HubSpot's free and paid marketing, sales, or customer service tools so that you can get your business's departments on the same page.
Professionisti
Unlimited users
Store up to one million contacts
It comes free of charge
Furthermore, all of HubSpot's services operate within the same system, allowing for seamless collaboration within departments. That said, your marketing team can easily extract information from the CRM to create personalized campaigns, for example. This can also lead to more precise reporting.
Prezzo
Note that some critical CRM features are not accessible with the free version. To make the most out of this platform's CRM features, you'll need to opt for HubSpot's Sales Hub.
It covers three pricing plans:
Antipasto – $45/mese
Professionale – $450/mese
Impresa – $1.200/mese
Use HubSpot CRM for free here!
Leggi di più:
HubSpot CRM Review: Is It The Best CRM Platform?
Pipedrive vs HubSpot: qual è un CRM migliore?
Best CRM Software for Contact Management
Freshsales is a CRM solution provided by Freshworks. This platform offers salespeople all the necessary tools to generate quality leads, develop solid relationships, engage with leads across various channels, and ultimately close deals faster.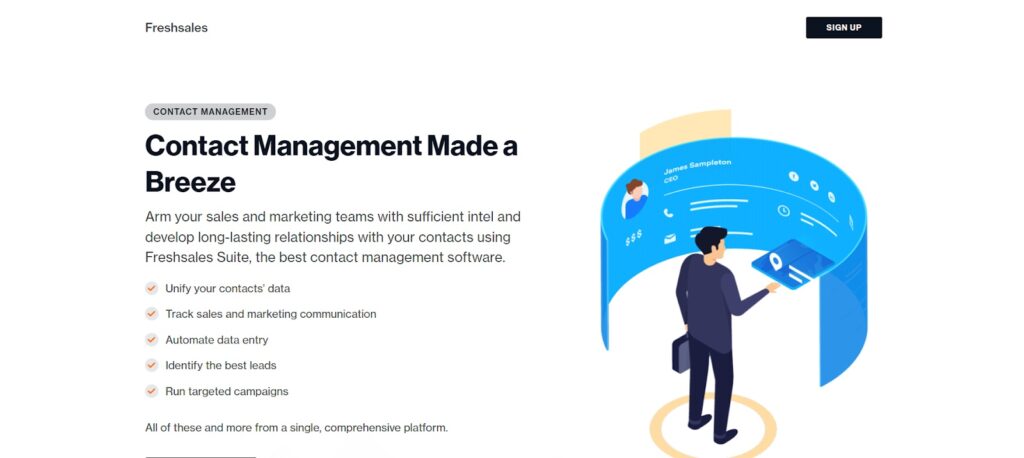 In altre parole, Freshsales aims to make contact management easy by eliminating the need to jump from one platform to the other for managing your contacts.
Caratteristiche
Predictive contact scoring
Lead generation bot
Auto-profile enrichment
Email, phone, and Whatsapp integrations
Multiple sales pipeline management
Freshsales stands out from other CRM tools through its AI and automation capabilities. For instance, Freshales allows you to create custom bots to automate chat messages and collect visitor details.
Moreover, its auto-profile enrichment and predictive contact scoring features will automatically enhance your leads' profiles by pulling out information from their social media accounts and prioritizing these leads based on historical data, like engagement levels and content properties.
Professionisti
Facile da usare
Ability to make calls within the software
Advanced reporting
Freshworks allows you to connect your phone number with the platform easily. Consequently, you'll be able to make, record, and transfer calls directly within the CRM.
Prezzo
Freshworks offers four pricing plans:
Gratuito
Growth – $15/user/month
Pro – $39/user/month
Enterprise – $69/user/month
The free plan covers basic features, like account and contact management, phone, email, and chat integrations, and will also give you access to the mobile version of the CRM. The paid plans will enable Freshworks' AI capabilities.
Use Freshworks CRM for free here!
Best CRM for Gmail
Strisciante is a CRM software solution built explicitly for Gmail and other Google Workplace apps. In other words, Streak turns your inbox into a CRM tool within itself. With it, you can monitor your pipelines, track your leads, assign tasks to team members, and more, without having to leave the inbox.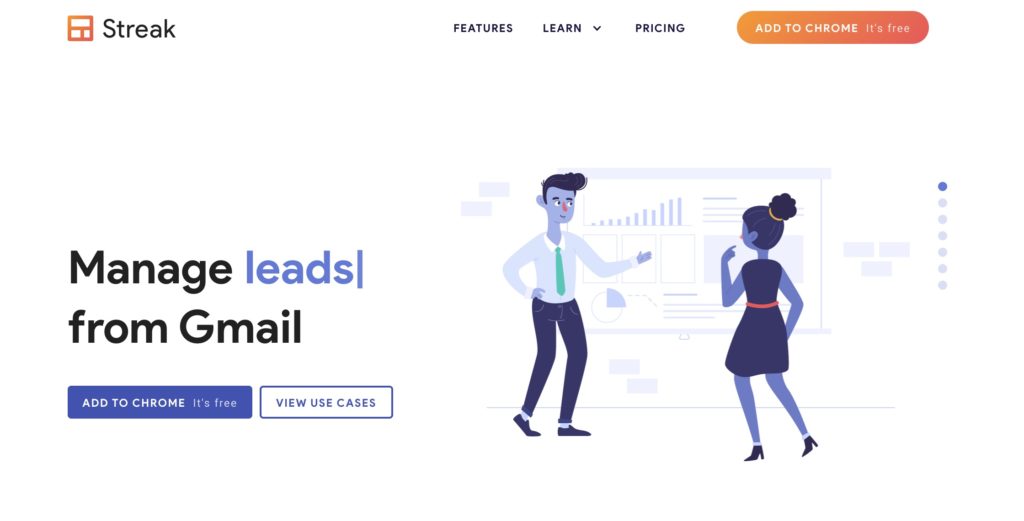 Caratteristiche
Mail merging
Email tracking
Workflow customization
Rapporti
Email scheduling
The mail merge feature allows you to send personalized emails in mass. All you need to do is add contacts from your pipeline, insert the variables, and that's it!
Professionisti
Convenient
User friendly
Improve collaboration
Aside from making contacting leads more convenient, Streak can also improve collaboration with your team members. For instance, the platforms allow you to create multiple teams and assign each member to a particular role.
Moreover, you can create a central location where your team could have easy access to crucial project information, leave comments, reminders, etc.
Prezzo
Streak provides four pricing plans:
Gratuito
Solo – $19/user/month
Pro – $59/user/month
Enterprise – $159/user/month
If you choose to pay annually, you'll benefit from a 20% discount. There's also a free trial available for the Pro plan.
Best CRM Software for Medium-Sized Businesses
FreeAgent is a CRM platform with a solid work management system that allows teams to conduct their sales and CRM activities in one place.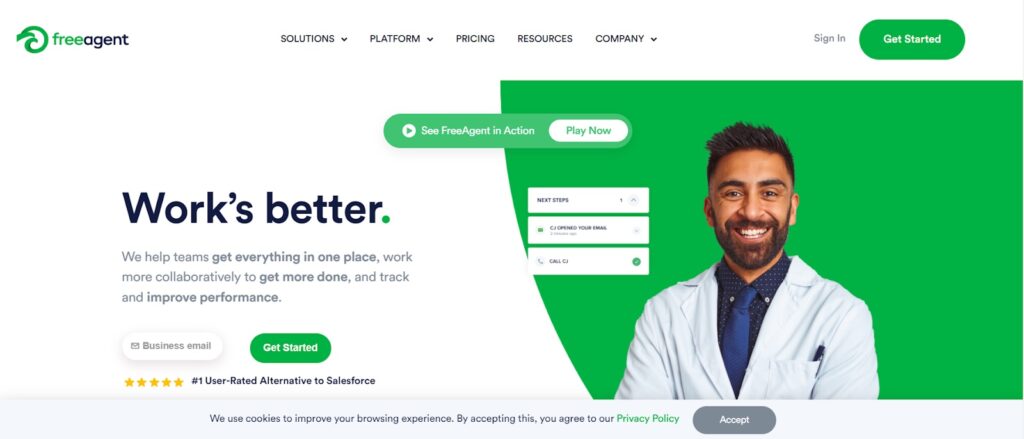 This platform is designed with remote work in mind. That said, FreeAgent offers all the features necessary for working collaboratively, improving productivity, and increasing performance.
Caratteristiche
Capacità di automazione
Gestione del flusso di lavoro
Gestione dei compiti
Integrations with Gmail, Mailchimp, Zoom, eccetera.
Report personalizzabili
This platform's automation capabilities allow teams to optimize their productivity by setting automated alerts for overdue tasks, configurable rules for organizing activities, emails, etc.
Furthermore, FreeAgent can automatically create custom reports based on the KPIs you track, like email open and click rates.
Professionisti
Intuitive interface
Personalizzazione
Good customer support
Overall, FreeAgent is easy to use, and according to reviews, this CRM offers excellent customer support.
Prezzo
FreeAgent covers three pricing plans:
Contact management – $42/user/month
B2B sales – $90/user/month
B2B full-funnel sales – $120/user/month
If you pay annually, you'll receive a 20% discount.
Due to the vast collaboration features available, small teams may not be able to make the most out of the platform. That said, FreeAgent might bring better value for medium-sized businesses.
Best CRM Software: Conclusion
Finding the right CRM software solution for your business can be a daunting task.
You need to find something easy to use, offer extensive customization features and integrations to use it with other apps, and provide good customer support. Most importantly, it has to fit within your budget.
Hopefully, this article will guide you toward making the right decision.
Un breve riassunto: