In this Webflow review, you're going to learn about the pros and cons of Webflow, how much it costs, what features it has, its alternatives and whether or not this service would be worth investing in.
Flusso web, a newcomer in CMS (content management systems), has drawn comparisons to WordPress over its long history. However, they claim many advantages that make them better than WordPress – among these are more creative freedom and ease of use.
As longtime users who have been using WordPress for years now, we've certainly caught our interest with Webflow claims so let's see if it really can rise to the challenge!
If you're interested in opening an online store, check out our best eCommerce platforms guide!
What is Webflow
Webflow is a drag-and-drop website builder that has been around since 2013. WebFlow is an online service for designing and developing responsive websites using a visual, browser-based editor.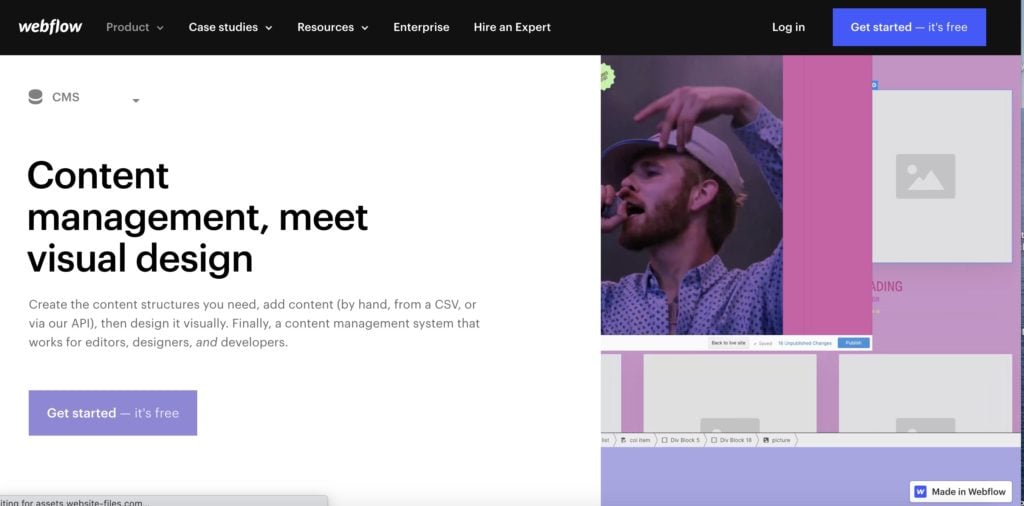 Webflow, unlike other website builders on the market today, is targeting users who have a high standard for their website design with their products.
With a powerful solution that can convert high-quality designs into websites without any coding required, Webflow offers something different and unique to this industry niche of people who love quality website design. While designing, Webflow automatically generates the HTML, CSS, and JavaScript.
WebFlow provides everything from templates to hosting, so there are never boundaries or limits on what you want your site to do.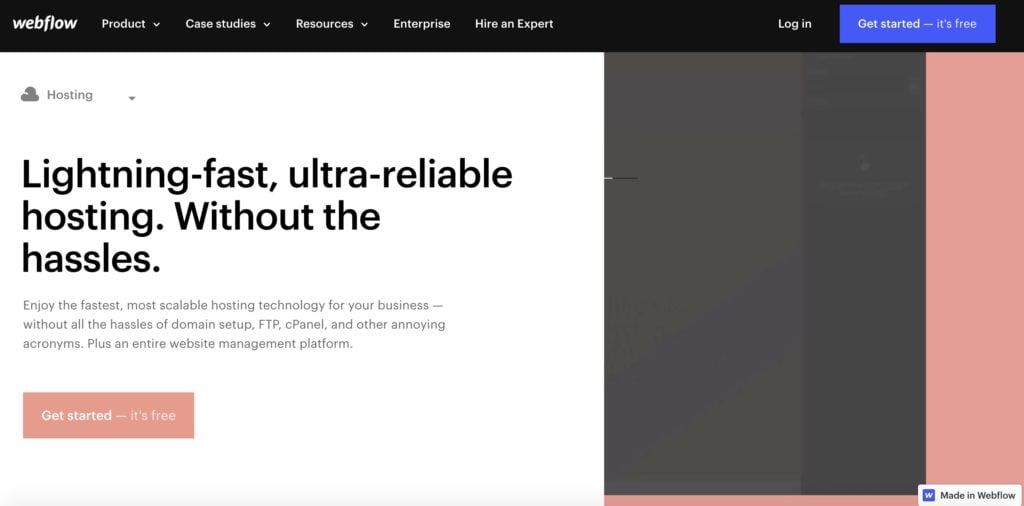 Websites built on Webflow are powered by Amazon Cloudfront and hosted on Fastly, which means they're lightning-fast and work seamlessly across all browsers.
Webflow Review: Summary
Flusso web is a dream come true for design-savvy entrepreneurs. You can create your attractive website without having to hire anyone or learn how to code, and you have complete control of the site's look and feel!
It is a revolutionary website builder that combines the functionality of both site builders and Content Management Systems. This allows you to make design changes within visual editors without needing any software or plugins.
It is also a site builder that eliminates the need for designers to hand off their designs. What this means for you, as an advanced user or designer who wants more freedom than traditional website builders like Wix o Weebly can offer, Webflow offers it all in one place!
Webflow's best feature is their Visual Designer, which lets you see your website design in real-time. Unlike other website builders, Webflow doesn't hold back on what you can do and isn't restricted to a theme or plugin requirements.
The beauty of Webflow is that it gives anyone the freedom to create any type of website, like a blog or eCommerce store.
For beginners, you can access the Webflow University that offers online courses and training to help you design your perfect site. It's easy to get started and comfortable using Webflow. Once you jump in, play around with the Visual Designer and Project Settings Dashboard, it'll take no time at all before you're up and running!
The best part is, it's free to get started. With Webflow, you can take as long as you like working on your site before launching it live and at no cost!
If you'd like to check out some Webflow alternatives, here are some:
Prezzi del flusso web
Webflow offers two different plans depending on your needs: Site plan is for those who need just one site and allow you to connect a custom domain; Account plan is designed for agencies or freelancers but doesn't come with hosting.
Puoi controllare Webflow pricing here.
Within Site plans, there are two types of plans: website plans and eCommerce plans.
Webflow Website Plans Pricing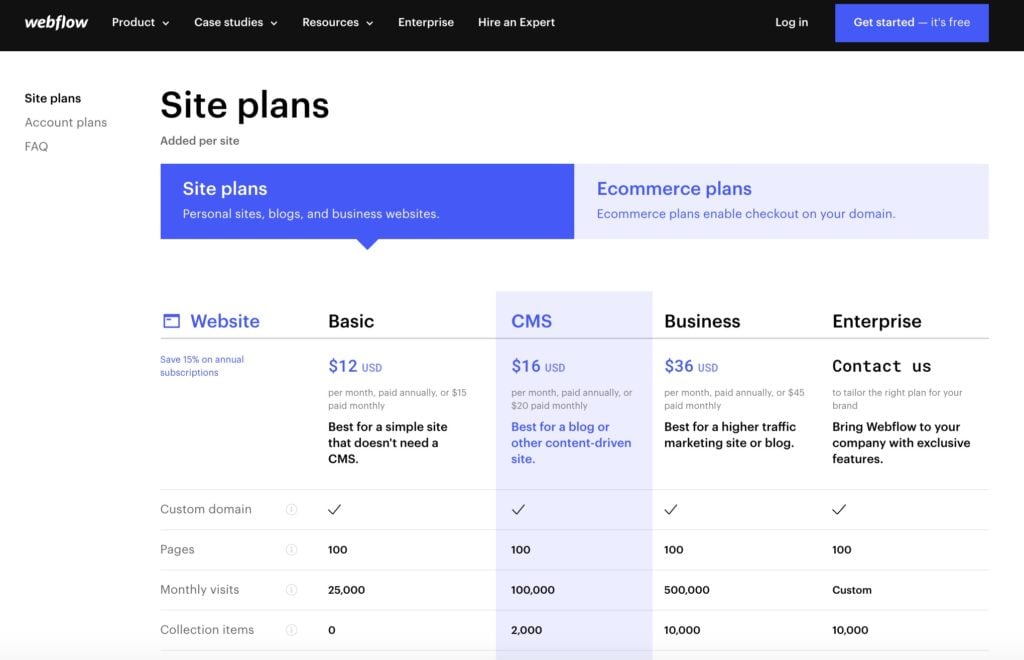 The basic website plan costs $12/month. It includes hosting, free SSL, and up to 25k monthly visits.
If you're looking to start a blog or a content site, then the CMS plan is for you. It costs $16/month, including hosting, free SSL, 100k monthly visits, 1000 form submission, 2000 CMS items, 200GB CDN bandwidth, 60 PRM API requests per minute, 3 content editors, and more.
The business plan is the perfect option for your high-traffic site or blog and costs $36 a month. It includes up to 1 million visitors per month, unlimited form submissions, 10 content editors, full CMS API, site search, and form file uploads.
Here we have a more detailed Prezzi del flusso web explained.
Webflow eCommerce Plans Pricing
The Standard plan offers a way for smaller businesses to take up $50k in sales per year. This package includes Webflow branding and security and all of the features available in their CMS Plan, 500 items, and 3 staff members access. It costs $29/month with a 2% transaction fee.
The Plus plan is perfect for businesses with a high volume of sales, costing just $74/month without any transaction fees. In addition, it includes all the features from the Business Plan and 10 staff accounts that can take up to an annual $200k in revenue!
Lastly, you can have unlimited yearly sales volume and a 0% transaction fee with the advanced plan. It includes 15 staff accounts, 3000 items, and all features from the Business plan. It costs about $212/month.
Webflow Free Plan
With Webflow, you get to play around with all the features before launching your website. Once it's ready, just add a Site plan and go live! You can unlock additional functions by upgrading to one of the Account plans too.
Webflow Features
Drag-and-drop website builder
100+ responsive website templates
Highly customizable: add any code you need
Clean, compliant, exportable code
Lightning-fast website load time
Work directly with CMS data
Use any font from Google and Typekit (2000+ font families)
Responsive images
Work with Flexbox
SSL and ISO 27018
Zapier integrations
SEO friendly
Export CMS content as CSVs
HTML/CSS sliders and carousels
Social sharing
Google Analytics integration
Custom 301 redirects
Daily backups
Buy domains from Google Domains inside Webflow
Email support and priority support depend on your plans.
Webflow Review: Pros of Webflow
Not only does Webflow give you the freedom to create customized websites, but it also removes any need for coding.
The drag and drop page builder is a dream for anyone who loves to customize everything, from the layout of their website to how much text they want on each page.
You can create animations and interactions with no need for coding.
Website created using Webflow is SEO friendly.
Make edits directly on the page. Then, you can see what your page looks like before publishing.
If you're looking to grow your website, you can invite editors and collaborators to add new content.
99.99% guaranteed uptime in their Service Level Agreement (SLA) for Enterprise plan
Rich support materials – Webflow provides plenty of resources through Webflow University.
Webflow Review: Cons of Webflow
Limited integrations and built-in functions
Not exactly beginner-friendly: there is a bit of a learning curve, especially if you have never done any web development before. This is the tradeoff for having such a versatile tool. That being said, you can always find tutorials at the Webflow University.
Webflow Alternatives
Webflow vs WordPress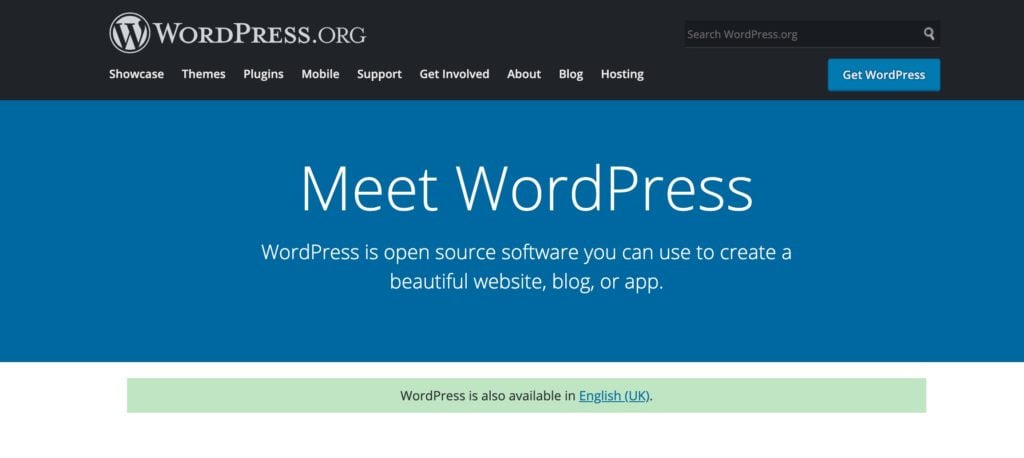 WordPress is the most popular website builder in use, with 41% of all websites made on it. It's free and open-source software that anyone can use to build blogs, online stores – you name it! But, of course, you will need to pay for your hosting. Various website hosting providers provide shared hosting, managed hosting, dedicated server, and more.
You can read our detailed comparison of Webflow vs WordPress qui.
Webflow vs Wix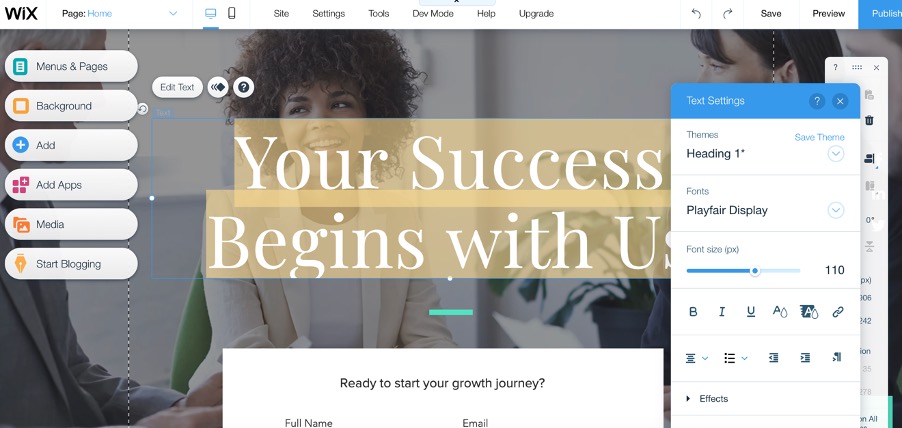 Since the creation of Wix in 2006, it has been known as one of the most prominent website builders on earth. They host more than 160 million websites and are still growing.
Wix is a fast, powerful, and easy-to-use site builder that's perfect for creating small websites.
There are 100s of free templates to choose from, or you can create your website with the drag and drop editor, which provides an excellent range of tools, including stylish fonts, layouts, and backgrounds.
Like Webflow, Wix provides hosting, so there's no need to source a web hosting provider.
The App Market gives users access to popular design features such as photo galleries or eCommerce solutions without needing any technical know-how at all!
Compared to Webflow, Wix is ideal for small websites and beginners. It provides less flexibility, but it's more user-friendly and easier to start.
Webflow vs Weebly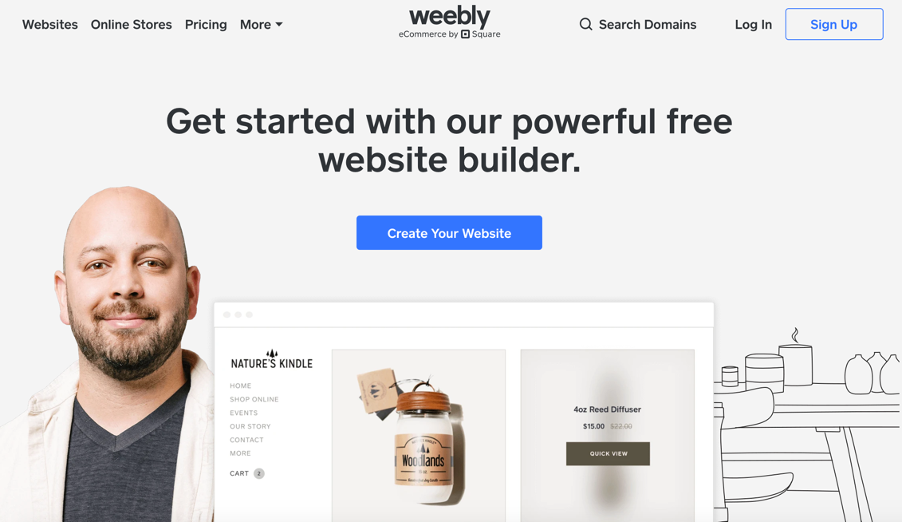 The drag-and-drop website builder from Weebly includes 40+ mobile-friendly themes, a blog with image galleries, and an online store. The free plan offers you the ability to use your domain name while upgrading for $12/month will give you ad-free service as well.
Weebly is similar to Wix – which offers a user-friendly drag and drop builder for beginners. However, after being acquired by Piazza, we noticed that it had gotten slower in rolling out new features.
Webflow Review: Conclusion
Webflow is the perfect middle ground for those who want a website builder that doesn't require intensive coding and provides all of the features you need.
The creators, designers, and developers at Webflow have created an exceptional tool to help people with limited formatting skills create beautiful websites without worrying about complex web code or HTML/CSS semantics.
Web design can be a headache, but Webflow has made it easier than ever with its drag and drop interface, making creating websites as easy as pie!
Offering the best of both worlds, it's ideal for those who want more options than they get with Wix and Weebly. And even though there are abundant features, we still find that this is a more straightforward solution to WordPress because changes can be made through an intuitive visual editor rather than coding. We hope this Webflow review has provided you enough insights to pick your website builder!
Leggi di più:
Tutorial WordPress: Creazione di siti Web con WordPress in 10 minuti
Cos'è WordPress? Una guida per principianti per iniziare a utilizzare WordPress
Il miglior costruttore di siti Web per le piccole imprese
Tutorial Wix: come utilizzare Wix per creare un sito web (guida passo passo)
Tutorial Weebly: come utilizzare Weebly (Guida passo passo)
Wix Vs Weebly: qual è un costruttore di siti Web migliore?
8 migliori piattaforme di blogging per fare soldi (confrontate e recensite)