If you are looking for comprehensive customer relationship management software, it is important to compare the features and pricing plans of different CRM solutions. With CRM software available on a myriad of platforms, it can be difficult to decide which one is best for you.
Most CRM tools have features that overlap with one another, but there are some key differences that you should take into account before you choose one for your business.
Monday.com and Salesforce are two of the most popular CRM software providers on the market. In this comparison guide, we will outline the key similarities and differences between the two CRM systems and suggest which is a better fit for your needs.
monday.com vs Salesforce: Similarities
Both Salesforce and Monday.com offer extensive customization options.
Both platforms integrate with a large selection of apps through their app marketplaces.
Both Monday.com and Salesforce have excellent reporting capabilities.
Both platforms have excellent customer support.
monday.com vs Salesforce: Differences
Monday.com's user interface is slightly easier to follow than Salesforce's.
Monday.com is significantly cheaper and includes a free forever plan, unlike Salesforce CRM.
Salesforce CRM includes AI-powered functionalities, which outweigh monday.com.
Salesforce covers more advanced features than monday.com like case management and campaign management.
What is monday.com?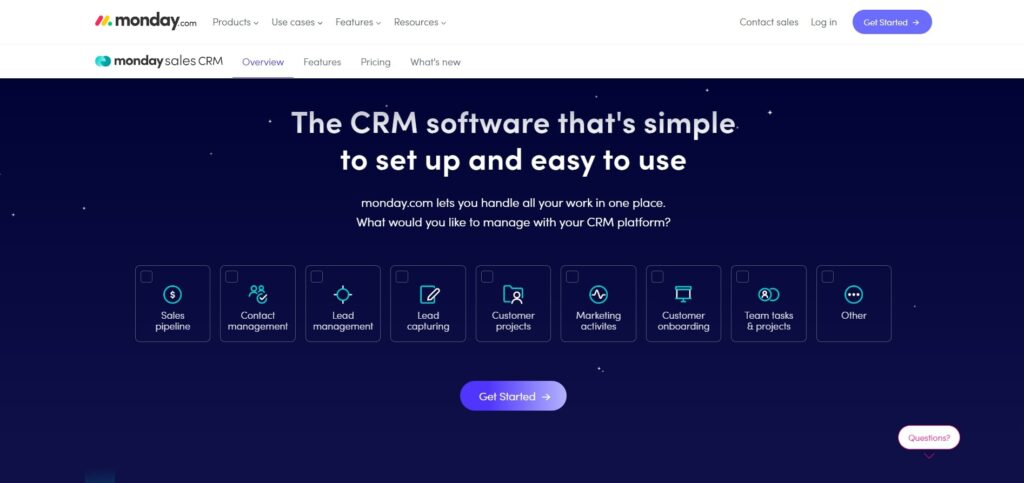 Monday.com is a cloud-based solution that has multiple products under its belt. This software includes the Monday Sales CRM, and its developer, marketing, and project management products – all of which integrate seamlessly with one another.
Monday's CRM solution is designed with ease of use, affordability, and customization options in mind, making it an excellent option for small businesses with no prior experience in CRM platforms.
Monday provides a straightforward UI, while businesses can tweak multiple aspects of the platform, including dashboards, the sales pipeline, reports, and get access to a vast library of customizable templates – all at a fair price!
Monday.com Key Features
Kanban, Calendar, Map, Timeline, and Chart views
Access to 200+ customizable templates
Team collaboration tools
Lead management
Automation tools
What is Salesforce?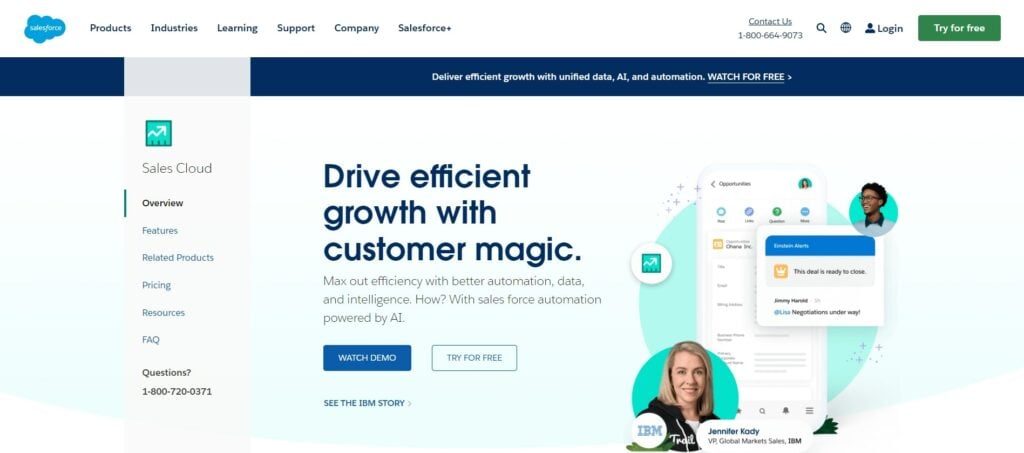 Having been in the business for over three decades, Salesforce has become the industry standard in terms of CRM platforms, and it has also evolved to include multiple products in its offering.
The platform's CRM is found in the Sales Cloud. Unlike monday.com, the Salesforce CRM solution might be a better option for medium-sized and large businesses.
Although Salesforce's UI is a little more complicated, the software comes with a wide set of powerful features, while the AppExchange offers a myriad of native and third-party apps to help boost the platform's functionality. You can even build your own apps from scratch!
Salesforce Key Features
Account, contact, opportunity, and lead management
Custom dashboards and reports
Campaign management
Automated workflows
AppExchange
Monday vs Salesforce: Features
Customization Options
Salesforce CRM Customization
Both monday.com and Salesforce CRM are excellent in terms of customization options. However, Salesforce CRM takes it up a notch for advanced users looking to gain full control over the platform's overall look and feel.
For one, Salesforce CRM allows you to tweak the platform's UI. More specifically, you can change the UI's logos, graphics, and colors to better reflect your company's corporate identity and make employees feel right at home when using Salesforce.
You can also tweak your dashboards to display information crucial to your business. Additionally, Salesforce allows you to set custom user permissions, and notifications, as well as create custom fields, workflows, automation, pipelines, milestones, and reports.
Lastly, if you feel like Salesforce CRM's out-of-the-box features are not enough, you can create custom applications via AppExchange from scratch.
Monday.com Customization
Although Monday's customization options are not as extensive as Salesforce's, this platform is still pretty solid. Monday is highly flexible.
You can modify the dashboards so you can easily track leads and key business metrics, highlight key customer information, edit deal stages, create custom reports, score leads based on custom criteria, and more.
Moreover, the software includes a vast template library that offers fully-customizable templates made to fit certain activities. For instance, you can find templates specifically designed for real estate, marketing operations, customer onboarding, customer projects, and more.
Overall, Salesforce may have more advanced customization options, but due to its complexity, not everyone might be able to make the most of what this platform has to offer. For instance, you may need a team of dedicated developers to help you build custom applications.
That said, Monday, is more suitable for beginners and small companies. The software is more straightforward, and still offers a vast set of customization options compared to some of its other rivals, like Pipedrive.
Reports and Analytics
Salesforce CRM Reports and Analytics

Salesforce's Sales Cloud reports and Analytics are top-notch. Its reports are highly customizable, allowing you to maintain key business information, from team activity reports to sales performance reports, and more.
You can create custom reports via an easy-to-use drag-and-drop user interface which you can then access at any given time in any given place.
Upper-tier pricing plans also include more advanced reporting capabilities, like history tracking and the ability to merge multiple reports together or add cross-filters.
However, Salesforce CRM shines through its Einstein Analytics tool, an optional add-on to the Sales Cloud, which costs $50 per user per month (billed annually).
In short, this tool leverages Artificial Intelligence and Machine Learning technology to provide data-driven insights and help you make the right decisions.
For instance, this tool will look at your pipelines and identify any trends in the sales process to help you increase sales. Additionally, the platform will analyze your company's sales history to automatically create accurate sales forecasts.
Monday.com sales CRM Reports and Analytics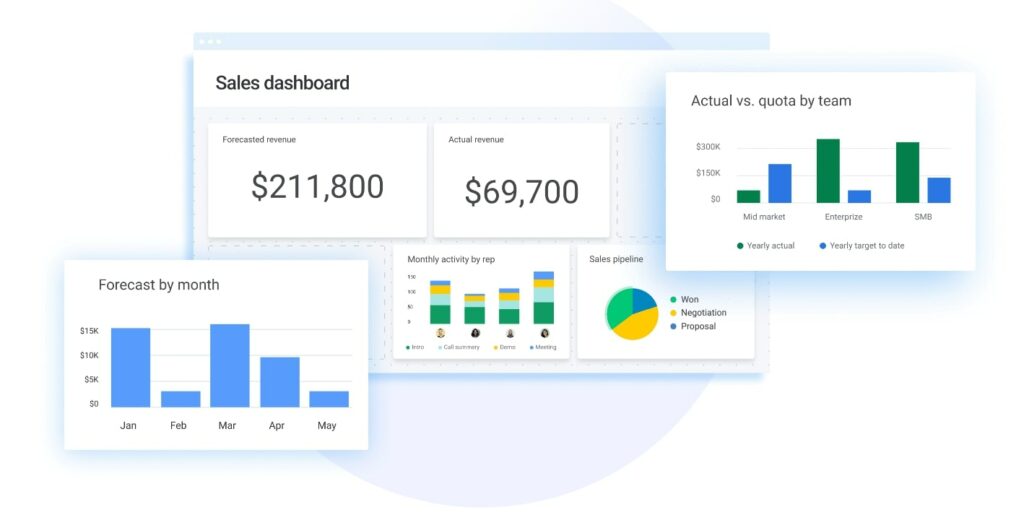 Monday lacks Salesforce's AI-powered analytics. However, this platform still covers excellent reports.
Much like Salesforce, Monday's reports are also highly customizable, while the platform includes useful features, like sales forecasting, pipeline, activity, revenue analytics, etc.
Moreover, Monday's reports are easy to comprehend. Everything is presented to you via a visual dashboard by selecting between multiple types of graphs. You can also easily share reports with your team to maintain transparency at the corporate level.
Lastly, you can easily add customized filters and sort data to find key information quickly.
All in all, Salesforce is more in-depth, especially with its Einstein Analytics tool.
But again, Monday is more straightforward and much cheaper. That said, Monday is more suitable for small companies looking to gather and track key business information without any headaches.
Contact Management
Salesforce CRM Contact Management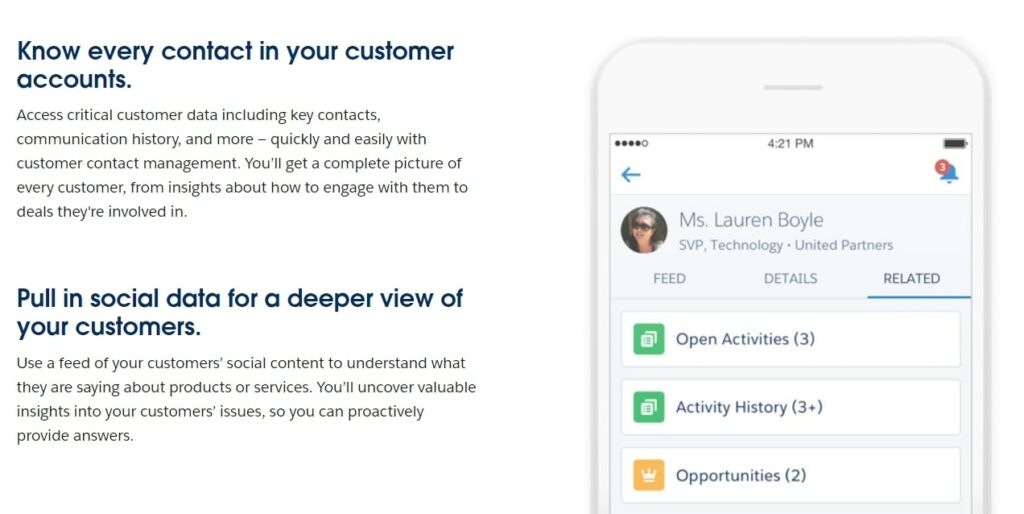 Salesforce CRM gives you all the tools necessary to manage contacts more effectively. You can easily organize your contacts and gather a general overview of each customer.
For instance, you can visualize contact activity or communication history, and more to get a better idea of how you should engage with each customer.
The platform also allows you to pull in a social media feed for each customer to get you an insight into what they think about your company and how you can address their issues more effectively.
In terms of maintaining and improving customer relationships, Salesforce CRM covers 2-way integrations with Gmail and Outlook so you can send and receive emails directly within the platform. You also have access to various email templates and the ability to send emails in mass.
Monday.com sales CRM Contact Management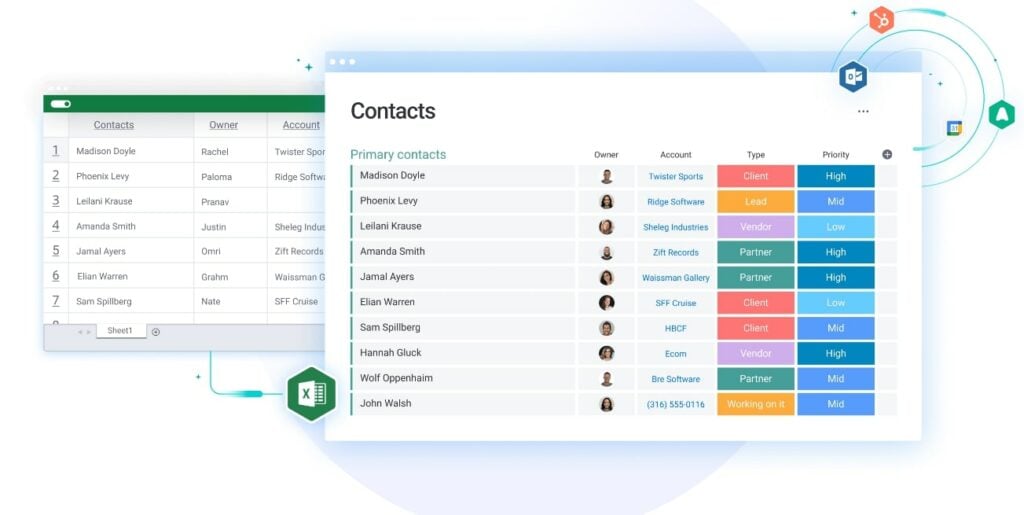 Monday CRM is similar to Salesforce in this regard, but it cannot pull in a customer's social media feed. Other than that, this platform offers a centralized view where you can view all of your contacts' details and communication history.
The platform also covers plenty of ready-made templates to help you store your contacts more quickly. However, keep in mind that the free forever plan only allows you to store up to 1000 contacts. The other packages allow for unlimited contacts.
As for email, Monday integrates with Gmail and Outlook as well. There are also email templates with custom parameters, custom signatures, and access to email automation and tracking.
Lead Management
Salesforce CRM Lead Management
Salesforce makes lead management easy. The platform includes an easy-to-follow User Interface that allows you to easily see and track all crucial lead information, like from which marketing campaign each lead came.
Moreover, the platform facilitates web-to-lead capture, which allows you to generate new leads by creating forms on your website. Each completed form will be automatically submitted to Salesforce with the appropriate lead information.
Other than that, this CRM platform allows you to set up automatic lead routing and lead scoring, ensuring that the right leads are assigned to the right sales reps.
Monday.com sales CRM Lead Management
Like with Salesforce, monday CRM system also provides a centralized dashboard with an in-depth overview of your leads.
You can add custom lead groups, so you can better differentiate between new leads and old leads, qualified or unqualified, etc. Moreover, you can add custom lead status, like "Closed" or "Following Up," for instance.
Additionally, you can easily merge duplicate data to avoid potential confusion, while the platform also covers lead scoring in its up-tier pricing plan. Lastly, you can create web-to-capture forms.
Automation
Salesforce CRM Automation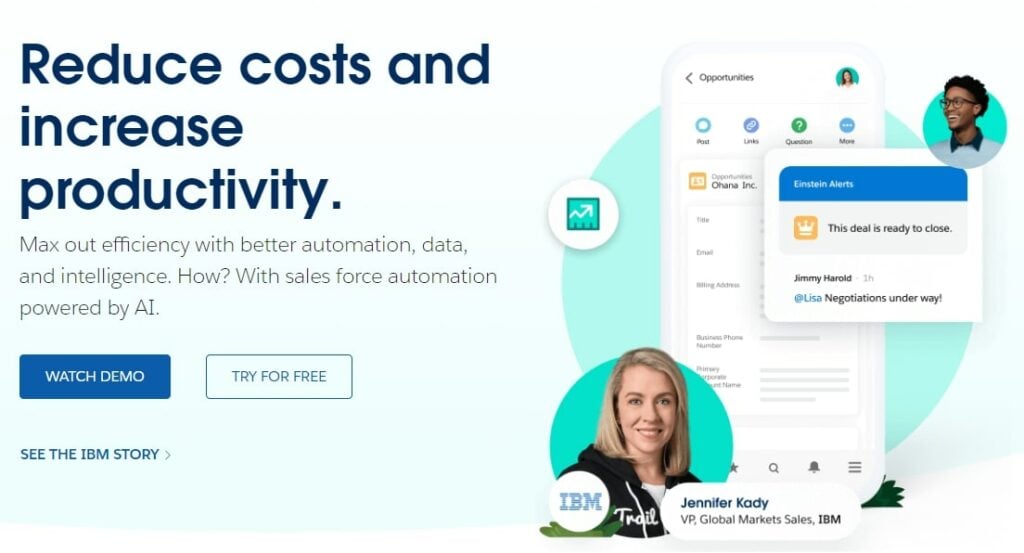 This CRM tool allows you to perform complex custom automation easily. There's the Process Builder, which allows you to automate processes like workflows, email notifications, task assignments, approval requests, and more via a drag-and-drop interface.
Monday.com Automation

Monday is not much different. It also offers a user-friendly UI that allows you to automate sales processes, email notifications, tasks, etc. You also have to option to create custom automations using If and Then parameters.
However, note that Monday's lower-tier plans do not include any automation capabilities whatsoever. Moreover, excluding the Enterprise plan, automation is limited to 250 and 25000 per month.
In contrast, Salesforce CRM includes automation across all of its packages, while the Process Builder is limited to 5 processes and flows per organization for the Essentials and Professional plans.
Verdict: Both Win in Features
The choice depends on your needs. Both Salesforce and Monday offer a solid selection of features. However, Salesforce tends to go a little more in-depth with a larger set of advanced functionalities. This comes at a cost, though.
That said, Monday provides more than enough features for businesses to cover their CRM needs, whereas Salesforce is a better option for larger organizations looking for more customization options and more advanced functionalities.
Salesforce vs Monday: Ease of Use
Salesforce CRM Ease of Use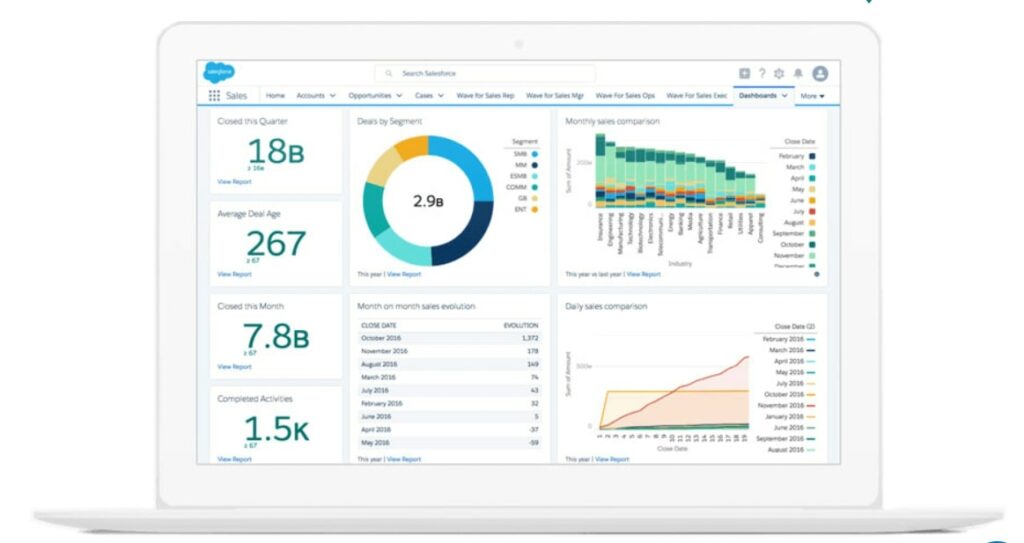 Due to the platform's wide set of advanced features, Salesforce might be a little more difficult for new users. It might take a while until you learn how to make the most out of this CRM. In contrast to Monday, Salesforce's user interface is more sedate, yet complicated.
Once you enter the homepage, you'll be greeted with dozens of buttons that may seem overwhelming at first glance. However, keep in mind that Salesforce allows you to customize the interface to suit your needs. There's also plenty of documentation online to teach you the ropes.
Monday.com Ease of Use

On the other hand, Monday's user interface is more suitable for new users. Everything is straightforward, while the UI is filled with colors, making this platform more pleasant to look at. The CRM provides intuitive dashboards, allowing you to find all the features you need in just a few seconds.
Not to mention that you can also customize them to your liking.
Monday.com is Easier to Use
All in all, Monday takes the cake here. The platform's UI is designed with simplicity in mind. That said, it has a small learning curve, so you'll get used to it right away. Moreover, the interface is filled with colors, which makes the platform visually appealing and more fun to use.
Salesforce vs Monday.com: Integrations
Salesforce CRM Integrations
Both Monday.com and Salesforce offer extensive integrations. For one, you could integrate the Sales Cloud with other Salesforce products, like the Service or Marketing Cloud, for instance. Consequently, Salesforce is an excellent choice in terms of scalability.
As mentioned, there's also the AppExchange, where you can find integrations with both native and third-party apps. You can even build your own features from scratch.
Monday.com Integrations
Like Salesforce, this software also seamlessly integrates with other products within Monday's offering, including its marketing, team collaboration, and project management tools.
The platform integrates natively with 30+ apps, like Gmail, Outlook, Shopify, Stripe, DocuSign, and team collaboration software like Microsoft Teams, Slack, etc.
Additionally, the platform also includes an Apps Marketplace, which facilitates easy integration with hundreds of other apps, spanning across project management software, reporting and analytics tools, marketing solutions, and more.
Salesforce Wins in Integrations
Although both Monday.com and Salesforce offer extensive integration capabilities, Salesforce takes the winning edge due to its AppExchange. It covers more integrations, while the ability to create your own applications from scratch significantly extends the platform's functionality.
Salesforce vs monday.com: Pricing
Salesforce CRM Pricing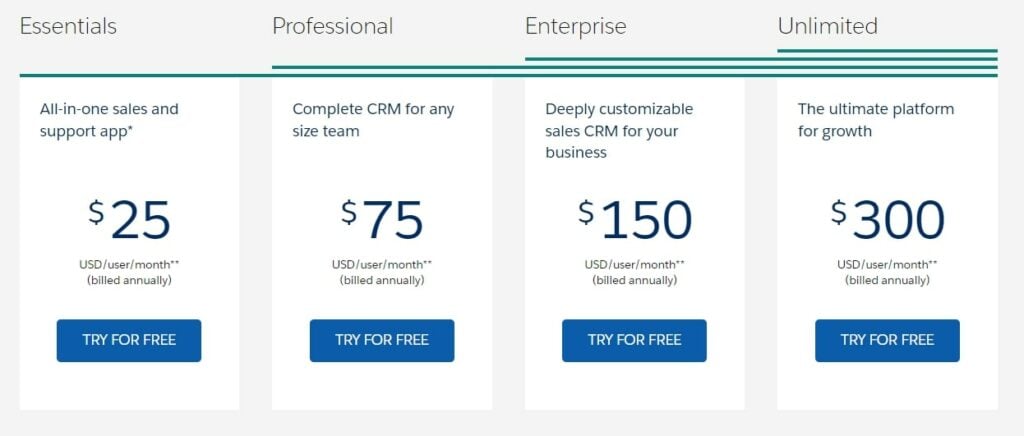 Essentials: $25 per user per month (annually)
Professional: $75 per user per month (annually)
Enterprise: $150 per user per month (annually)
Unlimited: $300 per user per month (annually)
There's a 30-day free trial for all pricing plans.
The Essentials plan gives you access to the basics. It includes features like contact, deal, lead, and opportunity management, lead routing and assignment, campaign management, mass emails, and more.
The Professional plan unlocks the platform's forecast and pipeline management, quoting features, lead registration capabilities, etc.
The Enterprise plan enables opportunity splits, workflow, and approval automation, opportunity scoring, advanced reporting features, and more.
The Unlimited plan gives you access to lead scoring and predictive forecasting features.
Monday.com sales CRM Pricing

Individual: free (for up to two users)
Basic CRM: $12.5 per user per month (monthly), $10 per user per month (annually)
Standard CRM: $17 per user per month (monthly), $14 per user per month (annually)
Pro CRM: $30 per user per month (monthly), $24 per user per month (annually)
Enterprise: upon request
There's a free trial available for all pricing plans, except the Enterprise package.
The Individual plan holds up to 1000 contacts and includes features like custom notifications, Kanban views, web forms for lead captures, and access to team collaboration tools.
The Basic CRM plan holds unlimited contacts and gives you access to lead, opportunity, and contact management templates, unlimited custom pipelines, unlimited boards, and more.
The Standard plan allows for quotes and invoices, activity management, integration with Gmail and Outlook, up to 250 automation actions per month, duplicate data merging, etc.
The Pro CRM package includes up to 25000 automation actions per month, sales forecasting and analytics, advanced integrations like HubSpot, Mailchimp, and Facebooks Ads, built-in time tracking, and so on.
The Enterprise plan allows for lead scoring, team goals, advanced analytics, advanced account permissions with private workspaces, etc.
Monday.com wins in Pricing
Monday.com is significantly less expensive across the board. The Individual plan is also free for up to two users.
Monday.com vs Salesforce: Customer Support
Salesforce CRM Customer Support
All pricing plans include access to standard technical support and access to the Trailblazer community. However, 24/7 phone customer support comes at extra costs.
Monday.com Customer Support
Monday.com offers 24/7 customer support and access to daily live webinars or its self-serve knowledge base across all pricing plans.
Monday.com Wins in Customer Support
Since 24/7 support is available across all packages, including the free version, Monday.com will give your better value for money in this regard.
Monday vs Salesforce: Pros and Cons
Now that we've got an in-depth look and Monday.com and Salesforce, let's summarize and go over each of the platform's pros and cons.
monday.com Pros
Solid customization options
Excellent customer support
Easy to use
Affordable
monday.com Cons
Not as many advanced features as Salesforce
Fewer integration capabilities than Salesforce
Salesforce Pros
Access to a huge integration library
Excellent customization options
A broad set of advanced features
Salesforce Cons
24/7 customer support is put behind a paywall
Slightly harder to use than Monday
Expensive
monday.com vs Salesforce: Conclusion
Overall, both Monday and Salesforce are excellent options. However, Salesforce is a better choice for large companies or advanced users with prior experience in using CRM software.
The platform offers a wide array of advanced functionalities and it allows you to customize almost any aspect of the CRM – from its interface to creating custom applications. There's also the AppExchange, where you connect the CRM solution with thousands of other apps.
On the other hand, Monday.com is excellent for small businesses and new users. The platform is significantly less expensive, while to UI is more straightforward and appealing. It also manages to provide plenty of advanced functionalities, customization options, and integrations.