Namecheap is one of the best domain registrars to get the best deals buying a domain. This Namecheap tutorial will walk you through how to buy domains from Namecheap.
Get a domain name from Namecheap for up to 90% off here!
But first, how to choose a domain name, and what you should consider before buying one?
While it's exciting to buy a domain, there are so many things to take into account. Here's a few of them:
Ensure that your domain name is easy to remember and makes sense to the target audience.
Ensure that the top-level domain extension (TLD) maximizes brand recognition and value.
Pick a registrar with great service — flexibility, security, reliability, and more.
Ensure that your domain is allocated within a short time frame and that your domain .com extensions are not taken.
Consider the cost of owning a domain name, the cost of renewing it, and the cost of securing it.
Think about the domain name's availability in its entirety — from TLD to the actual domain name.
Consider whether to register multiple domain names on the same TLD.
Consider what happens in the future or if you want to transfer the domain from one registrar to another.
And then there are considerations such as:
Comparing different domain extensions, prices, and features.
Considering your company's needs and how those needs will affect your domain investments, etc.
To be honest, the list goes on. But the thing is, it doesn't have to be that daunting or complicated — precisely why domain name registrars like Namecheap, Hostgator, Hostinger, etc., are so beneficial to companies and individuals alike on the prowl for the right domain name and extension.
This blog explicitly focuses on Namecheap as the go-to domain name registrar and details the complete Namecheap tutorial to get you started.
Namecheap's Prominence — A Primer
Namecheap is a leading ICANN (Internet Corporation of Assigned Names & Numbers) accredited domain name registrar that has been in business since 2001 and has been rated as one of the best domain registrars by various ICANN Partners. This company offers an array of domain extensions, including .com, .org, .net and .info.
Known for its 24/7 support, Namecheap offers its services at competitive rates to both individuals and companies and currently maintains more than 13 million domains, up from the 8 million announced a while ago. In fact, Namecheap has consistently ranked #1 for domain auctions, discounts, and affordable pricing. 
Even with so many names to choose from, Namecheap specializes in helping identify domains that are memorable (such as words and names of people and places) and that are easy to spell. With a Trust Pilot, G2, and TechRadar ratings of 4.4, 4.2, and 4.0, respectively, Namecheap has clearly succeeded in putting a premium on its customers' needs.
Get a domain name from Namecheap for up to 90% off here!
So, is Namecheap Really Good?
Defining "good" in this context would require weighing in certain attributes such as service, price, support, reliability, and reputation.
1. Price: With .com, .org, and .co registrations starting at $8.88, $8.68, and $7.98, respectively, Namecheap's prices do not disappoint, especially for someone who's just starting out.
2. Support: Namecheap has 24/7 customer support through live chat and ticketing system to address any concerns or issues that may arise.
3. Reliable: The 13 million+ domains under management and 21 years long service stand testament to Namecheap's reliability and trustworthiness.
4. Reputation: Namecheap's reputation has improved over the years thanks to the ease of registration (from search to purchase) and end-to-end services like hosting solutions (if one decides to have a domain hosted through them).
5. Privacy: Namecheap Whois Guard protects your personal information from being exposed to the public, thereby preventing spam and identity theft.
Indeed, Namecheap's top-notch customer service and competitive pricing make it a choice worth considering.
Get a domain name from Namecheap for up to 90% off here!
Namecheap Tutorial – Here's How to Buy Domain Name from Namecheap
Follow these steps to get started on your Namecheap tutorial:
Step 1: Commence Domain Search
Before anything, begin by choosing the right domain name that you want to purchase. Your search criteria should include:
a. Keyword (e.g., your business name)
b. Preferred TLD (e.g., com, net, info)
c. Length (short preferred)
d. Price
What Namecheap does best is the elaboration on every possible name's status. For instance, the name "contentcafeteria.com" has already been registered in 2020. Likewise, other names are labeled with their status and discounts available.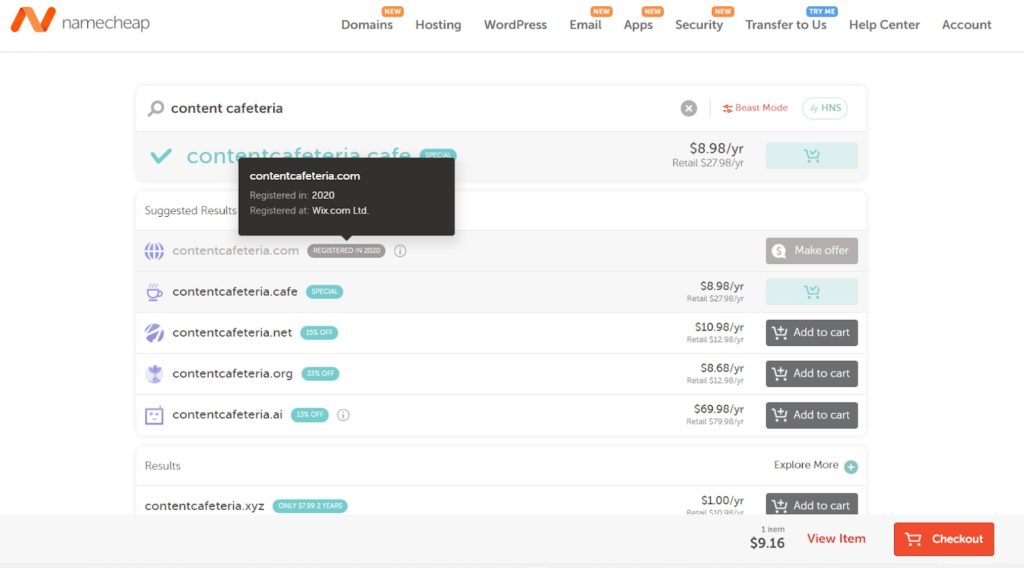 In case the preferred domain name isn't available, you can choose to make an offer based on its valuation and your desired price.
Get a domain name from Namecheap for up to 90% off here!
Step 2: Add Products to the Cart
Once your domain name has been selected, add it to the cart by clicking on the "Add to Cart" button. Also, you may add multiple products in one go. These include SSL security certificates, VPN safe browsing, professional email, web hosting, etc. All these options can be purchased at a nominal price mentioned alongside on an annual basis.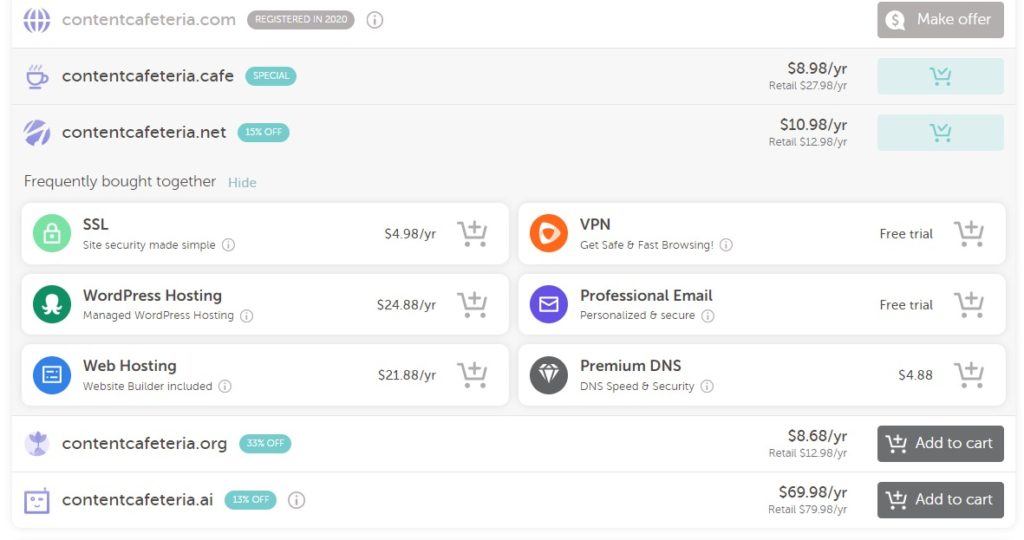 Step 3: Proceed to Checkout and Review the Details
Once you have stepped into the cart page, review your details carefully before proceeding to the next step. Pay special attention to "Billing Information" and "Order Summary."
On the call-to-action bar, you will see a link that reads "Confirm Order." Click this and proceed straight to the checkout page.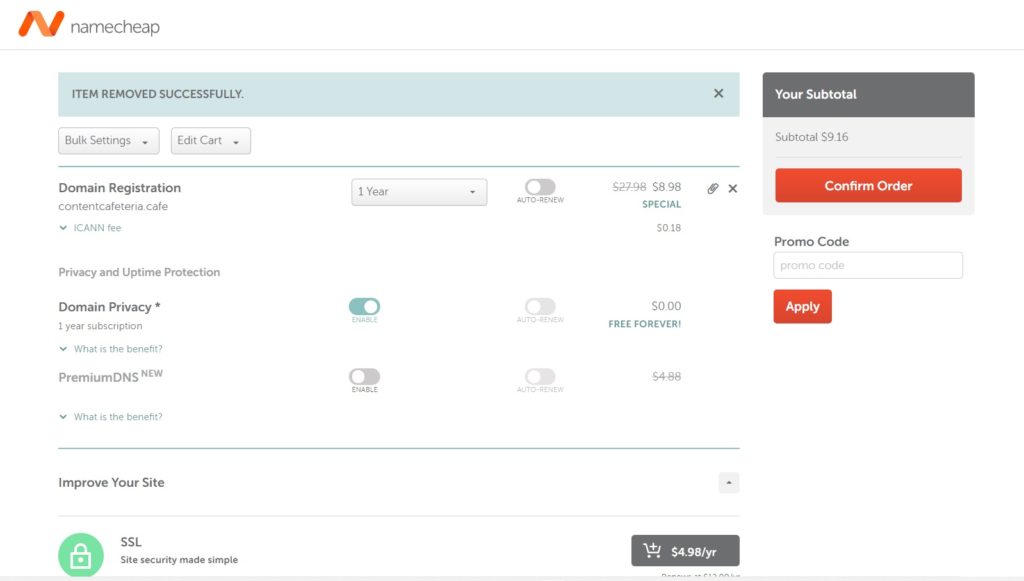 Step 4: Log in or Sign Up
If you haven't created an account yet, please proceed by logging in or creating one.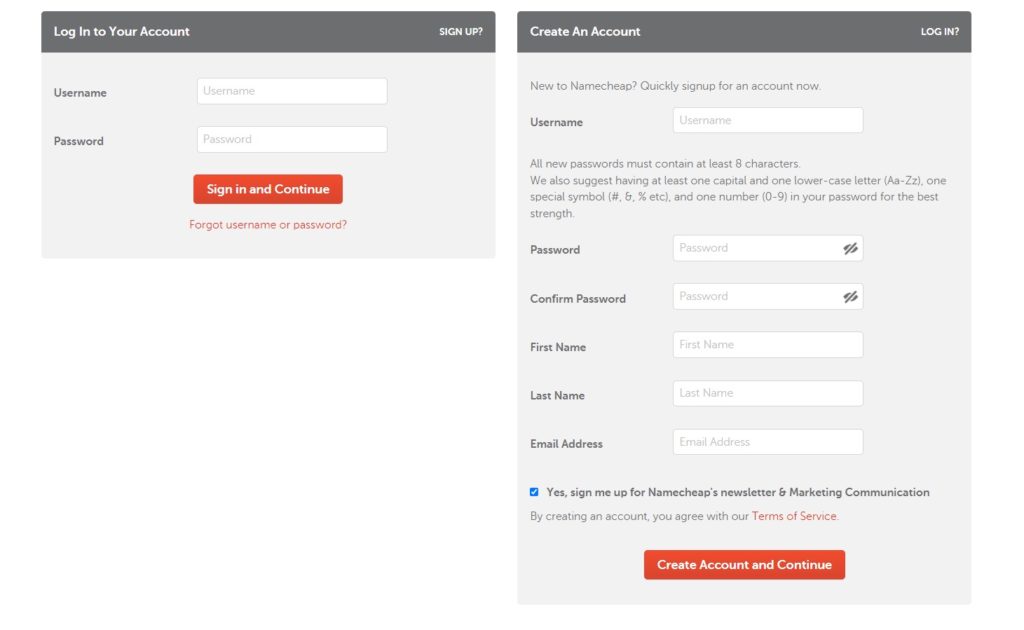 Step 5: Fill Out the Account Contact Information
After successful login, fill out your personal account information — name, address, email, etc.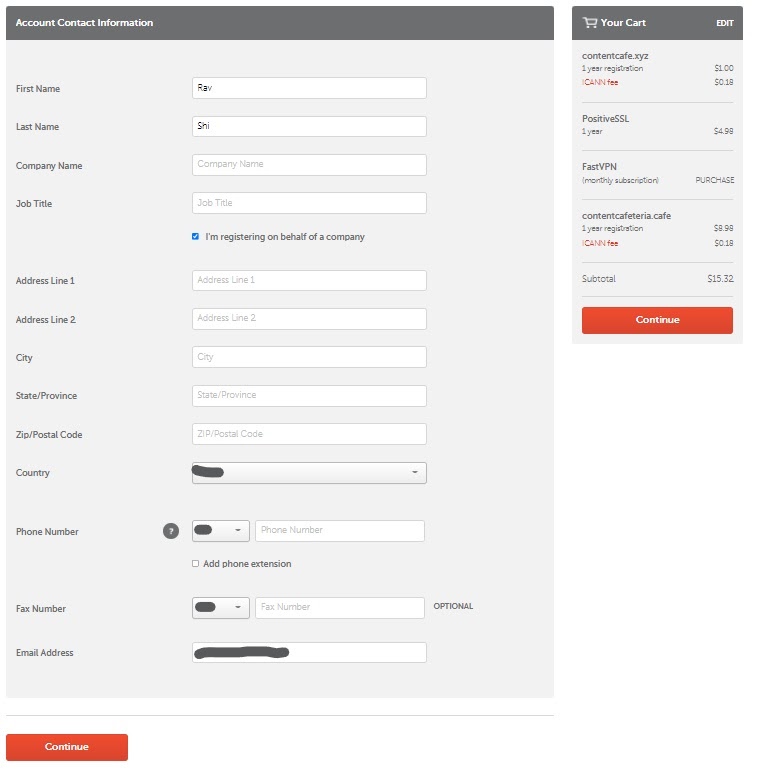 Get a domain name from Namecheap for up to 90% off here!
Step 6: Review Whois Contact Information
As mentioned, Namecheap Whois Guard keeps your information safe and prevents strangers from creating new domain names based on your personal details (such as your name). As such, it provides the ability to individually configure each domain and the owner's information being stored in the database. You can check the box at the bottom to set the currently configured settings to default.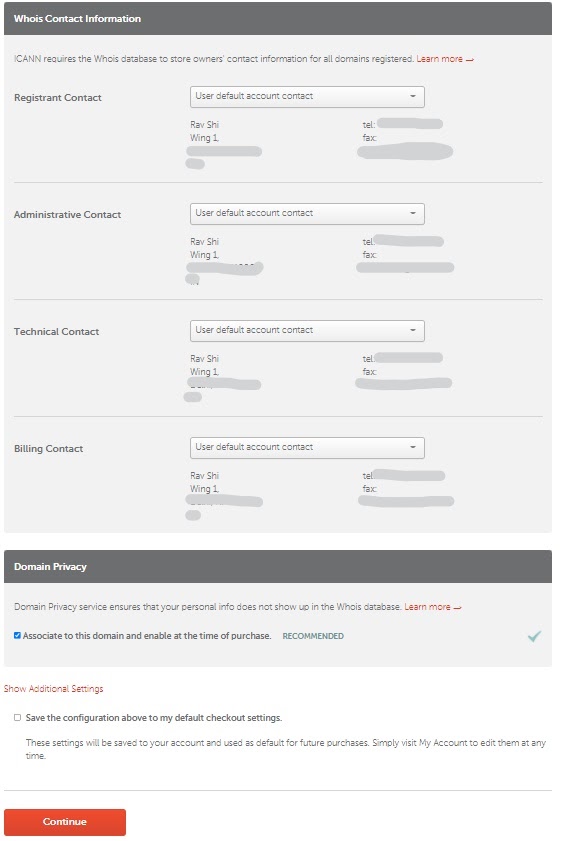 Step 7: Select the Payment Method
Namecheap offers various payment methods to choose from. These include credit card payments, PayPal, and bank transfers. Once you enter the payment details, review the details by pressing on "Continue." Finally, press "Pay Now" to complete the transaction.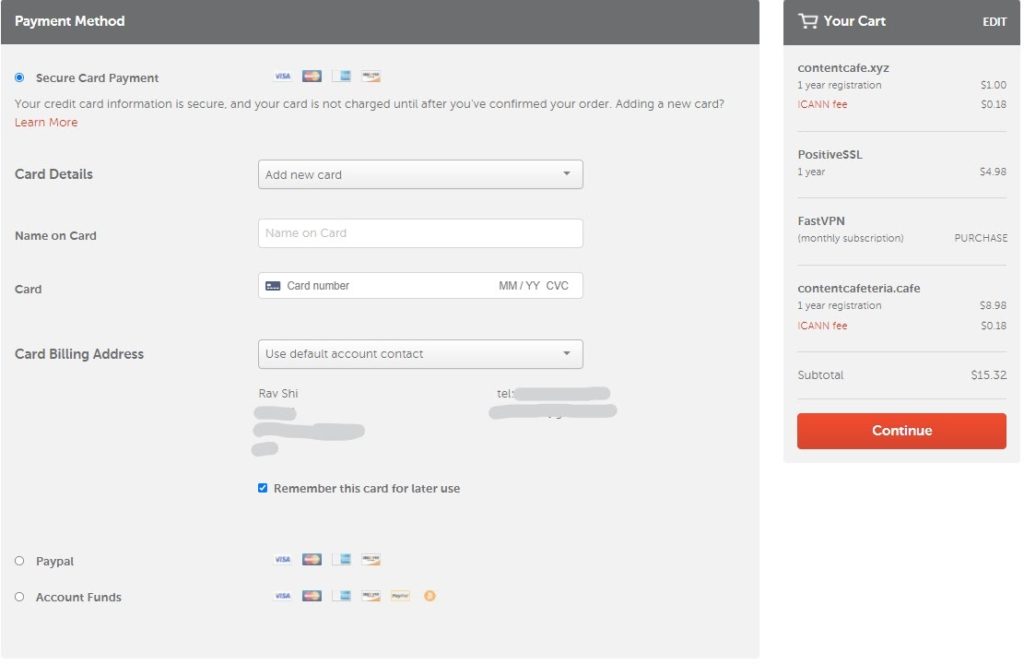 Step 8: Verify Your Email Address
After payment, you will be sent an email with a confirmation link. Please click on it to finalize your order. This will also confirm the domain name and its transfer to your account.
Congratulations! You've now acquired a new domain name from Namecheap. But what's next?
When building a website, you will need a solid foundation that is easy to maintain and scale. To this end, it's best to choose the right hosting solution, which is also where Namecheap could help.
Hosting Made Easy with Namecheap
Domain registration is just one part of the process. The next stage is acquiring hosting, which allows you to get your website up and running.
The best option for you would depend on your business type and website requirements. There are six types of featured hosting plans available on Namecheap.
Furthermore, the facility of WordPress hosting is an excellent option for individuals and businesses looking to create a blog, portfolio site, e-commerce site, or social networking website with WordPress.
If you prefer other web-hosting providers, we'd recommend HostGator.
Final Verdict
Domains are vital components of any business. Getting one that's right for you could be challenging and time-consuming in the absence of a reliable marketplace like Namecheap. That said, with Namecheap, securing a domain is a breeze. Their advanced search feature helps you zero in on the best domain name for your business, and they further offer everything from hosting to SSL certificates.
Again, should you choose to purchase a domain name, the process with Namecheap is efficient and straightforward. Overall, with the ability to provide secure, reliable, and affordable services, it's evident why Namecheap is one of the best domain registrars available today.
Get a domain name from Namecheap for up to 90% off here!
Further read:
The 8 Best WordPress Hosting Companies Of 2022 (Compared And Reviewed)