Nextiva vs RingCentral; which of these VoIP providers is ideal for your business needs? Communication is the cornerstone for building lasting business relations. The right system can help you manage both incoming and outgoing texts, calls, and faxes more efficiently.
This is where the best small business phone services like RingCentral and Nextiva come in. Both of them are popular UCaaS providers, but each is unique in its way.
RingCentral, for instance, boasts robust integrations and a choice of powerful call management tools. Nextiva, on the other hand, offers dynamic pricing—that becomes more affordable as you add more users or switch to annual billing.
This guide explores the main similarities and differences between the two. We'll particularly major on how RingCentral compares to Nextiva, with regards to their features, pricing, customer support, and integrations.
If you would rather learn how VoIP compares to landline technology, read our article on VoIP vs landline.
What is a Business Phone System?
This is essentially a multiple-line telephone system that is often used in a business environment. At the very basic, it should feature the following:
On-hold call queuing
Multiple lines
Automated call answering
Call forwarding to several sources
Video conferencing capability
Headset support (wireless/wired)
Unified messaging
Call recording and reporting
Mobility functions
RingCentral vs Nextiva: Similarities
Both RingCentral and Nextiva are some of the top-rated business phone service providers today. Both offer a suite of ingenious collaboration tools, effectively blurring the line between a unified communications platform and VoIP.
The two providers feature best-in-class communication solutions, including hosted PBX systems, mobile VoIP, unlimited calls, unlimited SMS, and unified communications, among other capabilities. Having been developed to accomplish pretty much the same thing, you'll find the two solutions to be similar in several ways, including:
Pricing
Both Nextiva and RingCentral offer a free trial period for all their pricing plans. Each of the providers has monthly as well as annual subscription options for all plans—with the latter being cheaper in both cases.
Regardless of the plan, the two VoIP providers bill their services per user. In addition to video, messaging, and audio call plans, both providers offer quote-based contact center pricing plans.
Number Porting
Both solutions allow you to transfer your existing phone number to their VoIP platforms for added convenience. In both cases, the number porting procedure is comparatively easy.
Automatic Call Recording
Both Nextiva and RingCentral feature automated recording capabilities for incoming and outgoing calls. In either case, you can record outbound as well as inbound calls for either departments or individual users in your business.
They also make it easy to turn the recording feature On/Off as well as download and playback the recordings.
Hot Desking
Similar to Nextiva, RingCentral makes it possible for you to log into a shared phone(s) and easily access your voicemail, extensions, greetings, and several other features. This feature allows your employees to stay connected regardless of their office locations.
Nextiva vs RingCentral: The Differences
Basically, RingCentral outweighs Nextiva—thanks to its industry-grade and robust set of collaboration and communication capabilities. It allows teams to seamlessly collaborate within a single hub, thus improving customer service.
Nextiva is an equally-powerful communication tool, offering a myriad of collaboration and communication capabilities. So, how exactly do the two stack up?
RingCentral vs Nextiva: Core Features
Having been designed to do the same thing, you can expect the core features for both platforms to be similar. However, their scope and technologies differ slightly as elaborated below:
Messaging
The Instant and Direct messaging functionality is highlighted on RingCentral. It allows for efficient team messaging whereby members communicate one-on-one. The feature packs an assortment of team messaging capabilities as well.
It is essentially an integrated messaging system that allows for instant messaging as well as access to unlimited faxing. Thanks to the RingCentral Team Chat feature you can easily initiate separate messaging threads and group chats to cater to different projects.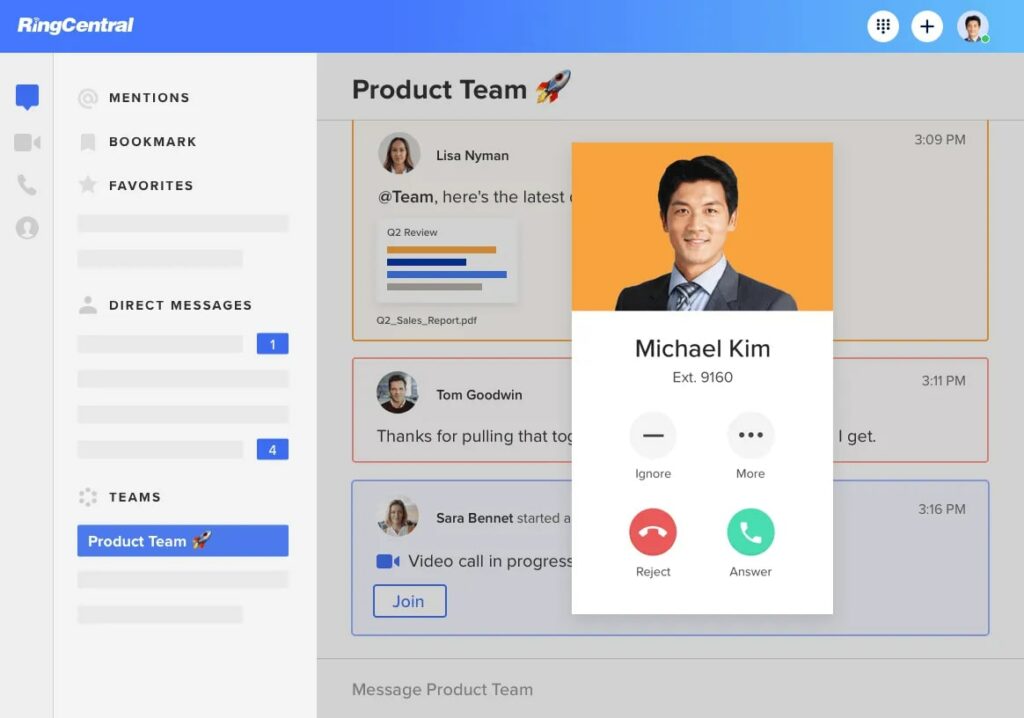 The Nextiva Text Messaging tool, on the other hand, allows you to open as many channels as you require. Similar to RingCentral, Nextiva offers toll-free and local company numbers that may be used to send and receive text messages from a desktop or a mobile device.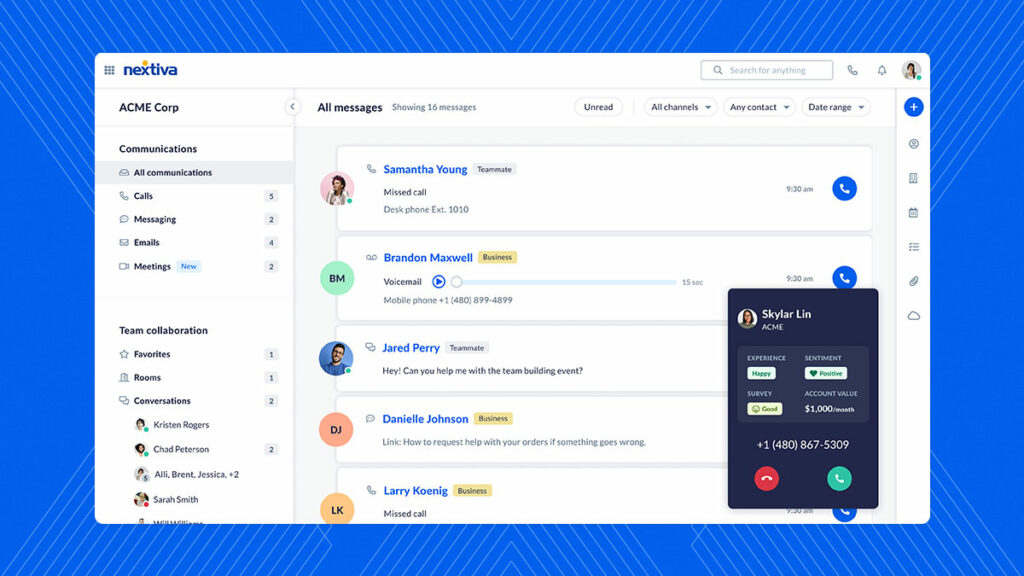 Video Conferencing
Nextiva vs Ringcentral comparison would be incomplete without a comparison of their video conferencing capabilities. As some of the best-unified communications as a service (UCaaS) and VoIP providers, both RingCentral and Nextiva offer video conferencing capabilities. In both cases, this feature is not available on the base pricing tier. But RingCentral.is the winner for video conferencing.
With Nextiva, you get to host 45-minute video sessions with support for up to 250 participants across all plans. RingCentral's base plan accommodates up to 100 participants. When subscribed to the higher Ring central price plans, you can host up to 200 participants per video call.
It Is also worth noting that RingCentral meetings last longer than Nextiva's. Again RingCentral offers add-ons that come at a cost, but allow you to host even more participants per video call. As such, you could purchase a ring central add-on and host 300 or even 500 participants.
Call Management Features
In addition to a suite of advanced features, both UCaaS providers offer complete sets of management capabilities. However, you will find RingCenral's capabilities to be more advanced.
With RingCentral, you get such control features as call flip, call screening, presence, and call log across all subscription plans. The RingCentral Premium plan offers even more advanced call management features like call whisper, and call barge. Though not as advanced,
Nextiva also features a unique set of call management functionalities. For instance, it boasts of the Call Pop feature that displays important caller information on the agent's screen.
Collaboration Tools
RingCentral equips businesses with some of the best collaboration tools. It functions as an all-in-one communications platform, combining video conferencing, chat, and team messaging capabilities. Such a platform makes it easy for you to create a collaborating hub for your business.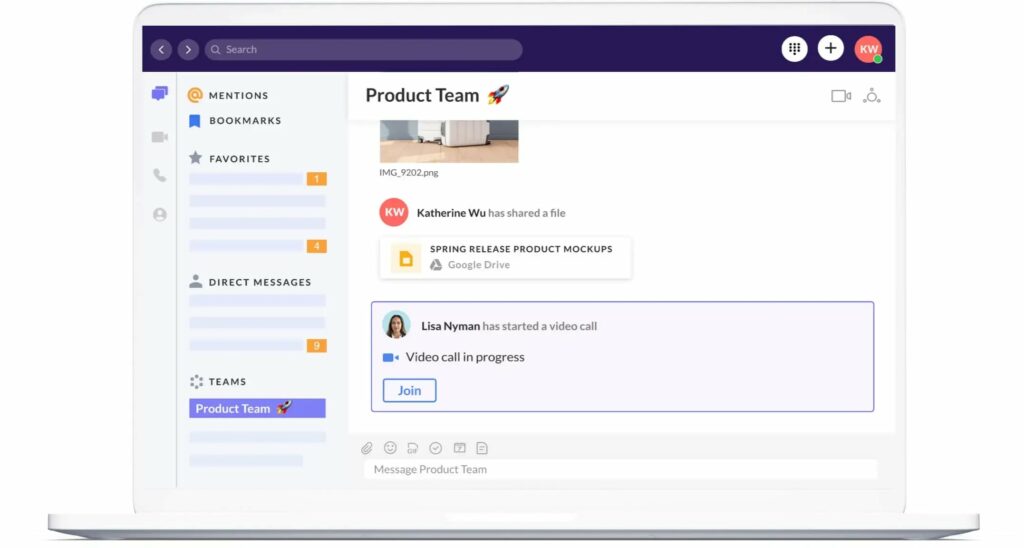 In addition to communication tools, RingCentral also features intuitive document management and file-sharing capabilities. This functionality allows you to organize, store, and share relevant files with your team on the same app.
With Nextiva, you get Cospace—a dedicated collaboration app that keeps all team members connected even in a remote work setup. The app comes complete with such functionality as voice calls, video calls, one-on-one chat, file-sharing, screen sharing, team messaging, and task tracking.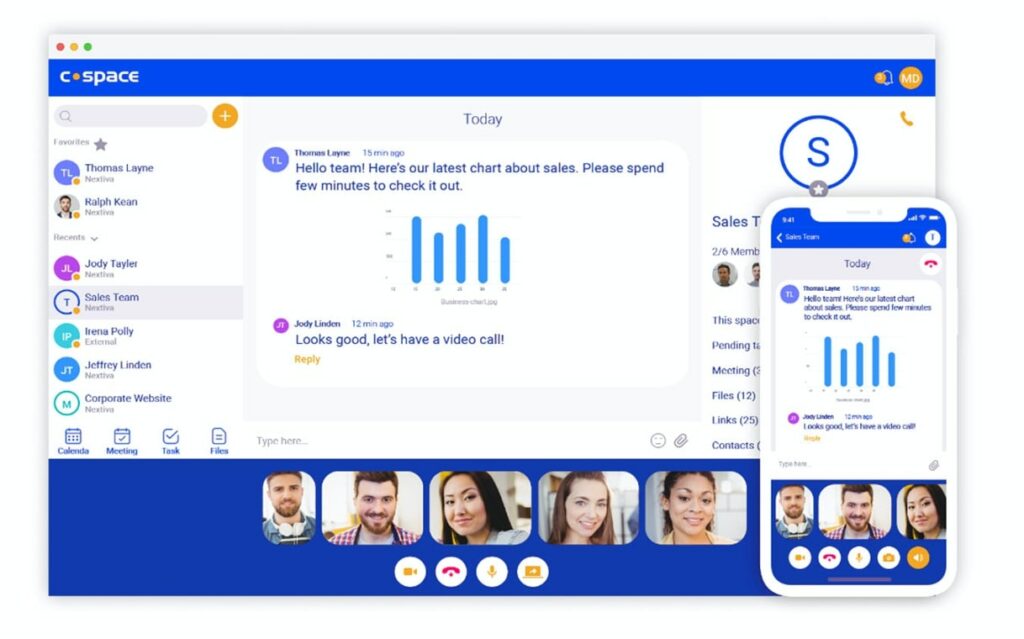 Verdict: Ringcentral Wins in Core Features
RingCentral is the winner for core features. While Nextiva avails all the basic communication features in its lower price plans, RingCentral offers much more advanced features and capabilities, especially for their Premium and Ultimate price plans.
RingCentral vs Nextiva: Security Features
Both UCaaS providers implement the highest possible levels of security, effectively protecting the confidentiality and integrity of your contact center.
The calls you make across the RingCentral desk phones as well as mobile and desktop apps are also encrypted using SIP over TLS and SRTP.
Similarly, Nextiva doesn't take security matters lightly—they apply factor authentication to secure your connection and data in the cloud. Nextiva also features support for TLS and SRTP call encryptions to further secure your communications.
Verdict: Ringcentral Wins in security
As you can see, RingCentral employs more security and encryption measures, making it the undisputed winner for security.
Nextiva vs RingCentral: Customer Support
A great VoIP provider is not all about advanced features, the level of customer support is just as important. Nextiva offers 24/7 online ticketing support in addition to a responsive online chat service. You can also contact Nextiva through their email or use their phone support from Monday to Friday between 5 am and 6 pm MST.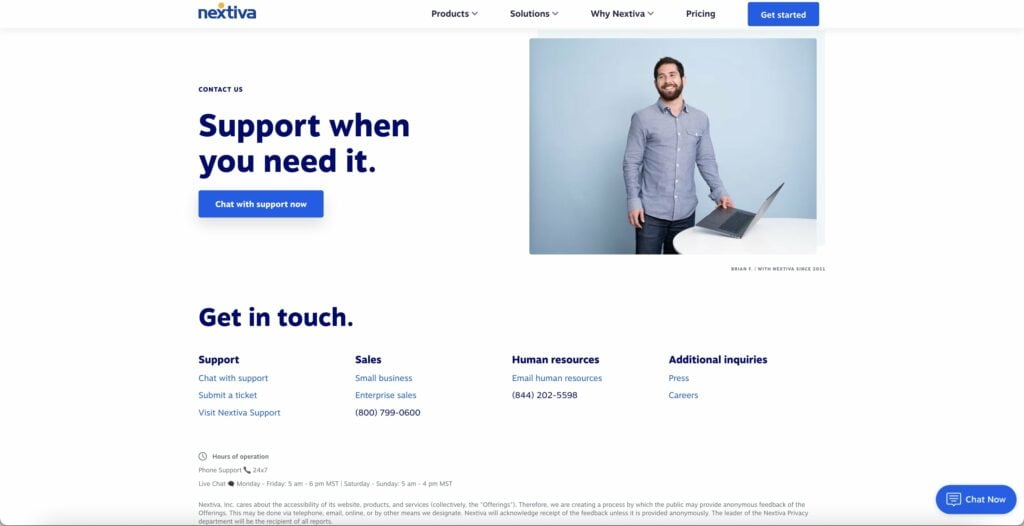 Nextiva's email and phone support are also available on Saturdays between 6 am and 6 pm MST. Unlike RingCentral, all Nextiva subscription plans feature customer support.
RingCentral offers reliable 24/7 phone support as well, but for 2+ user plans. They also provide live chat support, and users can report cases online.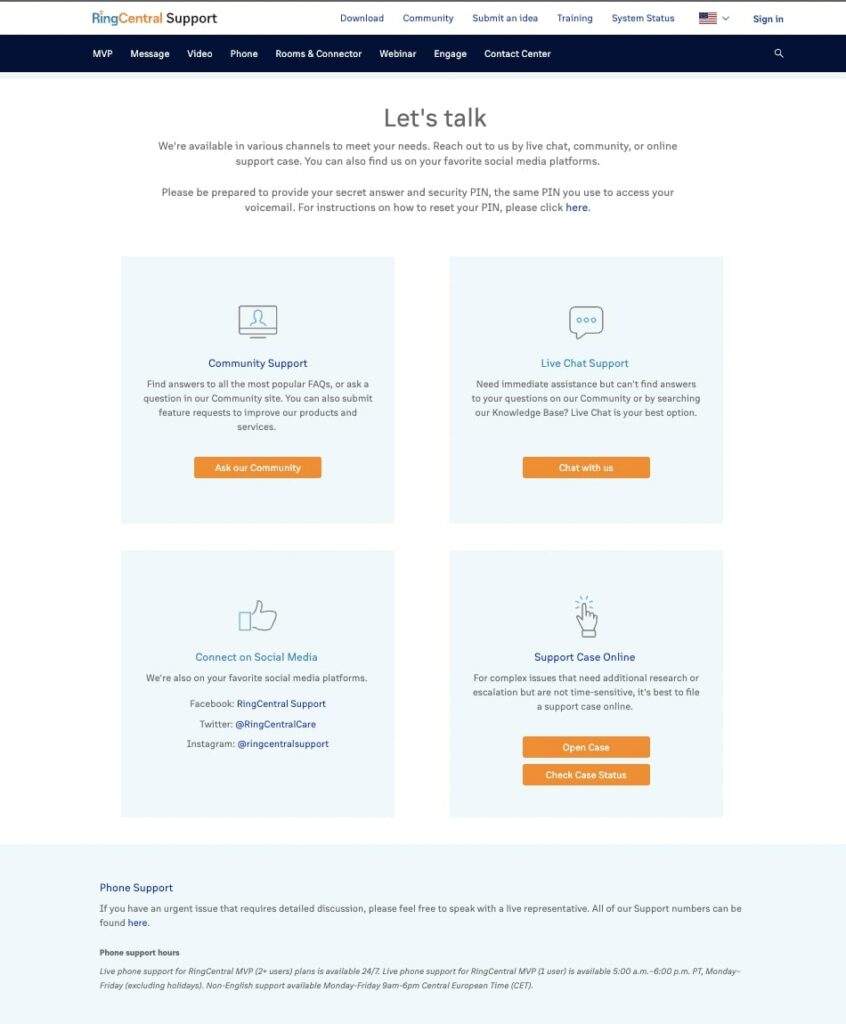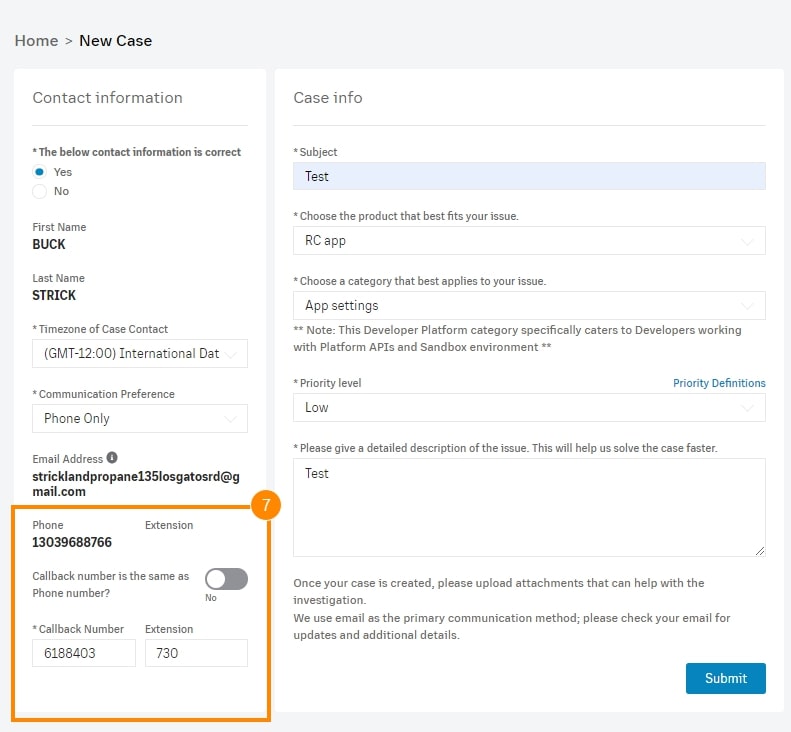 Verdict: Nextiva Wins in customer support
Nextiva's customer support is much better. The provider offers more support channels, allowing you to contact them in whichever method you find convenient during business hours.
RingCentral vs Nextiva: Pricing
Nextiva offers fewer pricing tiers with a comparatively steeper increase in price as you move from one tier to another, as illustrated below:
Essential Plan – the Nextiva Essential pricing plan is priced at $25.95/month per user.
Professional Plan – This plan is ideal for smaller teams. It is priced at $30.95/Mo per user
Enterprise Plan – the perfect subscription plan for small and medium-sized teams. To get this plan, you need to pay a subscription fee of $40.95/Mo per user
All Nextiva price plans offer a 7-day trial period.
By offering more pricing tiers, RingCentral presents your business with more options and the ability to scale up gradually. The monthly-paid pricing is illustrated below:
Essentials Plan – Comparable to the Essential plan by Nextiva, the RingCentral Essentials plan only offers basic message and phone call features. It is priced at $29.99/Mo per user
Standard Plan – for $37.99/Mo per user, it adds video call functionality to your business phone
Premium Plan – priced at $44.99/Mo per user, this plan gives you access to the RingCentral Open API as well. It also adds functionality as well as support for advanced integrations
Ultimate Plan – this plan is ideal for businesses that require unlimited storage and device status alerts/reports. It will cost you $59.99/Mo per user
Verdict: Ringcentral Wins in pricing
RingCentral is the winner here. It offers a wider range of video, message, and phone pricing plans. This makes RingCentral evidently one of the cheapest VoIP phone service providers—saving you up to 33% of the subscription cost when you pay annually.
RingCentral vs Nextiva: Integrations
Integrations allow you to connect to the tools you need to streamline your work process and add functionality to your Unified Communication systems. Nextiva supports integration with quite a several popular apps, including Zendesk, HubSpot, Zoho, and Salesforce.
In total, Nextiva supports about 20 third-party integrations. RingCentral is the undisputed winner in this area, with support for more than 200 advanced integrations. Additionally, RingCentral allows you to build your own integration through their application programming interfaces (APIs).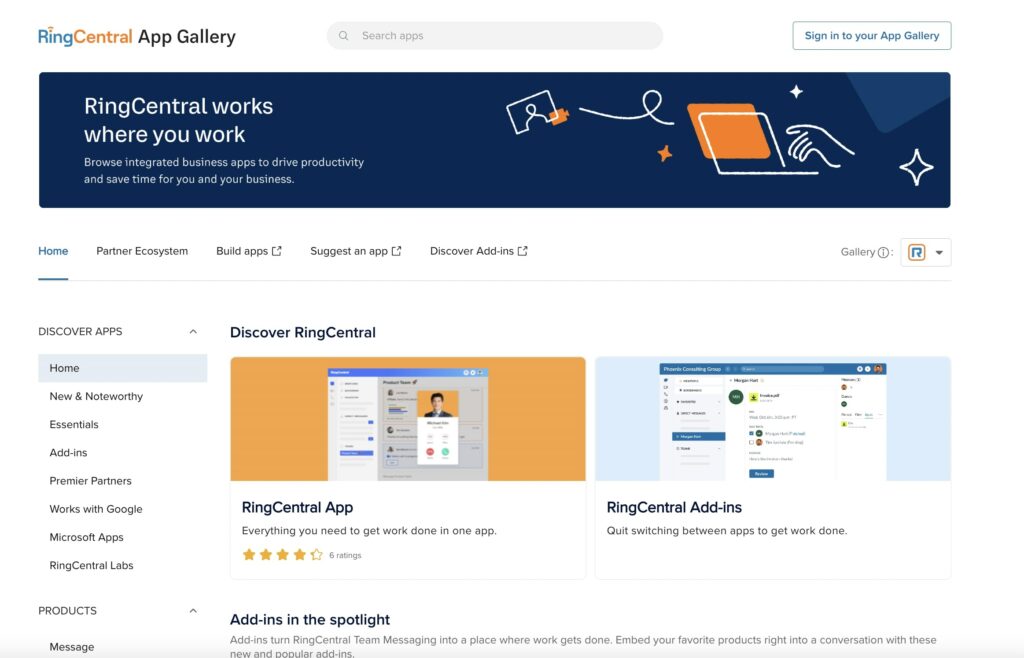 Verdict: Ringcentral Wins in integrations
RingCentral is the winner for integrations, featuring support for 200+ third-party integrations. They also offer API customization.
Nextiva Overview
Nextiva is a leading cloud-based VoIP phone service provider. It offers a diverse range of integrated video, messaging, and voice capabilities to help you communicate more effectively.
Nextiva Key Features
Nextiva offers all the basic business phone capabilities as well as several advanced features, including:
Advanced Call Management – a suit of call management capabilities for holding, blocking, and prioritizing incoming calls
Call Recording and Rating – Gives you complete visibility into your business calls while allowing for automatic call recording
Call Analytics – automatically collects such data as behavioral trends, call session metrics and individual agent performance. The feature also generates relevant business reports and insights
Unlimited Calling – allowing you to say what you want when you want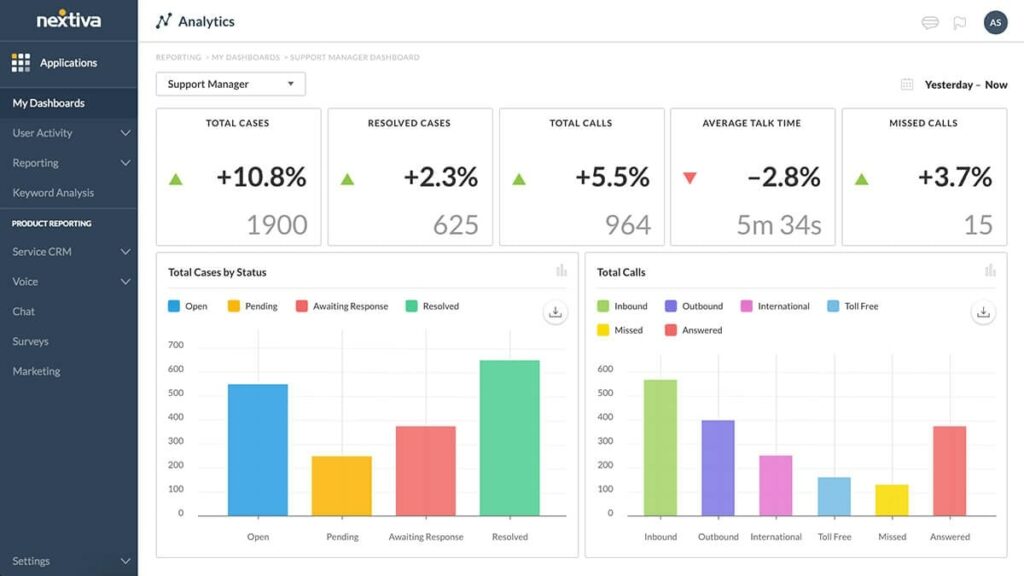 Nextiva Pricing Tiers
Nextiva offers three main pricing tiers for business communication, including the Essential Plan, professional plan, and Enterprise plan. The cheapest of the three is the essential plan, priced at $25.95/month.
Additionally, Nextiva offers customizable, quote-based contact center plans.
RingCentral Overview
RingCentral is another VoIP provider worth your consideration. The provider combines the best VoIP phone service with state-of-the-art video conferencing, and messaging solutions—all on a single platform.
RingCentral Key Features
RingCentral offers a unique blend of capabilities—including everything you need to run your business on a single cloud communications solution. Here are some of the features users have come to love about the RingCentral platform:
Supervisor Tools – includes all the tools you need to monitor the performance of your contact center staff. Features screen recording, text and speech analysis, coaching, and learning tools
Calling and Mobility – choose from a broad range of available phone numbers and leverage the feature-packed mobile apps for a powerful and flexible mobile, and cloud phone system.
Local and Toll-Free Numbers – get both toll-free minutes and numbers. You get to choose from a variety of 888, 877, 866, 855, and 844 toll-free numbers.
Analytics – a complete suite of basic analytic tools to help you visualize the performance of your contact center. It includes a comprehensive dashboard and omnichannel analytics
Security and Compliance – offers reliable encryption and guarantees active failover and 99.99% uptime. RingCentral also complies with PCI, HIPAA, CPNI, SOX, GDPR, and CCPA security standards.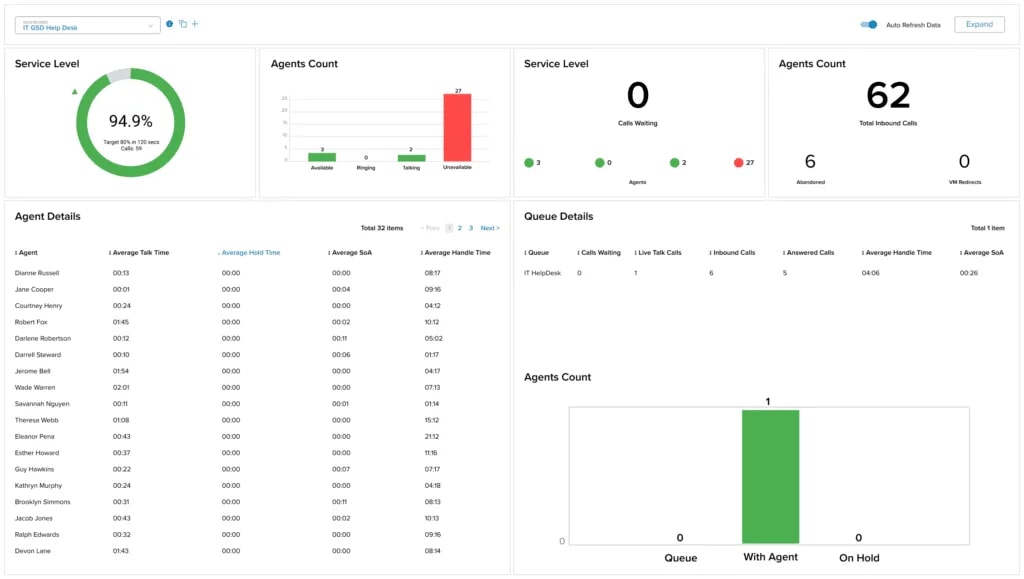 RingCentral Pricing
RingCentral MVP, formerly referred to as RingCentral Office, is offered in multiple pricing tiers to suit different budgets and business needs. These include an Essentials, Standard, Premium, and Ultimate plan.
Like Nextiva, RingCentral offers a customizable, quote-based contact center plan. Owing to its flexibility, RingCentral is considered to be the pricing winner of the two.
RingCentral vs Nextiva Conclusion
Nextiva and RingCentral are two of the best business VoIP providers. Both offer unlimited calls and are renowned for exceptional quality and uptime. Nextiva offers all the core communication channels in all its pricing plans.
RingCentral, on the other hand, offers a greater variety of collaborative video features and analytics. Of the two, RingCentral is the best platform. This may be attributed to its feature-rich call management suit, diverse international options, and extensive integration support.
Which is better RingCentral vs Nextiva?
Nextiva vs RingCentral, which is better suited to your business?
The best solution for your business mainly depends on the size of your team as well as the features, and channels you desire. If you need to integrate numerous apps to expand the functionality of your phone system, you should go for RingCentral.
RingCentral is also the ideal solution for teams that hold video meetings regularly. In this regard, it offers amazing collaboration tools like whiteboards and breakout rooms. It is also the best choice for businesses that adopt features slowly as required.
If you only need to add the three main communication channels—video, phone, and chat—then Nextiva covers such basics at an affordable rate. Nextiva is also the right choice if you need to hold video conferences with many participants. The platform is particularly suited for use in small to mid-sized businesses with 50 to 200 employees.