Omnisend vs Mailchimp … which one should you choose?
It's no secret that Omnisend and Mailchimp are two of the most popular email marketing services in the world. Omnisend has been around since 2014, while Mailchimp was founded in 2001. Omnisend offers a complete end-to-end solution for customer lifecycle management, from lead generation to post-purchase follow-up. In contrast, Mailchimp focuses on helping users create beautiful emails with an easy drag and drop editor.
We'll compare and go into details about their features, integrations, and pricing to identify their differences and similarities.
If you're trying to figure out which email marketing service is right for your business, then this blog post is for you! Keep reading to see which suits your needs best!
Start with Omnisend for free here! No credit card is required.
Omnisend vs Mailchimp: Overview
What is Omnisend?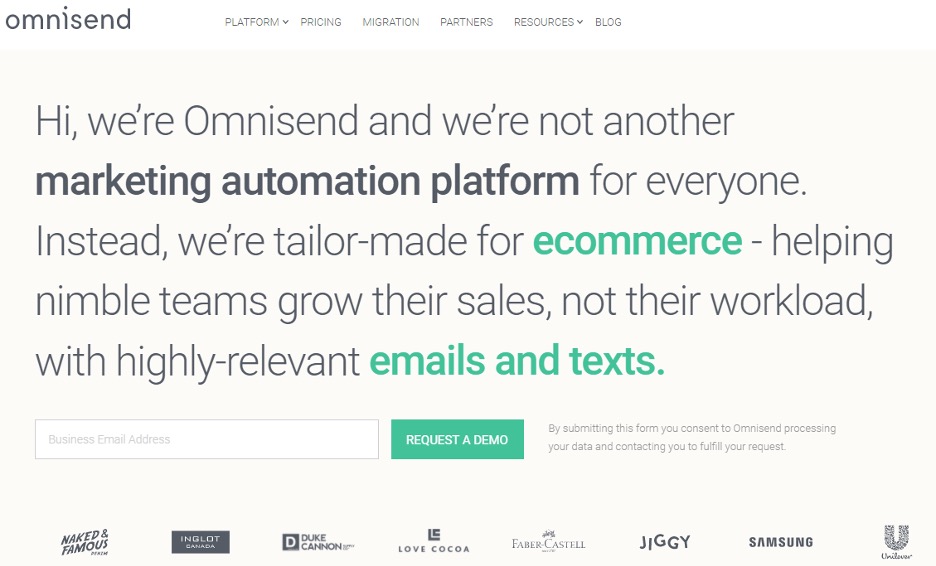 Omnisend is an email and SMS marketing automation platform made for eCommerce merchants. 50,000+ merchants around the world are using it to increase sales effectively. Moreover, G2 has rated its "ease of use" as high as 9.3, making it one of the most user-friendly marketing automation tools!
With the Omnisend marketing automation platform, you can send customized and personalized messages to your customers across all channels – email, SMS, WhatsApp, push notifications, pop-ups, etc. You no longer have to rely on just email or text messages. With this full-service software solution in hand, you'll be able to reach out through Facebook and Google ad integrations as well!
Start with Omnisend for free here! No credit card is required.
What is Mailchimp?
Mailchimp is an email service provider (ESP) that has grown to become one of the top mailing list services today. Founded in 2001, Mailchimp's user-friendly interface and robust features attract businesses from all over who use their ESP for sending newsletters and managing online marketing efforts like social media campaigns on Facebook or Twitter.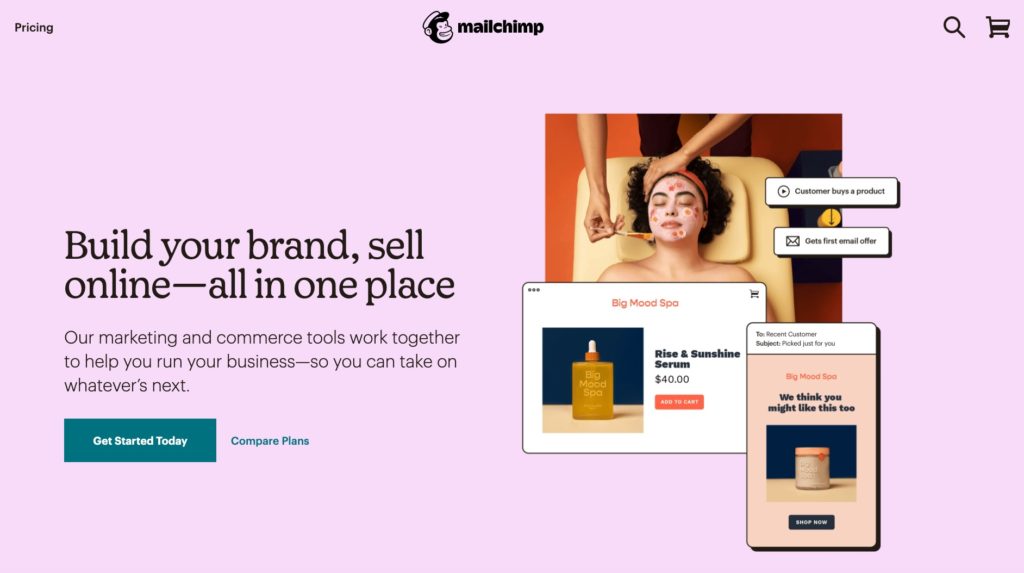 Mailchimp is a powerful email marketing suite for small business owners. You can send newsletters and automated emails to your customers with simple drag-and-drop design tools, pre-designed templates that will save you time designing messages from scratch, or import contacts directly through their sign-up forms on the website. With Mailchimp's platform analytics features built right into the tooling itself, it becomes an attractive software option for businesses looking to start with email marketing campaigns!
Omnisend vs Mailchimp: Email Builder
Mailchimp and Omnisend both began as email marketing tools. Mailchimp is well known for its easy-to-use drag and drop interface in which users can import content without knowing HTML skills.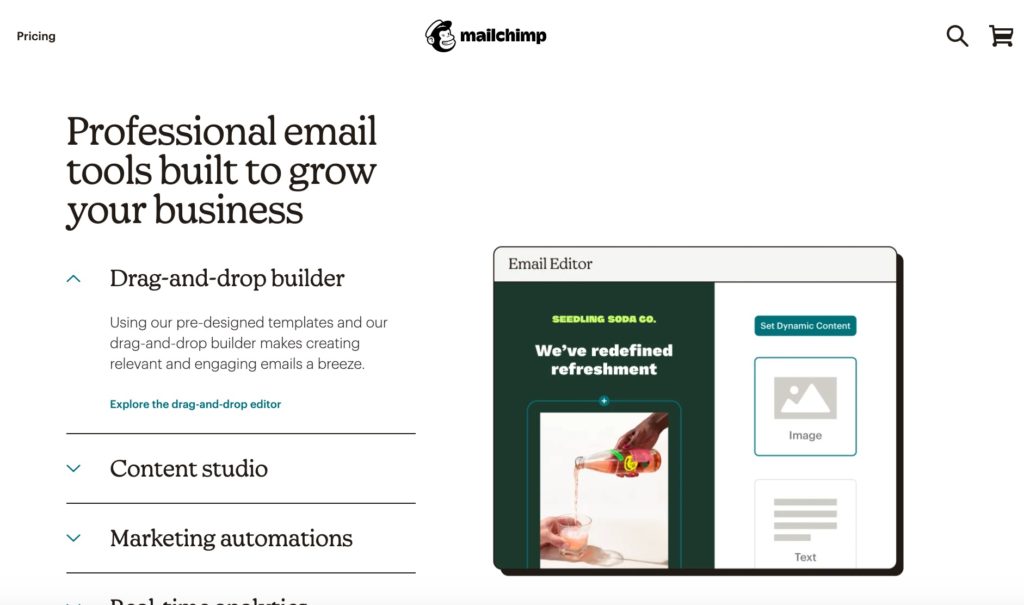 Omnisend's visual composer is as easy to use and just as versatile. You can pull in any content, from product offerings to discounts, with a few simple clicks of your mouse. With Omnisend's native integration, you can pull products directly from your store to offer intelligent product recommendations based on what customers have recently browsed or products they might like. You'll also be able to send promo codes seamlessly integrated into their emails with one simple drag-and-drop feature!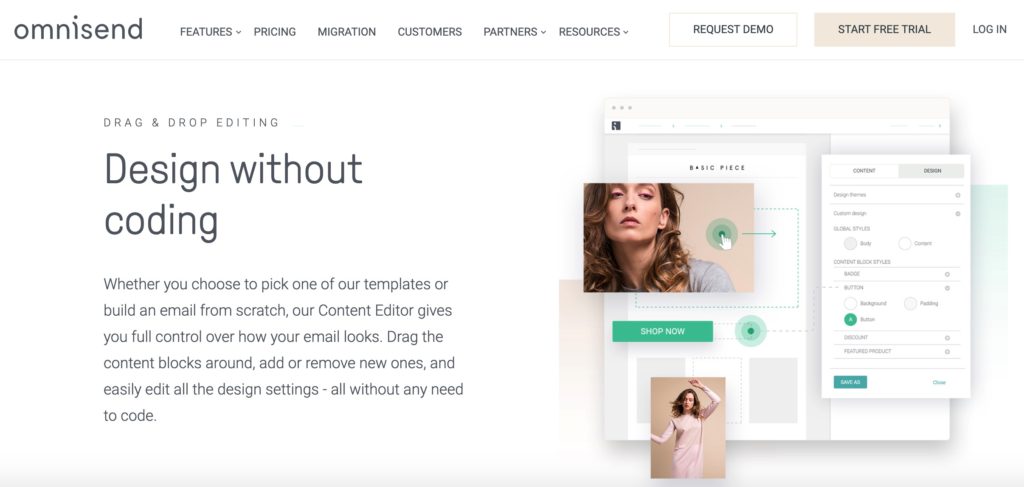 You can customize how your emails look by tweaking the fonts, colors, background images, etc., with both Omnisend and Mailchimp. But only Omnisend lets you save individual email blocks to reuse in future campaigns!
Omnisend vs Mailchimp: Email List Building
Mailchimp and Omnisend both offer embeddable static forms that you can place anywhere on your site. These templates are customizable to fit any business's needs, with the option of adding a call-to-action button or popups for more customer engagement.
But only Omnisend offers an interesting gamified email capture form proven to be more effective in driving email subscriptions.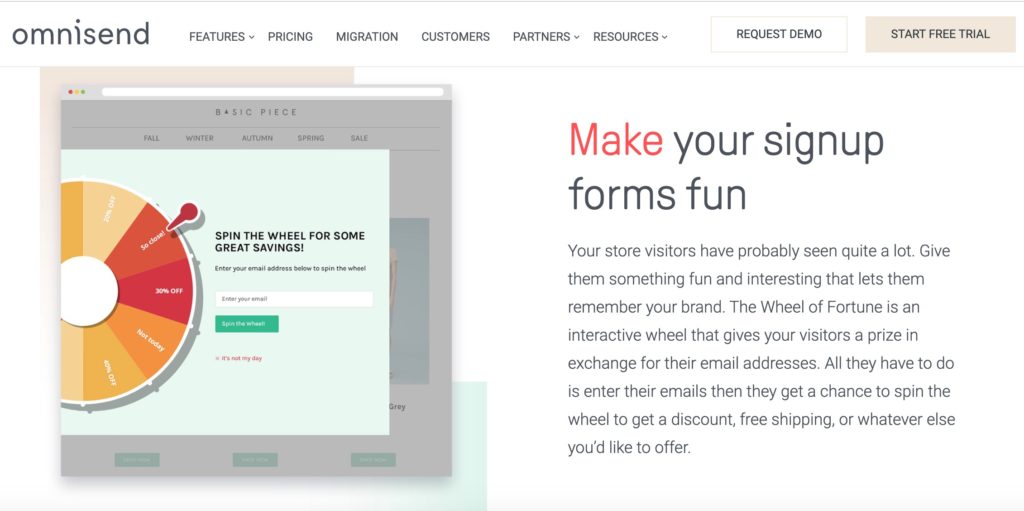 Omnisend offers a Wheel of Fortune popup that entices your customers with the chance to get discounts by entering their email. This incentivizes your potential customers to sign up for your email list and makes them more likely to purchase when given the discounts.
Start with Omnisend for free here! No credit card is required.
Omnisend vs Mailchimp: eCommerce Automation
Omnisend lets you sell while you sleep – it has powerful pre-built eCommerce workflows that provides automation for the following and more:
Cart abandonment – reminder emails
New subscribers – welcome emails
Customers likely to churn – reactivation emails
Customer feedback and product reviews
Native discount codes
Product picker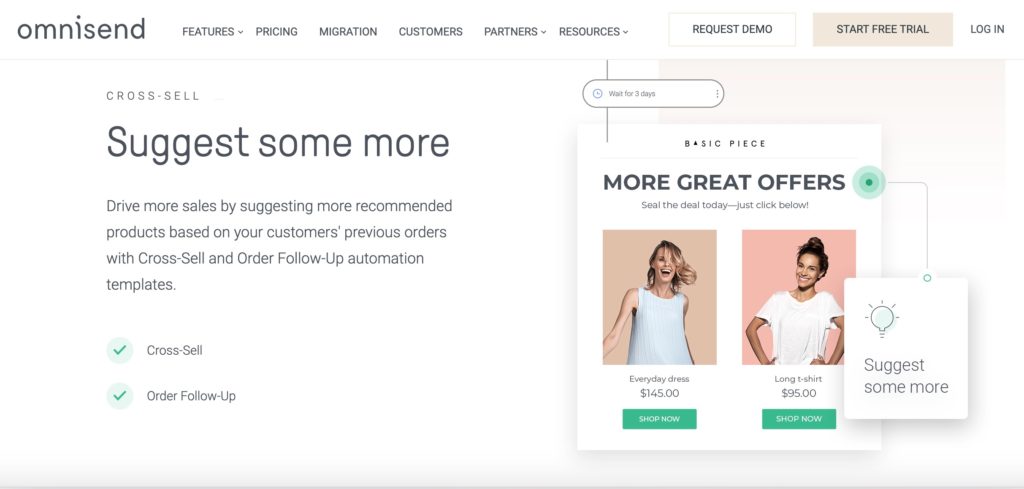 Mailchimp is built for small businesses and not specifically eCommerce. This is why its eCommerce features might not be as extensive as Omnisend's. You could also use Mailchimp to send cart abandonment emails, but only with Omnisend can you place native discount codes and use a product selector to pull products from your store for your campaigns.
Omnisend vs Mailchimp: Integrations
Your email marketing service providers need to integrate with your online store to grow your business effectively. Let's compare Omnisend and Mailchimp integrations.
Omnisend integrations
Omnisend integrates with various online store builders, including Shopify, BigCommerce, Woocommerce, Magento, OpenCart, Drupal Commerce, and Volusion.
Mailchimp integrations
Mailchimp can connect with ShopSync (to send your Shopify customer and order data to Mailchimp automatically), Woocommerce, Magento, Lightspeed, PrestaShop, BigCommerce, Big Cartel, Drupal, Miva, and Volusion.
Mailchimp offers more eCommerce store builder integrations. But one big issue for Shopify store owners is the Mailchimp-Shopify breakup that happened in 2019. If you plan to do email marketing for your Shopify store, Omnisend is a better choice.
Omnisend vs Mailchimp: Pricing
Omnisend pricing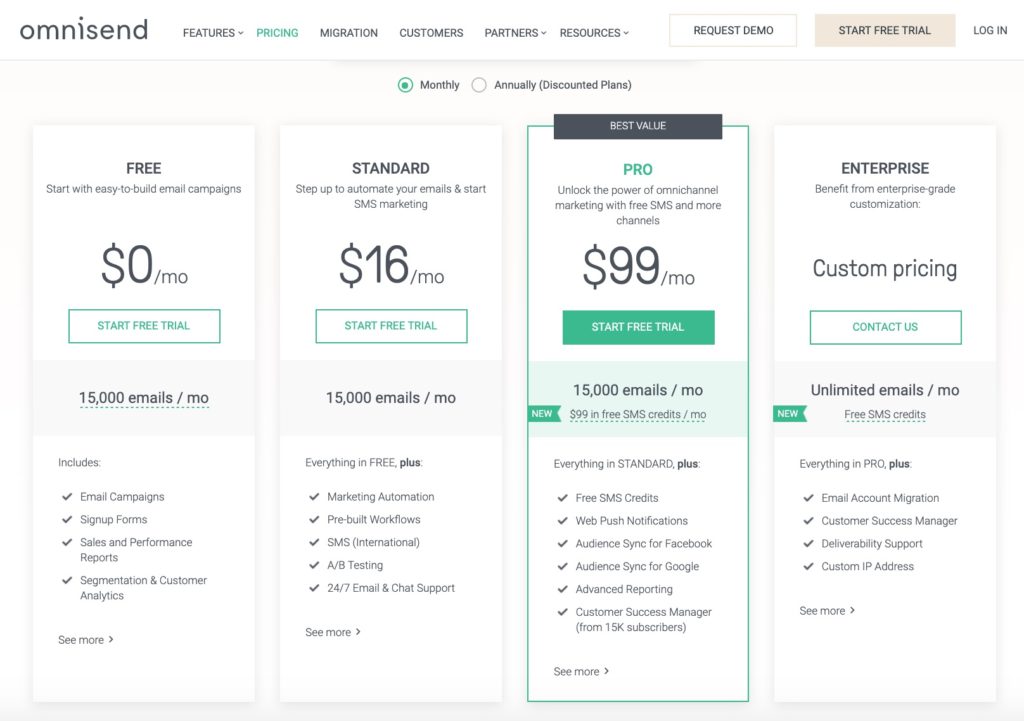 Omnisend's free plan offers basic email marketing up to 15k email sends per month. It has three paid plans as follows:
Standard: $16/ month, 15k email per month, includes marketing automation, A/B testing, product recommendations, and SMS (international)
Pro: $99/ month, 15k emails per month, includes $99 in free SMS credits, Facebook and Google audience sync, advanced reporting.
Enterprise: custom pricing, unlimited emails
Start with Omnisend for free here! No credit card is required.
Mailchimp Pricing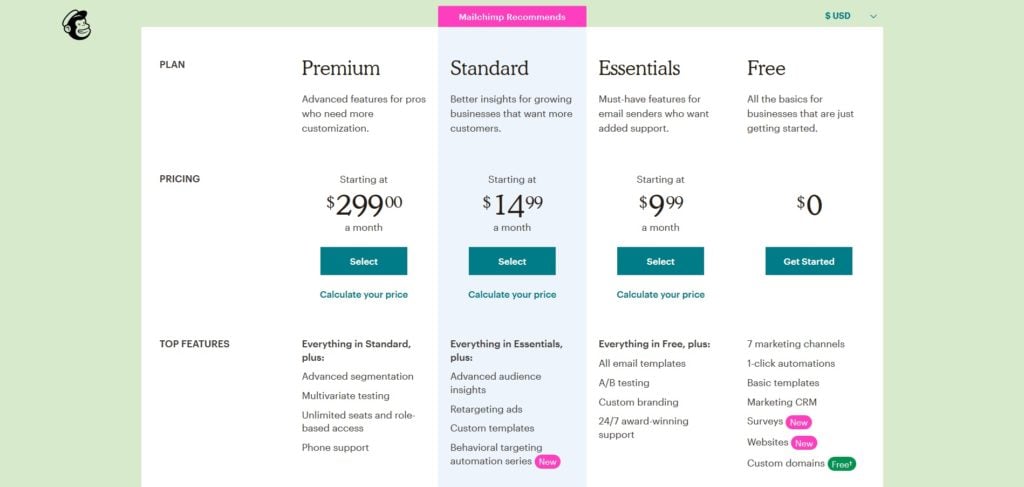 Mailchimp has a free plan that allows up to 2000 contacts. And it has three paid plans as follows:
Essential: $9.99/ month, 50k contacts, and basic email marketing features
Standard: $14.99/ month, 100k contacts, include most advanced features like automation and audience insights
Premium: $299/ month, 200k+ contacts, all features available, and better customer support (phone support included)
It's challenging to compare Omnisend and Mailchimp in terms of pricing as their tiered plans offering are very different in terms of features and subscriber vs email counts. So it depends on the features you value.
If you want to include SMS as part of your marketing strategy, then Omnisend Pro is the plan to go – as it includes $99 free SMS credits in the plan. But if you will be sending a high volume of emails per month (>15k email sends monthly), Mailchimp might offer a better deal as it doesn't have a limit on email sends but only subscriber counts.
Conclusion
Email marketing is a critical part of any online business, and to make the right choice for your strategy, you need an informed decision.
Mailchimp is known for being an easy-to-use email marketing tool. Some people, especially those just starting in the industry, find it their go-to platform because of its user-friendly interface and ease of use.
But what about when things become more advanced? Omnisend is a better choice for marketers with more experience who need something robust, especially in eCommerce.
Start with Omnisend for free here! No credit card is required.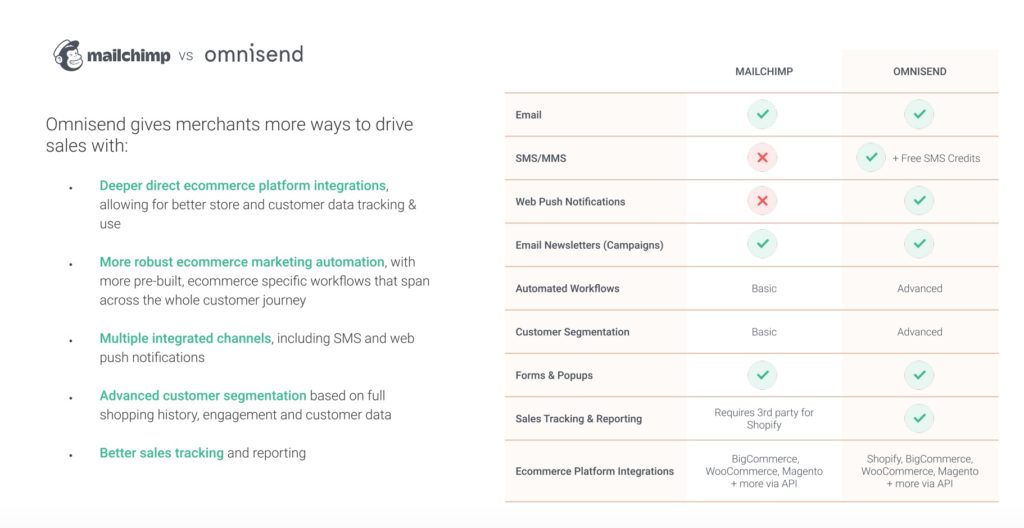 We hope this article helped you find the right marketing automation tool for your business. You might also be interested in our blog post on the best chatbot builders or email marketing software for small businesses.