When picking a CRM software, you would want a tool that helps you organize your sales and marketing activities, customize your workflows, capture leads, track pipelines, and manage customer relationships easily.
Monday CRM software does just that. It's one of the most customization CRM software and helps you improve your sales performance effectively. 
In this monday.com CRM review, we cover its CRM features, pricing, and the best alternatives.
In a hurry?
Use the monday.com CRM software here for free! 
Keep reading to learn more about how it works and whether it's the right sales and CRM tool for you.
What is the Monday CRM Software?
Monday.com CRM is an all-inclusive and perfectly functional sales Software de CRM. It successfully integrates project management and CRM, getting excellent review ratings from users and industry professionals. 
The CRM allows you to manage sales activities, clients relationship, and leads, whereas the project management tool keeps track of tasks, budgets, and teams.
According to our extensive study, Monday.com is one of the most flexible CRMs on the market. The CRM includes drag-and-drop capabilities and customized columns and rows that may be used for just about anything throughout your customer relationship management process.
Use the monday.com CRM software here for free! 
Some of the top-rated CRM features include: lead management, sales pipeline visualization, analytics and reporting, automation, ready-made sales and CRM templates, and extensive integration with other applications.
How Does The Monday CRM Work?
Monday.com is known for its project management and work collaboration functions as a cloud-based software solution, but it also serves surprisingly well as a CRM tool. 
You may utilize Monday.com to construct a CRM solution with its ready-made templates that are completely customizable for your business and use it to:
Create a consolidated client database that includes relevant profile information.
Group leads based on where they are in the customer lifecycle.
Keep track of your sales pipeline.
Create custom analytics and reports to learn how to improve sales processes.
Create consistent lead development and marketing efforts.
Monday.com CRM template provides several predefined groups and columns which are fully customizable. There are 30+ types of columns you can choose from. 
We'll dive into more details below.
Monday CRM Features
Sales Pipeline
Using the pipeline template, you can track sales activity and automate follow-up actions and updates with leads. For example, you can include a flag column to represent a lead's nationality, a status column with multiple predefined options ('Lead,' 'Discussion,' 'Won'), a numeric column to record lead phone numbers, and more.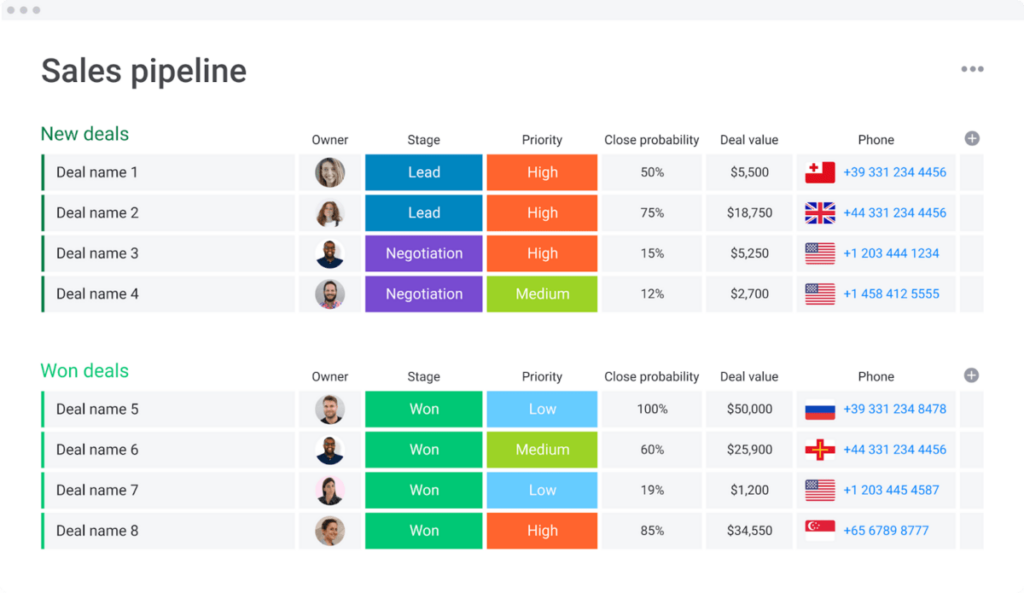 It's simple to keep track of the status of each contact and observe your sales team's performance. 
Use the monday.com CRM software here for free!
Contact Management
Optimizing the customer journey has evolved into a critical component of the selling process.
You can store all the calls, emails, meetings, chat history, support tickets, and any other client interaction in the Monday CRM. You'll have the client's information at your disposal, allowing you to tailor every conversation.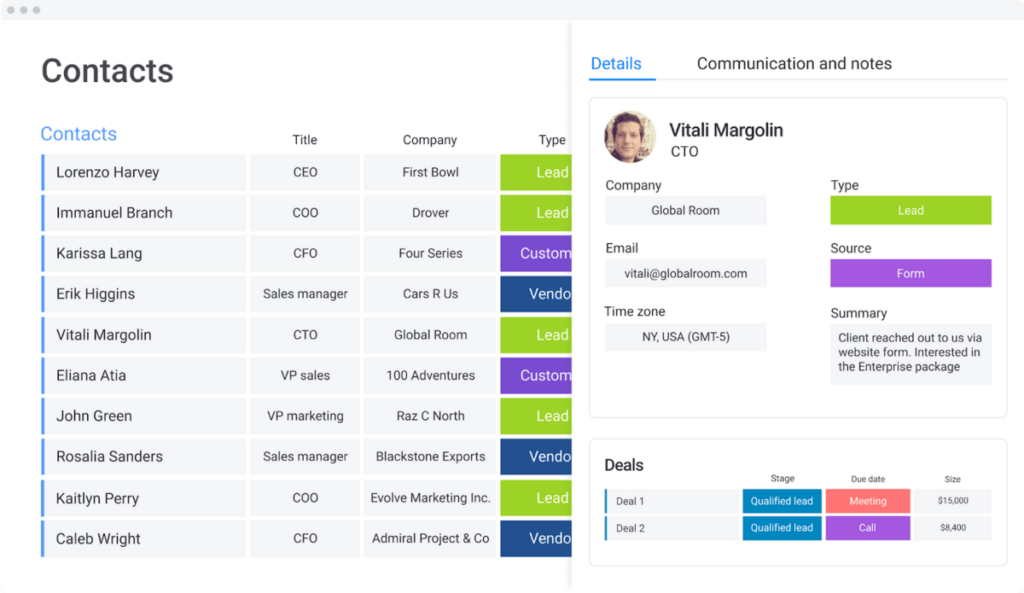 Centralized Communication
If your sales team is collaborating via Slack, email, and a slew of other applications, you need to consolidate and streamline your communication.
You can connect your apps and communications into one workspace by setting up a CRM in Monday.com.
For example, you can fully sync your Gmail to send and receive emails, and also automatically log your outgoing emails, all from inside Monday.com.
Use the monday.com CRM software here for free!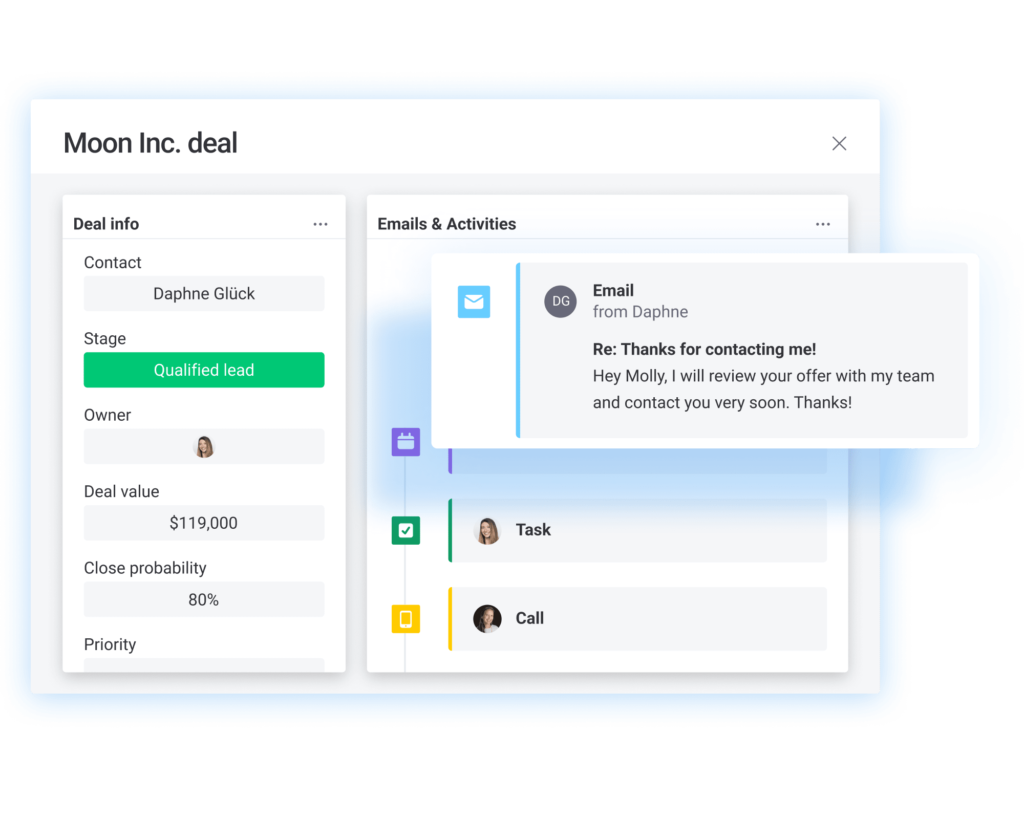 Automação
Monday.com makes it easier to automate monotonous processes than many other CRM solutions we reviewed.
They have a wide range of "recipes," each of which consists of a trigger and an action.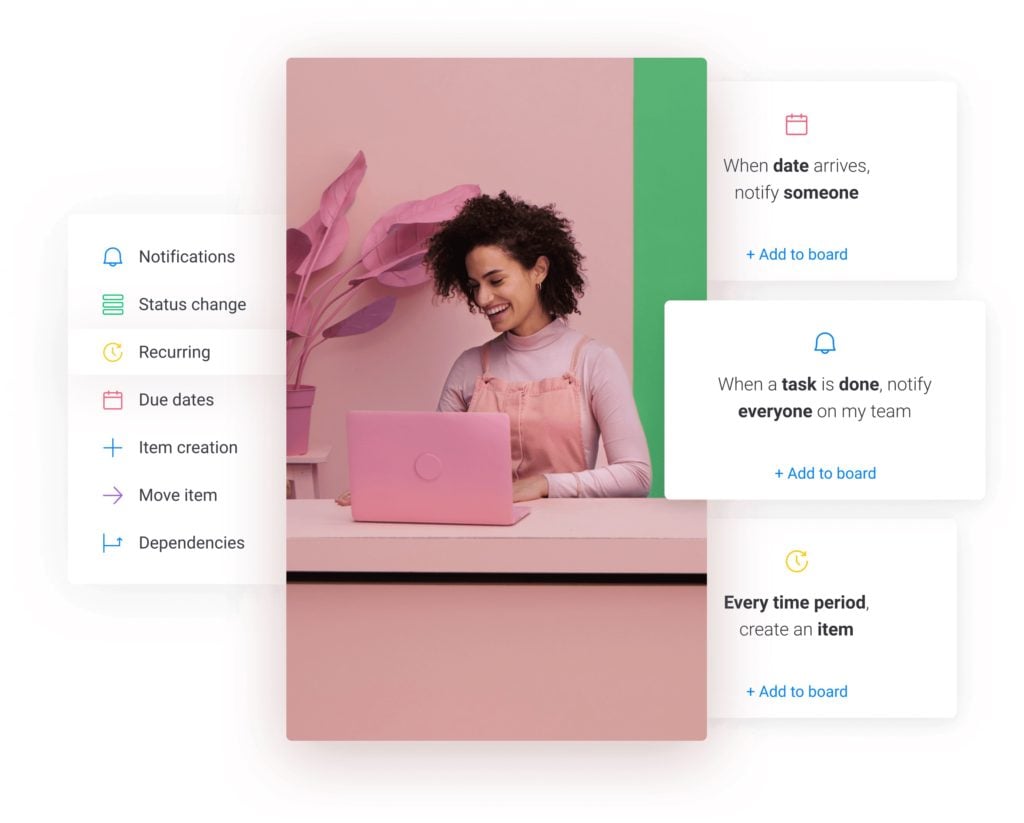 For instance, you can configure one automated action to send an email to a lead-in if a column changes. With Gmail or Outlook integrations, you may quickly convert emails into tasks by setting a few "if this, then that" automation.
Use the monday.com CRM software here for free!
Sales Analytics and Reporting
Data is vital to any organization, and especially to a sales team. Monday.com analyzes CRM data to detect trends and provide reports that you may use to strengthen your team.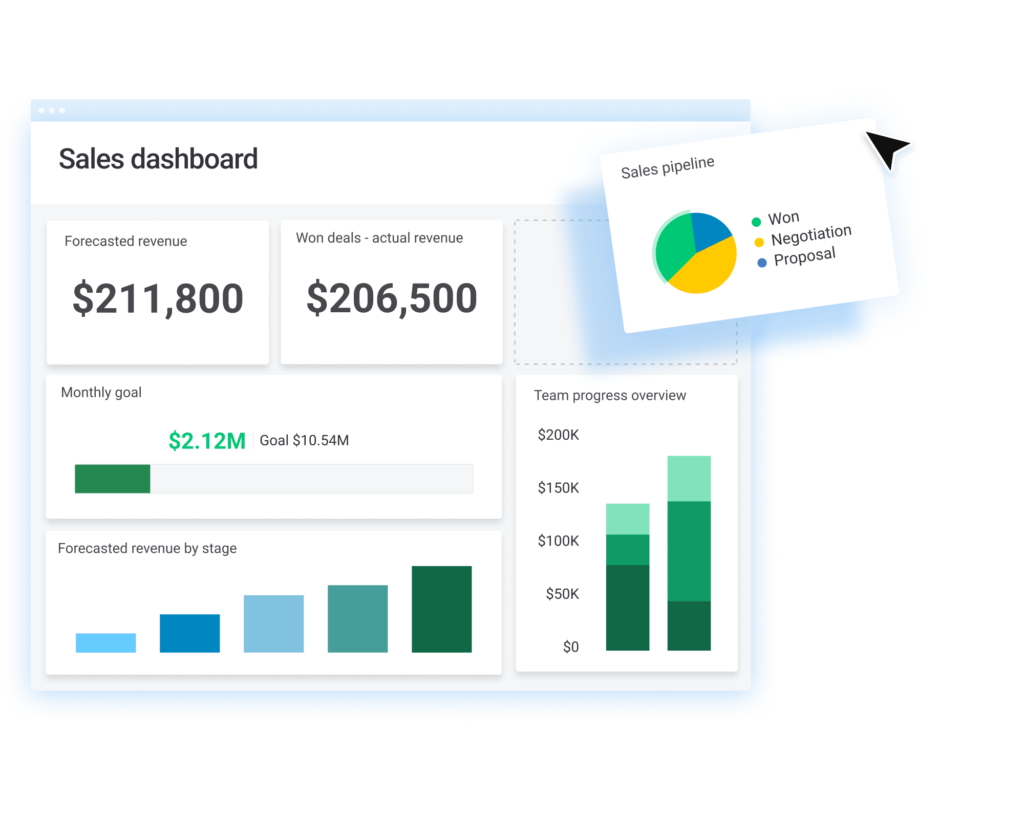 For example, if your team's sales are low but the conversion rate is high, you might consider increasing the number of client interactions or the number of leads to increase sales.
You can sort data, add custom filters, and organize it into graphs, dashboards, and reports to get a high-level view of your sales cycle or get into specifics like conversion rates by source. It's completely customizable, so you may view and compile data the way you choose.
Use the monday.com CRM software here for free!
Monday CRM Software Plans and Pricing
The pricing per user seat is affordable compared to many other CRM software solutions. Monday.com offers five CRM pricing plans:
Free CRM: free forever for up to 2 user seats. You can store up to 1000 contacts and use templates for lead and deal management.
Basic CRM: $10 per seat per month. It offers unlimited customizable pipelines and contacts.
Standard CRM: $14 per seat per month. It provides advanced deal management, 2-way email synchronization, 250 automation actions per month, and more.
Pro CRM: $24 per seat per month. This plan allows you to gain more insights into your entire sales cycle by providing sales forecasting, email tracking and automation, sales analytics, and more.
Enterprise CRM: you'll need to contact monday.com to get a quote. This provides lead scoring, team goals, Força de vendas integration, and more product features.
Overall, we think segunda-feira. com offers very attractive pricing. There are absolutely no costs involved in using its Free CRM plan.
You can learn more about monday CRM software pricing here. 
Monday CRM Alternatives
While Monday CRM software is an excellent tool for managing sales and CRM activities, you might be interested in looking at some alternatives. Here are some of the best Monday.com CRM alternatives:
Pipedrive CRM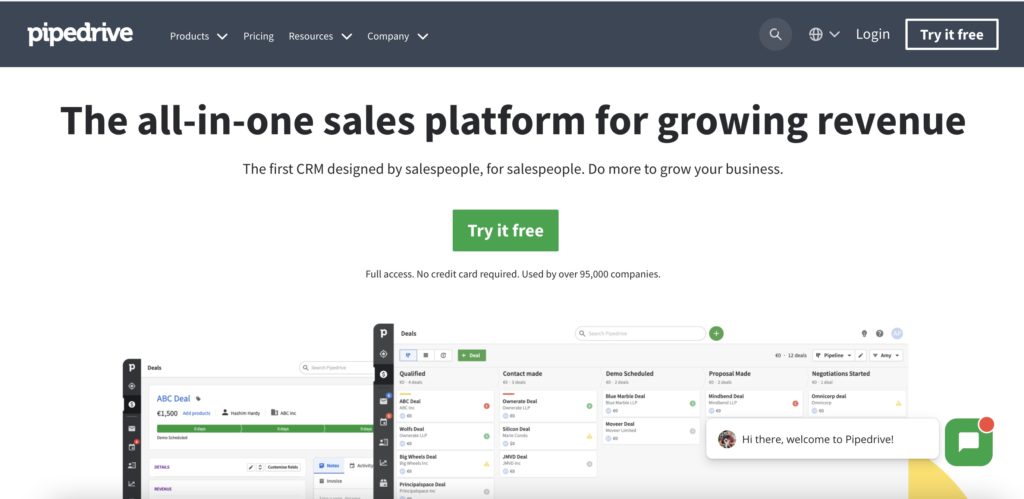 Pipedrive is an all-in-one sales platform designed by salespeople. Created using an activity-based approach, it streamlines every step involved in converting prospects into a sale. It helps salespeople to plan sales activities, monitor deal status, and visualize the sales pipeline. 
You can learn more about Pipedrive here.
Leia mais:
Pipedrive Review: Is It The Best CRM In 2022?
Salesforce CRM
Força de vendas is one of the longest-standing CRM solutions in the market. It offers a wide range of CRM cloud systems to meet your business' needs, including Sales Cloud, Marketing Cloud, Service Cloud, and more.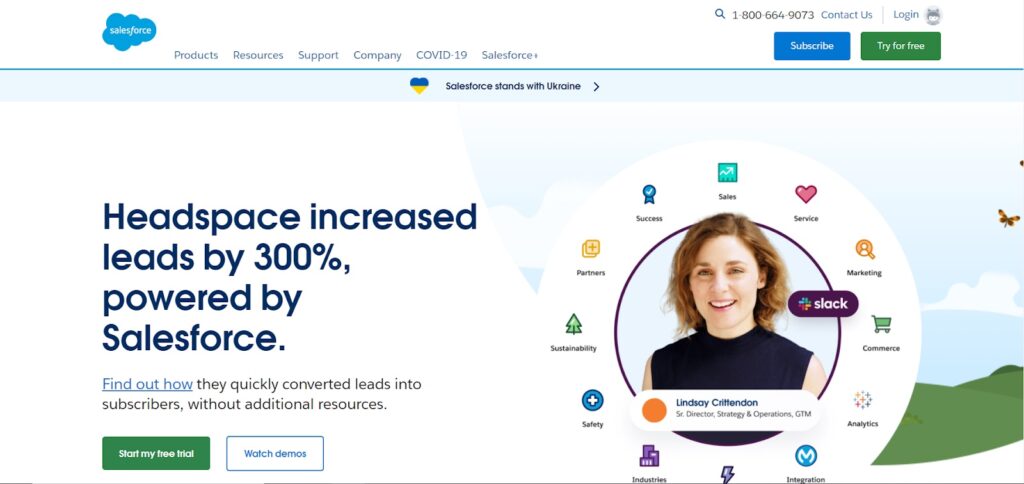 If you have a sophisticated sales process and require strong CRM support, you can't go wrong with Força de vendas.
Saiba mais sobre o Salesforce aqui.
Leia mais:
What Is Salesforce & What Does Salesforce Do (2022)
8 Reasons Why Salesforce Is The Best CRM
ClickUp
Similar to Monday.com, ClickUp is a project management tool and collaboration platform that includes a customization CRM solution.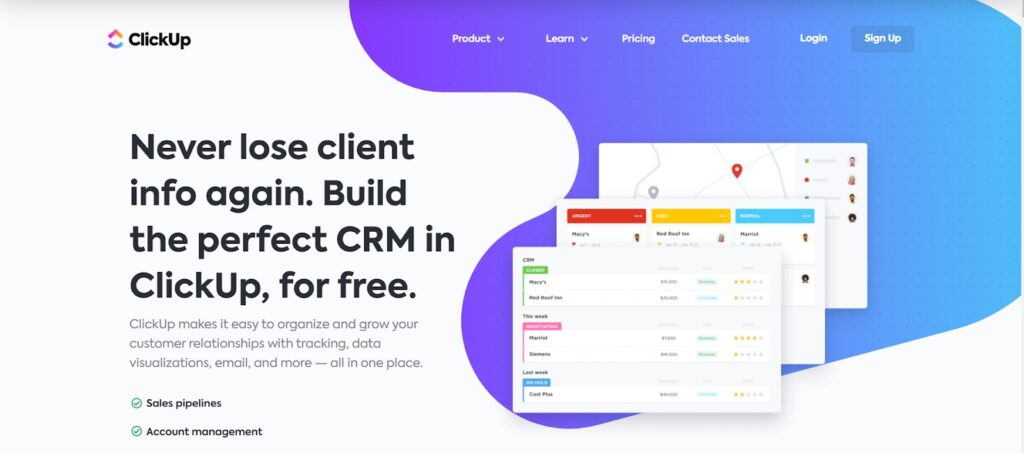 Based on our extensive research and comparison, ClickUp is best for remote teams with its built-in time tracking features. It also offers a feature-rich free plan, making it a great alternative to monday.com Free CRM plan. 
Learn more about ClickUp here.
Leia mais:
Clickup Review: In-Depth Reviews Of Its Features, Pricing, Pros & Cons
Conclusão
Overall, we recommend monday.com CRM for startups, small businesses, and medium-sized companies with team members wearing multiple hats that want an all-in-one, affordable software solution to keep track of all projects, sales, marketing, and customer support activities.
With its automation features, high customization capabilities, and ready-made CRM templates, you can set up your CRM quickly and easily.
We do not recommend monday CRM for large businesses that have sophisticated sales needs. Força de vendas would be a better option.
If you're interested in learning more about segunda-feira. com, why not start with its free plan to learn about it first-hand?