The Webflow pricing can be a bit confusing. With 12 plans available, it's not always easy to figure out which one is right for your needs. So to help make the decision easier and more fun, we've put together this guide on how you should pick the right plan for your new website!
Webflow prices and plans are notoriously confusing, especially at first glance. It's easy to get lost in the numbers and technical jargon that Webflow uses for its pricing plans.
Today I'm going to break it down (for you), so once we're done here, choosing which plan will be best suited for your needs or clients won't seem like such a daunting task!
Webflow Pricing: Overview and Summary
How much is Webflow?
Webflow's site plans start at $12 per month. But for those looking to build an online store, you'll need a Webflow Ecommerce plan which starts as low as $29/month.
There are also account plans that start at $16 per month for you to unlock additional features. Account plans are designed for agencies or freelancers but don't come with hosting.
If you're not very familiar with Webflow features, you can read our detailed Revisão do fluxo da Web.
Is Webflow free?
Webflow lets you build and publish two websites for free on a Webflow subdomain name. With Webflow, you get to play around with all the features before launching your website. Then, once it's ready, just add a Site plan (that doesn't require credit card information) and go live!
Você pode usar o Webflow gratuitamente aqui!
Other than Webflow, you can check out the below alternatives:
Webflow Site Plans vs Account Plans?
The main differences lie in hosting and custom domain connection.
Webflow site plans are great for businesses and individuals who want to build their website, connect to a custom domain name and let Webflow handle the hosting.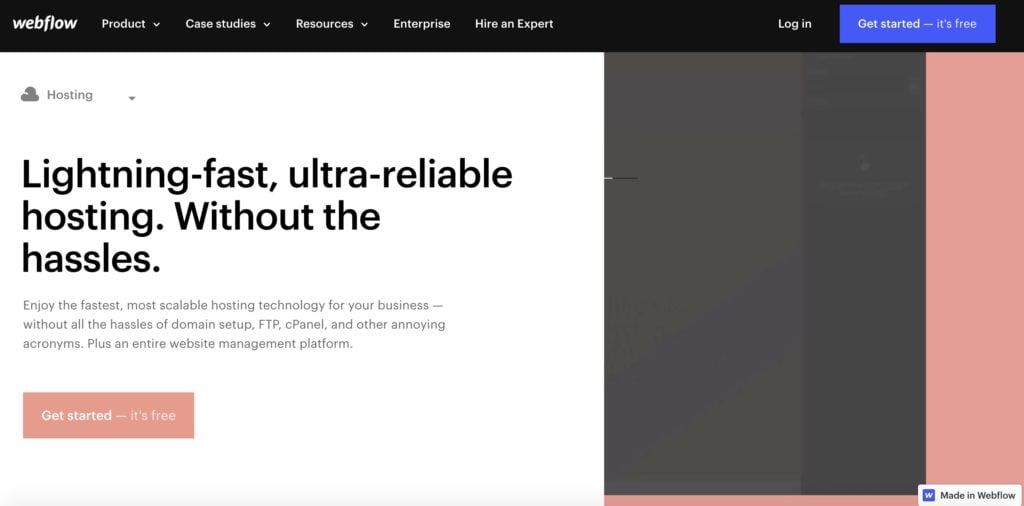 Account Plans are suitable for freelancers and agencies to build projects for their clients without hosting and connecting to a custom domain on Webflow.
Webflow Pricing Plans and Prices
Webflow has a great variety of plans to suit everyone and every business. For example, there are website site plans that start at $12 per month, eCommerce site plans that start at $29 per month, and Account plans for freelancers and agencies with up to 10 projects that start at $16 per month.
Você pode conferir Preços do Webflow aqui.
Planos de sites do Webflow
Webflow site plans are great options for those who need to quickly produce and publish their website, blog, or online store.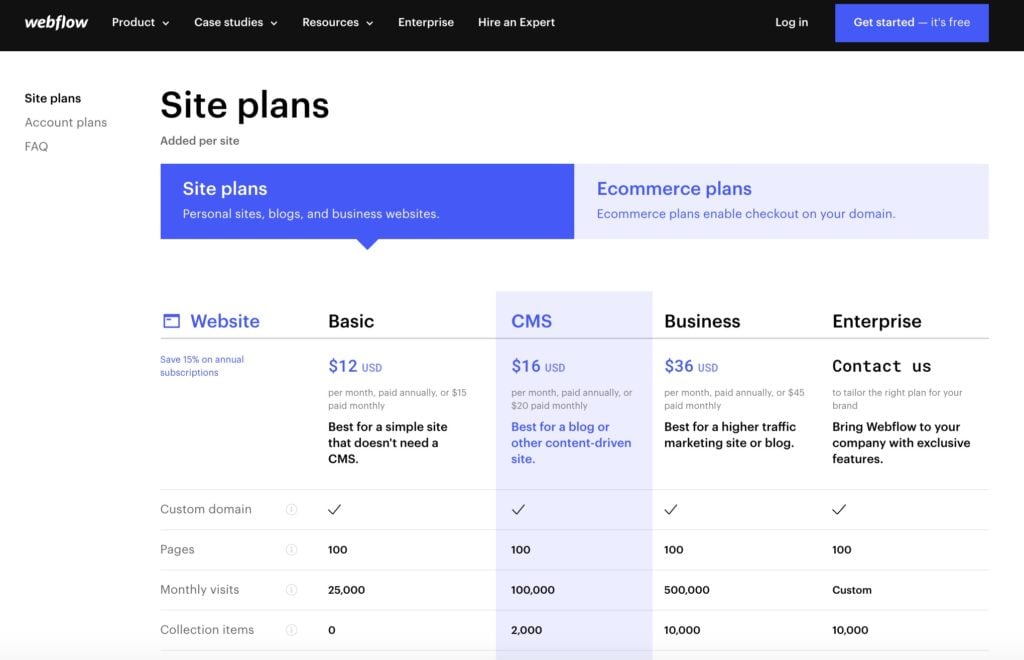 There are two types of site plans – site plans (yes, as if it's not confusing enough… it's still called "site plans" according to Webflow's official website. Let's call it website plans for easier distinguishment below.) and eCommerce plans.
Unlike account plans, Webflow site plans come with web hosting, so you can focus on designing your site instead of worrying about technical details like server maintenance.
In addition, you can use custom domain names, such as www.yoursite.com – one benefit over the Account-plan websites!
Webflow Website Plans
The difference between tiers of website plans mainly lies in monthly traffic limits, storage, and features. Webflow offers 4 different website plans to accommodate any business needs, whether you want to build a personal website, a blog, a business website, or more!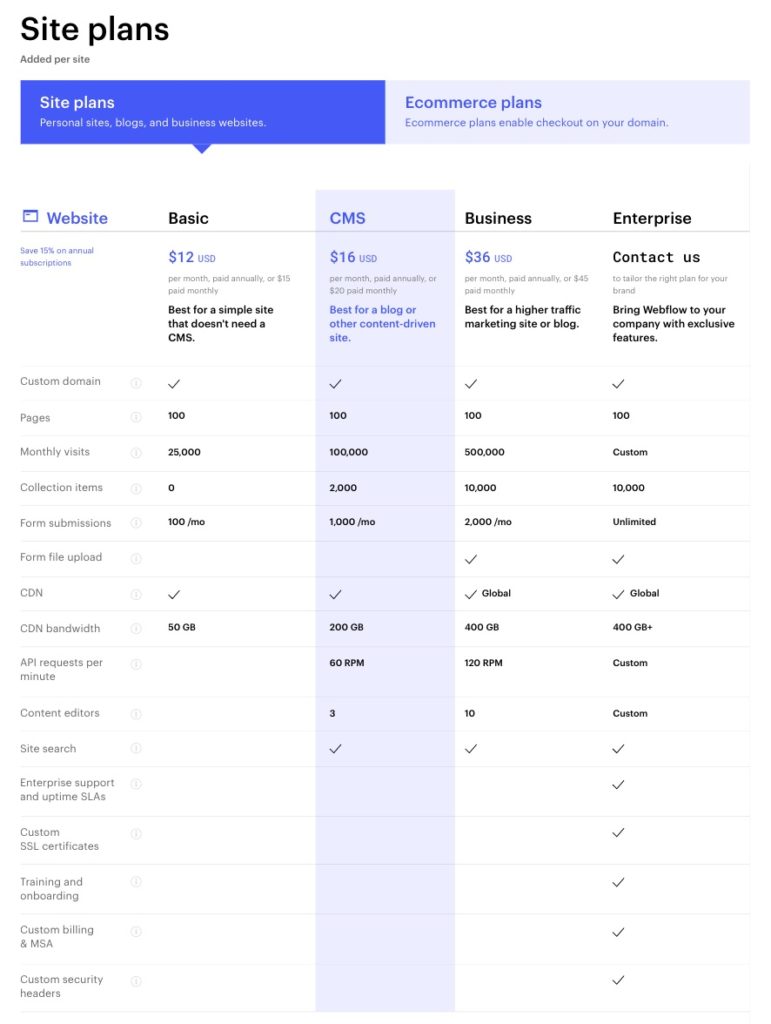 Webflow Basic Site Plan
The Basic website plan is perfect for people who want to build a simple site. It starts at $12 USD per month when billed annually, and includes up to 100 pages with 25,000 monthly visits! Unfortunately, this plan does not include the CMS that many other plans offer – but it's great if you just need something basic.
Wbeflow CMS Site Plan
The CMS plan is perfect for any blog or content-based site. This plan can handle up to 100,000 monthly visitors and includes a couple additional features such as search functionality. In addition, the CMS Plan starts at $16 per month when billed annually – saving you about two months of subscription!
Webflow Business Site Plan
The Business site plan is the perfect choice for anyone who needs a website that can handle the ever-growing number of visitors. You get unlimited form submissions, 400 GB CDN bandwidth (double that of CMS plan), and up to 500k monthly visits for only $36 per month when billed annually.
Webflow Enterprise Site Plan
Webflow Enterprise plan is the perfect plan for anyone who wants to create a website with over 400GB bandwidth, custom SLAs, more than 10 content editors, custom SSL certificates, enterprise supports, and more.
You get everything in the Business package, plus extra features like support and customization options! You'll need to contact the Webflow team for custom pricing.
Você pode usar o Webflow gratuitamente aqui!
Planos de comércio eletrônico do Webflow
You want to make sure your store has all the necessary features for a successful eCommerce site.
First, of course, you'll need a shopping cart and checkout page that allows customers to place orders. Still, you also have some other essential steps like managing inventory and handling shipping on physical products!
The site plans we just looked at do not provide these essential features above. So this is where the Webflow Ecommerce plans come into place.
There are three eCommerce plans, and all of them include the following features:
Custom checkout
Custom shopping cart
Custom product fields
Email customization
Integrated CMS
Payments secured by Stripe
Automatic tax calculation
Apple Pay and Web payments
Paypal payments
Facebook and Instagram integration
Google shopping integration
Google Analytics Integration
MailChimp integration
Custom code
Configure manual shipping rules
The difference between the three plans lies in the number of items, transaction fee, staff accounts, yearly sales volume, and some advanced features.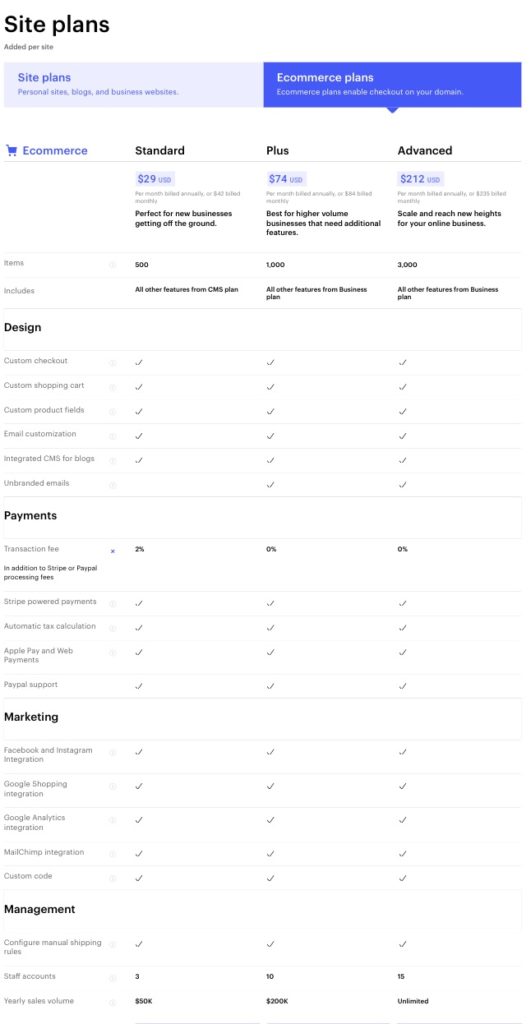 Webflow Standard eCommerce Plan
This plan is perfect for new eCommerce sites that are just getting started with less than $50k yearly sales volume. The Standard Plan offers all the features you need to start selling products on your website and includes 500 items, 3 staff accounts, include all features from the CMS plans above at $29 per month if billed annually.
Webflow Plus eCommerce Plan
If you're a more established business and bringing in up to $200k per year, then your best bet is the Plus plan.
This package includes 1,000 items, 10 staff accounts, and all of the features from the Business website level at no extra charge with this tier – unlike Standard, which charges transaction fees on top of payment processor fee prices. The Plus plan starts at 74 USD billed annually.
Webflow Advanced eCommerce Plan
This plan is for eCommerce stores that are scaling beyond $200k in annual sales. It supports unlimited sales volume, includes up to 3,000 items, 15 staff accounts, and all the features of the Plus plan.
The Advanced Plan starts at $212 per month billed annually.
Webflow's tiered pricing plans are designed to be as flexible and accommodating for businesses at different stages as they can.
Você pode usar o Webflow gratuitamente aqui!
Webflow Account Plans
In the world of freelancers and agencies, it's always important to set up multiple projects with ease. That is where Webflow Account Plans come in handy!
Webflow is a fantastic service because they offer so many different account plans.
They have a free plan for those who want to test out Webflow without any obligation and two more levels of individual accounts: Lite and Pro, which cost $16 and $35 per month, respectively, depending on what features you need.
There are two types of Team plans Team and Enterprise. We'll look into more details below.
All Webflow account plans include the following features:
Unlimited hosted projects
Access to 100+ responsive templates, which include both free and premium options
Custom fonts: upload your fonts or add Google fonts for free
Customized client billing
3D transform
Flexbox and CSS grid to build responsive layouts visually
Create custom animations and interactions without coding
Global swatches
Reusable symbols to update across your site in one edit
It's important to note that you won't use a custom domain with any of the Webflow Account plans. Instead, you'll need to purchase a Site plan if you ever want to connect to a custom domain.
Individual plans
The Individual plans are perfect for web design freelancers to create and manage multiple projects for their clients.
When the project is finished, the clients can choose a Site plan to host their website with Webflow and connect to a custom domain or get the exported code and host the website elsewhere.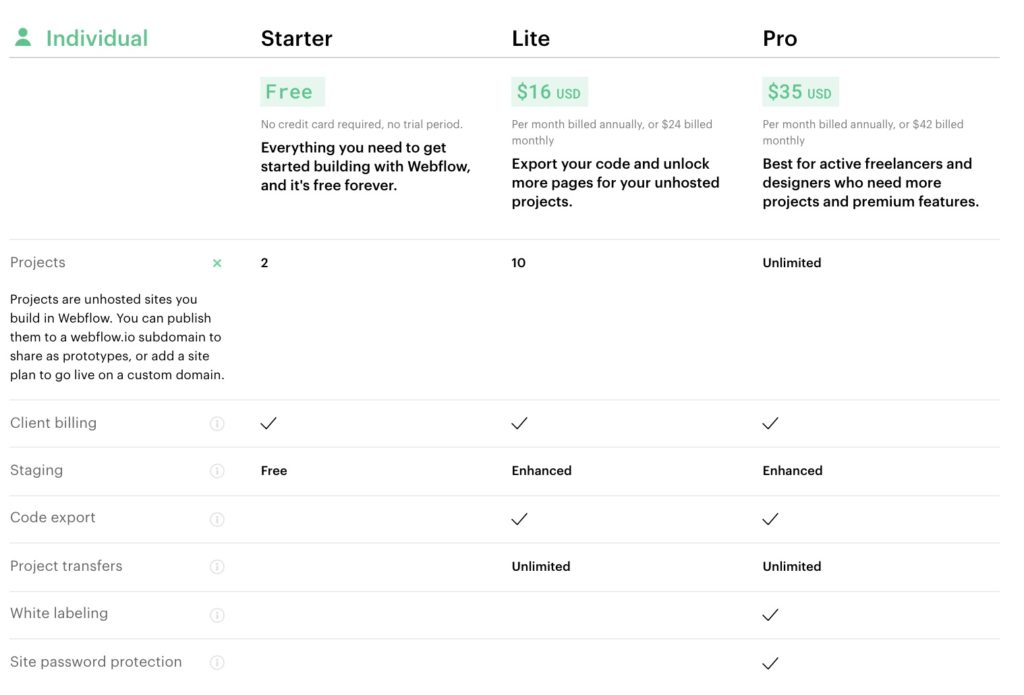 Starter Plan
With the free starter plan, you can create two websites with Webflow. You get all of the features necessary to design your website without providing the payment information or worrying about a temporary trial period! However, it includes limitations like not exporting your code or transferring your site to another account unless upgrading plans.
Você pode usar o Webflow gratuitamente aqui!
Lite Plan
The Lite account upgrade gives you an increased project limit of 10 and allows for the exporting and transferring your work. It also includes enhanced staging. Pricing starts at $16 per month when billed annually.
Plano Pro
Webflow's Pro account plan is for the freelancer who needs to work on more than 10 Webflow projects. This pro version of their plans includes unlimited projects, white labeling, and password protection. The Pro Plan starts as low as $35 per month when billed annually.
Team plans
The Webflow Team Plans are an excellent choice for agencies. It allows team members to collaborate on projects together in a shared dashboard.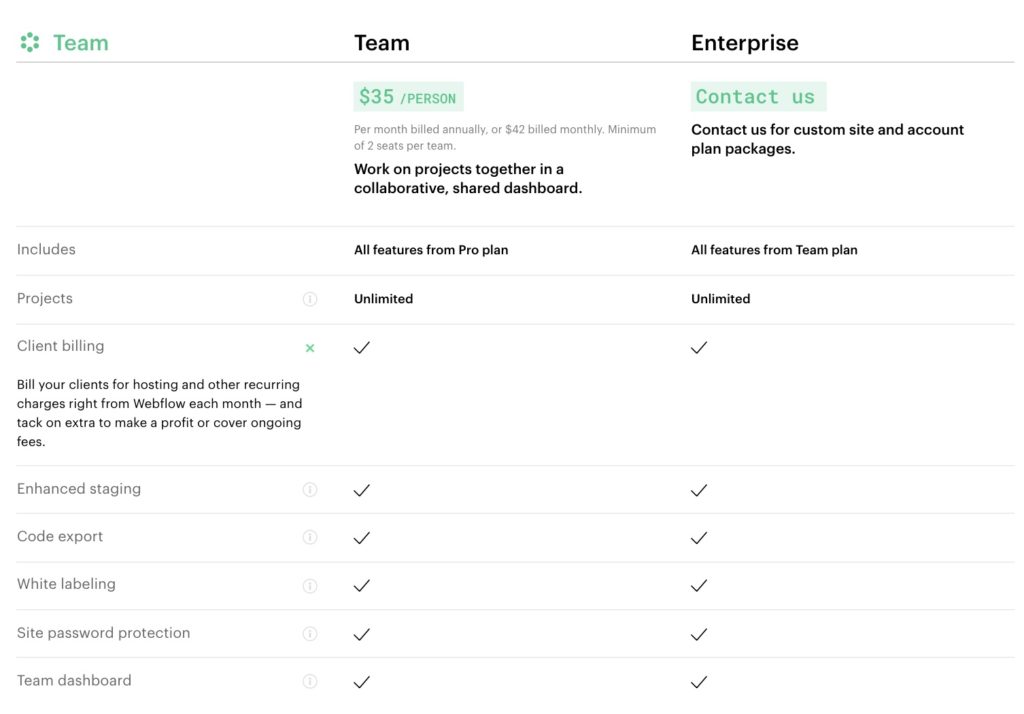 There are two types of plans.
Team Plan
The Team account plan includes all features from the Pro plan and unlimited projects. The main highlight is the access to the team dashboard that makes it easier to collaborate with team members and manage your time more efficiently! It starts at $35 per person per month when billed annually.
Enterprise Plan
If you're a large company and want to create your custom plan, consider this Enterprise option. It includes Team features plus anything else that fits into your needs.
Which Webflow Plan is Right for You
After learning about all of Webflow's plans, you may already know which plan or plans are best for your needs. But just in case – here is a quick look at the common use-cases for each one.
If you need to use a custom domain and want to have Webflow handle your hosting:
Basic Site Plan: if you need a simple and small website
CMS Site Plan: If you're building a blog or a content-based website
Business Site Plan: if you're building a site that is scalable and expecting more than 100k monthly visits
Standard eCommerce Plan: if you're just starting an online store with less than $50k annual sales
Plus eCommerce Plan: if you own a medium-sized online store with $50k to $200k yearly sales volume
Advanced eCommerce Plan: if you run a large online store with more than $200k annual sales
If you're building more than two sites, are a freelancer, or work in an agency:
Lite account plan: if you have less than 10 projects
Pro account plan: if you have more than 10 projects at the same time, require white labeling and site password protection
Team account plan: if multiple team members are working on the projects
Você pode usar o Webflow gratuitamente aqui!
Webflow Pricing: Conclusion
Webflow is a website builder that is often seen as the WordPress alternative. It aims to make it easy for anyone, even those who are not tech-savvy and have had no experience building websites before, to build their site.
It's a highly user-friendly interface paired with many advanced features that ensure you get your new site's exact look and feel – whether personal or professional.
Regardless of whether you are building a website for yourself or freelancing/agency work – we suggest trying out the free starter plans first to see if this site builder suits your needs best!
Leia mais:
O que é Shopify e como funciona? Venda e ganhe dinheiro na Shopify
Preços, planos e taxas da Shopify explicados
Shopify Review (2022): os prós e contras de vender com Shopify
Shopify Dropshipping: como fazer dropship na Shopify e nos melhores aplicativos de dropshipping
Tutorial Wix: Como usar o Wix para criar um site (guia passo a passo)
O que é WordPress? Um guia para iniciantes para começar a usar o WordPress
8 melhores plataformas de blog para ganhar dinheiro (comparadas e revisadas)