Whether you are new to Search Engine Optimization or want to revisit core SEO concepts, this is where you can find SEO knowledge.
This article provides an introduction and overview of Search Engine Optimization (SEO), an essential marketing tactic if you want your website to be found on search engines like Google.
We'll cover everything like:
What is SEO
The difference between SEO and SEM
Black hat SEO vs. White hat SEO
How do search engines work: crawling, indexing, and ranking
Choosing keywords
On-Page SEO
Off-Page SEO
How to write SEO content
Link building strategies
Technical SEO
and more.
Let's first go over the definition of SEO.
What is SEO?
SEO, which stands for Search Engine Optimization, is the process of getting pages to rank higher on search engines like Google.
In other words, SEO is about improving a site's rankings in the organic search engine results.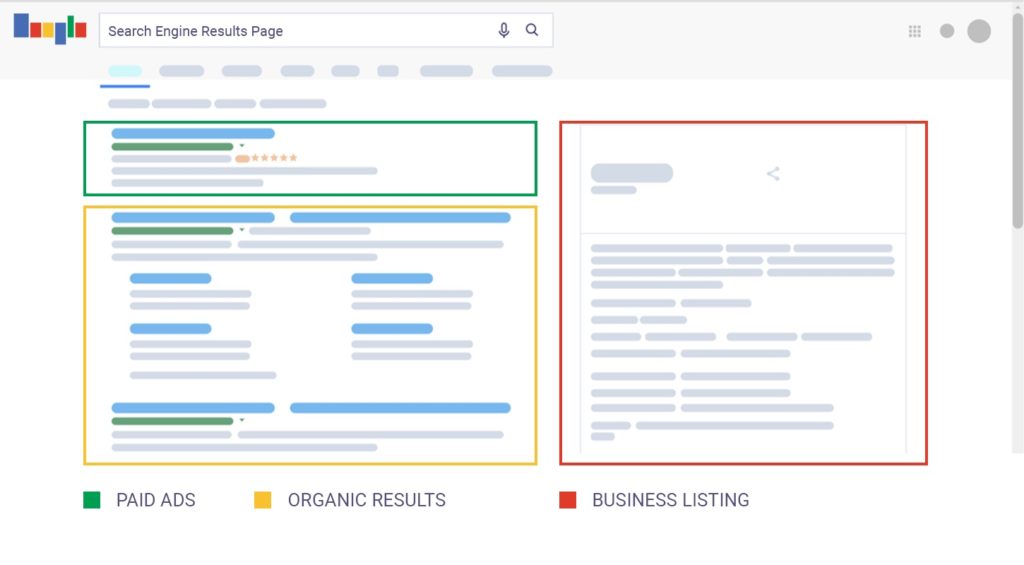 SEO vs. SEM
SEM stands for Search Engine Marketing. There are different opinions towards the definition of SEM.
Some say SEM strictly refers to getting traffic via paid advertising like PPC (pay per click).
While some define SEM as a marketing tactic that aims to promote websites by increasing their visibility on search engine result pages (SERPs) that include methods like Search Engine Optimization (SEO), paid placement, and paid advertising like PPC.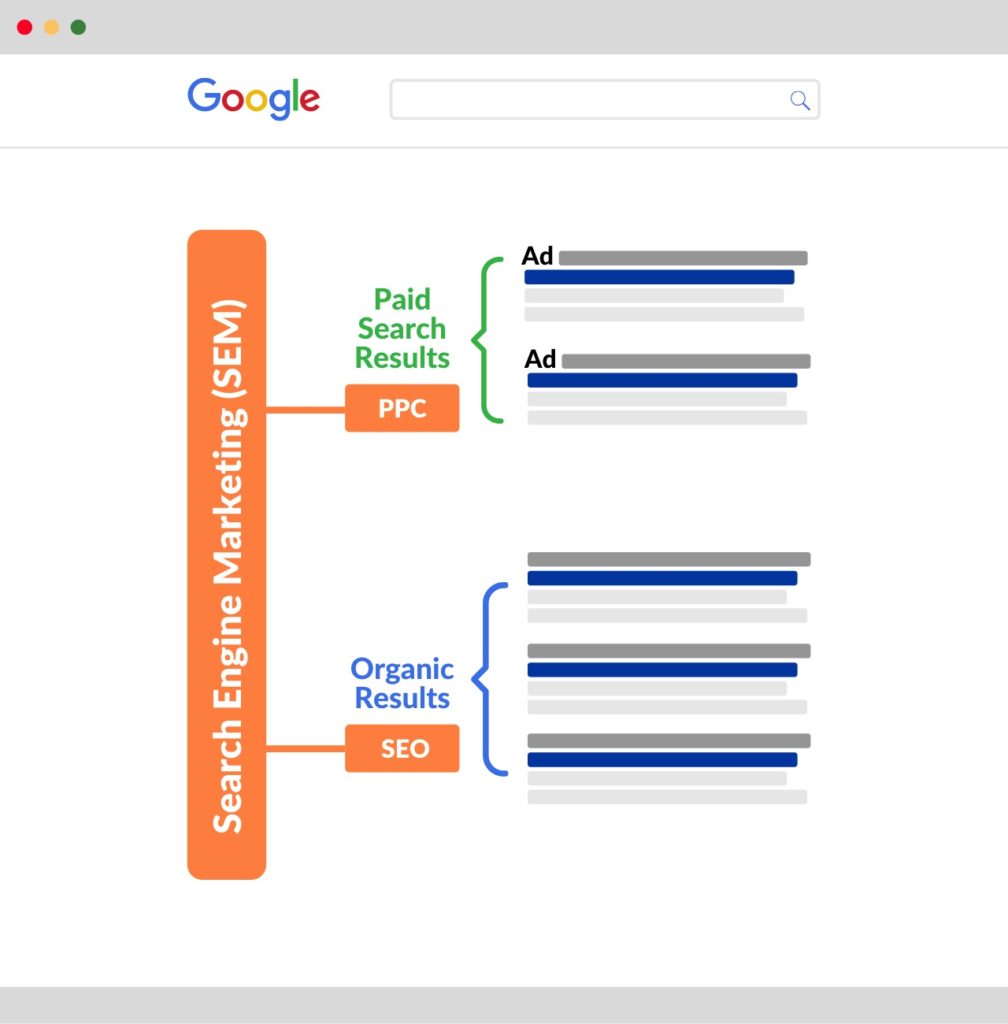 The main difference between SEO and SEM is that SEO involves organic ranking, which means you don't pay to rank higher.
In other words, SEO means optimizing site pages so that search engines like Google display it at the top of the organic (non-paid) search result section when someone searches for something (a keyword).
The main benefit of ranking higher for a keyword is getting "free" traffic to your website month after month.
Why is SEO important?
The goal of SEO is to increase organic quality traffic to your website. The higher your site ranks in the search results, the more the organic traffic, the higher your revenue.
Here are some SEO statistics that tell the facts:
Black-hat SEO vs. White-hat SEO
It takes time to see results from your SEO efforts. Generally, it takes at least six months for new sites to start ranking on search results.
However, some people want quick wins and implement black hat SEO tactics like keyword stuffing and obtaining links from Private Blog Networks (PBNs), which violate Google's Webmaster Guidelines. The results from these tactics are short-lived and would even result in being penalized by Google.
On the other hand, white hat SEO is a sustainable, ethical way to optimize a site. A widely accepted definition of white hat SEO is that it follows Google's Webmaster Guidelines.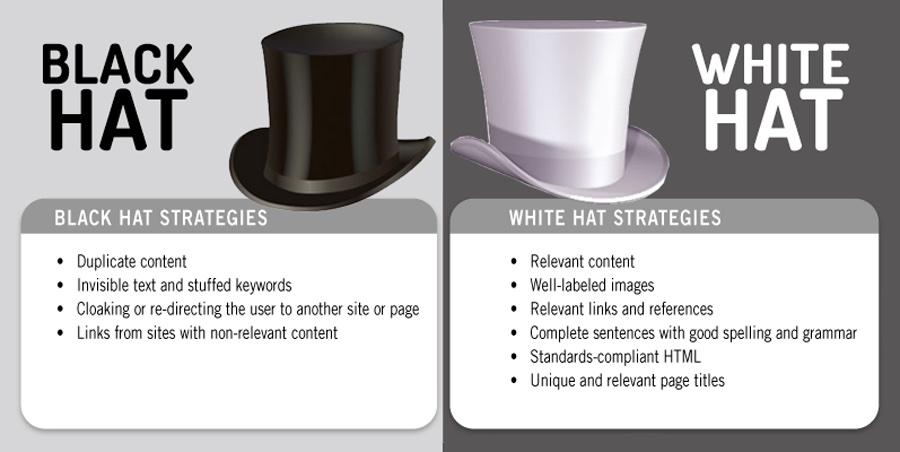 We share below is white hat SEO that focuses on driving long-term, sustainable results for your business.
You can learn additional white hat SEO ideas and techniques by watching some of the best SEO courses available online.
How do Search Engines Work?
How do search engines like Google determine what pages go to the top of the organic search result page?
Search engines work by crawling, indexing, and ranking.
Search engines crawl hundreds of billions of pages by searching the web using their web crawlers, commonly referred to as search engine bots or spiders.
These bots or spiders effectively follow links from page to page to find new content and add it to the search index.
When using a search engine, the relevant results are pulled from the index and ranked using algorithms.
Each search engine has its unique algorithms for ranking web pages. But as Google is dominating over 90% of the search market, we'll focus on it throughout our guide.
Google ranking systems are designed to find the most relevant, beneficial results that help searchers find what they're looking for.
The ranking systems are made up of a whole series of algorithms consisting of hundreds of ranking factors.
Nobody knows what all these ranking factors are. Plus, Google updates its algorithms regularly.
But there're a few key factors that we do know:
Relevancy
Quality
Topical Authority
Freshness
Backlinks
Page speed
These factors ultimately tie to on-page SEO and off-page SEO that includes keyword research, content optimization, link building, website health, and more. We'll explain how they relate in the following.
Now, let's go through them!
On-Page SEO
On-Page SEO, also known as on-site SEO, is the practice of optimizing web pages for specific keywords to improve search results ranking and search traffic. It involves aligning some aspects such as title tags, URL, headings, content, image alt text, and internal links with keywords. As a result, they establish your relevancy, quality, and topical authority.
Content SEO
The content of a page is what deserves a search results ranking. It is what the searcher visits your site to see and is therefore extremely important for search engines.
From an SEO point of view, good content satisfies searchers' intent – meaning the page gives what the searchers looked for when they googled a keyword.
For example, if you google "how to tie a tie," Google returns videos at the top. It is because Google thinks that videos can best answer searchers' queries in this case. (I mean, having a video to show you how to tie a tie is much more efficient than reading an article, right?)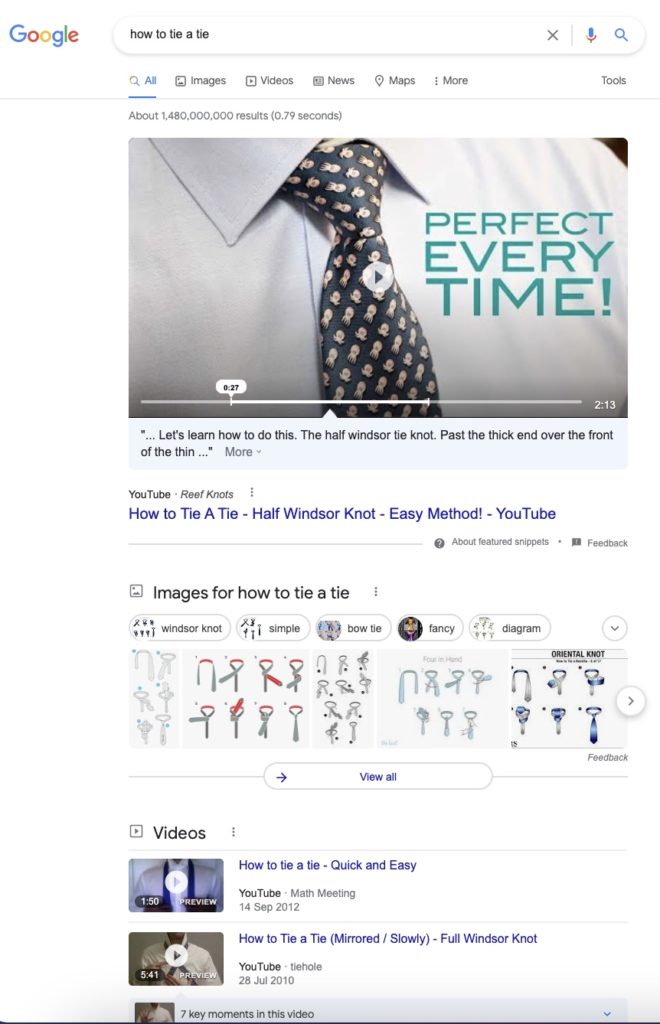 And if you google "best chatbot," the search engine returns web pages that contain the best chatbot recommendation in article or listicle form. They are content that best satisfies searchers' demand.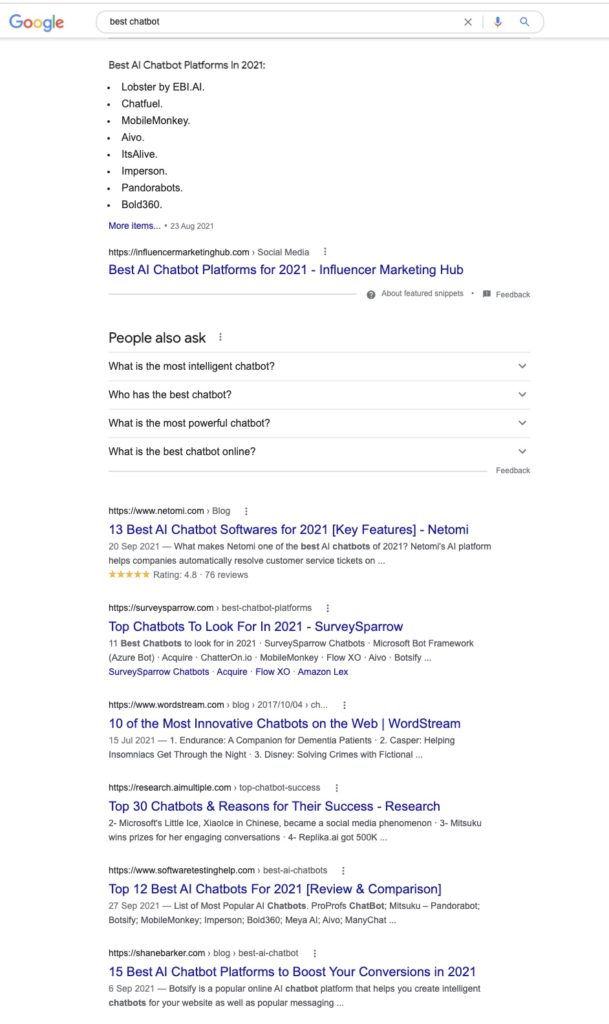 So, what determines which web pages or content rank on top of search results? Here are a few crucial ones:
Relevancy
Essentially, it's about how relevant your content is to satisfy the search intent.
As illustrated above, Google smartly identifies what form of content best matches searchers' demand. It works the same within the content form.
When creating content, bear in mind what your target audience is looking for when they google the keyword. For example, you can't create a piece of content about the "best gyms in Hong Kong" and target "home gym equipments" as your primary keyword. It doesn't make sense because when people search for the best gyms, they're looking to join a gym studio instead of buying gym equipment at home.
Quality
Creating great content is never easy. First, you have to create quality content that solves someone's problem, is engaging, and even better than all similar pieces of content out there on the Internet.
From what I observed, there are five levels of content quality out there:
Lowest quality content: scrappy plagiarised content written by a machine, which doesn't make sense. You can typically spot this type of content a mile away.
Low-quality content: scrappy content stuffed with a bunch of keywords for the sake of ranking. Many content farms use such tactics to acquire traffic by producing a high volume of keyword-stuffed, AI-generated content.
Original content: many company blogs produce original content for customer education and content marketing purposes.
SEO-optimized unique content: some companies have an in-house SEO team planning and optimizing blog articles written by their in-house writers or freelance writers. Usually able to rank for low- to mid-competition keywords.
SEO-optimized exceptional content: companies who invest abundant resources in content marketing and SEO can usually produce this type of content to compete for high-competition keywords.
Essentially, if you want to rank for keywords to acquire organic traffic, you need to produce search engine optimized unique content and even exceptional content.
Venturer has a 90:10 ratio of content quality, meaning 90% of the content is SEO-optimized original content, and 10% is SEO-optimized exceptional content.
We mostly create SEO-optimized original content because we strategically target more low- to mid-competition keywords. And for pillar posts like this one, we're aiming for the highest quality possible. I find this strategy works best to allocate resources effectively.
I've worked with clients who can afford up to a 50:50 or even 10:90 ratio. They are usually post-Series A startups in a highly competitive SEO landscape and have the resources to invest in SEO.
For startups just starting and might not have that many resources, you would need to smartly identify and choose target keywords to achieve optimal results within limited resources.
Freshness
Google's freshness algorithms were rolled out in 2011, impacting 35% of total searches, focusing on providing searchers with fresher, more recent search results.
Besides regularly posting new content to your site, you should update your existing content by adding new information, refreshing old statistics with new data, or removing outdated information to keep your article relevant to the readers.
Keyword Research and Selection
We've briefly touched on the term "Keyword." What exactly is a keyword, and how do we do keyword research and decide on what keywords to target?
What is a Keyword
A keyword is the search term that you want to rank for with a specific web page. When people search for that keyword or query on search engines like Google, ideally, your web page appears on the search results.
How to do Keyword Research
How do you know what people are searching for on search engines? Here's when SEO tools like Semrush come into play.
These tools use their unique technology to scrape data and create a massive database that estimates keywords' monthly search volume, difficulty to rank, and many more useful metrics for users to research keywords.
In other words, they show you what people are searching for.
The world's changing every day, so do the keyword metrics. Some new keywords might come up as more people searching for them, and some might eventually go away when they become irrelevant.
The competition is also constantly changing. Your competitors could create high-quality content to compete for the keywords you're already ranking for. Therefore, keyword research is not a one-and-done thing. You have to do it regularly to monitor your existing keyword rankings closely and identify new opportunities.
If you want to learn more about keyword research, you should create a free account on Semrush to see the data yourself.
When you go to their keyword research tool, you'll probably see hundreds of keyword ideas. Now, how do you choose the right keywords to target?
Choosing the Right Keywords
When choosing target keywords, here are three things I usually look at:
Search intent
Monthly search volume
Keyword difficulty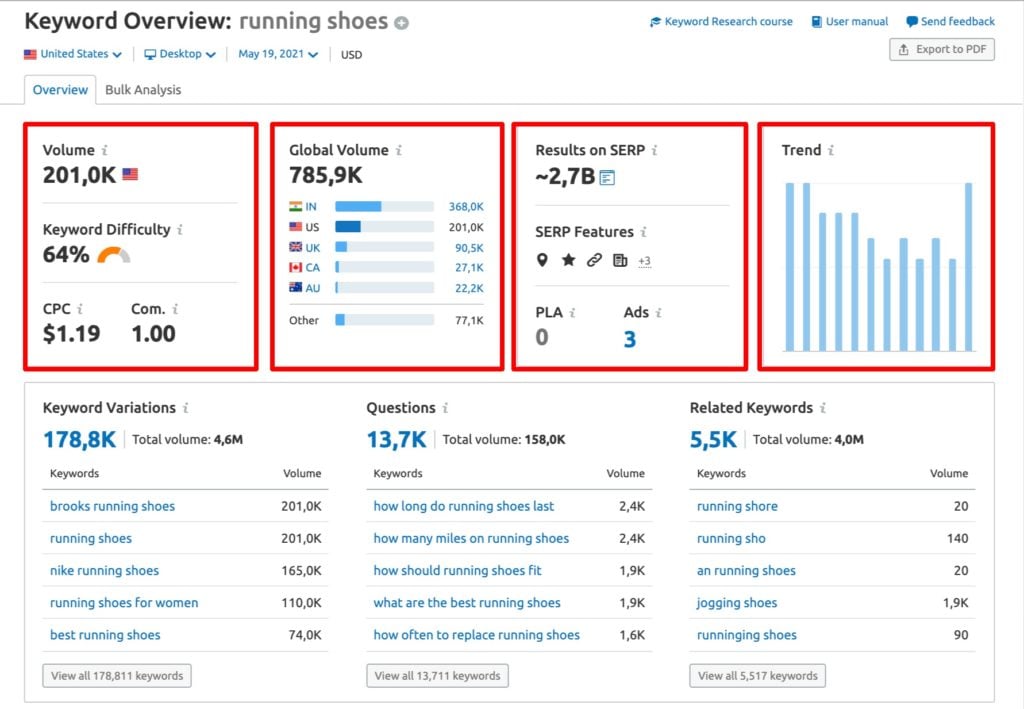 Search Intent
Suppose you sell web development services. Your service might cost a few thousand dollars to $10k.
If you're ranking top for "how to develop a website yourself," what kind of audience you're attracting?
Your page visitors are people who want to develop a website themselves instead of looking to hire a web development agency.
That keyword could send you thousands of site visitors per month, but they're the wrong audience that simply won't convert or become your customers.
In that case, you'd be better off targeting a different keyword that matches the search intent with your services. For example, "web development agency" or "web development services." These keywords might have much lower search volume, but if just a few people who visit your page convert, you're already pocketing excellent revenue.
Monthly Search Volume and Keyword Difficulty
In an ideal world, as long as you have the right search intent, the higher the monthly volume, the better, right?
When more people compete to rank for the high search volume keyword, the harder it becomes to rank for the keyword. So you can expect that everyone wants to rank for a 100k search volume keyword than a 100 one.
Therefore, you have to strike a balance between monthly search volume and keyword difficulty.
If your new website target a keyword with 100k search volume and a keyword difficulty score of 80, you're unlikely to rank on the first page of the search results and acquire any organic traffic.
However, if you target the keyword with 100 monthly search volume and a difficulty score of 5, it's much more likely that your page can rank at the top and probably acquire 30 to 50 clicks per month. That's far better than not receiving any clicks at all.
Now, let's move on to other parts of on-page optimization.
Title Tags
A lot of people confuse a title tag with an H1 tag. But they are different.
A title tag is an HTML element that specifies the web page title. Your page title is what appears as the clickable headline in the search engine results page (SERP). Your page title is also displayed at the top of your browser tab.

An H1 tag content is shown as the page's heading and not shown on search engine results.
People often use the same content for the H1 and title tags for blog articles. Either way, you would want to use the title tag wisely by including your primary target keywords and writing an engaging title to attract searchers to click. The recommended length is 30 to 60 characters.
Meta Description
The meta description is another HTML element that summarizes a web page's content. It is shown below the title tag on the search engine results page.

Although search engines say there is no direct SEO impact from the meta description, there's no harm in optimizing it by including your keywords and writing it engagingly.
In the past, search engines display the meta description website provides. However, recent development shows that there's no guarantee Google will display the meta description you've written. So instead, search engines now rewrite your meta description to show what they believe can best summarize your page.
But, since there are still chances that search engines will show your written meta description, it's always worth the effort optimizing it for your page.
Subheadings
Subheadings are content with heading tags like H1, H2, H3, etc. These headings help Google understands what the article or web page is about. In addition, they organize your content for easier navigation and reading.
It's recommended to include target keywords in headings, but you should avoid keyword stuffing.
URL Slug
URL slug is part of the URL that tells search engines what the content is about. You should include your primary keyword there.
In the below image example, "SEO tools" is the URL slug. It tells search engines that this page introduces readers to SEO tools.

Alt Text
Alt text is used within an HTML code to describe an image on a page. Search engines use alt text to understand what your image is about and to describe the image to the visually impaired.
When writing alt text, you should adequately describe your image and insert keywords when appropriate.
Technical SEO
The final component of our on-page SEO introduction is technical SEO.
Many factors go into technical SEO, like site architecture, page speed, mobile-friendliness, and website security. All of them ultimately lead to a better user experience and enhancing your website's crawlability.
Since search engines care about user experience a lot, a well-structured, easily crawlable website that loads fast, is mobile-friendly, and has a safe connection would make your website easier to rank.
If we have to delve into the details of technical SEO, I could write a whole series of articles to explain it step by step. But for beginners or anyone without coding background, how do you ensure your website is technically optimized?
First, you should use website builders like Webflow and WordPress, which are more SEO-friendly. For anyone who wants to get started quickly, use Webflow. It's easier to set up compared to WordPress.
Here's our detailed comparison of Webflow and WordPress.
If you use WordPress, you need a web host. Some of the best ones for beginners are Hostgator and Bluehost, which start at US$2.75/mo.
When picking a web hosting package from an SEO perspective, we prefer to provide fast loading, high uptime, and stable connection. Shared hosting is the cheapest option that starts at US$2.75/ mo, but website loading is slow compared to higher-tiered plans. If you prefer better website performance and have the budget, consider WP Engine for managed hosting.
If you've already set up a website, you can use technical SEO audit tools to automate technical issues monitoring and reporting. Here are a few good ones:
Semrush: a full-suite SEO tool that includes detailed technical SEO audit
Google PageSpeed Insights: a free tool to check your site speed on desktop and mobile
Google Search Console: a free tool to measure your site's search traffic and monitor technical issues detected by Google
There are still many more elements to on-page SEO. I couldn't cover them all here, but these are the key ones you should know as an introduction to SEO.
Off-Page SEO
Off-Page SEO, also known as off-site SEO, refers to actions taken outside of your website to influence your ranking on the search engine results pages.
One core element is by having other reputable websites linking to your website (a backlink). In search engines' eyes, a backlink is a vote of trust from one site to another.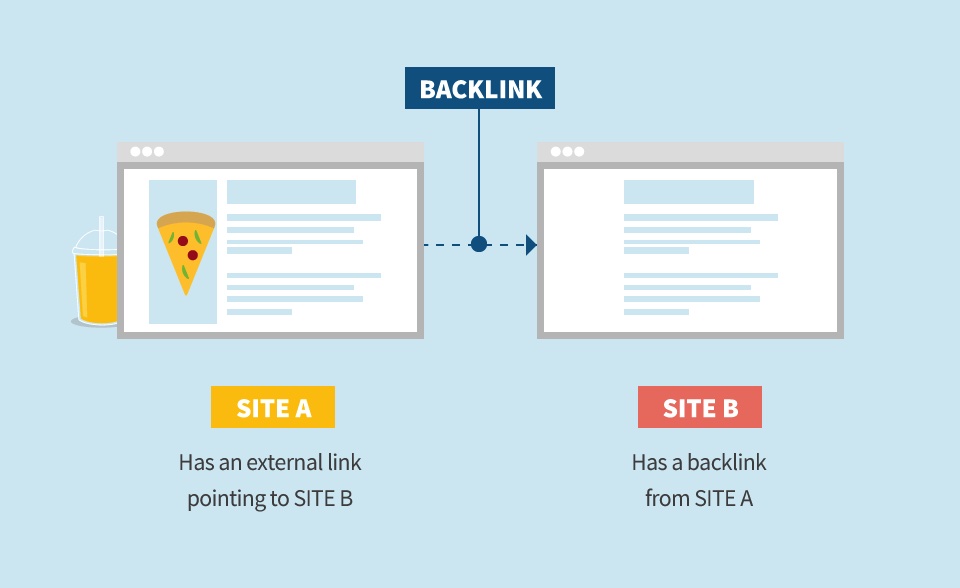 Brand mentions (without a hyperlink to your site), social media profiles, reviews, videos, etc., are also signals that search engines identify to evaluate the trustworthiness and authority of your site.
In other words, off-page SEO tells search engines like Google what others think about your site. So, for example, if your site got a lot of links from authoritative sites, Google would assume that your site got great content.
Think about it: why would people link to your site?
People only cite, reference, and share content they find valuable to their readers, which means that the more backlinks, the more "vote of quality."
Therefore, link building is critical to SEO.
Link Building
There are several ways you can build links. The ideal is to "earn it," meaning that you create exceptionally high-quality content that people link to it organically. But this rarely happens to new sites.
Another way is to earn links through guest blogging. Writing guest posts is a powerful strategy for link building. Generally, when you contribute a guest post to a site, the site allows you to add a link to your site in the body content or the author byline.
I regularly guest post on high Domain Authority (DA) sites. Here are some examples:
However, not all links are created equal. For example, a link from Forbes is more valuable than a link from a random blog on the Internet. This relates to what I just briefly touch upon – Domain Authority.
Domain Authority is a score developed by Moz that estimates how authoritative a domain is in search engines' eyes. DA scores range from one to 100. The higher the score, the more trustworthy it is in search engines' eyes, the greater likelihood of ranking.
If you earn backlinks from high DA sites, search engines like Google will also see you as more trustworthy.
There are more concepts to link building and off-page optimization, such as:
dofollow vs. nofollow links
anchor text
disavowing low-quality links
backlink audit
and more.
SEO: Conclusion
We've covered the essential concepts of basic SEO above. However, from my experience, the best way to learn about SEO is to practice it and familiarize yourself with tools like Semrush.
Indeed, the world of search engine optimization is complicated and hard to master. It takes time to learn and practice, which is why many high-growth startups hire professional SEO services to help them accelerate organic growth.
Now that you've read our SEO guide and know the SEO basics, you can start optimizing your site! It's essential to persist through your SEO journey – you won't see results overnight. It's common to see organic traffic picking up after 6-month of consistent SEO efforts. You would need to publish high-quality content frequently, audit your site at least once a month, earn backlinks, and optimize your website for a better user experience.
If you want to read more about SEO, here're some related articles:
I'm publishing more in-depth SEO guides soon. So check back regularly and stay tuned!