Are you having trouble choosing between Spyfu vs Semrush for your next SEO campaign?
Spyfu and Semrush should be no stranger to digital marketers like you. Not only are they amongst the top competitor analysis tools, but they have also sparked a heated debate as to which of these SEO tools is an ultimate pick for taking the business to the next level.
As you may have noticed, Spyfu and Semrush share several overlapping functionalities, yet several other aspects make them stand out from each other.
While Spyfu is renowned for its competitor intelligence, Semrush undeniably comes as an all-inclusive digital marketing suite. Let's keep a level playing field in comparing the two SEO tools based on these parameters:
competitive analysis
keyword research
backlink analysis
rank tracking
pricing
Before jumping in, we recommend that you sign up for a Semrush Pro free trial and Spyfu free plan to test out different functionalities that we'll discuss in our comparison guide.
Without further ado, let's dive deep into the comparison between Spyfu and Semrush head to toe — and see which one is a more valuable competitor analysis tool for PPC and SEO.
Spyfu vs Semrush: Overview
Spyfu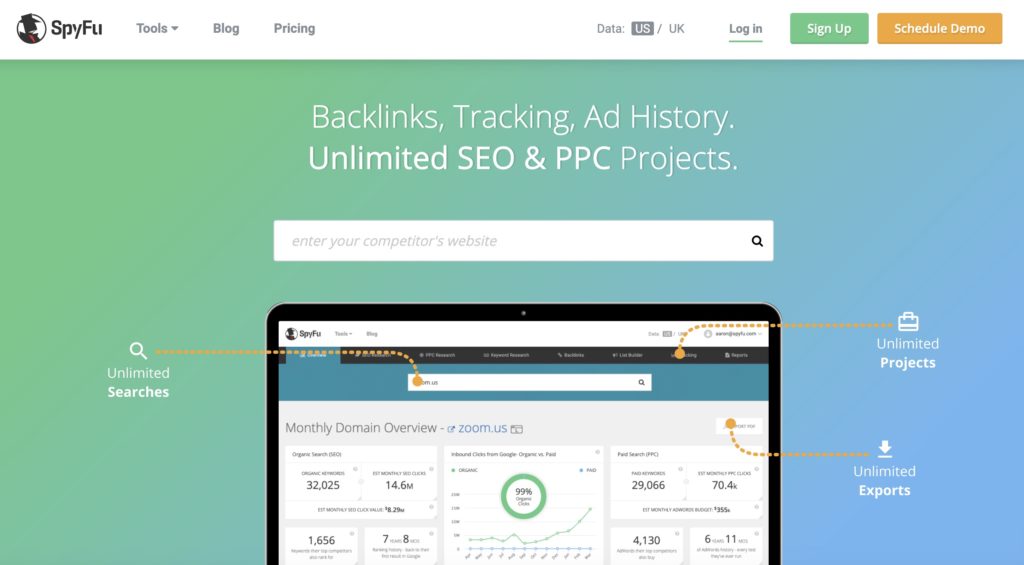 Spyfu, a competitive analysis software, was first introduced by Mike Roberts to help digital marketers engineer powerful PPC and SEO strategies.
It gathers crucial data from keyword research, organic keywords, backlink analysis, competitor research, and search engine results. This SEO tool specializes in converting the data into online marketing insights and discovering strategic opportunities for digital marketers.
Plus, the excellent user interface of Spyfu must deserve to get the credits. The synthesis of a handful amount of data has never been easier than simply entering a domain in the search bar, and then Spyfu will do the rest of the job.
No wonder such a great centralized UI as Spyfu has taken the search engine marketing industry by storm!
Semrush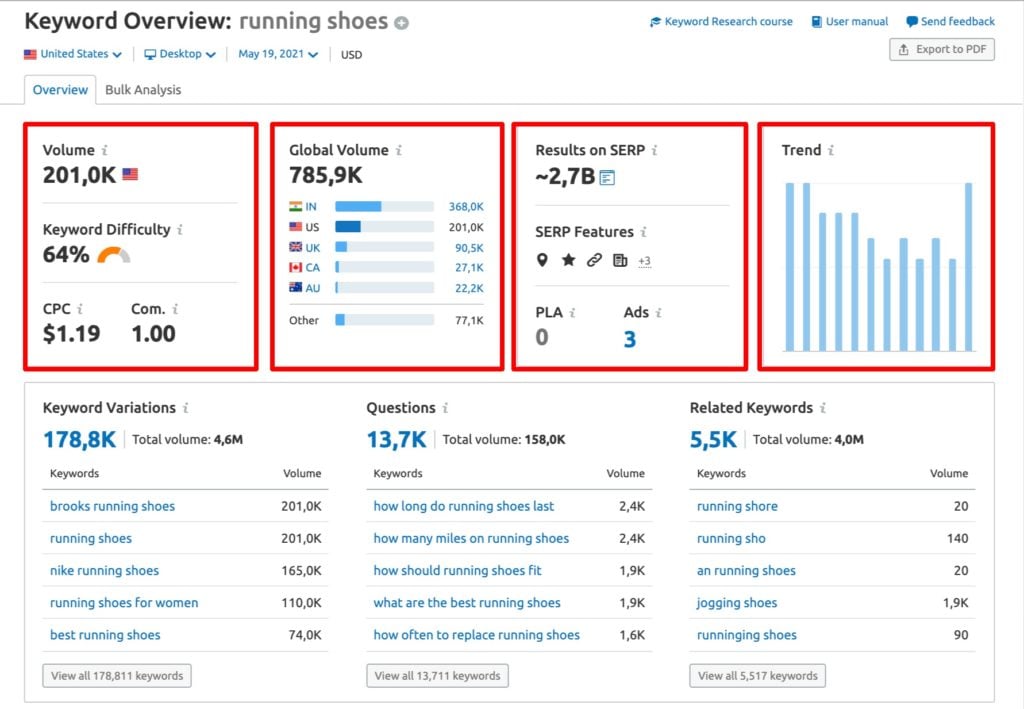 Semrush is a SaaS platform founded in 2008 to ensure greater transparency of online market competition. Over the past 13 years, Semrush has grown into an all-in-one online marketing toolkit providing leading competitive analysis services for digital marketers.
Its rich functionalities include competitor research, site audit, position tracking, organic keywords tracking, traffic analytics, backlink analysis, and more to optimize online visibility.
Undoubtedly, Semrush has helped over seven million digital marketers worldwide develop cost-effective workflows and grow cutting-edge businesses.
Spyfu vs Semrush: Main Differences
When comparing Spyfu and Semrush, the first thing to understand is that Semrush is overall a more robust SEO tool yet pricier. However, a subset of its functionalities is equivalent to Spyfu, offered at a much lower price.
A few key differences to take into account when purchasing Spyfu and Semrush:
Spyfu allows unlimited access to search engine results in higher-paid plans, whereas Semrush imposes a ceiling on search results in each plan
Spyfu dives into competitors' historical data of over ten years, whereas Semrush traces the data back to 2012, the earliest.
The forte of Spyfu falls on competitor analysis, namely competitive research and keyword research; however, the SEO capabilities of Semrush are more comprehensive than being limited to a few.
Semrush offers more functionalities such as traffic analytics, keyword rank tracking, and SEO auditing — Spyfu doesn't have
Compared to Semrush, Spyfu is a more budget-friendly option ($39/ month). Semrush costs at least $119.95/ month for a host of robust SEO features
Semrush vs Spyfu: Competitor Analysis
When a sea of your competitor analysis is unveiled across different SEO tools, why not cash in on it to fine-tune your online marketing strategies and outrank your organic competitors?
There's no way you can beat your rivals if you're in the dark about their marketing strategies.
Both Spyfu and Semrush do an exceptional job in competitor analysis. Yet, Semrush is a more comprehensive SEO suite that packs two significant features Spyfu lacks: social media and brand monitoring. Both of these are indispensable elements in the digital era.
How does each of these competitor analysis tools operate? Let's find out right off the bat!
Semrush: Competitor Analysis Tools
Semrush's Competitive Research Toolkit delves into competitor research in four dimensions:
SEO (keyword gap, backlink analytics, backlink gap)
Advertising (advertising research, display advertising, PLA research,
Content and PR (brand monitoring, topic research, post tracking)
Social media tracker
A host of competitor analysis toolsets is made available for you to spot organic and paid competitors, and eventually, you can get an edge over them.
To get started with Semrush's competitor research, navigate to Organic Research under the SEO section and enter your competitor's domain on the competitive research dashboard.
At a single glance, the overview report displays your website's keywords, organic traffic, top position changes, top pages, main organic competitors, and competitive positioning map.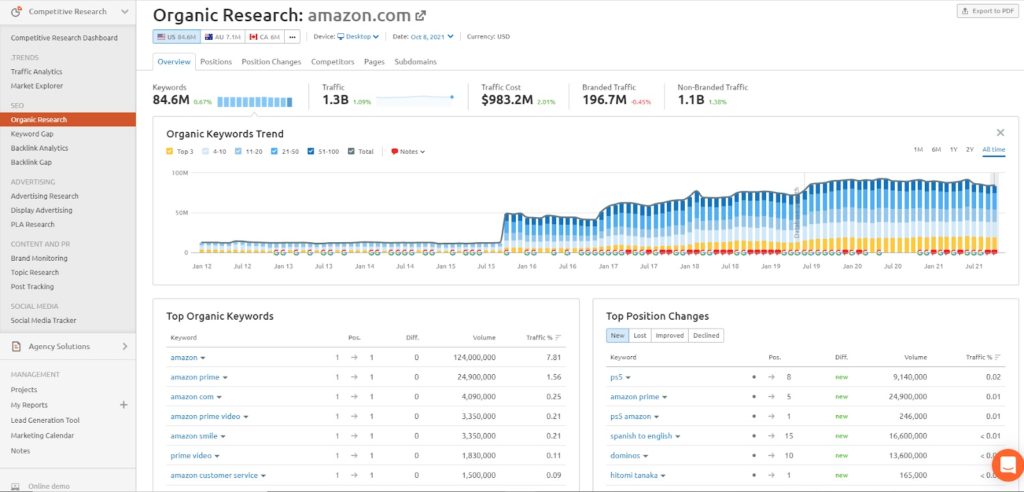 Click the competitor column to generate a detailed list of your organic competitors. Then, to devise better SEO strategies, you can compare their organic traffic, top-ranking pages, position changes, competitor keywords, etc.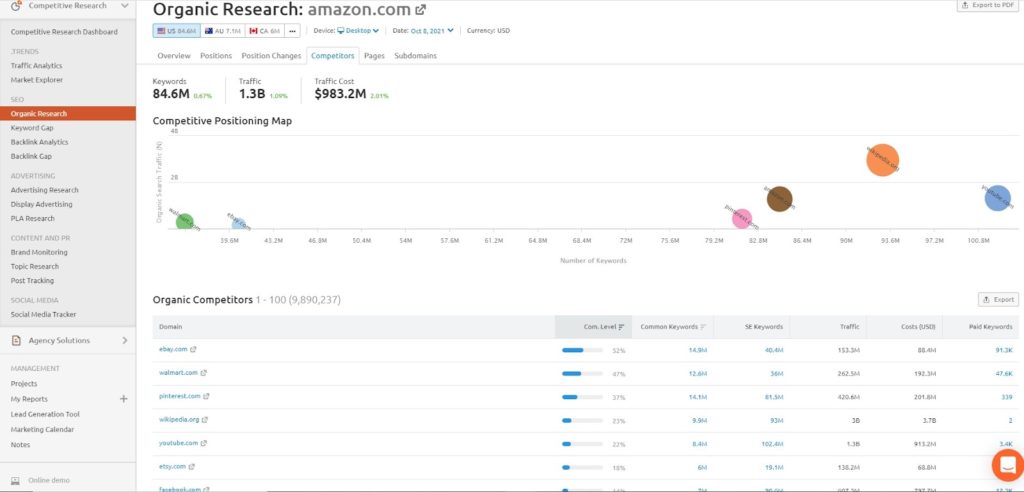 It's nothing more important than learning about your rivals' best SEO practices and looking into the domains you're competing with them for the top ranks in Google search results.
Similarly, you can understand your competitors differently by selecting another dimension (e.g., advertising research). With a detailed report, you get to identify your paid search competitors and the keywords they're bidding for.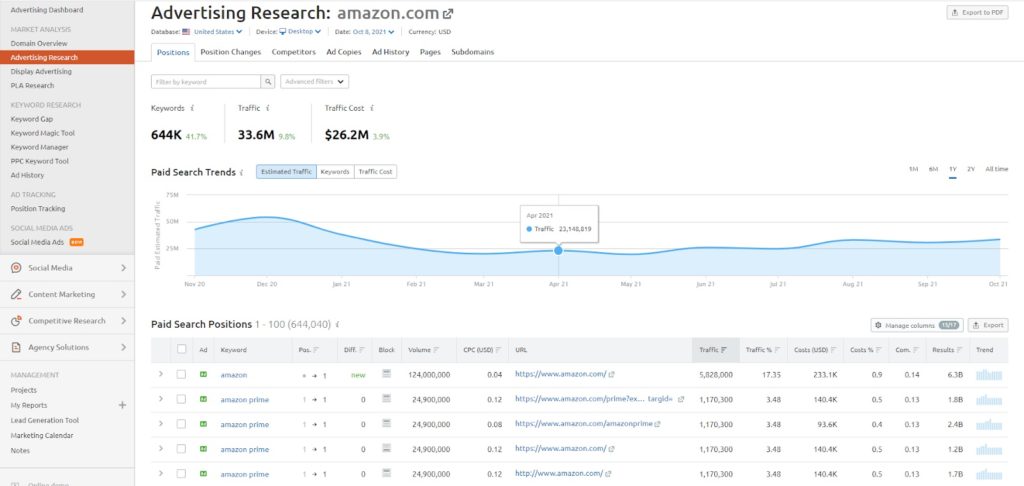 Create a Semrush account to get ten free requests and spy on your rivals!
Spyfu: Competitor Analysis Tools
Spyfu's competitor analysis tools are easy to navigate. Simply enter your competitor's domain and visit the competitor section.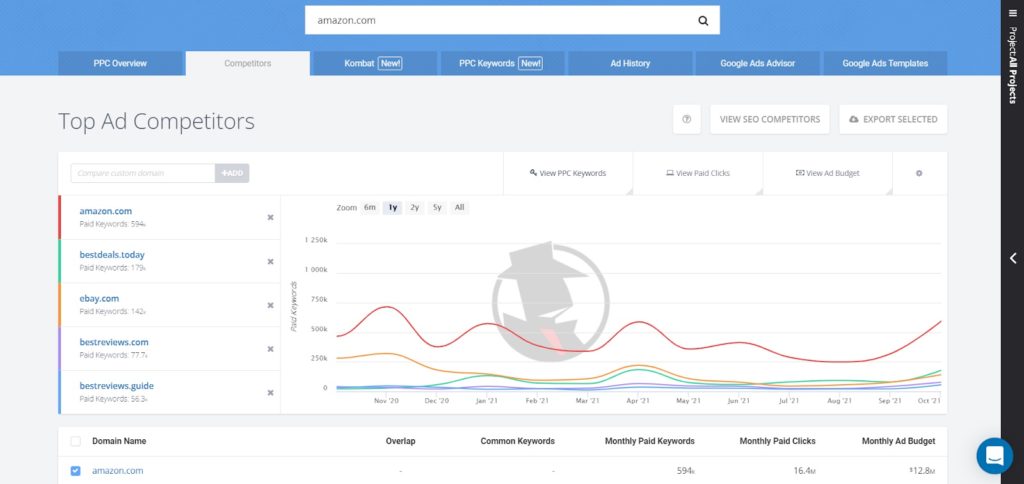 You'll get a quick SEO competitor analysis to view your organic and paid competitors. Then, click on any of them to study their SEO keywords, monthly clicks, and monthly value.
These analyses are essential for monitoring the domains gaining on your organic keywords and measuring competitors by the clicks they receive and if they're worth so.
With Spyfu, you can study what types of websites link to your rivals and outreach similar backlinks and avoid their mistakes. There's no better way to take reference of your competitors' keywords and web content to enrich your SEO expertise than deploying competitor analysis tools.
Like Semrush, you can navigate to other tools, such as PPC Research to solidify your competitor analysis.
The PPC research tools allow you to view your competitor's PPC keywords, paid clicks, and ad budget.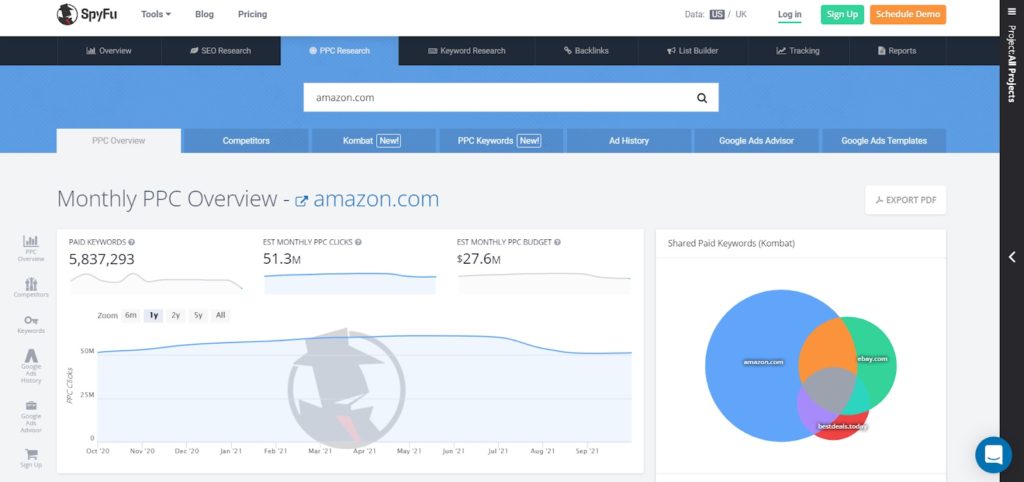 Enter your competitor's domain on Spyfu to start your competitive research!
Semrush vs. Spyfu: Keyword Research
If you don't want your marketing campaigns to be in vain, you should keep tabs on the target keywords which other digital marketers rank for.
Doing regular keyword research also helps you understand the most popular search queries people are looking for on search engines. You can, in turn, catch up with the top-performing keywords to drive organic traffic to your site.
Semrush: Keyword Research
Semrush Keyword Research has a renowned name for SEO and PPC in the market. The toolkit comprises keyword overview, organic research, keyword magic tool, keyword gap, keyword manager, and organic traffic insights.
Let's look at the popular keyword overview and keyword magic tool in detail.
Semrush: Keyword overview
Start keyword overview by entering a keyword and choosing the corresponding country.
You'll get a quick keyword overview showing various metrics, including keyword difficulty, trending searches, search volume at the local and global level, cost per click (CPC), and so on.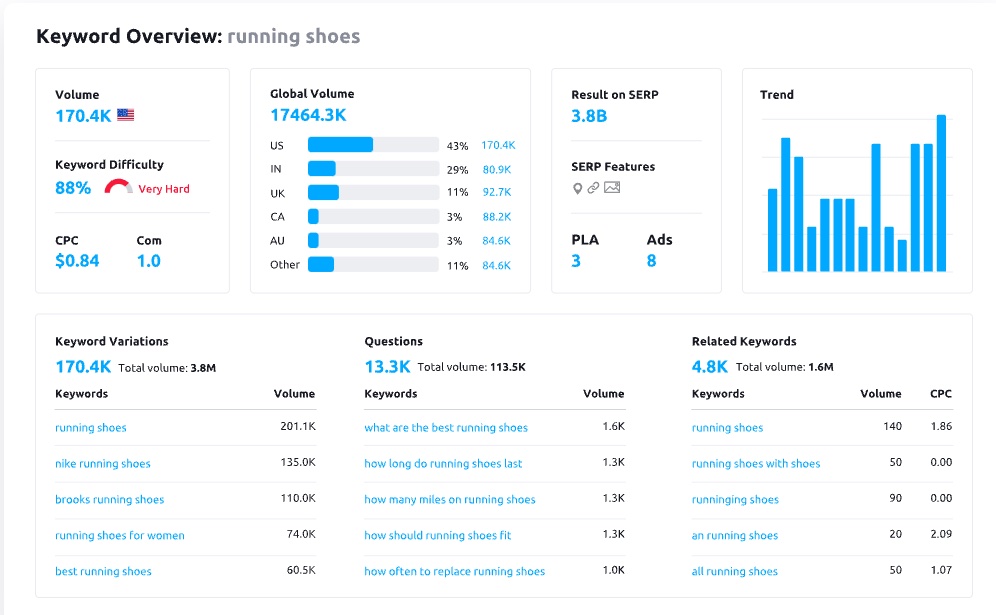 To optimize your SEO content, you can look at the keyword variations and top questions people tend to ask on search engines. In addition, you can make use of these keywords to fine-tune your ideas for Google Ads.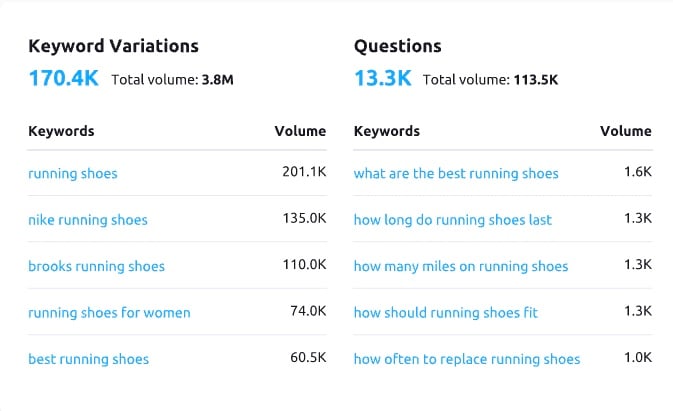 Last but not least, you shouldn't miss out on SERP analysis, newly included functionality.
If you enter a keyword, you'll see the top 100 Google search results displayed against the key metrics like organic traffic, referring domains, backlinks, etc.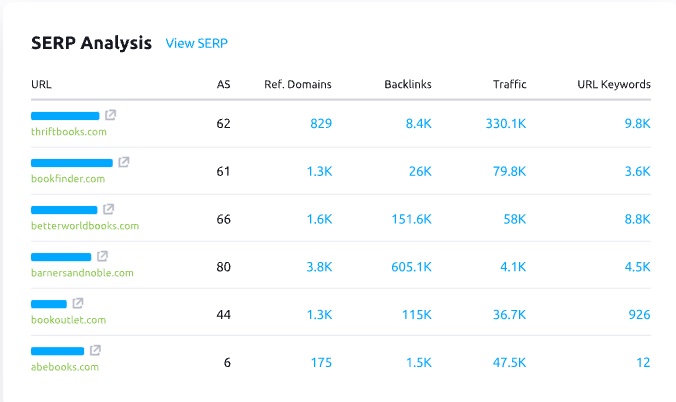 You can harness these analyses to increase your search rankings.
Semrush: Keyword Magic Tool
What's more powerful than a database storing 20+ billion keywords?
Semrush's keyword magic tool constantly updates keyword data against several important metrics: volume, trend, keyword difficulty, CPC, top competitors, and SERP results.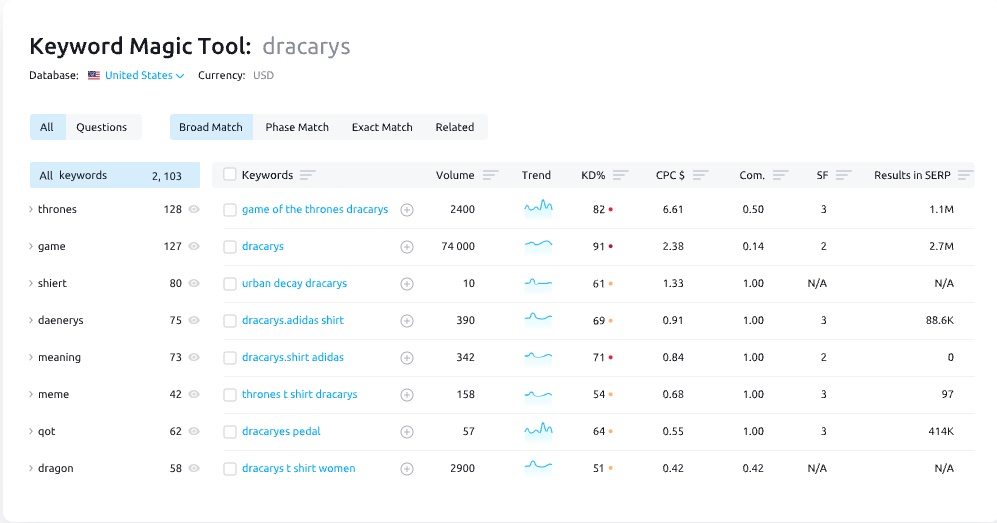 Alternatively, you can adjust the filters above to zoom in on the keyword data for better analysis.
With the Keyword Magic Tool, you can quickly expand your keyword lists, discover potential keywords and save them in one place to inspire new content ideas.
Try Semrush's keyword research for free!
Spyfu: Keyword Research Tool
Spyfu is capable of displaying unlimited searches on numerous keywords. All you need is to enter a keyword to kick-start the keyword research.
You'll quickly see a summary of significant keyword metrics like monthly search volume and estimated clicks. These metrics power your SEO and PPC strategies.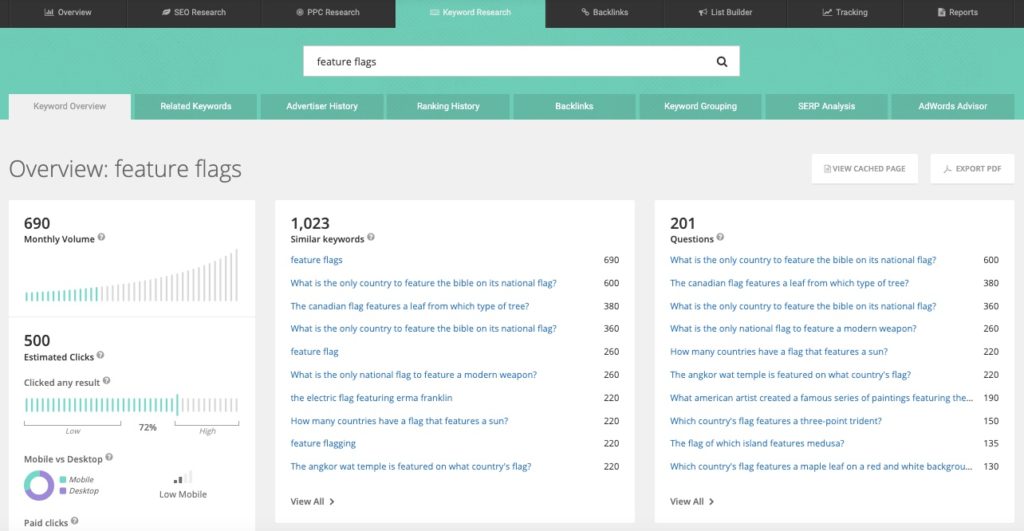 On the report, you'll also find those domains that dominate the SE rankings as well as related questions for optimizing SEO content.
Semrush vs Spyfu: Backlink Analysis
It's no secret that quality backlinks increase your website's domain authority and, ultimately, the rankings.
Both Semrush and Spyfu offer remarkable features in their backlink analysis tools.
Let's zoom in right off!
Semrush: Backlink Analysis
Here're the backlink analysis tools that you should check out on Semrush:
backlink analytics
backlink audit
link building tool
bulk analysis
Let's explore Backlink Analytics and Backlink Audit in detail.
Semrush: Backlink Analytics tool
With a database of over 43 billion links, Semrush has no difficulty crawling through your page and conducting in-depth link analysis.
The SEO tool generates a report showing the authority score, referring domains, backlinks, monthly visits, etc. In addition, it crawls all inbound links, linking domains, and backlink types.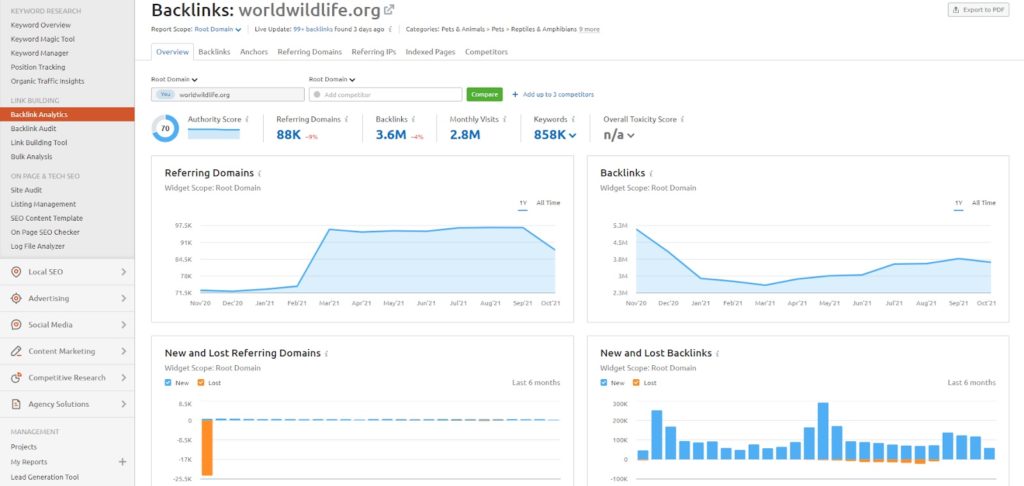 Its accurate backlink analysis helps you monitor your link-building progress.
Semrush: Backlink Audit tool
Running backlink audits is essential to maintain your website's authoritativeness.
With Semrush Backlink Audit, you can audit backlinks and view your backlink profile effortlessly. It crawls through the page links according to toxicity markers and generates an audit report which may alert to any broken or toxic backlinks as well as their potential impacts on your search results.
Hence, you can keep a sharp eye on any newly acquired links, lost or broken links on your backlink profile.
Such a backlink audit tool also helps you reach out to the domain owner to remove any poorly built links connected to your page.
Start a free trial of Semrush Backlink Audit now!
Spyfu: Backlink Analysis
Upon entering a domain name and a keyword, a page full of backlinks will flash on your screen along with insightful data showing domain monthly organic clicks, page monthly organic clicks, ranked keywords, domain strength, and outbound links.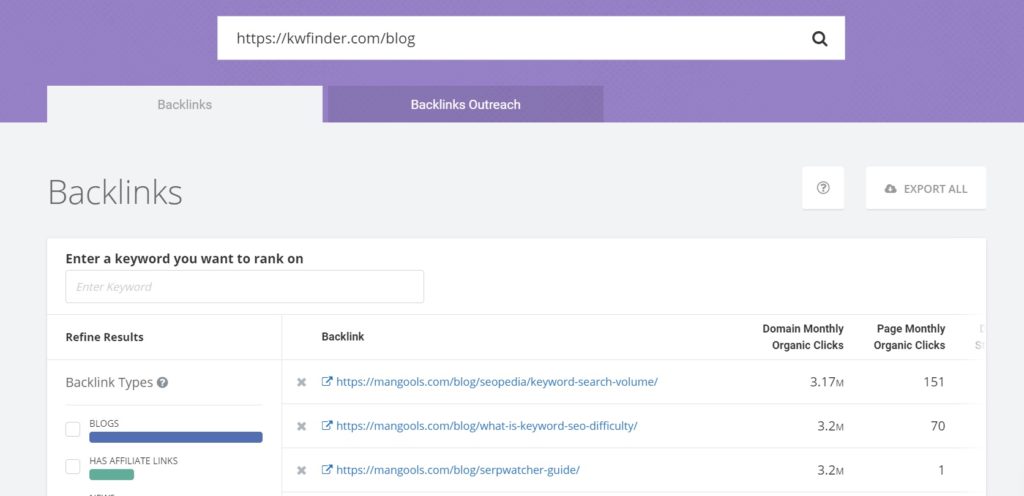 You'll view a list of inbound links in the niche-dominating domains which boost your competitors' rankings but not you.
Semrush vs Spyfu: Rank Tracking
If you keep generating thousands of marketing ideas and strategies but never get to evaluate their success and effectiveness, you aren't moving forward.
Nothing is as vital as rank tracking when it comes to measuring the performance of SEO campaigns.
You need to ensure that your efforts pay off by keeping close tabs on your ranking and whether certain tweaks result in significant changes in position.
Invest time and resources in efforts that reap success; stop making previous mistakes that lower your ranking.
Rank tracking helps digital marketers shape the best SEO strategies to up their marketing game.
Let's dive into the rank tracking tool of Semrush and Spyfu.
Semrush: Rank Tracking
Position tracking is an essential element in SEO practices.
Semrush is built to gather accurate Google ranking data and measure your site's position at the local and regional levels.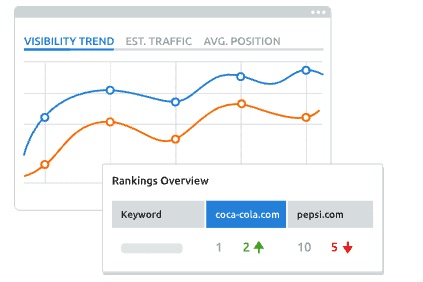 The SEO tool constantly keeps your daily position up to date such that you can monitor rankings of your domain and subdomain.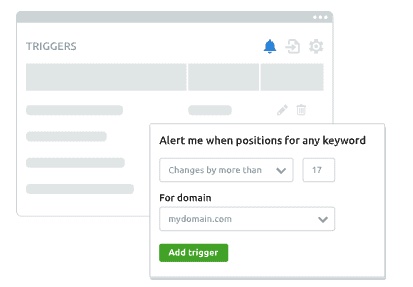 Moreover, you can filter the ranking results among the 16 SERP features and understand which keywords are associated with certain SERP features and whether other digital marketers have their domain rank there.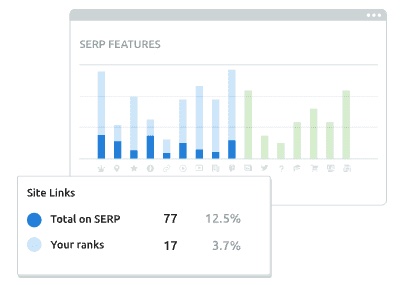 Get a free trial of the Semrush Position Tracking tool!
Spyfu: Rank Tracking
Spyfu continuously analyzes your website's ranking in a visually appealing chart. You can get a complete picture of not only individual keyword rankings but also changes in ad positions as well as organic rankings.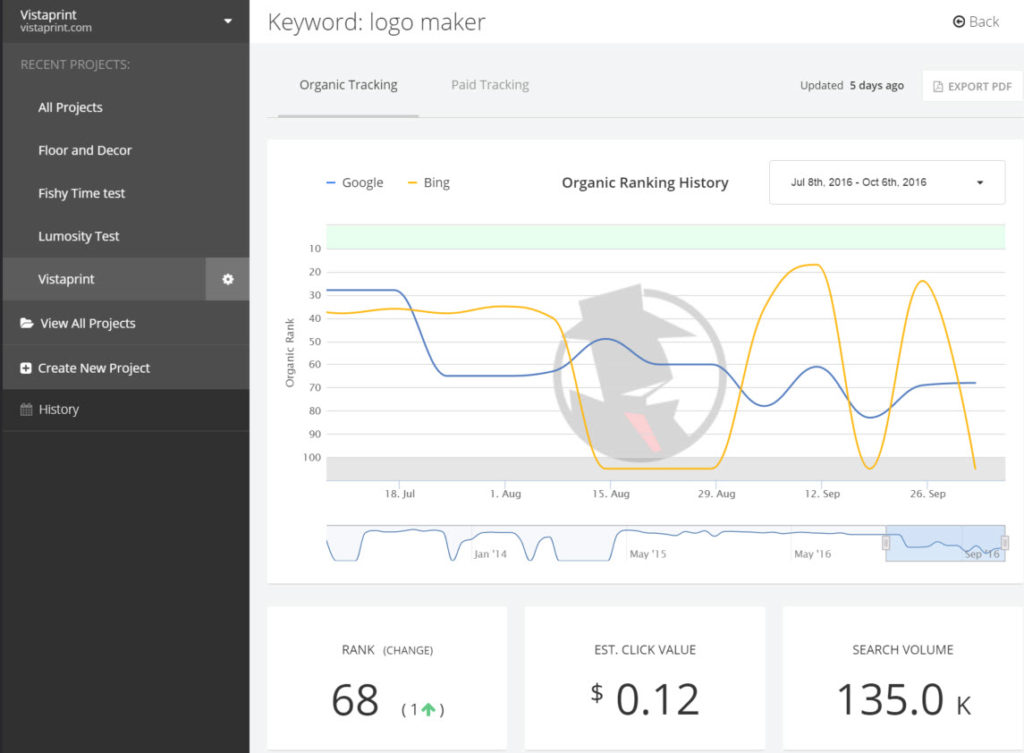 Constant tracking keeps you in mind whether your SEO campaigns are on the right track and if your efforts pay off.
Also, Spyfu connects itself to Google and Bing, and therefore it can show your domain's standings in SEO and PPC on these two search engines.
Spyfu vs Semrush: Pricing
Semrush pricing
Semrush offers three paid plans: Pro Plan, Guru Plan, and Business Plan.
Starting at $119.95 per month, Semrush Pro Plan provides the essential tools for marketing beginners and small in-house companies.
Advanced functionalities such as historical data (included in Guru Plan) and product listing ads (included in Business Plan) are excluded in the Pro Plan.
Additional users cost $45 more per person.
Guru Plan costs $229.95 per month and targets SMEs, growing agencies, and SEO consultants.
Are you unsure if you should get the Pro Plan or Guru Plan? You can try both for free first before making further decisions. The links are attached below:
Lastly, Business Plan costs $449.96 per month. If you are a large agency or corporation, you should go for its Business Plan.
Spyfu pricing
Spyfu offers a free version that includes unlimited search results!
If you'd like to get fuller results, you can opt for its Basic Plan ($39/ month) to access unlimited search results, data exports, and domain overview. In addition, the plan reveals 5k weekly tracked keyword rankings and 10k top lists results too.
If you want to enjoy more advanced functionalities, you should go for the Professional Plan that gives you everything included in the Basic Plan and more, like 500 sales leads and domain contacts, 15k weekly tracked keyword rankings, etc.
You can view the plans in detail here.
Spyfu vs Semrush: Conclusion
After diving into a detailed review of Spyfu and Semrish, we jump to the very first question that brings you to this page — which competitor analysis tool is better, Spyfu or Semrush?
To conclude, both Spyfu and Semrush are the most popular SEO tools in the digital marketing industry. They include some overlapping and different features that may be a better fit for some enterprises.
As we all know, Spyfu gets the credit for its competitor intelligence, while Semrush comes as an arsenal of SEO toolsets.
If you have a tight budget yet want to enjoy unlimited searches and the basic toolsets for digital marketing, Spyfu may be a considerable pick.
If you have more budget and looking for an all-in-one SEO suite to boost your marketing business, Semrush is an infallible choice.
You can sign up for a Semrush Pro free trial and Spyfu free plan to test their features before deciding which one the winner is for your SEO workflow.
Which one of these competitive analysis tools do you like more? Please tell us in the comment section below. We're more than happy to know.
Further read:
10 Best SEO Tools To Improve Search Engine Ranking
Best SEO Audit Tools For Website Optimization
8 Best SEO Automation Tools to Boost Efficiency
Top 8 SEO Reporting Tools in 2022
Serpstat Vs Semrush: Which Is A Better SEO Tool? Review And Comparison
Semrush Alternative: 12 Best Semrush Competitors Tools