Welcome to the Top 10 OnlyFans creators list! This is a ranking of the most popular and top-earning OnlyFans creators. To compile this list, we looked at things like how many followers they have on their account and their estimated earnings. We hope you enjoy browsing through our top 10 rankings.
While many influencers make money on Onlyfans, most of them have a presence on other social media platforms like TikTok and Instagram. Curious how they monetize on different platforms? We've researched and come up with several in-depth guides. Here are they:
What is OnlyFans?
OnlyFans is the leading social media platform for content subscriptions, and it has over 30 million registered users since its launch in 2016. It's a great way for content creators, celebrities, and more to generate an additional income stream. OnlyFans creators can earn money from users who pay to subscribe to their content – their "fans."
Top OnlyFans Creators
As many celebrities who already have mass social followings jumped on this platform, they naturally become some of these top OnlyFans creators. Just because the top earners on OnlyFans are celebrities doesn't mean that you should be intimidated. Instead of viewing them as competition, use their success stories to motivate and guide your journey in generating revenue with this platform too!
Blac Chyna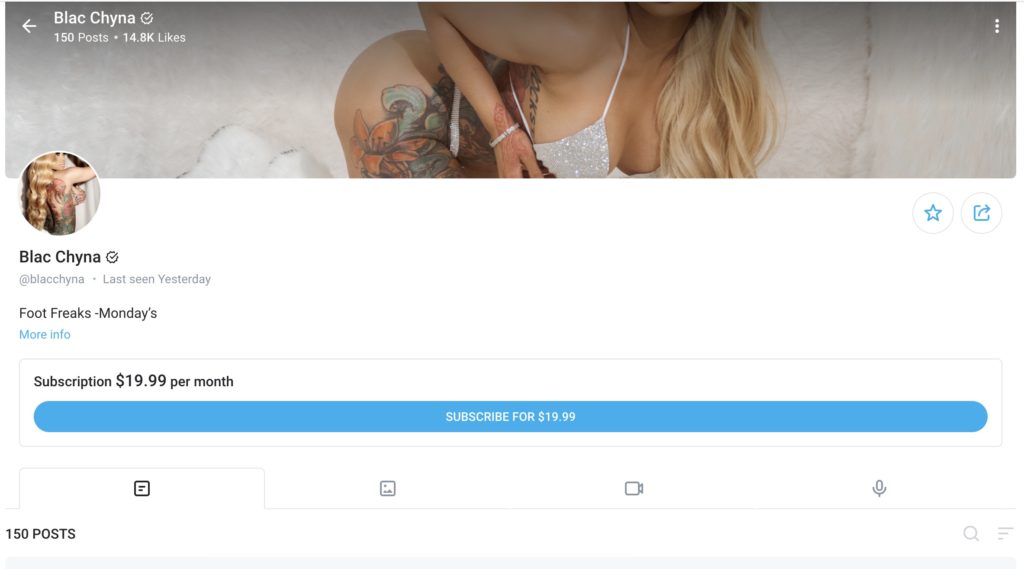 Reality TV star Blac Chyna is currently a top earner on OnlyFans, allowing fans to subscribe for $19.99 per month and get access to all her content, including X-rated photos and videos that cater specifically to specific fetishes like feet.
Subscription: $19.99 per month
Posts: 150
Likes: 14.8k
Bella Thorne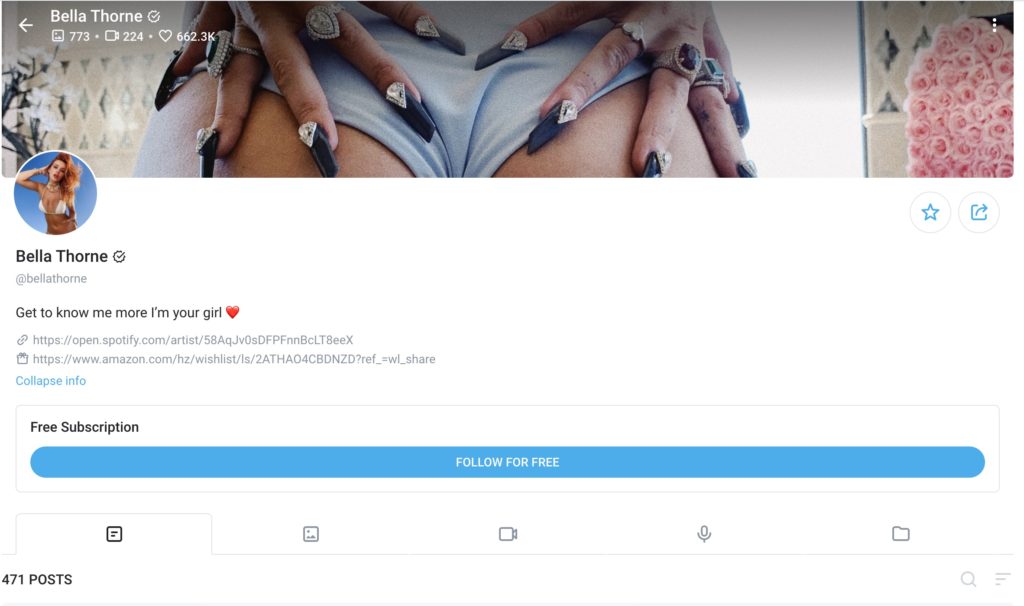 Bella Thorne joined the app OnlyFans, and by her first day on the platform, she had made $1 million. By the end of her first week, Bella was up to about $2 million in earnings. However, things took a turn for this social media starlet when she sparked controversy after joining OnlyFans because it looked like some posts were marketed as nudes, but they were lingerie photos.
Subscription: Free (used to charge!)
Posts: 471
Likes: 662.3k
Jem Wolfie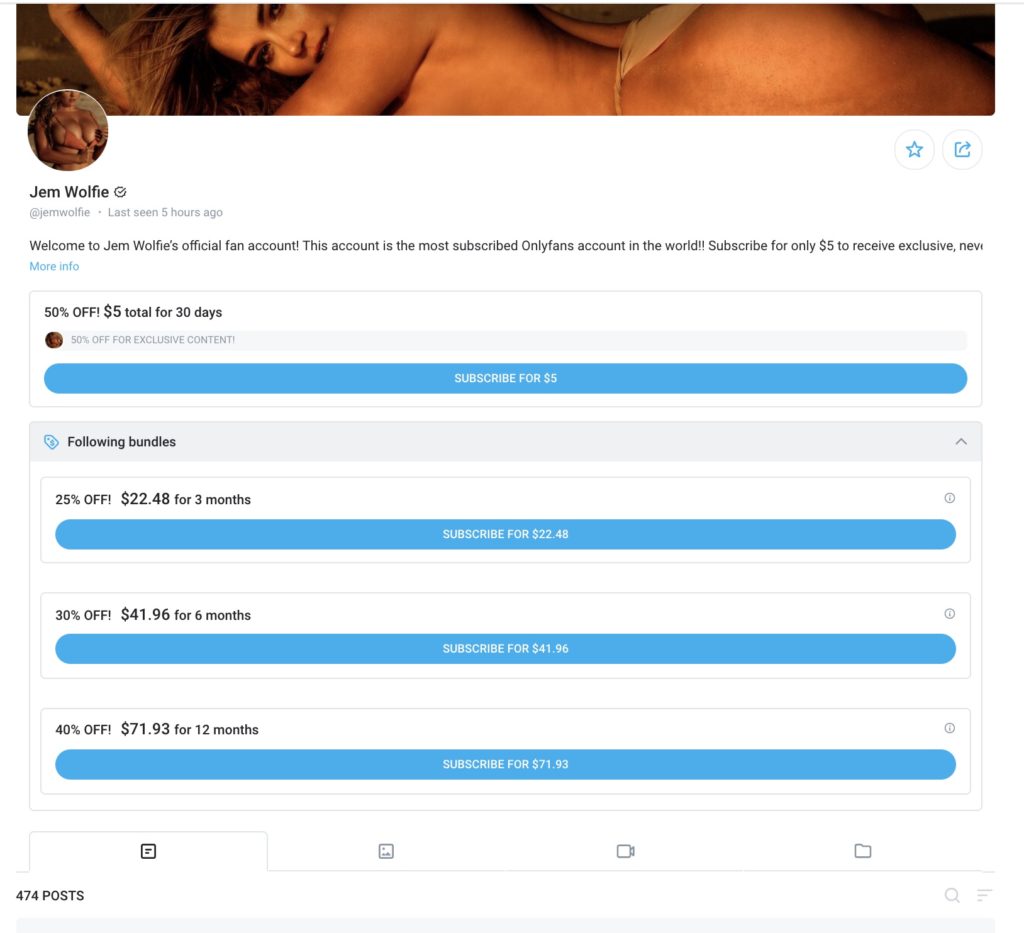 Jem Wolfie is one of the world's most prominent fitness influencers, and as of 2021, she has the most subscribers on her OnlyFans account. The Australian superstar made a name for herself with over 2 million followers on Instagram before making the jump to OnlyFans when Instagram got stricter about what could be posted and deleted her account.
Jem posts regular photos and videos talking about fitness which often feature revealing sportswear or swimwear from time to time, but there's nothing too hardcore. If you're looking for sexy pictures without any nudity, then this is your girl!
Subscription: $5 per month
Posts: 474
Likes: 766.2k
Cardi B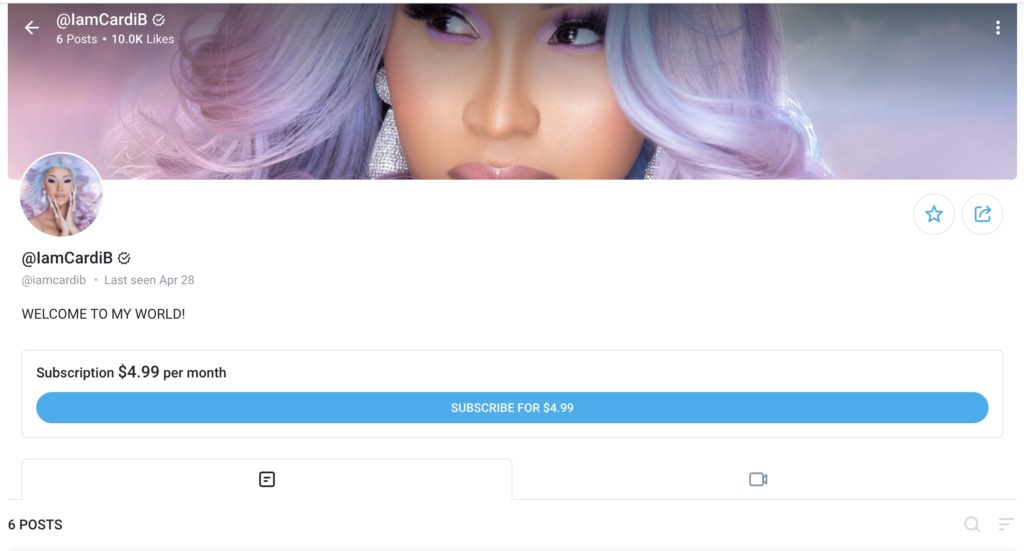 Despite having just a few posts on OnlyFans, Cardi B has been one of the top earners since her debut. She's used other social media platforms to share more generic content but makes sure that her OnlyFans account is reserved for "behind-the-scenes" and intimate moments with fans.
Subscription: $4.99 per month
Posts: 6
Likes: 10k
Tyga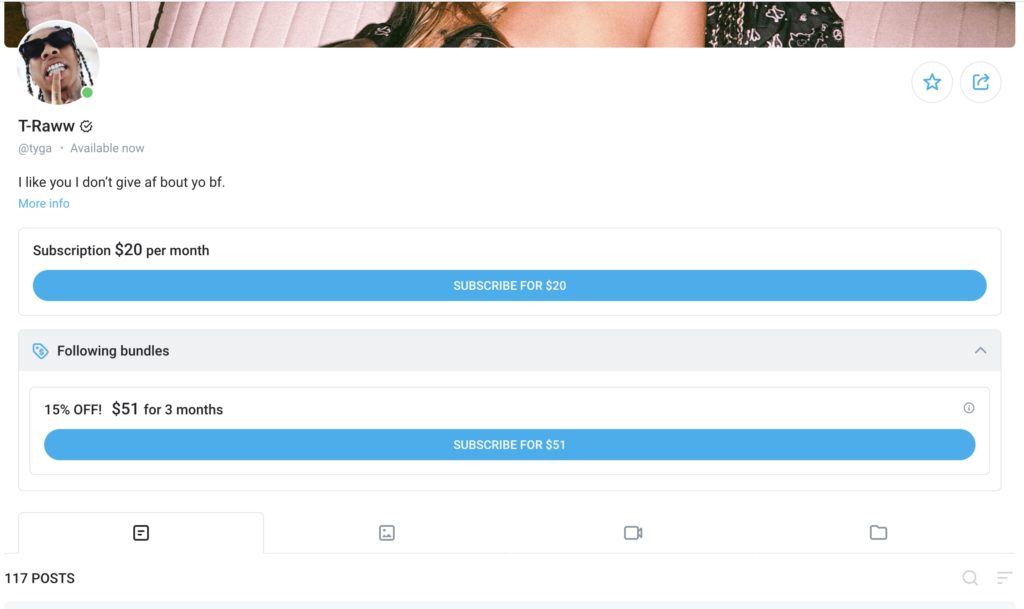 Tyga is a rapper who has been in the eye of the public for many reasons. He's well known for his music, as well as his former relationship with billionaire-status ex Kylie Jenner and leaked photos that led to him creating an OnlyFans business. He shares sexy images and "behind the scenes" of his latest tracks and exclusive videos on this platform.
Subscription: $20 per month
Posts: 117
Likes: 57.9k
Mia Khalifa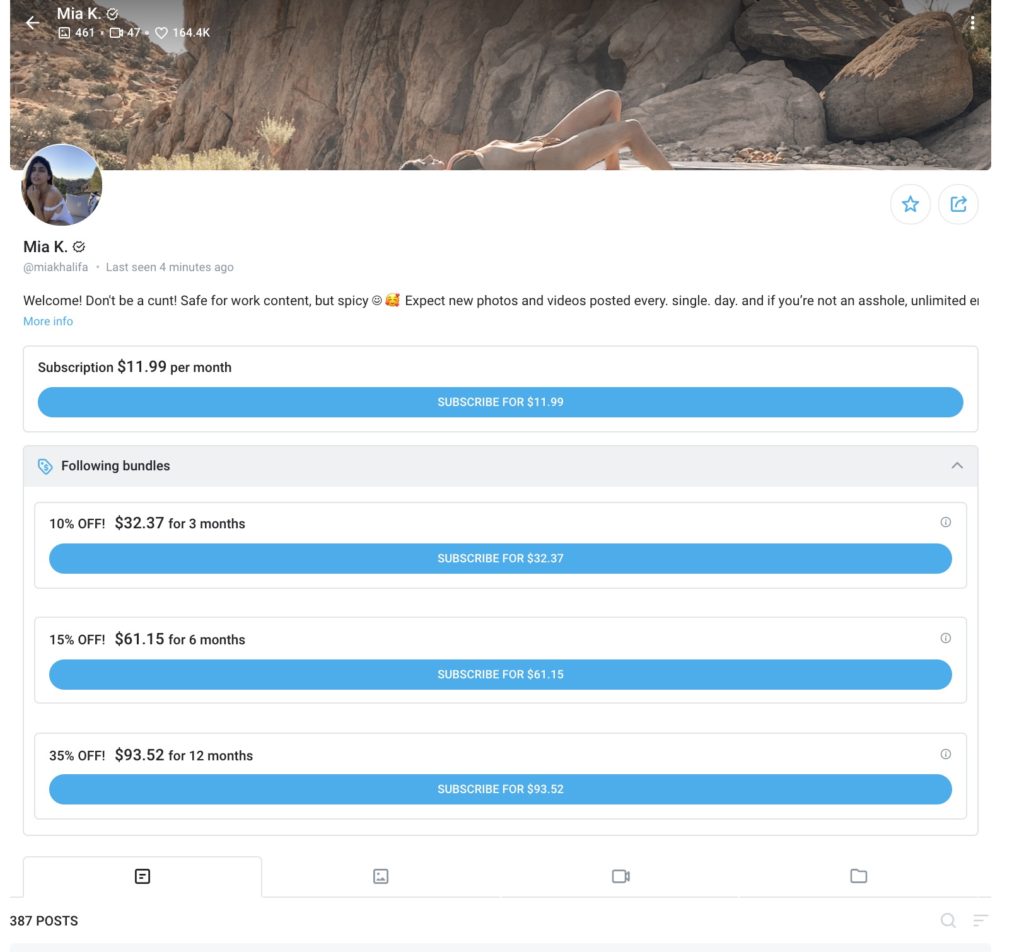 Mia Khalifa is a media personality, webcam model, and former adult entertainer who also makes a list as one of the top earners.
Subscription: $11.99 per month
Posts: 387
Likes: 164.4k
Erica Mena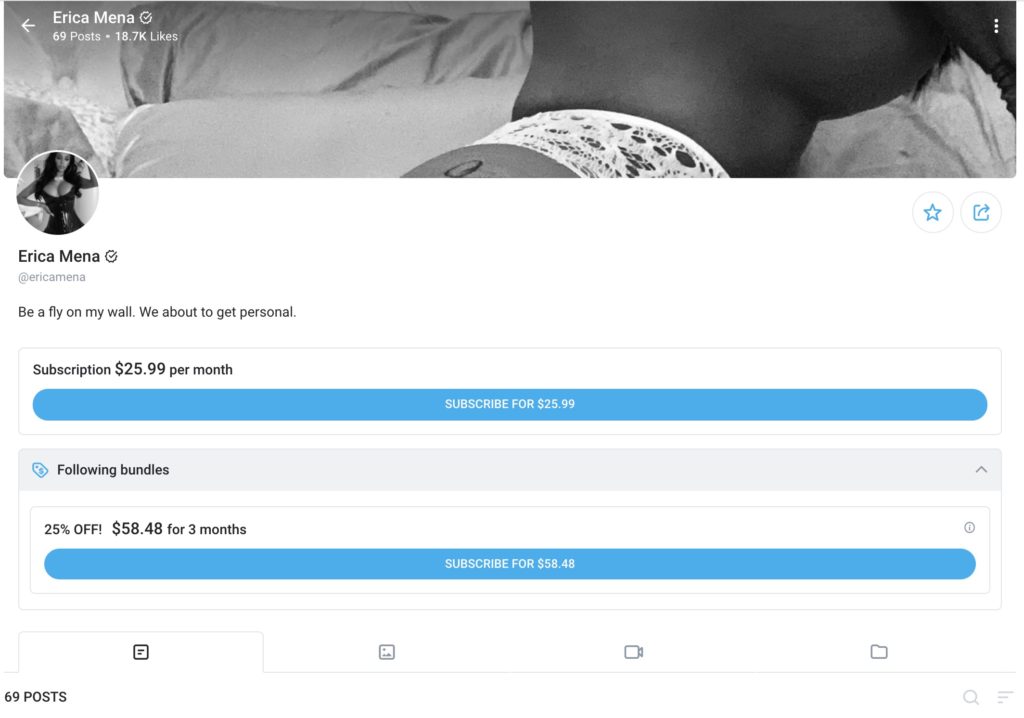 Erica Mena is an American television personality and former model/video vixen. She's best known for her appearances on the popular reality show Love & Hip Hop: New York, which has been running since 2012.
Subscription: $25.99 per month
Posts: 69
Safaree Samuels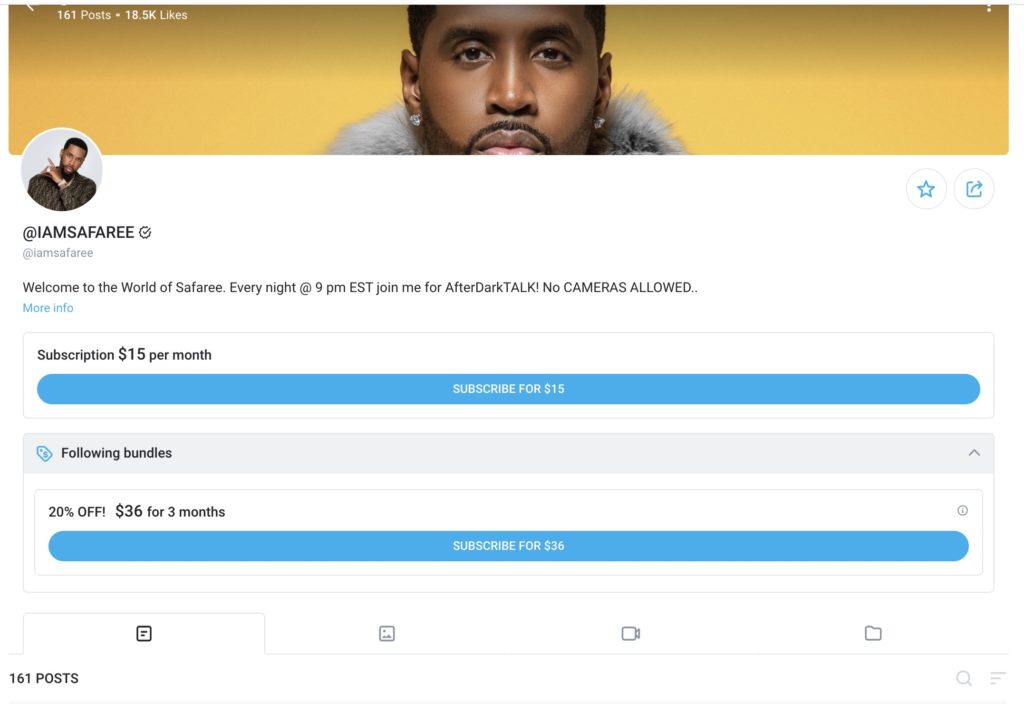 Safaree Samuels is a rapper, songwriter, and television personality. Like his wife Erica Mena, he is also a top OnlyFans creator.
Subscription: $15 per month
Posts: 161
Pia Mia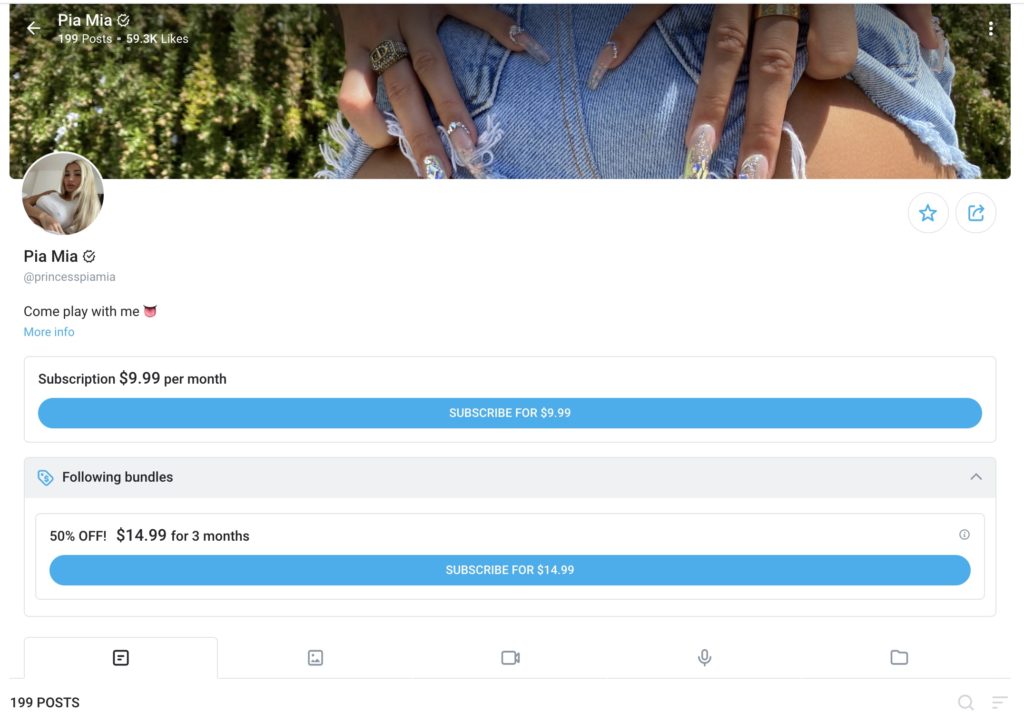 Pia Mia is an American singer, songwriter, model, and actress who has a big following on YouTube. She began her career by posting videos of herself singing, which led to her performing in commercials and promotional music videos.
Subscription: $9.99 per month
Posts: 199
Belle Delphine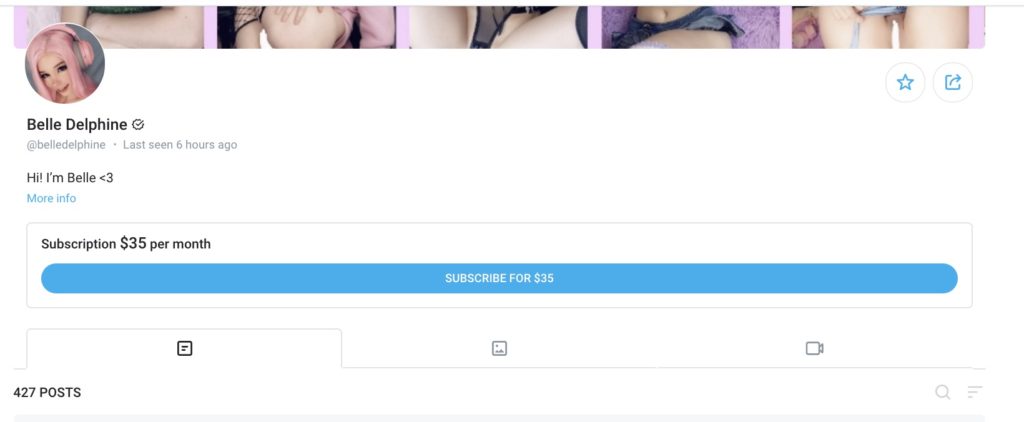 Belle Delphine has been making a killing in the cosplay world. She's worn her fair share of costumes on Instagram and YouTube, but she just kicked it up to another level by joining OnlyFans, where she posts hardcore videos for her fans.
Belle Delphine's mission was to make a lot of money on OnlyFans. She did so with $1.2 million in November 2020, a few months after she announced such a goal in her YouTube video!
Subscription: $35 per month
Posts: 427
Likes: 609k
Summary
We hope this blog post has given you some insight into the world of top OnlyFans creators and how they use other channels like Instagram and YouTube to build their fan base. If you're interested in becoming an influencer yourself, we recommend checking out our article on How to Become an Influencer: Follow these 6 Steps.
Further read:
10 Ways to Make Money Online Right Now (US$10k+)
10 Best YouTube to MP3 Converters and Downloaders (Free and Online)
What is Shopify and How Does it Work? Sell and Make Money on Shopify
8 Best Blogging Platforms To Make Money (Compared And Reviewed)