Are you looking to create and sell online courses? With the rise of e-learning, there are many online course platforms and software available that offer a variety of features and tools to help you create and sell your own courses.
The e-learning industry or the online learning market will reach an impressive $336.98 billion by 2026. Many online course platforms are also emerging from the trend. Some best ones we'll look at are Thinkific, Teachable, and LearnWorlds.
In this article, we'll discuss the best online course platforms that you can use to create and sell your courses. These platforms come with a range of features, such as content creation and hosting, mobile optimization, course marketing, and more.
We'll also discuss the types of online course platforms available, and the unique features of each one. Whether you're an educator or an entrepreneur, there's a platform out there that can help you build, manage, and deliver your online courses.
Before we dive into comparing the best online course platforms, let's take a quick look at the definition of an online course platform.
What is Online Course Platform?
Online course platforms are learning management systems (LMS) that allow students to access classes online via desktop, tablets, or mobile phones. They enable course creators to upload course materials such as videos, audios, images, and PDF files.
The platforms aim to help educators and entrepreneurs build, manage, and deliver online courses. Some platforms require more technical knowledge than others, but generally, they make it easier and more successful to create and sell courses. The platforms usually come with a range of features, such as:
Content creation and hosting
Editing
Quiz and course content creation
Certification
Mobile optimization
Student-teacher engagement
Course marketing
eCommerce features
When attending online courses, the students follow along with the class by taking notes, performing exercises, and completing their exams online to test their knowledge.
What are the best online course platforms?
Thinkific – Best Online Course Software for Creators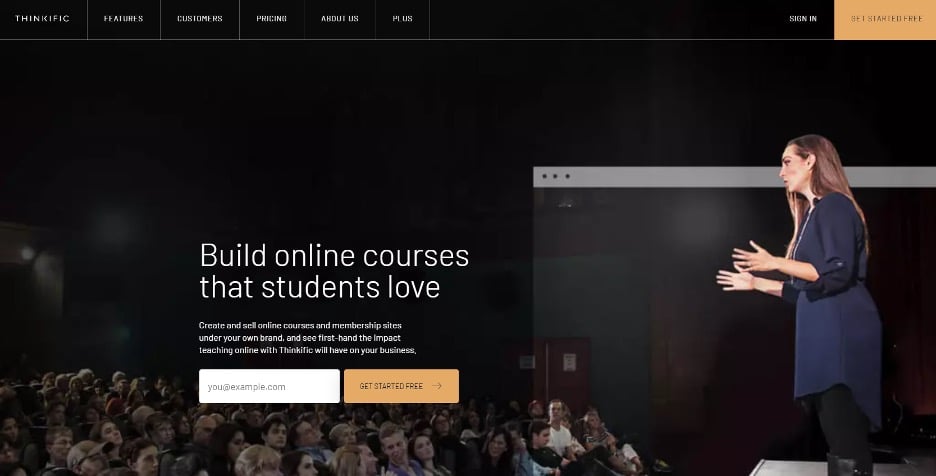 Thinkific is one of the best overall online course platforms. This Canadian company is widely regarded as the number one choice amongst online learning platforms because it allows you to easily create and sell online courses.
On Thinkific, there are over 50,000 course creators, 75 million+ courses taken, and $650 million+ earned on the platform. 
Best Online Course Software
Thinkific | Create and Sell Your Online Course
Thinkific provides a user-friendly platform for course creation, management, and delivery, with features such as customizable course templates, multimedia content integration, quizzes and assessments, and student progress tracking. With Thinkific, anyone can create and sell their own courses, whether they are educators, entrepreneurs, or subject matter experts.
Pros:
Flexible and Scalable: allow users to start with a basic course and expand to a full-fledged online school.

Marketing and Sales Tools: customizable landing pages, email marketing, and affiliate marketing

It offers you a robust set of easy-to-use features, including email marketing tools, membership site integration for your lessons, and 24/7 customer service. 
Whether you want to educate your customers, sell online courses to earn revenue, or grow your brand by engaging your audience, Thinkific allows you to do everything under one roof.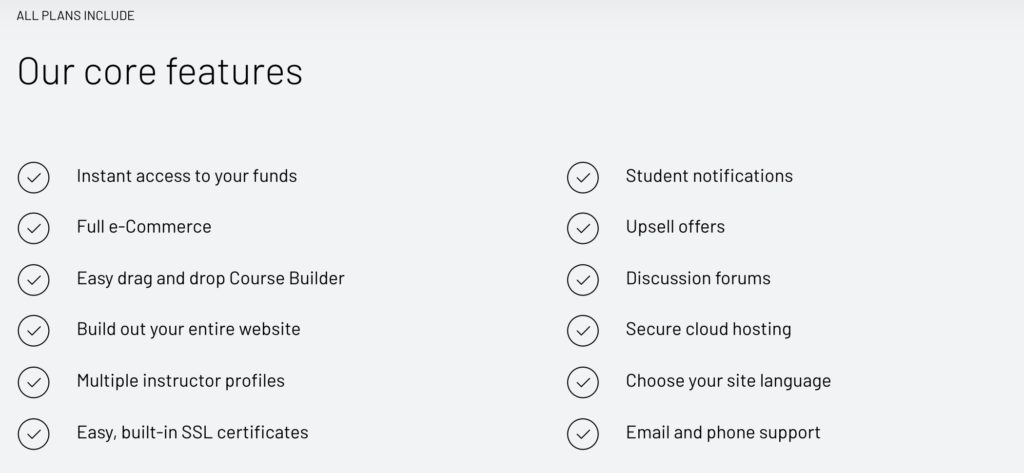 This platform is ideal for consultants, authors, speakers, experts, teachers, trainers, coaches, companies, and professional associations.
To begin on Thinkific, sign up for their one-month free trial for the extremely popular Pro Plan or start with their free plan.
Pro Plan allows you to create an unlimited number of courses. It also features memberships and bundles, landing pages, certificates, advanced pricing options, and other marketing tools.
Once you choose your plan, you can create and customize your course with the use of their drag and drop editor.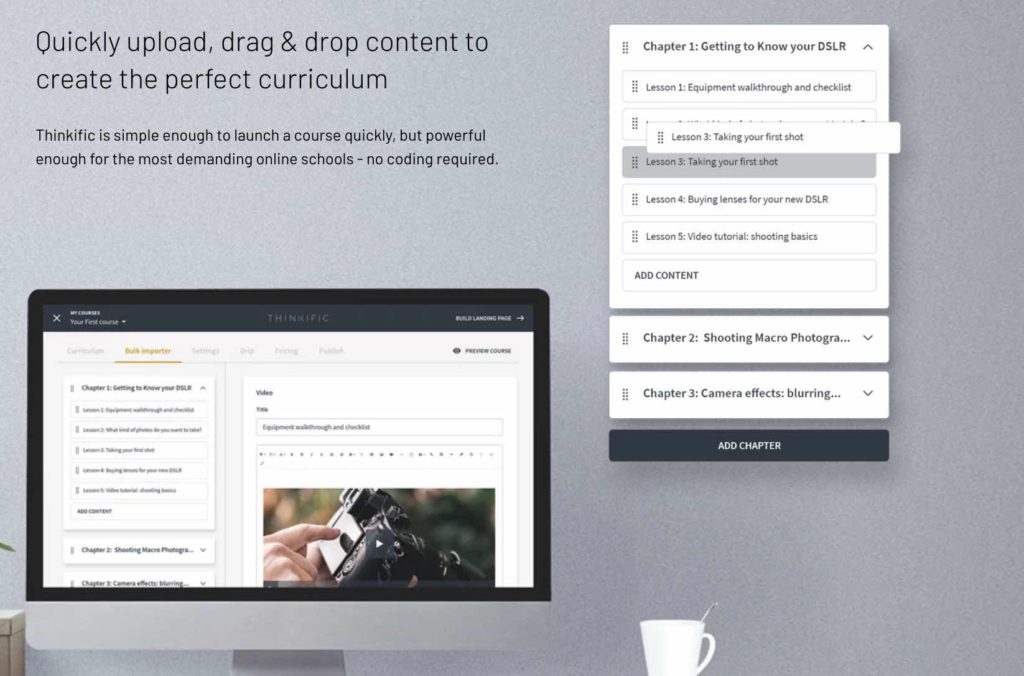 After adding your course content, you can begin to build your course website using the well-designed and high-quality templates of Thinkific.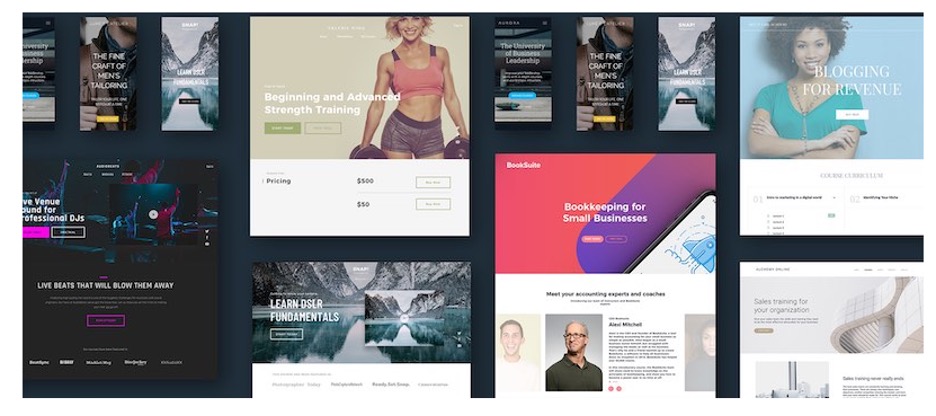 Finally, when you are ready, you can use Thinkific's advanced business tools to market and sell your course.
Pricing of Thinkific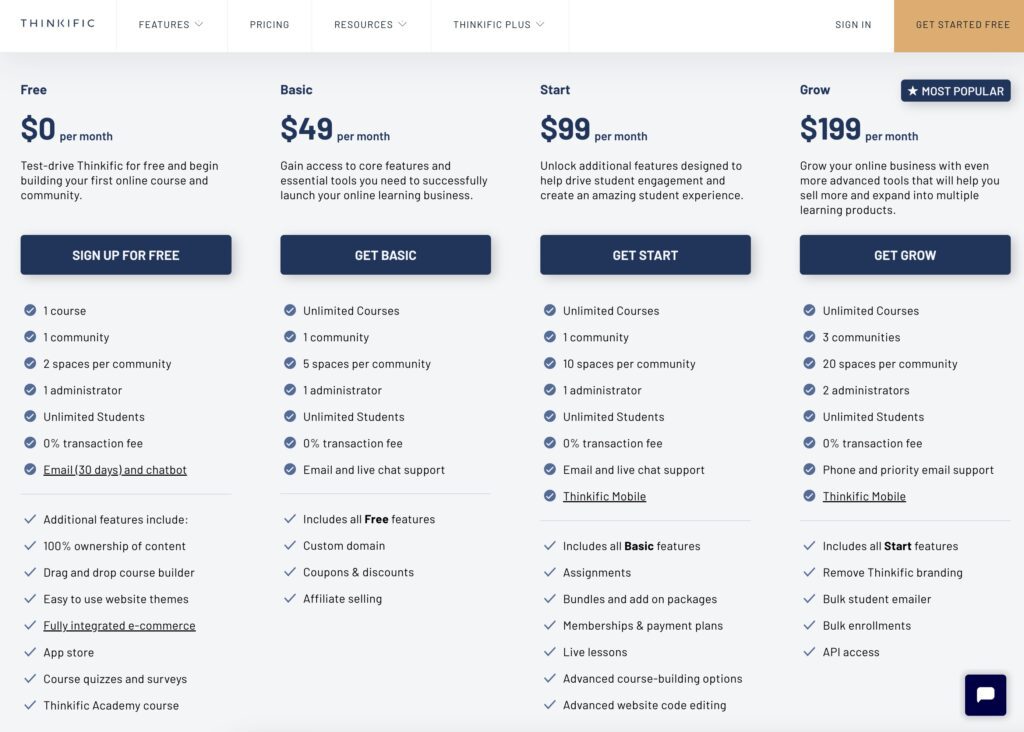 One of the most significant advantages of using Thinkific is the range of features you get in their plans.
Furthermore, Thinkific keeps the learner in mind. The company focuses on practical e-learning experiences that keep learners coming back for more.
You can easily integrate Thinkific with over 1500 apps. For example, you can send email campaigns to your target customers to engage with learners and acquire new customers.
Here are some of the pros and cons of Thinkific.
Pros of Thinkific
Ease of use to create a course.
Even in the free account, you can easily manage everything. You won't feel like you need to invest immediately at each stage to get your work done.
Excellent 24/7 customer service.
Cons of Thinkific
There is a limit on the size and the file type of video upload.
For entrepreneurs and instructors who are serious about creating, marketing, and selling their online courses, Thinkific has emerged to be one of the best options.
Teachable – Painless Customization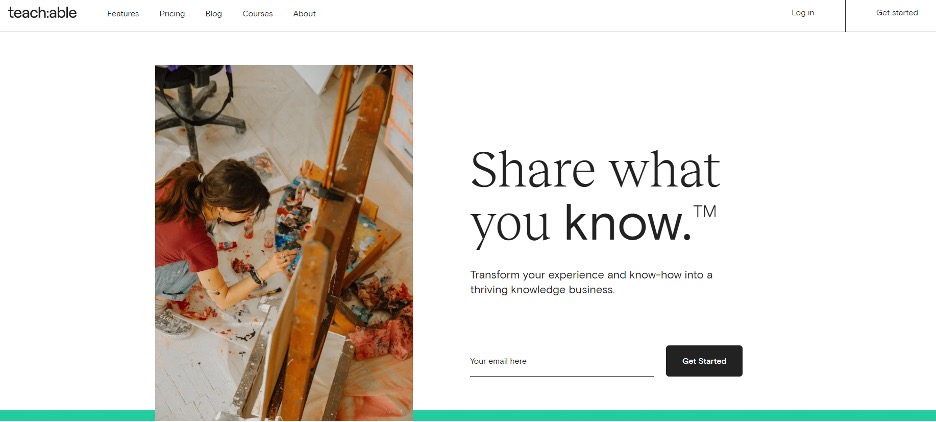 Similar to Thinkific, Teachable also allows you to create your online course website. It means that you have full control of branding, managing student data, messaging, and pricing.
There are currently more than 100,000 instructors on Teachable. They have transformed their knowledge into courses that have earned more than $500 million to date.
Its biggest strength is painless customization. It focuses on easy-to-use features that give you fewer tech headaches.
If you have an existing website, you can easily link it to Teachable.
It has an exhaustive list of partners to support nearly any integration you want to use.
Its analytic tools allow you to track sales, student insights, and know your numbers.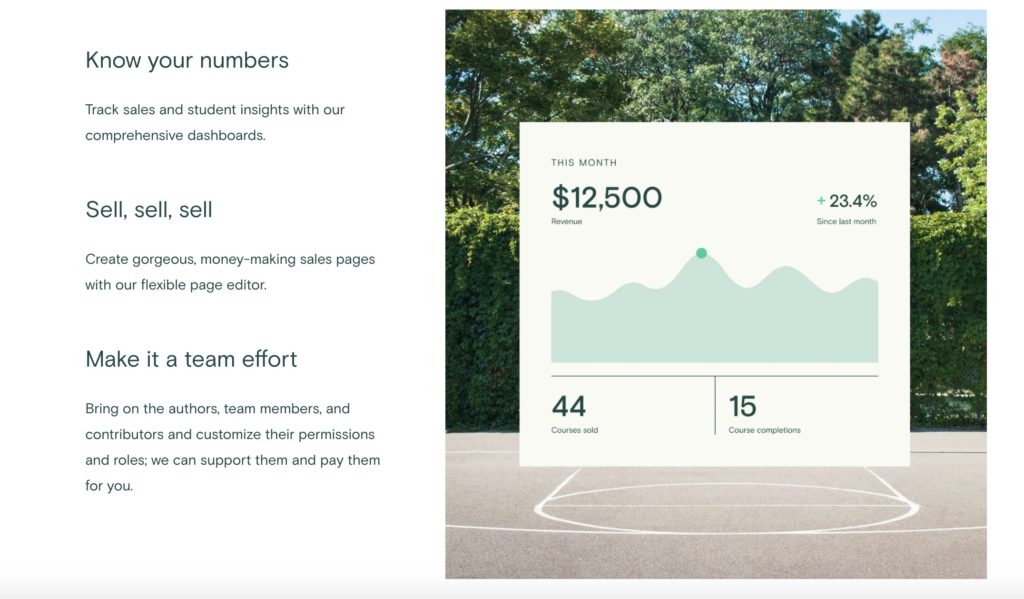 You can also collaborate with team members on the platform and customize each team member's permissions and roles.
Pricing of Teachable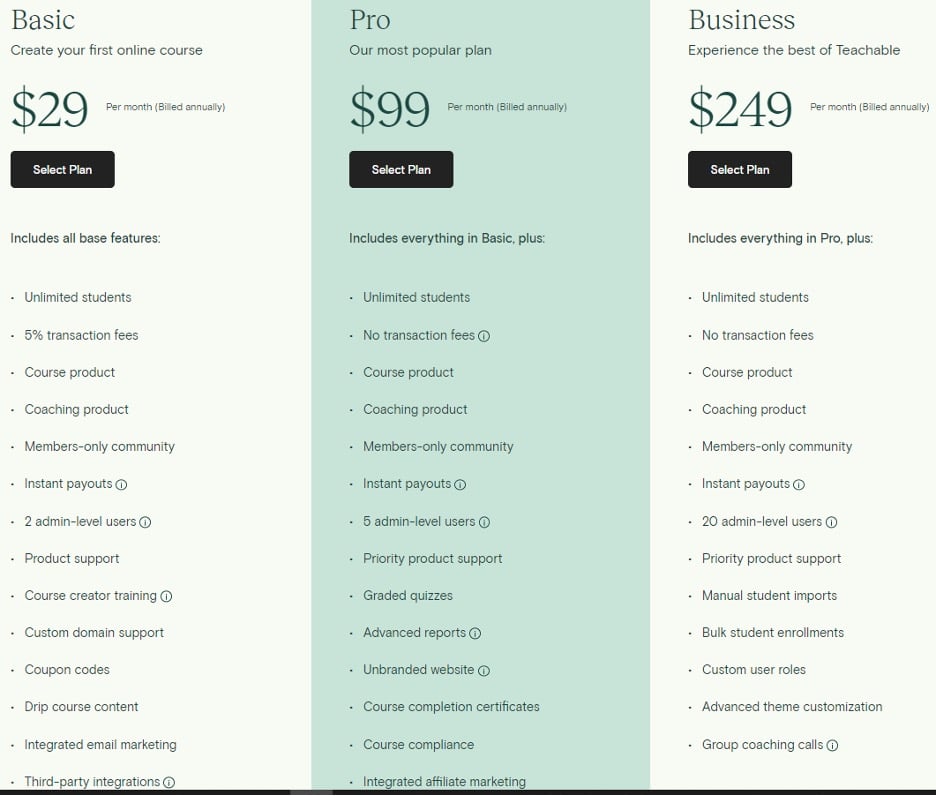 Pros of Teachable
Painless customization.
It allows you to go from course idea to launch very quickly.
Teachable takes care of all the tech so that you can focus on teaching.
Cons of Teachable
Some have reported problems with the built-in email application.
5% transaction fee in their basic plan.
Podia – Beautiful and Straightforward Interface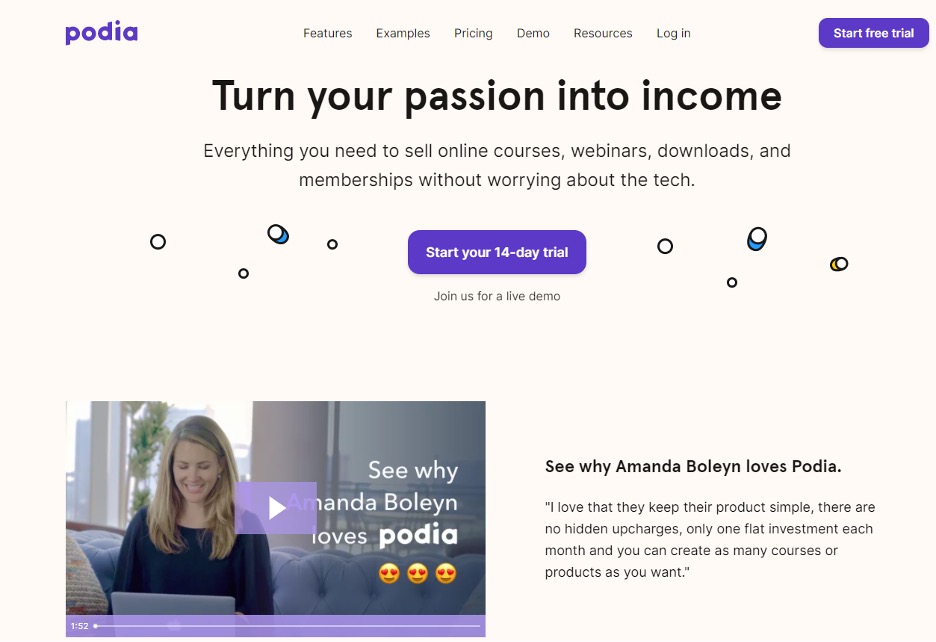 Podia has over 20,000 course creators. It is a platform designed for anyone who wants to sell the following:
Downloadable digital contents
Memberships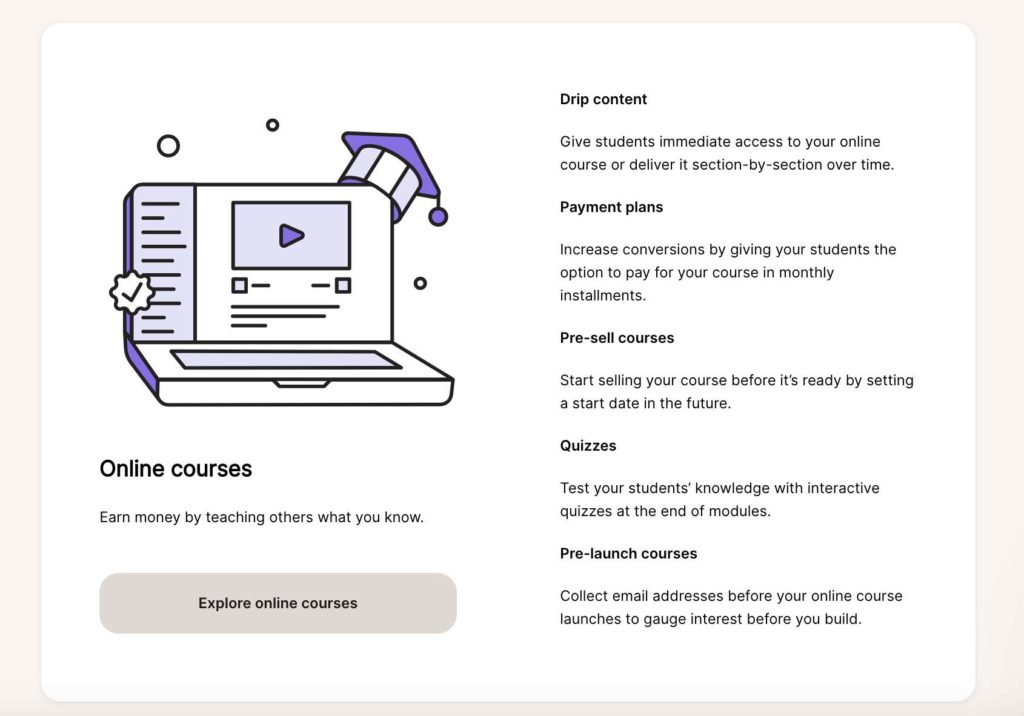 You can also use Podia to send emails, newsletters, and process payments.
Podia has a neat and clean interface, making it effortless to use even for beginners. You don't need to have much in-depth technical knowledge or use any third-party plugins to build your classroom or website.
Podia also offers free migration for existing content.
Pricing of Podia

Podia pricing begins at $39 a month, per user. There is no free version, but Podia does offer a free trial.
Pros of Podia
Great customer service.
Easy to use.
It has one of the cleanest and sleekest designed interfaces.
Frequent new updates.
Free migration for existing content.
Support 11 languages and 22 currencies.
Cons of Podia
Slightly more expensive than other platforms.
Limited customization on pages.
LearnWorlds – Engaging and Interactive Learning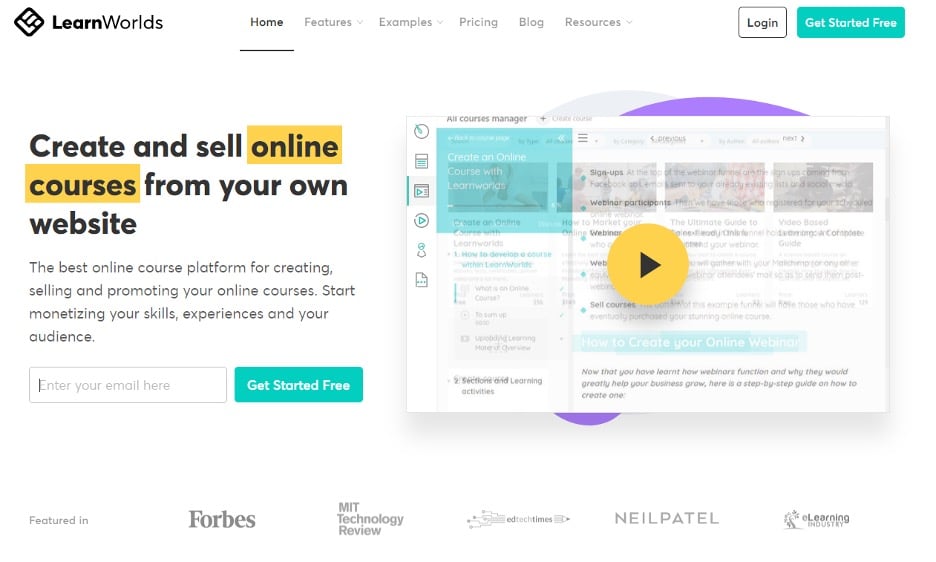 LearnWorlds is another excellent online platform that allows you to create and sell online courses. It is a leading online course builder that offers an interactive course experience that engages learners with video interactions, note-taking, interactive ebooks, self-assessment, certificates, SCORM, and much more.
LearnWorlds has various options for tests, questionnaires, and other engaging elements to provide an overall interactive learning experience to your students online.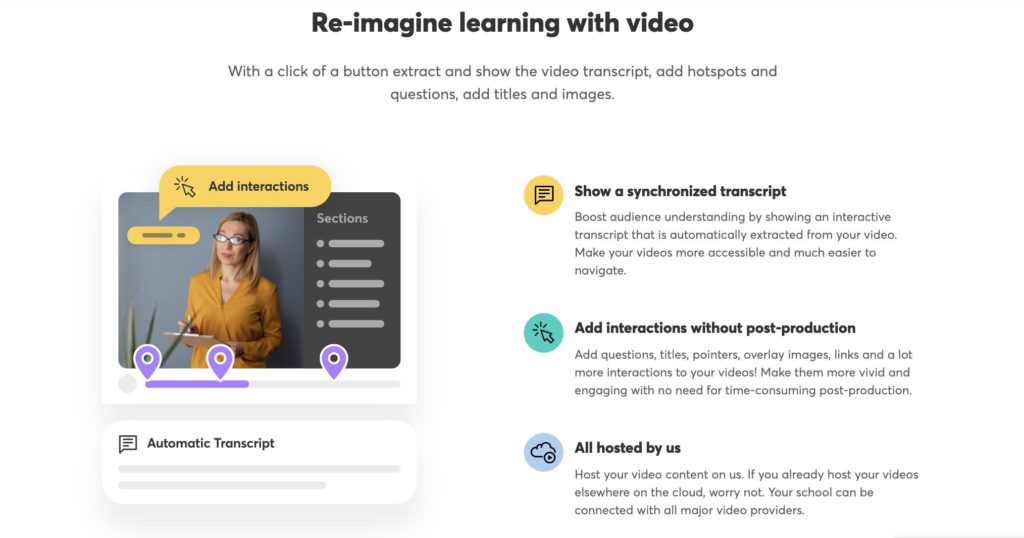 The first step to getting started with LearnWorlds is to create your online course's overall look and feel with customized landing and sales pages.
The platform has an entire library of responsive templates and styles that allows you to build your course site and add additional information pages such as About, Pricing, Contact Us, etc.
Its theme editor lets you customize your course's branding and color scheme – all with minimal coding and technical knowhow.
LearnWorlds' cloud-based e-learning platforms offer entrepreneurs, training managers, and other professionals the ideal solution to meet their needs for creating the perfect classroom for their students.
Pricing of LearnWorlds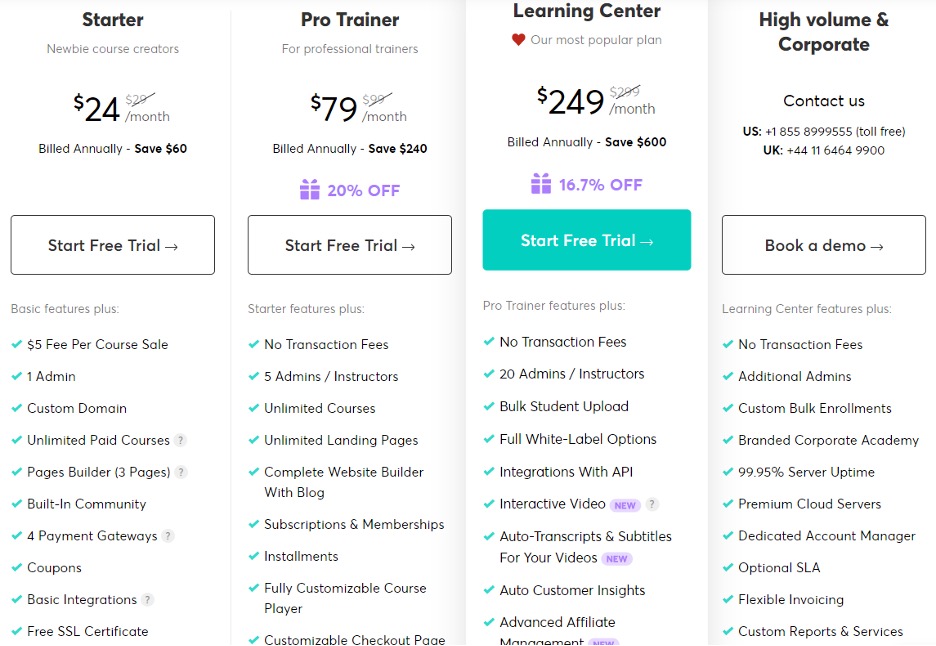 Pricing starts at $29 a month, with a free trial available for one month.
Pros of LearnWorlds
An interactive and engaging learning experience for students.
Great customer support.
Features like video editor and grade book are highly appreciated.
Easy to use.
Built-in SEO.
Cons of LearnWorlds
Feature to email all users at the same time is not available.
Kajabi – High-End, and All-In-One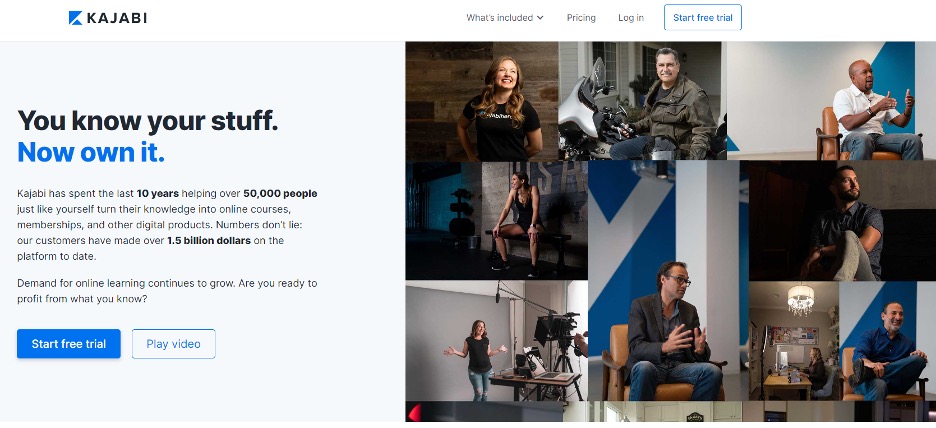 Kajabi is uniquely positioned as one of the best high-end online-course-building platforms for entrepreneurs, experts, and influencers. Since launching in 2010, Kajabi has empowered over 50,000 users in 120 countries to serve 60 million students and make over $1.5 billion in sales.
You can easily integrate subscriptions, courses, and digital products in one place. It features excellent one-click templates that allow you to turn your content into high-value products in minutes.
Its powerful email marketing automation and visual email builder lets you quickly create and send messages that integrate video, countdown timers, and more.
Other beautiful features include seamless payment integration, analytics, page customization, pipelines automation, and mobile app access.
Since it's all-in-one, pricing is significantly higher than most other platforms, starting at $119/month for its annual plan.
Pricing of Kajabi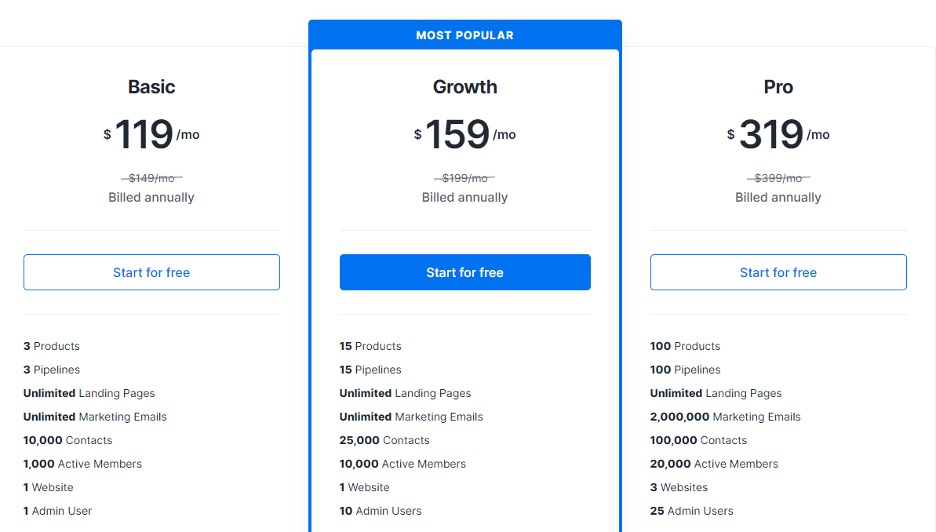 The $119 basic plan includes one website, three pipelines, three products, unlimited landing pages, unlimited marketing emails, and up to 10,000 contacts and 1,000 active members.
The higher-tier plans increase the number of products, pipelines, contacts, and websites.
Kajabi does not have a free version, but it does offer a free trial of 14 days.
Pros of Kajabi
The ability to add tags to filter customers and students.
A useful framework for webinars registration.
Email automation.
All-in-one: lots of features.
Cons of Kajabi
Pricey as compared to the other platforms.
Might be too many features for new course creators to handle.
In all, we would recommend Kajabi for established entrepreneurs and experts looking for a more advanced platform.
LearnDash – For Higher Education and Professional Training 

LearnDash is an LMS integration with WordPress. Many Fortune 500 companies, major universities, training organizations, and entrepreneurs use LearnDash to create and sell online courses.
Some big names using LearnDash include the University of Michigan, ProBlogger, DigitalMarketer, and WPelevation.
Its course features are dynamic and offer the latest in e-learning industry trends. Some of the key features include drip-feed content, flexible prerequisites, dynamic forums, grade book, course points, and certificates and badges.
LearnDash has a full-featured top of the line course builder that lets you integrate your email drip campaigns and build a great online course. It allows you to match your content with a customizable email schedule for sending lessons as per your program.
LearnDash's Gradebook technology has taken online learning to another level by giving students an overall grade based on homework, quiz, and test scores, thus creating a weighted average for grading.
If you are looking for an online platform with a complete grading system, LearnDash is the correct platform for you.
Pricing of LearnDash
The pricing plans for LearnDash starts at $159 per year, and there is no free version or a free trial.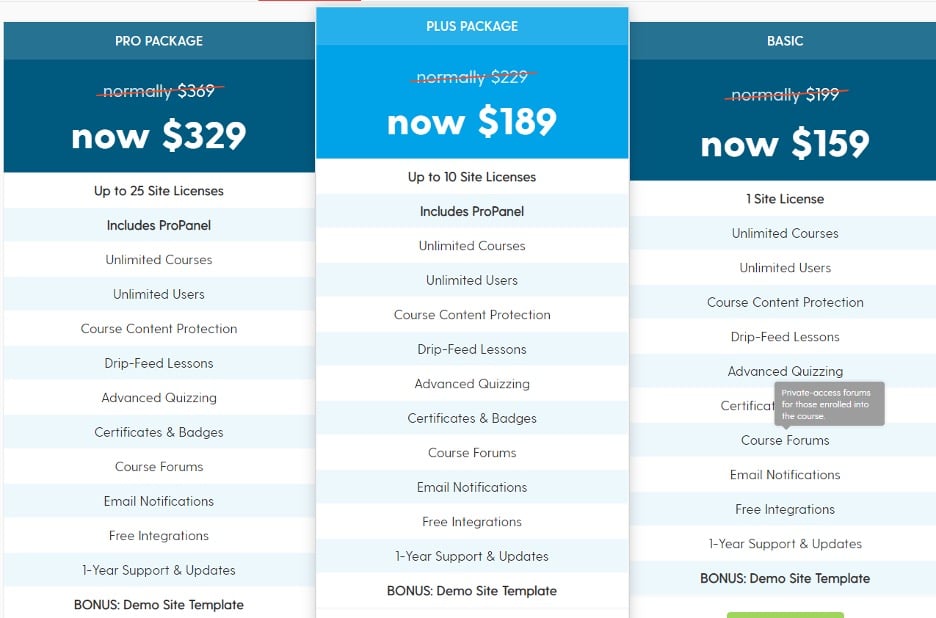 Pros of LearnDash
Teachers very much appreciate the grading system.
A lot of regular updates to improve and enhance the software.
Cons of LearnDash
The user interface may not be as intuitive as other platforms.
Steeper learning curve to start with WordPress (try Bluehost for hosting).
In all, we would recommend training organizations, higher education, and professional training for institutions to use LearnDash.
Academy of Mine – Best Customization and Customer Support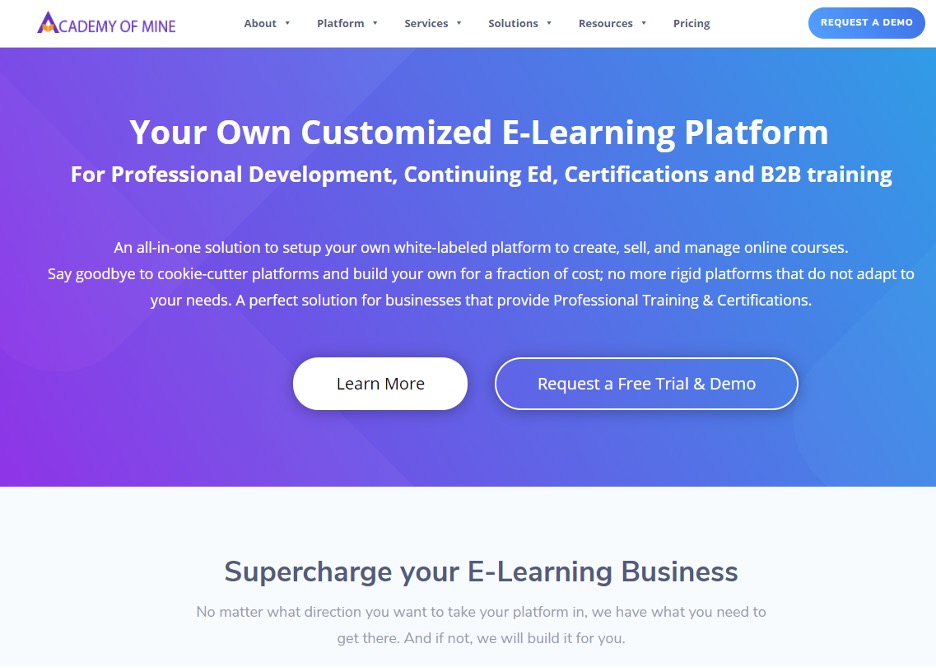 We were quite taken aback when we saw the pricing starting from an astonishing $9997 per year. But as we take a more in-depth look, we understand why the Academy of Mine can charge such a premium.
Academy of Mine was founded on the philosophy of customization and personalized customer requirements. One of their standard features is to allow utterly free development hours to help you set up and launch your course as you want with customized integrations.
The primary goal of the Academy of Mine is to help you set up and launch your online course. They also help you market and sell your course with their analytics dashboard and marketing tools.
Their customized solution is particularly useful for enterprises and companies looking to expand to online education but lacks a specialized in-house team. For medium to big companies, $9997 per year is actually fairly reasonable to have a specialized team that helps you set everything up.
You can also customize existing features or build new features and integrate them with any external software you use.
Pricing of Academy of Mine

Pros of Academy of Mine
The team is very accommodating to customer needs and customization requirements.
Customer service is fantastic.
Cons of Academy of Mine
May not suitable for new course creators or small businesses. 
Udemy – Most Popular Online Course Platform
Udemy is one of the most popular online course platforms that allows you to create and sell your courses. With over 50 million students, Udemy offers a massive audience to sell your courses to. Udemy also provides a range of tools to help you create your courses, including course creation software and marketing tools.
To create a paid course on Udemy, you first need to apply and become a premium instructor. Once approved, there is a series of easy-to-follow steps to help you create your first course. You need to keep in mind that all courses need at least 30 minutes of video and five lectures. You can also add quizzes, assignments, coding exercises, and discussion prompts.
Udemy offers loads of support for creating and marketing a course. For example, if you're unsure about your video lessons, you can submit a sample for review and get feedback on video and audio, along with suggestions for equipment. Udemy also offers the Teaching Center with tips and tricks on planning a course, filming your first video, and related topics.
If you're struggling to make your first few sales, Udemy's tailor-made marketing programs will offer support. You can get your course featured in their email blasts, be a part of site-wide discounts, or opt for Udemy's affiliate marketing program. All of these programs are optional, and Udemy takes a share of course sales depending on the promotional channel you choose.
Udemy's marketplace insights also help you select the perfect course topic and see how it stacks up against other courses on the platform. This feature tells you how popular a topic is on Udemy, its search volume, and related keywords. You can also see the number of existing courses for a topic, top-earning courses in the category, monthly revenue earned, and best promotion channels.
Udemy charges 3% revenue share on course sales made by instructor coupons and 63% revenue share on all other course sales.
Skillshare – Best for Creatives
Skillshare is an online learning community with thousands of classes in design, business, technology, and more. While it is primarily a platform for students to take courses, Skillshare also allows teachers to create and sell their own courses.
With Skillshare, you can create a custom course with your own branding, and use their platform to promote and sell your course to their large audience. Skillshare also offers a range of tools to help you create and market your course, including a course creation tool, analytics, and a community forum for teacher support.
Best Online Course Platforms: Conclusion
Each of the online course platforms above has its unique offerings. Overall, Thinkific and Teachable are two of the best options. You can get started with their free trial to test their features.
Which one do you like the most? Did we miss anything? Comment to let us know!