As we progress to the digital age, many retailers move online. An eCommerce website allows you to sell online, reach more customers, and grow your business. But, with hundreds of eCommerce website builders, it's impossible for a single person to assess all the options to find the right platform.
So we're here to help you review and compare the 13 most popular eCommerce website builders!
Wix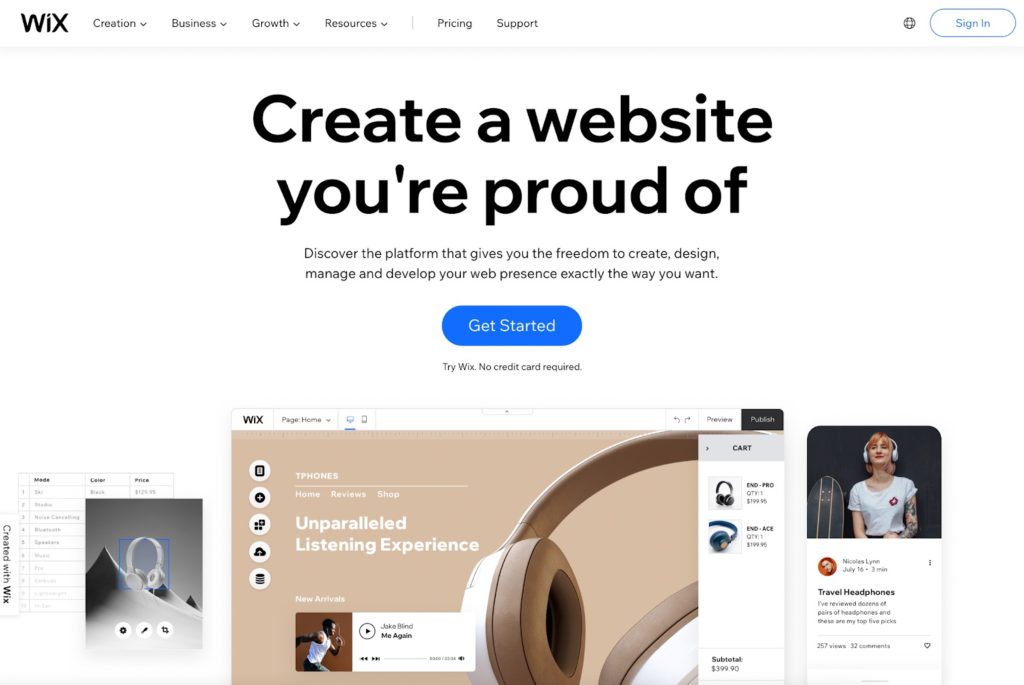 Founded in 2006 in Tel Aviv, Wix.com has expanded rapidly to serve merchants globally. Wix is best known for its drag-and-drop function, allowing users to easily create customized websites and mobile sites. It gives you the freedom to create, design, and manage your website the way you want.
You can start using Wix for free here!
Features of Wix
Drag-and-drop tool to change, customize or add anything to your site
500+ designer-made templates
Mobile friendly
Custom domains
24/7 support
Coupons and Discount codes
Wix is best for
Wix is best for small business owners or start-up founders who do not have a web designer. You want control of how your website looks and make it mobile-friendly.
Wix Pricing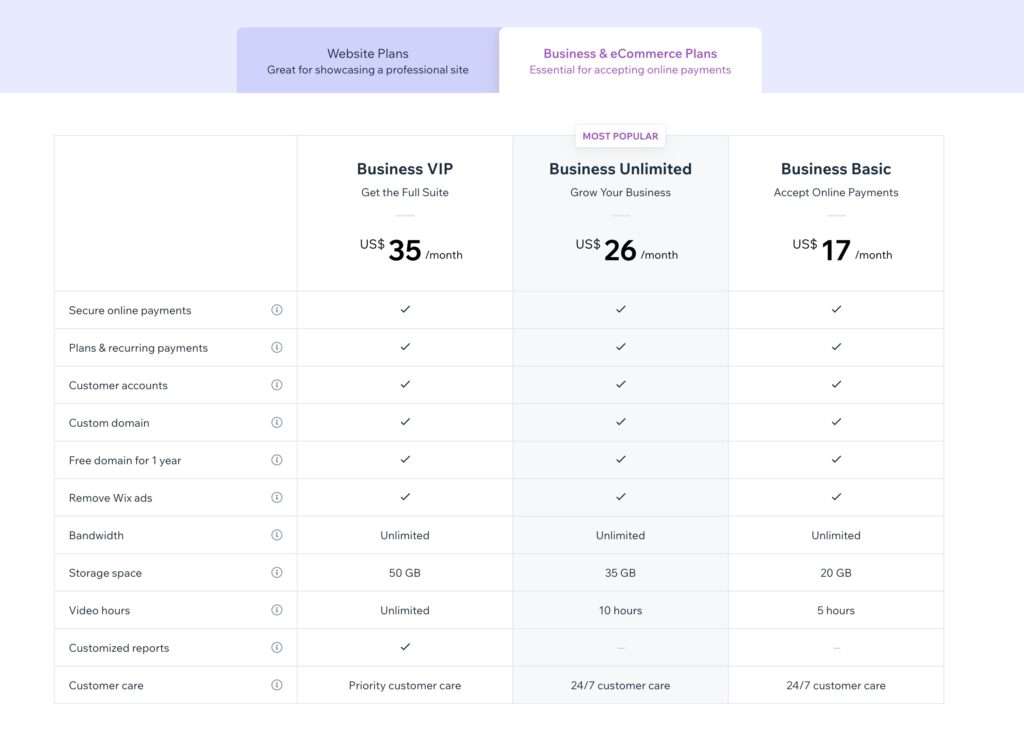 Wix eCommerce plans start at US$17 a month which allows you to accept online payments, connect custom domain, remove Wix ads, and more.
You can always sign up for Wix for free here with no credit card required.
And here's our detailed Wix tutorial to help you create a website with Wix.
Shopify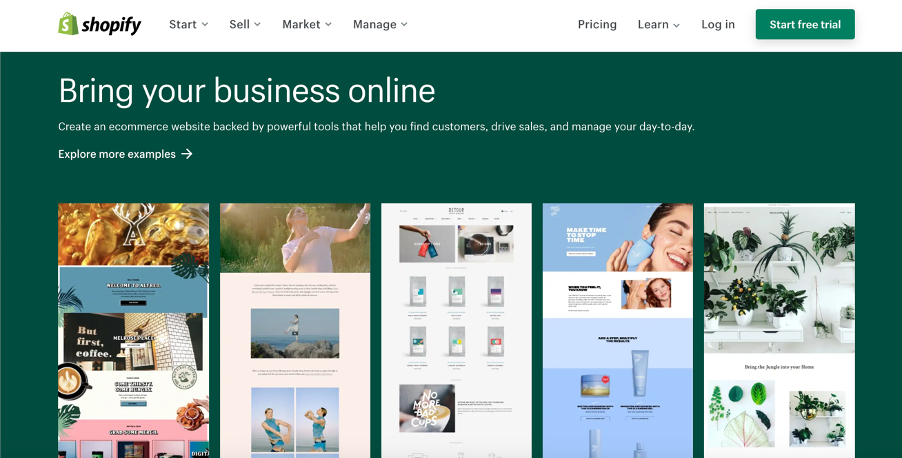 Founded in 2004 in Canada, Shopify now serves more than 1 million businesses in 175 countries. It offers online retailers a suite of services, including payments, marketing, shipping, and customer engagement tools. These services simplify the process of running an online store for small merchants.
Further read:
What is Shopify and How Does it Work? Sell and Make Money on Shopify
Features of Shopify
Unlimited Product Listing
24/7 support
Include eCommerce website and blog
Real-time sales statistics
Sell on online marketplaces and social media
Inventory tracking
Discount codes
70+ store themes/ templates available
Cons of Shopify
Not SEO friendly due to a rigid URL structure (instead of store.com/dresses, Shopify forces you to store.com/products/dresses)
Pay additional for apps extension to add more features to your store
Shopify is best for
Dropshipping if you plan to rely on Facebook Ads or Instagram marketing. It's super easy to design a cool-looking website and add products. Allows you to start an online store very quickly.
Further read:
Shopify Dropshipping: How to Dropship on Shopify and Best Dropshipping Apps
Shopify Pricing
Shopify offers three subscription plans:
Shopify Basic: costs $29 per month, with a 2.9% + 30 cents transaction fee.
Standard Shopify: costs $79 per month, with a 2.6% + 30 cents transaction fee.
Advanced Shopify: costs $299 per month, with a transaction fee of 2.4% + 30 cents.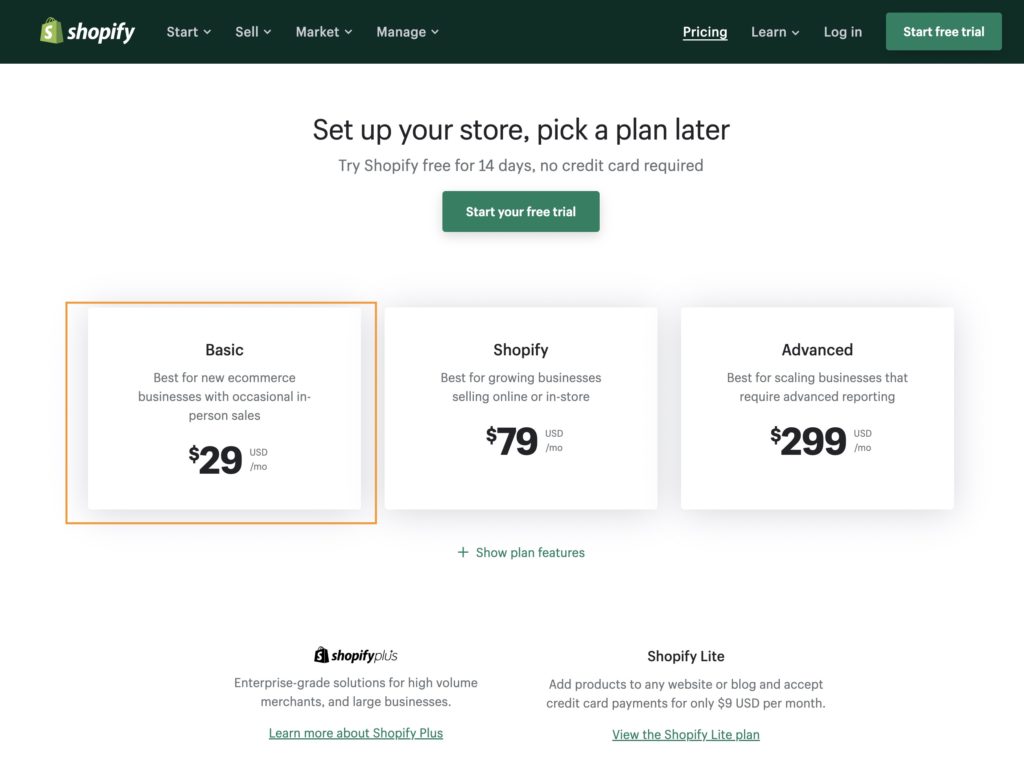 Furthe read:
Shopify Pricing, Plans and Fees Explained (2022)
BigCommerce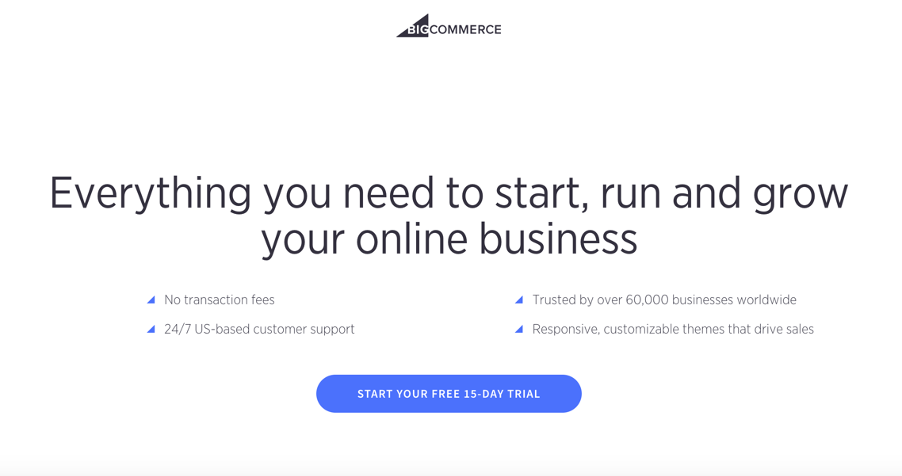 BigCommerce is our top recommended eCommerce website builder for medium to large businesses to scale. Founded in 2009, BigCommerce is now headquartered in Austin, Texas with 600+ employees. It offers solutions that cater to both enterprises and small businesses. Both are built to scale with your growth.
We've seen many small business owners get into eCommerce with Shopify because of its popularity and its ease to set up. (Nothing wrong indeed. Shopify and Wix are good, to begin with.)
After a year, as sales start growing, they pay for additional apps and add-ons to support business growth. The extra cost and the lack of SEO make the owners face a bottleneck.
This is why we suggest BigCommerce. It might not be a popular name among beginners. But it's the best platform for scalability in the longer term.
Features of BigCommerce
Best-in-class SEO features (Robust product search engine)
Excellent multi-channel selling
Advanced product options
40+ payment gateways
24/7 support
Custom domain
Cons of BigCommerce
Limited free themes (12 free themes and 160+ paid themes)
BigCommerce is best for
Medium to larger retailers
Retailers who have a brick-and-mortar store and want to expand operations to eCommerce
BigCommerce Pricing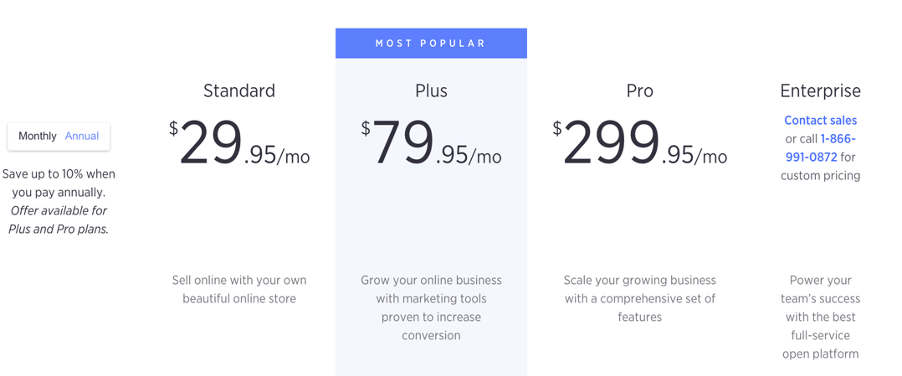 You can get started with a 15-day free trial.
Squarespace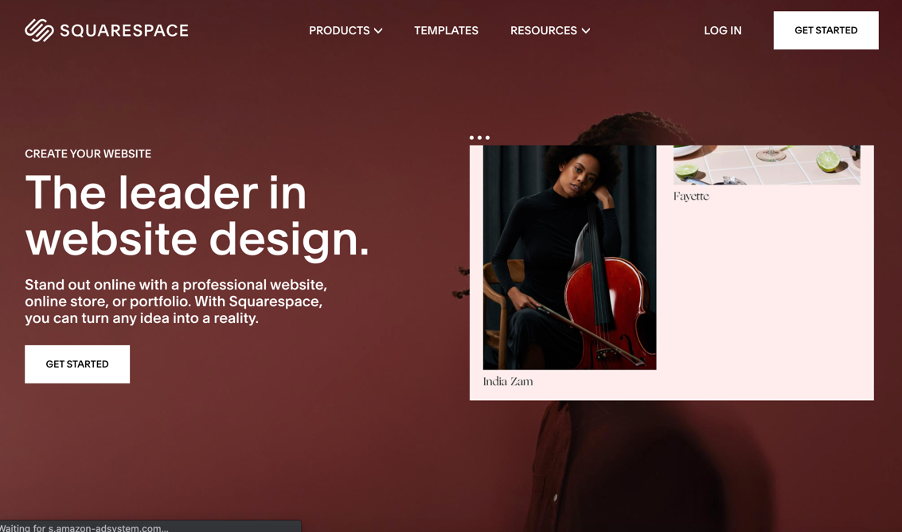 Squarespace is another eCommerce website builder that offers pre-built templates and drag-and-drop elements to create web pages. It's one of the cheapest options, starting at $12/month for Personal and $18/month for Business.
Features of Squarespace
Award-Winning Web Designs
Built-in SEO Tools
Blogging Tools
Analytics
App Integration
Edit on Mobile
Cons of Squarespace
Relatively fewer features are available
Drag and drop design is not as straightforward as Wix or Weebly
No marketing integration
Squarespace is best for
Entrepreneurs and small business owners with basic eCommerce needs.
Squarespace Pricing

Start your free Squarespace trial here. No credit card required.
Weebly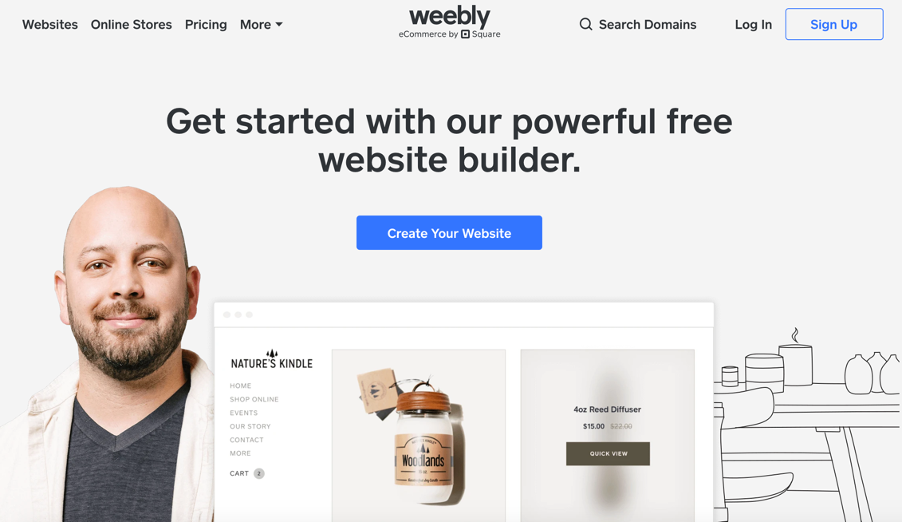 Weebly was founded in 2006 and acquired by Square in 2018 when it had exceeded 625,000 paid subscribers. This eCommerce platform works best for simple small businesses that require marketing automation. Other platforms usually charge an extra $10-20/month for this feature.
You can try Weebly for free here!
Features of Weebly
eCommerce marketing automation
Simple dashboard and easy to use
Free designs
Weebly is best for
Similar to Wix, Weebly is best for small business owners who want to create an online store easily.
Weebly Pricing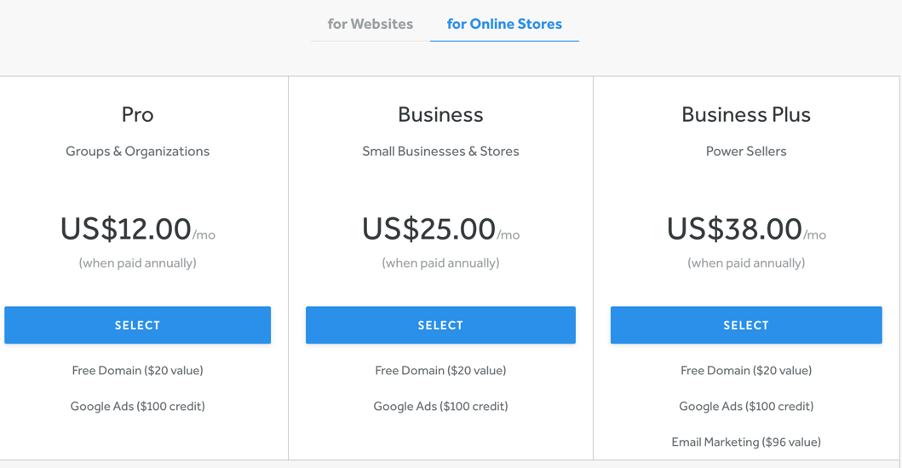 For eCommerce functionality, it's $25/month which include free domain and $100 Google Ads credit.
You can try Weebly for free here!
And here's our detailed Weebly tutorial.
Further read:
Sellfy: Best for Bloggers, Creators and influencers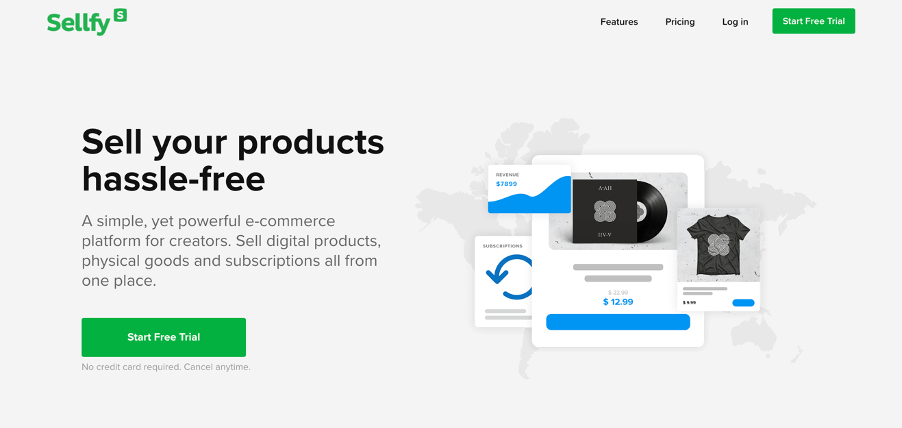 Sellfy is quite different from the above eCommerce website builders we've discussed. It is a simple yet powerful platform for creators that allows you to sell digital products, physical goods, and subscriptions all from one place. You can get your site up and running in 5 minutes.
Features of Sellfy
Sell digital products like online courses, physical goods, and subscriptions all from one place
User-friendly dashboard
Built-in marketing tools
Sell on social media or on the website
Integration with social media like YouTube, Vimeo, and SoundCloud
Able to connect with 1000+ apps with Zapier
Cons of Sellfy
Less customisable store front compared to other platforms like Wix
Not the best for traditional online retailers
Sellfy is best for
Creators, Bloggers and Influencers who want to sell digital products, physical goods and subscriptions
Sellfy Pricing

Try Sellfy for free, no credit card required.
Ecwid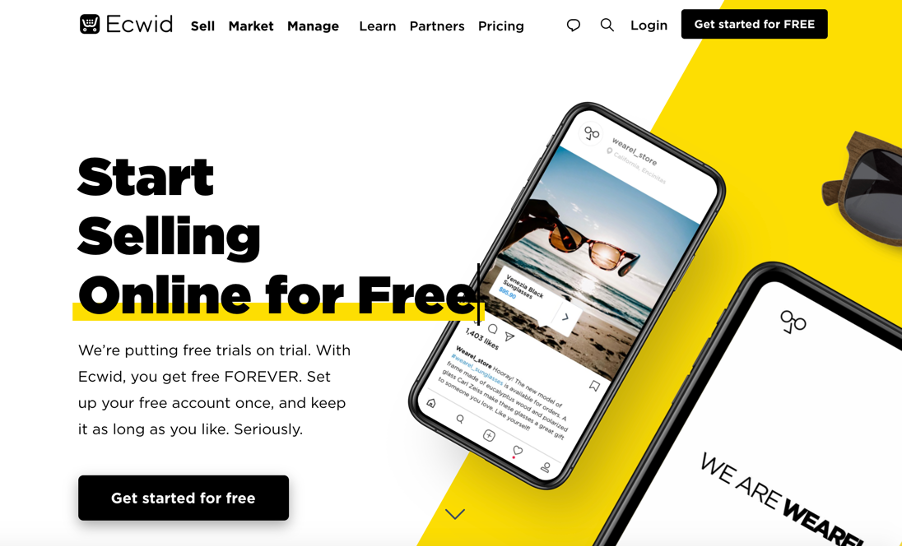 Awarded by G2 Crowd as "No.1 Fastest implementation e-commerce platform in 2019", Ecwid has amassed 1.6 million small businesses to use the Ecwid eCommerce platform to sell online. One highlight is its flexibility that allows users to sell on Amazon, eBay, Facebook, and Instagram.
Ecwid is one of the easiest-to-use eCommerce website builders. It's particularly suitable if you already have an existing website and want to add a new store to it.
You can use Ecwid for free here!
Features of Ecwid
Multi sales channel that includes marketplace and social media
Ability to connect to the point of sale platform
Highly customizable storefront
Marketing tools integration
Integrated dashboard with inventory management and more
Cons of Ecwid
Only available in English
No telephone supports
Ecwid is best for
Existing website owners that want to add shopping capabilities
Small business owners who want to sell on social media and multiple marketplaces
Ecwid Pricing

Ecwid offers a free forever plan, and paid plans start at US$15 a month which include more professional features.
You can use Ecwid for free here!
3dcart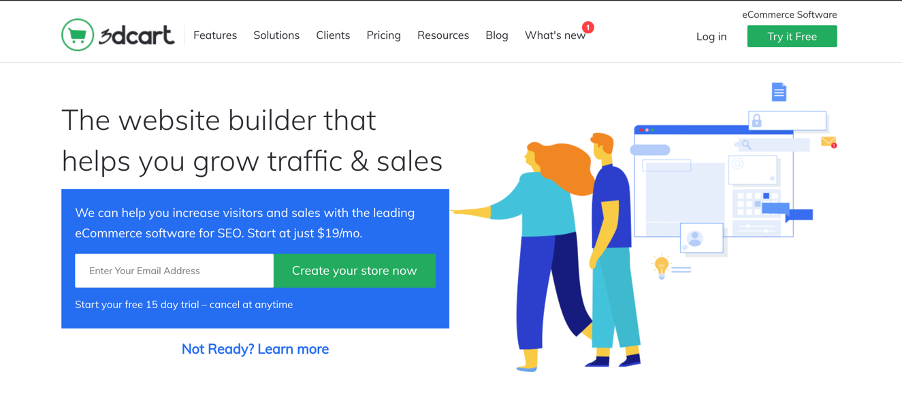 3dcart is another eCommerce platform that offers a simple yet powerful solution for small to big businesses. It's known for its strong SEO capabilities. It has five packages with different pricing that caters to different needs. A startup store costs $19/month, while for the larger business you may consider its Power Store plan that costs $129/month.
Features of 3dcart
Strong SEO
100+ Payment Providers
50+ Mobile-Ready Themes
Advanced shipping solutions
API Access
Built-in Blog
Facebook Store
Unlimited Orders
No transaction fees
24/7 support
Cons of 3dcart
Some users have described their templates as dated
Slightly steeper learning curve
3dcart is best for
Small businesses with a need of strong SEO and ecommerce functionality without the need of advanced enterprise features
3dcart Pricing

Zyro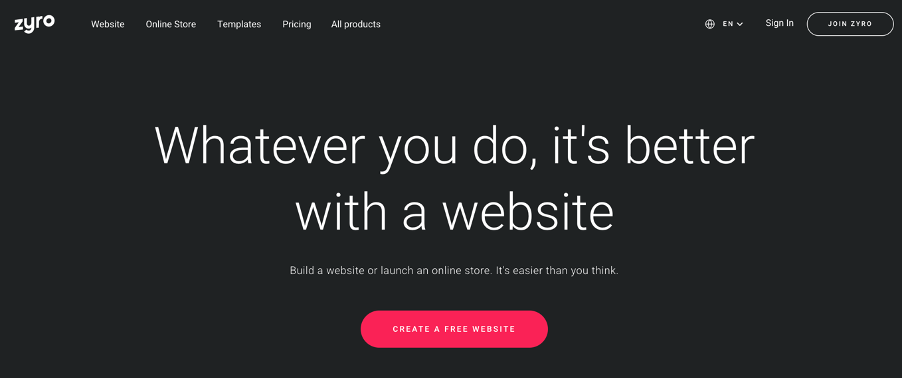 Zyro is a relatively new website building and eCommerce website builder that launched in 2019. It allows users to drag and drop website features around and build a website easily. It has a full suite of eCommerce functionality and very updated features.
Features of Zyro
Sell on multi-channels like Facebook, Instagram, and Amazon
Pre-built templates
Drag and drop website builder
50+ payment options
Inventory management
Mobile friendly
Shipping and delivery management
Cons of Zyro
Since it's a relatively new platform, some advanced features might still be developing
Zyro is best for
Small business owners who prefer a simple-to-use platform and looking to sell multi-channel.
Zyro Pricing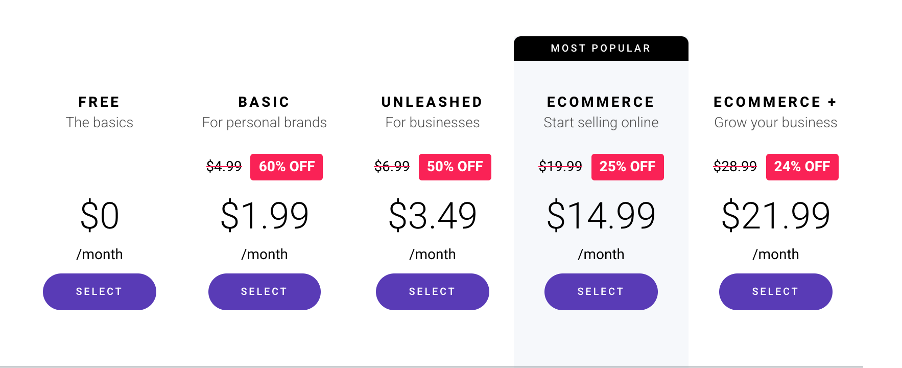 The eCommerce pricing is very attractive. You can try it for free first, and upgrade to eCommerce plan when ready.
Shopbase: Best for White Label, Print On Demand and DropShipping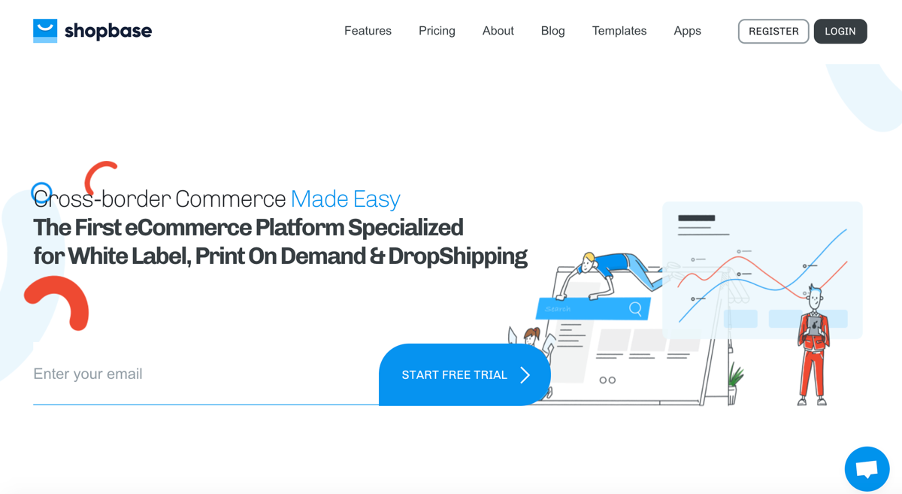 Our top recommendation if you're looking to build a dropshipping or white label business. Shopbase pre-made highly converted websites targeted for reselling, drop-shipping & print-on-demand businesses so you can set up your store easily.
Features of Shopbase
Optimized for conversions on all pages
Connected with DropShipping/ POD service providers
Built-in payment gateway
Cons of Shopbase
Not as many apps to integrate with
May not be suitable if you're not looking to build a dropshipping, white label or print-on-demand businesses
Shopbase is best for
Dropshipping, white label or print-on-demand businesses (PrintBase)
Shopbase Pricing

SendPulse

Many businesses find it troublesome to go all-in on website creation and for a good reason. It's time-consuming, expensive, and really complicated actually. A good alternative to a website would be an elaborate landing page that can be turned into an online store. That's where SendPulse with its landing page builder comes extremely handy. In addition to that, you get all the advantages of a marketing automation platform with all the necessary tools for lead generation and nurturing.
Features of SendPulse
Intuitive drag and drop builder
Payment system integration for online sales
Customer-oriented subscription widget (email, Facebook chatbot, etc.)
Analytics and SEO options to improve traffic
Mobile-first design
Free CRM for the customer base management
Cons of SendPulse
not a full-featured website builder
phone support for paid plan customers only
SendPulse is best for
Small or mid-sized businesses looking for an all-in-one solution for online marketing and sales to quickly get into eCommerce.
SendPulse Pricing

SednPulse provides a free plan for almost any feature available. Paid plans start at the $13 per year mark.
Volusion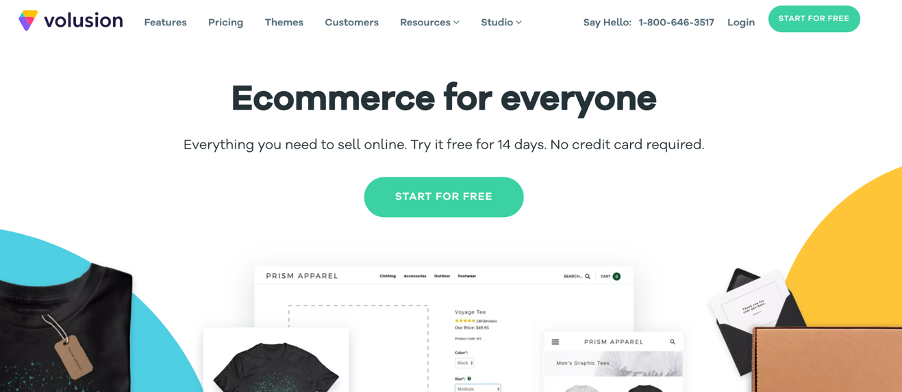 Volusion is an all-in-one eCommerce solution that lets you easily create and manage your online store. Started in 1999 by Kevin Sproles when he was only 16 years old, Volusion has helped more than 180,000 entrepreneurs around the world to build better stores.
Features of Volusion
Drag and Drop website builder
Free and paid themes
Inventory management
Social media integration
Cons of Volusion
It's not as robust or convenient to use as some platforms like Shopify or Wix.
Volusion is best for
It's best for small businesses who want to get started quickly
Volusion Pricing

Try Volusion free for 14 days, no credit card required.
Appy Pie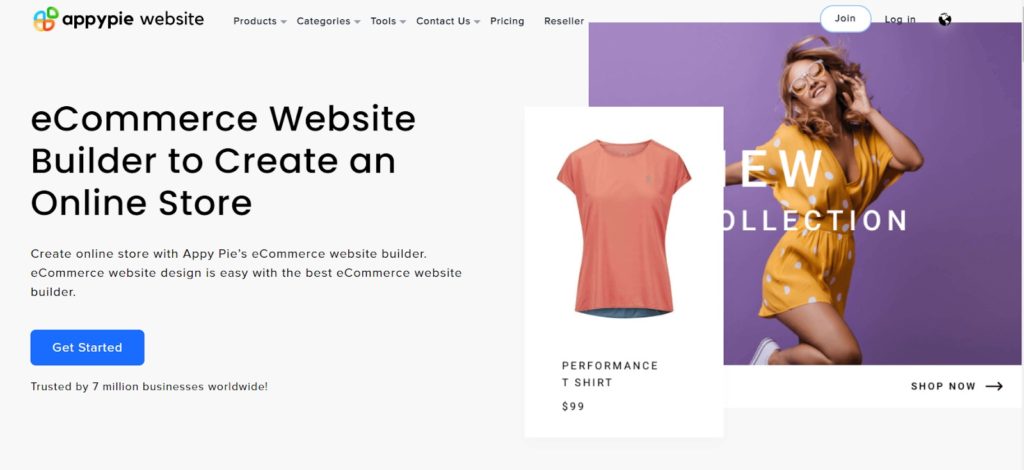 Appy Pie eCommerce website builder is a drag-and-drop website builder that allows you to build an eCommerce website without any coding. Appy Pie has a variety of pre-designed eCommerce website templates to choose from. You can also customize themes to build your own website.
Appy Pie provides advanced features such as product comparison, product filtering, and product tags to help you make a sale. You can add unlimited products and categories to your website.
Best Ecommerce Platforms FAQ
What are eCommerce Website Builders?
An eCommerce website builder is a software application that allows businesses to create and manage their website, marketing, sales, and operations online.
In the past, businesses had to hire their own IT developers and purchase expensive on-premise software to set up their online stores in-house. Today, as technology advanced and with many SaaS (Software as a Service) providers available, setting up an online store has never been easier. With the eCommerce platforms, anyone can easily set up their website and eCommerce stores without programming skills.
eCommerce platforms continue evolving to streamline workflow for users. They provide you with web design, web hosting, product listings, shipping, inventory management, marketing, and many more solutions.
What to consider when choosing an eCommerce platform?
Your need:
Are you a small business owner? Are you looking to scale your large business? Looking to sell multi-channel? Start a dropshipping business? Or are you a blogger or creator looking to start an online store?
Ease of use:
How comfortable are you using complex builders? For ease of use, we recommend Wix and Weebly.
SEO scalability:
You would want your website to rank on the first few pages when people search for your product or service on Google. SEO is a powerful feature that helps you acquire customers. Our top recommendation for SEO is BigCommerce.
Flexibility for add-ons and apps:
As your business grows, you may want to add new features to your store. An eCommerce platform that has flexibility for add-ons and apps would be very useful in this case. Top recommendations: BigCommerce and Shopify.
Mobile-friendliness:
We spend more time on our mobile phones vs desktops nowadays. It is, therefore, important to build a mobile-friendly website. Some eCommerce platforms do better when it comes to flexibility in editing your mobile site design, like Wix.  
Conclusion
It's not easy to start an online business, but with these powerful eCommerce website builders, you can now create an online store easily even without coding knowledge.
If you are a small business owner who wants the easiest-to-use eCommerce platform, you can use Wix and it's free to start!
If you are a creator or blogger who wants to sell digital products, membership subscriptions, and merchandise, check out Sellfy which is designed for creators like you!
If you want to start a dropshipping or white-label business, Shopbase is the best place to start.