Podcast hosting platforms are the essentials for every successful podcast.
Recent studies carried out by Edison and Nielsen show that there are over 850,000 active podcasts and over 30 million podcast episodes. 
Similarly, as podcasts' popularity has been soaring, so have the number of podcast hosting platforms.
There are many different podcast hosting sites or podcast platforms, and you may find it challenging to select just one and go with it. Therefore, here are the 10 best podcast hosting platforms we have reviewed and compared for you!
To begin with, let's better understand what exactly is podcast hosting, and why do you need it?
What is Podcast Hosting?
Podcast hosting is a specialized service that allows you to store and deliver your podcast media files. Just like when you want to make a website, you need to avail yourself of a website hosting service to keep your website files. Similarly, a podcast hosting service also offers the same service to host your podcast media files. 
You need a podcast hosting platform because the media files associated with your podcast episode are large. Delivering them from a dedicated server will provide your listeners with the requisite bandwidth.
A podcast host company specializes in the storage and delivery of large media files. Having the right host can make a significant difference in the long run to your podcast's success.
10 Best Podcast Hosting Services
As podcasts are getting more popular, there are now many companies that offer podcast hosting sites and services. The list we have compiled looks at 10 of the best podcast hosting companies that are the easiest to use, provides excellent support and tools, and allow flexibility in the file sizes.
| Host | Monthly Price | # of episodes | # of podcasts | Team members | Analytics | Domain | Free plans |
| --- | --- | --- | --- | --- | --- | --- | --- |
| Podbean | $9 | Unlimited | one per plan | Only with the business plan | Yes | Yes | Start here |
| Buzzsprout | $12 | 3 hours | one per plan | Yes | Yes | Yes | Start here |
| Transistor | $19 | Unlimited | Unlimited | Yes | Yes | Yes | Free trial here |
| Simplecast | $15 | Unlimited | Unlimited | Yes | Yes | Yes | Start here |
| Captivate | $19 | Unlimited | Unlimited | Yes | Yes | Yes | Free trial here |
| Spreaker | $20 | Unlimited | Unlimited | Yes | Yes | Yes | Start here |
| Fusebox | $8 | Unlimited | Unlimited | Yes | Yes | Yes | Start here |
| Libsyn | $5 | 50MB | one per plan | No | $2 | $2 | No |
| Blubrry | $12 | 100MB/ month | Unlimited | Yes | Yes | Yes | Free trial here |
| Castos | $19 | Unlimited | Unlimited | No | Yes | No | Free trial here |
Podbean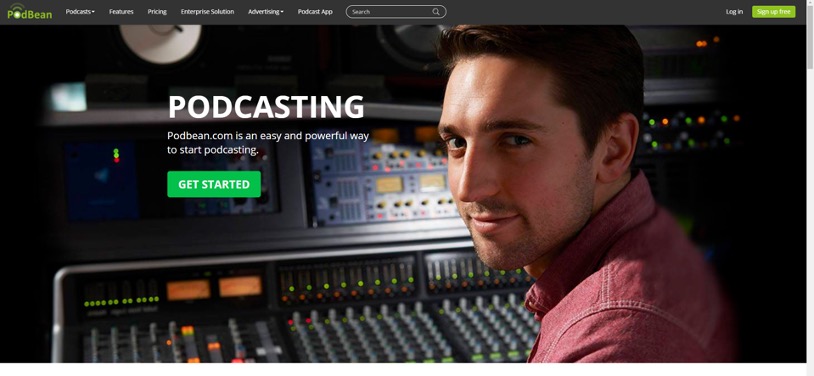 Podbean is one of the most popular and easy-to-use podcast hosting services that any podcaster could ever need. Podbean is especially the perfect choice for those who are new to podcasting and even for the more experienced podcaster.
This podcast hosting site only specializes in podcast hosting, which is why you will get focused support at all times. All you need to do is upload your podcast episodes to Podbean, and when a listener wants to listen to them, they can download the podcast or stream the data from Podbean.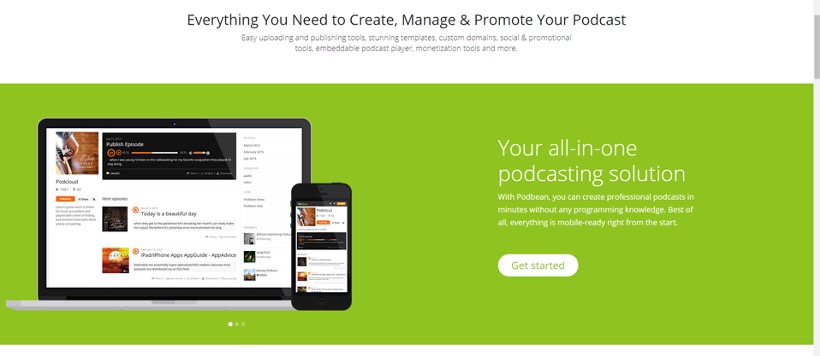 The Podbean hosting site offers users four different plans, including one that offers completely free podcast hosting. As you find your podcast growing in popularity, Podbean also offers two paid plans.
Pricing Plans of Podbean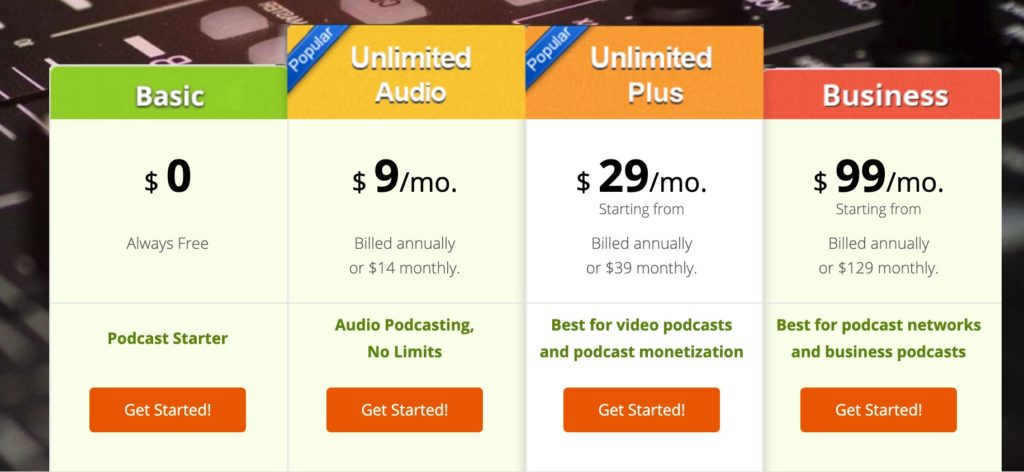 This podcast site features everything from custom domains to upload, various publishing tools, several methods of promoting your podcast, and embedded players for the episodes.
All Podbean accounts offer a free subdomain of your choice and provide several customization options. You can choose your theme and edit many of the basic styling options such as background image, header image, theme and font color, link color, etc.
Here are some of the key pros and cons of Podbean:
Pros of Podbean
Podbean has an app for both iPhone and Android users.
It is one of the largest podcast hosting platforms today.
Podbean provides excellent resources for sharing podcasts and growing your audience.
It will scale as you grow.
iTunes Support and RSS Feed are included even in the free hosting plan.
Cons of Podbean
You cannot use your domain name for a podcast if you opt for the free subscription plan.
The free hosting plan only allows you to have five hours of storage.
Get one-month free Podbean with our links below:
One month free Podbean unlimited hosting
$100 credit to use for podcast advertising
*Note: the discounts and offers are only valid through our links.
Buzzsprout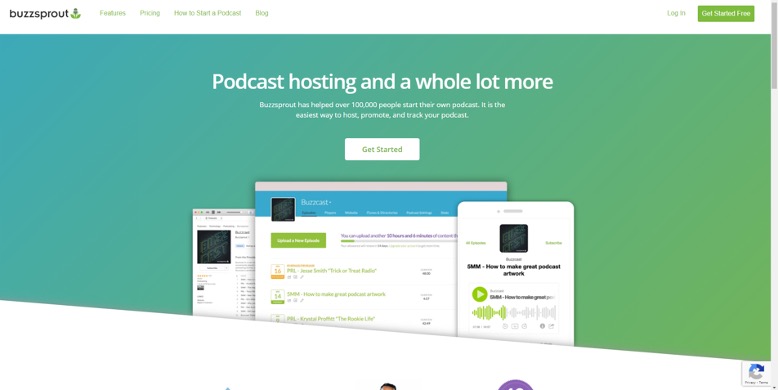 Buzzsprout is another top-rated podcast hosting platform, and along with Podbean, it is also one of the best podcast hosting platforms.
Buzzsprout is an easy podcast platform, and you will be easily able to set it up and work with it. The platform also has a powerful feature suited for nearly any podcaster who wants to begin their podcasting or those who are already running their podcasts.
The signup and setup process at Buzzsprout is intuitive, and it offers a step-by-step setup guide to help you. It offers a free plan, to begin with, and the website today is providing hosting to over 50,000 people and also works with various podcast directories such as Spotify, Google Podcast, Stitcher, and Apple/iTunes.
Get a $20 Amazon Gift Card with our referral link here when you sign up with Buzzsprout.
Here are some of the major pros and cons of Buzzsprout.
Pros of Buzzsprout
It offers 250 GB of bandwidth every month for its paid plans, and a little less for the free plans.
Subscription to Buzzsprout allows you to have your custom website and sync up with other famous directories.
It enables you to easily migrate a podcast from another host or source onto Buzzsprout.
It supports multiple audio file types and also optimizes the overall quality of the file.
Cons of Buzzsprout
The free podcast plan has limitations, and without paying, you are only allowed to upload 2 hours of audio content each month.
Episodes published under the unpaid plan get deleted after 90 days.
If you have more than one podcast, you will have to create a separate account due to Buzzsprout's one podcast per account policy.
Buzzsprout converts the media files you upload and then streamlines them at 96 kbps, which lowers your audio quality. It is possible to upgrade your podcast's quality, but it comes at a separate cost of $6 per month.
Pricing Plans of Buzzsprout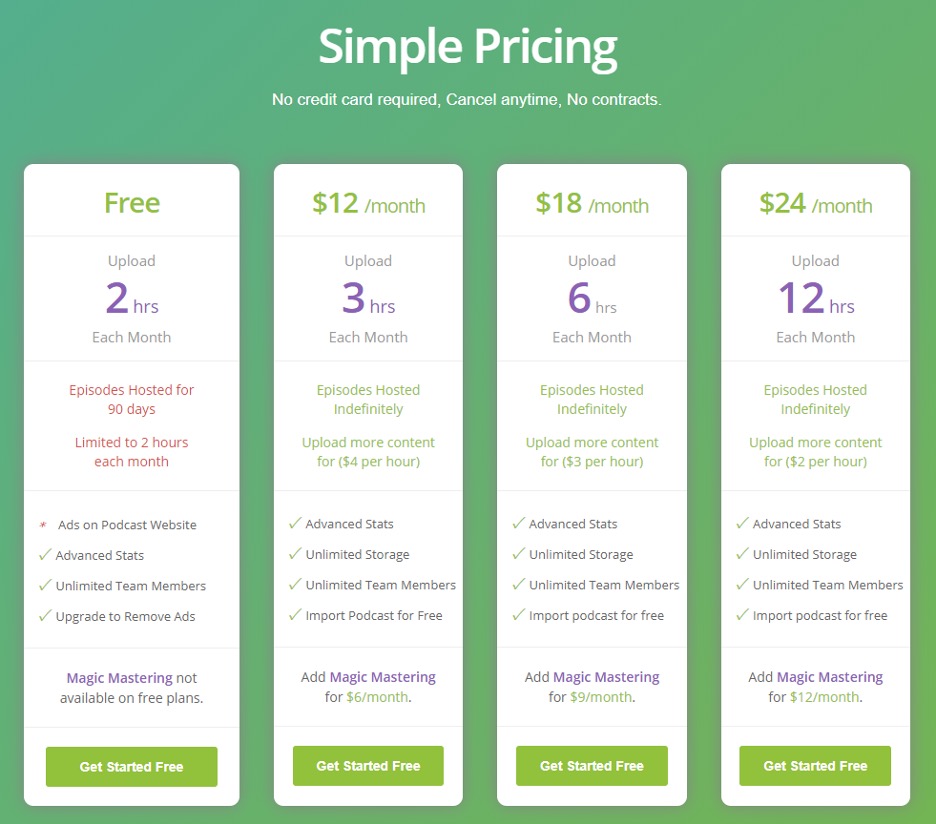 Transistor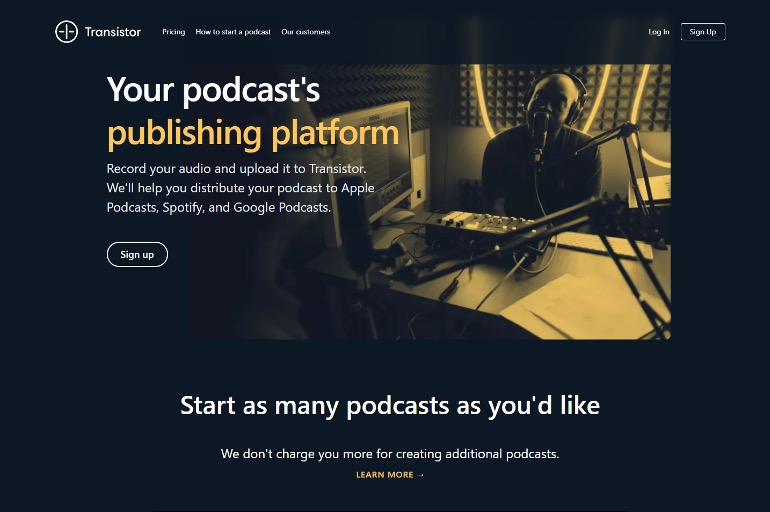 Transistor is one of the newer podcasting host sites on the market, and it is quickly growing in popularity. They have their analytics platform and focused on many brands. They are also known to be more focused on taking podcasting seriously and not just as a hobby.
Transistor is an easy-to-use hosting service, and they offer unlimited podcast hosting plans, meaning that they don't charge you based on the hours of podcast uploads as most other hosts do.
It is incredibly easy to upload your podcast media files and publish them. The podcast analytics they offer also helps you see just how well each of your episodes has performed.
Here are the pros and cons of Transistor:
Pros of Transistor
It allows you to host unlimited episodes.
Listeners can access your different streams of content all from one place.
It enables you to add team members. So if you have editors, producers, and others working on the podcast, they can also access your page with their login details.
You can also manage your team members through the platform.
Their podcast analytics are highly beneficial, and Transistor gives you everything you need to better understand your target audience.
You can quickly transfer your episodes to any new host with ease.
You can create a shareable video to promote the podcast.
Integrates with MailChimp, ConvertKit, and Drip
Cons of Transistor
It only gives 90 days of hosting for a free podcast, and then it asks you to upgrade to the paid plan.
It offers unlimited storage for the free plan, but you can only upload 2 hours of a podcast every month
Pricing Plans of Transistor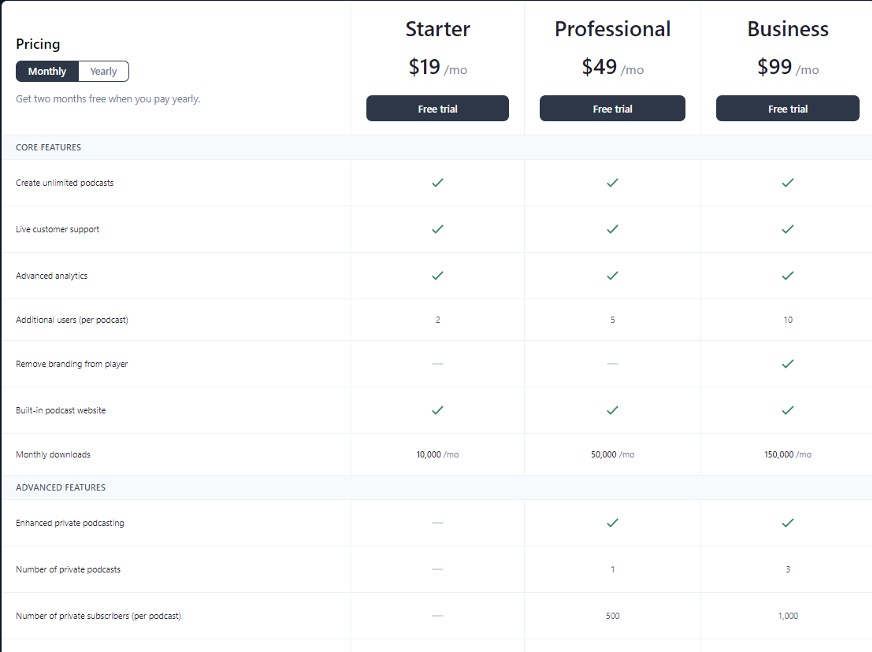 Simplecast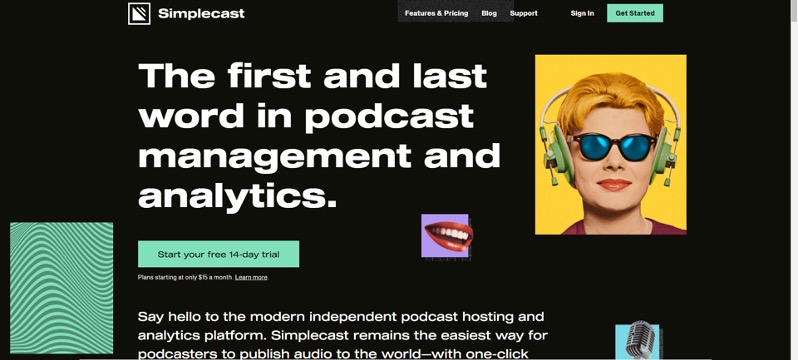 Simplecast is an upcoming podcast host that is best known for its embeddable players. Reviews claim that Simplecast's embeddable players are the smoothest and best-looking players amongst all other hosting platforms. They provide detailed analytics for your episodes.
Here's a preview of the different formats of their embeddable players: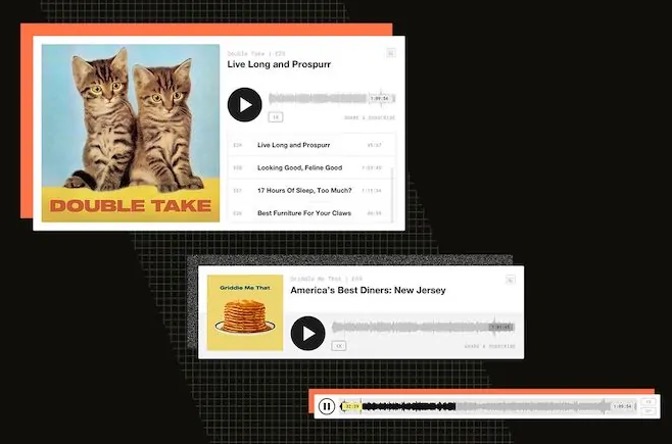 Pricing of Simplecast
Pricing for Simplecast begins at $15 a month. You get unlimited uploads, a website, analytics, the ability to manage multiple people who are on your podcast team, and lots more. You can get started with a 14-day free trial.
Simplecast also has different pricing tiers for individual podcasters and businesses.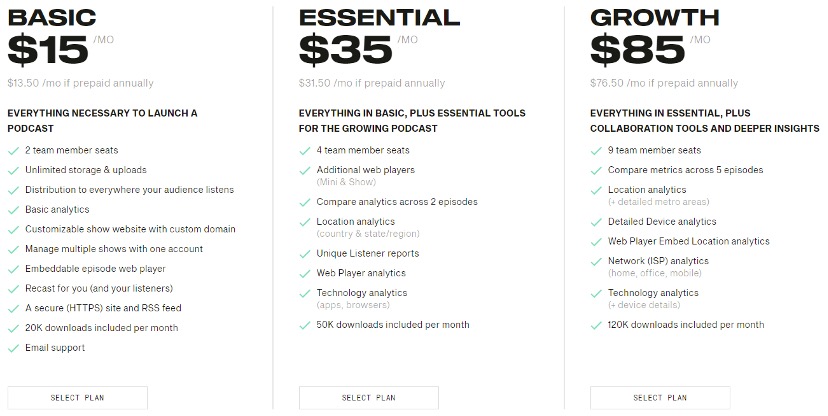 Pros of Simplecast
Analyzing analytics, straightforward to use, and wide distribution
Cons of Simplecast
The free trial is very short, so begin using it immediately.
Captivate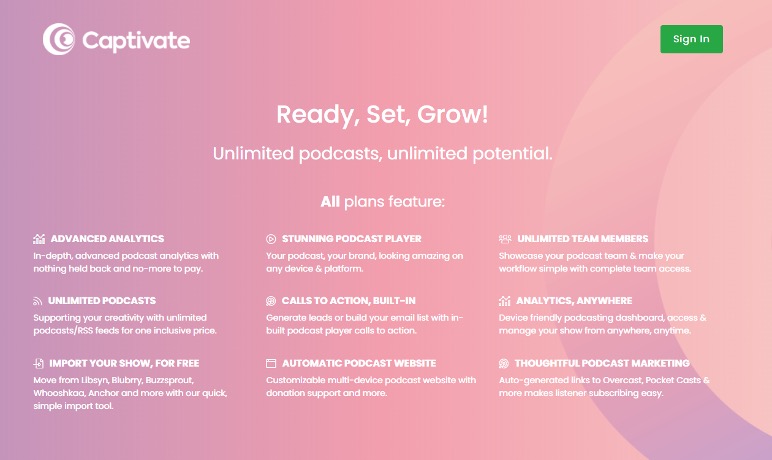 Captivate is a new podcast hosting site, and here are the main features:
The podcast player and website look fantastic.
The analytics are quite advanced, but still easy to understand.
The platform offers built-in CTA's (calls to action) to help direct people anywhere they want.
There are no limits to how many team members you can add.
Captivate also has other useful features like smart UI features such as default schedule time, WordPress integration with its custom plugin, and batch uploading.
You can upload an unlimited number of podcasts beginning at $19 per month. Annual plan begins at $17 per month.
Here are the pros and cons of Captivate:
Pros of Captivate
It allows you to customize your RSS feed URL.
You can customize all the info you need to enter for the new show setup.
It supports publishing episodes with various workflows.
It allows the batch upload of your audio files.
In-depth analytics.
You can add unlimited team members.
Cons of Captivate
It is priced per show.
Additional features require higher-priced plans.
Pricing of Captivate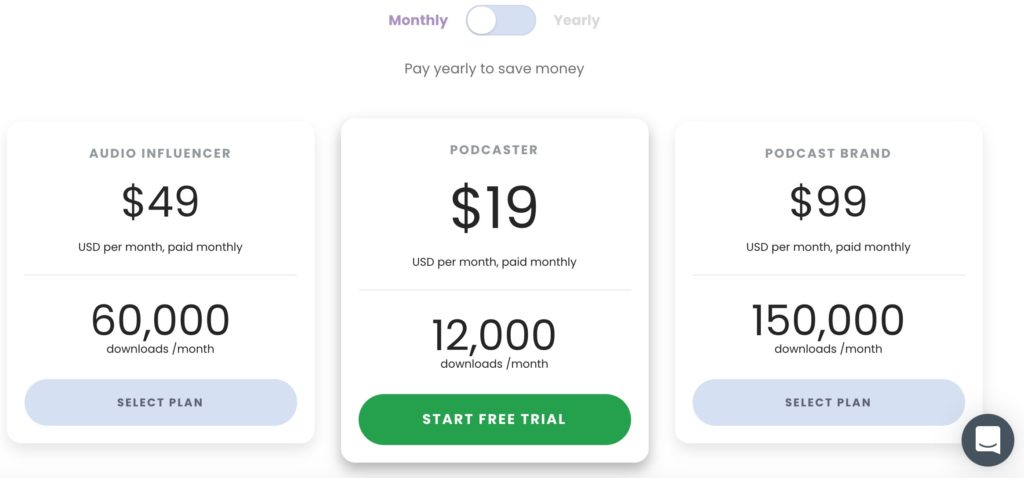 Spreaker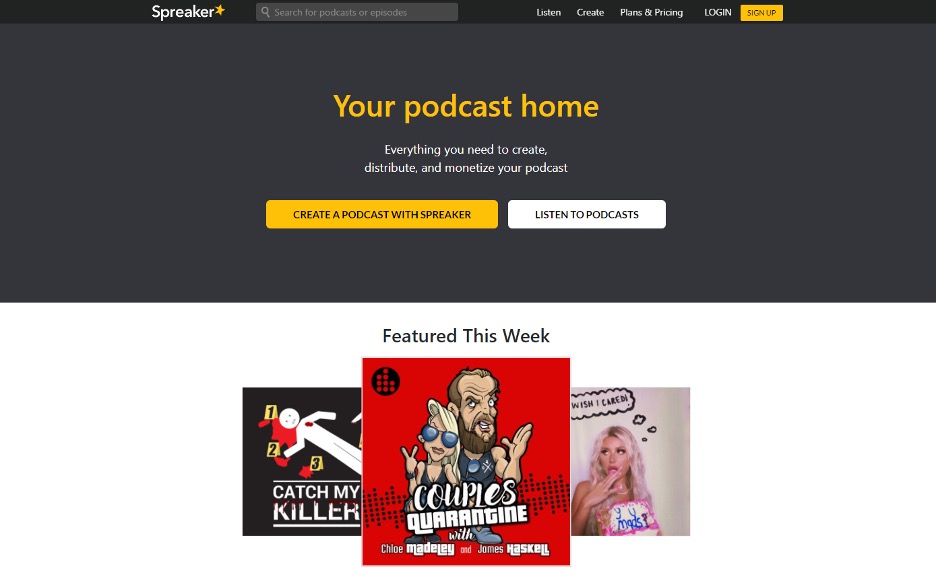 Launched in 2010, Spreaker has several unique features for podcasters. One of the unique features of this platform is that they provide a Live Podcasting option. It lets your listeners interact with you through a chatbox and other integration options.
Spreaker also has a desktop app for both Mac and Windows, and it also has a mobile app for both Android and iPhone. The app allows you to record, live stream, see your stats, and many more. While features vary depending on the device, these features are included free with your Spreaker.
Pricing Plans of Spreaker
There is a free plan to test how the platform works. The starting plan is $20 per month.
Professional individual plans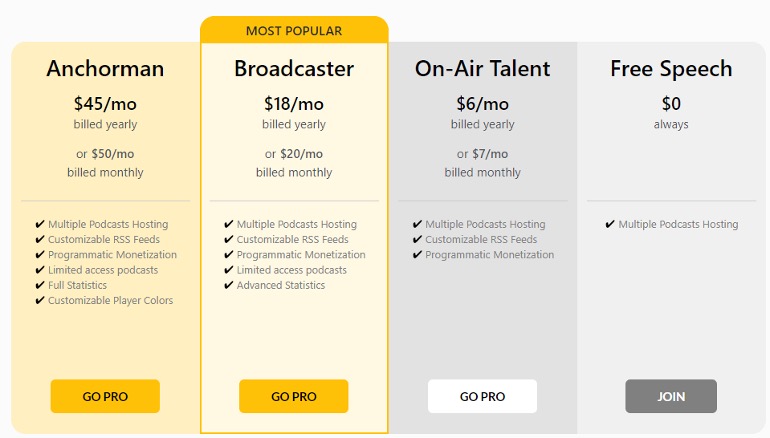 Enterprise pricing plans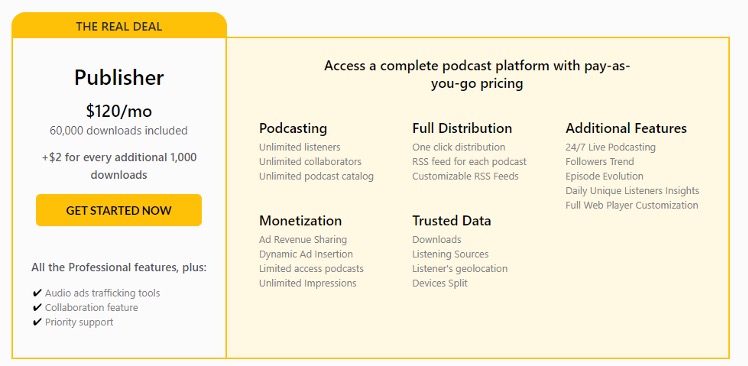 The pros and cons of Spreaker are as follows.
Pros of Spreaker
Easy sharing of content to other social media platforms.
Variety of benefits for users, including Live Broadcasting.
Cons of Spreaker
Customer service is non-existent.
You cannot cancel an active subscription during the ongoing billing period.
Sign up for a Spreaker free account here!
Fusebox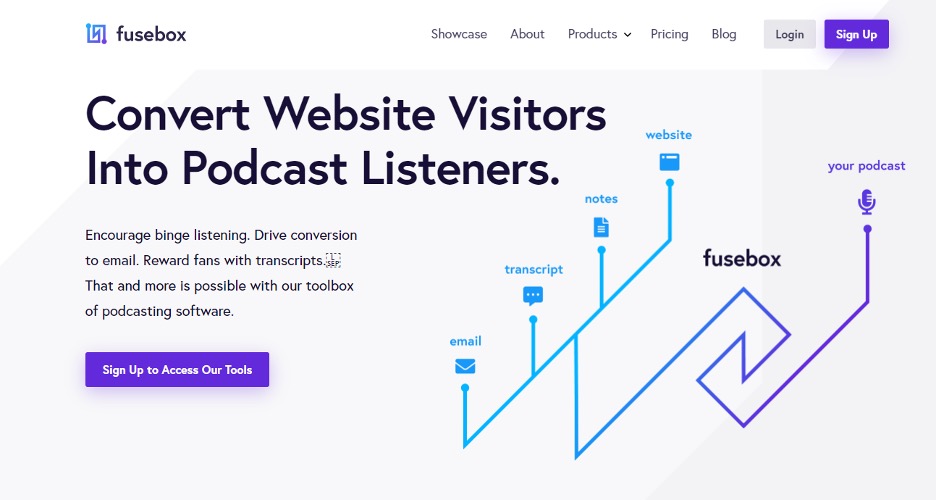 Fusebox was formerly known as Smart Podcast Player. They have a player that you can embed on your website. You can display each page for your podcast or on the homepage. Your listeners can also browse the episodes, use various on-screen controls, share the podcast, etc.
Pricing of Fusebox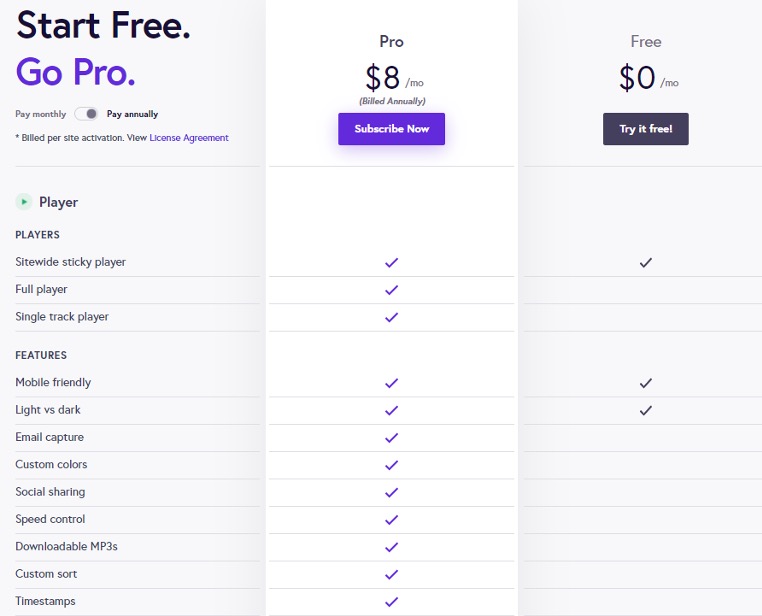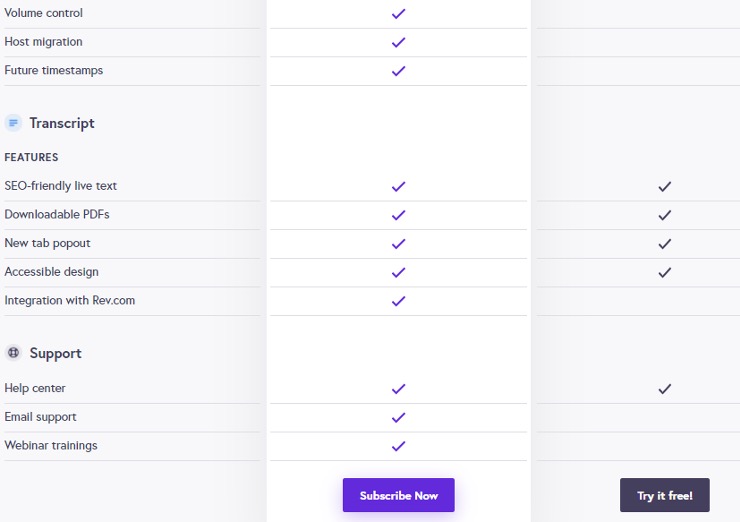 Pros of Fusebox
Customizable front end of the dashboard.
Advanced features like download buttons, Sticky Player, email capture, etc.
Listener-friendly features such as forward/rewind buttons and speed control.
Cons of Fusebox
Doesn't work on any non-WordPress websites. (Start with Bluehost here for a WordPress website.)
Lack of proper customer service.
Libsyn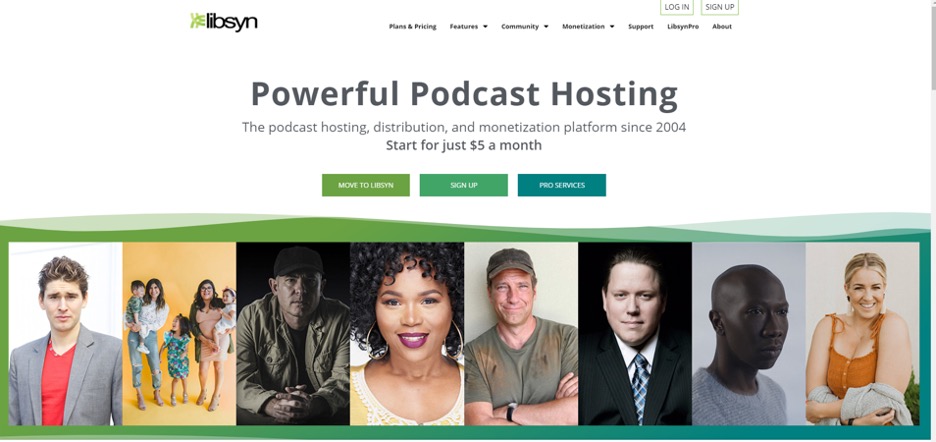 Libsyn is a reliable podcast hosting site that offers an easy-to-use platform and helps you promote your podcasts across different apps, platforms, and devices. Libsyn is one of the very first podcast hosting providers. Libsyn offers podcasting plans with varying limits of storage and unlimited bandwidth. They also provide detailed analytics, monetization options, and WordPress integration.
Pricing of Libsyn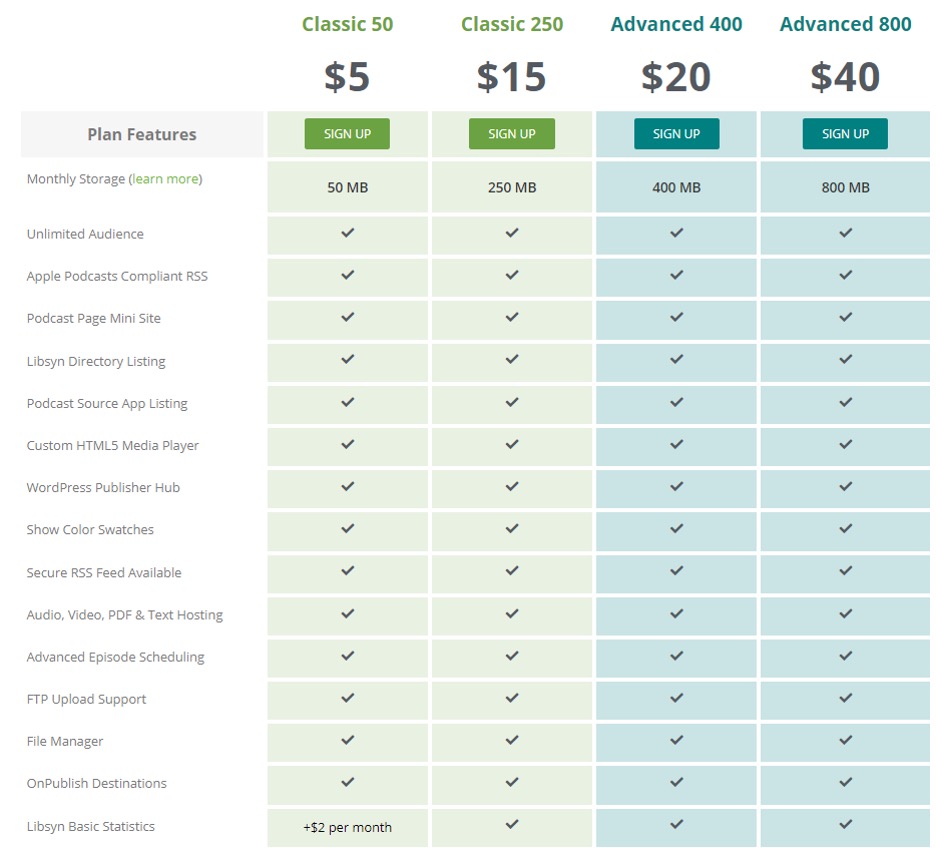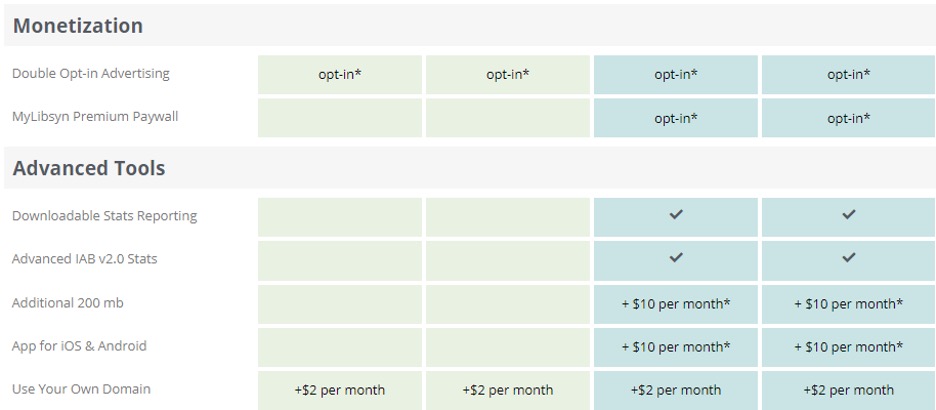 Here are the pros and cons of Libsyn:
Pros of Libsyn
It is one of the oldest podcasting platforms that started in 2004.
It has a robust base of clients.
It is cheaper than other platforms.
Cons of Libysn
It lags behind the newer platforms in terms of technical features.
It can feel outdated.
You need to pay extra for getting the statistics.
There are strict uploading limits in its cheapest plan.
You need to pay $2 per month for adding a customizable domain name.
Blubrry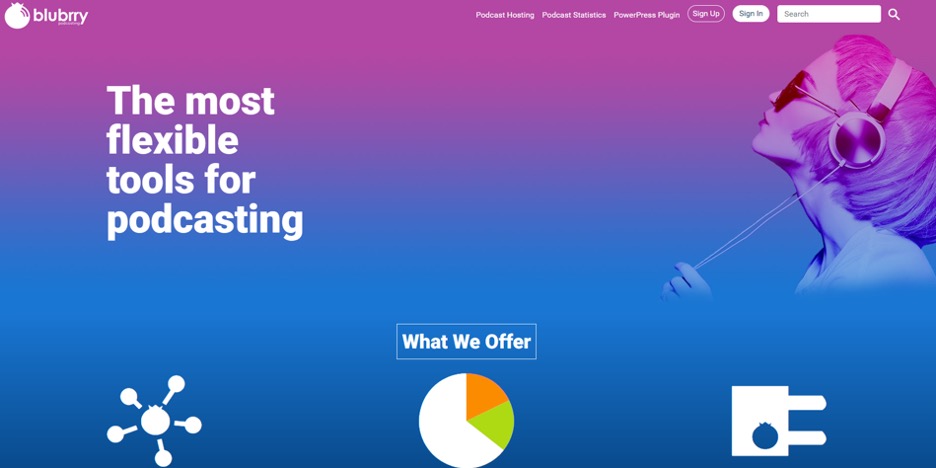 Blubrry is a flexible podcast hosting site that is easy to use for both beginners and experienced podcasters. They function by offering a WordPress podcasting plugin called PowerPress. It makes it easy to manage your podcast right from your WordPress website.
Blubrry also provides podcast statistics, social sharing features, monetization options, and much more. Prices start from $12 a month, which comes with 100 MB of storage per month.
Pricing of Blubrry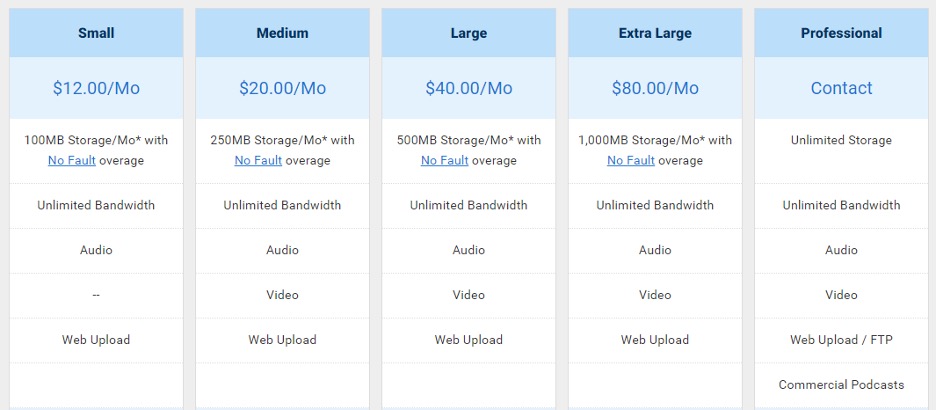 Here are the pros and cons of Blubrry.
Pros of Blubrry
Ideal for WordPress users.
Simple and easy to use.
Only podcast host to offer free phone support and scheduled video conferencing.
Cons of Blubrry
If you are not a WordPress user, its effectiveness is not much for you.
There is no free plan option, and the pricing is also slightly on the higher end.
Castos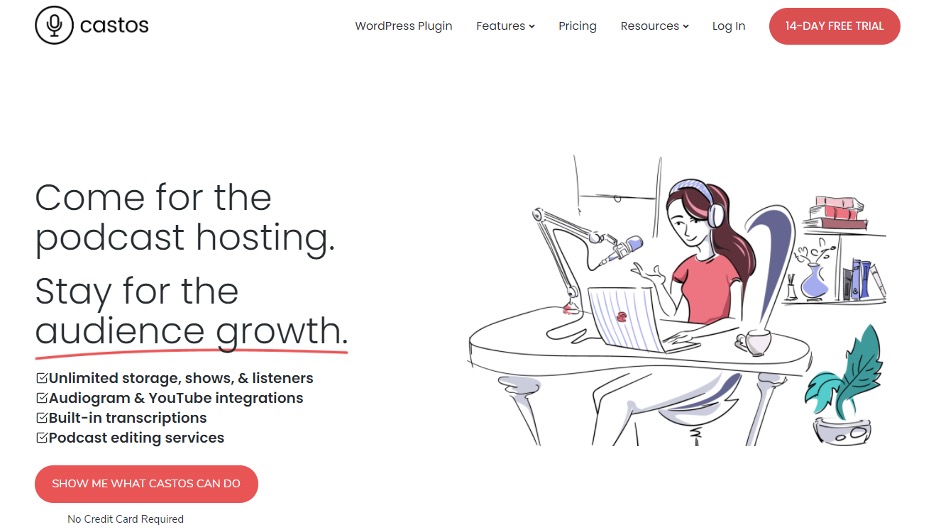 The Castos podcast hosting service also has excellent features and will integrate seamlessly with your WordPress page. The company owns the Seriously Simple Podcasting WordPress plugin, and this allows you to manage your feed and upload your new audio episodes directly from WordPress.
Castos offers unlimited download bandwidth and upload volume for just $19 a month, and also provides a great customizable player to embed into your website.
You can use Castos for free for 14 days. Paying for the entire year will also give you two months of the free plan.
Pricing Plans of Castos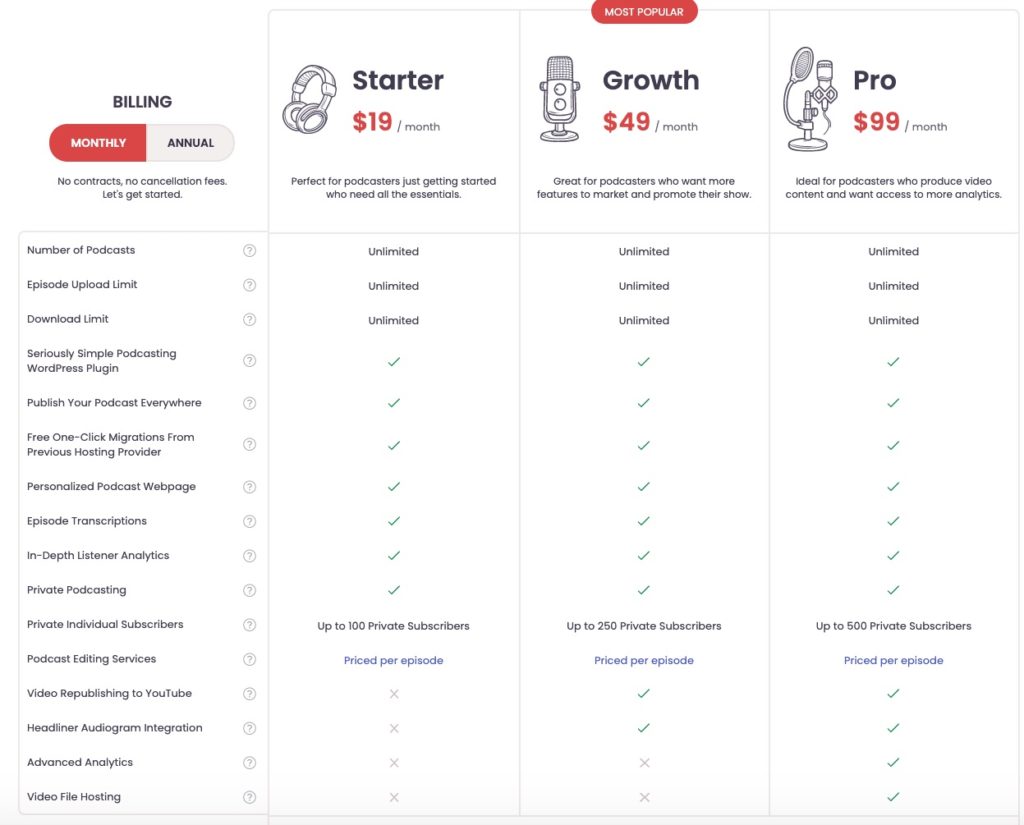 Here are the pros and cons of using Castos.
Pros of Castos
an excellent podcast service with good service and regular updates and improvements.
Cons of Castos
Only allows limited free period use.
What Equipment do You Need for Podcasting?
Having the correct podcasting equipment also makes a difference in the quality of your podcast. Many professional podcasters use different recording equipment, including microphones, mixers, audio interfaces, windscreen, shock mounts, and many more. However, good quality podcasting equipment is quite expensive.
You don't need to buy all of these to record a podcast. The primary equipment you need to have is a good microphone. Two good options for microphones are:
Rode Podcaster USB Dynamic Microphone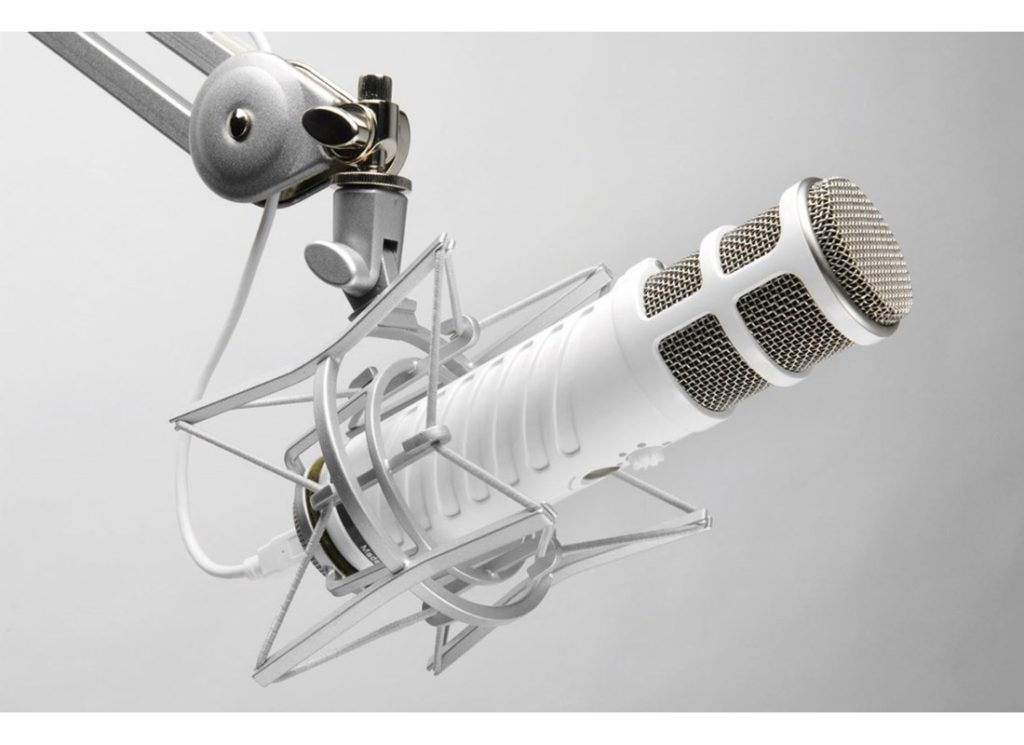 You can plug this straight into your computer through a USB port. It has a 28mm dynamic capsule and is compatible with both Mac and Windows. It has a tight cardioid pattern for superior off-axis sound rejection. It also comes with a stand mount and 10-foot USB cable. It can be thought of as a mid-level microphone.
Samson C01UCW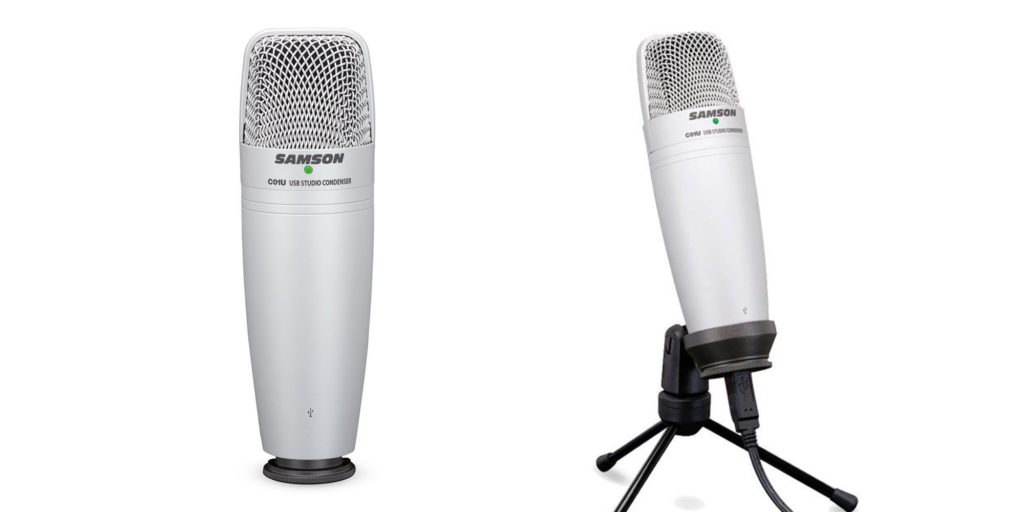 This is an excellent entry-level level microphone that you can use for recording your podcasts. It is popular as one of the first USB studio condenser microphones and plugs directly into your computer through the USB port. It has a cardioid pickup pattern and a large 19mm diaphragm. It also has a heavy gauge mesh grill.
Comparing the top Podcast Hosting Services
| Host | Monthly Price | # of episodes | # of podcasts | Team members | Analytics | Domain | Free plans |
| --- | --- | --- | --- | --- | --- | --- | --- |
| Podbean | $9 | Unlimited | one per plan | Only with business plan | Yes | Yes | Start here |
| Buzzsprout | $12 | 3 hours | one per plan | Yes | Yes | Yes | Start here |
| Transistor | $19 | Unlimited | Unlimited | Yes | Yes | Yes | Free trial here |
| Simplecast | $15 | Unlimited | Unlimited | Yes | Yes | Yes | Start here |
| Captivate | $19 | Unlimited | Unlimited | Yes | Yes | Yes | Free trial here |
| Spreaker | $20 | Unlimited | Unlimited | Yes | Yes | Yes | Start here |
| Fusebox | $8 | Unlimited | Unlimited | Yes | Yes | Yes | Start here |
| Libsyn | $5 | 50MB | one per plan | No | $2 | $2 | No |
| Blubrry | $12 | 100MB/ month | Unlimited | Yes | Yes | Yes | Free trial here |
| Castos | $19 | Unlimited | Unlimited | No | Yes | No | Free trial here |
Now that you are aware of the 10 best podcast hosts, you can go ahead and choose the one that suits your needs and start streaming your podcast!
Did we miss anything? Do you currently host a podcast? Comment below!