Voice over Internet Protocol (VoIP) plays a crucial role in business communication. Unlike other business phone systems, VoIP doesn't require dedicated on-premise hardware and allows companies to conduct long-distance or international phone calls at no extra cost.
Besides, most VoIP phone systems offer unified communications, meaning you can contact your team and customer via text, phone, and video calls from the same system.
In other words, VoIP systems are convenient, cost-effective, and enable companies to work remotely.
However, if you're running a small business or a start-up, some VoIP providers may still be outside your budget.
To spare you from doing the research alone, we've developed a list of the cheapest VoIP phone services.
Let's have a look! 
Description:

RingCentral is one of the best cloud-based communication and collaboration platforms that provides businesses with a range of tools to manage their communication needs. It offers features such as voice and video conferencing, messaging, team collaboration, and online meetings. With RingCentral, businesses can easily connect with their customers, partners, and employees from anywhere, at any time, using any device.

Description:

Nextiva is a cloud-based communication platform that provides businesses with a range of tools to manage their communication needs. It offers features such as voice and video calling, messaging, and collaboration tools, all accessible through a single platform.

Description:

Ooma is one of the best telecommunications companies that provide internet-based phone services for residential and business customers. The company offers a range of products, including home phone service, business phone service, and internet security services. Ooma's home phone service allows customers to make unlimited calls within the United States and Canada, while its business phone service offers advanced features such as virtual receptionists, call routing, and conference calling. Ooma's internet security services include antivirus and firewall protection, as well as identity theft protection. Overall, Ooma provides reliable and affordable communication solutions for individuals and businesses alike.

Description:

Dialpad is an AI-powered cloud phone company that provides a modern business communication platform for teams of all sizes. With Dialpad, users can make and receive calls, send and receive messages, and hold video conferences from anywhere, on any device. The platform is built on a cloud-based infrastructure, which means that users can access their phone system from anywhere with an internet connection. Dialpad also offers advanced features such as AI-powered transcription and analytics, integrations with popular business tools, and customizable call routing and voicemail settings. With Dialpad, businesses can streamline their communication processes and improve productivity, all while reducing costs and increasing flexibility.
Nextiva: Best All-in-One VoIP Phone Service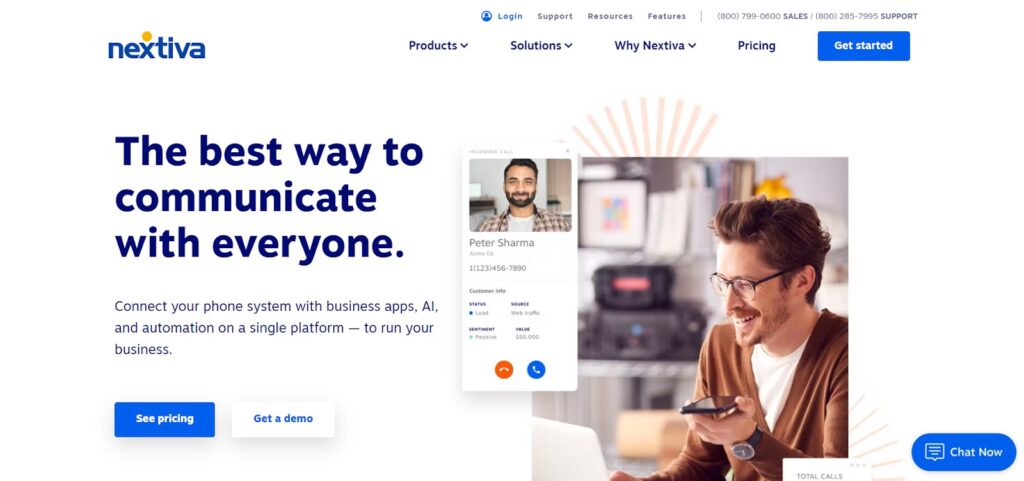 What sets Nextiva apart from the others is that it can be more than a VoIP phone system. Its top-tier plan, priced at $37.95/user/month for up to four users, also includes a built-in CRM. You can also access multiple customer service features, like customer surveys, ticket management, and more.
Other than that, Nextiva offers solid phone system-specific functionalities, including toll-free numbers, voice analytics, conference calls, etc.
Learn more about Nextiva at its official website here.
Features of Nextiva
Unlimited voice and video calling
Extensive integration capabilities
Call Pop
Nextiva's Call Pop feature offers call agents all the necessary customer information to help improve customer experience. For example, agents can identify the customer's sentiment, previous interactions, and survey responses.
Pricing of Nextiva
Essential – 23.95/user/month
Professional – $27.95/user/month
Enterprise – $37.95/user/month
Note that these prices are for companies with up to four users. Plans get cheaper the more employees you have.
Pros of Nextiva
Versatile
24/7 customer support
Cons of Nextiva
Slightly more expensive compared to other products on this list
RingCentral: Best Affordable VoIP Phone Service for Collaboration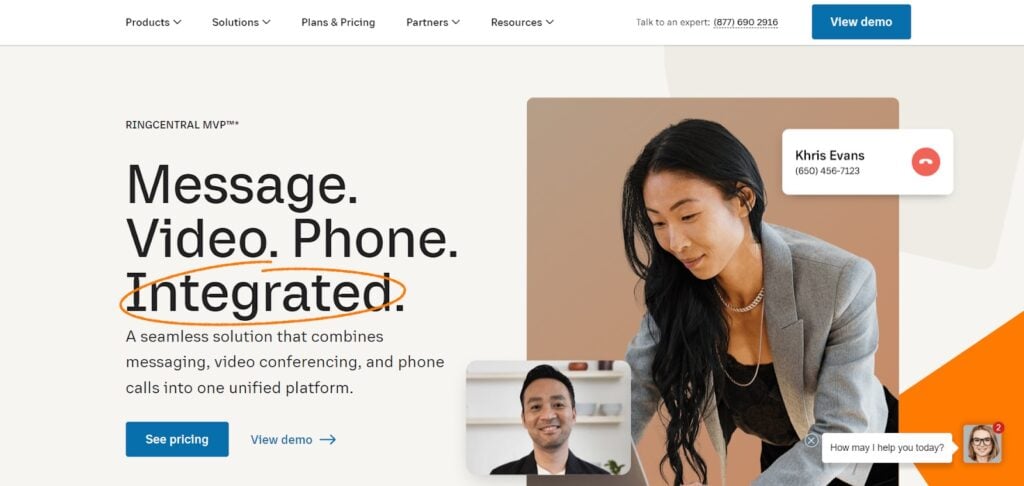 Starting at $19.99/user/month, RingCentral MVP may be the best affordable VoIP phone solution with team collaboration capabilities. First, it's a unified communications system, as it brings voice, phone, and video calls under one roof.
Second, you can integrate the platform with other collaboration tools, like Trello, Microsoft Teams, and more. Not to mention that RingCentral comes with its own set of handy collaboration tools.
Features of RingCentral
Workspace
In-depth analytics
Call management and phone system administration
The workspace gives your employees a space to send messages to each other, share files or recordings, bookmark notes, and more.
RingCentral's call management and phone system administration include many handy features like call flips, logs, transfers, forwarding, screening, delegation, and more.
Pricing of RingCentral
Essential – from $19.99/user/month
Standard – from $27.99/user/month
Premium – from $34.99/user/month
Ultimate – from $49.99/user/month
The Essential plan includes team messaging, unlimited phone calls in North America, voicemail-to-text, call analytics, and some call management and administration features.
The other plans give you access to custom integrations via APIs and more advanced reports.
Pros of RingCentral
Extensive integration capabilities
Access to mobile app
Excellent for remote work
Cons of RingCentral
24/7 support is available only in the Ultimate plan
Steeper learning curve
Vonage: Best Affordable VoIP Phone Service for Customization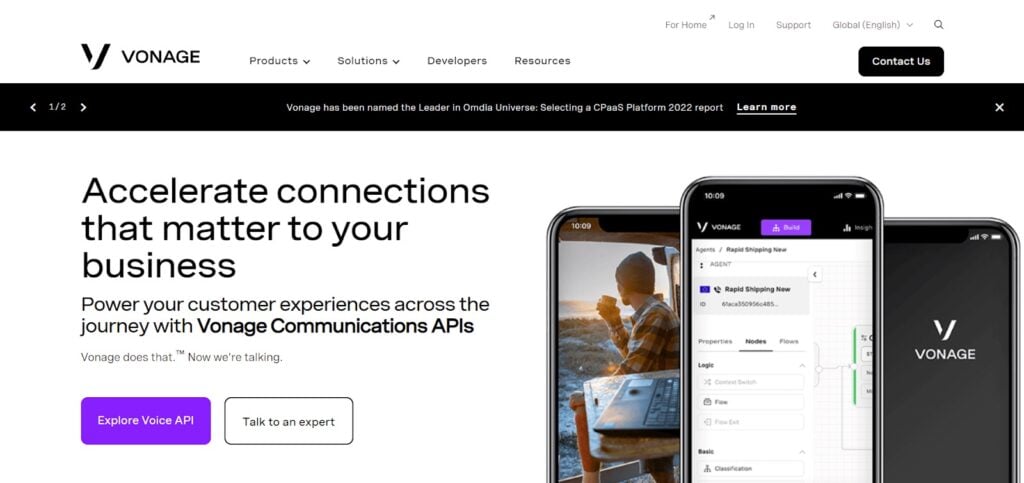 Vonage is an affordable unified communications platform that heavily emphasizes customization. The platform provides various APIs for emails, reports, in-app messaging, etc.
In other words, you can build a VoIP system that specifically caters to your business's needs. However, note that each API comes at a cost.
Other than that, Vonage's unified communications pricing plans are affordable and offer everything you need to stay in touch with your customers and employees.
Features of Vonage
Admin portal
AI Virtual assistant
App center
Vonage's AI assistant can respond to customer calls and send personalized messages. Moreover, it analyzes a conversation's context and keywords to identify the customer's sentiment and provide more relevant answers.
Pricing of RingCentral
Mobile – from $19.99/line/month
Premium – from $29.99/line/month
Advanced – from $39.99/line/month
Overall, if you're looking for a highly customizable solution, Vonage is the way to go.
Pros of RingCentral
Easy to use
Excellent customer support
Unlimited team messaging across all plans
Cons of RingCentral
Customization APIs can add up over time
Missing essential features (voicemail-to-text, etc.)
Ooma: Best Affordable VoIP Phone Service for Ease of Use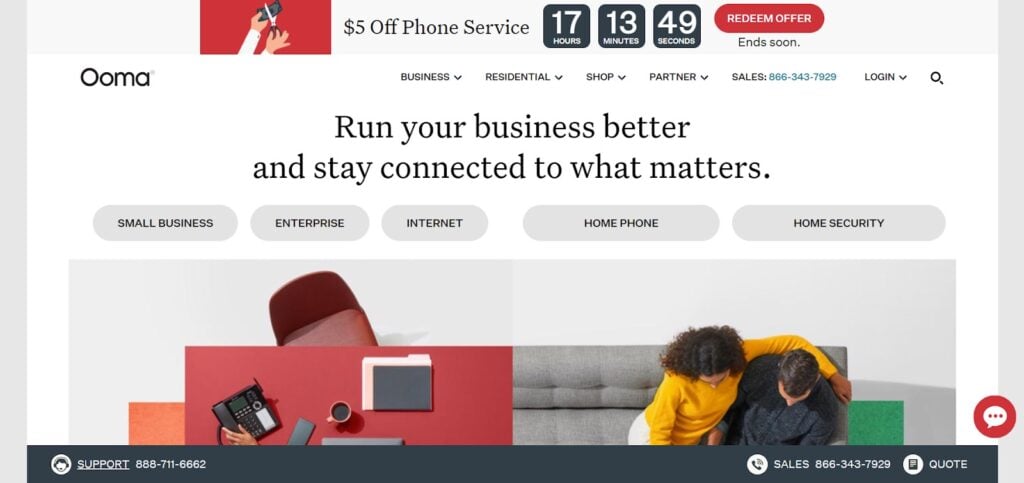 Ooma is among the best low-cost VoIP option you can find. The platform is specifically designed for small businesses on a budget. It's easy to use and surprisingly affordable for what it offers.
In terms of ease of use, the dashboard is highly intuitive. Users that do not have prior experience with phone systems can quickly get accustomed to its interface. Furthermore, with its solid features, new users quickly make the most of this platform.
However, what makes Ooma stand out is its value for money. Its starter plan, priced at $19.95/user/month, offers over 50 standard features, including toll-free numbers, call transfers, call forwarding, access to the platform's mobile app, etc.
You can also find more advanced functionalities, like virtual receptionists and ring groups.
Features of Ooma
Virtual receptionist
Ring groups
Analytics
Ooma's virtual receptionist will answer calls automatically. You can use this feature to create personalized messages, redirect customers to the right department, or provide essential information while you can't take the call.
Pricing of Ooma
Ooma Office Essentials – $19.95/user/month
Ooma Office Pro – $24.95/user/month
Ooma Office Plus – $29.95/user/month
The Office Essentials plan offers all the features mentioned above. The other pricing plans also include video conferencing, call recording, voicemail transcriptions, etc.
Pros of Ooma
Great value for money
Easy to use
24/7 customer support
Cons of Ooma
Some essential features are available only in upper-tier plans
Check Ooma's latest pricing at its official site.
8×8: Best Affordable VoIP Phone Service for Value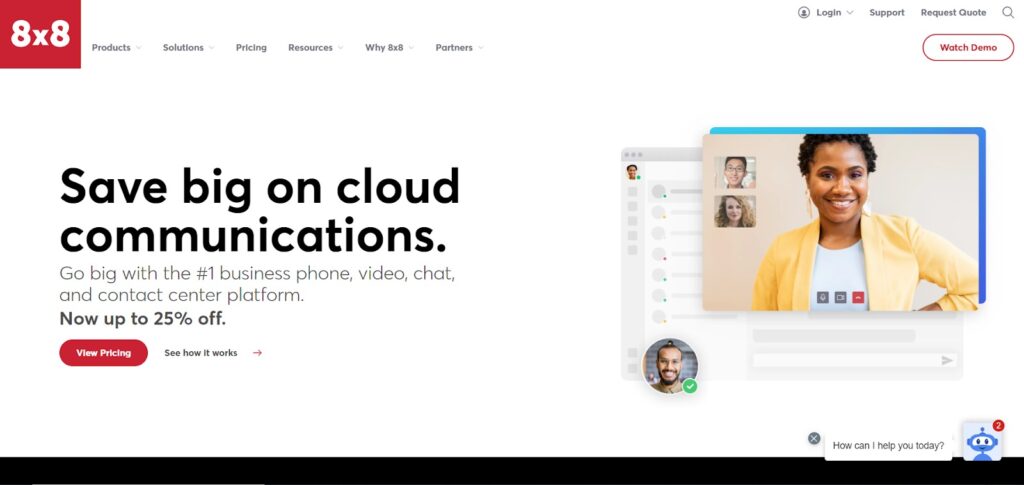 8×8 and Ooma are almost at a tie. Both platforms emphasize ease of use and pack a wide selection of features considering their prices.
However, 8×8 gains the upper hand by allowing you to mix and match between pricing plans so you can get even more value for money. Moreover, its starter plan is cheaper than Ooma's, costing $15/user/month.
The drawback? You may find 8×8's UI a little clunky, while the basic plan is limited to up to 10 users.
Still, 8×8 is a solid option. If you're running a start-up on a tight budget, this platform is an excellent alternative to Ooma.
Features of 8×8
Auto-attendant
Video, voice, and message communication
Advanced call management
8×8's advanced call management provides the tools necessary to monitor employee conversations and direct customers to the right agents.
What's noteworthy, some features only available in Ooma's upper-tier plans can be found in 8×8's basic package, like video conferencing and team collaboration tools.
Pricing of 8×8
8×8 Express – from $15/user/month
X2 – from $24/user/month
X4 – from $44/user/month
8×8 Express includes unlimited calling in the US and Canada, unlimited video conferencing with up to 100 participants, meeting recording, and transcriptions. It also offers other communication tools like one-on-one instant messaging, file sharing, and team messaging.
Pros of 8×8
Affordable
Easy to set up and use
Wide selection of features
Cons of 8×8
UI is slightly clunky
The top-tier plan is expensive
Dialpad: Best Affordable VoIP Phone Service for Analytics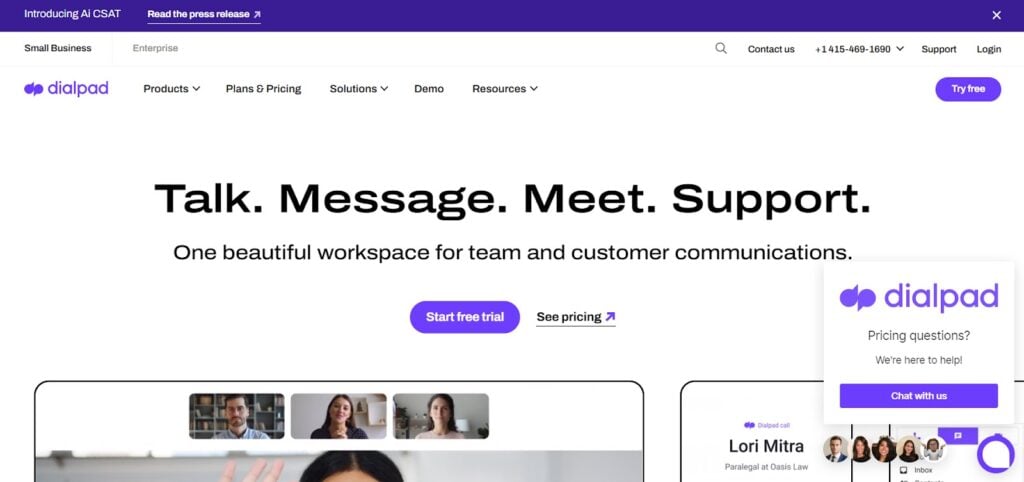 If you want to get valuable insights from your conversation, you can't go wrong with Dialpad. This platform leverages machine learning technology to monitor conversations and identify customer sentiment, speech errors, team performance, call habits, and more.
With prices starting from $15/user/month, the data you can get with Dialpad makes the platform seem like a bargain.
Features of Dialpad
Unlimited calling
Voice intelligence
In-depth analytics
Dialpad automatically creates reports after each call, which include call highlights, notes, and action highlights. Moreover, there's a heatmap you can use to identify call volumes and answer times.
Pricing of Dialpad
Standard – from $15/user/month
Pro – from $25/user/month
Enterprise – upon request
And the cherry on top: Dialpad's AI capabilities are available in the cheapest plan.
Pros of Dialpad
Intuitive UI
Excellent reports
Extensive integration capabilities
Cons of Dialpad
Some integrations are only available in upper-tier plans
Trengo: Best Affordable VoIP Phone Service for Messaging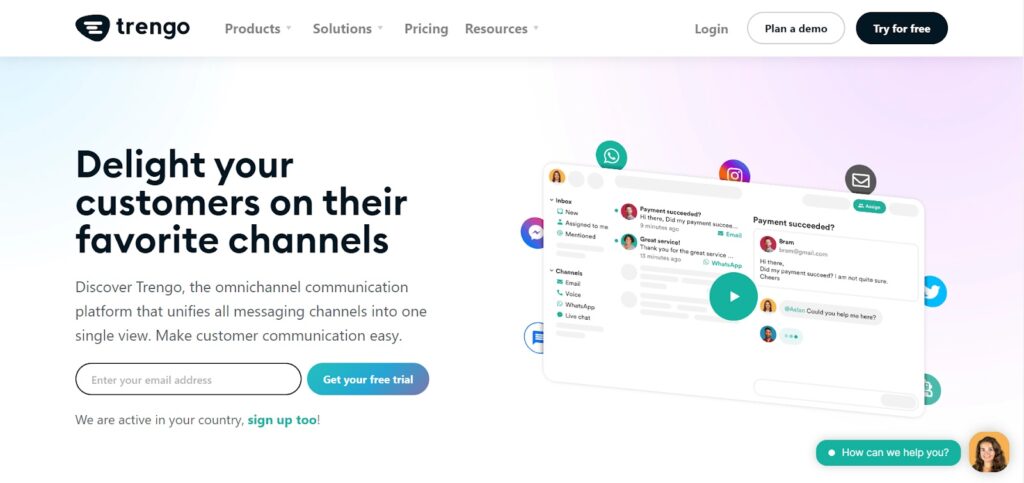 Trengo brings all your messaging platforms under one roof, be it Facebook Messenger, Instagram DM, WeChat, Telegram, email, etc. Although not a VoIP phone service per se, it still includes voice functionalities, like call transfers, call recordings, caller IDs, etc.
What makes Trengo the best-value-for-money VoIP solution for messaging is its chatbots. You can set up chatbots to direct customers to the appropriate agents, answer common questions, and so on.
Features of Trengo
Team chat
Omnichannel chatbots
Conversation management
You can easily set up chatbots via a drag-and-drop interface. Also, a single chatbot can handle multiple channels, so you don't need to build separate bots for each messaging platform.
Pricing of Trengo
Grow – from $15/user/month
Scale – from $25/user/month
Enterprise – from $35/user/month
Chatbots are available starting from the cheapest pricing plan.
Pros of Trengo
Easy to use
Available for all types of devices
Comprehensive integration capabilities
Cons of Trengo
Zoom: Best Affordable VoIP Phone Solution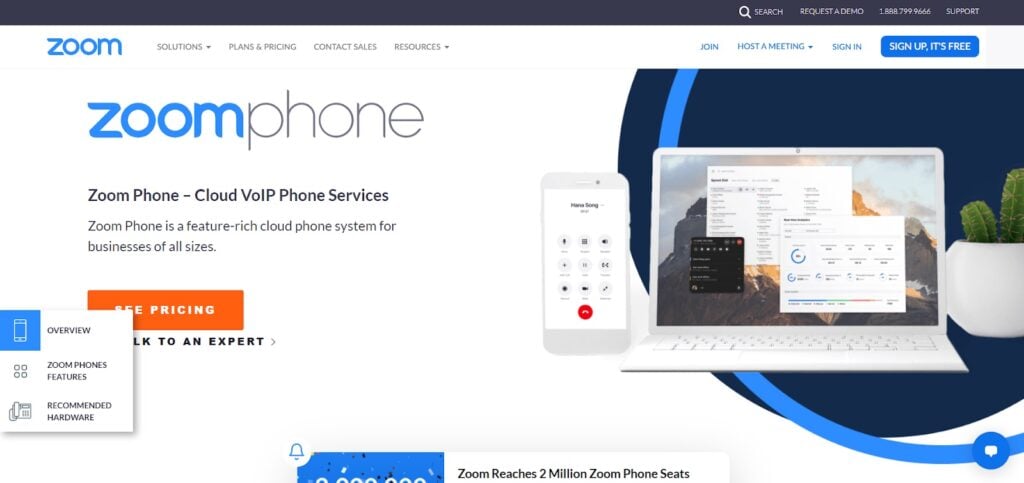 With pricing starting from $96/user/year, Zoom Phone is the cheapest VoIP solution.
This platform packs plenty of features considering its price. Moreover, Zoom Phone is exceptionally easy to use, highly reliable, and scalable. Not to mention that Zoom Phone integrates seamlessly with other Zoom products.
Features of Zoom Phone
Call monitoring
Auto-attendants
In-depth analytics
Zoom Phone's call monitoring tools include Barge, Listen, Take over, and Whisper. In other words, you can monitor a conversation without alerting any parties, participate or take over a user's conversation, or give a call agent advice mid-conversation without alerting the customer.
Pricing of Zoom Phone
Pro – $96/user/year
Pro Global Select – $240/user/year
There are also plenty of optional add-ons that can enhance the platform's functionality. These come at a cost, though.
Pros of Zoom Phone
Highly reliable
Excellent value for money
Scalable
Cons of Zoom Phone
Add-ons are relatively expensive
Check out our other related guides:
Check Zoom Phone's latest pricing here at its official site.
FAQs
What is the cheapest VoIP phone service?
Zoom Phone is the cheapest on this list. With just $96/year/user, you've got all the tools necessary to improve customer communication and streamline your employees' workflow.
There's also Google Voice. Although not as feature-rich, its pricing plans starting from $10/user/month make this platform unbeatable in terms of value for money.
Is there a free VoIP service?
Yes. There are plenty of VoIP services, but they're not suitable for business use, like WhatsApp, Skype, or Zoom Personal.
How much is VoIP monthly?
You can expect to pay anywhere from $10 to $60/user/month. Note that most VoIP providers charge according to the number of employees you have. That said, companies with larger teams may pay less per user.
Moreover, watch out for optional add-ons. Some VoIP services put essential features behind an extra paywall.
Conclusion
Unlike in the past, business phone systems are no longer reserved for large businesses. There are many affordable options for small businesses, start-ups, and even solopreneurs.
So let's go over a quick recap: