We've researched and evaluated numerous website builders over the years, and we can confidently say that Wix is the best overall website builder available for beginners, with Webflow being the best website builder for professional websites.
Wix combines ease of use with complete creative freedom, allowing beginners to easily design professional-looking websites.
Webflow provides design flexibility for responsive web design, making it an excellent option to build custom blogs, eCommerce stores, and business websites.
There are more website builders that are suitable for different needs. This is why we've researched and summarised the advantages and disadvantages of various website builders to help you choose the right one.
Here we reviewed and compared the 7 best website builders, including their features, pricing, and pros.
Wix: Overall Best Website Builder for Beginners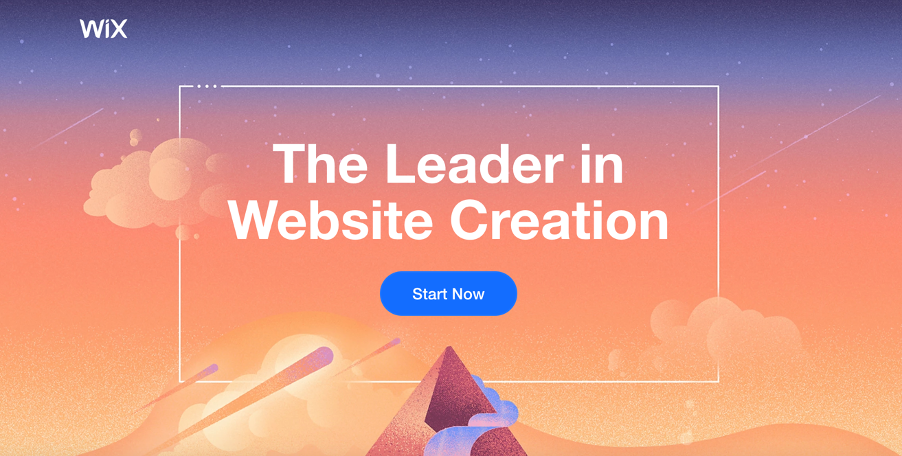 Founded in 2006 in Tel Aviv, Wix.com has since expanded rapidly to serve merchants globally. Wix is best known for its drag-and-drop function, allowing users to create customized websites and mobile sites easily. It gives you the freedom to create, design, and manage your website the way you want.
Pros of Wix
Drag-and-drop tool to change, customize or add anything to your site
500+ designer-made templates
Powerful App Market
Mobile friendly
Custom Domains
24/7 support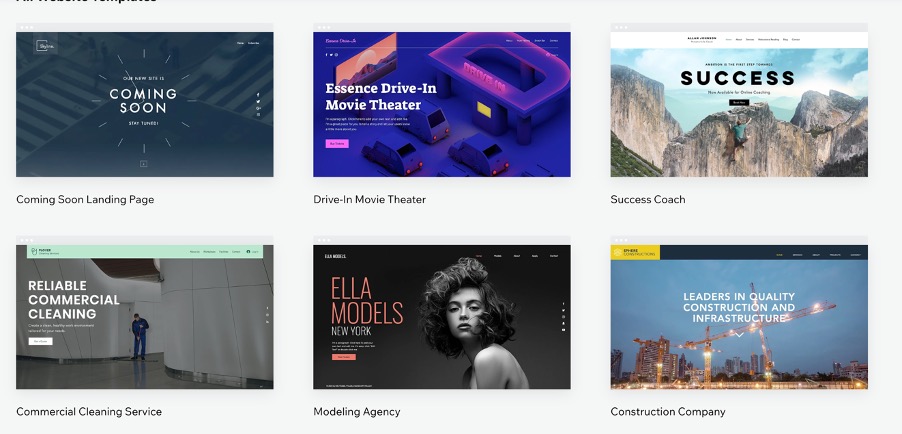 The Wix App Market is filled with over 300 popular web apps, powerful services, and amazing features to enhance your website and grow your business. Most of the apps are free to use, mobile-optimized, and can be added to your site in just a few clicks.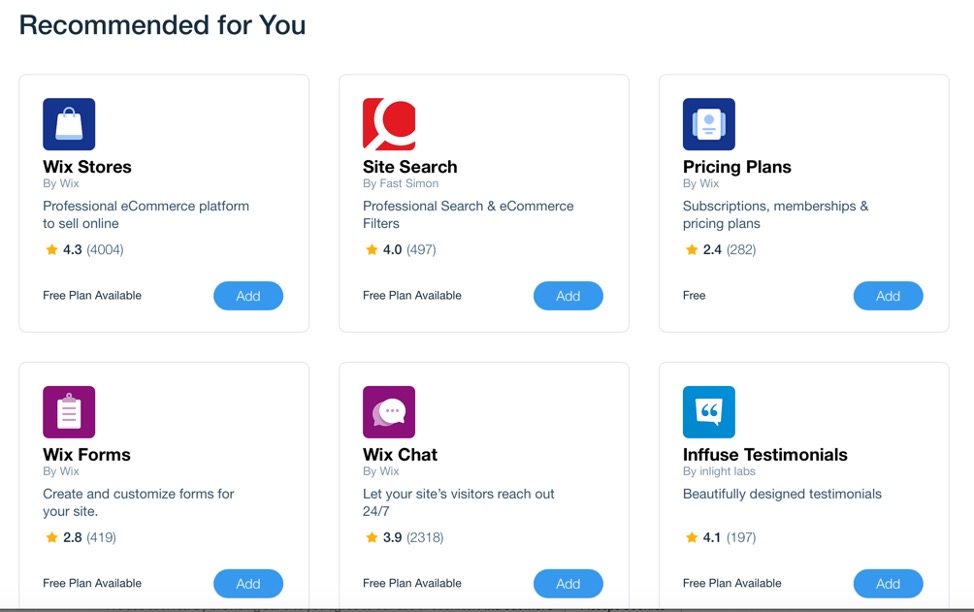 Wix Pricing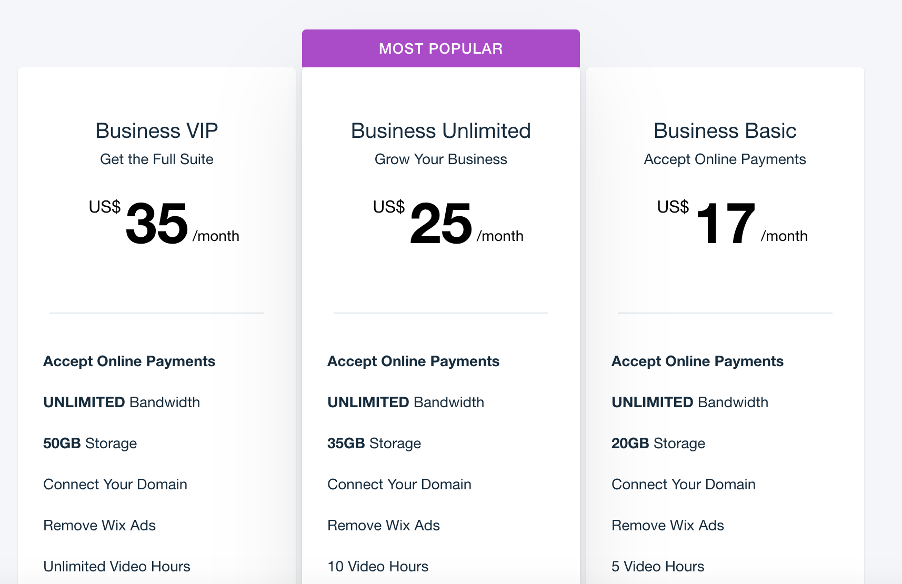 A free plan allows you to create a free website that comes with a Wix domain. We recommend building your website with the free plan first, then switching to the premium plan only if you like it.
Further read:
Wix Tutorial: How To Use Wix To Create A Website (Step-By-Step Guide)
Webflow: Best Website Builder for More Design Flexibility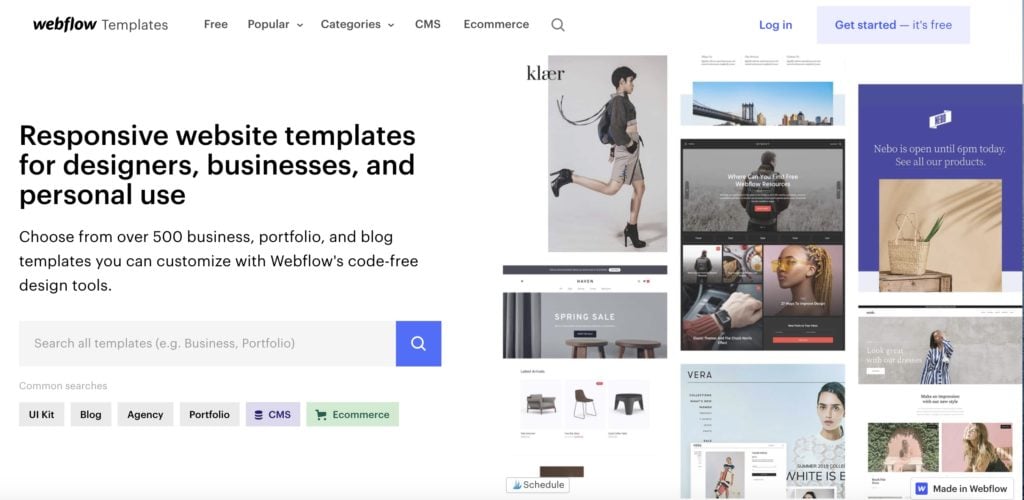 Webflow is a drag-and-drop website builder for designing and developing responsive websites using a visual, browser-based editor. It's best known for being extremely designer-friendly.
Webflow is uniquely positioned to convert high-quality designs into websites without any coding. When you're designing with Webflow, it automatically generates the HTML, CSS, and JavaScript.
Here's our detailed Webflow review for you to learn more about what Webflow can do.
Pros of Webflow
SEO-friendly
Highly customizable design
Lightning-fast website loading
Responsive website design
Webflow Pricing
Webflow offers two plans: The Site plan is for those who need just one site and allows you to connect a custom domain; the Account plan is designed for agencies or freelancers but doesn't come with hosting.
You can learn more about Webflow pricing here.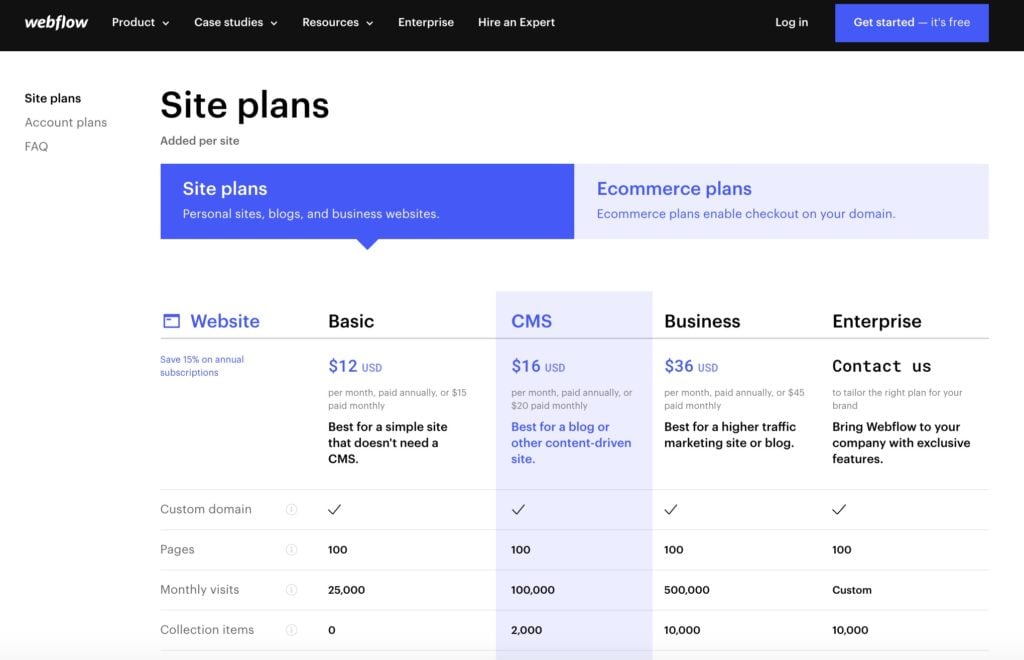 The best thing about Webflow is that it provides a free forever plan. You can test all the features before launching your website. Once it's ready, you can add a Site plan and go live!
WordPress: Best Website Builder for Blog and Complex Website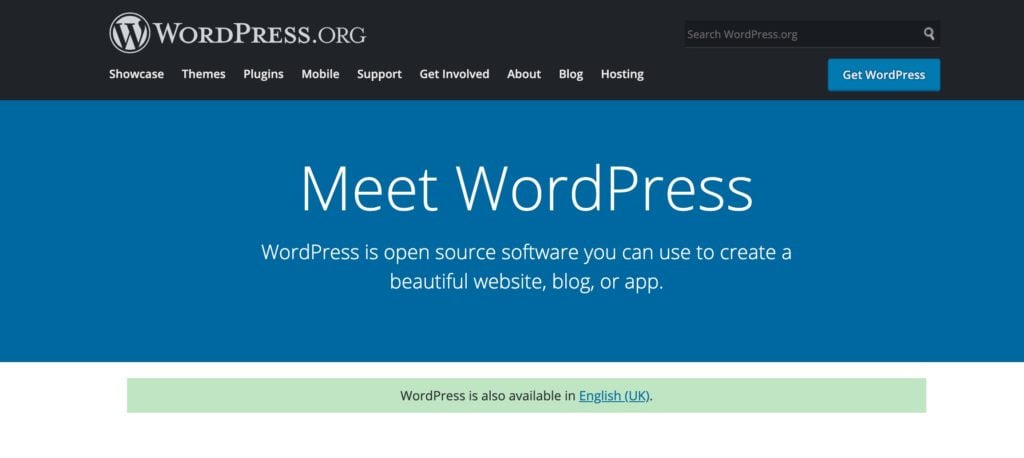 More than one-third of websites in the world are built with WordPress. It is a popular, free, and open-source tool that gives you a lot of flexibility and freedom in building your own website. The core WordPress software package is downloadable by anyone from WordPress.org or installed with your WordPress hosting services.
To use WordPress, we recommend you get started with Hostgator.
Here's our detailed step-by-step guide on how to install WordPress on Hostgator.
What's more attractive is that there are over 50,000 plugins available in the WordPress Plugins market, so you can easily expand the functionality of your website. You also have the freedom to modify, add, or delete code from your website. The latest update has included a drag-and-drop function, so it's definitely getting more user-friendly. It is definitely best for blogging given its content management system.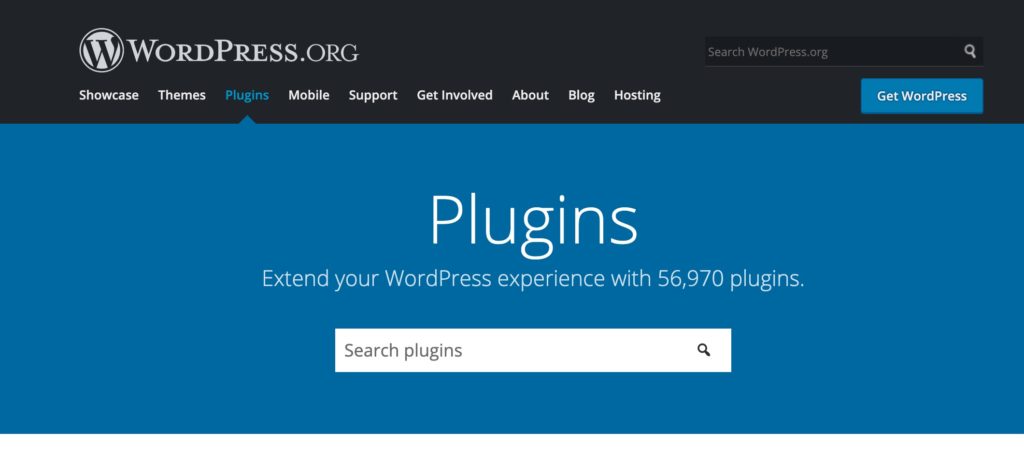 Since WordPress is free, open-source software, you'll need to source your web hosting provider and pay for the service. However, it usually costs only a few dollars per month, so it's relatively affordable.
For Wix and Webflow, you're hosting your website with them, so the setup is easier.
Pros of WordPress
Free and Open Source
Content Management System
50,000+ plugins available
Full flexibility and freedom
Drag and Drop
You can start using WordPress with Hostgator here for up to 65% OFF with our discount code "VENTURER".
Further read:
WordPress Tutorial: Building Websites With WordPress In 10 Minutes
What Is WordPress? A Beginners' Guide To Start Using WordPress
Webflow Vs WordPress: Which Is A Better Website Builder?
8 Best Blogging Platforms To Make Money (Compared And Reviewed)
Weebly: Best for eCommerce Small Businesses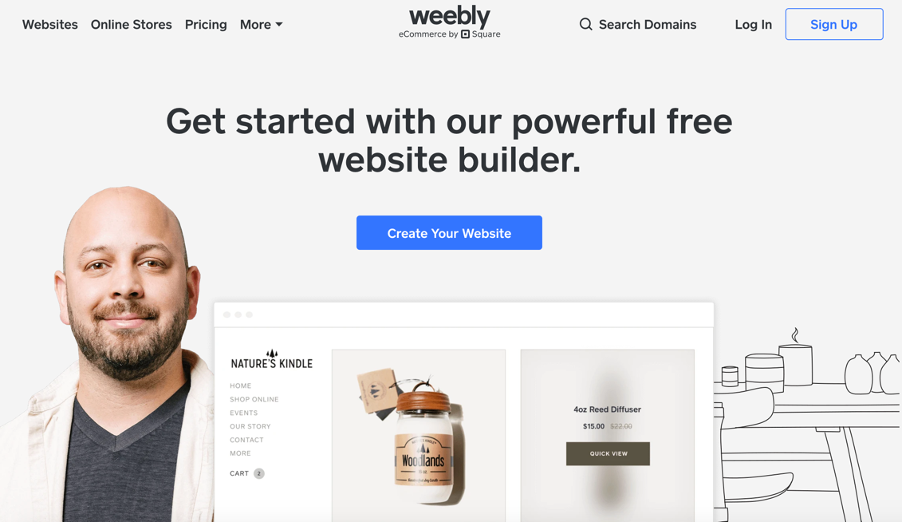 Weebly was founded in 2006 and acquired by Square in 2018 when it had exceeded 625,000 paid subscribers. This website builder works best for simple small businesses that require marketing automation built it. Other platforms usually charge an extra $10-20/month for this feature.
Pros of Weebly
eCommerce marketing automation
Simple dashboard and easy to use
Free designs
Weebly Pricing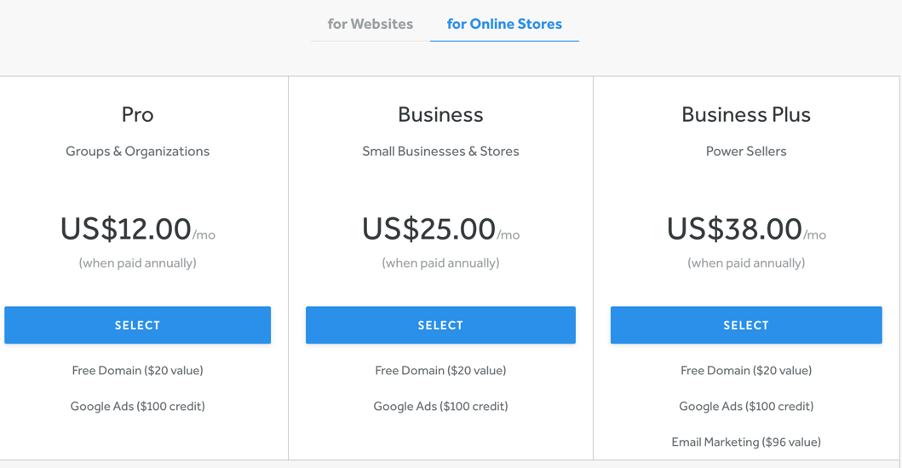 Weebly also provides a free plan. You can try it for free and switch to paid plans later.
Further read:
Weebly Tutorials: How To Use Weebly (Step-By-Step Guide)
Wix Vs Weebly: Which Is A Better Website Builder?
Site123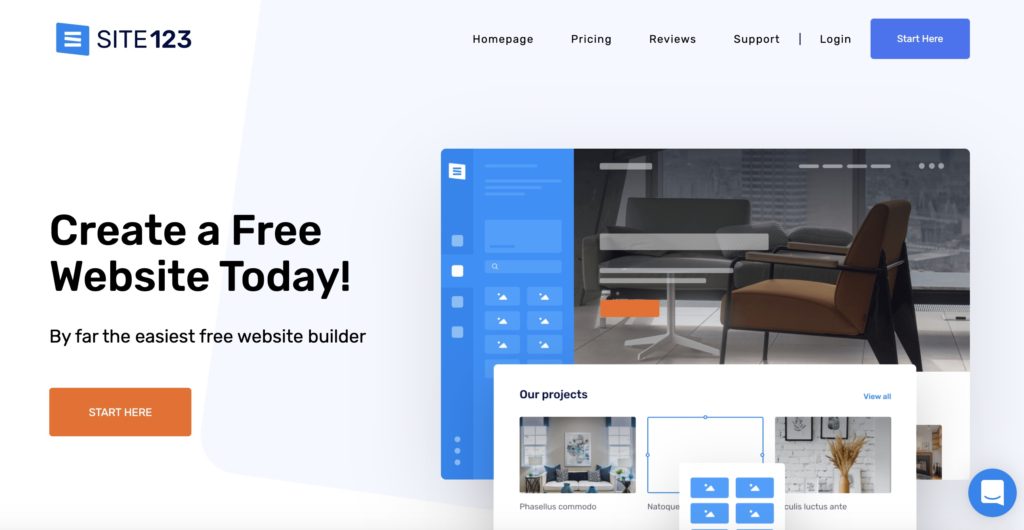 Site123 is a great tool for portfolio and small business websites. It is founded in 2015 in Israel, a relatively new player in the website builder industry.
Pros of Site123
Responsive design
SEO friendly
Free Image and Icons Library
Blogging tool
Built-in email marketing tool
Social Media Integration
Site 123 Pricing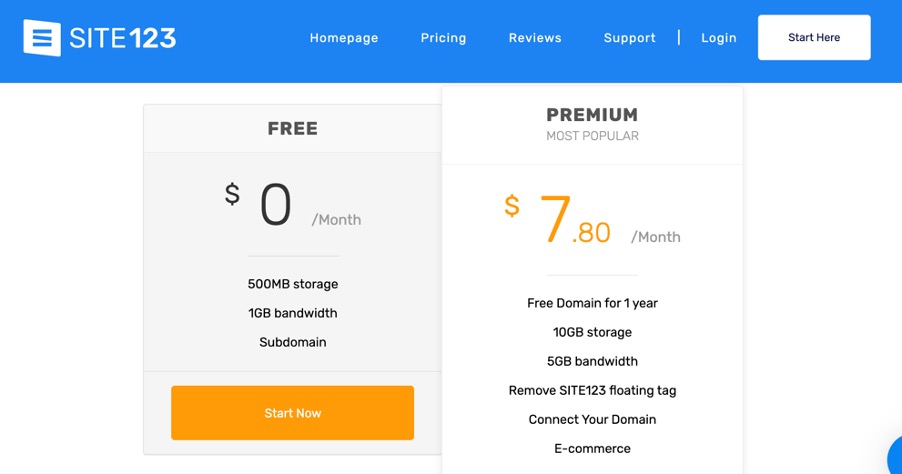 You can test Site123's free plan as long as you want. Give it a try and sign up here!
Pixpa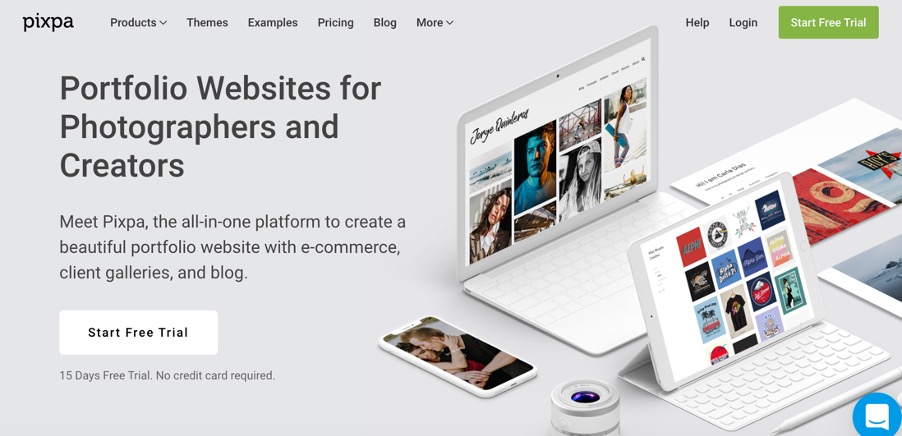 Pixpa is an all-in-one platform best for portfolio websites. It has a unique positioning as a website builder for photographers and creators, so many products are made for artists. For example, it offers client galleries to share, prove, and deliver your work and e-commerce galleries to sell images as prints and downloads.
Pros of Pixpa
Mobile optimized
Website Gallery
SEO friendly
Mailing Lists
24/7 Customer support
Pixpa Pricing

Though no free plan is available, there is a 15-day free trial and no credit card is required. All plans come with a 30-day money-back guarantee.
We've secured a 10% off deal with Pixpa when you use our code 'Venturer10'.
Squarespace: Best Website Builder for Creatives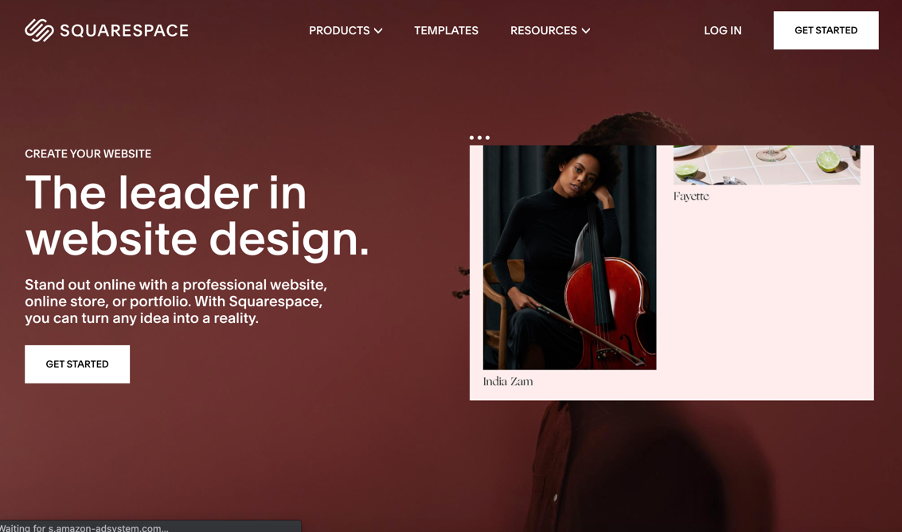 Squarespace is another website builder that offers pre-built templates and drag-and-drop elements to create web pages. It's one of the cheapest options, starting at $12/month for Personal and $18/month for Business.
Pros of Squarespace
Award-Winning Web Designs
Built-in SEO Tools
Blogging Tools
Analytics
App Integration
Edit on Mobile
Squarespace Pricing

Though fewer features are available, its award-winning web design is very attractive for creative purposes. We'd recommend designers, photographers, or anyone who values website design the most to try Squarespace.
Try Squarespace for free here. No credit card required.
Best Website Builders: FAQs
What is a Website Builder?
Website builders are tools that let you build and design websites without coding or programming. Their services range from creating a simple personal website to fully functional online stores and business websites with customizable templates. More flexible platforms allow you to design freely. They are generally easy and quick to use without needing prior experience.
Best Website Builders: Conclusion
When picking a website builder, there is no magic one-size-fits-all solution; you need to consider the price and features to meet your needs.
To recap, here are the best website builders: