Wix is one of the most popular website-building tools to create a website using the drag-and-drop feature. This Wix tutorial will walk you through how to create a website with Wix, from signing up to choosing the right website editor and theme to customize your site.
If you've decided to use Wix, you can just jump right to the "Sign up on Wix" section below.
However, if you're still exploring different options for website building platforms, here are some Wix alternatives you could consider:
Now, let's begin!
Step 1: Sign up on Wix
Go to the Wix homepage here and click "Get started." You can try Wix for free, and no credit card is required!
You can sign up for Wix here for free!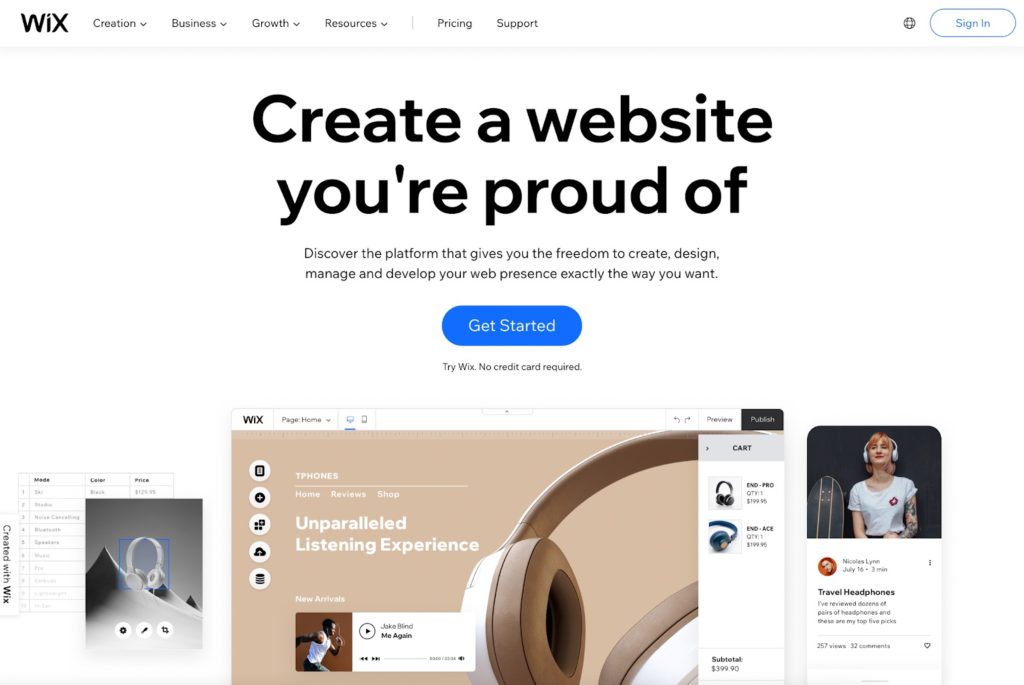 Then, you'll land on the signup page. Just type your email and password to start. Alternatively, you can continue with Facebook or Google.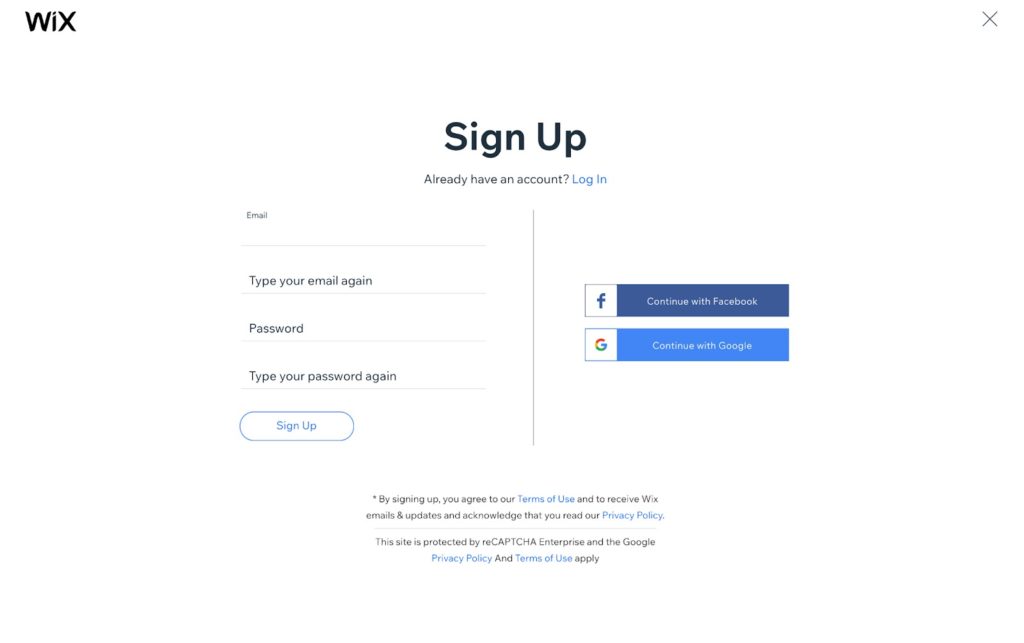 Step 2: Answer a few questions to help you get started
Next, Wix prompts a few questions to help you create a website more efficiently. Your answers will help Wix recommend the right tools for you.
You can choose to skip the questions, but I recommend you take a few seconds to answer them.
You can sign up for Wix here for free!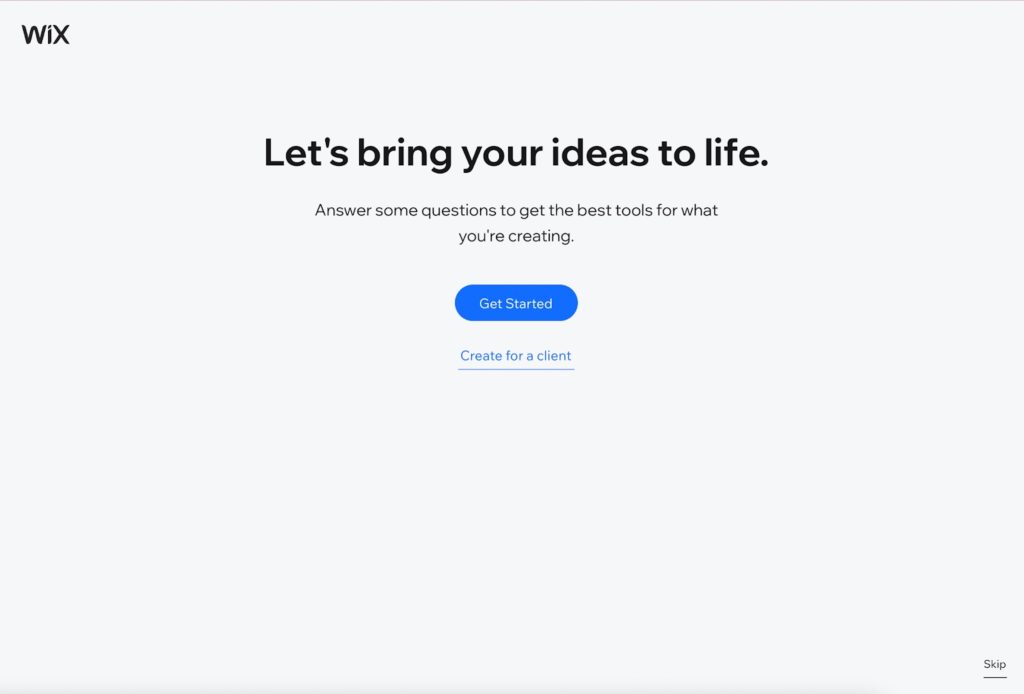 For example, I chose "Blog" for the kind of website I'm creating, and in the next step, Wix recommends me the tools "Blog" and "Chat."
You can add more tools to your websites, such as Instagram Feed, Bookings, Pricing Plans, Online Store, and Table Reservations. It shows that Wix can support a vast range of features that satisfy the needs of different businesses.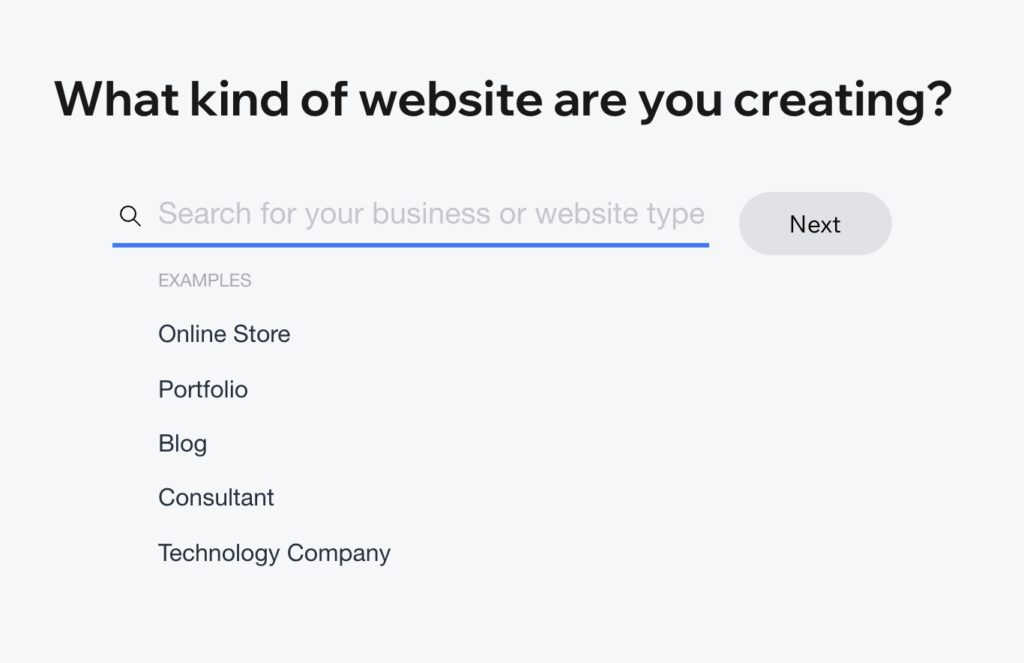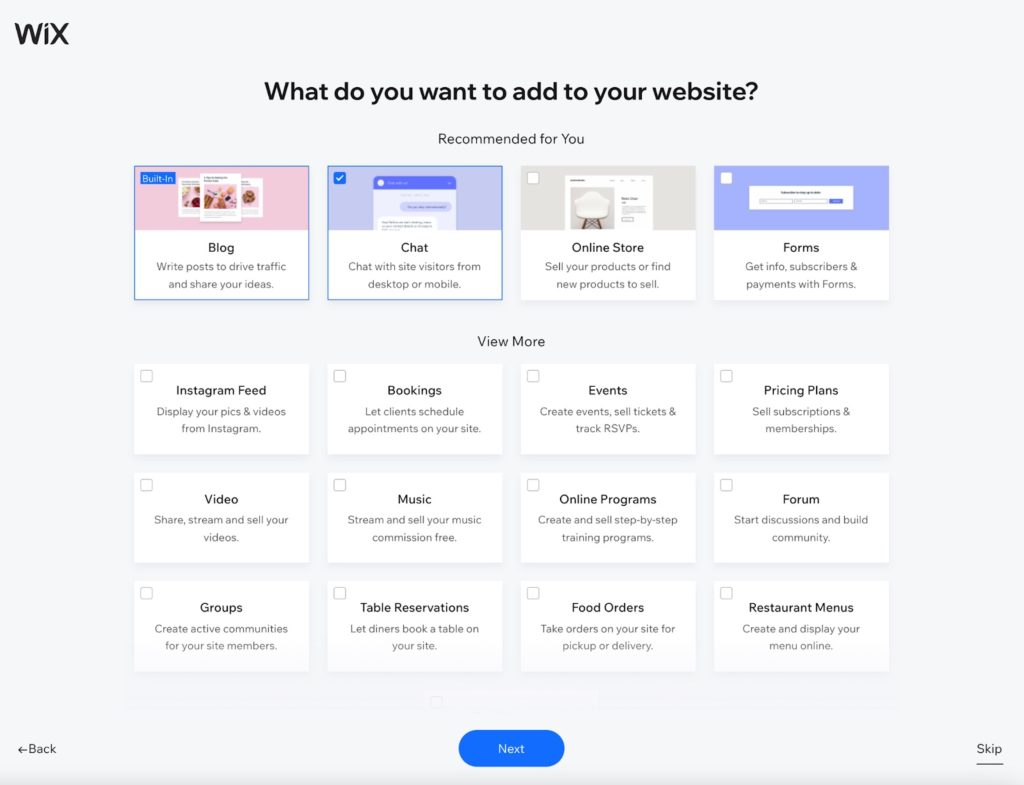 Step 3: Choosing between Wix ADI vs. Wix Editor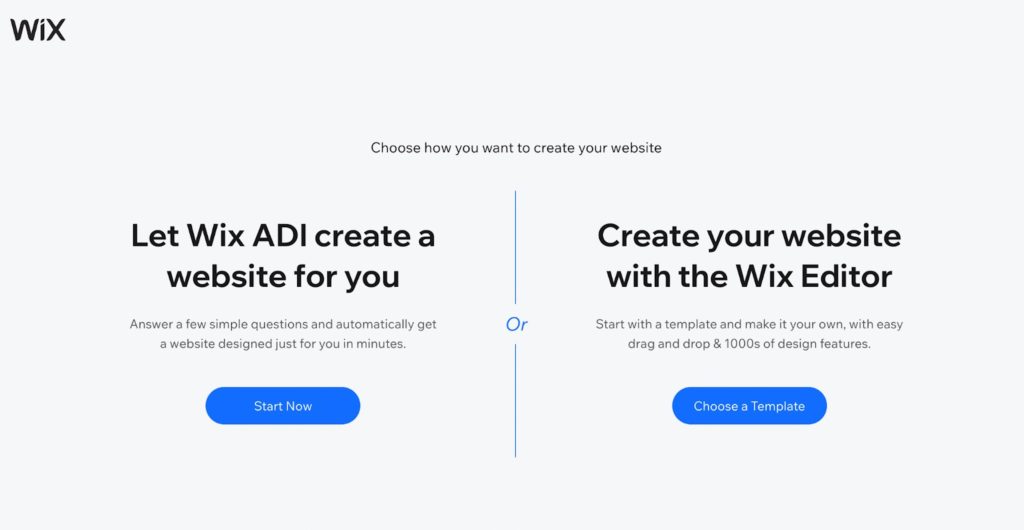 Now you may wonder whether you should choose Wix ADI or Wix Editor. The short answer is: use Wix ADI if you want to start as quickly as possible. But if you need more flexibility and room for designing your website, use Wix Editor.
Wix ADI
Wix ADI stands for "artificial design intelligence." As the name implies, Wix ADI uses machine learning techniques to aid people in creating websites.
All you have to do is answer a few straightforward questions and select your preferred website template. Wix ADI will then instantly create a website for you in minutes after learning about your requirements. However, it does not provide many customization and extension options.
Wix Editor
Compared to Wix ADI, Wix Editor will require more time and work in your website building project. However, you have more flexibility to use the complete tools to create and customize your website in return.
For this Wix tutorial, we'll go with Wix Editor.
You can sign up for Wix here for free!
Step 4: Choose a template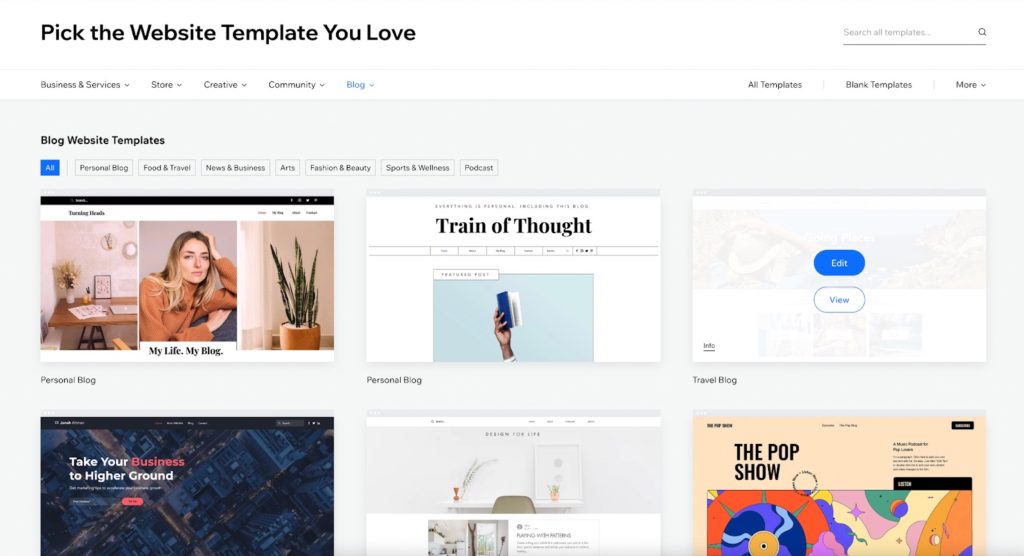 Next, you can choose from 900+ website templates to start editing and designing. For beginners, website templates are lifesavers. They help you get started quickly with professional designs created by expert designers, so you don't have to start with a blank page.
Regardless of your website's niche, there is a template for you. You can browse the website templates by category. And you can preview each one before editing it.
After you pick your template, the Wix Editor opens up, and you can start customizing it!
Step 5: How to use Wix Editor to customize your site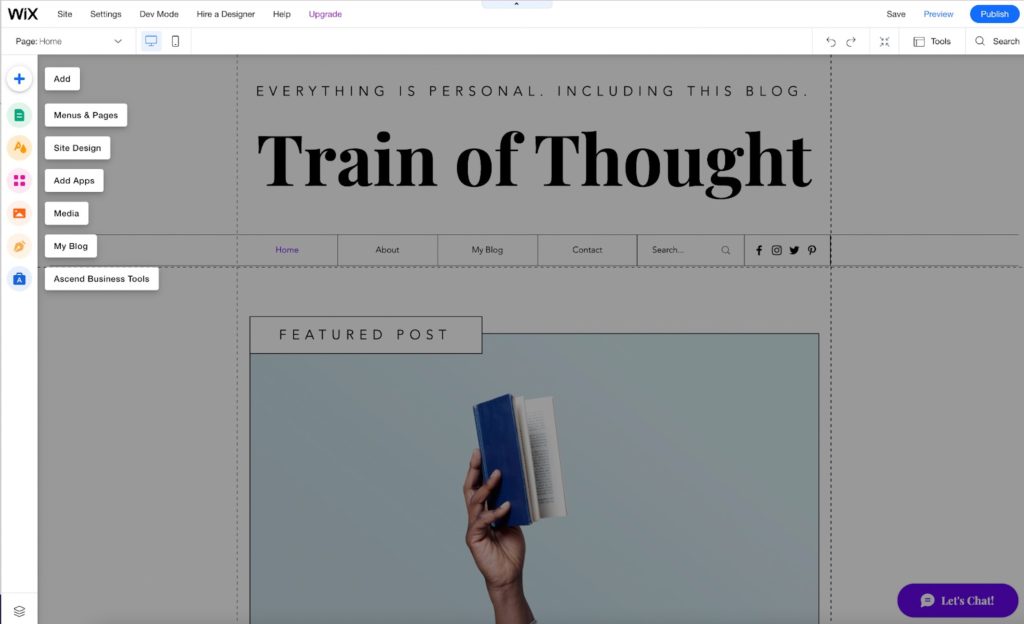 You're now at the admin dashboard. Here you can begin adding and editing sections to your website.
For example, by clicking on 'Menu & Page,' you can manage and edit pages on your website, including the homepage, blog, and contact us.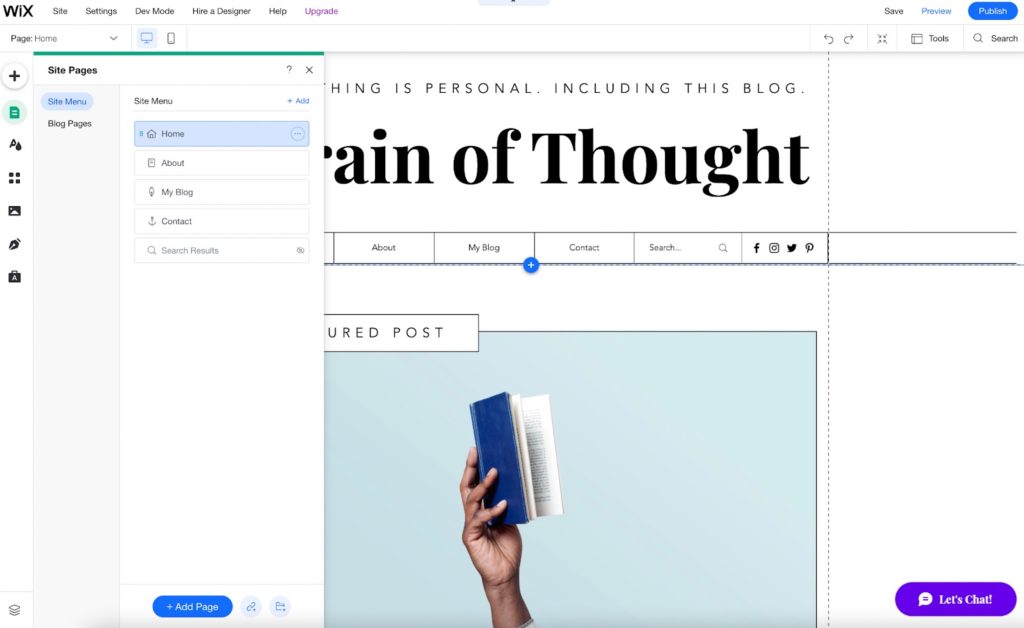 There are more you can do with your site in this admin dashboard, and they are:
Menus & Pages: Manage site menu and blog pages
Site Design: Edit color and text theme, page background, and page transitions
Add Apps: You can add apps from the Wix App Market to extend your website functionality, such as loyalty programs, booking, forums, and restaurant orders. (Is there anything you can't do with Wix?)
Media: Upload your media, edit images and videos, or use free Wix images and videos
Wix Blog: Manage your blog, create a post, add blog elements, and more.
Ascend Business Tools: They are incredible tools for marketing and SEO, customer management, finances, analytics, and reports. Essentially, you can run your entire business on Wix with Ascend.
You can sign up for Wix here for free!
To edit your website's elements like the primary title, simply double-click on it. Here, you can change the text settings like themes, fonts, font size, color, and more.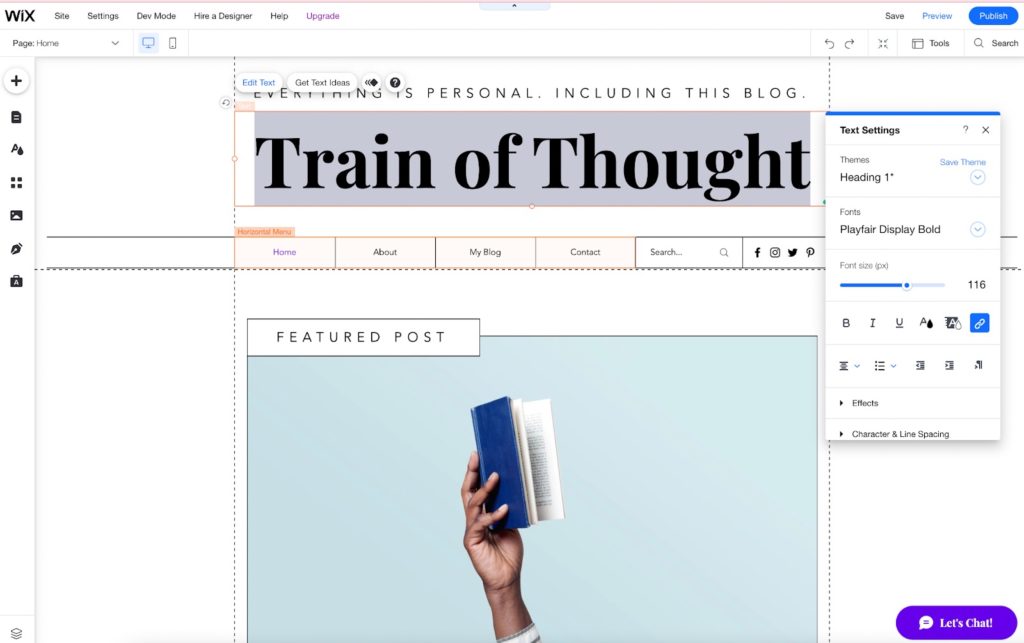 There are more ways you can customize your site. And if you haven't created a Wix account, we highly recommend you create a free account to try it out!
Step 6: Make your site mobile-friendly
Nowadays, more people access the Internet using mobile instead of desktop. It is therefore essential to make your site responsive and mobile-friendly.
Wix allows you to convert your website interface from desktop to mobile. By clicking the mobile icon in the top horizontal bar, you can see how your website appears on a mobile screen.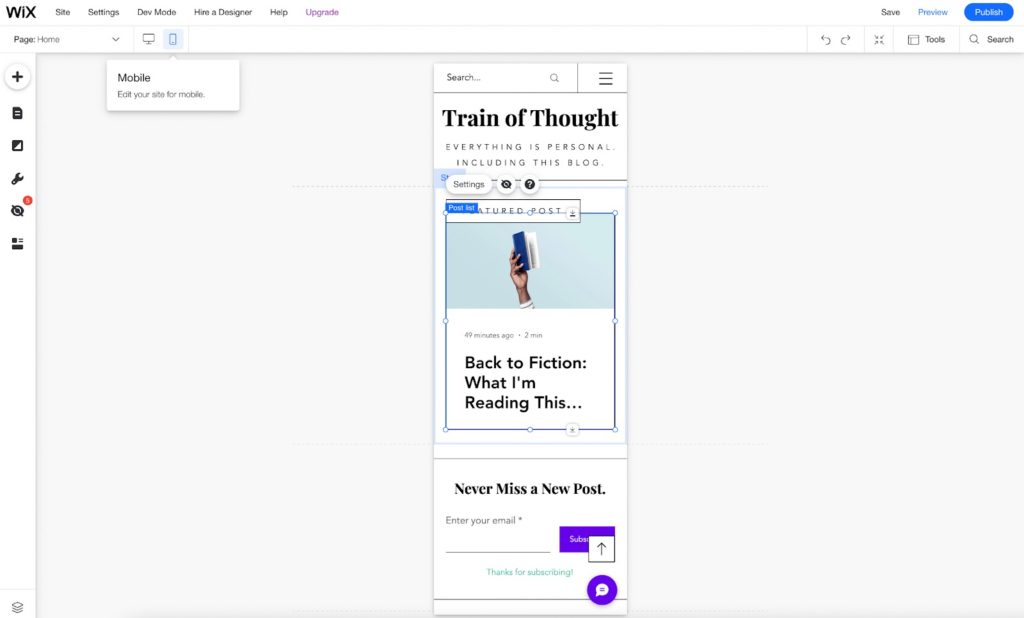 After you're in the mobile version of your website, all edits here will be effective for the mobile site. In addition, it enables you to update and add components without impacting your website's desktop version.
You can sign up for Wix here for free!
Step 7: Adding functionality to your website
There are many functionalities you can add to your website, and the most popular one is eCommerce. For example, you can easily add an online store to your Wix website!
The primary advantage of Wix eCommerce over other platforms such as Shopify is its simplicity. Fundamentally, it includes e-commerce features such as store management, analytics, and digital marketing that make operating an online store simple.
To incorporate e-commerce functionality into your Wix site, click the '+' icon in the left menu bar and select 'Store' from the list of available add-ons. And after that, click the 'Add to Site' button to begin building your online store.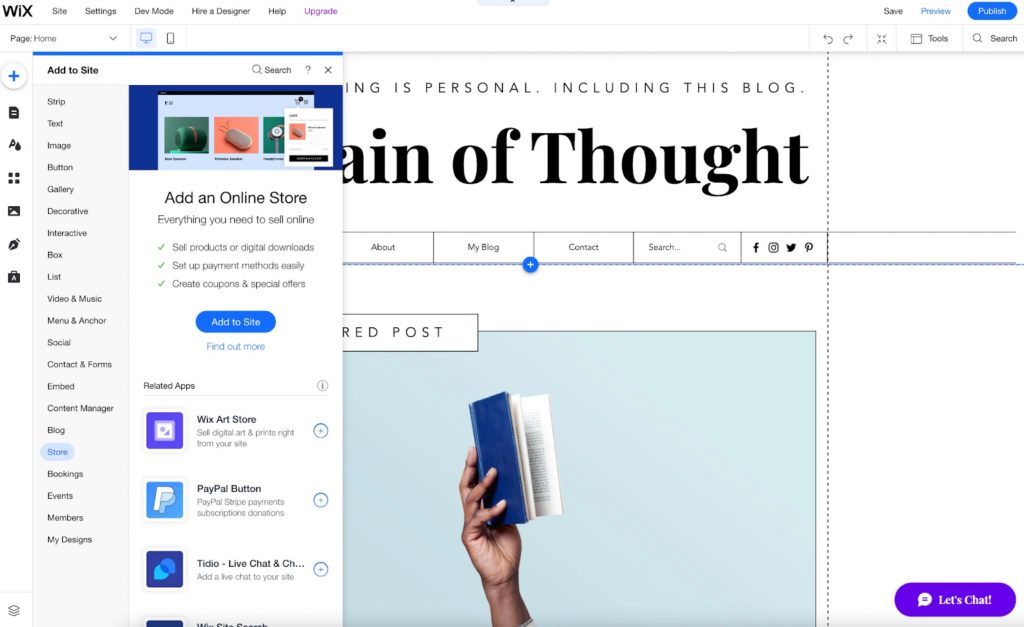 ​​
Besides eCommerce functionality, you can add other functionalities by adding apps from the Wix App Market, as mentioned above.
Step 8: Optimise your site for search engines
Search Engine Optimisation (SEO) is crucial to increasing organic traffic to your site. Here's our beginner's guide to SEO if you're interested to learn more.
Every website builder has its setup, and therefore different levels of SEO friendliness. And honestly, Wix lags behind its competitors in this regard.
But we're seeing Wix's team enhancing SEO to compete with WordPress and Weebly. It encompasses fundamental SEO activities such as meta title, meta description, URLs, and image alt. These are good enough for beginners to start with.
To begin improving your website's SEO for individual pages, pick 'Menu & Pages' and then 'Site Menu.'
Then, click the three-dot circle icon next to the page and select SEO Basics.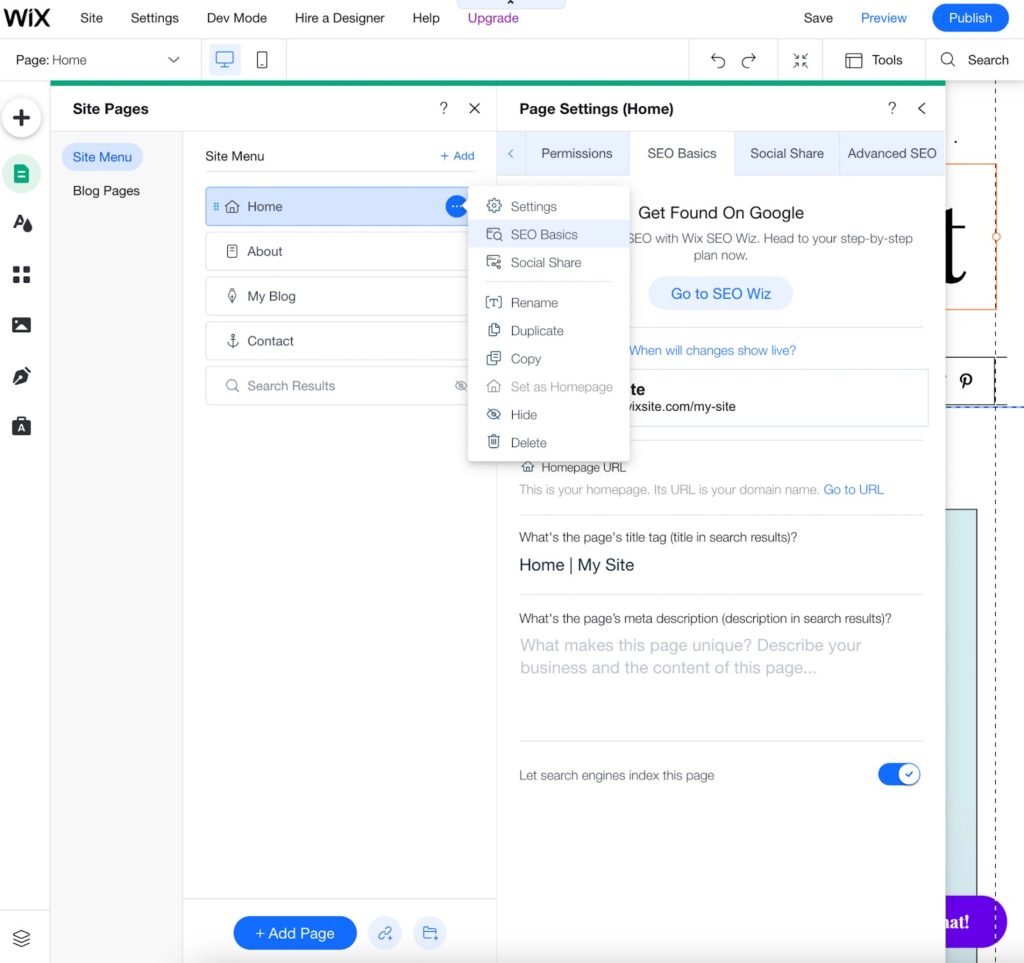 Here you can edit the URL, page title tag, meta description and choose whether to let search engines index this page.
There's another option of "Advanced SEO" on the right side. It allows you to manage structured data markup, robots meta tag, and additional tags like canonical.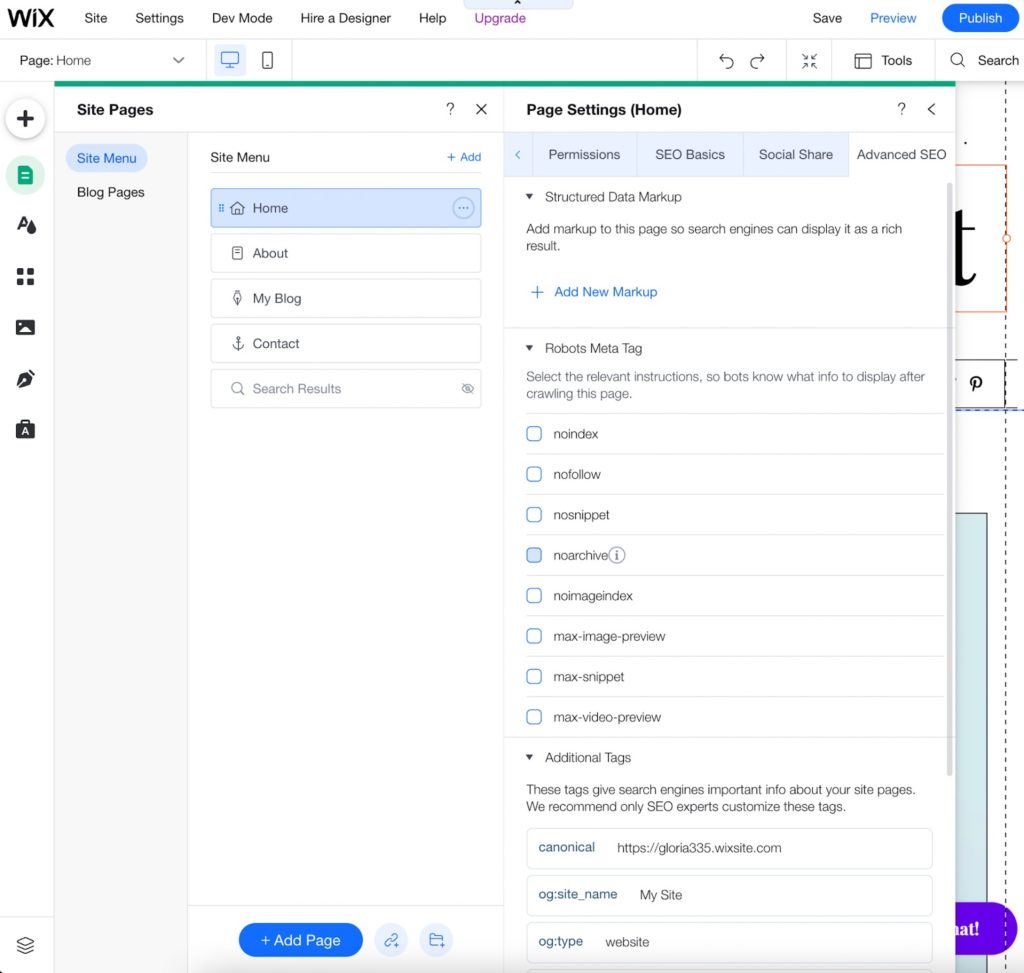 Don't worry if these sound unfamiliar to you! Start with the SEO basic, and you can use SEO tools like Semrush to help you with more advanced SEO research.
Step 9: Publish your site!
Once you have finished editing your site, you can click "Publish" at the right upper corner to launch it!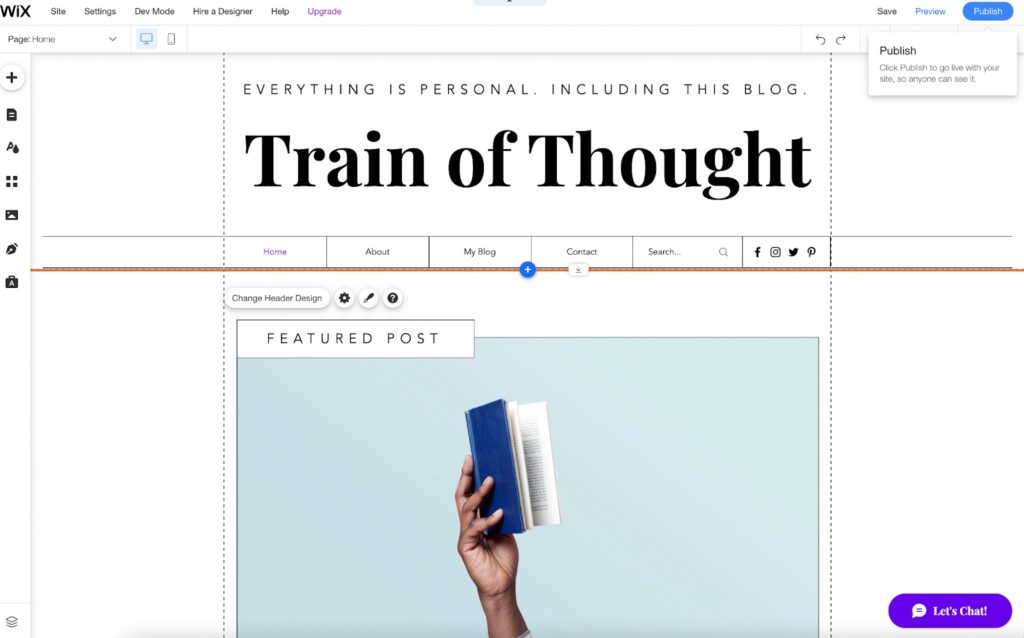 We recommend going with the Combo plan to connect a custom domain and remove Wix ads. However, if you're building a business website, it's best to go with the Unlimited plan, which gives you unlimited bandwidth and more website storage space.
Wix offers a money-back guarantee. So you can try one of the Wix paid plans here for 14 days. And if you're not satisfied, you can get your money back!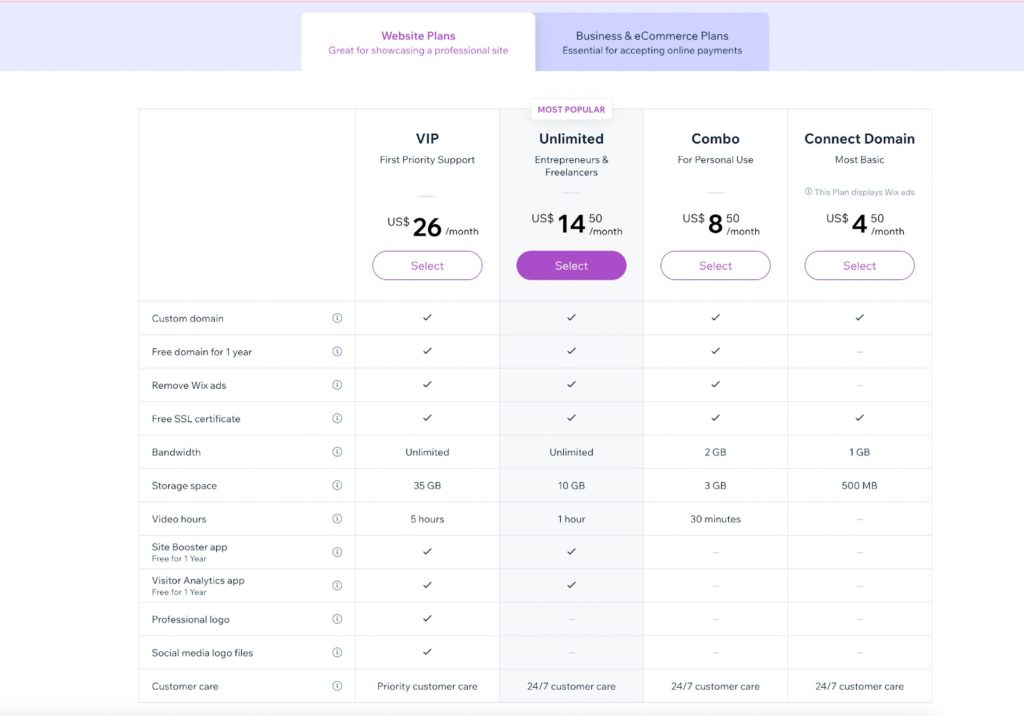 How to Use Wix to Create a Website: Conclusion
Wix is one of the best website builders for beginners to create and design their websites. We hope this Wix tutorial can guide you through creating a website with Wix!
If you haven't created a Wix account, try it here for free!
Further read:
WordPress Tutorial: Building Websites With WordPress In 10 Minutes
What Is WordPress? A Beginners' Guide To Start Using WordPress
Best Website Builder For Small Business
Weebly Tutorials: How To Use Weebly (Step-By-Step Guide)
Wix Vs Weebly: Which Is A Better Website Builder?
Webflow Pricing: Prices And Plans Explained (2022)
The 7 Best Website Builders Of 2022
8 Best Blogging Platforms To Make Money (Compared And Reviewed)