In the past, building a website is costly and it's rare for businesses to have a website. Fast forward today, it's easy to build a website yourself and it no longer costs you a huge chunk of money with the help of website building tools!
So, we're here to help you build your business website in 5 easy steps!
The Five Easy Steps for Building a Business Website
Step 1: Get a domain name and choose a web hosting company
Step 2: Choose a website builder
Step 3: Pick a template
Step 4: Customize
Step 5: Upload content to your website
Hit 'Publish'… and your website is live!
If you're looking to add more functionality or enhance your website search result, you may want to do the following:
Step 1: Get a domain name and choose a web hosting company
A domain name is your website address. For example, our domain is www.theventurer.co.
Most businesses prefer a domain name that's the same as or similar to their business name. The right domain name helps visitors find you online, adds credibility to your brand, and instantly makes your site look professional.
Buying a domain name can cost anywhere from less than $1 to several thousands dollar. A less popular domain name would typically be cheaper. Someone might own your desired domain name already, so you may have to choose a different one or buy it from the owner.
You can check domain availability with the below tool:
Where can I buy a domain name?
You can buy it from domain name providers, such as Bluehost, HostGator, and Hostinger. Many of these providers are a web hosting company which makes things a lot easier.
1. Bluehost
Best Top Recommended Web Hosting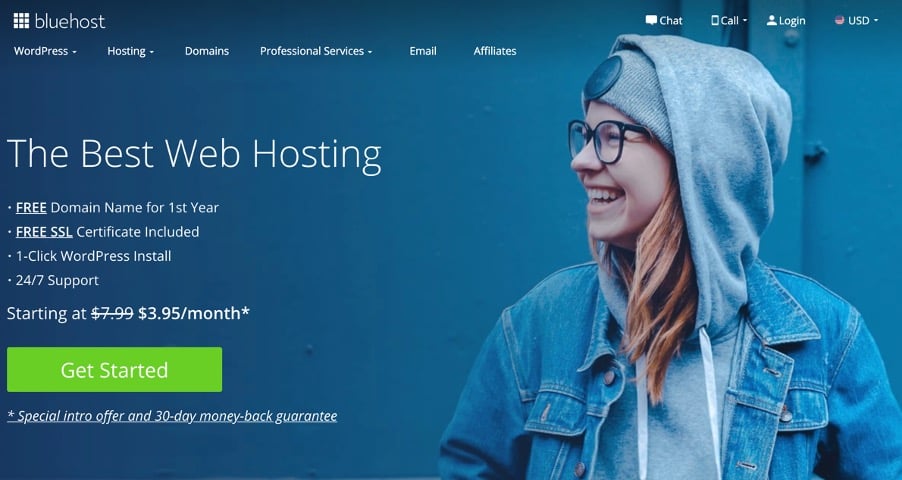 Bluehost is our #1 recommendation for web hosting services. Free domain name for 1st year, free SSL Certificate included 1-click WordPress Install and 24/7 Support for just a few dollars a month.
We have been using Bluehost for many years already. There are a few highlights from our personal experience:
Its customer support is excellent – very quick response and give you what you're looking for.
Seamless WordPress Installation – it does what it says. Just one click.
Bluehost is a leading web hosting solutions company. Founded in 2003, they have grown their team to 750+ and 2 million+ websites all over the world are using their services. Their in-house team consists of dedicated WordPress experts to provide the best customer support. If you're to choose WordPress to be your website builder (which we will discuss in the next step), use Bluehost.
Start with Bluehost here for as low as $2.95 per month!
2. HostGator
Best Cheap Web Hosting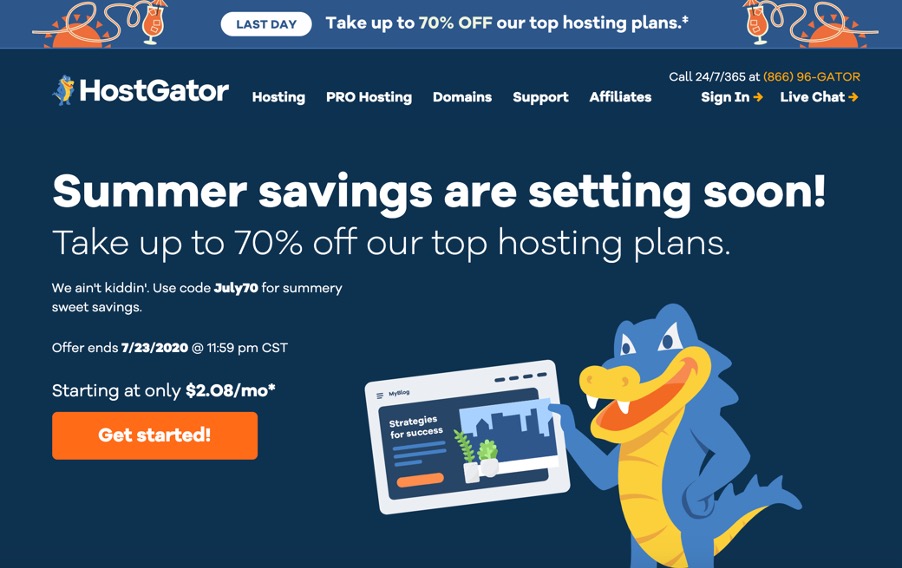 HostGator has the best cheap web hosting services. Starting at only $2.08/month, it includes a free domain, free SSL Certificate, Unmetered Bandwidth, and many more.
HostGator is one of the world's top 10 largest web hosting companies, with over 8 million hosted domains. They have 850+ employees to provide you superior support. All shared web hosting plans include a 45-day money-back and a 99.9% uptime guarantees.
You can see how they're compared to other providers in the below.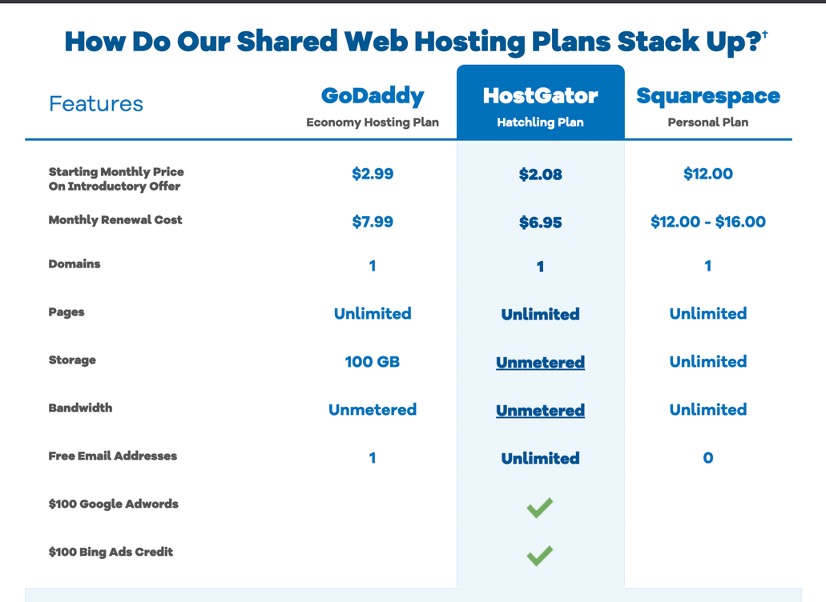 Make sure you claim your coupon code here using "VENTURER" to enjoy 65% off on Hostgator!
3. Hostinger
Fast and Crazy Discount Web Hosting from $0.99/month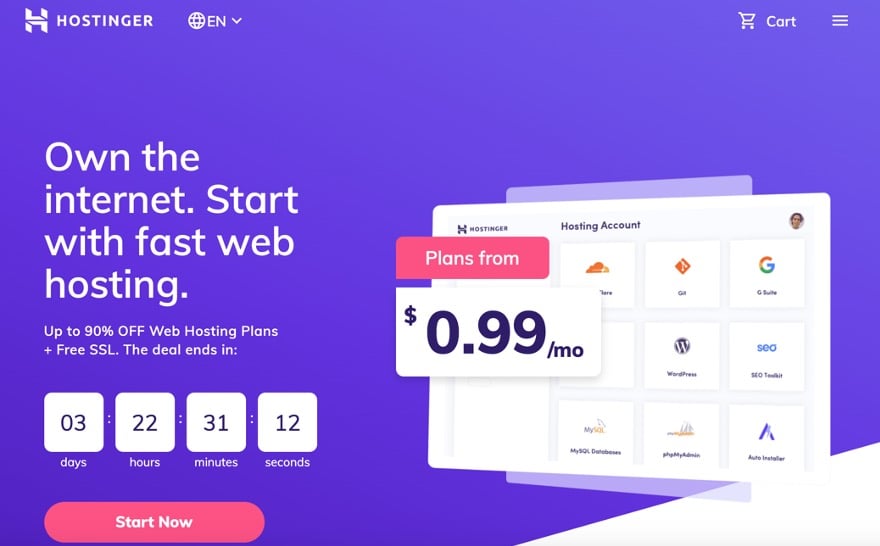 Hostinger was bootstrapped in 2004 with the idea to let users create a website for FREE. With no-limits PHP, MySQL, cPanel & no ads. They provide a world class website hosting platform to over 29 million users in 178 countries. 15K new sign-ups on average every day – meaning 1 new client every 5 seconds!
All plans come with a 99.9% uptime guarantee, free SSL certificate, DNS management, weekly backup, one-click installer, etc. Built for lightning speed – their new server deployment times vary at around 10 minutes and have a fully automated bootstrap process.
Try Hostinger, starting at $0.99/month only!
What is web hosting?
Web hosting makes your website accessible via the World Wide Web. Otherwise, your website cannot be accessed by others.
Another good news is, a lot of website builders such as Wix which provide 1-year free domain name and web hosting service when you use their selected plans.
So, should I go with a website builder directly?
If you choose to use WordPress.org, a free and open-source platform to build your website, you would need your web hosting provider. Bluehost is our top recommendation which offers 1-click WordPress Install. Our website is built with WordPress and hosted with Bluehost.
More about website builder will be discussed in Step 2: Choose a website builder.
Step 2: Choose a website builder
We chose to go with WordPress because of its flexibility for unlimited customization and functionality due to its open-source nature. But the learning curve may be steeper to start with. We'd recommend it if you are tech-savvy or have some programming experience.
If you're a beginner or prefer an easy-to-use builder, we'd recommend Wix or Weebly.
1. Wix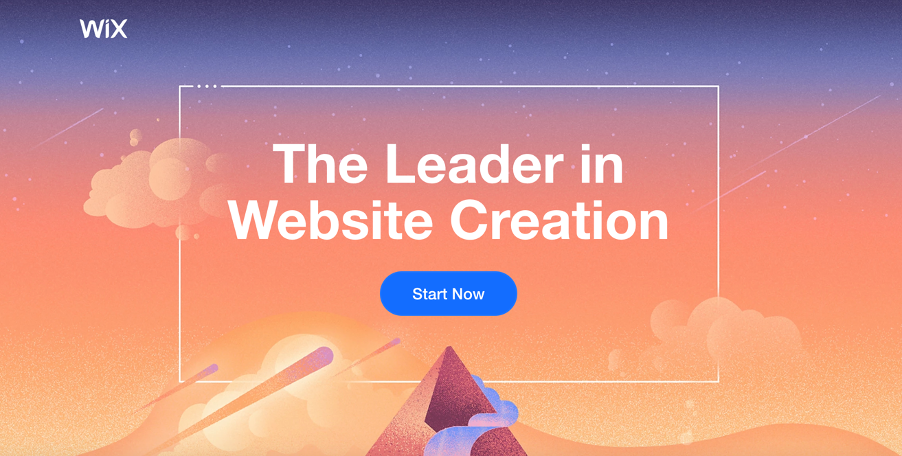 Founded in 2006 in Tel Aviv, Wix.com has since expanded rapidly to serving merchants globally. Wix is best known for its drag-and-drop function, allowing users to create a customized website and mobile sites easily. It gives you the freedom to create, design, and manage your website the way you want.
Features:
Drag-and-drop tool to change, customize or add anything to your site
500+ designer-made templates
Mobile friendly
Custom Domains
24/7 support
Cons:
Not SEO friendly
Does not offer marketing integration at the moment
Pricing: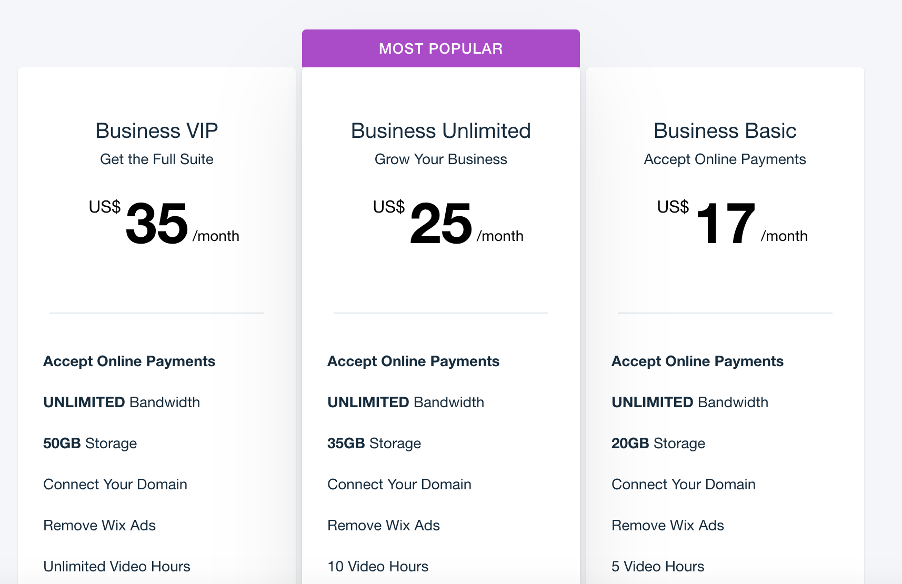 2. Weebly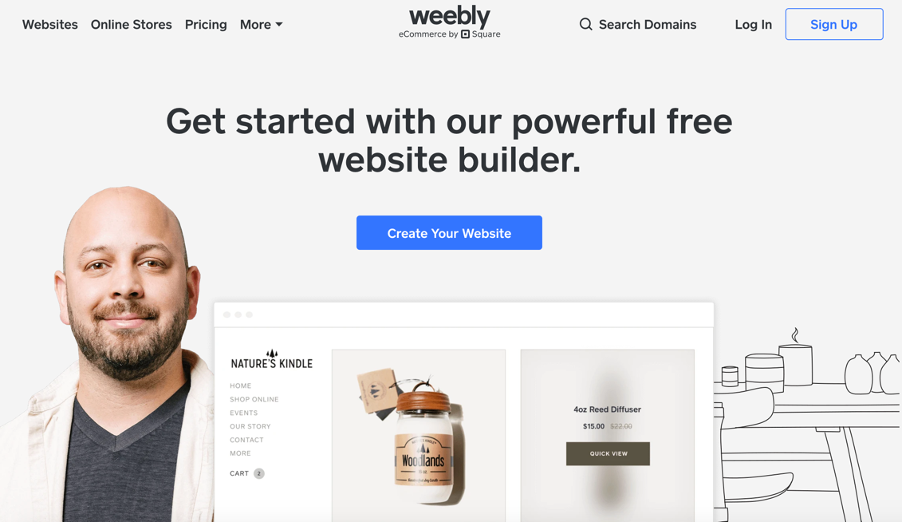 Weebly was founded in 2006 and acquired by Square in 2018 when it had exceeded 625,000 paid subscribers. This website builder works best for simple small businesses that require marketing automation built it. Other platforms usually charge an extra $10-20/month for this feature.
Features:
eCommerce marketing automation
Simple dashboard and easy to use
Free designs
Cons:
Not SEO friendly
Not many features available
Pricing: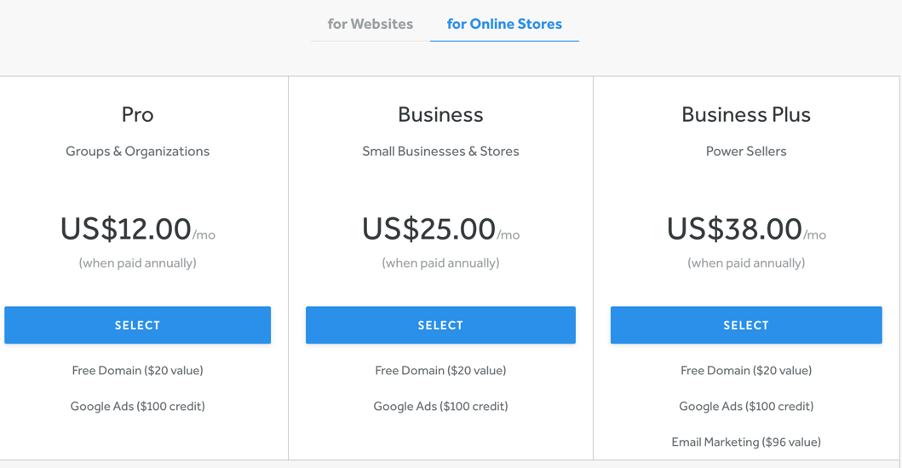 Step 3: Pick a template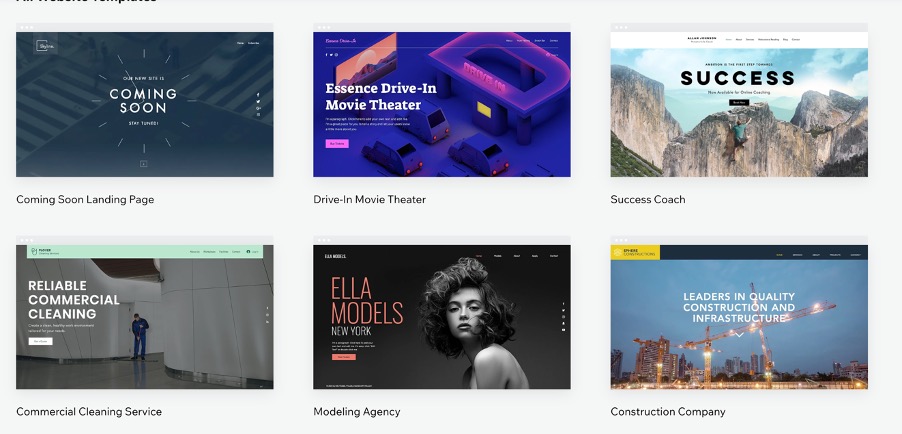 So, you've signed up with a website builder, picked your plan, registered a domain. You're ready to visualize your website!
Step 4: Customize design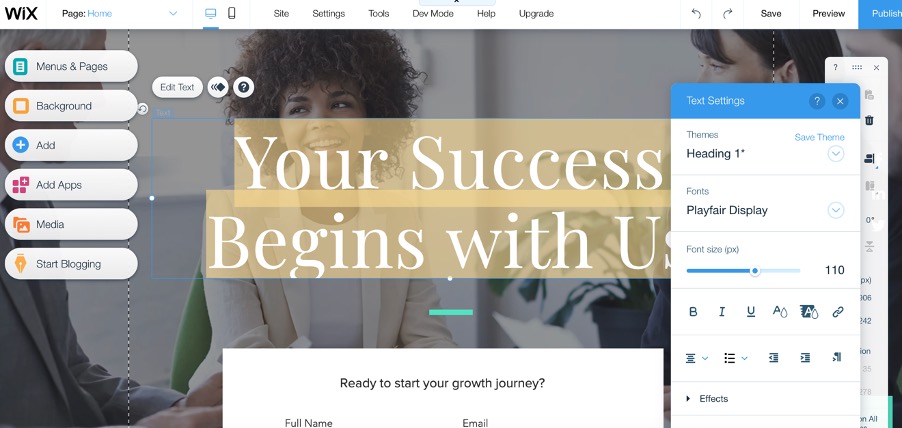 With hundreds of templates available, it's easy to find a template for your industry. You can alter the color, upload images, move, add or delete some pages and sections to make it stand out from the crowd.
Step 5: Upload and format content to your website
After settling on the initial designs of your website, it's time to upload content such as text, images, and videos. More often you fine-tune the design while adding content to the website. So, steps 4 and 5 go hands in hands.
After several iterations, you have a cool-looking website for your business! You've been doing a great job so far!
But hang on, don't publish it yet. Before you hit publish, make sure to preview your website.
Check for any grammar or spelling mistakes, are all the buttons working, does it work on mobile and tablet, etc.
We'd also recommend having a friend or family member to help preview your website. Get their feedback and enhance the website before the official launch.
Adding apps or add-ons for extra functionality
Whatever extra function you want to include, you can always find an app or plugin to do it! Most website builders offer an app/ plugin market that allows you to shop for apps.
Many apps offer a free version, and you can upgrade later when you need more powerful functions.
For example, the Wix App Market is filled with over 300 popular web apps, powerful services, and amazing features to enhance your website and grow your business. Most of the apps are free to use, mobile-optimized, and can be added to your site in just a few clicks.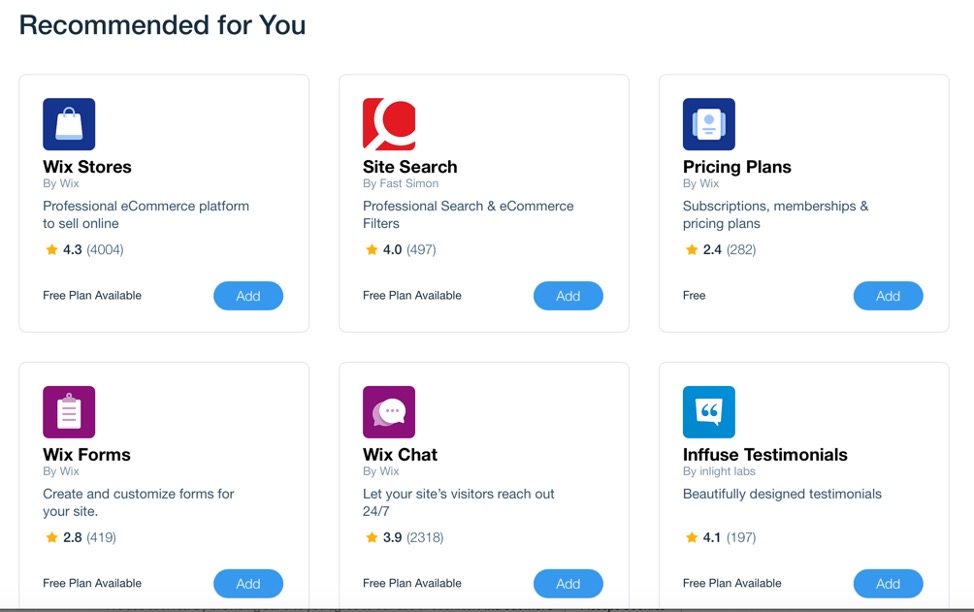 Conclusion
It's very crucial for businesses to have a digital presence, and a website is almost the first and very important step to set your brand online. If you haven't started and had trouble picking the right tool, see below:
For businesses that plan to scale, and you are not afraid of a steeper learning curve, start with Bluehost, and install WordPress to build your website.
For beginners or those who prefer an easier tool, Wix is our top recommendation.
Start with Bluehost here for as low as $2.95 per month!
Further read:
10 Ways to Make Money Online Right Now
WordPress Tutorial: Building Websites With WordPress In 10 Minutes
Best Website Builder For Small Business
Wix Tutorial: How To Use Wix To Create A Website (Step-By-Step Guide)
Weebly Tutorials: How To Use Weebly (Step-By-Step Guide)
Wix Vs Weebly: Which Is A Better Website Builder?
8 Best Blogging Platforms To Make Money (Compared And Reviewed)