Cloudways is among the few cloud-based managed WordPress hosting providers that combine an excellent value for money and unique features.
There will be no slow loading WordPress sites or WordPress hosting issues thanks to Cloudways' completely managed service.
As your website grows, you can quickly scale up or down your hosting resources using their platform-as-a-service cloud servers. Their infrastructure is fast, efficient, and secure.
Cloudways is a corporation that specializes in the development of web development tools. It encompasses all aspects of web hosting, configuration management, deployment, and continuous integration and deployment.
Considering Cloudways for web hosting? Read this unbiased Cloudways Hosting Review to learn everything you need to know about this managed cloud hosting service.
This Cloudways review will examine the features, pricing, and more to help you decide.
Cloudways Overview
Managed hosting service Cloudways focuses on speed and simplicity. Cloudways takes care of everything from the easy server and application start to the ongoing server maintenance to expanding your business. Included a comprehensive set of tools and services for managing your online stores and business websites when you sign up with Cloudways. Cloudways' main selling point is its ability to host practically any PHP-powered application and employ either a paid or free SSL certificate, depending on the needs of the developer or the agency.
The concepts of choice and freedom to focus on what matters to users begin with the server and application launch. In addition to five IaaS providers, Cloudways customers can choose from various popular apps, such as four versions of the WordPress platform and two versions of Magento, to meet their operational and business needs.
More than 50 server and application administration operations on the platform may deploy in a few seconds. It doesn't matter whether you're running an online store, an agency, or a freelance developer with multiple clients; Cloudways has all the capabilities you need to get more out of your managed hosting solution.
Cloudways is different from other cloud hosting companies in the following ways:
Easy Migration: They let you move your website across servers in different colocation data centers worldwide.
Faster Loading Times: Their excellent CDN provides faster loading times.
Secure Environment: Their servers are all independent. So if one server fails, the rest don't suffer.
Scalability: Cloudways allows you to add resources as traffic and needs increase.
Pay-as-you-go: Pay only for resources used.
Cloudways Pricing
It costs roughly $10 a month to get started with Cloudways, and the price increases based on the amount of storage and processing power you demand.
Remember that Cloudways does not run its servers. VPS providers used to provision the servers, and then WordPress was configured to run optimally on them. Included security updates and technical assistance with this service.
As a result, both your server's size and the provider you select influence the cost of Cloudways.
If you use Cloudways, there are currently five service providers to select. AWS, Google Cloud Platform (GCP), and Vultr are some of the most popular cloud hosting services.
The first three of these provide clear pricing information. Each server has a fixed monthly cost, which rises with the server's capabilities.
The cheapest Digital Ocean server costs $10/mo, the cheapest Vultr server costs $11/mo, and the cheapest Linode server costs $12/mo.
The Vultr High-Frequency and Digital Ocean Premium servers are more powerful Vult servers and Digital Ocean variants. Cloudflare is a free content delivery network (CDN) that provides a hefty 1 TB of bandwidth on even their most basic servers, which should be plenty for most users.
Using a CDN, you may store copies of your most frequently used files, such as images, on servers across the world. If your server is remote, your website will run better for people far from it.
Cloudways Hosting's Key Features
Free Site Migrations
Cloudways will transfer your site for free if you're moving from another hosting service to Cloudways.
Very Fast Server Speeds
When you use the Cloudways CDN, your server's performance improves. Fast loading times are essential for any website.
Auto-Healing
Cloudways managed to control all server-side needs. Still, they also use a unique auto-healing function to identify and repair any problems and lessen the risk of your website crashing.
Dedicated Firewall
WordPress is an attractive target for hackers since it is the most used content management system globally. Fortunately, Cloudways uses a dedicated firewall to protect its servers from threats and its customers' WordPress sites.
Two-Factor Authentication
Additionally, Cloudways implements two-factor authentication to give an additional layer of security in the case of a malicious attack.
One-Click App and Plugin Installation
Nothing is more irritating than spending 15 minutes installing a WordPress app or plugin. Cloudways' one-click application and plugin installation eliminate this need.
One-Click Setup
With Cloudways, you can create a website in one click. You may also install apps and plugins with only one click. The company fully supports PHP apps and CMS frameworks like Laravel, Drupal, Magento, and WordPress.
Staging and Cloning
It allows you to test changes and make sure they work well before going live. Similarly, you may clone sites and create many copies, which helps back up your website, switch servers, and show your website to current and potential customers.
Advanced Caching
Cloudways' cloud infrastructure comprises five cloud providers: Vultr, Linode, Amazon Web Services, Digital Ocean, and Google Cloud, offering lightning-fast SSD dedicated and virtual private servers.
Additionally, Cloudways makes extensive use of caching methods to optimize server performance. One of these is a caching plugin called "Breeze" that works in conjunction with CloudwaysCDN, the hosting provider's in-house content delivery network. Used Other popular caching plugins such as Varnish and Redis; however, Cloudways recommends using only one of them.
Vertical Scaling
You can use the "Vertical Scaling" option if your traffic continues expanding and you need to update your server. Vertical scaling, accessible through the "Server Management" menu, enables you to quickly scale up or down server resources and hosting plans with just a few clicks.
24/7 Support
As most Cloudways reviews state, the managed WordPress hosting service offers customer support. You may get answers to your queries by sending an email, requesting a call, visiting the community forum, checking the blog and knowledgebase, or looking at the company's social media accounts.
Pros of Cloudways
Cloud-Based Infrastructure Optimized for Speed
Among all platforms accessible today, Cloudways provides one of the most flexible and robust cloud-based infrastructures.
Scalability
The platform's flexibility allows it to expand with your needs, even if they increase fast. With the platforms' upward scalability, you'll have on-demand resources.
Fast Servers
Cloudways employs content delivery networks (CDNs) to provide faster servers and better website performance. This technology allows Cloudways-powered sites to cater to a large audience quickly and reliably.
Custom Control Panel
A user-friendly Custom control panel would not have made it this far without Cloudways' ingenuity.
Automatic Backups
The site automatically backed up on a schedule you specify, which can range from a few hours to a few weeks.
Security
Multiple platform-level firewalls on the servers and constant monitoring are among Cloudways' security measures.
Developer-Friendliness
Versatility comes in many forms, and Cloudways is a user-friendly platform and developer-friendly platform.
Team Collaboration Tools
Cloudways is also a fantastic collaboration platform. It enables users to collaborate smoothly using essential tools and robust infrastructure.
Simple Configuration and Migration
As if Cloudways is not already user-friendly enough, many features make it a friendly environment for almost everyone.
Lower Costs
Cloudways is not only the cheapest method to conduct business, but it is also the most cost-effective and will provide you with the most value for your money.
Cons of Cloudways
Complex Set Up
The most significant con of Cloudways is how difficult it is to get started. Cloudways hosting is significantly more challenging to set up than traditional hosting.
Limited Trial Period
Cloudways has one major flaw in the pricing department despite their simple pricing structure: a limited trial period. Cloudways gives three days – and if you're having trouble migrating or setting up, those three days go fast.
Custom Backend
The server backend/dashboard used by most hosting businesses is cPanel. You can use cPanel to accomplish anything with your hosting server, including installing apps. Cloudways doesn't use it.
No email hosting
Many reputable hosting companies include integrated email accounts with their services. However, Cloudways does not.
Should you Use Cloudways?
Cloudways is an open-source, multi-functional platform for delivering WordPress websites and apps. It is one of the most popular WordPress cloud hosting providers. Additionally, it has a marketplace for purchasing WordPress plugins and themes.
Cloudways is an ideal option for developers to host their projects online. They've been around for a while and have enough experience in the sector to provide excellent developer hosting. Cloudways also has a unique combination of features and tools that allow developers to construct and expand apps without worrying about the underlying infrastructure.
Cloudways Tutorial: How to Start Using Cloudways Hosting and Install WordPress on Cloudways
Cloudways isn't a one-stop shop for web hosting. It means you'll need to purchase your domain name from a different company. And you can purchase a domain name from Namecheap.
The only upfront investment that you will have to make is for a domain name. Cloudways offers a risk-free, no-obligation trial period, following which you'll pay a low monthly fee with no obligation.
A managed WordPress hosting service is Cloudways that manages everything from the cloud. It implies for you as a user that their servers run WordPress quickly and efficiently. Getting started with Cloudways is as simple as selecting a cloud, an application, and a server location, then deploying it in minutes.
Cloudways does not host your websites; instead, they use one of its hosting infrastructure partners, including DigitalOcean, Linode, Amazon Web Services, Google Cloud Platform, and Vultr. They also provide managed Joomla, Drupal, Magento, and Prestashop hosting in addition to managed WordPress hosting. Additionally, Cloudways is well-known for its high stability, performance, and 24/7 live chat assistance.
Step 1: Start free with Cloudways
You'll need a Cloudways account to pick a server, select an app, and deploy it. Why don't you get one right now? (free trial + no credit card necessary). Press the START FREE button. Start signup.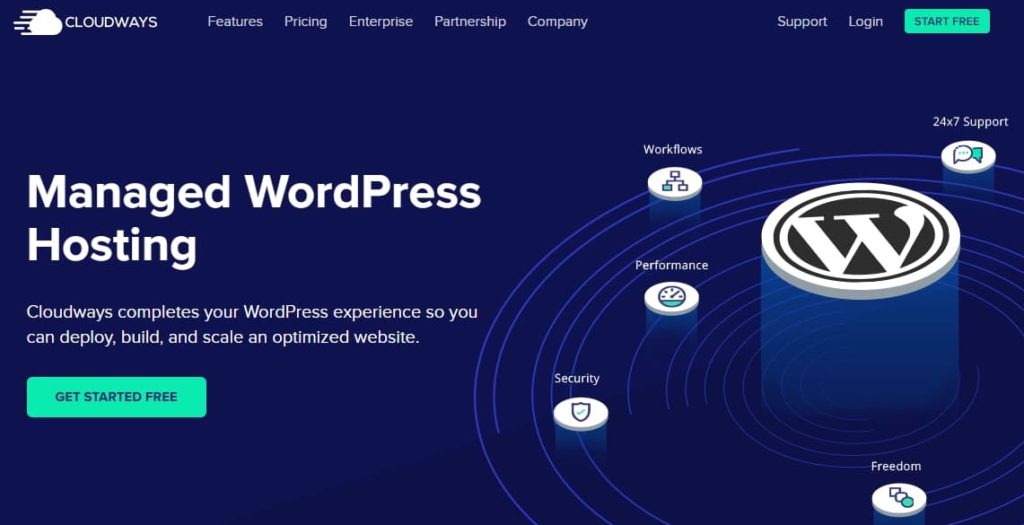 Step 2: Install WordPress on Cloudways
It's time to pick your server and install WordPress after you've created your free Cloudways account. Log in to Cloudways and create a server for your website.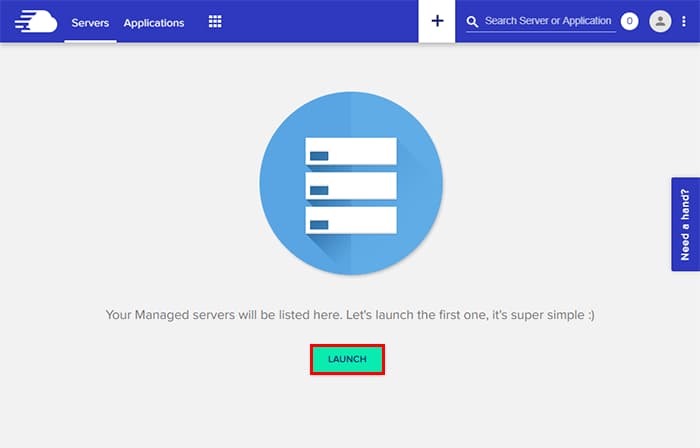 Step 3: Configure Application & Server Details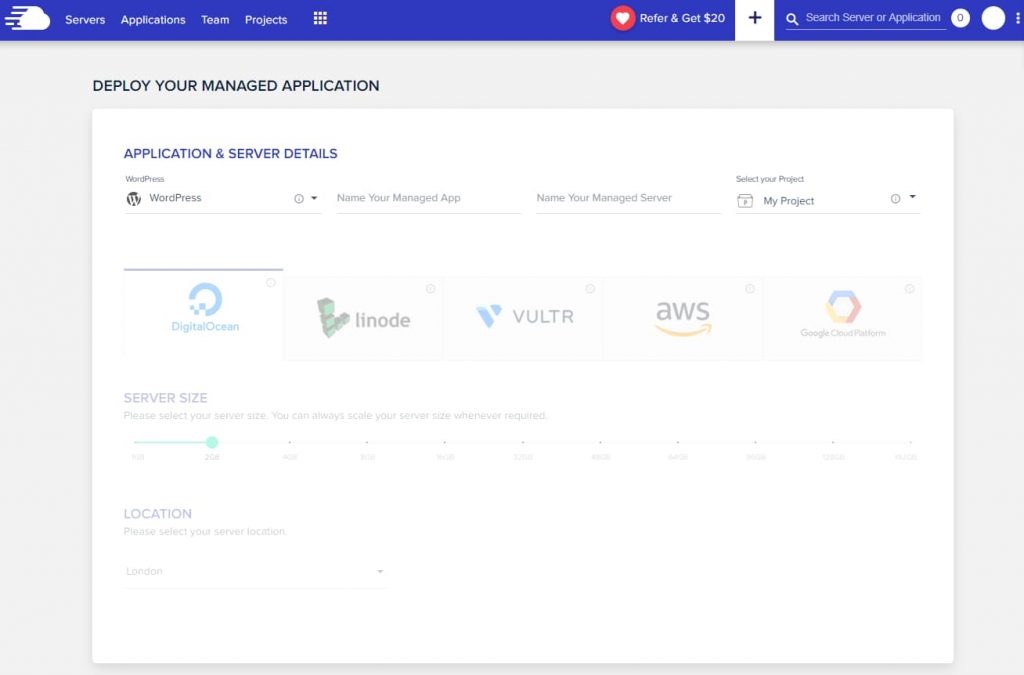 Currently, Cloudways has four options for WordPress installations: WordPress with WooCommerce; WordPress Multisite; a Cloudways-optimized version; and a clean installation. A free WordPress cache plugin Breeze included when you optimize your installation with the first option.
Next, name your app and server.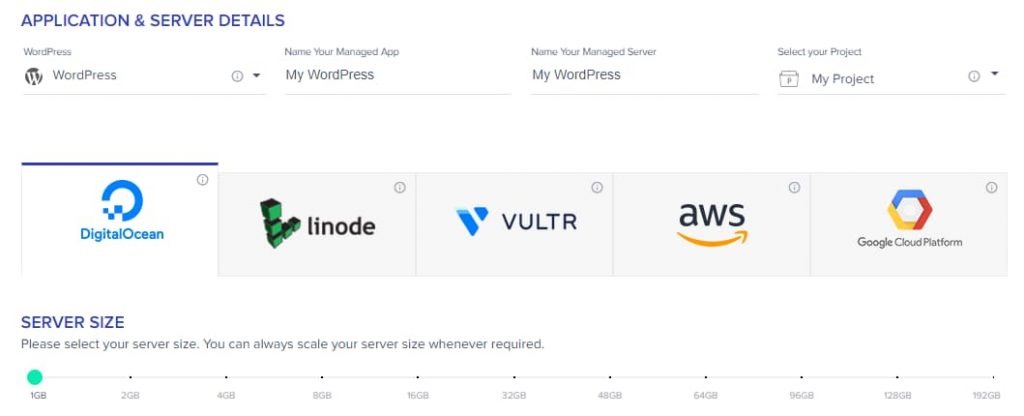 After entering your names, select "DigitalOcean" as your cloud infrastructure.
Then pick server size and location.

Assign a server capacity of at least 1GB and locate it near the country that generates the most traffic. If it's a local business, choose a server near you. You're ready to go! Click "LAUNCH NOW" to begin.

The vertical ellipsis () icon allows future server management.
Step 4: Managing the Application
After the successful server deployment on Cloudways, we may move on to 'Application Management.'

Select your application by clicking 'www'. This opens the Application Management screen. This is where you may configure your newly installed application.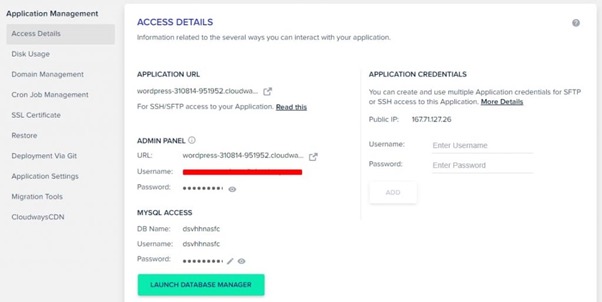 Log in with your login details.
You will be welcome to your WordPress Dashboard after logging in.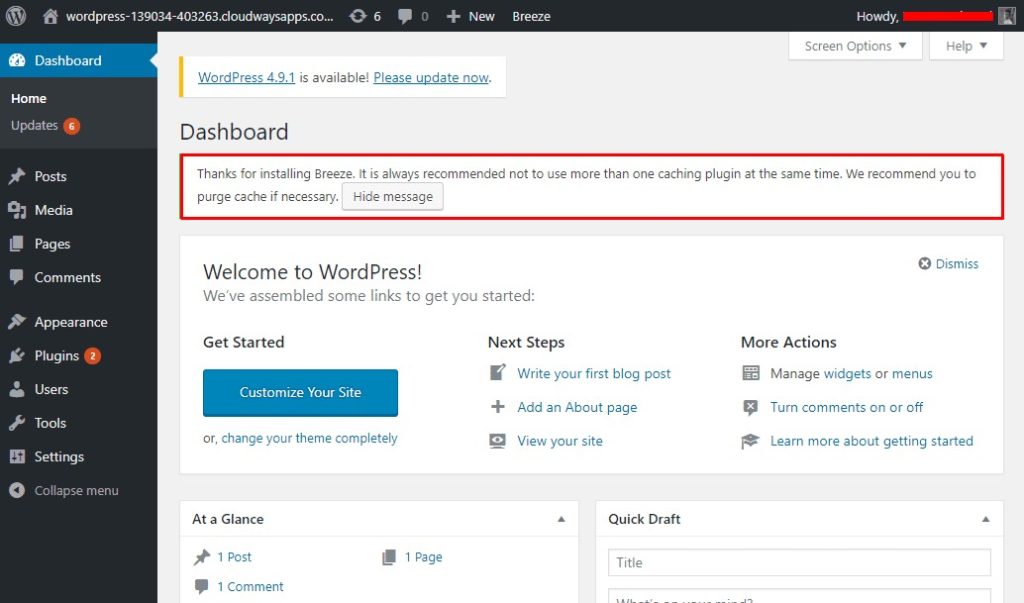 There is a Breeze — free WordPress cache plugin already installed.
Step 5: Adding a Domain name
Now add your domain to the WordPress site. Simply go to the 'Domain Management' tab and add your domain name.

Save the changes
Step 6: Add Free SSL Certificate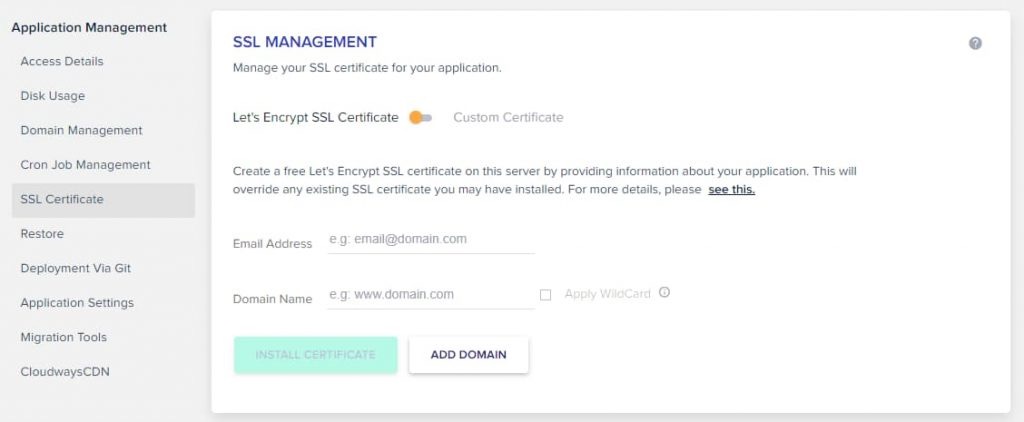 Then click 'Install Certificate' to launch the certificate installer.
Installing the certificate may take time. Before installing the SSL certificate, add your domain to Cloudways.
Step 7: Miscellaneous Options
In an emergency, Cloudways allows you to restore your web app from backups.

Once you've made at least one backup of your app, you can choose one to restore.
Cloudways allows you to deploy WordPress through Git. Your Git repository requires SSH keys, which you must first generate and download. To successfully clone your repository, paste its SSH address here.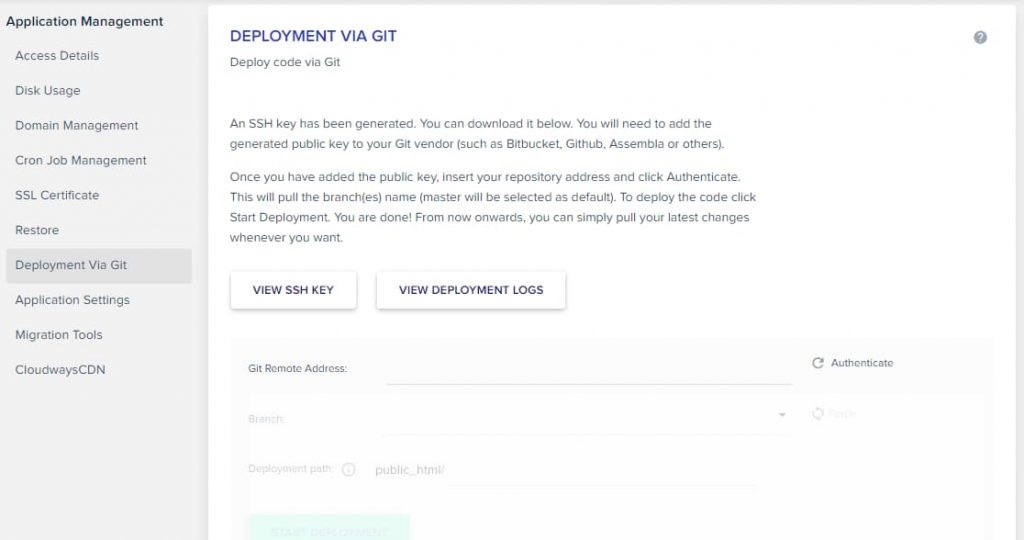 Download your SSH Keys and fill out the details.
Under the 'Application Settings' tab, you can configure various other WordPress-specific settings.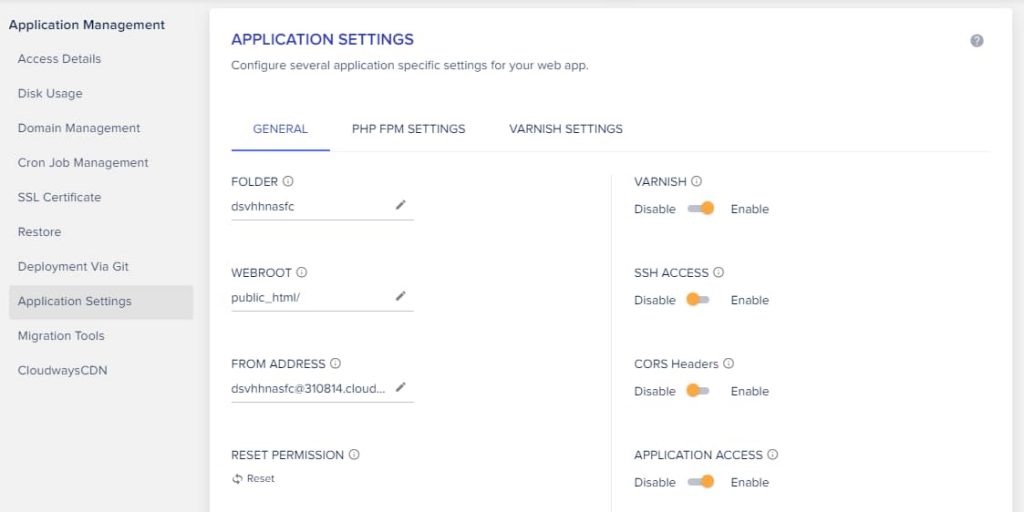 Step 8: WordPress to Cloudways Migration

Install the Cloudways WordPress Migrator plugin on your old site and fill in the appropriate Cloudways account details. A WordPress backup and security service from Cloudways, BlogVault, made this easy migration possible.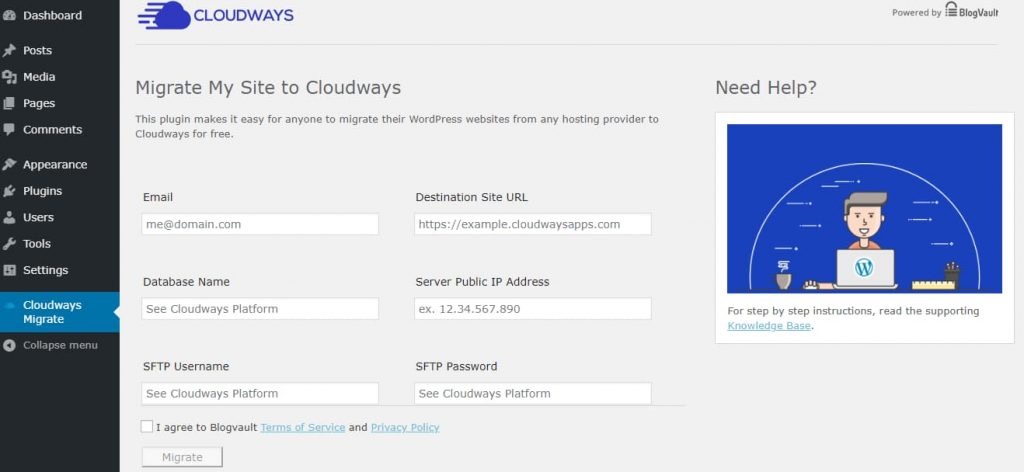 Fill in the needed details and click the 'Migrate' button to begin your Cloudways migration.
Step 9: Install CloudwaysCDN for Global Audience
Installing CloudwaysCDN allows you to distribute your site's content from multiple locations, ensuring that visitors receive it from the server nearest to them.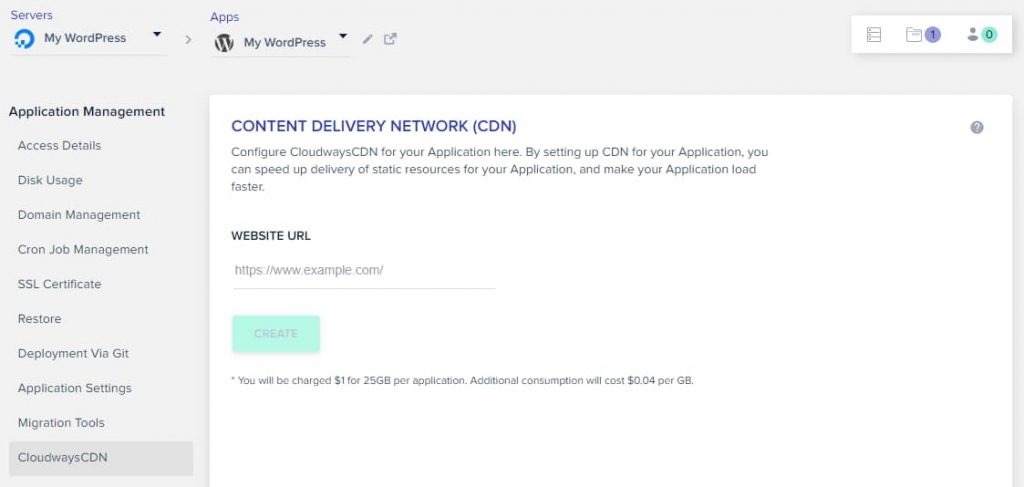 Step 10: Cloudways Server Management Console
We've finished playing around with Cloudways' application settings. It's time to explore your server. To access the server management, click the server icon in the top corner of the screen.

Your server action will now welcome you.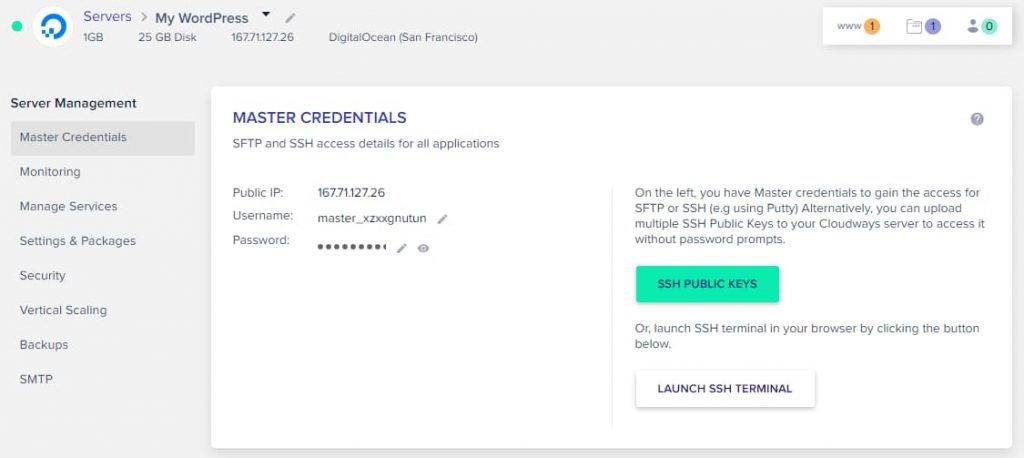 You can see your public IP, SFTP, and SSH credentials here.
Step 11: Server & Application Monitoring
To monitor your server's performance, go to the 'Monitoring' tab.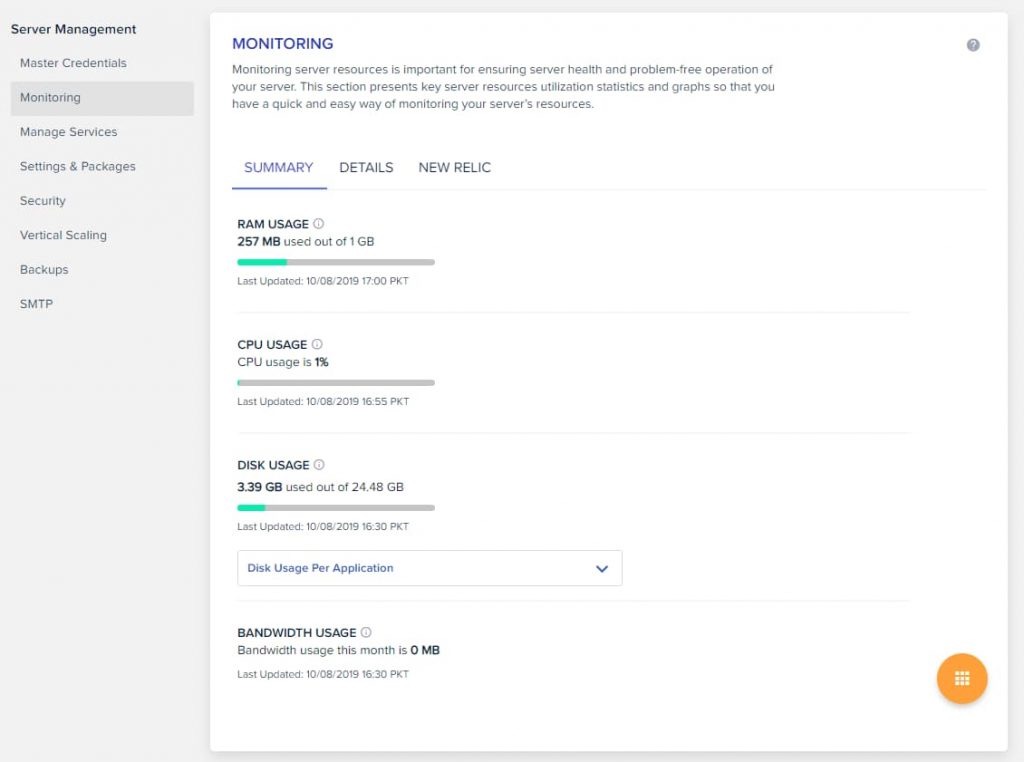 Step 12: Managing Services
In the 'Manage Services' section, you may manage your Memcached, MySQL databases, PHP-FPM, NGINX, New Relic, Apache server, and Varnish cache.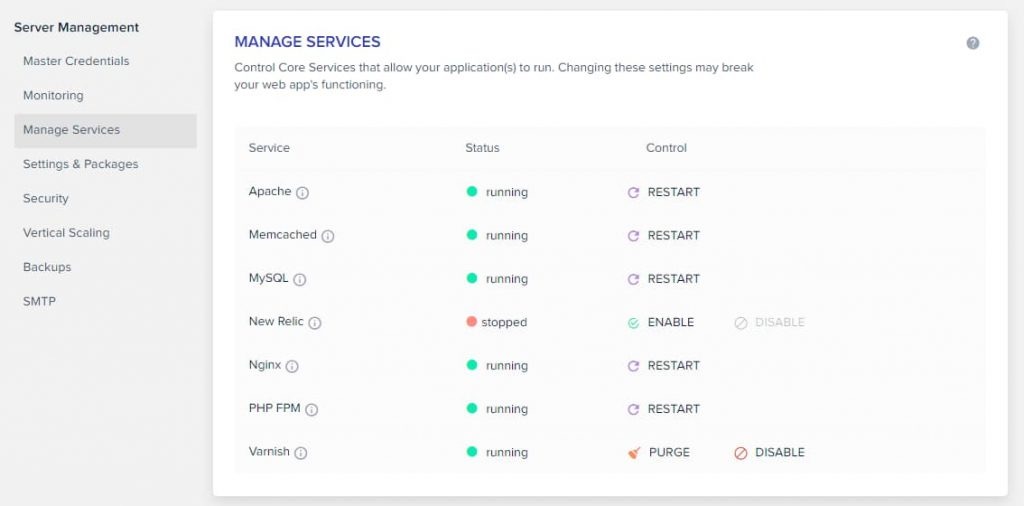 Step 13: Managing Settings & Packages
These include upload size, memory limit, execution limit, and error reporting.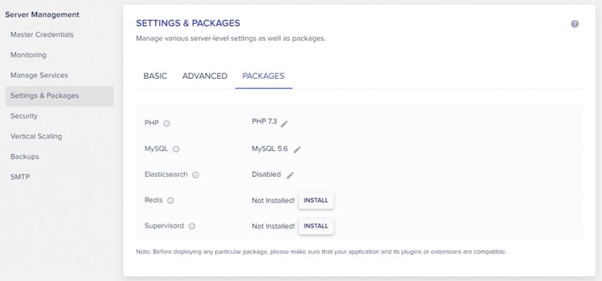 Here you may manage your application's PHP, MySQL, Elasticsearch, and Redis cache.
Step 14: SSH/SFTP Security

If your IP is blocked from SSH/SFTP, you can check here. A whitelist-friendly IP address can see in the screenshot.
Step 15: Vertical Scaling with Cloudways
A simple slider on Cloudways allows you to increase your server's resources.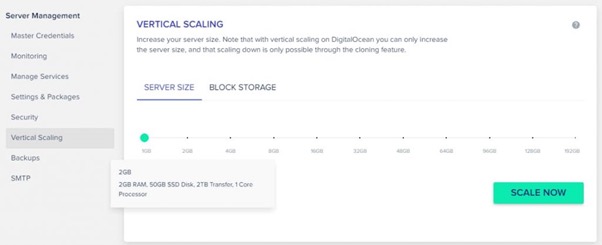 Move the slider to the desired resource size.
Step 16: Backups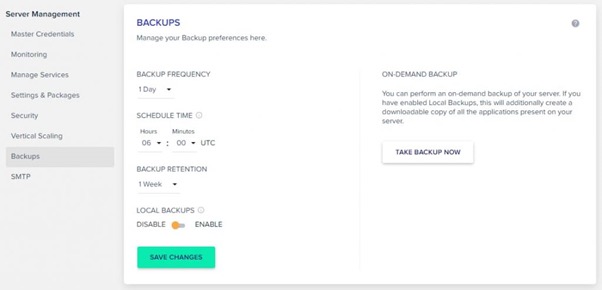 Although Cloudways automatically creates backups, you may also build them manually. In addition, you may generate local backups and configure backup frequency and retention settings here. Making a local backup permits SSH/SFTP download.
Final Step: Simple Mail Transfer Protocol (SMTP)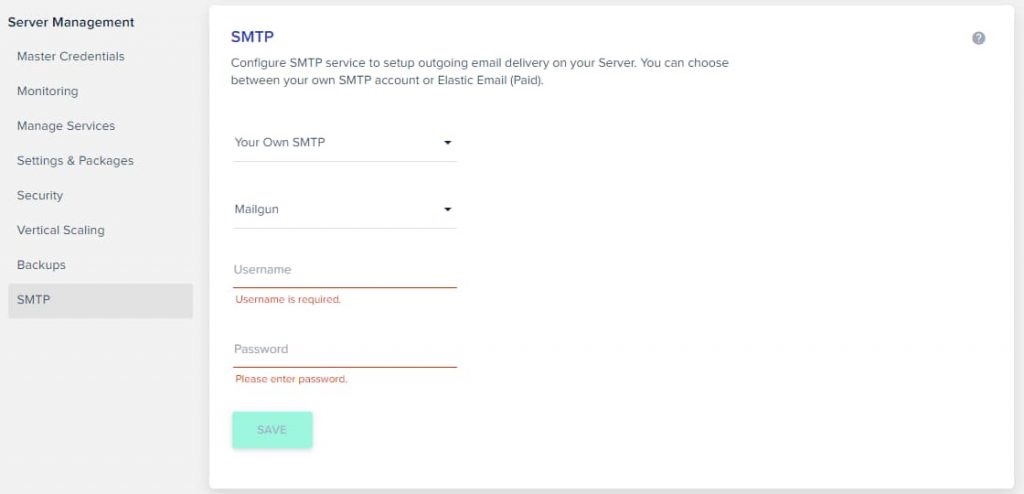 You can either set up your own SMTP server or use their paid Elastic Email service. This completes the step-by-step installation of WordPress on DigitalOcean using Cloudways.
Cloudways Review: Conclusion
When it comes to hosting, you have various options to select from, including shared, virtual private server (VPS), cloud, and dedicated plans. Choosing a better hosting platform is always a challenge.
Budget, bandwidth, storage, and other factors are all different for individual users.
Additionally, as we all know, speed, uptime, and support are critical components of every hosting service, and Cloudways does not comprise any detail to satisfy its clients. Cloudways will keep you and your website safe.
With all of this, the best-managed hosting platform on the market is Cloudways. The only way to find out if Managed Cloud Hosting is right for you is to sign up and test it out. Cloudways provides a three-day free trial without requiring a credit card. In three days, you may test out the many features that come with the hosting.
Further read:
The 8 Best WordPress Hosting Companies Of 2022 (Compared And Reviewed)