Communication is crucial, especially when running a business. As you hire new employees and earn more clients, you've got to find a way to stay in touch with them efficiently. That's where small business phone systems come in.
Unlike conventional systems, modern business phone systems are more cost-effective. Most do not require on-premise setups, and you don't need to blow the budget on purchasing new hardware for each employee.
Besides, since phone systems bring all the necessary features into one place, they allow you to save time and increase productivity.
So what exactly are phone systems, and what are the best options in the market right now? In this guide, we ranked the reviewed some of the top-rated small business phone systems so that you can pick the best one for you.
Let's have a look!
Best Small Business Phone Systems
Best Phone Systems for Small Businesses
What is a Business Phone System?
In short, business phone systems are solutions that bring your company's telephones under one roof.
Business phone systems often include call forwarding to various sources, conference call support, automated answering, on-hold call queuing, and more.
There are three main types of business phone systems: Key System Units (KSUs), Private Branch Exchanges (PBXs), and Voice over Internet Protocols (VoIP).
Each type comes with its pros and cons. For instance, since VoIPs use the internet, businesses can connect with their employees or customers anywhere, at any time. In our opinion, VoIPs are the most popular business phone systems right now. You might already have the experience of getting calls from VoIP callers.
However, they require a stable internet connection. Otherwise, you may experience interruptions and delays.
Choosing the Right Small Business Phone System
Before we dive into the list, let's discuss what you need to consider when choosing a business phone system.
First, you'll need to choose the business phone system type that fits your needs. We'll discuss this in more detail later in the article.
Second, there's compatibility. You'll use the phone solution of your choice along with other tools in your company. Picking a phone system that easily integrates with ticked management or CRM software, email providers, and more is crucial.
Third, there's the cost. You need to account for setup, hardware, licensing, and subscription costs.
In all, we'll compare small business phone systems on:
How well it fits your needs
Compatibility
Pricing
Let's look at some of the best small business phone systems.
The Best Small Business Phone Systems
RingCentral: Best for Small Businesses Overall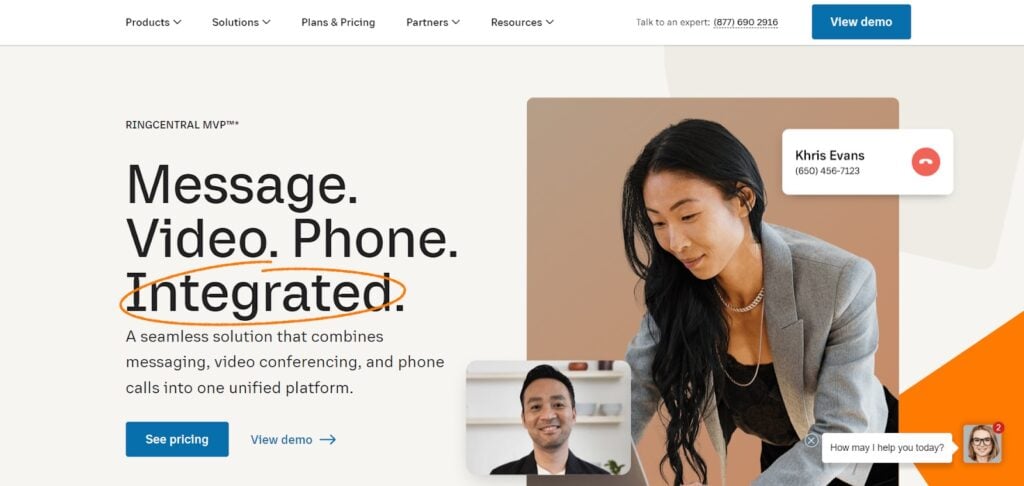 RingCentral MVP brings voice, messaging, video, conferencing, and faxing under one roof. It's a perfect choice for businesses looking to collaborate with their customers and employees seamlessly.
Aside from the many communication options available, the platform allows you to share files and screens to increase productivity.
However, what makes this platform stand out is its integration capabilities. RingCentral provides an app marketplace where you can find integrations with Trello, Microsoft Teams, Zapier, MailChimp, Marketo, and hundreds of more apps.
If that isn't enough, RingCentral puts their SDKs and APIs at your disposal so you can build custom-tailored apps, which is similar to Vonage.
Furthermore, the platform offers industry-specific solutions suitable for financial services, healthcare, retail, automotive, manufacturing, and more.
RingCentral's features are designed to improve team collaboration. For instance, the platform offers a workspace where team members can share files and video recordings, create folders, bookmark notes, and send messages to one another.
Key features
Real-time analytics
Voicemail transcription
Call management and phone system administration
Android and iOS mobile apps
HD Video meetings with up to 200 participants
Advanced call handling
Voicemail-to-email and visual voicemail
App gallery
Pricing
RingCentral MVP covers four pricing plans:
Essential – from $19.99/user/month
Standard – from $27.99/user/month
Premium – from $34.99/user/month
Ultimate – from $49.99/user/month
Nextiva: Best for Versatility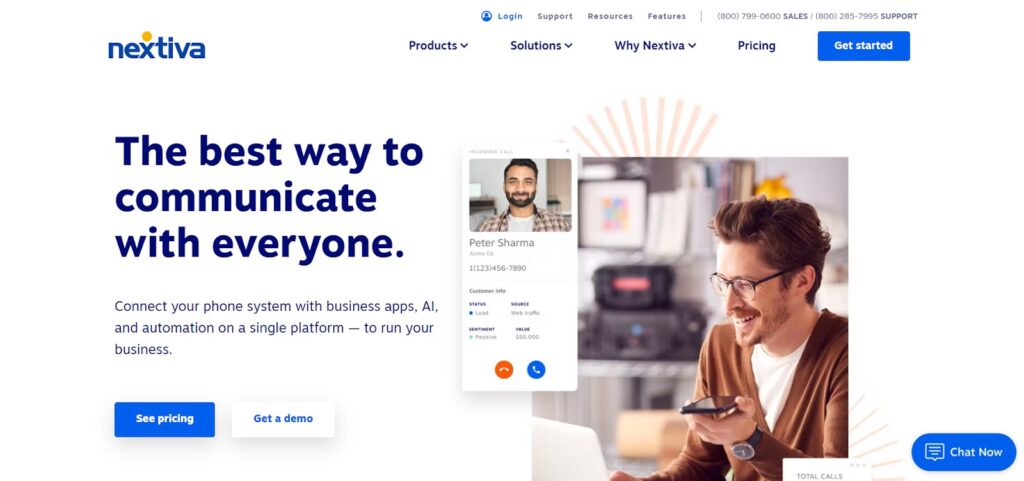 Nextiva is a VoIP service provider that covers messaging, voice, and video communications. The platform offers pricing plans suitable for businesses small and large, making it a great option in terms of scalability and versatility.
Moreover, Nextiva comes with a built-in CRM tool available in the platform's upper-tier pricing plans. Its CRM helps you create a more efficient pipeline by customizing pipeline stages, tracking deals, and leads, managing deadlines, and tasks, etc.
Nextiva also offers some handy automation tools. For instance, you can automatically send customized messages to your leads during each pipeline stage, and the platform even provides suggestions on answering your customers' questions.
Aside from that, the platform includes many customer service tools, like ticket management and customer surveys. Most notably, there's the Call Pop feature, which offers service agents all the necessary information regarding customers, including previous interactions, sentiment, and survey responses.
Another factor that makes Nextiva versatile is its integration capabilities. You can integrate the platform with Zoho CRM, Salesforce, HubSpot, Zendesk, Microsoft Teams, and more.
Key features
Voice analytics
NextOS admin portal
Mobile, desktop, and web apps
Voicemail transcriptions
24/7 customer support
Local and toll-free numbers
Hold music
Conference calls
Pricing
There are three pricing plans:
Essential – from $24.95/user/month
Professional – from $27.95/user/month
Enterprise – from $37.95/user/month
Ooma: Best for User-Friendliness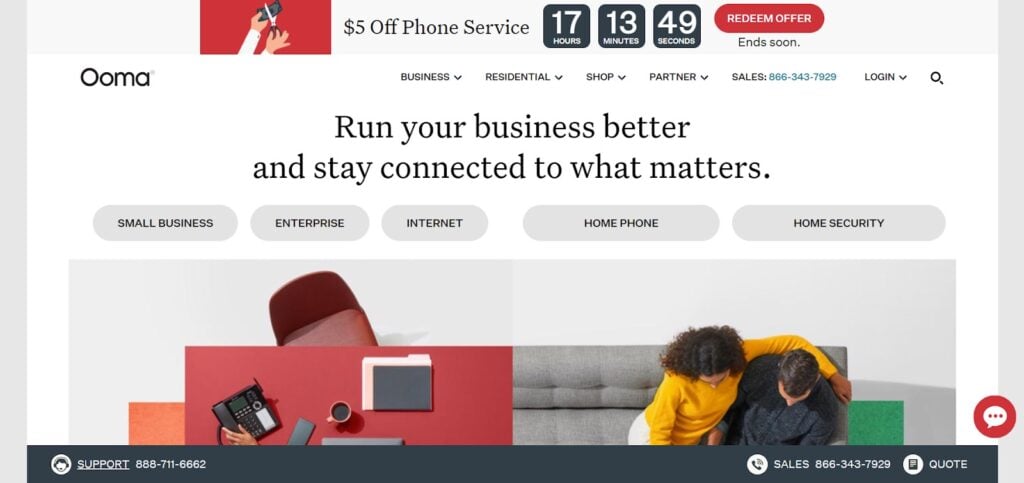 Ooma might be the most user-friendly choice for small business owners. The platform is easy to use and provides excellent value for money.
Its dashboard is user-friendly, making it a breeze to navigate for people with no technical expertise or prior experience with other similar products.
Moreover, if you decide to order their dedicated phones, they will be pre-activated with your account information. In other words, all you need to do is to plug the phone in and start making calls.
If you use your existing hardware, you can also easily link it to Ooma.
In terms of functionalities, Ooma offers more than 50 features in its starter pricing plans, including unlimited calls, a virtual receptionist, a toll-free number, and access to its mobile application.
The virtual receptionist is the stand-out here, as it automatically answers all calls to your primary phone number. You can use the virtual receptionist to craft personalized messages in multiple languages, redirect customers to the appropriate department, and more.
Key features
Call forwarding
Call blocking
Music on hold
Ring groups
Digital fax
Call recording
Video conferencing
Analytics
Pricing
Ooma has three pricing plans:
Ooma Office Essentials – $19.95/user/month
Ooma Office Pro – $24.95/user/month
Ooma Office Plus – $29.95/user/month
Vonage: Best for Flexibility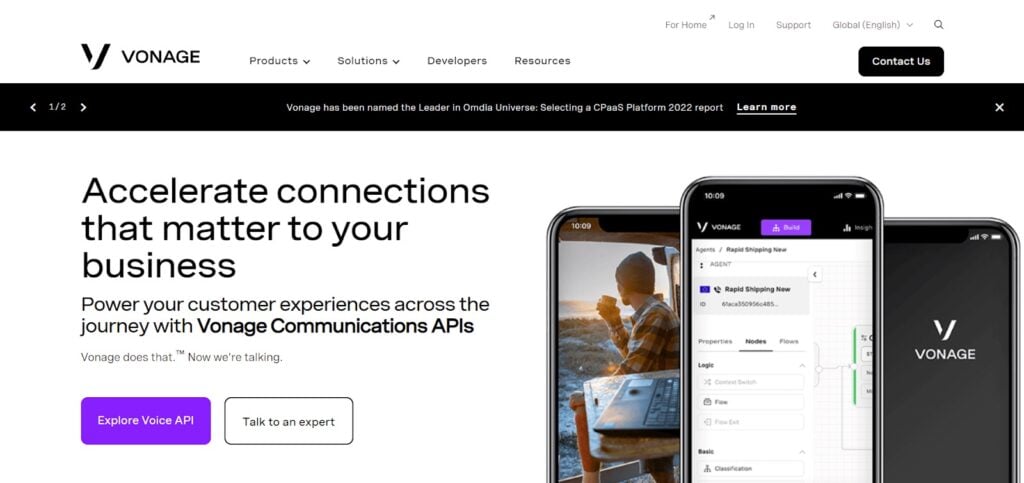 With Vonage, customization is the name of the game. The platform offers access to its APIs to build apps according to your needs.
For instance, you can find APIs for in-app messaging, emails, analytics, audits, virtual phone numbers with dedicated short codes, and more.
Moreover, Vonage Unified Communications is an all-in-one solution that covers voice, video, SMS, fax, and social communication. Coupled with its customization capabilities, Vonage is excellent in terms of flexibility.
Vonage integrates with platforms like Salesforce, Zapier, Slack, Zendesk, etc.
Although the platform lacks some features, like voice-mail-to-text, or toll-free numbers, Vonage is easy to use, quick to set up, and fit for small budgets. Besides, its customization options should make up for the lack of features.
Key features
Unlimited calling and messaging
Video conferencing
Desktop and mobile apps
Call screening
Call blocking
Pricing
Vonage offers three pricing plans:
Mobile – from $19.99/line/month
Premium – from $29.99/line/month
Advanced – from $ 39.99/line/month
Note: Each API comes at an extra cost.
Learn more about Vonage from its official website here.
Dialpad: Best for Call Analytics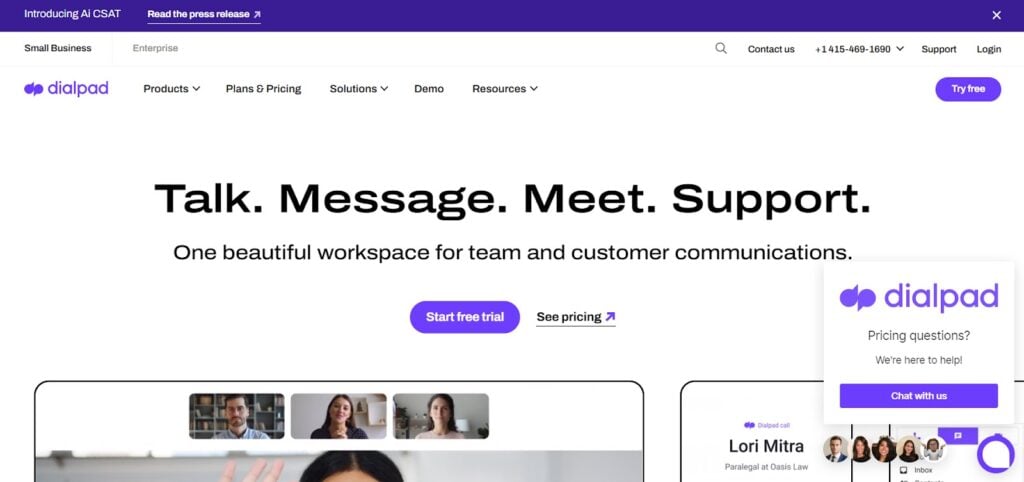 Dialpad can handle texts, calls, and voicemails. It sets itself apart through its Artificial Intelligence capabilities.
The platform uses AI and Machnice Learning technology to streamline and improve communications.
Specifically, you can use the platform to transcribe meetings in real-time. What's noteworthy is that Dialpad can distinguish between different speakers and track keywords during conversations.
Moreover, the AI can identify customer sentiment. This works by recognizing positive or negative words to determine whether the customer is frustrated.
But that's not all. The AI shines through its reports and analytics capabilities.
You'll be provided with a summary after each call. This will automatically create a list of notes, action items, and highlights to help you see where there might be room for improvement.
You can also use heatmaps to measure answer times and call volumes. This helps you measure team performance, analyze call habits, and identify ways to minimize wait times.
Lastly, the AI acts as a speech coach. Dialpad analyzes calls in real-time to identify any speaking errors, and offers call agents suggestions on how to improve their communication abilities, like speaking more slowly, using fewer filler words, etc.
Key features
Unlimited calls
Unlimited group messages, SMS, and MMS
Unlimited video calls
Custom ring groups and routing
Omnichannel support
Integrations with Google Workspace, Office 365, and more
Custom on-hold music
Customer satisfaction surveys
Pricing
Dialpad covers three plans:
Standard – from $15/user/month
Pro – from $25/user/month
Enterprise – upon request
8×8: Best for Start-ups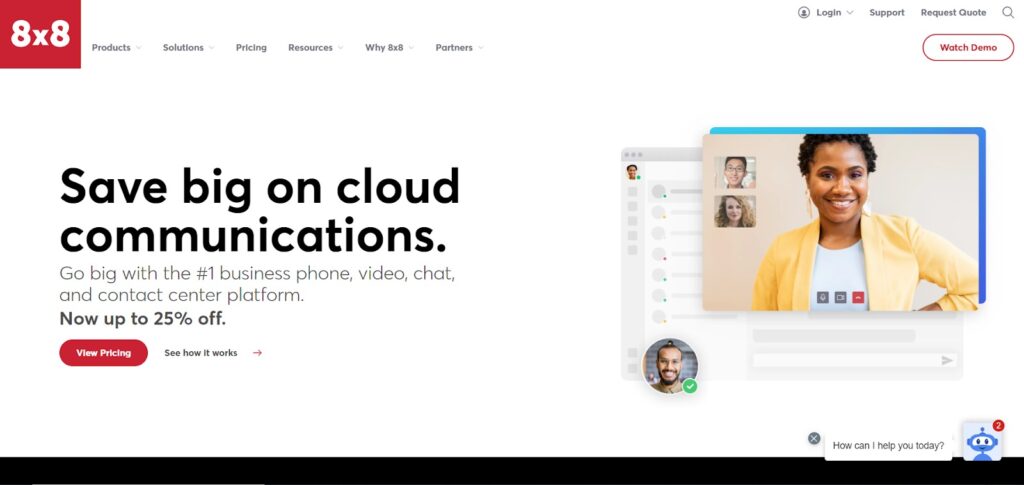 8×8 is a VoIP system that includes video conferencing, messaging, and calling. It's affordable, easy to use, and it allows you to mix and match plans to get you the best value for money — a combination that makes this platform perfect for start-ups and small businesses with few employees.
Like Ooma, 8×8's dashboard is specifically designed with accessibility in mind. People with no technical expertise or prior experience with business phone systems can easily make the most of what this platform offers.
Moreover, you can access the platform through the web, mobile, and desktop apps, meaning that you can communicate, hold conferences, and fax anytime.
Regarding features, 8×8 is not as advanced as some other platforms in this list, but it's still enough to cover the basics. It provides various automation tools, analytics, transcriptions, file sharing, etc.
Most notably, there are the Auto-attendant and advanced call management features. The former is similar to Ooma's virtual receptionist. You can create customized messages, offer callers self-service options, and provide valuable information during wait times.
Meanwhile, its advanced call management helps you direct callers to the appropriate agents and monitor employee phone conversations.
Key features
Visual voicemail
Team messaging
Meeting recording and transcription
Integrations with CRM platforms and collaboration tools
Unlimited texts, phone, and video calling in the US and Canada
Pricing
8×8 cover three pricing plans:
8×8 Express – from $15/user/month
X2 – from $24/user/month
X4 – from $44/user/month
Trengo: Best for Omnichannel Communication

Although Trengo's main focus does not revolve around voice communication, it is a solid messaging communication platform with voice functionalities.
Trengo offers the tools necessary to improve communication on most messaging channels, including email, WhatsApp Business, Facebook Messenger, Instagram DM, WeChat, Twitter, Telegram, and more.
All messages from these channels are gathered into a single, easy-to-use inbox. You can reply and collaborate with your team or customers from there.
However, what makes this platform stand out is its chatbots. You can set up chatbots to handle most of the channels mentioned above simultaneously.
Aside from answering frequently asked questions, the chatbot can also request contact information for collecting leads and direct customers to the right service agent.
You can build a chatbot through Trengo's drag-and-drop interface, so there's no need to dabble in code.
Regarding phone calls, the platform includes call forwarding and recording.
Key features
Omnichannel chatbots
Conversation logging
Role management
Statistics
Integrations with eCommerce, CRM, and team collaboration tools
Pricing
Trengo offers the following pricing plans:
Grow – from $15/user/month
Scale – from $25/user/month
Enterprise – from $35/user/month
Zoom: Best Affordable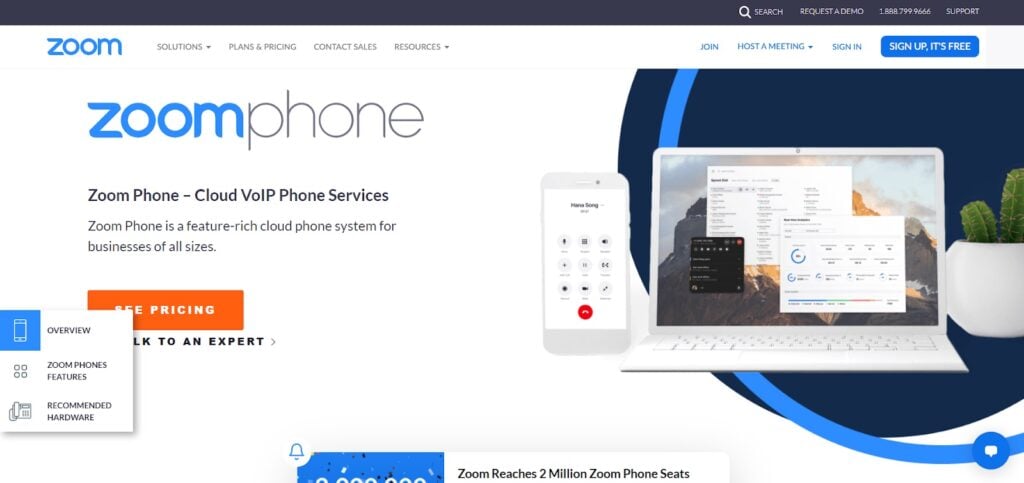 Zoom gained popularity over the past few years due to its affordability and versatility. It can handle one-on-one conversations and group chats to webinars and conference calls.
The platform's strong suit lies in its video conferencing tools. For instance, the Whiteboard, an optional add-on, helps you put your ideas on a canvas and work with other team members in real-time. This makes it a perfect option for brainstorming sessions.
Zoom also offers business phone services with features including queue and call monitoring, call recording, and voicemail transcripts.
It allows you to contact emergency services and link your internal safety team to monitor and record these calls to help coordinate response more effectively.
Moreover, the platform integrates with Google, Microsoft, Salesforce, and contact centers like inContact, Five9, Twilio, and more.
Key features
Transfer cloud calls to Zoom Meetings
Plug-and-play VoIP phones
Unlimited internal calling
Metered outbound calling
Active echo cancellation, noise cancellation, and keyboard typing suppression
SMS and MMS
Toll-free numbers
Native apps for Windows, Android, macOS, iOS, and Linux
Pricing
Zoom Phone covers two pricing plans. It offers the best cheap business phone service compared to other top small business phone systems.
Pro – from $96/year/user
Pro Global Select – from $240/year/user
Check Zoom Phone pricing from its official site here.
Check out our other related guides for reference:
How much do phone systems cost?
You can expect to pay anywhere from $15/user/month to $60/user/month.
Keep in mind that most of these prices are found in yearly subscriptions. The cost will be slightly higher if you'd like to pay monthly.
Moreover, some features, like more comprehensive integrations, hide behind an additional paywall. These come as add-ons, which might cost an extra $10/user/month.
However, if you're a small business owner with basic phone system needs, $15-$25/user/month should be enough. This budget gives you access to most entry-level plans handling the essentials, like call recording, conference transcriptions, and call forwarding.
Mid-sized businesses may need to look at around $25-$40/user/month, while large companies may expect to pay anywhere from $40/user/month to $60/user/month.
Another factor you'll need to consider is that some business phone systems modify their pricing based on the number of employees you have. In other words, companies with large teams usually pay less per user than small businesses with few employees.
Lastly, there's the hardware to consider.
Most VoIP phone systems do not require desk phones. They often come with a mobile application you can link to your smartphone or desktop and use as a traditional desk phone.
However, if you wish to purchase hardware, the pricing depends on the business phone system type you want to use.
For instance, PBXs may require around $6,000-$7,000 to prepare the infrastructure for a team of around 20 employees. This price includes on-premise servers, routers, cards, switches, etc.
Setting everything up, you'll likely require a specialized technician to set you back $1,000.
Moreover, there are licensing costs. Software licenses for PBX system hover around $4,000/year for 20 users.
Then there are the phones, which range from $50 to $500 per piece.
In contrast, if you choose a VoIP system, you'll only need to purchase VoIP-compatible desk phones, which hover around the same price.
What are the different types of phone systems?
There are three types of phone systems: Key System Units (KSUs), Private Branch Exchanges (PBXs), and Voice over Internet Protocols (VoIP). Let's cover each one in more detail:
Key System Units
KSU is a multiline telephone system that uses a central hub (the KSU) to handle functionalities like internal calling.
The KSU can take the form of a desk phone. It has buttons dedicated to each phone line.
These units also offer basic features, like paging, hold buttons, speakerphones, and intercoms.
Unlike PBXs, KSUs cannot switch calls. Instead, KSUs manually redirect calls to an operator system or central calling hub, also known as a PTSN Exchange.
KSU is best suited for small businesses. They are cost-effective, easy to use, and include all the features necessary for small teams to conduct their activities.
That comes with its drawbacks, though. They can hold up to 40 lines, and due to their basic functionalities, KSUs are unsuitable for scalability.
Moreover, KSU does not offer much in terms of portability and flexibility. However, you can fix this with KSU-less systems. In layman's terms, KSU-less systems act as regular KSUs but are not bound by the central switching unit.
Private Branch Exchanges
PBX phone systems are private phone networks that allow users to communicate internally and put a pool of external lines that agents share to contact and receive calls from outside the company.
PBXs use programmable switching devices, allowing for automatic call routing. Other common features include call forwarding, transfers, queues, voicemails, auto-attendants, customized greetings, etc.
Overall, PBXs are an excellent fit for large businesses. They are mostly automated, while a physical phone line can be divided into multiple lines, allowing you to connect multiple phones.
Furthermore, PBX systems often include a separate power source. Therefore, you can use PBX for a while even after you've run out of power.
Regarding drawbacks, PBXs are costly and require quite some time to set up. They also occupy plenty of space. That said, you might need a dedicated server room.
Voice over Internet Protocols
As the name suggests, VoIP allows you to make and receive phone or video calls through the internet without relying on landlines.
You can use VoIP with dedicated telephones, regular smartphones, or computers. This gives you more room to wiggle in costs, as you can purchase dedicated VoIP hardware or simply use what you already have.
Speaking of pricing, as seen in the article, plenty of VoIP service providers appeal to businesses of all sizes. VoIP systems bring better value for money and are more scalable.
Another advantage of VoIP systems is that they give you a much larger reach, as you can contact customers from different countries.
As for the disadvantages, VoIP systems' performance depends on your internet connections. Weak connections will cause delays and frozen communications. Also, VoIP may leave you prone to cyber-attacks.
Benefits of Business Phone Systems
Unified Communications
Business phone systems unify communications. In other words, your employees can message, call, or hold video conferences through a single interface. This eliminates the need to jump from platform to platform, ultimately streamlining your workflow and improving communications.
Call Whispering
Most phone systems enable managers to tap in whenever a call agent converses with a prospect. From there, managers can easily give employees verbal feedback during conversations to help close deals or address customer issues more effectively.
Meanwhile, prospects won't be aware that there's a third person involved in the conversation. This function is also known as call whispering.
CRM Integrations
CRM integrations help businesses improve the customer experience. Caller ID technology can display crucial customer information on your employees' screens each time they call a specific customer.
This allows call agents to quickly get familiar with their prospects and choose the right approach when communicating with them.
Scalability
One of the most significant advantages of business phone systems is that they grow with your company. Regarding cloud-based solutions, expanding your reach and accommodating more employees is just a matter of upgrading to the next pricing plan.
In terms of physical phone systems, adding new phones is much easier once you have the infrastructure in place.
Streamlines Workflows
Lastly, business phone systems make your employees' jobs much easier.
With features like auto-attendants, automated call routing, team messaging, and omnichannel communications, phone systems eliminate most monotonous tasks and give call agents more room to focus on what matters — talking to your customers.
How Do I Choose the Best Small Business Phone System?
Decide Between On-Premise and Cloud Phone Systems
All types of phone systems mentioned in the article, including PBXs, can also be accessed entirely through the internet. These are known as cloud phone systems.
Both on-premise and cloud phone systems have their advantages and disadvantages.
For instance, on-premise solutions ensure stable voice quality at all times. Moreover, these systems can easily be controlled, configured, and maintained in-house, but you'll probably need an employee specialized in this field.
In terms of costs, on-premise solutions often require a one-time payment for initial set-up and hardware. In contrast, cloud phone systems operate on monthly subscriptions.
However, you're also responsible for maintaining your on-premise phone system. Costs may vary depending on your chosen phone system, and you'll likely experience downtimes.
On the other hand, cloud phone systems are more flexible, as they enable employees to work from anywhere. They also do not require any installation costs and are easier to maintain. Since cloud solutions do not need manual updates, you won't have to worry about downtimes.
But their performance is strictly bound by your internet connection. If you don't have a stable connection, cloud systems may cause you many headaches in the long run.
Strike a Balance Between Ease-Of-Use and Features
Next, you've got to figure out how advanced your business phone systems should be.
It might be tempting to pick a provider that offers state-of-the-art functionalities, but that may cause trouble in terms of usability. Not to mention that these features may come at a steep price.
If you're a start-up or small business without any prior experience in phone systems, it might be a better idea to pick a solution that offers basic functionalities, yet excels in ease of use.
Once you've learned the ropes, you can upgrade to something more advanced.
But in any case, the phone system of your choice should include features like auto-attendants, call transfers, conferencing, voicemail transcriptions, call recording, analytics, and control over active calls. These features will generally help increase productivity.
Consider Scalability
Lastly, you'd want to pick a phone system solution that grows with your business.
Constantly switching from system to system will cause plenty of headaches in the long run, as you'll need to retrain your employees continuously. This can also cause a decrease in customer service quality, as call agents wouldn't know how to use the platform effectively.
In other words, look for business phone systems that offer pricing plans accommodating all types of businesses. Add-ons are also a good idea, as what you pay is what you get, bringing good value for money.
Furthermore, consider the platform's integration capabilities. The ability to link a phone system with a CRM platform or other team communication tools will greatly improve your team's productivity as your company expands.
Business Phone Systems FAQs
Which is the best small business phone system? 
Generally speaking, you can't go wrong with Ooma. The platform prioritizes accessibility, making it a perfect fit for those new to phone systems. 

Besides, Ooma offers many features in its starter plan, including a virtual receptionist, music on hold, ring groups, etc. Coupled with its price tag, Ooma brings excellent value for money. 
How do phone systems work? 
It depends on the phone system type. For instance, Key System Units (KSUs) are physical units that contain various buttons, while each button represents a phone line. 

The call agent picks up the receiver and presses the button corresponding with the line they want to select. To switch calls, an agent must manually route the call to a central calling hub, and the switching will take place there. 

In contrast, Private Branch Exchanges handle this automatically, using programmable switching devices. 

Meanwhile, VoIP systems deal with everything on the internet. Think of them as business-oriented versions of WhatsApp or Viber. You can call anyone, from everywhere, on any device without needing dedicated, on-premise phone systems. 

VoIP systems include all the functionalities you would expect from a business phone system, like call transferring, routing, etc. 
What are unified communications? 
In short, unified communications aim to bring all business channels under one roof. Systems with unified communications allow companies to contact their teams or customers via a single interface via text, voice calls, video calls, and more.

This eliminates the need to switch between platforms to contact staff or prospects on multiple platforms. 
How many phone lines are provided with business phone systems?
As many as you'd like. You can opt for multi-line phone systems ranging from two to six lines and beyond. However, this choice depends on your business's size. 

A two-line system may work for you if you're a solopreneur. This helps you prioritize your calls and appear more professional in your customers' eyes. 

On the other hand, a four-line system should do the job if you run a small business with multiple teams, like a sales and customer service department. This helps your teams communicate effectively, while each can prioritize and handle external calls without any issues. 

You can also set up a dedicated fax line while you're at it. 

Lastly, six lines or more are recommended for large companies. For example, they can set separate lines for each project manager and each team member to ensure maximum effectiveness.

How do business phone systems improve collaboration? 
The answer is simple: Most phone systems offer unified communication. Texts, video conferences, and voice calls are accessible within a single dashboard. 

This gives team members a centralized place where they can handle communications. Moreover, some platforms include team collaboration-specific tools, like file sharing, screen sharing, and integrations with other collaboration platforms. 
How do you set up a small business phone system?
If you choose the cloud-based phone system approach, setting up a system is just a matter of signing into your account and connecting your phone numbers and devices to the platform.

If you opt for an on-premise phone system, there are a few more steps you'll need to take. First, you'll have to purchase the hardware itself. Moreover, you'll need a space where you could hold the hardware, like the power source, trunk lines, etc. 

After that, you can connect your desk phones to the business phone system.
Conclusion
Overall, using a business phone system in your company is an excellent idea.
It improves customer service by allowing you to reach prospects across all channels from a single dashboard, and it gives you all the tools necessary to gauge your teams' performance and provide feedback.
Meanwhile, employees can easily communicate and automate monotonous tasks, thus increasing productivity.
But with so many options available, finding a phone system that suits your needs may be a little challenging. Let's go over a quick recap: