Are you looking for the best SEO tools to improve your website rankings?
Improving search engine results ranking is paramount for all website owners: a higher search engine ranking means higher credibility and visibility. Potential visitors, viewers, and consumers tend to trust the higher-ranking web pages that appear on the search engine.
On Google search results, 18% of organic clicks go to the #1 ranking position, 10% go to the #2 ranked position, and 7% go to the #3 place. 75% of people never scroll past the first page of search engines!
Traffic and clicks are the critical drivers for sales and profits. For e-commerce businesses, 81% of Internet users aged 16 to 64 search for products or services online, and 74% purchase products online via searches. For website proprietors, each click on a posted ad generates around 15 cents.
Regardless of the type of business, efforts on search engine optimization always pay off. Having the right SEO tools can help you work smarter and be more productive. So here, we compare and review 10 SEO tools to improve search engine ranking.
The 10 SEO tools, covering all levels of scale, proficiency, and plans, will offer you professional assistance in building your online presence.
When doing SEO, don't forget to pick a good web hosting provider and website builder to optimize your website for a better user experience! Here are some of the recommended platforms:
What is SEO?
Search engine optimization (SEO) denotes the practice of improving the ranking position of a website on search engine result pages (SERPs), such as on Google, Bing, and Yahoo.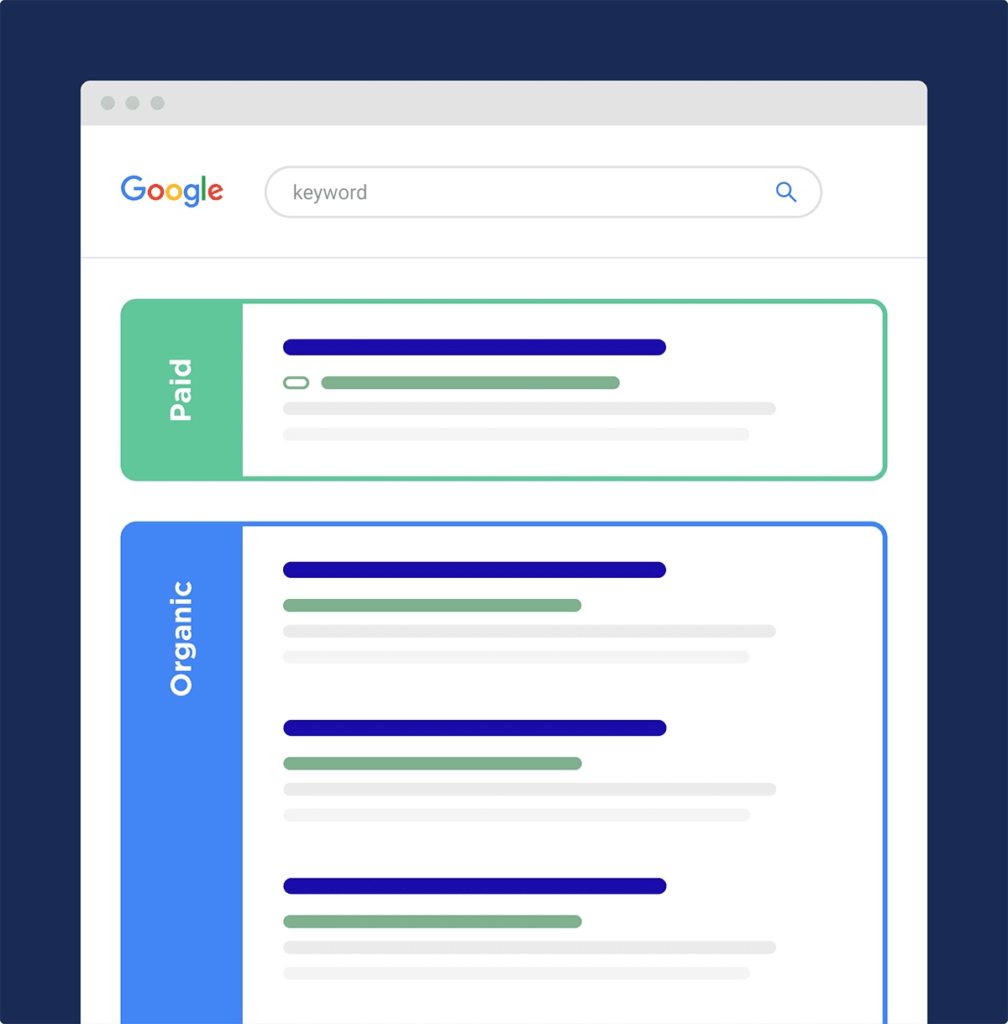 Despite the widespread presence of paid search, users tend to place more trust in higher-ranked organic search results, which makes the search engine ranking even more critical.
With a higher ranking on the search engines, your website can attract the direct and immediate attention of the target audience and subsequently, more Internet traffic and potential revenue.
Search engines aim to deliver unbiased search results that optimize relevance, quality, and accuracy. Since the algorithms have clear standards of the selection of information, the methods and tools you choose to optimize your web page will have a direct impact on your SEO ranking as well as business potential.
In light of the strategic significance of search engine optimization (SEO), we have reviewed and compared the 10 best SEO tools to help you rank higher on the search engine page.
SEMrush
Recognized as "the best SEO site" by US Search Awards 2019, MENA Search Awards 2019, and SEMY Awards 2019, SEMrush is a prestigious and professional digital marketing tool. It can assist you in:
finding out the SEO champion and the competitors in your industry,
identifying your top-ranking organic keywords,
finding quality link building opportunities,
and pinpointing new methods to monetize your website.
Most Comprehensive SEO Software
Semrush - Online Marketing Can Be Easy
Semrush is a powerful digital marketing tool that provides insights and analytics on website traffic, keyword rankings, backlinks, and more. It helps businesses optimize their online presence and improve their search engine rankings.
Pros:
Comprehensive keyword research

Competitive analysis:

Site audit and optimization:

Backlink analysis

Content marketing insights

PPC advertising insights

Social media management

User-friendly interface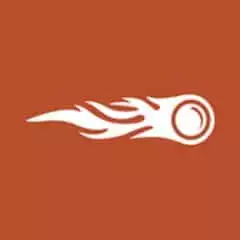 Pros of SEMrush
Competitive organic research

With the largest domain database, SEMrush keeps you ahead in the race by calculating and unraveling keywords that attract traffic to your competitor's website. It analyzes:
what keywords your competitors bid on pay-per-click,
what is behind the websites' ranking,
what ads they are displaying,
what are the suggested keywords,
and how hard it is to rank for a particular keyword, etc.
Track and monitor changes
Successful content strategies require dynamic and constant attention to the Internet's ever-changing preferences. SEMrush helps you monitor and keep track of the ranking of your website and your competitor's website regularly. SEMrush's service provides everything you are looking for, from targeting keywords in the early stage of product development to long-tail keyword research for the ongoing process.
Audit relevant backlinks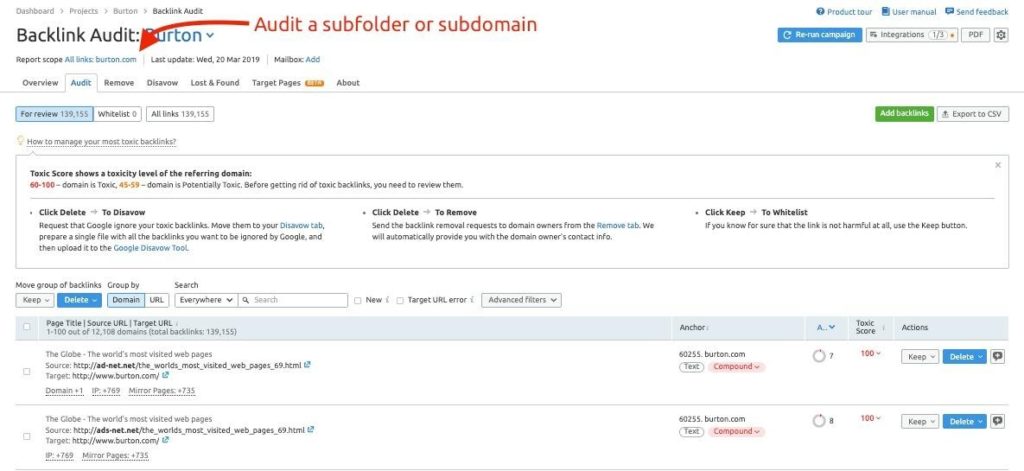 Backlinks are part of the assessment for the credibility and authority of a website. To utilize this opportunity, SEMrush offers the backlink SEO audit tool to list out spam as well as relevant, useful backlinks for your page efficiently.
Social media management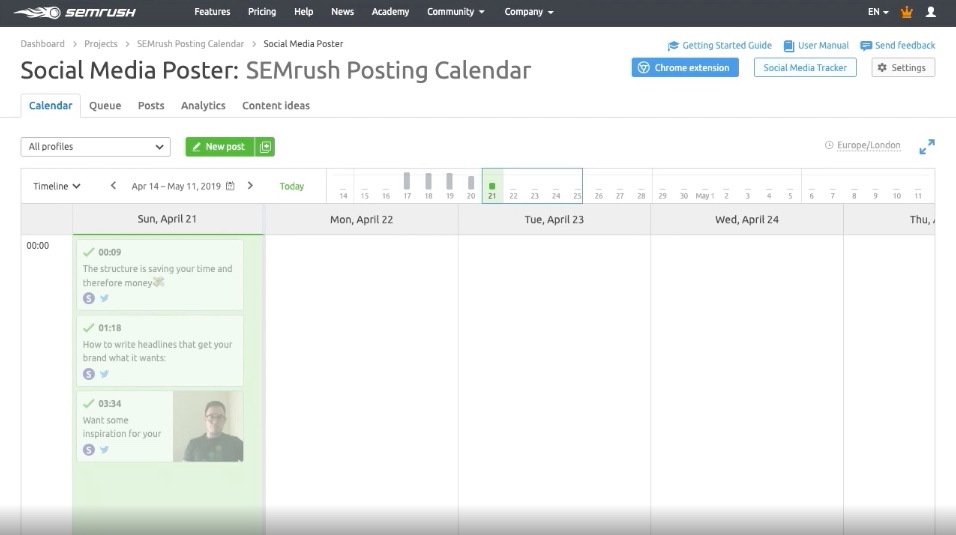 One notable feature of SEMrush is that it helps you manage your business social media accounts via a chrome extension SEMrush Social Media Poster, which allows you to auto-schedule all your posts. This secures a coherent and professional social media presence and improves your brand's reputation.
Cons of SEMrush
Lack of function clarity
Some users might find SEMrush products to be complicated and lack clarity. The presentation of the data and diagrams, albeit plentiful, can be bewildering, especially if you prefer clear, undeviating information.
Limited seat
Unlike SEMrush's key competitors, for all SEMrush accounts, there is only one user account ("seat") available that has access to the account benefits. Adding "seats" to the SEMrush account requires $70 to $140 extra depending on your choice of plans, and only a Business plan and above allows you to add more than two users per shared account (maximum 9).
Premium pricing
With comprehensive service packages, the pricing of the SEMrush is primarily targeted at medium to heavy users. If you are an intermittent or light user, its pricing may be incompatible with the service that you benefit from.
Pricing Plans of SEMrush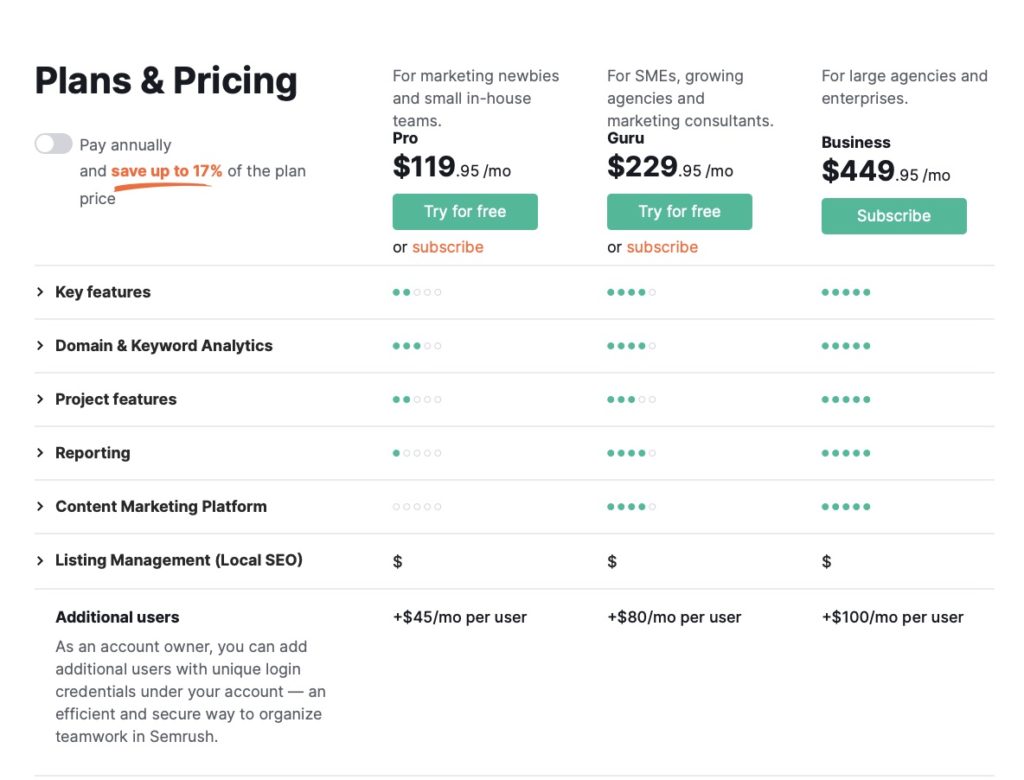 Pro: $119.95 per month
Guru: $229.95 per month
Business: $449.95 per month
Enterprise: custom pricing
The above plans differ primarily in your access to content marketing tools, the number of reports you can run per day, and the number of keywords you can monitor per month.
Who is SEMrush suitable for?
The comparatively high pricing, extensive service package, and the expensive "increase-seat" arrangement of SEMrush jointly determine that SEMrush is more suitable for scalable businesses that value detailed and comprehensive data rather than infrequent and light users. You can try SEMrush for free.
Get an exclusive Semrush 14-day trial here!
LinkMiner

LinkMiner is a user-friendly SEO and backlink examiner tool that assists you in identifying your competitors' backlinks. LinkMiner includes various kinds of calculations and embedded link reviews, which helps you select the profitable and valuable links among the pool of link choices.
Pros of LinkMiner
Robust backlink analysis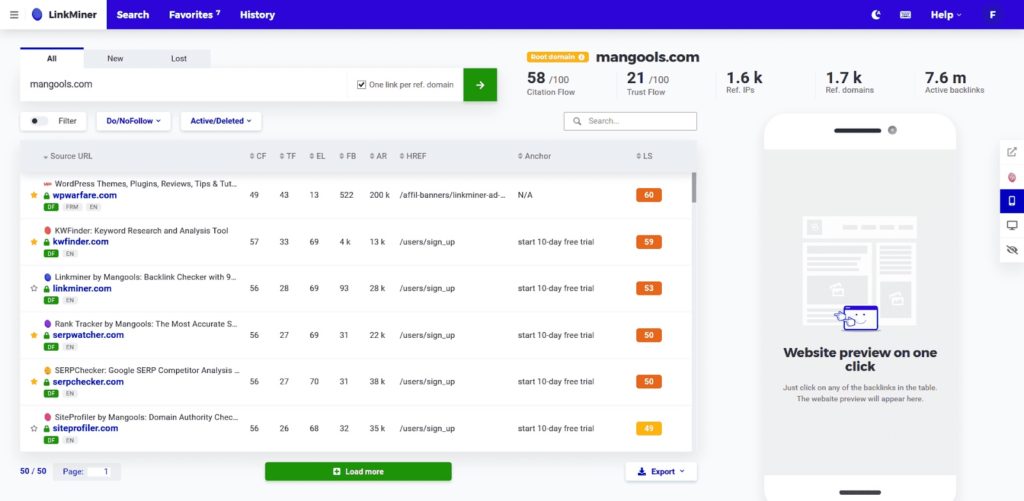 One competitive function of LinkMiner is its robust backlink analysis. It helps you determine the more profitable links by utilizing the third parties' calculations and data.
Efficient URL management
When you build links, you would expect to generate and attract as much traffic as possible. With LinkMiner, you can process more conveniently by saving your URLs and organizing the opportunities to build links.
Cons of LinkMiner
Controversies on accuracy
Some users and clients report that the backlinks of LinkMiner are not always accurate, and the tracking of links may not always be practical.
Pricing Plans of LinkMiner

Basic: $49 per month
Premium: $69 per month
Agency: $129 per month
Who is LinkMiner suitable for?
Among the SEO tools, LinkMiner sets itself apart with its robust backlink analysis tools and URL management. It also has an attractive pricing plan. If you are looking for an SEO tool with professional backlink technology along with fluid designs and a user-friendly interface, LinkMiner would be the right choice!
SEObility
SEObility is an SEO platform that assists its users to optimize their ranking in the search engine results. It continuously crawls linked pages, identifies broken links, and sends notifications on the platform or via email when it detects significant error and server issues.
Pros of SEObility
Keyword recommendation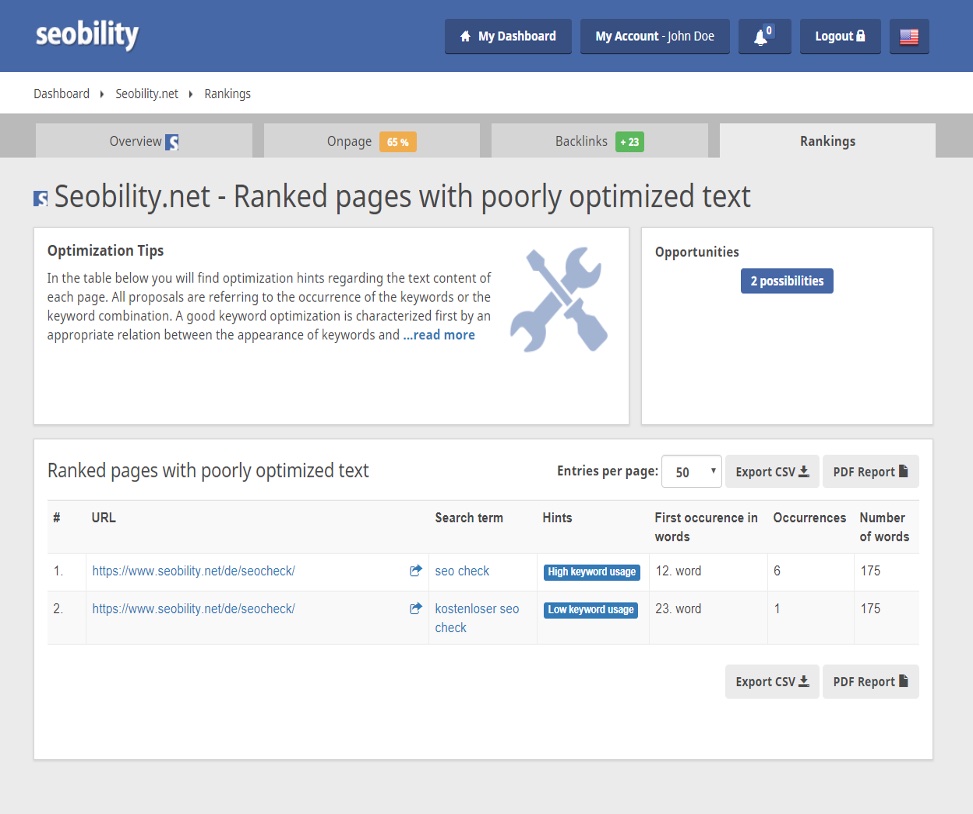 To obtain recommendations on keywords, simply input the URL of your web post. Seobility will offer you suggestions on optimizing your post for better performance with alternative keywords and content.
Crawlability monitoring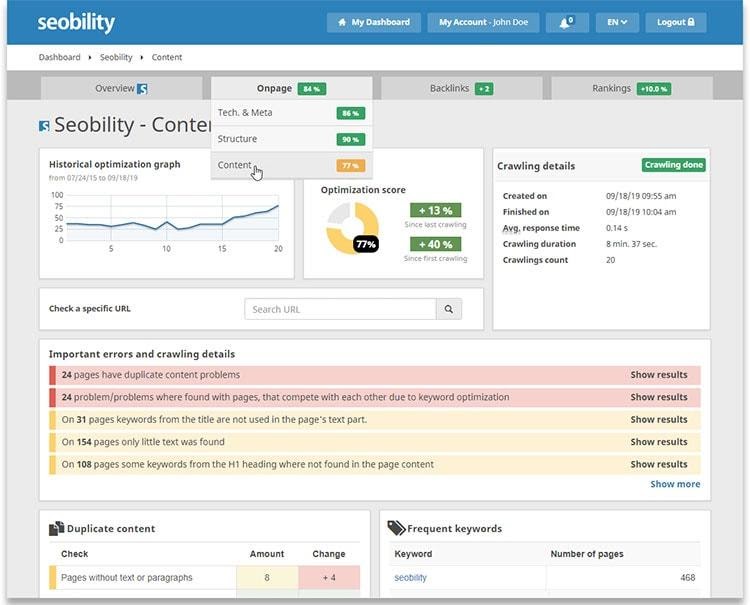 SEObility also specializes in tracking crawlability issues and identifying broken pages to optimize SEO and maintain your website's reputation. The broken or ineffective links SEObility points out are displayed in the dashboard.
Cons of SEObility
Not user-friendly for beginners
Although SEObility offers an attractive free service package, its service may appear overwhelming for beginners. Users claim that the functions of SEObility are too advanced for beginners to grasp. Thus, if you are a beginner in SEO and content marketing, a good idea would be trying it out with its free trial.
Pricing Plans of SEObility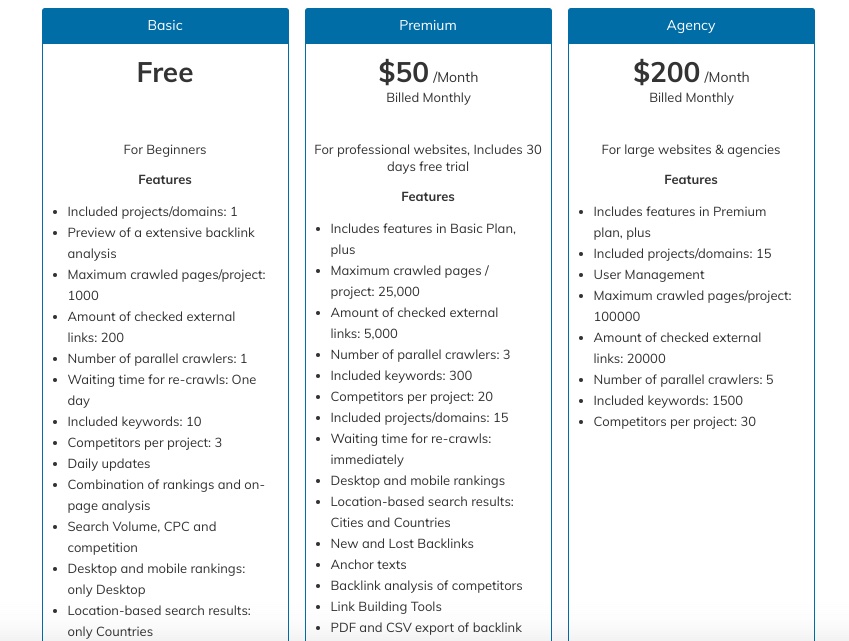 Basic: free for beginners
Premium: $50 per month billed monthly or $40 per month billed yearly (with 30 days trial)
Agency: $200 per month billed monthly or $160 per month billed yearly
Who is SEObility suitable for?
SEObility offers different pricing plans for all levels of users. Since the basic plan is free and includes almost all essential features, we highly recommend it for smaller business owners and beginners. For professionals and SEO specialists of large websites, you can also get started with its free plan to test its features.
GrowthBar (Chrome extension)
GrowthBar is a chrome extension that offers instant and direct access to essential SEO statistics about websites, keywords, and growth channels. Its service includes tracking the best performing SEO keywords, monitoring keywords in the search engine ranking, computing keyword ranking difficulty score, Google ads, and backlink data in an efficient and uncomplicated manner.
Pros of GrowthBar
Easy integration with chrome
As a chrome extension, upon installation, you can directly incorporate the service of GrowthBar in the google search. For example, when you search "Nike sneakers" on Google, seven elements pop up immediately: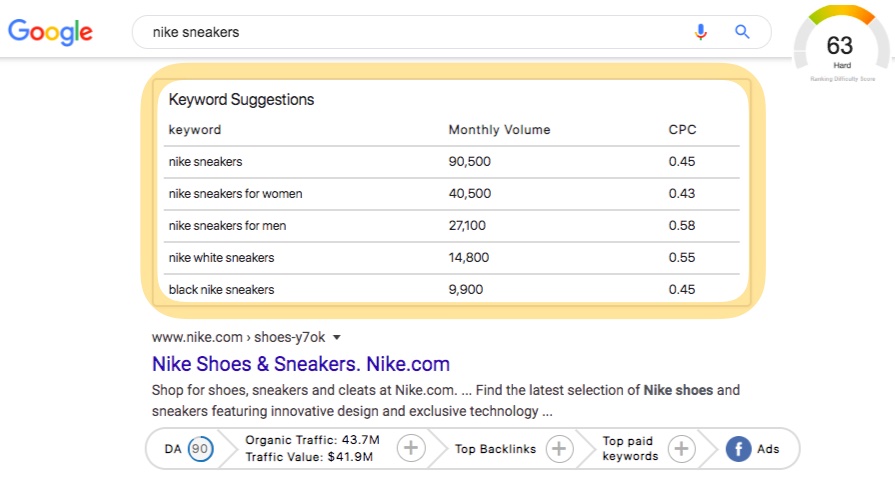 keyword difficulty (on the up-right, 63 in this case),
keyword suggestions (as in framed in yellow),
DA (domain authority),
traffic value,
and top backlinks.
Efficient ad-checking

When you click on the Facebook icon on the bar's right at the bottom, GrowthBar will show you the websites' marketing ads on Facebook. In this way, you can be more informed of your competitors' marketing strategies and stay ahead in the advertisement campaigns.
Competitive pricing
Compared to most SEO tools or marketing services, GrowthBar is on the lower end of the pricing spectrum for $29 per month only. Especially if your business is at the early stage, you won't need to worry about spending more money on GrowthBar than it rewards you.
Cons of GrowthBar
Limited range of service
With a lower pricing plan, the service of GrowthBar is not as comprehensive as the more professional SEO tools. Nonetheless, if you prefer accessible and immediate SEO data, its high performance-price ratio can be a plus!
Limited customer support
Although GrowthBar is user-friendly in general, its customer support is, to a notable degree, limited.
Pricing Plans of GrowthBar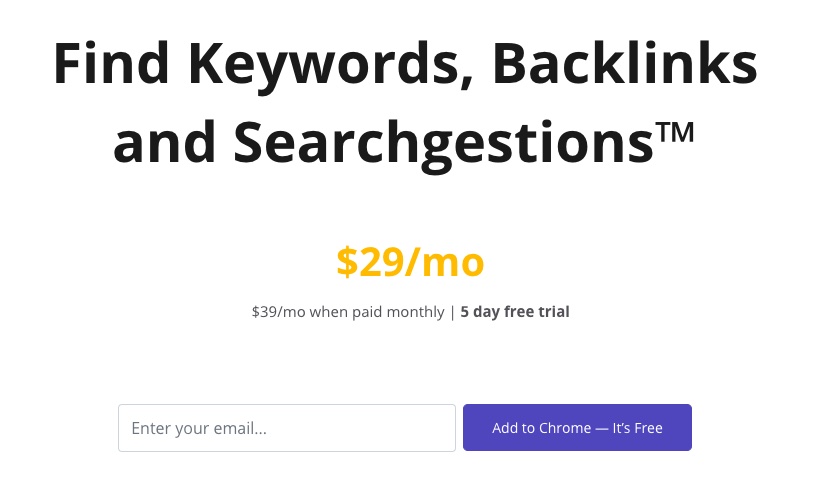 5-day free trial period
$29 per month after that
Who is GrowthBar suitable for?
GrowthBar is more suitable for individual business owners, start-up entrepreneurs, and bloggers. With its well-organized marketing features, it is also helpful for growth marketers and content marketers.
Advanced Web Ranking
Advanced Web Ranking (AWR) is an SEO software suite that concentrates on monitoring, managing, and reporting the ranking of websites and the performance of keywords on major search engines. AWR also provides services on website auditing, keyword research, and competitive research.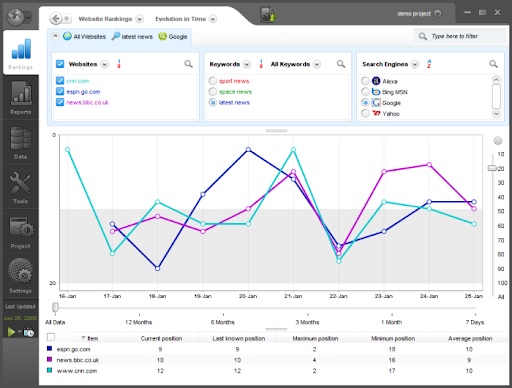 Pros of Advanced Web Ranking
Notifications through alert

Advanced Web Ranking has a unique feature: "Alerts." You can choose the notification via the tool or email. Then, AWR will notify you under three circumstances:
When the visibility of your website increases or decreases by 10%
When your ranking position on the search engines rises or fall by 5%
When the keyword of your website is inside or outside the Top 10
Frequent updates
Apart from the notifications, AWR also updates and fixes the bug every week. This allows AWR to adapt quickly to the latest trends and follow the change in search engines' algorithms.
Unlimited projects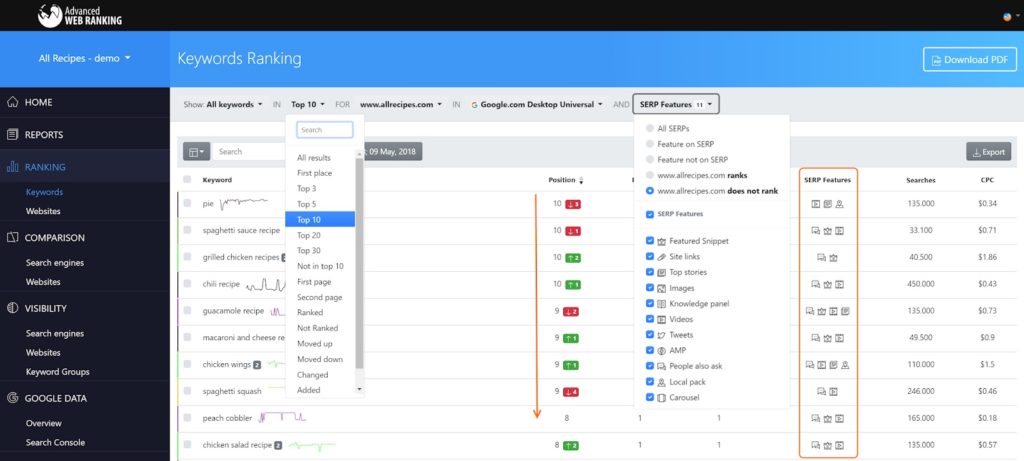 One notable advantage is that there is no limitation of projects to be tracked. Indeed, AWR can also automatically update and import keyword lists, making the process of tracking keywords on different projects more straightforward.
Cons of Advanced Web Ranking
Lower scalability
Although Advanced Web Ranking can track a large volume of keywords, users report low scalability when processing keywords in bulk. Thus, AWR keyword processing is more friendly to small to medium businesses.
No separated organic and local search rankings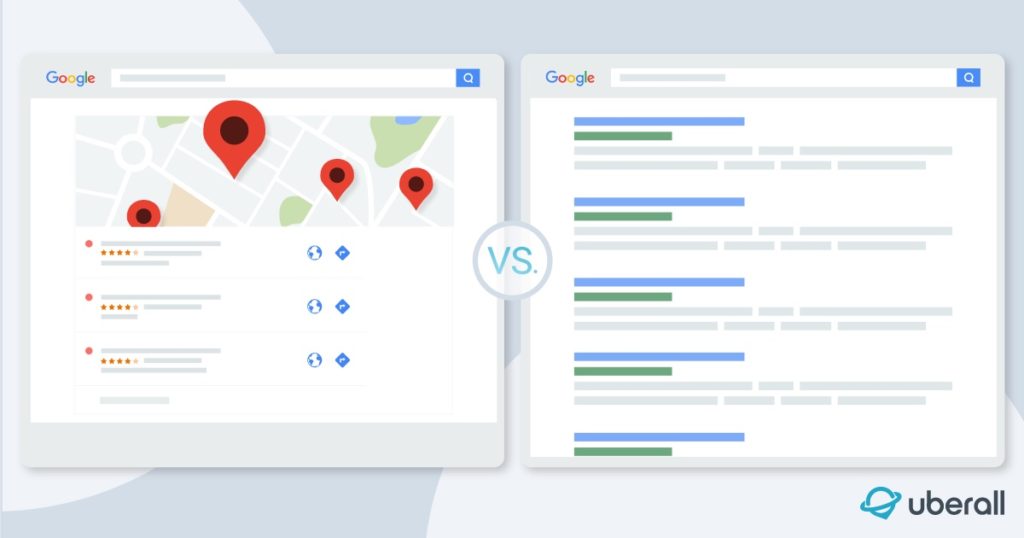 In Advanced Web Ranking, there are no separated local results from organic search results. While organic search results depend on content strategies and identifying the target market, local search results depend primarily on whether the audiences are searching for your business within proximity.
Depending on your business nature, organic SEO might matter more or less compared to local SEO. The lack of separation of these two results may be confusing to users.
Pricing Plans of Advanced Web Ranking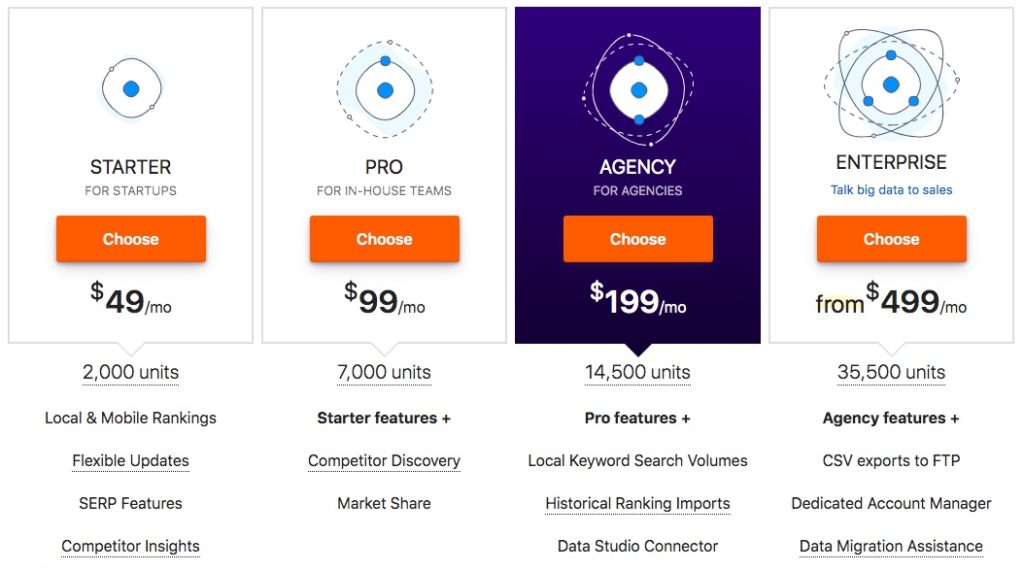 Free trial: 30 days
Starter: $49 per month
Professional: $99 per month
Agency: $199 per month
Enterprise: $499 per month
Who is Advanced Web Ranking suitable for?
With a comprehensive package and various price plans available, Advanced Web Ranking is suitable for almost all kinds of users: individual business owners, start-ups, content marketers, etc. However, it may not be the best option for enterprises since its extensive keyword search entails a longer process.
Ahrefs

Based in Singapore, Ahrefs is a marketing research and SEO support tool. It provides all-in-one SEO services and a sharing platform, Ahrefs Academy, for marketing materials and marketer communities. Its clients range from micro-level bloggers and entrepreneurs to corporations as sizable as Netflix, Facebook, and Adobe.
Pros of Ahrefs
All-in-one combination of critical tools
Ahref offers a clear dashboard that contains critical information. Upon inputting the website address, Ahrefs displays a clear report of rank, backlinks, referring domains, organic keywords, and traffic value.
Effective keyword filters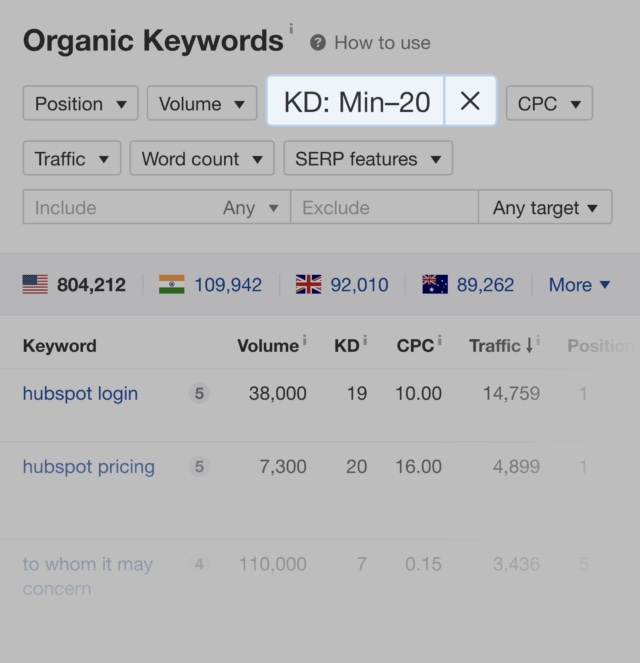 Sometimes a website contains hundreds and thousands of keywords, which makes the tracking of competitors unnecessarily exhausting. There is a shortcut: you can filter the keywords based on specific words, difficulty level, SERP features, and more.
Cons of Ahrefs
Rank tracking frequency limitations

With the Lite plan, rank tracking reports are updated every seven days. Even for a standard plan of Ahrefs, the update frequency is 5 days. In the fast-developing marketing industry, SEO and keyword trends may change drastically every day, especially when there are external variables that affect the customer search preferences.
Irrelevant keyword suggestions
To optimize the marketing strategy, even one keyword can make a difference. However, a significant number of users report that the algorithms often offer irrelevant keyword suggestions, which may be misleading.
Pricing Plans of Ahrefs

Trial: $7 for seven days
Lite: $99 per month
Standard: $179 per month
Advanced: $399 per month
Agency: $999 per month
Pricing plans differ in site audit, tracked keywords, site domains per week, update frequency, etc.
Who is Ahrefs suitable for?
As a reliable marketing and SEO tool, Ahrefs has a user-friendly interface, powerful keyword tracking algorithms and friendly interface. However, its Lite pricing plan is comparatively higher than other SEO tools' monthly subscription fee by 2 to 3 times, which may preclude smaller-scaled businesses users from enjoying a high quality-to-price ratio.
Moz Pro
Moz Pro is a software package with various tools that analyze the website, content, and keyword rankings on the search engines. It also allows users to find out errors on the websites and identify issues that need immediate fixing.
Pros of Moz Pro
Keyword monitoring within a time frame

In the dashboard, you can specify your campaign's time frame and subsequently track the ups and downs of parameters such as the visibility and traffic of your website. You can also monitor your competitors' performance and make adjustments to your campaign strategy and the choice of keywords.
Identify and remedy crawlability issues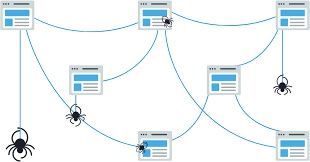 Search engines utilize web crawlers to collect, classify, and index data and information from various web pages. The web crawlers are spiders and bots that update the ranking and contents shown on the search engine results.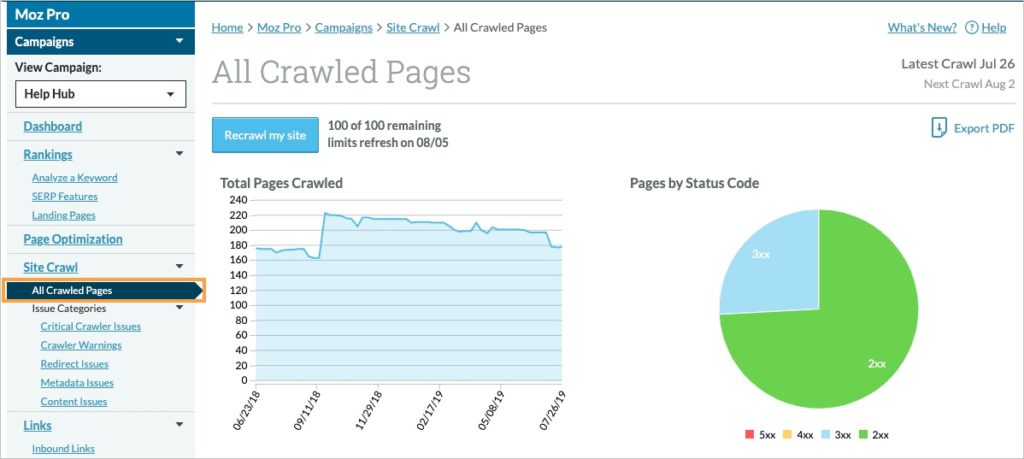 Moz Pro can help users spot issues with their websites, such as broken links and duplicated content that prevent the crawlers from effectively gathering information. Then, it offers suggestions to correct the problems on the website to prioritize crawlability over the quantity of contents.
Cons of Moz Pro
Limited crawls and campaigns
Although the service of Moz Pro is efficient and reliable, the number of crawls and campaigns differ across different pricing plans.
Pricing Plans of Moz Pro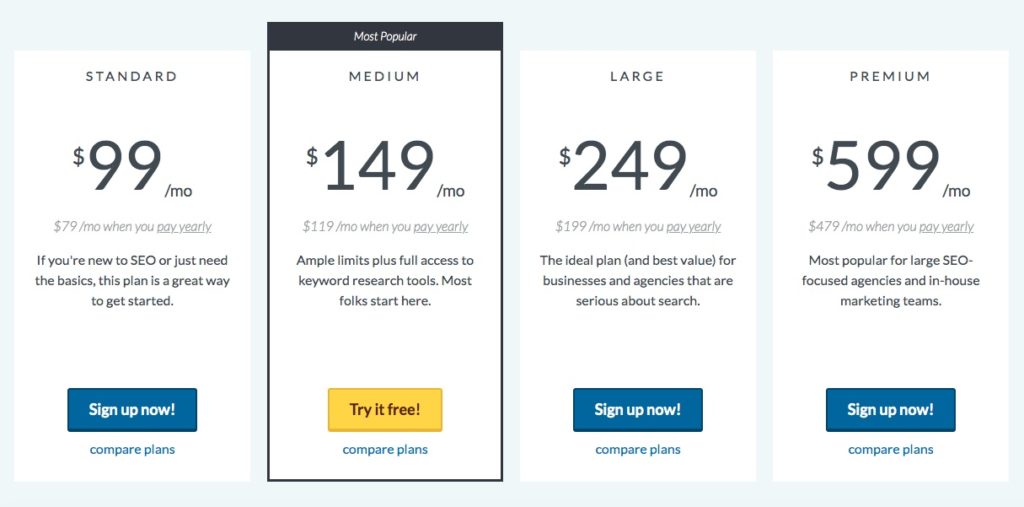 Free trial: 30 days
Standard: $99 per month
Medium: $149 per month
Large: $249 per month
Premium: $599 per month
Who is Moz Pro suitable for?
The standard plan of Moz Pro costs $99 per month. Similar to Ahrefs, the pricing plan for Moz Pro is a bit more expensive compared to many of its alternatives. For light users, the payoff of using Moz Pro might not always match its monthly subscription fee. However, for SEO specialists, its keyword tracking ability and its crawlability suggestions are notably useful.
Keywords Everywhere (Chrome extension)
Keywords Everywhere is a chrome extension and firefox add-on that offers service on SEO improvement, most notably keyword analysis, and research. The unique feature of Keywords Everywhere is a sufficiently informative service free of charge.
Pros of Keywords Everywhere
In-depth package free of charge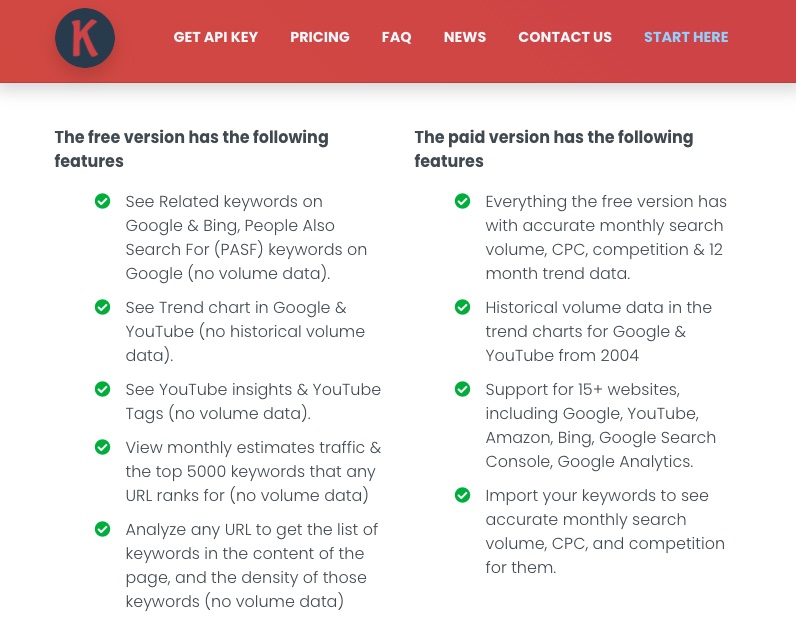 Most of the SEO tools require a monthly subscription fee ranging from $20 to $100 minimum. However, Keywords Everywhere offers a service package free of charge for its users, including:
related keywords check on Google and Bing,
access to the trend chart of Google and Youtube,
and viewing monthly traffic and top-ranking keywords.
Compared to other SEO tools, the free service package of Keywords Everywhere is an undeniable attraction, especially for beginners.
Pay per credit in Premium Data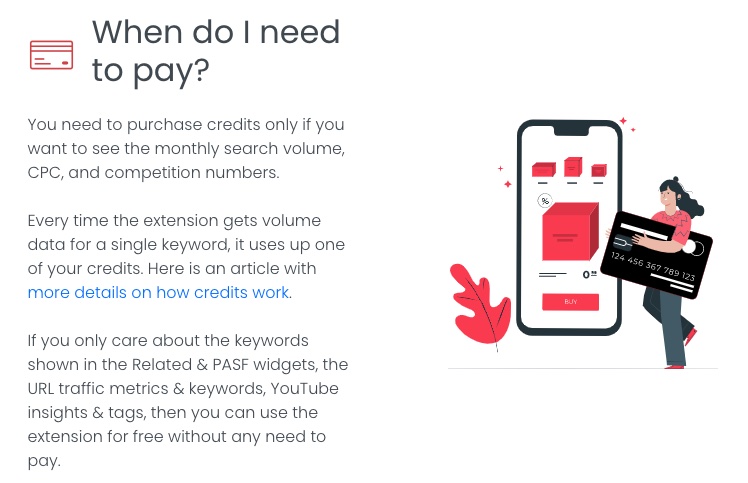 Pay per credit also sets Keyword Everywhere apart.
You can pay for credits for premium data like cost per click (CPC), competition numbers, and monthly search volume. This is especially friendly for infrequent users: you can save the monthly subscription fee and pay as you search the keywords and SEO suggestions once at a time.
Cons of Keywords Everywhere
Basic service
The primary drawback of Keywords Everywhere is its limited service. It doesn't analyze search volume and trends, and users cannot group keywords and look for combined keyword search results.
Pricing Plans for Keywords Everywhere

Pay by credit, $10 for 100,000 credits (1 credit = 1 keyword)
Who is Keywords Everywhere suitable for?
With such a competitive pricing plan, Keywords Everywhere is especially suitable for infrequent users and beginners. The limited range of its service may not be satisfactory for large businesses who require a more comprehensive analysis.
UberSuggest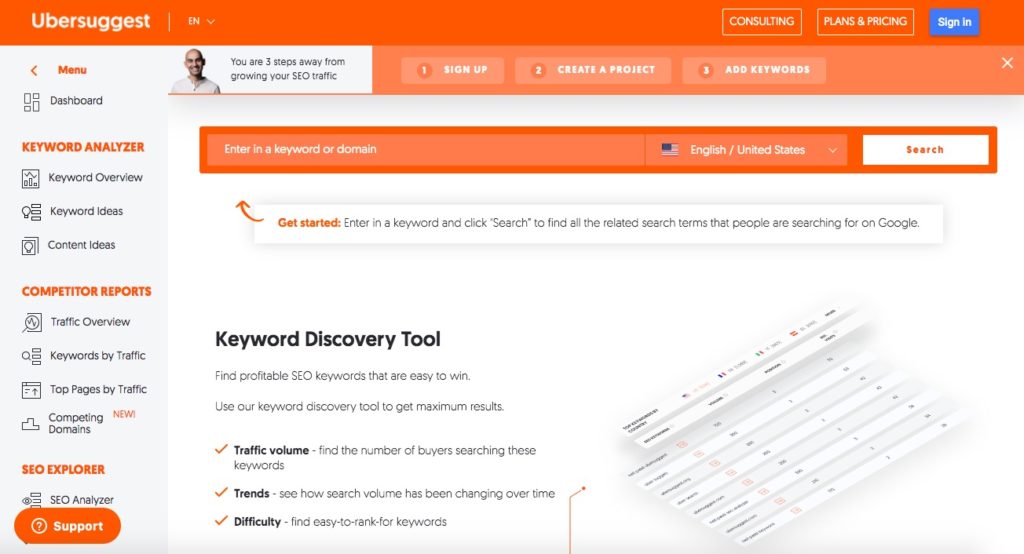 UberSuggest is an SEO tool that analyzes the data of keyword search to assist the users in content marketing. Unlike its competitors, UberSuggest offers an attractive lifetime plan for users at a rate of 10 months' subscription fee.
Pros of UberSuggest
Daily update frequency of rank tracking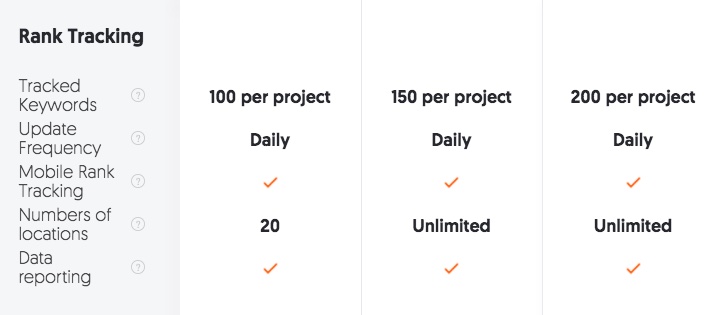 As some SEO tools have limitations on rank tracking update frequency, UberSuggest offers the updating service regardless of the subscription plan. This helps marketers and website owners continuously monitor keyword search and SEO development trends rather than waiting one week for a drastic change.
Location-based data
Location-based data are essential for choosing keywords when you want to rank on search engine results in specific locations.
UberSuggest typically combines the location search ranking data with the organic search ranking preferences; however, it also permits the users to separate the location data from the organic SEO data to independently assess what the optimal SEO strategy for the websites is. This allows users to have more flexibility in deciding whether to incorporate the element of location into developing the best SEO strategy.
Lifetime access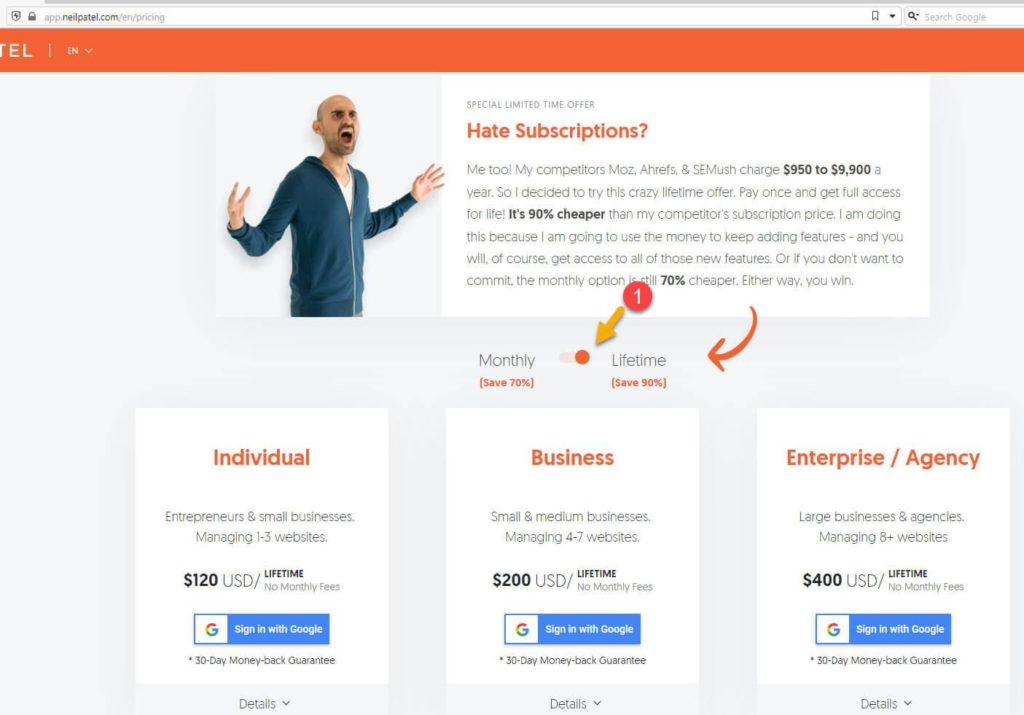 UberSuggest offers a lifetime plan which costs only a one-off payment of 10 months' subscription fee. If you are a determined user of UberSuggest, the lifetime plan may save you a fortune!
Cons of UberSuggest
Limited keyword per project
The maximum number of keywords tracked is 100 for the individual plan. The maximum of the keyword is still 200 per project for UberSuggest's enterprise/agency plan. Thus, you may want to reconsider if your project is aimed at multiple facets of marketing strategies and require SEO of more than 200 keywords. 100 to 200 keywords tracking is usually sufficient for most businesses. Larger enterprises might need more.
Pricing Plans of UberSuggest
Individual: $29 per month / $120 lifetime
Business: $49 per month / $200 lifetime
Enterprise / Agency: $99 per month / $400 lifetime
Pricing plans differ in tracked keywords per project, historical data, backlink rows, etc.
Who is UberSuggest suitable for?
UberSuggest is a reliable SEO tool that offers professional algorithms of SEO suggestions and keyword tracking, as well as high update frequencies and location-independent organic SEO data. The pricing plan of UberSuggest is very competitive: especially for the plans of enterprise/agency, the pricing is much lower than most of the SEO tools. Moreover, considering the lifetime plan at the cost of several months' subscription, UberSuggest is notably suitable for businesses and content marketers with a tighter budget.
Google Search Console
Google Search Console is a free-of-charge platform that gathers SEO tools and information to help content marketers, SEO professionals, and website owners monitor and index their website performance in google search.
Pros of Google Search Console
Efficient management of website contents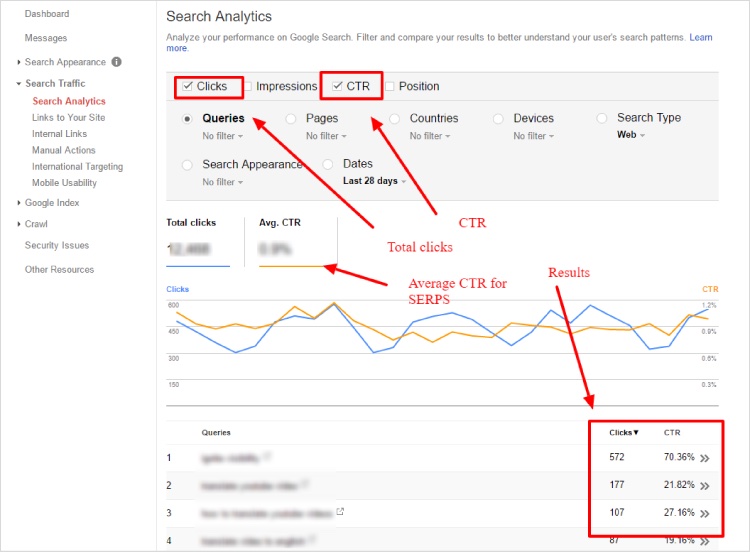 Google Search Console provides information on the performance of your website, which includes:
the reason why your webpage is doing well or poorly,
the measures to cleanse your site from spam and broken links,
recommendations to improve your content to better match the crawl, etc.
On the whole, Google Search Console can help you manage your website contents effectively and efficiently.
Free of charge for all users
Google Search Console is free of charge for everyone. You only need a Google account to utilize this function. However, note that the search is subject to usage limits:
Per-site limit (calls querying the same site): 50 QPS, 1,200 QPM;
Per-user limit (calls made by the same user): 50 QPS, 1,200 QPM;
Per-project limit (calls made using the same developer Console key): 100,000,000 QPD.
Quick and smooth response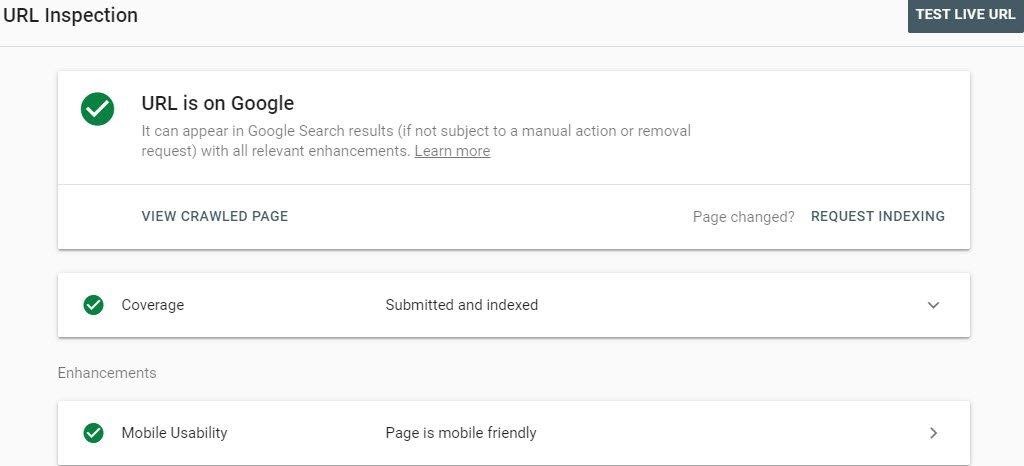 You can use URL Inspection Tool (previously referred to as "Fetch As Google") to verify whether Google-bot can access your page and how to unblock your page if there are technical issues with your website. Other available information offered includes the last time your page was crawled, whether page fetch is successful and whether indexing is allowed.
Cons of Google Search Console
Potential HTML errors
When you use Google Search Console to detect HTML errors, be mindful about the webpage it presents. Some users claim that the feature is not entirely up to date, and Google Search Console sometimes displays errors that you have already addressed.
Pricing Plans of Google Search Console
Free of charge, but subject to usage limits
Who is Google Search Console suitable for?
Google Search Console is suitable and a must-have for every webmaster. It gives the most accurate data of your Google search ranking. No matter what kind of business you are in, Google search results are undeniably valuable for your marketing, entrepreneurial and SEO strategies. Thus, don't hesitate to utilize Google Search Console to boost your SEO strategies free-of-charge!
SEO Tools FAQ
Why is SEO important?
An effective and efficient SEO strategy contributes to your website's higher ranking on the search engine results. Potential customers and website visitors will be more inclined to trust the algorithms of the search engine result pages (SERPs) on websites including Google, Yahoo, and Bing. Thus, when you rank higher, there would be a higher chance that your website will receive more traffic and clicks, which can directly translate to better business results.
What is the Best SEO Tool for Free?
The most commonly trusted SEO tool for free would be the Google Search Console: it provides a comprehensive package for everyone, and the accuracy, as well as the quality of SEO suggestions, are highly reliable. Apart from Google Search Console, various SEO tools, such as SEMrush and LinkMiner, also offer free trial periods or free (albeit limited) service package for beginners.
Best SEO Tools: Conclusion
To convert more clicks, visits and views into profits and sales, SEO tools are paramount. They specialize in helping you attract more traffic to your website and improve your ranking in the search engine results.
In this article, we reviewed and compared 10 best SEO tools. Each SEO tool has its unique characteristics, pros, and cons, pricing plans, as well as suitable target user groups.
To conclude, we recommend you to:
Try SEMrush if you are serious about SEO and want to capitalize on the power of SEO to grow your business.
Get started with SEObility if you are a beginner or intermittent user.
Use LinkMiner if you are getting more familiar with SEO and started using SEO tools frequently.
Get an exclusive Semrush 14-day trial here!
We hope this article will inspire and help you make an informed decision about your website's marketing strategies and SEO tools!
Further read:
Best SEO Audit Tools For Website Optimization
8 Best SEO Automation Tools to Boost Efficiency
Spyfu vs Semrush: Which is a better SEO tool?
Top 8 SEO Reporting Tools in 2022
Serpstat Vs Semrush: Which Is A Better SEO Tool? Review And Comparison
Semrush Alternative: 12 Best Semrush Competitors Tools
9 YouTube SEO Tools To Get More Views And Subscribers