Are you looking for the best landing page builder to capture leads and drive higher conversion?
Landing pages are effective in driving website conversions and generating leads. Study shows that companies that create 30 landing pages or more get seven times more leads than those using fewer than ten landing pages.
A landing page builder can help you create landing pages effectively and efficiently with ready-made templates and tools. In addition, the various features provided enable customization of your landing page to meet your business needs.
Regardless of your online business type, landing page builders will be beneficial to achieving your conversion goals. In addition, well-designed landing pages will serve you a long way in scaling your online business.
We will first introduce what a landing page is, walk you through some good examples, then compare and review the 15 best landing page builders to drive conversions.
Lastly, we will provide design tips as well as answers to common FAQs.
But in case you want to skip the reading, here's the quick answer.
The best landing page builder for unlimited conversion is Instapage.
Other best landing page builders on our list are Unbounce and Landingi. They offer free trials, so you can always create an account to try them out risk-free.
And if you want your landing page builders to connect seamlessly with your email marketing tools, try Constant Contact. It's not on our list here, but it's our top-recommended email marketing software with a powerful landing page creator that is built to drive conversions. Alternatively, you can use ActiveCampaign or GetResponse.
Now, let's dive in.
What is a Landing Page?
A landing page is a standalone webpage a visitor "lands" on after clicking on a link or an ad on the web.
In digital marketing, it is specifically created to convert traffic for a particular purpose as part of a marketing campaign.
For example, you could use it to drive visitors for the following actions:
make a purchase
subscribe to a newsletter
connect via chat
submit a form
register for an event.
Since a landing page is designed with a single goal or call to action (CTA), it will likely have way fewer links than other web pages. This prevents visitors from being distracted and increases conversions.
To give you an idea of how a good landing page would look, let us first look at some examples.
Landing Page Examples
Magento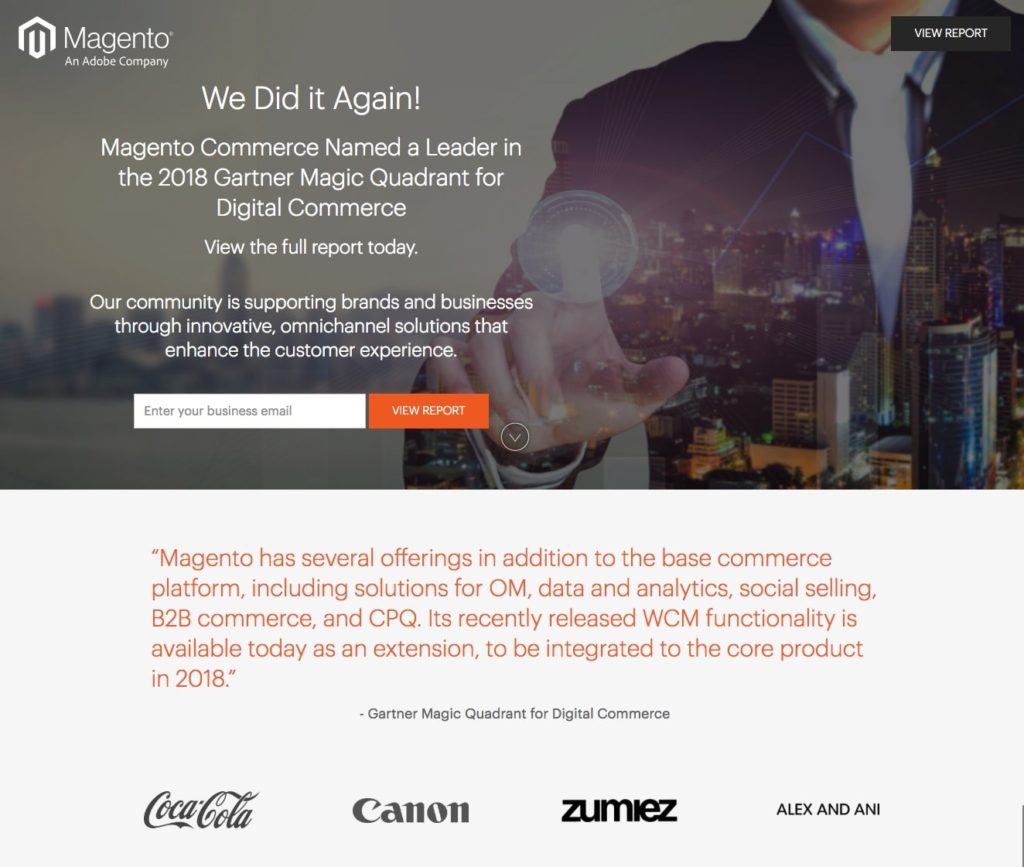 What they did well:
The single-field lead capture form requires minimal personal details from the visitor and is likely to generate many conversions
The sharp orange color of the CTA button catches the visitor's attention
The quote from Gartner gives visitors a gist of what the report would be about
Badges from household customer brands like Coca-Cola and Canon give social proof to the webpage
Casper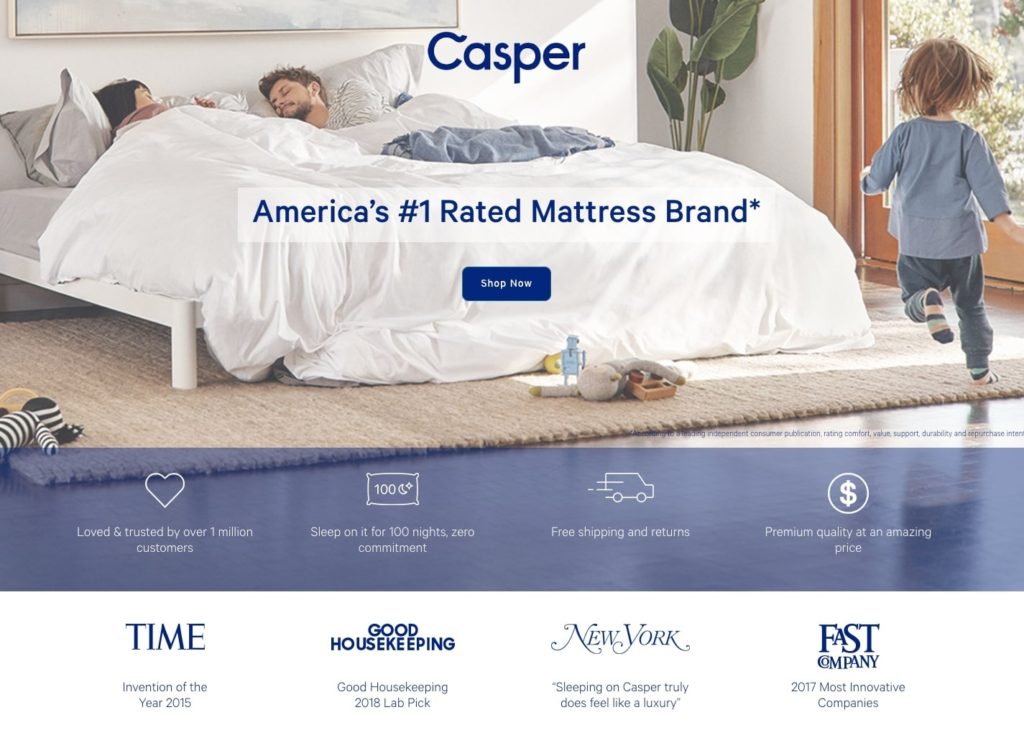 What they did well:
The homey imagery with a family feel fits the sleeping mattress brand well
The headline highlights the primary factor a Casper mattress is worth buying
The "Now" word in the CTA button triggers the visitor's desire for instant gratification
The key reasons to buy the mattress are presented in clear, simple icons that are easy to read
The testimonials by famous brands like Time and Good Housekeeping give social proof to the product
Munchery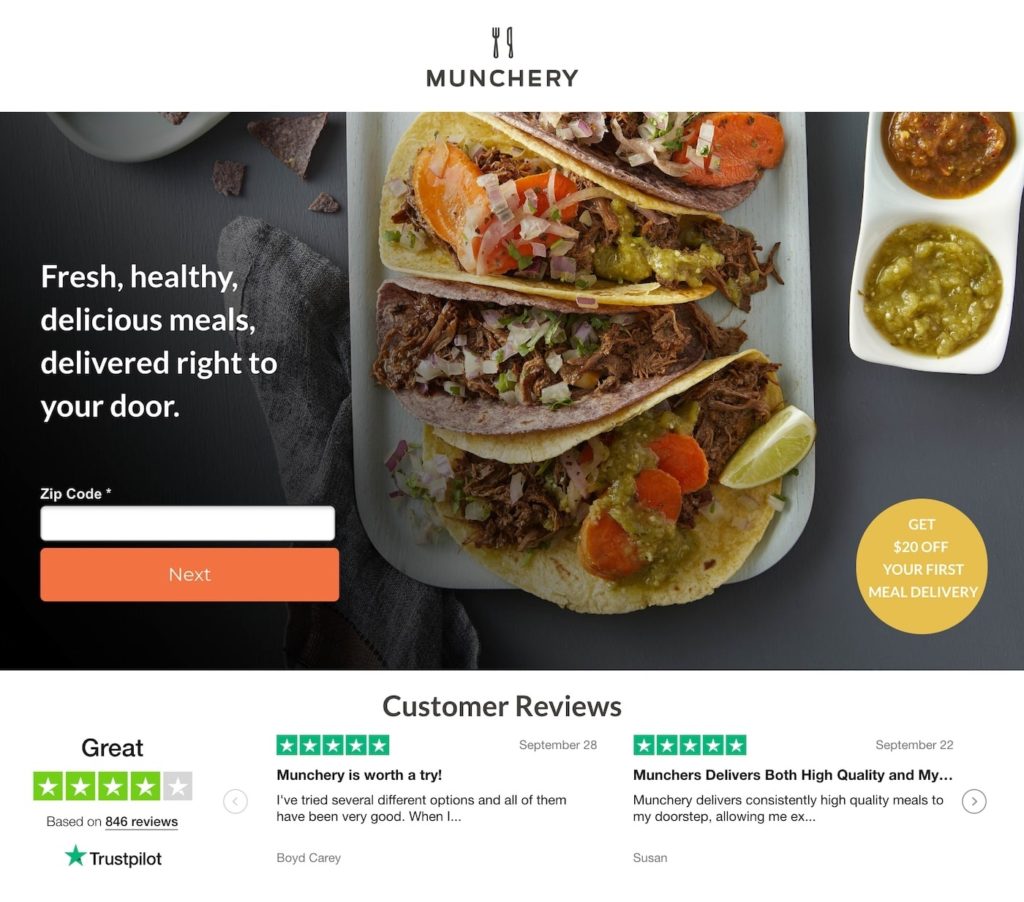 What they did well:
The background food image is highly appealing and relevant to the offer
The headline is concise and represents the value proposition of the Munchery brand
The sharp colors of the CTA button and the offer badge attract attention from the visitor
The customer reviews from regular people give assurance to the visitor on the quality of the Munchery delivery service
Best Landing Page Builders
For beginners, the easiest way to make high-converting landing pages is to use a landing page builder.
These tools are designed to be user-friendly, without the need to write codes or use specialist design software. In addition, they provide tools and templates that allow you to customize your landing page.
If you're more experienced with building websites and feel comfortable with conversion optimization and design principles, you can also use any website builder, like Webflow, to create your landing page.
A good landing page should have the following qualities:
Speed and ease of use
A wide degree of customization on the design
Tutorials and templates are available to assist you with optimizing your landing page
Integration with other tools like a sales software
Built-in analytics available for tracking your campaign success
Reasonable pricing that matches with the features available
To help you get started, we have picked out the 15 best landing page builders and reviewed their strengths and weaknesses.
With the help of these landing page builders, you are all set to drive high conversions and scale your digital business!
Freshmarketer: Powerful Marketing Automation Tool with Custom Landing Pages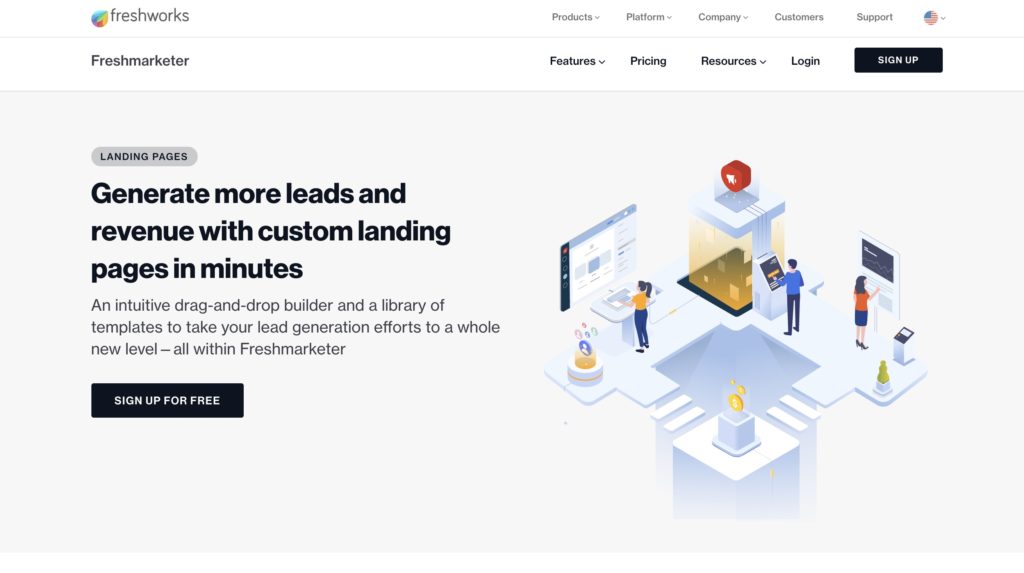 Freshmarketer is an all-in-one conversion suite that helps marketers manage contacts and lists, design, deliver, and automate compelling marketing campaigns. It includes a powerful landing page builder as part of its tools.
Pros of Freshmarketer
All-in-one comprehensive marketing tools
Enable you to build high-converting landing pages without code
Landing page templates and 100+ content blocks are available to help you create landing pages quickly
Library of quality stock photography, royalty-free images, and vector icons available
Mobile and desktop responsive page design
Pricing of Freshmarketer
Freshmarketer offers a free plan that allows you to do email marketing and contact management. However, landing page builders are only available in paid plans, which start at $19 per month.
You can sign up for a Freshmarketer 21-day free trial here!
Instapage: Best Landing Page Builder for Unlimited Conversions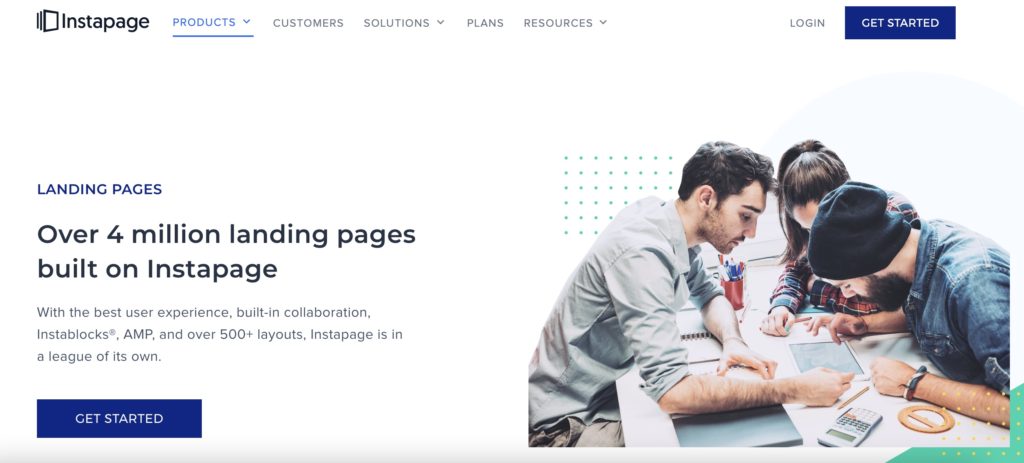 Instapage is a landing page builder for novices and experienced web designers and marketers. It is used to create mobile-responsive, beautiful landing pages in a matter of minutes.
Pros of Instapage
Finest user experience
Landing page builder with built-in collaborative capabilities
A scale-able design with Instablocks and global blocks
More than 500 layouts can be created and tested to convert
With or without AMP, pages load almost instantly
Cons of Instapage
It can improve its SEO tools to help landing pages get ranked on Google.
Limited dynamic content functionality.
Pricing of Instagpage
All of the Instapage plans include services and customer success. Instapage charges $199 per month (when paid annually) with unlimited conversions and offers other custom plans. A 14-day free trial is also available.
Who should use Instapage?
Instapage allows you to style with a wide variety of templates, and you don't need programming experience to customize it as you need. It provides pretty much everything you need for creating high-converting landing pages. The best thing about Instapage is that it includes unlimited conversions.
As a result, it is very much popular among businesses and ad agencies who are expecting a high volume of conversions.
Unbounce: Best Landing Page Builder for Small to Mid-sized Businesses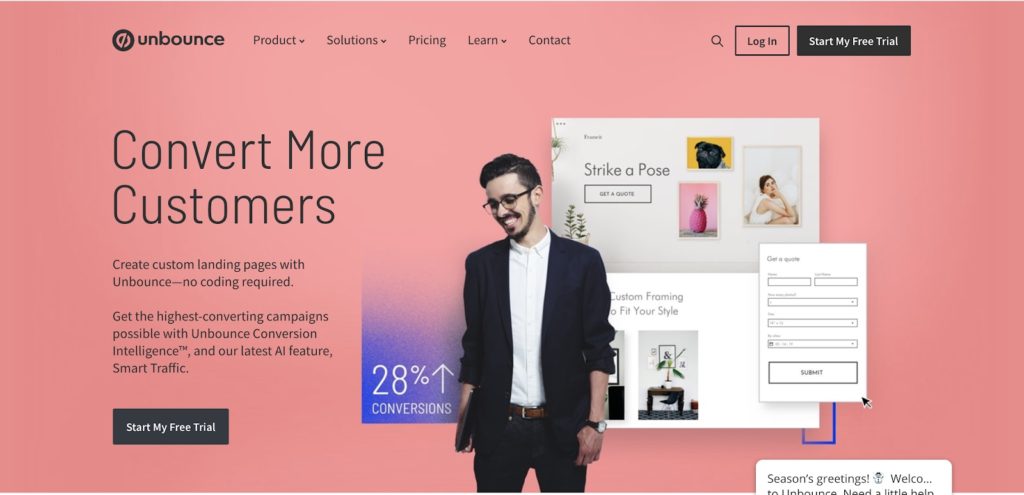 Unbounce is one of the best landing page builders that is focused on driving conversions.
As the name implies, it wants to make sure visitors "un-bounce" when they land on the page.
This landing page builder has some of the best features and is used by over 1500 brands, such as New York Times and New Balance.
Pros of Unbounce
100+ AI-powered landing page templates
Easy-to-use drag-and-drop builder
Popups and sticky navigation bars for more conversion opportunities
Dynamic text replacement for SEM campaigns
Integrations with tools for lead generation
Best A/B testing and targeting tools
Cons of Unbounce
Charged at a relatively premium price
Steep learning curve and may not be the best for beginners
A/B testing and dynamic text replacement are only available at more expensive plans
Pricing of Unbounce
Unbounce charges per number of conversions. Here's how it works:
$80 per month for up to 500 conversions,
$120 per month for up to 1,000 conversions,
$200 per month for up to 2,000 conversions,
and $300 per month for up to 3,000 conversions.
All plans come with a 14-day free trial.
Who should use Unbounce?
Unbounce is best for medium enterprises looking to scale their businesses rapidly with highly customized landing pages.
Landingi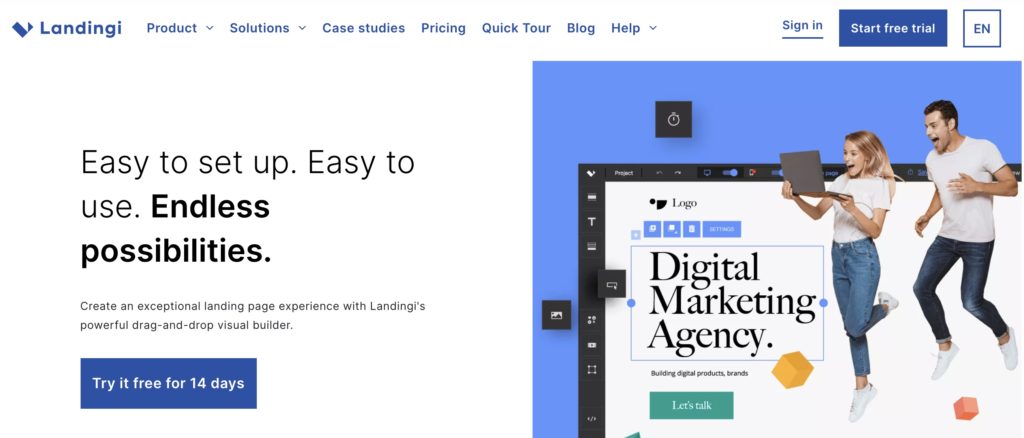 Landingi is a one-stop-shop landing page builder for small and big enterprises. Near 4,000 firms, including giants like PayPal and Sony Music, use Landingi.
A drag-and-drop editor, over 100 mobile-responsive templates, marketing support, and so on are some of the other elements that make it stand out.
Pros of Landingi
A simple drag-and-drop editor with built-in web analytics tools
You can keep track of your visitors and their conversion rates
Comprehensive collection templates and assets
Best A/B split testing tool
Seamless navigation
Cons of Landingi
There is no AMP landing page feature available
Landingi's page builder might take a bit of time to load
Pricing of Landingi
There are three plans to choose from, each with a different price tag: Create at $89 per month, Automate at $127 per month, and Agency $199 per month. The differences lie in the advanced features available, such as A/B testing, autoresponder, and campaign scheduler. All plans include unlimited conversions and landing pages.
You can get started with a 14-day free trial.
Who should use Landingi?
Landingi is a platform suited for creating unlimited landing pages without any IT or coding knowledge. You can create, publish, and optimize landing pages using the landing page builder.
Wishpond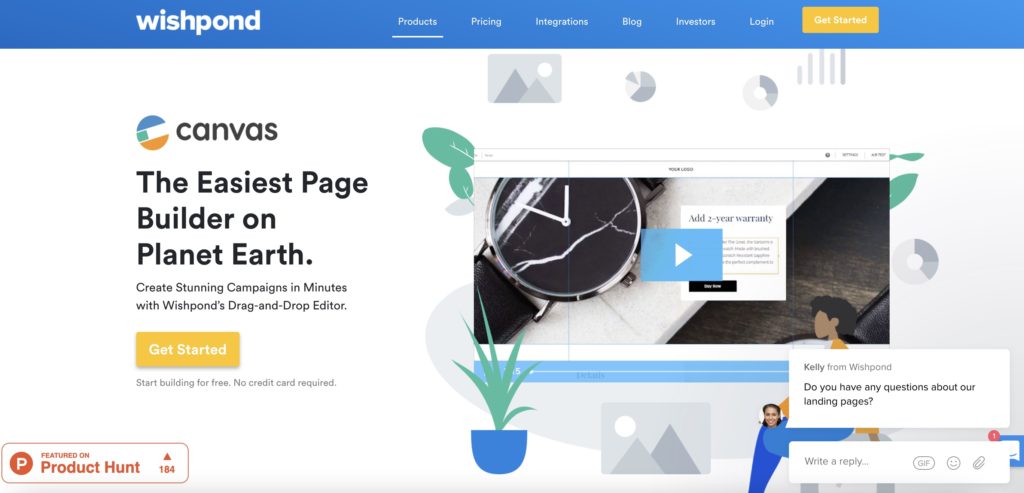 Wishpond is a rising star in the SaaS and marketing space. Its landing page builder is intuitive with a user-friendly UI that is geared for conversions. Choose one of their templates and enter the information you want to collect via landing page forms into the form fields.
Pros of Wishpond
Integrations with other major marketing platforms
Intuitive automation features
It provides sophisticated marketing automation capabilities.
Mobile-friendly templates
You'll find templates for a variety of industries, occasions, and goals in the template gallery.
Cons of Wishpond
Heatmaps are not included.
Wishpond's customer service looks to be of varying quality.
Pricing of Wishpond
Each of Wishpond's price plans is available monthly or annually. In addition, Wishpond offers a 14-day no-risk free trial on annual plans.
Starting Out Plan for $49/month with a maximum of 1500 leads every month,
Everything You Need costs $99 a month and has a limit of 2500 leads,
Rapid Growth Tier-1 Plan costs $199/month and has a cap of 10,000 new leads every month.
Who should use Wishpond?
Wishpond's drag-and-drop landing page builder can be as simple as investing a few minutes. Both novices and more experienced users will benefit from using this tool.
Leadpages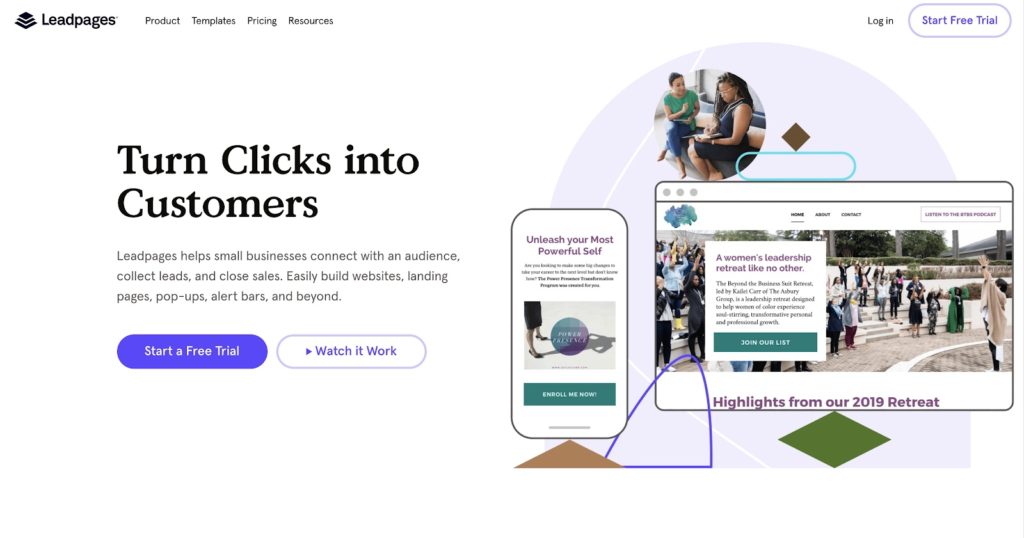 Leadpages provides a tool kit to build landing pages and websites that help businesses connect with their audience, collect leads, and close sales.
This landing page builder is used by more than 40,000 small businesses, from freelancers to consultants, to e-commerce entrepreneurs, artists, and educators.
Pros of Leadpages
One of the cheapest options
150+ landing page templates to choose from
Code-free drag-and-drop builder
Easy-to-read analytics dashboard with real-time conversion tips
Mobile-friendly templates
The built-in on-page payment feature
Cons of Leadpages
The interface may look a bit outdated to some people
No A/B testing with the standard plan
Integrations are only available with more expensive plans
Pricing of Leadpages
Leadpages charges $27 per month for one site under a Standard Plan, $59 per month for three sites under a Pro Plan, and $239 per month for up to 50 sites under an Advanced Plan. A 14-day free trial is available.
Who should use Leadpages?
Leadpages is best for small businesses that aim to build landing pages quickly at a relatively low cost. However, if you are just starting with your online business and are not ready to invest a lot of money yet, Leadpages may be right for you.
GetResponse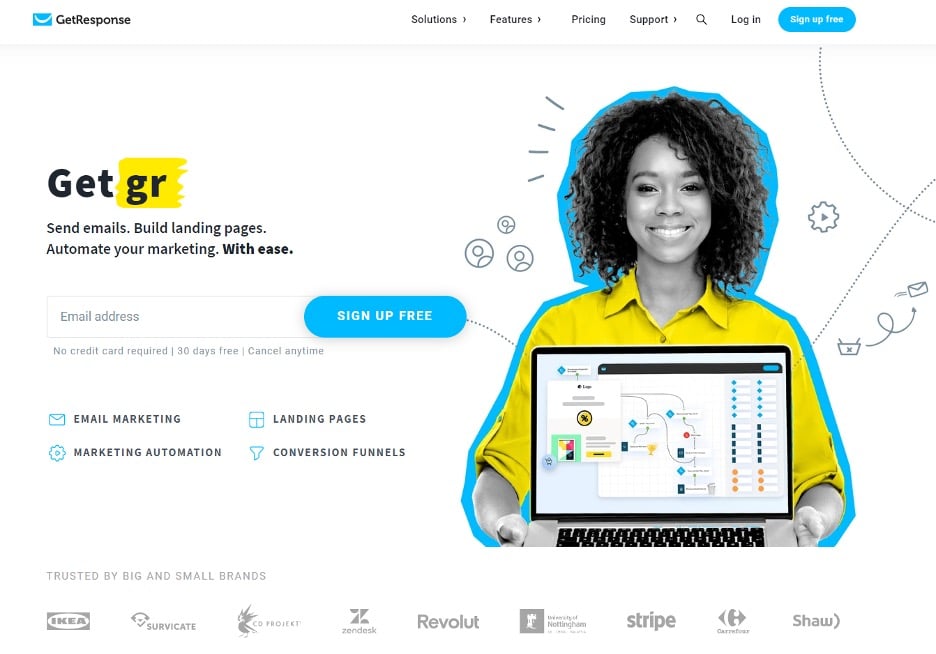 GetResponse is an all-in-one landing page builder that allows you to design unlimited landing pages and assists you with your email marketing and marketing automation endeavors.
Pros of GetResponse
Easy-to-use editor
Built-in conversion funnel
Sticky sign-up forms to convert your leads
Includes over 5,000 Shutterstock pictures and fully mobile-responsive layouts
Outstanding customer service
Cons of GetResponse
Some say that the Enterprise (Max) plan is overpriced
Pricing of GetResponse
Price ranges for the Basic plan start at $15 per month, Plus $49 per month, Professional at $99 per month, and the Max plan features custom pricing. In addition, GetResponse offers a 30-day free trial.
Who should use GetResponse?
You should consider GetResponse if you're looking for a landing page builder with an email marketing solution. Email marketing capabilities such as sign-up forms, email automation, and autoresponder emails are all included in the software's arsenal.
ActiveCampaign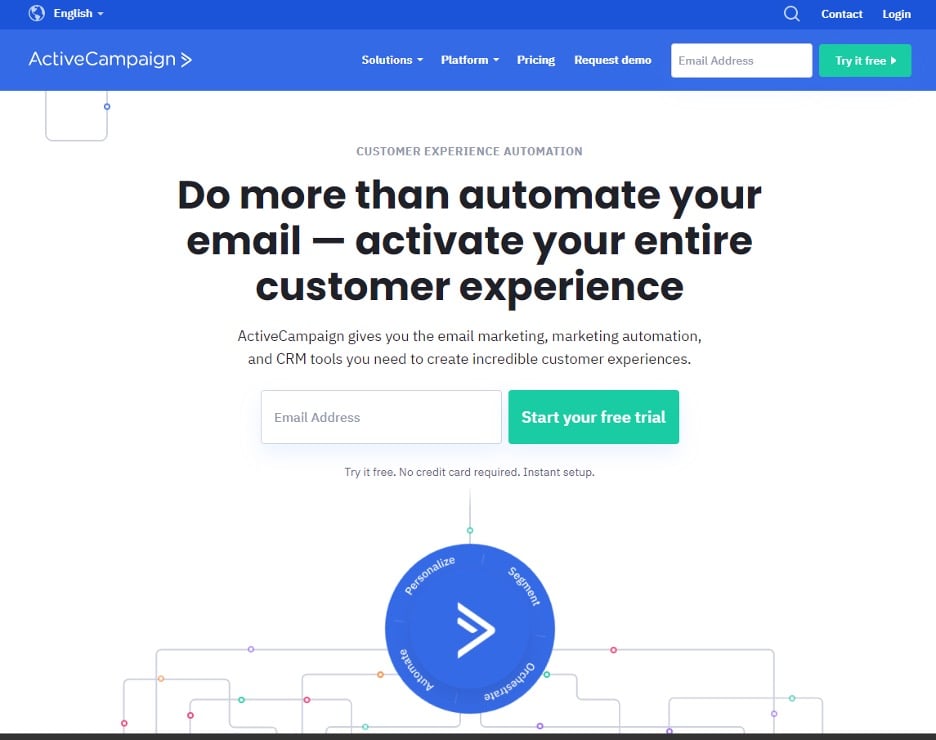 With the addition of their landing page tool to the mix, ActiveCampaign has become even more powerful. You can get it if you're on the Plus tier or higher. There is no limit to the number of pages you can build with this tool. Drag-and-drop is used in the editor, much as it is in many other landing page editors of today.
Pros of ActiveCampaign
Easy-to-use landing page builder
It is straightforward to learn the hotkeys
Time-saving color palette function
Easy navigation between microsites
Good choice of elements
Cons of ActiveCampaign
No native A/B testing feature
There is no option to save blocks for later usage
Pricing of ActiveCampaign
Landing pages are included in the $49/month Plus subscription tier, $129/month Professional tier, and $229/month Enterprise tier. Other capabilities of ActiveCampaign Plus are marketing automation, lead scoring, and CRM.
Who should use ActiveCampaign?
ActiveCampaign is best for individuals or companies with a bit of experience in email marketing and those looking to multiply their efforts in marketing automation.
ClickFunnels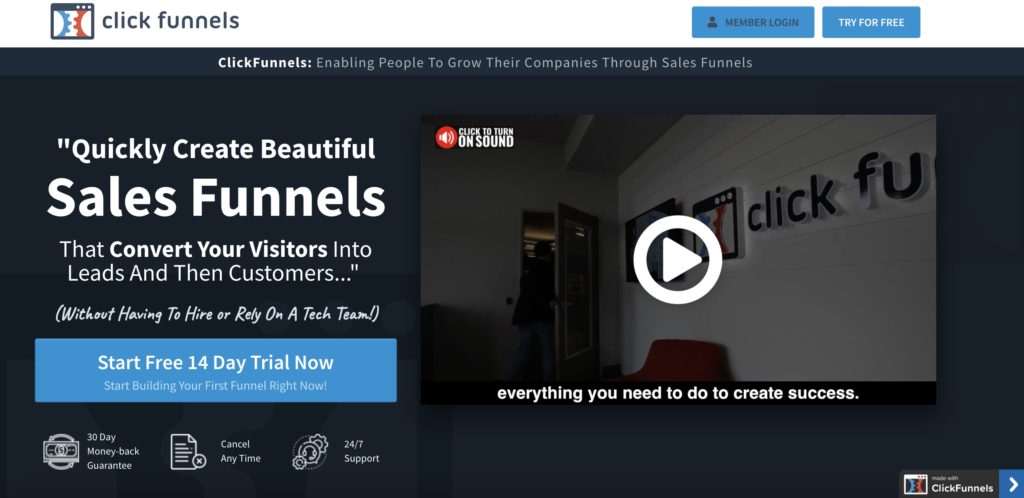 Many use ClickFunnels to build sales funnels. This is in addition to a set of tools and editors to help you construct landing pages, membership websites, and product launch pages.
Russell Brunson is the founder of ClickFunnels. He is an internet entrepreneur who has built a following of over a million entrepreneurs, sold hundreds of thousands of copies of his books (Traffic Secrets, DotCom Secrets, and Expert Secrets), and popularized the concept of sales funnels.
He also offers tons of free resources online. One of which is the 30 Day Summit. You should definitely check it out before using ClickFunnels.
Pros of ClickFunnels
Customer service is available 24×7
Drag-and-drop landing page editor
One-click upsell functionality
Marketing automation
A single dashboard allows users to manage everything.
Cons of ClickFunnels
There are very few customizing options available
Not providing different language and location support
Pricing of ClickFunnels
Pricing for ClickFunnels is available in three tiers. The Standard plan costs $97 per month, while the Platinum package costs $297 per month, and the Two Comma Club X costs $2497 per month. With the 14-day free trial, you can get started constructing your landing page immediately.
Who should use Clickfunnels?
Clickfunnels is best suited for small to medium businesses looking to increase conversion rates.
HubSpot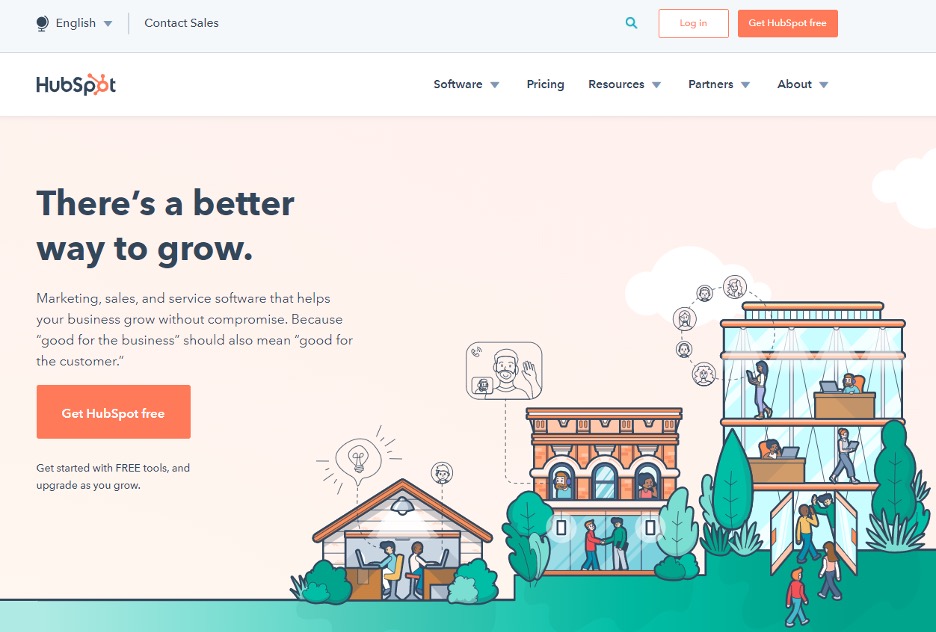 HubSpot is an all-in-one inbound marketing, sales, and service software. Their offerings range from CRM tools, marketing tools to a landing page builder. When it comes to landing page building, HubSpot stands up to its name by offering a feature-rich, easy-to-use, and potent landing page tool.
Pros of Hubspot
List segmentation
Provides users with tailored landing page content
Solid features for A/B testing
Develop professional-looking landing pages
Utilizes live chat, pop-up forms, and conversational bots to capture and convert leads into paying customers
Cons of Hubspot
Need learning curve to customize landing pages
No built-in menus
Pricing of Hubspot
HubSpot's free plan includes 13 industry templates, fundamental analytics, and other helpful business features.
Next, you can choose from three different paid levels – the Starter plan starts at $45 per month, the Professional plan starts at $800 per month, and the Enterprise plan starts at $3200 per month when billed annually.
Who should use Hubspot?
A single user, a large team, or an agency can all benefit from Hubspot. When it comes to small businesses on a tight budget, these tools will help you get results without going broke. There is a step-by-step guide for beginners and 100+ mobile-compatible landing page templates that are already available.
ShortStack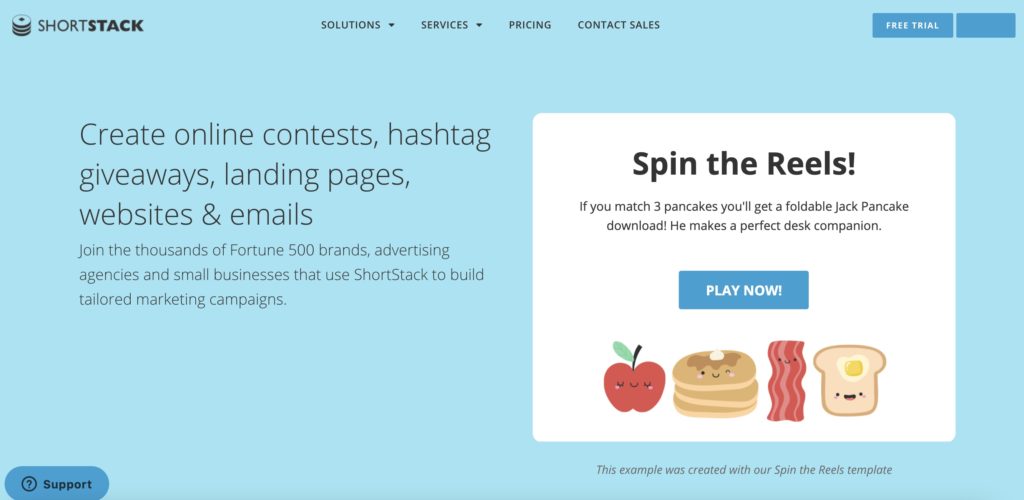 As the name suggests, ShortStack is an online landing page tool with a unique twist. You can create online contests, hashtag giveaways, landing pages, websites, and emails using ShortStack. It has a few automation capabilities built-in to it as well.
Pros of ShortStack
Robust analytics and ROI measurement
Templates that are compatible with mobile devices
A real-time editing environment
An easy to use client management system
Your conversion rate, website traffic, and more are tracked.
Cons of ShortStack
ShortStack's branding will appear at the bottom of your campaign for the Starter package.
Steeper learning curve
Pricing of ShortStack
There are four plans offered by ShortStасk – It costs $99 per month for 10,000 entries in the Business plan, $249 per month for 50,000 entries in the Agency plan, and $499 per month for 500,000 entries with the Brand plan. You can obtain the quote for the Enterprise plan from ShortStack's team. A 10-day free trial is available.
Who should use ShortStack?
If you're searching for a landing page builder to help you design tremendous landing pages for contests, then ShortStack has you sorted. Additional capabilities include campaign analytics, email analytics, marketing automation, and more.
Lander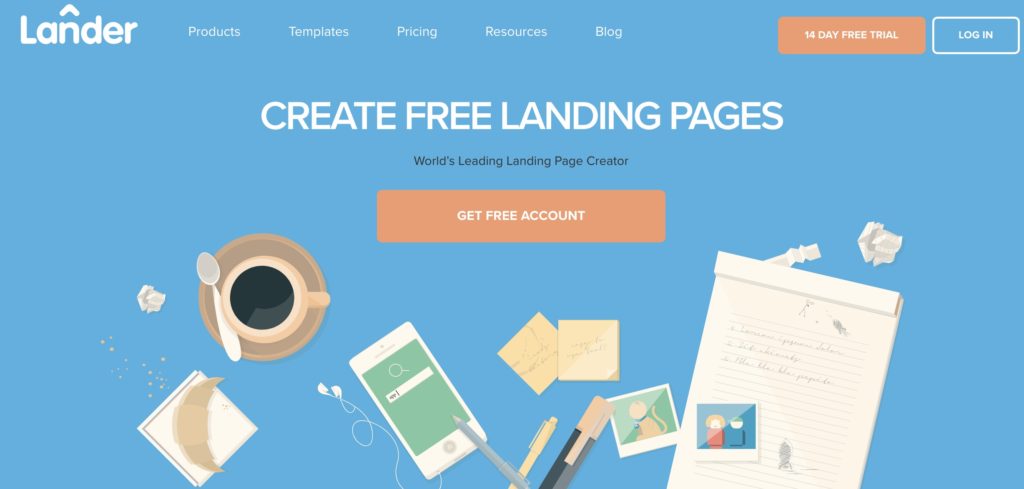 LanderApp is a landing page builder that is straightforward to use. You can test your copy, graphics, CTAs, and colors in real-time to obtain quick results with this software.
Pros of Lander
100+ ready-made landing page templates
Conversion analytics tracking
Easy to use editor
A/B testing tool
You can also use it to create Facebook landing pages.
Cons of Lander
There is no Google Ads integration available.
The free plan does not include dynamic text replacement.
Pricing of Lander
All Lander plans include unlimited templates, A/B testing, Facebook Fan Page integration, and more. Lander charges $49 per month for its Basic plan and $99 per month for its Professional plan. A 14-day free trial is also available.
Who should use Lander?
A PPC campaign, email marketing campaign, or social media advertising campaign is something you want to consider for your small business; then, Lander is an incredible option for you. Someone without any technical knowledge can also create stunning landing pages using their simple editor.
Elementor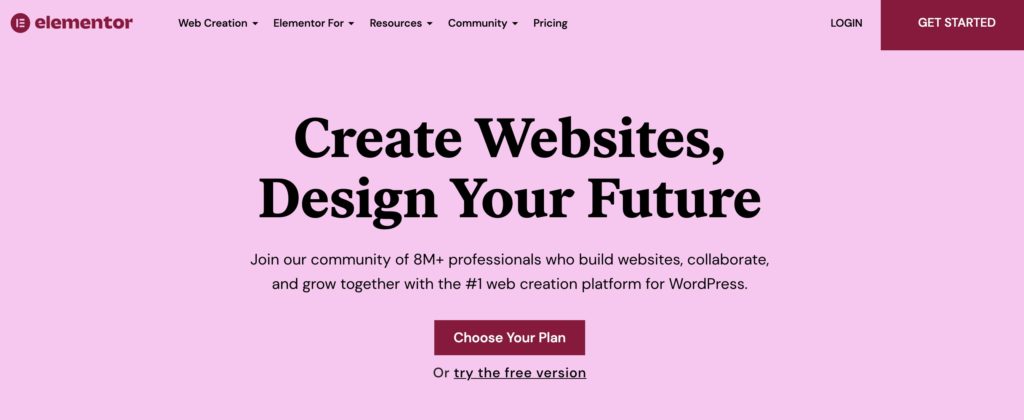 Elementor is a comprehensive website builder for WordPress. Users can handle their whole web design workflow from a single platform. Moreover, you can use prebuilt industry-specific themes, create their pages with a drag-and-drop design editor, and remodel their site in real-time.
Pros of Elementor
Customization made easy with over 80 design elements
Theme and plugin compatible
More than fifty languages are available
A system that is extensible and developer-friendly
There is a wealth of tutorials and educational material accessible to assist
Cons of Elementor
Medium to large-sized websites takes time to load.
In addition, the interface could be a significant challenge if you're not familiar with graphic software.
Pricing of Elementor
Elementor charges $49/year for the Essential plan, $99/year for the Advanced plan, $199/year for the Expert plan, $499/year for the Studio Plan, and $999/year for the Agency plan. It offers a 30-day money-back guarantee for all the plans.
Who should use Elementor?
Elementor claims to be the world's most popular page builder for the WordPress platform. Using Elementor to create a landing page is one of the finest solutions for WordPress users. If you are a beginner or an expert, this platform will be handy for you.
Wix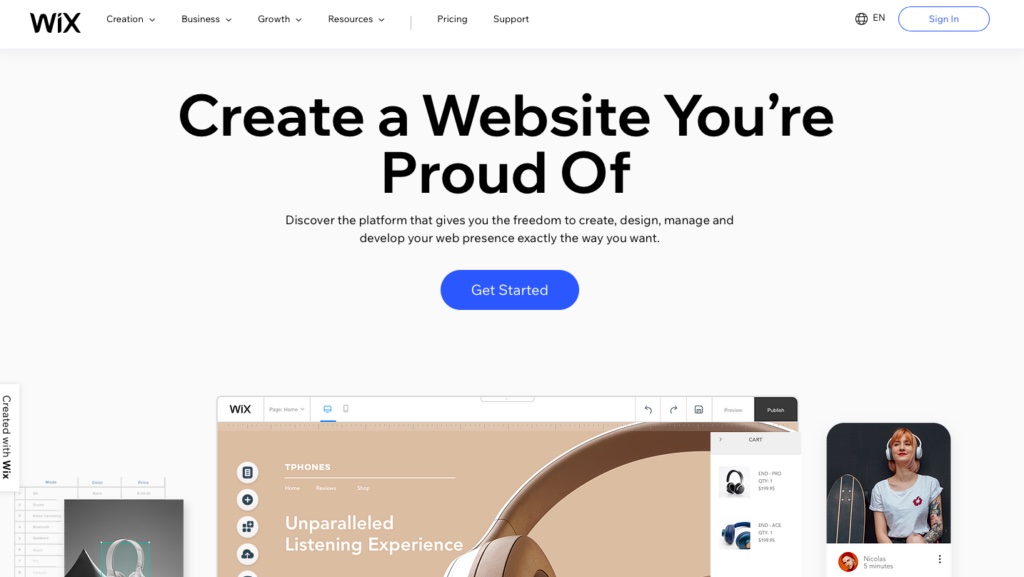 Website creation platform Wix has helped more than 125 million users launch their sites, so they know what they're doing when it comes to creating an online presence. In addition, Wix landing page tools are geared for limited use cases to other landing page builders.
Pros of Wix
Simple and intuitive editor
Provides a choice of 30+ templates
Affordable and user-friendly builder
Has the ability to create a wide range of sites, from portfolios to e-commerce sites, and more
Cons of Wix
No A/B testing feature
Some plans have limited bandwidth and storage
Pricing of Wix
Landing page plans are priced as follows – the cost of the Connect domain is $4.50 a month, the Combo plan costs $8.50 per month, the Unlimited plan costs $14.50 per month, and the VIP plan costs $26 per month.
Who should use Wix?
It may be the best option to develop a new website instead of adding landing pages to an existing one. Attractively designed landing page templates are included in Wix's landing page builder, which is easy to use and allows you to drag and drop anything onto the page.
Ucraft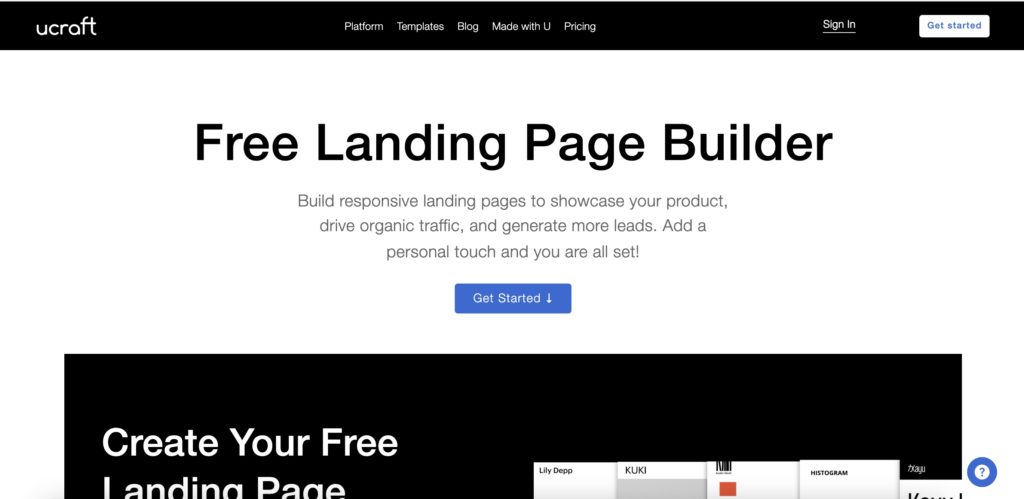 Ucraft allows you to create a website, portfolio, or online store with a multi-functional website builder.
In addition, it has a visual-oriented toolkit with photo editing and placement tools and promotes video backgrounds.
Pros of Ucraft
Affordable price with a free version available
Design-oriented and is suitable for visually-driven sites
Collaborative site editing is available
SEO tools available
Integration with Google Analytics to track your site's performance
Cons of Ucraft
The user interface is less intuitive to use than competitors
Limited functionalities and templates which may result in similar-looking webpages
Pricing of Ucraft
Ucraft allows you to create a simple website for free, then charges $10 per month for a Pro website with additional SEO, blogging, designer tools, and more advanced features. In addition, it offers other price plans for e-commerce and data management solutions. A 14-day free trial is available.
Who should use Ucraft?
Ucraft is best for creative individuals, designers, or small e-commerce businesses who need a simple but visually appealing website. It may not be as suitable for building a sophisticated landing page with many features.
Mailchimp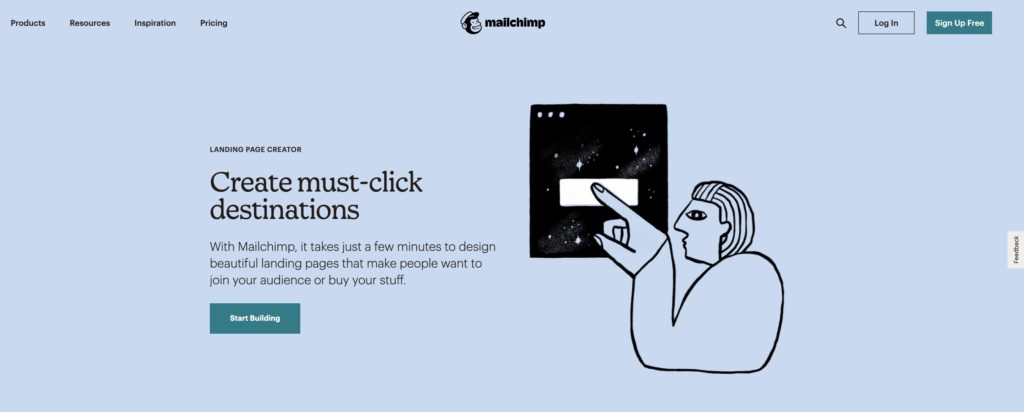 With Mailchimp, you can create landing pages with various outstanding features that will help you generate leads. As a result, it's now easier than ever to create eye-catching and mobile responsive landing pages.
Pros of Mailchimp
Unlimited landing pages
Excellent tracking option
Trigger automation
Mobile responsive templates
Intuitive and well-designed landing pages
Cons of Mailchimp
Limited editing options and no custom HTML code
No A/B testing feature
Pricing of Mailchimp
Mailchimp offers a free plan with all the necessary features. Here're the paid plans:
The essential plan starts at $10 per month up to 500 contacts.
The standard plan starts at $15 per month up to 500 contacts.
Finally, the premium plan starts at $307 per month up to 10,000 contacts.
Who should use Mailchimp?
Mailchimp platform is so easy for novices to get started and an excellent tool for marketers to stand out among their competitors and encourage their customers to take action.
Landing Page Builder: FAQs
What makes a good landing page builder?
Convenient and Cost-effective
A key advantage of using landing page builders is that they provide ready-to-use tools and templates that can significantly reduce your development cost and time. Eventually, a landing page builder can speed up the lead-up time to any new marketing campaigns you have.
Creating new pages on a site could take a lot more time and money, and you might need to deploy a development team.
Furthermore, landing page builders assist in your web page's design, post-launch tracking with analytics, and optimize your web page. These tools allow you to measure the success of your campaigns conveniently and ultimately scale your business.
In-built Integrations
Once you have generated the leads, the next important thing is nurturing them and converting them into sales. This is where integrations come in.
Most landing page builders provide integrations that connect your landing page with various CRM systems and email marketing software so that you can further process the leads. Examples include Hubspot, ActiveCampaign, and Constant Contact.
Some landing page builders provide an even broader spectrum of integrations that can assist you in building the best landing page.
For instance, Unbounce offers integrations ranging from utilities and chat platforms to marketing automation and customer support, optimization software, and more.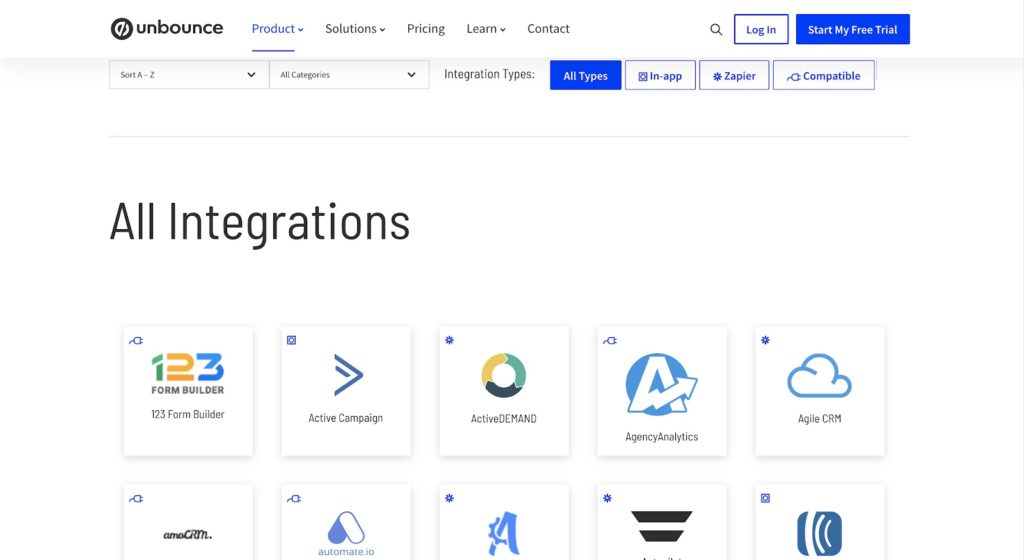 These tools are convenient in helping you implement the various features you may want for your landing page and make the maximum impact.
What is the Best Landing Page Design to Drive High Conversion?
The ultimate rule to designing the best landing page is that every component of the webpage should contribute to driving high conversion. Therefore, you would need to be laser-focused about your CTA to achieve conversion success. Below are some top design tips we have for you to create a great landing page.
Use a Catchy Headline
The headline often takes the largest font on a landing page, which means it is likely to catch the eye of the visitors first among all the text on the webpage. To successfully drive high conversions, the headline must be catchy and relevant to the CTA. It should give visitors a solid reason to enter their name, click that "Shop Now" button, or whatever the CTA requires them to do.
Slack is a good example. The headline "Where Work Happens" summarises what Slack does – the platform to collaborate and get work done.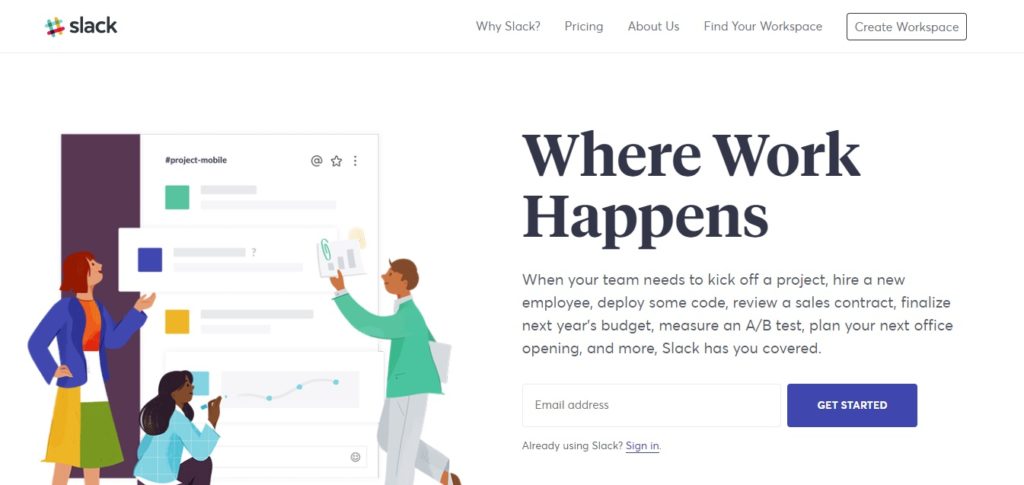 Include Visually Appealing Images
Besides the headline, visual prompts on your landing page also determine how your visitors perceive your offer. They can convey additional information about the best qualities of your product or service that text alone cannot represent.
Therefore, make sure that the images you use are not only relevant to your offer but visually alluring. Keep in mind that they should also match with the brand image you want to create.
The below example from Roman Mayer illustrates how a visually appealing image helps convey the brand's luxurious image.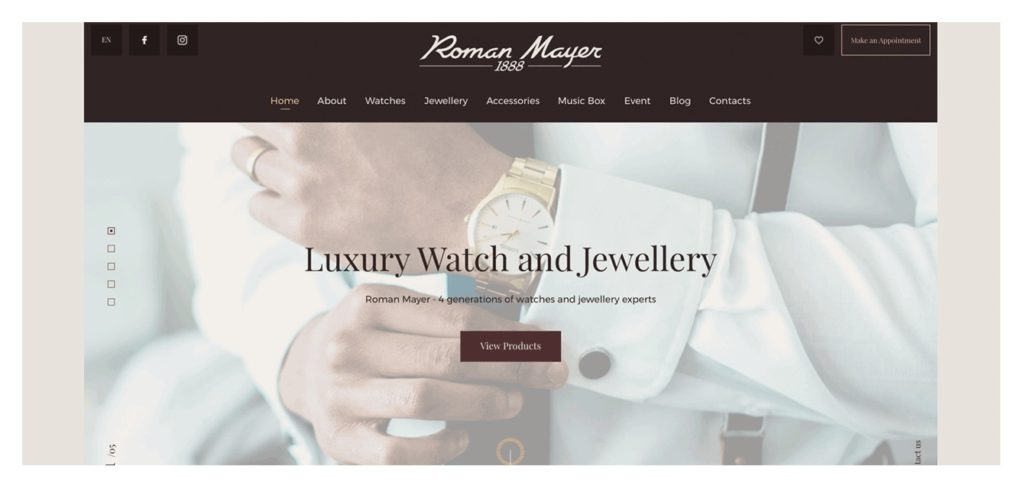 Remove Distractions
Remember that a great landing page should focus on one conversion goal. This should always be in mind when you design your landing page.
It implies that you would want to minimize unnecessary links, additional CTA buttons, and irrelevant text or images that could draw your visitors away from your CTA. Keep a simplified design and only include components that are relevant to your offer. It is more likely to incentivize your visitors to convert.
Below is an example of a webpage with many distractions. You avoid it when designing a landing page.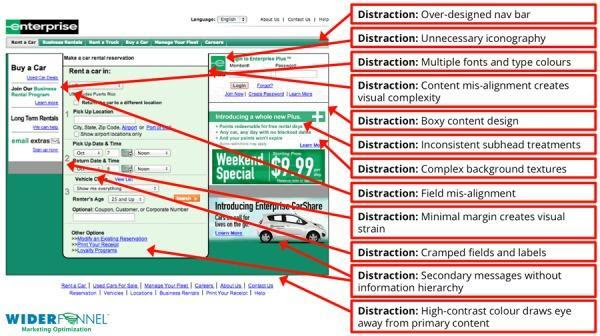 Add Social Proof to your Landing Page
Social proof is the social and psychological phenomenon that people will follow the actions of others. In digital marketing, it refers to evidence from the peers of your intended customers that verifies some part of your claims about your service or product.
According to a research report from Nielsen, 70% of people will trust a recommendation from someone they've never met. Therefore, social proof will significantly enhance the credibility of your landing page.
Social proof could take the form of positive reviews from past consumers, testimonials from influential brands, or the inclusion of trust badges.
Trust badges include logos of well-known brands you've partnered with, awards and endorsements you've obtained, or groups and associations you're a part of. These details help to build trust for your brand and give visitors the confidence to act on the CTA.
The example below combines customer logos and testimonials to provide social proof to the landing page: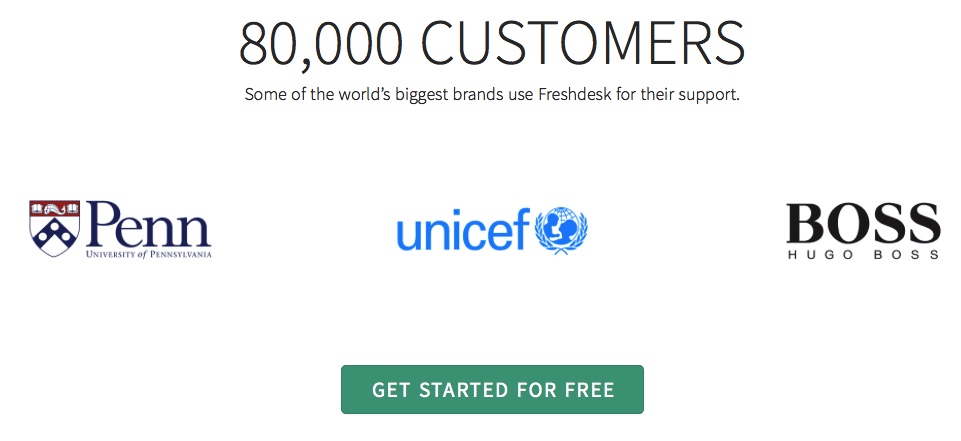 What is A/B Testing, and Why should you do it?
What if you are designing your landing page and are unsure what exact wordings or images would be best for your webpage? Here is where A/B testing comes in.
A/B testing refers to comparing two variants of the same page to see which one can drive more conversions. It is a common feature provided by landing page builders that can help you optimize conversion on your landing page.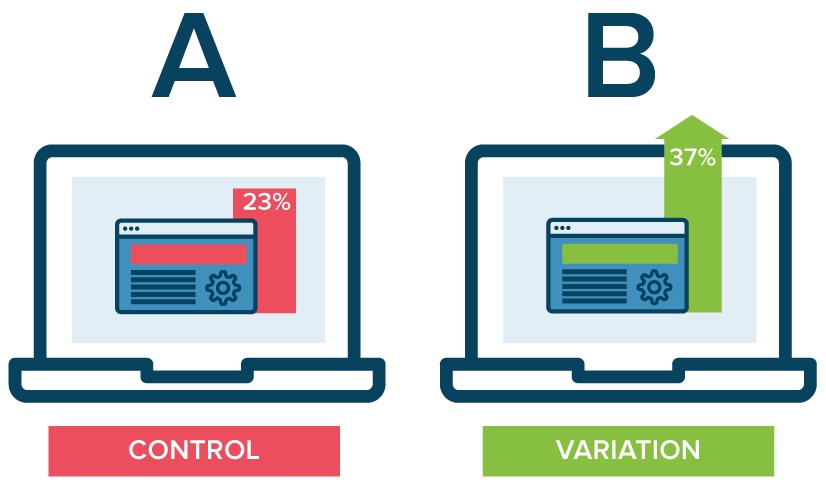 In practice, you would need to create a variation of your existing landing page, tweak the heading, the CTA, the images, or any other component of the webpage, then split your traffic to each of the two versions.
If you are testing a new idea, the usual practice is to split the traffic 50/50.
However, if you are testing an existing landing page, you may want to assign a smaller percentage of your traffic to the new variant to minimize risks and protect the original traffic you are steadily obtaining for your existing landing page. You can rest assured that each visitor will always see the same variant to maintain the integrity of your landing page.
You can then track the analytics on how the visitors interact with your landing page in order to decide which version is better. For example, you can test how frequently visitors watched a video, sent a lead form, or clicked a button. This allows you to understand your visitors' behaviors better and make more informed decisions backed by insights from accurate data.
Can I create landing pages for free?
Free landing page builders are available online, such as Wix and Unbounce. They allow you to create unlimited landing pages.
However, if you would like to enjoy more specialized and advanced landing page features, paid plans on landing page builders would be the way to go. These pages often also offer free trials where you can test out if the features meet your needs before investing your money.
What is the difference between a website and a landing page?
A landing page is a web page designed to convert. It still works like any other web page, but its primary goal is to drive higher conversions. Therefore, its design, layout, and text will all contribute to this goal. Again, this would differ from other web pages, which may have multiple goals and CTAs.
What is the best free landing page builder?
You can create high-converting landing pages to drive sales, promote an upcoming webinar, grow your email list, or test out a new product concept using the free landing pages builders.
You can get started for free with Instapage, Unbounce, or Wishpond. They don't have a free plan, but they all offer free trials.
What is the best landing page builder for selling products?
Looking for a landing page builder where customers can find out more about your product and buy it all at once?
Landingi gives you the tools you need to do each of these things with ease. So much so that it helps you stay on track when constructing your page!
What is the best landing page builder for small businesses with a budget?
Each of your offers can have its landing page. You can also target different types of clients by using various landing pages. It's important to note that you don't have to be one of the world's largest organizations to succeed. With the help of a superb landing page builder, you may obtain excellent results as well.
Instapage is the best landing page builder for small businesses with a budget.
Which is the best practice for optimizing a landing page for google ads?
An SEM account with hundreds of thousands of keywords, each with a great click-through rate (CTR), is useless without high converting landing pages. So here're a few recommendations to help you optimize a landing page for google ads:
Make sure it loads quickly and is mobile-friendly. (Important if you're trying to reach mobile device owners!)
You should create landing pages that align with the advertisements. For example, avoid misleading the visitor with a landing page that appears to be for another offer.
As far as design goes, easy-to-understand and straightforward design with a clear call to action work well. In terms of color scheme, your CTA and header should be highlighted in a bold, contrasting hue.
Which attributes describe a good landing page experience?
For a landing page to be effective, it must offer relevant and creative content that assists the user in completing their task. User-friendly and transparent in terms of the business' nature, how it interacts with a user's computer, and how it intends to use the user's data must be considered.
As soon as you understand what makes a decent landing page, you can start making adjustments. It's possible to improve your landing page's user experience by making it more mobile-friendly, easier to navigate, more transparent, or load faster. Of course, the content should be original as well.
Landing Page Builder: Conclusion
To drive high conversions and generate leads from your website traffic, landing page builders are paramount. They provide a wide variety of tools and templates to assist you in designing the best landing page that encourages visitors to act on your intended CTA.
In this article, we have reviewed the 15 best landing page builders. We have looked into their features, pros and cons, pricing plans, and best-suited user groups for each landing page builder.
To conclude, we recommend you to:
We hope this article has helped you learn more about landing pages and make a more informed decision about which landing page builder to use for your online business!