An astonishing number of 3.5 billion people are using social media worldwide. More businesses and brands use social media to reach, nurture, and engage with their target audience.
Social media marketing is becoming more popular among marketers. It helps businesses engage with the target audience, convert them into customers, build a social media presence, work with influencers, and ultimately increase revenue. 
However, it is easier said than done.
Social media management can be a headache, especially when there are many social media platforms to manage. It can be time-consuming and stressful to keep up with the ever-changing world and immediately respond to the changes. Below are some usual tasks that social media managers have to perform daily:
Create and post creative content
Respond to comments
Track reach, impression, engagement, and other social media statistics
Interact with users and brands
And more.
Social media management can be a full-time job. Some businesses even have a team to manage their social media platforms.
Fortunately, there are tools to help you automate tasks and make social media management more effortless. These tools allow you to: 
Schedule your posts in advance
Engage with users
Track analytics, such as engagement, reach, conversion, etc.
Manage inbox
Collaborate with influencers
And more.
To make your decision easier, we have reviewed some of the best social media management tools. Let's get started!
What are Social Media Management Tools?
Social media management tools are software or apps that help you manage social media accounts from one place. They often allow you to automate your social media strategy. Some popular features are scheduling and auto-posting, team collaboration, identifying brand mentions, managing inboxes, and monitoring all of your social accounts in one place. 
Best Social Media Management Tools
Later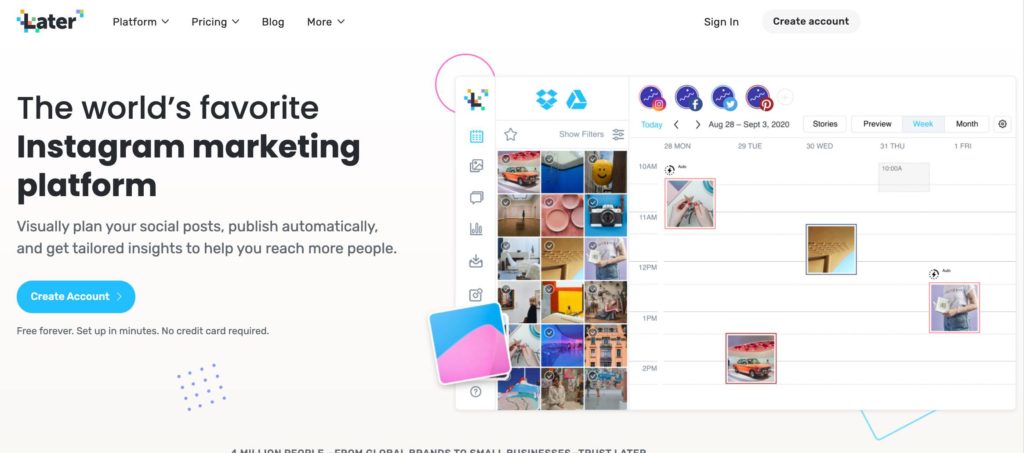 Later is founded as the first-to-market Instagram scheduler in 2014. Formerly known as Latergramme, it has now grown to be one of the leading visual marketing platforms for Instagram, Facebook, Twitter, and Pinterest. It is currently serving 4 million+ users globally.
Some of the brands that are using Later are Fast Company, Mr. Porter, The Wall Street Journal, and USA Today.
What are the Features of Later?
Its platform offers seven main features: Scheduling, Instagram Analytics, Linkin.bio, User-Generated Content, Instagram Stories, Instagram Hashtags, and Pinterest Scheduling.
Some of the key features are:
Easily schedule photos, videos, and carousel posts
Analytics that track followers' number, growth, engagement, etc. 
Drive traffic and sales from Instagram with the link in bio feature
Find shareable UGC on Instagram fast
Schedule Pinterest Pins
Suggest Instagram hashtags to use and post them in the first comment of your post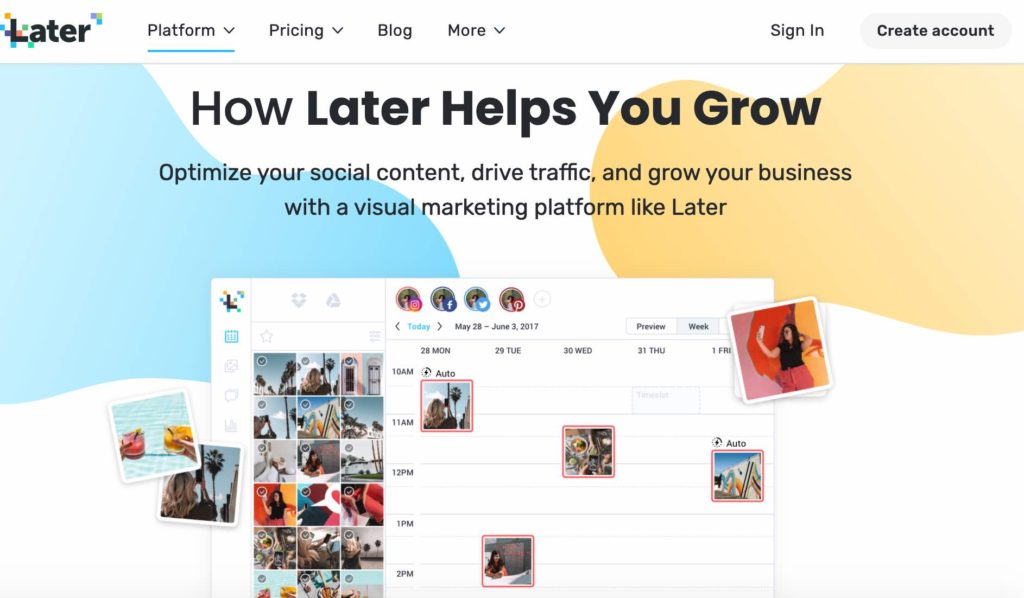 What are the Cons of Later?
It does not support LinkedIn scheduling, which many businesses find useful 
Scheduling for Instagram stories only via push notifications reminder. You'll still need to post manually.
How much does Later cost?
It offers a free plan and three paid plans—a starter plan from $7.5 per month.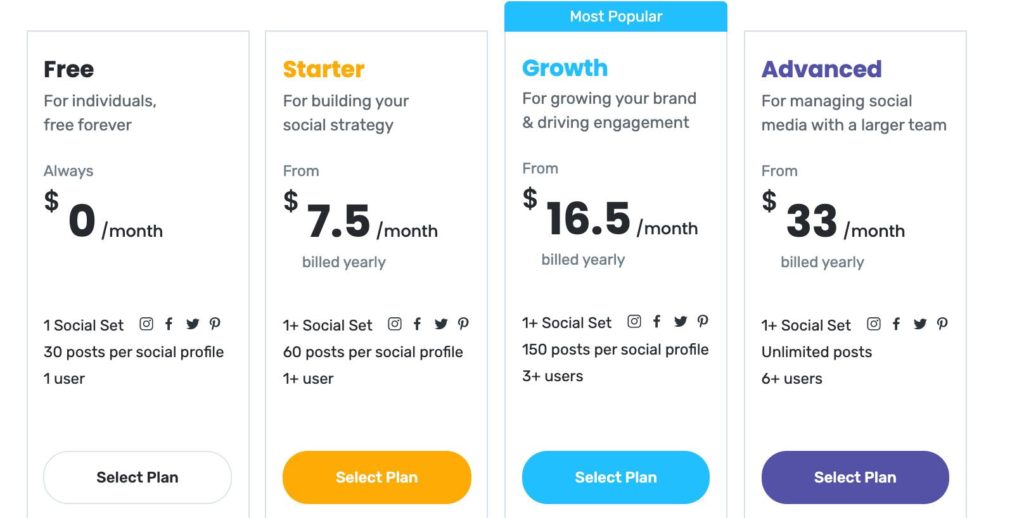 Overall, we would recommend Later for individuals and brands that focus more on visual content and have a heavy focus on Instagram and Pinterest. Its pricing is also relatively more affordable than other platforms.
Crowdfire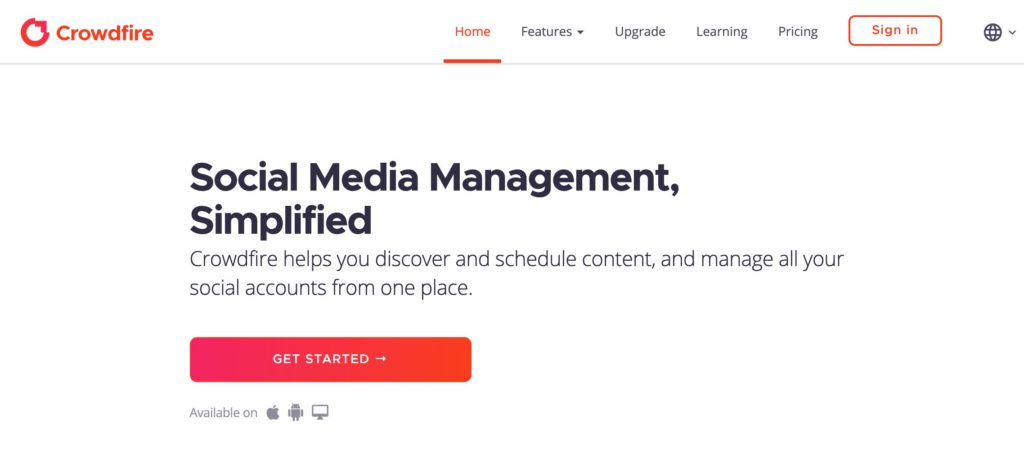 Crowdfire branded itself as 'the only social media manager you'll ever need.' With 19 million+ users worldwide, it supports businesses and individuals, including social media consultants, freelancers, and small business owners, to drive social media engagement and growth.
What are the Features of Crowdfire?
It works with Facebook, Instagram, YouTube, Twitter, Pinterest, LinkedIn, WordPress, Etsy, Shopify, Medium, 500px, Vimeo, and many more platforms
Curate articles from across the web from thousands of source
Image curation: provides Image recommendations to curate shareable images for Instagram
Schedule and publish content to multiple social media platforms from one place
Tailored posts for each social media platform with preview
Automatic and custom' best time to post' recommendation
The analytics report builder allows you to create and share custom professional reports with the data points you want to highlight
Detailed insights into your ROI
Competitor analysis
Track every mention and reply instantly
What are the Cons of Crowdfire?
It will only recommend articles and images to share that has been posted by other Crowdfire members
It cannot help you promote your self-hosted blog
How much does Crowdfire cost?
It offers a free plan that allows you to link to three accounts and support Twitter, Facebook, LinkedIn, and Instagram.
There are three paid plans on top of the free plan, starting from $7.48 per month if joined annually.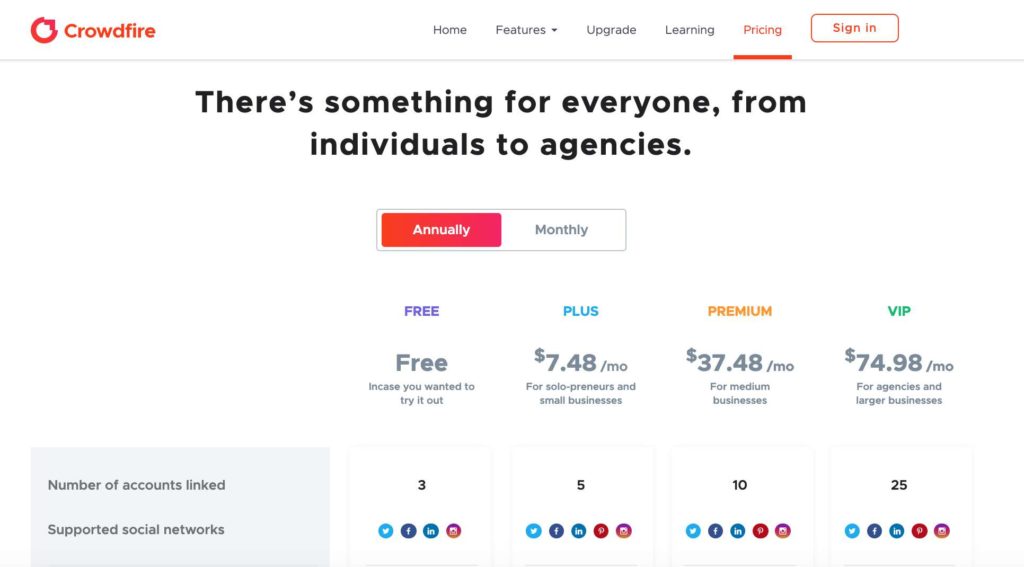 Overall, we think that Crowdfire is best for individuals and small businesses who want to manage their social media platforms from one place and be more socially active without dedicating a lot of time.
Sprout Social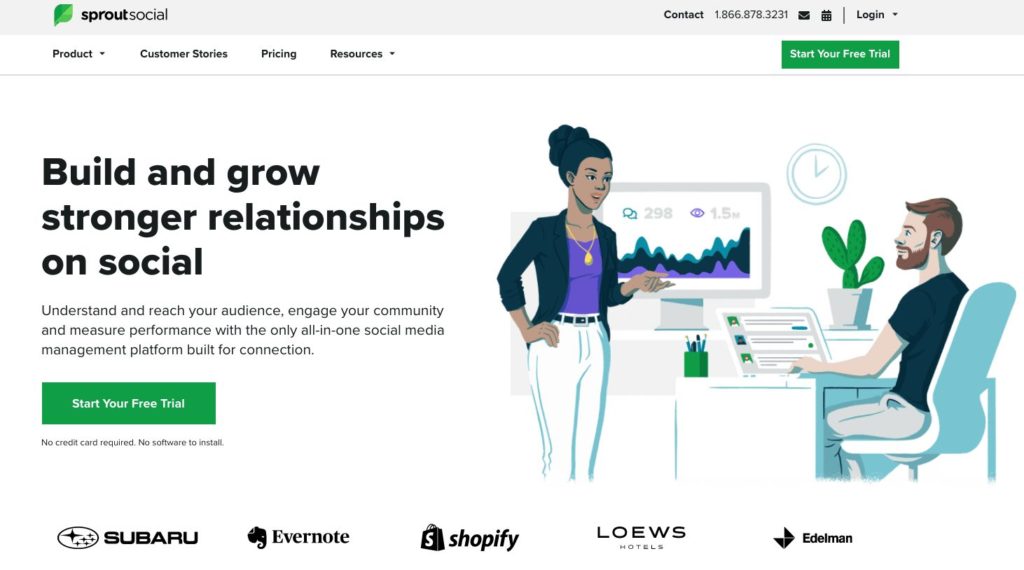 Sprout Social was built in 2010 with the belief of building real connections through social. Trusted by 20,000+ world-class brands and organizations of all sizes, it is stated to be the leader in usability, customer support and satisfaction, ROI, and user adoption. 
Like Hootsuite, it is suitable for scalable businesses that want to tap into social power.
What are the Features of Sprout Social?
Sprout Social offers features in four main areas: Engagement, Publishing and Scheduling, Analytics, and Listening. Some of the key features are:
Organize all incoming messages from one place
Teamwork and collaboration tools: assign tasks and content approval
Analytics that track impressions, engagement, clicks, etc.
Analyse ROI
Chatbots to quickly respond to messages
Visualized calendar to organize content across all networks
Multimedia assets: store, edit, and publish images and videos from a centralized library
Works well with Facebook, Twitter, Instagram, LinkedIn, Pinterest, etc.
Social listening integration
Influencer recognition
Competitor comparison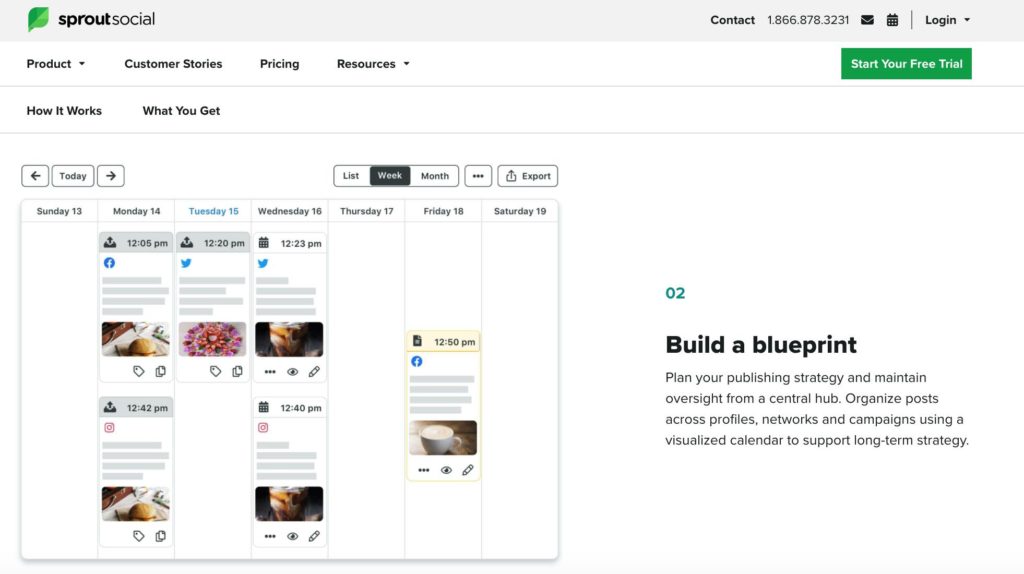 What are the Cons of Sprout Social?
Approvals and task assignments aren't available with the standard plan
Some users reported problems with LinkedIn integration
The user interface may be less intuitive compared to other platforms
How much does Sprout Social cost?
Sprout Social seems to be more expensive than many of its counterparts. Its standard plan starts from $99 per month. It offers a 30-day free trial for its plans.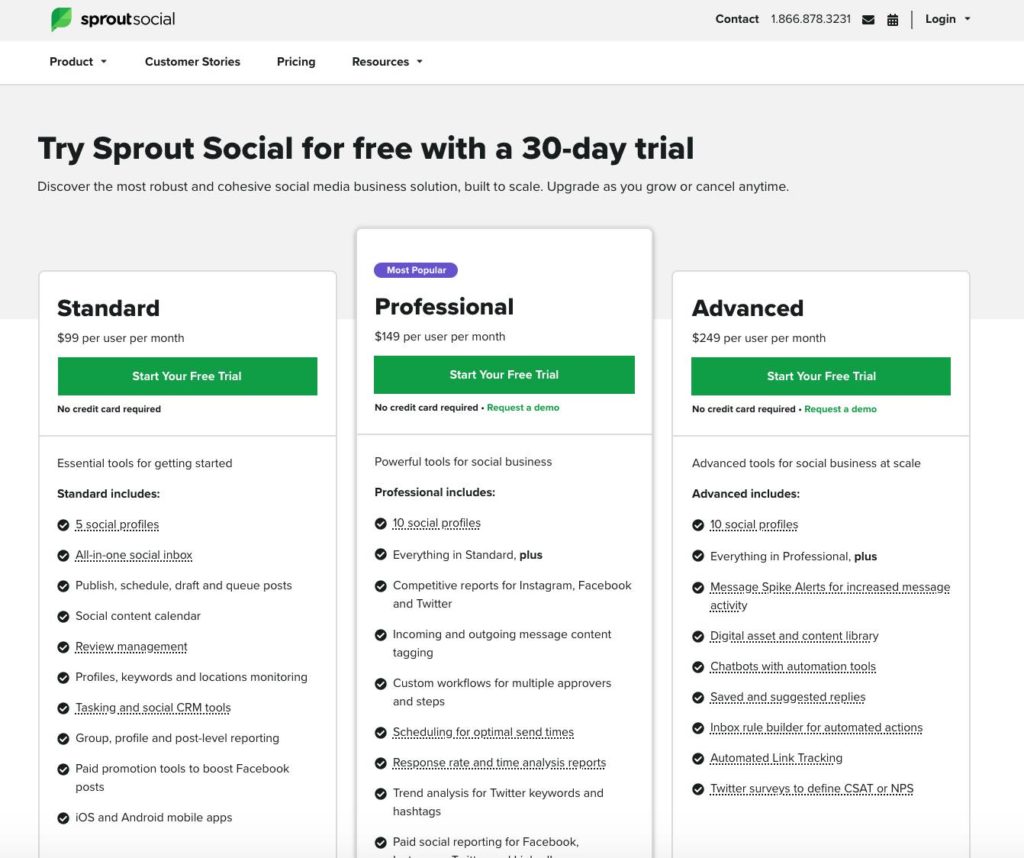 Overall, Sprout Social is best for businesses and organizations with a more generous budget and interest in social listening.
Buffer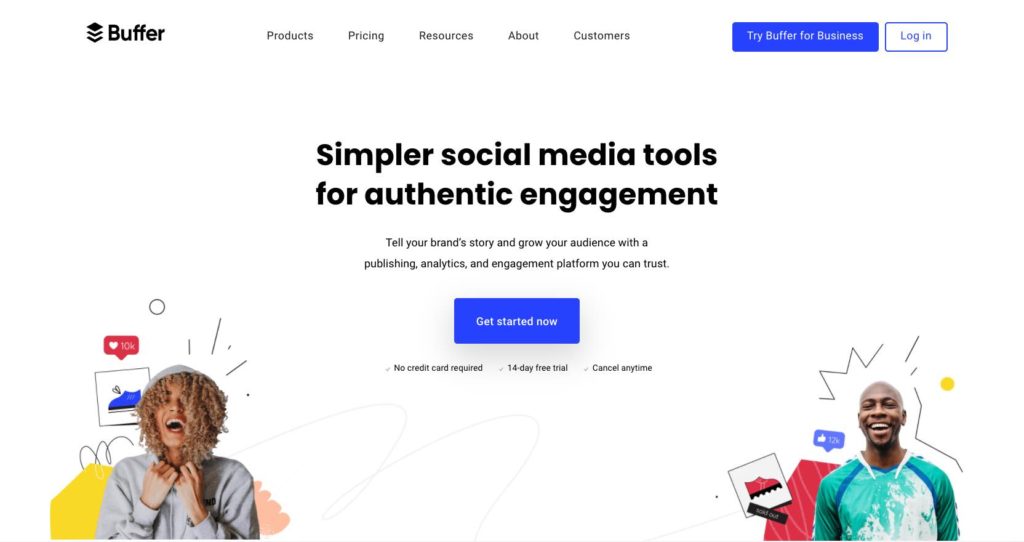 Buffer is one of the best simple social media management tools that is currently serving 73,000+ customers. Some of the brands that use Buffer include Stripe, Microsoft, Shopify, and Business Insider.
It is a neat platform for individuals and businesses to manage their social media and grow their audience.
What are the Features of Buffer?
Buffer offers features in two main areas: Publish and Analyze. Below are some of its key features:
Works well with Instagram, Facebook, Twitter, Pinterest, and LinkedIn for publishing content
Plan and publish posts from one place
Instagram marketing: direct scheduling, include the first comment when you schedule a post, drive traffic and sales from your Instagram bio
Receive notifications when it's time to share
Track performance and create reports for Instagram, Facebook, and Twitter
What are the Cons of Buffer?
The features might not be as extensive as other platforms
You'll need to pay separately for its 'Publish' and 'Analyze' features
How much does Buffer cost?
It prices separately for 'Publish' and 'Analyze.' Pro plan for Publish starts from $12 / month, while that for Analyze starts from $35 / month.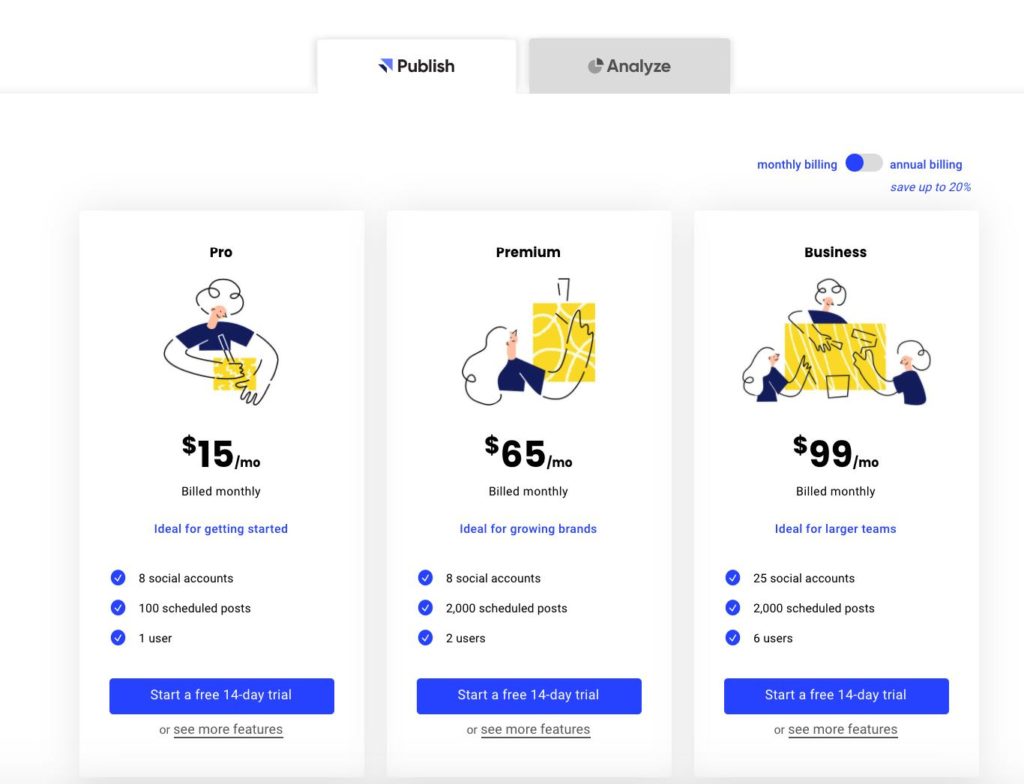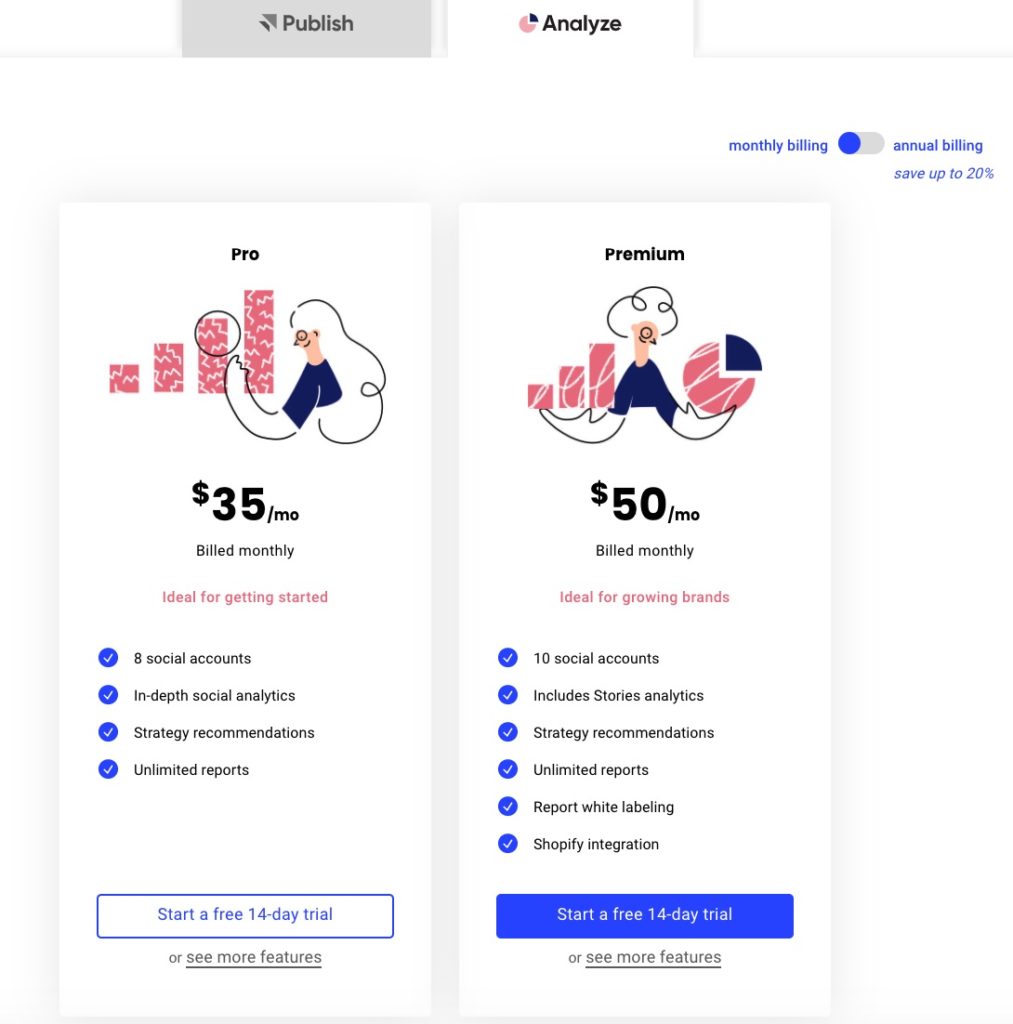 Overall, we think that Buffer is suitable for individuals and businesses as a starter, given its small learning curve. You won't be overwhelmed by many of the extensive features other platforms offer, and instead focus on publishing quality content and tracking the performance of your social media strategy.
Hootsuite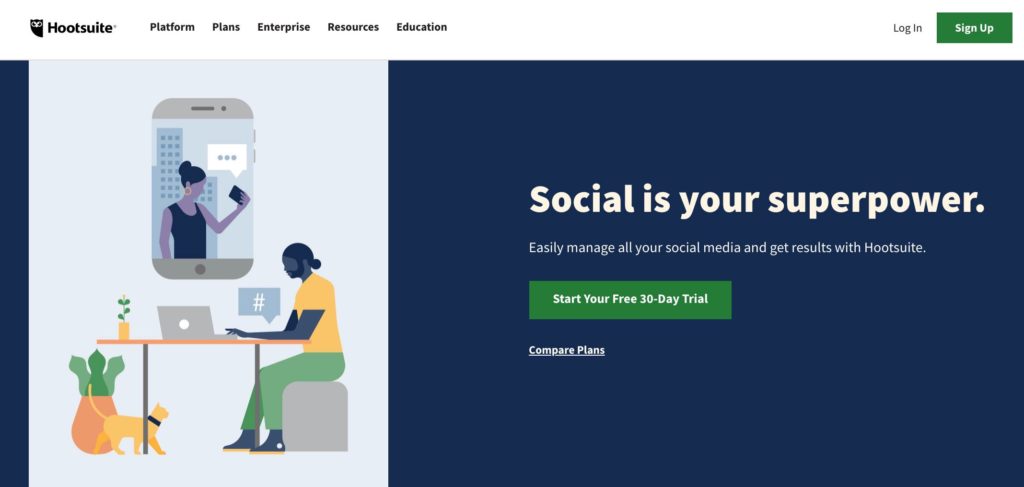 Hootsuite is one of the global leaders in social media management, trusted by 18 million+ users from small businesses to Fortune 500s. It allows you to manage all your social media on one platform easily.
Hootsuite is definitely one of the biggest social media management companies, with over 1000 staff members in 13 locations. Being trusted by employees at 800+ of the Fortune 1000, Hootsuite is one platform that gives you high confidence.
What are the Features of Hootsuite?
Hootsuite offers features in five main areas: Publish, Engage, Advertise, Monitor, and Analyse. Some of the key features are:
Works well with Facebook, Instagram, Twitter, LinkedIn, YouTube, Pinterest, and more
Built-in Planner: an instant overview of published and scheduled content across all your social networks
Composer: access to asset libraries, stock media, image editing, and video publishing. It auto-adjusts to match each network's requirements
Pre-schedule and auto-publish posts
Work with team members seamlessly
An easy-to-use content approval process
Monitor trends and posts performance
Manage inbox
Use chatbots to respond quickly
Integrate with CRM tools
The Hootsuite Ads platform helps you simplify your advertising workflow
Analytics of all social networks from one single place
Calculate ROI and other KPIs
Integration with social listening tools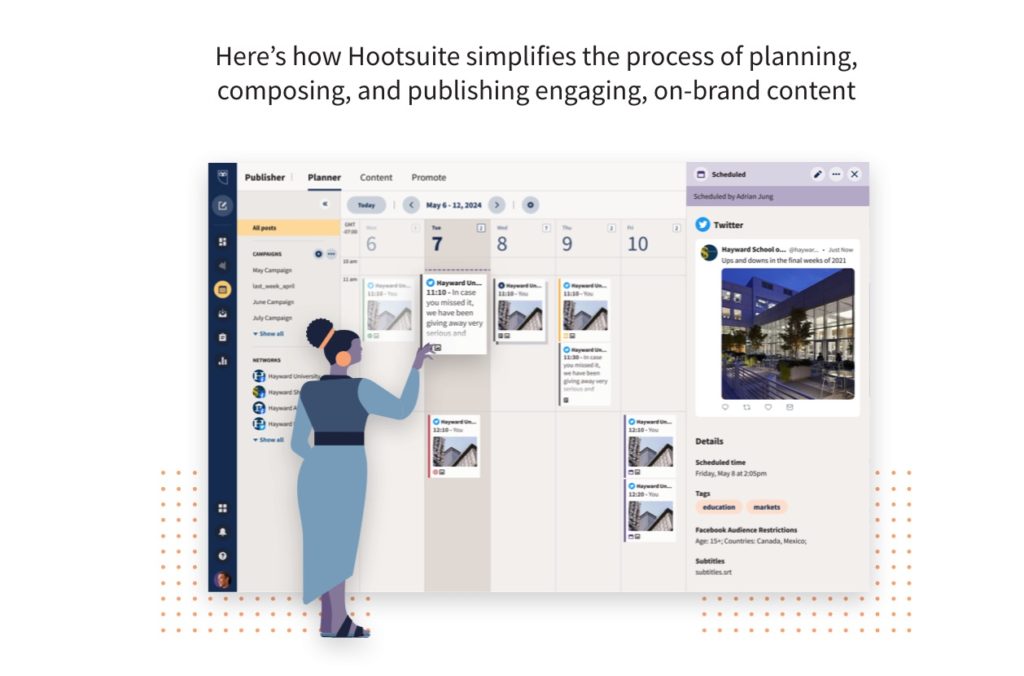 What are the Cons of Hootsuite?
Limited features in the free plan
You can only use the Owly shortener
The collaborative team feature is relatively expensive
How much does Hootsuite cost?
A free plan is available, and paid plans start from $29 per month. There is also a free 30-day trial for each of the paid plans.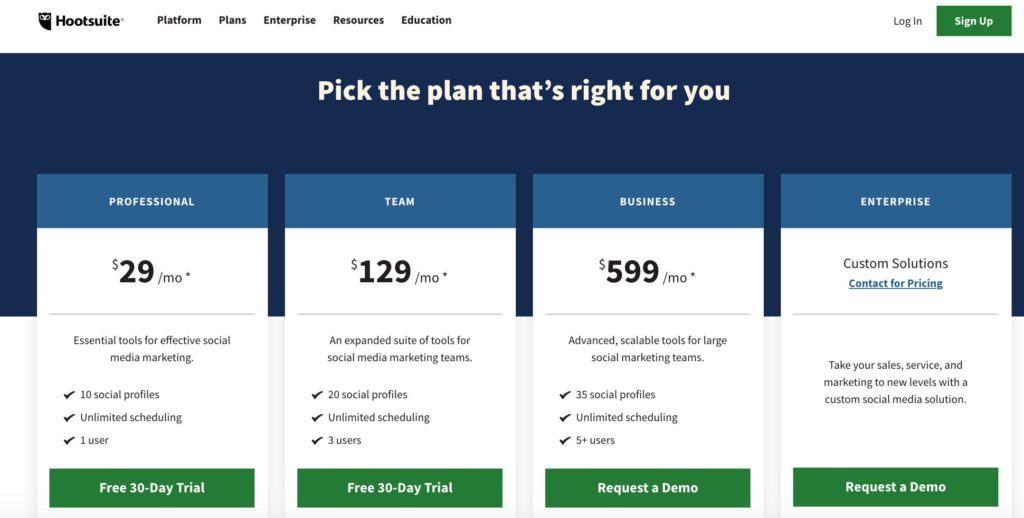 Overall, Hootsuite is best for scalable businesses. It is an excellent social media management tool for small businesses to start with. Since it is already trusted by many of the Fortune 500s, it is well-established to support medium to large corporates.
Sotrender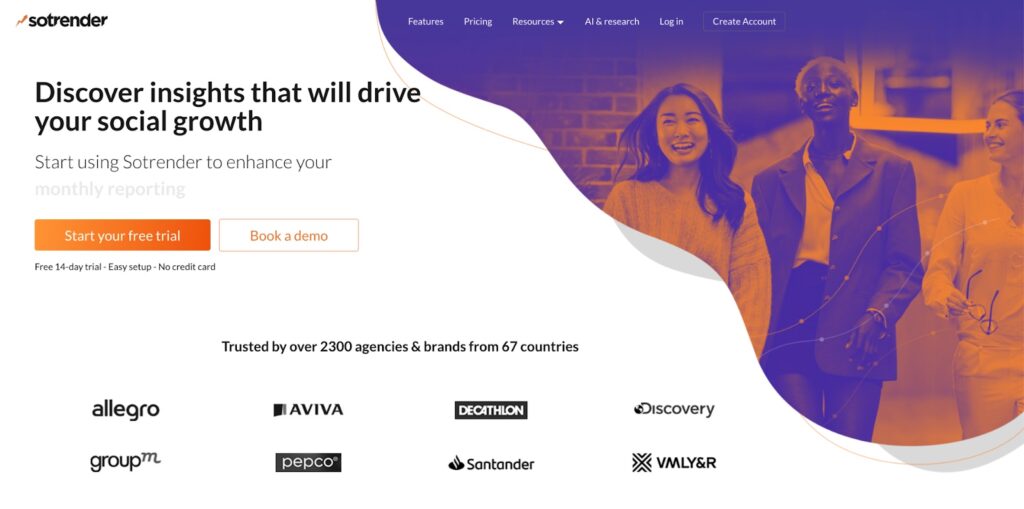 Sotrender helps marketers make informed decisions about their social media communication. Thanks to AI-fuelled solutions and reliable data, analyzing & reporting social media performance can be quick and efficient. As benchmarking is also essential in data-driven marketing, we make it easy to track competitors' social KPIs – both organic and paid.
How can you benefit from using Sotrender?
Sotrender helps to get on track thanks to key marketing metrics presented on readable, easy-to-understand charts. Here are some of its advantages:
Easily accessible marketing data: reach, engagement, users demography, comment sentiment, content overview, and more
Pivotal Facebook, Instagram, Twitter, and YouTube metrics in one place, including historical data
Quick, comprehensive reports that help to significantly decrease the workload and help visibly optimize a marketer's working time
Possibility to benchmark organic or paid company results against selected competitors or the whole industry
Insights into competitors' monthly ad spend and set campaign goals
What are the cons of Sotrender?
Basic packages are limited, so if you want to analyze more profiles, you must choose a higher plan.
Lack of LinkedIn analysis and integration.
How much does Sotrender cost?
The most basic subscription plan starts at just 69 $ per month. For those who want to give Sotrender a try without commitments, there is a 14-day free trial with no card required.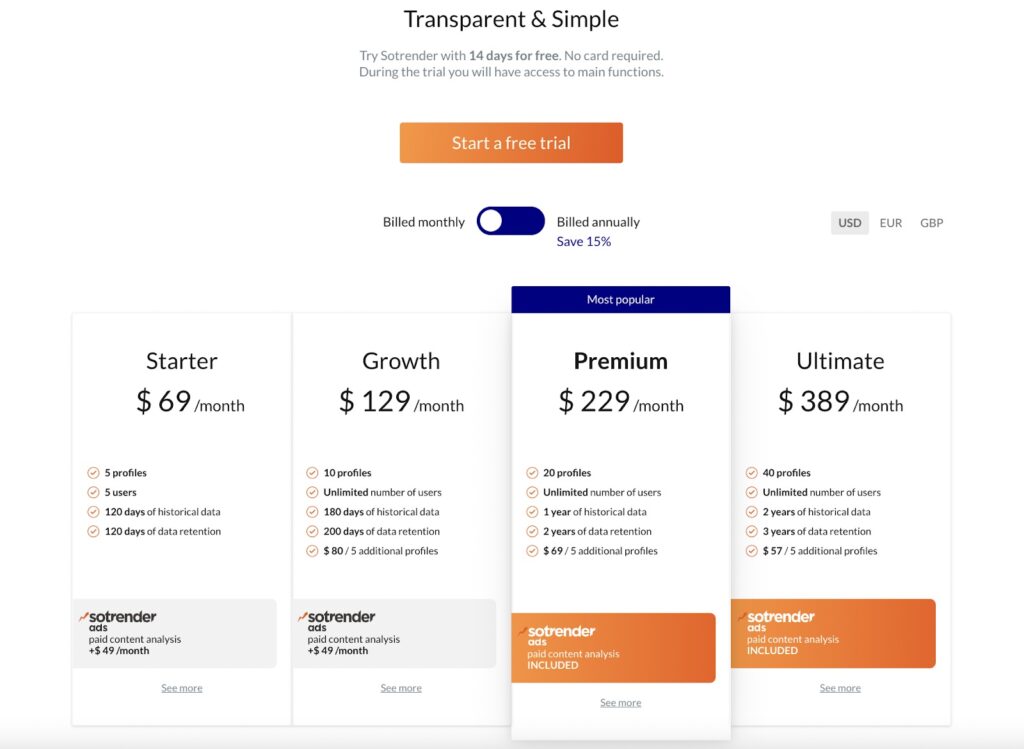 Sotrender is a good fit, especially for marketers and agencies that want to keep an eye on both their paid and organic social media results and save time on data reporting.
Conclusion
Social media marketing has become an integral part of any digital marketing strategy. It offers instant reach to your target audience and allows you to interact with them directly. It is precious in building brand loyalty and reaching a wider audience.
To choose a social media management tool, you must carefully consider your needs and what you hope to achieve with it. Below is a summary of our recommendations:
Many of the tools above come with a free trial. So test them out to help you make your final decision!
Did we miss anything on this list? Let us know what you think in the comment section below!