Did you know that popular YouTube channels, like Typical Gamer can make up to $297K+ per month on YouTube? More YouTube channels are doing the same and earning a decent amount of income from it. And in this article, we'll focus on making money on YouTube without making videos and introducing several possible monetization ways to achieve $1,000+ per month, even for beginners.
If you're yet to create a YouTube channel, check out our practical guide to setting up a successful and profitable YouTube channel.
Ultimately, you'll use free tools like TubeBuddy to identify video demand and YouTube SEO – which we'll delve deeper into.
Now, let's get started!
Compilation Videos
One of the most popular ways is to post compilation videos on YouTube to skip the filming.
How to make a compilation video on YouTube?
A compilation video combines highlights of several clips towards a common theme, such as funny reactions of toddlers and animals, speeches, sports highlights, fails, and more. Compilation videos' titles usually begin with "Top 10 videos". Just do a random search on YouTube, and you'll find tons of them!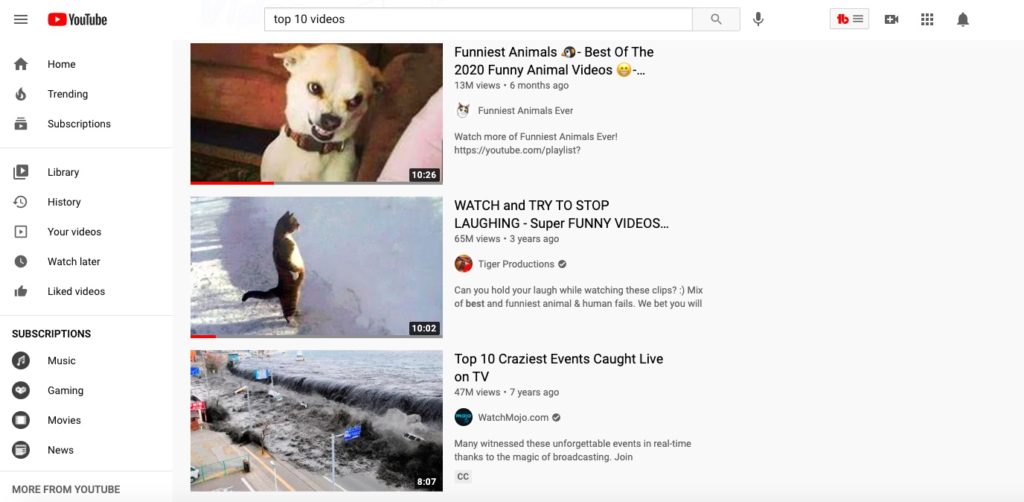 Screenshot of YouTube search result
Enjoy this funny animal clip!
Determines Your Niche
Every popular YouTube channel has a specific niche. So, before you begin, determine a niche for your compilation videos.
Popular Compilation Video Niches to Inspire You
Funny video compilation
We've all watched funny clips that make us laugh in tears like the one above. And funny clips compilation is one of the hottest niches you could consider!
For inspiration, search "Top 10 Funny Videos" and watch these seamlessly merged videos.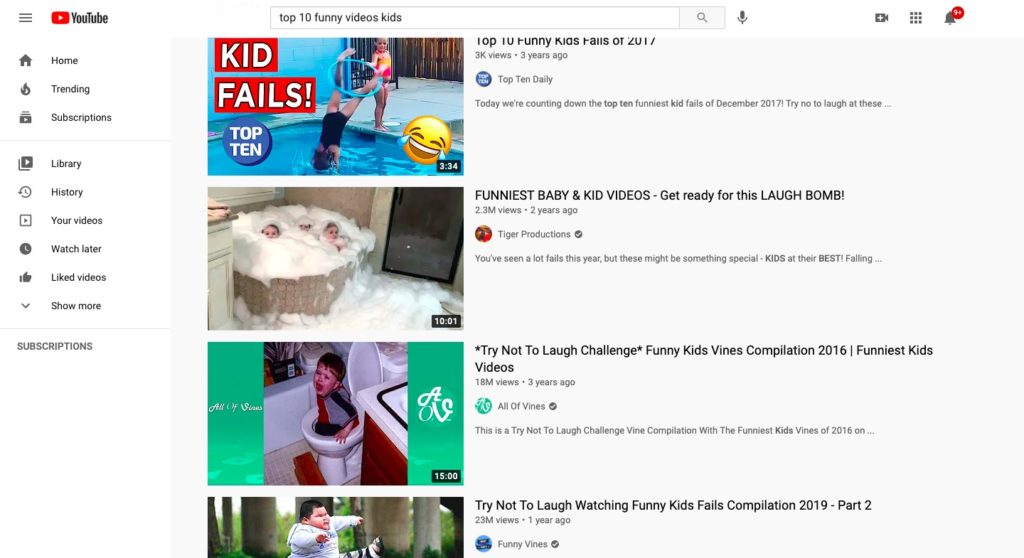 Screenshot of YouTube search result
Funny animal video compilation
Check out this YouTube channel-NoCAT NoLiFE 2. As a popular account with 300k+ subscribers, it compiles funny dogs and cats videos and uploads them to YouTube. Can you imagine how buzzworthy these videos are with over 43M views?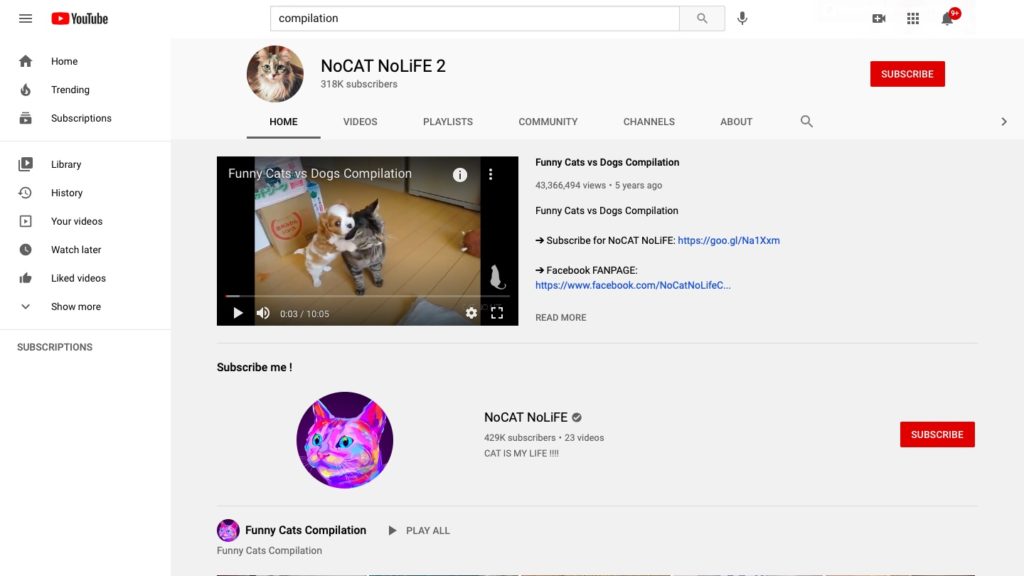 Screenshot of YouTube channel NoCAT NoLiFE 2
Inspirational Speeches
Unlike the above channels, Goalcast is a channel with more than 2M subscribers. It posts a series of inspirational speeches frequently.
This video gathers the top 10 inspirational speeches given by people from diverse backgrounds, like Peter Dinklage and Muniba Mazari. Compared to a single piece of speech, a speech compilation video highlighting the key points could be more powerful to enlighten and motivate viewers!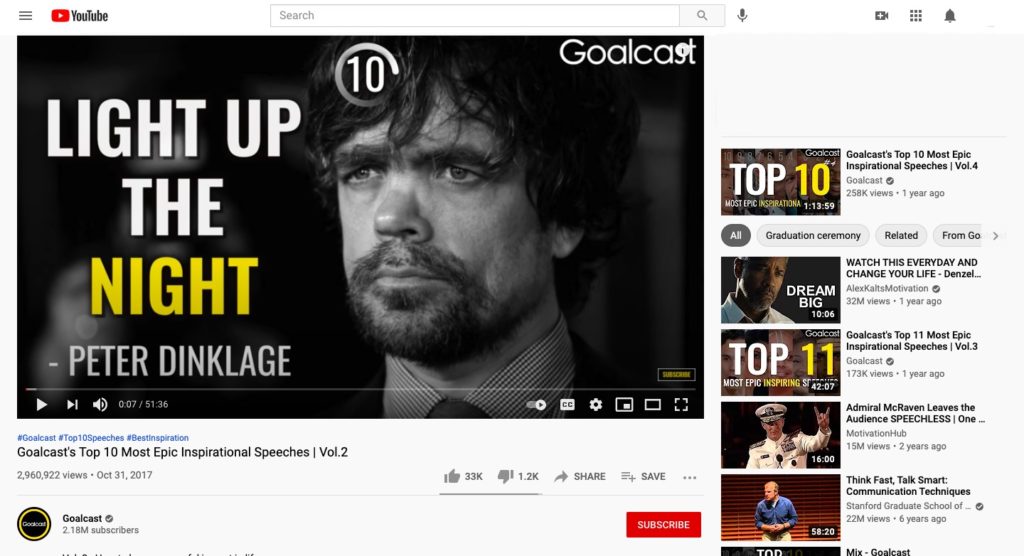 Screenshot of YouTube video
Compilation videos have been a rising trend on YouTube, and they are reaching millions of viewers. Now, take some time to research and find your niche!
Next, you may wonder, where do I find clips for compilation? Here are a few tips for you!
YouTube Creative Commons License
There are videos you can reuse on YouTube. Make sure you've checked the YouTube Creative Commons (CC) license before reusing and monetizing the videos.
What is a Creative Commons license on YouTube?
Creative Commons license, a public copyright license, allows creative works to be shared, reused, and built upon legally.
There are six Creative Commons licenses in total. These three types enable people to use the creations commercially. Just remember to credit the owner for their original work!
Attribution (CC BY): You can distribute, remix, adapt, and build upon the work.
Attribution-ShareAlike (CC BY-SA): You can remix, adapt, and build upon the creation. The adaptations will be under the same license.
Attribution-NoDerivatives (CC BY-ND): You can reuse the work for any purpose. But you can't share the adaptations with others.
The other three are non-commercial licenses, so you can't monetize with the materials under these licenses.
How to find creative commons videos on YouTube?
If you want to search for CC-licensed videos on YouTube, Click Filter > Creative Commons under the search engine. Only licensed videos will appear in the search result.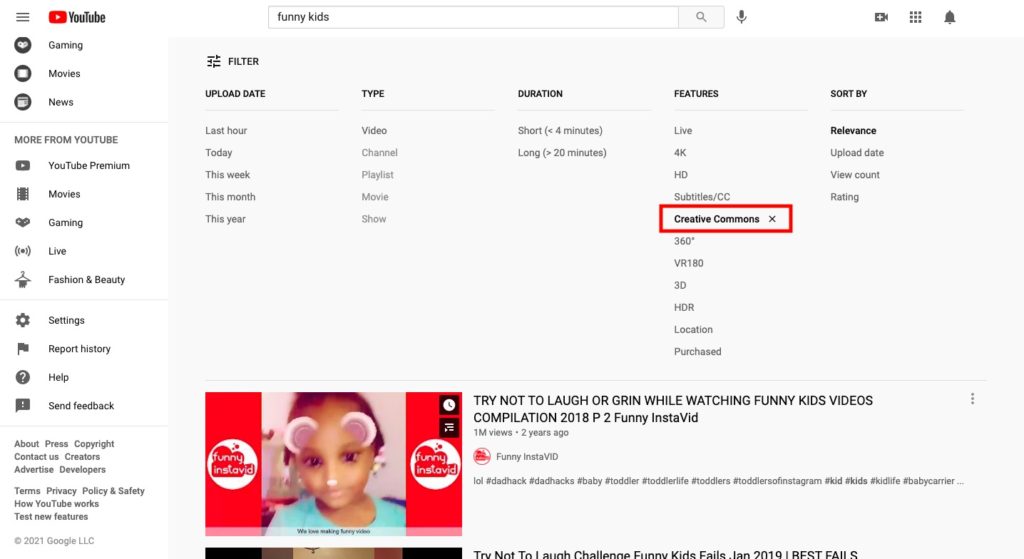 Screenshot of YouTube search engine and filter
Click into the videos to see the license type. The video below has the Creative Commons Attribution (CC BY) license. Hence you can reuse this video to make compilation videos!
Screenshot of YouTube video
Vimeo Creative Commons
Apart from YouTube, you can also find creative commons videos on Vimeo.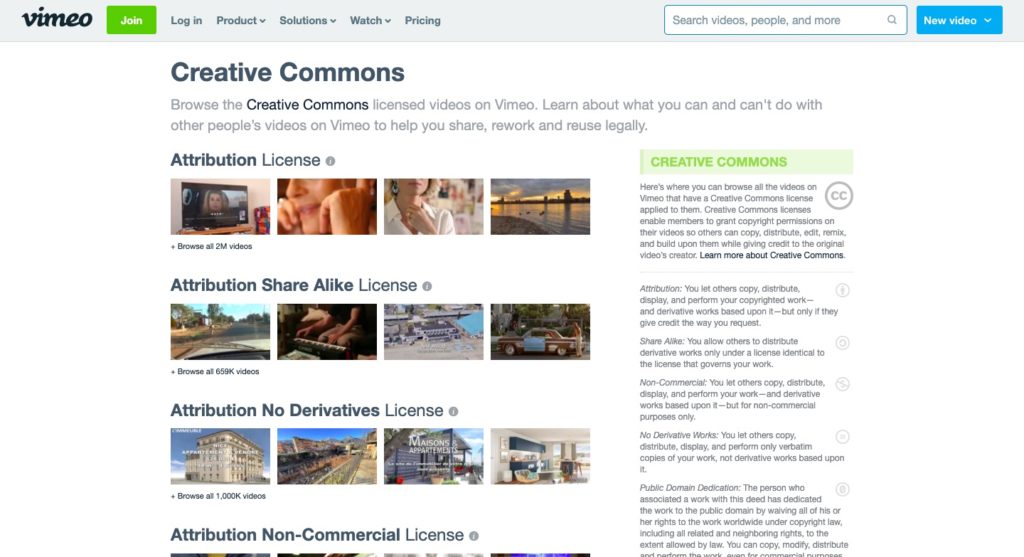 Screenshot of Vimeo
How to Make a Video Compilation
After determining your niche and sourcing suitable videos, trim the highlight 10-30 seconds of each clip and merge them to create a compilation video! There are several video compilation makers you can use. And we introduce the best video editors in another article here.
Video compilation maker
Clideo is an online video editing tool for merging clips. Simply upload the videos from Google Drive or Dropbox, then you can trim and combine the clips in a few steps!
You can use the free trials and it costs $6 per month to enjoy merging unlimited videos.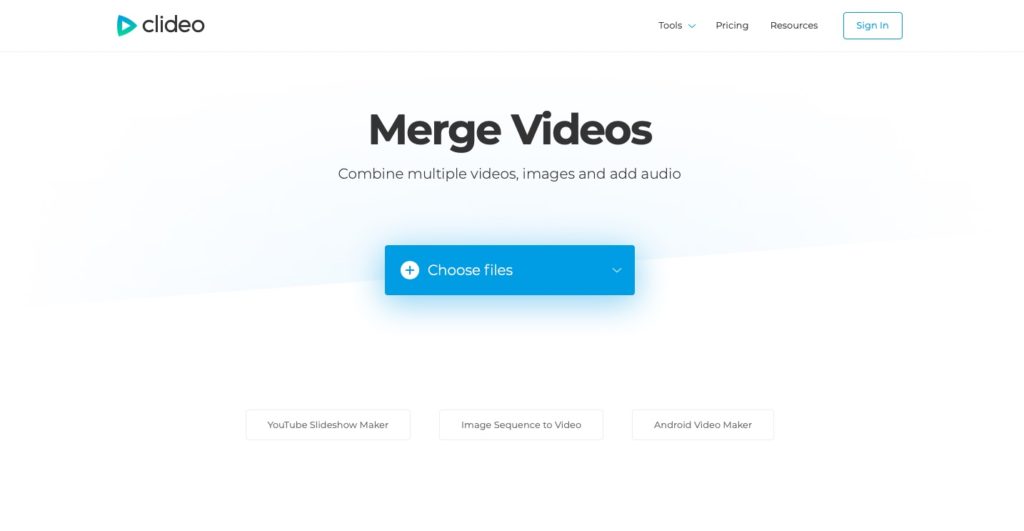 Screenshot of Clideo
Free video compilation maker
If you're using Mac, you can simply use the built-in video editor, iMovie, to merge your videos! The drag-and-drop interface allows you to combine the clips easily.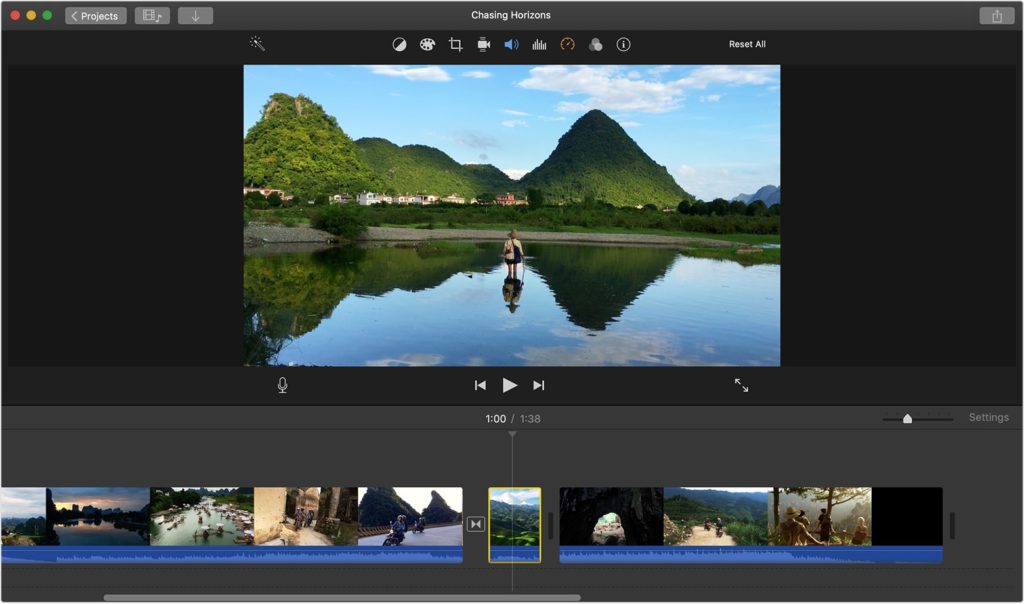 Screenshot of iMovie
Upload Videos to YouTube
Next, go to YouTube and click your icon at the top right corner. Press upload videos after entering YouTube Studio. Make sure you include an intriguing title, thumbnail, and description to attract viewers. Don't forget to include the CC license if applicable! Check out our guide to starting a profitable YouTube channel for more details.
YouTube Live Streaming
Live streaming has been a growing trend on social media platforms. You can find a variety of live streaming content like gaming and talk shows on YouTube.
YouTube channels that live stream weekly can gain up to a 40% increase in subscribers and a 70% increase in watch time, according to YouTube Creator Academy. With more viewers, you can monetize with YouTube ads and Super Chat!
How to do live streaming on YouTube
To begin with, you'll need to figure out what to live stream and the equipment you need. The equipment part is easy – all you need is just a laptop, a stable internet connection, and a camera!
Best streaming cameras
You may consider the Angetube Streaming Webcam. With advanced auto-focusing and the adjustable built-in ring fill light, your face can be shown clearly on the screen to provide a better experience for your viewers. It's an affordable solution for beginners!

Demonstration of Angetube Streaming Webcam
Check out another popular webcam choice: Logitech HD Pro Webcam C920. It supports HD 1080p video and is compatible with both Windows and Mac. Together with the dual built-in mics, you can ensure everyone will hear you.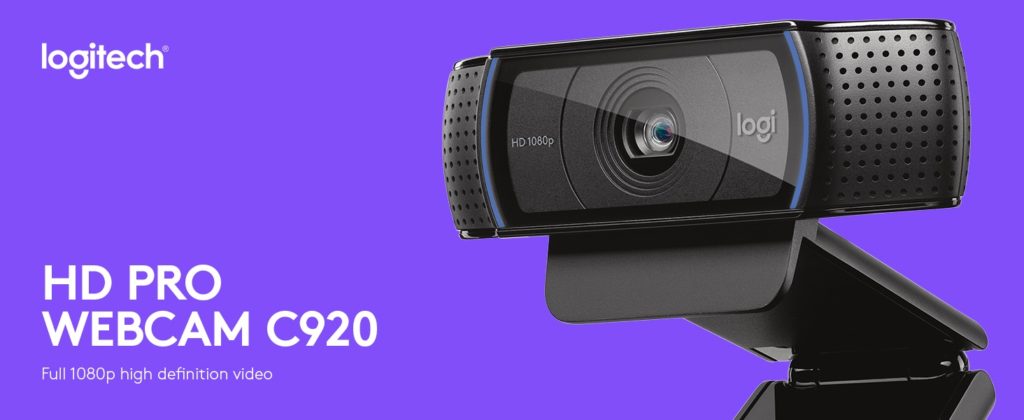 Product picture of Logitech HD Pro Webcam C920
Are you looking for more advanced cameras? Try out Sony Alpha a6000 Mirrorless Digital Camera! You can easily set up the camera to broadcast live streams on YouTube.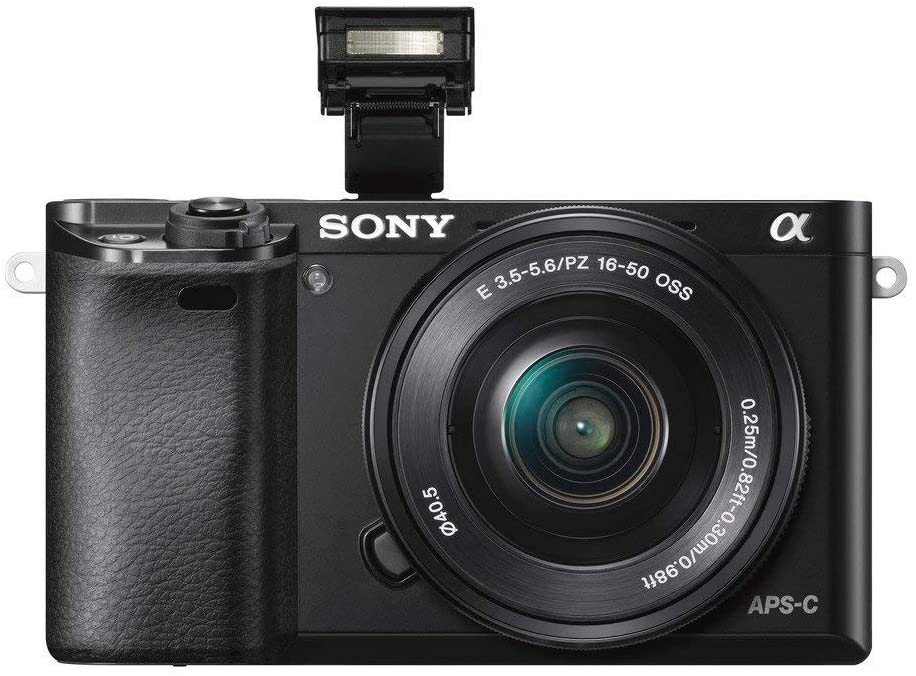 What to live stream on YouTube
Video game streaming
Preparations for video game streaming
The essential tool for video game streaming is the device for playing the game and broadcasting. You'll also need a camera and a microphone for showing your face and real-time interacting with viewers.
Of course, do practice playing the games skillfully before streaming! And it's best to stream more popular games like Minecraft, Garena Free Fire, and PUBG to attract more viewers.
Set up your broadcast
Then you'll need broadcast software for streaming. Streamlabs is an excellent tool for creating and designing the streaming screen layout that includes both the game and webcam feed. Make sure your face doesn't cover the essential parts of the game!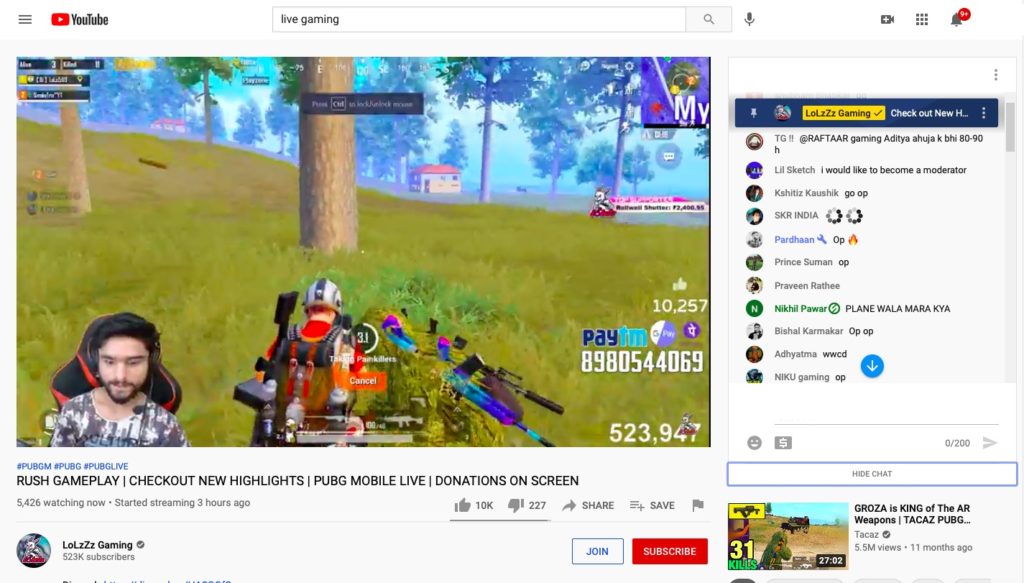 Screenshot of YouTube video
You can see both the game scene and the YouTuber's face on the screenshot above. The live chat box at the right allows live engagement with your viewers and attracts more views. Besides, you can also earn from fans' fundraising using donation codes on the right!
Live streaming commentary
Aside from game streaming, commentary has become a hit for live streaming. For example, People's Pundit Daily makes news and political commentaries, and viewers can reply immediately in the real-time chat box.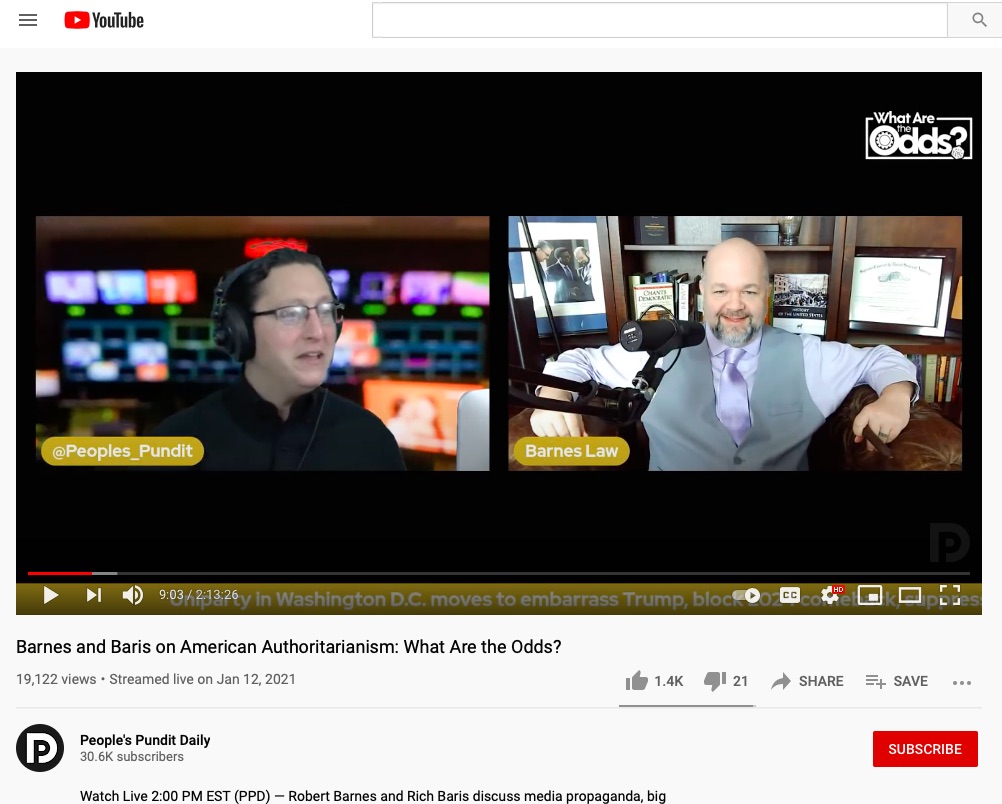 Screenshot of YouTube video
"Study/ work/ eat with me" live streaming
Do you feel unmotivated while studying or working? Or feel lonely when you dine alone? Be the live streamer and let viewers accompany you to study, work, and eat!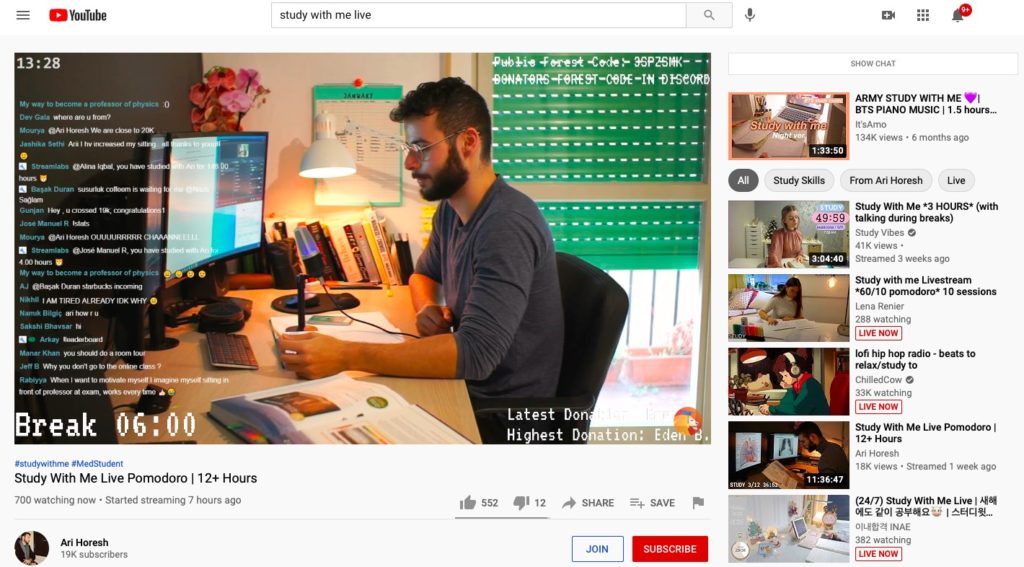 Screenshot of YouTube video
Earn from live streaming ads and fans fundraising
There are three types of live streaming ads: pre-roll ads before the live stream starts, mid-roll ads during the live stream, and display and overlay ads. To enable ads during live streams, simply tap insert ad at the live stream interface's top right corner.
As mentioned previously, you can also earn from fans' fundraising by including a donation link in your live stream.
How to Enable Monetization on Youtube
You have to enroll in the YouTube Partner Program (YPP). The program gives you the rights to share revenue from ads added to your videos. There are requirements and rules you have to meet to enable monetization on YouTube.
YouTube monetization requirements
First, follow the YouTube monetization policies. YouTube will review your channel in the following criteria: main theme, most viewed videos, newest videos, the proportion of watch time, and video metadata like titles, thumbnails, and descriptions.
YouTube monetization rules
More than 4,000 valid public watch hours in the last 12 months.
More than 1,000 subscribers.
Have a linked AdSense account.
Apply for the YouTube Partner Program
Follow the steps below to apply for the YouTube Partner Program:
Sign in to YouTube.
Click your icon at the top right corner > YouTube Studio.
In the left menu, click Monetization > Notify me when I'm eligible.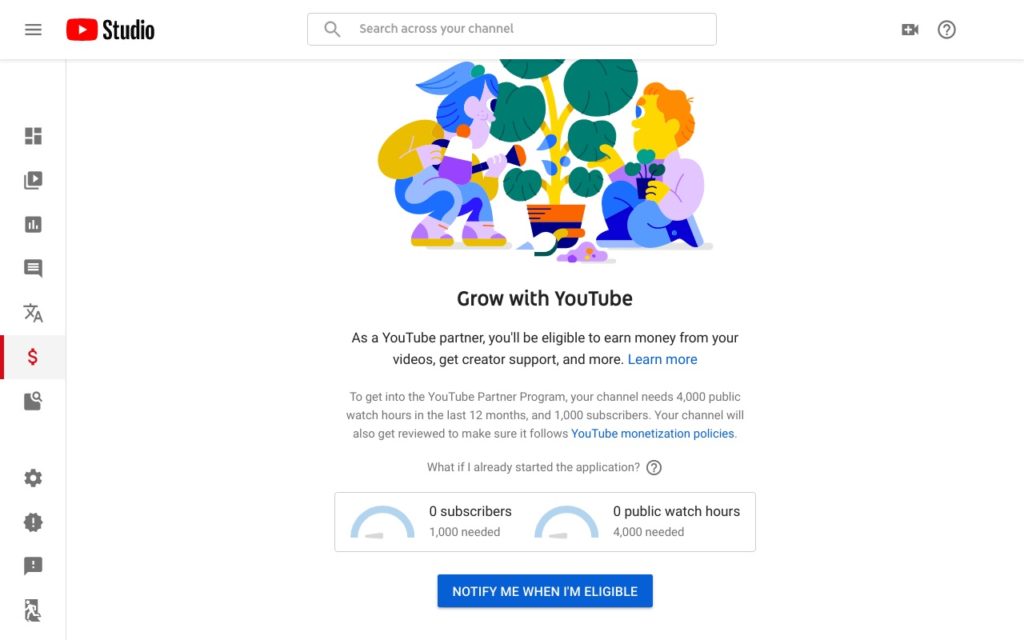 Screenshot of YouTube Studio
Youtube will notify you when you meet the requirements of 1,000 subscribers and 4,000 watch hours in the past 12 months.
After completing the above procedures, you'll get reviewed by YouTube. Once you're accepted, You can set up ad preferences and enable monetization!
How much money can you make on YouTube?
Cost Per 1,000 impressions (CPM) is a crucial metric to calculate revenue. It means how much advertisers spend to obtain a thousand ad impressions.
In the third quarter of 2019, the median CPM on Youtube was around $7.5.
But keep in mind that there's a 45/55 split between YouTube and video creators. It means that video creators can earn 0.55 per dollar of CPM.
Many factors affect the CPM, including locations, video niche, Adblock, etc.
You can roughly estimate how much you can earn daily with the formula below.
Daily views x CPM/1000 x 55% = Estimated daily earnings
Besides, you can use tools like YouTube revenue calculator to estimate potential earnings. Note that the number estimated doesn't take into account YouTube's cut.
Let's estimate the revenue of a popular compilation channel, Funny Babies and Pets.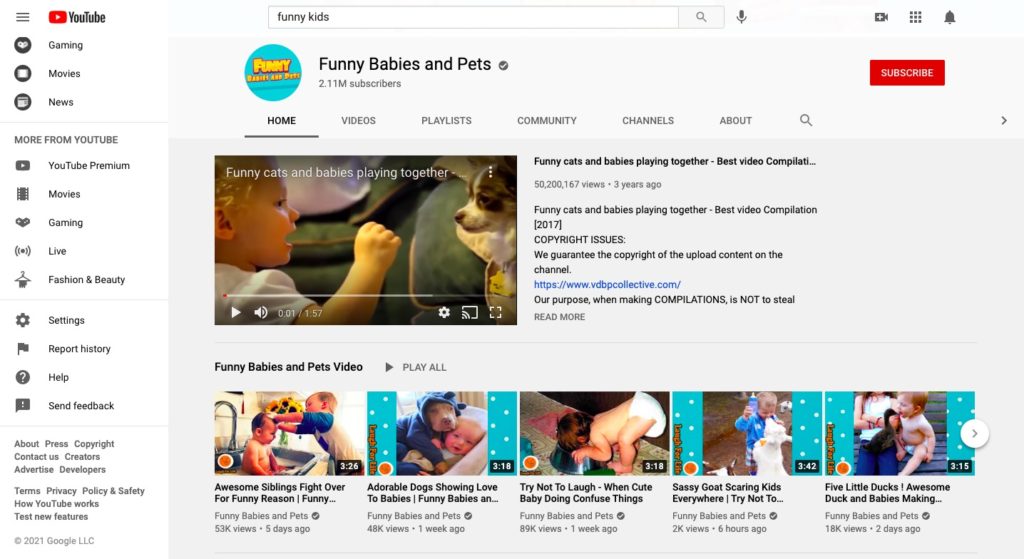 Screenshot of YouTube channel Funny Babies and Pets
It has accumulated over 2M subscribers and 789M total views. Total estimated earnings from ads amounted to over $1.48m!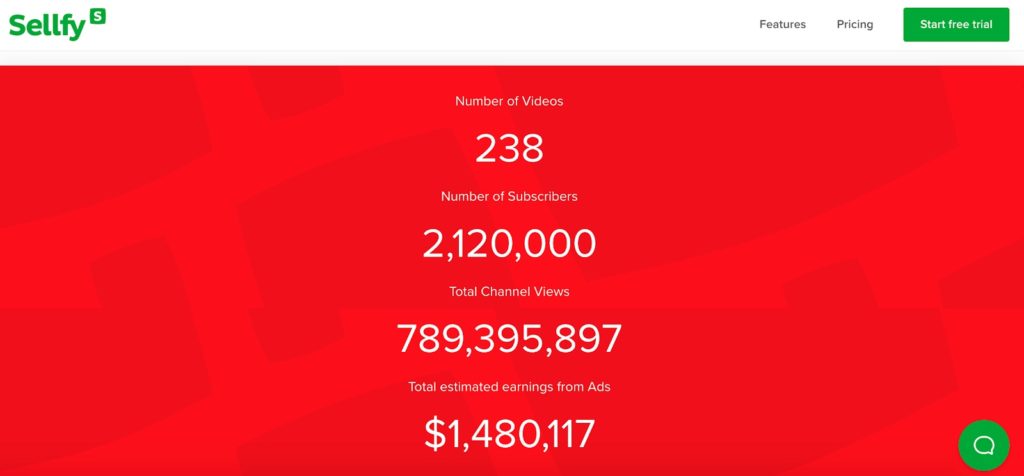 YouTube SEO – The Secret to Boosting Views
You may have heard of SEO, which stands for search engine optimization. In other words, it enhances your site's visibility when people search for relevant keywords.
Many people aren't aware that YouTube is a video search engine. So the right YouTube SEO techniques would allow your videos to be prioritized in the search result and gain more views!
YouTube SEO tools
Many keywords can be associated with your videos. But which keywords should you use? Use YouTube SEO tools like TubeBuddy and VidIQ to identify the most frequently searched keywords relevant to your video!
TubeBuddy is a free browser extension and mobile app that can be integrated into YouTube directly to better run your YouTube channel. VidIQ is similar, so it's really up to you to compare their extra features and decide which to use. Or you can try both – since both offer free versions!
How to do SEO for YouTube videos?
In the SEO world, we tend to find keywords with higher volume and lower competition. Volume means the number of monthly searches a particular keyword has gained.
The word, funny pets, has a high volume of 85.6K in a month. Unfortunately, it's quite competitive since there are countless videos in search results.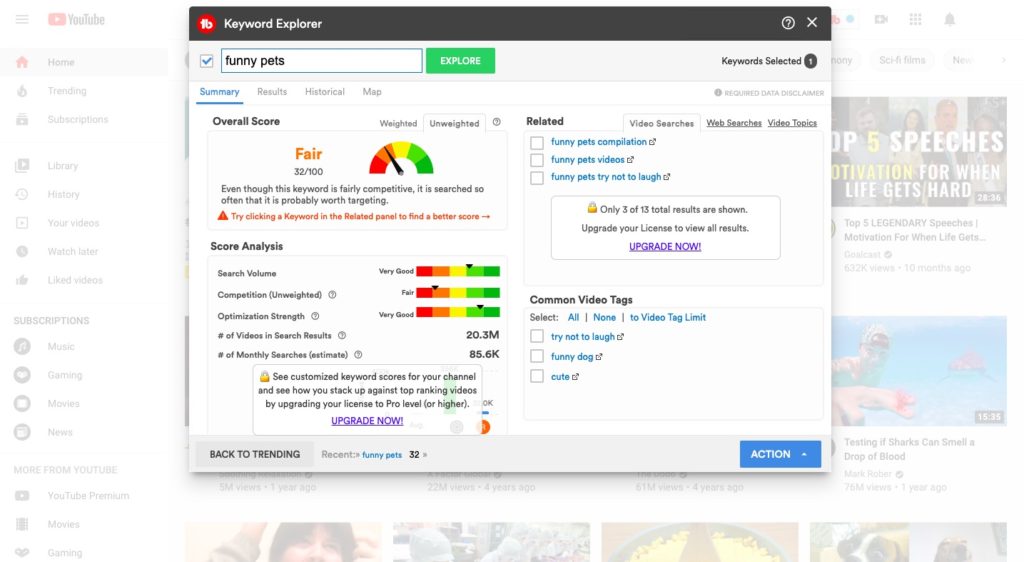 Let's try another keyword, "funny pets videos." It performs better since it gets a bit more specific. Although it has 30K fewer searches, the competition is less intense. You should try to target long-tail keywords where the competition is less fierce.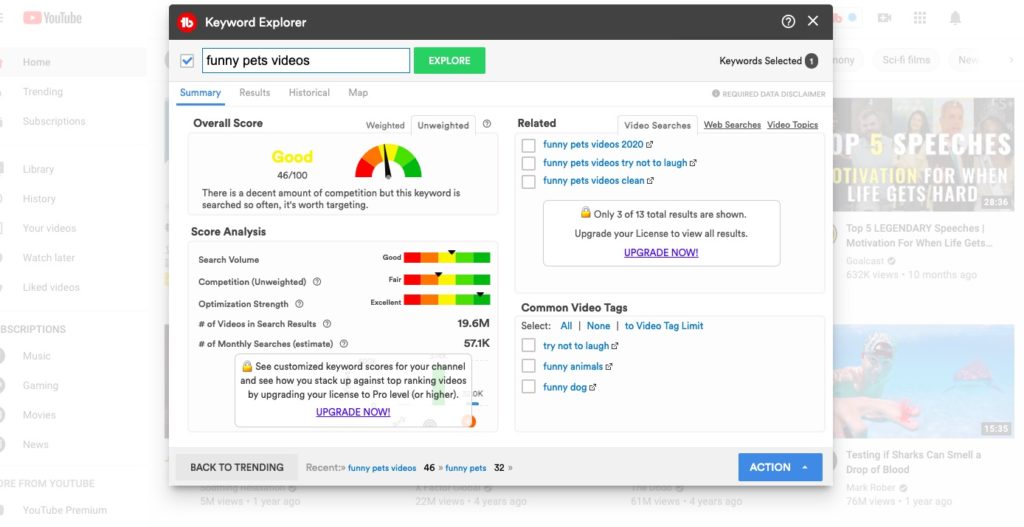 Screenshot of TubeBuddy
With TubeBuddy, you can compare similar keywords to find the best one for your video title and file name!
Include target keywords in the file name
YouTube algorithms can review your file names. They prioritize videos with relevant keywords in the first-page search result. Therefore, you should check if the file is well-named before uploading your videos. Avoid numbers in the file name like IMG18732.MOV and replace them with relevant keywords.
For instance, if the video is a funny cat compilation, name your file as funny-cat-compilation followed by the file type such as MOV or MP4.
Include target keywords in the video title
Similarly, you should include the target keywords in your video title. So your videos will show up when people are searching for relevant content.
Add relevant tags to the description
YouTube also read the video description. So you should add relevant tags in the description box. But don't abuse the tag function since YouTube will penalize users for adding irrelevant tags!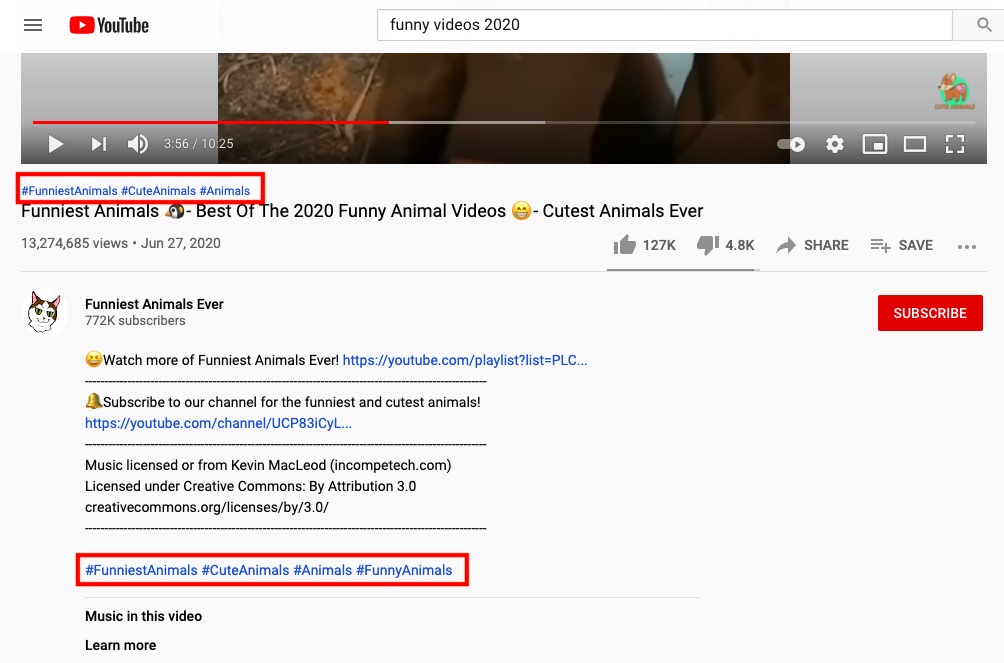 Screenshot of YouTube video showing tags
Conclusion
YouTube is a large community that presents tremendous potential. There are many ways you can make money on YouTube even without making videos! Besides YouTube ads, you can join affiliate programs like Share-A-Sale and Awin to insert affiliate links in the video descriptions and earn commissions. Here are the best affiliate programs which are high paying for beginners, and you can join today!
Further read:
10 Ways to Make Money Online Right Now (US$10k+)
How To Start A YouTube Channel For Beginners (Profitable)
How To Make Money On TikTok: 8 Proven Ways In 2022