Implementing the right chatbot on your website can improve customer engagement and drive sales by providing instant responses to customers' questions and attending to their needs.  
This article provides a comprehensive analysis to let you choose the best chatbot for your business and website. Keep reading, and you'll find the 15 best chatbots for your website to drive sales.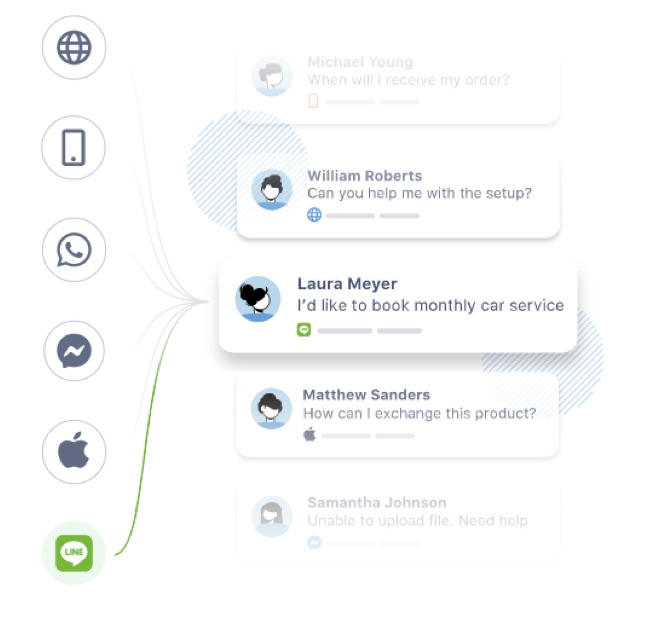 Freshdesk Messaging
Freshdesk Messaging (Previously known as Freshchat) is a customer messaging application developed for sales and customer service teams to engage with customers and leads. It's the best free chatbot provider.
Try Freshdesk Messaging for Free here! No credit card is required.
Pros of Freshdesk Messaging
Clean UI and UX
One good thing about Freshdesk Messaging is its clean, attractive, and aesthetic user interface. The backend dashboard is user-friendly, and the training is self-explanatory, so you can set up and design everything on your own effortlessly.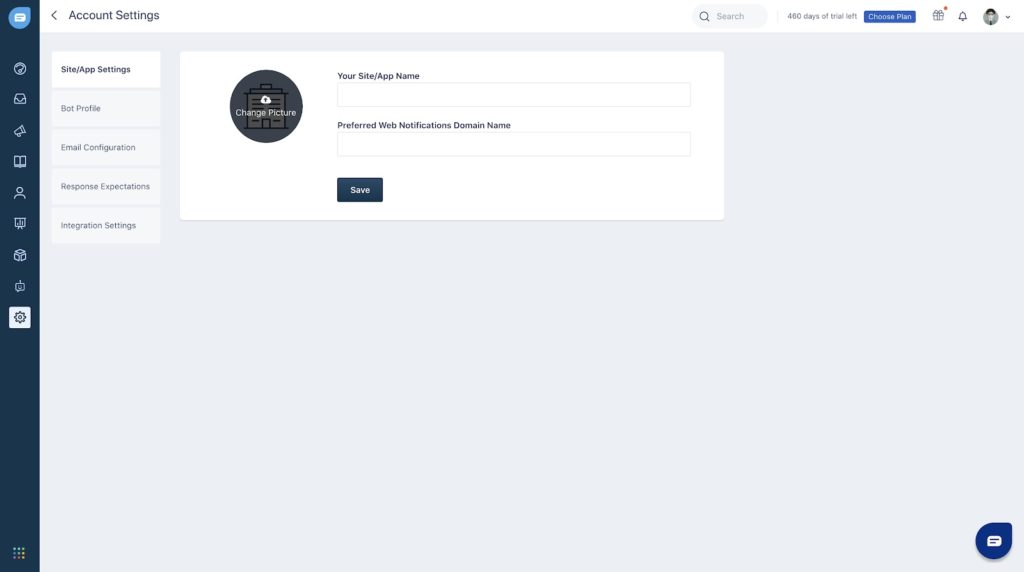 Apart from the clean UI, you can manage live chat conversations from both computers and mobile devices, including Android and iOS. So you can chat with your web visitors on your phone.
Priority inbox with customer timeline
Freshdesk Messaging offers a priority inbox that prioritizes conversations. There are three priorities: First response due, response due, or no response due. You can know who has been waiting and prioritize responses efficiently.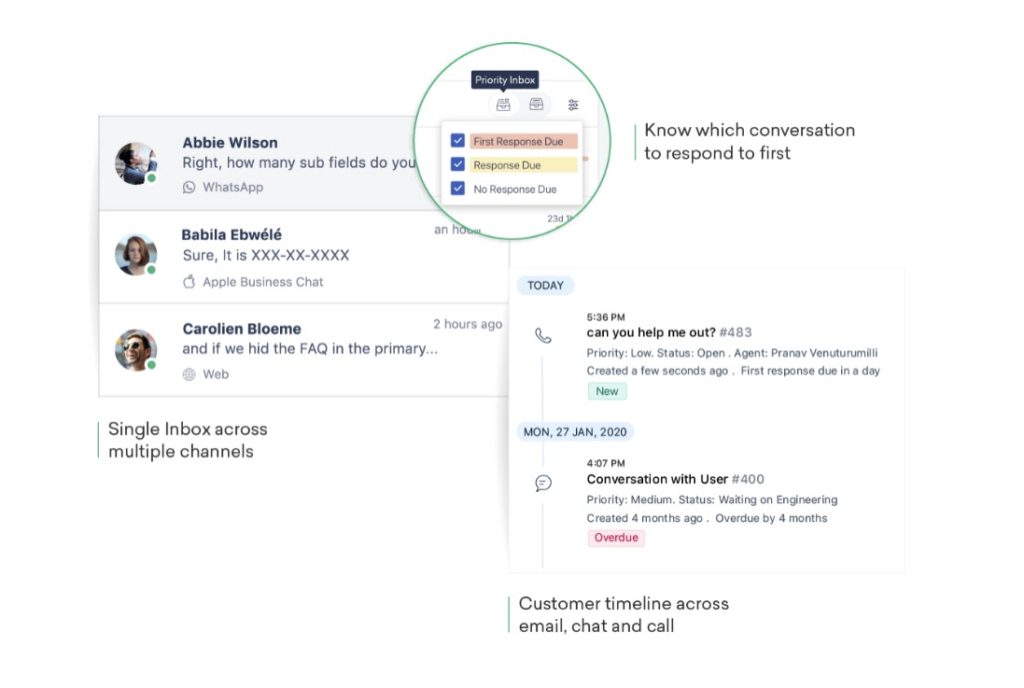 Cons of Freshdesk Messaging
Notification issues
When admins have switched to another chat tab, notifications of new messages may not pop up. You need to enable in-app notifications in the Notification Settings to resolve this issue.
Freshdesk Messaging Pricing
Sprout Plan (FREE!)
The plan provides a free chatbot with basic features like notifications, inbox views, topics that connect users with the right teams, and bulk actions. It's best for beginners.
Blossom Plan ($15/ month)
It provides additional functions like priority inbox, canned responses, user segmentation, basic dashboard, and more integrations. It's best for small teams.
Garden Plan ($29/ month)
More features revolving around customers like CSAT survey and report are available. It's best for growing teams.
Estate Plan($45/ month)
This is the most popular plan, which offers more professional features like an advanced dashboard and automation. It also provides live translation and multilingual support. Additional functions for the teams, including agent availability report and IntelliAssign are available.
Forest Plan($69/ month)
It enables users to build their analytical chatbots. It also offers allowances for IPs and domains.
*Prices are based on annual payment.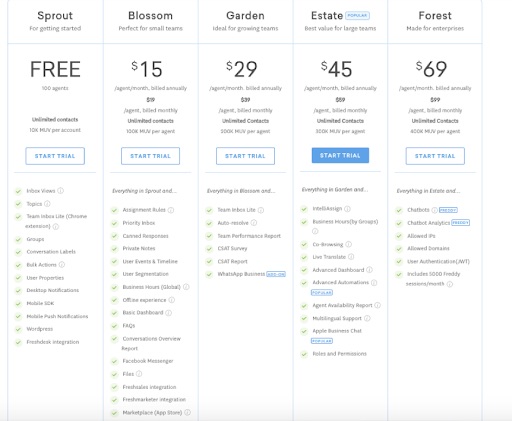 Freshdesk Messaging: Best for Businesses with Sales and Customer Service Team
Freshdesk Messaging can help your team organize customer conversations efficiently and boost conversion rates. It is the best choice for companies with existing sales and customer service teams.
Try Freshdesk Messaging for Free here! No credit card is required.
RightMessage: Chatbot for Personalized Marketing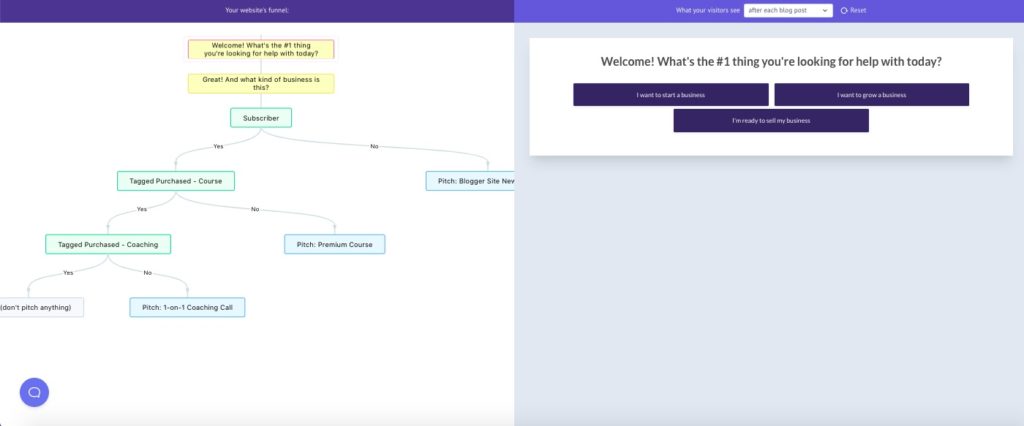 A demonstration of a funnel in the website made with RightMessage (left) and how it presents on the web (right)
RightMessage is a Chatbot software that enables companies to implement personalization marketing and understand their customers more.
Try RightMessage for free here! No credit card is required.
Pros of RightMessage
Personalization
Its Website Personalization Engine offers a personalized website experience through dynamic data and stores information about the visitors to recommend content that best fits them.
Visitors analytics
Additionally, it provides in-depth analytics of the audience. RightMessage can identify visitors' demographics, such as their industries, business, and job roles. So you can learn about the conversion rate across visitor's demographics.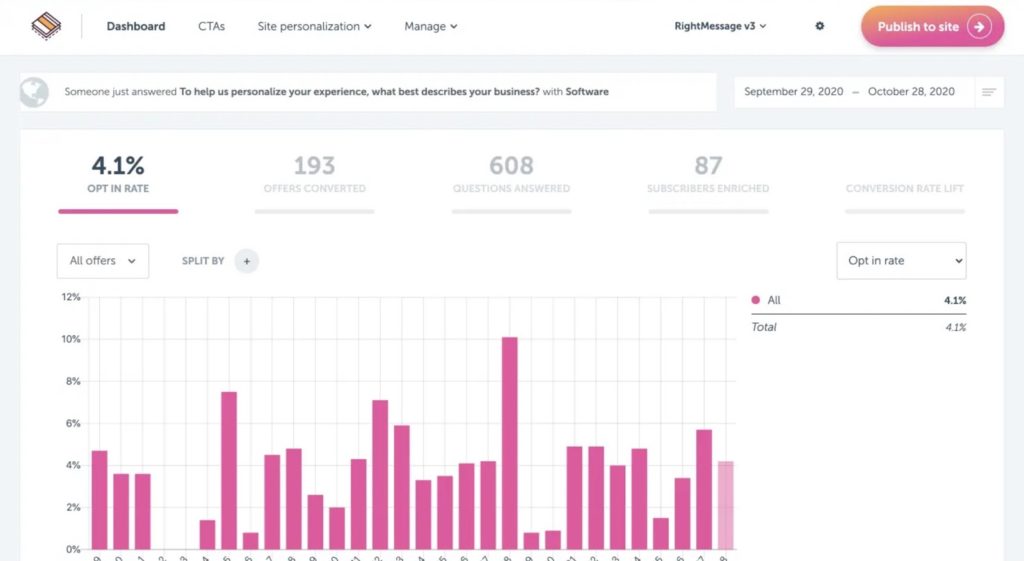 Cons of RightMessage
Limited integration
RightMessage provides limited options CRMs and marketing software integration. Some available integrations are Drip and HubSpot.
Limited personalization in the free plan
Another drawback is the relatively high price. Personalization is exclusive to the premium plan, which may be more expensive than other chatbot builders.
Pricing Plans of RightMessage
The price varies with the number of unique visitors. What differs between the two plans is the most prominent feature of RightMessage: personalization. The Personalise Plan, which costs $100 more, offers personalization for anything on the website.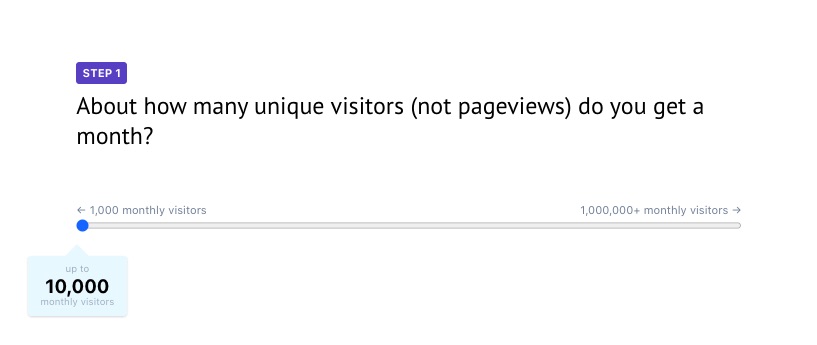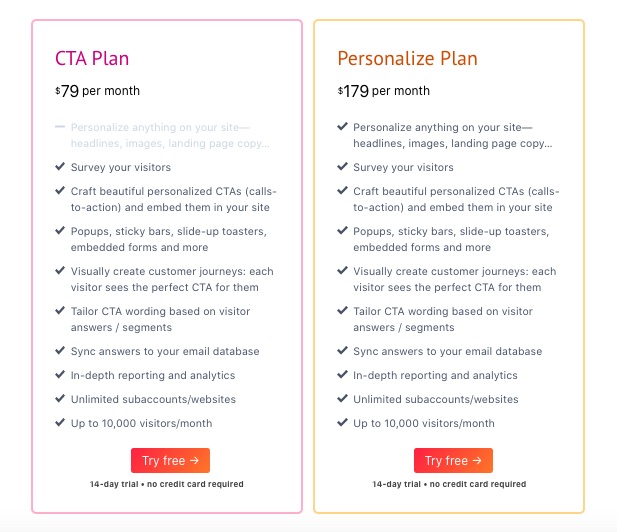 RightMessage pricing plans
RightMessage: Best for Businesses Eager to Generate Leads
Businesses that are eager to generate leads and boost sales by providing a more personalized experience for visitors can use RightMessage to build their chatbots.
Try RightMessage for free here! No credit card is required.
LiveChat: Affordable Helpdesk Solution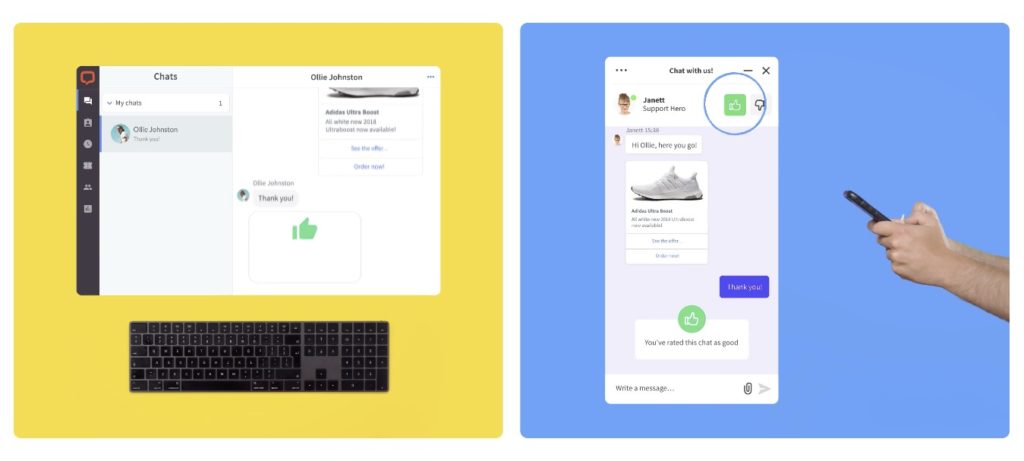 LiveChat
LiveChat is an application for live chats on websites to generate more leads. It encourages rapid and real-time conversations with on-site visitors.
Pros of LiveChat
Easy to use
The attractiveness of Livechat is its simplicity and ease of deployment. You can easily deploy the chatbot on your website by copying and pasting the HTML code to your website.
You can also use it across multiple channels like Facebook Messenger, Apple Business Chat, emails, and websites. So you can manage all conversations with customers in one place.
Fast response with messages sneak peek and canned responses.
You can see what your customers are typing before they send you the message. In the meantime, LiveChat provides handy canned responses for users to prepare for answering the questions and prevent delays.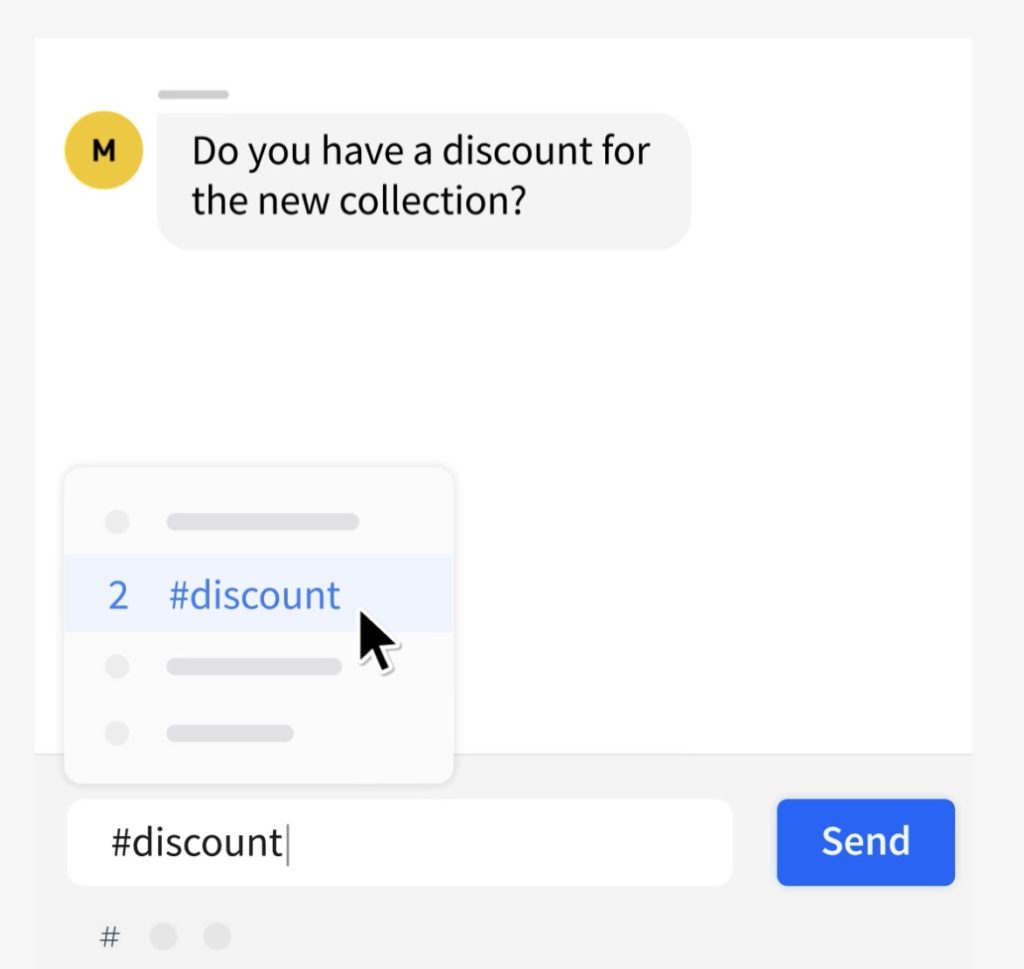 Additionally, responses for frequently asked questions are stored, so you don't need to type the same answer again.
Cons of LiveChat
Connection issues
The application relies much on a stable internet connection. It is reported that lagging sometimes occurs so that users may experience a longer waiting time.
Requires staying online
Since LiveChat is more of a helpdesk solution than a chatbot that's available 24/7, customers can only leave you a note when you're offline. It might be frustrating for some customers who want an instant response.
Pricing Plans of LiveChat
Starter Plan ($16/ month)
It keeps chat history for up to 60 days. There's also necessary widget customization, like changing the theme and color of the chat widget.
The plan also offers a ticketing system to track cases and handle messages offline.
Team Plan ($33/month)
It keeps a complete chat history, provides full widget customization, basic reporting, and multiple branding. It enables agent groups to send customers to the right agent.
Business Plan ($50/month)
It offers additional features like staffing prediction and work scheduler for better human resourcing.
Enterprise (Custom price)
More support is provided, such as having a dedicated account manager to run your LiveChat, product training, software engineer support, and security assistance. It's best for large corporations.
*Prices are based on annual payment.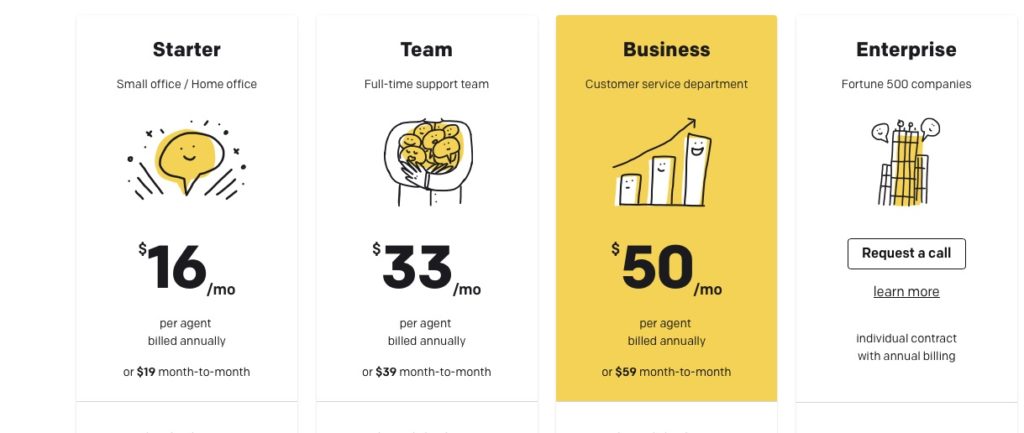 LiveChat pricing plans
LiveChat: Best for Businesses that need an Easy-To-Use Helpdesk Solution
LiveChat is an excellent option if you're looking for an affordable, easy-to-use, and efficient help desk solution.
ChatBot: Comprehensive AI Chatbot to Integrate with LiveChat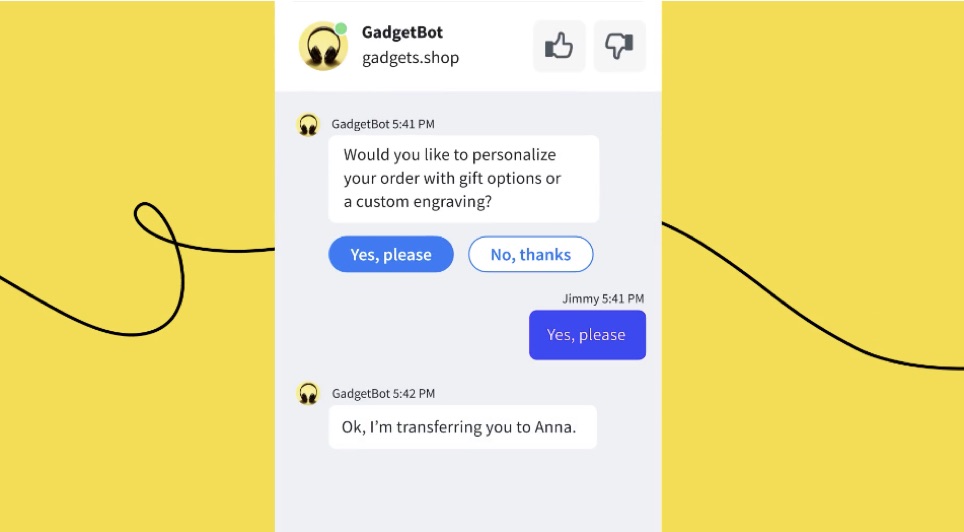 ChatBot
ChatBot is an application for building AI-based conversational chatbots. It helps with personalized marketing and increasing sales, as well as optimizing customer support.
Pros of ChatBot
Integration with LiveChat
ChatBot and LiveChat are a perfect combination to provide a seamless communication platform between customers, chatbots, and agents.
Customers first talk to the chatbot for simple and basic questions and are transferred to the right department if they need more help. It's powerful when humans and AI collaborate to establish a customer service platform.
Improve from chats to chats
Since the chatbot is AI-powered, it's able to learn from conversations. In the beginning, it may not be able to recognize unfamiliar words. But there are custom fallback messages so the conversation can continue naturally.
Besides, ChatBot collects unrecognised phrases and can be added to the conversation flow.

Cons of ChatBot
Limitation to answer complex questions
The chatbot is only able to respond to simple queries from customers. When encountering more complex questions that a chatbot could have handled, it may forward it to a human agent.
For example, the chatbot may keep asking for more clarifications when web visitors want to schedule an appointment. So the conversation isn't fluent enough without the customer service team.
Pricing Plans of ChatBot
Starter Plan ($50/ month)
The plan provides one active chatbot with an unlimited number of conversation scenarios. It offers training based on seven-day chat history. Essential reporting, data security, and all integrations are available.
Team Plan ($149/ month)
The plan provides five active chatbots and training based on all chat history. Advanced reporting, team collaboration, and smart actions for user segmentation are available.
Business Plan ($499/ month)
The plan provides unlimited chatbots, personal onboarding, and premium customer support by experts. It also offers security assistance on top of data security.
Enterprise Plan (Custom price)
It offers a dedicated account manager and assistance in chatbot building to help set up everything. Custom integrations are available.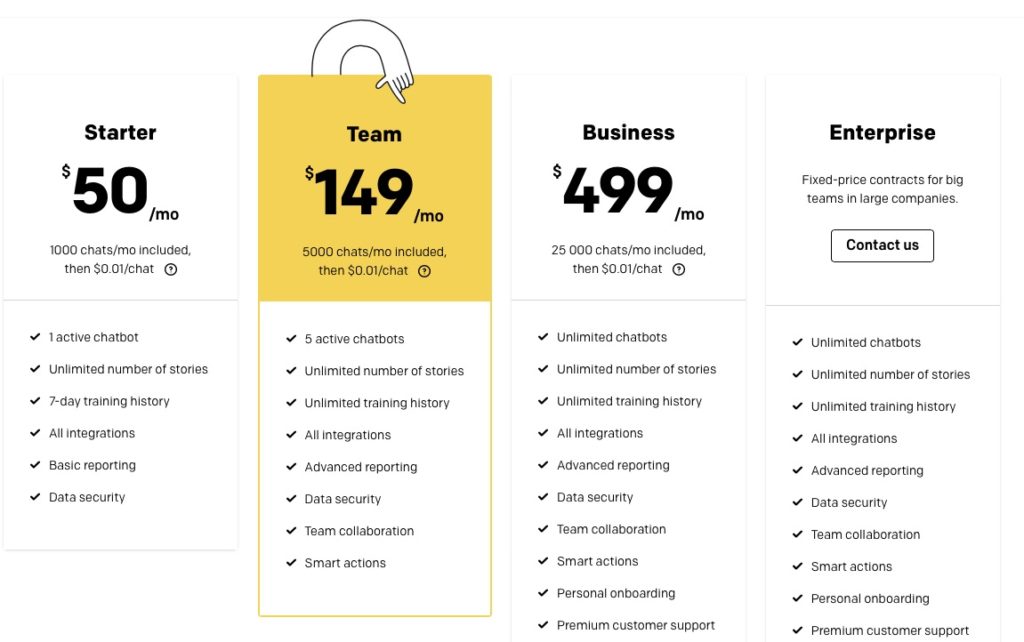 ChatBot pricing plans
ChatBot: Best for Businesses with Customer Service Team
If you want to lighten your customer service team's workload, you can use ChatBot for automation and transfer complex questions to your human agents through LiveChat.
ManyChat: Facebook Messenger Chatbot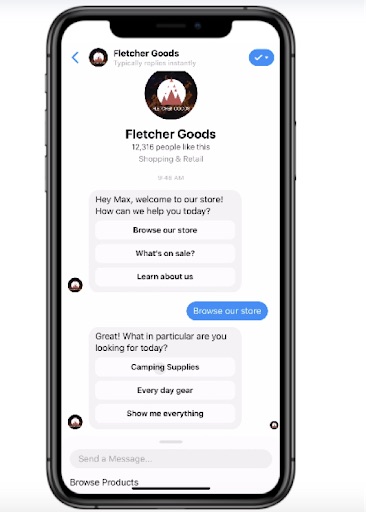 ManyChat
Manychat helps you create Facebook Messenger bots for marketing, sales, and customer service. It also supports SMS and email.
Use ManyChat for Free here! No credit card is required.
Pros of ManyChat
Drag-and-drop interface
It has a user-friendly interface to build the chatbot conversation flow. You can drag, drop, and connect the components.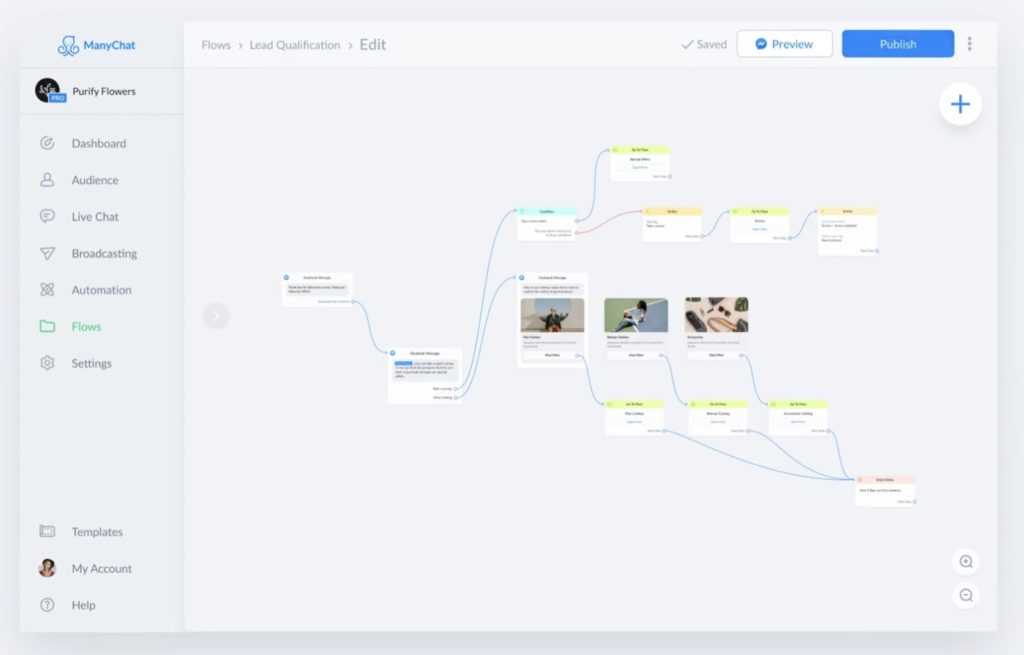 Third-party app integrations
Integrations with third-party apps such as Google Sheets and Shopify allow you to save customer data and message Shopify customers. Zapier integration enables integration with more third-party tools.
Additionally, it provides a built-in live chat integration.
Cons of ManyChat
Relatively basic analytics
Although Manychat provides useful data like conversion rate, it lacks metrics like fallback rate, user retention, and user input.
Pricing Plans of ManyChat
Free Plan (FREE!)
It allows access to Facebook Messenger. You can automate conversations with unlimited custom chatbot flows and segment audiences with 10 customer tags.
Pro Plan ($10/ month)
The plan provides advanced segmentation with unlimited customer tags, advanced growth tools, and performance analytics.
Business Plan (Custom price)
The plan provides custom services on top of features from Pro Plan.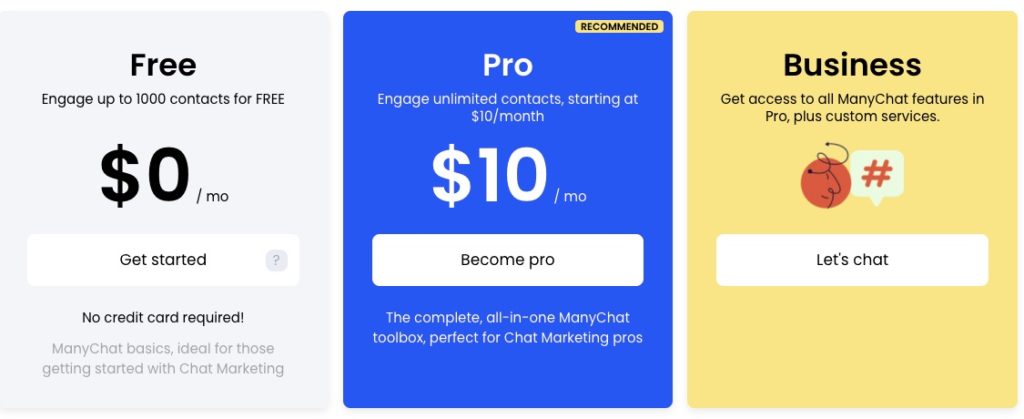 ManyChat pricing plans
ManyChat: Best for Businesses Running on Facebook
Businesses seeking a Facebook Messenger chatbot should try ManyChat! It's completely free to get started, and you can engage with up to 1000 contacts!
Use ManyChat for Free here! No credit card is required.
Landbot: Chatbot for Landing Pages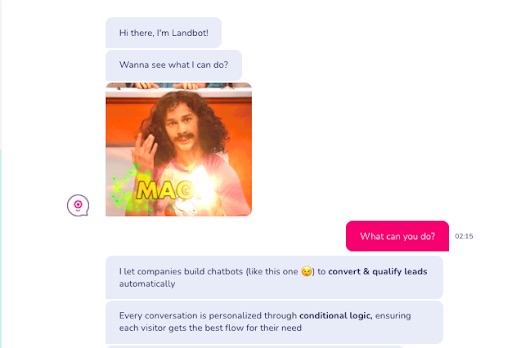 Landbot
Landbot is a chatbot builder for landing pages in particular. It can also create chatbots for different platforms like Facebook Messenger and Whatsapp.
Pros of Landbot
No codes required
It's easy to handle since no codes are required. Users can build flows from scratch or customize one of the templates. With flow building, it ensures automated and real-time conversations with web visitors.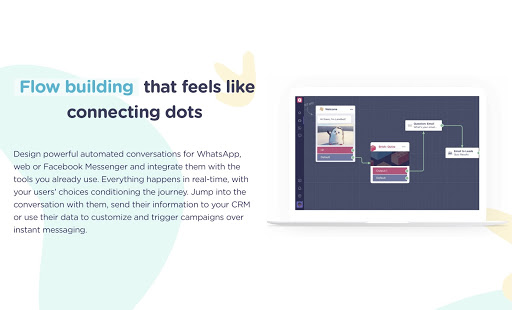 Attractive UI
Landbot also emphasizes making the conversational interface attractive. With Landbot, you can create and implement a chatbot with great UI designs only in a few minutes.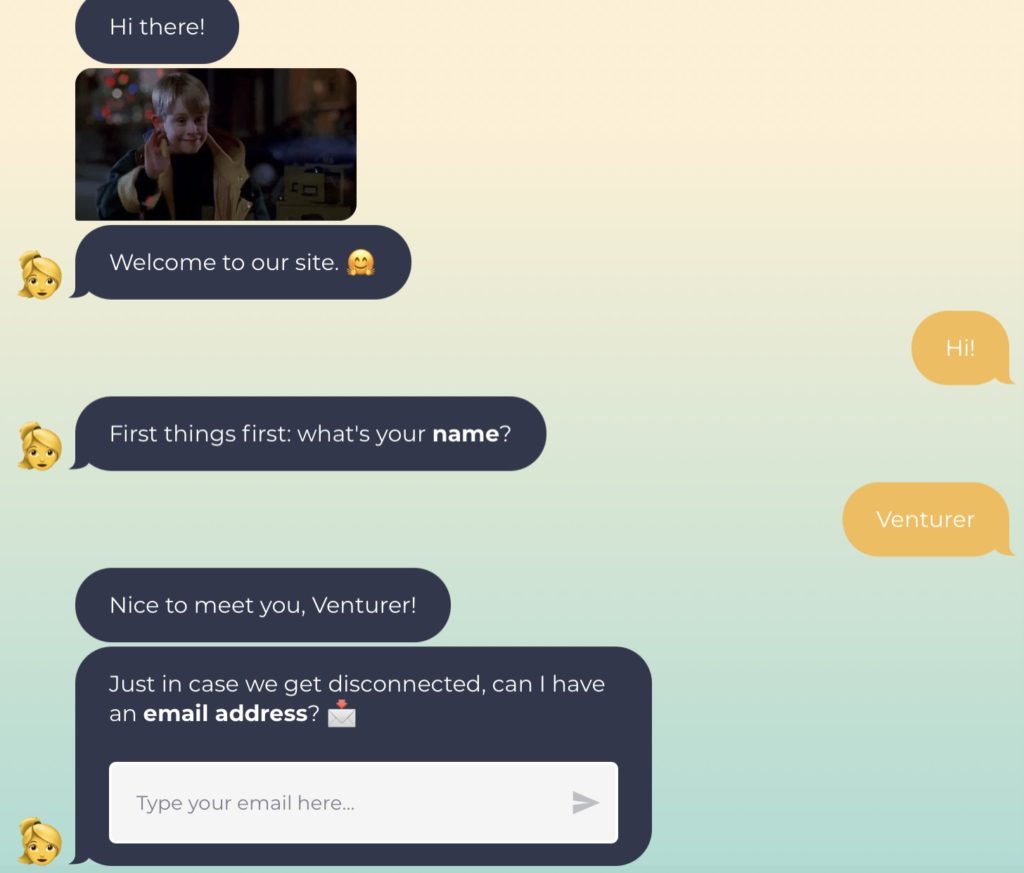 Cons of Landbot
Simple system and analytics
Since Landbot is relatively simple without the AI system, the chatbot can only detect keywords but may not understand synonyms.
It also lacks visitor analytics since there is no user segmentation available.
Pricing Plans of Landbot
Sandbox Plan (FREE!)
You may start with this free plan first with all the essential features provided.
Starter Plan (€30/ month)
It includes more advanced functions like conditional logic and A/B testing. Visitors can also enjoy a better conversational experience with some custom features like Custom CSS & JS code.
Profession Plan (€100/ month)
69% of businesses choose this since it includes additional features like formulas and dynamic data. It allows a more complex flow of chatbots.
Business Plan (Custom pricing)
It provides the best support across different platforms, including user training.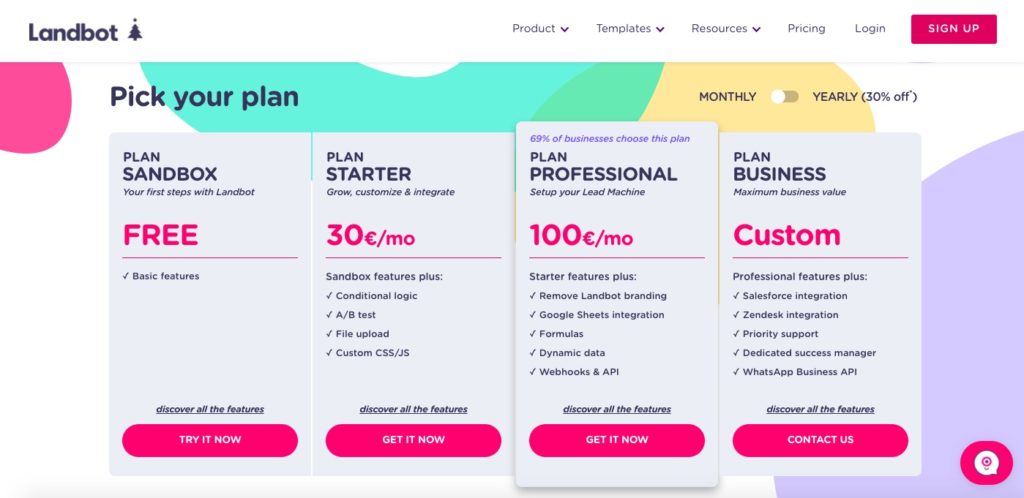 Landbot pricing plans
Landbot: Best for Small to Medium-Sized Businesses
If you want to keep web visitors engaged, Landbot can be a useful tool to build interactive chatbots. As it's easy to use, small and medium-sized businesses can utilize Landbot to create a robust chatbot for generating leads.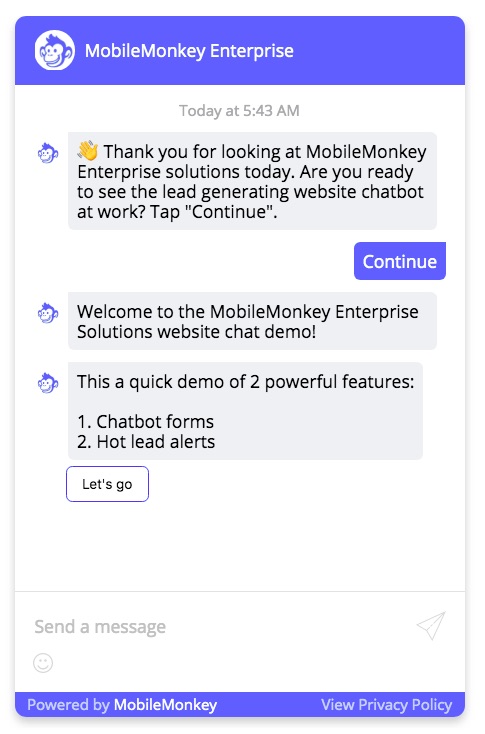 Screenshot of a chatbot from MobileMonkey on MobileMonkey Enterprise©
MobileMonkey is a chatbot builder that works across multiple messaging platforms.
Pros of MobileMonkey
A Multi-platform Chatbot
Once you build a chatbot conversation, you can use it on every chat platform like Facebook Messenger, web chat, and SMS messaging. Moreover, you can upgrade your Facebook ads using the interface with MobileMonkey to boost conversion rates.
Omnichat
An additional benefit is the Unified Chat Inbox in Omnichat, a mobile app developed by Mobile Monkey. The app, available for Android and iOS, allows you to manage real-time conversations across different messaging apps in a single place.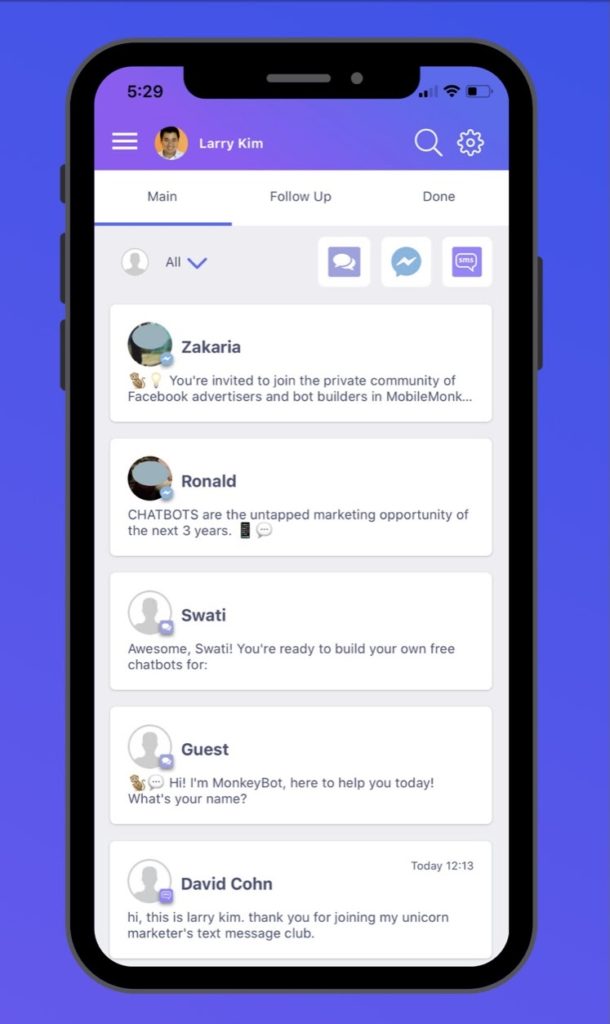 Cons of MobileMonkey
Only recognize keywords
Chatbots built from MobileMonkey can identify keywords but can't figure out question intents. Also, it doesn't provide conditions. So you can't incorporate logic into the flow for the bot.
Pricing Plans of MobileMonkey
The pricing of the plans is usage-based and depends on the send credit a brand needs.
Free Plan
You can have unlimited contact with leads and use it on Facebook and websites. It also provides drip campaigns and browser notifications. It's suitable for small businesses.
Pro Plan ($21.75/ month)
More advanced features like SMS tools, scheduled sends, custom notifications for bot builder, and audience sync to Facebook ads.
Pro Unicorn Plan ($51/ month)
It offers more integrations, such as with Zapier. Also, there is more in-depth bot analytics with advanced website chat settings and automatic follow-up.
Team Plan ($229/ month)
More customized features like custom branded user sign-up. More advanced technological functions like automated lead routing and bot cloning with template sharing.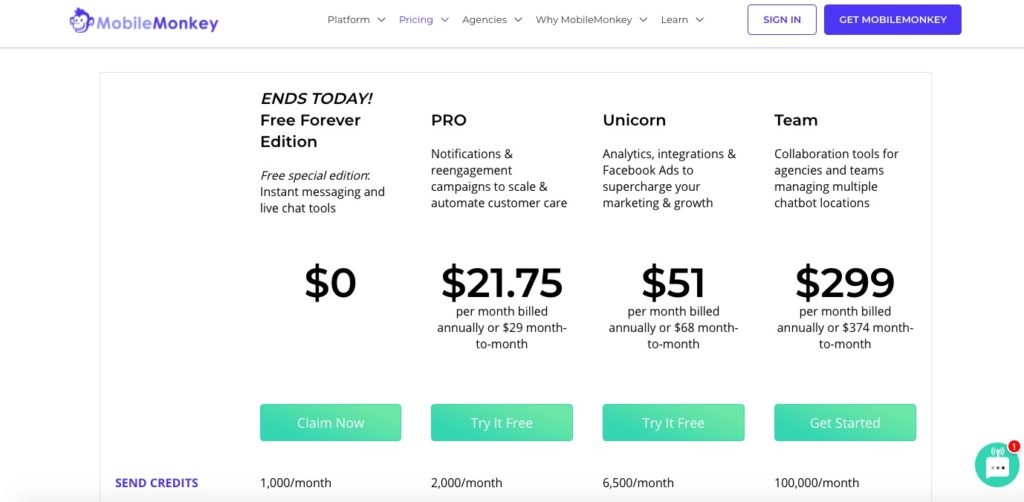 MobileMoneky pricing plans

MobileMonkey: Best for Medium-Sized B2C Businesses
It's suitable for Medium-sized businesses that engage in B2C activities on various platforms since MobileMonkey works on multiple channels like Facebook, website, and Instagram.
Drift: Premium B2B CRM Solution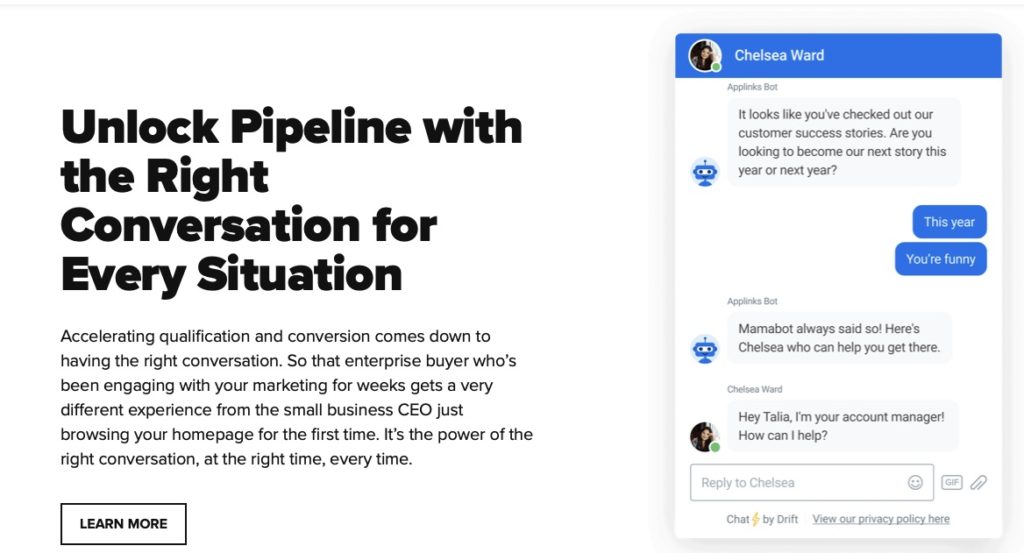 Drift
Drift is a conversational marketing platform that aims at helping businesses engage in real-time and personalized conversations to generate more leads.
Pros of Drift
Visitor intelligence
Drift is pretty good at analyzing your website visitors' data. It shows statistics like numbers of visitors who have seen the playbooks, engaged in a conversation, or booked a meeting.
Based on several criteria, it can qualify users and create customized chats. Drift can route them to meet with a human agent or schedule a meeting with company representatives to accelerate conversion.
Drift also provides features to let you better serve your VIPs. You'll know if they're currently on your site or what they've browsed. So you can bring them to a faster lane to engage with them.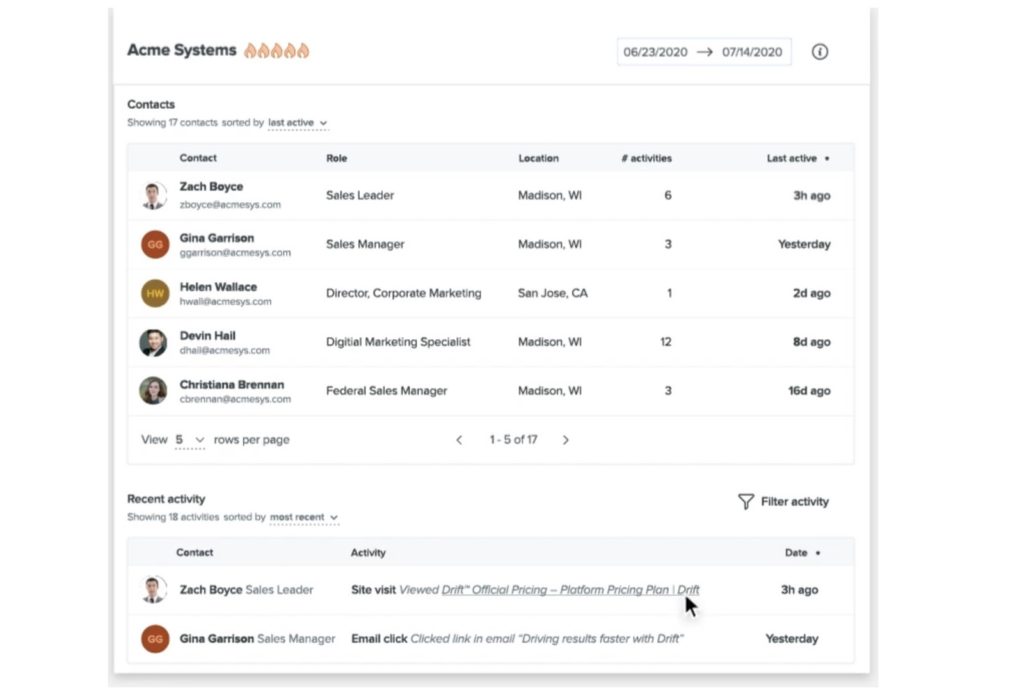 Cons of Drift
Rather slow notifications
Sometimes there are delays in mobile app notifications.
Ambiguous pricing plans
Prices are not clearly shown on the website, but you can book a meeting with a company representative through their chatbot.
Pricing Plans of Drift
Free Plan (FREE!)
You can generate leads through live chat.
Premium Plan
The plan provides lead routing, real-time notifications, visitor intel, and integrations. It also offers custom chatbots that can book meetings. A dedicated manager will stand by to support your team.
Enterprise Plan
More features like automation, enterprise configuration, lead routing, and reporting APIs are available. It enables businesses to offer more personalized experiences for the audience. It also provides more support for technical integration setup and optimization services.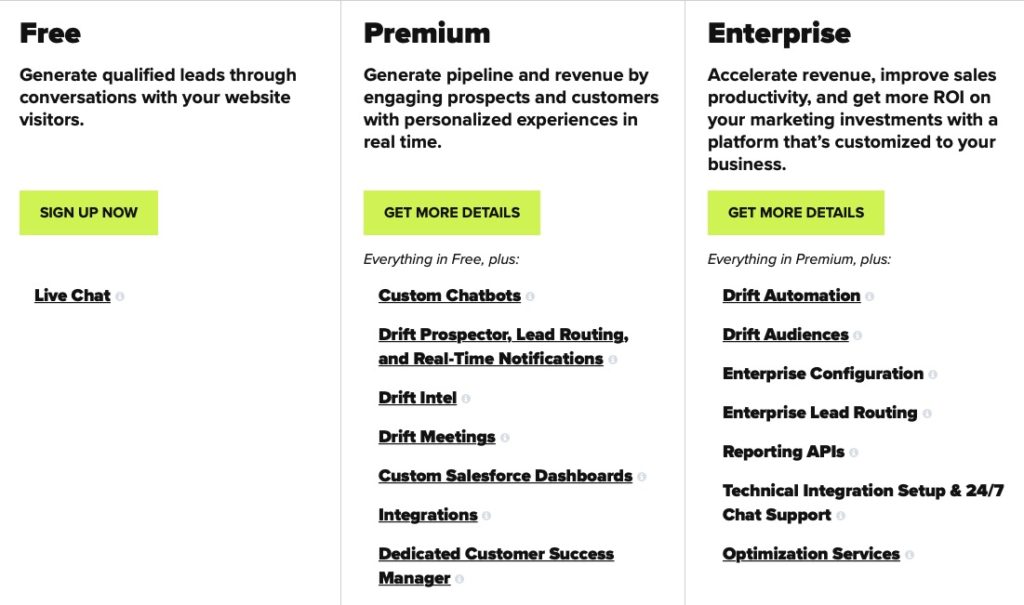 Drift pricing plans
Drift: Best for B2B Businesses with CRM
Businesses that engage in B2B activities with well-established customer relationship management teams can try Drift to track leads and boost conversion.
Chatfuel: Facebook and Instagram Chatbot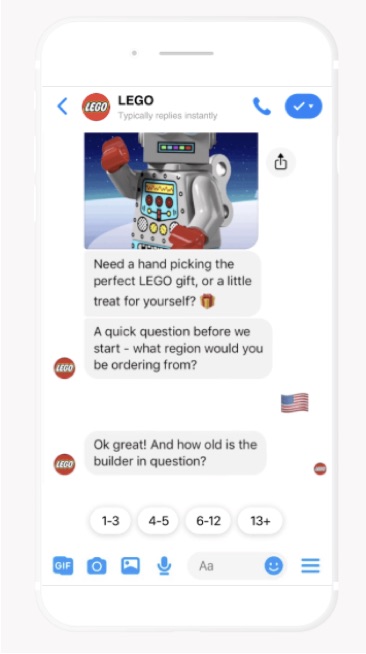 Chatfuel
Chatfuel is a no-code chatbot platform for Facebook Messenger and Instagram. It helps generate leads, answers FAQs, and boosts sales with personalized marketing.
Pros of Chatfuel
No codes required
Even if you have zero coding knowledge and no previous chatbot experience, you can still build a chatbot using Chatfuel as it offers many pre-built chatbot templates.
Additionally, Chatfuel provides advanced condition and logic-based systems for complex scenarios.
Great for Facebook marketing
Chatfuel's features are optimized for Facebook Messenger. You can add Facebook website widgets on your website, connect chatbot to Facebook Ads, turn on one-time notifications, and auto-reply Facebook comments.
Cons of Chatfuel
Basic NLP
The chatbots can recognize keywords only and cannot figure out the intents, synonyms, or entities.
Pricing Plans of Chatfuel
Free Plan (FREE!)
The plan provides a full-featured bot with essential tools to automate inbox for up to 50 users.
Pro Plan (Start from $15/ month)
You can have unlimited users with advanced features like access for multiple teammates, A/B testing, conversation handover, cart reminders to customers, and precise targeting with Facebook ads. Chafuel provides more support like priority support and pro-community to get the latest updates.
Premium Plan (Custom price)
It delivers functions like synced cloning and a white-labeled dashboard for customization. VIP support, account manager, bot-building, and Facebook ads setup help.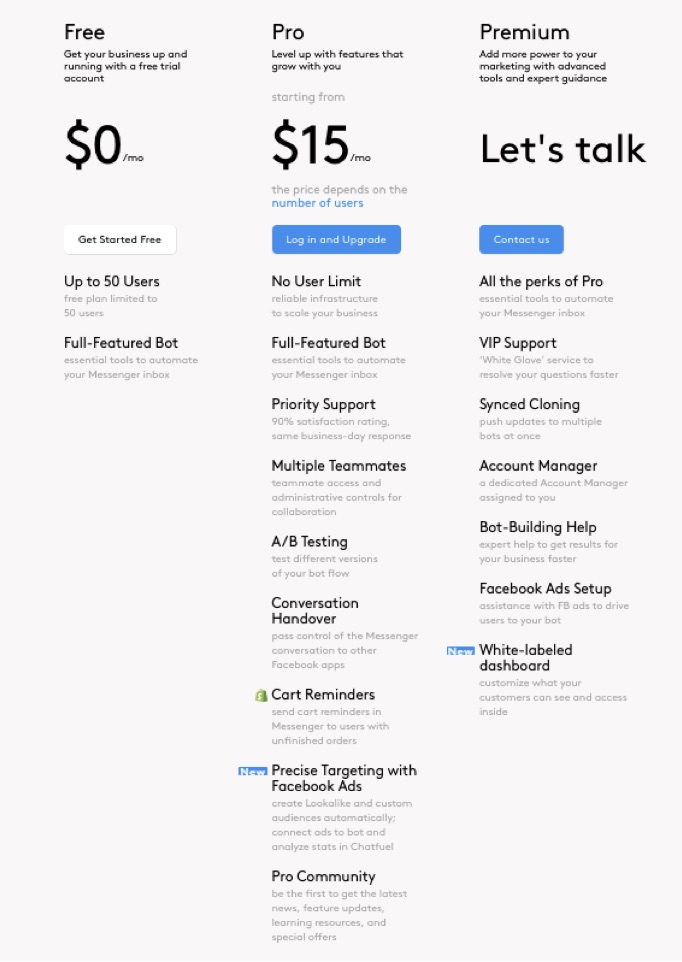 Chatfuel pricing plans
Chatfuel: Best for Facebook Messenger and Instagram
Since Chatfuel is a leading chatbot platform for Facebook Messenger and Instagram, companies that engage in B2C businesses on Facebook and Instagram can try Chatfuel.
Tars: PPC/ Paid Ads Chatbot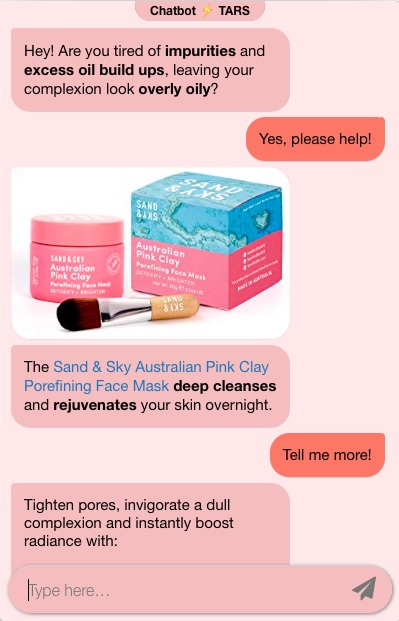 Tars
Tars is a chatbot-building platform that enables companies to build automated conversational flow to talk to web visitors who have clicked on their PPC/Paid ads.
Pros of Tars
Build engaging landing pages
Tars is optimized for leads generation. With Tars, companies can build engaging chatbots on landing pages and say goodbye to the long and tedious email forms and the boring static landing pages.
Boost conversion and reduce cost
When visitors click on the company's ads, they will be directed to an intriguing landing page and start a conversation with the chatbot. A case study has shown the possibility of 2x the conversion rate while reducing the cost per lead by 48% using Tars chatbot.
Lots of templates
More than 400 chatbot templates are provided, so you can quickly jump-start your campaign!
Cons of Tars
Dated UI design
Overall, the design of the user interface is a bit old-fashioned. There is limited design customization, and the Tars branding logo cannot be removed.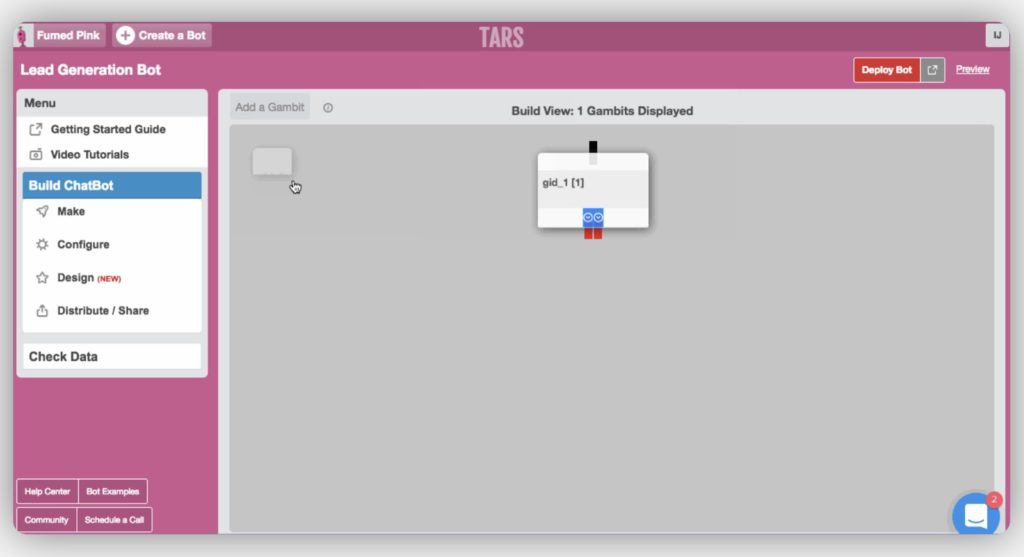 Pricing Plans of Tars
Start-up Plan (FREE!)
It offers one web chatbot. You can have up to 500 chats per month and one user.
Business Plan ($499/ month)
It offers five web chatbots and one WhatsApp chatbot. You can have up to 5,000 chats per month and three users. The plan includes most of the features.
Premium Plan ($899/ month)
The plan offers ten web chatbots and two WhatsApp chatbots. You can have up to 15,000 chats per month and five users. Additional features like custom code, Google tag manager, payment integrations, and chatbot optimization are available.
Enterprise Plan (Custom price)
The plan offers more than ten web chatbots and allows more than 20,000 chats per month. Additional features like custom code, Google tag manager, payment integrations, and chatbot optimization are available. Thus, you get access to the whole Tars platform.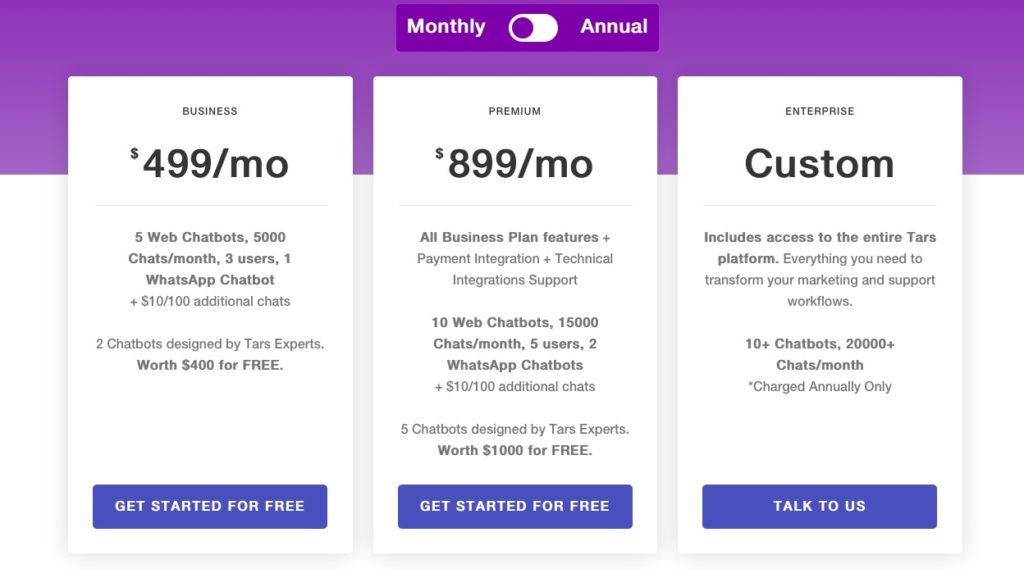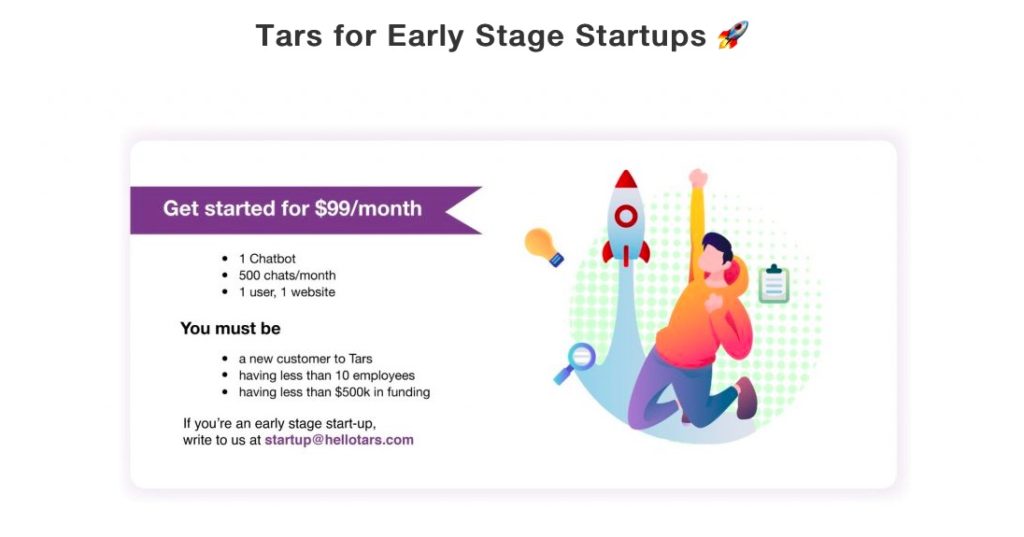 Tars pricing plans
Tars: Best for Companies Investing in Paid Ads
Tars is suitable for companies that invest in paid ads and are keen to build attractive chatbot landing pages to generate leads.
Tidio: A Real-Time Multi-Platform Chatbot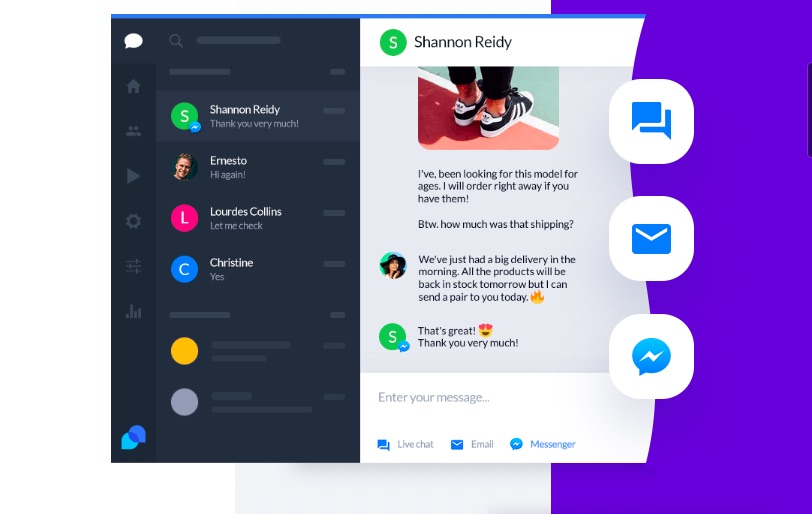 Tidio
Tidio is a communication platform for businesses that combines live chat, chatbots, Messenger, and email. It boosts sales by real-time visitor engagement.
Pros of Tidio
Easy setup and integration
Tidio's user-friendly UI allows easy website integration. For WordPress users, simply download and activate Tidio's plugin. Additionally, you can connect with your customers on Tidio's mobile app.
Email marketing
Send bulk email campaigns, segment, and nurture subscribers with personalized emails using Tidio! You can select captivating and responsive email templates from the template library.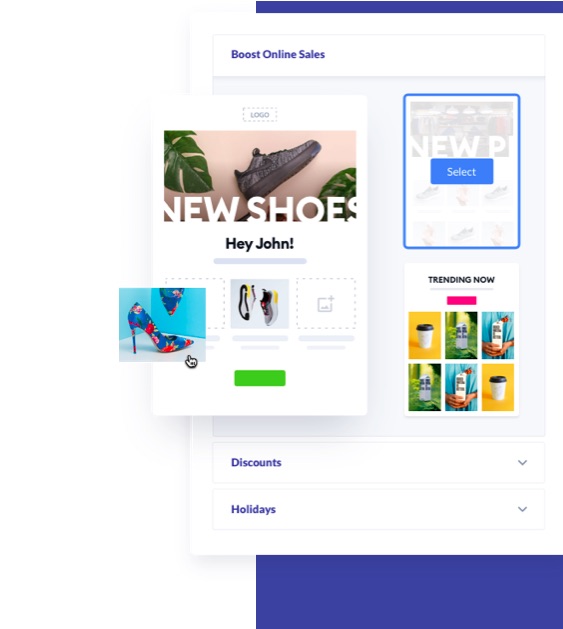 Cons of Tidio
Notification issues
The inbox will only be refreshed when users are staying on that page. Thus users have to open more than one Tidio tab if they want to see messages from more than one website.
Pricing Plans of Tidio
Free Plan (FREE!)
The plan provides essential live chat, chatbot, and mailing features. It includes three chat operators, visitors information, 100 unique reachable visitors, third party integration, and JavaScript API. You can send 500 emails and unlimited chats per month.
Chatbots Plan (Starts from $18/month)
The plan provides unlimited active chatbots with templates. It includes an increased limit of unique reachable visitors, a visual chatbot editor, and Zapier integration on top of free features.
Communicator Plan (Starts from $18/ month)
The plan offers new incoming visitor notifications, live typing with a visitor list, and viewed pages on top of free features.
Email Marketing Plan (Starts from $10/ month)
The plan offers unlimited contacts and daily sends. It provides email templates with a visual email editor and addresses validation, anti-spam functions, contact segmentation, and automated and scheduled campaigns.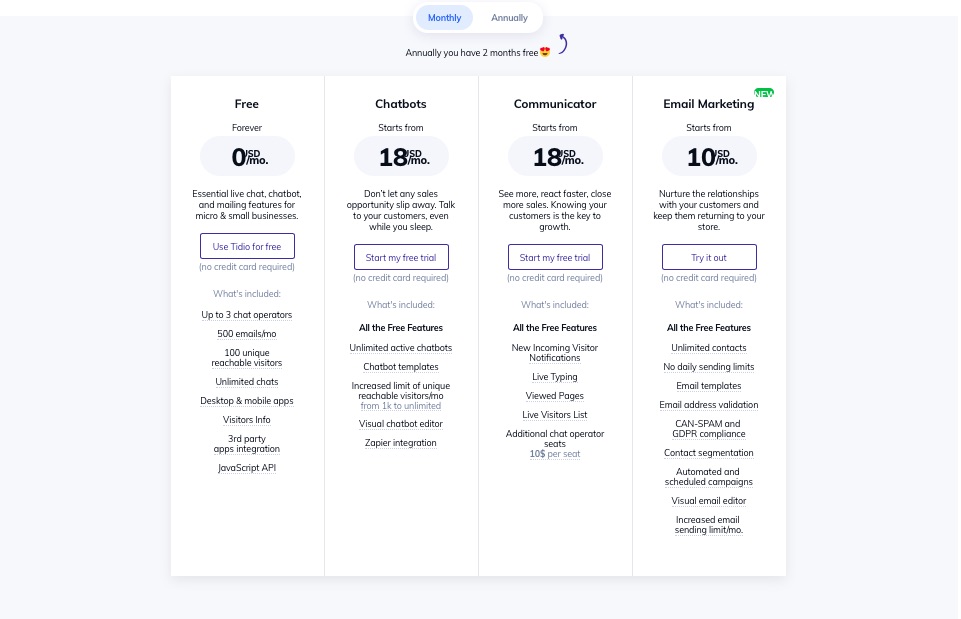 Tidio pricing plans
Tidio: Best for Businesses that want Chatbot and Email Marketing in One Place
Tidio is suitable for companies that want to engage customers through live chat, chatbots, and email marketing.
Quriobot: A Drag-And-Drop Multi-Functional Chatbot Builder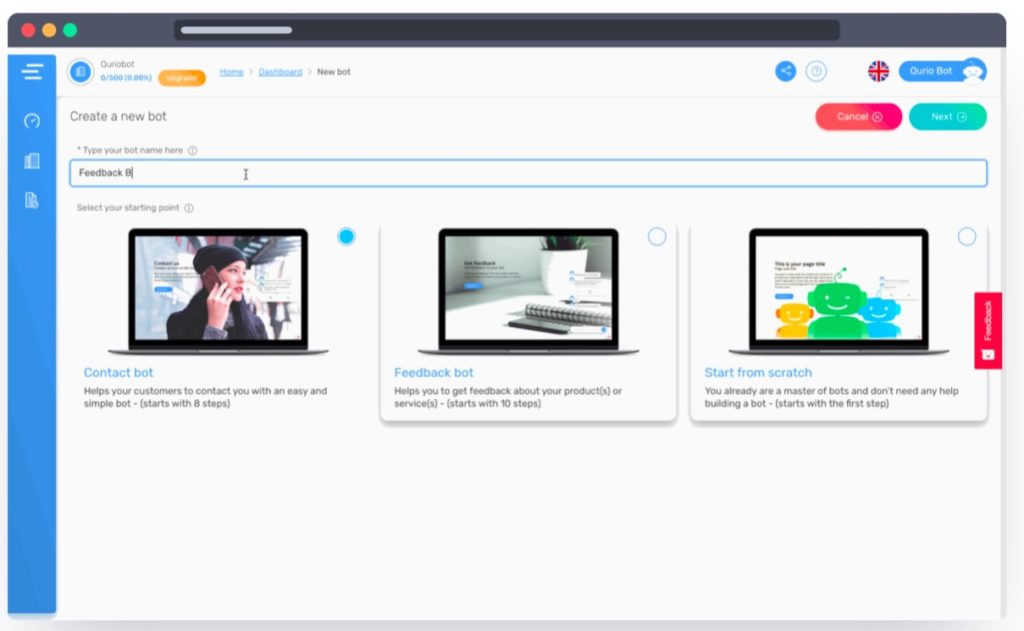 Quriobot
Quriobot is a drag-and-drop chatbot builder for creating user-friendly and unique chatbots.
Pros of Quriobot
Flexible chatbot design
You can choose from different types of pre-built chatbots from the template library.
Additionally, there are ample chatbot elements for creating the workflow. Apart from common elements like images, videos, and multiple-choice questions, it provides professional components such as legal questions and asking for confidential information with validation.
Advanced website and Facebook widget
You can flexibly design the website widgets, including the widget position, the colors of buttons, and avatar backgrounds.
Quriobot also provides advanced Facebook widgets where you can auto-reply both private messages and public comments.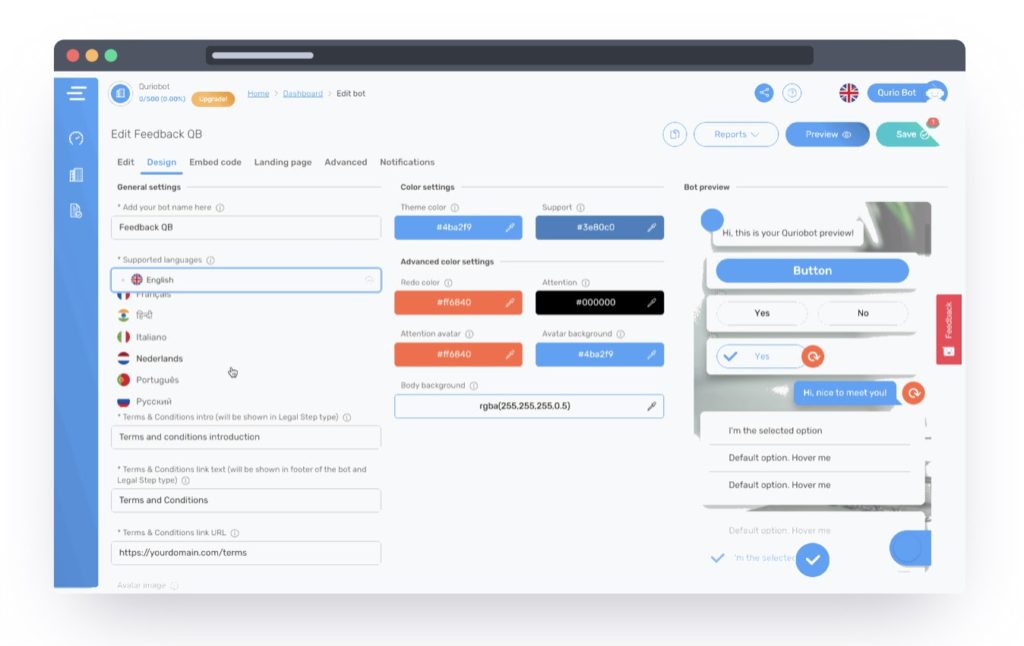 Cons of Quriobot
Limited users data
Quriobot does not support user segmentation by custom fields and tags. All you can store are users' names and emails. This makes lead qualification more challenging.
Pricing Plans of Quriobot
Free Plan (FREE!)
The plan provides channels for Facebook, Whatsapp, Line, and more. It offers email support and a custom look per bot. You can have up to 500 chats per month, but it allows unlimited organization members.
Business Plan (From €9/ month)
Additional features, including removal of Quriobot branding, custom domain for the landing page, and generalized domain, are available.
Agency Plan (From €99/ month)
More features like custom deployment domains are available. You can enjoy sub-organization discounts.
Enterprise Plan (From €899/ month)
It provides all Quriobot features and premium support, including assistance for building bots.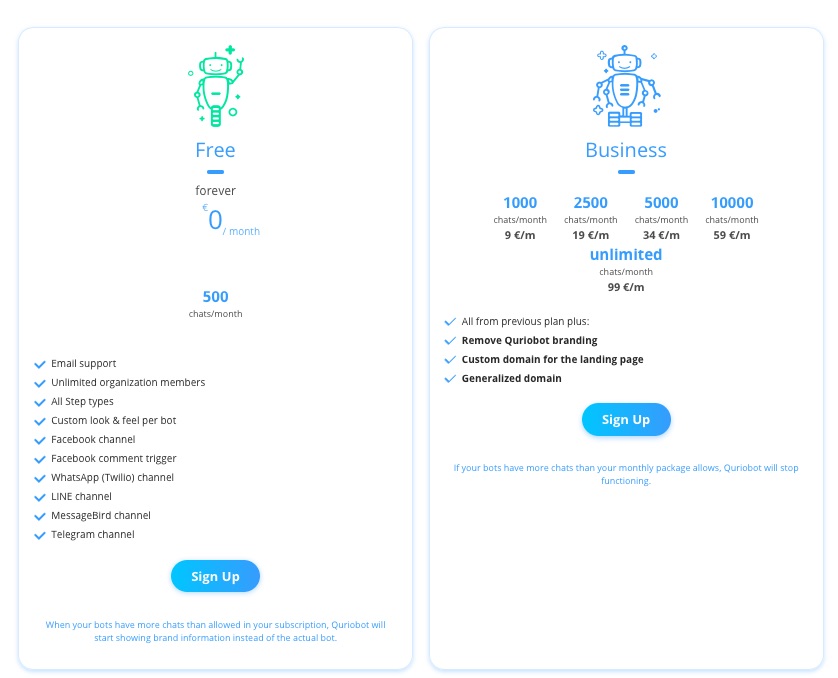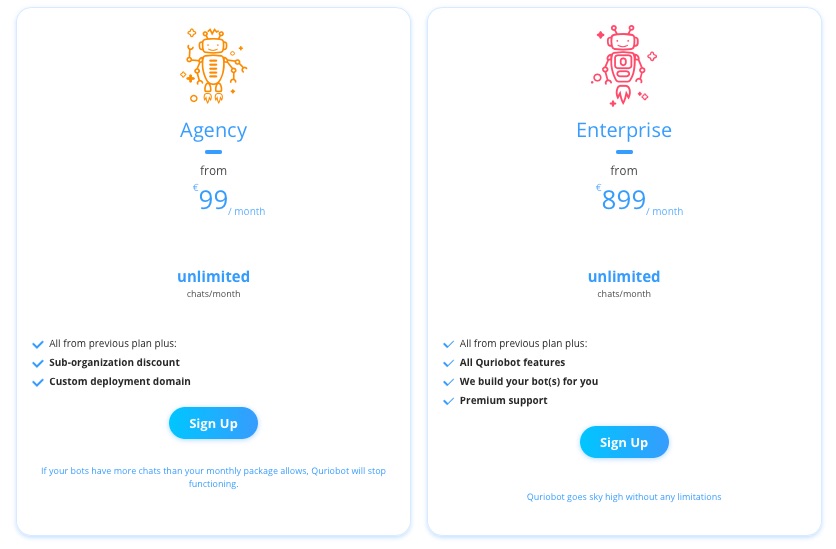 Quriobot pricing plans
Quriobot: Best for Businesses Active on Facebook
If you're considering a chatbot builder for both your website and Facebook Messenger, Quriobot can be one of your choices to increase conversion rates.
Intercom: A Conversational Relationship Platform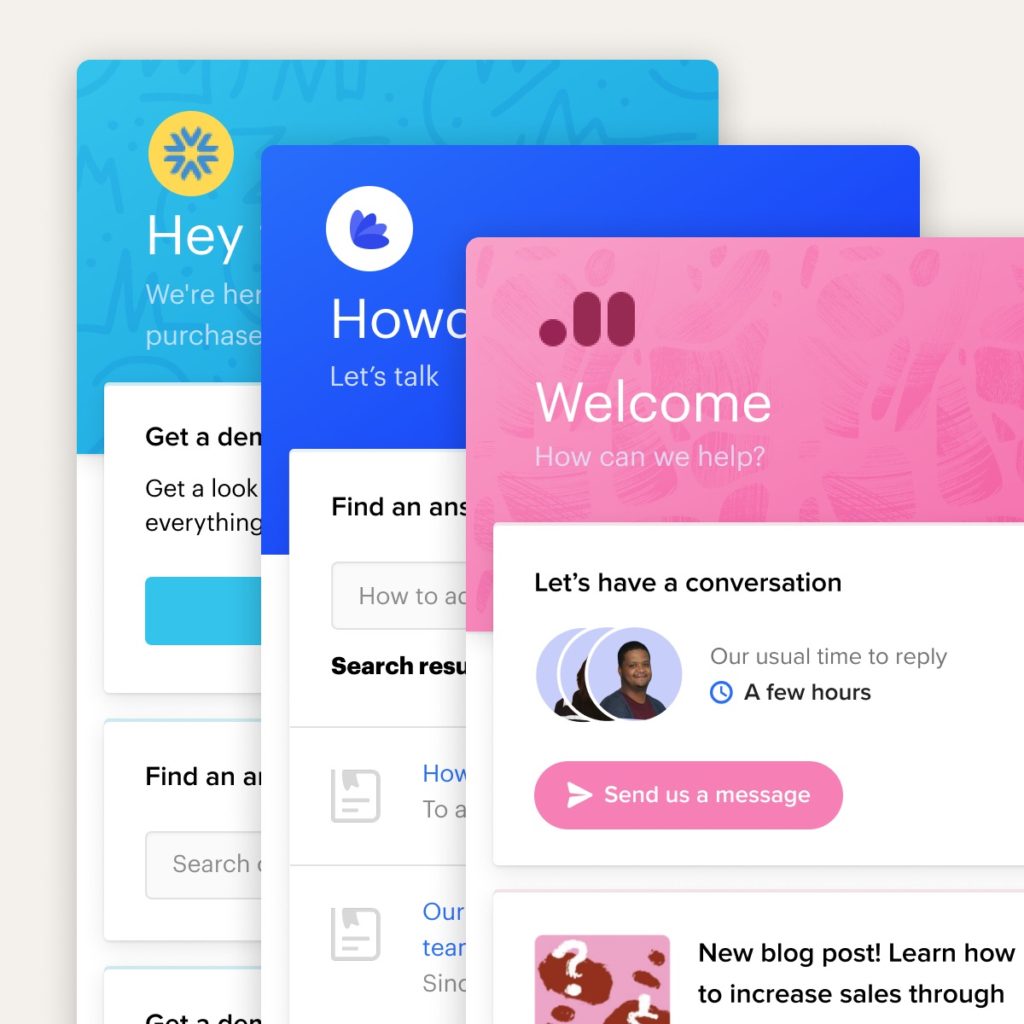 Intercom
Intercom is a conversational relationship platform for businesses to interact with their customers through messenger-based experiences.
Pros of Intercom
Product tours for customers
Intercom provides interactive guides for new visitors to walk through the products. There are also pointer-style messages which highlight the main features of your items.
You can even create video tours that pop up just next to the product description to enhance the experience. Such guidance provides a more precise explanation for the products.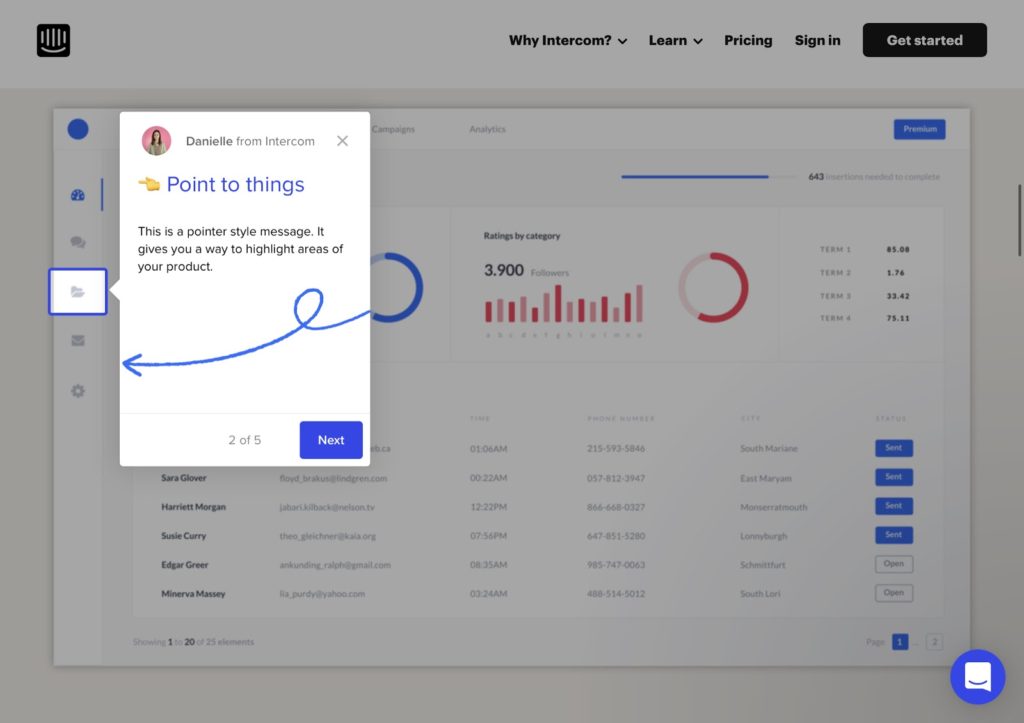 Save your team's time
Before transferring the conversation to a human support team, the bots can work as a self-serve tool for customers. Custom bots can ask users the right questions, prioritize users, and collect up-front information to route them to human agents. Even when you're offline, the bots can still answer as many inquiries as they can.
Cons of Intercom
Limited reporting
There are limited editability and reporting functionality. Users have reported that there could be better targeting and the ability to tag conversations.
Pricing Plans of Intercom
Start Plan (From $39/ month)
It provides basic live chat and outbound messaging, including one seat, team inbox, and Slack integration.
Grow Plan (From $99/ month)
The plan includes additional features like five seats, inbound and outbound email, saved replies, conversation ratings, more integrations, and help center support. It's suitable for basic messaging.
Accelerate Plan (From $499/ month)
More features like ten seats, custom bots, multiple team inbox, automated rules, ticketing workflows are available. You can also have reporting as well as more integrations. A dedicated relationship manager for your account will be present. It's best for automation.
Scale Plan (From $999/ month)
Advanced functions like service level agreement rules, custom role permissions and API rate limits, and ongoing product consultation are provided. The plan also allows more integrations. For the teams, it includes workload management and tailored training sessions. It's best for large scale automated messaging.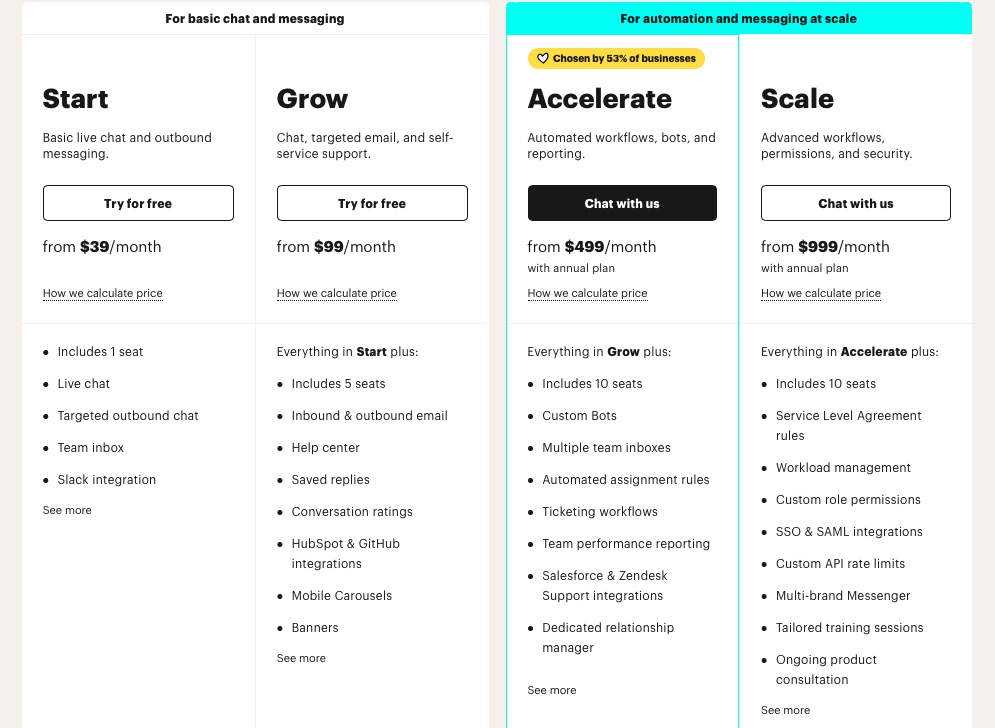 Intercom pricing plans
Intercom: Best for Businesses Eager to Improve Customer Relationships
Intercom can be a great tool if your business is eager to improve relationships with customers by providing a better customer service experience. If you're looking for a help desk solution, there are several Intercom competitors you may consider.
Botsify: A Multi-Channel Chatbot Builder for Businesses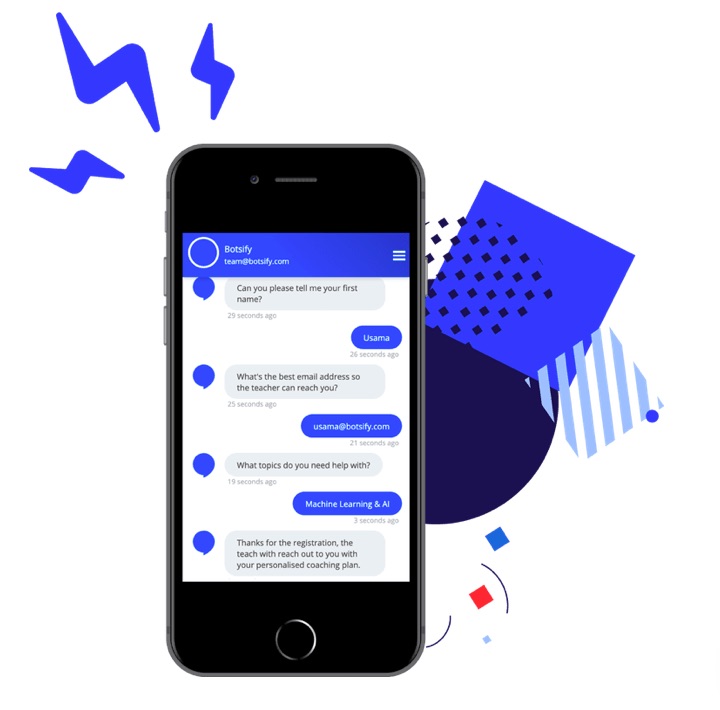 Botsify
Botsify is a chatbot builder for WhatsApp, Facebook Messenger, website, and SMS.
Pros of Botsify
Pre-built templates
Botsify offers templates that are sorted for different business types. For instance, there are specific templates for travel agencies and restaurants.
Data collection and storage
Botsify chatbots offer conversational forms for collecting users' information. These forms can be integrated into the conversation at any time. The data collected is beneficial to qualifying leads.
Additionally, it can store conversations with users so you can understand their needs better. For instance, if they ask questions about a particular topic, the chatbot will keep them in the database. You can then use the data to upsell and generate more revenues.
Cons of Botsify
Functions require integrations
Botsify chatbots are limited to auto-response with keyword recognition. You can only enhance its understanding levels by integrating with Dialogflow.
Also, there is no built-in analytics. But you can integrate it with Google Analytics through Integromat or Dashbot.io.
Pricing Plans of Botsify
Personal Plan ($49/ month)
The plan provides two active chatbots, necessary support, one-month chat history, and message scheduling. It also offers an unlimited number of stories and conversations but up to 5,000 users per month.
Professional Plan ($149/ month)
The plan provides five active chatbots with 15,000 users. Additional features include access to all Botsify resources, increases to three-month chat history, and one chatbot development are available. More support such as personal onboarding sessions and bi-weekly training of one chatbot is also offered. It's best for professionals with multiple sites and Facebook pages.
Business Plan ($499/ month)
The plan provides 20 active chatbots with unlimited users. More features such as premium support, monthly team meetings for chatbot improvement, and monthly training sessions are available.
Custom Plan (Custom price)
You have unlimited chatbots and custom chatbot development for all platforms.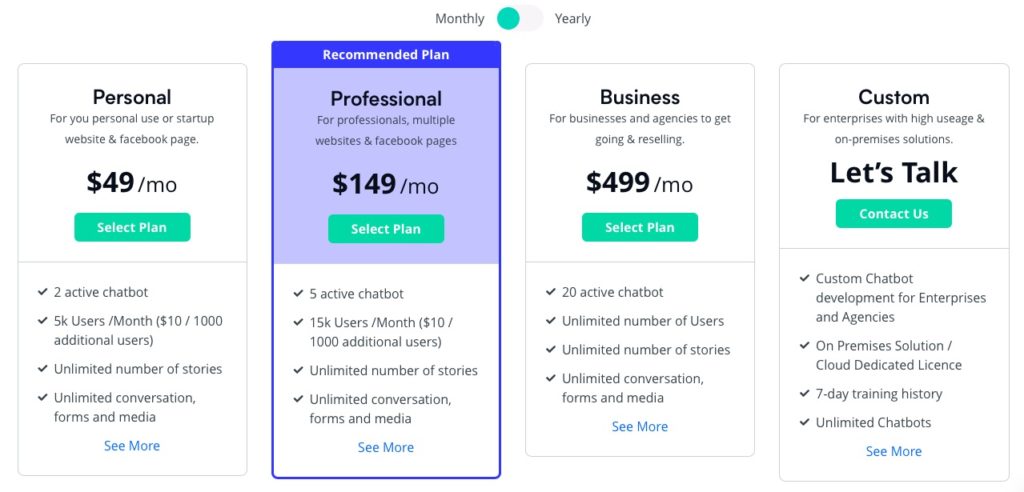 Botsify pricing plans
Botsify: Best for Businesses for Multi-Channel Live Chat
Companies that want to build chatbots with live chat functions for multiple platforms can consider using Botsify.
Final Thoughts
Chatbot has become an essential tool for businesses to keep their customers engaged. With no-code movement, developing and employing chatbots is now much more manageable and affordable!
To summarize, here is the list of chatbot builders for different uses.
And finally, here's a special shoutout for Engati if you're interested in creating WhatsApp chatbot!