As the world becomes more digitized and businesses adopt new technologies, help desk software tools have become increasingly important.
Help desk systems allow you to centralize all customer service inquiries in one place so you can help your customers more effectively.
This article will review the best help desk software solutions in 2023, including their key features and pricing information.
It will also present expert tips to help you choose a help desk software to help you meet your needs.
What is Help Desk Software?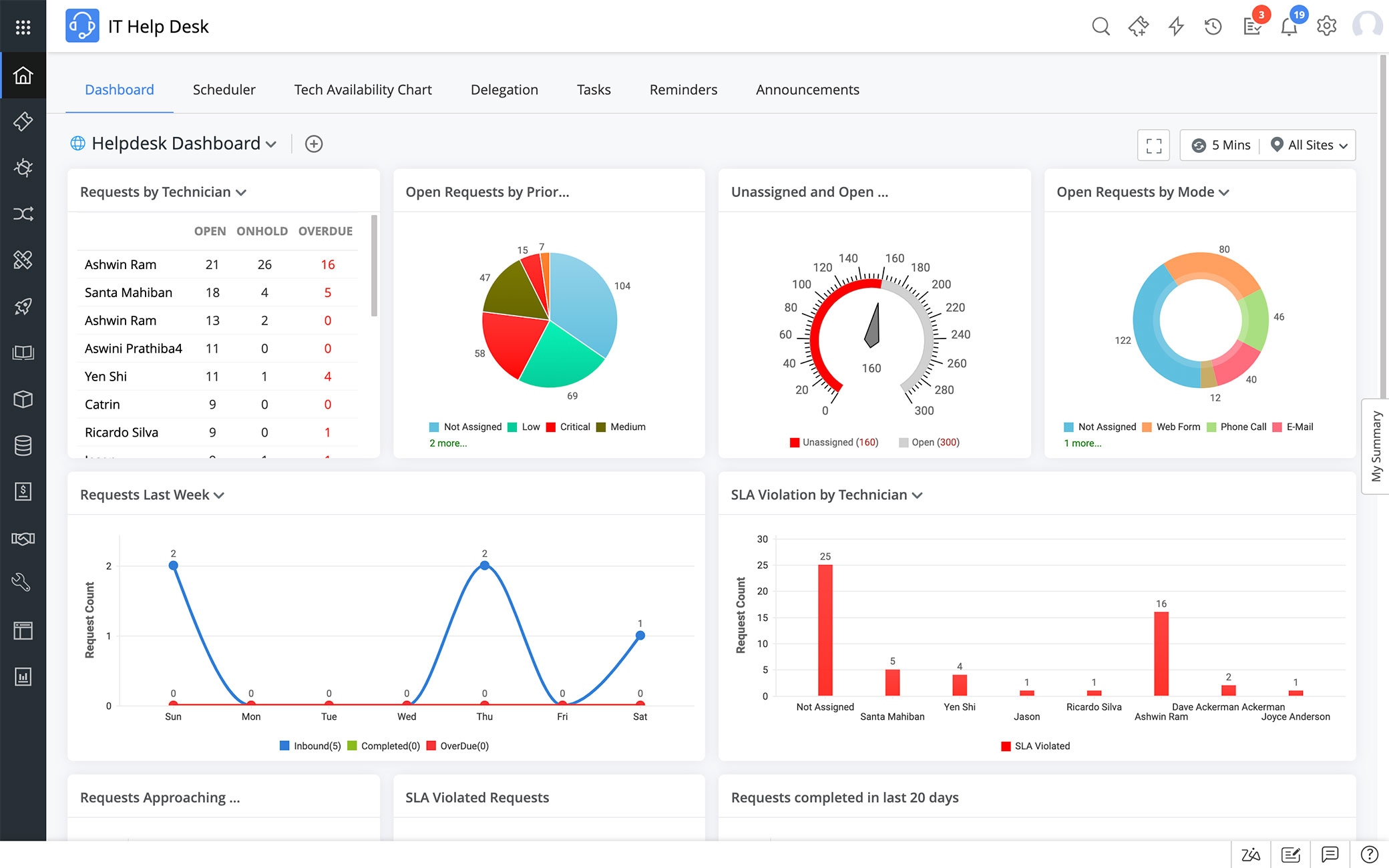 Help desk software makes it easy to organize and prioritize your customer support issues so they can be addressed quickly and thoroughly.
You receive support requests via mobile phone, email, or a web-based portal on your help desk solution, and the help desk software will automatically create a ticket for each customer request.
The custom tickets will enable you to track your customer requests and questions faster, making it easier to respond promptly and effectively.
Help desk software will also help you organize your customer support teams to assign the right ticket type to the right person, increasing productivity and eliminating unnecessary delays.
What are the different types of help desk software?
Different types of modern help desk software are designed to meet different business needs and provide different features.
Some are designed for small businesses, while others can scale to support customers and the needs of large enterprises.
Related article: Small Business CRM: Do You Need One? (+Tools Overview)
Here are some of the most popular types of help desk software and how they can be used:
On-premise help desk software solution
An on-premise help desk system is installed on your organization's servers and manages customer support operations within your organization.
It typically requires a high level of configuration and maintenance to customize it to meet your needs.
Cloud-based help desk software solutions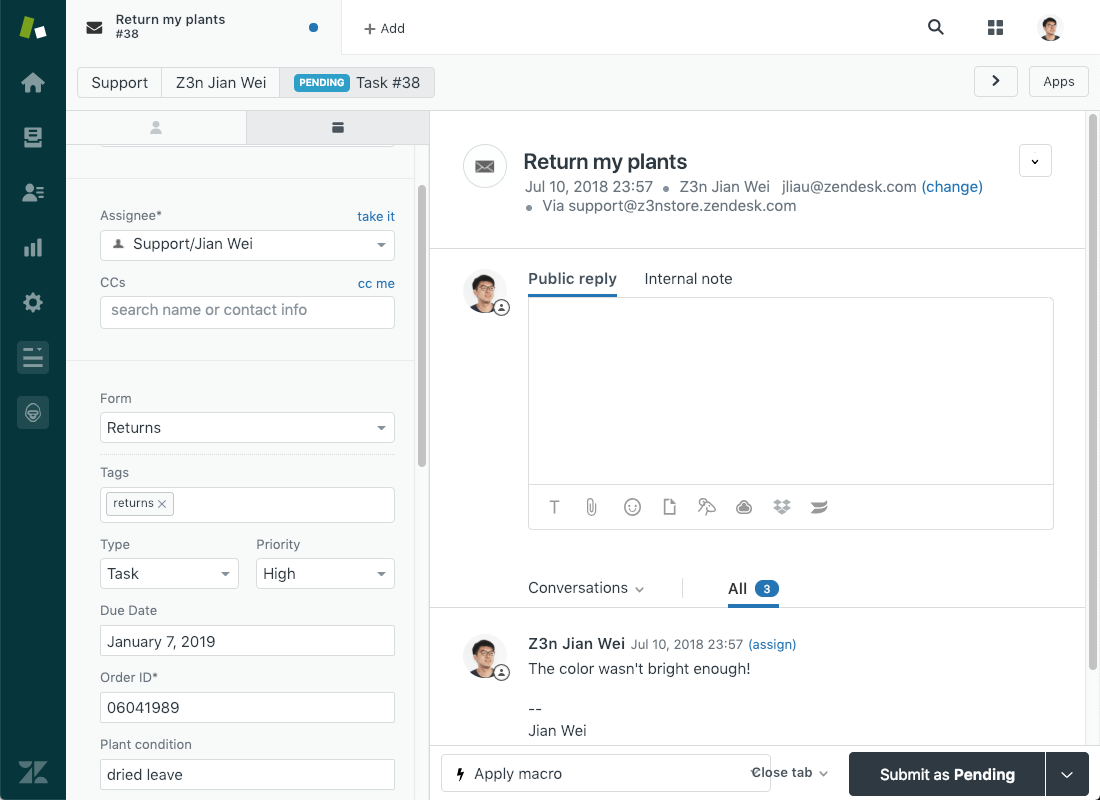 Cloud-based help desk software is hosted on the cloud by a third-party provider and can be accessed from anywhere at any time via the internet.
This is a good option for businesses that need to access their help desk software on the go or require a flexible and easy solution.
Software as a Service (SaaS) help desk software solutions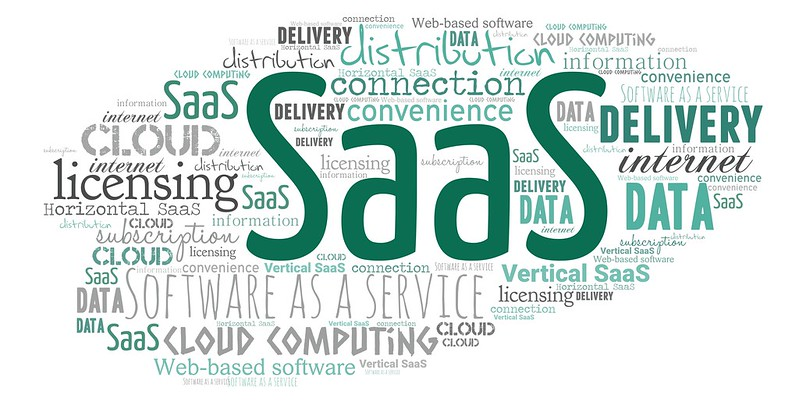 SaaS help desk software is hosted by a third-party vendor and provides all the features of a regular help desk platform without the need to install any software or hardware on your servers.
It's a good option for small businesses with limited budgets or IT resources who don't want to spend much time installing and maintaining the software independently.
IT service desk software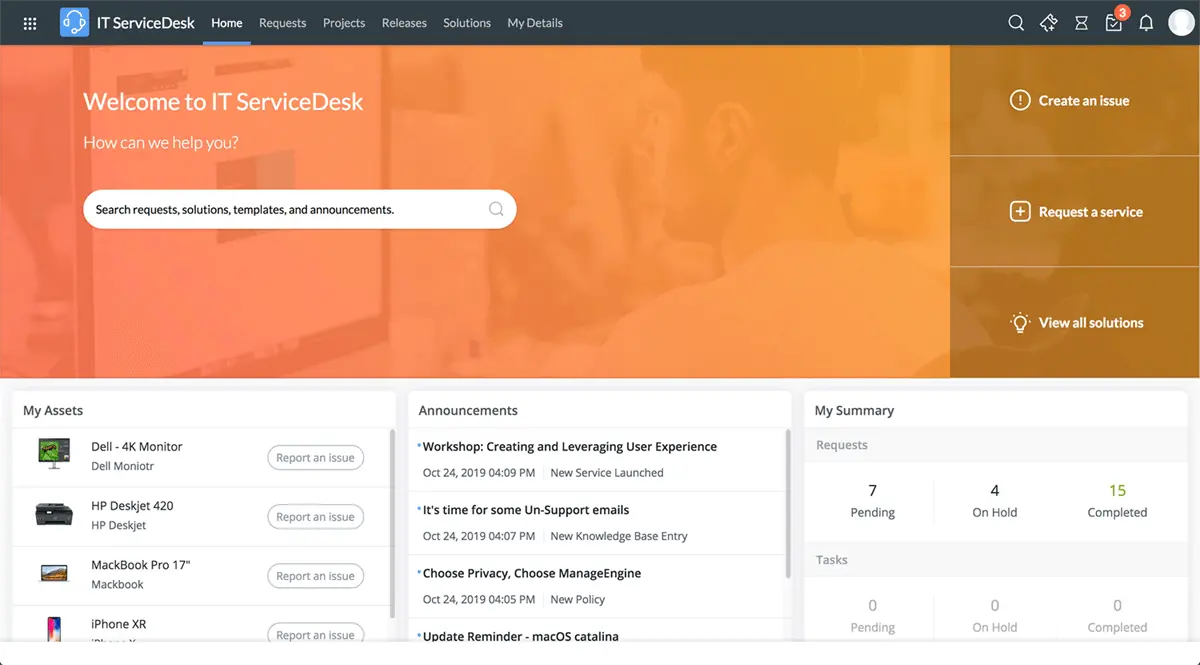 IT service desk software is designed for IT administrators and supports many IT operations and activities, including problem management, change management, and asset management.
Omnichannel help desk software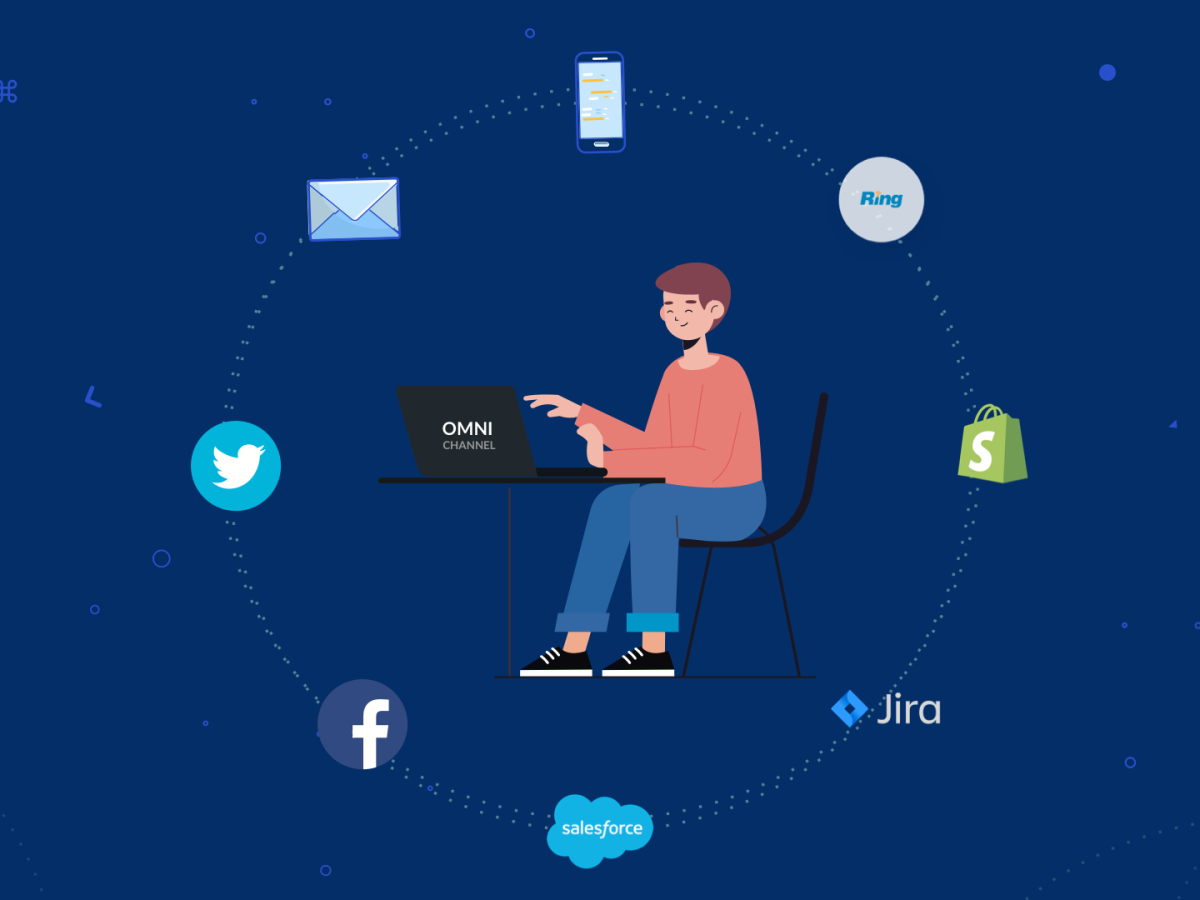 Omnichannel help desk software is designed to manage your customer service communication channels, including email, phone calls, social media, chat, SMS, and more.
It provides a unified view of customer interactions across all these channels and helps you respond faster and more efficiently to your customer's inquiries.
Each type of help desk software has its unique features and capabilities. You should choose the help desk solution that best meets your business based on your specific needs and budget.
Help Desk Tools Key Features
The right help desk software can provide many valuable features to help you manage your business more efficiently and improve your customers' experience.
Some of the most common features are listed below.
Notifications & Messaging: Some help desk software allows you to set up automatic notifications to keep you informed of important events, such as new tickets being added to the system or when a ticket is assigned to a team member. You can also send personalized messages to individual customer service team members to inform them about new tickets that need to be resolved.
Ticket Management system: The help desk ticketing system allows you to create and manage customer requests and questions from a centralized location. You can configure the help desk system to automatically assign tickets to specific team members based on their skill set, availability, or other criteria, making it easy for them to address each issue promptly.
Automation: Help Desk software can also be configured to respond automatically to certain queries based on predefined rules. For example, you can configure the help desk system to answer simple questions like "how do I reset my password?" by sending the user an automated response that guides them through the steps they need to take to resolve the problem. You can also configure the help desk system to automatically close certain tickets if specific conditions are met, saving your staff time and effort.
Integrations: Your help desk software should make integrating with your other business systems easy, making sharing information between different teams and departments easier. This allows you to reduce duplicate data entry errors and streamline your workflows, improving your efficiency and ultimately reducing your overall costs.
Reporting & Analytics: Finally, most help desk software provides built-in reporting and analytics features that give you insight into the performance of your support operations and identify areas where your team could improve. This allows you to better understand your customers' needs and take the necessary steps to improve customer service.
These key features can help you significantly improve your support operations' efficiency and customer satisfaction.
With great customer service being one of the main drivers of business success in today's digital world, your customer support team needs the right help desk system to deliver a truly top-notch customer experience.
Help Desk System Benefits
A help desk solution can significantly grow your business and increase revenue by helping your support team deliver high-quality customer support quickly and efficiently.
Here are some of the main benefits of using help desk software in your business:
Reduce Time-to-Resolution: By providing your support staff with centralized visibility into the interactions they have with customers, helpdesk solutions allow them to respond to and resolve issues quickly. This improves the overall experience of your buyers and reduces the number of support tickets you receive, leading to faster resolution rates and improved customer satisfaction.
Improve Customer Satisfaction: A great customer service experience is one of the best ways to attract and retain customers. Your support agents must provide the level of service that your buyers expect. Help desk solutions allow you to measure customer satisfaction and the performance of your teams and improve their service levels by providing regular feedback to help them improve their performance.
Centralize Communications: A help desk solution lets you centralize all your customer communications in a single place, making it easy for your team to respond to issues promptly and resolve them quickly. This helps improve operational efficiency and ensure that customers get the support they need when they need it.
Boost Employee Engagement: Implementing a help desk solution in your organization can help improve team collaboration and encourage employees to take ownership of their work. Help desk software provides your team with all the tools and information they need to do their jobs effectively and helps identify improvement opportunities so they can reach their full potential.
Drive Revenue Growth: By providing a better support experience to your customers, you can attract more leads and turn them into loyal customers that spend more money with you over time.
A help desk solution provides your business with the tools to deliver exceptional customer service and make customers happier and more likely to engage with your brand repeatedly.
Check out our article: 16 Best CRM for Startups 2023: Complete Guide & Reviews
What is the difference between help desk software and technical support?
Help desk software provides a simple interface for agents to create tickets, update the status of tickets, and share important customer information with the support agent assigned to the ticket.
Many help desk solutions include features like live chat support and self-service tools that allow customers to find solutions to common issues without contacting a support agent.
A technical support group or department generally supports a technical product or service. This group typically works directly with customers to resolve issues and help them make the most of their technical products.
Most technical support groups provide support via email or even phone calls. They may also offer an online self-service portal where customers can look up answers to common questions and find solutions on their own.
However, help desk software and technical support teams can support various products and services. Their ultimate goals are the same – to help their customers resolve technical issues and get the most out of their products or services.
10 Best Help Desk Software
Here we list the ten best help desk tools of 2023 to help you find the right solution for your business.
To come up with this list, we considered factors such as price, ease of use, flexibility, features offered, and more.
Look at these best help desk software solutions to determine which will work best for your business.
Freshdesk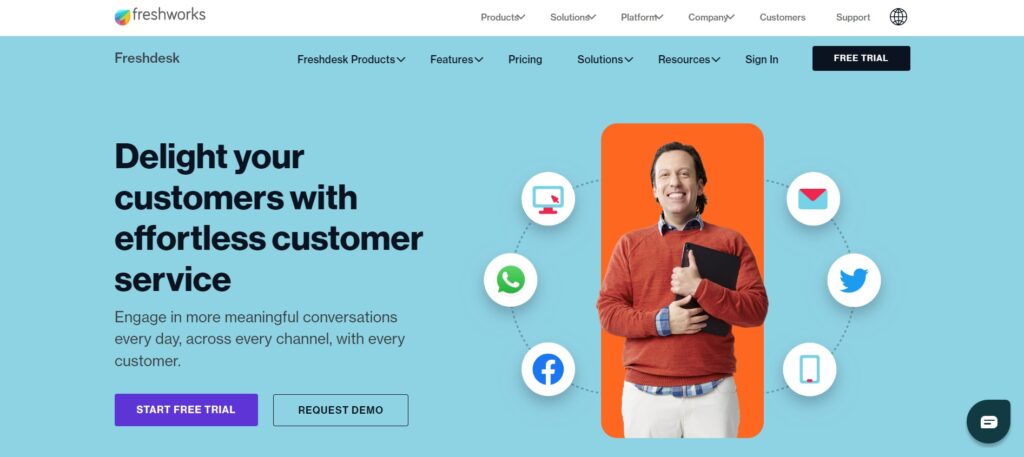 Freshdesk is a great help desk software solution for small- and mid-sized businesses.
It offers basic features such as support ticketing, knowledge base management, social media integration, and an extensive list of tools like Slack and Salesforce you can integrate into the system.
The company's support team is highly informed and eager to help users set up their accounts or troubleshoot any issues. The software is easy to use and has a clean design that's simple to navigate.
Freshdesk Key Features
Help desk ticketing system to help you prioritize, categorize, and assign tickets to the right agents to ensure customer delight
Social media integration so users can easily share their support tickets on social media sites like Facebook, Twitter, and LinkedIn
Collaboration tools to increase transparency split tasks involved and work on them in parallel.
AI-powered automation tools to help you route requests to the right team members with the right priorities.
Integration tools to connect apps you already love and use with your Freshdesk account
An email marketing tool to help you manage your email campaigns and newsletters
Freshdesk has various features that can help businesses grow faster and reach more customers. The user interface is easy to use and can be customized to meet the needs of any business.
Freshdesk Pros
Freshdesk help desk tool provides an unrivaled capability to ensure client support and issue management
It's free and provides most premium features you find on other paid help desk tools
Users don't have to undertake tedious server updates and maintenance tasks
The company offers reliable technical support, and its agents are quick to respond to any raised concerns
It has a large pool of information to help new users resolve issues on their own
Freshdesk Cons
The reporting module is very basic and doesn't give in-depth information regarding initiatives you may have.
The premium packages are rather expensive for small businesses.
Automation tools are limited; thus, you cannot accomplish much with them.
Freshdesk Pricing
Free: charges $0, offers tools like ticket dispatch, knowledge base, and team collaboration, integrates ticketing in email and social, and accommodates up to 10 agents.
Growth: charges $15 per agent per month, billed annually or $18 per agent per month, billed monthly, and offers automation, collision detection, and comprehensive helpdesk reports to growing businesses.
Pro: charges $49 per agent per month, billed annually or $59 per agent, billed monthly and offers multiple products, 5000 collaborators, custom roles, canned forms, extendable API limits, and Average Handling Time (AHT)
Enterprise: costs $79 per agent per month, billed annually or $95 per agent per month, billed monthly, and offers sandbox, assist bot, email bot, skill-based routing, IP range restriction, and AI-powered social signals.
Zendesk

Zendesk is an American SaaS company providing customer support, communication channels, and sales products.
It allows you to communicate with customers via email, live chat, social media, and mobile phone.
Zendesk is a great customer service software built for companies of all sizes. It's easy to set up and offers many integrations that make it easier for businesses to access data across their systems.
Zendesk Features
An API tool that allows companies to integrate multiple apps into the help desk software
Well-designed and easy-to-read account alerts and notifications
An activity dashboard that shows all open tickets and task lists
An active directory integration that allows you to unlock new features and capabilities
Account management tools that allow you to manage multiple teams and user accounts
Zendesk Pros
Its user-friendly interface makes it easy for customers and agents to use the system.
Social media integration is available for third-party platforms like Facebook, Twitter, and LinkedIn.
The support team is very helpful and eager to answer all your queries 24/7 without fail.
Good collaboration tools make it easy to work with clients and stakeholders.
Zendesk Cons
It's hard to summarize tickets and merge them appropriately
Not fitting for companies with a large customer base to manage
Lacks advanced reporting capabilities
Zendesk Pricing
Suite Team: costs $49 per agent per month and offers an industry-leading ticketing system, messaging across the web, mobile, and social media, easy-to-set-up automation & workflows, and 1,000+ apps and integrations.
Suite Growth: costs $79 per agent monthly and offers 100 AI-powered automated answers, robust APIs, AI-powered knowledge management, and up to 50 light access licenses.
Suite Professional: $99 per agent monthly and offers a viewable live agent activity dashboard, integrated community forums, private conversation threads, advanced voice capabilities, and HIPAA compliance.
Suite Enterprise: costs $150 per agent monthly and offers custom team roles and permissions, advanced knowledge management of up to 1000 light access licenses, live data and external dashboard sharing, and robust APIs.
Additional enterprise: costs $215 per agent per month, has trusting customers in over 160+ countries and features comprehensive solutions to your business.
InvGate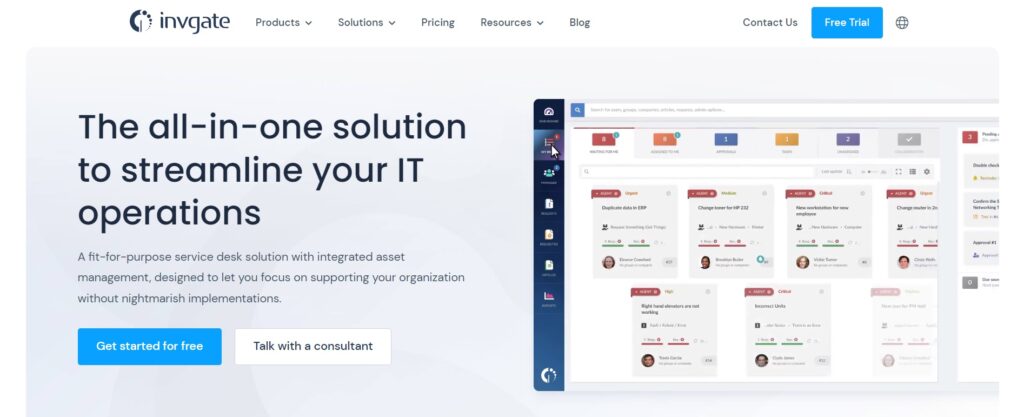 InvGate is a SaaS platform that helps businesses build a modern service desk and enhance visibility on their IT estate.
It also helps small businesses manage their customers, tasks, and communications across multiple channels.
The platform has features such as a social media inbox, email marketing, lead generation, and analytics. It also comes with a mobile app that allows users to stay connected on the go.
It has free and paid plans. The free plan provides access to all the features but comes with limitations on the number of users and tickets.
InvGate key features
A procurement management feature that helps businesses manage their clients, leads, and tasks
It integrates with all major social media platforms and apps, allowing you to set up your account fast
Employee management features allow you to manage your team's time and schedule on the go.
CMDB allows you to track and manage your customer data across all channels.
It has tickets and forms that make it possible to get in touch, share attachments, and collaborate with your team.
InvGate Pros
The software has an easy-to-use interface that's attractive to potential customers.
It has a robust reporting tool that allows you to track leads, raise issues, and close tickets.
It allows you to customize your workspace to match your organization's customers.
It is a flexible service that provides an optimum setup based on your needs.
InvGate Cons
Setting up the software might not be as straightforward for novice users
The trends of workflows and tickets do not flow correctly.
You may pay a large amount to access advanced features
InvGate Pricing
Insight: Custom pricing. Offers hardware and software management, mobile inventory management, CMDB discovery, visualization, and integration with the service desk. 
Service Desk: Custom Quote. Offers ticket management, a knowledge base, a self-service portal, SLAs, Gamification, Single Sign-on, a service catalog, ITAM integrations, and cloud and on-prem versions. 
Assets: Custom Quote. The IT asset management solution offers asset inventory, remote desktops, network discovery, software license management, custom alerts, escalation routing, and integration with the service desk. 
ManageEngine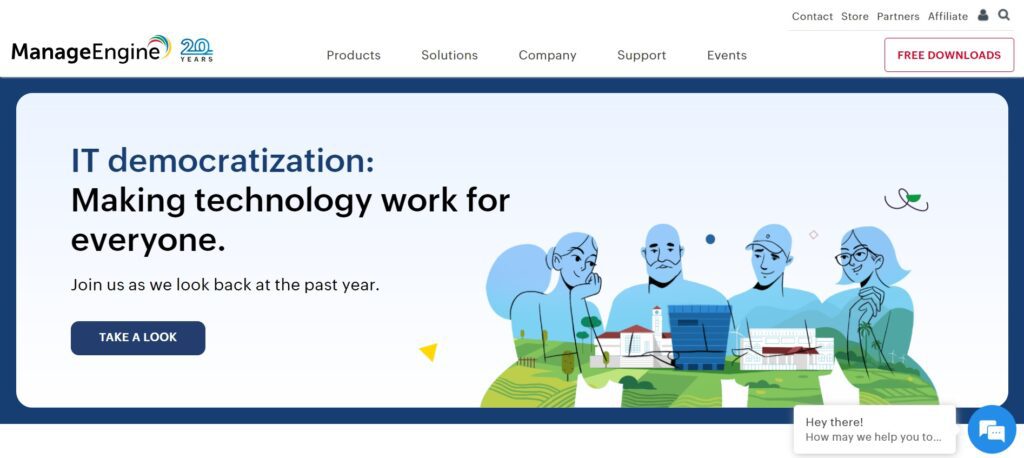 ManageEngine has been a leading IT management software since 1996. It offers various products, including identity and access management, enterprise service management, and IT operations management.
The organization allows you to manage your infrastructure, applications, networks, and endpoints from one central point.
It provides easy solutions for your most complex IT problems, so your business data is safe and always available.
ManageEngine key features
The following are some of the key features of ManageEngine:
It has an API that can be integrated with existing systems.
The alerts/escalation feature provides you with real-time notifications.
The approval process control feature allows you to create, manage tasks and approve requests.
It has an assignment management feature that helps you track resources and manage their availability.
It has more than 90 ready-made reports of active IT management features.
ManageEngine Pros
It allows IT teams to manage their system and assets in a structured manner (ITSM).
It has a built-in approval system for tickets and requests.
The robust reporting allows you to analyze your business systems in-depth.
The remote monitoring and management feature allows you to control your IT system from anywhere
ManageEngine Cons
It has limited customization, thus less flexibility.
Opening multiple tabs cause performance lags.
The user experience may seem overwhelming for those unfamiliar with the interface.
ManageEngine Pricing
To access the pricing plans for ManageEngine, you need to contact support to get a custom quote.
However, once you sign up, you get a 30-day free trial while accessing even the most advanced features of the IT management software.
Zoho Desk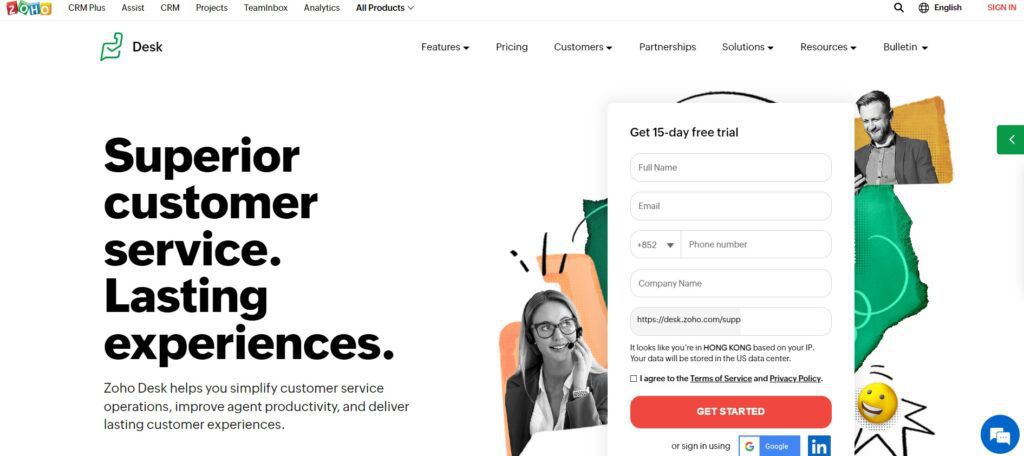 Zoho Desk is an online customer engagement platform that allows you to create and manage your support desk.
It offers several features, including live chat, email and phone support, case management, reporting tools, etc.
With Zoho Desk, you can create an online community to engage with your customers and partners.
You can also set up a knowledge base to help answer common questions. Zoho Desk pricing Zoho Desk offers several pricing plans for its software.
Zoho Desk Key Features
An invoicing feature that allows you to create invoices for services rendered.
A ticket-tracking system that allows you to create, schedule, prioritize and track tickets.
An inventory tracking feature that allows you to manage your assets and hardware.
The VAT feature allows you to manage VAT and tax.
An integrations feature allows you to integrate other software and services into the system.
Zoho Desk Pros
It is affordable for small or medium businesses and offers flexibility in pricing plans for larger organizations.
Support is available to help you with any queries and issues.
It seamlessly integrates with other services such as CRM, ERP, and HR systems.
It is an all-inclusive IT management solution; thus, purchasing separate products is unnecessary.
Zoho Desk Cons
The software often crashes, making it difficult to assess your organization's data.
Zoho limits multiple users; thus, it is not recommended for highly distributed organizations.
Zoho Desk Pricing
Standard: costs $14 per organization per month
Professional: costs $23 per organization monthly
Enterprise: costs $40 per user per month
Do you know Zoho also provides useful CRM tools? Check it out!
Help Scout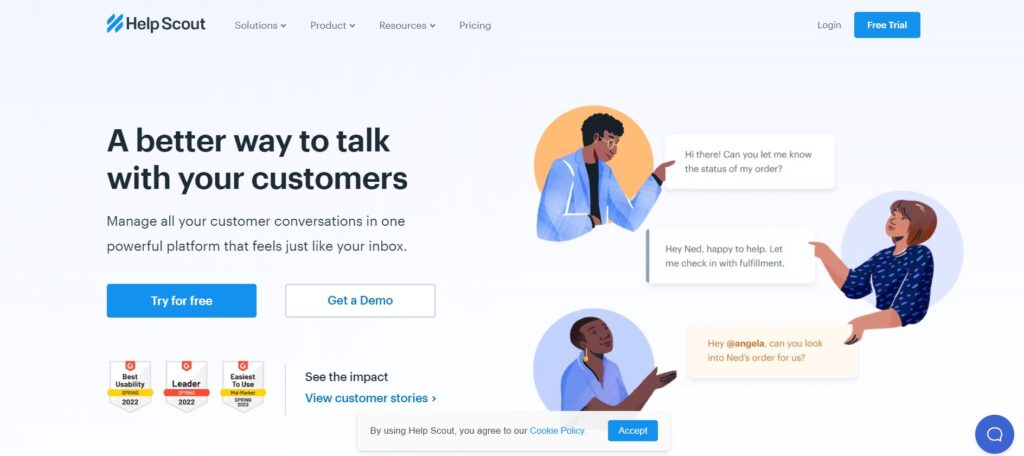 Help Scout is a customer service software that lets you create and manage your support teams.
It integrates nicely with popular tools like Slack, Salesforce, Intercom, and more and offers project management and marketing automation services. 
Help Scout pricing is based on three factors: the number of users, the number of agents per user, and the frequency of your updates to them (how often new issues are created).
Help Scout Key Features
It has over 75 keyboard shortcuts to ensure a fast and fluid workflow.
It offers advanced formatting enabling you to add bold, italic, images, and footnotes.
It has an auto BCC feature with CRMs and other email platforms.
It has a collision detection feature that helps detect typos, bad words, and other errors.
It has over 90 apps and integrations to help you connect with 3rd party applications and systems.
Help Scout Pros
It has an intuitive interface that tracks emails and uses time zone to root out emails.
The workflows are fantastic and allow you to configure your account according to your needs.
You can organize your inbox by using the built-in filters.
It has a robust tagging system that lets you organize emails in relevant, unread, and flagged ways.
Help Scout Cons
Group tickets may be disorganized, and it takes time adds to respond.
Many features, such as tags and custom fields, are unavailable when replying to all users.
Help Scout Pricing
Standard: costs $20 per user monthly and includes intuitive, world-class support tools for growing teams, in-app messaging, and custom reports.
Plus: it costs $40 per user monthly and includes advanced management for rapid development, advanced permissions, unlimited reporting history, and advanced API access.
Pro: costs $65 per user monthly and includes 35 mailboxes, tiered discounts, API rate limit increase, and a dedicated account manager.
HappyFox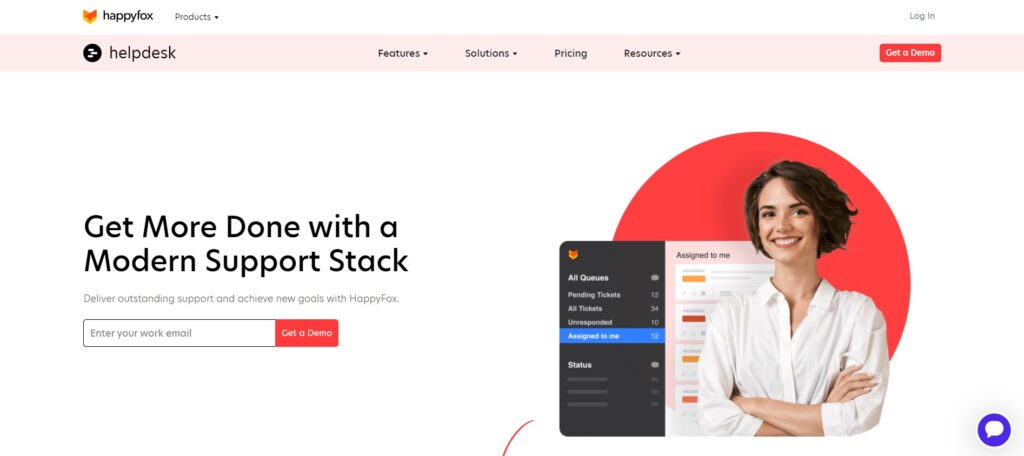 HappyFox is a cloud-based customer relations tool that provides help desk software and a help desk ticketing solution to businesses in different industries, including travel, energy, retail, and more.
It sorts tickets based on priority, then organizes them based on criteria to keep your account organized.
HappyFox helps reduce customer relations chaos and bring order to the support process. It has a robust ticketing system, a service knowledge base, and advanced community forums.
HappyFox Key Features
It has integrations with various popular SaaS systems to ease ticket creation.
It offers help desk and ticketing software that are both cloud-based and can be accessed from anywhere.
It has powerful automation capabilities to help businesses increase efficiency and save time.
It contains customer support metrics that help businesses measure response time, resolution, and top issues.
HappyFox Pros
It has a robust search tool to help you find answers easily.
It has an All-in-One ticketing system with several options, such as an activity log and a ticket database.
The robust CRM data dashboard enables you to track tickets and projects.
The ticket tracking and time management features are helpful to businesses that want to standardize and improve their processes.
HappyFox Cons
The system may not be ideal for businesses with complex processes requiring many agents.
It lacks support for third-party integrations.
It lacks an email management feature, an essential part of customer service software.
HappyFox Pricing
Mighty: costs $26 per agent per month and offers omnichannel ticket creation, SLA management, Knowledge base, SSL certificate hosting, and migration assistance.
Fantastic: costs $39 per agent per month and offers a multi-brand helpdesk, SLA breach notification, custom ticket queues, and an optional EU data center.
Enterprise: costs $52 per agent monthly and is the most popular, offering proactive agent collision, task and asset management, and uptime SLA.
Enterprise Plus: costs $64 per agent per month and offers agent scripting, a 2TB attachment store, all-time reporting history, a customer success manager, and 24/7 email, chat, and phone support.
Jira Service Management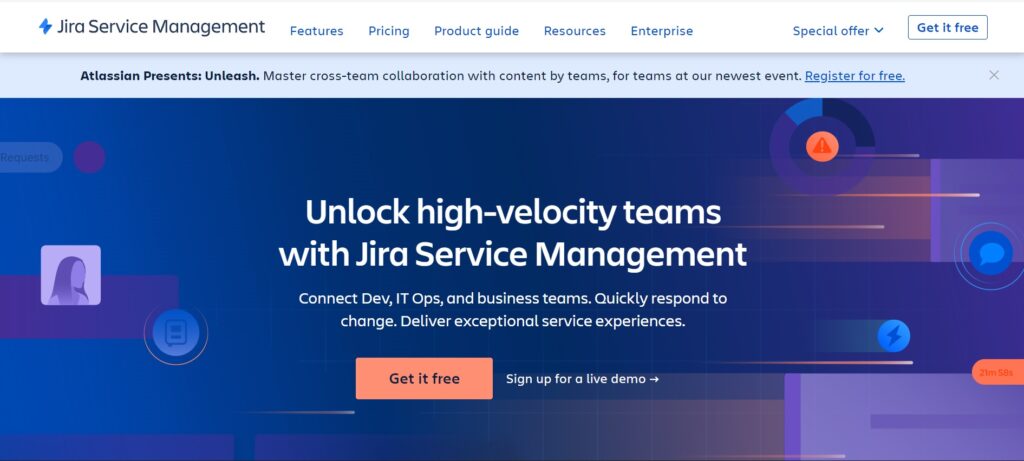 Jira Service Management is a help desk software designed to help IT and service teams ensure server performance and availability.
It empowers teams to quickly ensure change, request, incident, problem, and configuration management.
Whether you're just getting started or looking for a fast switch to a more flexible IT service management solution, Jira Service Management has all features you need to accelerate your growth.
Jira Service Management Key Features
It has an incident management system that lets you resolve incidents fast and efficiently.
The service request management system enables faster and more efficient service delivery.
It has a change management workflow that enables you to collaborate, manage and track changes.
It has an asset management system that helps businesses manage their assets.
The problem management feature helps you capture and solve problems faster.
Jira Service Management Pros
It has a great customer support and an active community that you can use to get all your questions answered.
The clear metrics for each department and the reports help see where your team is performing.
It integrates with other desk systems such as Slack, MS Teams, and Salesforce to make this tool even more powerful.
It is easy to transfer ownership to create tickets without knowing the programming.
You can create a dashboard and filters that you can use to track, monitor, and measure your business processes.
Jira Service Management Cons
Sometimes Jira is too slow to pinpoint issues.
It requires you to learn some coding skills, which may be challenging for many businesses.
Some customers complain about the lack of support for third-party integrations.
Jira Service Management Pricing
The following are the pricing plans offered by Jira Service Management:
Free: It accommodates 3 agents that offer 100 emails daily, configurable workflows, and multi-language support. Contact support to get a custom quote.
Standard: It accommodates up to 5000 agents with 250GB file storage and unlimited emails daily. Contact support to get a custom quote.
Premium: It accommodates 5000 agents with unlimited file storage, 24/7 support, and 99.9% uptime SLA. Contact support to get a custom quote.
Enterprise: It accommodates over 5000 agents with unlimited sites and 25/7 dedicated support for all problems with advanced alert integrations. Contact support to get a custom quote.
LiveAgent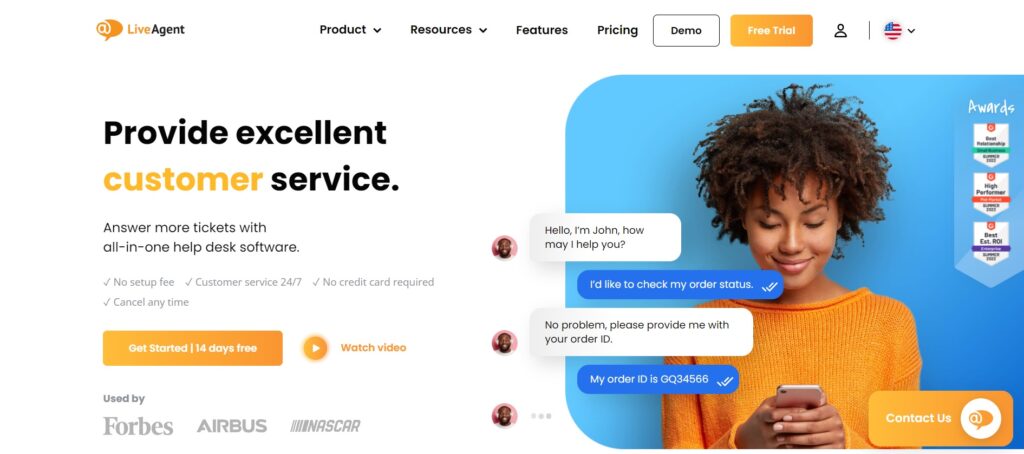 LiveAgent is a fully featured help desk and chat software that's designed to help you enhance customer interactions.
You can answer more tickets on your integrated dashboard and connect with your customers on all social media channels.
Top companies using LiveAgent include Huawei, BMW, Yamaha, and Oxford University.
The help desk software allows you to personalize your communication, taking advantage of the platform's customer segmentation, automation, and powerful analytics.
LiveAgent Key Features
It has a flexible ticketing system that lets you easily track, manage, and resolve issues.
Agent collision detection gives your agents individual work to avoid duplication.
Client portal software streamlines your customer support and provides a valuable tool for sales.
Service-Level-Agreement (SLA) features let you know how your customers are performing.
There are 39 translations that you can use to provide language-specific support.
LiveAgent Pros
Multi-channel support is excellent since it offers 24/7 phone, chat, and email support.
The pricing plan is low and affordable for most businesses, and the monthly subscription plans are also affordable.
The customer success manager lets you automate customer support and increase your response time.
It has an intuitive UI that is easy to use, even for newbies.
It offers multi-brand support that allows you to create multiple accounts for the same business.
LiveAgent Cons
The color pallet lacks some extra colors, which could have made it better.
Integrations with third-party software are quite expensive.
Its knowledge base lacks some powerful features that would have made it great.
LiveAgent Pricing
Free: $0 per agent monthly, offers basic reports, includes a 7-day ticket history, and a customer portal and forum but has some limitations.
Ticket: costs $15 per agent monthly and offers unlimited ticket history, advanced reporting, API integrations, and white glove set Ip.
Ticket Chat: costs $29 per agent monthly and offers unlimited chat buttons, feedback management, real-time visitor monitoring, and chat satisfaction surveys.
All-inclusive: costs $49 per agent monthly and offers a powerful omnichannel helpdesk with over 180 features and includes IVR, call routing and transfers, and hardware IP phone.
SysAid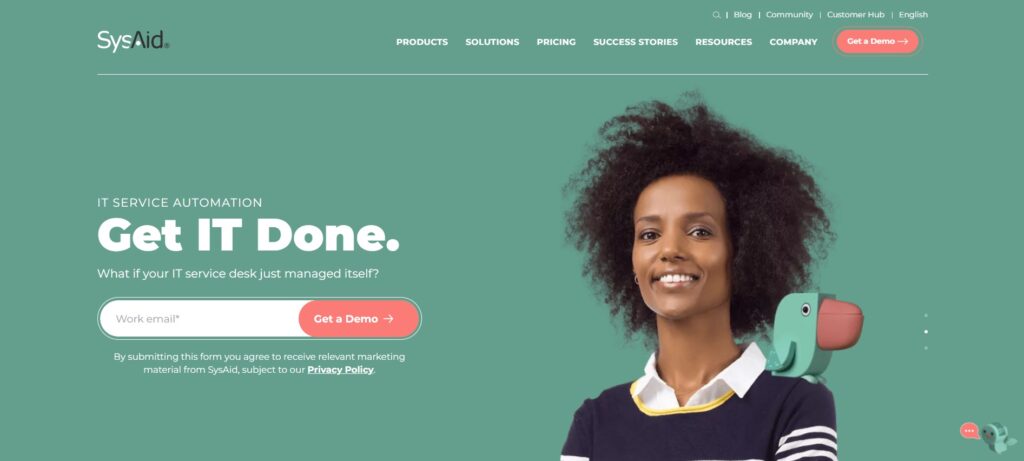 SysAid is an international company that develops and provides IT service management software.
It started in 2002 and hosted the most powerful workflow, built-in reporting tools, and asset management tools.
SysAid is available in over 42 languages as a cloud-based tool and on-premises solution. It aims at cross-referencing everything to help you close a loop faster.
This includes tickets, assets, patches, and other related items.
SysAid Key Features
The incident management feature automates ticket routing and knowledge base integration.
It has an automation feature that lets you route tickets to the right departments automatically.
The reports and analytics feature lets you see the trends, performance, and efficiency.
It has a service desk application that allows you to manage your customers and their tickets in the same interface.
It has access and asset management to monitor and manage your devices, software, and network.
SysAid Pros
The help desk software is a complete solution that includes an online customer portal that offers a feedback option and the ability to submit requests via email.
Setting up an online customer portal is simple, and it allows you to create a database of customers with instant access to all the reports you need.
You will have more control over assets and services your customers use.
It improves IT productivity by automating manual tasks.
The multi-language support lets you provide support to customers across the globe.
If you desire to improve your IT productivity, SysAid is your ideal customer service software.
SysAid Cons
Building workflows can be challenging for those who have never done this before.
The reporting suite is not good for non-technical business owners.
It sometimes takes time for customer service agents to route your ticket to the correct departments.
SysAid Pricing
To access the pricing plans for SysAid, you must contact the customer service department to get a custom quote.
How do I choose the best help desk software?
Decide which features you need and what aspects of your support team's needs the help desk software must address. Choose a solution that is a good fit for your business.
Use the free trial period for a test drive and see how the software performs for your needs.
Consider the cost of the solution and whether you can find similar functionality at a lower price.
Research other solutions that meet your needs to ensure you pick the best desk systems for your company.
Best Help Desk Software Conclusion
If you're looking for the best help desk software, consider looking through its features and pricing to see if the product might be suitable for our company's needs and budget.
When working with a limited budget, it's best to consider the desk software features you need for your business.
Basic features each help desk software should have integration tools, tracking and analytics, organized ticketing systems, and multiple channels support.
To find out what more the above help desk systems provide, visit their official websites for more information.