In today's tech-driven world, project management tools have become indispensable to our work lives. Whether you're a small business owner juggling numerous tasks, a team leader managing a remote crew, or an individual freelancer trying to keep track of deadlines, robust project management software can be your secret weapon to staying organized and efficient.
But with so many options out there, how do you choose the one that's right for you?
That's precisely why we're here! We've done the research, tried and tested an array of options, and rounded up our picks for the top 12 free project management software of 2023.
In this article, we'll guide you through each of these tools, highlighting their best features, user-friendly interfaces, and how they can help streamline your workflow without breaking the bank. Whether you're a newbie to project management software or are simply looking for a change, you'll find something here that suits your needs perfectly.
So, buckle up and get ready to revolutionize the way you manage your projects and teams. Let's dive in to uncover these game-changing tools that are not just efficient but also absolutely free!
Project Management Software Key Features
Before you decide on a particular platform, you should make sure that your software offers all of the key features that you need. Some basic features include the following:
Complete Your Projects With Ease
An easy-to-use interface helps you and your team get your projects done quickly—without spending hours in training or learning a complicated program.
Effective Communication with Stakeholders
Get real-time updates by collaborating and sharing files through the application's dashboard. Keep everyone on the same page by sharing documents, calendars, and lists.
Manage Multiple Projects at a Time
You can track multiple projects at the same time without having to use multiple applications. This makes it easy to organize your projects and keep track of all the details you need to complete each project successfully.
Track Tasks and Monitor Progress
You can easily assign tasks and monitor the progress of individual team members for each project to ensure everything is on track and completed on time.
Integration with Other Applications
Many project management tools integrate with other applications to help you automate recurring tasks and simplify your workflow. For example, they can connect to your calendar, email tool, etc. so you can access all your important data in one place.
12 Best Free Project Management Tools
Here are the 12 best free project management tools that can help you manage tasks, collaborate with team members, and track progress:
Let's take a closer look at each of the best free project management tools and see how they stack up.
ClickUp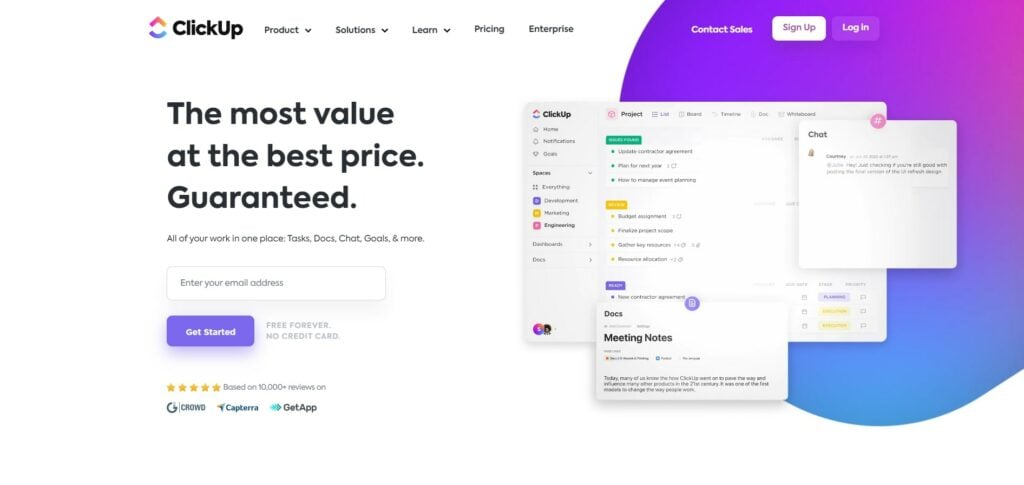 ClickUp is a highly versatile and comprehensive project management platform that significantly improves productivity, collaboration, and organization in any team setting. It's designed to cater to all your project management needs, whether you're a small business, a large corporation, or anything in between.
Notably, ClickUp offers a free version that stands out among its competitors. This version is far from a simple trial or basic package, providing a powerful set of features that can transform the way you manage your projects. It includes amazing features like task and subtask management, time tracking, unlimited members, and up to 100MB storage space.
Our Pick
ClickUp | One App to Replace Them All
ClickUp is a powerful project management tool designed to help teams work more efficiently and collaboratively. It offers a range of features, including task management, time tracking, team collaboration, and project planning, making it easy to manage your team's workflow in one place.
Pros:
Task management

Time tracking

Team collaboration

Project planning

User-friendly interface

Powerful automation capabilities

ClickUp's interface is intuitively designed, allowing users to quickly navigate through tasks, timelines, and team members. Its core features include task management, time tracking, goal setting, document sharing, and collaboration tools. It also offers seamless integrations with other popular tools such as Slack, Google Calendar, Dropbox, and many more.
Not only does ClickUp provide comprehensive and flexible project management features, but it also offers robust reporting and customizable views. This allows teams to view their projects from multiple perspectives and derive insights into their productivity and efficiency.
In essence, ClickUp's free version is an exceptional tool that offers a holistic approach to project management without the associated cost. Its rich feature set, intuitive UI, and robust capabilities make it the best free project management software available.
ClickUp key features
Workload management
Native video recording
Built-in time tracking
Built-in chat
Mind Maps
ClickUp's Mind Maps is similar to monday's whiteboard collaboration tool. It also allows you to visualize ideas and plan projects with multiple team members in real time. You can also create relationships between tasks for a better overview of your projects.
ClickUp Pros
24/7 customer support across all pricing plans
Excellent collaboration features
Broad set of advanced features
Excellent features for free plans
Highly customizable
In terms of collaboration tools, this project management software offers a built-in chat, native time tracking, whiteboards, team sharing, proofing, and much more.
ClickUp cons
Most essential features are limited by the number of uses
Steep pricing difference between paid packages
Free version lacks team sharing
Can get overwhelming
Limited integrations
Due to the platform's extensive features and customization options, ClickUp might get overwhelming to new users.
monday.com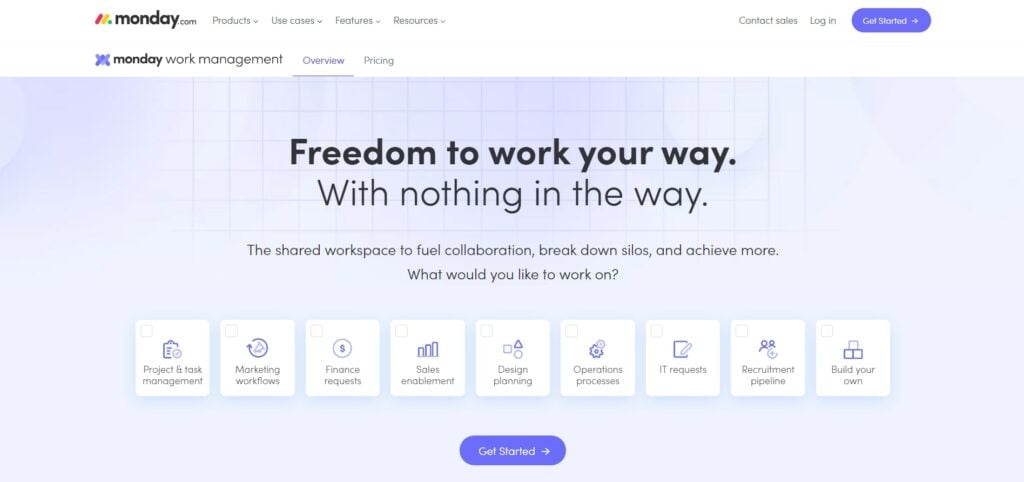 Part of monday.com's product offerings, monday work management is a project management tool that focuses on customization and ease of use. Users can customize multiple aspects of the platform through a straightforward drag-and-drop interface and a wide variety of templates designed for multiple use cases.
Our #1 Pick
10x Your Productivity | monday.com
Monday.com is the best cloud-based project management tool that helps teams manage their workflow and collaborate more effectively. It provides a visual overview of your team's progress, making it easy to identify bottlenecks and areas for improvement. It's a great option for teams looking for a flexible and intuitive project management solution.
Pros:
User-friendly interface that allows for easy task and project management

Customizable templates for various industries and functions

Integration with popular apps like Slack, Google Drive, and Trello

Visual overview of team progress and project status

Flexible and intuitive project management solution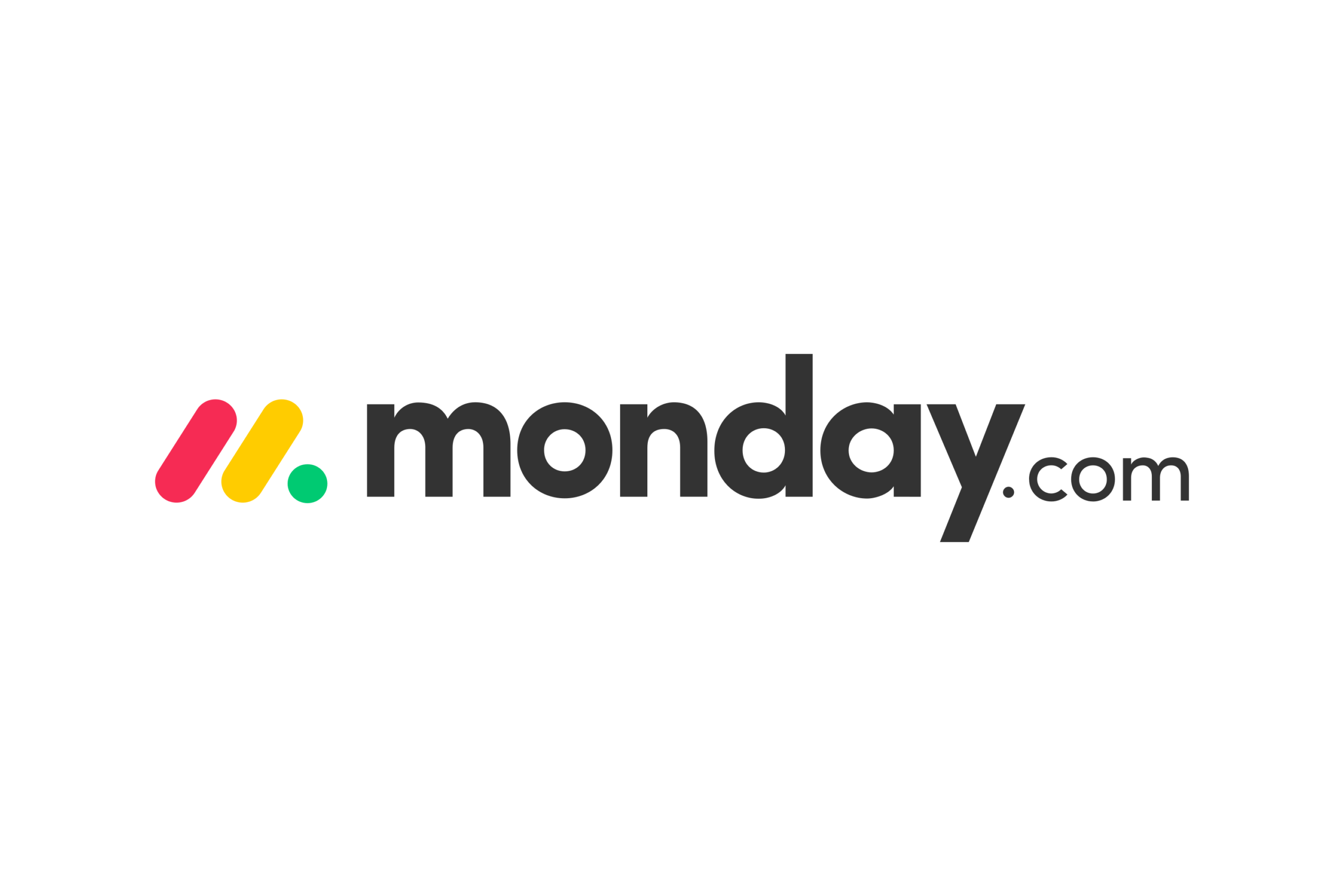 monday.com key features
Kanban boards, maps, calendars, timelines, and chart views
Whiteboard collaboration
Workload management
Task dependencies
200+ templates
The platform's stand out is its Whiteboard collaboration features. In short, this functionality allows multiple team members to plan projects and visualize ideas on the same whiteboard, making it ideal for brainstorming sessions.
Monday pros
24/7 customer support across all pricing plans
Extensive integration library
Highly customizable
Easy to use
Affordable
This project management software allows you to customize reports, dashboards, workflows, and more. You also use the platform's many available templates to make your job easier. For instance, there are templates dedicated to requests and approvals, project management, etc.
Monday cons
Lacks time tracking in lower-tier pricing plans
No automation in the free and Basic plan
Guests are billed up to the Pro plan
Some integrations cost extra
Limited free version
The platform's free forever plan is only available for up to two users. It also covers limited features, as it lacks integrations, automation, and only gives you access to Kanban boards. That said, the free plan is only suitable for individuals or small teams looking for basic project management functionality, but in-depth customization options.
Notion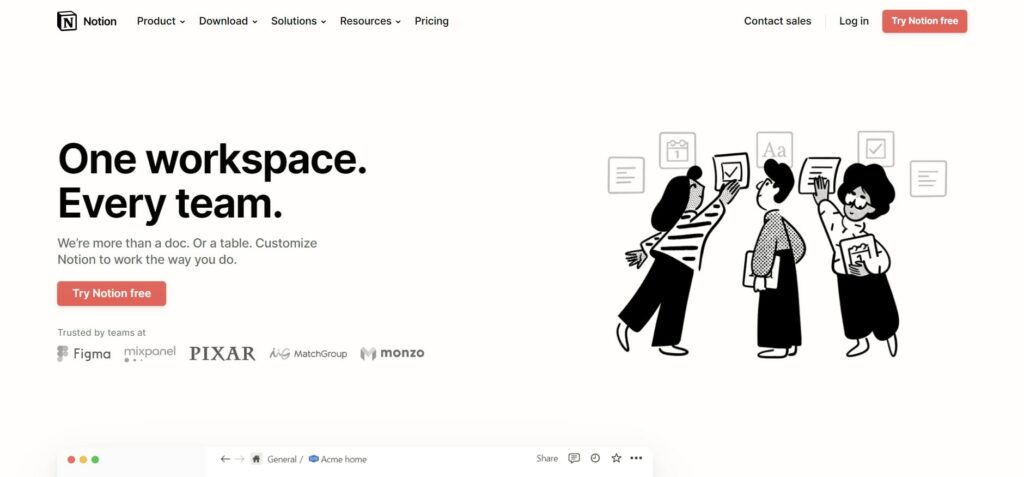 Notion is a straightforward project management solution that emphasizes individual use. However, it can also be used by multiple team members. This tool mostly focuses on customization, team collaboration, and project planning.
Notion key features
Solid selection of admin and security tools
Built-in collaboration tools
Multiple viewing options
Bulk exports
Audit logs
The platform includes Kanban, table, list, calendar, and timeline views across all its pricing packages. In terms of team collaboration tools, you can create public and private workspaces, set granular permissions, and leave comments in real time.
Notion pros
Unlimited storage in all plans
Large selection of templates
Extensive customization
Collaborative editing
Highly affordable
The platform includes dozens of ready-made templates built by Notion's teams and its community. These templates are designed for multiple use cases and industries, like design, freelancing, engineering, task creation, and more.
Notion cons
The free and entry-level plan is available only to one user
Free plan only stores up to 5MB/file
No page history in the free plan
Steeper learning curve
Limited features
One of the platform's biggest drawbacks is that free project management solution and the entry-level pricing package is limited to one user. If you'd like to add team members, you'll have to choose the mid-tier pricing package, which costs twice as much.
Smartsheet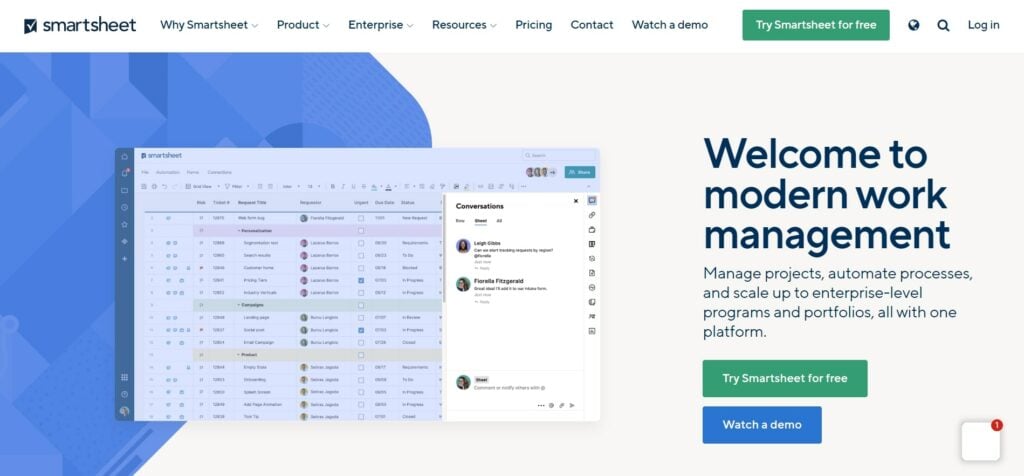 This project management software takes spreadsheets to another level. The platform gives you access to advanced features like automation tools, resource management, and project baselines in a spreadsheet format.
Smartsheet | Modern Work Management
Smartsheet is a cloud-based work management platform that offers project management, task tracking, resource management, and collaboration features. It is highly customizable for different teams and can be used for a wide range of purposes.
Pros:
Highly customizable for different teams and purposes

Offers project management, task tracking, resource management, and collaboration features

Automation capabilities, such as alerts and conditional formatting

Reporting and analytics tools, such as dashboards and charts

Smartsheet key features
Resource allocation and management
Task dependencies
Project baselines
Dynamic views
Proofing
Project baselines allow you to easily compare planned work schedules and actual workflows. Consequently, you'll get to determine how realistic your expectations are and whether there are gaps in current workflows. Meanwhile, dynamic views automatically adjust existing processes based on your needs.
Smartsheet pros
Includes pre-built templates
Includes advanced features
Built-in collaboration tools
Easy to use
Affordable
Overall, Smartsheet brings great value for money. From just $7/user/month, you get access to in-depth automation capabilities, advanced customization options, and more.
Smartsheet cons
Advanced customer support is an add-on for all packages
Very steep pricing differences between plans
Some features and integrations cost extra
Limited pricing plan variety
No free version
The platform lacks a free version. However, there's a 30-day free trial for the Basic and Business plans.
Wrike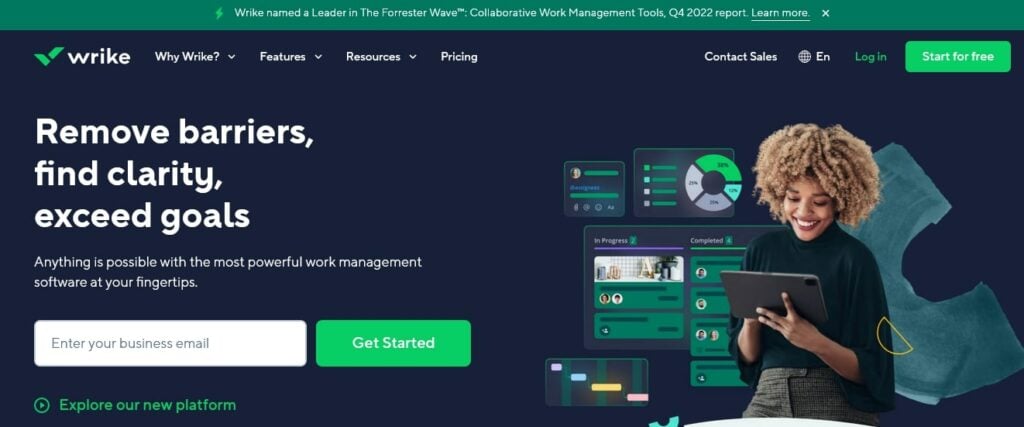 Wrike is a versatile project management software. The platform emphasizes customization options and features a library of 400+ integrations. This project management tool also includes a solid free version that's available to unlimited users.
Wrike | Powerful Project Management
Wrike is a project management software that helps teams collaborate and manage tasks efficiently. It provides a centralized platform for project planning, task tracking, team communication, and reporting. With Wrike, teams can streamline their workflows, improve productivity, and achieve their goals faster.
Pros:
Powerful features, such as task management, time tracking, and Gantt charts

Advanced customization options to tailor the platform to specific team needs

Collaboration features, such as real-time updates, comments, and file sharing

Reporting and analytics tools to provide valuable insights into team performance

Integrates with a wide range of other tools to streamline workflows

Mobile app to stay connected and up-to-date on projects while on the go

Wrike key features
Trigger-based automated workflows
Requests and approvals
Work Intelligence
Cross-tagging
Proofing
The platform's Work Intelligence leverages Machine Learning and Artificial Intelligence to predict any risks within your workflow and suggest potential fixes and create prioritization lists based on your needs.
Wrike pros
Powerful customization options
AI-powered capabilities
Affordable base package
Vast integration library
In-depth free version
One of the best parts about Wrike is that the free version includes all of the platform's AI capabilities, except the risk prediction function.
Wrike cons
Monthly automation limits across all packages
No native time tracking in entry-level plans
Steep price difference between plans
Free plan lacks reporting tools
Steep learning curve
The free and entry-level plan lacks crucial features, like more extensive customization features, time-tracking, and collaboration tools. This may push you to upgrade to the up-tier plans, which are significantly more expensive.
Teamwork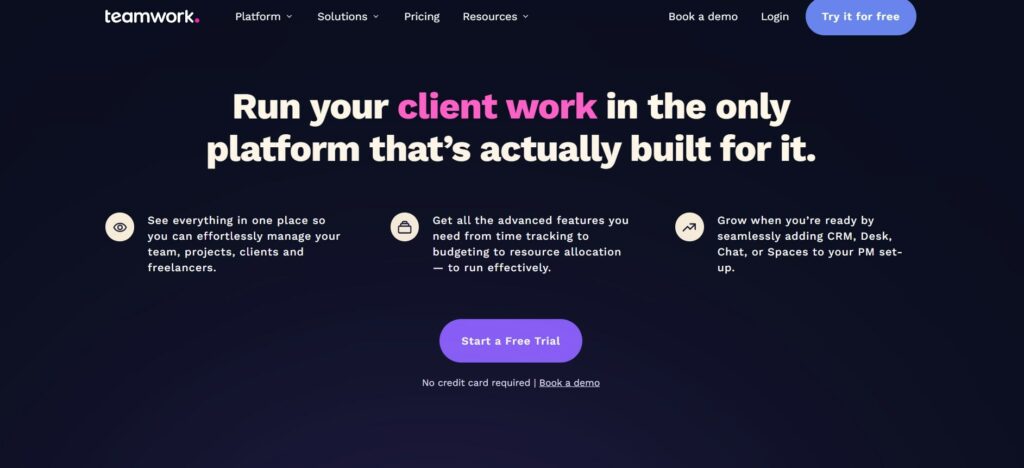 As the name suggests, this project management software aims to get your team members on the same page. As such, the platform includes plenty of collaboration tools, as well as workload management, team performance reports, etc.
Best for client project management
Teamwork
Teamwork is the only project management platform built specifically for client work. It offers a unique set of features that help teams gain complete clarity and control over their projects, from start to finish. With Teamwork, teams can easily manage clients and projects, assign tasks and deadlines, and track progress in real-time. The platform also offers a range of reporting tools, including time tracking and resource management, to ensure that projects stay on schedule and within budget.
Pros:
Range of reporting tools, including time tracking and resource management, to ensure that projects stay on schedule and within budget

Client portal allows clients to have visibility into their projects and track progress at any time, while also providing a secure space for communication and file sharing

Teamwork key features
Integrated time tracking
Workload management
Portfolio management
Profitability tracking
Built-in chat
Thus project management tool allows you to monitor profitability across multiple projects, teams, and clients. Another notable feature is the ability to create teams and sub-teams to organize work among your projects better.
Teamwork pros
Time tracking available in all packages
Excellent team collaboration tools
Supports billing and invoicing
Affordable entry-level plan
Great reporting tools
Teamwork features a wide variety of reports. You can monitor your team's projects and availability, track profitability, monitor task completion rate, build custom reports, and more.
Teamwork cons
No integrations in the free plan, except Zapier and SoftSync
Free and entry-level plan lacks advanced reports
Free plan is limited to five users
Limited customization
Steeper learning curve
Users generally report that the platform can be tricky to use at first and it would take a while until you get the hang of it.
Resource Guru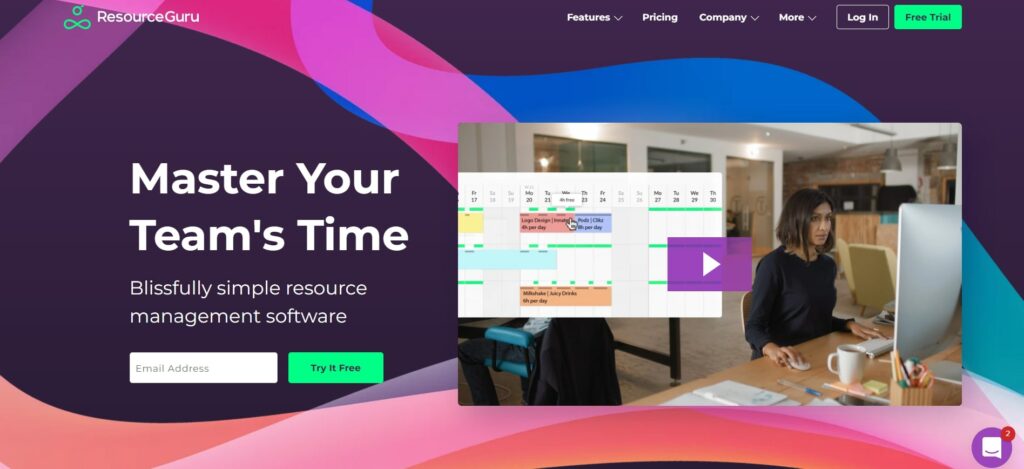 Resource Guru is a project management platform that emphasizes time management. Although this isn't a free project management software solution, this tool is highly affordable. Pricing starts from just $2.50/user/month (yearly).
Resource Guru key features
Resource management and scheduling
Billable/non-billable hours reports
Employee capacity planning
Personal time off tracker
Absence management
This project management system allows you to easily record and track whenever your employees go on vacations or sick leaves, for instance. Moreover, its capacity planning tools get you a bird's-eye view of your employees' workload so you can plan projects accordingly.
Resource Guru Pros
Includes advanced time management features
Handles equipment management
Large integration library
Easy to use
Affordable
The platform's equipment management tool helps project managers keep track of their equipment easily. It handles equipment bookings which you can then assign to specific projects or clients. You'll be provided with in-depth reports for billing.
Resource Guru Cons
Limited features outside of time management
UI can get cluttered
Occasionally slow
No search functions
No free version
Although this project management tool lacks a free plan, there's a 30-day free trial for all pricing plans.
Zoho Projects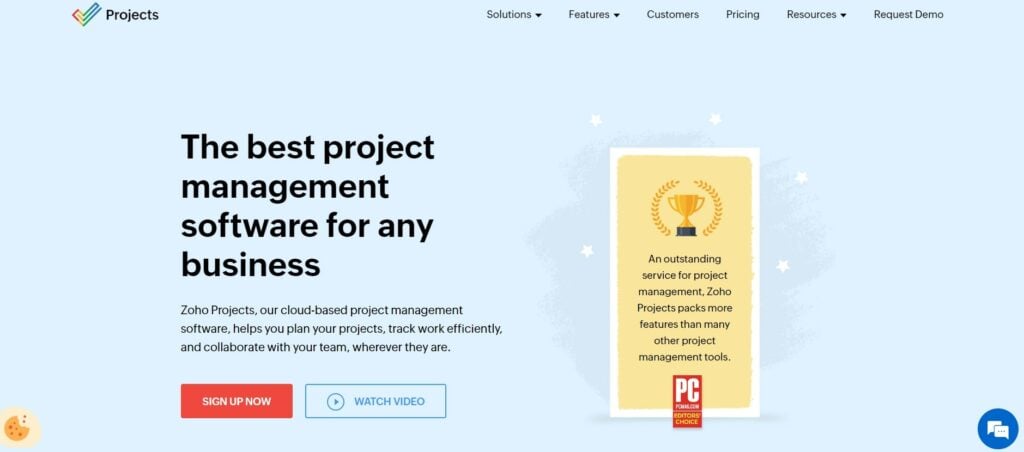 Zoho Projects is a versatile project management software solution that you can get completely free! Although limited to three users, the free project management tool is pretty solid. You get access to unlimited tasks, handle task dependencies, set custom project, task, and milestone status, and other tools.
Zoho Projects Key Features
Built-in collaboration tools
Built-in time tracking
Project budgeting
Project templates
Issue tracker
This project management software solution goes in-depth with its team collaboration tools. Team members can share documents, talk to each other via a built-in chat, get quick access to important information through feeds, and create forums for in-detail topics.
Zoho Projects Pros
Facilitates agile project management
Extensive customization options
Massive integration library
Highly affordable
Versatile
Zoho CRM includes issue and bug-tracking features for product development. The project management app also integrates with Zoho Sprints and GitHub to fulfill your agile project management needs.
Zoho Projects Cons
Free project management tool limited the three users
Steep pricing difference between packages
Customer support can be inconsistent
Can be overwhelming for beginners
Limited variety in pricing plans
Due to the platform's broad set of features, Zoho Projects may seem a little overwhelming for users with no prior experience in project management software. The UI can feel cluttered, and learning how to use the platform to its full capacity will take a while.
Asana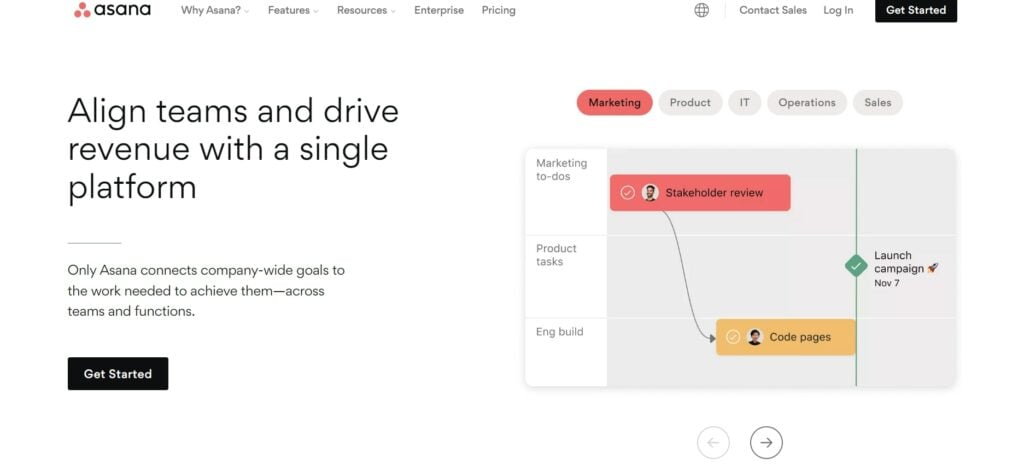 Asana is a highly customizable project management solution with advanced automation capabilities and offers full project management functionality. It also includes a free version perfect for medium-sized teams. The free project management software is available for up to 15 users and includes features like unlimited projects, unlimited storage, multiple project views, and more.
Asana Key Features
Workload management
Portfolio management
Built-in time tracking
Approvals
Proofing
The Workflow Builder is a new feature that allows you to easily create custom automation and capture feedback through forms via a drag-and-drop interface.
Asana Pros
Includes a solid free project management software solutions
Advanced automation capabilities
100+ integration available
Extensive customization
Broad feature set
The platform integrates natively with tools like GitHub, Slack, Jira, and more.
Asana Cons
24/7 customer support is only available in the top-tier pricing plan
Time-tracking only available through integrations
Steep pricing difference between packages
Free version lacks task dependencies
Not great for scalability
There's a large pricing difference between the paid entry-level plan and the med-tier one – more than double. That said, scaling with this platform is pretty costly. 
Trello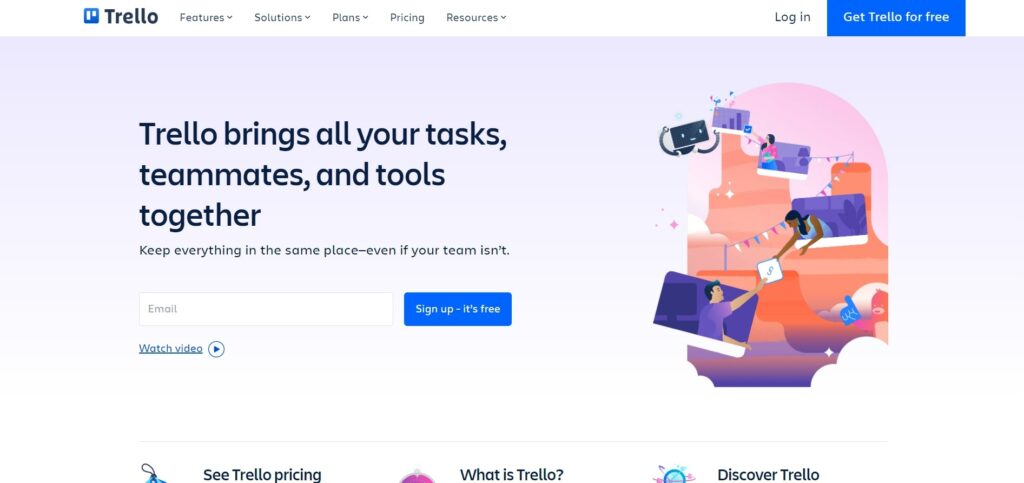 Visually managing projects with Trello should be a breeze. This is a simple project management software tool that's based on Kanban boards. As such, the platform provides a highly visual approach to project management favoring ease of use and transparency among team members. It also includes a free project management software solution that's available to unlimited users.
Trello key features
Large library of pre-made templates
Built-in mentions and comments
No-code automation capabilities
Advanced checklists
Activity logs
Managing projects with Trello should be a walk in the park. The platform allows you to automate recurring tasks and workflows easily, while project managers can divide projects into multiple tasks through advanced checklists.
Trello pros
Unlimited storage and activity log included in all pricing plans
Includes multiple view types aside from Kanban boards
Mobile project management apps availalbe
Highly easy to use
200+ integrations
Besides Kanban boards, you can also pick between table, timeline, calendar, and map views (from the Premium plan and up). Moreover, Trello includes a wide variety of templates designed to meet specific needs, like Notion. As for integration, you can link the platform with Jira, Google Drive, Zapier, and more.
Trello cons
Free plan does not include unlimited boards
Steep pricing difference between plans
No built-in time tracking
Barebones reports
Limited features
Overall, Trello is a very simple tool. It lacks advanced features found in the other project management software solutions mentioned in this list, like project budgeting, resource management, time tracking, etc.
Airtable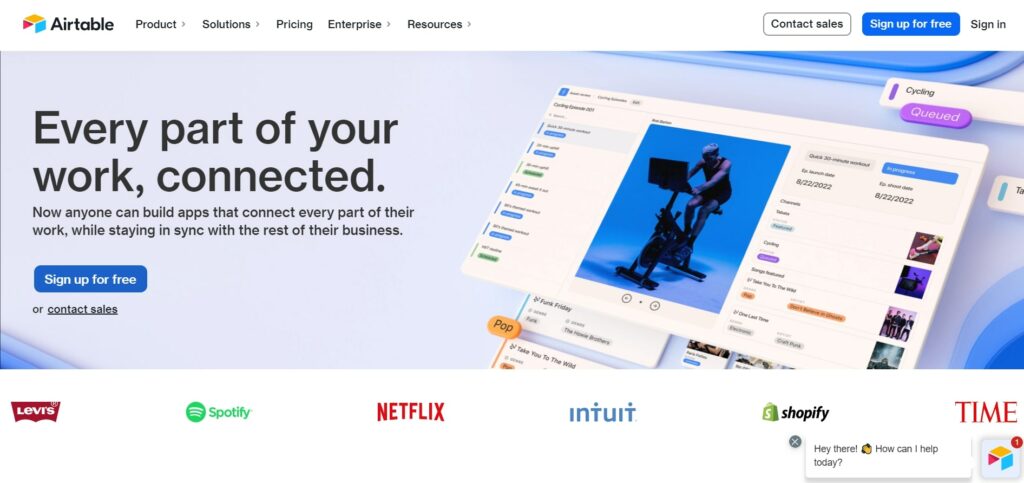 Airtable is a highly customizable table and spreadsheet-based project management software solution. The platform allows you to create custom interfaces and reports from scratch via a no-code drag-and-drop editor. Airtable also features a free project management app with built-in collaboration tools, automation capabilities, and more.
Airtable key features
Built-in collaboration tools
Granular permissions
Multiple view types
Interface designer
Activity history
The Interface Designer is a new feature that allows you to tweak every aspect of the project management platforms. Starting from a black canvas, you can build custom reports, dashboards, and more through in a no-code manner.
Airtable pros
Free project management apps for mobiles included
Interface Designer included in all plans
Solid integration library
Highly customizable
Easy to use
Overall, Airtable is an excellent option for those seeking a highly customizable table-based project management software solution.
Airtable cons
Number of integrations varies based on pricing plans
Automation is limited by the number of uses
No admin tools, except the Enterprise plan
Free version is limited to five users
Steep difference between plans
One of the main drawbacks of this project management platform is that its feature limitations may seem like it will push to upgrade to the next pricing plans. Couple that with the steep pricing difference between packages, and scalability starts to become an issue.
WorkOtter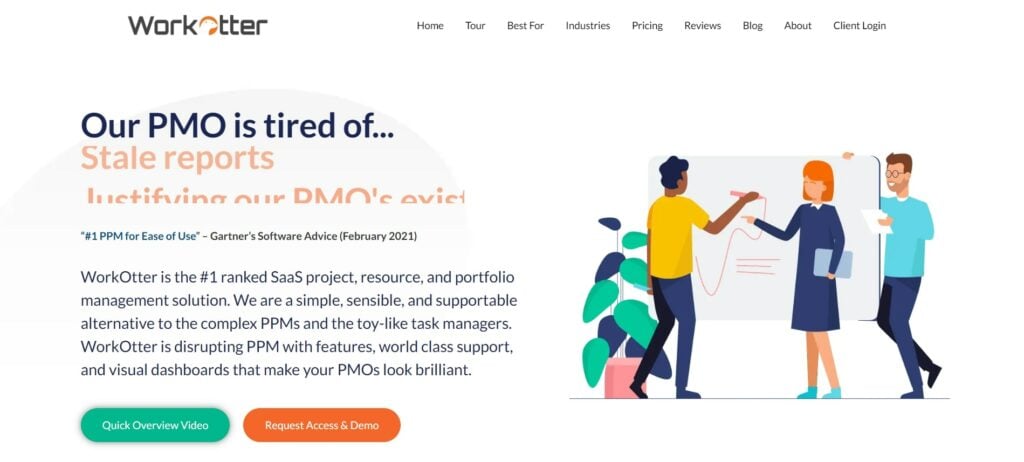 WorkOtter is a project management software solution that mainly focuses on portfolio and resource management. The platform includes features like scenario planning, workload management, project scheduling, and more.
Workotter key features
Resource allocation and management
Built-in time tracking and team chat
Custom reports and dashboards
Capacity/demand planning
Financial management
The financial management tool provides forecasts and reports to help you compare estimates and actual spending, track billable and non-billable hours, etc.
Workotter pros
Packages are not priced on a per-user basis
Supports agile project management
Excellent reporting capabilities
Easy to set up and use
Highly secure
The platform integrates natively with Jira and offers plenty of tools, like Scrum boards and sprints to help with agile project management. Additionally, the platform is hosted on its own Virtual Private Network for top-of-the-line security.
Workotter cons
Minimum of ten licenses required
Shallow free version
Limited features set
Outdated UI
Can be slow
Although the platform is excellent in terms of portfolio and resource management, this project management tool doesn't go much further than that. For instance, it lacks advanced project management features, like baselines, document management, etc.
Free Project Management Software Conclusion
And there you have it – the 12 best free project management apps you should keep an eye out for in 2023. Keep in mind that there's no one size fits all solution. Each tool in this list is designed to excel in specific aspects, like portfolio management or time management, for instance.
Moreover, although most project management software solutions cover solid free versions, you'd likely need to scale up at some point. That said, take the time to evaluate your needs and pick the project management platform that will serve you well both in the short and long term.