If you've searched for project management software, you've probably come across Asana. In this Asana review, we put all we know, including its features, pricing, pros, and cons, to help you determine if it's right for you.
From daily activities to larger projects, Asana assists teams in orchestrating their work. As a result, teams are more confident, move more quickly, and do more with less with Asana, regardless of where they are based.
Asana is being used to manage organizational objectives, digital transformation, product releases, marketing efforts, and more by over 114,000 subscribing businesses and millions of companies in 190 countries.
Despite not being our first choice, Asana is a solid second overall and our top choice for enterprises that require advanced customization possibilities. It's obvious to see why it ranks so high compared to other project management tools.
Asana's automation capabilities are more robust than those of its competitors, it's affordable, and it's versatile enough to fit your organization. Furthermore, its free plan is unrivaled.
Get Asana 30-day free trial here!
What is Asana Project Management Software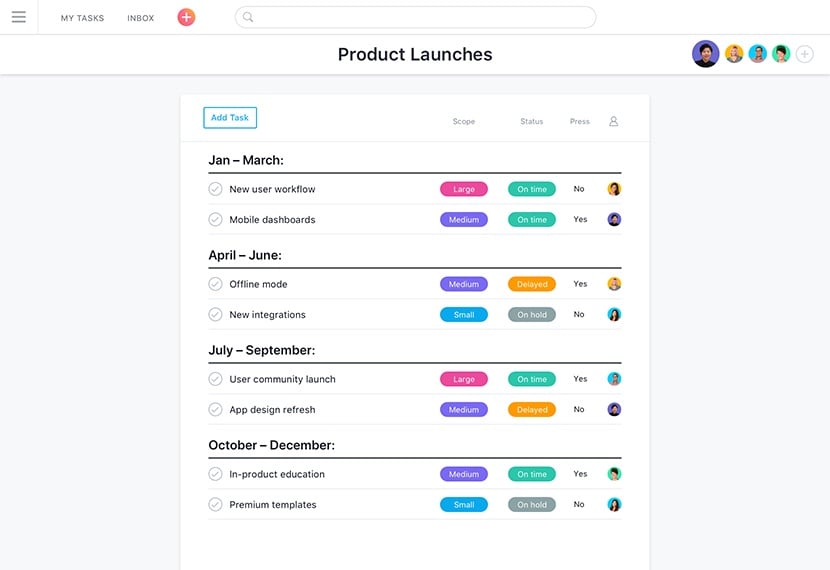 Asana is a project management software for teams. It's a versatile tool that assists teams in planning and tracking work, developing and streamlining procedures, and collaborating to reach out to customers, boosting organizational productivity, driving sales, and developing better products. 
Project teams can manage work and meet deadlines by using a unified platform that fosters visibility. It's a versatile platform that can handle a wide range of operations while also providing unique capabilities to boost efficiency and productivity.
Asana Key Features
Manage an unlimited number of projects, each with its own set of deadlines and subtasks.
Templates for tasks and projects
Assign assignments and projects to others.
Set up projects for certain groups
The portfolio feature allows you to manage, track, create, assign, and prioritize projects
With the progress view, you can keep track of the project's progress.
Calendar and timeline views let you keep track of deadlines.
Internal messaging system for collaboration.
On projects, you can tag other members.
Attach files from Dropbox, Google Drive, OneDrive, or your desktop to tasks.
Create annotations on images and tasks.
With Insights, you can keep track of your work in real-time
With Proofing, you can leave detailed, actionable feedback on visuals and turn it into assignments
Get Asana 30-day free trial here!
Asana Pros
Extensive Integrations with Third-Party Apps
Asana comes with various pre-built integrations with all of the big players in CRM, workflow, automation, and business intelligence. Slack, Google Drive, Dropbox, Tableau, and Salesforce are just a few of the major third-party applications that Asana integrates with. These integrations can greatly enhance Asana's capabilities. For example, if a task or project in Asana is updated, your team may be notified instantaneously via Slack.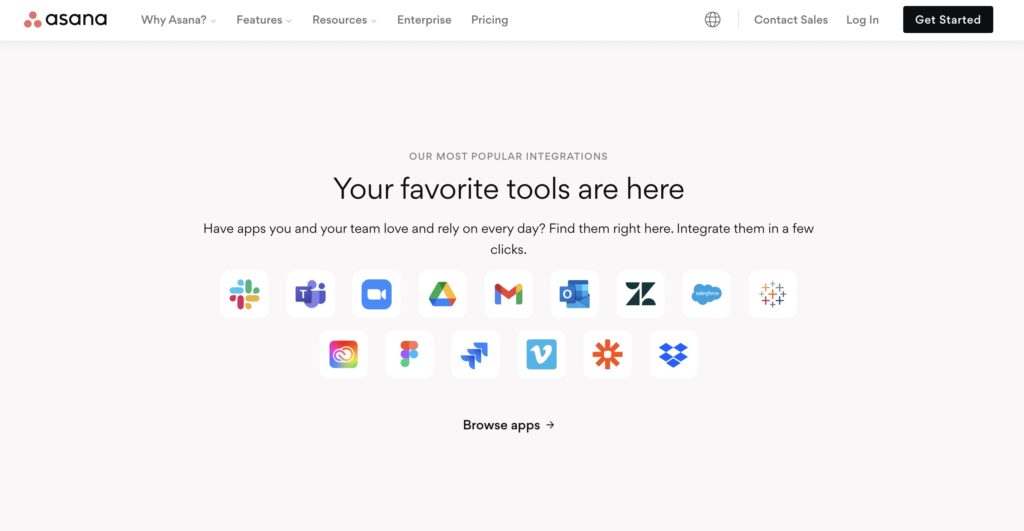 If you believe Asana doesn't have enough integrations on its own, there's even a Zapier integration.
However, some complex integrations, such as Salesforce and Tableau, are only available to Business and Enterprise users.
Powerful Free Version
Asana has the most feature-rich free plan of any project management tool we examined. Unfortunately, the free plans of most other project management software are so limited that they're unusable.
Asana isn't stingy with its free plan, which includes unlimited tasks, projects, messages, activity logs, file storage (100MB per file), different project views, mobile apps, and more.
You can stay on the free plan indefinitely if you have fewer than 15 users and handle basic projects.
You can also integrate with your preferred time tracking apps for free. Most solutions charge a premium for time tracking and don't enable integrations on the free version, so Asana free plan is generous.
Various Project Views
Users may view and manage projects and tasks in various ways with Asana, including Kanban boards, workloads, portfolios, calendars, lists, and timelines. Other project management solutions on the market only provide one or two views, so it's fantastic to see that Asana provides all of the choices. As a result, each team member may handle responsibilities most efficiently, allowing them to be as productive as possible.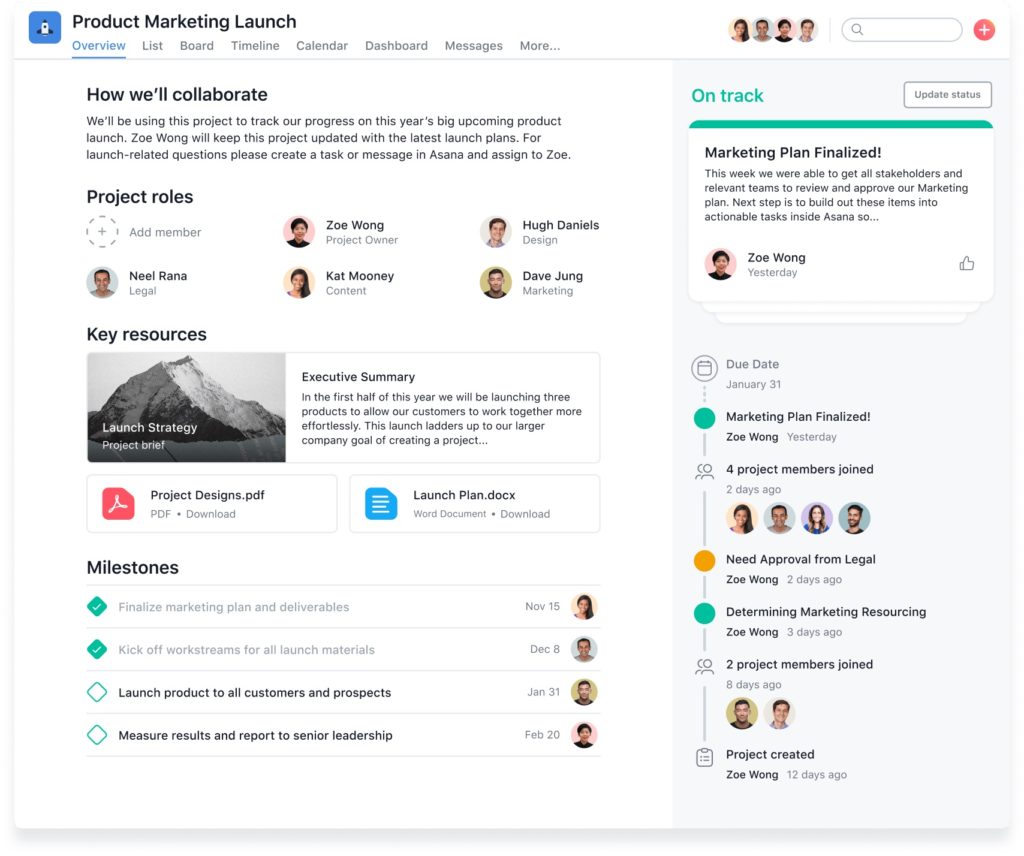 You may also develop configurable real-time project dashboards and edit them to see the most critical facts at a glance as you see fit.
User-friendly
The major advantage of Asana is that it is straightforward to use. Its onboarding approach matches you with a core toolkit for your needs after signing up.
Basic features are easy to locate once you're in, templates come with documentation, and everything from visual organizing to messaging is designed to be intuitive to use.
Get Asana 30-day free trial here!
Asana Cons and Limitations
You can't assign the same task to more than one person
Each task in Asana is limited to one member. This is done to avoid misunderstandings about who is in charge of what. This can also be a problem if you need to assign a task to numerous persons or if the designated person isn't accessible and you need to delegate the work to someone else on your team.
Difficult to submit customer support ticket
Although Asana provides excellent customer service, filing a case with their support team is cumbersome and time-consuming. To submit a ticket, you must first navigate Asana's self-help system for your problem — and some outcomes will send you back to a circular one-way loop of self-serve support rather than directing you to a place where you may speak with a human support agent.
Lack of Time Tracking Feature
Asana allows you to keep track of every task assigned to each team member for each project. However, it does not assess how much time a person spends on a specific task. You'll need to integrate Asana with third-party software if you need time-tracking functionality.
Asana Pricing and Plans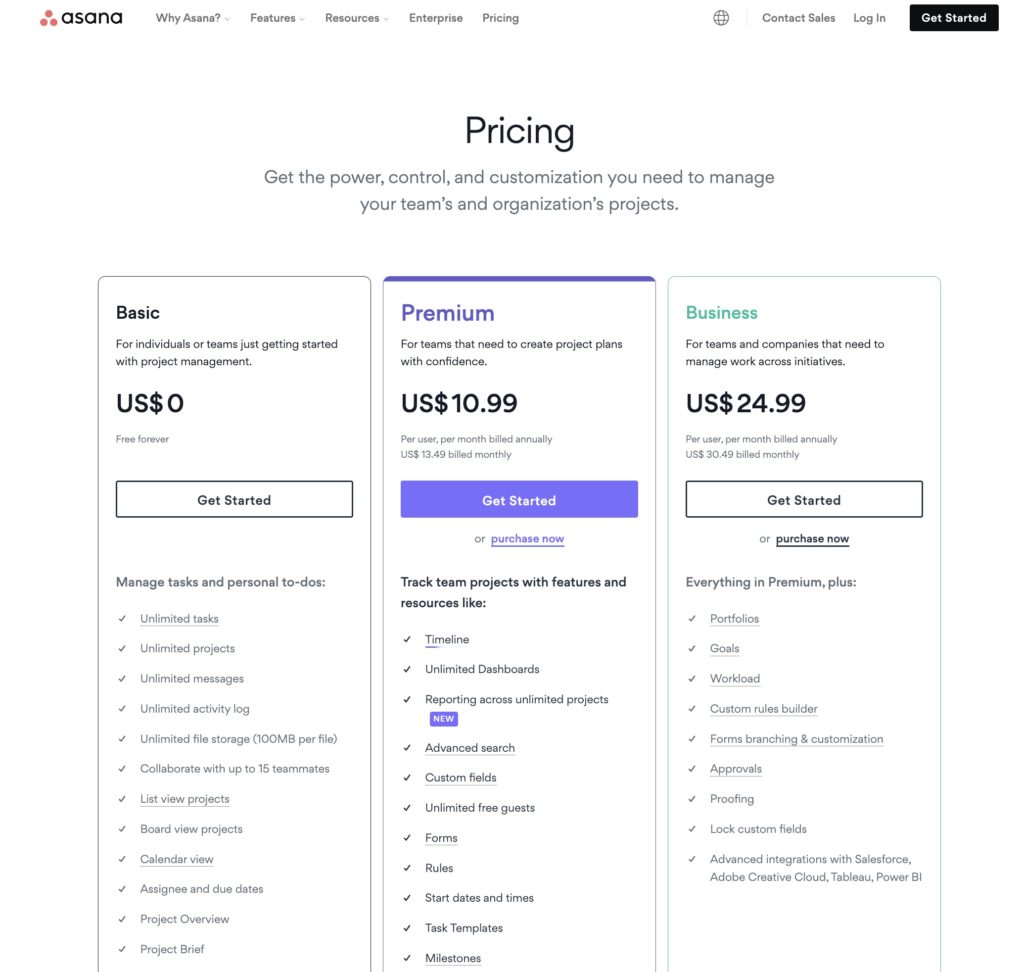 Asana is jam-packed with capabilities, making it an excellent choice for project managers who want to watch both the big picture and the details. However, the most valuable features are only available in the subscription versions, which can be pretty costly. It is, nonetheless, reasonably priced. So let's look at it more closely.
Asana Free Version
Asana's free plan is highly competitive. It's so good that it can compete with some more expensive Asana competitors.
For one thing, it has few limitations in terms of capabilities. You can create as many projects and teams as you desire, except that no more than 15 people can join each one. There are numerous integrations to choose from, and they are also limitless.
You'll also have access to several useful "views," or visualizations of your tasks. There's a list-based display and a built-in calendar and kanban boards.
Asana Premium Plan
The free plan has a lot to offer, but the Premium plan takes things to the next level. For starters, you can have as many teammates as you need. You also get unlimited guests who can view but not contribute to a project, which is helpful if you manage with many freelancers.
The timeline view is one of the critical features of Asana Premium. This is a big-picture tool for meeting deadlines and completing projects on time. It allows you to keep track of dependencies and identify how certain activities and deadlines are linked to one another. This makes it far easier for project leaders to anticipate problems and establish solutions before a conflict throws the project off track.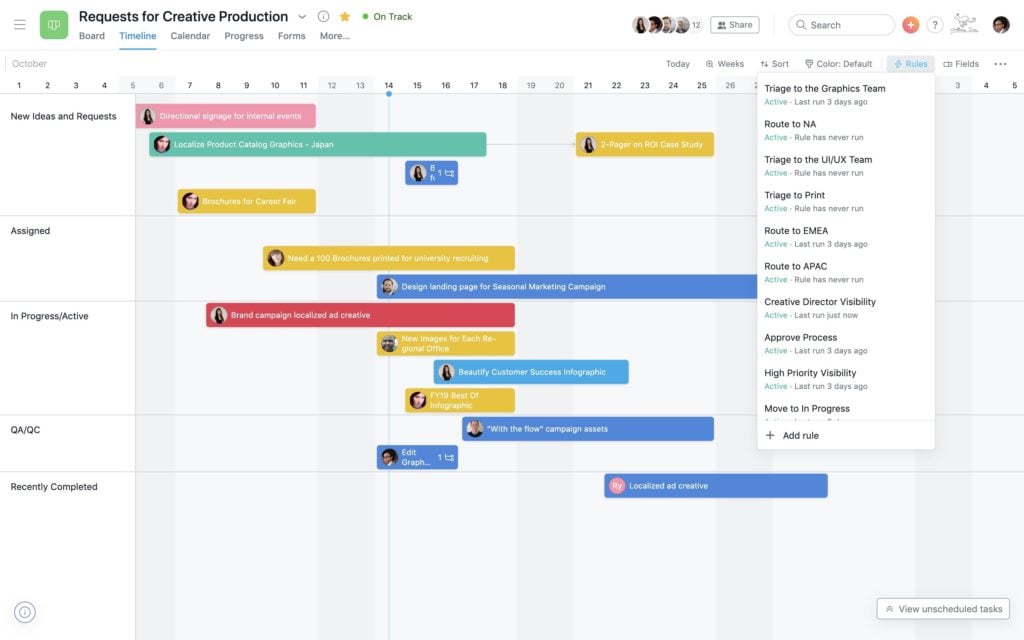 You also receive several more custom fields to add to tasks, such as the ability to change the task's status. You may also use the admin panel to keep tabs on team members and visitors by limiting their access and viewing what they've been up to. You can also get private boards to keep your activity hidden.
You'll also get reporting tools and panels for quick analytics if you upgrade to Premium. Analyzing real-time charts and other helpful information can help the project team identify essential project data.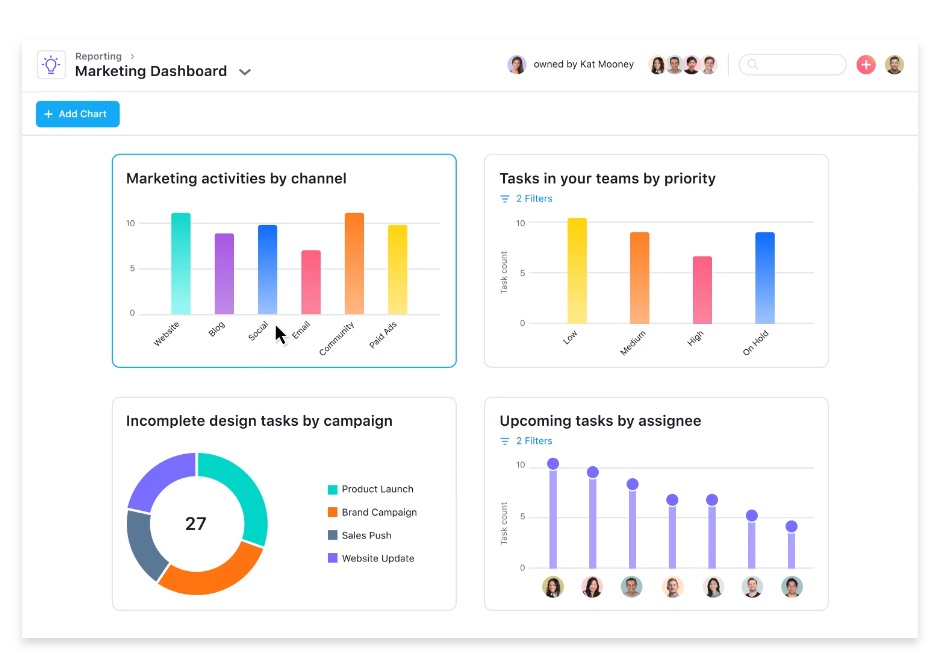 Another essential element is status reporting. Users can give brief updates instead of attending time-consuming status meetings. You can modify these reports with graphs to emphasize critical points and refresh the reports in minutes.
Overall, this feature-packed package provides excellent value. The Asana Premium plan starts at $10.99 per user per month.
Get Asana 30-day free trial here!
Asana Business Plan
Asana Business is a solution for businesses that require more advanced functionality. For mid-size companies and businesses managing several projects across various departments, the package is undoubtedly a better solution.
The ability to create strategic objectives at a company level is among our favorite features of Asana Business. Managers may now link goals to specific projects, ensuring everything goes as planned.
A project portfolio management tool is also included in the Business package. You can use it to keep track of every one of your team's goals and projects in one place. The project name, status, project completion level, deadlines, and priority level are all displayed in the portfolio view.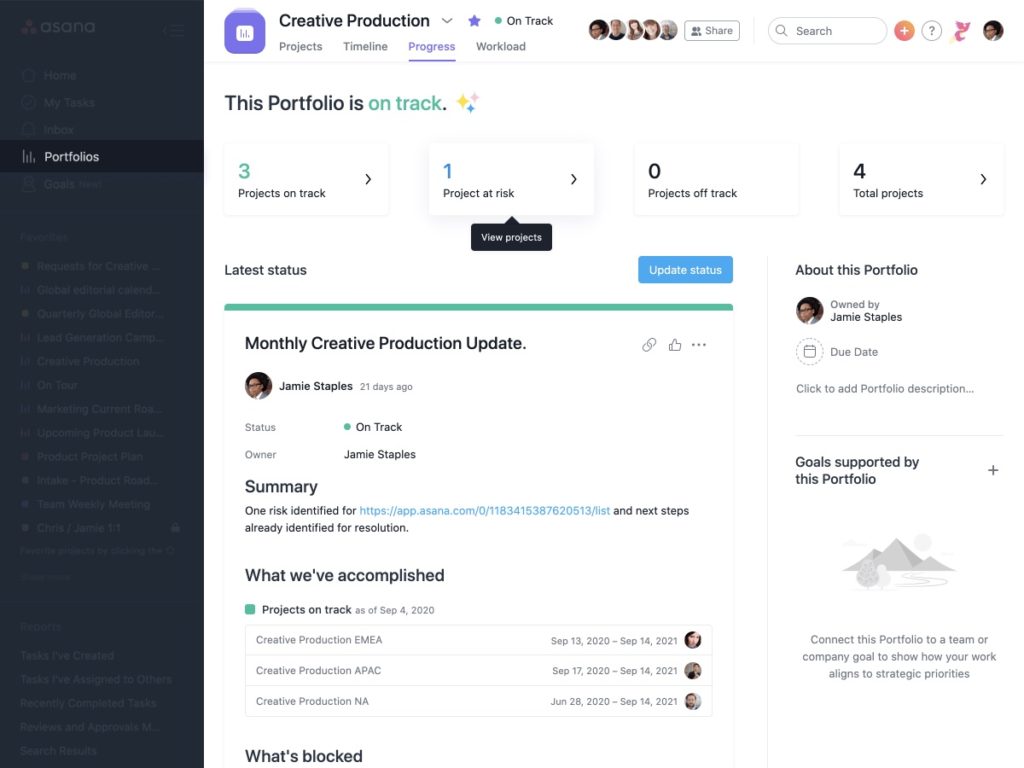 The workload management tool is another excellent feature of Asana Business. Managers can discover which team members have more time on their hands and which are overworked. This is hugely beneficial in terms of capacity planning and, as a result, efficiency.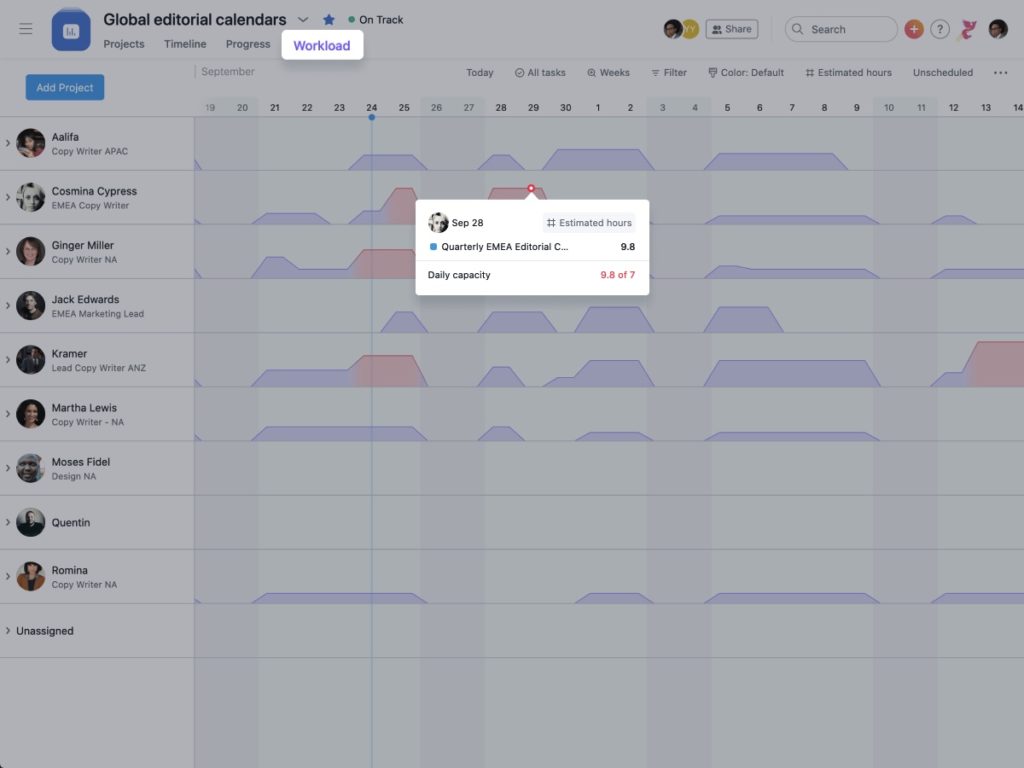 Advanced integrations with Adobe Creative Cloud, Salesforce, Tableau, and Microsoft Power BI are available through Asana Business. If your company uses any of those tools, you'll most likely need the Business bundle.
Overall, Asana Business pricing at $24.99 is reasonable for larger teams and businesses. As long as you're using the advanced capabilities, Asana Business is well worth the money.
Get Asana 30-day free trial here!
Asana Alternatives and Competitors
You may find some popular Asana alternatives in our top picks of the best project management software:
Monday.com: best Asana alternative
ClickUp: the perfect Asana alternative for any low-budget, remote working business
Jira: best Asana alternative for product development teams

Further read:
Asana Vs Monday: The Complete Comparison
Clickup vs Asana: Which is a Better Project Management Tool?
Monday.com Review: Is It The Best Tool To Manage Your Team?
Asana Review: FAQs
Is Asana free?
Yes and no. You can use Asana for free with its free version, or you can pay for the Asana premium plan or business plan to access more advanced functionalities.
Is there an Asana free version?
Asana offers a free version that includes extensive functionality and can accommodate 15 team members.
How much is Asana?
Asana offers two paid plans:
Asana Premium: $10.99 per user per month when paid annually; $13.49 per month when paid monthly
Asana Business: $24.99 per user per month when paid annually; $30.49 per month when paid monthly
Get Asana 30-day free trial here!
What does Asana do?
Asana is a project management software that enables businesses and teams to work and communicate more effectively. Asana is versatile, allowing users to split projects into tasks and establish clear team goals. Asana also integrates with many other professional programs, like Google Drive and Outlook.
Asana Review: Conclusion
Asana beats alternative project management tools for ease of use, simplicity, and a Kanban-style user interface. It's jam-packed with functionality, yet getting started and onboarding your team only takes a few minutes.
Asana's free plan is ideal for businesses with fewer than 15 people who work on many collaborative projects. In addition, the free plan has a lot of valuable tools that can help you manage your projects more effectively.
You'll need to upgrade to the Premium plan if you have more than 15 members. However, with all of the additional capabilities, tracking large projects are well worth it. For paid plans, Asana offers a 30-day free trial.