There are many great options to choose from if you're in the market for a collaborative project management tool. However, which one is the best for your needs? That all depends on what you're looking for in a platform.
This article will compare two popular tools – Wrike vs ClickUp. Both have a lot to offer and will give you the tools you need to manage your team's projects and initiatives effectively. At the end of our analysis, we'll weigh each tool's pros and cons to determine which is best for your company.
Read further below to learn about these two tools' differences and which is right for your team!
ClickUp vs Wrike: Similarities
ClickUp and Wrike have advanced workflow management systems useful in promoting collaboration and boosting productivity.
They have free forever plans that suit most freelancers and small businesses that don't want paid subscriptions.
Both support business process automation, allowing users to save time by automating repetitive tasks.
ClickUp vs Wrike: Differences
Wrike provides a video proofing feature that allows users to approve video assets, whereas ClickUp lacks a similar functionality.
ClickUp's free forever plan provides 100 MB of storage, while Wrike's free plan offers 2GB of storage space.
ClickUp's paid versions come with unlimited storage space, whereas Wrike's paid plans have capped storage space allocations.
ClickUp comes with more features than Wrike.
What is ClickUp?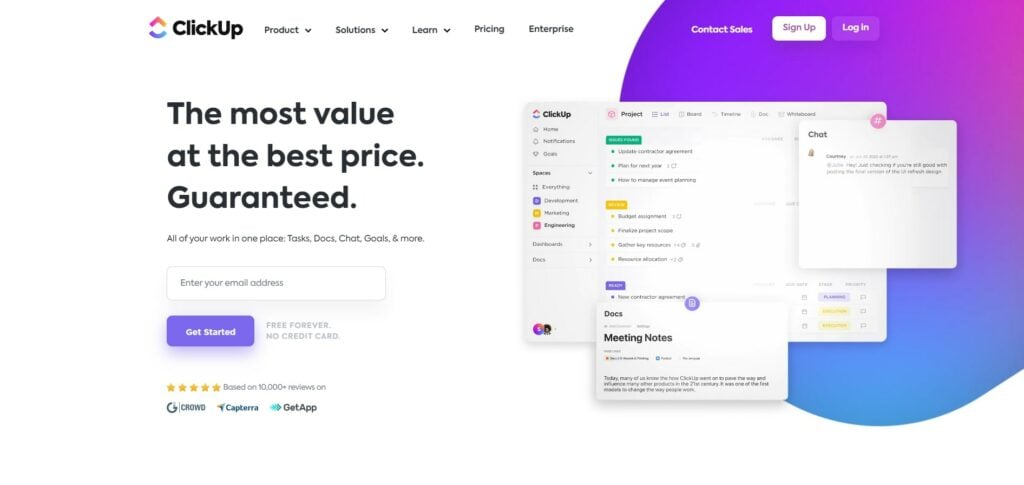 ClickUp is a hybrid cloud-based work management and collaboration tool built for businesses and teams, but individual contractors also find it highly useful. According to this ClickUp review, it enables users to work in a single platform that they can manage remotely. This project management software also makes work easier by enabling users to switch from boards and inviting guests at no extra cost.
ClickUp Key Features
Interactive Gantt Charts
Automation Software
Single Sign-On
1000+ Custom Integrations and open API
Custom Notifications
What is Wrike?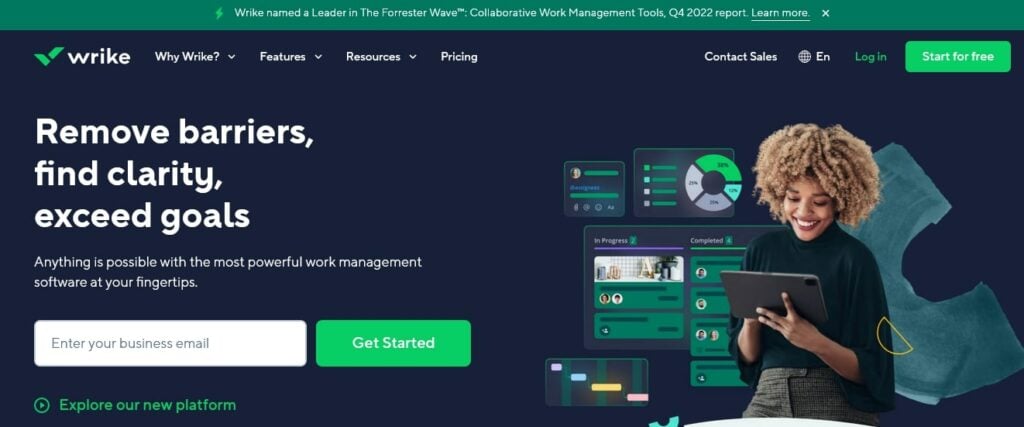 Wrike is a versatile project and resource management software for all business sizes. However, this Wrike review shows that its enterprise-level subscribers benefit the most, as the pricing plan provides advanced features such as in-depth reporting, automation software, Gantt charts, and top-shelf security. With Wrike's award-winning features, you can use it for enterprise portfolio management, remote and hybrid teams, agile project and resource management, and client management.
Wrike Key Features
400+ Integrations
Data encryption
Approximately 30+ Templates
Built-in Time Tracking
Collaborative Wrike Proof
ClickUp vs Wrike: Features
Let's now compare the key features of Wrike vs ClickUp to understand better which of these tools suits you best.
Project & Task Management
Wrike and ClickUp have several tools you can use to manage and organize tasks and projects while helping to meet your deadlines.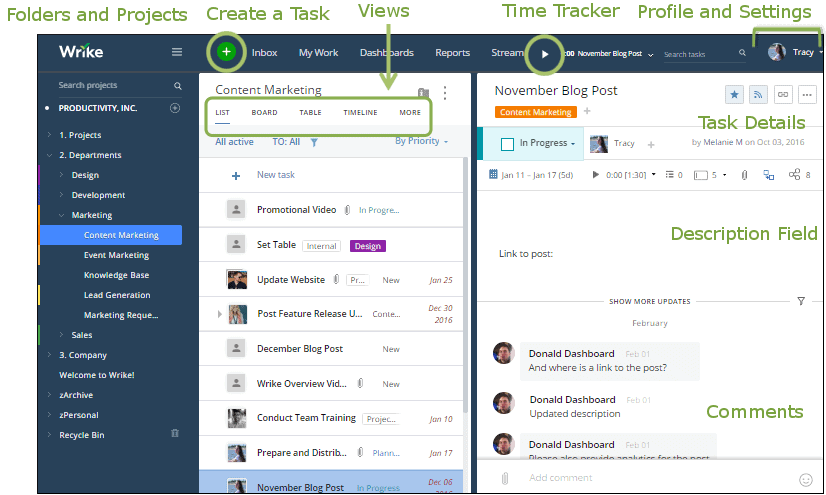 Wrike has a simple drag-and-drop interface to help you balance your team member's workload. With this user-centric interface and time tracking, you can easily monitor your team's capacity and prioritize tasks and projects based on it. Y
You can also use a Gantt chart, Table View, Stream View, Calendar View, and several others to view tasks or create statuses that show the tasks' stages until completion. So, this project management software enables you to track every detail of your projects and get valuable insights within the shortest time possible.

ClickUp makes finding tasks and projects easy. Its task management features let you easily organize and manage tasks in a single dashboard. Moreover, it enables you to sort your projects across different devices.
In this case, the only difference between Wrike vs ClickUp lies in the quantity and quality of features. Most users think that ClickUp's user interface could be better, and its many features are a little overwhelming. On the other hand, Wrike has many features designed mainly for sales teams, creative teams, and marketing teams.
Mobile Apps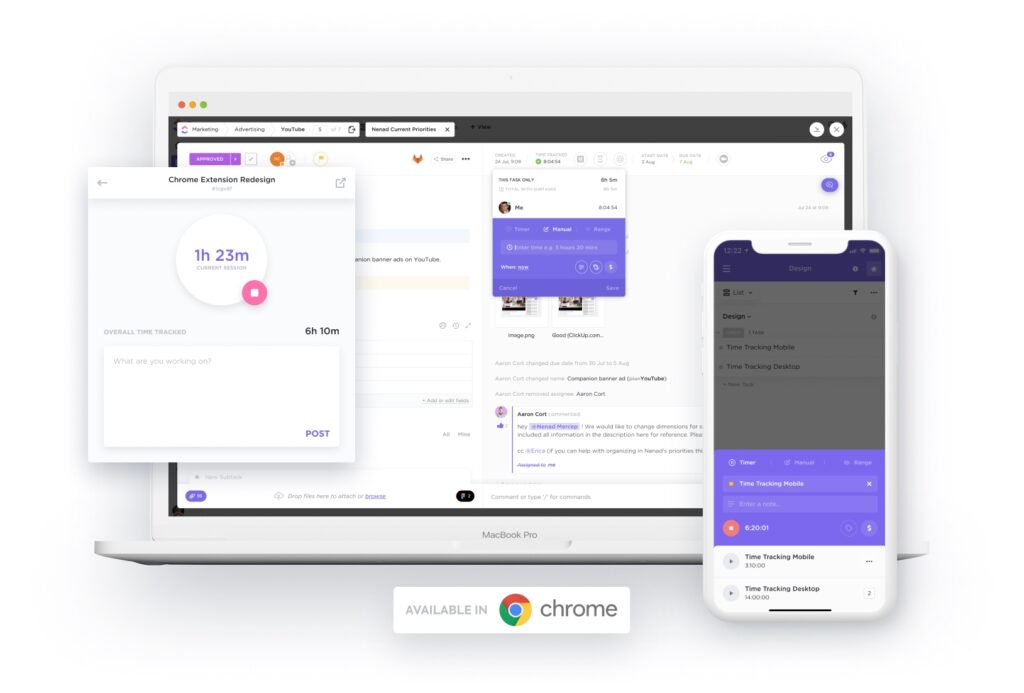 Both ClickUp and Wrike have quality mobile apps. You can use Wrike's app to collaborate with your teams on the go. So, it allows you to manage your team's workload from anywhere and wherever you want.
ClickUp's mobile app is more advanced and allows you to spread your workflows across several platforms. The app offers notes, goals, reminders, and other essential features. Moreover, unlimited users can access ClickUp's mobile apps at no cost.
Customization
Both Wrike and ClickUp are highly customizable. You can also personalize Wrike with new custom fields to achieve your goals uniquely. For example, you can use the application of these fields to manage budgets by adding tracking for costs and budgets. You can create a drop-down list with the statuses you use in your workflow, prioritize work or map tasks to company objectives.
Customizable fields are available in all of Wrike's paid plans. If you subscribe to the Enterprise plan of this project management tool, you can access other advanced customization tools, such as custom access roles and customizable user types.
ClickUp is not left behind when it comes to customization. It's intuitively customizable, meaning you can use its custom status, templates, Custom Fields, and more to customize your team's projects and tasks.
Team Collaboration Tools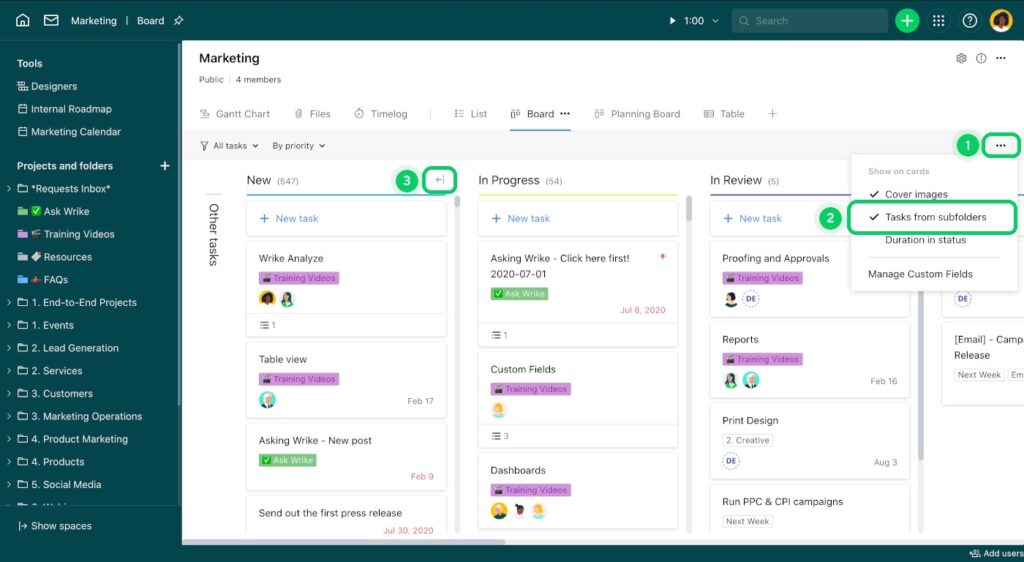 Team collaboration is essential for the success of any project. The good news is that it's the cornerstone of Wrike and ClickUp. They have collaboration features that allow you to comment on your tasks and projects, @mention your colleagues, and assign tasks. You can also use them to share documents and files.
These tools also secure their data centers using advanced solutions like Wrike Lock, ensuring customer data are secure. Encrypted data is safe, but you can still take advantage of two-factor authentication and admin permissions user audit to minimize the risks further
However, after considering all the tools, you'll still see that these project management solutions aren't created equal.
Wrike has a video proofing feature that ensures video feedback is not lost, but ClickUp lacks this functionality. On the other hand, ClickUp has a native messaging tool that enhances communication. Wrike users need to install a third-party messaging app to get the same quality of service.
Verdict: Both ClickUp and Wrike Wins in Features
There is no clear winner between the two here. Your needs determine the winner. For example, if you are looking for project management software with the highest quantity of features, ClickUp wins. At the same time, if you consider ClickUp's user interface intuitive, it could be a better option for task management.
However, if you're looking for Wrike-proof functionality or advanced resource management tools for your marketing, sales, creative teams, and other professional services, Wrike is ideal.
For users who value quantity more than the quality of features, ClickUp takes the lead. You can use its free plan if you want basic work management tools and achieve your goals without issues.
Wrike vs ClickUp: Ease of Use
After comparing Wrike vs ClickUp up to this point, you might think that Wrike is easier to use than ClickUp due to the quality of the user interface. Let's see below whether that's right or not.
ClickUp's interactive Gantt charts, analytics views, and calendar view greatly determine this project management software's degree of ease of use. These features are efficient and make finding and managing tasks simple.
If that's not enough, remember that ClickUp offers board view and table view in its free forever plan. Better still, it provides a Kanban board, which makes it super convenient to view and manage all your tasks in a central place because of its efficient drag-and-drop functionality.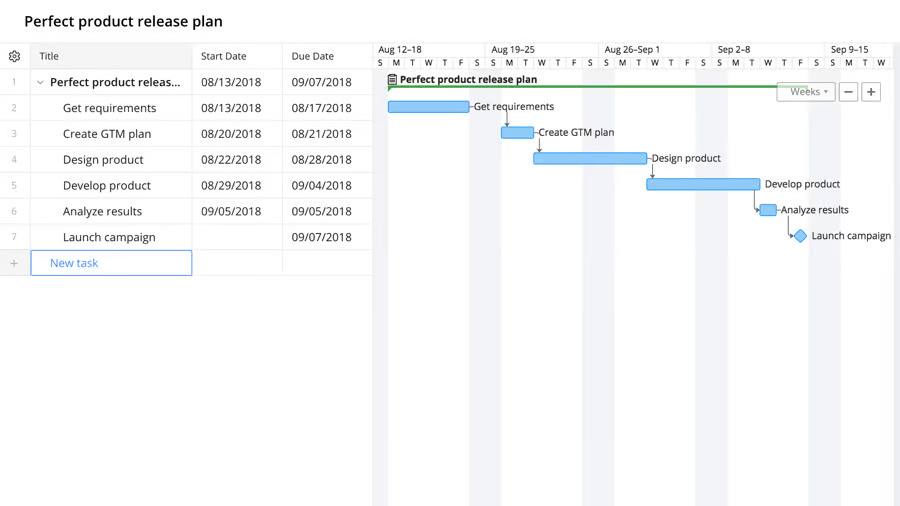 What about Wrike? We can't forget about this tool's old-school file tree structure. It simplifies the process of navigating through projects.
Wrike also has interactive Gantt views, cross-tagging, automation software, and other paid and free views like ClickUp that offer unparalleled visibility across multiple work streams. You can also use Kanban boards to view project and task progress and create customized workflows instantly. Overall, both Wrike and ClickUp give you excellent visibility across projects.
Verdict: Wrike is Easier to Use
Both Wrike and ClickUp offer excellent visibility across projects and tasks. So, irrespective of your choice, you should be able to see what each team member is doing without sweating.
It's important to note that Wrike appears to have a slight edge over ClickUp in ease of use. The quality of the user interfaces, time tracking, and the number of features each tool offers are responsible for this slight difference.
Wrike vs ClickUp: Integrations
Integrations can significantly increase the capacity of your project management software. That's why this part of this expert review and comparison is important.
While many integrations that Wrike and ClickUp support overlap, there are some significant variations.
First, Wrike provides 400+ popular apps and customizable integrations, such as Microsoft Teams, for your MS project. ClickUp, on the other hand, offers 1,000+ native integrations.
Integrating these project management tools into other apps helps to facilitate the easy flow of information and reduce the likelihood of making the same mistakes associated with manually entering data in disconnected systems. Besides, it saves time by enabling users like you to perform all your tasks in one centralized platform.
Some of ClickUp's best integrations are: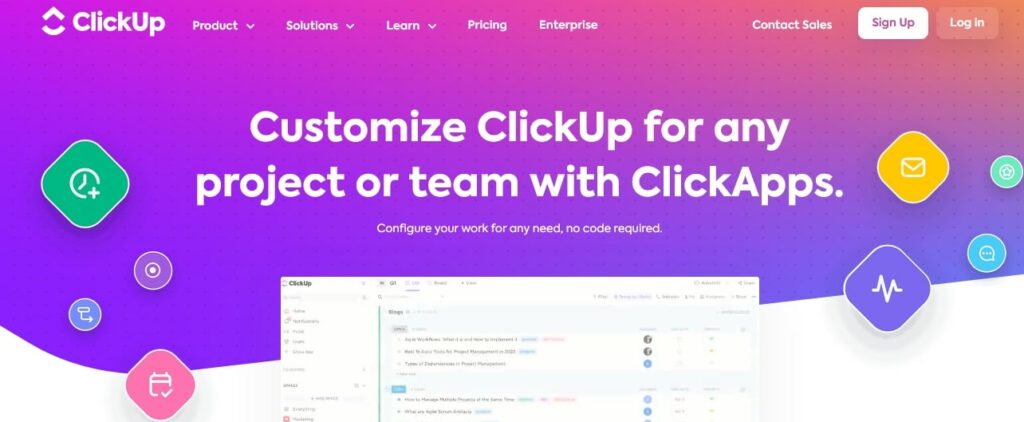 Slack
Harvest Time Tracking
Gmail
Loom
Wrike's leading integrations include: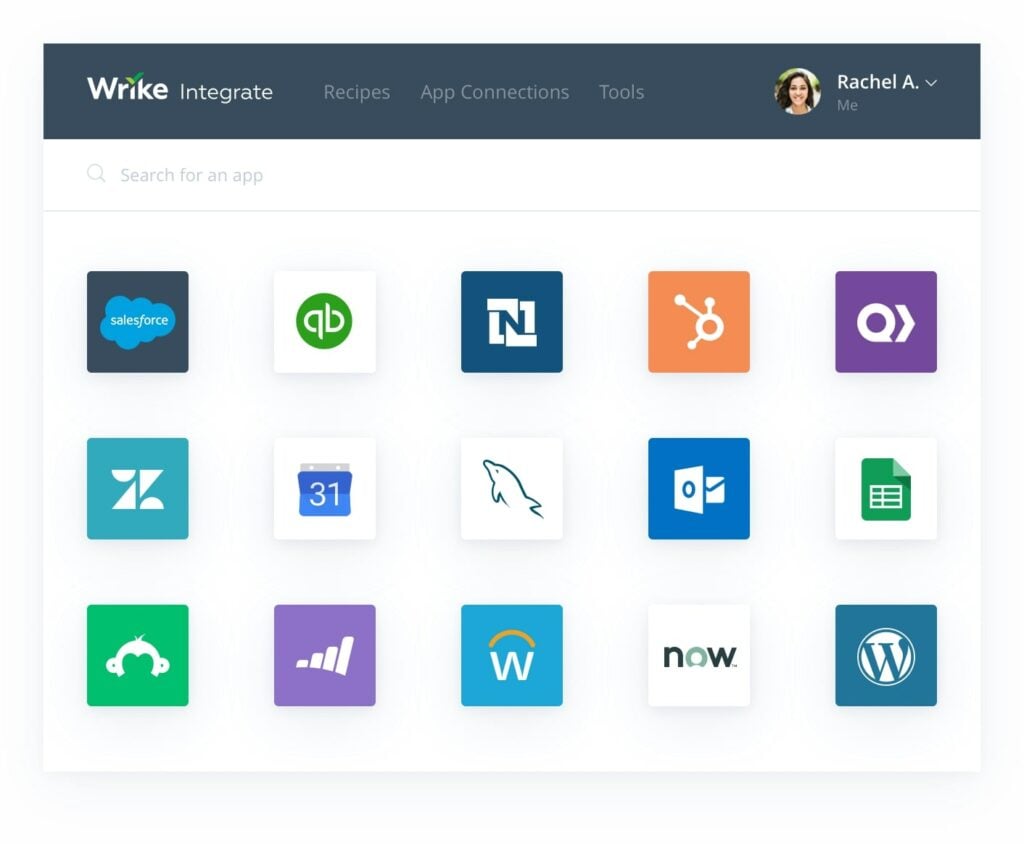 Adobe Creative Suite
Wrike for Microsoft Teams
Tableau
Google Drive
Note that ClickUp allows unlimited integrations on its lowest-paid plans. On the other hand, Wrike allows a few hundred integrations on its lowest but most expensive plans.
Verdict: ClickUp Wins in Integrations
ClickUp wins in integrations because it supports more integrations than Wrike. Moreover, you can access all ClickUp's integrations at a much lower rate. In short, if the number of integrations matters to your team, you have no better alternative than ClickUp.
Wrike vs ClickUp: Pricing
Let's now compare the costs of ClickUp and Wrike to see which one best suits you price-wise.
ClickUp Pricing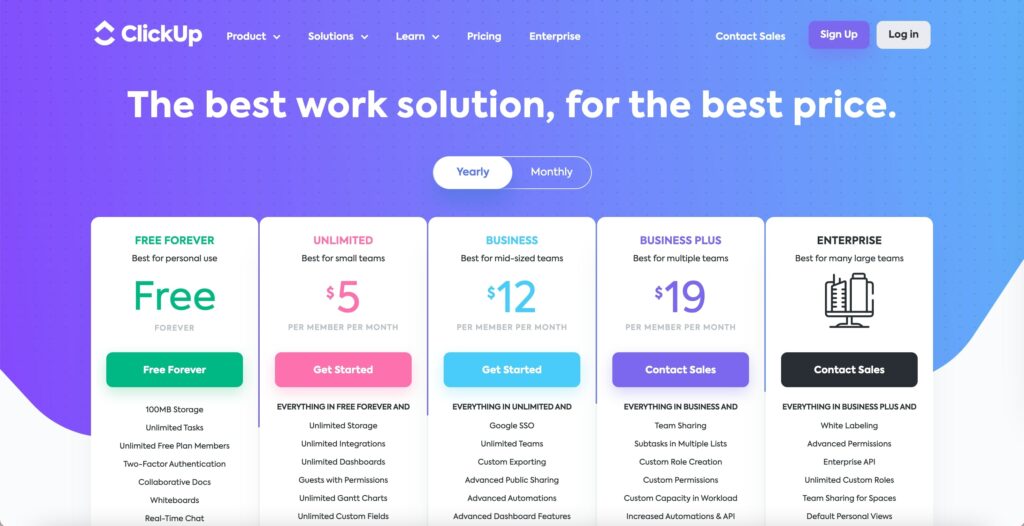 Free Forever: This is a free plan designed for personal use.
Unlimited: $5 per user per month, billed annually, best for small teams, and it offers unlimited storage space.
Business: $12/member/month, billed annually, a basic business plan designed for mid-sized teams.
Business Plus: $19 per user per month best suits multiple teams.
Enterprise: Contact sales for a quote if you want a professional plan that's best for many large teams.
Wrike Pricing

Free: This is Wrike's free plan for a team getting started.
Team: $9.80 per user per month, which suits small businesses and teams but offers more features than the free plan.
Business: $24.80 per user per month suits all user groups across your organization.
Enterprise: Get custom pricing if you want a plan designed for large teams.
Pinnacle: Contact a sales expert for a quote if you want a business plan for teams with complex work needs.
Verdict: ClickUp Wins in Pricing
The winner between Wrike and ClickUp in pricing depends on your needs, but ClickUp appears more affordable.
If we compare the cost of Wrike and ClickUp, we can see that Wrike pricing is more expensive. However, it offers a user-friendly interface, a video-proofing feature, and other valuable features that might justify the additional cost.
ClickUp also offers unique features that make it appealing. These features include unlimited cloud storage space and plenty of other useful tools. If you need these features, ClickUp is the automatic winner.
Other than that, most people consider that ClickUp pricing is better because it offers the highest number of features, including unlimited users, unlimited cloud storage space, and unlimited tasks, and charges lower rates.
Wrike vs ClickUp: Customer Support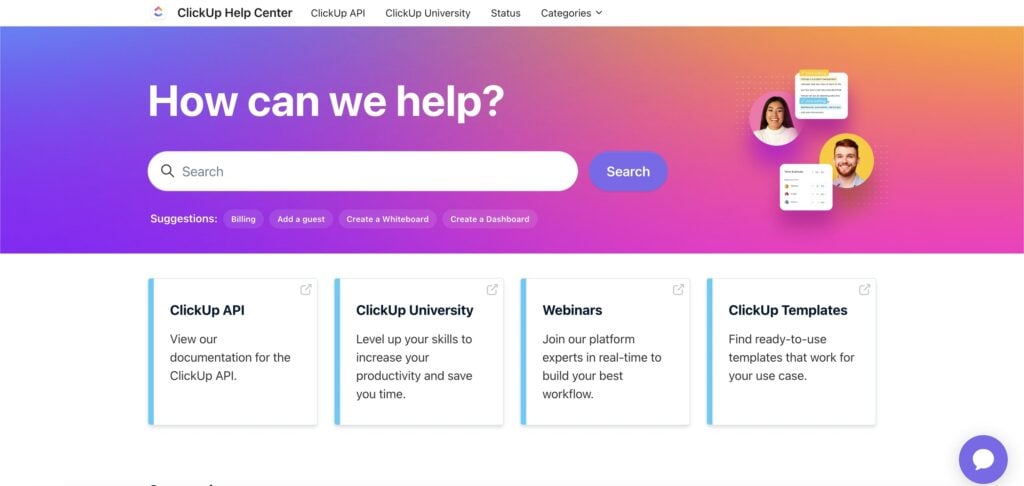 How do Wrike and ClickUp's customer service compare? This essential information can help you determine the exact option that guarantees you the best project planning and execution experience and offers you value for money.
Our extensive research shows that both Wrike and ClickUp shine in customer support.
Wrike provides an online help center. Here, you'll find plenty of helpful resources, including tutorials, answers to frequently asked questions, an informative blog, and a special library of resources.
Wrike also gives you unlimited access to its lively community forum. This is where you can ask your questions and share valuable tips.
If that's not enough, you can take advantage of Wrike's training resources. There are videos, how-to-dos, and other interactive training on the platform that can help you to understand how the project management software works. This project management tool's training also offers tips that you can use to reap the most out of it.
Considering that the training might not meet all your needs, Wrike has introduced monthly webinars. This gives you the rare opportunity to interact with experts and gain a deeper understanding of how to use the tool to improve your team's productivity.
Another critical solution is the developer portal. You can visit this portal whenever you want to get started with Wrike's API. Note that you can submit a callback request and get help if you encounter difficulties integrating your apps.
All these resources are awesome, but Wrike has much more than this in store. Think about its 24/7 support to premium users via live chat, phone, and email. What about Wrike's global agents who can help you in your time zone and language? So, you have nothing to fear if you can afford their premium customer service.
What about ClickUp? It also offers all the services above, though there might be a few variations.
So, which one wins? ClickUp or Wrike? Let's see this in detail below.
Verdict: ClickUp Wins in Customer Support
You might be wondering why we say ClickUp wins in this ClickUp-Wrike competition. That's understandable because Wrike offers one of the best customer services. The main difference is that ClickUp provides equal care to all its customers.
Unlike Wrike, ClickUp provides 24/7/365 customer support to everyone at no additional cost.
So, while Wrike might be providing more extensive documentation and a friendlier user forum, ClickUp's free, world-class customer service stands out.
Wrike vs ClickUp: Pros and Cons
Considering that Wrike and ClickUp are not created equal, there is no doubt that they have both pros and cons. In the next section, let's look at these pros and cons to help you understand what we've been talking about here from the beginning better.
ClickUp Pros
Allows you to switch between board view to list view without switching to a new tab.
Offers advanced mobile app for Android and iOS.
Provides affordable pricing plans and a free plan that's available forever.
ClickUp Cons
ClickUp comes with a steep learning curve due to its too many features.
The user interface could be improved for accessibility.
Wrike Pros
Wrike's interactive tutorials and beginner guides are helpful to all users.
The tool has been designed for various professional services, including creative and marketing campaign teams.
The free plan is available for everyone forever.
Wrike Cons
Wrike's mobile app has limited functionality.
Wrike's pricing plans are more expensive than its main rivals like ClickUp's.
ClickUp vs Wrike: Conclusion
Wrike and ClickUp are amazing options if you want to consider free project management solutions. Starting with their free plans, ClickUp offers great features, such as unlimited users, plenty of cloud storage space, and unlimited tasks, while Wrike provides limited features for up to five users. ClickUp's paid plans are also cheaper than Wrike's.
However, Wrike's integration with Adobe Creative Suite, pre-made templates for marketing campaigns, and onboarding resources are often suitable for many professional services. In short, before deciding which tool wins in the ClickUp-Wrike competition, consider the features each offer and other important details we've presented here to make the right decision.