Project management software is crucial in any business, especially in the digital age. Businesses can use project management tools to manage projects, track deadlines, and communicate with team members. Several types of project management software are available, including free and paid options. Each type of software has its advantages and disadvantages.
ClickUp is a top-rated project management platform that offers a variety of helpful features for business owners and entrepreneurs. In this article, we will explain some of the different plans and features that ClickUp offers so that you can determine which pricing plan is right for your business.
What Is ClickUp?
ClickUp is an innovative project management tool that manages projects while striking a delicate balance between providing an impressive number of quality features and ensuring affordability and ease of use. It brings everything under one roof, including Goals, Chat, Task Management, Time Tracking, and more.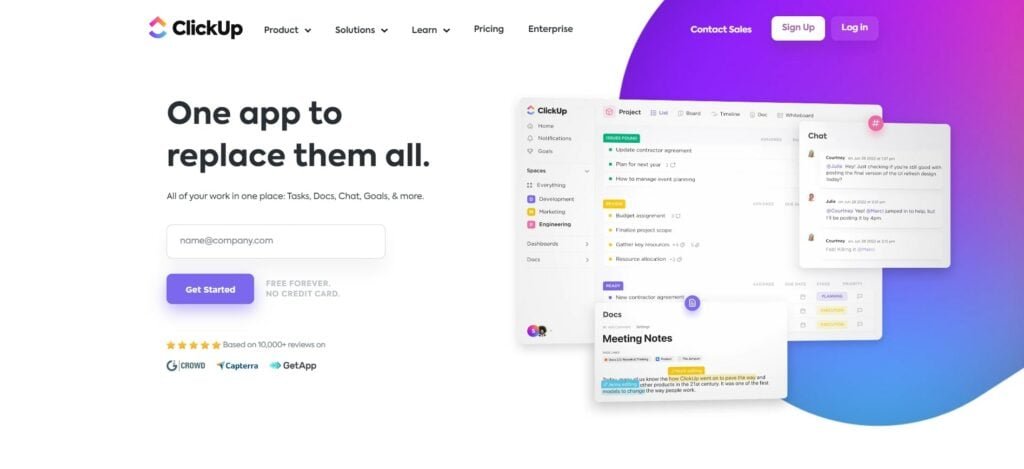 Due to its efficiency, ClickUp is currently one of the most popular productivity management software, and its well-known customers include Uber, Airbnb, Google, and Nike.
Our Pick
ClickUp | One App to Replace Them All
ClickUp is a powerful project management tool designed to help teams work more efficiently and collaboratively. It offers a range of features, including task management, time tracking, team collaboration, and project planning, making it easy to manage your team's workflow in one place.
Pros:
Task management

Time tracking

Team collaboration

Project planning

User-friendly interface

Powerful automation capabilities

ClickUp Pricing Plans Comparisons: Key Takeaways
Let's compare the plans offered on ClickUp so you can better understand which one best fits your needs.
Free Forever Plan: Best for personal use, free forever
Unlimited Plan: Best ClickUp plan for small teams, costs $7/member/month (billed annually)
Business Plan: Designed for mid-sized teams, costs $12 per member per month, billed yearly
Business Plus Plan: Best for multiple teams, $19/user/month, billed yearly
Enterprise Plan: Best ClickUp pricing plan for many large teams. You can contact sales for a custom price.
Is ClickUp Free?
ClickUp has a free plan that you can use forever as much as you want. Please read on for more on the same.
ClickUp Free Forever Plan
Free Forever is one of the five ClickUp plans.
As the name suggests, this is ClickUp's free version. It's free forever.
Free Forever Plan Features
Free Forever plan offers a surprising number of quality features, making it suitable for personal users, some freelancers, and small business owners.
Unlike many project management tools, ClickUp doesn't limit the users allowed on the free version.
ClickUp's free version offers valuable features such as:
100MB Storage
Unlimited Tasks
Collaboration Docs
24/7 Support
Unlimited Users
ClickUp Unlimited Plan
While ClickUp's free plan is highly valuable, there are reasons you may need to consider the Unlimited plan or the other paid plans.
Unlimited Plan Pricing
The Unlimited plan costs $7 per user per month (billed annually) but offers unlimited storage and other capabilities that may be essential for the success of some of your vital projects.
Unlimited Plan Features
All features in ClickUp's free plan are included in the Unlimited option.
However, while some of them, such as the Goals, Portfolio, and Gantt Charts, are limited to 100 users on the free version, they're unlimited on this paid plan.
Other essential features of the Unlimited plan are:
Guests with Permissions
Integration
Unlimited Storage
Agile Reporting
ClickUp Business Plan
If you want to use ClickUp to manage projects for a mid-sized team, you'll likely require a plan that offers most of its features.
Business Plan Pricing
This paid plan costs $12 per user per month (billed yearly).
Business Plan Features
ClickUp's Business plan comes with all the fantastic features in the Unlimited plan, including unlimited storage, plus many advanced ones that may suit your unique business needs.
As we have said, this is where many of ClickUp's features are available, so it's much better than the free version.
Here are some of the key features of the Business plan that you might require:
Google SSO
Custom Exporting
Advanced Public Sharing
Advanced Dashboard Features
Advanced Automations
ClickUp Business Plus Plan
Let's now look at the Business Plus plan because it's another popular pricing option among some teams.
Business Plus Plan Pricing
Your teams can access ClickUp's Business Plus plan for $19 per user per month (billed yearly).
Business Plus Plan Features
A few differences between the Business plan and the Business Plus plan may be helpful for multiple teams. For example, while the Business plan offers Advanced automation, this plan provides increased automation and API, which improves workflow automation for various teams.
Priority Support also gives the teams a better experience.
Here are some of the unique features that make the Business Plus plan to stand out from the crowd:
Team Sharing
Priority Support
Admin Training
Custom Capacity in Workload
Increased Automation and API
ClickUp Enterprise Plan
This is the most advanced ClickUp plan, and it comes with all the features you need to address the project management requirements of large teams.
Enterprise Plan Pricing
You can contact ClickUp's sales department for a custom quote. They will carefully evaluate your project management needs and charge you depending on the features that suit your enterprise.
Enterprise Plan Features
Like the last two paid plans, there are distinctions between the Business Plus and Enterprise plans that are critical features for most large teams. A good example is the varying capacity of their single sign-on (SSO).
The Business Plus plan limits SSO to Google, but the Enterprise option doesn't.
Let's now see a few key features below to better see what sets the Enterprise plan apart from the others.
Advanced Permissions
Enterprise API
MSA and HIPAA Available
Dedicated Success Manager
Single Sign-On (SSO)
ClickUp Alternatives For Project Management Software
Have you noted that ClickUp plans are affordable? Yes, they are, but there are other great options than the software.
At this point, let's consider the pricing plans of the leading ClickUp alternatives to help you compare the costs and make an informed decision.
monday.com
Like ClickUp, Monday Work Management software is an innovative cloud-based project management tool. It lets you track your inventory, plan events, and manage resources remotely from a centralized location.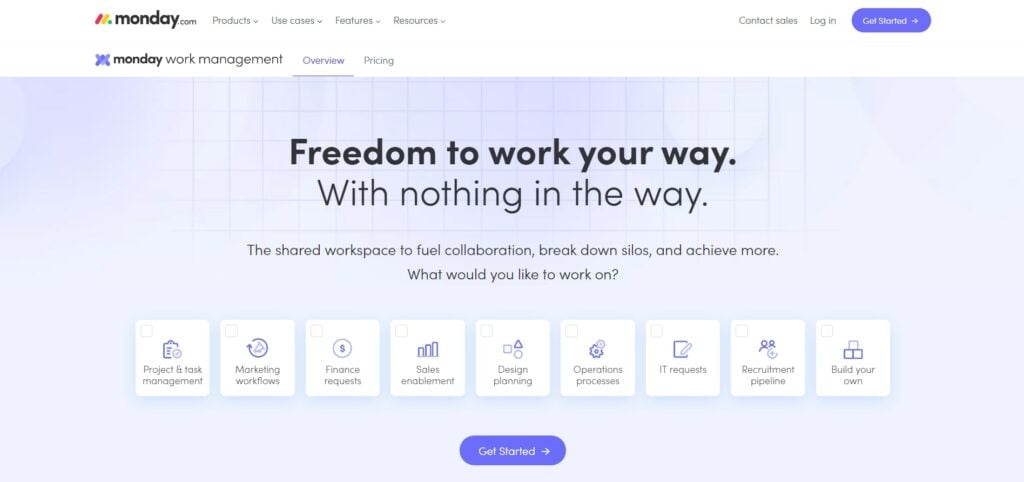 Monday.com also comes with a beginner-friendly interface and affordable pricing plans. Moreover, it provides great tools such as Goal Tracking and To-Do-Lists that can help to keep your teams motivated.
Our #1 Pick
10x Your Productivity | monday.com
Monday.com is the best cloud-based project management tool that helps teams manage their workflow and collaborate more effectively. It provides a visual overview of your team's progress, making it easy to identify bottlenecks and areas for improvement. It's a great option for teams looking for a flexible and intuitive project management solution.
Pros:
User-friendly interface that allows for easy task and project management

Customizable templates for various industries and functions

Integration with popular apps like Slack, Google Drive, and Trello

Visual overview of team progress and project status

Flexible and intuitive project management solution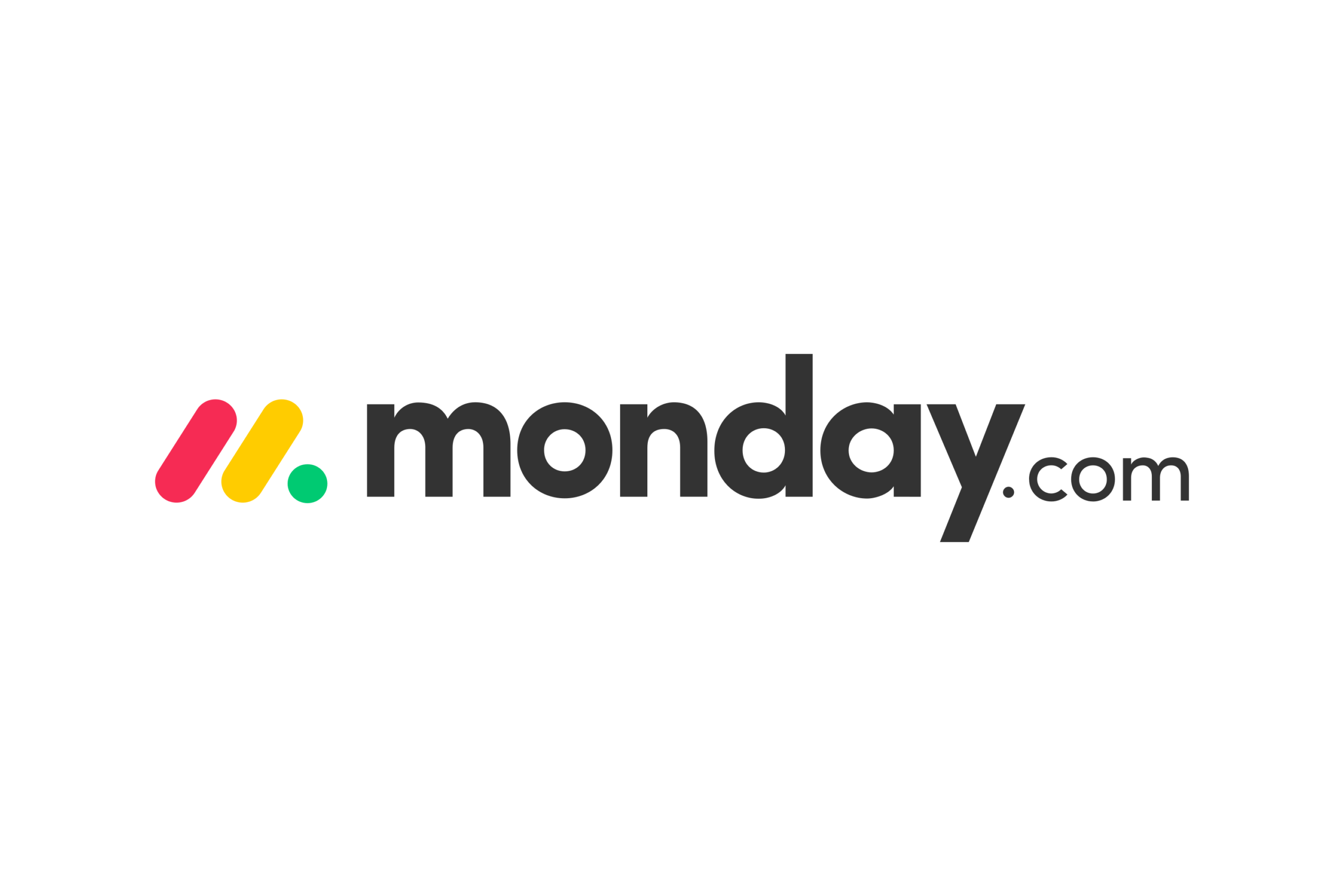 monday.com Pricing vs ClickUp Pricing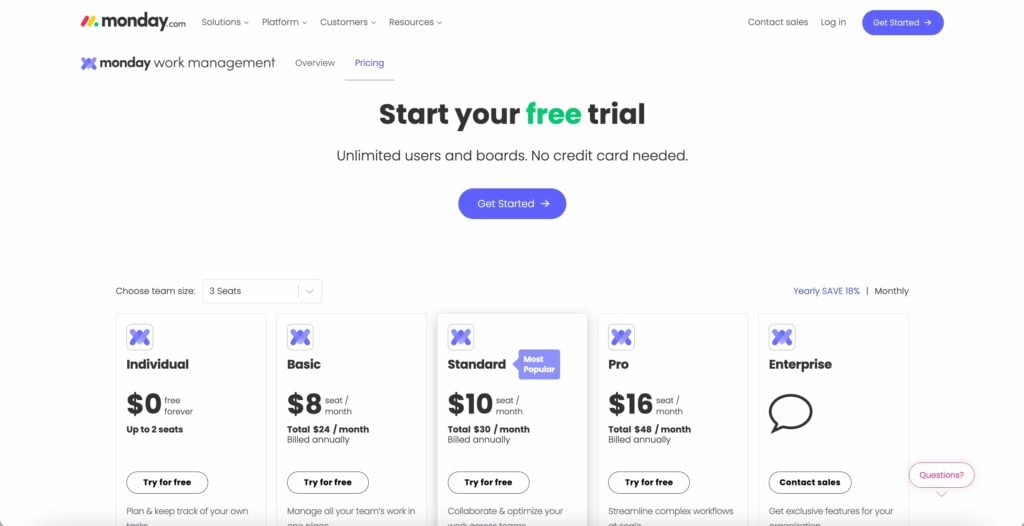 Individual: Free plan with up to two seats, better for individuals who want to keep track of their work.
Basic: $8/seat/month (minimum total $24/month, billed annually), a paid plan designed for customers who want to manage all the teams' work in a single place and with unlimited users/viewers.
Standard: Costs $10 per seat per month (total $30 per month, billed annually) and suits you better if you want to collaborate and optimize your team processes.
Pro: $16/seat/month, billed annually, total $48/ month, better for streamlining and running your team's complex workflows.
Enterprise: Contact Monday.com for a custom quote for enterprise-grade features that suit your organization or team.
Which is more suitable for your business?
Monday and ClickUp offer plenty of unique pricing plans that suit different business needs. They have free plans and enterprise options that can serve you well if you need a unique experience.
As we've seen here in this Monday vs ClickUp review, both Monday and ClickUp come with a wide range of quality features, but they are not created equal. ClickUp is a better option for businesses requiring advanced reports and analytics to track progress or track the time hybrid workers spend on various tasks.
ClickUp also suits businesses that require advanced automation recipes. Note that all its plans have secure automation features, but only three Monday plans have this tool (Standard, Pro, and Enterprise).
Monday.com is ideal for any business needing beginner-friendly project management software. You can use its intuitive and customizable dashboards to get great insights into your workload and manage your personal goals.
Wrike
Wrike is another tool to fix many project management challenges and manage your projects and tasks from start to finish. It provides flexibility and complete visibility. Besides the general productivity management features, it comes with customized packages for product development, creative, and marketing teams.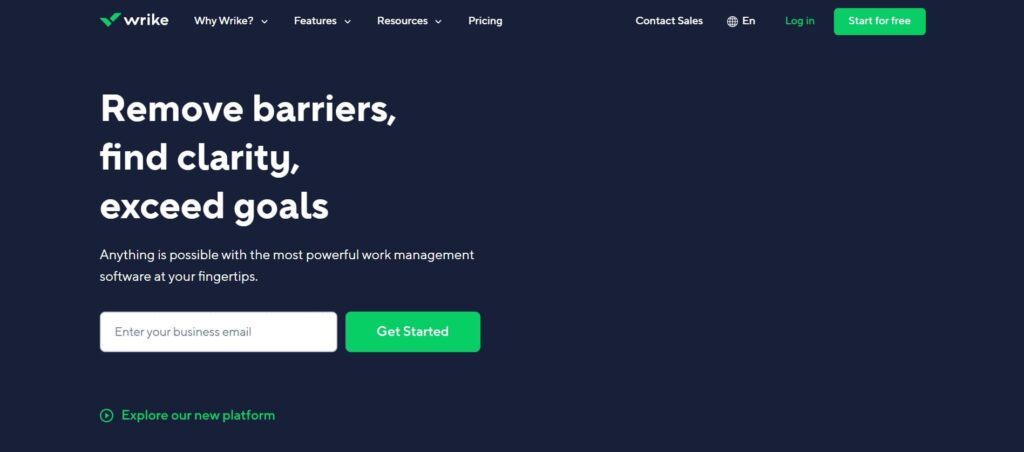 Moreover, Wrike supports at least eight languages and has enterprise-level tools that you can use to manage ongoing tasks and one-time projects successfully.
Wrike | Powerful Project Management
Wrike is a project management software that helps teams collaborate and manage tasks efficiently. It provides a centralized platform for project planning, task tracking, team communication, and reporting. With Wrike, teams can streamline their workflows, improve productivity, and achieve their goals faster.
Pros:
Powerful features, such as task management, time tracking, and Gantt charts

Advanced customization options to tailor the platform to specific team needs

Collaboration features, such as real-time updates, comments, and file sharing

Reporting and analytics tools to provide valuable insights into team performance

Integrates with a wide range of other tools to streamline workflows

Mobile app to stay connected and up-to-date on projects while on the go

Wrike Pricing vs ClickUp Pricing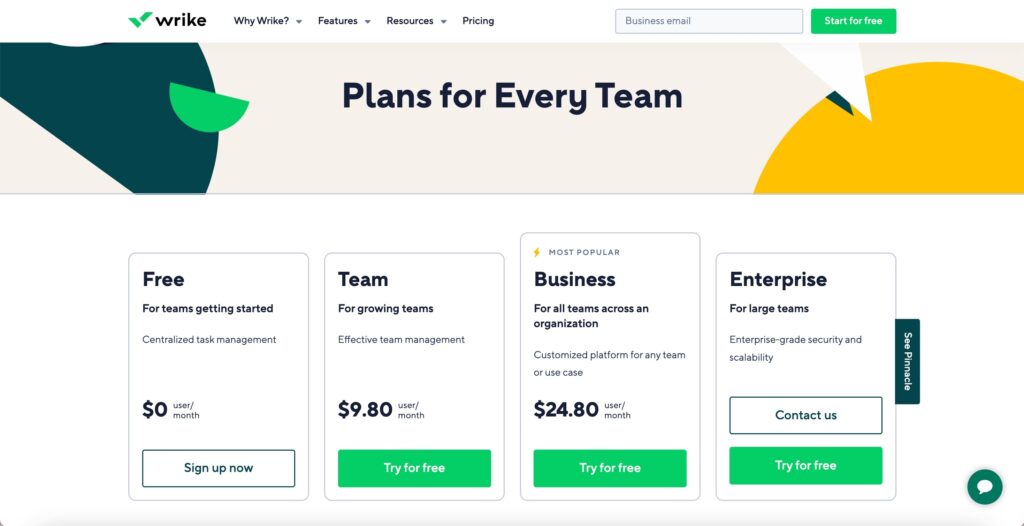 Free: Free plan, ideal for teams that are getting started and want to manage tasks in one place.
Team: $9.80 per user per month, great for growing teams that value effective team management
Business: $24.80/user/month, which is a customized platform for a wide variety of teams/use cases across your business
Enterprise: Contact Wrike for custom pricing, which is best for large teams with enterprise-grade security and scalability requirements.
Pinnacle: Ask for a custom quote. It's ideal for teams with complex project management needs.
Which is more suitable for your business?
Like ClickUp, Wrike offers a free plan and many valuable tools that suit your business needs. However, ClickUp has surprisingly many features, which can be overwhelming to use. So, it's an excellent solution for knowledgeable freelancers who must collaborate and manage their projects in one place.
Nonetheless, mid to enterprise-level organizations that value speed and ease of use can get better value from Wrike. This Wrike review shows that its easy-to-use time tracking, unlimited proofing, and reliable performance are responsible for this unique level of success.
Since Wrike is slightly costlier, you get full access to these useful features at a slightly higher cost.
Smartsheet
Smartsheet is another innovative productivity solution or software as a service offering for work management and collaboration. It features a tabular user interface that you can use to track projects, share documents, assign tasks, manage calendars, and more.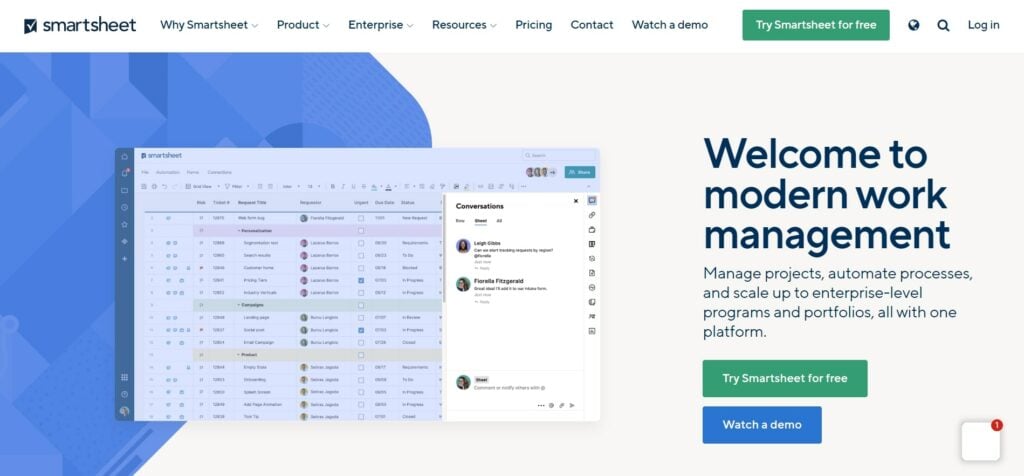 Don't forget that Smartsheet looks like Excel, but it's more efficient than this popular spreadsheet in accessibility, integrations, visibility, work management, and collaboration.
Smartsheet | Modern Work Management
Smartsheet is a cloud-based work management platform that offers project management, task tracking, resource management, and collaboration features. It is highly customizable for different teams and can be used for a wide range of purposes.
Pros:
Highly customizable for different teams and purposes

Offers project management, task tracking, resource management, and collaboration features

Automation capabilities, such as alerts and conditional formatting

Reporting and analytics tools, such as dashboards and charts

Smartsheet Pricing vs ClickUp Pricing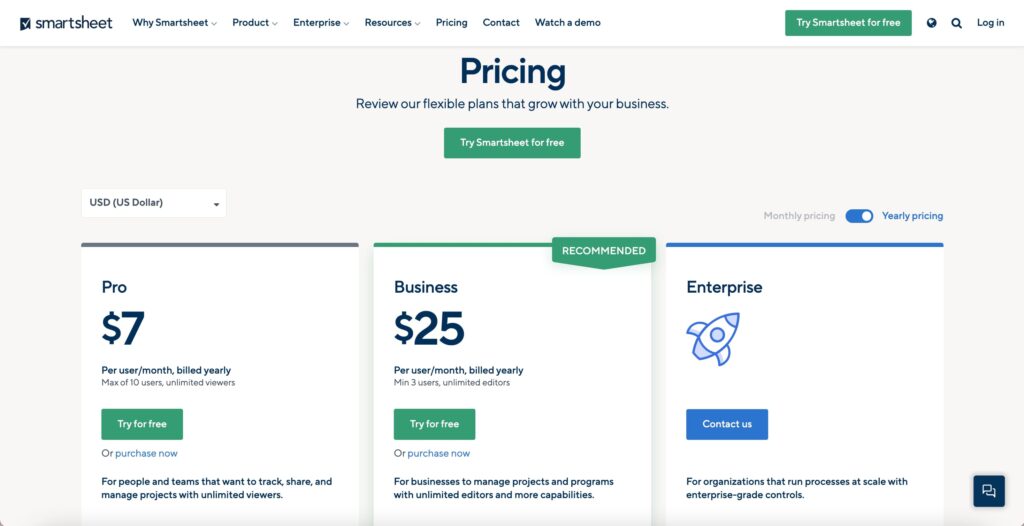 Pro: $7 per user/month (billed yearly) for teams and individuals who want to share, track and manage projects or tasks with unlimited viewers.
Business: $25 per user per month (minimum $75, billed yearly) that your companies can use to manage programs and projects with more capabilities and unlimited editors.
Enterprise: Contact the sales department for custom pricing and get enterprise-grade controls to run your organization at scale.
Which is more suitable for your business?
Considering the pricing plans alone, you might think that ClickUp is the automatic winner. However, Smartsheet is a more straightforward project management tool due to its recognizable spreadsheet-like layout. At the same time, it features more workflow tools than ClickUp.
So, Smartsheet is more suitable for your business if you want to manage workflows better. It's also an excellent solution for companies that want project management software that's easy to implement.
On the other hand, small, mid-level, and large companies that are comfortable with ClickUp's overwhelming features can find it a better tool for managing projects.
Teamwork
Teamwork is another trusted productivity solution. It can empower you to meet your deadlines and deliver projects on a budget from a centralized, organized place.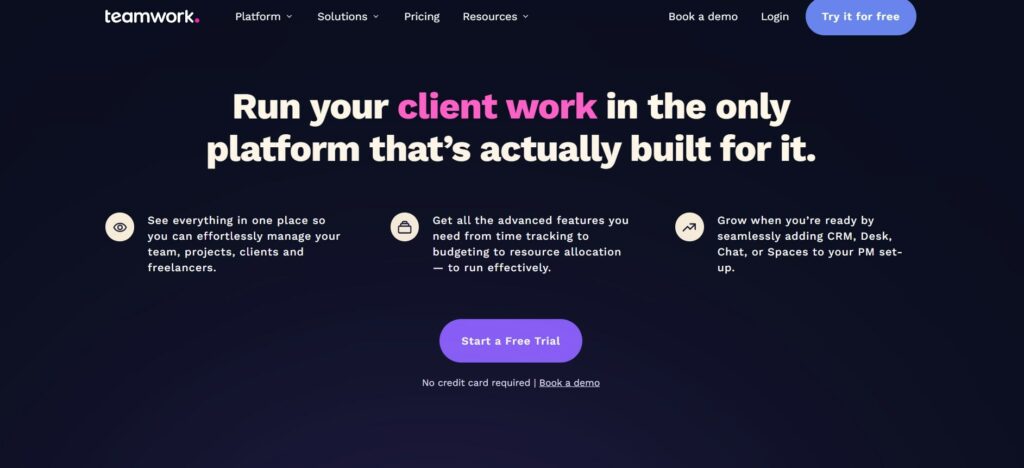 Even though you can use Teamwork to do a wide variety of other project management-related things, it was designed specifically for client work. So, it's a great tool you can use today to take control of client work and increase your profit margins.
Best for client project management
Teamwork
Teamwork is the only project management platform built specifically for client work. It offers a unique set of features that help teams gain complete clarity and control over their projects, from start to finish. With Teamwork, teams can easily manage clients and projects, assign tasks and deadlines, and track progress in real-time. The platform also offers a range of reporting tools, including time tracking and resource management, to ensure that projects stay on schedule and within budget.
Pros:
Range of reporting tools, including time tracking and resource management, to ensure that projects stay on schedule and within budget

Client portal allows clients to have visibility into their projects and track progress at any time, while also providing a secure space for communication and file sharing

Teamwork Pricing vs ClickUp Pricing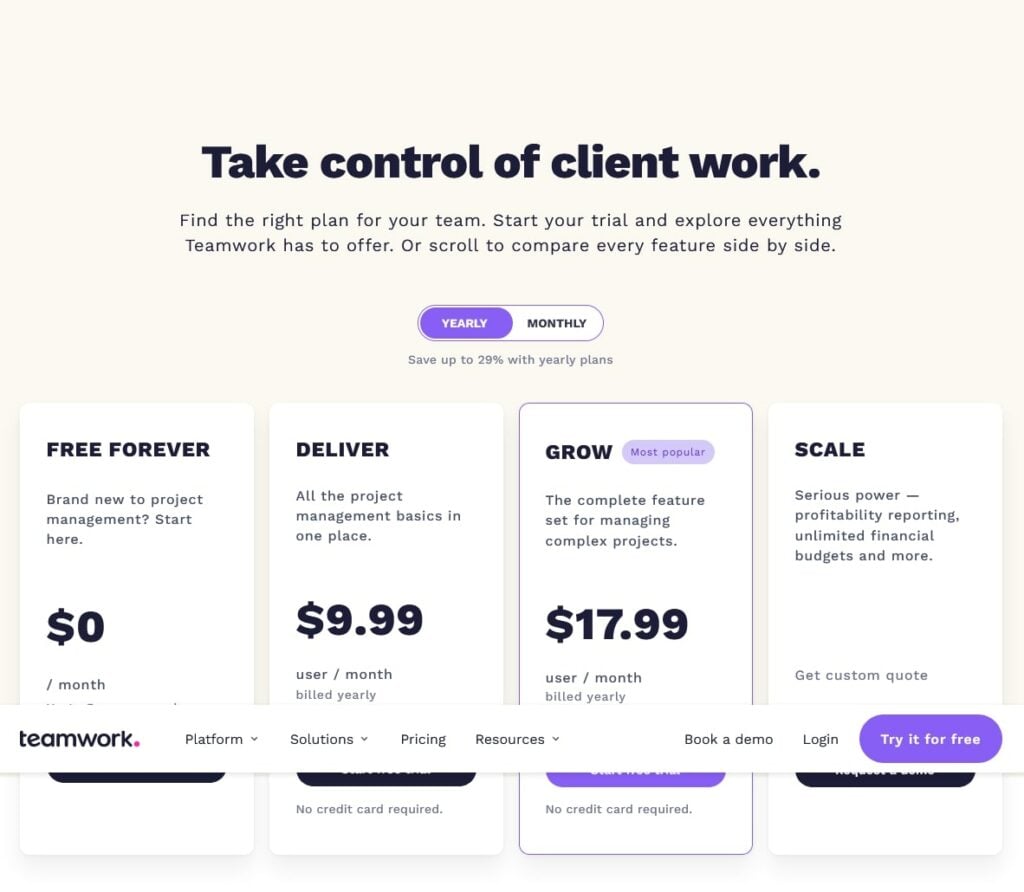 Free Forever: A free plan that's great for brands new to project management
Deliver: Costs $9.99 per user/month (minimum total $29.7, billed annually), which suits teams that need all essential productivity management solutions in one place.
Grow: $17.99/per/per month, minimum of five users (billed annually), better for managing complex projects
Scale: Get a custom quote, and get the best tool for your enterprises with unlimited financial budgets and more.
Which is more suitable for your business?
The difference between the cost of Teamwork and ClickUp is negligible. However, if you want to know which suits your business best, you can still consider the price.
Nevertheless, to make the best decision, you should consider that Teamwork focuses more on improving client experience. For that reason, it's a better solution if you want to delight your clients and improve productivity.
ClickUp remains an important solution that you can use to plan and collaborate on other projects.
WorkOtter
WorkOtter is a flexible, cable, and simple project and portfolio management (PPM) solution designed for people tired of keeping up with the challenges associated with using spreadsheets and boring dashboards. It has plenty of excellent dynamic features that support best practices and different methodologies but still supports flexibility with customization.
WorkOtter's features show that it could be the future of work or one of the productivity tools we might not survive without in the modern workplace.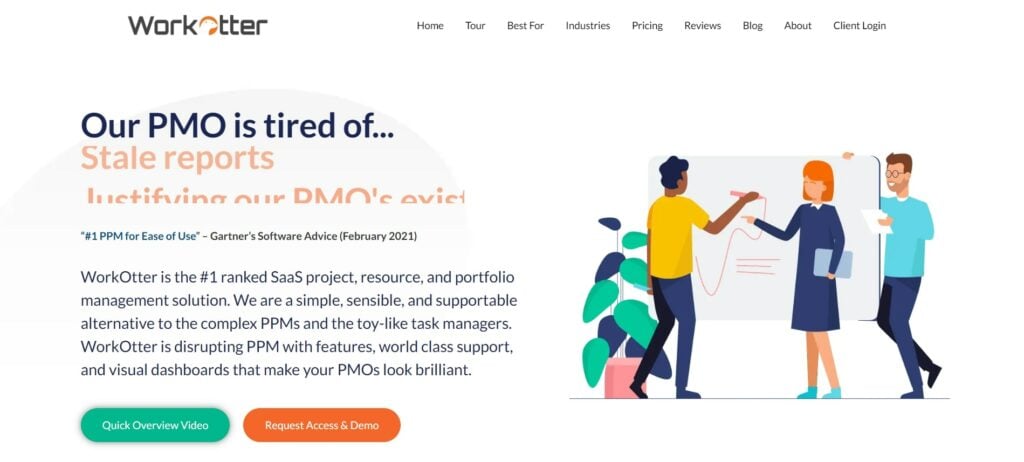 WorkOtter empowers businesses to build accurate plans and schedules and provides advanced planning, forecasting, and analysis tools. So, it's great software as a service offering for matching projects and resources to your business initiatives.
WorkOtter pricing vs ClickUp pricing

Member License: $10 per user per month, best for consultants, limited team members, and senior executives.
Team License: $20/user/month, suited for employees (non-management), consultants, and team members.
Manager License: $35 per user per month, gives you full access, ideal for project managers, program managers, resource managers, PMO departments, administrators, and portfolio managers.
Requestor/Reports/Name Only: This plan is free forever and is ideal for Enter Service Requests, Receive Reports By Email, Names in System (Resource Forecasting, Assignees), and Executive Sponsors (non-login).
Which is more suitable for your business?
ClickUp offers almost all key project management solutions in one place. In a way, it's like a master of all trades. So, ClickUp is an excellent solution for all businesses that need essential project management solutions.
WorkOtter, on the other hand, is the best for businesses that require a simple, sensible, and supportable alternative project and portfolio management tool. It's an excellent option for Engineering PMOs, New Product Development, and IT.
You can use WorkOtter to match your projects and resources to your important business initiatives.
ClickUp Pricing FAQs
How much is ClickUp a year?

The amount you should pay to access ClickUp per year will depend on your preferred paid plan and how the platform bills you. According to ClickUp, when you are billed annually instead of monthly, you can save up to 45%. So, for the Unlimited plan, you pay $5 per month instead of $9 monthly.
At the same time, if you are billed monthly, ClickUp's Business plan and Business Plus plan cost $19 and $29 per month, respectively. However, if you pay once for the entire year, the two plans will cost you $12 or $19 per month.
How long is ClickUp free?

The Free Forever plan is surprisingly generous. As the name suggests, it offers unlimited Tasks, up to 100 MB of storage, unlimited viewers, 24/7 Support, and more for an indefinite period.
You can upgrade to one of the four paid plans if you need access to more features that suit your unique needs. Better still, you can take advantage of ClickUp's limited free trial to experience your plan's value before deciding which one to choose.
Is ClickUp free software?

Not necessarily. ClickUp offers both free and paid plans. You can consider it a free tool if the Free Forever plan meets your organization's or business's needs. Otherwise, it's a paid but generous productivity app if you want to access the premium features.
ClickUp Pricing: Conclusion
ClickUp is a valuable, generous, and affordable project management platform. They have consolidated many essential solutions into one but still offer pricing plans that are highly compelling for most users.
ClickUp's Unlimited plan offers a lower price than all its main rivals- at $5 per user per month, billed annually. The other paid plans are equally highly competitive. So, if you are looking for affordable productivity management software, you can choose ClickUp if it offers all the essential features you require and meets your team's needs.