Agile project management is a philosophy of teamwork and communication that focuses on delivering projects as early as possible. Because "agile" is now one of the most prevalent and in-demand software development and business growth approaches these days, more are looking for agile project management software to help them plan and implement projects more efficiently.
In this article, we will discuss 13 agile project management tools that can make collaboration easier, increase productivity, and save time and money in your business.
Here is the list of the agile project management software we're going to cover in more detail below:
Jira
Trello
ActiveCollab
Proofhub
Basecamp
Kanbanize
Github Project Management
Zepel
Monday.com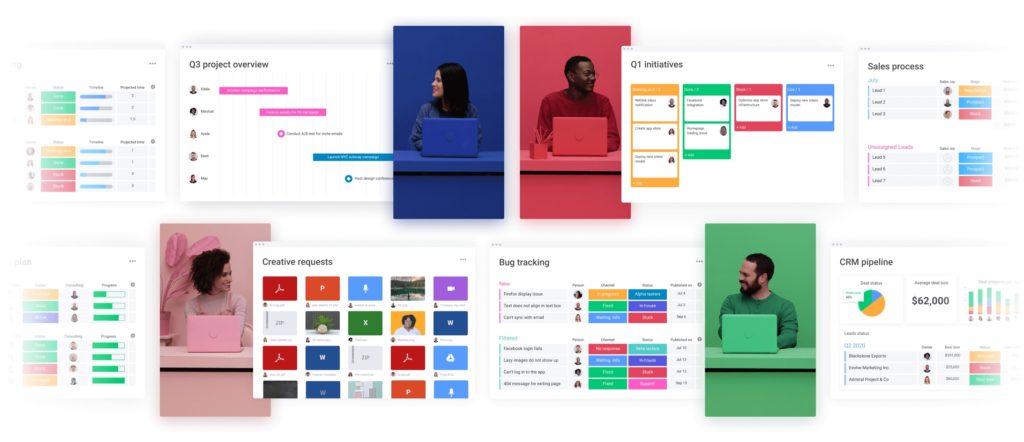 Are you working on a project with an important deadline looming? Then, you'll need the help of Monday.com, our #1 pick for agile project management software.
It comes packed full of features to keep you in control and organized throughout your workday and collaboration tools so that team members can share ideas without any hassle.
Monday.com is an easy-to-use tool that you can use to organize and visualize your projects in different ways, including Kanban boards, Gantt charts, and timelines of tasks completed by day or week – the possibilities are endless!
Use Monday.com for Free here! No credit card is required.
Each chart view includes a draggable sidebar, so users have plenty of flexibility when they need it most while keeping their work organized.
In addition, it has project templates for people who want help getting started on new projects, with all the details captured right from the start. So whether you're looking at one extensive task list or just checking off what needs to be done on today's checklist (or both!), this site will make things easier.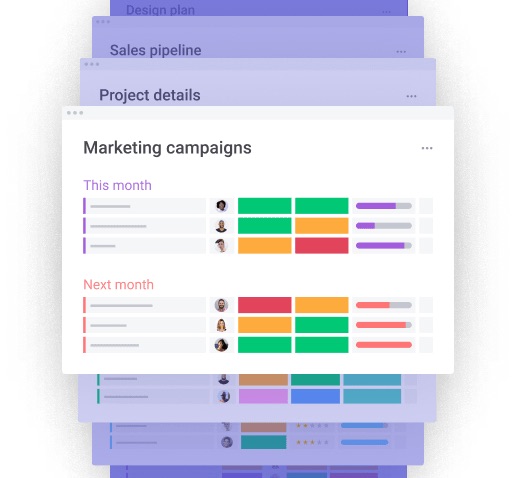 It offers a free forever plan with no credit cards required – so there's no harm in signing up at all! If you're looking for more features, there are four paid plans you can choose from, which start at $8 per user per month.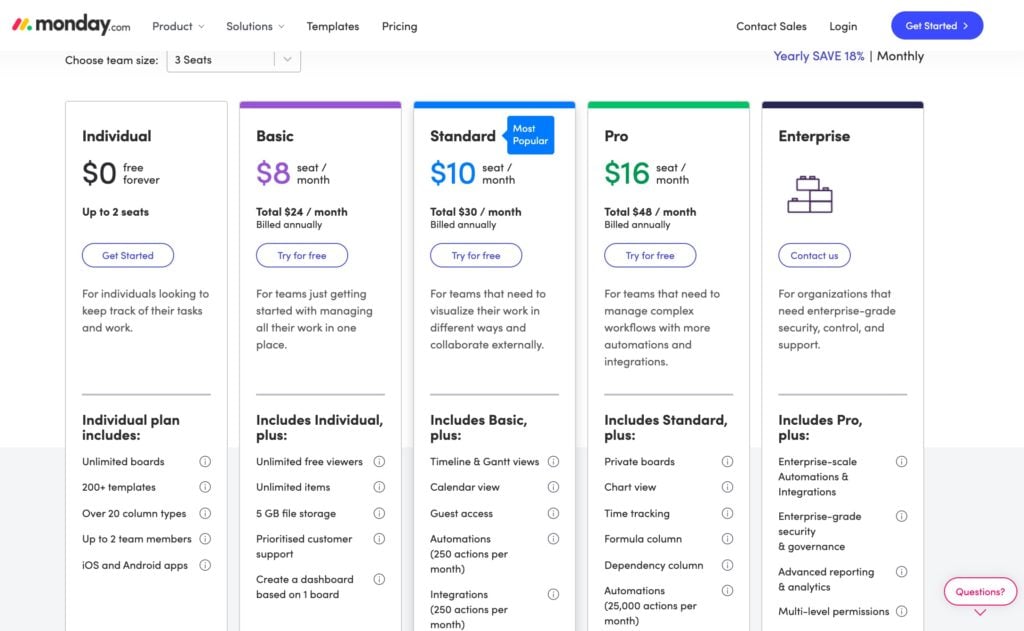 Use Monday.com for Free here! No credit card is required.
Further read:
ClickUp
ClickUp is the perfect agile project management tool for a low-budget, remote working business. It has all of the customizable features you need to stay productive and align with your team members.
As cloud-based software, it includes team collaboration, shared task-setting functions, project updates, and status alerts to help align business goals more efficiently. 
ClickUp is a project management app that stands out from the crowded competition. It costs just $5 per month for its unlimited plan, making it one of the most affordable options on the market.
If you're a growing business and can afford to spend more on task management, the Professional tier ($9 per user, per month) is for you. It has added features like an advanced time tracker, all automation features, all dashboard widgets, and custom exporting.
Use ClickUp for Free here! No credit card is required.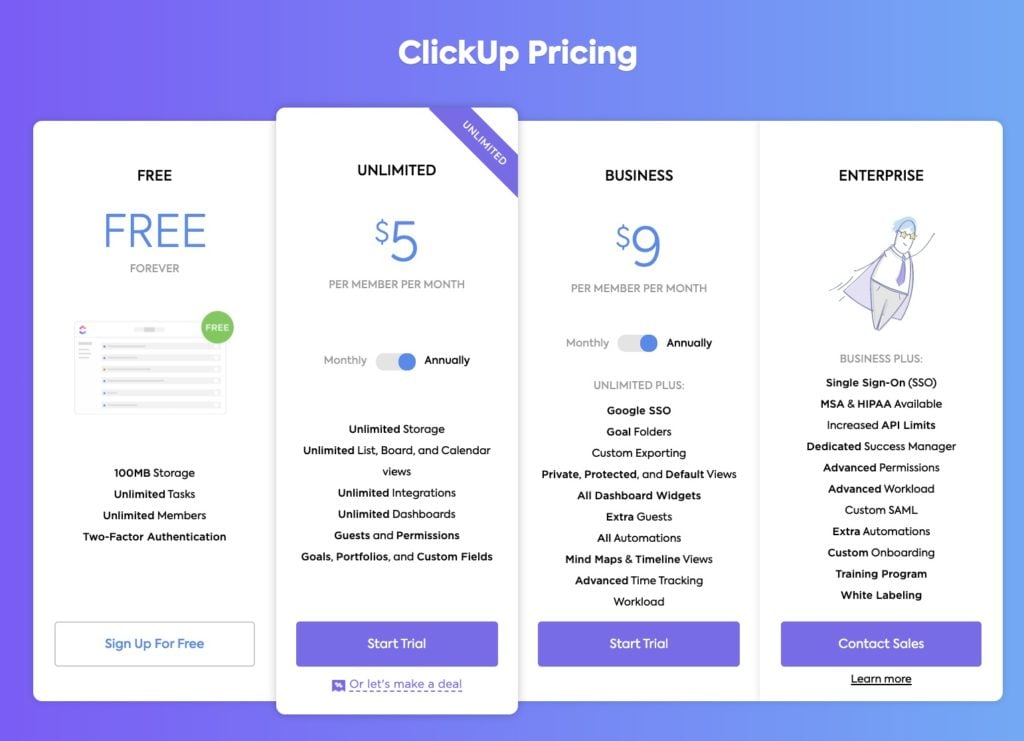 And if your needs are small-scale or individual, ClickUp has got it all covered with its Free plan that provides just about everything needed at an affordable price point.
Use ClickUp for Free here! No credit card is required.
Further read:
Clickup vs Monday.com
Wrike
Wrike is a complete agile project management tool that's perfect for teams of five or more.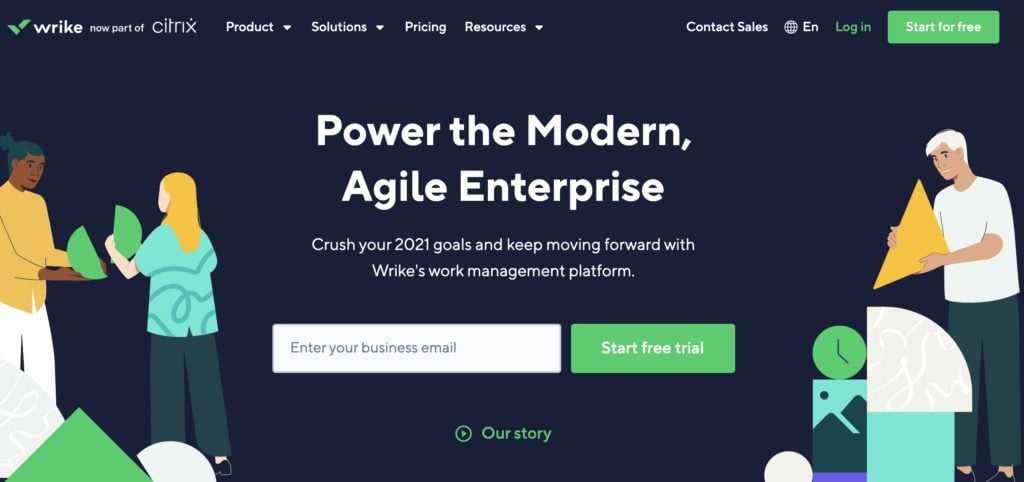 It's tailored to marketing teams, agencies, and professional service providers, but it has robust features that are flexible enough for almost any industry!
You can customize workflows, dashboards, and reports to fit your needs with this highly configurable solution.
It offers a free plan, and paid plans start at $9.80 per user per month. Paid plans offer more extensive features like shareable dashboards, Interactive Gantt charts, and more.
Asana
Asana is a task management program that allows businesses to automate their day-to-day tasks and collaborate. It's perfect for when you have multiple projects going on at once, which means any company size can use it.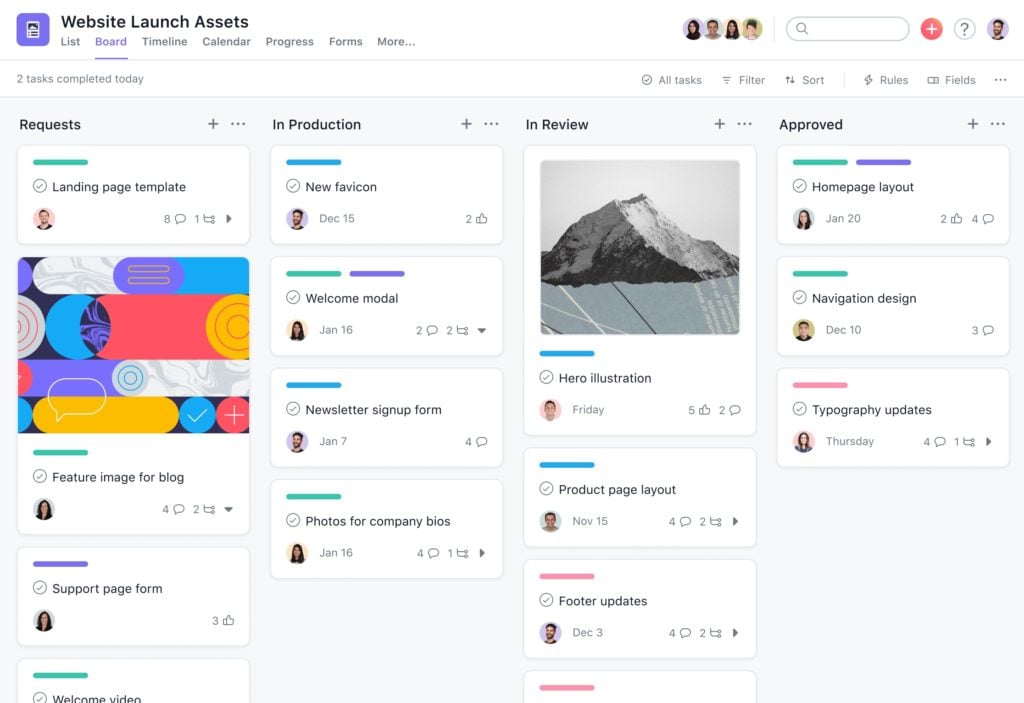 With its Kanban style layout, the user interface makes the information easily accessible to all of you involved in the project.
In addition, Asana provides an intuitive platform for organizing projects while at the same time being packed full of features that every member of your team can use.
It offers a free plan, and the premium plan starts at $10.99, which includes more features and resources like reporting across unlimited projects, unlimited dashboards, and unlimited guests.
Get an Asana 30-day free trial here!
Want to see how Asana and Monday.com compared? Check out our Asana vs Monday.com comparison.
Further read:
Notion
The Notion platform is an excellent source for team collaboration, information sharing, and project management. It combines notes, docs, projects, and wikis to make it all customizable.
It is essentially the Wikipedia of workplaces, combining all aspects into one area, making it easier to keep everything in order. With customizable templates and a knowledge base for anything you need help with, Notion will have your work sorted out before lunchtime!
Notion is the perfect productivity app for those with many tasks to cross off their lists but struggle with traditional planners. The customizable templates make it easy to take care of everything in one place and digitally rearrange your task list as needed so you can always keep track of what needs attention and when.
The personal plan is free to use, which gives you unlimited pages and blocks, share with five guests, and sync across devices.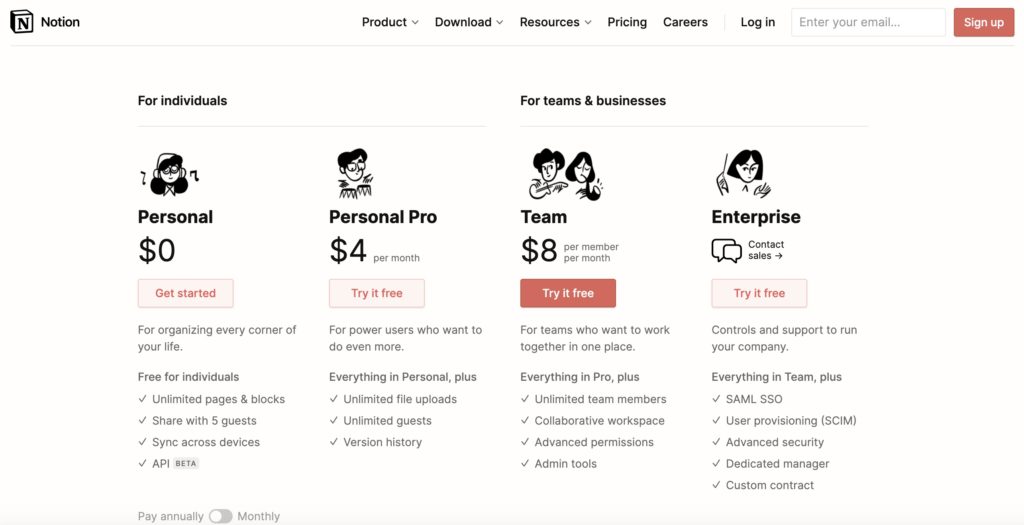 But to use it as an agile project management tool, you're going to need its team plan, which starts at $8 per user per month. 
Jira
Jira not only can track your project but also keep an eye on the bugs in your software. This is why Jira has been trusted by 65,000+ organizations worldwide and used by innovative leaders like Cisco, Square, Spotify, etc.
As a leading provider of agile project management solutions for IT teams and developers, they have also attempted to pivot some of their products to accommodate all types of organizations better – no matter what industry or use case you may need!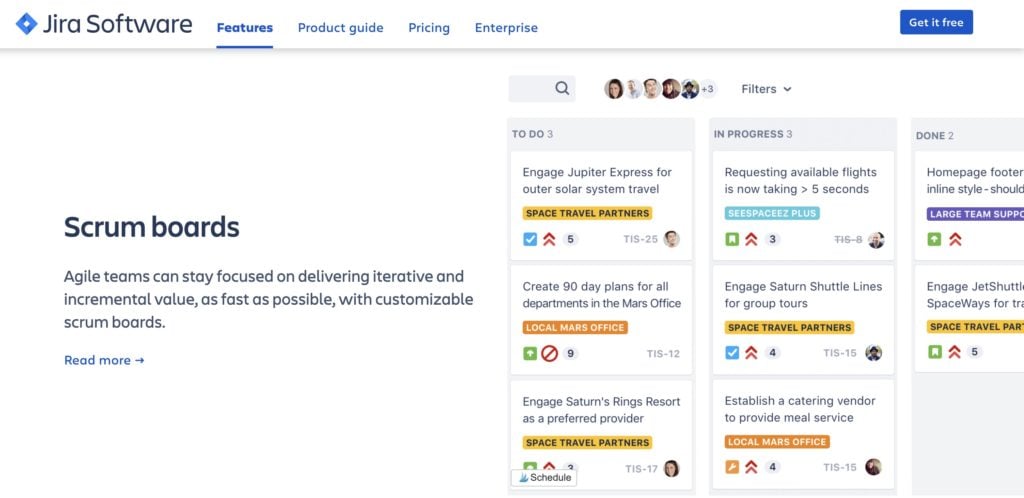 Compared with other options on the market for managing projects across industries like marketing, HR, and finance, Jira stands out as one of the best choices.
For such a powerful solution, Jira is surprisingly affordable. The software has no cost for teams of up to ten users – it's completely free forever! The Standard plan starts at $7 per user per month, including more admin control options, security and compliance features, and storage.
Trello
Building something new has never been easier, thanks to Trello. In just a few minutes and with little or no prior knowledge of the software, you can create your project board for any size company, from start-up companies to multinational corporations.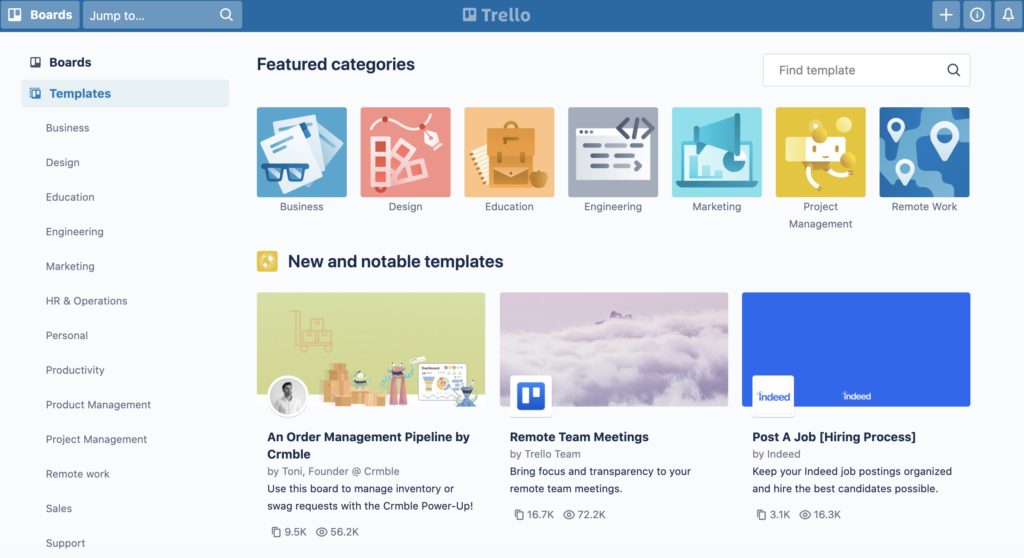 Trello's usability is one of the platform's primary highlights. It's as intuitive as it gets, which is why Trello works well for small projects and teams that need an easy-to-use project management tool to get things done straightforwardly. In addition, nontechnical users can use its interface without any hassle or headaches!
Trello offers a free plan for personal use and small projects. Its Business Class plan starts at $10 per user per month, offering more features like timeline view, dashboard view, unlimited boards, and more.
ActiveCollab
ActiveCollab is all about making your work happen. Not just for you, but also the client! With ActiveCollab, everything is in one place and easy to access – tasks, projects, communication with clients… it's up to you how much they see of what goes on behind the scenes.
It is an easy-to-use task management service that lets you group tasks based on the phase of your project. You can organize by type or even add labels to provide progress details for each task in a list.
ActiveCollab offers a free trial, and pricing starts at $7.50 per user per month, making it one of the perfect solutions for any small to medium-sized business looking to save time on their project management needs!
Proofhub
ProofHub is a project management app with an emphasis on simplicity. Its orderly interface delivers all the tools you need to organize and track projects and collaborate while doing so. It may not have every feature under the sun, but ProofHub has everything necessary for agile project management.

Proofhub is an excellent app for teams that need to usher along with projects together. In addition, the price is suitable for a small and growing team, as ProofHub charges a flat monthly rate, regardless of how many people use it.
It offers you the flexibility in tracking multiple tasks simultaneously without being too complicated, with real-time updates on progress made by your colleagues through Gantt chart view. Hence, there's no miscommunication about what needs to be done next which can delay project completion time if not appropriately managed!
Proofhub plans start at $45 per month. However, they charge a flat fee, meaning that there is no additional user cost.
Basecamp
Basecamp is a complete solution for agile project management and team communication. It brands itself as an "all-in-one toolkit for working remotely."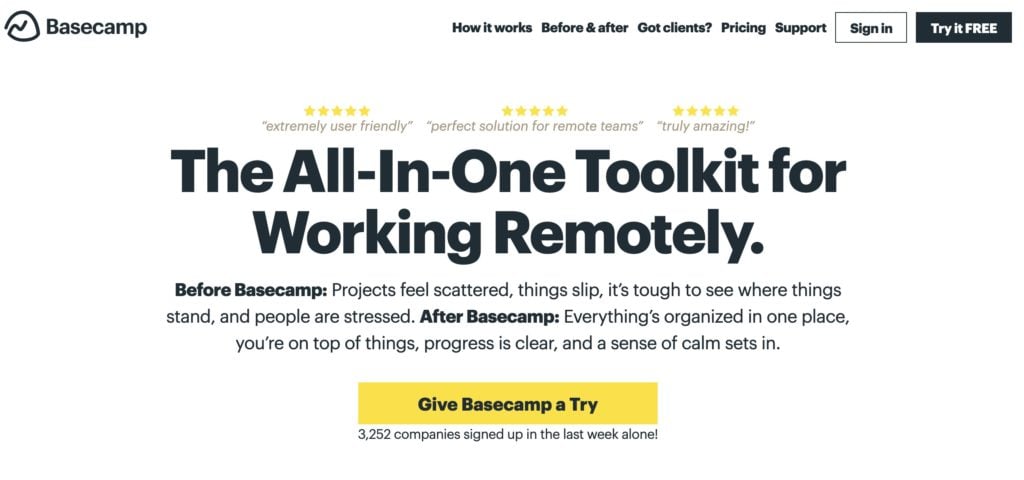 It has the most expensive price tag ($99 per month, flat) on the market compared with other remote work solutions; this might be because of its wealth of built-in collaboration tools like group chat, message boards, and schedules.
People who have used Basecamp say that it makes collaborating easier by centralizing all your important projects into one place.
In addition, it makes communicating seamless using their online messaging system, which automatically syncs chats across multiple platforms, including Facebook Messenger or Slack!
Kanbanize
Kanbanize is a tool that helps you organize your work and manage it efficiently by letting you see all of the initiatives at once.
One of its best features includes breaking down cards into smaller, more manageable chunks so they can be automated to go through a series of steps – perfect for clients who need agile reports!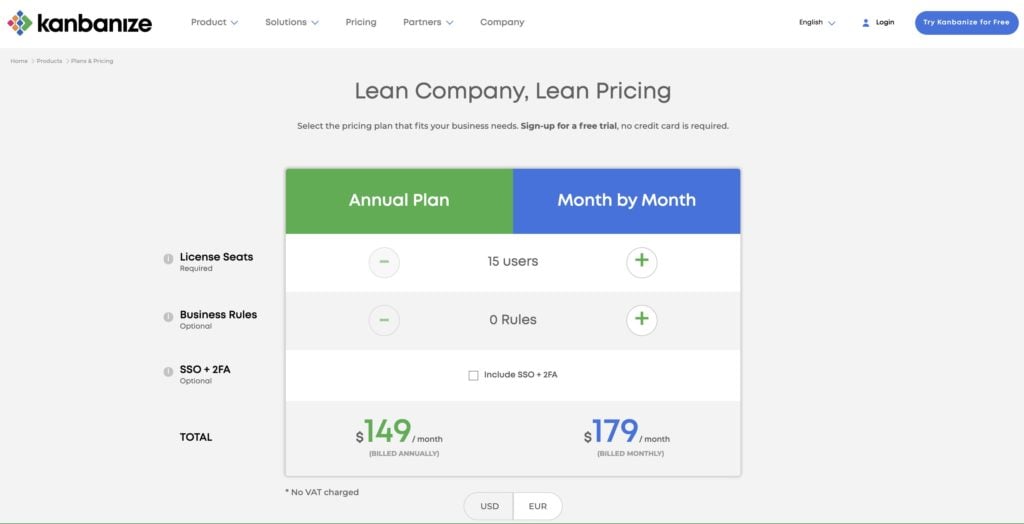 Its plan starts at $149 per month, which includes 15 users. They offer a free trial.
Github Project Management
If you're a developer, then the chances are that Github is already your go-to app. But did you know it also doubles as a project management tool?
You can use Github's project management tools to manage, track and fix issues. For example, linking an issue with a pull request or code commit ensures team members will be able to view updates in your projects. And if you associate the issue with a pull request that has been merged – it'll close automatically.
Work can be streamlined without getting all tangled up with the proper configuration of issues and pull requests in your code repository. This frees developers from maintaining two separate systems for tracking bugs or other information while they write new code!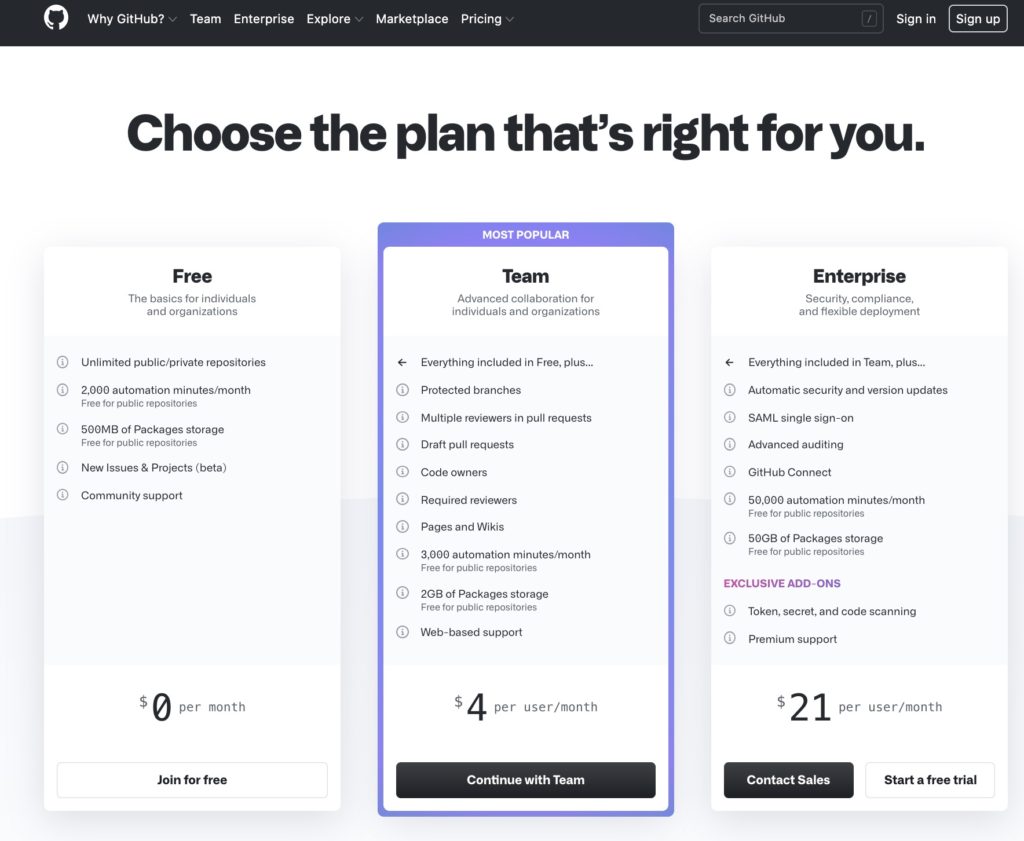 You can use Github for free or upgrade to its Team plan, which costs $4 per user per month. It also has a very affordable enterprise plan that costs $21 per user per month only.
Zepel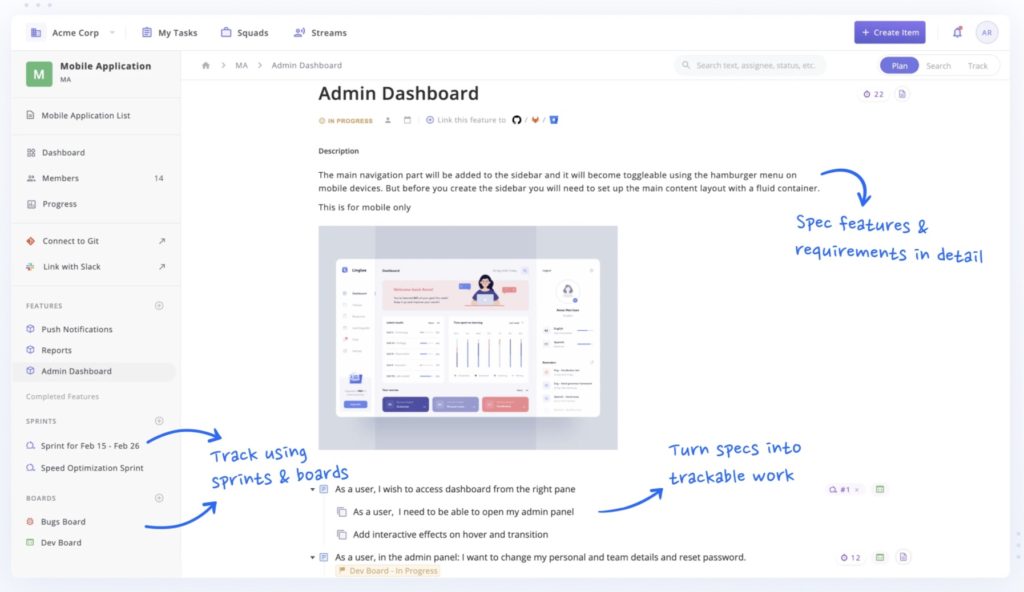 Zepel is a team collaboration software that helps teams of product development professionals to plan, create and track their work. Zepel has all the features needed for seamless teamwork, whether you're working with agile or kanban methods.
Zepel's agile features are so easy to use that you and your team can focus on the important stuff. In just a few clicks, create user stories, enhancements, bugs, tasks, or subtasks – whatever suits your project best.
And with deep integration for GitHub, Bitbucket, GitLab, and more, you can find what matters fast without ever leaving Zepel!
Agile Project Management Tools: Conclusion
These are some of the best agile project management tools for making collaborations easier. Having the right tools is essential for any project manager and teams in any industry. Our top picks are Monday.com and ClickUp – both offer excellent solutions at an affordable price point. You can even use them for free!
Which do you choose? Why not try them out and let us know which one is your favorite!