Are you looking for the best productivity tools to help your teams stay focused?
Many have experienced a significant shift in regular routines in the pandemic era, such as working from home. As a result, some might find themselves losing productivity as they adapt to a new working model.
For others, you might be seeking productivity tools to automate manual and repetitive tasks, stay organized, and work more efficiently.
Productivity tools are the perfect solution to bolstering the productivity of yourself and your team.
Some of the best productivity tools for project management are Monday.com and Clickup.
If you want to write faster and better, you can get started for free with Grammarly.
In the following article, we'll introduce you to more different types of best productivity tools to save time and live a productive life!
Monday.com: Best Productivity Tool for Project Management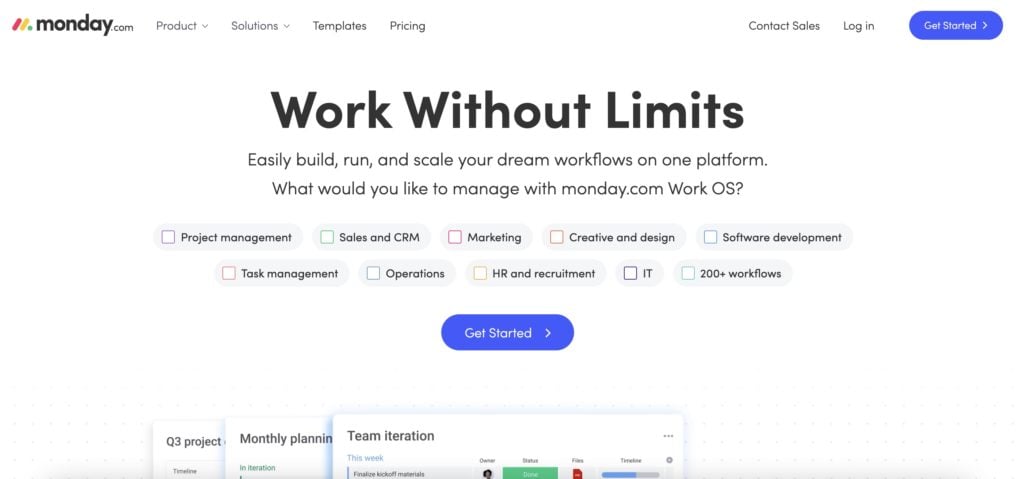 Are you feeling overwhelmed by spreadsheets and decentralized information across different communication platforms? Manage your tasks and projects with Monday.com.
It's a versatile productivity tool for planning schemes of work, building team collaboration, and tracking workflows to optimize efficiency. Many also use it for planning personal projects.
You can read our detailed Monday.com review here.
You can always add sub-tasks on the visual boards to deliver your projects on time and stay connected with other team members on one single platform.
Top features of Monday.com
Overview of tasks and project participants in one workspace
Customizable, user-friendly templates for automating workflows
Integrating with other useful software such as Outlook, Microsoft Teams, Dropbox, and Zoom
Highly visual board views and graphs in a myriad of colors and shapes
24/7 customer service
Our #1 Pick
10x Your Productivity | monday.com
Monday.com is the best cloud-based project management tool that helps teams manage their workflow and collaborate more effectively. It provides a visual overview of your team's progress, making it easy to identify bottlenecks and areas for improvement. It's a great option for teams looking for a flexible and intuitive project management solution.
Pros:
User-friendly interface that allows for easy task and project management

Customizable templates for various industries and functions

Integration with popular apps like Slack, Google Drive, and Trello

Visual overview of team progress and project status

Flexible and intuitive project management solution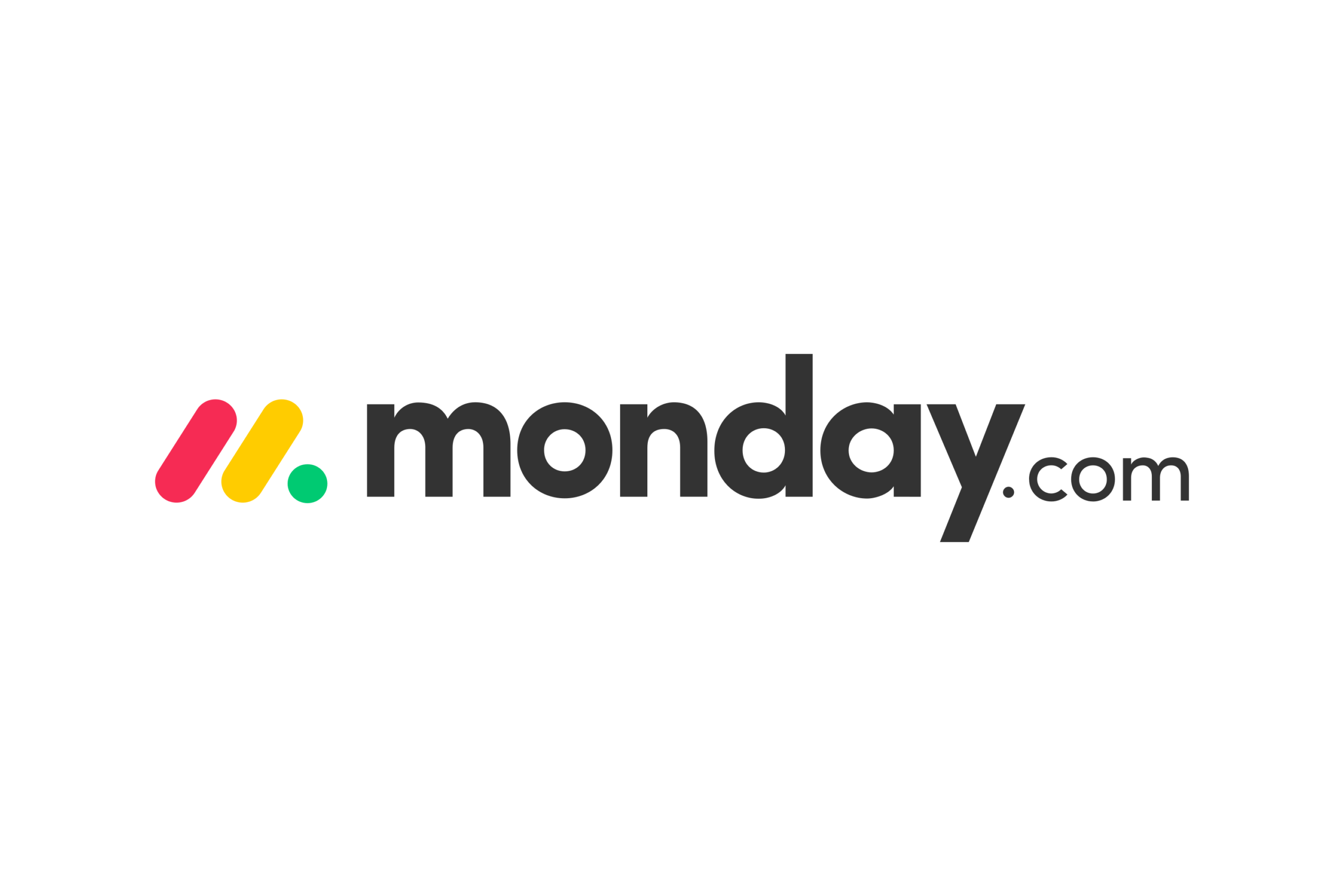 ClickUp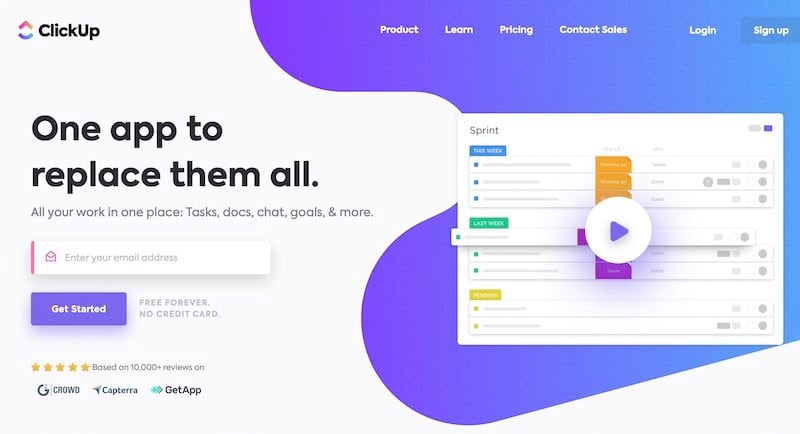 ClickUp is an all-in-one project management tool that deals with any ineffectiveness of projects and tasks. As a result, it's one of the best productivity tools to help remote teams work more efficiently.
ClickUp helps you plan goals, break down complex projects into achievable steps, align teams and keep track of their progress.
With its clear visual hierarchy, you can schedule projects and connect participants efficiently. Just pick any customizable templates to automate a smooth running of tasks.
Top features of ClickUp
A clear visual hierarchy in which projects are filtered and organized
A transparent, bird-eye view of teams' progress and task lists
35+ ClickApps for adding various functionalities to workflows
Customizable workspace in which users can create their view board
Real-time chat, commenting, tagging, and file sharing for team communication
Our Pick
ClickUp | One App to Replace Them All
ClickUp is a powerful project management tool designed to help teams work more efficiently and collaboratively. It offers a range of features, including task management, time tracking, team collaboration, and project planning, making it easy to manage your team's workflow in one place.
Pros:
Task management

Time tracking

Team collaboration

Project planning

User-friendly interface

Powerful automation capabilities

Grammarly: Best Productivity Tool for Writing Improvement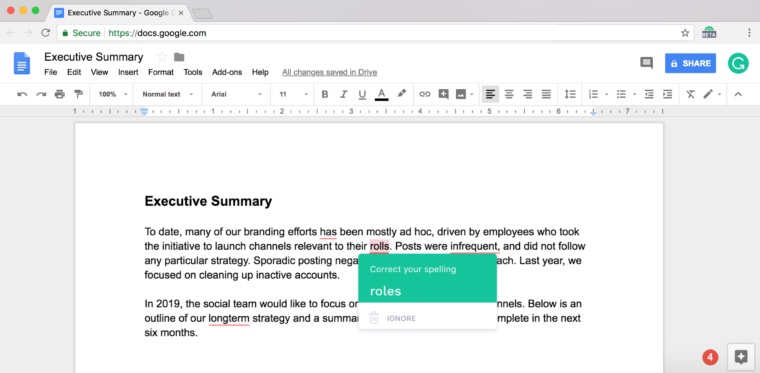 Do you want to write professionally to impress your employers and clients?
Sign up Grammarly for free to get writing suggestions!
It checks your spelling, grammar, and punctuation precisely. You can enjoy its advanced corrections and constructive feedback on your writing styles, diction, and clarity by joining the premium version.
Grammarly is now on iOS and Android.
Top features of Grammarly
Quick, accurate checking of spellings, grammar, and punctuation
Formality, clarity, readability, and word choice suggestions
Chrome extension
Flexible choice of plans: basic, premium, and business.
Read our detailed Grammarly review here to see if Grammarly Premium is worth it.
Hubspot: Best Productivity Tool for Sales and Marketing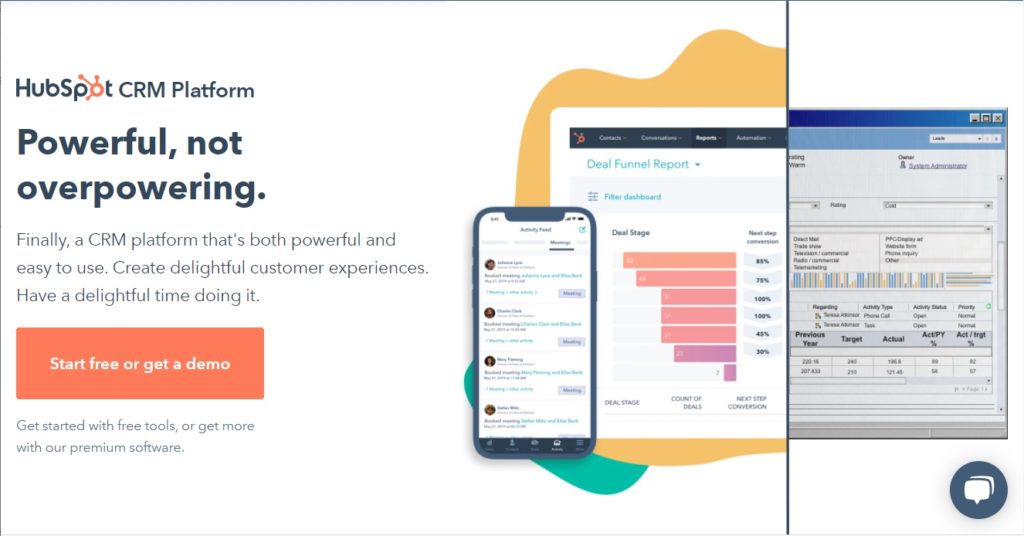 Are you looking for a productivity tool to expand your business at ease?
Don't miss out on Hubspot— an integrated hub that includes sales tools, marketing software, and more that drive your business growth.
You'll experience powerful apps and services across the Marketing Hub, Sales Hub, Service Hub, CMS Hub, and Operations Hub. You can trace all data in a single shared view to connect your customers and clients.
From small enterprises to international corporations, you get to thrive by using HubSpot for free.
Top features of Hubspot
In-built marketing analytics software
Free email tracking and email marketing tools
In sync with Google Calendar to schedule free meetings
Time-saving social media management tools to create posts and promote social interactions
Automation tools that generate sales and marketing workflows
Further read:
HubSpot CRM Review: Is it the best CRM platform?
Calendly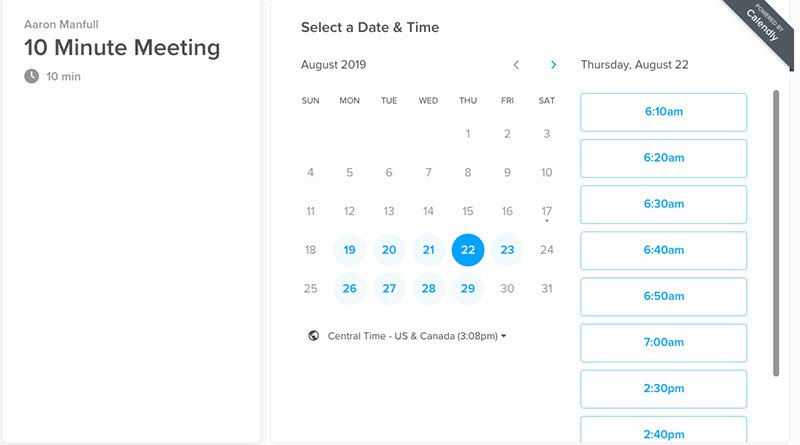 Is scheduling meetings with the team a headache for you? If so, Calendly is your must-have productivity tool.
From scheduling conferences to sending notifications to team members, this productivity app does everything in a row. All you've to do is provide your availability preferences with which Calendly will generate the corresponding timeslots for your business partners or coworkers to pick from.
The magic of this tool rids you of scheduling troubles and calendar conflicts. So why not create a free account and experience how scheduling can be a cinch?
Top features of Calendly
Efficient scheduling
Set buffer times between meetings.
Automatic reminders of scheduled appointments
Time Doctor: Best Productivity Tool for Time Tracking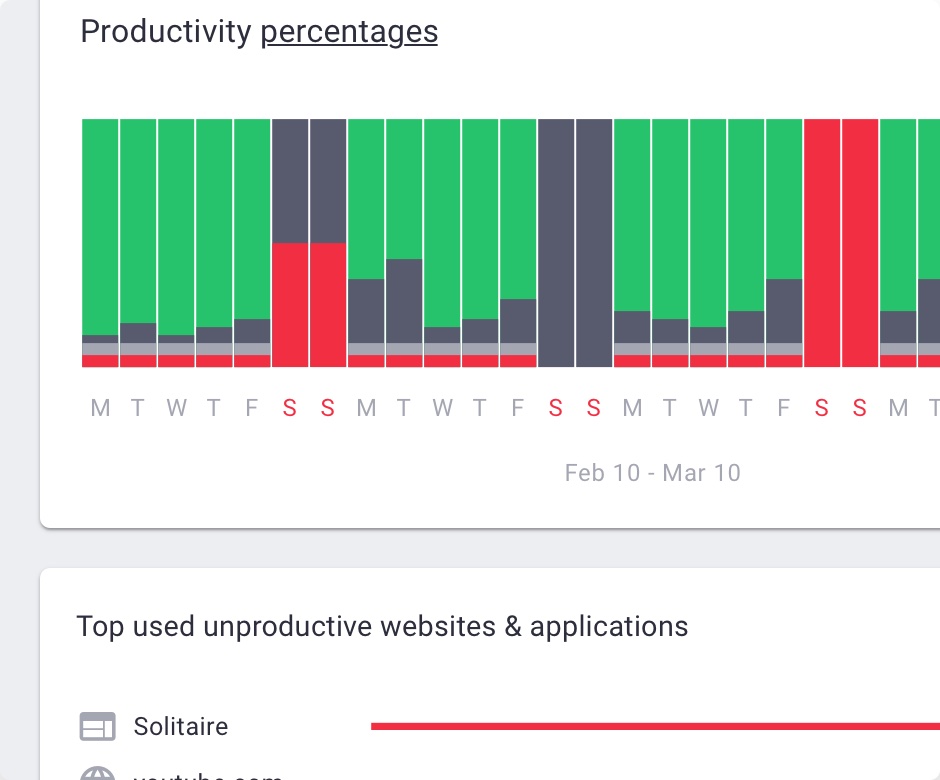 Are you not having any idea of your employees' working time under remote working?
Join Time Doctor to track employee hours and generate statistical reports on their application usage. These stats reflect their time spent on the workflow and empower the workers.
Time Doctor is suitable for different types and sizes of companies. It's a time management tool that helps identify time-wasting behavior, boost productivity and improve profitability.
Top features of Time Doctor
Real-time screenshots of workers' screens to monitor their online progress
Daily and weekly analysis of working hours, website and app usage to track time and productivity
Pop-up alerts which remind users to stay focused and save time from distractions
Syncs with a wide variety of productivity tools
Use Time Doctor for free here!
Asana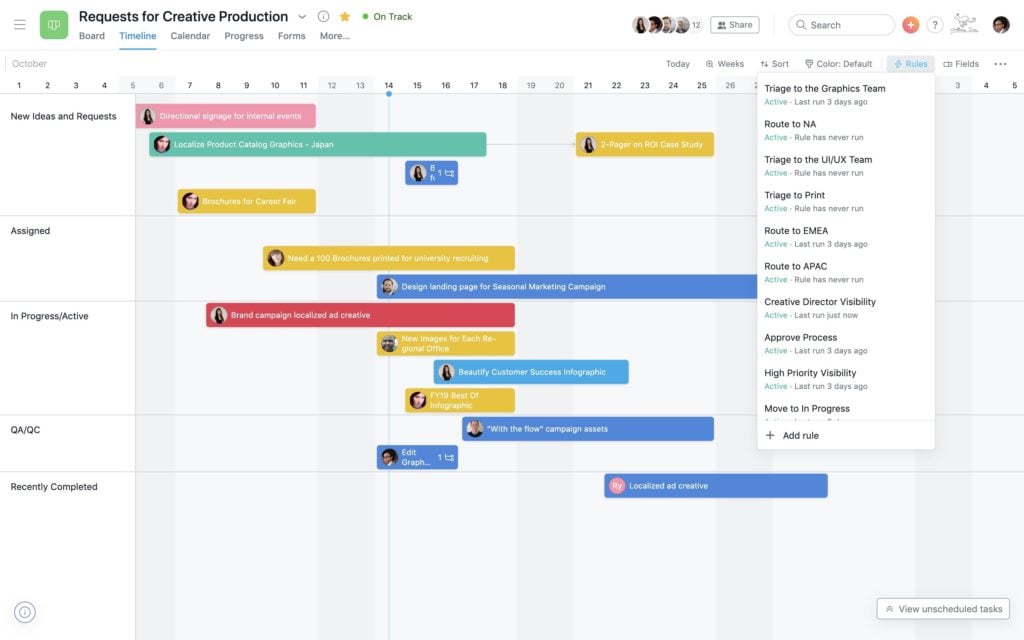 Asana is a customizable collaboration tool that coordinates teams in a shared workspace. It's one of the best agile project management tools for task management and team collaboration.
Plan, schedule, and prioritize tasks in each stage of a project. Companies can assign task lists, set up deadlines, and tailor the workflow from process management to workflow management.
Meanwhile, it's a management tool that monitors task progress and working time to improve productivity.
Top features of Asana
Powerful team collaboration on one shared platform
Customizable, optimizing views that offer different perspectives (i.e., list, table view, timeline, board, etc.)
Routine work automation
Syncs with various apps including Google Drive, Google Calendar, Office 365, and Slack
Get Asana 30-day free trial here!
You can read our detailed Asana review here to learn more about its features, pricing, pros and cons.
Toggl: Best Productivity Tool for Time Management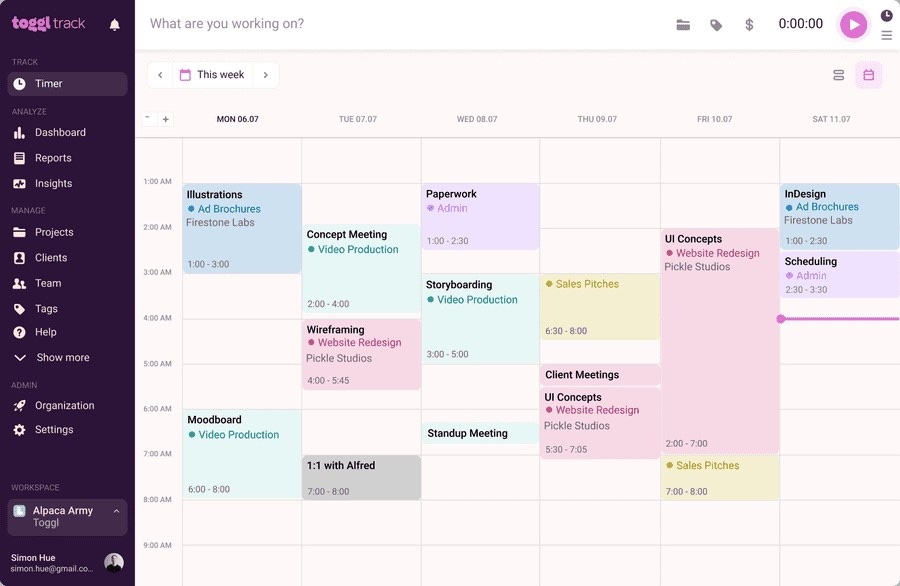 Does time tracking strike you as an administrative headache, and what's the best way to evade it? Indeed, you're missing a huge opportunity to grow productivity.
With the help of Toggl, time management is not as cumbersome and time-consuming as you think.
Instead, it can save you time by giving you actionable insights into the teams' productivity weaknesses and remedies for efficiencies and profitability. It's available on desktop and mobile.
Top features of Toggl
Team and project management
One-click timers for robust time tracking
Reliable weekly reporting on time usage
Syncs with Google Calendar
Firefox and Chrome extension
Trello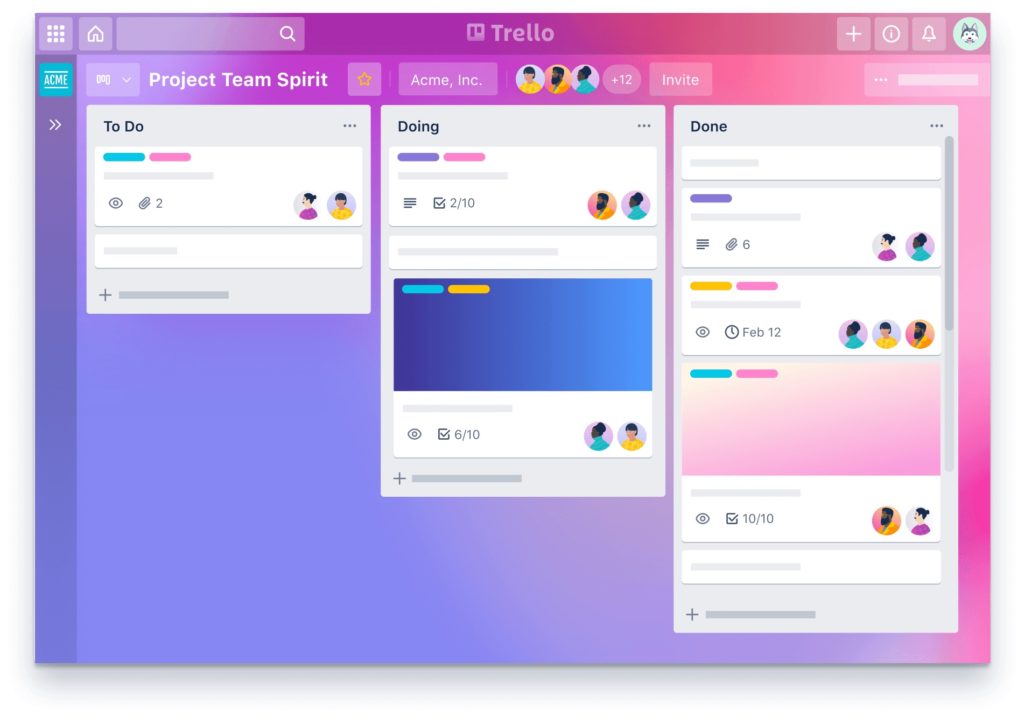 Trello is a flexible collaboration tool that organizes your projects into bird-eye visual boards on a timeline. You can always customize these Trello boards on a task list to expand your workflow.
Try out the functionalities such as creating checklists, starting conversations, and sharing files on these boards. Trello makes you stay organized while managing everything in the same workspace.
Top features of Trello
Customizable Trello board, lists, and cards for task management and collaboration
Built-in task automation
Integrating with great productivity tools to cater to specific needs
Proofhub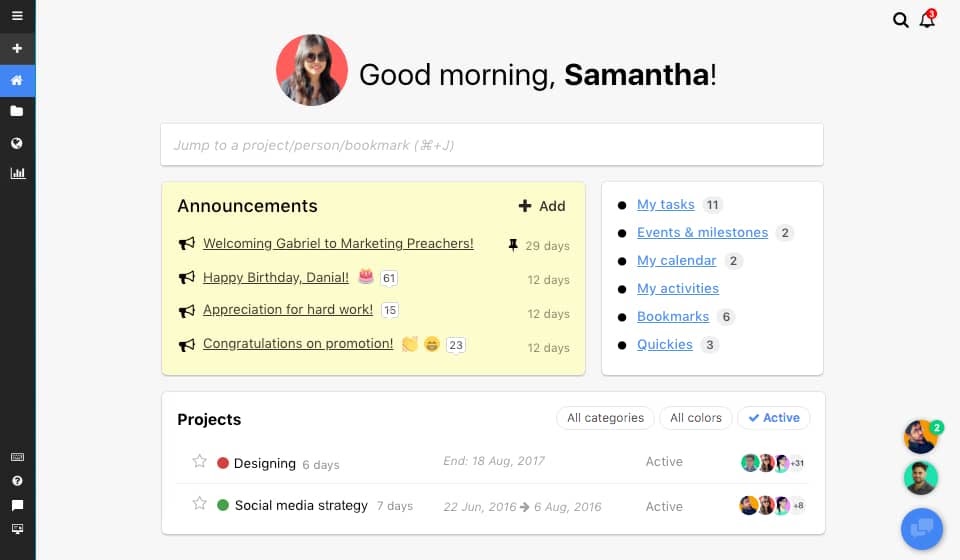 Does project failure often frustrate you? Without careful planning and efficient collaboration, working on a project can be daunting.
Proofhub is an excellent productivity tool that helps you plan multiple projects, organize files and connect remote teams. It's one of the best productivity apps with every tool your company needs to deliver successful projects on time.
Top features of Proofhub
Visualize task stages to reflect project progress and manage productivity
Initiate discussions, comments, and tags to maintain effective communication and collaboration
Organize schedules, files, and apps at one workplace with ease
Time tracking by timesheets and time reports
Slack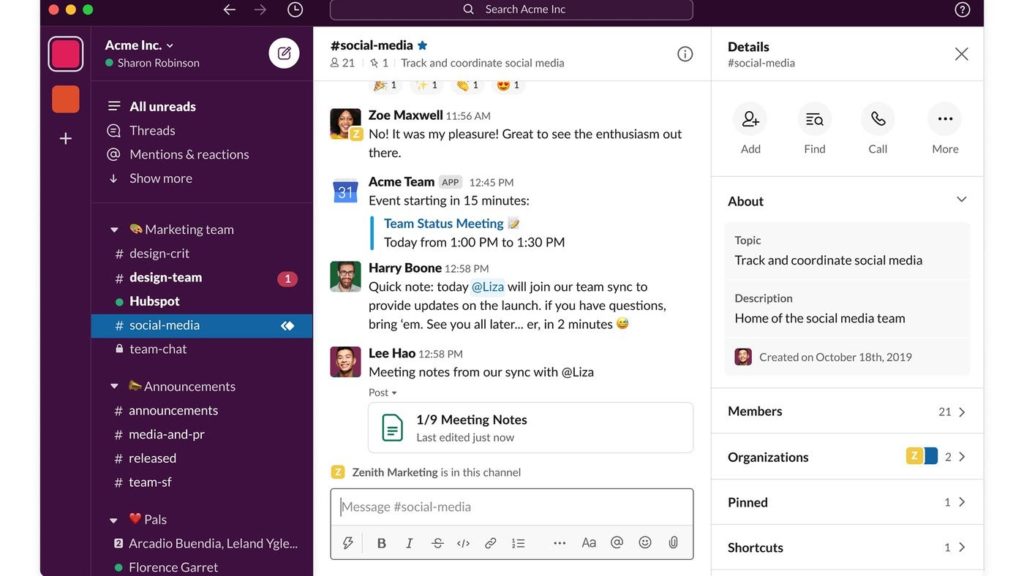 Are you getting used to remote working and a high level of work-life balance?
Slack is a messaging tool that allows your remote team to stay connected even when they aren't in the same office. It supports asynchronous work and gives coworkers flexibility while maintaining productivity.
Slack channels are a key to productivity. They centralize remote workers, conversations, files, and everything in one workspace. These channels make brainstorming, communication, and decision-making more focused and efficient than ever.
Start Slack for free on your desktop. Install its mobile app to stay organized too.
Top features of Slack
Rescue Time: Productivity Tool for Time Tracking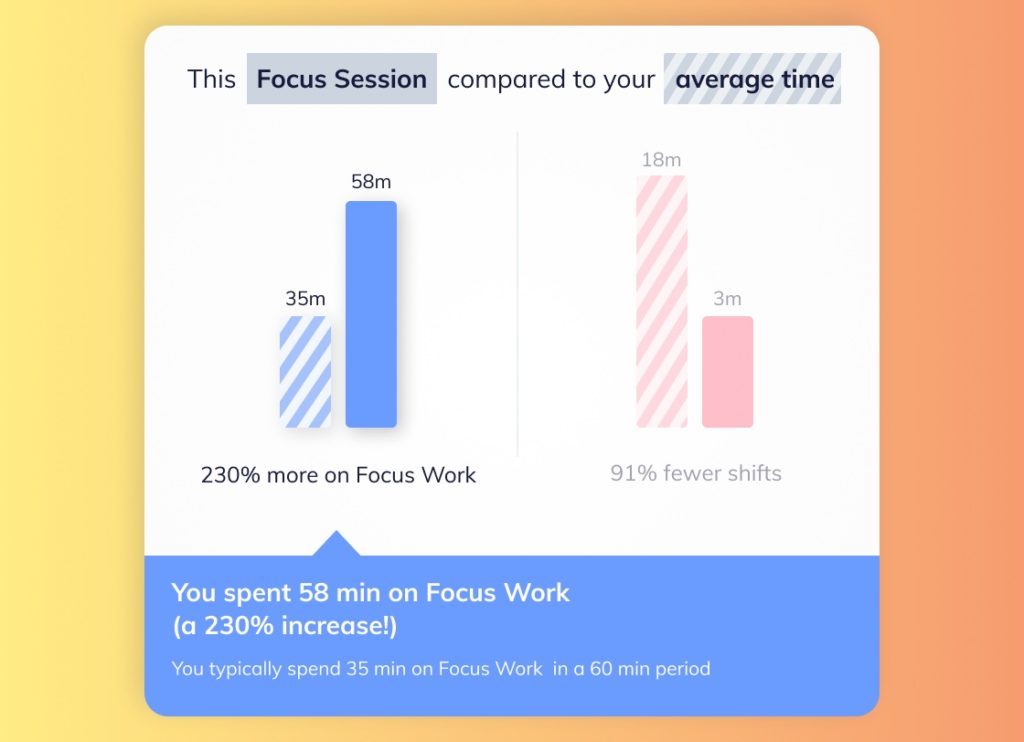 Mobile devices are such a great source of distraction that people idle away most of their time without realization.
Rescue Time is a mobile app that monitors screen time and device usage. In addition, it evaluates your work style and daily schedule to help you set daily focus work goals.
You will get an automatic summary giving you thoughtful insights into time management and productivity.
You can download Rescue Time on iOS and Android devices to get into productive habits and get rid of distractions.
Get a Rescue Time 2-week free trial here!
Top features fo Rescue Time
Automatic, intelligent account of your workday
Robust analysis of time use and productivity
Start a Focus Session to block distraction sites online
Smart coaching motivates and propels your work
Evernote: Best Productivity Tool for Note-Taking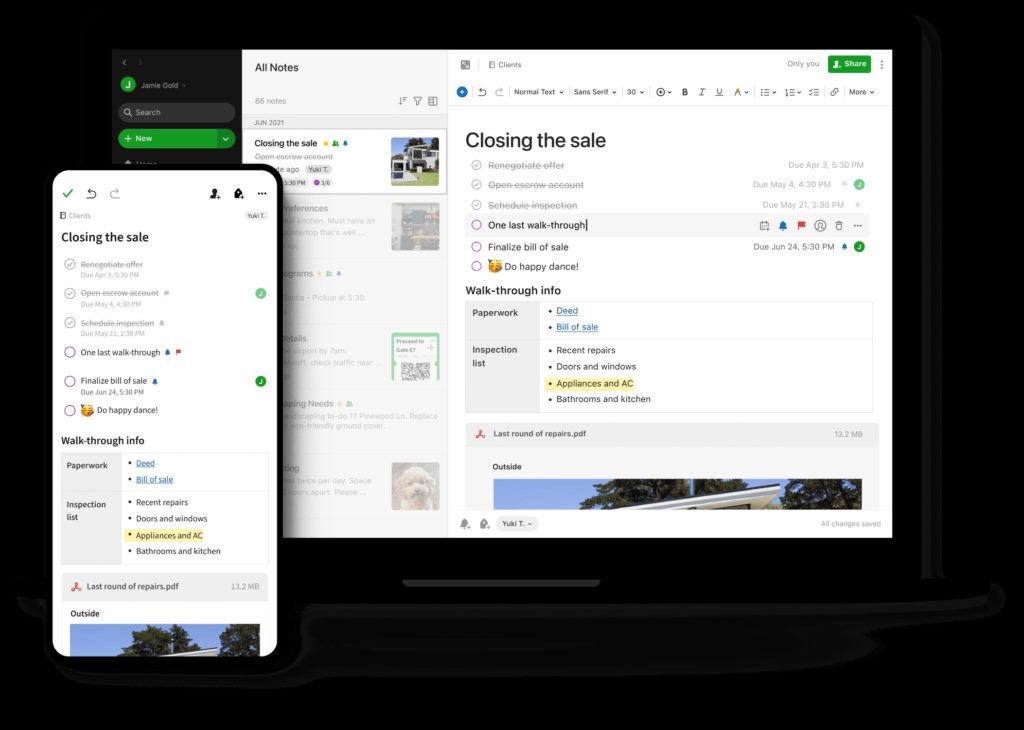 Evernote is a free note-taking app that organizes notes, task lists, schedules, and files on a single online platform.
Are you overwhelmed by flooding inspirations and ideas? Capture them on Evernote!
Build your projects by assigning tasks with due dates inside notes. You can also attach images, audio, documents, links, and more to enrich your notes. Then, sync it with your calendar to set up reminders to hit deadlines and productivity.
When everything is ordered in one space, project management and collaboration are made more accessible than ever!
Top features of Evernote
A variety of tailor-made and reusable note templates
Shared collaboration spaces which align team members and speed up productivity
Scan documents and attach files, webs to make everything handy
Notes automatically synced on all devices for easy retrieval
Sync with apps and integrations like Google Drive, Outlook, and Google Calendar
Sanebox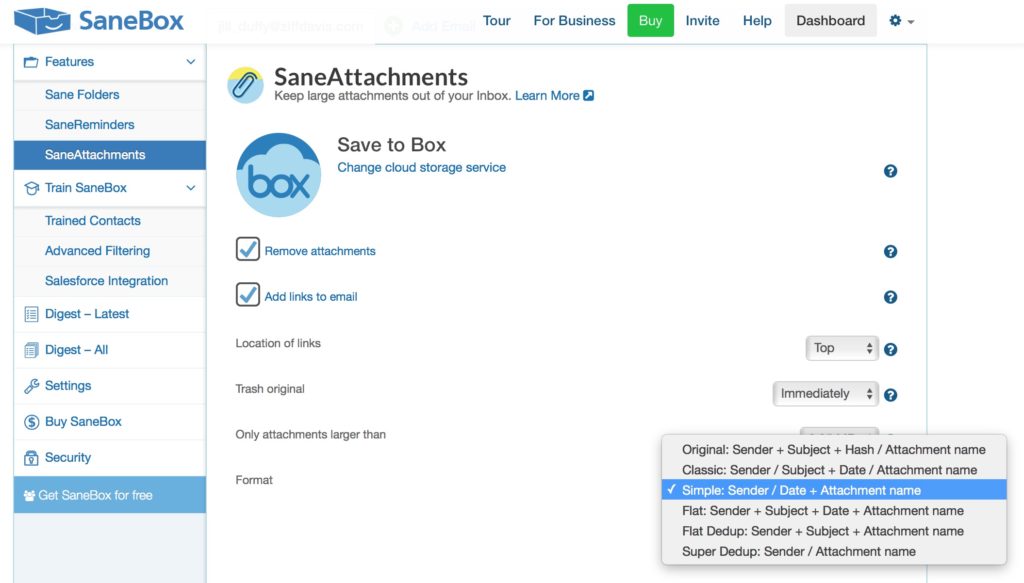 Clicking into the mailbox, seeing a never-ending list of emails popping out, feeling annoyed as if you are bombarded with senders… Isn't this a familiar scenario?
Well, Sanebox is the right productivity tool for you.
This app analyzes your inbox and organizes the emails according to the level of importance. The important ones will stay in your inbox, whereas Sanebox will throw those unimportant ones into the SandLater folder.
Whether you want to declutter your mailbox or banish the distracting senders, Sanebox is one of the productivity tools to help you extract and focus on important emails.
Top features of Sanebox
Smart email filtering
Automatic reminders of the emails which haven't been replied
Snooze email until later
Save attachments to the cloud
Get Sanebox 14-day free trial here!
Bit.ai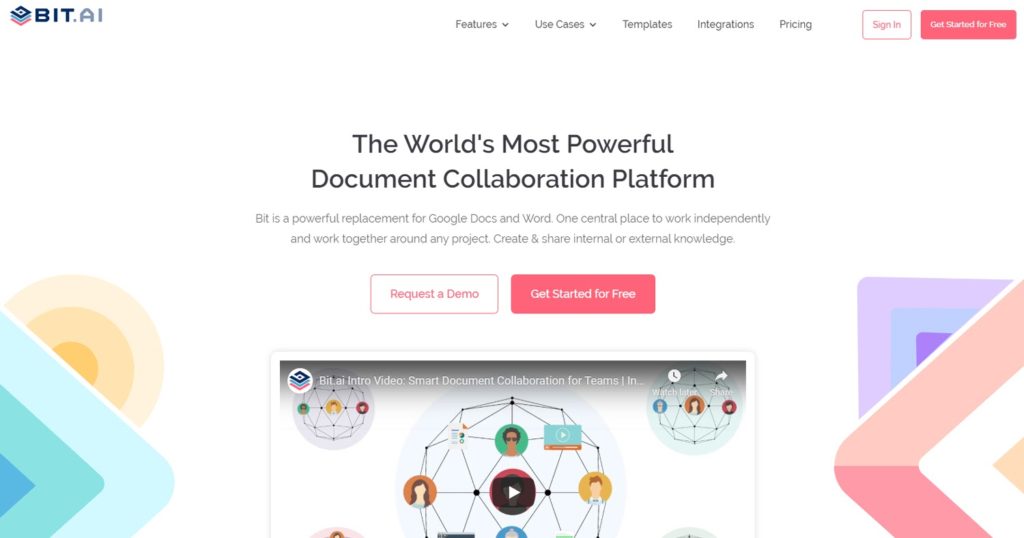 If juggling various apps kills your productivity, you'll need Bit.ai. It's an ultimate document collaboration platform that brings users from any part of the world to a single systematic workspace.
Bit.ai makes it easy for you to share smart documents, including client docs, notes, proposals, invoices, and more across teams and projects. As a result, your teams will enjoy quick, efficient access to the shared resources and stay productive.
This smart productivity app also gives you the option of adding media, graphics, weblinks, and cloud files to your notes such that everything is organized on the same page.
Top features of Bit.ai
Create multiple workspaces with customizable workflows
Real-time comments and co-editing on work
Smart document editor
Centralized storage of all media files for easy access and sharing
Easy cross-platform content management in an organized space
Start using Bit.ai for free here!
Bonus edit: Aeroleads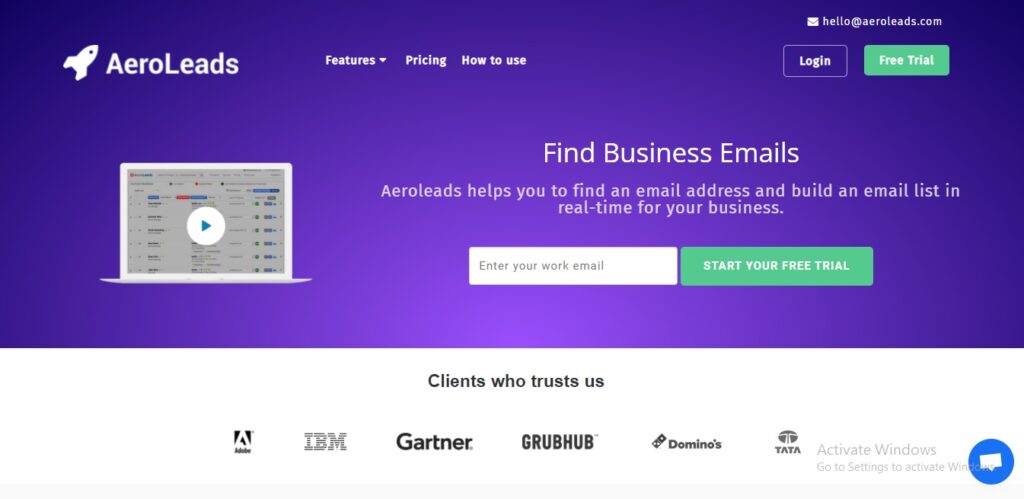 AeroLeads lead generation tool helps in finding the right and prospective leads for your business by enabling you to find the right business email address and build an email list.
Top Features Of Aeroleads
Find business emails from LinkedIn or find emails by uploading name and company.
Find 15 data points like full name, job title, location, generic company emails etc.
Export data to CSV or transfer data to Salesforce, HubSpot CRM, Pipedrive, Zoho CRM, FreshSales, Zapier etc with one click.
Best Productivity Tools: Conclusion
Productivity is only a few steps away — when you troubleshoot the weaknesses and optimize the workflows with the best productivity tools.
If you want to drive your business productively, why not pick an app of your choice and add more hours to your day?
To conclude, here are some of our top recommendations: