HubSpot CRM is a giant in the field of customer relationship management (CRM) platform. It is free to use but has a range of premium options starting at $50 per user per month and is aimed mainly at small and midsize businesses (SMBs). It is worth considering as a solution that can expand with a businesses' needs.
The Marketing Hub, Sales Hub, and Service Hub products are available for free in HubSpot. Lead generation tools, live chat, web forms, marketing tools, CMS tools, and helpdesk tools are just a few features. Email marketing tools are also available for $50 per month.
HubSpot is our top CRM selection for two reasons: it provides a free version that outperforms most paid CRM software on the market, and you can use it across your sales, marketing, and customer care teams.
This HubSpot CRM review is based on our extensive study and experience with the product, including its features, pricing, pros, and cons, to help you decide if it's the right CRM for you.
Get started with HubSpot for free here!
What is HubSpot
HubSpot is a cloud-based customer relationship management (CRM) platform that assists businesses of all kinds in tracking and nurturing leads and analyzing business KPIs. It's excellent for B2B and B2C businesses in various industries, including retail, real estate, financial services, software sales, construction, accounting, and more.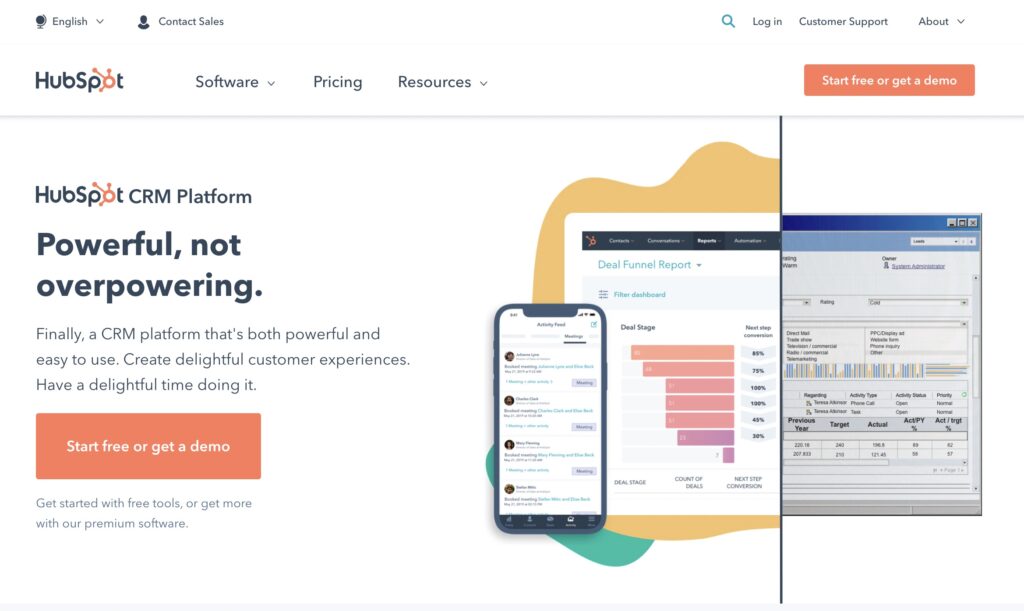 Long-term HubSpot users applaud the software's ability to categorize clients based on their expectations and commit time to potential buyers. When combined with HubSpot's sales and marketing technologies, it's a capability that translates to more revenue.
With HubSpot CRM software, outbound and inbound lead monitoring, automated sales pipeline management, lead and contact management, email marketing, and tracking are all made more manageable.
HubSpot Features
HubSpot CRM can handle most business operations efficiently, such as data sharing, data management, tracking, and so on, because it combines all of the CRM features into one platform. The following are some of HubSpot CRM's standard features:
CRM Database
Contact Management
Contact and Company Insights
Gmail & Outlook Integration
ROI Analytics
Customized Analytics Dashboard
Lead Capture Tools
Lead Analytics Dashboard
Audience Segmentation
Contact Activity
Email Templates
Email Scheduling
Email Tracking
Social Media Integration
Meeting Scheduling
Live Chat
SEO Advisor
Ticketing System
Get started with HubSpot for free here!
HubSpot Pricing
As part of its CRM platform, HubSpot provides a set of free tools. These tools include "lite" versions of selected features from their paid products and their free CRM functionality, which serves as the underlying database for all HubSpot products.
There are three subscription plans available: Starter (starts at $23 – 45 per month), Professional (starts at $400 – $890 per month), and Enterprise (starts at $1200 – $3200 per month). They are offered for Marketing Hub, Sales Hub, Service Hub, CMS Hub, and Operations Hub, each with different features and add-ons.
In addition, you can subscribe to the CRM Suite, which bundles all of the above five hubs, available at three-tier prices:
Starter: starts at $45 per month
Professional: starts at $1600 per month
Enterprise: starts at $5000 per month.
After all, it's easy to get confused by HubSpot pricing, given all the product offerings this CRM platform provides. However, it's worth noting that you can try HubSpot for free to feel how the platform works.
Get started with HubSpot for free here!
HubSpot Pros
Feature-rich Free Plan
HubSpot CRM's free plan is the most comprehensive we've seen among the dozens of CRMs we've tested and reviewed. Most CRM software's free plans look wonderful on paper, but they lack the elements you need to strengthen client relationships. On the other hand, HubSpot approaches things a little differently: its free plan over-delivers. You get hundreds of advanced functionality and the capacity to manage up to one million contacts, all without paying anything, whether you're searching for sales, customer service, marketing, content management, or operational CRM.
Intuitive to Use
Despite its complex pricing structure, HubSpot is intuitive to use. Despite the fact that there are hundreds of features to choose from, the developers do an outstanding job of making everything simple to use. As a result, even on the free plan, you'll have no problems going around.
Many CRMs, unfortunately, fall short of striking the ideal balance of powerful features, automation, and user-friendliness. The best part is that HubSpot does not compromise usability for power.
Because the free version does not include customer service, individuals who use it need it to be straightforward to use. It's so simple, in our opinion, that you won't need any assistance. In either case, you may benefit from HubSpot's extensive knowledge library.
All-in-one Platform
HubSpot is an all-in-one platform for sales, marketing, customer services, and content management, which makes it remarkable when it comes to teamwork. Other automation solutions only offer software for one area at a time.
This means that your teams' analytics, procedures, and other aspects can be more easily aligned. Furthermore, you won't have to switch between tools for different tasks. HubSpot enables you to manage your sales pipelines, social media, blog content, emails, landing pages, and more from a single platform. You can even generate a logo and brand kit for free with its Brand Kit Generator.
If you use other applications like Zapier, Jira, WordPress, Slack, and Salesforce, you can easily integrate them, and you have a lot of other integration choices.
Get started with HubSpot for free here!
HubSpot Cons and Limitations
Lacks Flexibility for Large Enterprise
Businesses with complex sales processes may find it challenging to customize the HubSpot CRM to meet their needs. There are undoubtedly places where you can tailor the platform to your team and your work, but it doesn't always have all you need.
For example, HubSpot CRM is ideal for growing businesses, but it may not be robust enough for big enterprises with several revenue streams. In addition, when a significant volume of data comes in from various sources, it can be tough to keep track of it all.
Complex Configurations
Not just HubSpot, but every marketing and sales automation solution requires many manual tasks to automate. For the system to work correctly, you'll need to tailor it to your specific needs and business. For example, to be as effective as possible, you'll need to put up the appropriate procedures to automate your sales and marketing. You'll be wasting your investment if you don't take the time to set it up to work correctly for you.
HubSpot Service Hub Review
Like many other players in the online helpdesk market, HubSpot Service Hub offers both free and premium plans. The free plan, which is available to unlimited users, comes with a vast variety of features. In addition, all of the options contain HubSpot's CRM software's free features.
HubSpot Service Hub's free version has one of the most comprehensive feature sets we've seen in a free helpdesk software program. Ticketing is available for logging client complaints so that they can be assigned, categorized, and prioritized, of course.
In addition to live chat for your website, Service Hub provides a conversations inbox for collecting customer queries so that they're accessible to the rest of the team. Service Hub also includes detailed reports on tickets, agent efficiency, and time-to-close.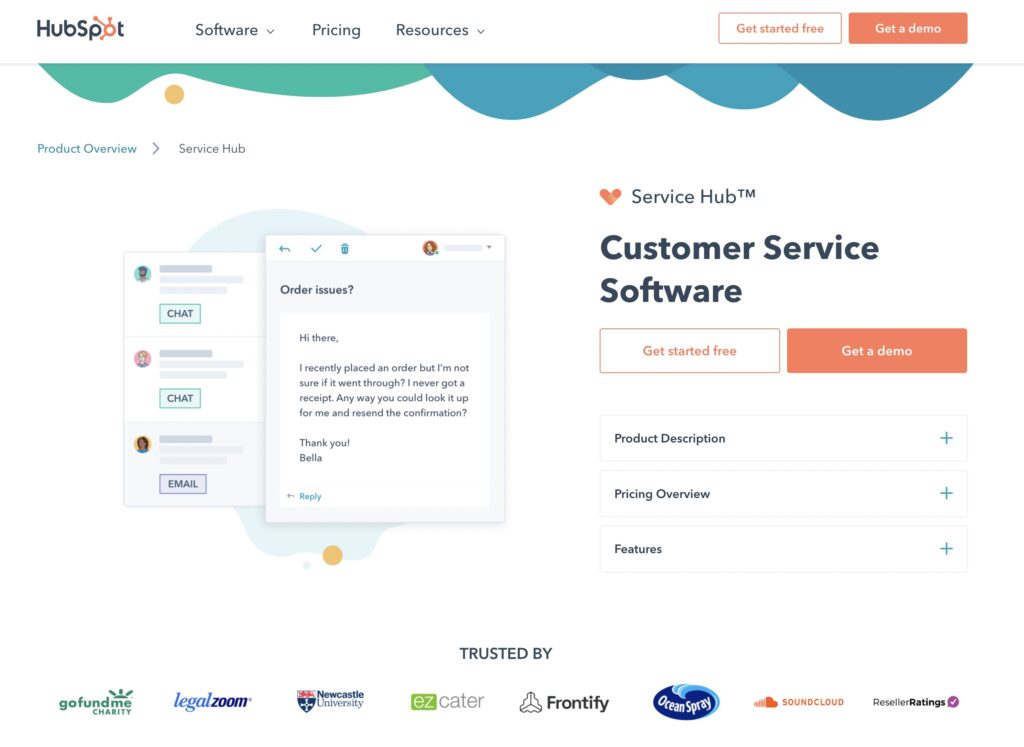 It also integrates third-party communication apps like Gmail, Outlook, and Facebook Messenger. In addition, it provides:
A meeting scheduler,
Email templates for reusing helpful emails,
Canned responses to the most frequently asked questions.
Email tracking, notifications, and conversational bots are just a few other examples.
HubSpot Service Hub is probably not for you if you currently have a CRM that you use. But on the other hand, HubSpot is a superb, feature-rich option if you're looking for a platform that can interface effortlessly with your marketing and sales tools.
Get started with HubSpot Service Hub for free here!
Further read:
Best Chatbot Software For Website, Facebook, And Instagram (AI & Free Included)
HubSpot Marketing Hub Review
The HubSpot Marketing Hub is a component of HubSpot that employs a variety of unique capabilities to enhance the customer journey from beginning to end. For example, you can drive people to your funnel by using the blogging tool to produce SEO-approved content, capture leads with a landing page, and create automated workflows.
The features include landing page builder, A/B testing, SEO content strategy support, no-code CTA support, customer analytics tracking, email marketing, lead management and analytics, and more marketing automation workflows.
HubSpot is one of the best inbound marketing platforms on the market if you want to tailor your marketing efforts, nurture leads, and close more deals. The platform, which focuses on enticing customers with helpful content, offers businesses the tools to send the appropriate messages to the right customers at the right time.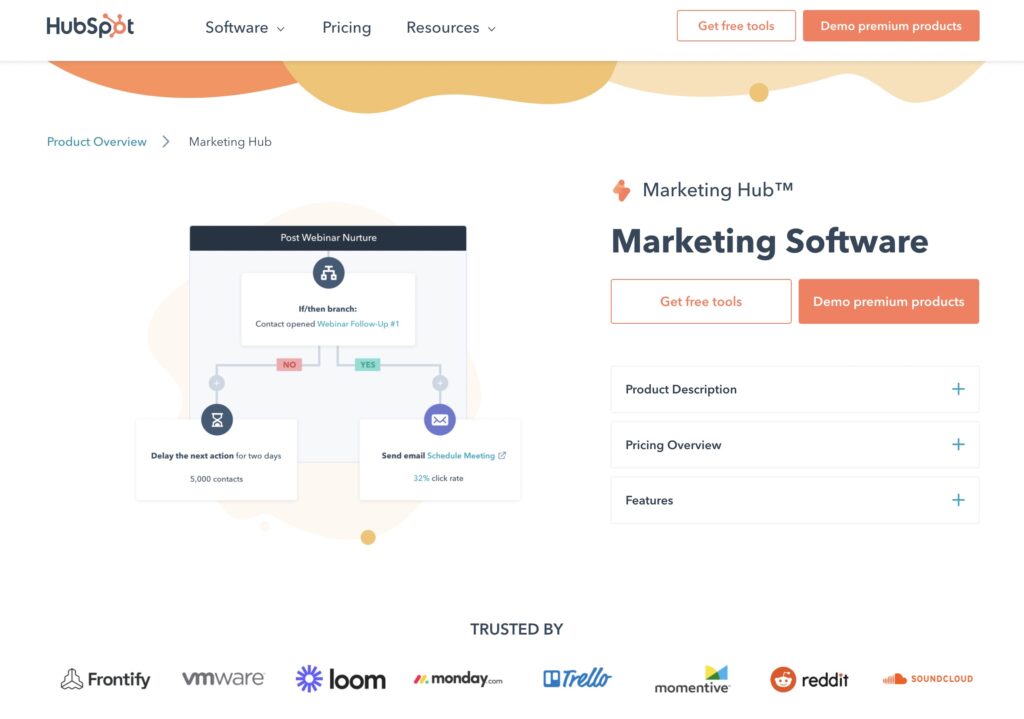 While HubSpot's Marketing Hub offers a free plan for solopreneurs and entry-level marketers, several critical functions, such as email marketing, workflow automation, landing page building, social media management, and SEO, are only available through subscription plans.
The Marketing Hub's paid plans start at $50 per month. However, at $800 per month, the Professional Plan is the better option if you want to scale your lead generation and marketing strategy with automated processes.
Try HubSpot Marketing Hub for free here! No credit cards required.
HubSpot Alternatives
Here are some of the top alternatives to HubSpot CRM:
HubSpot CRM Review: FAQs
Can HubSpot be trusted?
Across the whole CRM platform, HubSpot uses the same sophisticated security measures of safe software development models, infrastructure management, and alerting methodologies. Security measures and data protection mechanisms include: Logical tenant separation, Encryption in-transit (TLS 1.2, TLS 1.3), Web application firewall, DDoS protection, Annual penetration testing, Regular vulnerability scanning, SOC3 report, and GDPR compliance features. 
Is HubSpot a good product?
HubSpot offers capabilities for everything inbound marketing and sales efforts might require. In addition, HubSpot provides an inbound sales dashboard that, with the help of the integrated HubSpot CRM, makes the transition of leads from marketing to sales a breeze. Finally, HubSpot's CMS allows customers to create, host, and optimize websites directly from the platform. Not to mention you can manage customer support and operations on HubSpot. 
What are the disadvantages of HubSpot?
HubSpot CRM is ideal for growing businesses, but it may not be robust enough for big enterprises with several revenue streams. 
It also requires complex configuration. For example, you'll need to put up the appropriate procedures to automate your sales and marketing. 
What is so good about HubSpot?
HubSpot is a cloud-based CRM that helps sales and marketing teams align, foster sales enablement, increase return on investment, and optimize your inbound marketing strategy to produce more qualified leads. To put it another way, HubSpot is a software platform that enables your business to market and sell more efficiently. 
It offers tons of valuable features and benefits. The best way to learn about the power of HubSpot is to sign up for its free plan and try it yourself!  
Does HubSpot sell my data?
HubSpot goes to extensive measures to ensure that highly confidential information is never leaked. They can share information with third parties if they have been given permission or with business partners bound by contractual obligations. 
Can HubSpot be hacked?
HubSpot uses prominent cloud providers such as Google Cloud Platform (GCP) and Amazon Web Services (AWS). This ensures that both the network and the physical environment are secure. Both companies use security that has been audited, including ISO 27001 and SOC 2 compliance. In addition, there is a guarantee of uptime between 99.95% and 100%.
Is HubSpot free to use?
HubSpot CRM is completely free. The CRM software is an effective tool for organizing, tracking, and nurturing leads and customers. Any company should have a customer relationship management system (CRM), yet the majority are either extremely expensive or severely weak. Without the need for spreadsheets, HubSpot CRM has everything you need. It's also entirely customizable.
It also offers live chat, deal tracking, and automatic customer interaction reporting – all of which are fairly fantastic.
Which CRM is better, HubSpot or Salesforce?
HubSpot may be a better option if you're looking for free or low-cost CRM software that's relatively simple to use. Meanwhile, Salesforce could be the way to go if you're willing to spend time and money in very powerful and configurable CRM software.
Is HubSpot user-friendly?
HubSpot created a modern and intuitive CRM interface that is incredibly user-friendly to meet the needs of small and growing businesses. In addition, because the system is hosted in the cloud, no complicated setups or installation fees are required.
Is HubSpot good for Small Businesses?
HubSpot CRM is a good choice if you want to get started with customer relationship management for the very first time because it is straightforward to use.
The HubSpot Free plan certainly offers all of the tools you'll need to get started. In addition, you can add features as you need them or upgrade to further paid tiers as needed as you become more familiar and proficient with CRM.
HubSpot Review: Conclusion
HubSpot combines some of the most powerful sales and marketing tools into one platform while providing one of the finest user experiences. That's a huge accomplishment, and the quality of the tools and features in each product is just outstanding.
It's completely free to start, so it's highly recommended that you explore and try HubSpot's powerful features.