Customer relationship management (CRM) software is critical to any business. CRM software helps businesses manage customer relationships by collecting and tracking data about customers, contacts, leads, and sales opportunities. When choosing CRM software, it's important to understand the available features and functionality.
To help you compare two of the most popular CRM solutions, we have created a detailed comparison of Monday.com vs Pipedrive. Below, we'll look at some key similarities and differences between these two solutions. Also, we've included a summary of the benefits and drawbacks of each product to help you determine which solution is best for your business.
Pipedrive vs monday: Similarities
Both Pipedrive and Monday are geared toward small businesses.
Both Pipedrive and Monday are relatively affordable in the CRM market.
Both Pipedrive and Monday are highly customizable.
Both Pipedrive and Monday are highly easy to use.
Pipedrive vs monday: Differences
Pipedrive is more sales-oriented, whereas Monday emphasizes customization.
Pipedrive includes powerful AI features, unlike Monday.
Monday includes a free forever plan, unlike Pipedrive.
Monday is slightly more affordable than Pipedrive.
What is Pipedrive?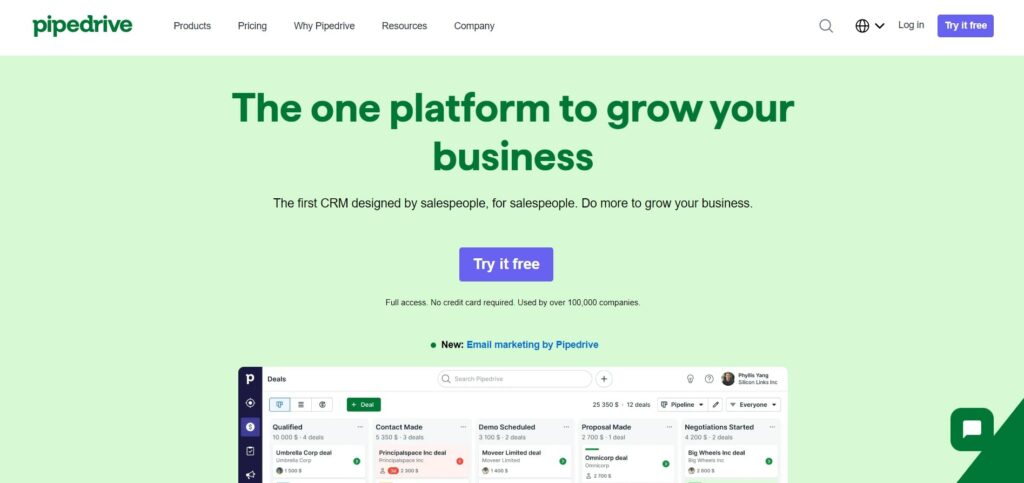 Pipedrive is a native sales CRM solution built specifically for small businesses. As such, the platform is easy to use, highly customizable, and covers a broad set of advanced features – all at a fair price.
One of the platform's stand-out features is its AI-powered Sales Assistant. In short, this functionality analyzes your past sales performance and suggests how to close more deals and streamline the sales process.
Best for Small Sales Team
Pipedrive
Pipedrive is a customer relationship management (CRM) platform designed to help businesses manage their sales pipeline. It offers a range of features, including lead and deal management, email tracking, and analytics, making it easy for businesses to track their sales efforts in one place.
Pros:
Sales pipeline visualization

Lead and deal management

Email tracking

Analytics capabilities

User-friendly interface

Powerful automation capabilities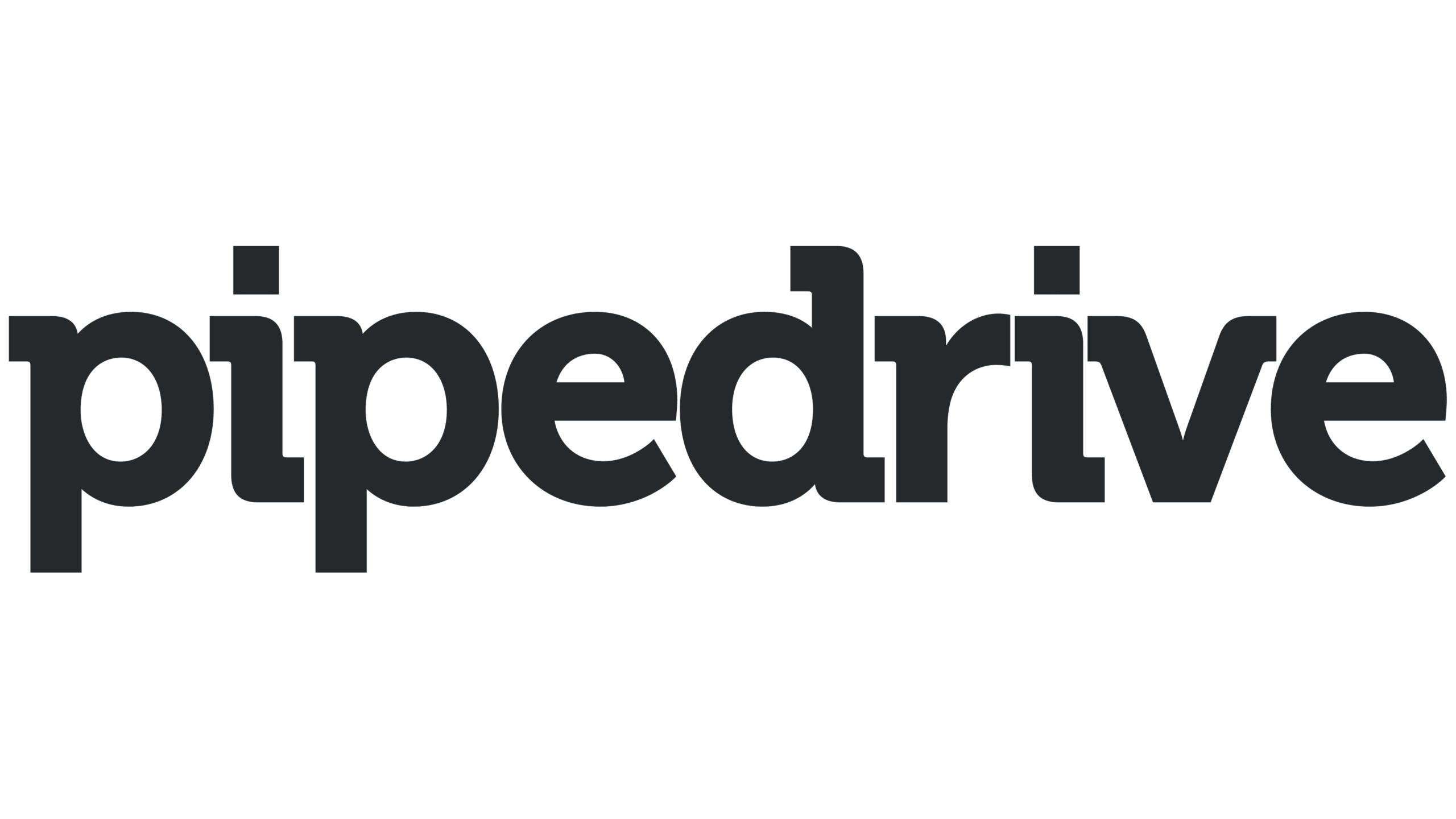 Pipedrive Key Features
Customizable reports, email templates, and sales pipelines
Workflow automation builder
Recurring revenue tracking
Deal and lead management
Deal rotting
What is monday.com?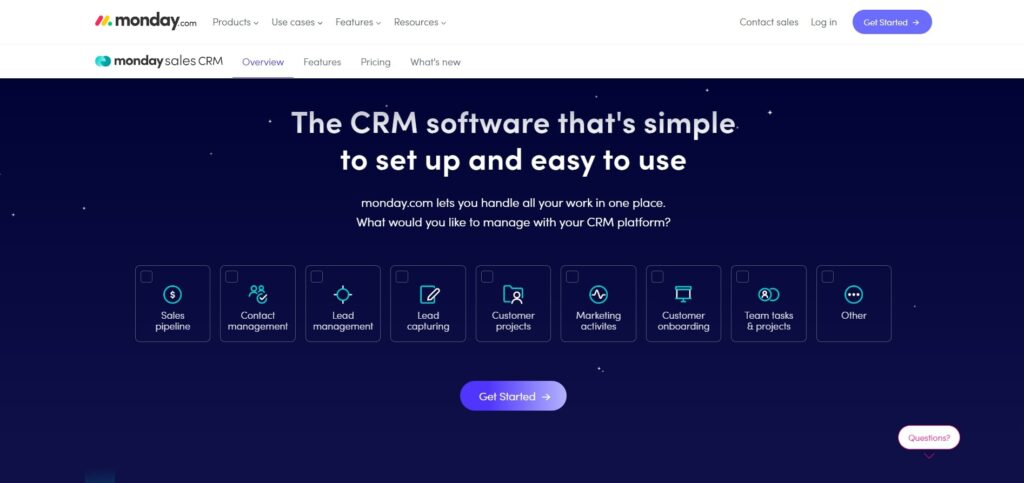 Monday sales CRM, part of monday.com's product offering, is a highly user-friendly CRM solution that aims to provide customers with quality CRM experiences through its emphasis on ease of use and customization.
Users can access various customizable templates, create customized reports, build workflow automations, and much more – all via a no-code drag-and-drop interface.
Our Pick
monday sales CRM
Monday Sales CRM is a powerful customer relationship management platform designed to help businesses manage and grow their sales pipeline. It offers a range of features, including lead capture forms, contact management, deal tracking, and analytics, making it easy to manage your sales efforts in one place.
Pros:
User-friendly interface and powerful automation capabilities

Great option for businesses of all sizes looking to improve their sales processes

Lots of customisable templates

monday.com Key Features
Activity, account, contact, deal, and lead management
Sales forecasting and analytics
Email tracking and templates
Built-in collaboration tools
Lead scoring
Pipedrive vs monday: Features
Sales Pipeline Management
Pipedrive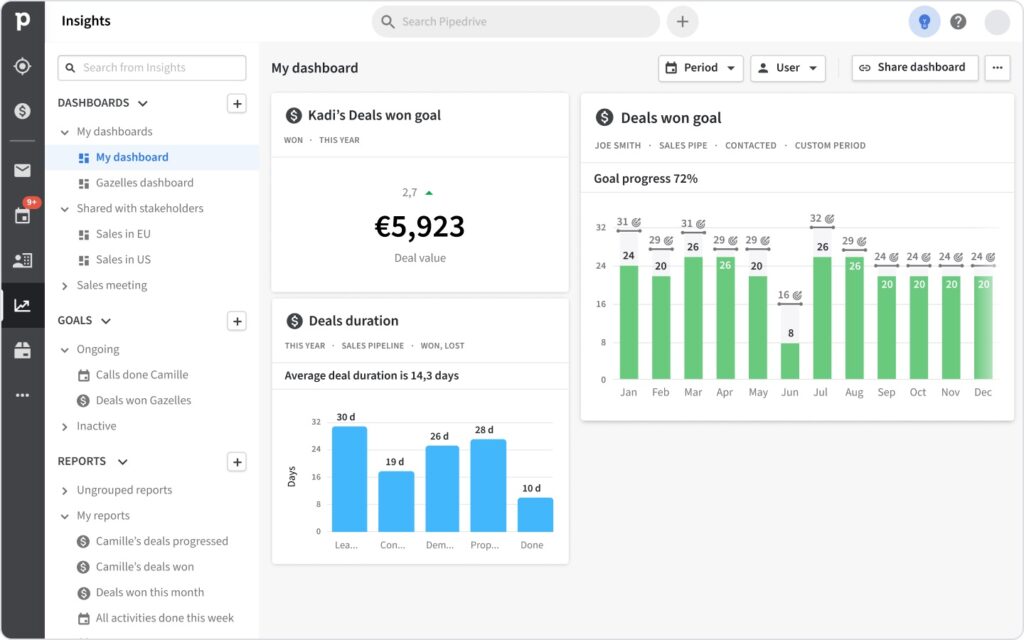 Managing your sales pipeline with Pipedrive should be a breeze. This CRM features an intuitive interface to easily monitor your activities and deal stages.
You can easily tweak dashboards by adding color-coded labels to mark high-priority leads, or deals that your sales teams need to focus on. Other customization options include adding custom fields, creating custom pipelines, and more.
Additionally, the platform includes deal rotting. This functionality notifies you whenever a deal stays idle longer than the specified rotting period.
The platform also manages to unclutter dashboards by storing all customer data separately. More specifically, into your Leads Inbox. From there, you can sort, filter, or edit prospect data to spot qualified leads more easily.
You can also add activities so sales teams know which leads to address and how to do it.
monday.com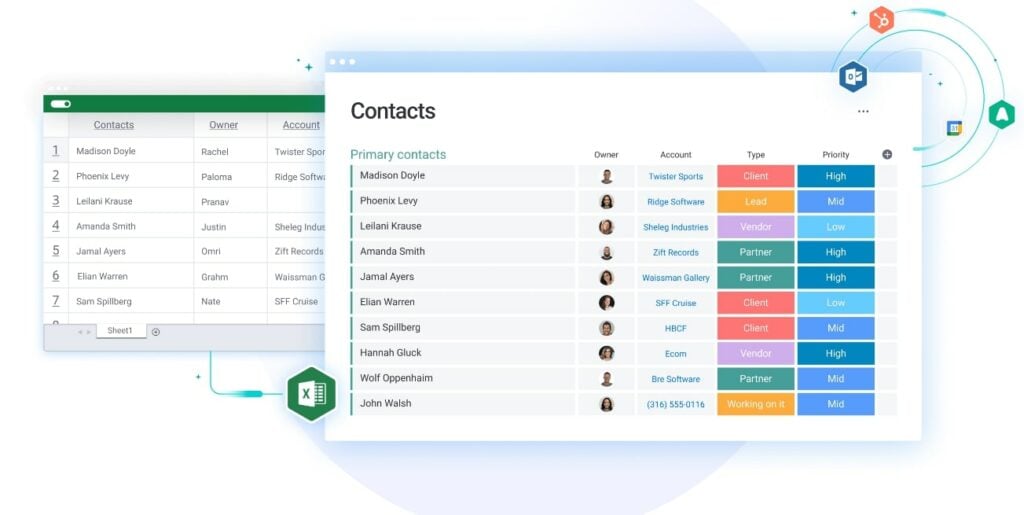 monday.com is not much different. The platform allows you to quickly import customer data from Microsoft Excel. Like Pipedrive, monday.com also offers an intuitive interface that helps you easily track active deals and how leads move through the sales pipeline.
Moreover, you can color-code deals to prioritize them based on their urgency or other criteria. You can easily move deals throughout the sales pipeline via the platform's Kanban views – it's just a matter of dragging and dropping.
As for lead management, monday.com includes web-to-lead capture forms. These capture website visitors' contact data and automatically ports it to your CRM system, which is excellent for streamlining your lead generation efforts. You can then contact, qualify, and follow up with leads from within a single dashboard.
The platform also includes lead scoring, allowing you to identify high-value leads based on custom criteria.
Reports and Analytics
Pipedrive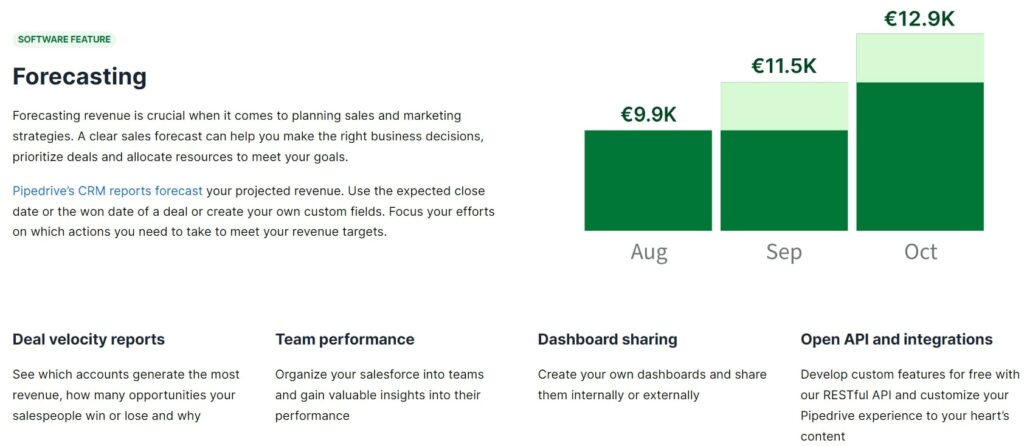 Pipedrive goes in-depth with its reports and analytics, especially regarding variety. The CRM can deliver multiple reports, including deals, activity, subscription revenue, and more. You can customize each type of report via a user-friendly interface.
However, note that custom reports are only unlocked in the platform's Professional plan, which costs $49.90/user/month billed annually – a significant drawback. Other than that, Pipedrive also allows you to handle revenue forecasts and set/track team goals.
Pipedrive also helps you easily share these reports internally and externally for an added layer of transparency.
Monday.com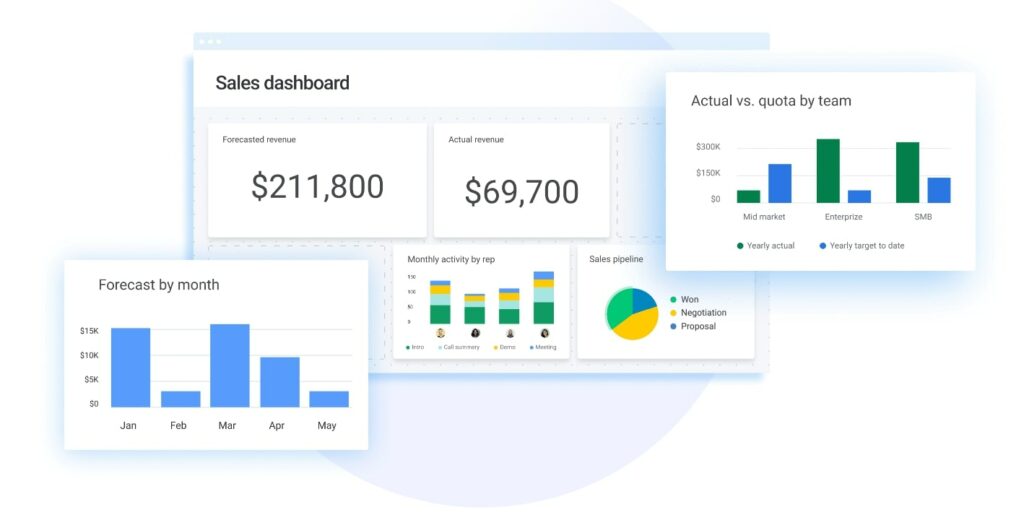 monday.com is no slouch either. The CRM features sales forecasting and analytics, team performance insights, team goal tracking, and more.
One of Monday's main advantages is that it gives you plenty of options for visualizing these reports or other activities. The CRM allows you to visualize data under Kanban, Map, Calendar, Timeline, and Char views. That said, your reports will always be easy to comprehend.
Communication Tools
Pipedrive

Pipedrive gives you all the tools necessary to maintain contact with your customers and sales teams. More specifically, there are the platform's email marketing and team collaboration tools.
For one, Pipedrive offers two-way email sync with platforms like Gmail and Outlook. Consequently, you'll be able to send and receive emails directly within Pipedrive. This functionality is available from the advanced plan and up, which costs $24.90/user/month billed annually.
Moreover, this plan also covers various customizable email templates with the ability to send emails in bulk, schedule emails ahead of time, create custom signatures, and track email open/click rates. Other features offered in this package include the option to schedule meetings and video calls.
You can access more email marketing automation features via the platform's dedicated email marketing software.
Secondly, there are Pipedrive's team collaboration tools, which are available from the starter pricing package. Pipedrive users can easily mention other team members or leave comments, attach files, and view upcoming tasks via the platform's activity management tools and calendar views.
The Professional plan also integrates with Google Drive and OneDrive for more effective document management.
Monday.com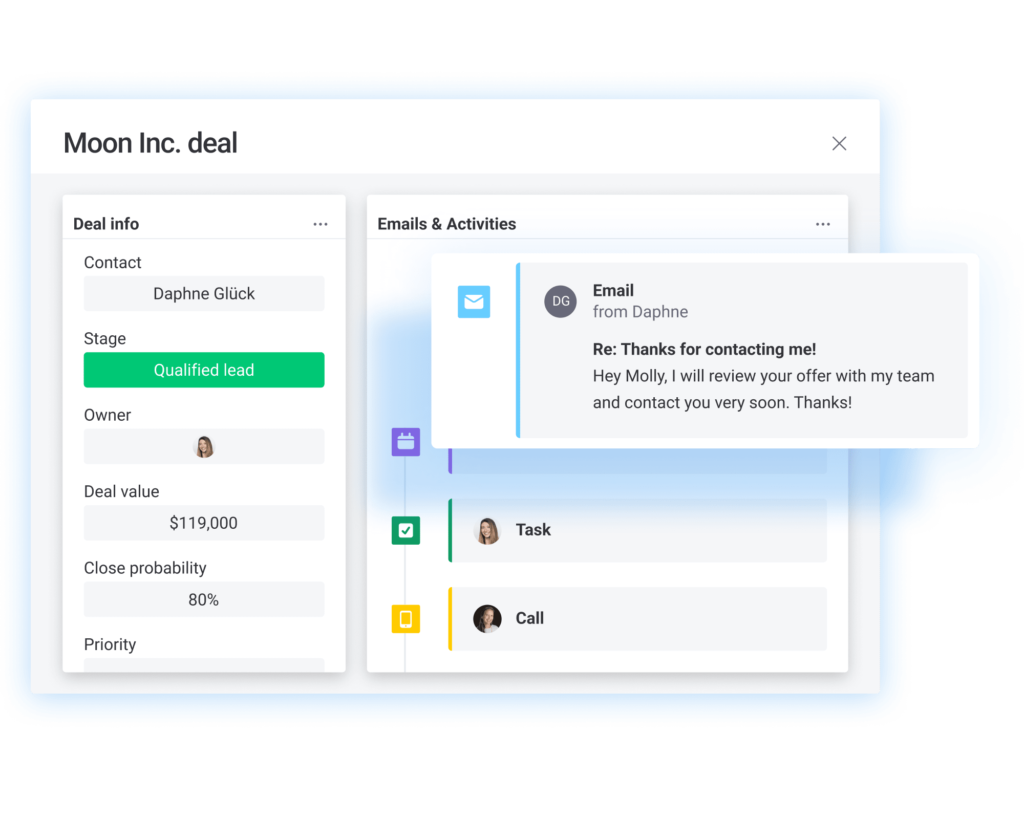 Regarding email marketing, monday.com offers 2-way sync with Gmail and Outlook from the Standard plan, which costs $14/user/month billed annually – significantly cheaper than Pipedrive. Other functionalities include email automation, tracking, and customizable templates.
monday.com includes some handy team collaboration tools. The platform started as a project management software, so the CRM includes project management functionalities.
More specifically, there's Whiteboard Collaboration. This is where you can easily put your ideas on a canvas and collaborate with your team in real-time – ideal for brainstorming sessions. monday.com also allows you to collaborate with share documents directly within the platform.
Other project management functionalities include time tracking, activity logs, Gantt charts, and the ability to assess your sales reps' workloads.
Automation Tools
Pipedrive

As mentioned, Pipedrive includes a handy AI-powered sales assistant. However, the platform goes a little more in-depth in eliminating manual work and improving productivity via automations.
For instance, Pipedrive allows you to automate workflows through a straightforward triggered-based builder. You can easily automate specific parts of the sales cycle, like email follow-up activities, creating deals once you add a qualified lead in the system, and more.
Other key features include webhooks, the ability to automatically enrich lead data with information from social media and web sources, etc.
monday.com

monday.com is rather similar. Although it doesn't include an AI sales assistant, this CRM features an intuitive workflow automation system that allows you to eliminate manual work using when/then parameters, similar to Pipedrive.
You can pick between various automation templates or build your own from scratch. monday.com lacks built-in webhooks and automatic lead enrichment, though.
Customization Options

Pipedrive
As mentioned, Pipedrive is highly customizable. You can seamlessly tweak the system, so sales reps feel more at home. For one, Pipedrive supports 22 languages and all major currencies – ideal for localized teams.
Another handy function is turning off specific features to de-clutter the interface. Aside from that, the platform allows you to customize aspects already covered in this article (reports, workflows, pipelines, etc.).
Monday.com
monday.com is available in 13 languages (English, Spanish, French, Japanese, Traditional Chinese, etc.). You can also specify deal values with your desired currency. Although monday.com supports significantly fewer languages, it still manages to gain the upper hand in terms of customization.
That's mainly because of its template library. The platform includes 200+ customizable templates for all of monday.com's products, including the Work OS, marketing software, and more.
Each template is designed for specific activities. For instance, you can find a CRM template dedicated to the real estate industry or onboarding new clients. That said, monday.com is generally more flexible, especially in customizing it to fit specific industry needs.
Verdict: Both win in Features
Overall, both platforms are excellent in terms of their functionalities. That said, the winner comes down to your preference.
However, Pipedrive offers more sales-specific CRM capabilities like its AI-powered sales assistant, Leads Inbox, revenue reports/forecast, etc.
That said, Pipedrive is an excellent choice for small businesses seeking to strictly boost sales process effectiveness.
Meanwhile, moday.com also brings some project management tools to the table and is a little more of a one-size-fits-all solution due to its customization options.
As such, monday.com is a great all-around choice for those seeking a highly flexible solution that allows them to manage and attract more leads and handle projects more effectively via the platform's workload management and whiteboard collaboration tools.
Pipedrive vs monday: Ease of Use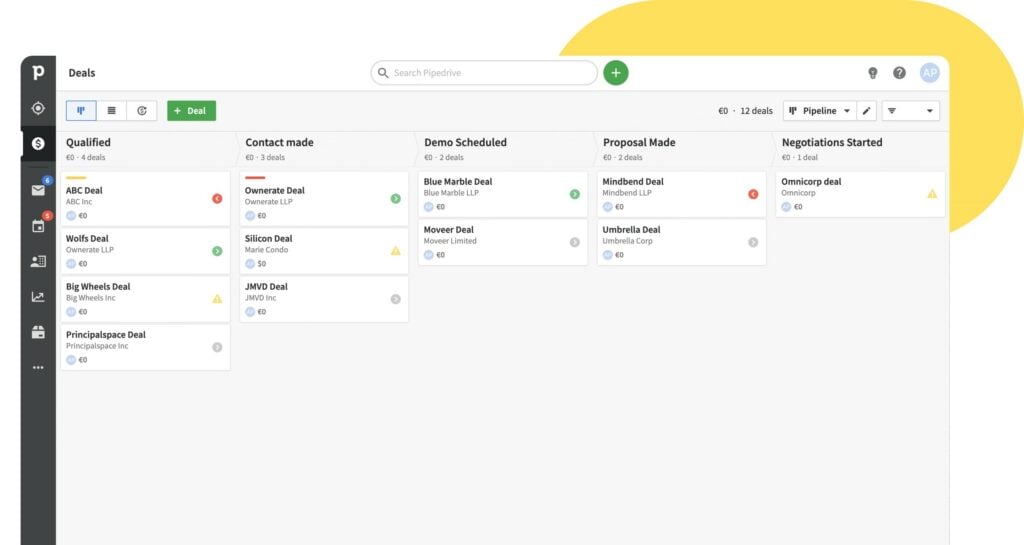 Pipedrive
Pipedrive is highly easy to use. The platform adopts a highly visual interface, giving users easy access to everything necessary. As mentioned, you can remove some unneeded functionalities to de-clutter the dashboards further.
Moreover, its AI assistant makes lead management that much easier. Sales reps will always know how to improve sales performance and which leads they should address next.
Meanwhile, users can build automated workflows via a straightforward no-code interface. As such, eliminating any repetitive tasks should be a breeze. Other than that, customization is done through a drag-and-drop editor.
monday.com
The same story goes with Monday. Users can tweak the CRM's dashboards and create automated workflows by either picking one of its many customizable templates or building them from scratch. Again, users can customize the CRM on a drag-and-drop basis.
Aside from that, monday.com's dashboards are highly intuitive, giving users access to all the key features in just a few seconds.
Pipedrive is Easier to Use
This a very close one, but Pipedrive takes the cake here. Monday's broad customization options can get overwhelming, especially for new users.
Not to mention that if you're looking for a sales-specific solution, you'll need to spend some time tweaking monday.com to fulfill your needs, unlike Pipedrive.
Pipedrive vs monday: Integrations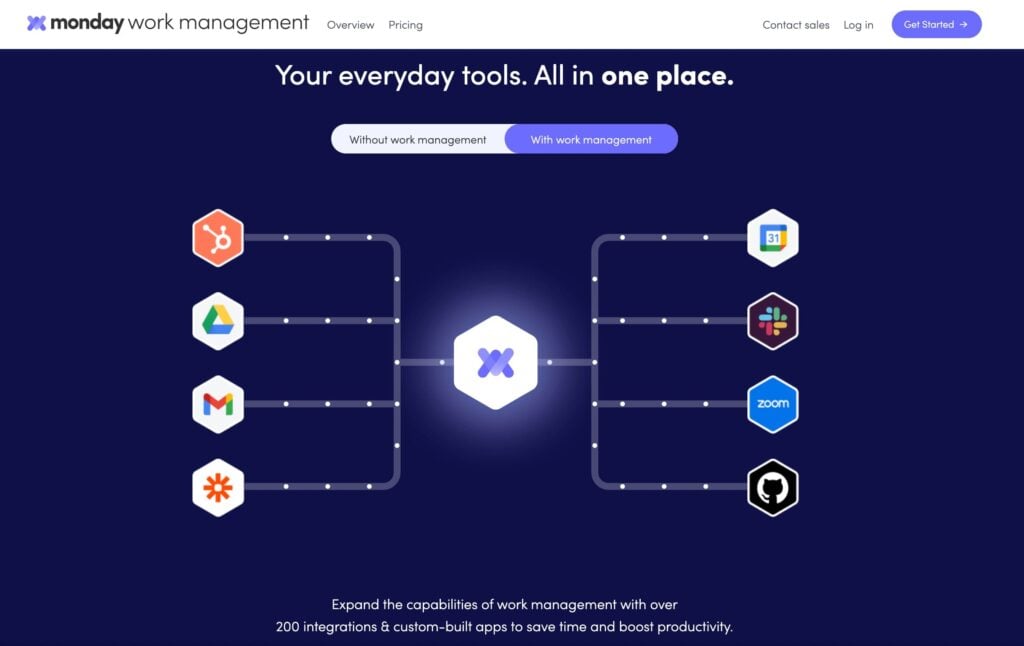 Pipedrive
Users get access to 300+ integrations through the Pipedrive Marketplace. The marketplace's apps are spread across various categories: From accounting/invoicing tools to lead generation, data management, phone systems, and much more. Pipedrive also facilitates integration with Zapier, further expanding its functionalities.
Pipedrive covers a few extra paid add-ons like the LeadBosster, Web Visitors, or Campaigns add-on, for instance.
monday.com
Like Pipedrive, monday also features an App Marketplace where you can find integrations with 400+ other tools. These apps cover project management, software development, collaboration tools, and more.
Moreover, the Sales CRM seamlessly integrates with monday.com's other products, like its dedicated marketing and project management software solutions – ideal for growing businesses looking to expand their activities without switching to other platforms.
monday.com wins in Integrations
Overall, monday.com offers a wider selection of integrations. Its App Marketplace is slightly more comprehensive, while the ability to link the CRM with other products within Monday's offerings is perfect for growing businesses.
Pipedrive vs monday: Pricing
Pipedrive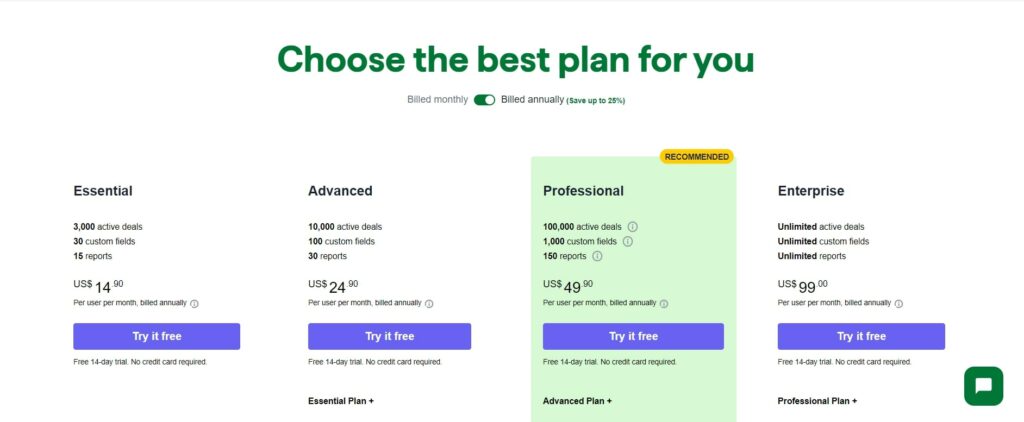 Pipedrive covers the following pricing plans:
Essential – $14.90/user/month (annually): Get access to basic features like pipeline management, customizable sales pipelines, deal rotting, leads inbox, and Pipedrive's sales assistant.
Advanced – $24.90/user/month (annually): Unlock email, meeting, and video call scheduling, get access to workflow automation, recurring revenue reports, etc.
Professional – $49.90/user/month (annually): Create custom and revenue forecast reports, set team goals, unlock OneDrive/Google Drive integrations, and more.
Enterprise – $99.00/user/month (annually): Access advanced security features like security alerts and rules, phone support, and an implementation program.
There's a 14-day free trial for all pricing plans.
monday.com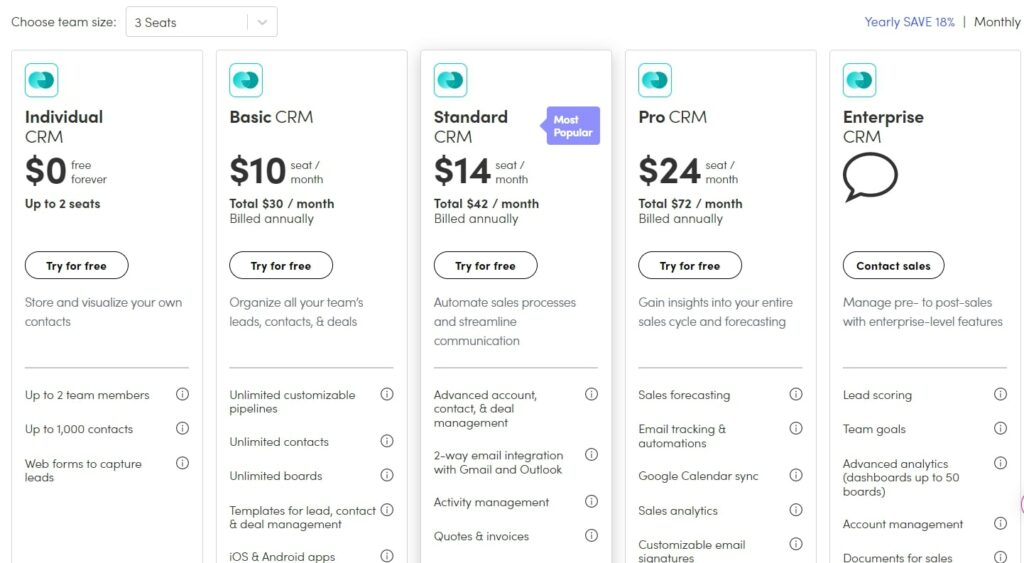 moday.com covers five pricing plans:
Individual (up to two users) – Free: Create web forms, access built-in collaboration tools, and manage projects through Kanban boards.
Basic – $10/user/month (annually): Unlock 200+ customizable templates, set up custom notifications, create unlimited custom pipelines, and more.
Standard – $14/user/month (annually): Handle account, deal, contact, lead management, quotes/invoices, unlock 2-way sync with Gmail/Outlook, merge duplicate data, and unlock more views (Timeline, Calendar, Map, etc.).
Pro – $24/user/month (annually): Perform sales forecasting and analytics, unlock time tracking, email templates with customizable parameters, workload management, and more.
Enterprise – Upon request: Perform lead scoring, set team goals, unlock duplicate warnings, advanced analytics, etc.
monday.com wins in Pricing
monday.com is significantly more affordable. For instance, the platform's paid basic plan is 50% less expensive than Pipedrive's. Not to mention that Monday also includes a free plan.
Pipedrive vs monday: Scalability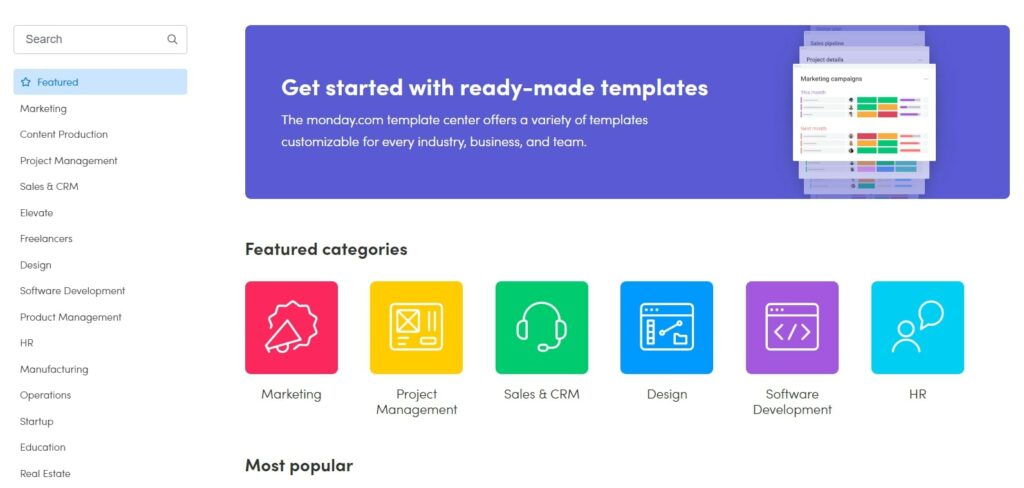 Pipedrive
Pipedrive is pretty solid in terms of scalability. The pricing difference between plans is not that steep, allowing users to gradually add more features as their business grows at rather affordable rates.
Moreover, the platform offers a broad range of integrations, while its paid add-on tools allow users to expand Pipedrive's functionality even further once the need arises.
monday.com
Monday.com takes it a step further. For one, its pricing plans are slightly more affordable. This allows users to scale up within the platform more smoothly as their needs grow.
Not to mention that monday.com also offers a much broader integration library. Meanwhile, its wide selection of products helps small and mid-sized businesses expand their activities and eventually benefit from an all-in-one CRM solution.
monday.com wins in Scalability
Overall, moday.com allows businesses to expand to other activities besides customer relationship management. Its pricing plans also allow for more affordable scalability.
monday vs Pipedrive: Customer Support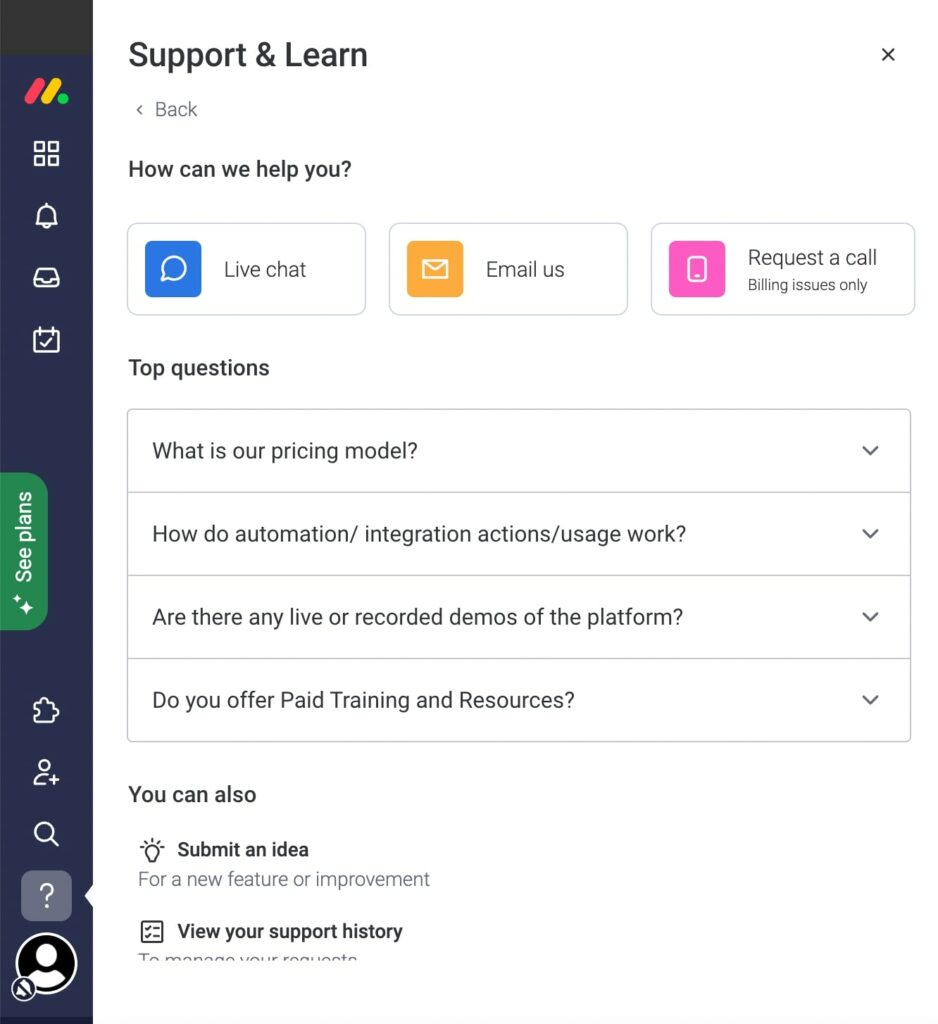 Pipedrive
Pipedrive's pricing packages, except the Enterprise plan, give users access to a self-serve knowledge base and 24/7 live chat support. The Enterprise plan phone support and an implementation program.
As for user reviews, customers generally have mixed feelings. Some report that supports teams are slow and do not offer helpful information, while others say the exact opposite.
monday.com
Like Pipedrive, all of Monday's pricing plans, excluding the Enterprise package, give users access to a self-serve knowledge base, 24/7 support, and daily live webinars. This also applies to the free plan. Enterprise users also benefit from a dedicated customer success manager and 99.9% uptime.
Users seem happier with monday.com's customer support. They mostly report prompt responses from highly professional support teams.
monday.com wins in Customer Support
monday.com has the winning edge. The platform offers the same levels of customer support as Pipedrive but at a more affordable price. Additionally, most users regard monday.com's customer support teams as top-notch.
Pipedrive vs monday.com: Pros and Cons
Now that we've both platforms covered in detail, let's summarize with a quick list of pros and cons.
Pipedrive Pros
Solid customization capabilities
In-depth reports and analytics
Powerful set of features
Very easy to use
Pipedrive Cons
Rather expensive compared to monday.com
Hit-or-miss customer support
monday.com Pros
Excellent customization options
More affordable than Pipedrive
Massive integrations library
Free version included
monday.com Cons
It may take a while to customize the platform to fit your needs
Entry-level plans are rather limited
Pipedrive vs monday: Conclusion
Overall, both CRM solutions are excellent options for small businesses.
However, monday.com is more customizable, affordable, and scalable. It also includes a bunch of project management tools. As such, monday.com is an excellent choice for startups or small businesses seeking a highly easy-to-use CRM tool that they can further customize according to their needs to make it their own.
On the other, Pipedrive is a better choice for those seeking a sales-oriented CRM. Its AI-powered sales assistant can play a significant role in your sales reps' productivity, while its reports will reveal the strength and weaknesses of your sales process.
Pipedrive vs monday: FAQs
Does Pipedrive integrate with monday.com?

Yes, Pipedrive does integrate with monday.com. However, note that Pipedrive integrates with monday.com's project management solution, allowing you to easily manage sales pipelines and projects.
Is Monday good for CRM?

Yes, monday.com is an excellent CRM solution, especially for start-ups and small businesses. The platform is highly customizable and easy to use, allowing users to tweak it seamlessly according to their needs.
Is Pipedrive worth it?

Yes, Pipedrive is worth it. The CRM system is rather affordable compared to other solutions in the market. It's highly easy to use, while its AI-powered sales assistant is an uncommon feature among CRMs within this pricing range.