Customer relationship management (CRM) software is essential for any business that relies on customer data. Oracle NetSuite CRM offers an expansive feature set and competitive pricing, making it a popular choice for businesses of nearly every size.
In this article, we'll examine the key features of Oracle NetSuite CRM and explore its pricing options. Finally, we'll look at common customer questions about Oracle NetSuite CRM.
What is Oracle NetSuite CRM?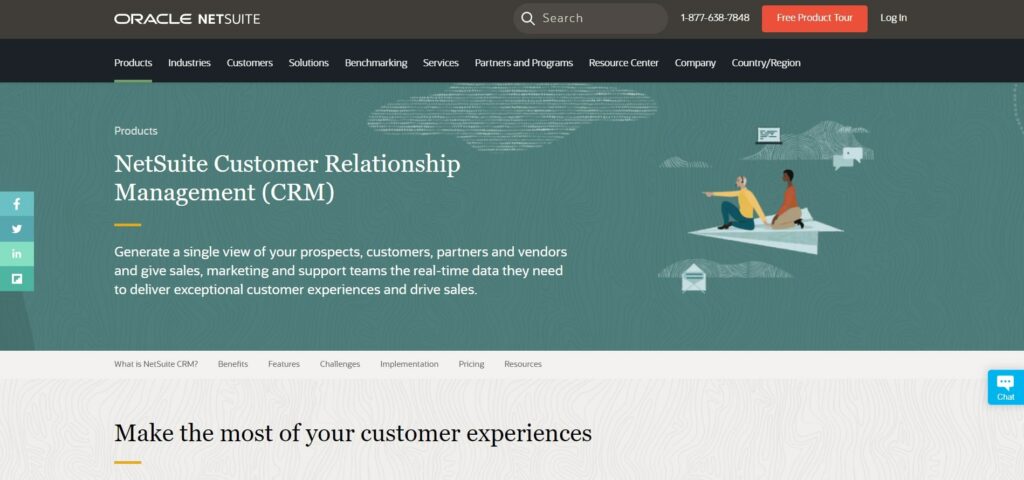 The Oracle NetSuite Customer Relationship Management platform is an integrated CRM solution part of Oracle's ERP platform (Enterprise Resource Planning).
As such, businesses get access to a wide range of functionalities besides customer relationship management. The ERP system includes inventory management, financial management, order management, order processing tools, and more.
That said, the Oracle NetSuite platform is suitable for enterprise-level organizations seeking to monitor and manage processes across their entire business.
As for the CRM system itself, the platform facilitates sales force automation, a broad set of advanced marketing automation tools, Configure, Price, Quote (CPQ), and a Partner Relationship Management (PRM) system, among other functionalities.
The PRM system allows organizations to streamline partner-focused sales and marketing efforts. As such, this system provides all the features necessary to monitor joint marketing campaigns, calculate partner commissions, handle lead management across an organization and its partners, etc.
Oracle NetSuite CRM Pricing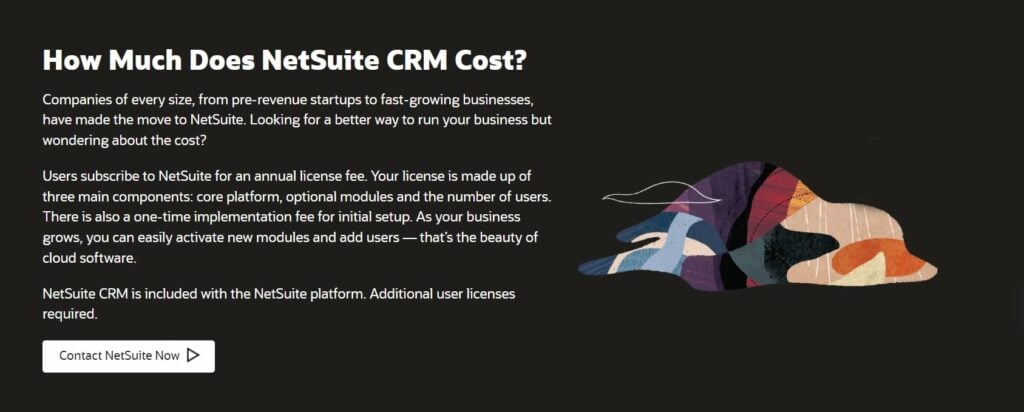 Pricing is not disclosed. As mentioned, the CRM software solution extends to NetSuite's core platform, the Enterprise Resource Planning system.
Consequently, you'll need to contact the sales team to get a customized quote based on your business needs. You can mix and match between modules to benefit from a tailored system for your business.
However, the Oracle NetSuite platform will require an annual license fee. Additionally, there's a one-time implementation fee for the initial setup process.
Oracle NetSuite CRM Features List

Advanced reports and analytics: Gather in-depth insights regarding marketing, customer service, and sales performance. Handle sales forecasting, track website visitor activity, view customer purchase history, examine the entire customer lifecycle, pinpoint customer acquisition costs, monitor sales reps' productivity, measure customer satisfaction, and more.
Sales force automation: Streamline the sales process by giving your sales team a unified view over their lead, upsell, opportunity, quote, and order management activities. Access fully-customizable dashboards and real time data to deliver accurate sales forecasts.
Marketing automation: Automatically deliver personalized marketing campaigns across multiple channels, deploy web-to-lead capture forms, manage end-to-end email campaigns, and more.
Lead generation and management: Sync web-to-lead capture form so new lead data will automatically update the CRM system. Auto-assign leads to the appropriate sales reps, identity high-value prospects via the platform's lead scoring tool, set buyer readiness conditions, etc.
Customer service tools: Improve customer satisfaction and customer experience through the platform's case management tools and customer service portals. Let customer support teams monitor cases based on specific criteria like issues, customers, products, or case types, and measure call volumes, case resolution rates, etc.
Configure, Price, Quote: Easily manage configurable product/service prices via the platform's CPQ system. Minimize the risk of price configuration errors and automatically generate sales proposals.
Partner Relationship Management: Handle joint marketing campaigns and calculate partner commissions. Use the Partner Center to allow associates to place, track, and manage orders, handle leads, and access sales enablement/marketing materials.
Customization options: Create fully customizable reports/dashboards and track customized key performance indicators according to your business requirements. Customize the platform's user experience based on your employees' preferences and location.
Mobile access: Add, view, and modify customer information directly from your tablet or mobile device. Submit expenses and time sheets, create quotes, log call notes, etc.
Integrations: Integrate the CRM solution with other NetSuite products. Use the NetSuite Connector (extra add-on) to integrate NetSuite CRM with all the major eCommerce platforms, POS systems, and third-party logistics providers. Create custom integrations via the platform's open APIs.
Who Is Oracle NetSuite CRM For?
Oracle NetSuite CRM is excellent for enterprise-level companies seeking a highly advanced CRM software solution. Moreover, since its an ERP platform, NetSuite is also suitable for handling other business activities (e.g., financial management, order management, inventory management, etc.).
Consequently, NetSuite is best suited for large organizations looking to bring and manage multiple departments under the same roof. In terms of sales, the platform covers all the necessary CRM functionalities and a broad range of top-of-the-market functionalities.
The platform's sales pipeline management and automation tools allow sales teams to easily visualize all essential customer information, automate monotonous tasks like data exports, and quickly prioritize leads accordingly.
Meanwhile, NetSuite's marketing functionalities allow teams to easily push leads through the customer journey, deploy and manage marketing campaigns across multiple channels, and create lead-to-capture web forms.
Consequently, marketing and sales teams will be brought on the same page, allowing seamless communication, increased productivity, improved sales strategies, and business success.
Not to mention that the platform's customer service functionalities give service teams all the essential features to improve customer relationships and address their issues.
Oracle NetSuite CRM Pros and Cons
Now that we covered what NetSuite CRM offers and who it is recommended for, let's briefly conclude this section by presenting its advantages and disadvantages.
Oracle NetSuite CRM Pros
Highly versatile: The platform includes many features outside its CRM.
Highly customizable: The platform allows for fully customized reports, dashboards, and user experiences, as well as custom integrations via its open APIs.
Excellent reports: Oracle handles sales forecasting, marketing analytics, customer service reports, etc.
User-friendly: Oracle brings an intuitive interface despite its complexity, while customization is done through a no-code approach.
Oracle NetSuite CRM Cons
Likely expensive: Although pricing is not disclosed, the CRM is considered an additional module to the ERP. As such, you'll have to subscribe to the core platform first and then select the CRM at an extra cost. NetSuite also charges for the initial setup.
Tiered customer support: Oracle NetSuite covers various optional customer support levels, which can significantly bump the price.
Oracle NetSuite CRM Alternatives and Competitors
As seen above, the Oracle NetSuite platform is not suitable for everyone, especially for small businesses or those looking strictly for CRM software solutions. Let's look at some worthy alternatives and see if there may be a more appropriate choice.
Salesforce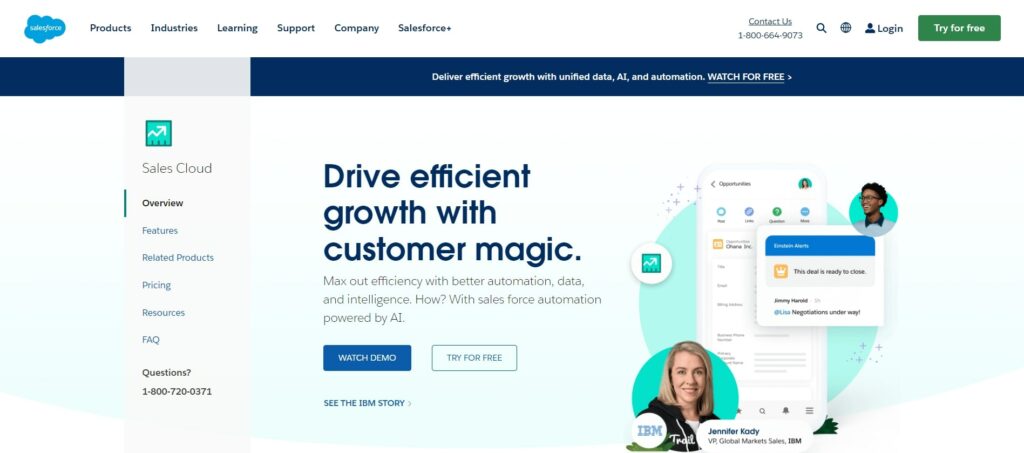 Salesforce's dedicated CRM solution, the Sales Cloud, is a perfect alternative to NetSuite CRM. The Sales Cloud includes CRM software, with no additional modules, unlike NetSuite.
That said, you'll get much better value for money if other modules are of no interest to you.
You can then opt to link the Sales Cloud with other products within Salesforce's offering, like the platform's Marketing Cloud, Customer Service Cloud, Experience Cloud (Salesforce's PRM solution), and much more – perfect for scalability.
Secondly, Salesforce's CRM software is highly advanced. The platform includes a broad range of top-of-the-market functionalities.
These include sales forecasting, lead/opportunity scoring, CPQ, custom reports/dashboards, and 2-way email sync with Gmail/Outlook. Basic customer service tools are also included. You get access to case management tools and a read-only knowledge base.
Moreover, the platform is highly customizable. Salesforce allows you to modify nearly every other aspect of the platform. For instance, you can tweak the interface by customizing color palettes and logos to reflect your corporate identity better.
As for integrations, Salesforce is almost unmatched. The AppExchange gives you access to 3000+ integrations, ranging from marketing to analytics and more. You can also build custom apps from scratch.
Lastly, there's the price. The Sales Cloud is relatively affordable, considering what it offers. Prices start from $25/user/month and go up to $300/user/month (yearly).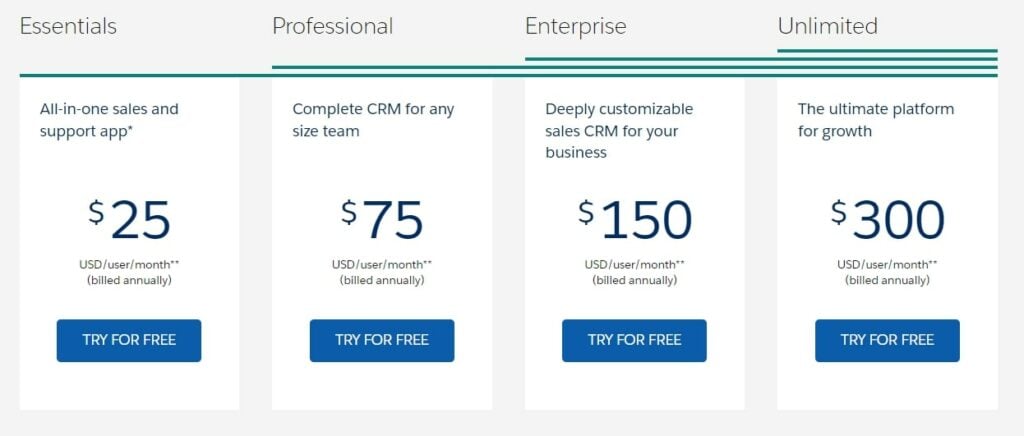 Pipedrive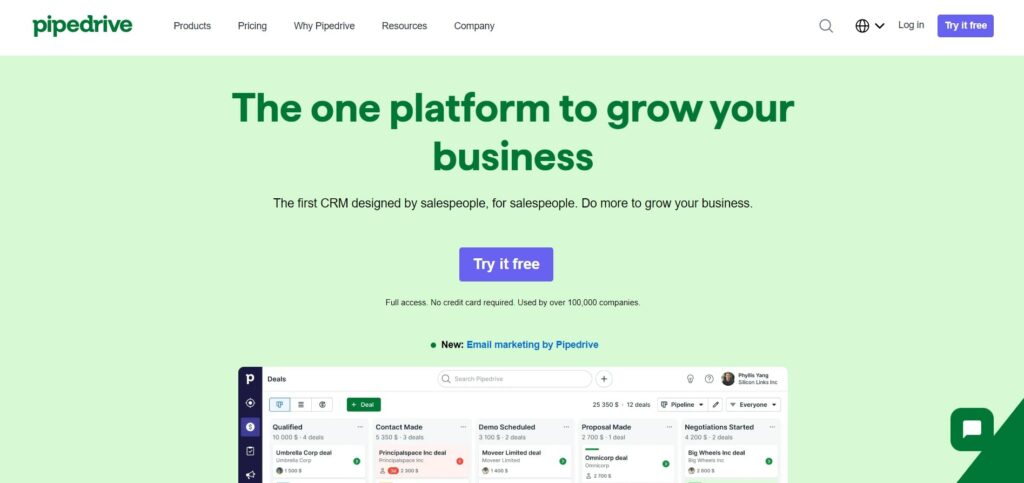 Think of Pipedrive as Salesforce's little brother. The platform packs a wide selection of advanced CRM functionalities into a highly user-friendly and affordable solution. One of the platform's stand-outs is its AI-powered Sales Assistant.
In short, this platform uses Artificial Intelligence to analyze past sales performance, identify weak spots, and deliver suggestions on improving sales activities. There are also Pipedrive's highly versatile reports.
The platform allows you to generate recurring/subscription revenue, deal, activity reports, and more – all customizable via an intuitive interface. Other notable features include deal rotting, built-in collaboration tools, leads inboxes, etc.
The latter brings all lead data into a single place to de-clutter the dashboard. You can easily sort, filter, and edit lead data to identify high-value prospects.
As for customization, Pipedrive allows for customizable reports, dashboards, email templates, and pipelines. You can also deactivate unneeded features to further de-clutter dashboards and give sales reps easy access to tools that matter.
In terms of pricing, Pipedrive starts at $14.90/user/month and goes up to $99.oo/user/month (yearly). Note that Pipedrive's sales assistant is available in the cheapest plan.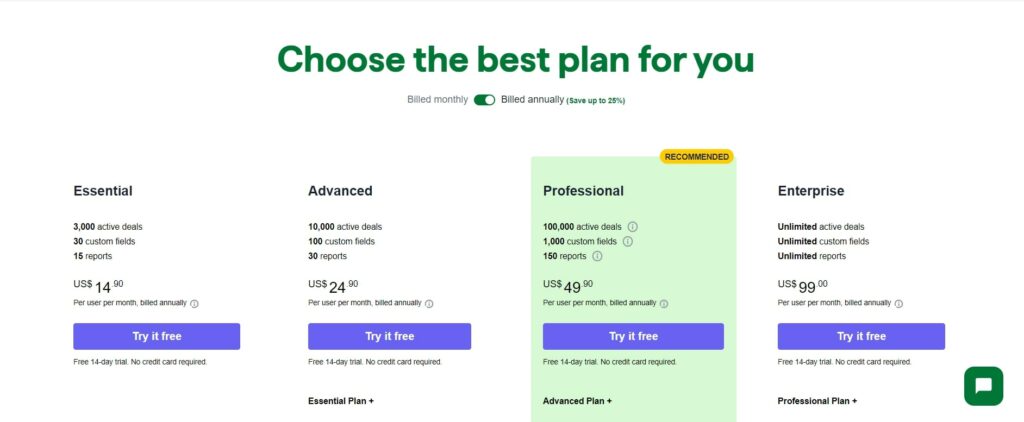 Consequently, Pipedrive is an excellent alternative to NetSuite CRM for small businesses seeking a highly capable CRM solution.
monday.com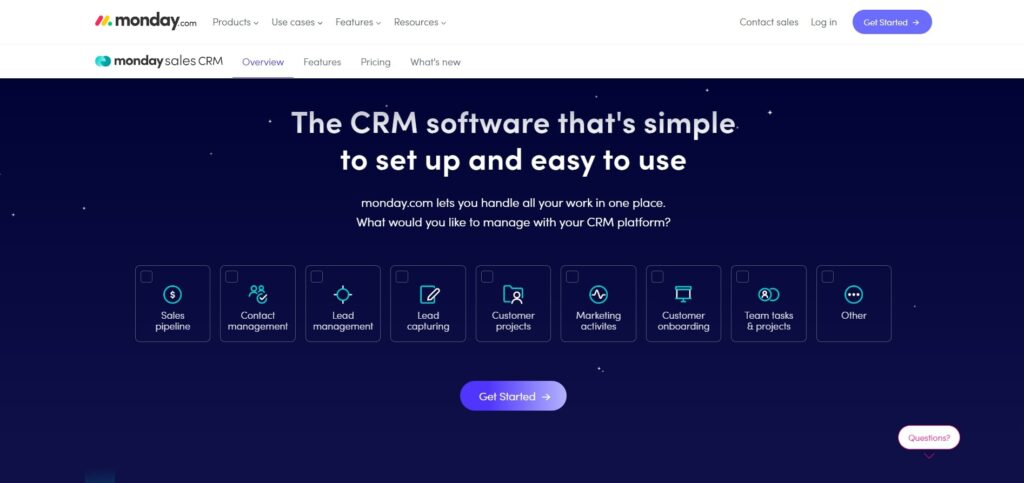 Monday sales CRM is part of monday.com's product offering. The platform emphasizes ease of use, affordability, and customization options. monday.com gives you access to 200+ fully customizable templates applicable to all of the platform's products.
In terms of CRM, you can find templates for specific industries or activities, like real estate, customer onboarding, and more. As for the features, monday.com offers everything a small business requires.
You can easily automate workflows using when/then parameters, handle sales forecasting, score leads, set goals, monitor team performance, deploy web-to-lead capture forms, manage quotes/invoices, send emails, etc.
Since monday.com was initially a project management tool, the CRM includes some handy team collaboration functionalities. For instance, you can easily conduct brainstorming sessions via the platform's Whiteboard Collaboration tool.
Additionally, your team can share and work together on documents directly within the platform, while you can gauge and manage workloads via the platform's workload management functionality.
Lastly, monday sales CRM is highly affordable. Paid plans start from $10/user/month and go up to $24/user/month (yearly). You also have the option to create a custom plan based on your business needs. Most importantly, monday.com offers a free version for up to two users.

Overall, monday.com is an excellent NetSuite CRM alternative for startups and small businesses seeking a user-friendly CRM tool with solid customization options and team collaboration tools.
HubSpot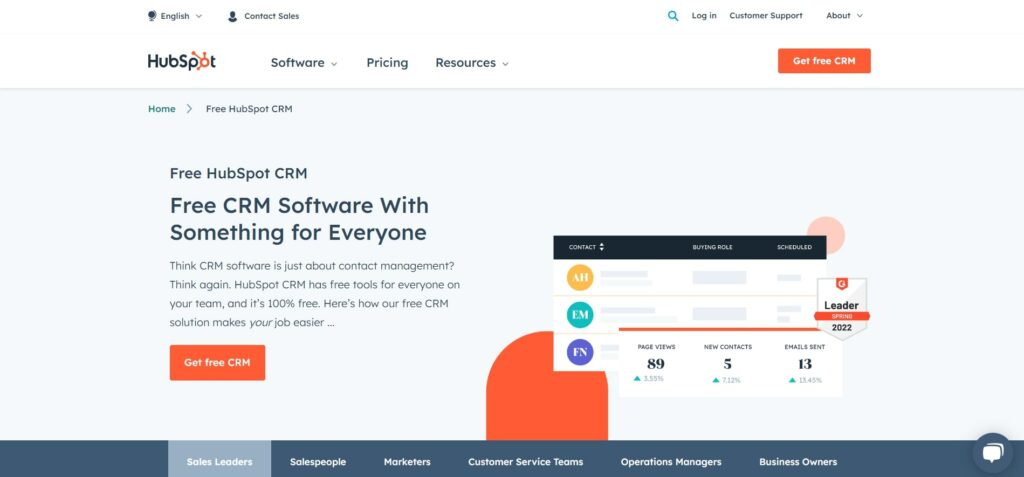 HubSpot's CRM solution is found under the Sales Hub. It's a highly versatile tool that accommodates any type of business. The platform offers various pricing plans for small, midsized, and enterprise-level companies. You can also get the CRM free of charge for unlimited users.
In terms of features, the CRM facilitates email templates, tracking, scheduling, lead scoring, sales forecasting and analytics, custom reports, contact website activity tracking, and more.
It also includes phone-calling functionalities, like placing outbound calls directly within the platform and handling call transcriptions and coaching.
However, HubSpot's main advantage lies in its scalability. For instance, you can seamlessly link the CRM with HubSpot's dedicated marketing and customer service solutions. Each platform contains its own free tools.
Consequently, you can use the CRM, a landing page builder, conversational bots, or a ticketing system at no extra cost. Speaking of costs, the Sales Hub starts at $45/month (yearly, for two users) and goes up to $1200/month (yearly, for ten users).

In other words, HubSpot is an excellent NetSuite CRM alternative for companies seeking a highly scalable solution that allows them to easily extend to other activities, besides CRM, once the need arises.
Zendesk Sell

Zendesk Sell shines through its lead generation and management capabilities. The platform offers two key functionalities: Smart Lists and Reach.
The former allows businesses to manage leads more effectively by allowing them to create list view templates. As such, you can save various filters from identifying specific lead groups without applying the search criteria repeatedly.
Meanwhile, the latter automatically updates lead data and can create email sequences directly within the platform. Zendesk also gives you access to a database of 44+ million businesses to help you learn more about potential customers, identify new qualified leads, and drive sales more effectively.
Additionally, Zendesk Sell allows you to stay in touch with prospects via email, phone, and text messages. The platform offers a broad set of customizable email templates to send bulk emails. It also handles call tracking, recording, scripts, and includes an automated power dialer.
Other functionalities include automated lead distribution, sales triggers, custom reports, built-in team collaboration tools, lead enrichment, and more.
As for pricing, Zendesk Sell starts at $20/user/month and goes up to $150/user/month.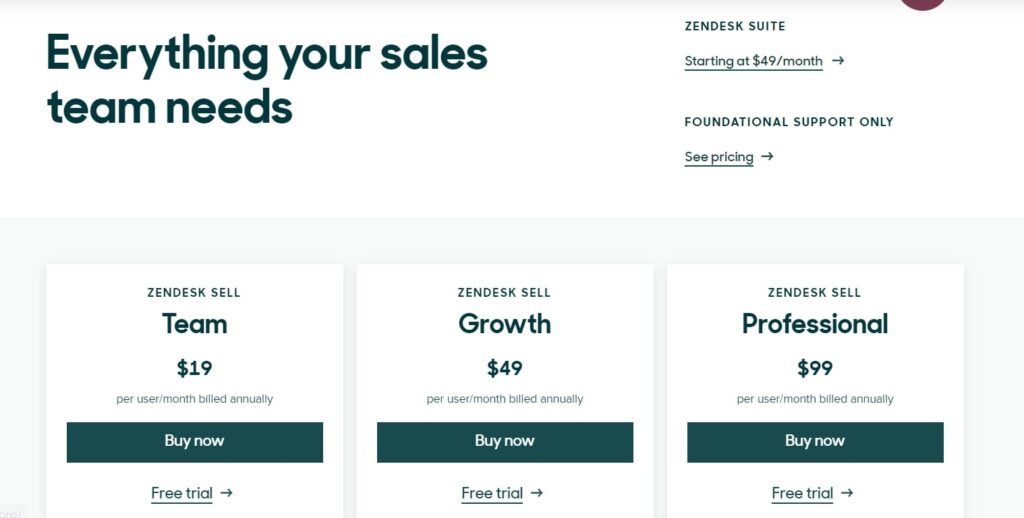 Overall, Zendesk Sell is the perfect NetSuite CRM for small and midsized businesses looking to manage and generate leads more effectively.
Oracle NetSuite CRM Review Conclusion
Overall, Oracle NetSuite CRM is a highly capable platform. It includes a vast selection of advanced functionalities that allow enterprise-level businesses to coordinate various departments more effectively.
The platform can easily bring sales, customer service, and marketing team under one roof, which ultimately boost your marketing and sales efforts and help you provide a better customer experience. Meanwhile, its PRM system allows you to coordinate joint marketing/sales efforts and improve partner relationships.
Its powerful marketing and sales analytics allow you to identify any weak spots throughout the entire customer life cycle.
However, Oracle NetSuite CRM is not for everyone. The NetSuite CRM cost is quite high, the implementation process is charged separately, and the CRM software comes bundled with other tools. Consider the alternatives mentioned above if you want something simpler and more affordable.
Oracle NetSuite CRM: FAQs
Does NetSuite have CRM capabilities?

Yes, NetSuite CRM does include CRM capabilities. The platform can help you manage and generate leads more effectively, generate forecasts, track visitor activities, and more.
What problems does NetSuite solve?

One of the main issues NetSuite solves is the risk of communication errors between departments. The platform helps companies to unify multiple business processes, allowing for streamlined workflows, centralized data sources, and alignment between sales and marketing efforts.
Is Oracle a CRM or ERP?

The CRM system is part of Oracle's ERP platform. As such, you'll have to subscribe for the ERP license and then choose the CRM module.