If you're searching for CRM software, chances are you've run into Pipedrive.
This Pipedrive review will dive into Pipedrive features, pricing and plans, pros and cons, its alternatives, and answer some frequently asked questions.
However, we know you may want to skip the reading.
Should you use Pipedrive? Let's get to the answer right away.
Pipedrive is ideal for small businesses and agencies to streamline their lead generation and sales processes. It's the least inexpensive CRM software available and well-recognized as being easy-to-use.
Pipedrive is great for businesses that need enhanced business insights but don't want to spend thousands of dollars on a large-budget CRM.
What is Pipedrive
Pipedrive is a customer relationship management (CRM) application that allows users to create visual sales pipelines and automate sales processes. Lead and deal management, communication tracking, activity, deal reports, and Smart AI, an artificial intelligence (AI)-powered sales assistant, are among its primary features. It's ideal for salespeople and teams who require a robust CRM with intuitive sales pipeline capabilities.
Best for Small Sales Team
Pipedrive
Pipedrive is a customer relationship management (CRM) platform designed to help businesses manage their sales pipeline. It offers a range of features, including lead and deal management, email tracking, and analytics, making it easy for businesses to track their sales efforts in one place.
Pros:
Sales pipeline visualization

Lead and deal management

Email tracking

Analytics capabilities

User-friendly interface

Powerful automation capabilities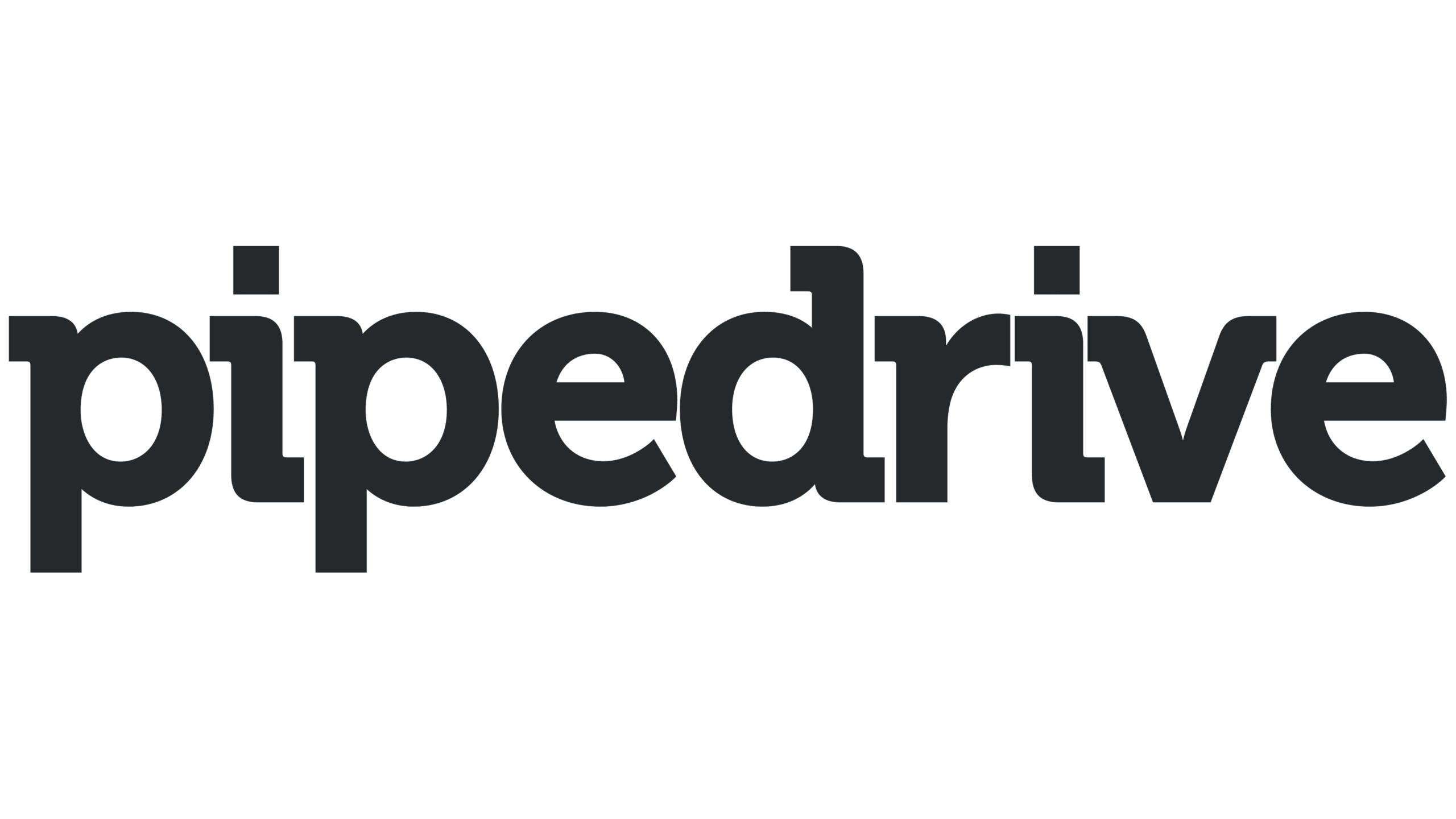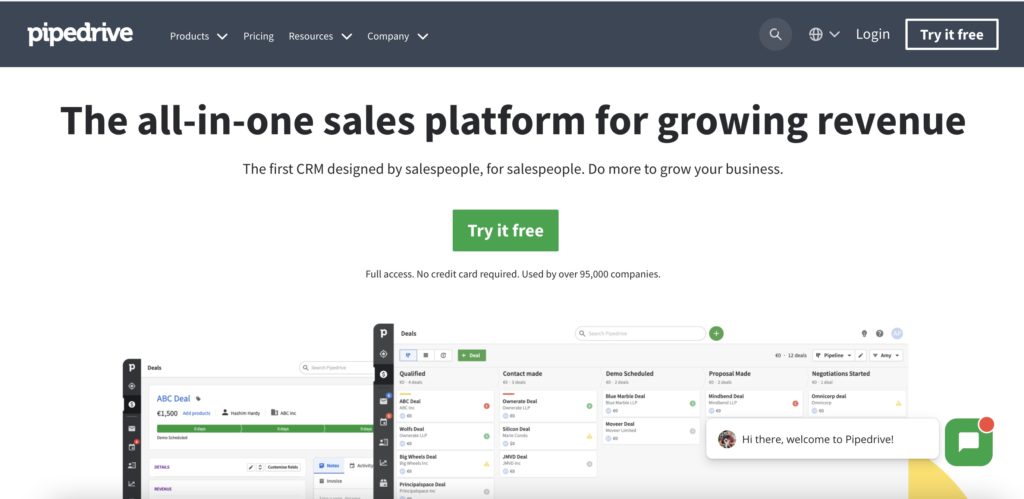 Pipedrive CRM, in essence, is a cost-effective and simple-to-use cloud application with a wide range of functionality and customization choices. Prices range from $12.5 per user per month to $99 per user per month.
Pipedrive Features
Pipeline and Deals Management
Every competent sales CRM is built on the foundation of pipelines and deals. These tools help you envision your sales process and get deals closer to completion.
You may enter deals, deal value, win chance, and estimated close date into Pipedrive, then arrange and track them by pipeline stages. You may tailor the stages to your sales cycle, establish team pipelines, filter results by representative or stage, or have one per team member.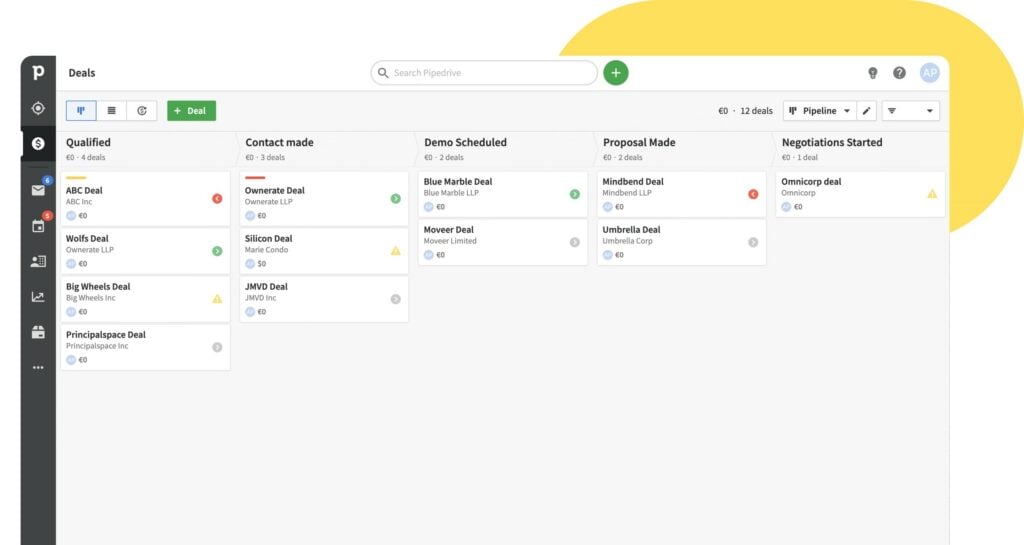 You can view the progress of each step in the sales process in your Pipedrive dashboard so your team knows what to do next. In addition, the dashboard is incredibly user-friendly, allowing you to grasp your priorities and laser-focus your sales efforts quickly.
Automation
You can automate almost any phase of your sales process for your team with Pipedrive, allowing you to nurture leads while focusing on higher-priority activities. Set up your triggers and desired actions, then sit back and let the powerful automation tools take care of the rest. You may also send personalized email templates automatically as you create a deal or move it through the pipeline stages.
Using automation features can help you enhance your workflow, save time and money, and reduce repetitive tasks.
Sales Reporting
You may add custom fields to your reports to log and track almost any variable and filter and uncover winning trends or bottlenecks with Pipedrive.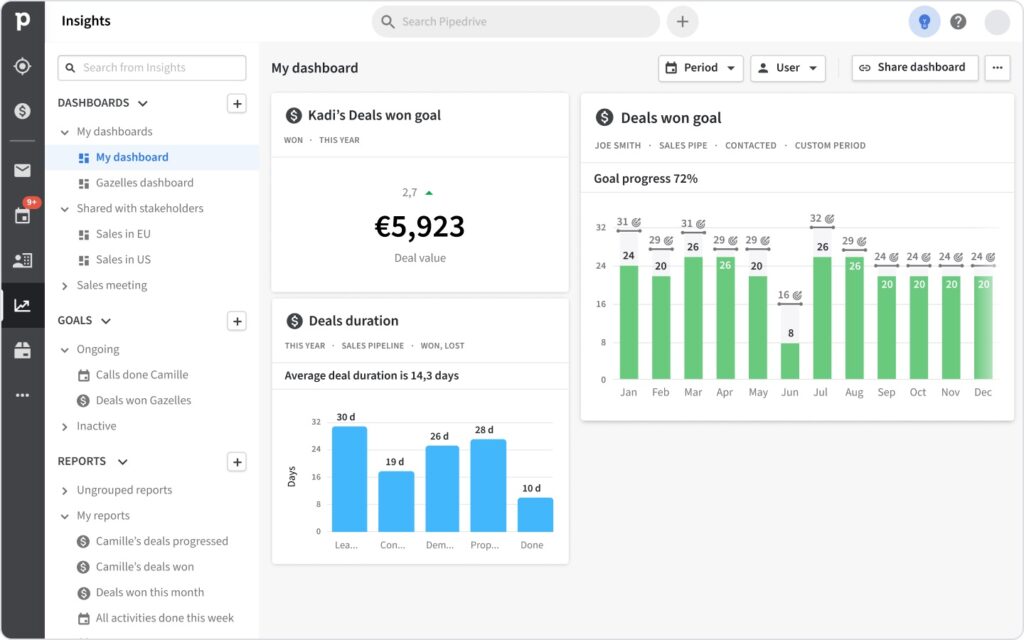 You can keep your most critical reports and KPIs in one area for easier tracking. In addition, you can set goals for yourself, your team, or your entire company and measure your progress using real-time analytics on customizable dashboards and reports. Finally, you can send a link to the reports to anyone, whether or not they use Pipedrive.
Pipedrive's reporting capabilities make it easy to see your top performers as well as your underperforming salespeople.
You can try Pipedrive for free here. No credit cards are required.
Lead Generation with LeadBooster add-on
Pipedrive's lead generation toolkit, LeadBooster, is powerful and intuitive to capture inbound and outbound leads. Some lead generation tools include:
Live Chat
Prospector
WebForms
Meeting Scheduler
Leads Inbox
Spreadsheet imports.
Prospector provides you with a steady stream of high-quality outbound leads. You can use it to search a database of 400 million profiles for your next new lead based on your desired consumer persona. In addition, you can use credits to expose your most sought matches' phone numbers, emails, and social media accounts.
You can add LeadBooster to any Pipedrive CRM subscription from $32.50 per month per company.
Pipedrive Pricing
Pipedrive has four paid subscription plans: Essential, Advanced, Professional, and Enterprise, with monthly prices starting at $12.5 per user per month.
Primary contact and deal management, deal and activity reports, visual dashboards, an AI-powered assistant, mobile apps, and 24/7 customer support are all included in all tiers. In addition, you may sign up for a 14-day free trial to test its features and capabilities.
You can try Pipedrive for free here. No credit cards are required.
Essential
Users may manage contacts, organizations, deals, visual pipelines, meetings, sales activities, and user access with Pipedrive's essential subscription. You can also customize fields and pipelines, import and export data, and merge duplicate entries. In addition, emails relating to contacts and deals can be automatically linked and forwarded to Pipedrive. Aside from that, you can use Google Maps to check where your contacts are and attach files to emails and deals.
Basic reporting capabilities in the Essential plan include insights into sales and activity, a shareable visual dashboard, and individual and organizational goal monitoring. This tier also gives you access to API, which you may use to create custom features or modules that aren't already included in your CRM program.
Pipedrive's Essential plan starts at $12.5 per user per month. You can try it for free.
You can try Pipedrive for free here. No credit cards are required.
Advanced
Here are some of the features included in Pipedrive's Advanced plan :
Product catalogs,
customizable emails and templates,
two-way email sync,
email tracking, and
customizable email signatures
You can also submit trackable quotations, proposals, and contracts. In addition, workflow automation, single sign-on (SSO) login, and recurring revenue reports are all available at this tier.
Pipedrive Advanced plan starts at $24.9 per user per month.
You can try Pipedrive for free here. No credit cards are required.
Professional
On top of the capabilities featured in the Advanced plan, the Professional tier adds the following features:
bulk emailing,
e-signatures,
in-app calling,
document sharing, and
unbranded documents.
In addition, custom fields and reports, revenue forecasts, infinite graphic dashboards, and team goal management are extra reporting features.
Pipedrive's two higher-tiered services include more comprehensive privacy and security capabilities. You get a security panel to track access permissions and security-related activity for your account. Stricter login constraints, such as time-based access limitations and password expiration, can be added. You can also get notifications about suspicious logins and data leakage, along with monitoring all of your team's deals, contacts, and inventory.
Pipedrive Professional plan starts at $49.9 per user per month.
You can try Pipedrive for free here. No credit cards are required.
Enterprise
The highest tier includes all of the features of the Professional tier, as well as tailored onboarding and support. It also includes 100 workflow automation, more than the 60 included in Professional. Aside from that, you can create an unlimited custom field, open deal, and the number of permission sets for various user access levels.
Pipedrive Enterprise plan starts at $99 per user per month, which is surprisingly affordable compared to the Enterprise plan of most other CRM software.
You can try Pipedrive for free here. No credit cards are required.
Pipedrive Pros and Cons
Pipedrive Pros
Intuitive Interface
Pipedrive CRM is one of the most cost-effective and user-friendly CRM platforms accessible. The user interface is easy enough to spend less time dealing with it and more time focusing on your next sale.
Pipedrive CRM's rapid and easy deployment will appeal to SMBs with limited time and resources.
Excellent Customer Service
Across all plans, Pipedrive provides email and chat assistance 24 hours a day, seven days a week. You may also file a support ticket when you're logged into your Pipedrive account.
Aside from that, the Pipedrive community forum offers you the opportunity to learn from sales and marketing veterans. A knowledge base providing self-help resources is also available.
Smart AI Automation
Pipedrive's automated workflows let you reduce repetitive manual chores and streamline your team's sales workflows. Sending customized emails, generating a new deal when a contact is created, and transferring tasks to another team member when a deal is moved to a different stage are just a few examples. You can also set up alerts to remind you of scheduled activities.
Based on your previous performance, the Smart AI assistant automatically recommends what to do next and how to improve. Pipedrive also includes an intelligent contact data function that pulls leads from the web and social media platforms and automatically lists them.
You can try Pipedrive for free here. No credit cards are required.
Pipedrive Cons
No Free Plan
While many other CRM software offers a free plan (like HubSpot), Pipedrive doesn't provide one. However, you can try Pipedrive for free with its 14-day free trial.
Limited Marketing Features
Pipedrive focuses on streamlining sales workflows and helping businesses optimize sales pipelines. However, sales and marketing work closely together, which is why many CRM platforms offer an all-in-one solution that combines both sales and marketing features. Pipedrive offers limited marketing features, which could concern some businesses.
Pipedrive CRM Alternatives
Pipedrive vs Salesforce
Pipedrive is a low-cost, user-friendly Salesforce alternative. However, when it comes to overall functionality and customer support, Salesforce is tough to beat. Still, Pipedrive outperforms Salesforce in ease of use, lower prices, and third-party app integrations.
Pipedrive vs HubSpot
While HubSpot is a sophisticated CRM platform for marketing, sales, and support teams, Pipedrive is focused on the sales team, making it less versatile than HubSpot.
If all you need is reliable sales automation CRM software, Pipedrive is more likely to meet your requirements. It's easy to use and affordable.
However, if you intend to expand into Hubspot's other comprehensive marketing suite for marketing automation, it's difficult to disagree with starting Hubspot for free with its free plan.
You can read our detailed Pipedrive vs HubSpot comparison here.
Pipedrive Review: FAQs
What is Pipedrive best for?
Pipedrive is best for its intuitive interface and cost-effectiveness. So if you're a growing business looking for easy-to-use CRM software without breaking the bank, Pipedrive is for you.
Is Pipedrive CRM good?
Pipedrive's robust suite of CRM tools will appeal to a wide range of small businesses, as will the features and benefits it offers. Pipedrive is ideal for small teams or even individual entrepreneurs that wish to streamline lead management, or optimize their sales process, thanks to its low cost.
Pipedrive could benefit any small business owner who generates leads, closes sales, or offers services. Pipedrive has a large variety of clever marketing and CRM tools that are economically priced.
Is Pipedrive expensive?
Since Pipedrive is one of the most cost-effective CRM platforms available, getting started is easy. Pipedrive is the least expensive CRM solution in the market, starting from $12.5 per user per month.
The most excellent part of Pipedrive is that it is entirely free to start. That is, you may create an account without a credit card to try its features for free.
You can try Pipedrive for free here. No credit cards are required.
Is Pipedrive easy to use?
Pipedrive is one of the most easy-to-use CRM solutions on the market because of its simple, seamless UI.
Pipedrive Review: Conclusion
Pipedrive offers intuitive and reliable CRM software with innovative sales capabilities to help you sell your products and services if you work in a small business.
Pipedrive is reasonably priced, incredibly straightforward to use, and created by sales professionals for sales professionals. In addition, the platform's scalability makes it a good solution for teams that are rapidly expanding. As a result, Pipedrive is an excellent investment if you want to revitalize your lead generation and sales workflow.
You can try Pipedrive for free here. No credit cards are required.
Further read:
HubSpot Review: Is it the best CRM platform?