Are you comparing Pipedrive and Hubspot, not sure which is a better CRM software? Then, you've landed on the right page!
CRM is the crux of sales growth. It integrates information across various communication channels to give entrepreneurs and sales teams a bird-eye view of every customer in real-time to increase efficiency and revenue.
Picking out from dozens of CRM software is never a breeze. It requires painstaking efforts considering all the hassles derived from choosing the unsuitable tool — unless you're happy with investing much time in migrating mountains of data from the old CRM software to a new one.
Selecting the right CRM software thereby marks a good start on your business. But what makes CRM software the best fit for you?
Before we dive in, it's highly recommended that you sign up for a HubSpot free plan and a Pipedrive 30-day free trial to get the most out of our comparison guide.
Pipedrive typically offers a 14-day free trial. Signing up with our link here, you can enjoy the free trial for 30 days!
In addition, there are many other sales tools that can help you close deals more efficiently and drive sales.
To help you make a good decision, here's our head-to-head comparison of the two renowned CRM software in the market: Hubspot and Pipedrive. So let's jump right in!
Pipedrive vs HubSpot: Main Differences
Before we compare Hubspot and Pipedrive from head to toe, here's a quick overview of their differences:
Pipedrive is designed for the sales team mainly, whereas Hubspot contains a host of functionalities for both the marketing and sales teams
HubSpot offers 500+ app integrations, whereas Pipedrive integrates with close to 300 third-party tools
HubSpot offers a free CRM plan with limited allowances, whereas Pipedrive typically provides a free 14-day trial for all plans (with our link here you can get a 30-day free trial.)
Hubspot is an excellent starter for medium-to-large enterprises, whereas Pipedrive is fantastic for growing teams, small businesses, and solo entrepreneurs.
Pipedrive vs HubSpot: an Overview
HubSpot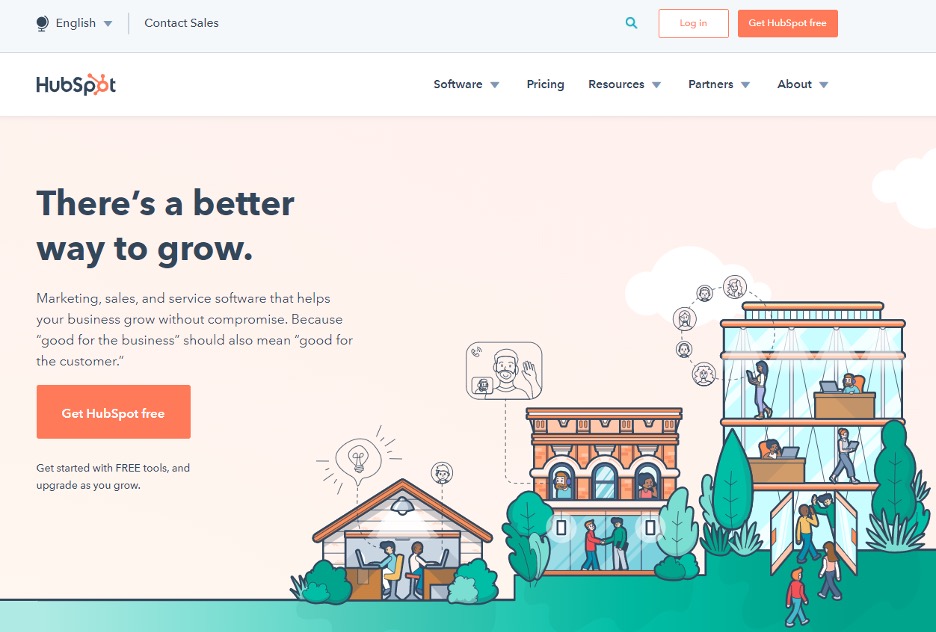 As an all-in-one sales and marketing suite, HubSpot plays a leading role in the CRM market.
All of it began in 2005 when the founders, Brian Halligan and Dharmesh Shah, shifted the way customers shop and buy, from outreaching people through cold calling to creating content that caters to people's interests and attracts them.
Since HubSpot CRM was born, it comes as an arsenal of Marketing Hub, Sales Hub, Service Hub, CMS Hub, and Operations Hub to fuel marketing strategies and sales.
Further read:
HubSpot Review – Is it the best CRM platform?
Pipedrive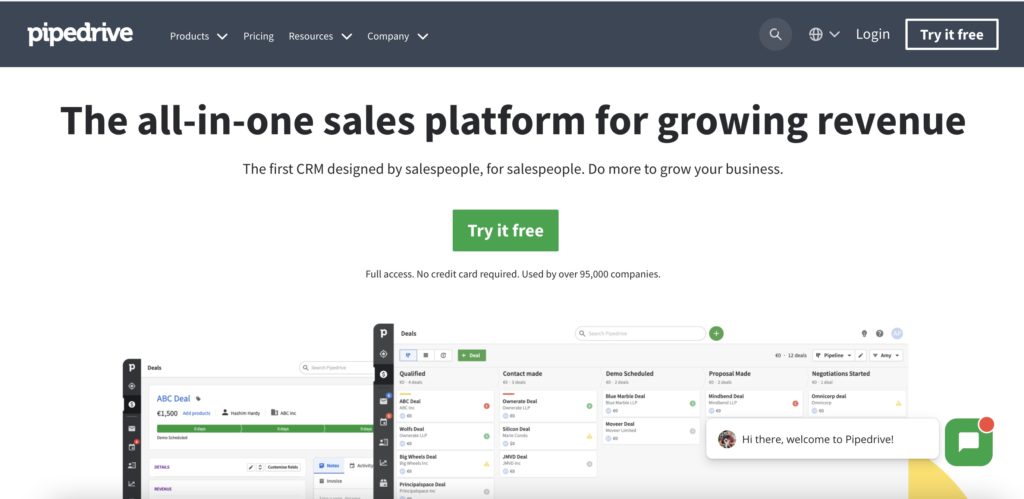 Pipedrive stands at no less of the cutting edge than HubSpot CRM does.
Founded in 2010, Pipedrive is a cloud-based CRM platform targeting salespeople rather than focusing on both sales and marketing.
Pipedrive offers a wide range of tools and data to draw your sales team on the fundamental aspects of the sales pipeline and propel deals to grow revenue.
Further read:
Pipedrive Review: Is It The Best CRM In 2022?
Pipedrive vs HubSpot: Overall Features
Both HubSpot and Pipedrive have a popular name in the realm of CRM software. Here's a list of their most impressive CRM capabilities, which you mustn't miss out on:
Pipedrive Features
Pipedrive is great at managing leads and deals, automating workflows with AI, tracking communications, and providing excellent insights and reports.
Lead and deal management: Pipedrive offers unlimited, customizable sales pipelines to govern leads and sales and convert more prospects into customers.
Automation: Pipedrive automates tasks at your convenience and provides insightful recommendations al0ng with appealing reports
Monitoring communications: Pipedrive keep an eye on all conversations, calls, and emails within its database of contacts
HubSpot Features
The free version of HubSpot CRM cannot be stressed enough. It allows access to a good number of CRM widgets without a budget. Here're some of its critical features:
Analytical dashboards: HubSpot reports on customer and prospect data and generates analytical insights into customer interactions and buying cycle
Email automation: With numerous email templates in hand, sending bulk emails is a piece of cake. Moreover, HubSpot automates email communication by obtaining measurements from critical metrics, including click-through and open rates.
List segmentation: HubSpot can synthesize contact lists from the database by filtering specific criteria such as lead scoring and email interactions.
HubSpot and Pipedrive are no less competitive than each other. Let's make the exciting comparison go on by taking account of the following parameters:
Pipeline management
User experience
Automation
Analytics and reporting
Email integration
Customer support
Pricing
Pipeline Management
Pipedrive and Hubspot are powered by solid pipeline management features. Both have intuitive, visually appealing dashboards as the default view, making it easy for team members to edit, add or delete tasks and deals across different stages. They're good at tracking progress too!
HubSpot: Pipeline Management
Do you know that HubSpot features customizable dashboards that contain various templates for sales lead generation?
HubSpot makes it easy for you to customize your pipeline to establish an efficient sales process, whether you start it from scratch or you've got something to build on.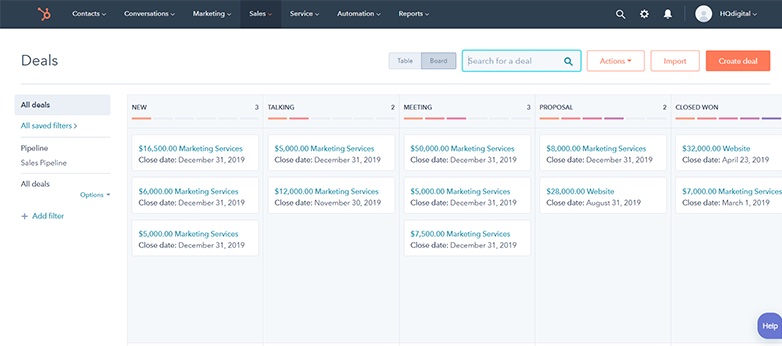 What's more, you can edit columns and customer properties and transfer the deals along the pipeline with one simple click and drag. You can efficiently allocate different tasks to the sales agents to manage deals.
Last but not least, HubSpot generates regular sales performance reports to let you know how the individuals are performing and track progress for sales activities, sales quotas, and the pipeline's health in general from time to time.
Create a free account to test out HubSpot's free CRM!
Pipedrive: Pipeline Management
Just as Hubspot, Pipedrive offers similar customization options in its dashboards, in which you can add and delete deals, contacts, and activities while the pipeline develops.
Pipedrive's visual structure is highly organized and displays deals in different sales stages, respectively. So not only does it allow you to manage the pipeline flexibly, but it also provides an uncluttered view of your sales teams' progress.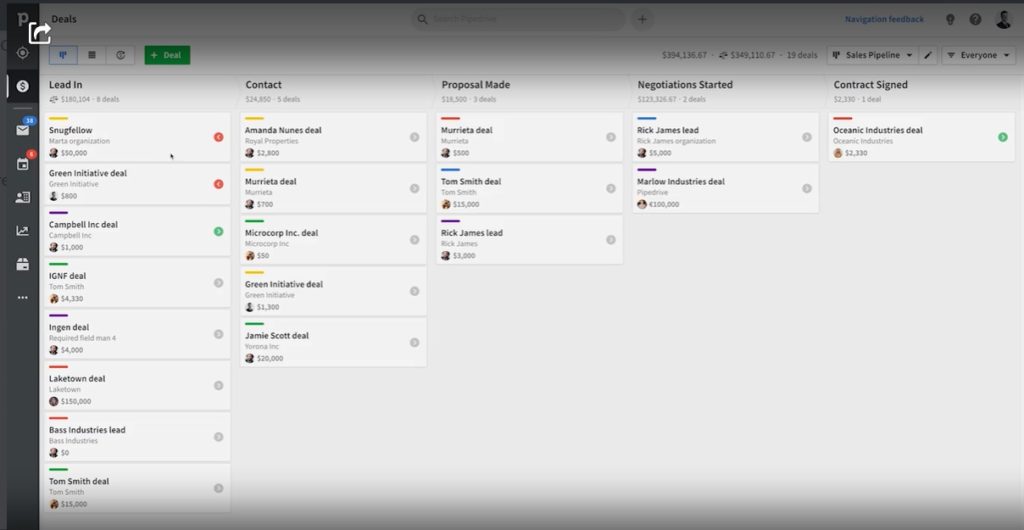 You can add as many salespeople to the pipeline as there isn't any limit to the designated team size. Great, right?
One helpful thing about Pipedrive is that its pipeline management tool is powered by a statistics tool — which keeps an eye on a series of ongoing sales processes. What is worth mentioning is its excellent filtering tool that can scan through results.
Join Pipedrive 30-day free trial!
User Experience
Ease of use is considered an essential criterion — especially when you want to hit the ground running with the CRM tool.
The CRM software needs to be user-friendly, doesn't mean it has to be simplistic and packs a narrow range of functionalities.
For instance, Pipeline and HubSpot are great examples of solid CRM software featuring user-friendliness and critical capabilities. Yet, HubSpot is often considered to have greater flexibility for customization.
Hubspot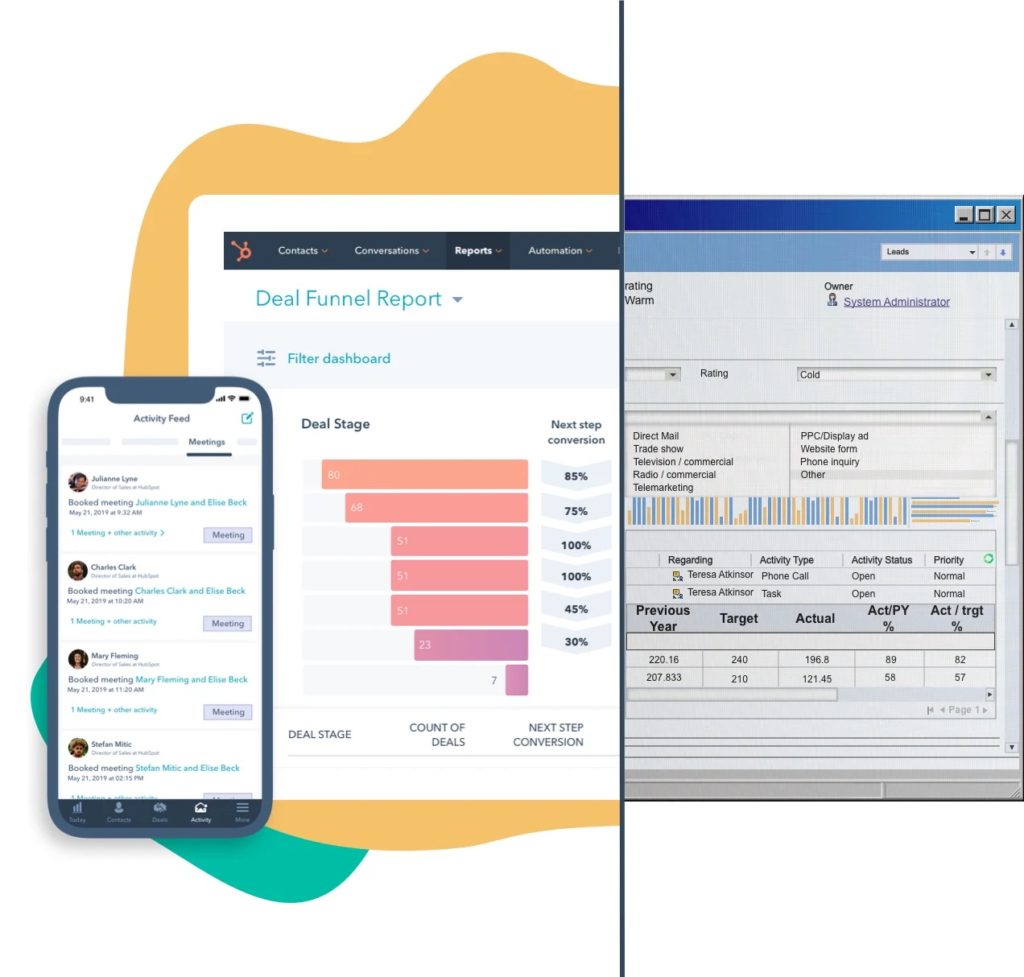 If you're a frequent user of HubSpot, you must not deny its highly structured, easy-to-use interface design, in which all essential elements are displayed orderly, and plenty of customizable functionalities are at your disposal.
Not only does its uncluttered UI deserve compliments, but its powerful filtering also impresses many users. For instance, you can filter the deals according to enterprises, customer funnel stage and quickly locate specific information.
Hubspot's user interface also keeps track of the sales teams' progress and identifies the top-performing salespeople.
Lastly, you mustn't miss out on its software tours which show you around the CRM platform and get you to test out a myriad of functionalities.
Sign up for HubSpot's free CRM to experience its great UI!
Pipedrive
The minimalist interface design is what makes Pipedrive stands out, probably.
Don't underestimate its minimalistic UI— it comes with an entire set of sales pipelines features capable of delving into the sales deals and giving users a holistic picture of the sales and leads.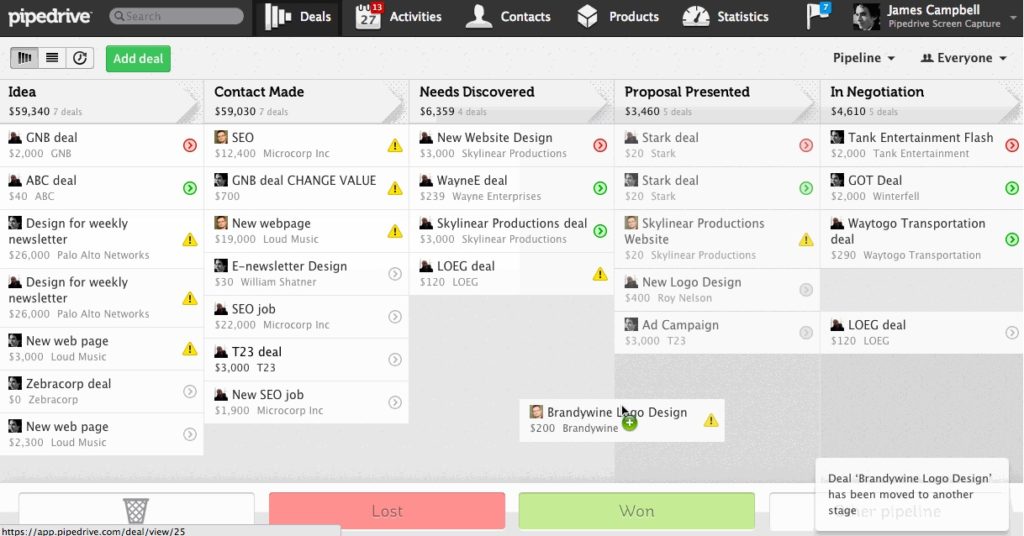 Feel free to fine-tune the default parameters of the pipeline to match your sales progress. Pipedrive's UI is straightforward to navigate.
If you sign up for Pipedrive's free trial now, all it takes you is only seven steps to set up your sales pipeline dashboard. So why not give it a go?
Automation
Both HubSpot and Pipeline do an exceptional job in automating workflows and providing workflow builders.
HubSpot automation
HubSpot allows the automation of various processes and communications. Types of activities to automate include:
company-based
deal-based
contact-based
ticket-based
quote-based
HubSpot's workflow builder is highly user-friendly.
You can drag and drop editor to create actions when certain conditions are met to automate any workflow. For instance, HubSpot will automatically allocate tasks to the sales teams when a new deal is added.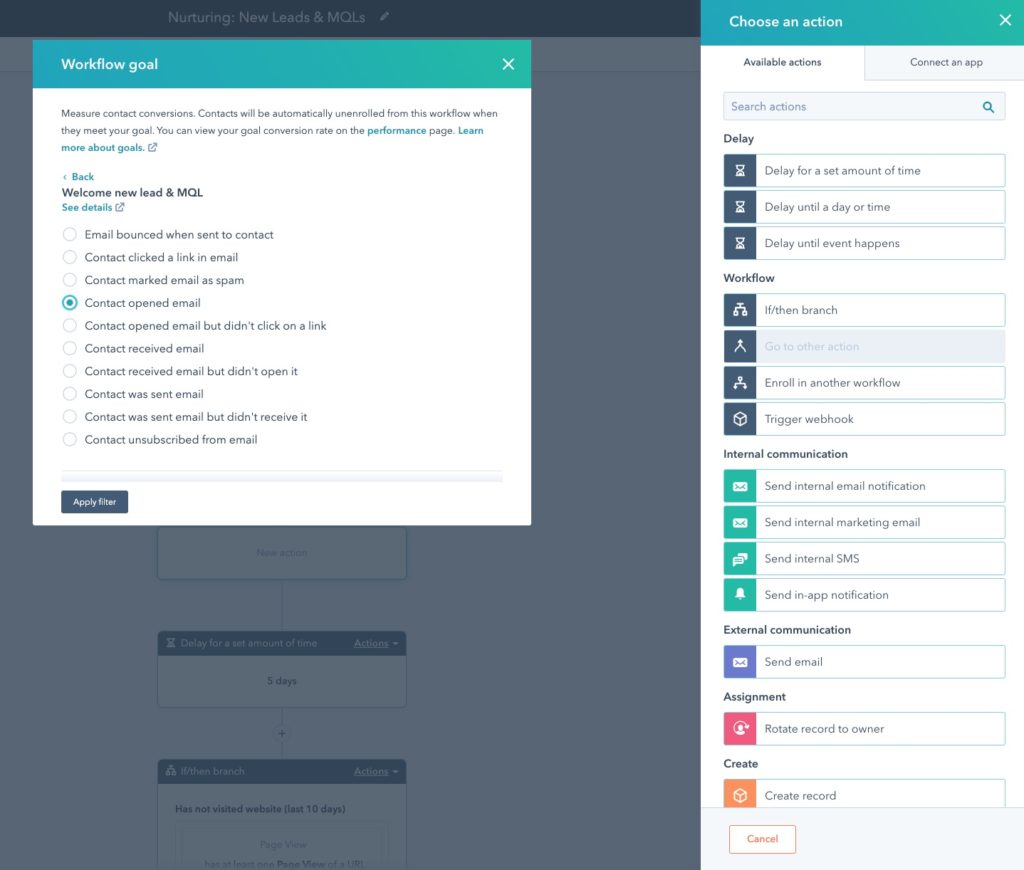 Pipedrive automation
Similar to HubSpot, Pipedrive offers personalized workflows. It collects a bundle of automated workflows which are triggered according to organizations, people, deals, and activities.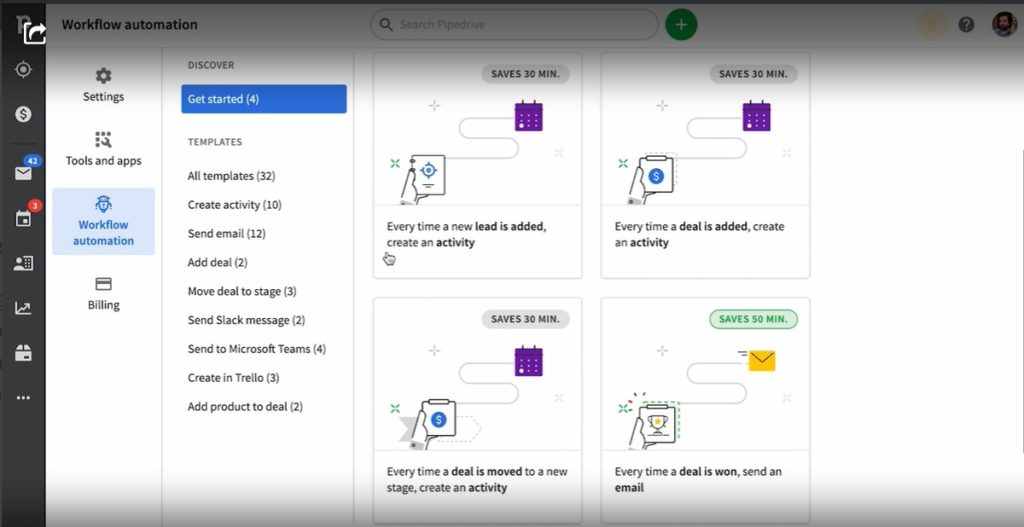 For instance, you need not create an activity or a deal whenever a new person is added. Instead, Pipedrive will do it for you and save you time from performing repetitive tasks.
What's more, Pipedrive's automation tool is powered by AI, which will provide tailor-made performance tips and report graphs from time to time.
Get a Pipedrive 30-day free trial!
Analytics and Reporting
If you've used either HubSpot or Pipedrive before, you'd be amazed by their reporting features. Not only are their reports readable and lucid, but they are also customizable.
Hubspot reporting
HubSpot's reporting capability is stellar. It summarizes a bundle of figures, including sales, churns, leads, and conversions of each stage in a dashboard to reflect the buyer's performance holistically.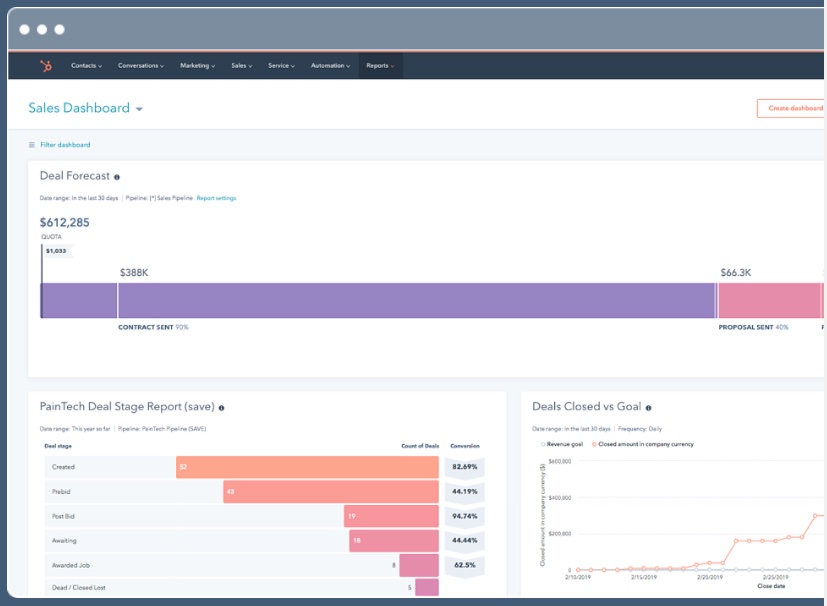 These dashboards are customizable and have easy access. They display a wide variety of reports which offer actionable insights into every sales cycle.
You can now get access to great reporting features by signing up for HubSpot's free CRM.
To create a custom report, you can upgrade HubSpot's free CRM to the professional plan.
Pipedrive reporting
The customization capability of Pipedrive's dashboard is no different from Hubspot.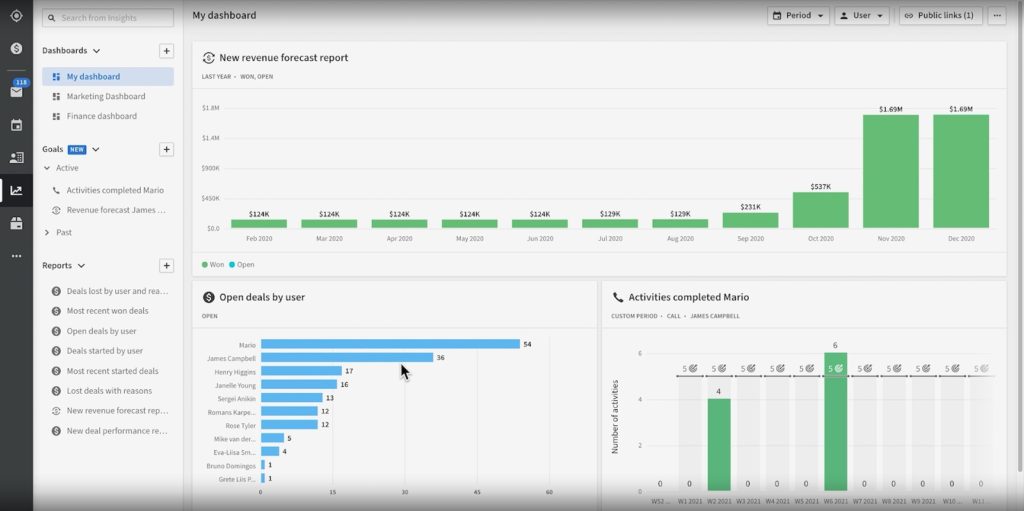 With its analytical reports and customizable dashboards, you can gain handy insights into your sales performance by users or stages, along with accurate figures showing the number of new deals, won deals, lost deals, completed activities such as calls and meetings and so on.
You're never in the dark about your teams' performance, conversions, and deals at every stage.
Join Pipedrive's 30-day free trial now!
Email integration
To gain the most out of any CRM system, app integrations are the key. For instance, email integration is embedded in Pipedrive and Hubspot to make communication more accessible and more efficient.
Apart from email integration, HubSpot syncs with 500+ integrations, whereas Pipedrive has close to 300 integrations. You can glance through all the integrations in their app marketplace. Links below:
Let's closely examine their email integration features.
Hubspot email integration
HubSpot is fully integrated with major email services like Gmail and Outlook.
Upon joining HubSpot's free plan, you get access to wide-ranging email marketing templates in your inbox. You no longer have to crank out emails for repetitive stages like prospecting and marketing — HubSpot will create personalized templates for you.
HubSpot never lets any emails slip through the cracks. Its built-in data analytics tool obtains measurements from receivers' email open rates as well as links, attachments, and options being clicked on, eventually recommending the top-performing email templates to you.
Then, you can share the most effective templates with your sales teams to optimize emails.
What's more, you can schedule your emails and select the best times for them to be dispatched in the draft folder. Hubspot will also notify you at the time when they're clicked open to keep tabs on the emails delivered.
Create a free account to join HubSpot's free CRM!
Pipedrive
Like HubSpot, Pipedrive has a wide range of customizable templates which you'll have easy access to from your inbox.
Pipedrive syncs with several email providers on one platform, where emails are shared with everyone as a default setting to help administrators track the essential parameters. You can switch to private mode to keep certain communications private.
Pipedrive's premium functions sync pretty much everything, such as customers' contacts in your email account. You can keep track of the emails you dispatched and schedule activities.
Get a Pipedrive 30-day free trial to explore its email integration features.
Customer Support
There isn't much difference between Pipedrive and HubSpot when it comes to customer support. Both of which offer wide-ranging support and resources at your disposal.
Let's take a close look at what Pipedrive and Hubspot offer!
Hubspot
Once you join HubSpot's free CRM, you have convenient access to the HubSpot Community. You can post them on the forum and get solutions from professional users if you have any questions.
Also, you can enjoy a library of free resources — guides, ebooks, courses, and many more to enrich your knowledge and user experience on the HubSpot CRM platform.
Pipedrive
Pipedrive offers customer support around the clock via live chat and email, no matter which paid plans you're using.
You'll find the best solutions from Pipedrive's knowledgeable teams and active community to conquer any challenges.
Also, there're numerous courses to guide you through the CRM platform.
Sign up for a Pipedrive free trial to get a better picture of its customer support.
Pricing
Hubspot pricing
HubSpot offers a free plan which you can add with unlimited users and 1M contacts. In addition, many fundamental features are available for free.
It offers various paid plans:
Starter ($45/ month, paid annually): deal pipeline, live chat, goals, reporting dashboard, simple automation
Professional ($400/ month, paid annually): everything from the starter plan, sales analytics, video creations, signature forecasting
Enterprise ($1200/ month, paid annually): everything from the professional plan, playbooks, call transcription, object customization
Pipedrive pricing
Pipedrive doesn't have any free plan, but it has a free 14-day trial. With our link here, you'll get a 30-day trial.
On top of that, it offers four paid plans:
Essential ($12.5/ user/ month, paid annually): deal management, contact and organization management, activities management
Advanced ($24.9/ user/ month, paid annually): everything from the starter plan, team goals, security center, insights into custom fields, all automation features
Professional ($49.9/ user/ month, paid annually): everything from the previous plans, email syncing, contact data enrichment, revenue reports,
Enterprise ($99/ user/ month, paid annually): everything from the previous plans, custom support, custom onboarding
Pipedrive vs HubSpot: Conclusion
We've got a pretty much head-to-head comparison between two popular CRM software: Pipedrive vs Hubspot, and there you have it!
We've looked into their pipeline management, user interface, automation, integrations, customer support, and pricing in detail.
Hubspot is a comprehensive sales and marketing toolkit. Its free CRM plan is the cherry on the cake. A wide range of sales and marketing features are provided generously; more allowances are unlocked upon upgrading the starter plan.
The fundamental aspects of HubSpot free CRM are pretty enough for small businesses. Large businesses can get fuller access to the widgets by upgrading to other paid plans.
In contrast, Pipedrive is more suitable for small businesses and solopreneurs. It has a sleek interface, and many of its advanced CRM features are offered at a reasonable price. As a result, it's a great pick if you want to grow your business on a tight budget.
If you're impressed by both of their functionalities, why not test out both Pipedrive and Hubspot, especially when free trials are available? Again, you risk nothing but getting a chance to discover a CRM platform that may be the best fit for you.