There are many customer relationship management (CRM) software options out there, and it can be hard to decide which one is right for you. The best CRM software can help you manage your business more effectively and help you connect with customers better.
If you are trying to decide between Pipedrive vs HubSpot, you may be wondering which is better for you. Both software solutions offer a lot of features that can help you streamline your business, improve customer satisfaction, grow your sales, etc. But they also have some key differences that may make one a better option for you than the other.
In this blog article, we will compare two of the most popular CRMs: Pipedrive and HubSpot. You will learn more about their similarities, differences, features, pricing, and more to make an informed decision about which product is right for your company.
You can get a free trial of Pipedrive here.
Pipedrive vs HubSpot: Similarities
Both platforms offer extensive CRM functionalities.
Both platforms include email marketing tools.
Both platforms offer extensive customization capabilities and are excellent in terms of scalability.
Both platforms are relatively easy to use and set up.
Pipedrive vs HubSpot: Differences
Pipedrive is significantly cheaper.
HubSpot covers more integration capabilities.
HubSpot includes more functionalities outside CRM in its packages.
What is Pipedrive?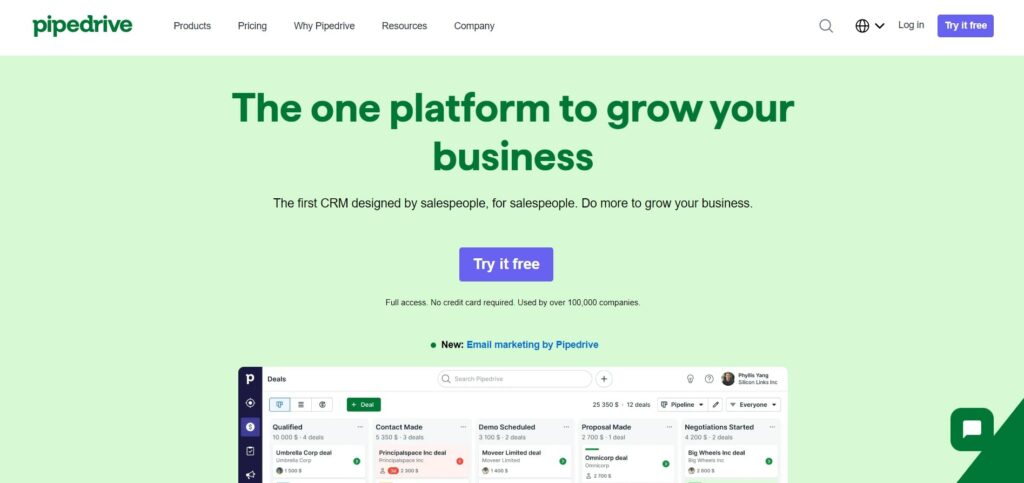 Pipedrive is a sales CRM that's designed with ease of use and affordability in mind. The platform includes a highly intuitive interface and provides a wide set of advanced features to help you boost sales performance – all at a fair price.
Most notably, there's the platform's AI sales assistant, which uses data from past sales activities to provide suggestions on how to increase effectiveness.
Pipedrive Key Features
AI-powered sales assistant
Extensive customization options
Built-in sales automation tools
Sales forecasting
Built-in email marketing tools
What is HubSpot?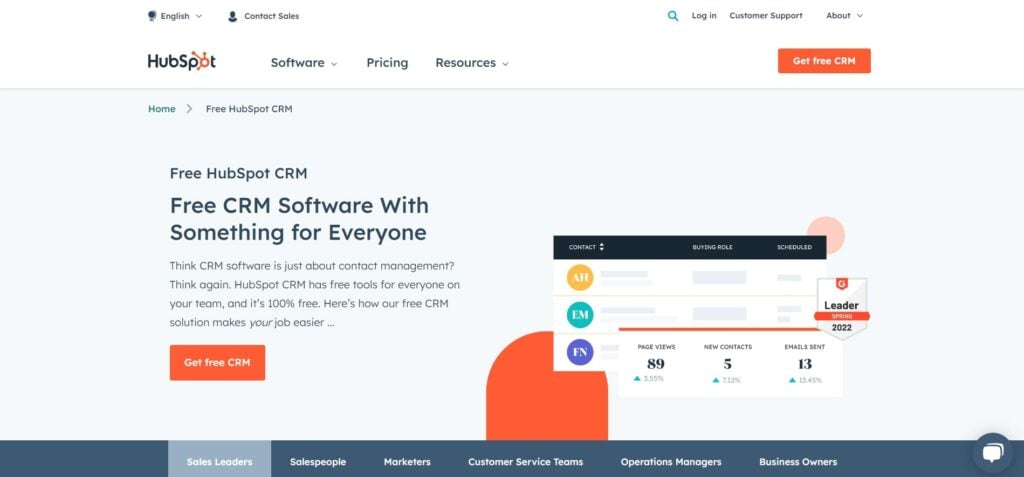 The HubSpot CRM platform is found in HubSpot's Sales Hub. As such, the platform gives you access to plenty of features besides its CRM software, like a built-in payment and phone system, email marketing, and more.
However, HubSpot stands out due to its free CRM software, which includes all the necessary functionalities to keep track of your contacts and boost sales performance. More specifically, you'll get access to contact management, email tracking, email templates, reporting dashboards, list segmentation, built-in chatbots, and more.
And the cherry on top: HubSpot's free CRM is available to unlimited users.
HubSpot Key Features
Contact management
Website activity tracking
List segmentation
Call coaching and transcription
Built-in email marketing tools
HubSpot vs Pipedrive: CRM Features
Pipeline Management
Pipedrive
Pipedrive's pipeline management is pretty straightforward. You'll get an in-depth overlook of your sales pipelines via an intuitive dashboard. You can easily monitor your deals across multiple pipeline stages, so your sales team can quickly determine their next step.
As for customization options, you can set custom properties, edit columns, rename deal stages, and more. Other than that, the platform allows you to add a new contact, deal, or activity by clicking just a few buttons.
There's also a search bar so you can identify deals more easily in case you're dealing with large lists.
HubSpot CRM
HubSpot Sales Hub is not much different in this regard. It also relies on highly visual dashboards to provide you with an easy-to-comprehend overview of your sales pipelines.
In terms of customization, you have access to multiple templates designed for various use cases, like lead generation, sales opportunity reviews, and more.
You also have the option to build multiple dashboards from scratch. Like with Pipedrive, HubSpot CRM allows you to add custom properties and edit columns. Also, moving deals across multiple pipeline stages is done by simply dragging and dropping deals on the dashboards.
Automation
Pipedrive

Pipedrive gives you plenty of options in terms of automation – from setting up automated workflows to automatic email campaigns, and more. Consequently, you'll get to eliminate most unnecessary work and improve productivity.
In terms of automated workflows, you can easily set up triggers that will automatically move deals throughout the sales pipeline. Whenever a new lead is added to the system, Pipedrive will automatically create new deals and tasks.
Moreover, if you don't want to bother with building automated workflows from scratch, Pipedrive provides a vast library of pre-built workflow templates to help you get work done quicker.
As for the platform's marketing automation capabilities, Pipedrive allows you to create automated email marketing campaigns.
For instance, whenever a lead moves through the sales pipeline, the platform will automatically send emails to keep the lead in question engaged. Pipedrive can also handle email scheduling.
You also have the option to choose between one of Pipedrive's many email templates.
Other automation tools include automated Slack notifications, chatbots, sales forecasting, and more. Not to mention the platform's AI-powered sales assistant.
HubSpot CRM

HubSpot's Sales Hub is no slouch here either. This CRM system also comes with a plethora of automation tools that are designed for specific goals and use cases.
For instance, the platform allows you to build contact-based workflows to help you with contact management, deal-based workflows for deal management, quote-based workflows for handling quotes and prices, etc.
After selecting the type of workflow you'd like to create, you'll be welcomed by a straightforward drag-and-drop interface that will help you set up the automation and determine what will happen and when.
The editor can help you create automated tasks, send emails, add or remove contacts, etc. You can then fine-tune the automation workflow by adding delays, or using If and Then parameters.
As for marketing, the platform offers plenty of email templates and handles email scheduling, personalized campaigns, bulk emails, and more. You can also integrate the platform with HubSpot's Marketing Hub for access to even more marketing automation features.
Overall, both HubSpot and Pipedrive have excellent automation capabilities. However, HubSpot goes for a more systematic approach, making it slightly easier to use.
Reports and Analytics
Pipedrive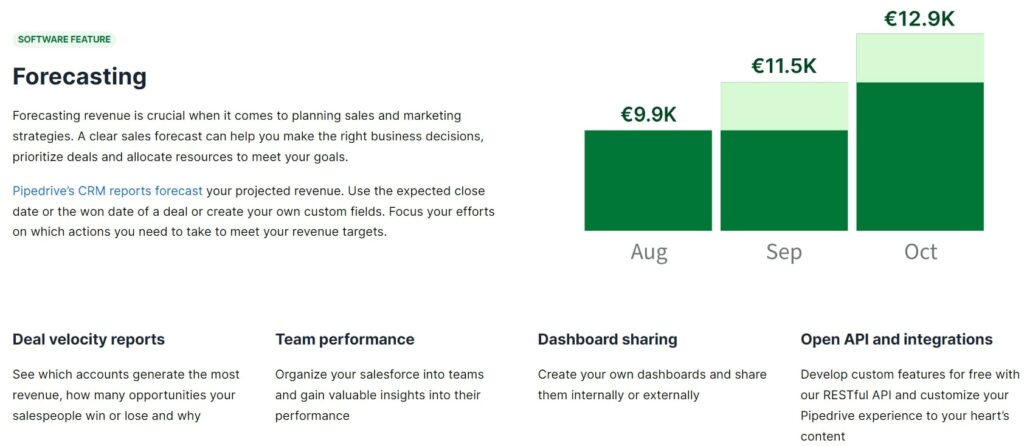 In short, Pipedrive covers excellent analytics and reporting capabilities. The platform provides deal and email tracking, leads reporting, sales team performance analytics, conversion reports, and more.
The platform's reports are also highly customizable. You can set custom criteria and create custom dashboards so you can easily keep track of the metrics that matter to you the most. You can then group and filter these reports to get a comprehensive overview of your sales performance and spot any potential bottlenecks.
There's also the Goals functionality, which allows you to set custom objectives. After specifying your goals, the platform will provide real-time updates to help you determine how close or how far you are to achieving your objectives.
Other reporting tools include recurring revenue tracking, sales forecasting, and deal velocity reports. The latter allows you to see the number of opportunities your team is winning or losing and which accounts generate the most income.
Lastly, Pipedrive enables you to easily share reports internally and externally, so you can add a layer of transparency and improve communications.
HubSpot CRM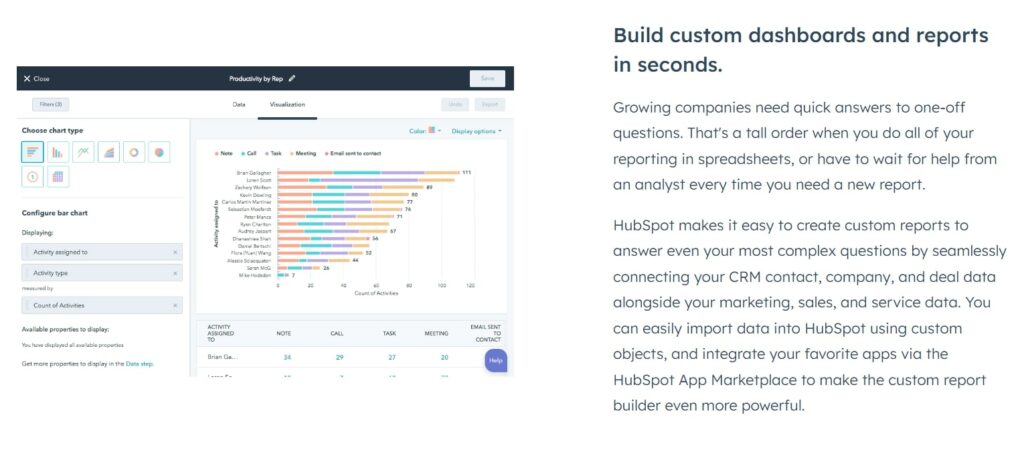 Again HubSpot's Sales Hub does not leave anything to be desired. The platform allows for marketing event and email tracking, team productivity reports, sales analytics, goal tracking, and more.
Just like Pipedrive, Sales Hub's reports are also highly customizable. You can create custom dashboards that show metrics crucial to your business, set and track custom goals, create custom fields, etc.
However, the main problem is that Sales Hub only unlocks its custom reporting capabilities in the Professional and Enterprise plans. Pricing starts from $450 per month (yearly).
The lower-tier plan doesn't include customizable reports, while HubSpot's free CRM generally includes limited reporting features. It only includes three dashboards, while email tracking notifications are limited to 200 per month, for example.
Communication Tools
Pipedrive
Pipedrive includes a vast set of tools designed to help you stay in touch with both your team and your leads. For one, the platform allows you to post comments and mention other members, so you can quickly notify your team of any news or send them feedback.
Additionally, you can attach files to leads, deals, or contacts directly within the platform. This helps sales teams get easy access to crucial documentation across each lead or task, for instance.
Speaking of documents and files, you can send trackable quotes or contracts directly within the platform. You'll receive email and app notifications whenever your documents are opened, allowing you to send follow-ups at more appropriate times.
As for lead communications, Pipedrive offers two-way email synchronization with Outlook and Gmail. The platform also features a meeting scheduler, which allows you to share your availability and give contacts the ability to schedule meetings whenever it's most convenient.
Other features include custom eSignatures, Google and One Drive document integration, and video call scheduling.
HubSpot CRM
Like Pipedrive, HubSpot's Sales Hub also features a meeting scheduler and document sharing. However, the platform also allows you to integrate with Facebook Messenger to send and receive Facebook messages directly within HubSpot.
Additionally, you can set up Facebook and website chatbots which will collect contact data, qualify leads, book meetings, and generally engage with potential prospects. There's also conversation routing. This functionality allows you to automatically route conversations to the appropriate sales representative.
Another handy feature is canned snippets, which allow you to store answers to commonly asked questions that you can add to live chats or emails for an added layer of convenience.
Lastly, aside from Gmail and Outlook, HubSpot Sales Hub also synchs with MicrosoftExchage.
Extra Add-ons
Pipedrive
Pipedrive covers four extra add-ons designed to go along with the CRM solution:
LeadBooster: $32.50 per company per month (yearly), $39 per company per month (monthly)
Web Visitors: $41 per company per month (yearly), $49 per company per month (monthly)
Campaigns: $13.33 per company per month (monthly), $16 per company per month (monthly)
Smart Docs: $32.50 per company per month (yearly), $39 per company per month (monthly)
Pipedrive's LeadBooster is a toolset for lead generation. More specifically, this add-on allows you to add chatbots and live chat to your website for engaging with leads more effectively. Moreover, you can create web forms to capture essential lead data. You can also source lead data from a database of 400 million+ profiles through the platform's Prospector.
The Web Visitors add-on allows you to identify which companies browse your website, how long they browsed for, how they found out about you, and with which website elements they interacted.
The Campaigns add-on is the platform's email marketing tool. You can use it to create personalized email campaigns and get access to an email builder with a library of conversion-oriented templates. You'll also receive real-time data regarding your campaigns' click-through, open, and click rates as well as the total number of unique clicks.
Lastly, the Smart Docs add-on is already included in Pipedrive's Professional and Enterprise plans. This functionality unlocks integrations with MS Docs, Google Docs, Sheets, and Slides. Additionally, you can track documents, autofill files with Pipedrive data, and more.
HubSpot CRM
One of the platform's main advantages is that HubSpot offers a bunch of free tools across its product offerings. That said, you can use the CRM along with other features from the platform's Marketing Hub, Service Hub, CMS Hub, and Operations Hub.
Let's briefly go over the free tools you can find in each product:
Marketing Hub: email marketing, ad management, landing pages, forms, etc.
Service Hub: live chat, ticketing, native VoIP integrations, and more
CMS Hub: responsive web pages, SSL certificates, SEO recommendations, blogs, etc.
Operations Hub: data sync between HubSpot and other third-party apps, historical synching, and more
Verdict: Both Win in Features
Overall, both HubSpot and Pipedrive offer extensive CRM tools. However, Pipedrive lacks a free version, whereas Hubspot's free CRM is pretty solid. Although it lacks customization options and advanced reporting capabilities, it should cover the basics.
The free platform includes a deal pipeline, email templates, up to three reporting dashboards, and more. Not to mention that you can also use Hubspot's other free tools mentioned above.
In contrast, Pipedrive's paid packages are significantly less expensive, making it a suitable option for small businesses looking for more functionalities.
Pipedrive vs HubSpot: Ease of Use
Pipedrive

Ease of use is one of Pipedrive's main selling points. That platform is designed with small businesses in mind. That said, the UI prioritizes user-friendliness, so sales teams will get used to Pipedrive in no time.
Pipedrive's dashboards are minimalistic containing little to no distractions that may make this platform difficult to navigate.
Meanwhile, the platform adopts a highly visual approach, making it easy to comprehend reports or track leads throughout the pipeline. Not to mention that you can have easy access to all the features you the most by customizing the platform to your liking.
Speaking of customization, you can tweak the platform with a straightforward drag-and-drop interface.
HubSpot CRM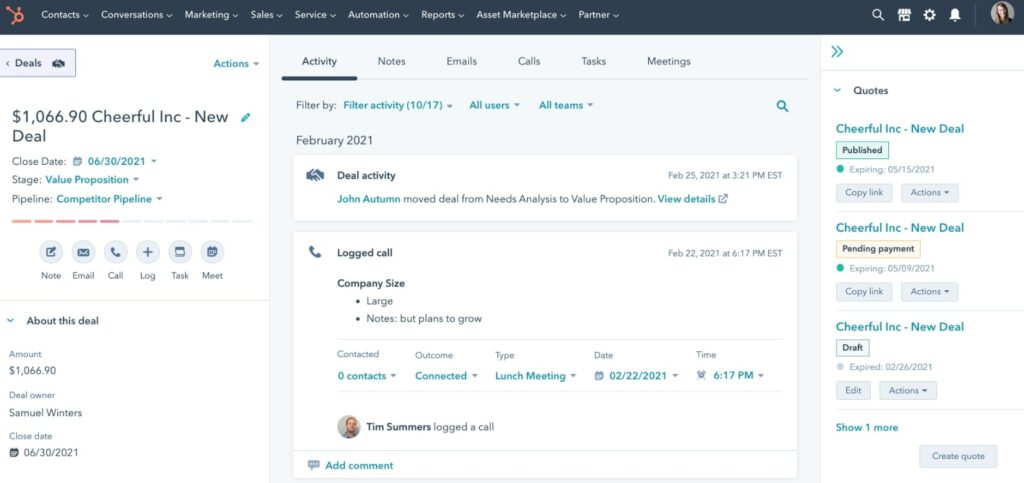 HubSpot CRM is not much different, though the platform's broader set of advanced features may make it slightly confusing at times. However, HubSpot still manages to bring a highly intuitive interface. All critical information and functionalities are presented right off the bat, while you can add various filters to find key deals quicker.
Just like with Pipedrive, HubSpot's customization options also allow you to tweak the platform so it becomes even easier to use for your needs.
Pipedrive is Easier to Use
Although this is a close one, Pipedrive has the winning edge due to its more simple functionalities. As mentioned, this platform specifically caters to small businesses, so they should feel right at home with this user-friendly CRM.
In contrast, HubSpot also appeals to medium and large organizations. As such, the platform covers more advanced features which may be tricky to use for those with no prior experience in CRM tools.
HubSpot vs Pipedrive: Integrations
Pipedrive
Pipedrive offers integrations with 350+ apps. You also have the option to integrate the platform with Zapier to expand functionalities even further.
Let's go through a brief rundown of some of the platform's most popular apps:
Accounting: QuickBooks, QuarterOne
Lead generation: Outfunnel, Leadfeeder
Productivity: Trello, Asana
Communication: Zoom Meetings, Google Meet
Note that some integrations are free, while others are paid.
HubSpot CRM
HubSpot features an App Marketplace filled with thousands of apps spanning multiple categories. Like Pipedrive, HubSpot's apps are both free and paid. There's also Zapier integration available.
Here are some of the platform's most popular apps:
Advertising: Google, LinkedIn, and Facebook Ads
Communication: Slack, Zoom, and Facebook Messenger
Productivity: Asana, Trello, and Monday.com
Accounting: QuickBooks, Xero, and FreshBooks
As mentioned, the CRM tool also integrates seamlessly with other products within HubSpot's offering, like Marketing Hub, or Sales Hub, for instance.
HubSpot Wins in Integrations
Although both CRM systems offer solid integrations, HubSpot winds by a long shot. The platform's integration options number in the thousands. Since you can also link HubSpot with Zapier, the integration capabilities are practically endless.
Pipedrive vs HubSpot: Pricing
Pipedrive

Pipedrive covers four pricing plans:
Essential: $19.90 per user per month (monthly), $14.90 per user per month (annually)
Advanced: $34.90 per user per month (monthly), $24.90 per user per month (annually)
Professional: $59.90 per user per month (monthly), $49.90 per user per month (annually)
Enterprise: $119 per user per month (monthly), $99 per user per month (annually)
There's also a 14-day free trial for all pricing plans.
The Essential plan gives you access to basic automation and reporting functionalities, like the Sales Assistant, webhooks, deal and activity reports, as well as company goals. Note that you're limited to 15 reports per user.
The Advanced plan unlocks Pipedrive's workflow automation capabilities, and unlocks recurring revenue reports, while the reporting limit is raised to 30 per user. Other features include smart data contacts, email, and meeting scheduling.
The Professional plan provides up to 150 reports per user and unlocks features like revenue forecasts, team management, Smart Docs, contacts timeline, custom fields or reports, etc.
The Enterprise plan offers unlimited reports per user and enables security alerts and rules, web-to-mobile calls, and phone support.
HubSpot CRM

The Sales Hub covers four pricing plans:
Free
Starter (two users): $50 per month (monthly), $45 per month (annually)
Professional (five users): $500 per month (monthly), $450 per month (annually)
Enterprise (ten users): $1200 per month (annually)
Note that each additional user above the limit mentioned will cost an extra $23, $90, and $120 per month (annually) respectively. Monthly, prices cost $25, $100, and $120.
The Free plan includes three reporting dashboards, meeting and email scheduling, one deal pipeline per HubSpot account, and up to five email templates.
The Starter plan includes ten reporting dashboards, two deal pipelines, 5000 email templates, and unlocks features like task automation, conversation routing, goals, and more.
The Professional plan offers 25 reporting dashboards, 15 deal pipelines, and unlocks advanced chatbots, team member performance reports, automatic lead rotation, up to 100 custom reports, etc.
The Enterprise plan offers 50 reporting dashboards with up to 500 custom reports, 100 deal pipelines and unlocks functionalities like AI-powered conversation insights, field-level permissions, predictive lead scoring, etc.
Pipedrive Wins in Pricing
Pipedrive is the more affordable option. Its pricing plans are significantly less expensive across the boards, while the pricing difference between paid plans isn't as drastic as HubSpot's. Consequently, Pipedrive allows for smoother and more affordable scalability.
However, note that HubSpot includes a free CRM, unlike Pipedrive.
HubSpot vs Pipedrive: Customer Support
Pipedrive
Pipedrive offers an online help center and 24/7 live chat support across all of its pricing plans. The Enterprise plan also includes phone support and an onboarding program. However, customer support can often be slow and sluggish according to customer reviews.
HubSpot CRM
HubSpot's free CRM only includes live chat support and access to the platform's online resources and the HubSpot Community, where you can participate in discussions with other users, solve issues, and learn how to make the most out of the platform.
The paid plans offer 24/7 email and in-app chat support, as well as one-on-one technical support. The latter is available in-app and via email for the Starter plan, while the Professional and Enterprise plans also offer technical phone support.
As for user reviews, customers report that the platform's support team is fast and genuinely helpful.
HubSpot Wins in Customer Support
Due to HubSpot's size and involved community, you're bound to find articles or talk to other users who will help fix any potential issues. Moreover, Pipedrive's support team is hit or miss according to user reviews.
In contrast, HubSpot receives consistent positive reviews in terms of its support.
Pipedrive vs HubSpot: Scalability
Pipedrive
Pipedrive offers various paid plans and the pricing difference between them is not as significant as HubSpot's. That said, this platform allows for more affordable and gradual scalability.
You can also opt for the add-ons mentioned above for enhanced functionality. Meanwhile, Pipedrive's 350+ integrations should be enough to cover your business's needs as your requirements expand.
HubSpot CRM
From a financial standpoint, scaling with this sales software doesn't look too good. The difference between pricing plans varies in the hundreds and you'll have to pay for each team member once you exceed your pricing plan's user limit.
However, you get access to a plethora of advanced features, making HubSpot worth it for large organizations. You can also purchase bundles that contain features from all of HubSpot's products to easily manage all of your business activities in one place.
This could be especially handy for bringing sales and marketing teams under one roof, for instance. Unifying lead and contact data can significantly improve collaboration between the sales agents and marketing team members, boost email campaign effectiveness, and help sales teams close more deals.
Not to mention that you've got access to thousands of integrations via the platform's App Market.
Both Win in Scalability
Both Pipedrive and HubSpot look promising in terms of scalability, but for different reasons.
On the one hand, Pipedrive is significantly cheaper. However, the platform is not as versatile as HubSpot. That said, Pipedrive is a solid option for small businesses looking to expand their CRM needs over time.
On the other hand, HubSpot is considerably more expensive, but you can also seamlessly use the CRM along with HubSpot's other products. Consequently, HubSpot is suitable for large organizations looking to go beyond customer relationship management, like marketing, content management, customer service, etc.
Pipedrive vs HubSpot: Pros and Cons
Now that we've had an in-depth look at Pipedrive and HubSpot, let's summarize with a quick list of pros and cons.
Pipedrive Pros
Solid reports and integration capabilities
Extensive customization options
Affordable
Easy to use
Pipedrive Cons
Some features come as paid extra add-ons
Average customer support
HubSpot Pros
Excellent reports and integration capabilities
Excellent customer support
Free version available
Highly versatile
HubSpot Cons
Free version lacks customization options
Expensive
Pipedrive vs HubSpot: CRM Solutions Conclusion
Overall, both HubSpot and Pipedrive are excellent CRM platforms. However, HubSpot is a more suitable option for medium and large companies. Although it's quite expensive, this CRM software covers a broad set of advanced features, is highly versatile, and includes a huge library of integrations.
It also includes a solid free version perfect for those looking to get their feet wet in CRM tools.
Meanwhile, Pipedrive is an excellent HubSpot alternative for small businesses. The platform is significantly less expensive and highly user-friendly. Although it's not as advanced as HubSpot in some cases, Pipedrive still manages to bring a solid set of features, customization options, and integration capabilities to the table.