There are thousands of sales tools that promise to make your life as a sales professional easier.
And, you know? 50% of sales go to the vendor who responds first, says Fronetics research.
We don't want you to be scared by the numbers. Instead, we help you understand how crucial it is to utilize sales tools smartly to close more deals faster.
With the best sales tools at your hands, you are no longer required to perform manual operations like following up with cold emails. Instead, you can automate your manual activities while personalizing your outreach using various sales prospecting tools and software.
Several best sales tools available in the market can help you get started right away. For example, you can get started with Constant Contact for free to automate your sales email sequence.
Or, you could learn more about Salesforce, one of the leading CRM platforms for large and small businesses.
In this article, we have reviewed the 14 best sales tools to boost sales for your businesses.
Let's get started!
Monday Sales CRM – Powerful Sales Management Platform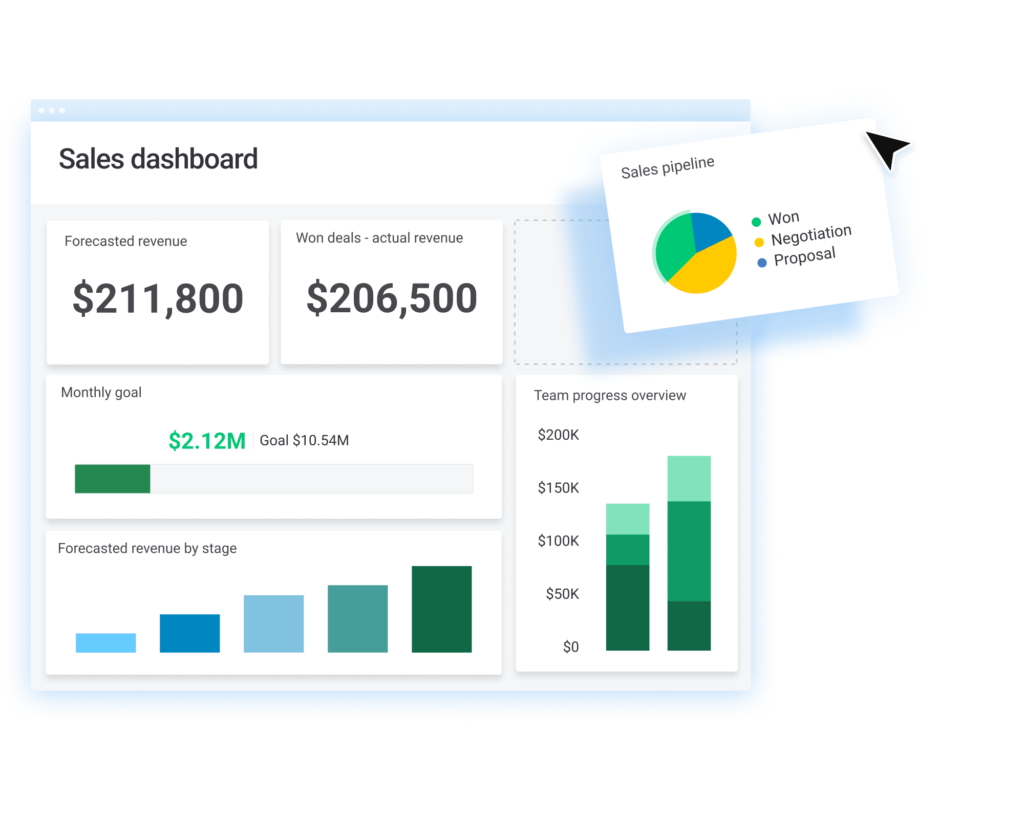 Monday.com has everything sales professionals need to create sales pages, start email marketing campaigns, and build landing pages. The web-based sales software tools are easy to use and have fantastic features like tracing leads and real-time analytics.
Monday Sales CRM helps you achieve real-time success in lead scoring, lead management, and deal closing. In addition, it offers a flexible sales platform that you can customize to meet all your needs.
With no requirement for coding, you can easily customize the platform to meet your sales needs. Moreover, it is one of the best sales tools that enable content management.
Top features of Monday.com
Sales pipeline management
Easy automation & social media integration
24/7 customer support
Views and reporting (kanban view, chart view, etc.)
SOC 2 Type II compliance
Pros of Monday.com
It offers effortless collaboration to improve efficiency.
It provides in-app automation.
You can leverage real-time reporting and analytics.
Pricing of Monday.com
You get a free trial for every plan. Moreover, Monday.com has a forever-free plan, and the paid plan starts with:
Individual plan – $0
Basic plan – $8/seat/month
Standard plan – $10/seat/month
Pro plan – $16/seat/month
Enterprise plan – Contact Monday.com's sales team for its pricing.
Further read:
Monday.com review
Calendar – Scheduling Software for Sales Reps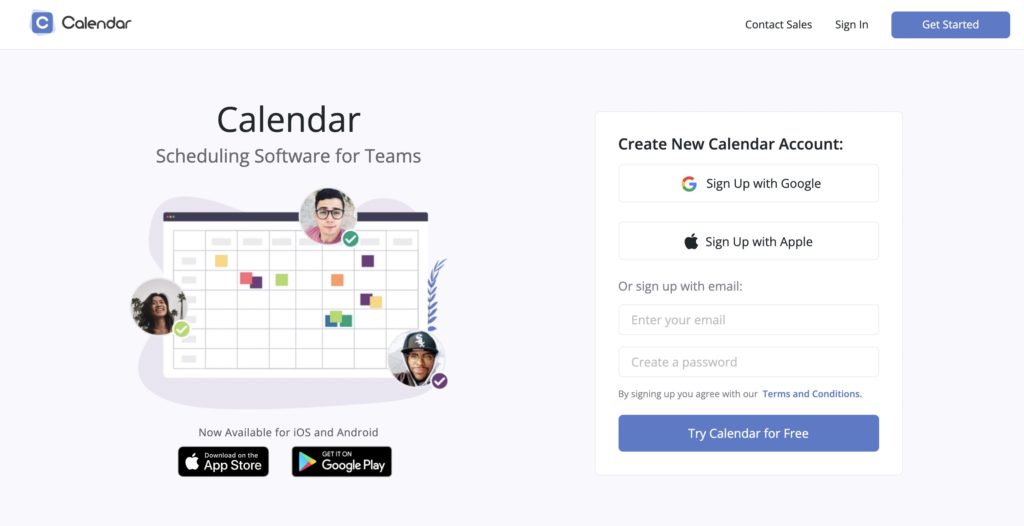 Calendar is an easy-to-use and one of the best sales software tools for scheduling. Its goal is to help medium-sized and small businesses enhance their service quality, accelerate sales, save time and money by smartly scheduling meetings and follow-ups.
Calendar eliminates the need to arrange appointments, interviews, sales calls, demos, and more human-centric sales processes. When using the software's phone tags and emails, you can quickly engage with crucial prospects to ensure that you don't lose them.
It is more efficient than conventional scheduling systems, and users can effortlessly set up, maintain, and juggle schedules, appointments, and other customer data using this best sales tool.
Top features of Calendar
Custom notification
Salesforce integration
Chrome extension
Scheduling automation
Metrics and reports
Pros of Calendar
It offers multi-platform integration.
Appointments can be quickly canceled and rescheduled on Calendar to a more convenient time.
Pricing of Calendar
Calendar offers a free trial in their sales software plan and the paid plan as follows:
Basic – Free
Standard – $25/user/month
Pro – $30/user/month
Enterprise – Avail of the quote from its sales team
HubSpot – Sales Business Software to Close Deals Faster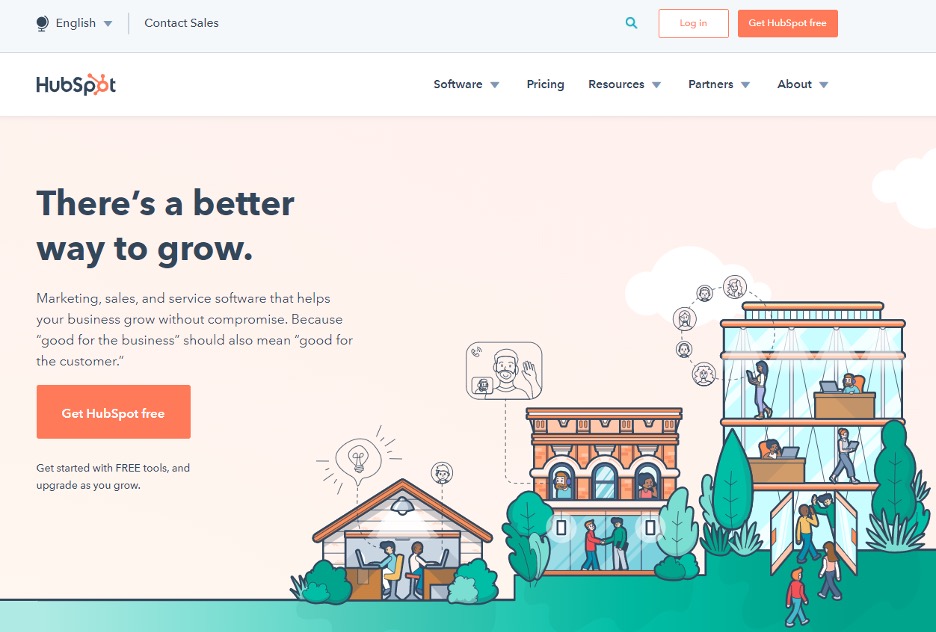 HubSpot is a marketing and sales tool that offers various products, including email marketing and lead management tools.
It is a powerful CRM software, but it also has all the features you need to create sales pages and email campaigns.
You can use HubSpot's lead management tools for follow-ups and keeping track of your leads, especially if you have a complex sales funnel strategy.
Overall, Hubspot CRM is an all-in-one, easy-to-use sales software tool that helps sales teams close more deals by fostering deeper relationships and managing their pipeline more effectively.
Top features of Hubspot
Contact, deal, task, and content management
Trace emails and notifications
Email templates & scheduling
Document sharing
In-app calling/call tracking
Pros of Hubspot
It keeps track of your entire sales process.
You will find live chat assistance within the dashboard.
It offers tools like sales sequences, meeting schedulers, and task queues to improve efficiency.
Cons of Hubspot
Pricing of Hubspot
Hubspot's free and premium sales tools plans are designed to expand together with your business intelligence. Starting with:
Free – $0/month
Starter – $45/month
Professional – $450/month
Enterprise – $1,200/month
You can get started with Hubspot for its free plan here.
Further read:
HubSpot CRM review: Is it the best CRM platform?
Pipedrive – Modern Sales Management Software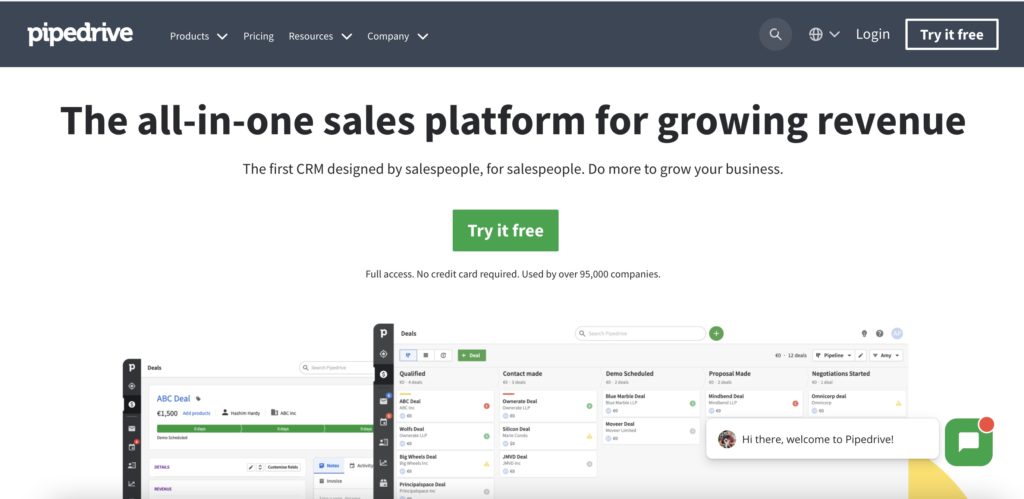 Pipedrive is an all-in-one platform that integrates the sales software tools required for all aspects of sales, from activity tracking and forecasting to sales calls, project management, and workflow.
Business intelligence and an inbuilt prediction engine can track sales pipeline, predictions, opportunities, prospecting, deals, and even identify sales-ready contacts. It also helps to create sales forecasts based on sales numbers and deals.
Pipedrive claims it is among the only sales software tools that track the time and cost of each deal. Moreover, it offers proactive insight into sales teams' success, generates sales reports, and more.
Top features of Pipedrive
Manage leads and helps close leads
Track communications
Automation capabilities
Customized insights and reports
Integration with sales-boosting apps
Pros of Pipedrive
It offers top-notch communication tracking.
Pipelines and deal phases can be customized to suit your needs.
You can create custom pipelines and deal stages.
Cons of Pipedrive
Campaign planning is missing.
There is no A/B testing.
Pricing of Pipedrive
Pipedrive offers four paid sales plans as follows:
Essentials plan – $12.50/user/month
Advanced plan – $24.90/user/month
Professional plan – $49.90/user/month
Enterprise plan – $99.00/user/month
You can try Pipedrive free for 30 days with no credit card required using our link! (Usual free trial period is 14 days only)
Salesforce: Best CRM Software for Medium and Large Organizations
Salesforce's CRM platform, Sales Cloud, is a comprehensive solution that provides businesses with all the CRM features to close deal faster, including reporting, deal management, sales automation, and much more.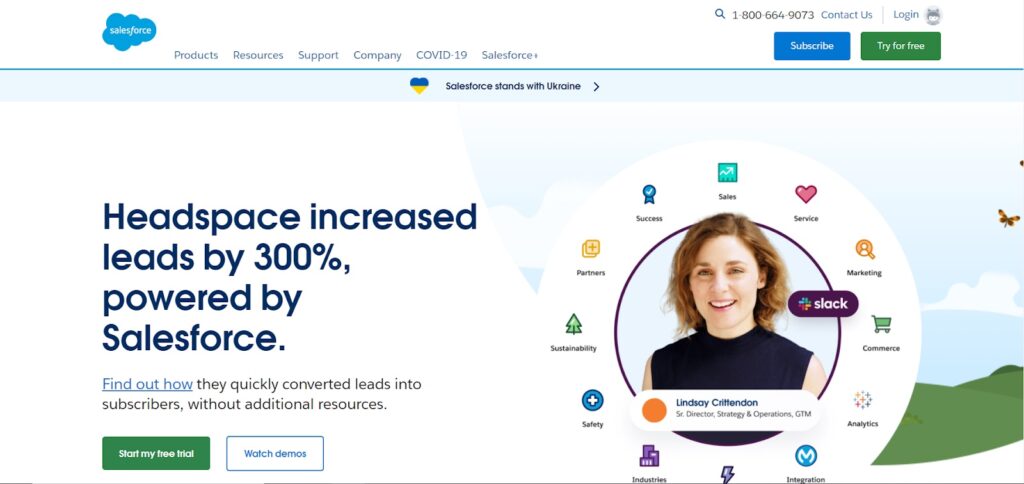 Top Features of Salesforce CRM
Sales forecasting
Customer engagement tools
Task management
Opportunity management
Collaboration tools
Salesforce's CRM features allow businesses to monitor their sales pipelines effectively and forecast sales, improve customer engagement by sending personalized emails, identify high potential leads to convert them into customers, and much more.
Pros of Salesforce
Comprehensive CRM solution
Excellent technical and training support
Pricing
Sales Cloud offers the following pricing plans:
Essential – $25/user/month
Professional – $75/user/month
Enterprise – $150/user/month
Unlimited – $300/user/month
There's also a 14-day free trial available for all of the plans listed above.
Check Salesforce Pricing here.
Overall, Salesforce is a great platform that can cover more than your CRM needs. It is an excellent option for medium and large organizations.
Learn more about Salesforce here.
Further read:
What is Salesforce?
Is Salesforce the Best CRM?
Freshsales – Award-Winning Sales Automation Tool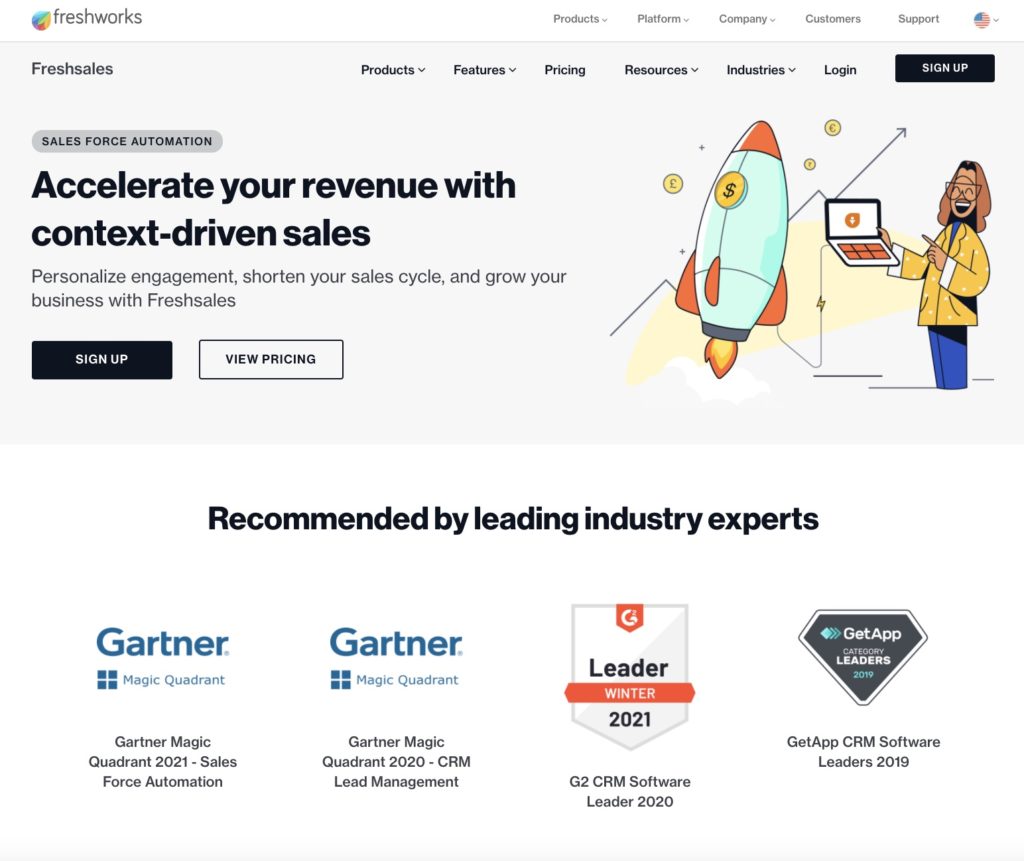 Freshsales is one of the leading products in Freshworks' ever-expanding product list. It is designed for teams to accelerate revenue with context-driven sales to personalize engagement and shorten the sales cycle.
Its primary function is to display the primary source of qualified leads, making it one of the most helpful marketing and sales software tools for today's small and medium firms.
With its API and native integration solutions, Freshsales continues to maintain its superior sales key performance.
Moreover, it is known to update the customer journey data on the CRM database continuously. Freshsales helps organizations sell online, stay connected, and follow up sales efforts.
Top features of Freshsales
Contact management
Multiple pipeline management
Behavioral segmentation
Custom filter views
Follow-up tasks and appointments
Pros of Freshsales
It offers mobile sales CRM app on the go.
You can keep track of how many prospects or leads visit the website.
It enables you to make calls and send emails from within the sales CRM software.
Cons of Freshsales
Sales tool lags if the customer information or database is heavily filled.
It does not allow hyperlinks in notes.
Leads and Contacts do not seem to be adequately defined.
Pricing of Freshsales
Freshsales has a free plan in their sales tool plan, and the paid plan is as follows:
Growth plan – $18/user/month
Pro plan – $47/user/month
Enterprise plan – $83/user/month
You can start with Freshsales' free plan to get your sales teams organized and engage leads with built-in chat, email, and phone.
Constant Contact – Email Sales Tools for Sales Engagement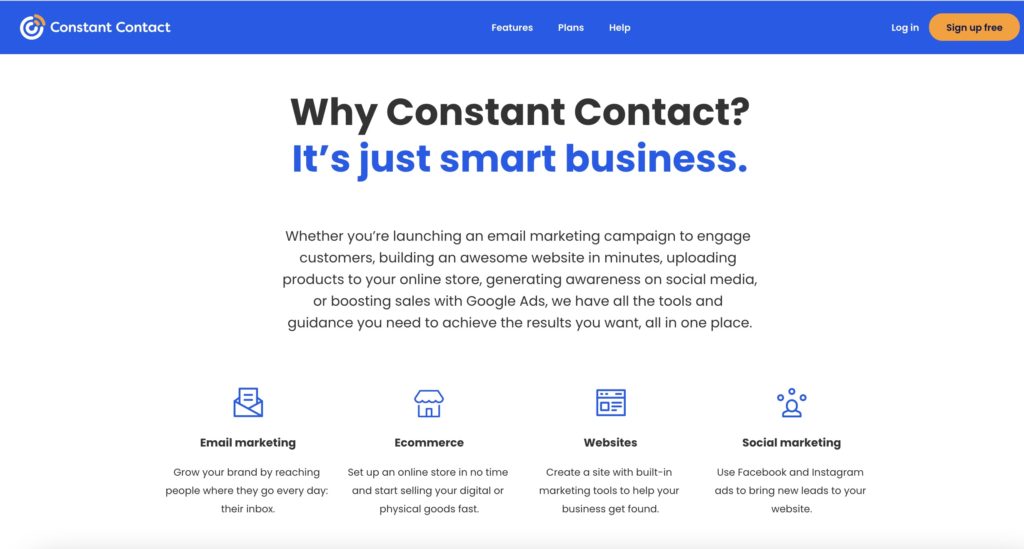 Constant Contact is one of the best sales tools available in today's market. It has an instant syncing feature to create custom landing pages with tools like hotlists and auto-responders. The interface is easy to navigate overall, even for beginners. It also offers powerful analytics features that can help sales professionals track lead conversion rates of your business over time.
In their own words, Constant Contact is the best sales tool for small businesses. However, as indicated above, they cover enough of the fundamentals to satisfy most small enterprises.
Top features of Constant Contact
Powerful email marketing automation
Contact segmentation
Powerful list-building tools
Real-time email tracking
Dynamic sign-up forms
Pros of Constant Contact
Constant Contact offers a wide range of template options for sales automation.
It provides niche features such as product selling, posting schedules.
It improves email health by providing a high deliverability rate.
Pricing of Constant Contact
Constant Contact offers two different price choices that you can customize to match your demands.
Email plan – $20/month and increases depending on the number of contacts you want to reach.
Email plus plan – $45/month and increases depending on the number of contacts you want to reach.
You can get 30 days free when you sign up with Constant Contact here.
Keap – The Ultimate Sales Management Solution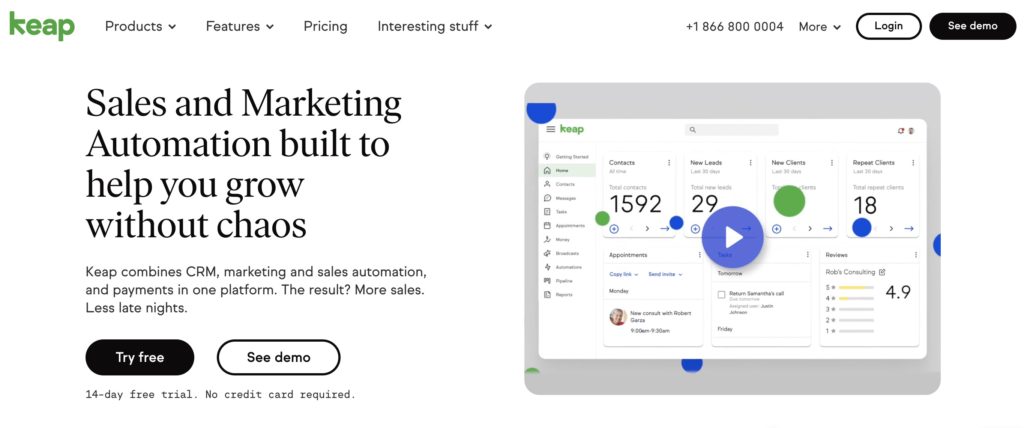 Keap is the new generation of an advanced sales tool. It was created to keep today's online small businesses and current sales channels in mind. What makes it even more excellent is that it has got all its product features on the cloud.
If you look at its portfolio, you will see that it includes industry giants like Salesforce, Google, Microsoft, and Dynamics 365.
Thus, it has the most comprehensive and complete portfolio in the market to enhance your customer journey.
Deals and marketing automation platform powered by Keap can boost your sales performance than ever before. Using Keap's sales and marketing automation, you can better nurture customer leads and, subsequently, you can customize pipelines and deal phases, customer relationships.
Also, you can rely on their customer support.
Top features of Keap
Sales and marketing automation
Partner relationship management
Task/activity management
Territory & Quota Management
Checkout forms and analytics
Pros of Keap
It has a sophisticated action-based segmentation.
It has a tremendous visual workflow.
It allows customized client communication and provides a history of clients.
Cons of Keap
Keap does not have an auto-save feature built-in.
Adding new contacts can be pricy.
Pricing of Keap
Keap offers three paid sales software plans as follows:
Lite plan – $79/month
Pro plan – $159/month
Max plan – $199/month
You can try Keap free for 14 days.
AWeber – One of Best Sales Tools for Sales Reps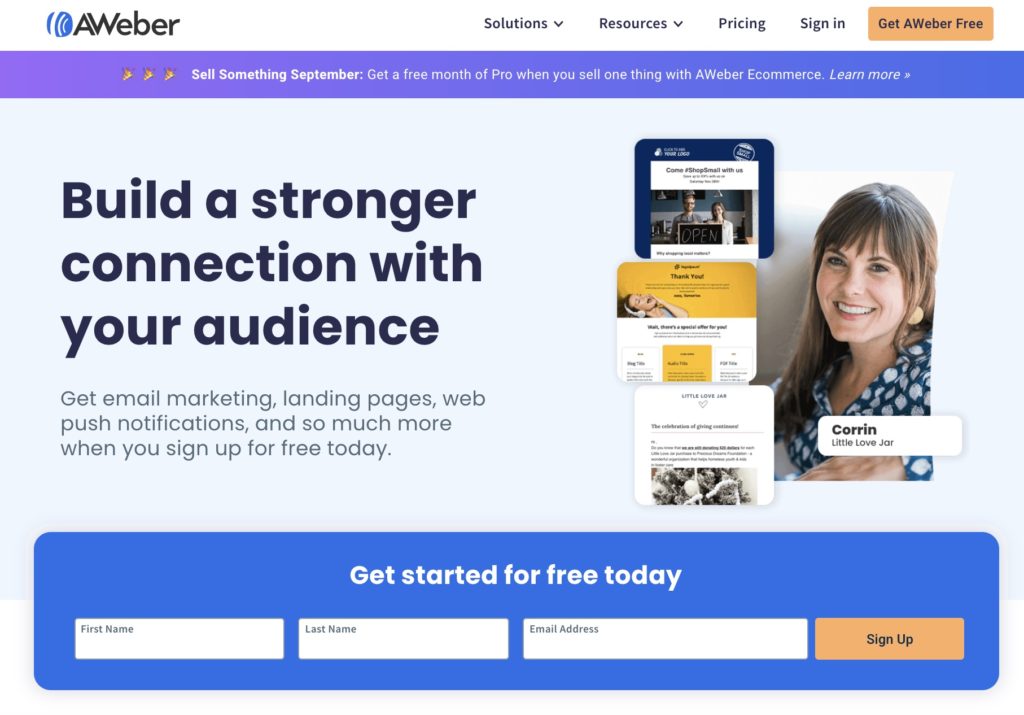 Over 20 years ago, AWeber entered the email marketing and sales tool sector. As a result, sales teams can construct responsive landing pages quickly, manage contact lists, send stunning emails, send rapid push notifications, and analyze sales results efficiently.
AWeber's sales process automation features are impressive. It also supports split testing (A/B testing) and Email Web Analytics, enabling product sales tracking by using your domain in links.
Top features of AWeber
Heatmaps
Campaign comparison report
Reports & analytics
ROI analysis
Split testing &Autoresponders
Pros of AWeber
It provides a range of templates for each brand's aesthetic.
You can easily set up time-based automatic responses.
This feature facilitates AMP for email campaigns.
Cons of AWeber
If you want to keep unsubscribed contacts on your account, you'll have to pay a fee.
It's not possible to select more than one segment at a time.
RSS to email templates is lacking.
Pricing of AWeber
Aweber has a free trial in their sales software plan, and the paid plan is as follows:
ZoomInfo – B2B Database for Sales Professionals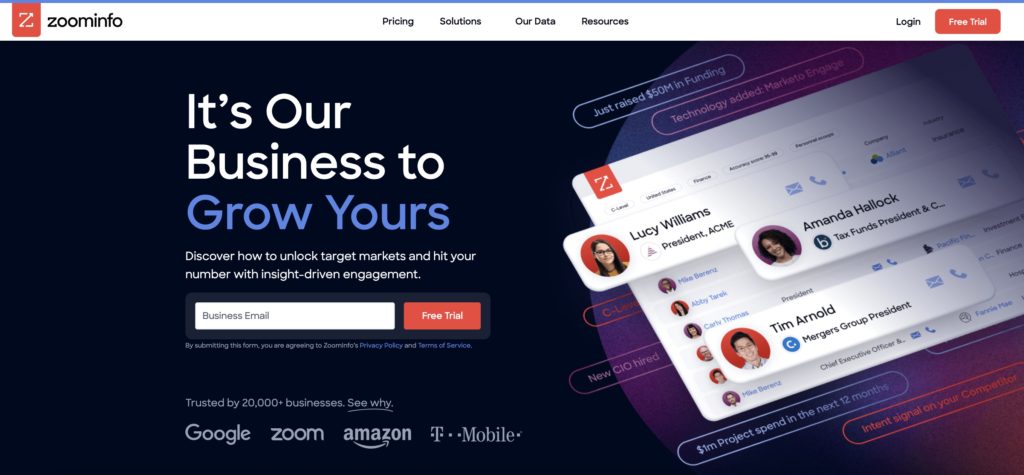 When it comes to B2B database and contact intelligence, ZoomInfo is the industry leader.
As a result of their B2B intelligence and sales software tools, sales and marketing teams have access to continually updated customer information, a database of direct dial telephone numbers, background data, and email addresses.
The user-friendly features enable customers to build a client list and make data actionable with numerous database upgrades without hurting or losing data.
More email addresses and direct dialing are available than other B2B contact providers.
Moreover, you only pay for the features you require because ZoomInfo is supplied on a quotation basis.
Top features of ZoomInfo
Activity and pipeline management
Powerful search options
Targeted contact lists
Automated intelligence and outreach
Email & phone automation
Pros of ZoomInfo
It helps you easily identify hot leads that are ready to convert.
Filters for data quality remove unnecessary clutter.
It complies with GDPR and CCPA.
Cons of ZoomInfo
The platform limits the use of data extraction to a certain number of credits each month.
Higher subscription levels are required for competitor searches.
Pricing of ZoomInfo
ZoomInfo offers a free trial and the paid sales tool plan as follows:
Professional plan – Free
Advanced and Elite plans – You can obtain the quote from ZoomInfo's sales team
You can start with Zoominfo's professional plan for free.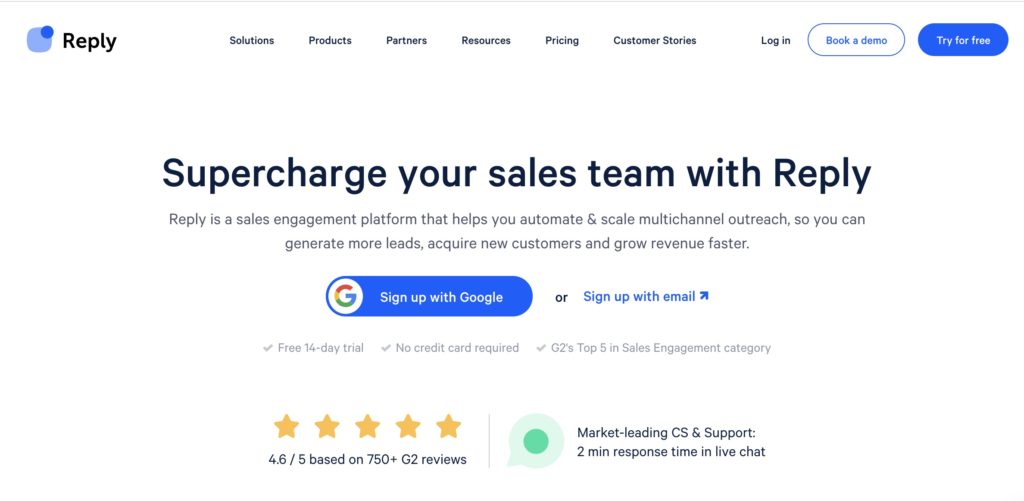 Reply.io is one of the best sales automation and lead management software tools bundled together into one.
Using this cloud-based platform, the sales team can make data-driven decisions, generate more leads, nurture their prospects efficiently, attract and engage more clients, and close deals better.
Email automation, contact management, direct calls, and more are just a few robust sales process available with these software tools.
Reply.io also offers an outstanding array of use cases, such as HR & recruiting options to assist in finding and hiring promising personnel.
In addition, they have robust customer support.
Top features of Reply.io
Multichannel outreach
AI email assistant
Direct and triggered calls
Lead generation and automation
Email finder
Pros of Reply.io
You can keep track of and analyze campaigns.
The effectiveness of email outreach is improved with Reply.io.
It makes it easier and more affordable to get in touch with clients.
Pricing of Reply.io
Reply.io offers a 14-day free trial, and the paid sales software plan has three structures for individuals as follows:
$70/month/user for 1000 contacts
$90/month/user for 3000 contacts
$120/month/user for unlimited contacts
Its Business plans are as follows
$70/month/user – Unlimited contacts and starts at three users
$60/month/user – Unlimited contacts and starts at five users
$50/month/user – Unlimited contacts and starts at ten users
Streak – Robust Sales Tools for Your Sales Teams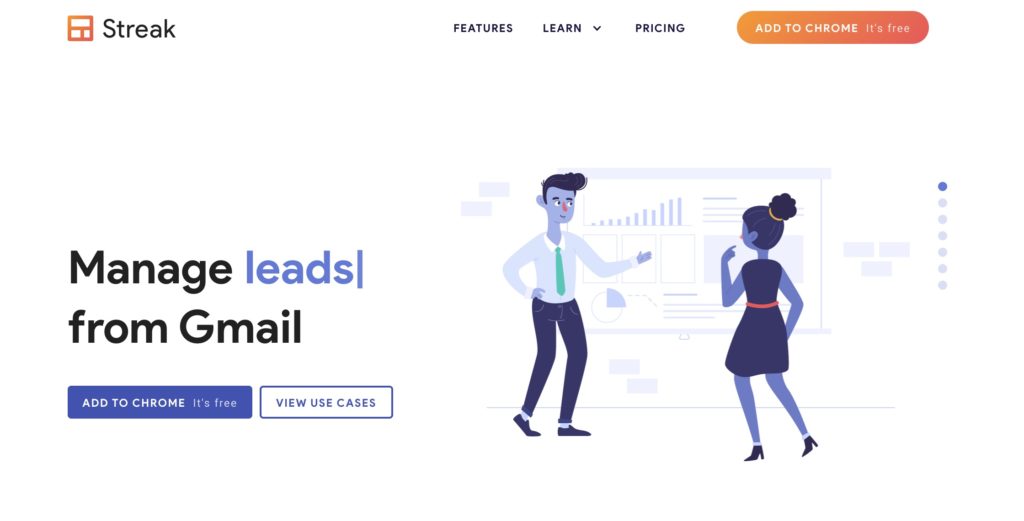 Streak is a Gmail customer relationship management plugin that converts your inbox into a powerful sales CRM and software tool.
As a trustworthy solution, it groups Gmail email threads based on workflows, which is a unique approach in the industry.
The software prioritizes your inbox and aims to expedite email exchanges with prospects and customers by first prioritizing the emails you receive.
In addition to tagging emails, Streak also groups phases in your pipeline. Therefore, it is suitable for managing sales processes and workflow, such as sales, support, hiring, real estate, fundraising, and more.
Top features of Streak
Import/Export capabilities
Private and shared pipelines
Dedicated customer support and success manager
Pros of Streak
When anyone opens the email, it will notify you in real-time.
These sales tools have got excellent onboarding tutorials.
They have many lovely snippets features, and you can save time by using the shortcuts.
Cons of Streak
Aggregated data export and manipulation are a little tricky.
Pipeline-interface needs some improvements.
Pricing of Streak
Streak.com offers a free trial in their sales software plan and the paid plan as follows:
Free – $0/month/user
Solo plan – $15/month/user
Pro plan – $49/month/user
Enterprise plan – $129/month/user
Snov.io – Versatile Sales Software That Delivers Results Double-Quick
Snov.io is an outreach automation platform for marketers and sales, offering a variety of tools for making your deal management as easy as it can be.
On top of having all of the necessary CRM features, it offers agile tools and integrated email services to create personalized campaigns with automatic follow-ups to sell, onboard, nurture, and build long-term relationships with your customers.
More than one million users chose Snov.io because it never stands still and constantly works on integrations with your favorite apps and services, making your work smooth.
Top Features Of Snov.io
Multiple pipelines
Deal stage management
Unlimited teamwork
Deal and prospect notes
Automated data capture with a deal timeline
Lead tracking using tags
Integrated email services
Pros Of Snov.io
It offers Chrome extensions (Email Finder and Email Verifier) to boost your efficacy.
It has multiple prospecting tools like 7-tier email verification, personalized triggered email drip campaigns, and free Unlimited Email Tracker.
It has an excellent onboarding program and customer support
Cons Of Snov.io
The release of promised, cool features is happening gradually because this CRM is relatively new on the market.
Pricing Of Snov.io
Snov.io CRM is completely free and is included in all plans. All other Snov.io tools (Email Finder, Email Verifier, Drip Campaigns, and extensions) are also available for you regardless of your subscription plan. The only difference is the number of features and credits you'll get.
For dealing with huge lead pools Snov.io has the following plans:
XS – $0/month
S – $39/month
M – $99/month
L – $189/month
XL – $369/month
XXL – $738/month
LeadsBridge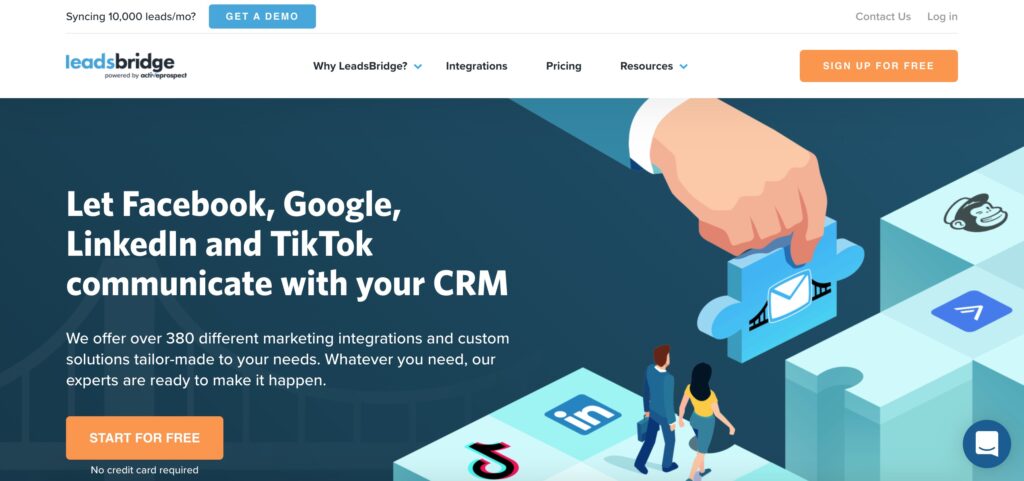 LeadsBridge is an iPaaS automation solution that enables marketers and advertisers to enhance their omnichannel strategy and build their own interconnected marketing ecosystem.
LeadsBridge fulfills your integration needs, focusing on bridging gaps between top advertising platforms – Google, Facebook, LinkedIn, and TikTok – and main marketing platforms – CRM, email marketing software, autoresponder, and so much more. LeadsBridge is also equipped to develop tailor-made integrations based upon your unique business needs.
The LeadsBridge platform is specifically designed for companies that want to streamline their advertising activities by integrating their marketing stack with Facebook & Instagram Ads, Google Ads, LinkedIn Ads, and TikTok Ads.
With 380+ out-of-the-box integrations available, you can easily connect your favorite software with your advertising platforms, seamlessly synchronizing data for your marketing workflows.
Top Features Of LeadsBridge
Lead Sync
Audience Targeting
Online-to-Offline Tracking
Platform to Platform
Tailor-made integrations
Pricing Of LeadsBridge
LeadBridge offers a free plan, which includes 100 leads per month and one running bridge. You can then upgrade to paid plans to gain more features:
Pro: Starting with 3 bridges and 800 leads/mo for $22 a month, you get to pick the number of leads to sync and how many bridges you need and the price will adjust accordingly;
Business: This is a managed service, so the volume of leads and the number of bridges is customized to your specific needs and then priced out manually.
All plans are GDPR and CCPA fully compliant, keeping all customer data safe.
Sales Tools: Conclusion
Managing sales teams and processes is effortless when you've got the best sales tools on your side.
Sales software tools are plentiful, and each has its distinct set of features and benefits, from lead generation to payment collection.
You know your sales process and business better than anybody else, so it's up to you to decide which is best for you.
It's helpful to consider which sales funnel stage you want to automate before choosing the best sales tools that would provide the most significant value to your business.
To conclude, we recommend
What are your favorite sales tools? Did we miss anything? Comment to let us know!
Further read:
Best Productivity Tools To Achieve More
Pipedrive vs HubSpot: Which is a Better CRM?
Best Calendly Alternatives for Easier Online Scheduling
HubSpot Review: Is It the Best CRM Platform?