Email marketing is crucial for reaching your target audience, keeping it engaged, and growing it. Given that for every $1 spent on email marketing, you can expect to bring $42 in return, there's no reason not to focus on this marketing strategy. That's where the marketing automation software Constant Contact comes in. 
Constant Contact sits among the most popular email marketing software in the market. This Constant Contact review will examine its pros, cons, and features. We'll also see how it stacks up against some of its competitors.
What is Constant Contact Used for?
Constant Contact is an all-in-one digital marketing platform with a robust email marketing capability. Small businesses and marketers use it to manage email marketing campaigns, build landing pages, and more. 
It provides you with all the features necessary to get the most out of your marketing campaigns, including automation tools, A/B testing, analytics, high-converting sign-up forms, landing pages, and more.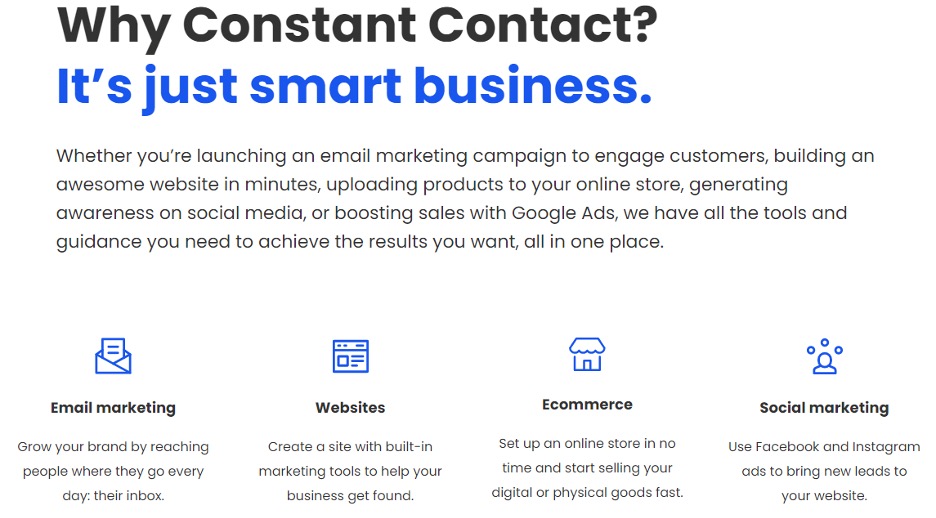 Constant Contact strives for its simplicity. The platform caters to small businesses, meaning its features are accessible via an easy-to-use dashboard packed into an affordable package. 
Moreover, its drag-and-drop editor makes it easy for you to create and customize emails and websites without code.
The platform also offers various mobile-responsive templates, ensuring your emails look right on any device. 
Learn more about Constant Contact here.
How much is Constant Contact? Prices and Plans
Constant Contact offers two pricing plans: Core and Plus. Note that the pricing depends on the number of contacts you have.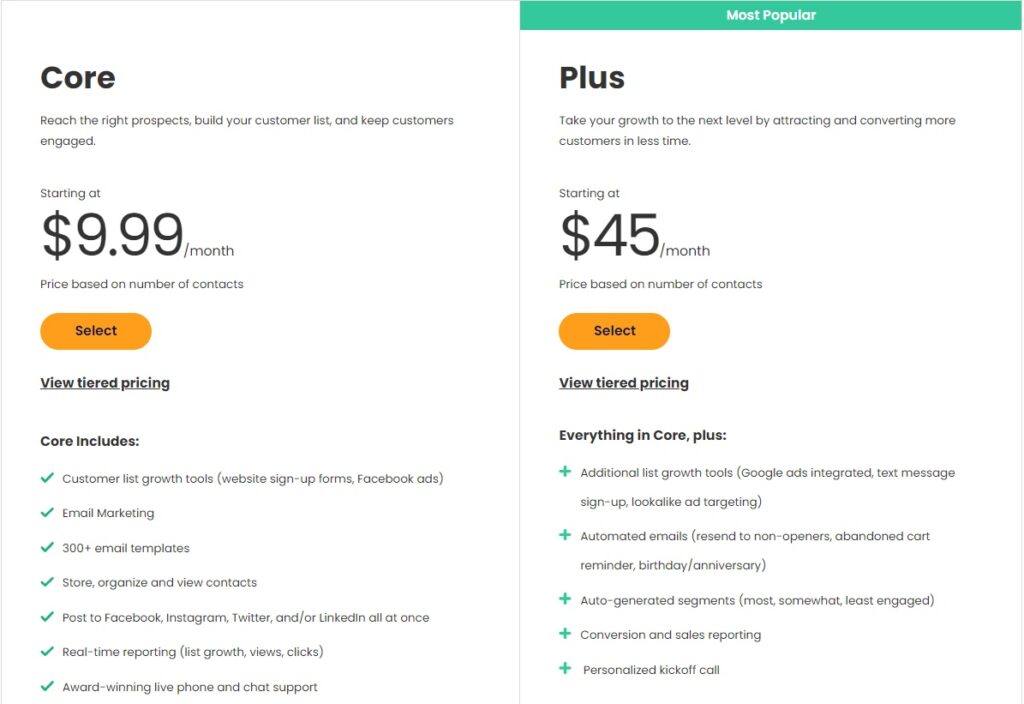 Core
Starting at $9.99/ month, the Core package is available for up to five users and offers the essential features needed to build your email list, reach your audience and keep it engaged.
Specifically, this pricing plan gives you access to the platform's email builder, along with over 300 customizable templates, the tools necessary to create Facebook ads, website sign-up forms, landing pages, and the ability to post content on LinkedIn, Facebook, Instagram, and Twitter simultaneously.
The Core plan also includes basic reporting, which allows you to track email clicks and bounces, social media post impressions, reach, and engagement. You can monitor changes in your contact list to identify the most effective tactics and track ad performance for Facebook and Instagram.
In terms of support, you can access live chat and phone support and the platform's learning resources, including tutorials, live webinars, and more.
Get a free month of Core here.
Plus
The Plus plan starts at $45/month and is available for unlimited users. It offers a broader set of advanced features. For instance, you can integrate the platform with Google Ads and text-message sign-ups.
Additionally, this pricing plan includes email automation tools that allow you to send abandoned cart reminders, birthday wishes, and more automatically.
Regarding reporting, the platform delivers insights into your online store's sales, conversion rates, and revenue. Besides Facebook and Instagram ads, the Plus plan also provides reports for Google Ads.
Lastly, you can contact the platform's marketing experts for guidance on how to use the platform effectively.
Get a free month of Plus here.
Constant Contact Pros and Cons Summary
Constant Contact Pros
Easy to use
High deliverability rate
Excellent customer support
Various integrations
In-depth reports
Email list segmentation
Triggered emails
Social media and website building tools
Constant Contact Cons
Pricing can add up quickly as you expand your contacts
Limited A/B testing
Limited customization
Limited automation
Constant Contact Features
Constant Contact's feature set suits small businesses looking to improve their email and social media marketing campaigns. The platform provides various easy-to-use list building, automation, reporting, design tools, and more.
Let's get into more details.
Email Marketing – Email Builder
Constant Contact's email builder offers hundreds of high-converting, mobile-responsive templates that you can customize via an easy-to-use drag-and-drop editor. You can also create your templates from scratch.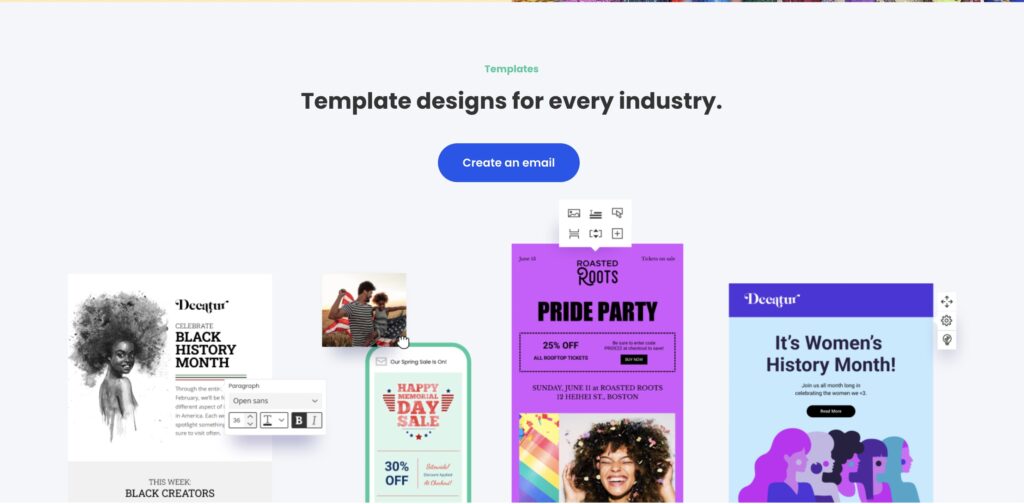 This feature is perfect for people looking to spruce up their emails yet don't have the HTML coding knowledge required to edit email templates.
You can find templates across all critical areas, including surveys, sign-up forms, newsletters, promotions, commercial campaigns, etc.
If you build email templates from scratch, Constant Contact puts various design tools at your disposal, including a stock image gallery, color picker, GIFs, surveys, forms, etc. You can easily add content blocks, spacing, and dividers.
Moreover, the email builder's interface is very intuitive. You have access to all the tools on the left side of the screen. You can easily find various layouts, buttons, images, action blocks, and more.
Meanwhile, the tools are clearly labeled, so you don't have to do any guesswork to figure out who does what. 
Learn more about Constant Contact here.
Email Marketing – Automation
Another handy feature is Constant Contact's email automation tools, which allow you to keep in touch with your audience without much effort.
The platform allows you to trigger follow-up emails based on user actions, like opening a previous email or clicking a link on your website. Furthermore, you can set up automatic welcome, birthday, cart reminders, and send emails to non-openers.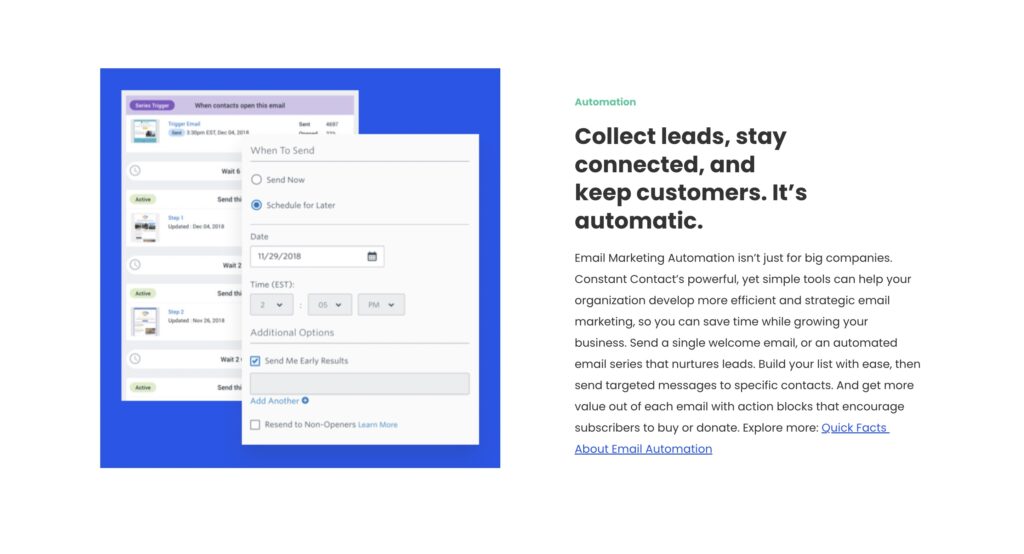 All that's left for you is to segment your contact list for better accuracy and craft email templates for each campaign.
Learn more about Constant Contact here.
Email Marketing – A/B Testing
In email marketing, A/B testing is the practice of sending two different versions of the same email with slight variations to see which one yields better results in terms of opens, conversions, etc.
Constant Contact helps you do just that. Although currently limited to subject lines, the platform allows you to perform A/B tests effectively. 
The way it works is simple. You create an email with two different subject lines, and Constant Contact will automatically send these emails to a specified percentage of your target audience.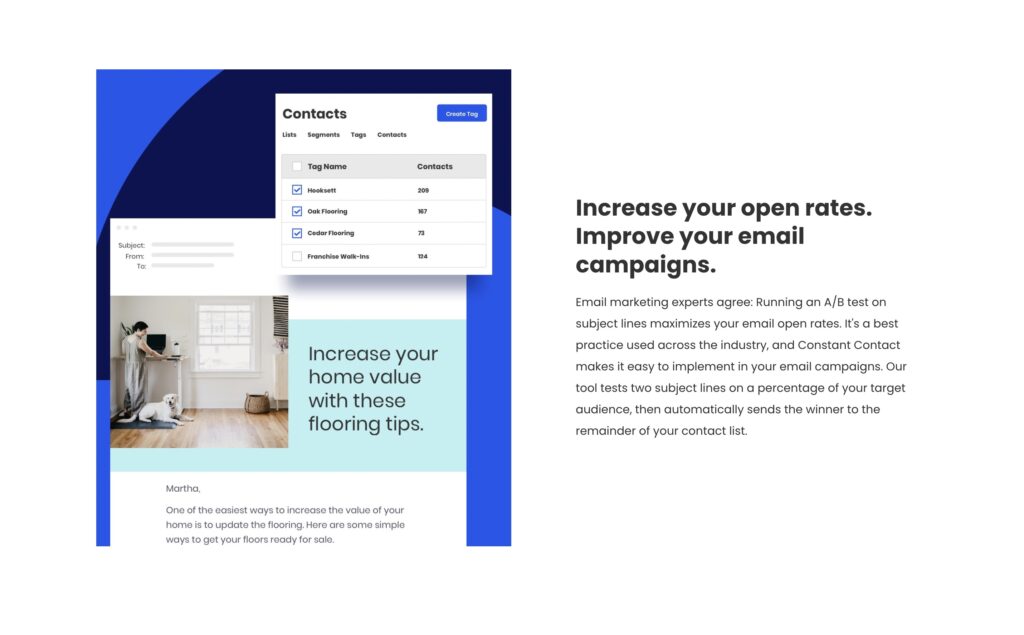 You can choose how long you want to run the test, be it 6, 12, 24, or 48 hours. Meanwhile, you'll get access to real-time reports to identify which variants have better performance.
After the testing phase, the platform will automatically select the winner based on your emails' open rates and send it to the rest of the audience, and that's it!
No-fuss, no headaches, and no need to bother tracking email open yourself. In other words, although limited, this feature is convenient, making it perfect for people looking to improve their emails in a pinch. 
Learn more about Constant Contact here.
Social Media – Posts and Ads
Constant Contact also works as a social media management tool. The platform provides a straightforward social media dashboard where you can create and schedule, and monitor posts or ads for Facebook, LinkedIn, Twitter, and Instagram. 
Moreover, you can post content across multiple social channels simultaneously.
You will need to connect your social media accounts with Constant Contact. This is a matter of heading over to the social dashboard, pressing a few buttons, and granting the platform permission to integrate with your account.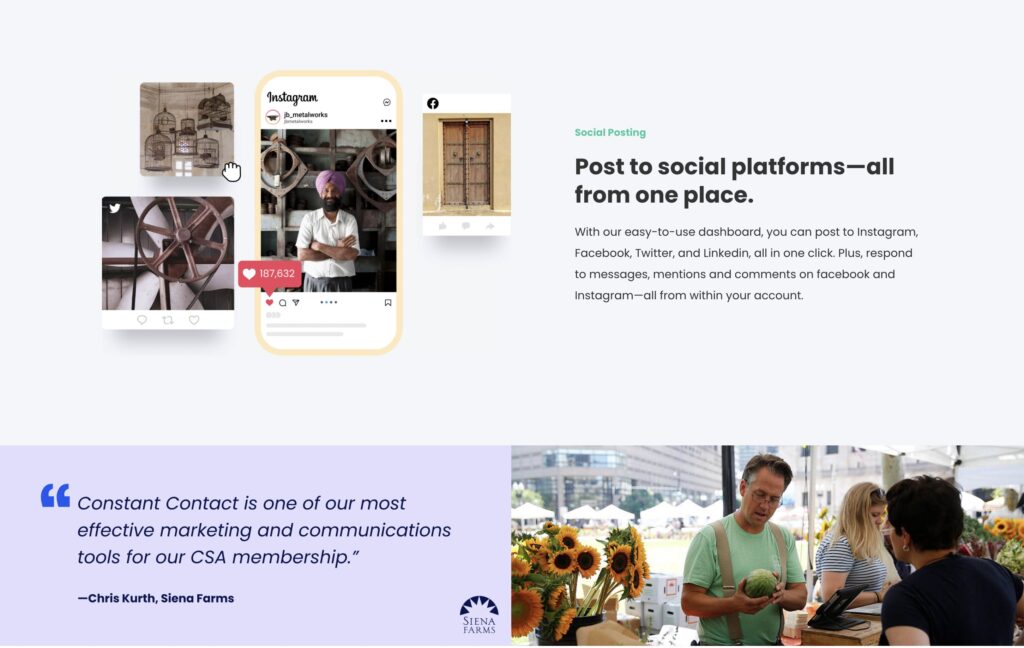 Regarding content and advertisement creation, the platform allows you to create texts and add links, hashtags, username tags, and emojis. You can also add an image from your Constant Contact Library, upload a new one, or select a photo from the platform's stock image gallery.
After finishing your post, you can release it on the spot or schedule it ahead of time. After posting the content, you can view and respond to the comments directly within the platform.
Learn more about Constant Contact here.
Reporting
Reporting is one of Constant Contact's strong suits. Regarding social media, you can track the number of clicks, likes, comments, and shares each post generates.
Moreover, the platform offers periodical reports displaying various metrics, like audience growth, reach, and demographics. Constant Contact also measures your ad campaigns' clicks, views, cost per click, and total ad cost.
On the other hand, email campaign reports will display the following information:
Desktop open percentage
Mobile open percentage
Number of emails sent
Number of people who unsubscribed
Bounces
Opens
Clicks
Spam reports
Industry benchmarks
Additionally, the platform offers a heatmap that reveals the email links your subscribers click the most. 
Learn more about Constant Contact here.
Website Builder
Constant Contact can set up a website for you in no time. The platform uses Artificial Intelligence to automatically generate a site, after which you are free to customize it to your liking by changing the default content.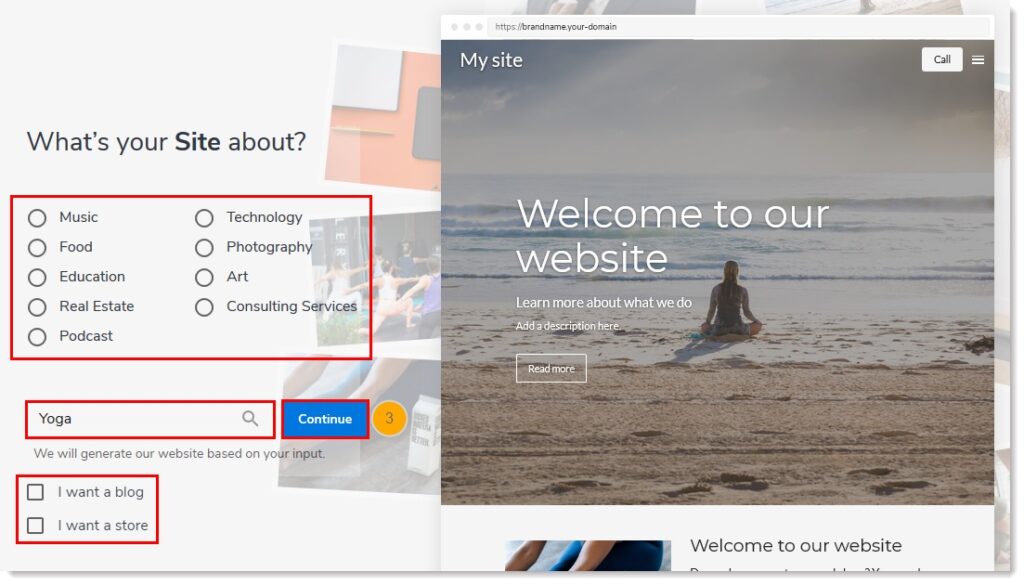 The customization process is similar to designing email templates. Your website's layout is split into multiple blocks, allowing you to change the format, add buttons, images, videos, contact forms, and more—all done via an intuitive interface.
One handy feature is that you can quickly preview your website to see how it would look on other devices like tablets and mobiles. This is crucial for assuring that your website's design brings the best possible user experience across multiple platforms.
Moreover, the website builder provides plenty of eCommerce features. You can quickly add product descriptions, track customer purchases, manage inventory, calculate shipping and taxes, etc.
Constant Contact's website builder is a quick and easy way to set up an attractive, mobile-friendly website. It's a perfect choice for those looking to create a website as fast as possible, without any headaches. 
Learn more about Constant Contact here.
Mobile App
Lastly, there's the mobile application. With Constant Contact's mobile app, available for Android and iOS devices, you can monitor and manage your email campaign from anywhere at any time.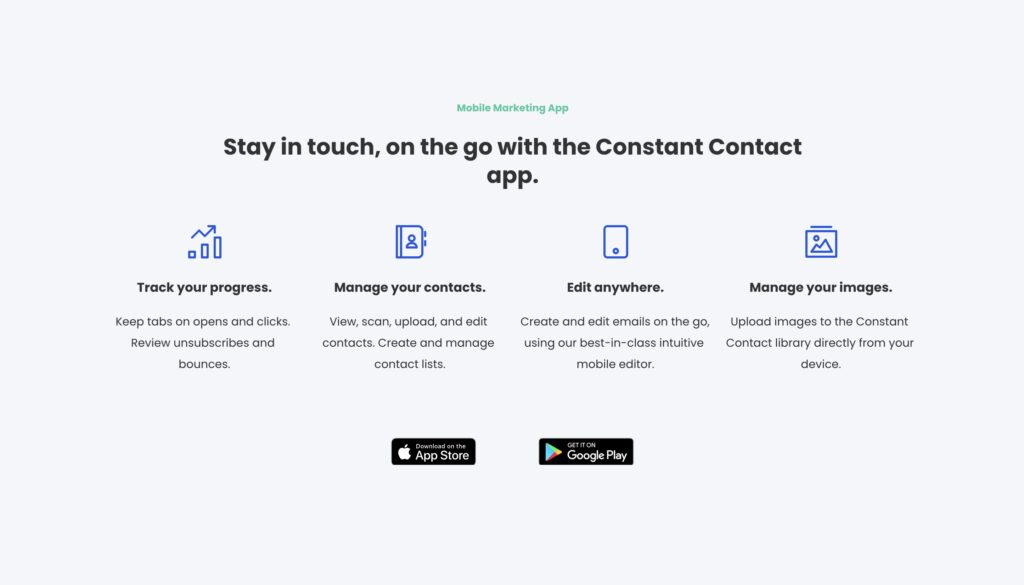 You can easily manage your contact list by adding, removing, or editing contacts and creating email campaigns with the mobile app.
Furthermore, you can efficiently manage your Contact Content image library by taking photos with your camera and uploading them directly within the app.
This eliminates the hassle of transferring photos from mobile to desktop, a feature convenient for people needing to snap product photos for their online store.
Aside from that, you can create and post social media content and track analytics.
Overall, the mobile app is an excellent addition to the platform. It's convenient, straightforward, and can save users plenty of time. 
Learn more about Constant Contact here.
Constant Contact Competitors
Constant Contact vs. HubSpot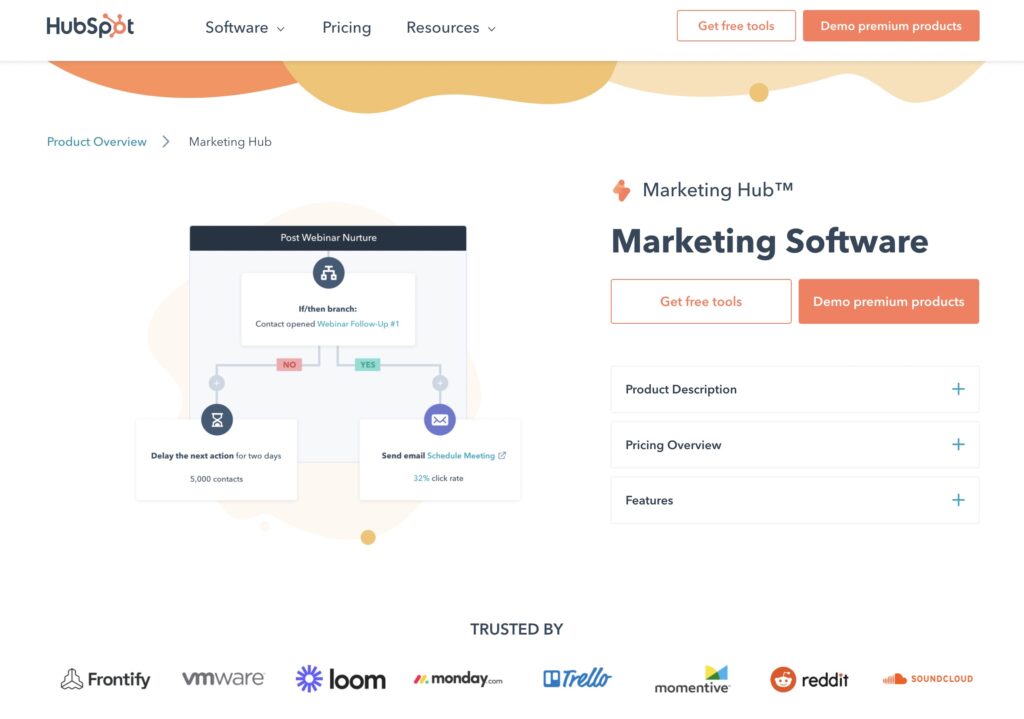 In short, HubSpot's free Marketing Hub fills in some of Constant Contact's blanks. 
For instance, beyond subject line A/B testing, HubSpot allows you to test your emails' content. Moreover, the free plan integrates with Google Ads, which is available only for Constant Contact's Plus plan.
On the other hand, if Constant Contact can handle both landing pages and websites, HubSpot only deals with landing pages.
Furthermore, if you'd like to opt for one of the Marketing Hub's paid plans, the software can get quite pricey. For instance, the Starter Plan begins at $45/month, which allows you to store up to 1000 contacts. 
Learn more about HubSpot here.
Constant Contact vs. MailerLite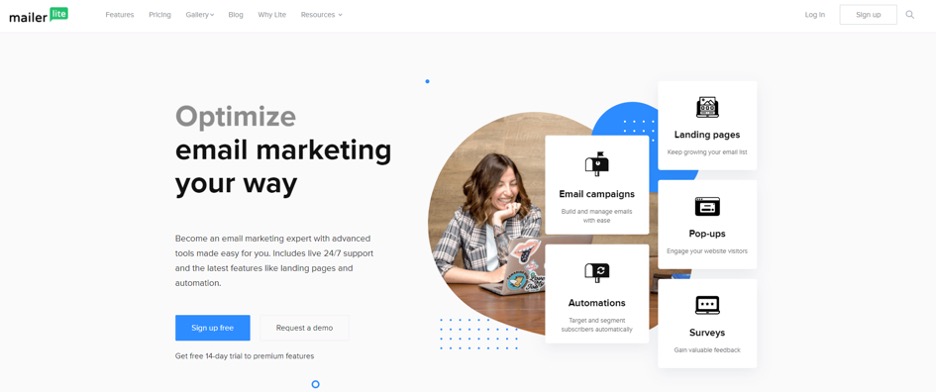 MailerLite also offers a free plan covering all the basics, including automation, a website and landing page builder, a drag-and-drop editor, and sign-up form or pop-ups. 
MailerLite's basic paid plan starts at $9/month for up to 1000 subscribers and three users. In contrast, Constant Contact's similarly priced plan allows up to 500 subscribers and five users.
Also, MailerLite's basic plan doesn't include social media tools, whereas its upper-tier plans only offer Facebook integration.
That said, it's up to you to decide which platform is worth it. Constant Contact might be better if you want more users to access your account and handle social media. Otherwise, MailerLite is the go-to option.
Learn more about MailerLite here.
Constant Contact Review: Conclusion
Overall, Constant Contact is an excellent option for small businesses looking to manage their email campaigns and deal with social media. 
The platform is straightforward and provides plenty of features to streamline your work. Its email editor will help you create attractive emails in minutes, while its website builder lets you quickly put together a good-looking, mobile-friendly website.
Moreover, its reports show you all the information you need to understand how your email campaigns are doing and what you need to improve.
Try Constant Contact for one month free here. No credit card is required.