Are you looking for the best email marketing software?
Doing business online has become the norm today. Everyone you meet, from the biggest retailer to the smallest startup, has their presence online. However, to grow these online businesses, there are specific marketing strategies that you need to master.
One such system that can help you build and grow your online business is email marketing.
An effective email marketing strategy allows you to build a meaningful connection with your target audience. However, an email campaign is not as simple as just sending out emails to potential leads and watching them turn into your customers.
There are over 500 email marketing services to choose from. In such rapidly changing times, it seems like every email marketing company today claims to provide the same thing. That is, however, far from the truth. But before we delve into the details, what is email marketing software?
What is an Email Marketing Software?
Email marketing software can be thought of as a service-based software commonly used by marketers today for email marketing. This type of software can be used for many different purposes. You can use it to build a list of email subscribers, customize email templates, and create segmented lists to allow targeted and relevant emails.
Having a wide variety of resources, services, and tools, email marketing software allows marketers to do much more than just send out emails to potential customers.
Your email campaign must be planned thoughtfully to build trust and loyalty in your brand. Email marketing is essential in today's online world to build relationships with leads, prospects, current customers, and even the long-forgotten past customers. It is because email marketing allows you to speak with them directly, right in their inbox.
Today, there are many different options for email marketing software, making it difficult to narrow down your choices. It is essential to understand just how the correct email marketing software can help you meet your business requirements.
Here are some of the best email marketing software that can help you take your online business forward.
Constant Contact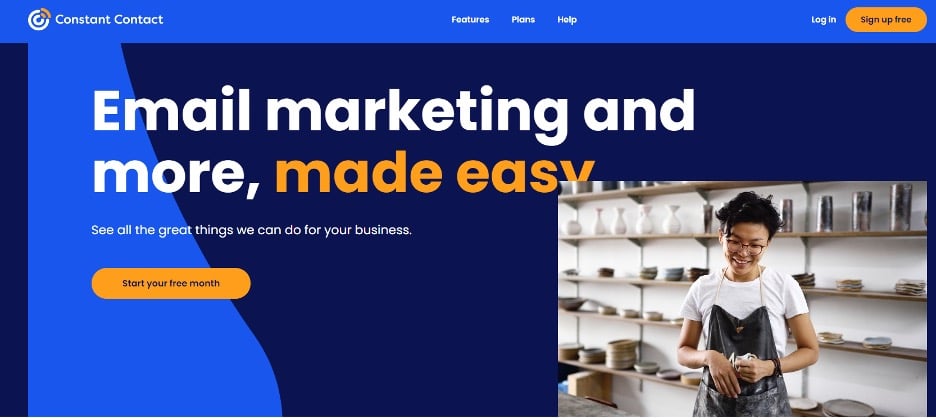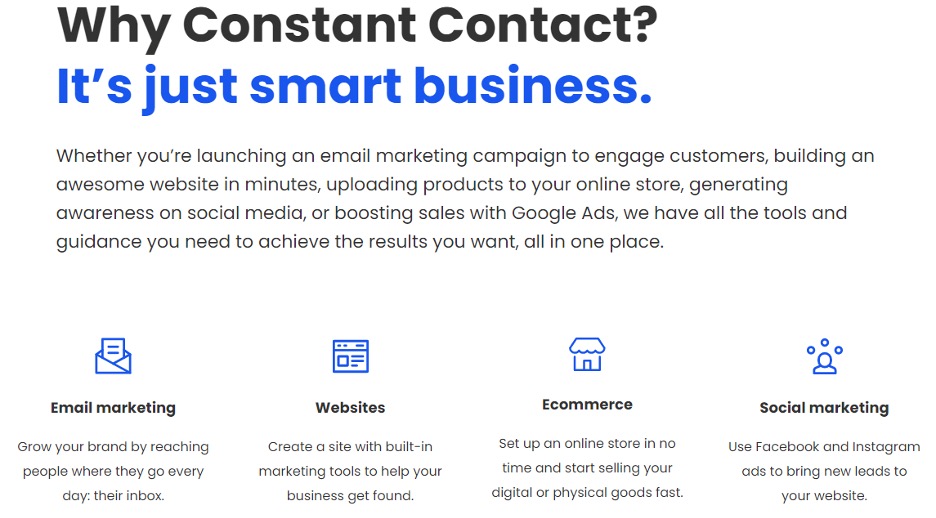 One of the best email marketing software today is Constant Contact. This email marketing service focuses on helping small businesses reach a new audience and helps drive more business in lesser time.
Constant Contact achieves this with easy-to-use email marketing automation tools, surveys, event management tools, and even social campaigns.
Its email marketing services provide real-time tracking tools that directly provide reports on your emails' opening, clicking, and further sharing.
Constant Contact's editor makes it easy to customize an email template and design professional and mobile-ready emails that look great on any device.
Pros of Constant Contact
Provides online classes for training
A vast number of templates make the process of setting up email campaigns easy and fast.
Library of graphics
Excellent customer service – customer service representative available at all times on chat or phone
Constant Contact Pricing
Pricing of Constant Contact begins at $20 per month, but they also offer a free trial. And by trying out the free trial, you can get a better idea about what is involved when you pay for the plans.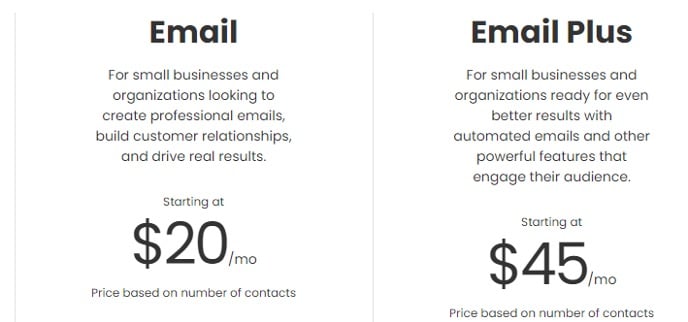 Try Constant Contact for Free! With our link here, you can try Constant Contact free for one month.
ConvertKit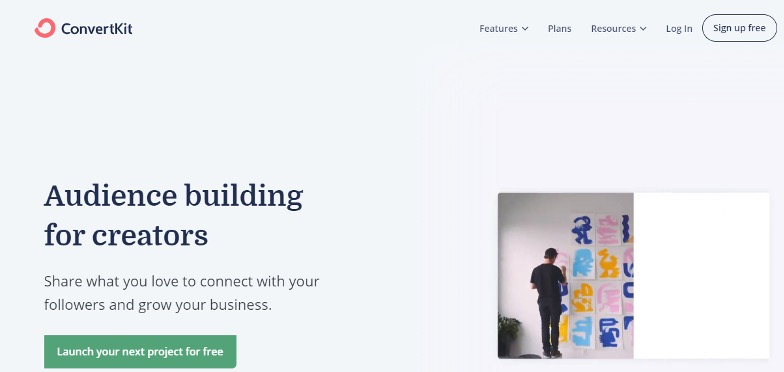 ConvertKit is an email marketing software that has been designed by creators for creators. It is why it has a simple and powerful visual automation builder to do the tedious work for you.
With it, you can send well-timed and targeted content to your target audience to keep your business's attention.
ConvertKit is ideal not just for beginners but also for experienced business owners. The service comes with automated tags and segments that help organize your subscribers by interests, location, and many other data points.
Pros of ConvertKit
Easy to set up, and you can learn very quickly how to make it work for your business
Sequences are easy to update, and you can view all the emails on the same page
Offers a lot of flexibility with tagging and creating funnels
Very affordable for new or growing businesses looking to scale
ConvertKit Pricing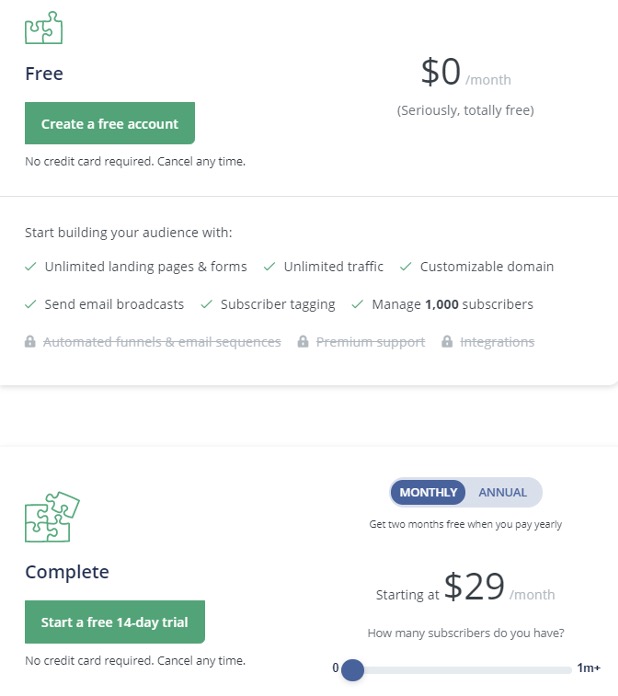 The company's plans start from $29 per month, and they do offer a free plan. The free plan is free forever, and no credit card is required.
Most email marketers use ConvertKit for its automated funnels and email sequence. It's only included in its complete plan. You can start a free 14-day trial to try out this feature.
Hubspot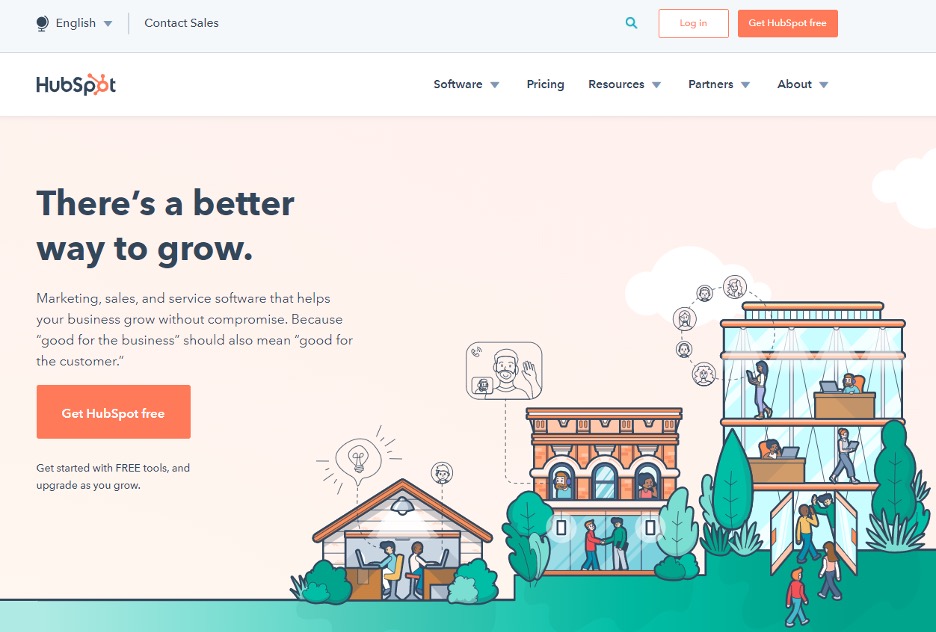 The HubSpot complete CRM solutions are designed for growing companies. HubSpot is one of the oldest email marketing services, founded in 2006 in the United States. Customers all over the world use HubSpot's email automation software today.
Initially, HubSpot's free CRM software was built for construction companies with 10-1,000 employees and was designed to cut down the time it took to log in all the data. The software keeps all your contacts in one centralized, customizable database and helps you manage all your company's works so that you can find all the leads in one place. It cuts down the time needed to search through inboxes to find data.
Pros of HubSpot
There are several features included in the free version, and you can continue using the free version for as long as you need before having to pay anything.
Customers find the round-robin style workflow to add several sales representatives to be helpful for lead assignments.
You can see reports on nearly everything.
Customized messaging with sequences helps to make the employees more productive.
HubSpot Pricing
HubSpot's plans starting at $40 a month. There is a free version and free trial of paid plans.
Pricing plans of HubSpot are as follows: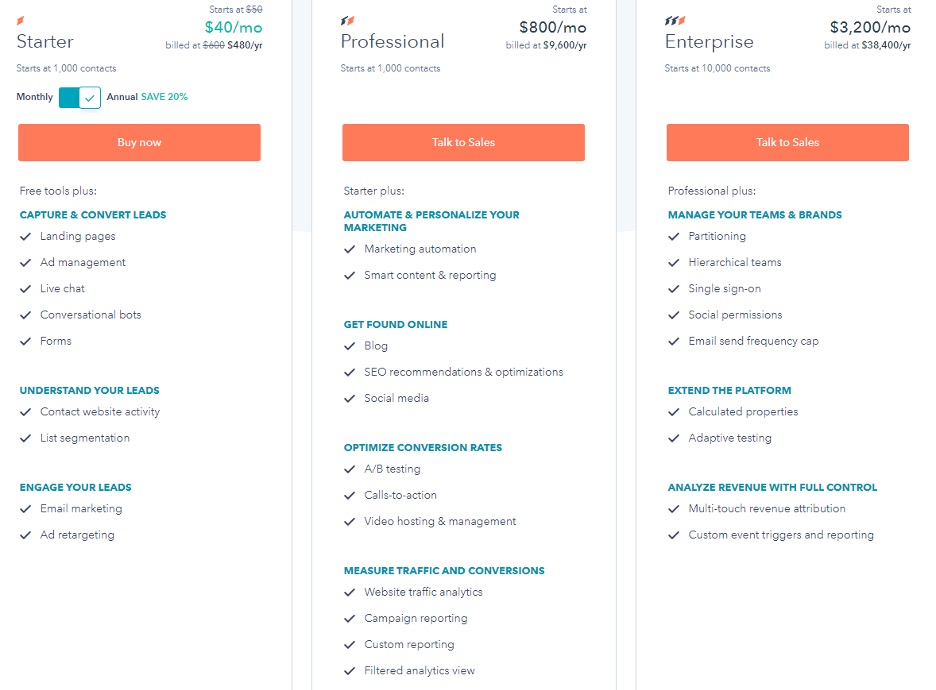 AWeber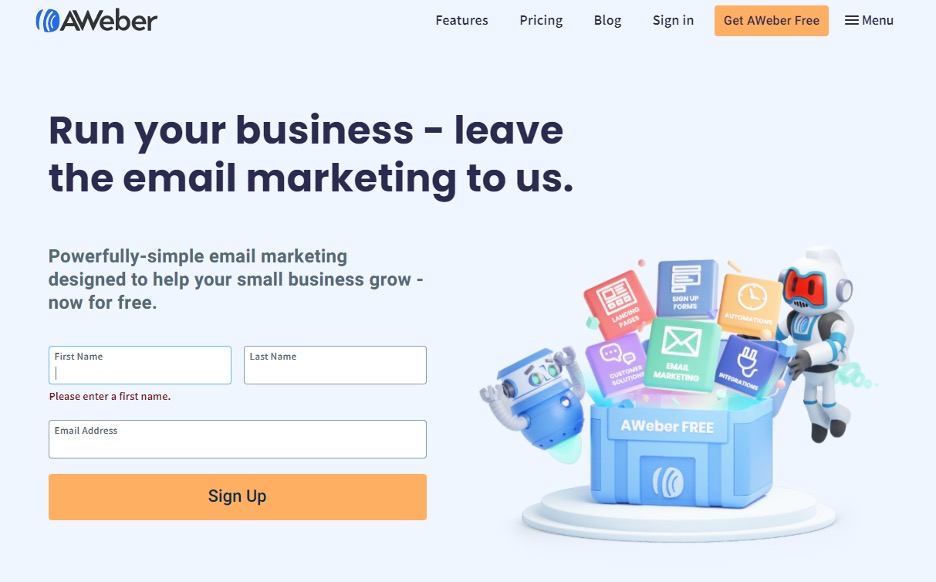 AWeber is another stalwart of the email marketing software industry as the company was founded in 1998. This platform is ideal for small businesses, non-profits, entrepreneurs, podcasters, and any online content creators worldwide.
In the last so many years, AWeber has become a leading provider of small business email marketing software. The company has over 20 years of success in helping customers all over the world connect with their customers and prospects through its powerful but simple email marketing software. Its 24/7 US-based customer service is award-winning.
AWeber allows you to build responsive landing pages, load and manage your contacts, send emails to your customers and subscribers, and analyze their email marketing campaign results.
Pros of AWeber
Excellent customer service
Easy to use the platform even for people who are not very tech-savvy
Great for beginners who are new to email marketing
AWeber Pricing
The pricing of AWeber email marketing software begins from $19 a month. Free version is available.
There is no option for getting a free trial, though.
Here are the pricing details:

SendX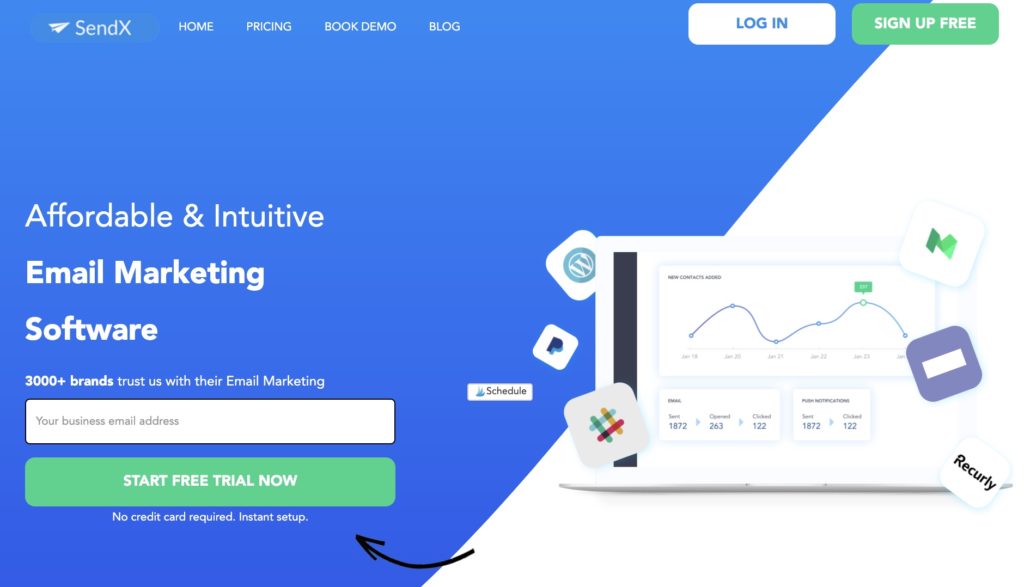 SendX is an Intuitive and affordable email marketing tool. With one of the simplest UIs in the industry, SendX provides unlimited email sends with every plan, powerful automation capabilities, best of breed email deliverability. 3000+ companies worldwide trust SendX for their Email Marketing.
There are nearly 50 email templates inside SendX that can be used for various use cases like the holiday season, newsletter, product launch, promotions, eCommerce, online courses, etc. We also feature one of the biggest email template collections from across the web with over 1500+ templates.
With SendX, you can make your marketing go into auto-pilot mode. Segment the customers on the basis of demography, subscriber behavior, and more than 25+ other parameters. You can increase revenue with transactional emails and reach the target customers at the appropriate time through scheduling.
Pros of SendX
With SendX, you can send unlimited emails every day to your audience.
It has a simple drag-and-drop email editor. You can drag the blocks to create beautiful emails.
Excellent customer support
High deliverability
Reasonably priced and you are charged only based on your subscriber number.
SendX Pricing
Their pricing system is very simple and they charge you only based on your subscribers. It starts at $ 7.49 per month (billed annually) and it goes up depending on the size of your subscriber list.

GetResponse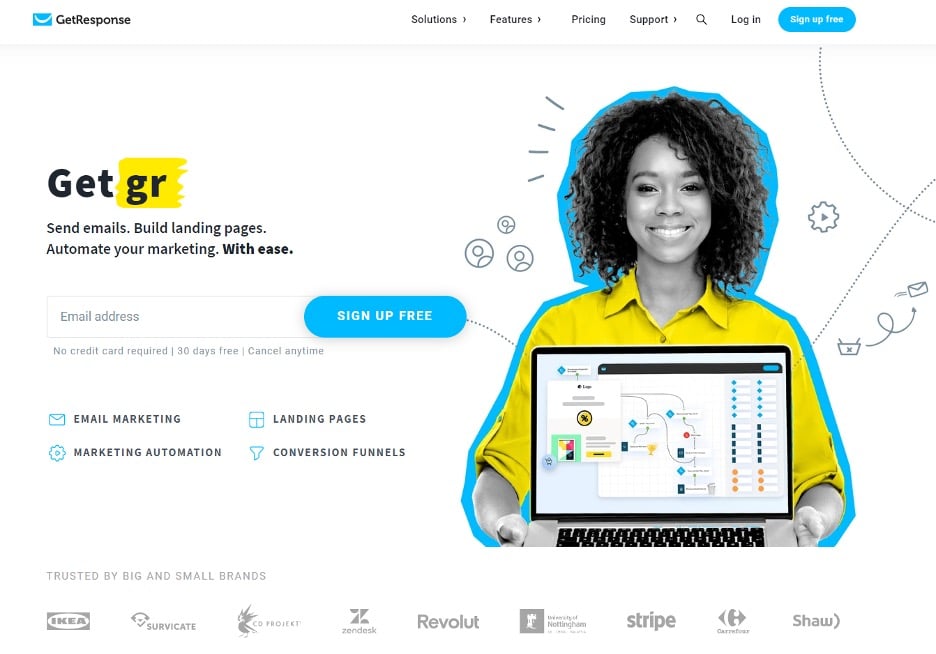 GetResponse offers various simple solutions that are tailored to small and large companies. The company provides Streamlined Marketing Automation for big, small, and all businesses. The scalable workflows allow you to customize campaign automation, simplify lead generation, and grow your sales with personalized communication to reach out to your subscribers.
Founded in 1997 in Poland, the company's email marketing software allows you to tag and track your customer behavior to gain more information about them and trigger and track real-time reactions.
You can also customize your offerings and emails to connect to your audience. You can send welcome emails, special offers, reminders about an abandoned cart, recommend products, and take out the guesswork from your online marketing efforts.
Pros of GetResponse
Excellent lead generation ability
Includes all the main features in the basic pricing plan and allows you to run a good campaign without automation
The welcome message email and special offers emails and notifications are much appreciated
Higher pricing plans are expensive
GetResponse Pricing
GetResponse pricing begins at $15 a month per user.
Additional pricing details are as follows: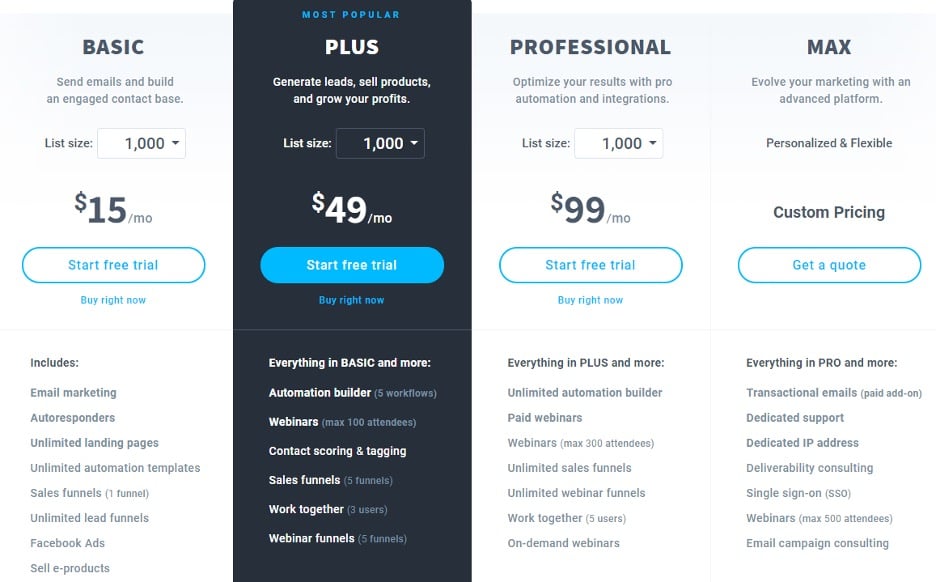 Try GetResponse for free here!
Moosend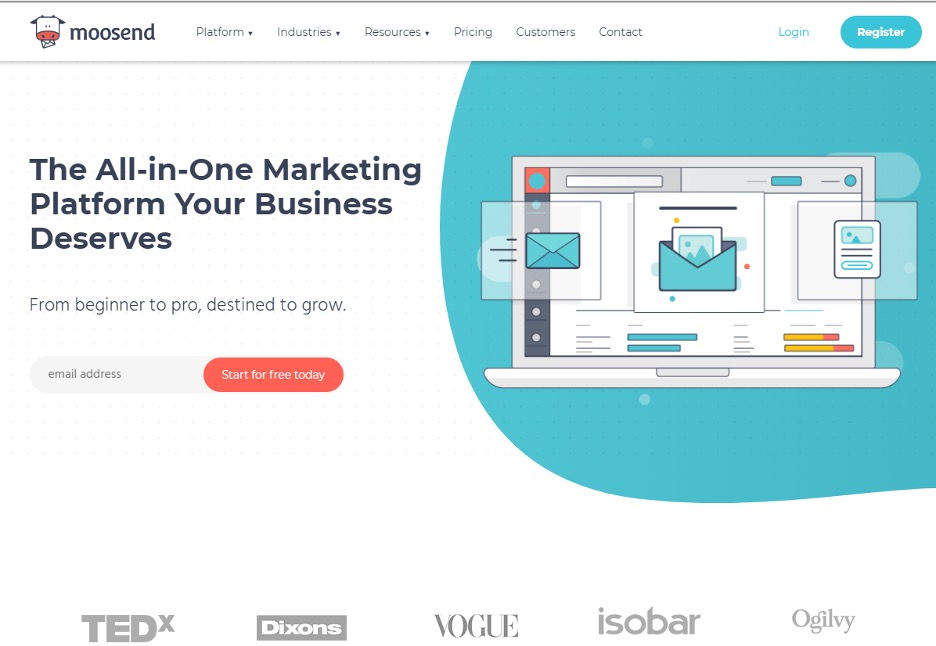 Founded in 2012 in the United Kingdom, Moosend offers its email marketing software to startups and Fortune 500 companies, and everything in-between. Their intelligent marketing automation and website tracking software can help companies exceed their performance goals.
Moosend's email marketing services help you increase conversion rates with their Cart Abandonment reminders, increase your average order value with Upsell/Cross-sell sequences, and establish brand loyalty with the customizable Loyalty sequences. These are just some of the features that Moosend offers in its email marketing software.
Pros of Moosend
Fantastic customer support
Easy to import contacts
Collection of many lovely and exciting templates
Pricing of Moosend
Moosend is priced at very affordable rates, beginning from $10 a month. There is also a free version and a free trial you can try out.
Here are the pricing details: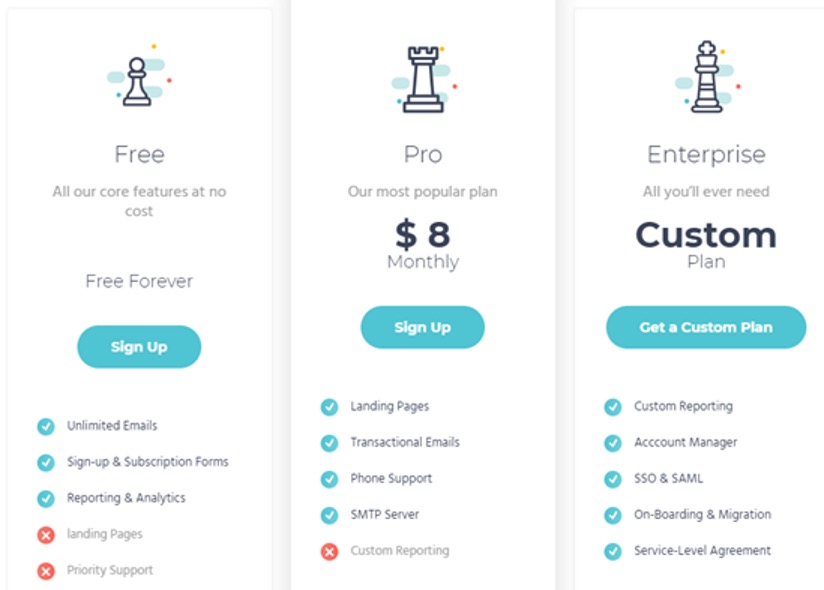 ActiveCampaign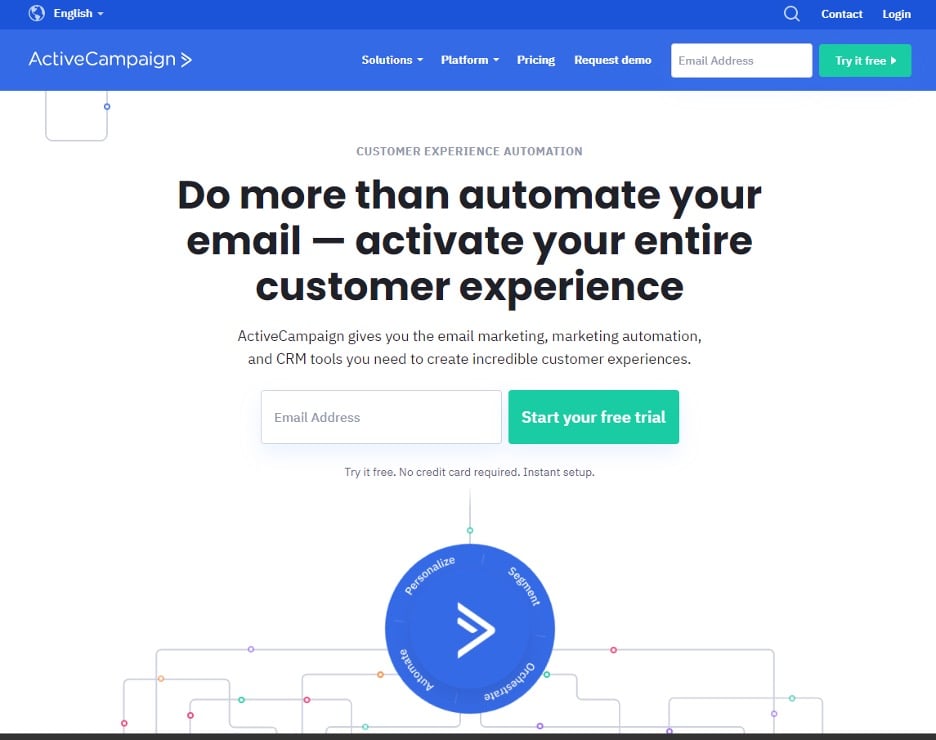 Founded in 2003 and based in the United States, ActiveCampaign is the perfect email marketing software for small and medium-sized businesses that want to grow by building better customer relationships. The company prides itself on integrating its software seamlessly and efficiently into all types of marketing solutions.
ActiveCampaign's CRM software combines contact organizations with sales automation and helps businesses sell more in lesser time. The email marketing software enables you to prioritize your leads, keep track of your tasks, and automate your contact management. You can track every interaction and keep your entire sales process on the same page. It comes with features like lead scoring, win probability, and automated segmentation integrated with marketing automation.
Pros of ActiveCampaign
It allows a robust deployment of the email marketing campaign
You can build email lists very easily
It is affordable
It has an excellent communication option, and an efficient tagging system for contacts and in-the-moment segmentation
ActiveCampaign Pricing
The pricing of ActiveCampaign plans start from $15 a month, but there is no free version of the plans. However, they do offer a free trial for a limited period.
Here are the pricing details: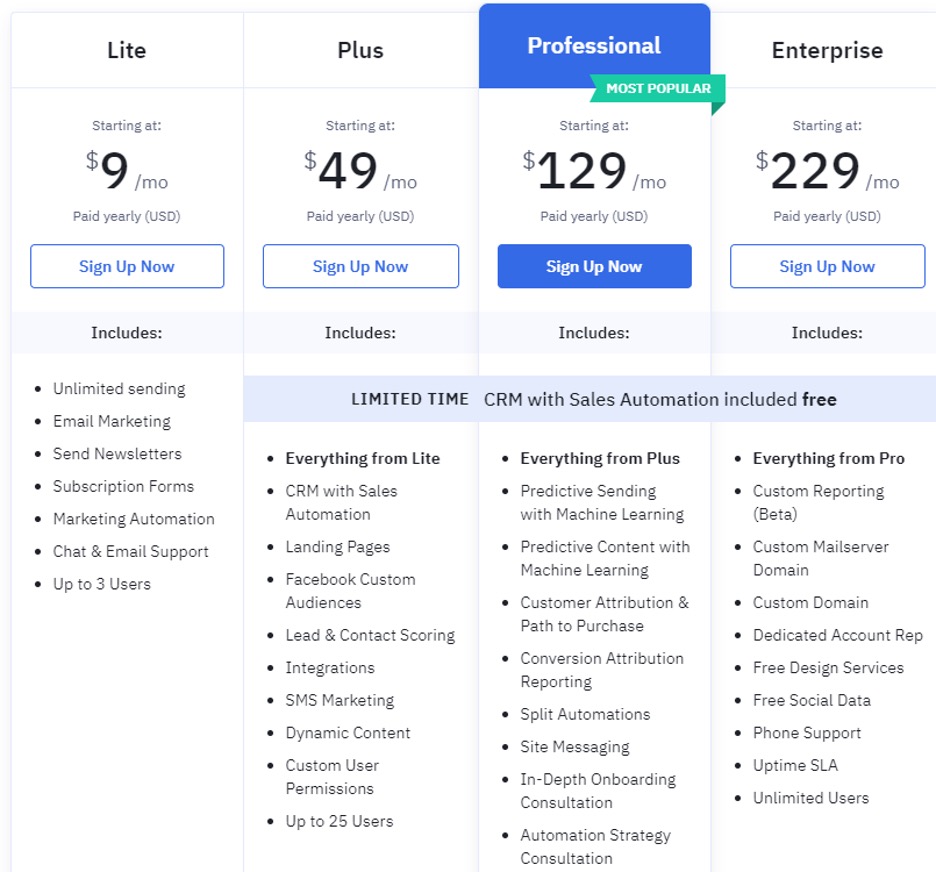 Try ActiveCampaign for free here!
MailerLite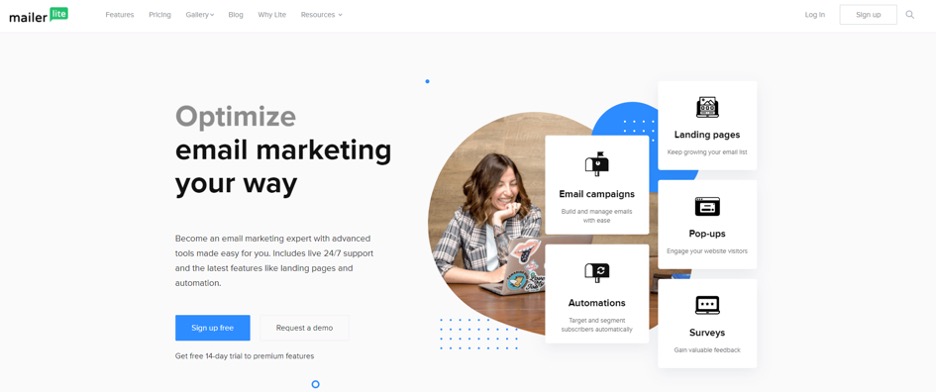 MailerLite is an experienced player in the field of email marketing software. The company is based in Lithuania and founded in 2005, and since then, it has grown in popularity.
The platform is ideal for writers, freelancers, small and medium-sized businesses, non-profits, large enterprises, public administrations, and anyone looking for an affordable email marketing service.
MailerLite's email marketing service focuses on simplicity, excellent customer support, and unique email designs. The platform is known to be very user-friendly. It allows you to quickly create your email campaigns, track your results, manage subscribers, track unsubscribers, design custom popups, and landing pages, and grow your online business further with ease.
Pros of MailerLite
Constant updates and improvements are being made to the platform
Scalability is great
In-depth analytics are provided
Very affordable platform
MailerLite Pricing
Pricing for MailerLite begins at $10 a month, and it offers a free version of the platform.
You can always start with the 14-day free trial of the software.
Pricing for MailerLite is as follows: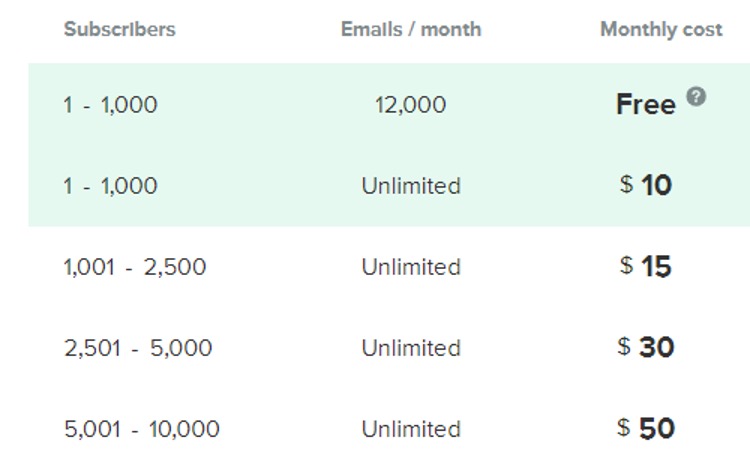 Omnisend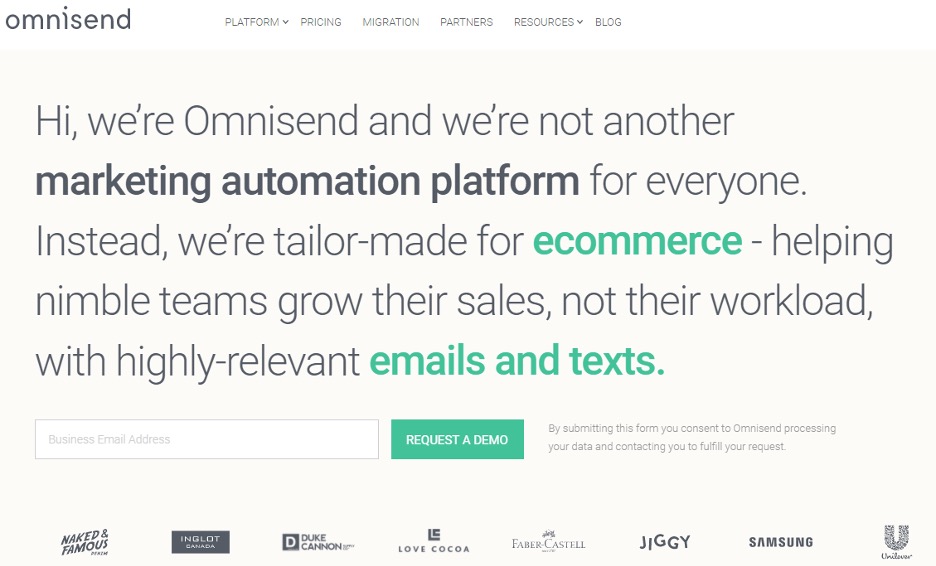 Omnisend is an ideal platform for sales-driven online marketers. Its advanced marketing automation tools allow you to move out of the generic email marketing platforms.
Founded in 2014 in the United Kingdom, Omnisend is an all-in-one omnichannel marketing automation platform. The email marketing services of Omnisend are ideal for eCommerce brands that are looking to grow.
Omnisend allows you to automate the entire marketing process by combining your channels under one roof, helping you earn more revenue through workflows' automation.
It enables you to recover lost sales with targeted and personalized messaging to your customers. Omnisend is known to work well with all major eCommerce platforms such as Shopify, Magento, Bigcommerce, WooCommerce, and many others.
Pros of Omnisend
Many template options
Ease of tracking your newsletters and automation
In-depth analysis
Pro plan might seem to be expensive, but it offers $99 free SMS credits!
Omnisend Pricing
The plans of Omnisend begins at $16 a month, with a separate free version.
A 14-day free trial is available.
Here are the pricing details: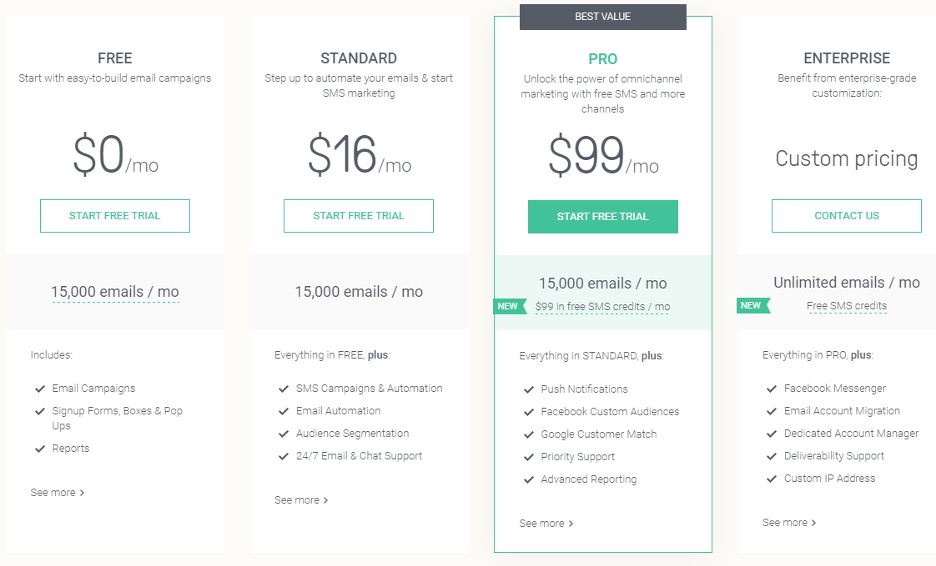 Sendinblue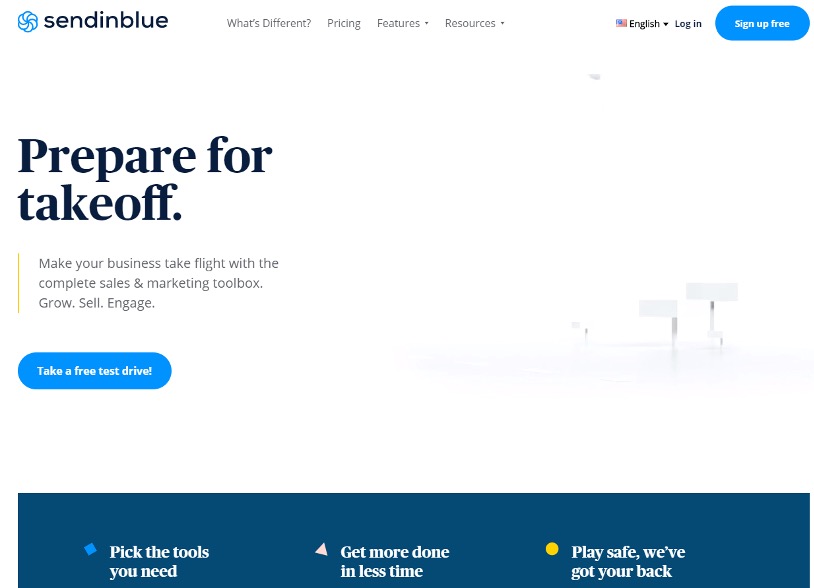 Sendinblue is another email marketing software service that offers cloud-based email marketing and marketing automation tools to over 175,000 companies worldwide.
Their service is more geared towards those medium to large companies, and new online businesses may get a bit lost amongst the many features the company offers.
Sendinblue offers marketing automation, transactional emails, SMS messages, email campaigns, CRM services, Facebook ads, and retargeting ads. Their platform brings together a robust suite of services and a single, user-friendly solution. The company was founded in 2012 and is based in France.
Pros of Sendinblue
The final email products are immaculate and consistent
Easy to compose emails and add new contacts
Statistics provided are precise and helpful in measuring the success rate of the email campaign.
The software has a daily free 300 emails limit, which works perfectly well until you have to buy a higher plan – this is one reason why many people prefer using the free version before purchasing a plan.
Sendinblue Pricing
While their plans' pricing starts from $25 a month, they also have a comprehensive free version.
Price plans for Sendinblue are as follows: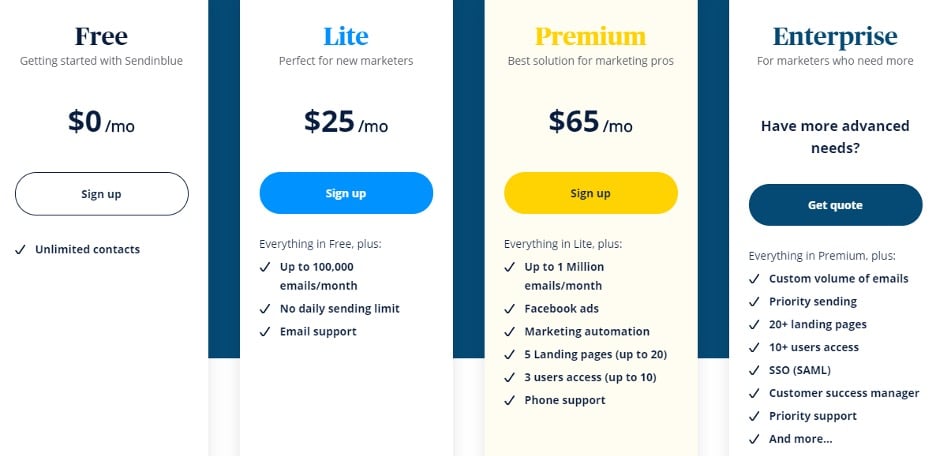 AVADA Email Marketing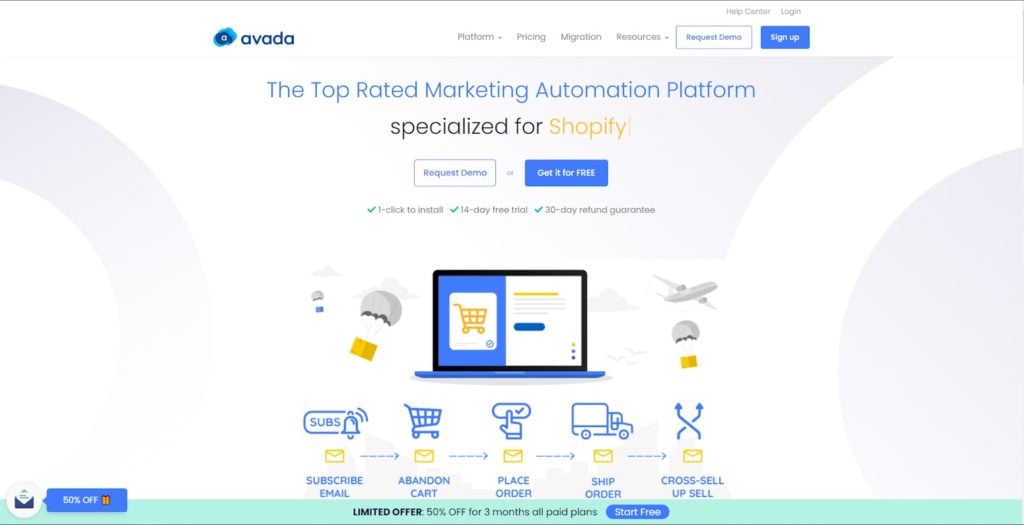 With AVADA email marketing, you can automatically send SMS and email marketing to your customers. That way, you can get in contact with them and strengthen customer loyalty, raise brand awareness, and provide a better service.
In addition, AVADA has customer service available at all hours of the day. The company is an invaluable tool for businesses because it's so easy to use, even for those who aren't technically savvy.
Features of AVADA
Abandonment Protectors
Automation Workflows including Welcome Emails/SMSPost Purchase, Follow up Emails/SMS, Cross-sell, Upsell Emails/SMS, Win-back Emails/SMS, and more
Segmentation based on contact profile, shopping behavior, order information
A/B Testing, Yes/No Split Condition, Multiple Splits
Capturing leads with Newsletter Popups, Exit intent Pop ups, Add-to-cart pop-ups, and more
WhatsApp, Push Notifications
Unlimited Stock Images for Automation, Campaigns, and Form design.
Real-time shopping carts
Abandoned cart analysis
Customer Insight reports
UTM tracking
Pricing of AVADA
Get started with up to 500 contacts for free. Paid plans from $9/month, additional fee based on the number of subscribers.
VoilaNorbert
VoilaNorbert helps you find any corporate email addresses, manage your leads and gain a lot of time spent on creating an email list. It allows you to find leads, email addresses and contact information on any website simply by clicking on a button. All your leads can then be exported, added into custom-made lists and/or contacted directly from Norbert with advanced tracking tools to know if they opened or even clicked on your emails.
VoilaNorbert lets you find any corporate email address but also has a feature of verifying addresses in bulk.
Pros
Easy to use, you just need a name and a domain of your lead;
First 50 searches are free;
User-friendly interface;
Precise and accurate.
Pricing
First 50 searches are free. After that plans start from $49 per month.
Respona
Respona is an all-in-one blogger outreach platform outfitted with all the necessary tools to set up and launch an email campaign of any kind, be it for link building, digital PR, marketing, or even sales.
It's integrated with Google's search engine for streamlined prospecting and pulls metrics like Domain Rating and Ahrefs Rank directly from Ahrefs.
An easy-to-use email finder is also included, making it extremely easy to find the right person's contact information without relying on other tools.
Respona's intuitive interface guides you through every step of creating and launching your outreach campaigns and keeps track of your performance and the status of your conversations with each prospect.
The tool will be especially useful to link builders, as it was initially used to help Visme scale its link-building outreach efforts, helping the website gain over 2 million organic visitors a month.
Automated email outreach
Great for prospecting and finding contact information
Deep personalization
Built-in analytics and reporting