This honest ConvertKit review will help you find out whether it is the best email marketing tool.
When used to its potential, an email marketing campaign touts an ROI of 4,200% — that's $42 for every dollar you spend! And that isn't surprising, considering the sheer volume of email users (4 billion daily), healthy email open-rate (19.8%), technologies like AI adding intelligence to the process, amongst others.
Indeed, the opportunity for profits in this space is immense, but what's the best way to capitalize on it? What tool can help you use email marketing to its utmost potential?
To be honest, a host of email service providers can be called upon for assistance. But from a quality, performance, and convenience perspective, the list of contenders is somewhat slim.
That short-list, however, prominently features ConvertKit, an email marketing tool that's chock-full of features to leave content creators spellbound — at least that's what the makers claim.
So, is ConvertKit really the best email marketing tool out there? Let's find out.
You can use ConvertKit for free here!
ConvertKit Review: Overview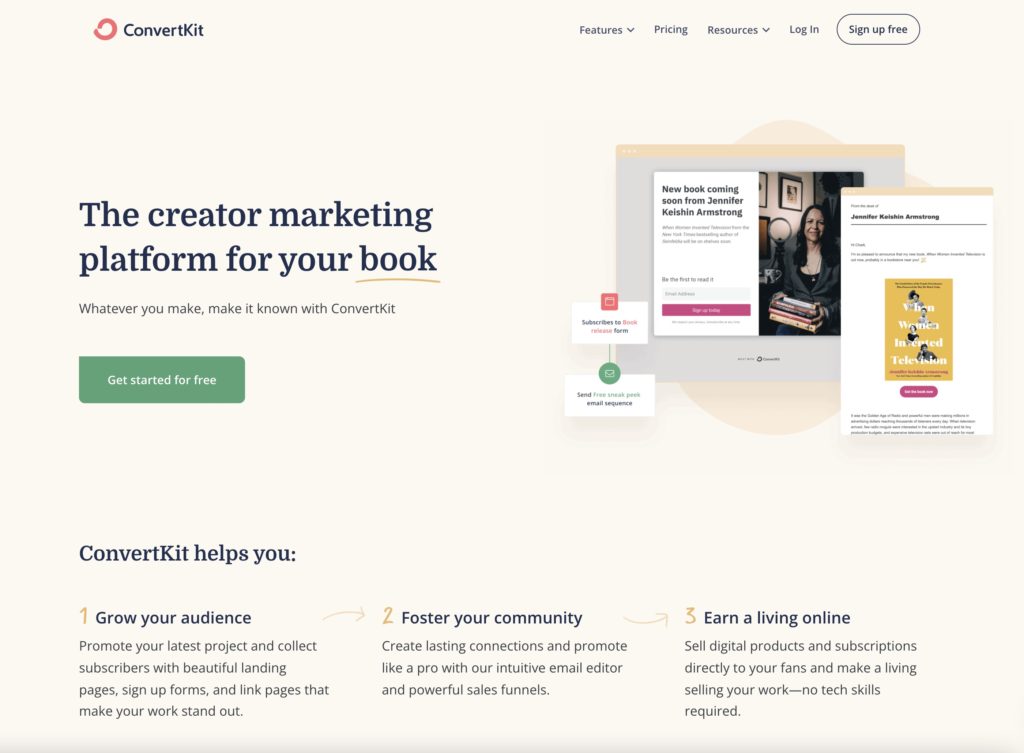 ConvertKit is a relatively new email service provider (ESP) by comparison. Created in 2013, the company boasts a robust list of features that enables creators to conceive sales-driven email sequences. Essentially, the focus is on automating the email marketing campaigns and reaching out to the users at the most opportune moment.
As such, the company targets bloggers, podcasters, photographers, e-commerce owners, and freelancers looking for a direction to promote their products/services and concurrently grow their subscriber list. To cater to the diverse needs of tremendously diverse creators, ConvertKit facilitates three subscription plans, with the most basic plan being free.
Holistically speaking, the tool manifests some excellent features that would appeal to new users, especially those apprehensive of the sophisticated nature of email marketing tools in general.
ConvertKit Pricing
It's good news for you if you're a blogger, podcaster, or freelancer with a modest list of subscribers (<1000). You can get an effective solution to your email marketing woes for absolutely free. This includes the ability to create forms and landing pages, broadcast emails, and seek community support.
As the number of subscribers grows, the additional costs start adding up, and so does the value you get. That said, ConvertKit segregates the paid plans into creator (starting at $9/month) and creator pro (starting at $25/month), with the latter providing additional functionality of advanced analytics and reporting.
Since the pricing is scalable relative to the subscriber's list, you can use the pricing scale on the tool's website to calculate the exact costs in advance.
Check out ConvertKit's pricing here.
Pros of ConvertKit
Empowers with automated workflows
When it comes to prospect conversions and optimizing the journey of those converted, email automation helps drive the interactions. Through the tool's dashboard, you can set triggers for specific actions or custom sequences.
This translates to automating lead nurturing email sequences, scheduling follow-up emails, and adding/modifying email media on a granular level. This way, you can ensure that the emails are sent without any brain-dead mistakes.
Not to mention that these workflows can be edited on the back-end, both in terms of the content they put forth and the sequence they follow. This lends you the liberty to practice modifications/adjustments and test out the template for boosting conversions.
Avoids promotional redundancy
Let's say you read through a promotional email, despite being swamped with the overwhelming inbox and decided to/not to advance further. In any case, you wouldn't want to be pitched again, or do you?
And this is perhaps one of the most prominent advantages of using ConvertKit in that it helps the creator with the knowledge of the email open rates. So, whenever a creator resends the email, they can limit the broadcast to those who previously didn't open it.
As such, the creator opens avenues for:
Sustaining reader's curiosity
Avoiding spamming
Streamlining communication
Reducing time and expense of converting and nurturing prospects
Sustains the creative instinct with landing pages
The main ingredient to a successful email workflow is the perfect blend of a converting copy and an appealing interface. Thanks to the array of the free landing page templates (50+) that ConvertKit comes equipped with, you can play around with various options to achieve that sweet spot.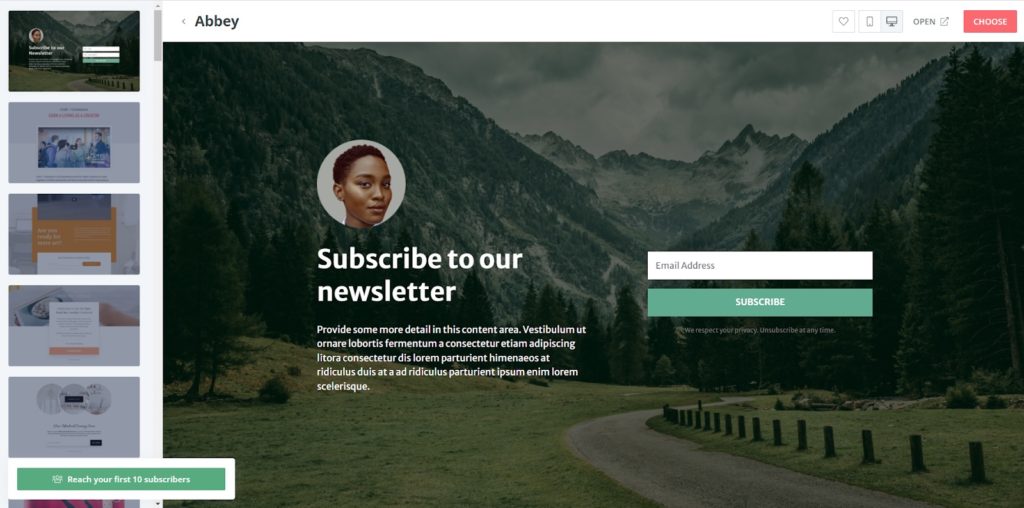 And for those who don't want to tinker with the coding (CSS, for that matter), the tool offers drag-and-drop functionality that befits the needs of catering to different industries. The added benefit of accessing 100,000+ stock images library and device-related responsiveness make these landing pages ideal for furthering the prospects' journey. 
If you want to build landing pages to achieve other conversion goals, we highly recommend you to look at these best landing page builders.
You can use ConvertKit for free here!
Cons of ConvertKit
Gets pricier as you have more subscribers
Although ConvertKit, in recent times, has toned down the pricing when kept relative to the features available, there's still a sense of unease, especially for those who are just starting out.
For instance, their "recommended" creator plan for 5000 email subscribers costs $66 per month when billed annually. This doesn't include deliverability reporting, newsletter referral systems, subscriber engagement scoring, and tag-Facebook synchronization. Contrarily, the Creator Pro expedites all the aforementioned and is valued at $93 per month, which is definitely on the higher end of the spectrum.
All in all, for an individual or an agency planning on exploring email marketing strategies, ConvertKit seems like a good option. However, other tools could fit into that bill without burning a hole in your pocket!
Limited landing page customization
The software's landing page and form libraries have considerably grown, and that's worthy of appreciation. Nevertheless, there's still a slight issue with the sheer variety of customization options available.
For instance, you cannot change the font size, scale the containers, or add/remove some aspects from the design template. This restricts you from being fully in control of the landing page's layout. In addition, the location of built-in CTAs is also limited to a few areas of the page.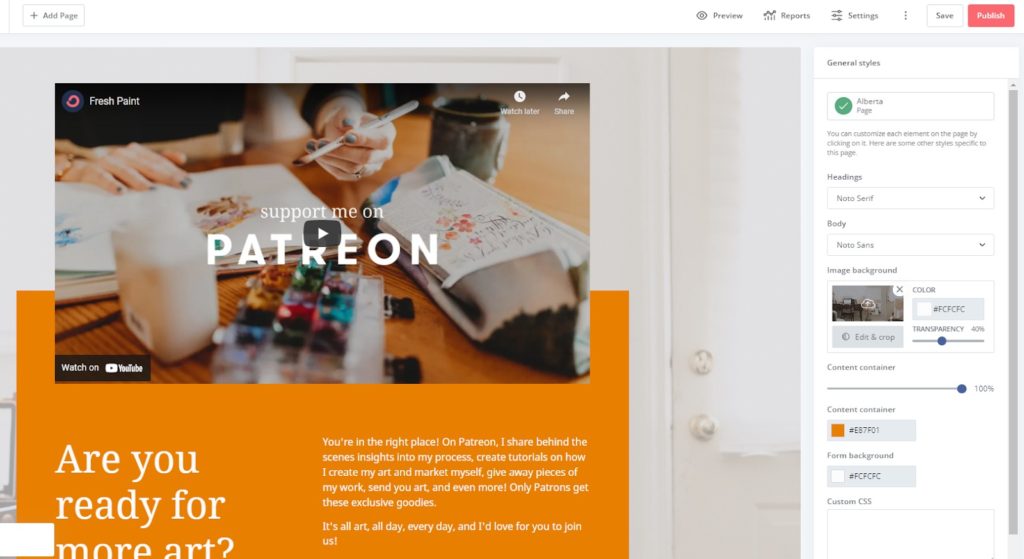 The Custom CSS option is available, but it's fairly limited in scope, considering most users aren't adept at coding.
ConvertKit Alternatives
At a glance, ConvertKit seems to be the most popular email marketing tool for creatives, but you needn't overlook other options. To that end, here's how ConvertKit compares with other prominent tools in the market.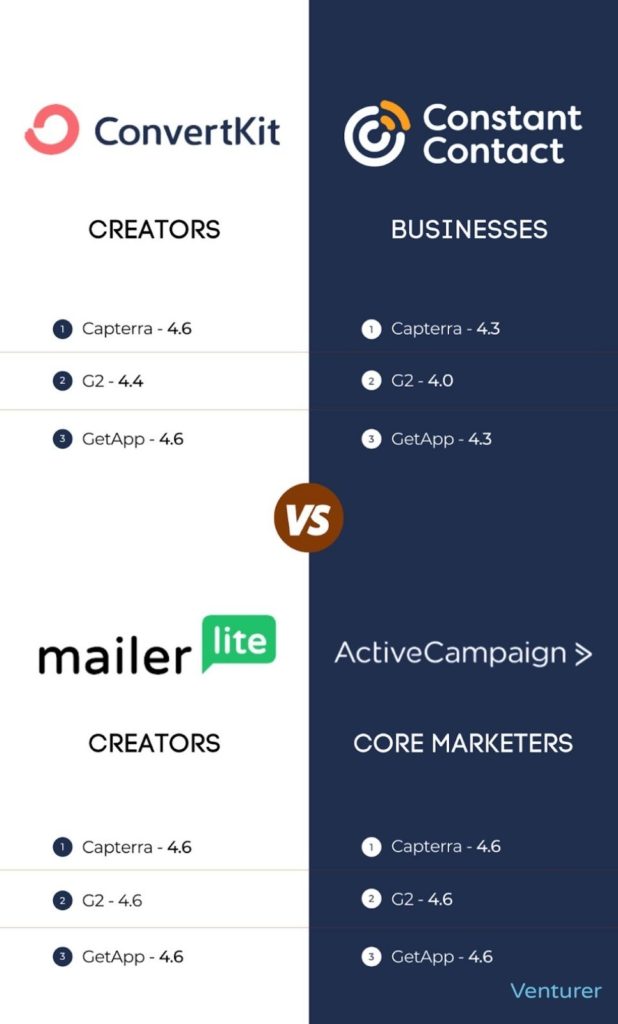 Constant Contact
ConvertKit's email automation features decimate those of Constant Contact. That said, Constant Contact is still a decent choice for small businesses that want to manage their email marketing from a single interface. 
You can try Constant Contact for free here!
ActiveCampaign
ActiveCampaign is more of a 360 degrees tool, for it incorporates CRM-related features and built-in A/B testing. Therefore, ActiveCampaign is more suited to small and large-scale businesses that run resource-intensive email marketing strategies such as retargeting and list building.
You can try ActiveCampaign for free here!
Mailerlite
Mailerlite boasts of facilitating the drag-and-drop functionality for email templates. One of the best things about it is the feature-laden free version, something that makes it viable for individual creators in their nascent stages.
You can try Mailerlite here for free!
Aweber
Aweber is a list-centric email marketing tool oriented more towards digital commerce than influencer marketing. As such, it comes a bit cheaper ($19/month starting price) but follows a more intricate operational approach.
You can try Aweber for free here!
Is ConvertKit the Right Email Marketing Tool for You?
From how the tool functions to its accessibility, it predominantly caters to bloggers and YouTubers — both experienced and those in their nascent days. However, its features are pretty well-rounded, making it ideal for startups, freelancers, and other SMBs.
To be more precise, ConvertKit is a great tool if — you're a musician who wants to open doors for a prospect to listen to your latest single, an aspiring author who desires to make the target audience curious about the latest book release, or perhaps a trainer, a coach, or a consultant who wants to reach out to a network of professionals, attract them for webinars, and develop a community.
In any case, the tool's versatility speaks for itself in that it doesn't pigeonhole creators to one form or style of content. Of course, you'll have to invest a good chunk of time in mastering the basics and honing your skills.
Moreover, since the tool constantly evolves with newer features and upgrades rolling out, you can expect the software (and the content creation workflow) to improve over time.
ConvertKit Tutorial: The Beginner Guide to Using ConvertKit
Getting started with ConvertKit is fairly easy, thanks to an intuitive interface. That said, follow these steps to quickly get the hang of things:
Step 1: Sign Up on ConvertKit
To begin with, you'll need to register for ConvertKit.
You can use ConvertKit for free here!
Assuming you're already on the website, head to the top-right corner and click "Sign Up Free."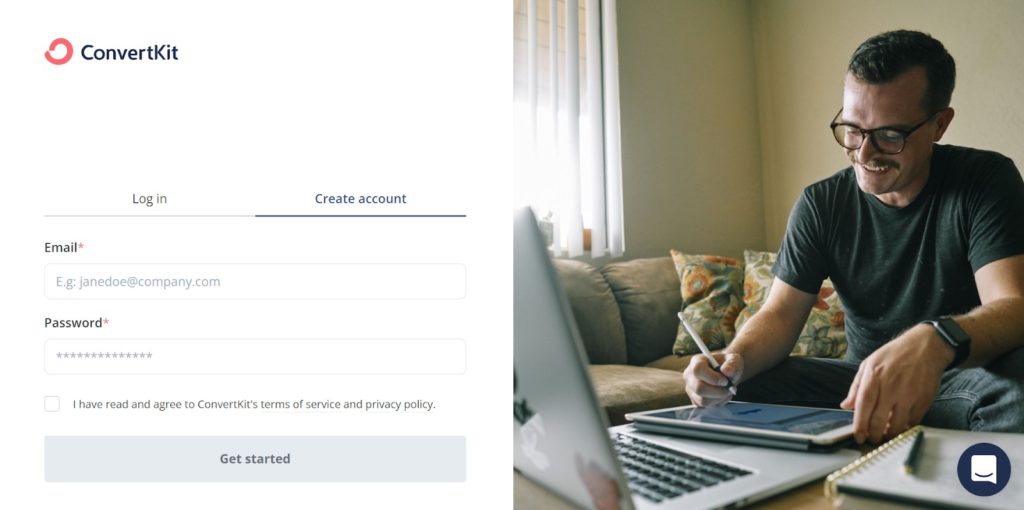 Register with your details (email and password) and get started.
In case you've never used an email marketing tool before, click the left option or else choose the other.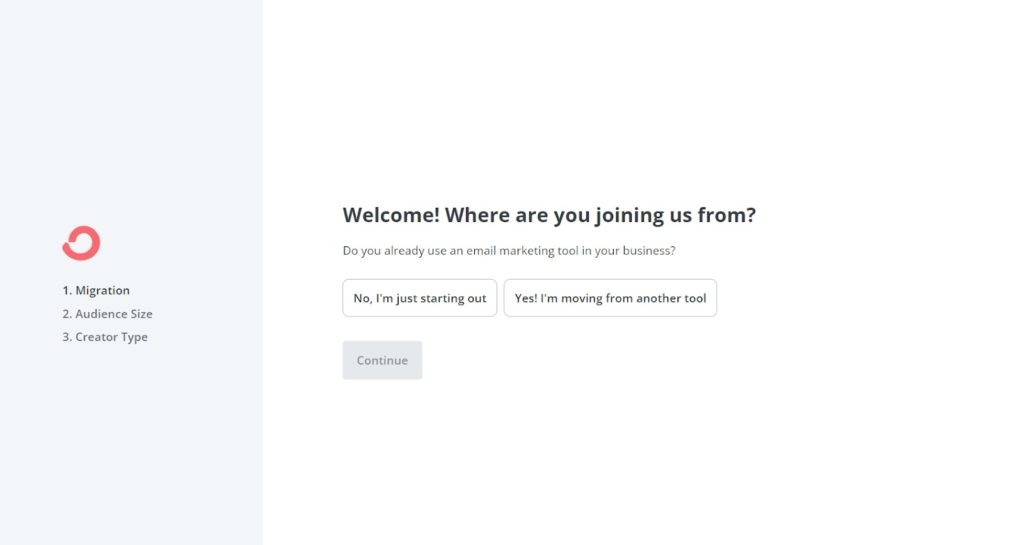 On choosing the right option, you'll be asked about the previous tools you've used and then about the number of subscribers you have.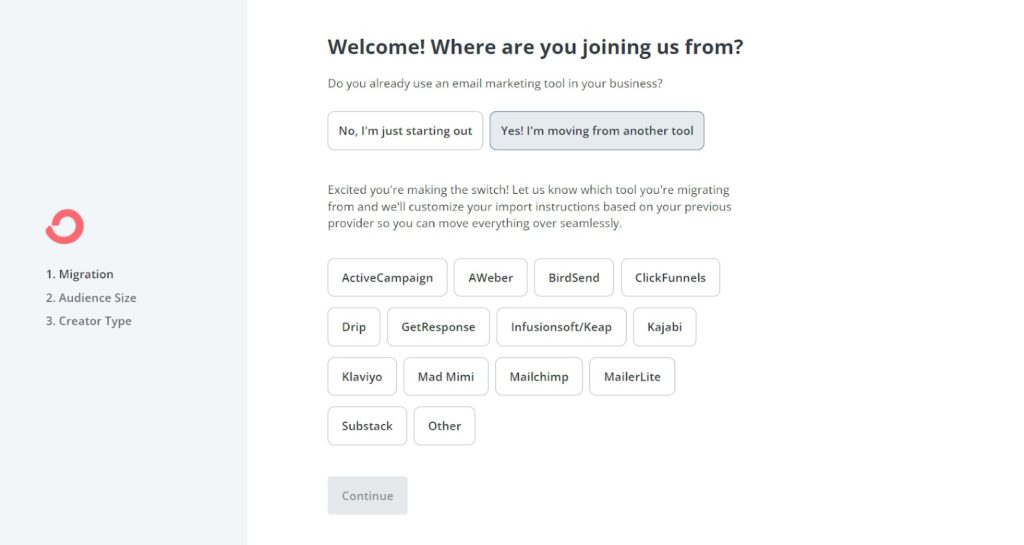 On choosing the left, you'll be instantly directed to the subscribers' questions.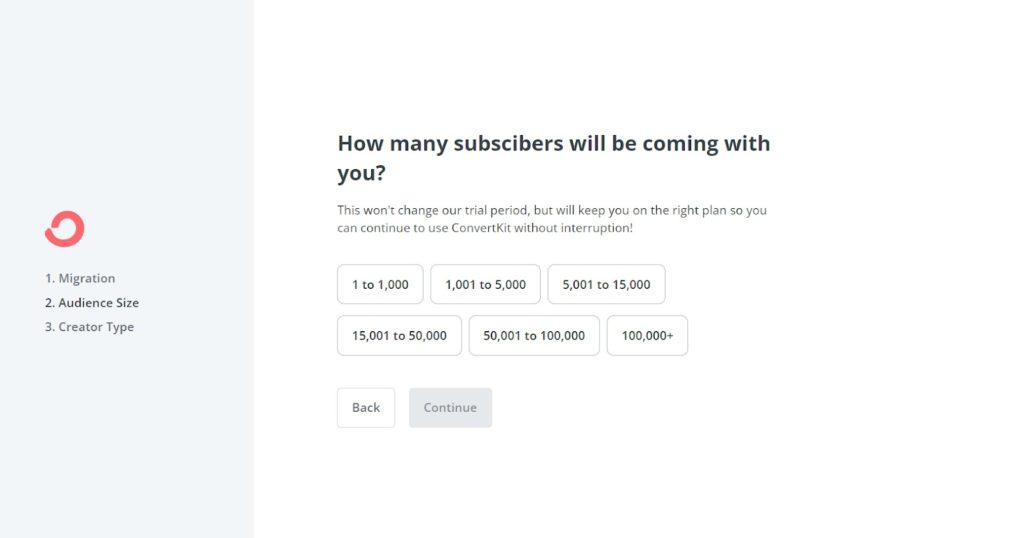 Next, you'll have to enter the creator profession that you suffice.
Step 2: Set Up Your Profile
After you've completed the above steps, you'll be directed to the dashboard, where you can choose your email address and manage your profile options. This includes setting up the domains, subscription details, team details, affiliate information, API, and more.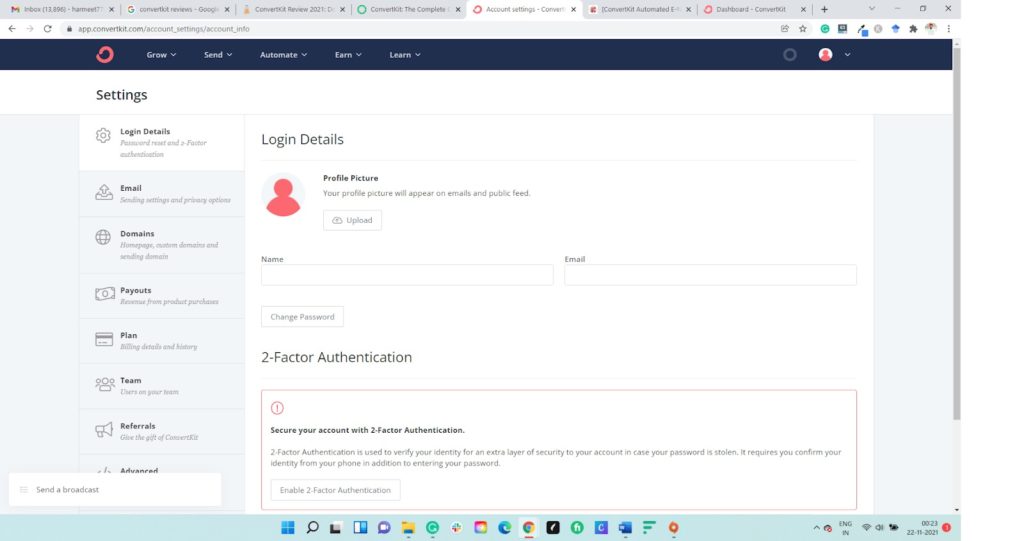 Step 3: Explore the Features
As soon as you enter the dashboard, you'll see a host of options associated with creating email workflows. Head to "Grow" on the top left-hand corner and click on subscribers. On this page, import your subscribers' list.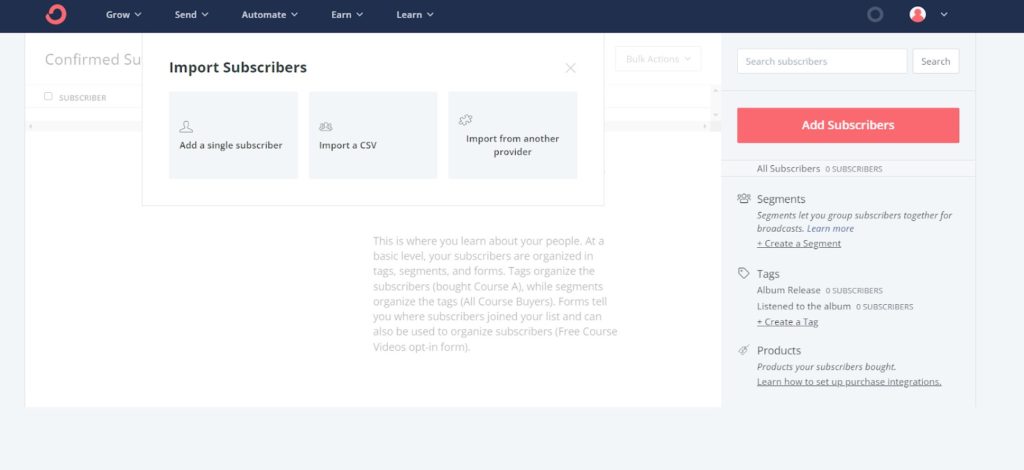 Create landing pages from an array of templates available to gain subscribers.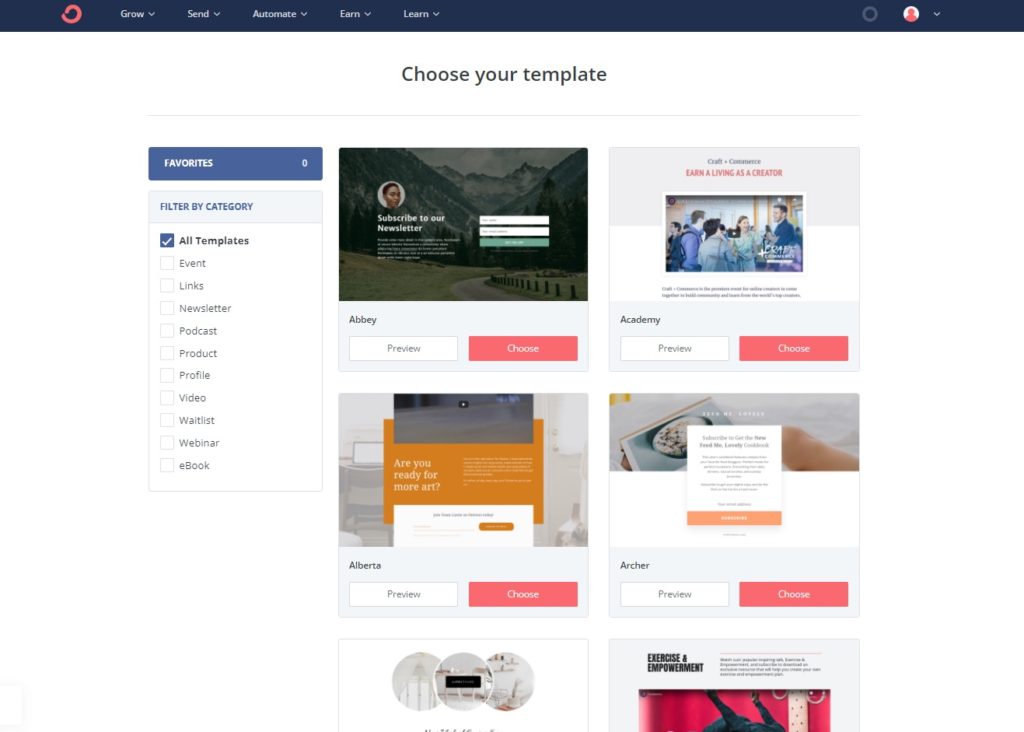 Create email templates, broadcast messages, sequences, and snippets for personalization.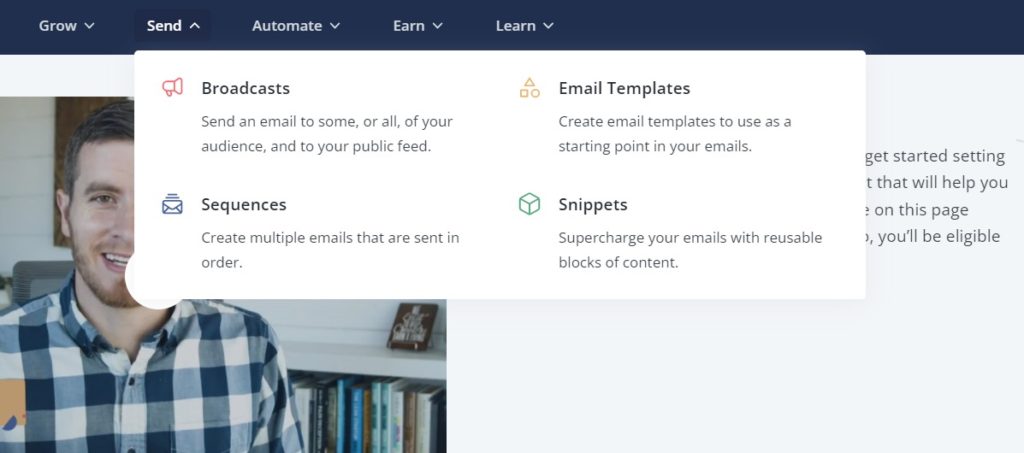 Final Step: Set Up Automation and Sequence
Configure the automated workflows that will run on schedule.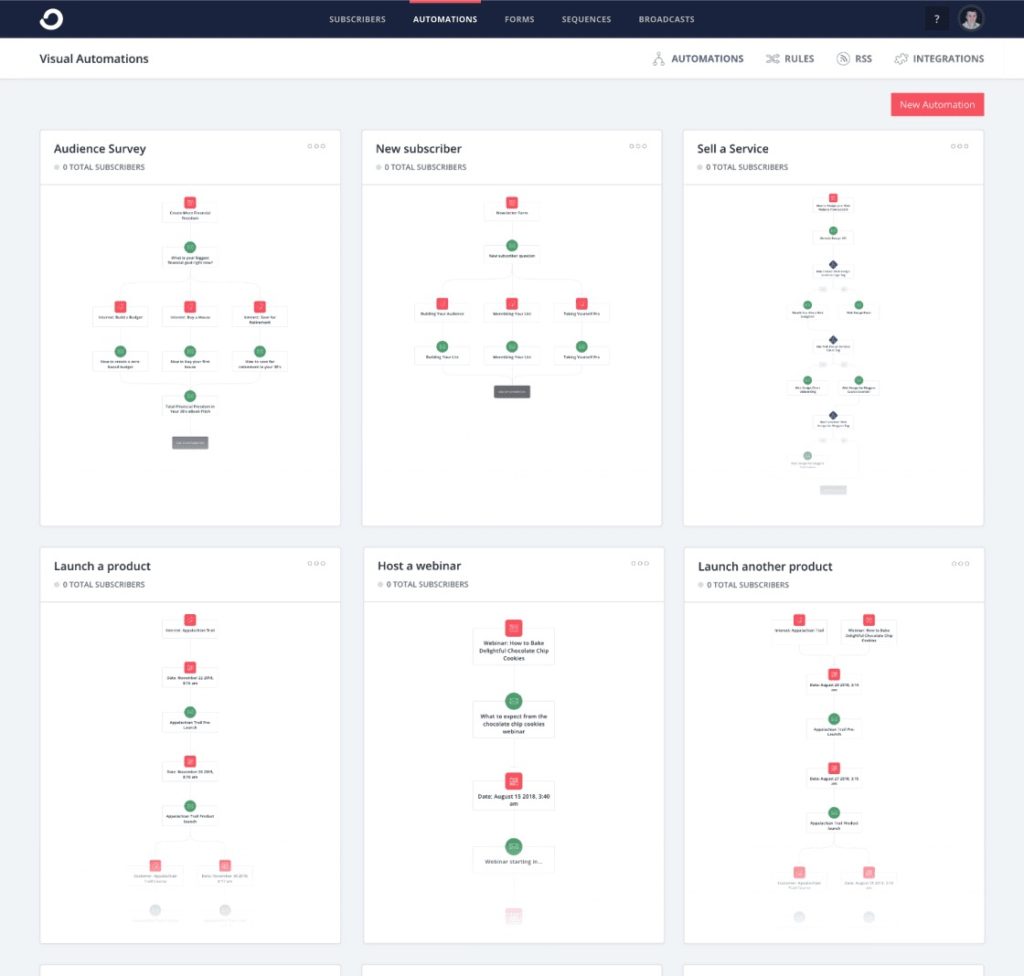 Manage more than one process at once, including email templates, sequence automation, tagging subscribers, and tagging forms.
ConvertKit Review: Conclusion
If you're a content creator who'd like to make the most out of email marketing, then ConvertKit is among the best tools you can use. This tool allows creators to automate activities thoroughly and offers scalability for expanding your content pyramid.
In a nutshell, using this tool will help you get more subscribers, drive your content promotion efforts to the next level, and ultimately get more conversions out of the same pool of traffic!
But, like anything else in the world, there's no such thing as "one size fits all." So, it's advisable that you go for a free trial and check out the features!
You can use ConvertKit for free here!