Picking the best payroll software for your business may be easier said than done. As a small business owner, you probably wear many hats: You might play the role of a manager, a regular employee, and you may even be in charge of marketing and the HR department.
The last thing you want is to handle payroll on the side, right? After all, trying to remain compliant with the payroll laws across various states can lead to some serious headaches.
Payroll software solutions are there to relieve those headaches. Here are some of the best ones.
Best Payroll Software for Small Businesses
But still, you've got to pick the right software for your business. Otherwise, you might encounter some difficulties in the long run. More specifically, an inefficient solution may lose you time and money.
First off, you've got to pick the software compliant with your business's area. Moreover, if you've got employees both in US and Canada, your payroll solution must comply with both regions.
Secondly, you've got to think about who is in charge of processing payroll. If you've got an employee or team that does that precisely, picking a cheaper, DIY solution may be enough for the job. Otherwise, you may need to opt for an outsourced payroll service, which will cost a little more money.
Third, you'll need to consider scalability. You'll need to pick a software solution that grows with your business. This will avoid having to change your software every few years. Consequently, you'll no longer need to worry about constantly re-learning new software solutions.
In other words, there's a lot to look out for. To cut you some slack, we've come up with a list that covers some of the best payroll software solutions in the market. Here are the ones we are going to cover in more detail:
Keep reading to find out more about them!
Gusto: Best Payroll Software Overall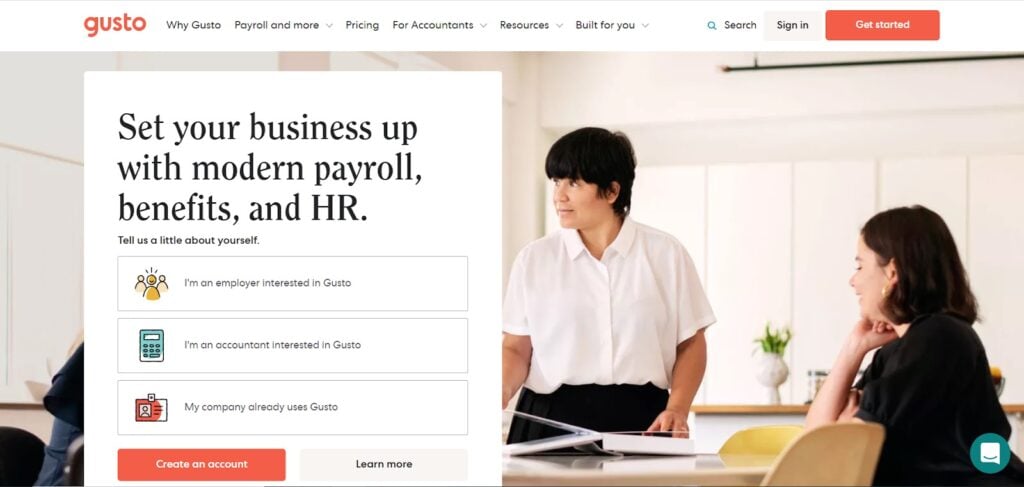 Gusto is an all-in-one HR software solution that handles benefits administration, hiring, and onboarding alongside payrolls. Moreover, its flexible pricing plans ensure small businesses will pay only for the features they need.
Learn more about Gusto Payroll here.
Features of Gusto
Unlimited payroll runs
Automated tax payments and report filings
Employee self-service portal
Employee benefits administration
International contractor payments
Gusto can save you plenty of time in taxes, as it will automatically pay, file, and withhold taxes on local, state, and federal levels. Moreover, this platform allows you to schedule recurring payroll, ensuring you always pay employees on time.
Another handy feature is Gusto's self-service portal. Coupled with the Gusto Wallet app, employees can withdraw money early in case of emergencies or other unexpected events. The amount taken will automatically be deducted from the employees' paycheques.
Pros of Gusto
Time tracking and employee management tools
Easy to use
Excellent customer support
Gusto caters to startups and small businesses. Its user interface is intuitive and doesn't require much time to get used to. Furthermore, Gusto provides you with plenty of guides that will help you figure out how to use this platform for maximum effectiveness.
Besides payroll, Gusto also offers various HR features. For instance, you can easily track employee working hours, store and update employee data, manage time-off requests, and more.
Pricing of Gusto
In terms of pricing, Gusto covers five plans:
Core – $39/month + $6/month per employee
Complete – $39/month + $12/month per employee
Concierge – $149/month + $12/month per employee
Select – upon request
Contractor Only – $6/month per employee
You can also add extra features to your plan, like broker integration, R&D tax credits, or 401(k) retirement savings at an additional cost.
Learn more about Gusto Payroll here.
Rippling Payroll: Best Payroll Software for Scaling Businesses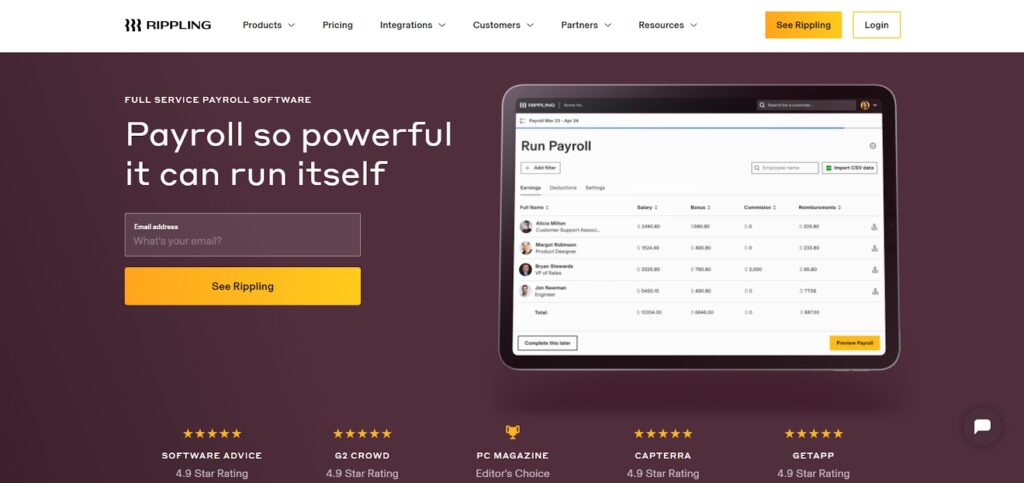 Like Gusto, Rippling is more than a payroll solution. Besides Rippling Payroll, this platform also offers other comprehensive HR and IT management modules. Consequently, Rippling may be a good option for growing businesses looking for an all-in-one platform covering their needs.
Learn more about Rippling Payroll here.
Features of Rippling Payroll
Payroll processing
Payroll tax management
Payroll analytics
Global Payroll management
Time tracking
One stand-out feature of Rippling is its global payroll management. You can process wages for your international workers and send salaries in the appropriate currency.
What's more, payroll analytics help you identify potential mistakes by pulling information from multiple payrolls and allowing you to compare it to one another.
Other notable features include HR-specific tools, like benefits administration or applicant tracking, and IT solutions that will automatically remove an employee's access to business apps once the employee resigns.
Pros of Rippling Payroll
Easy to use
Highly flexible
Extensive integration capabilities
Rippling's main advantage is its ease of use. There are plenty of setup guides available, and due to its automation capabilities, you can run payroll in a matter of minutes.
The platform automatically synchronizes your HR data with payroll and automatically calculates salaries depending on factors such as deductions or hours worked.
In terms of flexibility, you can pay only for the HR and IT features you need and extend the platform's functionality as your business grows over time.
Pricing of Rippling Payroll
Pricing starts at $8/user/month. However, the pricing works on a quote basis. You'll need to contact Rippling to receive a custom quote based on your business's size and the features you'd like to use.
Learn more about Rippling Payroll here.
QuickBooks: Best Payroll Software for Accounting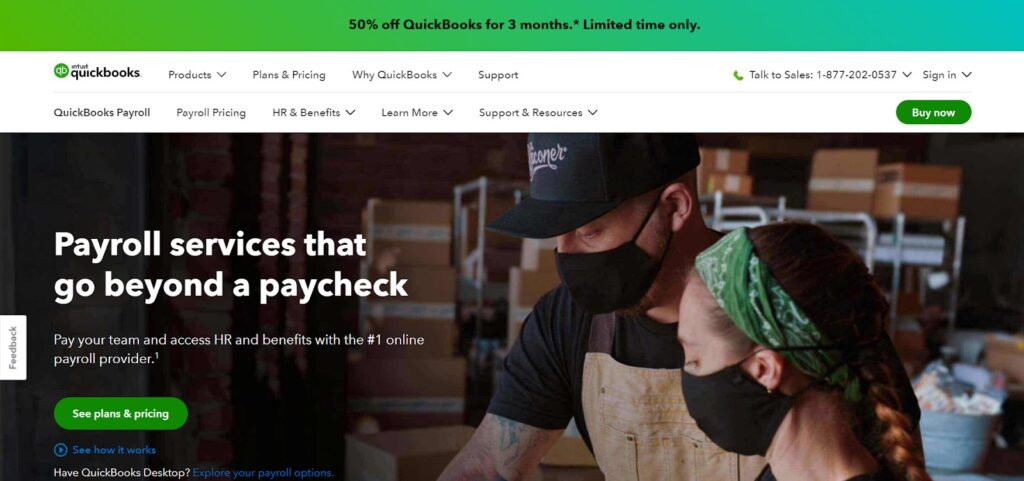 If you're already using QuickBooks for accounting, QuickBooks Payroll is the ideal option. That's because it integrates seamlessly with the accounting system with just one click. Moreover, the data from the accounting solution will automatically transfer to the payroll software.
But QuickBooks is still a solid small business payroll software for companies that do not use its accounting solution. It provides all the necessary features to manage your payroll effectively.
Learn more about QuickBooks Payroll here.
Features of QuickBooks
Unlimited payroll processing
Automated tax payments and filings
Time tracking
Employee benefits
Employee portal
Overall, Quickbooks offers robust payroll management features. Like Gusto, this platform will also handle taxes to save you some time. Moreover, Quickbooks has partnered with SimplyInsured so that you can find plenty of suitable health insurance options for your budget.
Also, its employee portal allows workers to check their PTO withholdings and balances, W-2s, and pay stubs quickly, apply for expense reimbursements, and more.
Pros of QuickBooks
Great customer support
Access to its mobile application
Intuitive user interface
Generally speaking, Quickbooks Payroll is an easy platform to get into. The user interface is intuitive and easy to navigate. If you do encounter difficulties, though, Quickbooks offers a handful of how-to-guides and 24/7 chat support to help you fix any potential issues.
Lastly, through its mobile app, you can run payroll while employees can clock in and out, verify their attendance, or switch between tasks.
Pricing of QuickBooks
Quickbooks Payroll covers three pricing plans:
Core – $45/month + $4/employee/month
Premium – $75/month + $8/employee/month
Elite – $125/month + $10/employee/month
There's also a 50% discount available for the first three months.
Learn more about QuickBooks Payroll here.
Paychex: Best Payroll Software for Startups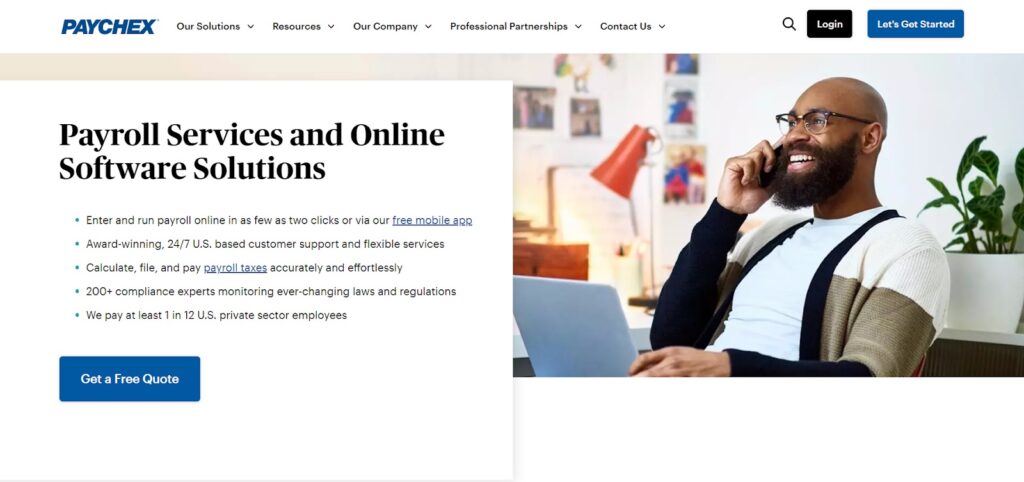 Paychex is an HR and payroll software solution designed to accommodate businesses of all sizes. It also offers simplified versions of the software. For instance, Paychex Flex caters to startups or small companies with up to 19 employees.
This version is straightforward and includes all the basic payroll features, making it an excellent option for startups.
Features of Paychex
Employee self-service
Payroll tax filing and payment
Time tracking
HR tools
Knowledge center
Besides payroll, Paychex Flex offers plenty of HR features, like storing company forms and policies, running background checks on candidates, and onboarding tools that allow new recruits to fill in the necessary documents online, etc.
Paychex also offers compliance support to ensure that you're up-to-date with the latest tax regulations and find tax credits you might be eligible for.
Pros of Paychex
Flexible pricing
Excellent customer support
Various payment options
Paychex will assign you a dedicated representative to ensure you implement the software properly. Moreover, you've got access to 24/7 support through live chat, and the website includes a wide variety of guides that will teach you how to make the most out of the platform.
Also, besides direct deposits, Paychex allows you to pay your employees via paper checks and pay cards.
Pricing of Paychex
In terms of pricing, the Paychex Flex Essentials package will set you back $39/month + $5/employee. You'll have to request a personalized quote for other plans based on the features you need.
Learn more about Paychex here.
OnPay: Best Payroll Software for Affordability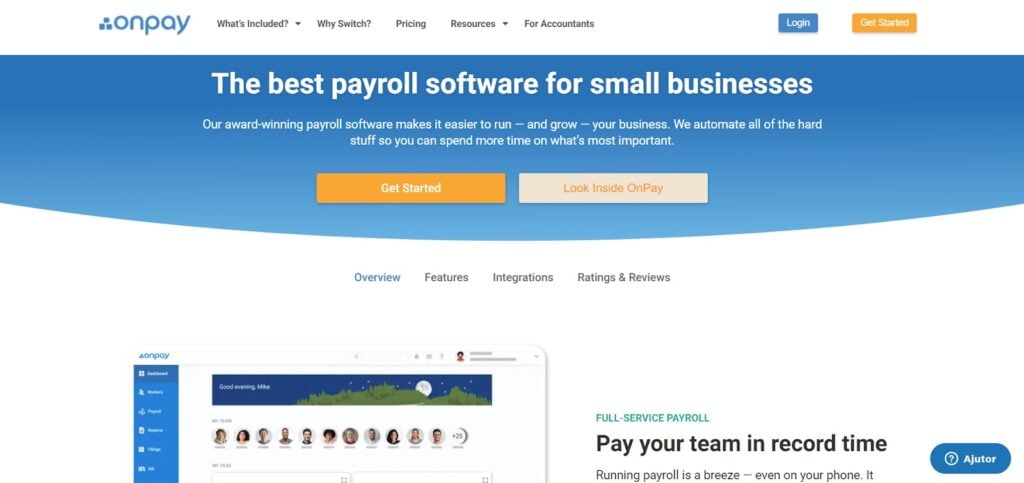 OnPay is a simple all-in-all HR solution designed with small businesses in mind. This platform stands out from the rest because of its single pricing plan, which gives you access to payroll, HR, and benefits management tools.
This platform may be a good choice for small companies looking for a complete solution at an affordable price.
Features of OnPay
Unlimited pay runs
Various employee payment options
Customizable reports
Self-service portal
Payroll tax management
With its HR-specific features, OnPay helps you streamline your workflow by providing you with built-in W-4 or I-9 forms, offer letters, an e-signature tool, etc. OnPay also allows you to create and track onboarding tasks, like assigning a peer coach to your new hire, planning orientation training, etc.
Lastly, OnPay partnered with multiple health insurance companies, including United Healthcare, Cigna, and Humana, and provides licensed brokers to help you find and set up the right health insurance plan for your employees.
This platform also covers 401(k) and workers' compensation plans.
Pros of OnPay
Mobile responsive platform
Integration capabilities
Easy to use
In terms of ease of use, OnPay has an intuitive interface, making it easy for beginners to navigate throughout the platform and learn how to make the most out of it in no time. Furthermore, OnPay comes with data migration and system setup support, while its mobile responsive platform allows you to run payroll while you're on the go. There are also plenty of how-to guides available.
Pricing of OnPay
OnPay charges $36/month + $4/month/employee for its services, and you'll have access to all of the features mentioned above. There's also no setup fee, and you'll get the first month for free.
Payroll Software: FAQs
What is Payroll Software?
Payroll software is a system used to streamline payroll operations from beginning to end. It allows businesses to automate, organize, and manage employee payments, records, taxes, compensation, year-end bonuses, benefits, etc.
Payroll software helps companies pay their employees the right amount at the right time, minimize errors, and generally improve productivity.
What is the best Payroll software for a small business?
Gusto is the best solution overall. It's effortless to use and covers all the features needed to conduct payroll operations effectively. Gusto is an all-in-one software solution, so this platform can also be handy for other activities, like benefits management, hiring, and onboarding new employees.
Moreover, its flexible pricing plans allow you to get the optimal value for money, as you can purchase or remove extra add-ons whenever you need them.
Learn more about Gusto Payroll here.
Conclusion: What Payroll Software is Right for My Business?
In short, it depends on the type of business you run, the features you need, whether you have prior experience with payroll software solutions, the regions the software supports, and ultimately, your budget.
For instance, if you're on a tighter budget, OnPay may be your best bet. It offers all of the necessary features for businesses to conduct their payroll operations, HR activities, and benefits administration at a fair price.
On the other hand, if you're seeking a more in-depth software system, Rippling may be a better option. It covers a broad set of advanced features, like global payroll management or talent management. You can also extend that platform's functionality as your business expands.
A quick recap:
Further read:
5 Best HR Software for Human Resources Management in 2022