Human resources and payroll services can be a complex and time-consuming process. If you are looking for a more streamlined process or want to save money on your HR and payroll costs, you might consider using one of these online solutions.
In this article, we will compare two of the most popular cloud-based human resources and payroll providers — Justworks and Rippling. Let's take a closer look at which service offers the best features, pricing, and customer support.
Justworks vs. Rippling: Similarities
Both Justworks and Rippling are ideal PEO solutions for automating every small business's tedious admin work daily. But this is just the general similarity they share. Some of their other vital similarities include the following:
Rippling and Justworks avail high-quality employee benefits for their clients, including life insurance, health advocacy services, and dental and vision healthcare.
Both come with a valuable resource of helpful HR tools, including global payroll services, paid time-off services, and learning and talent management services.
They're both available on multiple devices, such as the web, Android, and iOS, for easier access and convenience.
Both offer incredible accounting integrations, including Oracle Suite, Sage Intacct, QuickBooks Online, Xero, and Corcentric.
Justworks vs. Rippling: Differences
As a small business owner, choosing between these two PEO platforms majorly revolves around understanding their differences. Some of the top differences you should consider are:
While both Justworks and Rippling offer incredible integrations for smoother operations, Rippling seems to have invested more in integrations than Justworks. Rippling integrates with more than 500 apps, while Justworks mainly offers integrations with about three accounting/finance apps.
Justworks only registers for state unemployment tax accounts in 29 of the 50 US states, which makes it more challenging to hire employees when operating outside these 29 states. Rippling, on the other hand, makes life easier for small businesses to set up and manage SUTA and local tax accounts concurrently.
Rippling boasts an unlimited payroll functionality where you can update any pay run anytime and build any payroll report without involving the support team. However, you can't easily have employees, and their dependents enrolled in benefits without consulting with the support team of Justworks.
Justworks is ideal for freelancers and small and medium-sized businesses, while Rippling can benefit all these and large enterprises as well.
What is Justworks?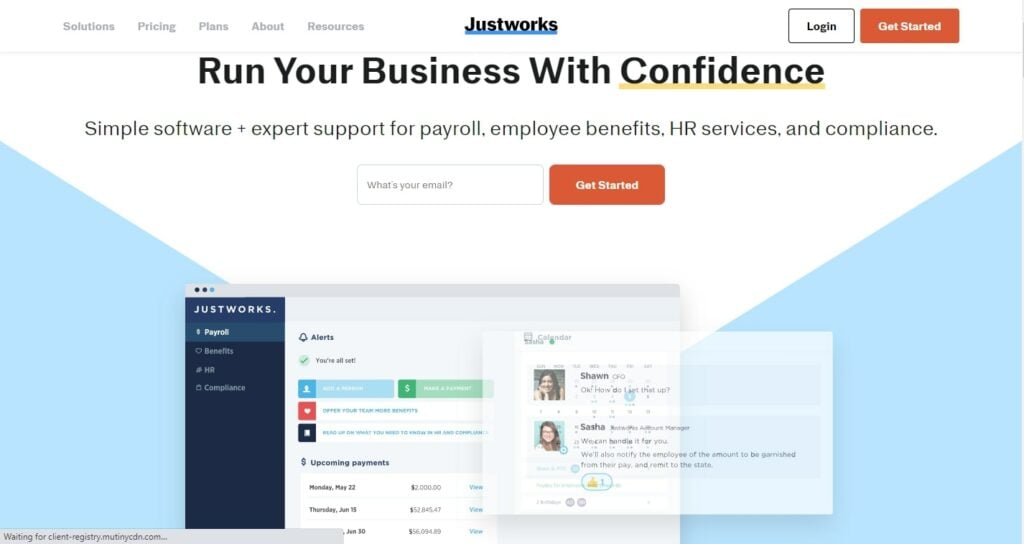 Justworks is a fast-growing HR technology company established in 2012. For the past ten years, the company has been on the run to offer the best PEO services that only a few other PEOs offer today. They're making it easier to run a business and helping employees lead happy and healthy lives through reliable health insurance options, among other benefits.
Justworks Key Features
Some of Justwork's key features you should check out include the following:
Access to a wide variety of rich and nationwide health insurance plans like fitness memberships and wellness perks
Effective compliance support to help your business remain tax compliant
Automated payroll tools, like the automatic direct deposit payroll, enable you to make faster payments at no extra cost
Certified HR consultants are available to offer tailored guidance on how to manage employee data
The HRIS tools allow you to manage your business team seamlessly with minimal paperwork and swift time tracking
Who is Justworks for?
As we've mentioned, Justworks is ideal for freelancers and small and medium-sized businesses. This is because Justworks is still a growing HR technology company and aims to offer high-quality employee benefits that they can only achieve with small to medium-sized businesses.
What is Rippling?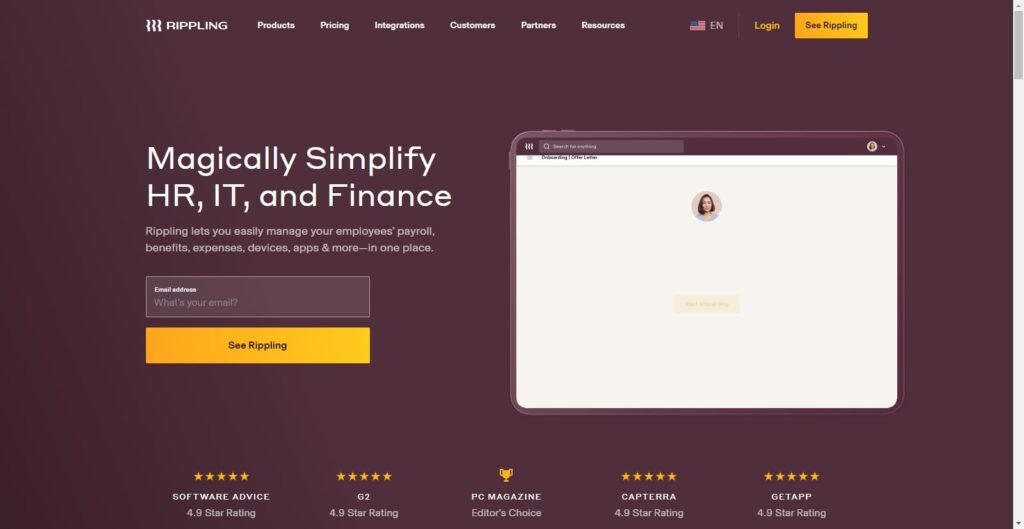 Founded in 2016, Rippling is a leading workforce management platform that has grown to offer leading HR, IT, and Finance PEO services to any growing organization needing these services. Companies can focus on the hard stuff as the Rippling team tackle the little yet challenging stuff like payroll benefits, time tracking, onboarding, etc.
Rippling Key Features
The Rippling, Justworks debate is not near completion before we go through Rippling's features. Some of the key ones include the following:
A seamless accounting integration that helps users to cut down the cost and time of managing accounting systems manually
An HSA/FSA administration that allows for easy handling of healthcare-related tax expenses
401(k) Tracking capabilities make it easier for companies and employees to track workplace retirement plans for employees
It's HIPAA compliant for the protection of employee-sensitive health data
It includes an HR metrics library that contains an extensive list of useful HR functions for effective HR management
Who is Rippling for?
Rippling stands out as an ideal PEO solution for small, medium-sized, and large companies. The ideal customers are businesses looking to automate their onboarding processes and make their HR management processes easier.
Justworks HR vs. Rippling HR
Understanding the difference between Rippling and Justworks is effectively possible when we understand how their respective HR features work. Below are some of the HR functionalities that Rippling and Justworks compare in different ways:
Employee Benefits
Justworks boasts a comprehensive employee benefits package that focuses on employee well-being. Your employees can enjoy the Health Advocate's personal health advocacy services and One Medical's on-demand primary care services at no additional cost. Moreover, your employees can now access the coveted life insurance perks with the Justworks apps wherever they are.
The case is not so different with Rippling as it equally boasts a comprehensive benefits package that appeals to both small and large companies. Whether you're managing a startup or an established company, you can easily incorporate a myriad of employee benefits into your system with the help of Rippling PEO. It brings together, in one system, a collection of benefits, including Medical, FSA&HSA, 401K, Dental, Commuter, Vision, and more.
Talent Management
Rippling has a more elaborate and dedicated talent management package than Justworks. As a CEO or team leader, you can easily find, engage and develop great talent for your business in a single modern talent management platform with Rippling. And with the applicant tracking system, your work is even made easier.
Justworks will also help with effective talent management, but the system isn't as elaborate as that of Rippling. One way to manage talent with Justworks is to set flexible permissions for your team through the Permissions catalog on the app under the HR menu.
Verdict: Rippling Wins in HR Services
Rippling takes a narrow lead under the HR services category. We feel the company has outdone itself in offering competitive HR solutions, given the shorter time they've been in business compared to Justworks. Also, the fact that their talent management solution offers a more elaborate and dedicated path for HR companies puts them at a slight lead above Justworks.
Justworks Payroll vs. Rippling Payroll Services
Another key consideration when picking a PEO platform is checking the platform's payroll services. Here's how these two platforms compare in regard to payroll services:
Payroll Processing
Justworks' payroll processing makes it easier for users to pay employees seamlessly in all 50 states in the US. It also helps simplify your online payroll processes and makes it easy to manage employee, contractor, and vendor payments from one place. Moreover, the platform also helps automate employment and payroll tax regulations compliance.
As for Rippling, the payroll processing experience is centered on customer satisfaction, giving users the swiftness of onboarding employees and contractors in just about 90 seconds. The most incredible reprieve of using Rippling is that you can pay everyone in their local currency within minutes, which saves both parties a lot of time and costs associated with global payment delays.
Payroll Integrations
For both cases, you can seamlessly integrate payroll with other accounting and financial apps like Xero and QuickBooks for a swift onboarding and payment experience. All you need to do is pick a reliable app that optimally meets your payroll needs and integrate it with one of these PEO platforms.
Verdict: Justworks Wins in Payroll Services
We pick Justworks here because we believe the company has done an excellent job building payroll software any startup and growing company can rely on. We believe Justworks' payroll processing covers more payroll features than what Rippling covers, giving them an edge here.
Rippling vs. Justworks: Integrations
Both Rippling and Justworks integrate with various apps to give users an easier, seamless route to the solution they're looking for. However, the two differ across multiple integration aspects, with the main difference being the number of apps each platform integrates with.
Rippling integrates with over 500 apps in different categories, including HR, IT, and Finance, while Justworks only integrates with about 30 apps in various categories, the main one being Accounting.
Rippling Wins in Integrations
Going by numbers and quality of apps, we'll pick Rippling as the winner here since it integrates with over 500 top-quality apps.
Justworks Pricing vs. Rippling Pricing
How much you pay for either of these PEOs depends majorly on your company size and the number of employees you have.
Justworks Pricing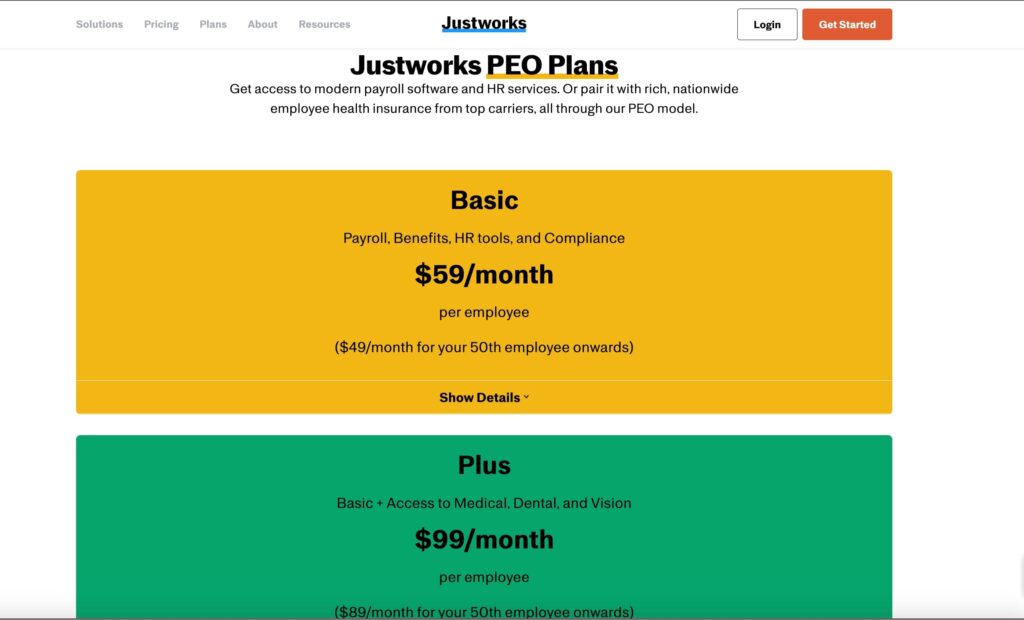 Justworks' pricing structure is divided into two main plans; the Basic Plan, which starts at $59/month, and the Plus Plan, which starts at $99/month. Each plan offers efficient PEO features for your specific business model.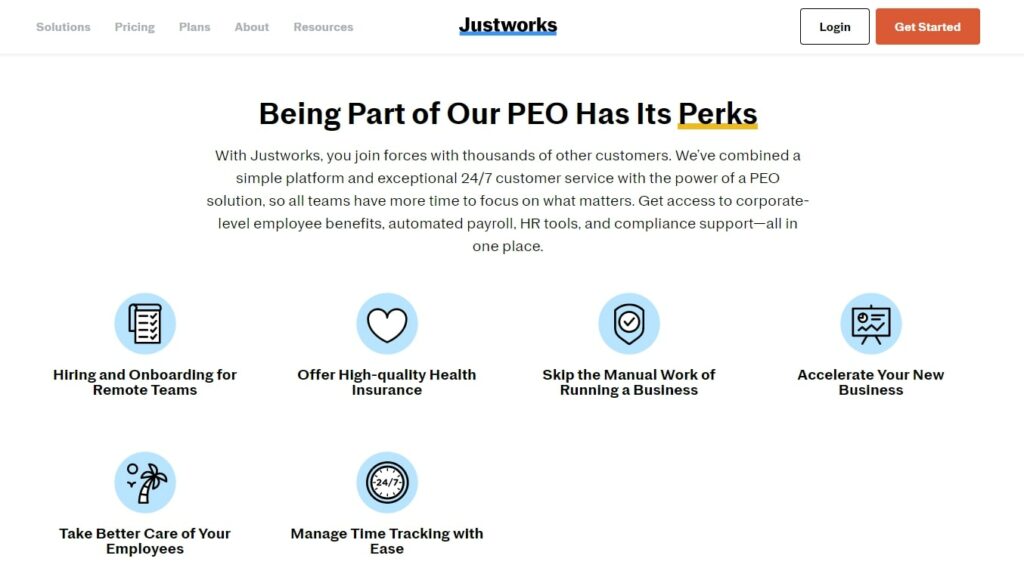 Rippling Pricing
Rippling pricing is rather fairly complicated in that you have to develop your perfect plan based on your needs and company structure. However, the least you can pay is $8/month per employee.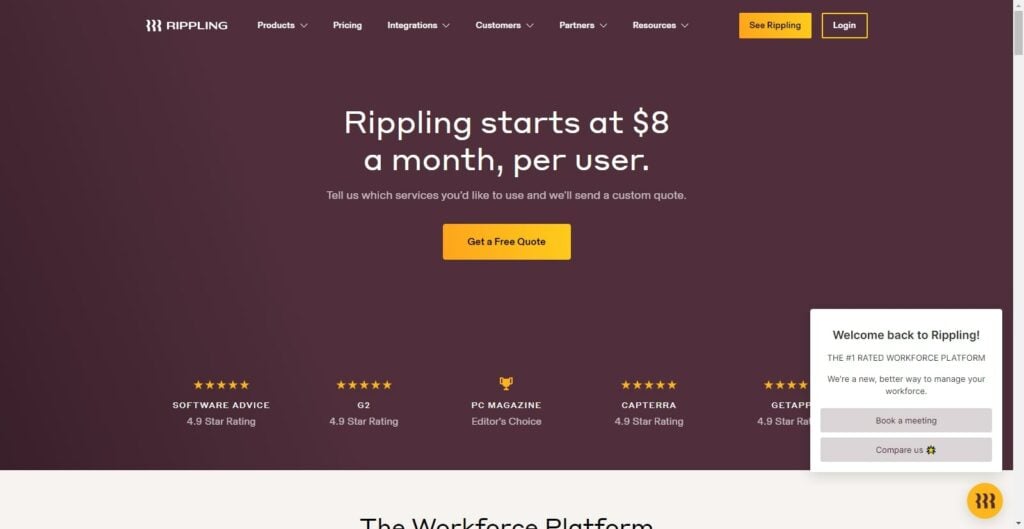 Each plan can cost as high or as low as your specific company needs. You'll have to pay the minimum $8/month per employee and any additional cost for the additional features you subscribe to.
Justworks Wins in Pricing
We feel Justworks has done an incredible job with their pricing tiers, which cover a lot of services and benefits at no extra cost to what's already charged for the specific plan. While Rippling's introductory price is far cheaper than Justworks charges for their Basic Plan, you might not get to enjoy the services you'd enjoy with Justworks' Basic plan.
Rippling vs. Justworks: Customer Support
As you may expect, both companies have invested in top-notch customer support for a seamless customer experience.
You can reach Justworks' customer support wherever and whenever you need help through phone, email, chat, slack, and SMS. However, for phone calls, you can only reach the team anytime between 8 am and 5 pm PT from Monday to Friday.
Rippling customer support is available via the Administrators page, where you need to log in to access the support center. You can also leave a message to the Sales Team, where you'll need to fill in your business information.
You can also contact other specific departments, like the Tax Agency and the Insurance Carriers, if you need help from those departments.
Justworks Wins in Customer Support
Again, Justworks takes the lead here as they offer a wider option of customer support platforms you can use to get help anytime you need it. Besides having a few customer support options, we feel Rippling is also asking for a lot of information from customers who need help, making the process cumbersome.
Justworks vs. Rippling: Conclusion
Choosing an ideal PEO platform from these two shouldn't be daunting, especially if you understand your business model and know what perks to get for your employees.
If you're just starting and are looking for a PEO to help you manage your employees effectively, then Justworks is the option you should consider. Justworks has the benefits and features to help align your small to medium-sized business' HR, finance, and IT systems toward perfection.
Rippling will come in handy for established businesses that are looking for better ways to manage their workforce. You can always customize your pricing plans to suit each of your employees' needs for improved workplace success.