If you've been looking for the best HR software solutions, you've probably already heard about Gusto. Although this platform initially started as payroll software, it has evolved into a comprehensive, all-in-one HR solution. There's plenty to talk about regarding this platform; hence we'll provide an in-depth Gusto review.
However, before we dive in, we need to clarify that there's no one-size-fits-all HR solution that will cover your needs perfectly. Although Gusto sits amongst the best software, you've still got to consider functionality, ease of use, scalability, and price.
You've got to look for something easy to implement and contains all the features you need to streamline your workflow. Also, the software of your choice must adapt as your company grows.
Will Gusto fill in the checklist? Let's have a look!
What is Gusto?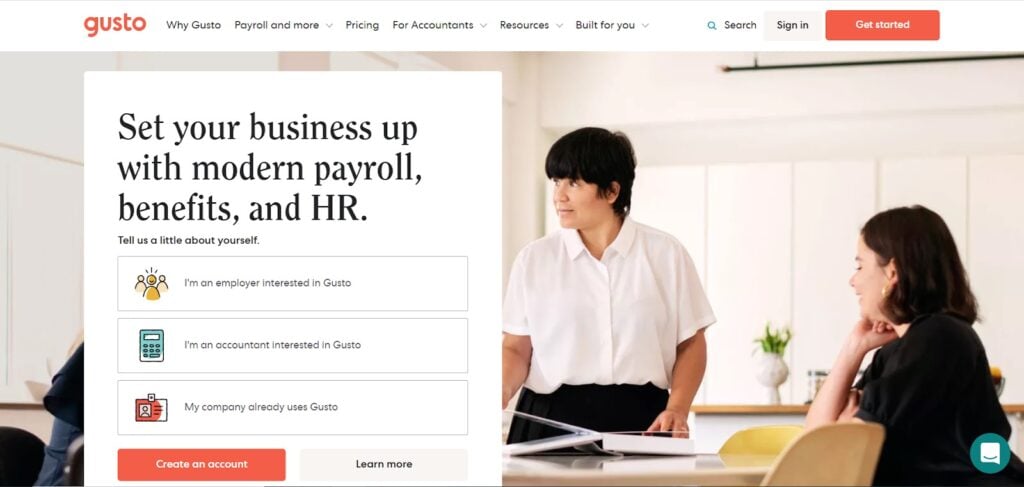 Gusto is an all-in-one HR software solution. Besides payroll, you can use this platform to handle hiring and onboarding, employee benefits, and more.
This platform stands out because of its ease of use, affordability, and scalability.
Gusto is designed with small businesses in mind. It offers plenty of handy guides that will teach you the ropes of the software, while its user interface is intuitive and easy to navigate.
Gusto's pricing plans are flexible in terms of scalability, ensuring that you'll pay only for the features you need.
You can upgrade or downgrade your subscription at any time, and there are plenty of extra add-ons available, like health insurance, broker integration, and 401(k) retirement savings.
Gusto Pricing and Plans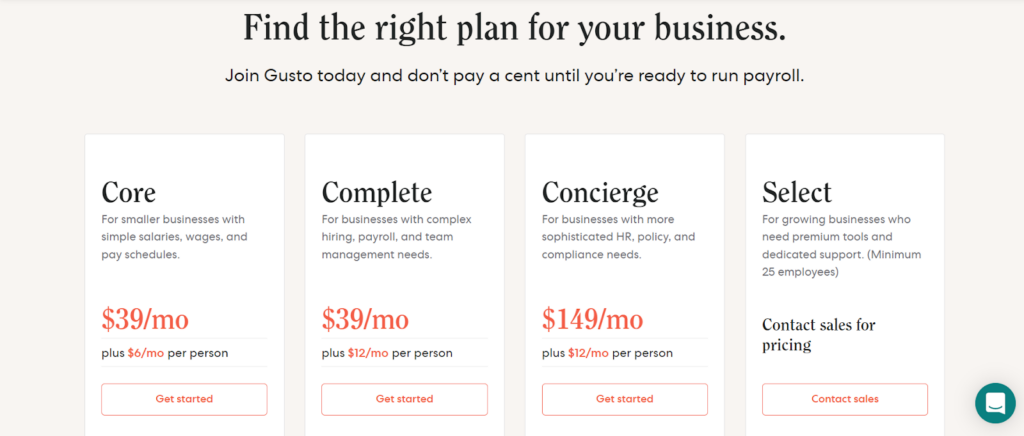 Gusto's pricing starts at $39/month, plus $6 per person. The platform covers four main pricing plans: Core, Complete, Concierge, and Contractor Only.
You also can create a custom plan based on the features you need via Gusto's Select subscription.
Core
Gusto's Core plan costs $39/month, plus $6/month/person. This plan is suitable for small businesses as it provides all the necessary features to handle payroll, taxes, and basic HR activities.
This plan offers unlimited payroll runs, local, state, and federal tax filings, paid-time-off policies, payroll reports, etc.
It also offers employee self-service tools that let team members track their pay stubs, update personal information, and request time off without bothering the HR department.
Complete
Gusto's Complete plan costs $39/month, plus $12 per person. It includes all the features available in the Core plan and other HR-specific functionalities, like team management, hiring, and onboarding tools.
The Complete plan is suitable for businesses looking to handle more complex HR operations, aside from conducting payrolls.
Other features include a built-in time tracker, employee surveys, customizable offer letters and onboarding checklists for managers and employees, the ability to sign and store hiring e-documents within the platform, and more.
Concierge
Gusto's Concierge plan costs $149/month, plus $12 per person.
Aside from the features included in the other plans, the Concierge plan provides dedicated customer support, access to an HR resource center, and compliance alerts.
This plan gives you unlimited access to SHRM and HRCI-certified HR experts. These experts can provide feedback and offer you guidance in minimizing compliance risks, solving weak points in your HR department, and improving employee relations.
Learn more about Gusto Concierge here.
Contractor Only
The Contractor Only plan costs $6/month/person and is specifically designed for businesses or solopreneurs that work with 1099 contractors. This plan includes 4-day direct deposits, filing and distributing 1099 files, and unlimited contractor payments.
Learn more about Gusto pricing here.
Gusto Review: Features
Gusto offers all the features necessary to help you save time, manage employee benefits, remain compliant with state and federal policies, and streamline your HR and payroll processes.
The platform achieves this through automation tools, integration capabilities, and in-depth reports.
Let's discuss this in further detail.
Employee Onboarding
Gusto makes hiring and onboarding new employees a breeze. Firstly, Gusto allows you to create job openings directly within the platform and post them automatically on LinkedIn, Google Jobs, ZipRecruiter, etc.
Secondly, you can create, share, and store documents within Gusto. With its employee self-service tools, new hires can fill in I-9 or W-4 forms and other documents without relying on the HR department to do it for them.
Gusto's software provisioning and de-provisioning is another time-saver. In short, the platform allows you to create or remove third-party app accounts for your employees. You can easily connect employees to Asana, Zoom, Slack, Microsoft 365, etc.
Payroll
Running payrolls with Gusto is quick and straightforward because of the AutoPilot feature. The payroll will automatically run within the specified interval. In short, all you need to do is fill in the team's payroll information, enable the AutoPilot feature, and you're done.
Furthermore, Gusto will automatically calculate, file, and pay your taxes (local, federal, and state) after each payroll. Also, the platform keeps track of any changes in tax laws and will adjust the calculations accordingly.
In terms of flexibility, Gusto gives you plenty of options. For instance, it supports both hourly rates and salaries, and you can run payrolls weekly, bi-weekly, monthly, and bi-monthly. On the other hand, employees can choose to be paid via debit card for easier access to their money.
Benefits Administration
Benefits administration is a must-have for most payroll software solutions. However, Gusto takes it a step further.
Firstly, Gusto allows you to import existing benefits providers to its platform. This eliminates the hassle of switching between platforms and makes the payroll deductions process easier.
Secondly, aside from health benefits and retirement plans, Gusto allows you to set up commuter benefits, enable charitable matching, and create custom benefits.
Third, there's Gusto Wallet. This is a mobile app that employees can be paid through and allows them to manage their finances. More specifically, they can easily create various savings accounts where their money will automatically be stored after each paycheck.
Moreover, employees can withdraw up to 40% of their paychecks between paydays in case of emergencies. This money will automatically be repaid upon payday.
Integrations
Gusto integrates seamlessly with various third-party applications, allowing you to synchronize your data across multiple platforms and enhance the software's functionality.
Some of the available integrations are the following:
Although Gusto has its hiring tool, note that it is in its Beta phase. Using third-party apps might be a better option if you're looking to expand your team.
Other than that, Gusto also offers plenty of integrations for tax preparation, performance management, learning management, analytics, and more.
Reports
Gusto provides various reports for payrolls, contractor payments, bank transactions, pay stubs, etc. You can view these reports directly within the platform or download them as CSV or PDF files.
Moreover, you could create customized report templates so you can track the data that matters to you. For instance, there's the Employee Report Builder. It lets you create customized reports based on your employee's compensation or other personal information.
Lastly, the platform will notify you whenever there are any changes in state or federal laws so you can take action and remain compliant.
Gusto Review: Pros
Ease of Use
Gusto is designed with small businesses in mind. The platform is user-friendly, and people without prior experience in payroll software can get used to Gusto quickly.
The dashboard is intuitive. It offers a menu on the left side of the screen, enabling you to easily navigate payroll options, reports, benefits management, etc. It also sends reminders to complete unfinished tasks, like completing offer letters or approving time-off requests.
Additionally, the platform provides plenty of documentation on using the software effectively.
Excellent Employee Portal
Gusto's employee portal can be a time-saver for businesses and employees.
It gives employees the ability to fill in onboarding documents by themselves, monitor their pay stubs, request time-off, and update their personal information. Therefore, your HR department won't have to deal with monotonous work, enabling them to focus on other essential tasks.
Moreover, employees have lifetime access to their accounts to view and download their pay stubs even after leaving the company.
Great Customer Support
All Gusto users have access to support via live chat, phone, and email.
Additionally, Gusto's website provides various articles and how-to guides that can help you through anything from setting up an account, how to make the most out of the platform, how to run your business more effectively, and even state guides that run you through the payroll regulations of a given state within the US.
Meanwhile, Gusto Concierge takes support to another level. This plan gives you access to a team of dedicated HR experts who will work closely with you and advise you regarding regulations and how to improve your HR activities.
It also gives you access to an HR-specific resource center to find information regarding various topics, including safety regulations, managing employee terminations, building company culture, and more.
Gusto Review: Cons
No Mobile App
Aside from the Wallet App, Gusto falls short in mobile accessibility. At the time of writing, there's no mobile version available for the software. Consequently, managing employees and payrolls while on the go is a daunting task.
Although you can still run payrolls via web browsers, the user experience is lackluster, as the process involves quite a bit of scrolling, and navigation is cumbersome on smaller screens.
The Core Plan Doesn't Include Time Management
While time management tools should be an industry standard for payroll and HR software solutions, Gusto doesn't include them in its most affordable plan.
Time and Paid Time Off management tools are only included starting from the Gusto Complete subscription.
However, you could get around this issue by integrating the software with other third-party time management applications.
How Gusto Compares
Gusto vs. Quickbooks
Although both payroll solutions are easy-to-use and appealing to small businesses, Quickbooks Payroll has the winning edge in a few categories.
Firstly, Gusto covers health insurance only in 39 US states, whereas Quickbooks' health insurance is available in all 50 states.
Quickbooks offers next-day direct deposits across all of its plans in terms of payroll. This feature is only available starting from Gusto's Complete plan.
Lastly, if you already use other Quickbooks products, like Quickbooks Accounting, you should choose its payroll solution over Gusto. That's because Quickbooks' products integrate seamlessly with one another.
However, Gusto takes the cake as a standalone solution due to its automation capabilities and customization options.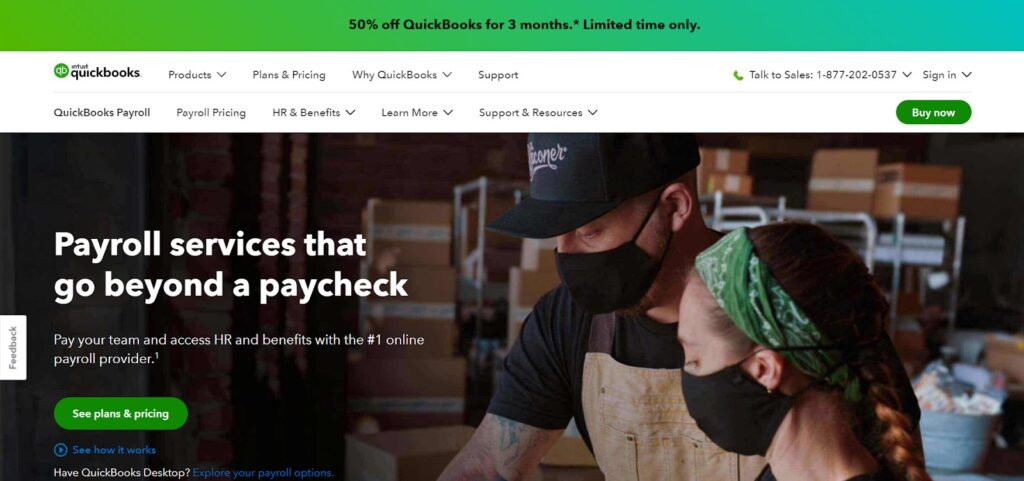 At the time of writing, you can get Quickbooks Payroll at a 50% discount for the first three months.
Gusto vs. Bambee
In terms of payroll, Bambee offers 2-day direct deposits, handles taxes automatically, and that's it. In other words, if you're looking for a dedicated payroll solution, you can't go wrong with Gusto.
However, where Bambee shines is through its HR capabilities. Like Gusto's Concierge subscription, you'll get access to certified HR experts that will offer you guidance and take care of onboarding, terminations, and more.
Also, the platform provides you with plenty of HR-specific features, like running HR audits, compliance indicators, etc. It also provides a space where employees can alert the company of any potential concerns and share feedback.
Overall, Bambee wins in the HR department.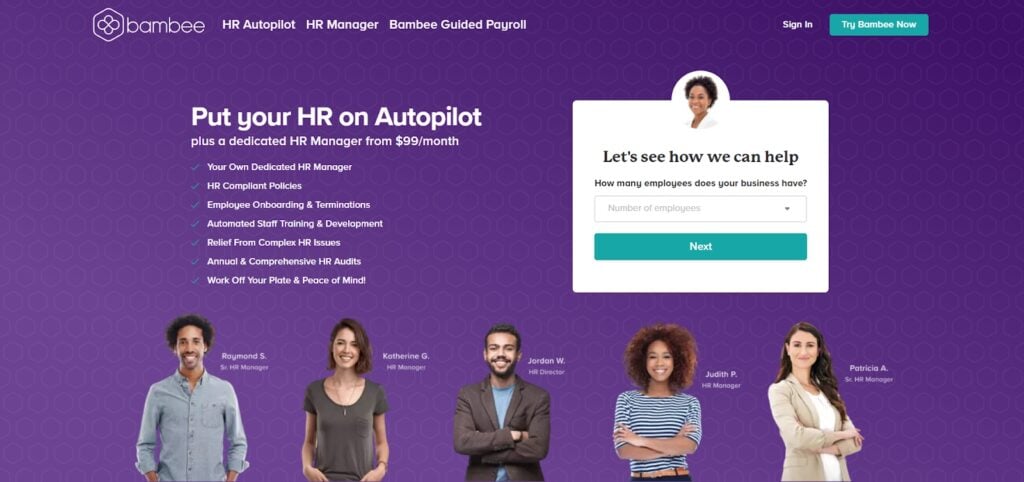 Gusto vs. Rippling
Like Quickbooks, Rippling covers health insurance across all 50 states.
Moreover, the platform offers modules dedicated to HR and IT departments, making Rippling Payroll a better option for companies that expect significant growth soon.
However, if you're looking for a straightforward payroll solution with basic HR features, Gusto remains a good option.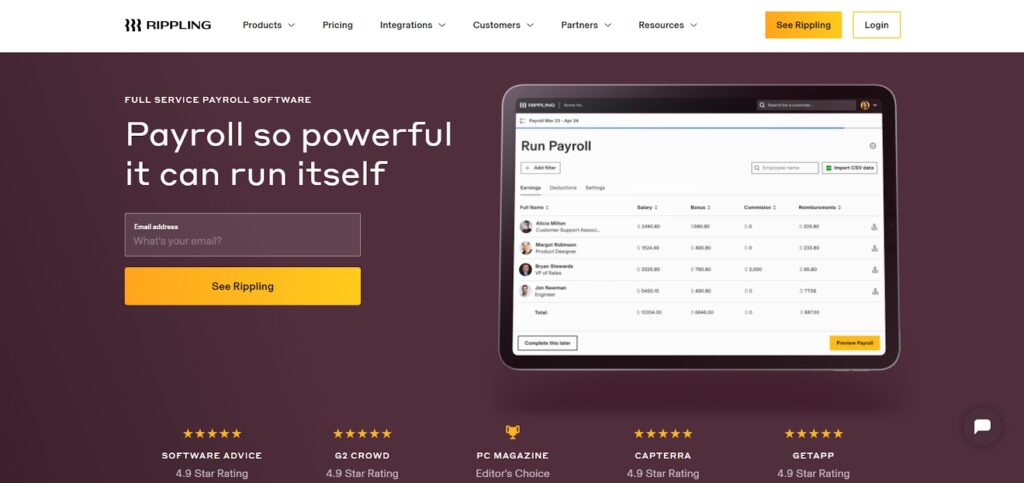 Gusto vs. OnPay
OnPay may bring better value for money than Gusto. It offers a single pricing plan starting at $36/month, plus 4$/month/person, with the setup and first month of the subscription for free.
OnPay offers all the features you would expect from a payroll and HR software solution, including benefits administration, automated tax filings and payments, W-2 and 1099 file processing, etc.
However, it also lacks a few features that Gusto has, like time tracking, employee performance reviews, advanced automation, and other functions, like Gusto's Wallet App.
Still, OnPay might be a better option in terms of affordability.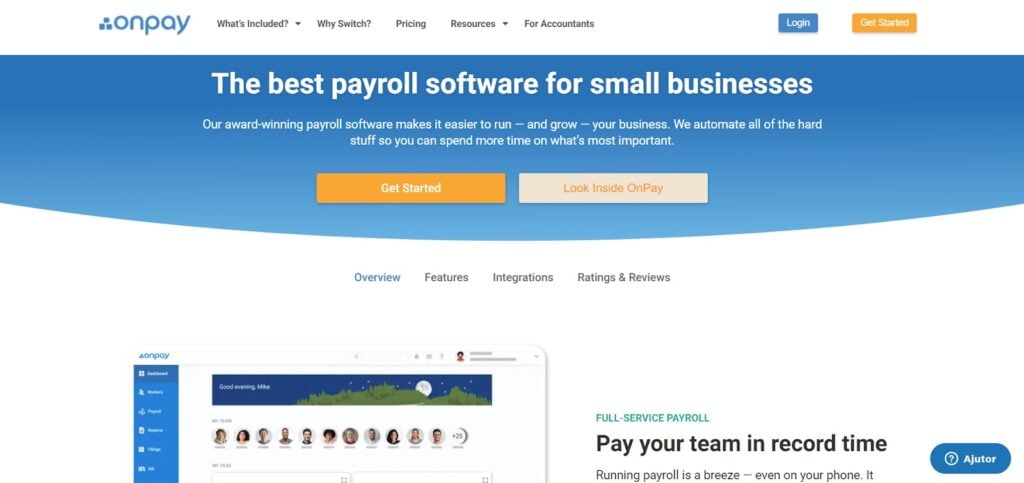 Conclusion
Overall, Gusto Payroll is a solid option that's worth considering. It's relatively affordable and user-friendly,
Gusto is an excellent solution for small businesses and startups with little to no prior experience with HR software.
In addition, Gusto stands out from the crowd in terms of features due to its Autopilot payroll system and advanced employee self-service portal.