There are several HR and payroll software options for users to choose from. While these do similar tasks, each has strengths and weaknesses that businesses should consider before purchasing.
Large and small enterprises can use an HR and/or payroll platform to handle employee data. PEOs with ample experience can help businesses efficiently manage recruitment, payroll, and human resources functions. 
In this article, we'll make a side-by-side comparison of two major platforms: Rippling and Justworks. We'll look at some of the key features of both products and their benefits and drawbacks.
Let's begin with a quick overview of each platform.
Rippling & Justworks: Similarities
Key similarities between Rippling and Justworks include the following:
Both are cloud-based SaaS companies that aim to provide all tools you need to run payments, manage time and attendance, and administer benefits in one place
The systems automatically calculate deductions and paid time off before any payroll. You can also schedule payments on particular days of the month.
Both HR & payroll apps can calculate, file, and pay state, local, and federal taxes every time you run payroll. They can file taxes in most states, allowing you to work with employees from multiple states.
Justworks vs. Rippling: Differences
Differences between Rippling and Justworks include:
Justworks is outright about its pricing structure and the features provided in each plan. While Rippling costs $8 per user per month, it does not state other hidden charges you might incur
Justworks only registers state unemployment tax accounts in 29 states, while Rippling sets up and manages SUTA and tax accounts in all 50 states.
On Justworks, you can't edit pay runs with commissions, bonuses, and reimbursements. However, Rippling allows you to update any pay run at any time without further assistance.
What is Rippling?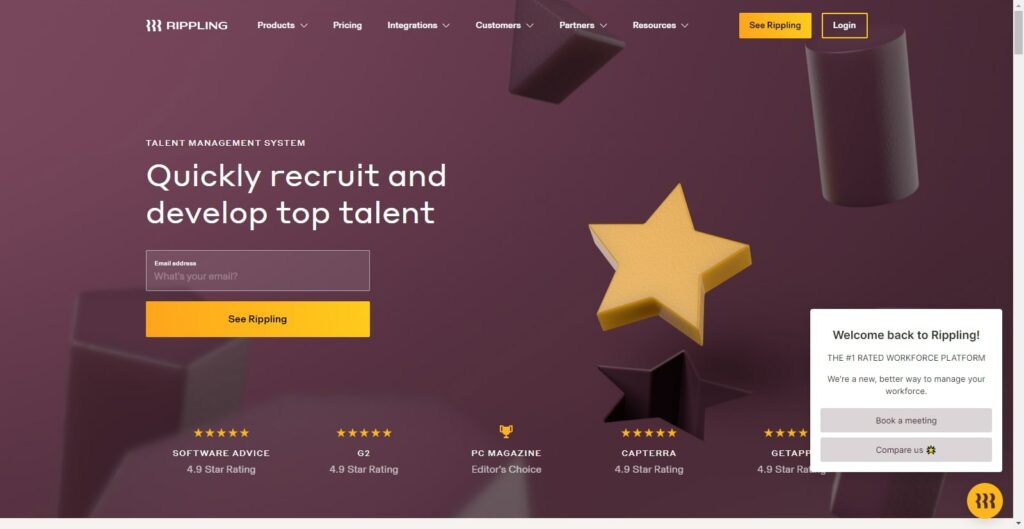 Rippling is a comprehensive HR solution that lets you manage employee payments, benefits, expenses, and devices in one place. It's suitable for small and large enterprises with small or distributed workforces in the US or globally. 
Rippling's key selling traits are automation features, an intuitive platform, and extensive app integration capabilities. It can help you streamline HR processes and handle complex tasks such as applicant tracking, making custom workflows, enhancing compliance, task management, and extensive reporting. 
Rippling Key Features
Here's an extensive list of the features and services that Rippling provides:
Unified workforce management features include workflow automation, global workforce management, policy management, workforce analytics, app access and approval management
HR features include global payroll, talent management, learning management, time and attendance, benefits, and employee surveys.
Information Technology products include app management, password management, single sign-on, device security, device offboarding, ordering, shipping, and storage.
Finance tools include expense management, corporate cards, and bill payment.
Who is Rippling for?
The platform is suitable for businesses with 2 – 2000 employees who work locally or globally. It serves companies looking for automation features and who want an all-in-one HR solution that integrates nicely with available apps, benefits, and software.
Rippling can also benefit mid-sized businesses looking for a customizable option they can grow with.
What is Justworks?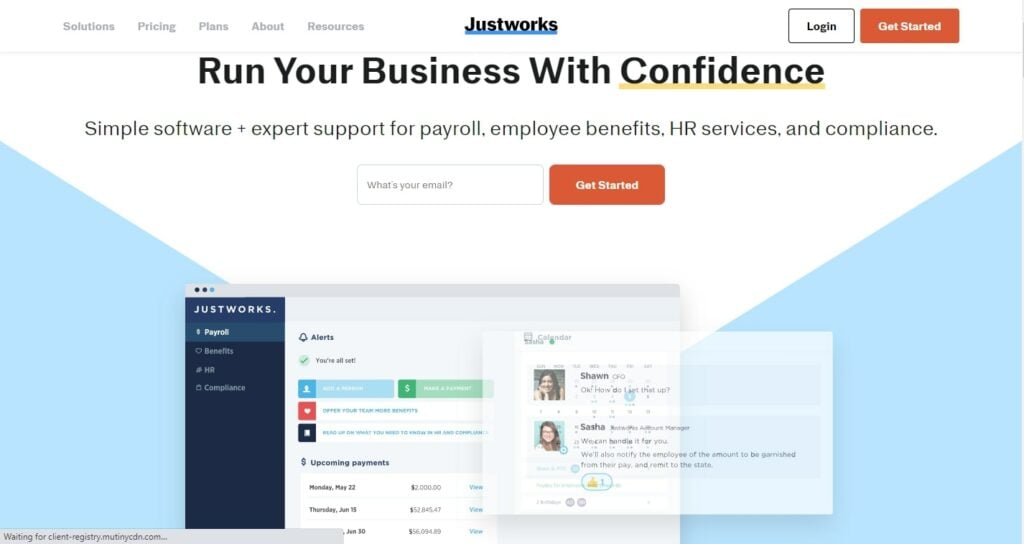 Justworks is a professional employer organization (PEO) that aims to lessen your HR burdens by handling your HR, payments, benefits, and compliance needs. It started in 2012 during the internet era, meaning its developers had modern businesses in mind. 
The company is popular in the US serving many companies like Code Academy, WordPress, Urban Dictionary, and more. Justworks is accredited by the Employer Services Assurance Corporation (ESAC) and the Internal Revenue Service (IRS.) So, you can rely on it for quality expert HR assistance.
Justworks Key Features
Key features of Justworks include:
PEO features include access to benefits, compliance support, automated payroll, HR tools, full-service support, and HR consulting
Payroll features include filing W-2s and 1099s, automated direct deposit, bonuses, reimbursements, overtime payments, advanced reporting, and app integrations.
HR tools include onboarding, paid time off, reporting, E-signatures, workers' comp, employee training, and unemployment insurance filings.
Who is Justworks for?
Justworks is best for small businesses that want upfront pricing to budget themselves effectively. It can help independent businesses to manage their HR by providing legal guidance. The company also offers extra customer support outside business hours. 
Justworks vs. Rippling: HR Services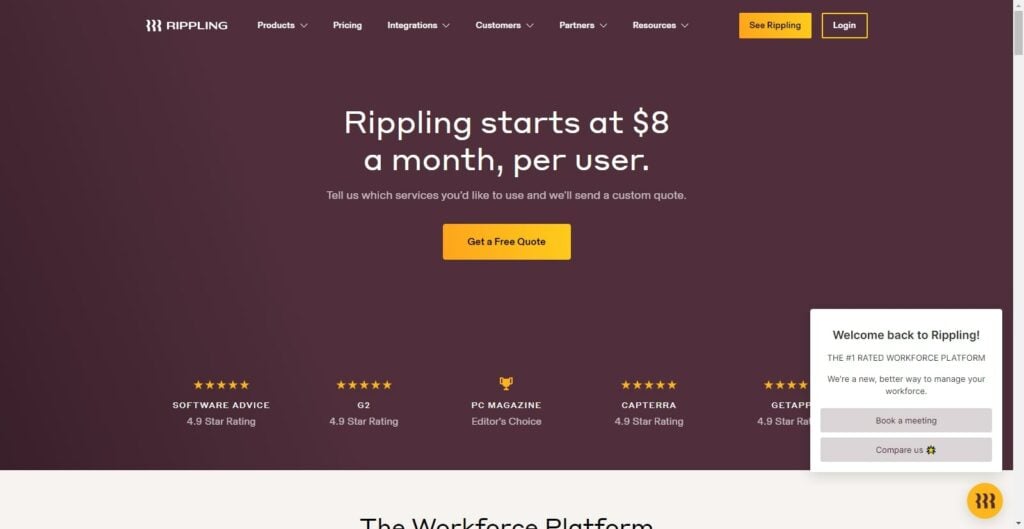 Justworks and Rippling are intuitive and easy to implement HR software. It only takes a few seconds to perform most tasks, and employees don't require additional assistance to perform most daily tasks.
However, Rippling offers more capability; let's discuss.
Workflow Automation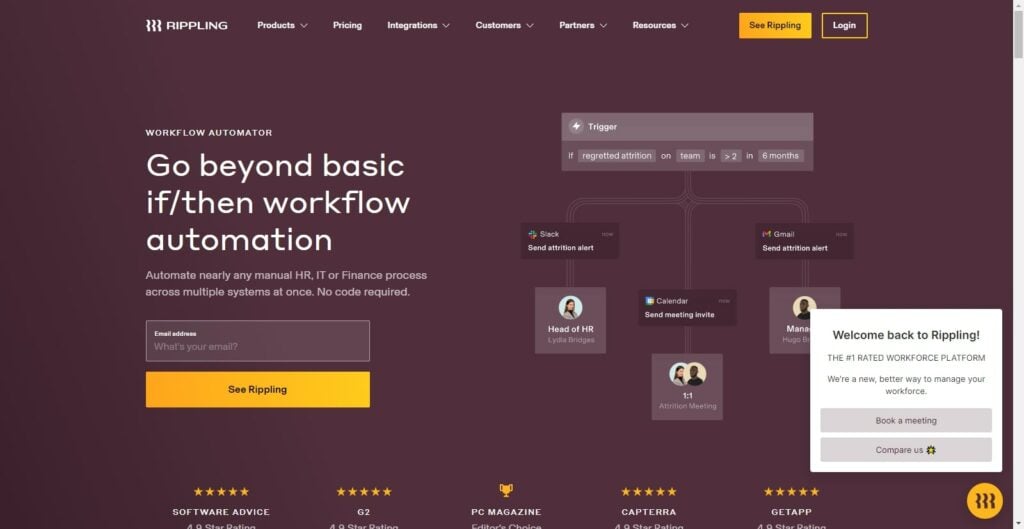 Justworks offers several HR tools, such as employee onboarding, termination, and administrative management. To streamline the onboarding process, the system prompts recruits to enter all relevant information before starting work.
Using tools like document storage, employee handbook, and company directories, it's easy to store all relevant files in a secure location. Justworks also has flexible permission settings to allow or restrict control over who can access files.
Rippling goes a little further with its workforce automation program. You can create custom logic to automate any workforce task. The system allows you to create custom triggers based on your unique employee data.
You can also trigger automatic impact actions such as sending slacks and emails, assigning tasks, creating meetings, and updating Google Sheets. That means you can automate app performance as long as it's integrated into Rippling.
Ease of Use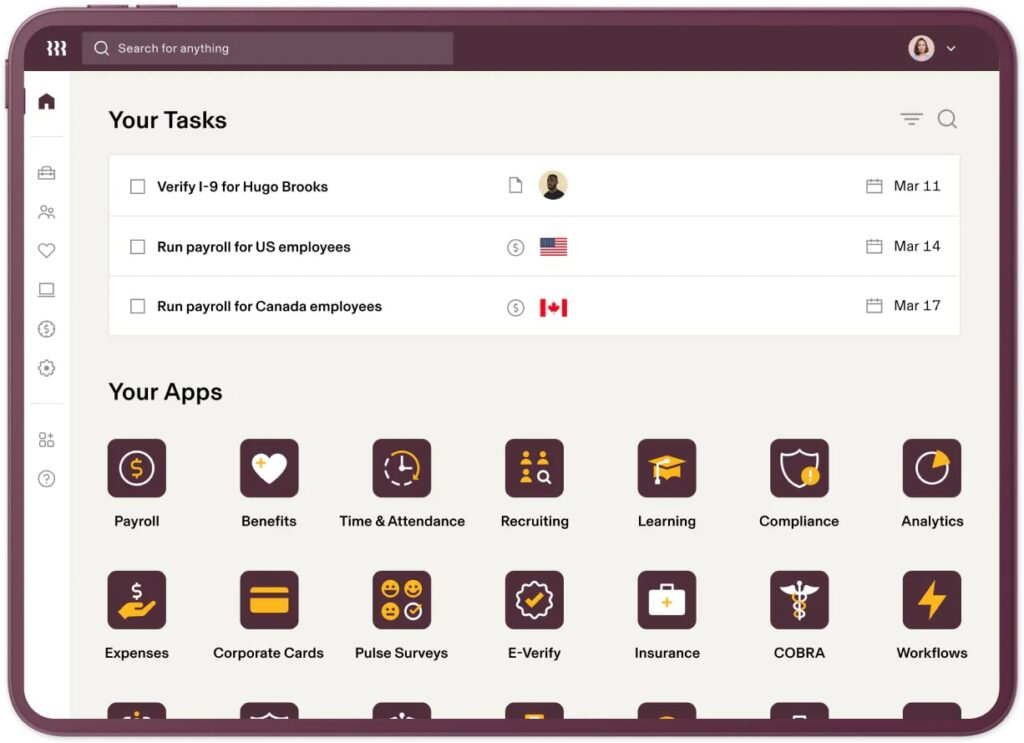 Justworks is one of the most user-friendly SaaS apps. This makes it a great partner for small and growing companies that want a straightforward, easy, and effective PEO. The system provides standard PEO services but can scale with you as you add more employees. 
Although Rippling provides extensive services, its platform is well-organized and easy to navigate. Employees can access their cloud-based software and self-service features from any web-enabled device, including iOS, Android, and desktop computers.
Verdict: Rippling wins in HR Services
Rippling provides more extensive HR services, automation, and integration capabilities. The company can help you automate most HR and administrative functions, allowing you to focus on other essential business operations.
Rippling Payroll vs. Justworks Payroll Services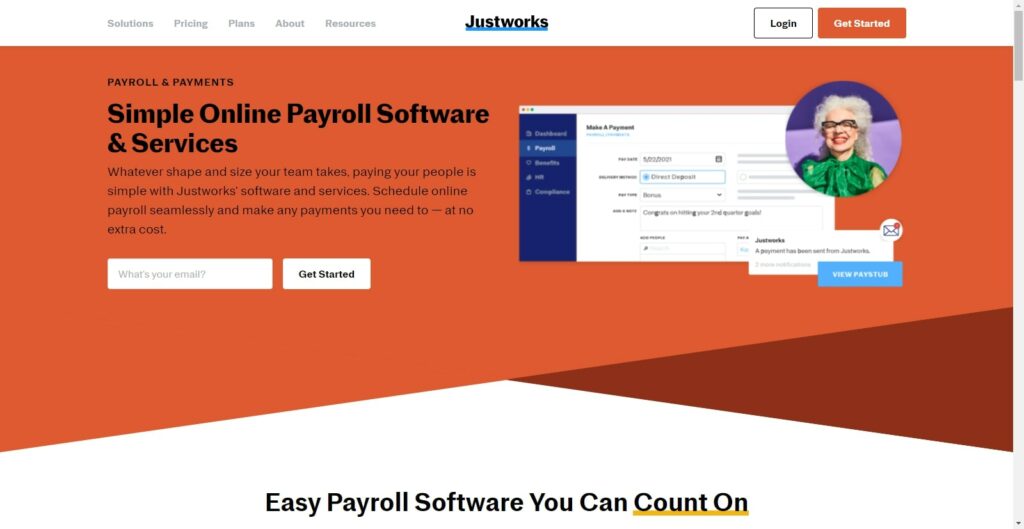 Both HR service providers offer advanced payroll features to help you calculate and run payroll without getting a calculator or contacting employees for further information.
Here's a more in-depth comparison:
Payroll Processing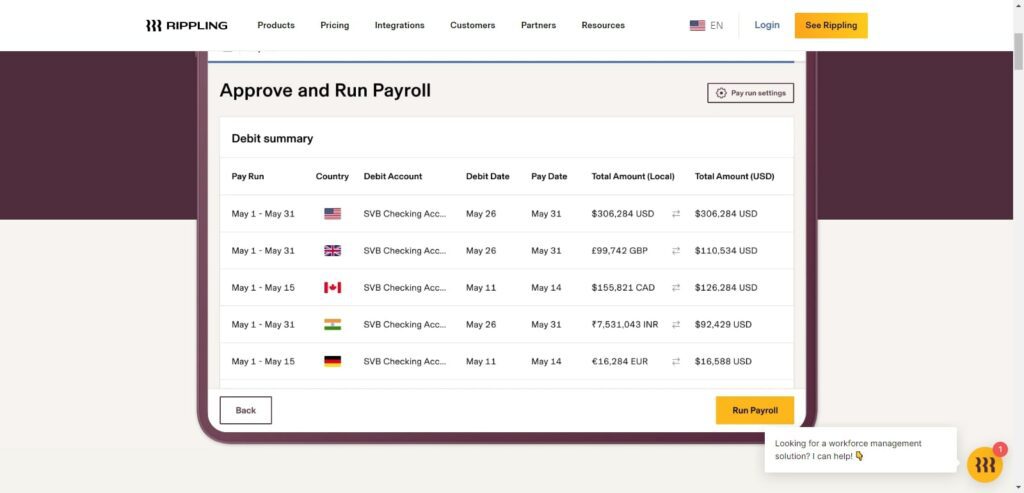 On Justworks, you can view and manage payroll through the internal payroll management system. The system tracks employees' paid time off, sick leave, and vacation days and runs automatic payroll when needed. 
Justworks supports full-time, part-time, salaried, and hourly employees. It does not charge extra for other payments outside salaries, so you can make unlimited monthly payments. The system also supports businesses with global and dispersed teams.
Rippling's full-service payroll is available in all 50 states. The service includes automatic tax filing, deductions, garnishments, reimbursements, workers' compensation, annual tax forms, and direct deposits. The system also syncs all your data with top accounting tools like QuickBooks and Netsuite.
Employee Benefits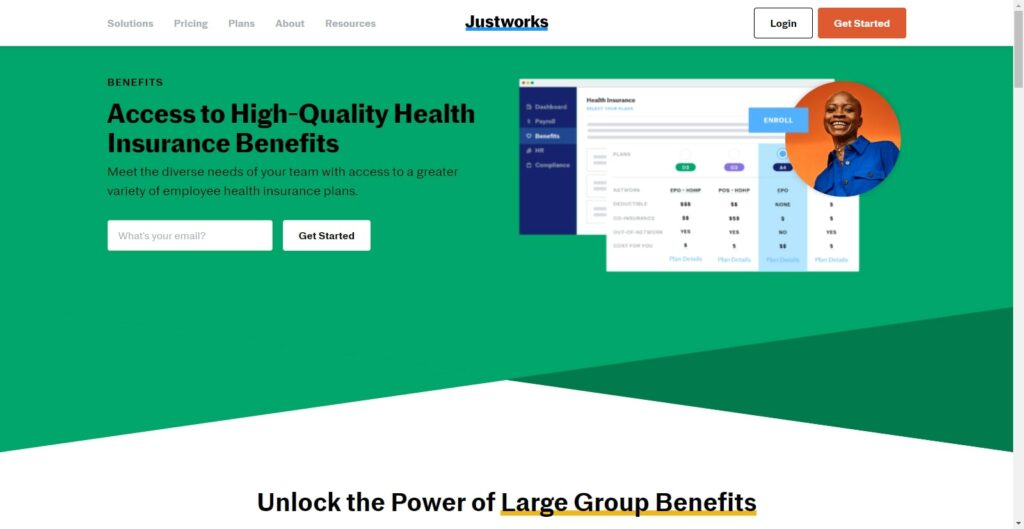 Rippling has advanced features that let you customize employee benefits with custom details like contribution strategies and waiting periods. Employees can connect with their current benefits provider or seek the most recommended brands on the platform. Some employee benefits they provide include health insurance, 401(k), and more. 
Justworks supplies employees with low-cost benefits such as health, vision, and dental insurance, 401(k), life insurance, gym memberships, commuter benefits, and health advocacy services. To get insurance coverage, you need at least two W-2 workers, one W-2 worker, and one K-1 worker.
Verdict: Rippling wins in Payroll Services
Although Justworks and Rippling have similar payroll features, Rippling has more integration capabilities, giving you more capabilities compared to Justworks.
Justworks vs Rippling: Integrations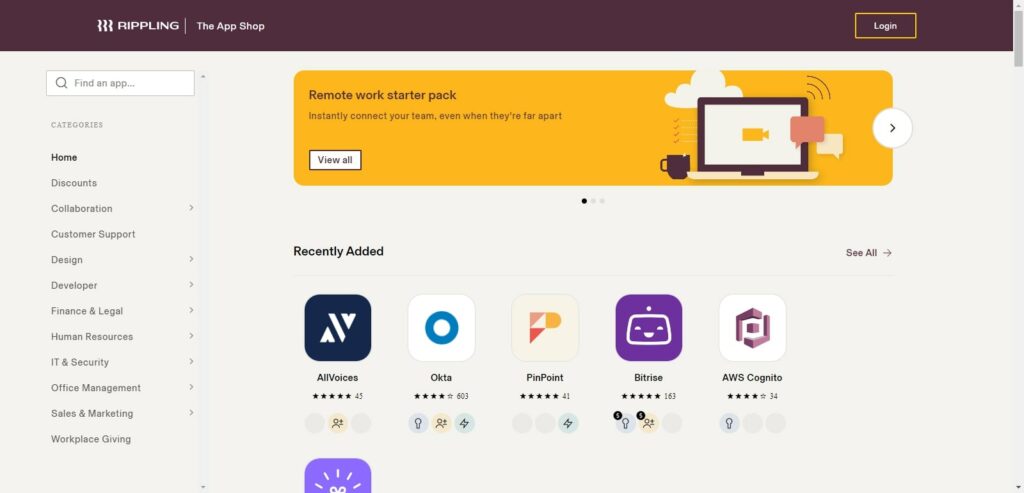 Rippling features over 500 apps to help you consolidate your data in one place. You can choose the apps that team members can integrate into their systems and automate workflows using integrated apps. Top apps you can integrate on Rippling include QuickBooks, stack-overflow, Ethena, TalentLMS, and many more. 
Justworks features over 30 apps, including QuickBooks, HyperProof, and Checkr. Small businesses might need these essential applications to run payroll and HR services.
Verdict: Rippling Wins in Integrations
Rippling features more integration capabilities, giving employers more capability and control and allowing employees access to more attractive benefits and training materials. This makes it suitable for medium and large enterprises that want to attract top talent.
Rippling vs. Justworks: Customer Support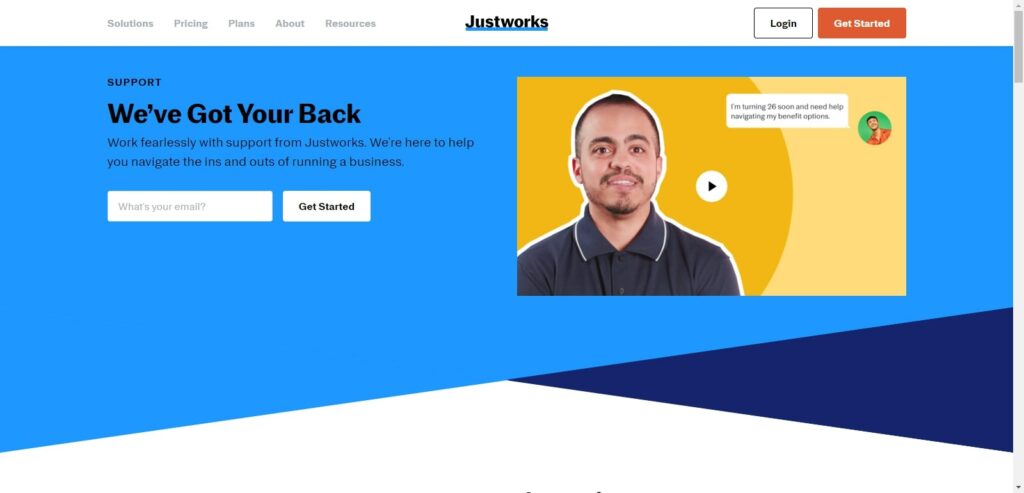 Justworks provides personalized customer support on all plans. Instead of a single mobile number or email you can contact, the system offers multi-tiered US-based support on mobile, email, slack, text message, and chat. Businesses with more than 14 employees can access one-on-one account managers.
Rippling mainly offers real-time chat and email support for all its customers. You must add an HR Help Desk feature to your plan to receive expert support from certified professionals. Unlike most PEOs, however, Rippling allows you to see how long support typically takes to respond, so you know when to expect a response.
Verdict: Justworks Wins in Customer Support
Justworks provides expert customer support to all customers. You can also request a dedicated team to offer legal advice. Small businesses can rely on the company's team for HR support as they handle complex administrative duties.
Rippling vs. Justworks: Pricing
Let's look at the key differences between Rippling & Justworks Pricing.
Rippling Pricing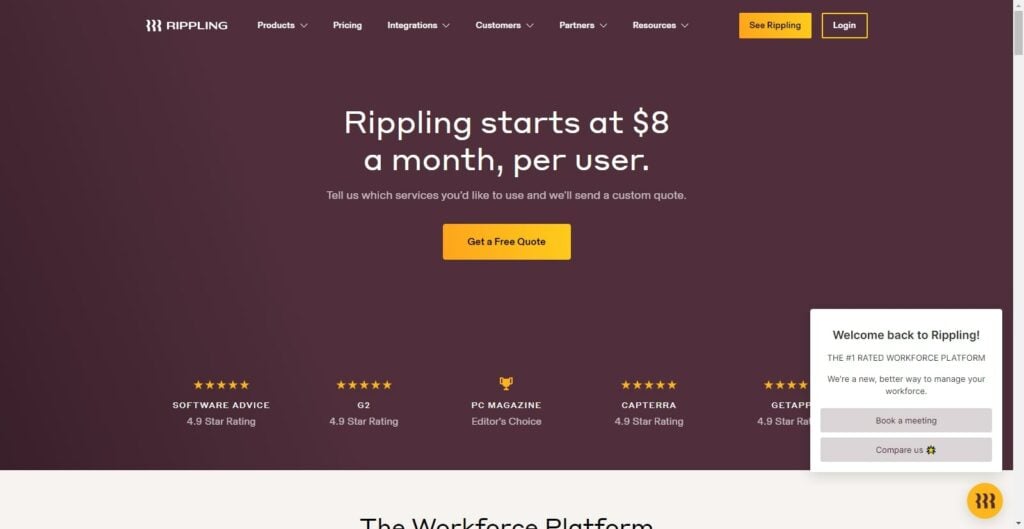 Rippling charges $8 per employee per month for access to the employee management platform. For additional features, you must contact customer care for a custom quote, depending on your company size and needs. Businesses request a customized plan with additional HR services at an added cost. 
Justworks Pricing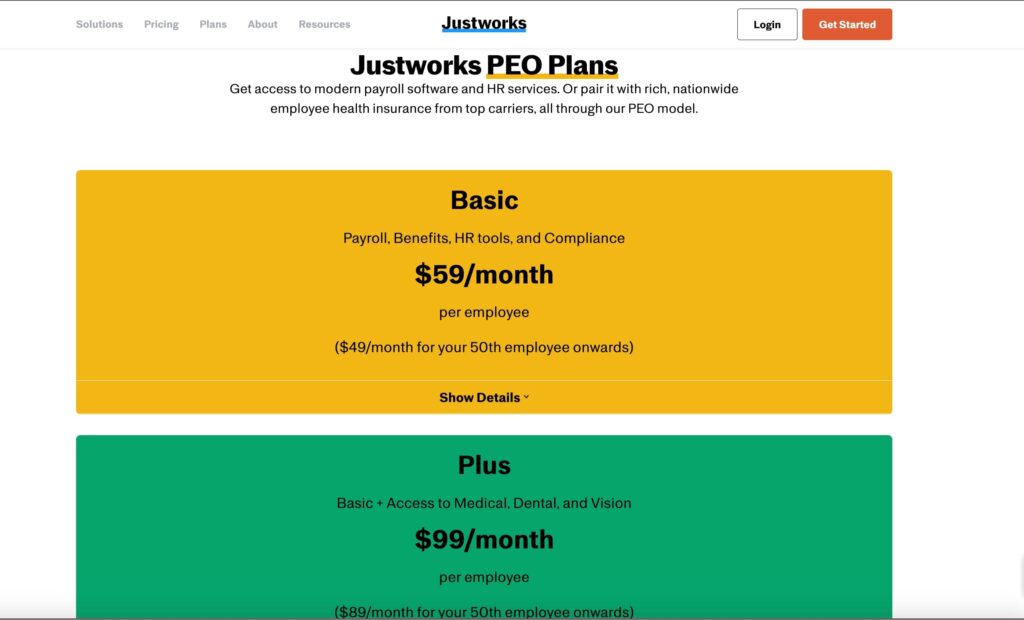 Justworks has two pricing tiers: Basic and Plus. Basic pricing tier features include taxes, payroll, onboarding, benefits, and workers' comp. The Plus pricing plan offers additional services like COBRA, health savings accounts, flexible spending accounts, and medical insurance.
The Basic plan costs $59 per employee per month for companies with less than 50 employees and $49 per employee per month for companies with 50 – 200 employees.
The Plus plan costs $99 per employee per month for companies with less than 50 workers and $89 per employee per month for companies with 50 – 200 employees.
Verdict: Justworks wins in Pricing
Justworks offers a more transparent pricing structure, allowing you to evaluate the features provided and the Pricing before you make a critical decision for your small business.
Justworks vs. Rippling: Pros and Cons
Here are the key Rippling & Justworks points to remember:
Rippling Pros
Advanced integration capabilities
Custom triggers to enhance workflow automation
Customizable pricing structure
Easy to use and intuitive platform
Rippling Cons
Unclear pricing model, and you have to contact support for a custom quote
Expert support costs extra
Justworks Pros
Transparent pricing structure and customizable plans
Easy to use and intuitive platform
Self-serve enrolment and access to a person who can help
Advanced automated HR features
Justworks Cons
Fewer integration apps
The time tracking app is a paid add-on
Justworks vs. Rippling: Conclusion
When looking for a PEO for your company, it's good to consider your business needs before making any decisions. If an HR and payroll provider suits your company's needs, it becomes more cost-effective than other tools that provide extensive features.
Rippling is an excellent alternative for large and small businesses that want to scale features as their business grows. Justworks is suitable for small businesses that only need basic payroll and HR features.
To find out which PEO is most suitable for your company, visit the official websites to see what else they offer.