When thinking about the best HR software solutions, some platforms that may come to mind are Zenefits, Breezy, Gusto, etc. However, a platform that stands out from the rest is Bambee HR, and in this Bambee review, we'll see why.
Bambee HR takes a different approach to help your business.
In contrast to other HR and payroll software platforms that focus on automation, customizable reports, and employee management, Bambee also adds a human touch.
More specifically, this platform allows you to outsource an HR manager that will work closely with you and help you follow the best practices in HR management.
So why would you want to do so?
It mainly comes down to costs. Outsourcing is often cheaper than hiring an in-house HR manager.
Besides, you'll most likely have access to payroll processing, benefits administration, law compliance, performance management, and more at this price.
Moreover, HR companies usually have tight connections with benefits providers. Outsourcing HR may also get you a better deal in securing benefits packages.
Therefore, outsourcing HR can be much more appealing, especially for start-ups and small business owners.
And there's much more to Bambee, so let's dive into the nitty-gritty of this platform.
What is Bambee?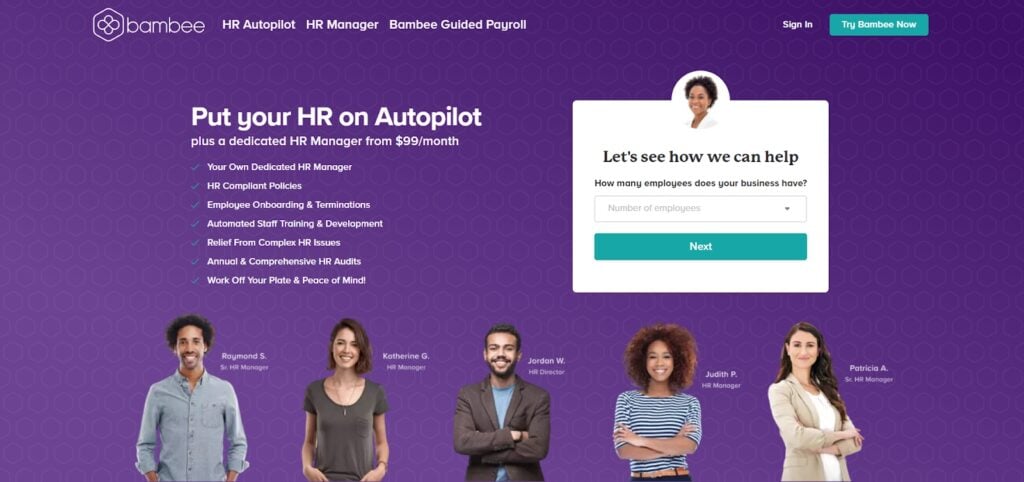 Bambee is an HR outsourcing company that focuses on meeting the needs of both employees and employers. Bambee aims to achieve this goal by adopting a slightly different approach to other HR software solutions.
The platform merges the effectiveness of time, employee, and payroll management tools with the empathy of dedicated HR managers.
HR managers will assist in making the employees' workspace more comfortable, improving employee relations, and will help you navigate HR and labor regulations, handle onboarding, lay-offs, and more.
Therefore, the tools offered by Bambee will help businesses save time and streamline their workflow.
Bambee HR Pricing and Plans
Bambee offers the following pricing plans, depending on the number of employees your company has: 
1-4 employees: $99/month, plus a one-time $500 setup fee
5-19 employees: $199/month, plus a one-time $500 setup fee
20-49 employees: $299/month, plus a one-time $1000 setup fee
50-500 employees: upon request.
The 50-500 employees subscription allows you to build a custom plan to fulfill your company's needs.
Also, there's a discount of up to 20% if you pay yearly. 
Bambee Features
Besides its HR managers, Bambee's software offers most of the features necessary to automate HR tasks and conduct payroll. Let's dive into more details. 
Compliance Indicator
The Compliance Indicator is part of Bambee's HR Autopilot—a feature set that provides automation tools to streamline your workflow.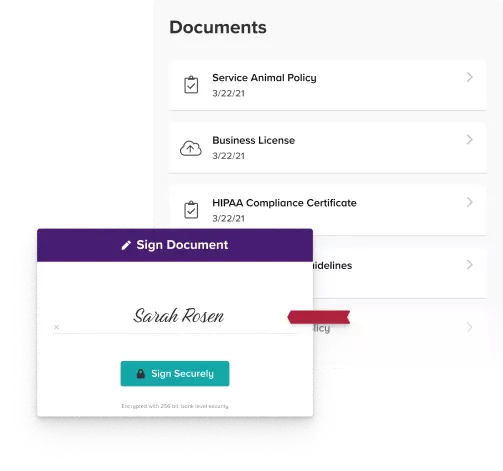 This evaluates your company's HR processes and gives a score depending on their security and effectiveness. In case of low scores, your hired HR manager will point out the necessary steps you need to take to address the issue.
Smart Cabinet
The Smart Cabinet stores critical HR documents and holds them to EEOC Document Retention Standards, assuring you'll always remain compliant. You can access these documents from any device for easier data management.
Employee Voices
Maintaining close communication with your employees is a critical aspect of HR, and that's where Employee Voices comes in.
Bambee offers a platform where you can stay in touch with your employees, identify workspace issues, and understand your employees' general sentiment.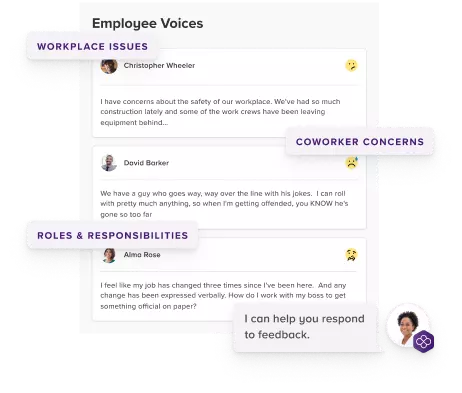 Workers are free to publicly or anonymously disclose any concerns regarding the company and discuss their roles and responsibilities. They can also use this platform to express gratitude to their colleagues.
Speaking of employees, Bambee also offers performance reports. You can find these in the dashboard, allowing you to evaluate each one of your employee's progress quickly. Moreover, with the report cards, you can leave feedback to notify employees of their achievements or mistakes directly.
HR Policies
Bambee's HR policy management feature will automatically check if all of your policies are signed, free of errors, up to date, and reaffirmed semi-annually.
Your assigned HR manager can also create custom policies that align with your organizational culture.
Guided Payroll
Guided Payroll is Bambee's built-in payroll solution, the most recent addition to the platform. Note that this feature set comes as an optional add-on to your subscription.
For companies with 5-19 employees, Guided Payroll is free for the first year of subscription. For the other plans, you'll need to get in touch with Bambee to get a price quote.
Guided Payroll's features include automatic filing and calculating local, state, and federal taxes. It also supports 2-day direct deposits.
This payroll solution stands out from the rest because your assigned HR manager will be directly involved in your company's payroll processing and guide you through wage regulations. Therefore, you'll minimize the risk of making any costly errors.
Bambee Review: Pros
The HR Managers
Without a doubt, Bambee's HR managers are what makes this product stand out from the competition.
The platform successfully manages to blend in the benefits of outsourcing an HR team with the functionality and efficiency of an HR software solution.
This makes it a perfect option for start-ups and small businesses that can't afford to hire an in-house HR manager and don't have enough experience using HR software.
You can always contact your HR manager through email, phone, or live chat.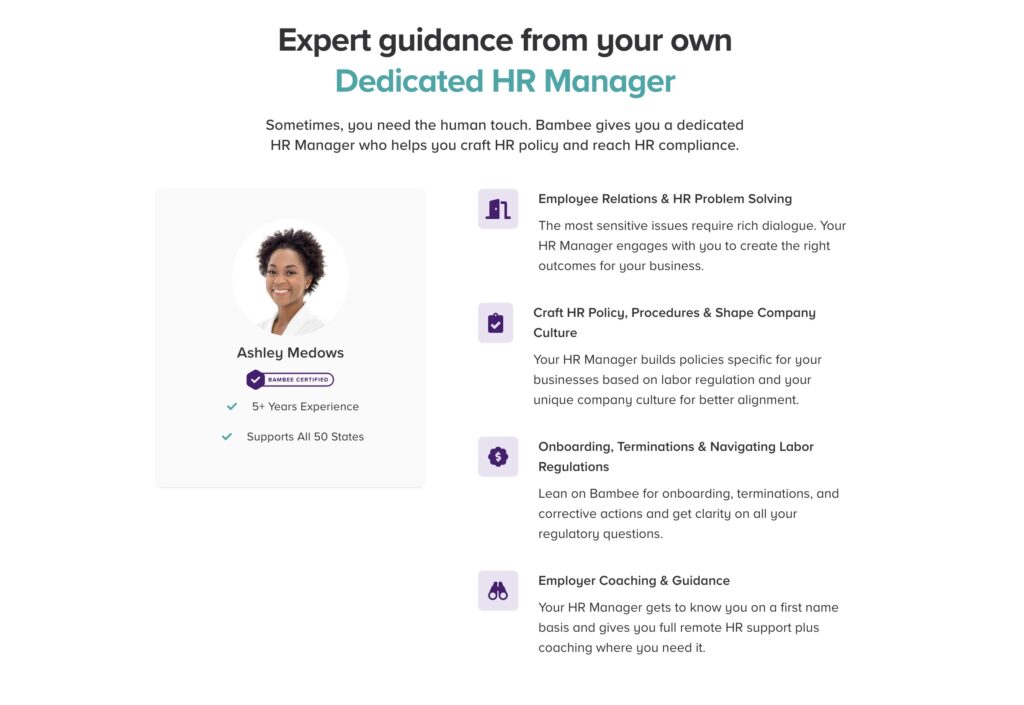 Meanwhile, they're responsible for ensuring that your business complies with the latest laws and regulations, crafting customized policies according to your needs and company culture and that your payrolls are error-free.
Also, they handle onboarding and regulations to save you time. Most importantly, your HR manager will keep track of your employees and advise you on improving relations and enhancing the workspace.
Ease of Use
Bambee excels in terms of ease of use. Firstly, they'll handle the account setup. Secondly, the platform's user interface is simple and easy to navigate.
All the essential navigation buttons are self-explanatory and found on the left side of the screen. You could easily navigate to your HR manager chat, employee files, policy and confidential documents, and performance reports.
If you run into any trouble, users reported that Bambee's customer support team is responsive and helpful.
Affordable
If you look at Bambee as an HR software solution, the platform might seem quite pricey, especially considering the setup fee. However, consider Bambee an HR outsourcing company with software capabilities.
At a starting price of $99/month plus a one-time fee of $500, you'll get a dedicated manager directly involved in creating company policies, maintaining employee relations, and assuring that your business is compliant.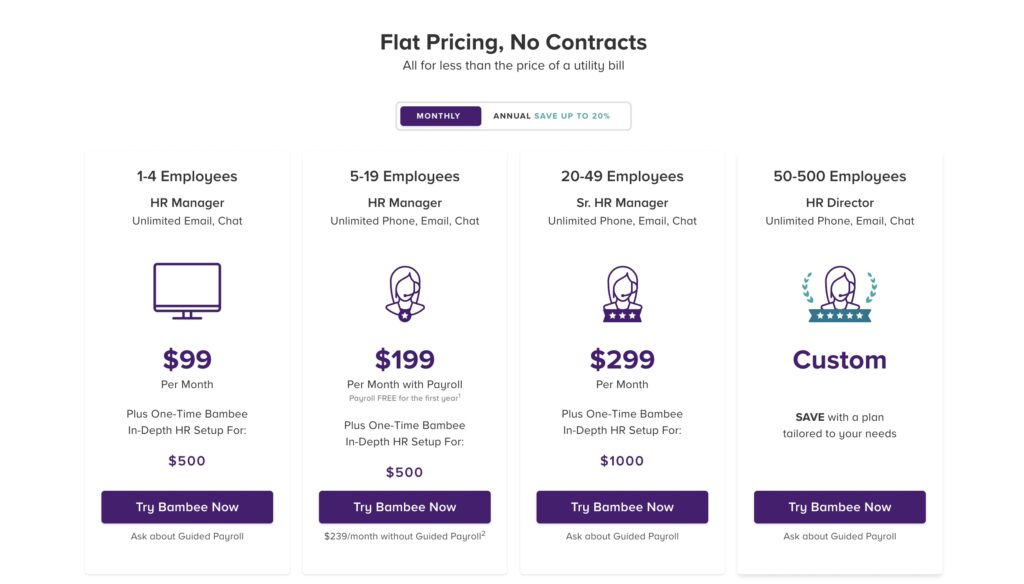 With that in mind, Bambee seems more like a bargain, especially considering the costs of hiring an in-house manager.
Besides, the platform's features bring in extra value for money. 
Bambee Review: Cons
Lacking Features
If you're most interested in an HR platform's features, Bambee might not be the best option.
Although the software's features are helpful and can save you from many headaches, like the Compliance Indicator and Smart Cabinet, Bambee leaves much to be desired, particularly when comparing it to full-fledged HR solutions.
For instance, there are no time tracking or job listing tools. Moreover, there's no mention of any integration capabilities, meaning you'll need to switch between platforms to fulfill specific tasks continuously.
No Mobile App
At the time of writing, Bambee doesn't offer a mobile application. Although you could use the platform on your mobile web browser, a dedicated mobile application makes the platform easier to navigate and generally provides a better user experience while you're on the move.
How Bambee Compares
Bambee vs. Gusto
Gusto's Concierge plan, priced at $149/month + $12/month/person, is somewhat similar to Bambee's offer, as it also provides certified HR experts at your disposal.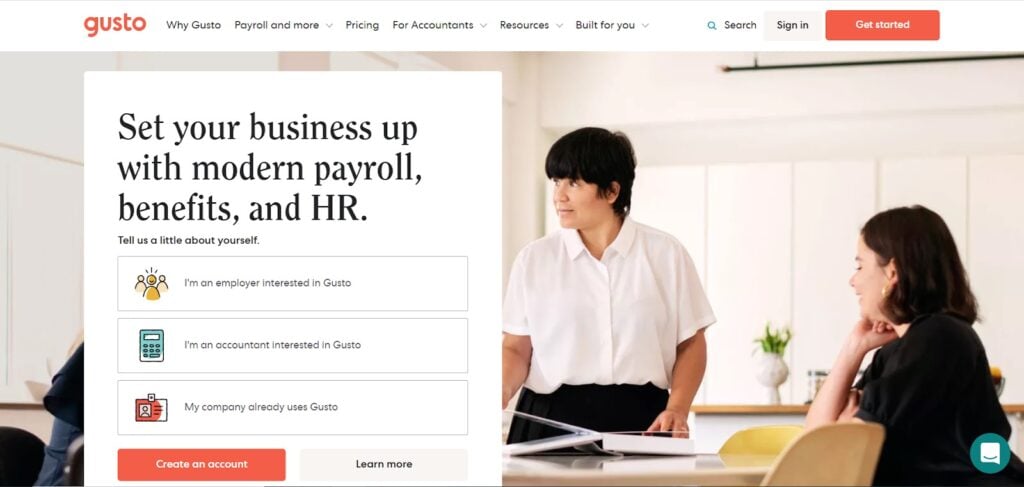 So which is the better choice?
If you're looking for help in the HR department, Bambee is better. You can't go wrong with its dedicated experts. Moreover, Bambee is more cost-effective than Gusto's Concierge plan in the long run, especially if you're a small business. 
However, Gusto wins in terms of payroll. It's affordable, starting at $39/month + $6/month/person, and it offers more advanced features than Bambee's payroll solution, like Gusto's AutoPilot and benefits administration. 
We also explain more in this Gusto review.
Bambee vs. Quickbooks
Along with payroll, Quickbooks provides an HR support center in its Payroll Premium + Quickbooks Plus subscription, priced at $155/month + $8/employee/month.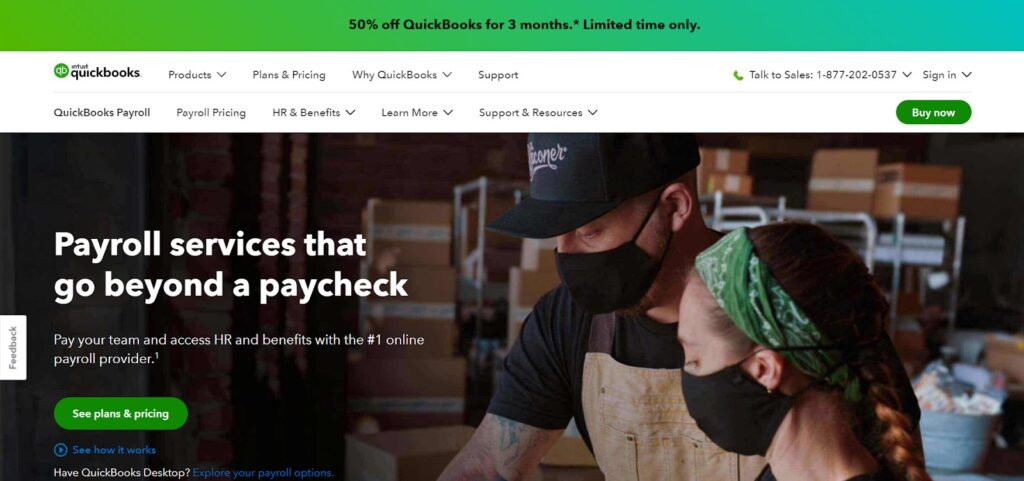 This plan includes HR-specific tools, like onboarding checklists. Moreover, you can find information regarding HR regulation, conflict management, and more.
Lastly, this pricing plan offers HR advisors ready to help you manage your HR activities more effectively and create custom policies or handbooks.
If you're also looking for payroll functionalities, Quickbooks takes the cake here. Like Gusto, it offers solid payroll features and access to HR help when you need it. And the cherry on top, Quickbooks Payroll provides a 50% discount for the first three months. 
Learn more about Quickbooks here.
Bambee HR Review: Conclusion
Overall, Bambee is the perfect option for small businesses and start-ups that cannot afford to hire an HR manager and have little to no experience with HR software. 
Its dedicated HR experts are ready to offer you help in any scenario, from advice on how to improve your HR processes to handling hiring, onboarding, and creating custom policies that fit your company's culture.
Although the software's features are pretty limited, they are convenient. The Compliance Indicator will let you know whether your company is up to date with the latest laws and regulations. Meanwhile, the Smart Cabinet ensures that critical documents are stored safely and held up to EEOC standards.
All of which come in a pretty affordable package.