Professional employer organization (PEO) solutions are becoming more popular among employers, with many believing that this arrangement is the solution they need. However, it's important to understand what PEO services entail and whether they are the right option for your company.
If you're looking for a PEO company that can help with your business growth, Insperity may be the perfect fit for you. 
Is Insperity a PEO? What do you look for in a PEO? How do you choose the right PEO? When searching for a PEO services company for your business, these are some questions you might have.
Below is an overview of Insperity PEO to help determine if this is the right option for your business.
What is Insperity PEO?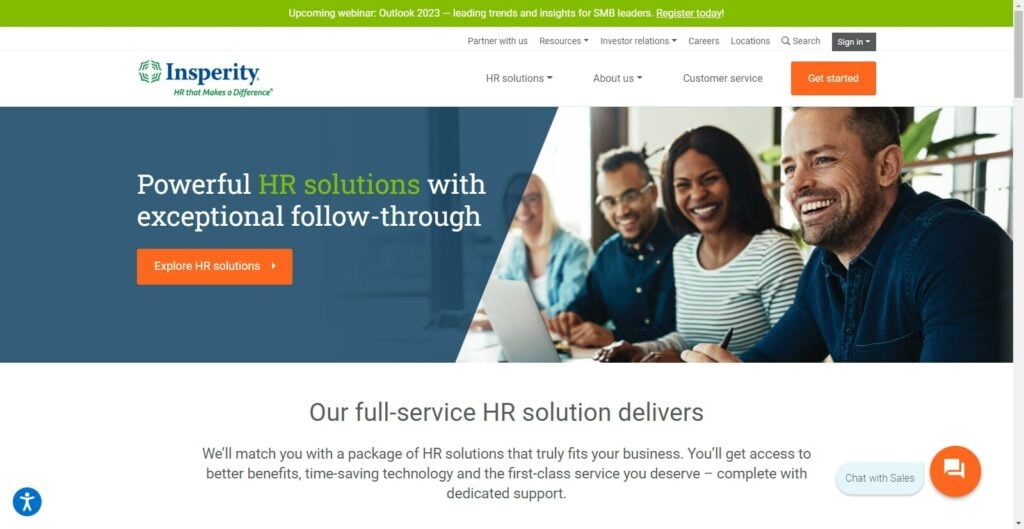 Insperity is a PEO company that specializes in helping businesses improve their operations and manage their human resources-related needs.
By partnering with Insperity, you can access various HR solutions, such as human resource management, payroll processing, employee benefits administration, and more.
These can simplify operations and save the time and money your company needs to grow.
You'll create a co-employment model, allocating some of your employer responsibilities to Insperity. Its pricing structure will depend on the number of employees you have and the nature of your agreement. 
Insperity | Leading PEO Provider
Insperity is a professional employer organization (PEO) that provides comprehensive human resources and business solutions to small and medium-sized businesses. With over 30 years of experience, Insperity offers a range of services including payroll processing, employee benefits administration, risk management, and compliance support. The company's mission is to help businesses run better, grow faster, and make more money by providing them with the tools and resources they need to succeed. Insperity's team of experts works closely with clients to understand their unique needs and develop customized solutions that meet their specific goals. With a focus on delivering exceptional customer service and innovative solutions, Insperity has become a trusted partner for thousands of businesses across the United States.
Pros:
Leading PEO solutions: Insperity offers a wide range of HR solutions, including payroll processing, benefits administration, employee training, and compliance management.

Expertise and experience: With over 30 years of experience in the industry, Insperity has a team of HR experts who can provide guidance and support to businesses of all sizes.

Customized solutions: Insperity works closely with each client to understand their unique needs and tailor their services accordingly.

Technology-driven solutions: Insperity uses advanced technology to streamline HR processes and improve efficiency.

Cost-effective: By outsourcing HR functions to Insperity, businesses can save money on staffing and administrative costs.

Risk management: Insperity helps businesses stay compliant with federal and state regulations, reducing the risk of legal issues and penalties.

Employee engagement: Insperity offers programs and services to help businesses improve employee engagement and retention.

Insperity PEO Key Features
Outsourcing HR functions can be daunting, but Insperity makes it easy to find reliable long-term solutions. It tailors the system features to your business needs, location, and size, creating a personalized experience and customized package that fits your business.
It's also renowned for incredible customer service, making it one of the most sought-after PEO service providers. It currently has 90+ offices across the US and serves thousands of businesses in communities countrywide.
Features you'll get on Insperity website software include:
Fortune 500-level employee benefits
Payroll and HR administration
Risk mitigation and compliance
HR support team
HR technology and analytics
Employees Benefits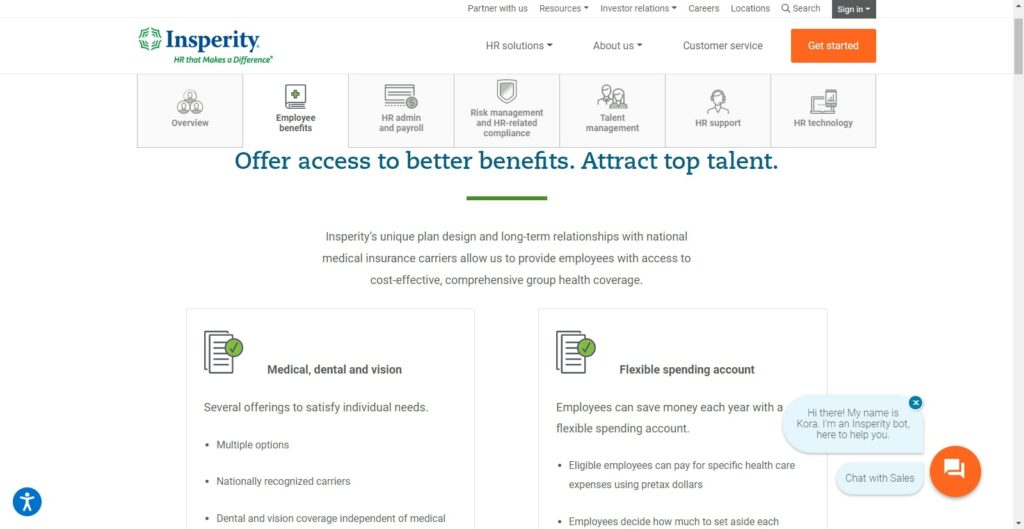 Insperity believes that desirable employee benefits attract top talent. So it maintains good affinities with national medical insurance providers to ensure employees get cost-effective health coverage.
Employees' health insurance includes medical, dental, and vision coverage, 401 (k), and short-term and long-term disability insurance.
Employees can also save money with flexible spending and health savings account. They can access life and personal accident insurance, disability insurance, and employee assistance programs on the Insperity portal.
Payroll and HR Administration
Insperity's Workforce Optimization offers a full-service solution to small and large business owners. This includes payroll processing, HR administrative tasks, and employee-related paperwork. It guarantees convenient paycheck delivery, tax compliance, record maintenance and management, and tax filing.
Payroll Processing Insperity also has a time and attendance feature to help with employee tracking, scheduling, PTO actuarial, and clock-ins.
Other HR administration services include leadership development, paperless new-hire onboarding, wage garnishments, effortless reporting, and employee self-service.
Risk Mitigation and Compliance
Effective risk mitigation requires safeguarding your business from the start. Insperity updates you on changes in employment regulations that might affect your business to reduce employer-related liability.
The company aims to resolve worker compensation and unemployment claims fast and seamlessly.
Compliance Insperity also performs background checks on employees, helps businesses to comply with state and federal employment laws like the Fair Credit Reporting Act, and performs individualized assessments.
You might also benefit from employment practices and employment practices liability insurance, workplace safety training, and recruiting services that Insperity provides.
Support Team
Insperity is among the few top PEOs that provide personalized support and guidance to improve the client experience.
Since it assesses your business functions at the beginning of your co-employment model, the PEO company can provide the support and follow-through you need to meet your business goals.
Unlike other PEOs, Insperity offers a dedicated support team for your business. You'll have access to an HR support team with ample industry experience and time to follow up and respond to your queries.
HR Technology and Analytics
Insperity's tech platform is designed to enhance HR administration. It features employee self-service, security, and time-saving tools. The system also has seamless integration tools, so you can access all your tools on one platform.
Insperity offers its services packaged according to your business needs. Small and mid-sized businesses can access services a la carte depending on their budget, the number of employees, and the required services. This allows them to upgrade their plans as their businesses scale.
Insperity PEO Pricing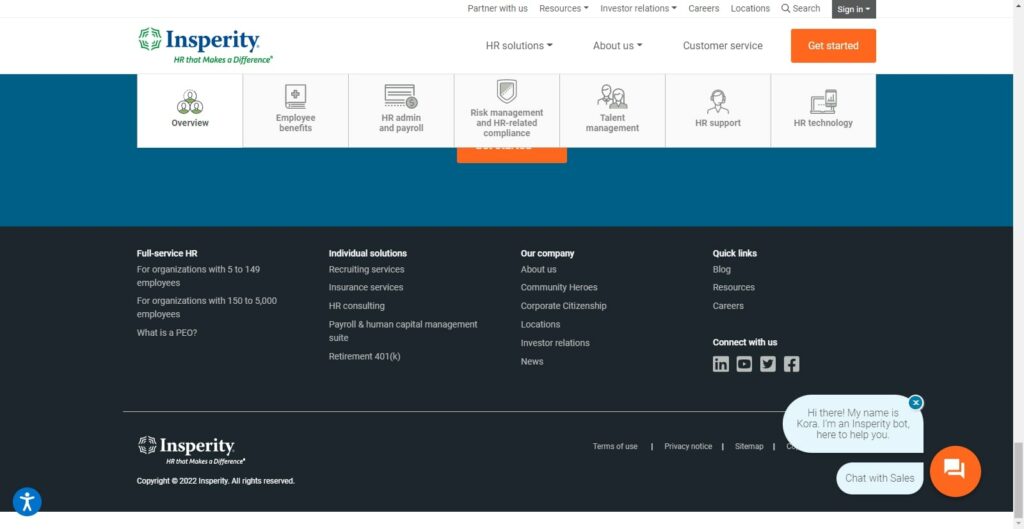 Insperity charges per employee per month. The company prefers to offer price quotes after assessing your business, so you get the most personalized services.
It tailors its services based on two pricing tiers:
Full-Service HR for Small Business: For organizations with 5 – 149 employees
Full-Service HR for Middle Market: For organizations with 150 – 5000 employees
Insperity claims to provide ideal pricing terms for small and expanding companies. However, you must contact the company directly to get specific pricing information.
It does not require long-term contracts. You can cancel your subscription at any time with a 30-day notice. Nevertheless, you must have at least five in-house employees to qualify for Insperity services.
Insperity Onboarding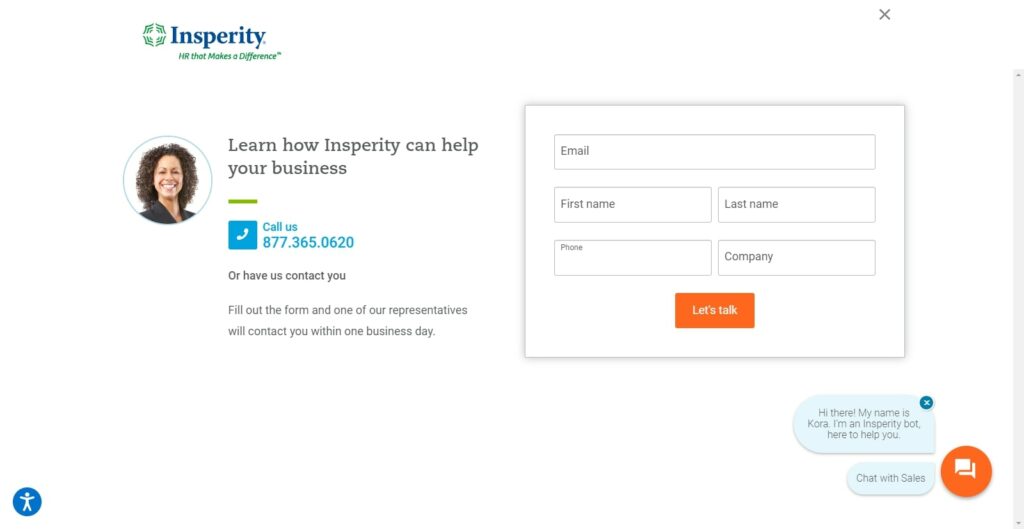 If you decide to proceed with Insperity, you'll need just a few things to start. First, you'll fill out a contact form, then Insperity will call you to inquire about your company to see how they can help meet your business needs.
Once you sign up for Insperity's services, an Account Executive will work closely with you to ensure you and your employees onboard correctly. You'll fill out some paperwork so your company can access the platform with all services you signed up for.
All Insperity plans include some bundled HR features. You can also supplement them for additional fees.
You might need to pay extra to include other key features like expense management, organization planning, performance management, recruiting services, employee screening, and retirement services.
Insperity Customer Support
Insperity is among the few top PEOs that offer dedicated customer support. Instead of a generic phone number to reach customer care, you get a dedicated team of experts in each service area.
If you want assistance with payroll processing, performance, recruitment, HR management, or benefits, you're redirected to people with ample experience.
You also get the point person to connect you with experts in various fields when needed. For immediate assistance, contact support via mobile. They're normally available from 7 a.m. to 6 p.m. from Mondays to Fridays.
Pros of Insperity PEO Services
Insperity is renowned for its well-rounded compliance, risk management, and support from experienced HR specialists in the industry. It has an A+ approval rating from the Better Business Bureau.
Key pros of working with Insperity include:
Intuitive Software
Insperity's PEO software is intuitive and easy to operate. Employees can quickly figure out how to operate and manage their accounts on the system. It contains many resources to guide you in implementing HR functions. These include ebooks, blogs, magazines, infographics, podcasts, and webinars.
Both managers and employees can modify relevant information like work hours, time-off requests, pay stubs, 401 (k), and FSA information. This allows franchises and large enterprises to operate seamlessly as if in one location.
Training and Development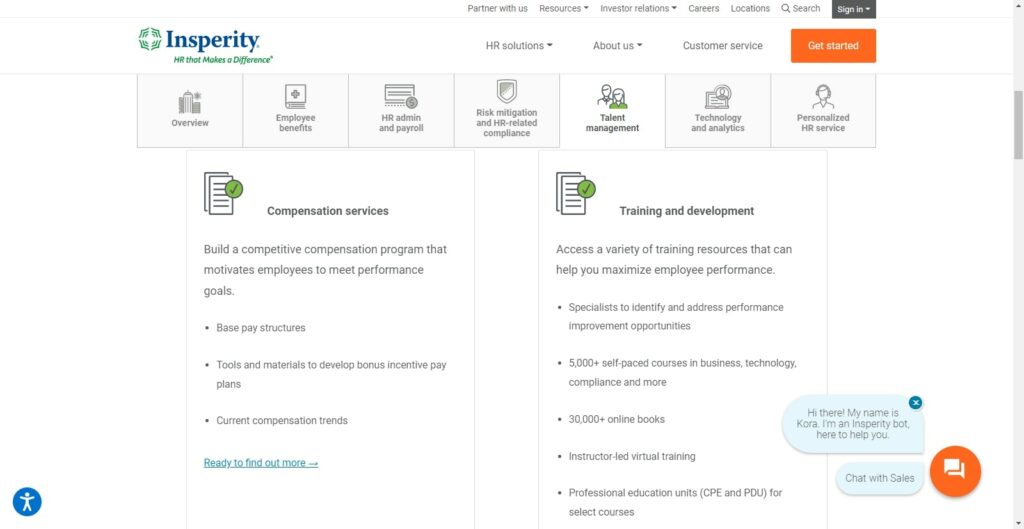 Insperity offers the richest collection of professional development training options compared to competitors. You can access over 5,000 self-paced online courses, 30,000 ebooks, 2,000 audiobooks, and many instructor-led virtual courses.
These range from HR topics to continuing professional education and professional development units in specific industries.
In addition, companies can request onsite training sessions for teams from experts in Insperity. Your designated team of HR experts will provide training on topics regarding managing your workforce.
Compatible with All Devices
Insperity is designed to cater to all audiences on mobile, PC, or Mac. Their PEO services are simple and effective, and their cloud-based platform is accessible to employees, managers, and business owners using various devices.
Employees can clock in using their mobile phones while employers view their location to ensure they are in the workplace. This makes it easy to manage projects and employees.
Well-rounded Services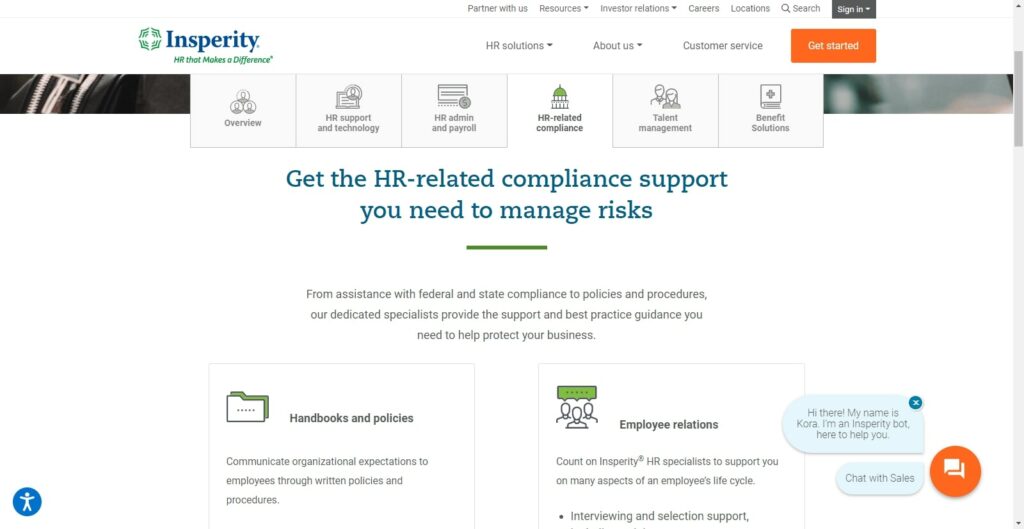 Insperity offers well-rounded risk management tools and HR services from experts in the field. It stands out among other PEOs by offering tools to help you handle harassment, labor violations, EEOC complaints, and employment practices.
It'll exhaust all possible outcomes when dealing with EEOC complaints, compliance matters, and legal challenges to minimize client costs.
Since the Employer Services Assurance Corporation (ESAC) and the Internal Revenue Service (IRS) accredit Insperity, you're assured that your business functions with minimal risks and remains compliant with relevant state and federal laws.
Flexible Pricing and Terms
The Insperity platform stands out for its flexible pricing structure and terms. You don't have to commit to a long-term plan; you can cancel your subscription anytime after giving them a 30-day written notice.
It also charges per employee per month instead of a percentage of your total payroll. This means that your overall PEO costs remain the same as long as your employees don't change.
Cons of Insperity PEO Services
Although Insperity is a top-ranking PEO with few competitors that match its usefulness, it has a few cons that might make it unsuitable for your business.
These include:
5 Employees Minimum
To join Insperity's co-employment model, you must have at least five employees. Although many organizations looking for PEO services don't have any problems with this model, it might not suit well for small businesses.
If you're looking for a PEO supporting fewer employees, you'd rather work with competitors. However, businesses with 5 – 5000+ employees easily scale their operations with Insperity.
Lack of Transparent Pricing
Insperity does not offer a price quote on its website. You must contact them for a custom quote. This can be difficult for businesses prospecting for the best small business resources. Transparent online estimates give small and medium businesses an idea of whether PEO services can fit your budget.
Lack of Industry Specific HR Support
Although Insperity offers a dedicated team with ample experience in providing HR functions to help with your HR concerns, they may not have the best-tailored support for your industry.
Enterprises in industries like construction and pharmaceuticals may want people with ample experience and knowledge in the industry to help them meet compliance concerns.
Insperity Alternatives and Competitors
When prospecting for a new PEO, it's good to compare several competitors to see the most suitable for your business. Here are the top Insperity competitors you can compare.
TriNet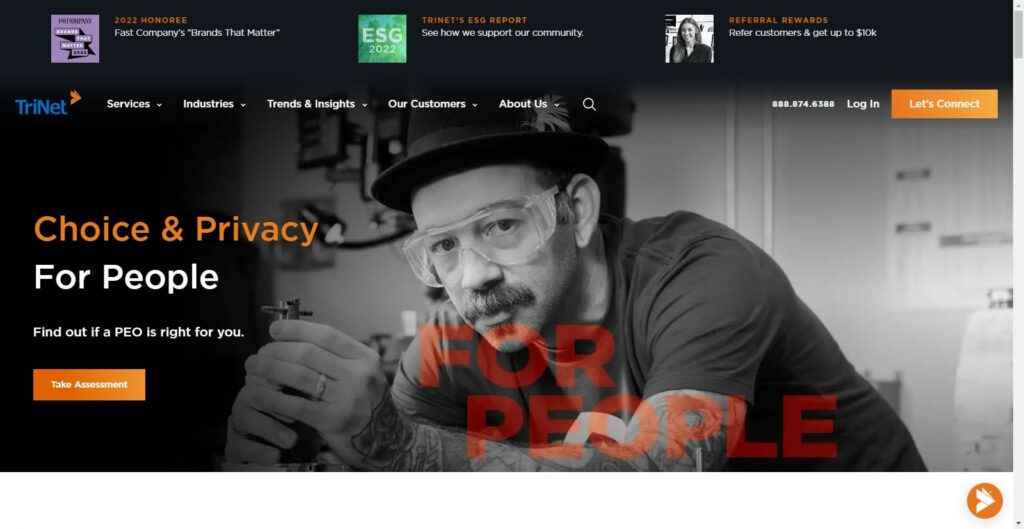 TriNet is a leading PEO service company that provides industry-specific HR support. They have experts with experience in many industries, meaning you only deal with people who know your audience, business challenges, and regulations.
You may desire to work with TriNet over Insperity if you want a PEO that offers everything as a single package. TriNet pricing plans have features you need to operate a large business. These include HR support, payroll, taxes, organizational planning, risk management, and compliance.  
Trinet | Comprehensive HR Solutions
Trinet is a leading provider of comprehensive HR solutions for small and medium-sized businesses. The company offers a range of services, including payroll processing, benefits administration, compliance management, and employee training and development. Trinet's cloud-based platform allows businesses to manage their HR functions from anywhere, at any time, and its team of experts provides personalized support to help businesses navigate complex HR issues. With over 30 years of experience, Trinet has established itself as a trusted partner for businesses looking to streamline their HR operations and focus on their core business objectives.
Pros:
Comprehensive HR solutions: Trinet offers a wide range of HR solutions, including payroll processing, benefits administration, compliance management, and employee onboarding, which can help businesses streamline their HR processes.

Expertise and experience: Trinet has been in the HR industry for over 30 years and has a team of experienced professionals who can provide expert guidance and support to businesses.

Scalability: Trinet's HR solutions are scalable, which means that they can be customized to meet the needs of businesses of all sizes, from small startups to large enterprises.

Compliance management: Trinet helps businesses stay compliant with federal and state regulations, which can help them avoid costly fines and legal issues.

Employee benefits: Trinet offers a wide range of employee benefits, including health insurance, retirement plans, and wellness programs, which can help businesses attract and retain top talent.

Technology-driven solutions: Trinet uses advanced technology

TriNet vs. Insperity
The main difference between TriNet and Insperity is that TriNet provides industry-specific human resource services, while Insperity provides HR services tailored to your business needs. Insperity also has more online training programs and guides than TriNet, which has just over 500 training resources.
TriNet is most suitable for large companies that need exceptional HR support and extra help navigating certain HR areas. It's best for businesses needing a PEO specializing in a particular industry.
Read a more in-depth comparison between Insperity and TriNet here
Justworks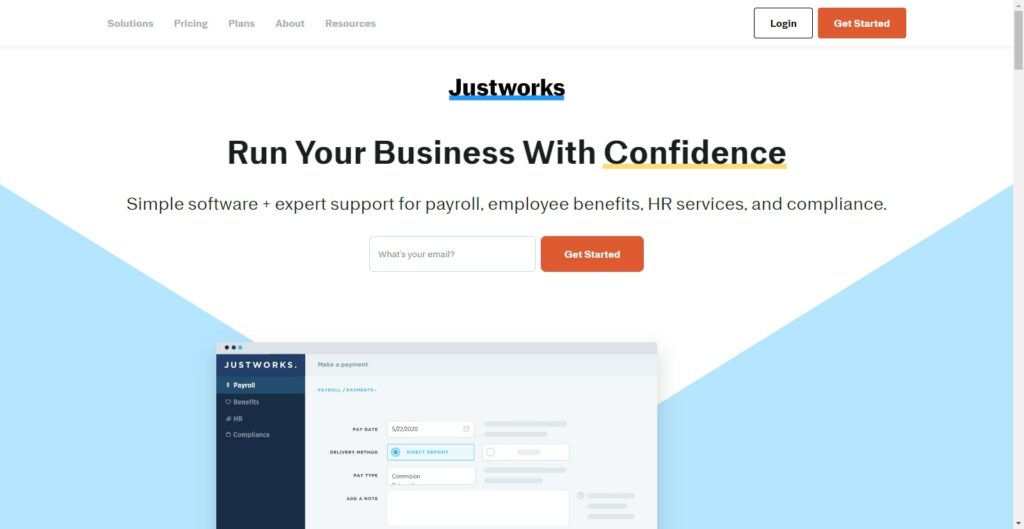 Justworks is a PEO and HR information system that provides a cloud-based platform to manage all managerial functions of your business. It has PEO features such as payroll assistance, compliance and risk management, insurance, and taxes.
The key benefit Justworks claims to offer is automation and usability. The system makes preparing payroll for full-time, part-time, salaried, and contract workers easy. It also automates tax filings for 1099 workers, W-2 forms, and cobra administration for former employees. 
Best for PEO Service
Justworks | Payroll, Benefits, HR Software, and Compliance
Justworks is a cloud-based platform that provides businesses with a comprehensive suite of HR, payroll, benefits, and compliance solutions. It streamlines the administrative tasks associated with managing a workforce, allowing companies to focus on their core business operations. Justworks offers a range of benefits, including health insurance, 401(k) plans, commuter benefits, and more, all of which can be customized to meet the needs of individual employees. The platform also provides access to a network of certified HR professionals who can offer guidance and support on a range of HR-related issues. With Justworks, businesses can simplify their HR and payroll processes, reduce administrative overhead, and ensure compliance with state and federal regulations.
Pros:
Streamlined HR and payroll processes: Justworks offers a comprehensive HR and payroll platform that simplifies the process of managing employee benefits, payroll, and compliance.

Affordable pricing: Justworks offers competitive pricing that is affordable for small and medium-sized businesses.

Comprehensive benefits: Justworks offers a wide range of benefits, including health insurance, 401(k) plans, commuter benefits, and more.

Easy-to-use platform: Justworks' platform is user-friendly and easy to navigate, making it simple for employers and employees to manage their HR and payroll needs.

Compliance support: Justworks provides compliance support to ensure that businesses are following all relevant laws and regulations.

Access to experts: Justworks offers access to HR and compliance experts who can provide guidance and support on a range of issues.

Customizable plans: Justworks offers customizable plans that can be tailored to meet the specific needs of each business.

Justworks vs. Insperity
Justworks is experiencing a rapid growth rate as it considers modern trends. Its platform is more intuitive compared to PEOs like Insperity. The company is also outright about its pricing structure and features provided. This makes it easy to budget for your PEO needs.
Rippling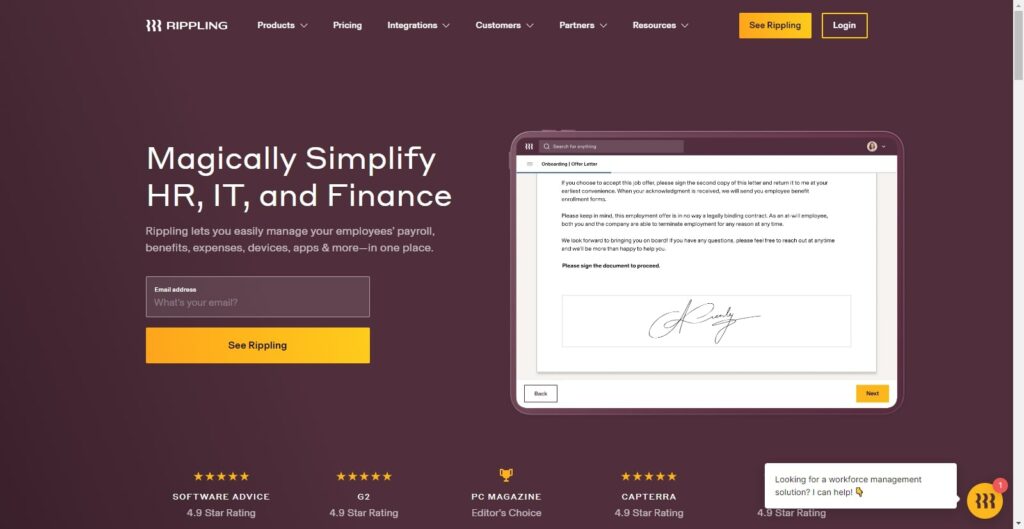 Rippling prides itself on having an intuitive and easy-to-use platform with refined integration capabilities. It has features like employee onboarding, task management, payroll processing, task management, and employee benefits administration.
With their advanced integration system, you can bring all your employee data on one platform and print annual reports, from fields and documents to currencies based on work location.
It rivals Insperity in terms of capability and ease of use. It allows you to manage your employee payroll services, advantages, insurance, expenses, and apps in one place. 
Powerful Automation
Rippling | Workforce Management Platform
Rippling is a comprehensive human resources management software that streamlines HR processes and automates administrative tasks. It offers a range of features including employee onboarding, payroll management, benefits administration, time and attendance tracking, performance management, and compliance management. With Rippling, businesses can easily manage their workforce, track employee data, and ensure compliance with labor laws and regulations. The software is user-friendly and customizable, allowing businesses to tailor it to their specific needs. Overall, Rippling is a powerful tool that simplifies HR management and helps businesses save time and resources.
Pros:
Streamlined HR processes: Rippling offers a comprehensive HR platform that automates many HR processes, including onboarding, payroll, benefits administration, and compliance.

Easy-to-use interface: Rippling has a user-friendly interface that is easy to navigate, even for non-technical users.

Integrated payroll: Rippling includes a payroll module that is fully integrated with other HR functions.

Customizable workflows: Rippling allows HR teams to create custom workflows for different HR processes, such as onboarding or performance management. This can help to ensure that processes are tailored to the specific needs of the organization.

Compliance support: Rippling includes compliance support for a range of HR regulations, including tax and labor laws.

Employee self-service: Rippling includes an employee self-service portal that allows employees to access their HR information, such as pay stubs and benefits information.

Rippling vs. Insperity
Rippling also offers its services as a package. When you sign up for their basic plan, you get features like endpoint management, identity management, onboarding, and mobile device management. However, this might make Rippling more expensive than Insperity.
Insperity Reviews: Conclusion
We recommend Insperity to small business owners who want a PEO they can grow with. You get the required services based on your business needs, location, and size. Their pricing changes based on the number of employees you have and the additional services you choose.
Insperity is certified by the IRS and accredited by the Employer Services Assurance Corporation (ESAC). The Better Business Bureau also accredits it with an A+ rating.
So, in addition to the risk management and compliance services you get, you have access to comprehensive employee benefits from top brands.